04.15.11
Carwan Gallery Launch: Samare
In the Ventura Lambrate district at this year's Milan Furniture Fair, half a dozen talented young designers and design brands from around the world are coming together to launch new work under the banner of the soon-to-open Carwan gallery in Beirut, with Sight Unseen as media sponsor. We're showcasing each of the participants on the site by documenting how their new products were made, plus what their studios looked like during the development process. Here, Nicolas Bellevance-Lecompte, one quarter of the Montreal and Milan–based design studio Samare and the co-founder of the Carwan gallery itself, tells us about the group's new and strikingly geometric felted-wool rugs, made in collaboration with the Belgian textile designers Antonin Bachet and Linda Topic. The project is the latest addition to Samare's ongoing Pays d'en Haut Legacy series, which investigates and then reinterprets the vernacular forms and decorative motifs of Canada's upper country, home to its logging and fur trades. Since their studio launch in 2008, they've worked with local snowshoe craftsman, weavers, and furriers in an attempt to show the world — and their fellow Canadians — how these longtime traditions and crafts can still prove relevant to contemporary culture. After the Milan fair, the rugs will travel to New York, where they'll be presented by the design store Matter during ICFF.
Please tell us what you're launching in Milan this week, and how it was made.
"Our new rugs are a collaboration with two designers from Brussels, Antonin Bachet and Linda Topic. Their speciality is felting and rugmaking. A year ago, we saw their work and liked what they were doing; their intention is also to work with craft and redesign traditional patterns. So we worked together with them for a Belgian-Canadian production of handmade carpets, and it was a very long process. Antonin himself had to cut by hand all the patterns you now see in the rugs."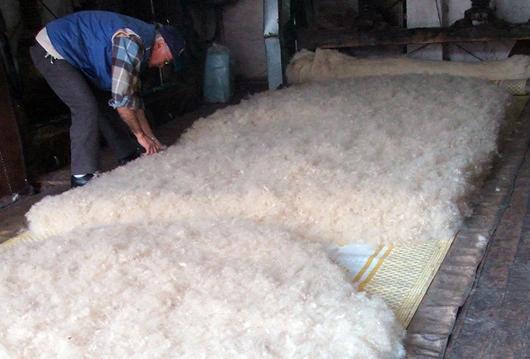 "To make them, you take a pile of white wool almost a meter high, which looks like a cloud, and after rolling it with a machine for hours, it sticks together — it's like natural welding. Then you stitch on top of it and add a second layer, which is the pattern you've cut out. Finally you add another layer of white to fix the design, but much thinner, which is why the colors appear kind of faded. So there are three steps, three passes through the machine, but every step takes a day. The rug has to dry before you do another pass — it's washed with soap and warm water in between, to achieve the felting. You have to make everything much bigger initially, because of course the wool shrinks each time you wash it. You start with a wet rug 16 feet long, and it ends up 6 feet long! You never know how the shapes will come out in the end, which is why it's so difficult to achieve a regular pattern. Linda and Antonin told me that this project represents their highest quality of realization so far."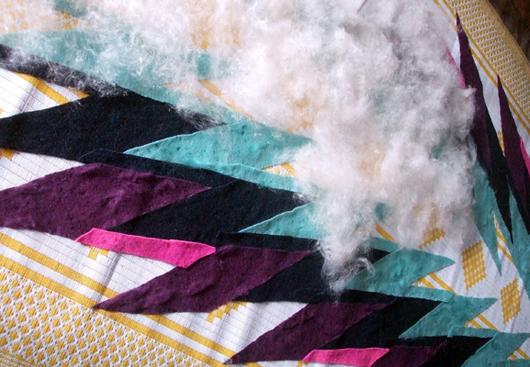 "The motif itself comes from the ceinture fléchée, a woven belt worn in the 19th century in the French part of Canada [which Samare first referenced in these blankets from 2009]. It was after the war between England and France, and the French people wanted to be more colorful to express a different personality, so that's why they developed these patterns for their belts. The fur trappers used the belts to tie their coats closed. There are eight different patterns in Quebec that depict this type of lightning. We made research about the various colors and shapes and reinterpreted them, to make them more contemporary and scaled properly for these large rugs.
"At first we made a traditional rectangular carpet, and we were looking at it like, there's something boring about that, it's the same thing you see everywhere. What can we do to make it unique? We wanted something that would also correspond with the pattern — some of the bolts are more flat and some are more pointed. The cuts give the rugs more dimension. Originally we also thought we wanted to make them using the kilim technique, which is more like the belt. But it needed something different."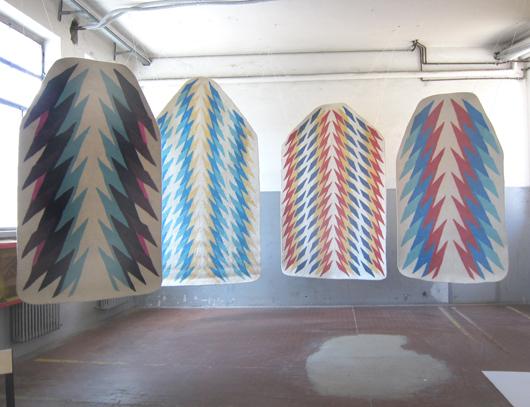 What was the best design you saw at last year's Milan fair, and what are you looking forward to doing or seeing this year?
"Last year, we liked a lot the exhibition 13,798 grams of design, at Lambretto Art Project in Ventura Lambrate curated by Maria Cristina Didero and Susanna Legrenzi. For this year's show, the list of exhibitors in the district is very interesting and well selected. The Nilufar and Luisa delle Piane galleries are also showcasing very nice objects this year."