06.27.11
An Interview With Dan Funderburgh from WRAP Issue #2
Though it was never intended that way, Wrap magazine might just be the perfect racket. With each 11.7 x 16.5–inch editorial spread backed by an illustration meant to double as wrapping paper, it's practically compulsory to buy two of every issue — one to keep forever, and one to dissect into packaging for your best friend's birthday present. As far as the London-based magazine's founders, Chris Harrison and Polly Glass, are concerned, either approach is perfectly valid. "As designers, the most satisfying feeling is seeing people using and enjoying what you've made," they say. Both began as jewelry designers for brands like Matthew Williamson and Paul Smith, with Glass venturing into furniture design for Innermost before leaving to devote her time to Wrap, which they hope will eventually blossom into an illustration-driven housewares and stationery brand. The pair's first issue launched last fall with stories about and contributions from up-and-comers including Merijn Hos and Sam Harris, and the second issue came out last week, its size bumped from A4 to A3 and its designer interviews even more in-depth. Sight Unseen secured permission to reprint here an interview with the Brooklyn-based illustrator and William Morris disciple Dan Funderburgh, whose wallpaper design pictured above was adapted especially for Wrap. Read it below, then head to Wrap's website to snag Issue #2 — shipping is 50% off if you order your copy by Thursday.
INTERVIEW BY WRAP MAGAZINE
Dan Funderburgh is an American illustrator, artist and wallpaper designer whose work is rooted in the world of decorative arts. Having grown up in the Midwest, his first job was in New York developing repeat patterns for Ecko Unlimited's apparel, based on old wallpaper designs. This proved quite an inspiration and he went on to establish a partnership with Brooklyn-based wallpaper studio Flavor Paper, where his designs are screen printed by hand. He has also collaborated with companies such as Brooks, Furni, and Gravis, so his illustrations have made it onto bicycle seats, furniture, and luggage too.
Do you have a studio in Brooklyn?
Yes. My kid and my computer are at my house so I spend a lot of time there, but I have a studio not far away for drawing, drinking, and large art storage.
How would you describe the vibe in that part of the city?
It's a fine place to be creative but as in a lot of these communities, rising rents keep displacing very artistic people who haven't got 'proper' jobs. However, there are always new art ghettos springing up.
What does an average day for Dan involve?
In the morning I generally ride over the Williamsburg Bridge to play football with The Chinatown Soccer Club. Then coffee and back to Brooklyn. A sad portion of the day is spent answering emails. The fun portion involves drawing and listening to audio books. I might ride my bike to the Flavor Paper printing studio if there's a project I need to check on. Or to my studio if I need to mail out a print or do some drawing.
Was illustrating something you always wanted to do? Are you from a very artistic family?
An open-minded family of microbiologists. I've always drawn. At one point it was suggested that I could do something with medical illustration. While I've always appreciated the necessary detail involved, it seemed less open to interpretation. I went to the Renaissance Fair a lot as a kid which I loved, so that probably helped.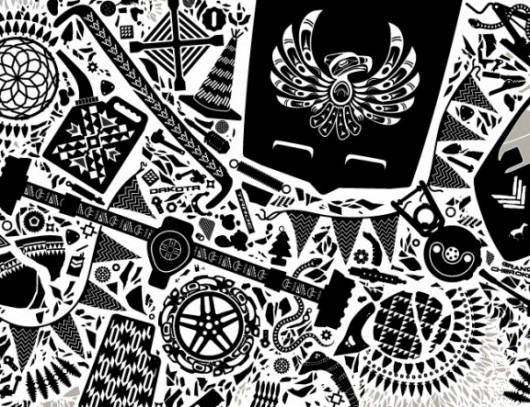 Many of your wallpaper patterns are based on traditional designs. What is it you want to take from them?
My instinct to recreate ornamental design comes directly from my love for it. It's a useful formal practice, and extremely calming to re-make an old pattern in Adobe Illustrator – I suppose in the same way some people put together models of old ships or planes.
The originals required great craftsmanship – is that why people like them?
Certainly for me some of the appeal lies in their complexity. And although a good overall concept can take longer to come up with than any amount of intense detail, I do strive for designs that look like there was craft involved.
Do you draw everything by hand?
I wish I had beautiful pencil sketches but the truth is that my sketchbook is mostly full of scratchy ideas. Anything with a repeating element is a lot easier to do digitally, otherwise you spend a lot of time redrawing the same pieces. I do most of my drawing in Illustrator with a Wacom pen. I believe there is craft in that. I hope the notion that this is less romantic than a paint brush wanes eventually.
Would you describe yourself as artist or designer?
I take issue with designer-versus-artist and decorative-versus-functional arguments. I think it's a continuum, and in some cases there is no difference to speak of.
Many of your designs comprise normal household objects – do you feel we don't see enough beauty in the everyday?
I'm attracted to the shape of a fan or shears or a bicycle maybe because it was made without the consideration of the aesthetic. I began thinking about decoration and utility when I saw a beautifully engraved Persian anchor in the Louvre. This was an object made to weigh down a boat – a rock would have done the job – yet a craftsman put all this work in. It made me wonder about the materials we surround ourselves with and what we choose to embellish.
Looking closely at your Farmers Market wallpaper, we see that it is made up of strings of sausages and fields of mushrooms – do you like surprising people?
Since I have to look at the design very closely, I like to reward viewers that take time to do the same. The farmers' market takes place in a Polish neighbourhood in Brooklyn so they often have kielbasa (sausage).
Are you working on any exciting new projects?
I just had a kid! He's phenomenal! Someday soon I've got stop fussing over him and get some work done. I was maybe going to do a show in Cairo this year, but it's postponed. I hope to get back there before too long.
Any tips on somewhere good to go if we were in your neighborhood?
Brooklyn is massive, but if you were in Williamsburg I'd say you should drop by the studio for a drink, then maybe swing by the farmers' market. We're also blessed with a fine independent comic and magazine shop called Desert Island, and about six hundred thousand bars.