12.05.11
Max Lipsey's Acciaio Series
It was hard not to feel a burst of pride when, after introducing Matter's Jamie Gray to Max Lipsey in advance of his appearance in our 2011 Noho Next showcase, we heard the pair had a major collab in the works. Unveiled at the Qubique fair in Berlin in October, Lipsey's Acciaio: Stage 2 collection for MatterMade picks up where the Eindhoven-based designer's first bicycle-inspired series left off, ratcheting up the proportions of the welded-steel objects and forming them into more complicated, experimental shapes, like the turquoise table/cabinet hybrid pictured above. There is, however, one significant difference: While the new pieces are limited-edition only, Lipsey himself manufactures the originals, slaving away in his workshop to produce each and every order by hand. Earlier this week, he sent Sight Unseen a short video documenting how he does it — which you can watch here — and obliged to answer a few questions for us about how the process has since evolved.
How have you found the experience of producing these pieces by yourself, by hand? Is it what you dreamed of when you dreamed of becoming a designer, or are you ready to give up the ghost at this point?
I love making the pieces. Having my hands on the material, concentrating on the actions. And yet it's only enjoyable when I can clear out all my other responsibilities, answer all my email, and finish all my errands. I need a large chunk of free time to get into the making and focus on what I'm doing. If I'm busy thinking about other things that need to get done, it's torture. Ideally I would need to be split in two, to have a production part and an organizer who makes sure everything's in order for production to go ahead. Although, full disclosure, at the moment I have a very skilled intern who is picking up some of the production work, which frees me to be the organizer and experiment with new things.
What's the most challenging or unusual part of the making process behind these stools? Are you doing anything novel or unexpected, from a designer's perspective?
I can't say how novel my methods are — maybe this is how everybody works. But I do think these chairs could only arise from a close collaboration between design thinking and craft skills. That is, I couldn't design these without a hands-on understanding of the making process. And it wouldn't be possible to make them without a designer's eye to supervise the execution, details, and finish. In the case of the Acciaio chairs, I think the collaboration is so close, it could only happen in one head! I can't imagine a relationship where both parties would have enough time and care to work so closely together to solve the issues well. (If I brought all the ideas for the chair a producer or craftsman, they'd likely tell me to get lost – it would require too much investment in research and experimentation.)
An example is the development of two new steel profiles for the horizontal parts of the chair. They have to be as light and flexible as the leg tubes, otherwise they'd put too much force onto the thin steel. There's no existing profile to solve the problem, and I couldn't draw such a profile behind the computer; I was only able to find them by experimenting directly with the material. The perforated seating sandwich of saddle leather and thin aluminum is another case where I would've never had the idea behind the computer. The trouble with simple-looking objects is that all of the engineering is visible. It has to work and look nice at the same time — there's nowhere to hide anything.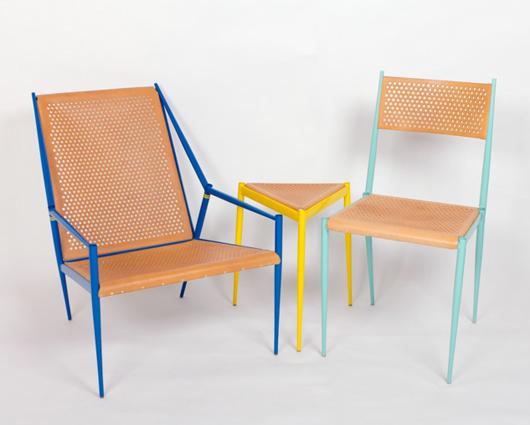 How does the new collection for Matter Made, which launched at Qubique in Berlin, push the series to a new place?
Acciaio: Stage 2 is an extension of the original chairs into five new pieces: two cabinets, a side table, a room divider, and a large lamp. All of them use the same form language and materials as the chairs. Stage 2 was a cool opportunity to take everything I'd learned from developing the chairs and be able to play around with it, push the size and form of the pieces, and see what else could be made.
I'm interested in a general bicycle aesthetic, of sorts — lightness and precise geometry, strong colors, and basic materials that will age well — and the new series was a chance to see how far I could take that. Ever since I put a pink bicycle frame in my living room, I've been attracted to the tension and contrast it produced in relation to the rest of the space. For me, this bicycle-ness shouldn't be a dominating style, but it works well mixed in with secondhand junk, IKEA pieces, and classics to create a full-spectrum conversation.
Moving up one scale from the chairs brought the use of space itself into the design; these objects can't just be nice objects, they need to have a nice way of creating and using space. It's actually a very nice situation to be designing in, where the technical and aesthetic questions are all nearly answered, and your only concern is the forming of objects.
How is the making of the new collection different from the making of the original pieces?
The most enjoyable part of the making of the new pieces was creating rough 1:1 sketches to get a feel for space and proportion. I did this by freely welding scrap-steel tubes together and designing as I went along. It felt like drawing in the air — I got very immediate feedback for my design process.
But the main difference is that, for now, the new pieces are one- or two-offs. Technically, this means less time spent making templates and systems for serial production. It can be nice, while working on difficult or tedious parts, to know that it only has to be done once. Also, making something the first time can be much more immediately engaging than making something the umpteenth time. The first time, you're problem solving. The umpteenth time, you're meditating.