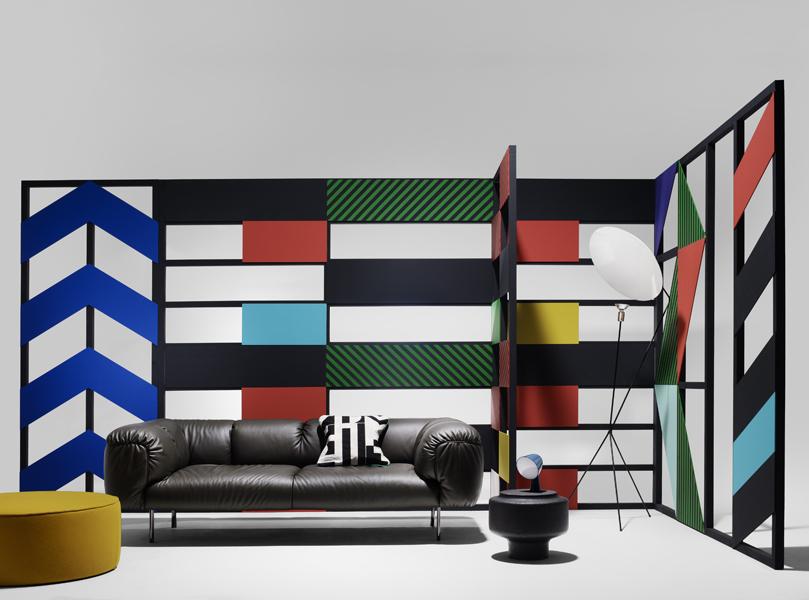 Despina Curtis is in her early 30s, and yet when she talks about her college days, it sounds a bit like one of those stories your grandparents tell about having to walk shoeless through the snow to get to school every day. Curtis studied printed textile design at the University of Manchester, and it was only when she left that the program's first-year students were beginning to use digital design and printing tools — she had to do everything analog, even when it came to her eventual focus on huge 6-by-6-foot canvases layered with painting and screenprints. And yet, unlike hyperbolic ancestral poverty tales, hers had an obvious upside: All that drawing and hands-on work primed her for her current career as a stylist for the likes of Wallpaper and Casa Da Abitare, which she could hardly do from behind a computer. "Even now I draw all the set designs that I do," says Curtis, who's based in London. "A lot of people in my industry still do that, even though it's quite old-school."
Of course, if you ask Curtis, the most practical takeaway from her education was learning precisely how to wield her intuitions about color and pattern, which followed her through her leap from two dimensions to three. After initial stints at textile studios in Manchester and New York, Curtis had an awakening that led her to apply for an unpaid internship at Elle Decoration, whose pages she'd pored through for inspiration as a student. "To be quite honest, I think I got to a point where I was a little bit over the designing side of things," she recalls. "I think I'd exhausted it, so I left it behind. I thought I would like to be the one putting things together rather than creating them." At the magazine, she swiftly rose through the ranks to become style editor, where she found herself taking the lead on shoots like a Greek draping–inspired feature set inside a derelict building she scouted in her hometown of Brighton, complete with classical columns and peeling flocked walls. She went on to work at Wallpaper for three years as deputy style editor, where she developed her signature style: Arranging whatever objects she shoots into strong, abstract geometric patterns, often incorporating additional geometric elements of her own.
Now that Curtis has been freelance for two years — with a client list that includes a who's who of design and fashion magazines, plus Harrod's, AmEx, and the European fashion retailer COS — she's finally begun to incorporate making back into her repertoire, starting with a series of framed prints for the London store Darkroom that first turned the editors of Sight Unseen on to her work. It was that series, part of a commission to create the windows for the shop's Africa-inspired launch, that gave her the motivation. "It's great to be able to work towards something rather than having to find time to do random tests and things like that," she says. Now that she's back in the game, though, she has been experimenting on her own: "I just started printing onto panels of stained wood, using the same geometric patterns but scaling them up a bit and incorporating metallics. And hopefully I'll do another project for Darkroom soon." In the meantime, we snagged some of Curtis's time to find out what's behind the amazing visual work she does. Here are eight of her biggest inspirations.