02.16.12
At the 2012 Stockholm Design Week
Last week, the editors of Sight Unseen toured the former Cooper Square Hotel, which is in the process of blossoming into a gorgeously rendered East Village branch of the Standard. We met with the organizers of Wanted Design to talk about New York Design Week, and a planned alliance between offsite shows including the American Design Club, Model Citizens, and our Noho Design District. We had an ungodly amount of $1 oysters, bought a new pair of Warby Parker glasses, and got into a glaring match with an Apple Genius Bar employee who refused to replace a power adapter that had met an untimely death. What we did not do, however, was attend Stockholm Design Week — we stayed put this year while our friends braved jetlag and below-freezing temperatures to experience the annual unveiling of all things new in Scandinavian design. And yet rather than totally miss out on all the action, we found a willing scout who, while she preferred to remain anonymous for various reasons, was happy to report back on the goings-on in and around the fair — all with a Sight Unseen slant, of course. Here are her observations.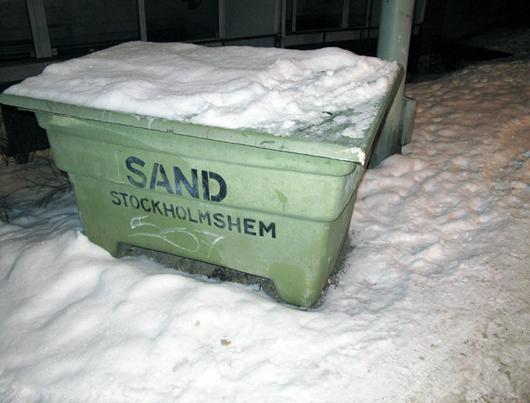 The big freeze was on when I arrived in Stockholm — it dipped all the way down to 5 degrees. But the Swedes are prepared for such weather. So much so that the city doesn't trust anyone else's sand for the streets, clearly labeling their own.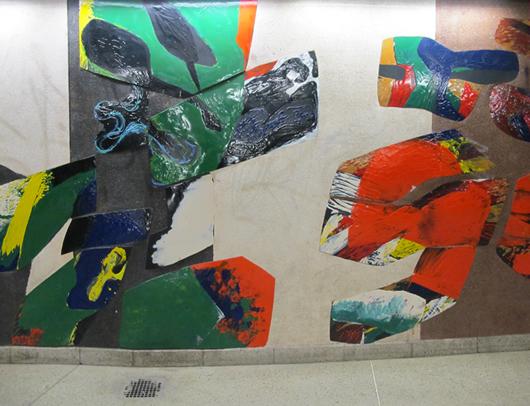 The walls of Stockholm's Metro are covered with the most awesome artwork. The color and texture of this one stopped me in my tracks.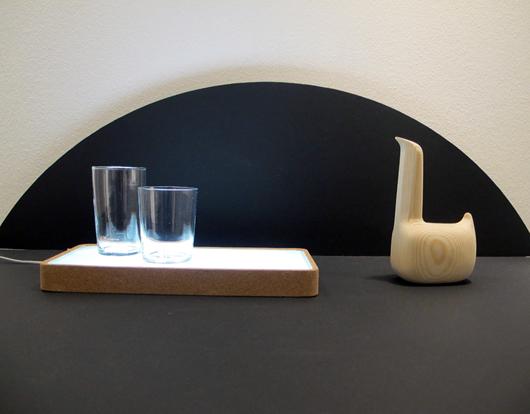 My first stop at the actual Stockholm Furniture Fair was the Greenhouse section, where you head to find work by up-and-comers and students from the region's best art schools. The likes of Front, Folkform, and Jens Fager — who incidentally designed this year's space — all began their careers here; it's a bit of a right of passage for Scandi designers.
Martin Nicholl's work, above, struck a chord with me: His cork and glass lamp provides a moment of glory for whatever is placed upon it, and his handsome, Nordic-looking wooden bird is extremely convertible. Not much else is known about the designer, as the shy Norwegian was never to be found manning his stand.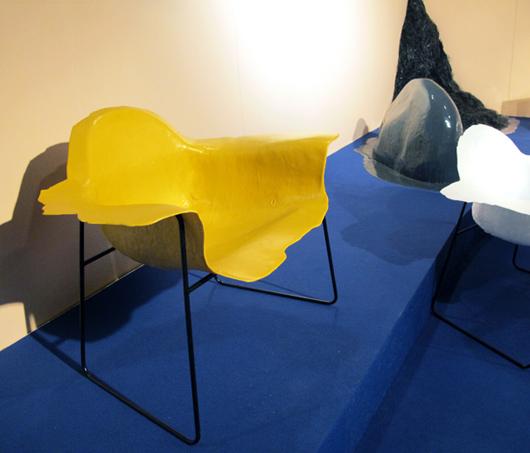 Schools on show included The Royal Danish Academy of Fine Arts and Stockholm rivals Konstfack and Beckmans. The standard of work is high, and I think we can expect to hear a lot more from the graduates of these schools, maybe even stealing some of the limelight from a certain school in the Netherlands… Beckmans' punkily titled Never Mind the Object show included these paper-thin seats by Mikael Axelsson.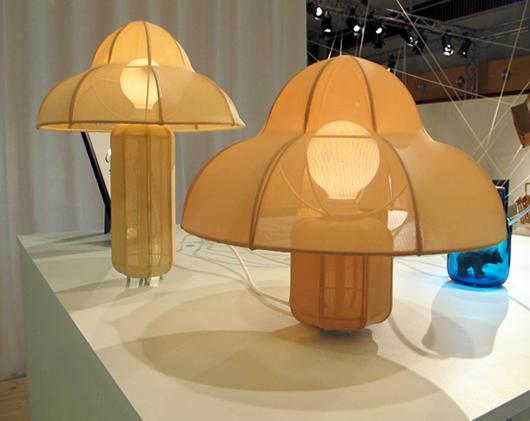 Another Norwegian to note with an impossibly cool name is Kristine Five Malvaer. She worked with a corsetmaker on these gorgeous flesh-colored Ray lamps. They remind me of Madonna during her Blonde Ambition era – her finest, in my opinion.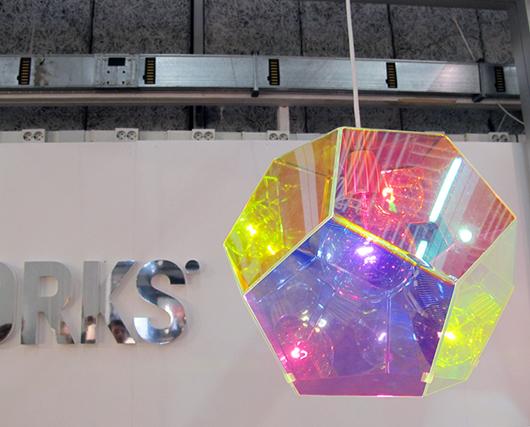 Providing a jolt to the calm color palette and penchant for raw materials at the fair proper was this prismatic dodecahedron pendant light, a mirror ball for this millennium. It's by designer Thor Høy for Danish brand Nevvvorks, a new label that launched at the fair.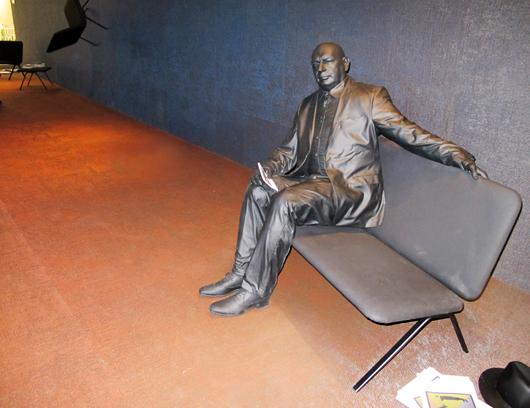 Jean Nouvel is giving me a "come hither" look here. Nouvel had created a show space for the Swedish carpet manufacturer Bolon where all four sides were carpeted, and Nouvel avatars walked the walls and ceilings of the space. The Frenchman was there posing for pictures next to himself earlier in the week. I was sad to have missed that.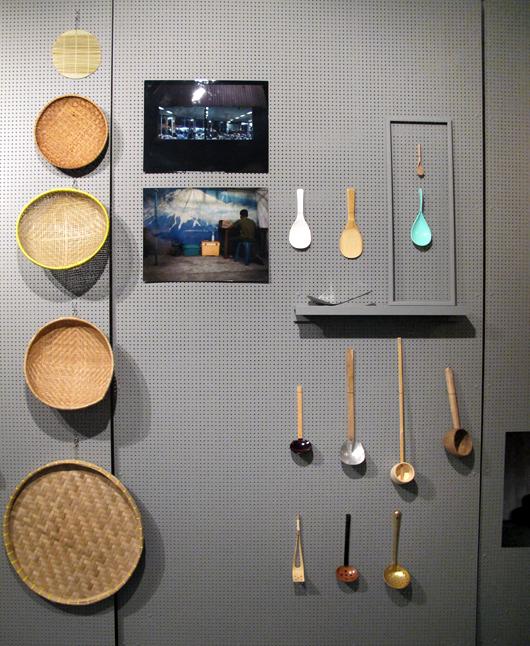 Taking over a gallery space on the western tip of Södermalm for her show The Evolution of the Object, Katrin Greiling displayed a collection of everyday items gathered from her recent trip to Indonesia. Grouping her finds by type, she charts the change in material but regularity of shape. The up-and-coming designer has just spent three months working with craftsman in workshops in Bandung, a city to the east of Jakarta, and she was also showing a rattan modular sofa called TATA and a series of beautiful basalt stone platters that she produced there. Greiling is an excellent photographer, and diligently documents her creative process, something that she says helps inform her designs.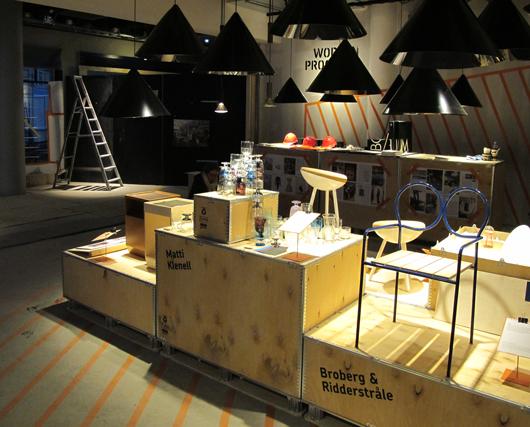 Taking over a corner of a building site in Stockholm's city center, the Work in Progress show made visitors step around the rubble and plastic sheeting to enter. Jonas Wagell and Axel Bjurström raided their phonebooks to gather sketchbooks and prototypes from leading Scandi designers, offering a little insight into the creative process.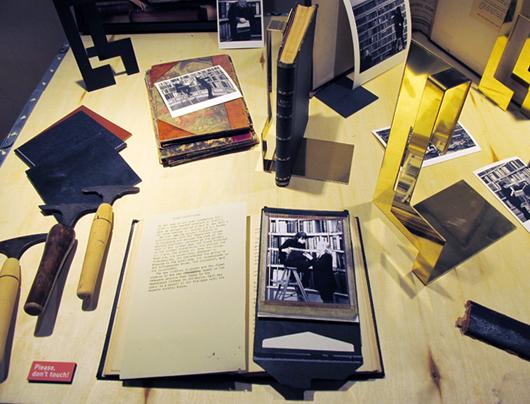 These brass beauties by Folkform are a self-initiated project I think. They're begging to be on my bookshelf.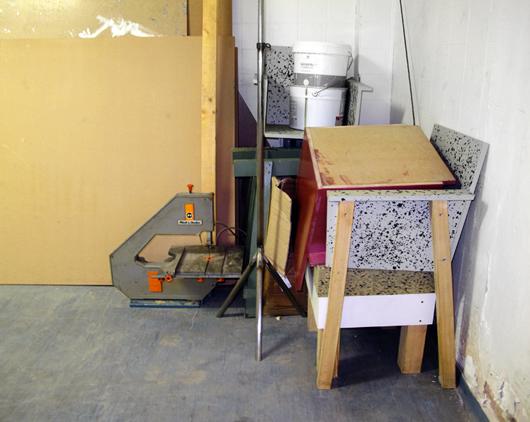 Örnsbergsauktionen, which Sight Unseen previewed last week, was organized by the young Swedish designers Kristoffer Sundlin, Simon Klenell, and Fredrik Paulsen, who set it up out of the need for a chance to show and sell their work. All the pieces up for auction had to be produced by the designers themselves, resulting in a fantastic collection of one-offs. The color, form, and texture on show here were like nothing else I saw. It all took place at Paulsen's studio and workshop. Here are a couple of Paulsen's own chairs, stacked up to make way for the suited and booted buyers arriving for the Friday night event.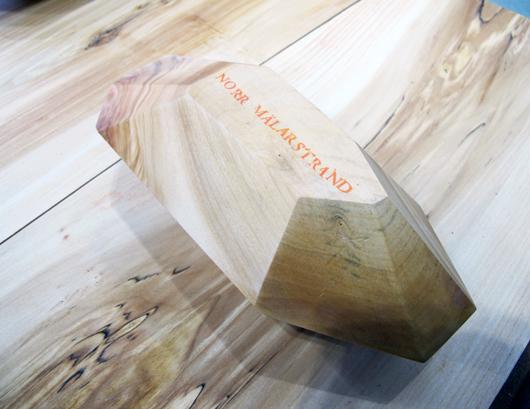 The concept and execution of Stockholm Wood by Emma Olbers is flawless. On seeing trees being cut down in Stockholm, Olbers decided to explore the possibility of making furniture from raw materials sourced from within the city. These faceted wooden pieces are all stamped with the neighborhood the tree was cut from.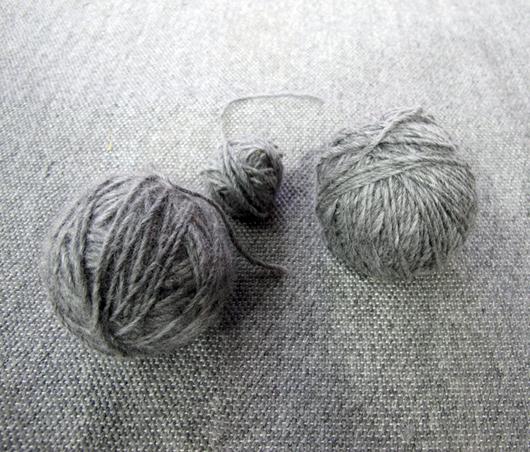 The wool used in Olber's woven rug was sourced from the Swedish King's sheep, no less. They apparently graze around the palace grounds on the island of Djurgården. How truly egalitarian Sweden is.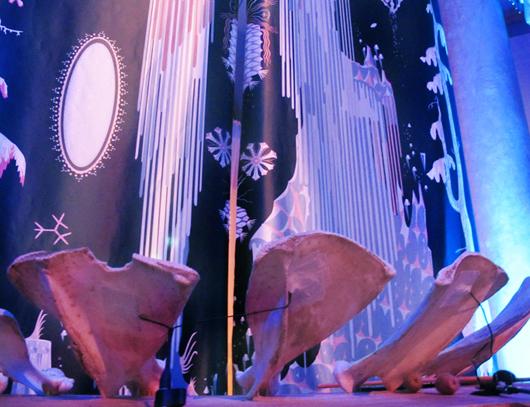 The nomadic Finnish pop-up kitchen Hel Yes! shored up in Stockholm for the week, headed up by artists Mia Wallenius, Klaus Haapaniemi, and chef Antto Melasniemi. Housed in a lofty church on the tiny island of Skeppsholmen, the team had strung huge drapes across the walls illustrated with one of Haapaniemi's pagan wonderlands. Contemporary dance and whale-bone music was incorporated into the menu.
I sat with a nice group of diners that included a stunning Swedish model who has walked the runways since the early seventies. After our meal that included a taste of reindeer heart, Melasniemi took to the bone xylophone. He went on to then whisk me off my feet and spin me around the dancefloor while his sous-chef sang tango Finnish-style. It might sound like I hit the vodka a little too hard, but I can call the model as my witness. It all happened.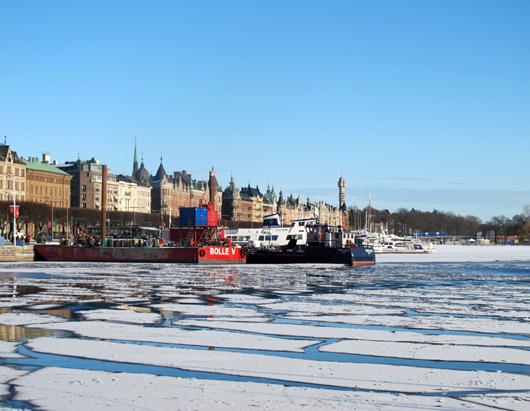 The weather had warmed a bit by the time I was ready to leave, producing these ice drifts in the open waters. Always a shame that Stockholm Design Week can't take place in July.