04.17.12
Philippe Malouin's Intarsia Bowl for Carwan Gallery
On Friday we introduced you to Oeuffice's Ziggurat Towers for the Beirut-based Carwan Gallery, and today it's the gallery's contribution from London designer Philippe Malouin, who's also showing with Plus Design and Kvadrat in Milan this week. Malouin was one of nine designers — along with Karen Chekerdjian, Khalid Shafar, Lindsey Adelman, Studio mischer'traxler, Nada Debs, Oeuffice, Paul Loebach, and Tamer Nakisci — who traveled to the Middle East late last year for a grand tour of artisan's studios, each pairing up with a different craftsperson to produce a new twist on an old archetype or technique. What caught Malouin's eye was the wood-inlay method called intarsia, in which pieces of various types of wood are cut and assembled into a jigsaw-puzzle like image or pattern that often has the illusion of depth. Rather than using the method in a conventional way, however — as a decorative add-on — he tried something a little bit different; here, he explains how he arrived at the final design for his Intarsia Bowl.
"Carwan Gallery was kind enough to invite me to visit Beirut last year. During my visit, I was taken around the city to visit the many inspiring landmarks, including the Oscar Niemeyer international fair (below). Construction stopped in 1975 at the outbreak of the Lebanese civil war and was never restarted. We also visited local craftsmen and manufacturers in order that we might produce the gallery's next collection in Beirut."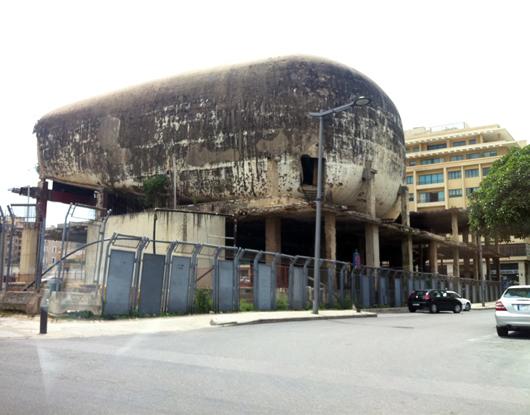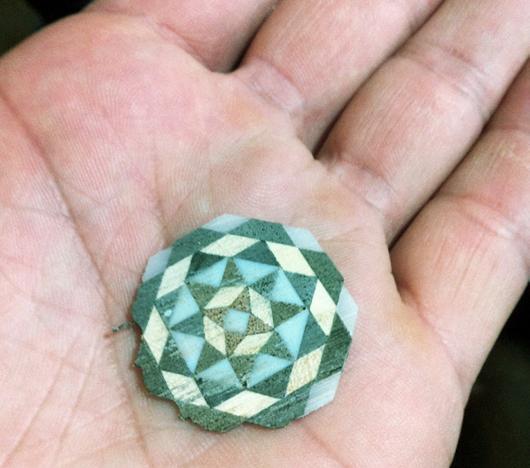 "One specific craft interested me, which was intarsia making. Intarsia makers produce amazing wood-inlayed and patterned boxes. These inlays are used only for decorative purposes on the outside of the boxes. I was especially interested in the way in which a thin patterned sliver comes to life from a bigger 'wooden sushi roll,' which will be sliced into wafer-thin pieces in order to be inlayed on the exteriors of the wood boxes.
"The geometric patterns were very beautiful, but it's the 'wood-sushi' block itself that inspired me the most. I was also interested in using more than one craft, or more than one craftsman in order to realize the final piece. I was introduced to a local lathe-worker and the idea came together: I wanted the intarsia worker to create intricately patterned wood logs to then give to the lathe-worker, who would transform them into objects."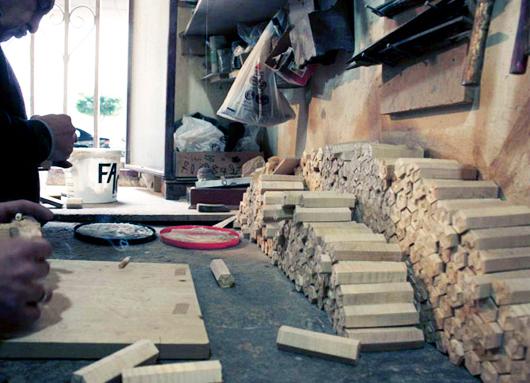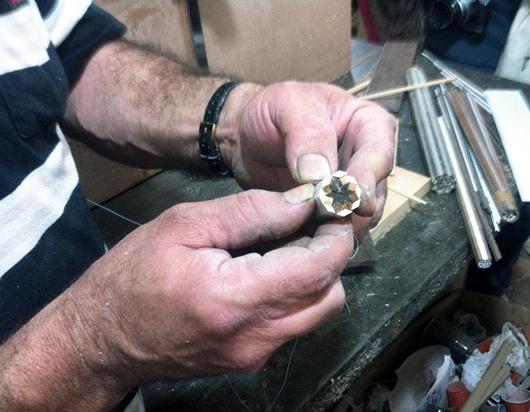 "First, the individual blocks of intarsia are made, by slicing very thin baguettes of wood with a band saw and gluing them together into small sushi components. These components have a tri-dimensional pattern that comes to life by using three different wood types, giving them the impression of depth and perspective. The blocks are constructed for the appropriate height for the object that's going to be produced."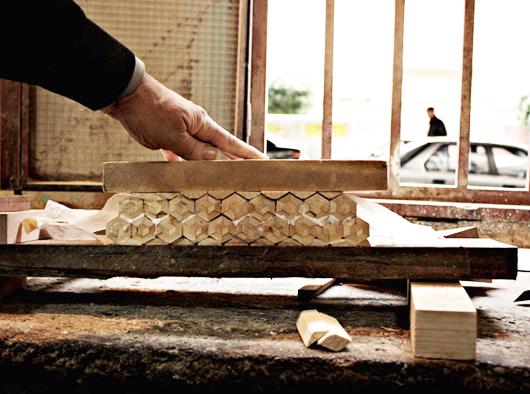 "When the individual blocks of intarsia are ready, they're assembled, glued together, and put in a press in order to create a solid log."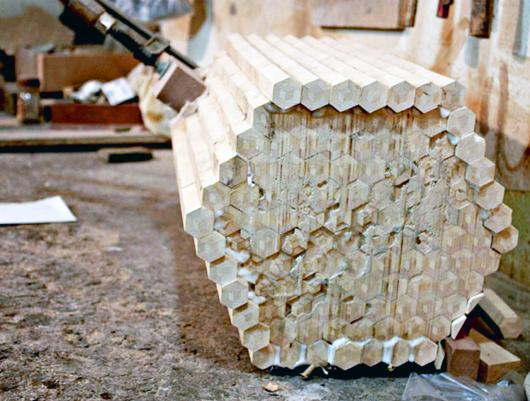 "The intarsia log is ready, and now it's time to give the piece to another craftsman who excels at something else: lathe work."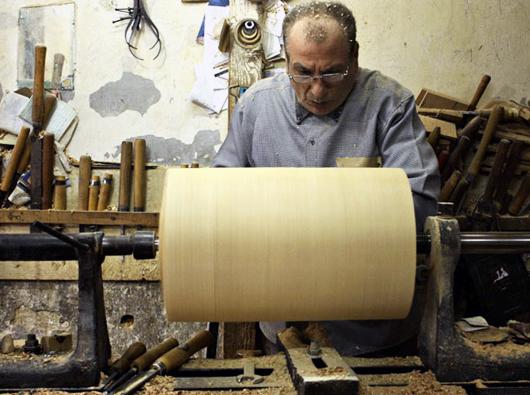 "The lathe worker rounds the block of intarsia into a perfect circle. It can be used whole or cut into smaller pieces to make many items. This one, for instance will sliced up and put back on the lathe in order to create a shallow bowl."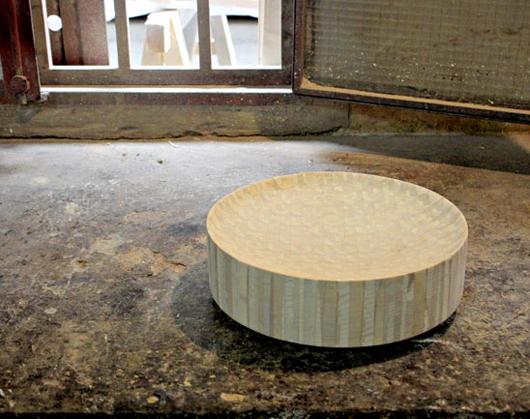 "When the bowl is dug out in order to produce the cavity, it creates a distortion of the pattern in the intarsia. The closer you get to the edge of the bowl, the more the tridimensional pattern is stretched and skewed. Since the center of the bowl is flat, the pattern there remains untouched."