05.23.12
ROLU's Settee X Three at Sit and Read Gallery
It's fitting that the boys from ROLU would choose to introduce the show they opened this past Saturday at Williamsburg's Sit and Read Gallery with this quote from American sculptor Richard Artschwager: "Everything matters. An itchy nose, scratching it; a distant train. A bit of coffee left in the mug. My hand grasping the mug, the thumb providing guidance. Every encounter with another person… etc." Beyond being a mantra as of late for the Minneapolis-based studio, its core message — everything matters — could easily describe the approach they and most of our other design friends took to ICFF weekend: Why do one show when you can cram in three, or four? Thus while Sit and Read's Kyle Garner was installing his hand-dyed Sling Chairs at our Modern Craft show at the Merchant's House Museum, he was also prepping his gallery for the exhibition with ROLU, who were also installing new pieces at the Boffo Show House and at the No Frontier show with Volume Gallery at Mondo Cane in Tribeca. As a working method, everything matters may actually be dangerous to one's health, but when applied to a single design project, it turns out the results are pretty stunning — in this case, a series of furnishings and experiments that will be on view at Sit and Read through July 1. See what ROLU co-founder Matt Olson had to say about the project here, then watch the video below, which documents how one part of it came to life.
"SETTEE X THREE after Burton Photo (Private, Public, Secret) consists of three objects and a group of actions and documentations. Inspired by a story about the artist Richard Artschwager, who had an epiphany that 'everything matters,' we set out to create a project that addressed as many things at once as possible. Starting from an image of Scott Burton's Settee photographed at the Dallas Museum of Art, we built our own version of the piece (top). Not from specs or diagrams, but by sight alone. We used everything in the photo as a tool for developing a sense of scale.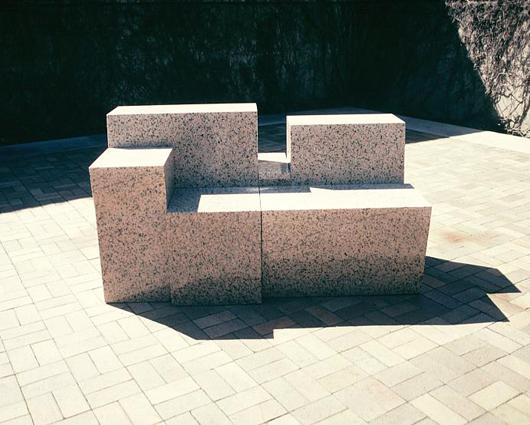 Scott Burton, Granite Settee, granite, 1982-83. Photo by Mary Ann Sullivan.
"The private version of our Settee sits inside the Brooklyn based gallery Sit and Read, and is available for sale in an edition of five. Outside the gallery, we then poured three forms taken from the Settee in concrete, on the street — the public version. This concrete pouring was staged as a kind of performance and the public was invited to insert small meaningful objects into the concrete, so that the friends and fans of Sit and Read and ROLU would, in a sense, be present in the piece while it lives there.
"The concrete version of the Settee will be jack-hammered apart at a later date, and the pieces of concrete will be presented on pedestals as sculpture. The secret version of the Settee will be installed in nature, in an undisclosed location. It will be photographed and then left to become whatever it will become."