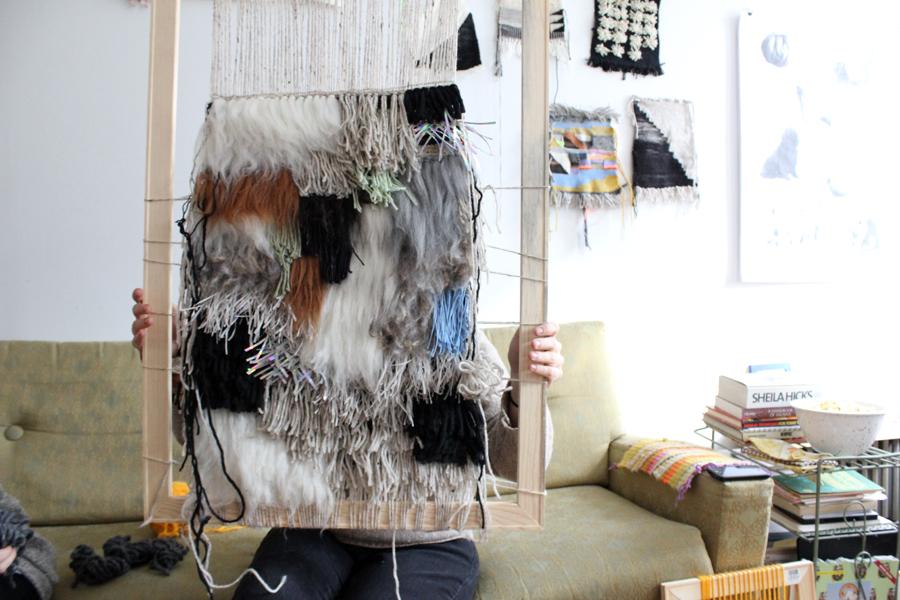 Back in 2009, Kelly Rakowski was a graphic designer at Todd Oldham in New York, and Alex Segreti was living in Philadelphia, working in the textiles department at Urban Outfitters. In her free time, Rakowski ran a blog called Nothing is New, for which she scoured image archives on the web, unearthing old exhibition catalogs, classic spreads from magazines like Domus, and vintage ceramics and textiles. Segreti had a blog as well, called Weird Friends, where she documented similar obsessions: craft, pattern, art, ceramics, textiles, and dogs. The two had never met, but when Rakowski emailed Segreti on a whim one day to tell her how much she liked her site, they began to bond; when both expressed a desire to learn how to weave by hand, they decided to embark on an experiment. They shipped each other yarn, so they'd have the same palette to work from, and a few months later Rakowski made the trip to Philly. They had dinner, retired to Segreti's apartment, and showed each other their weavings. "They kind of looked the same," Rakowski remembers. "It was crazy. Now we always come up with the idea together but work separately, and when we meet, we forget who did what because everything magically works." The two eventually made their design partnership official, merging the names of their online identities into a fitting moniker: New Friends.
When we visited their Brooklyn studio (i.e. the front room of Rakowski's former apartment) one weekend this winter, the two were working on their first real collection. Called Best Woof, it incorporated small weavings, works on paper, and silkscreens of those weavings on paper and canvas. "We wanted to limit our palette a bit to make it different," says Segreti. "Before, it was really colorful and crazy; now it's black, white, and gray with little pops of color." The collection has since sold out, and two are crazily busy, creating new large-scale weavings for stores like Totokaelo and creating a forthcoming book for Bodega Press in Philadelphia. They took a break to show us around the studio and to offer us a quick lesson in how to build a simple frame loom in order to cop their style at home.
A version of this story originally appeared in Paper View, Sight Unseen's recent printed edition. For more behind-the-scenes access — plus a tutorial on how to build a frame loom and create a New Friends-style weaving yourself — pick up one of the few remaining copies of our book, available here.