02.04.13
Stephanie Hornig, Furniture Designer
One of our favorite things to do when we discover the work of a new designer is to play the internship guessing game. You can typically spot a former Bouroullec acolyte, for example, just by their use of shape and color. But Stephanie Hornig? With forms this clean and utilitarian, we never would have guessed she once worked for the doyenne of decoration, Patricia Urquiola. Perhaps a more telling clue in Hornig's case is the fact that the Austrian-born talent went to design school in Berlin before moving on to her current home in London — her geometric tables, accordion shelves, and minimalist chairs lean more towards functionalism and the beauty of classic everyday objects, albeit subtly tweaked with new colors and ideas. We asked the recent graduate to tell us a bit more about her fledgling practice, which we'll no doubt be keeping an eye on.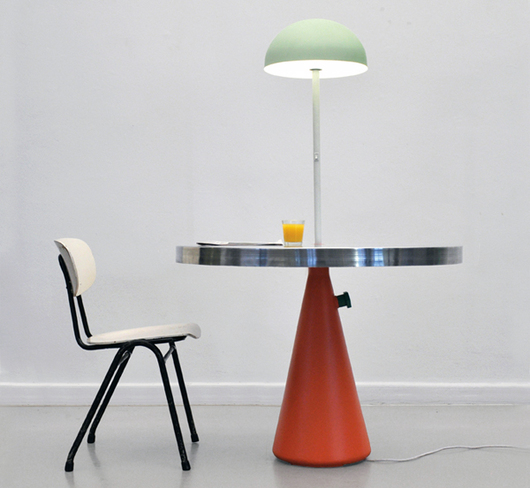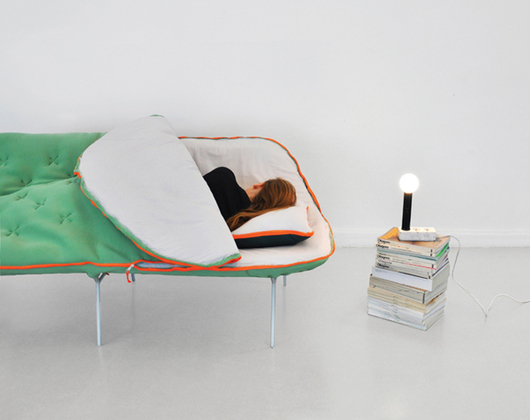 Describe your most recent project and how it was made.
"My latest project Camp was — probably like every graduation project — very personal. In the last year I travelled a lot, and I missed the feeling of home when I arrived in these empty rooms. I began to compare the life of a modern nomad with camping; it's the feeling of simplicity and independence when we're outside in nature that inspired me. The pieces are reminiscent of the outdoor world and retain their functional character, but are frozen in their movement: a sleeping bag on legs, a torch in a power strip made of stone, and an umbrella stand with a large tabletop. Each of the three objects show a different aspect of camping and are collages of material, function, and form — the elements are translated directly to visualize their autonomy and lightness clearly.
"I was lucky, because next to my studio at the University of the Arts in Berlin there was this beautiful goldsmith's workshop where I made my models. The first sketches of all three pieces were already three-dimensional. In comparison to CAD modeling on the computer, there are many things that happen naturally when you build a physical model. I like to build immediately whatever comes to mind and learn from the material instead of pushing it into a shape."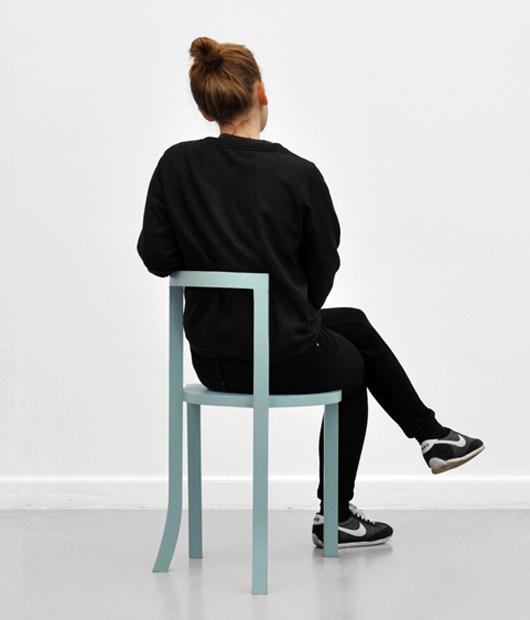 Describe your next project and how you're currently making it.
"At the moment I'm working on a new range of colors for my Fox chair and a table that goes with it. The project is about inheritance of elements in a family, like in typography. I started with a classic Frankfurt chair and rotated the backrest to create a new sitting position. The series works like a building block and the table will be formed with the same elements. Currently a carpenter from the Bregenzerwald area near my hometown is manufacturing the chairs; it's a beautiful region in the Austrian alps famous for its wooden architecture and a long tradition of woodworking. I'm always stunned by the wide network of craftsman in this area and the quality of their pieces. The Fox chair is produced from local beechwood, so I'm experimenting with the staining intensity in order to keep the grain very present and show its crafted quality."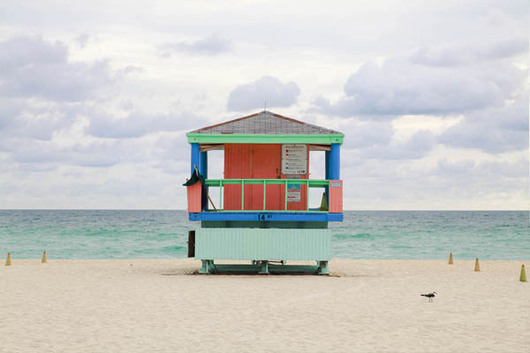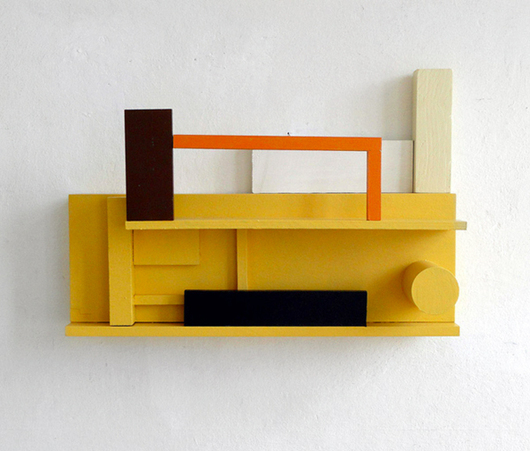 Tell us one thing that's been inspiring you lately and why.
"One thing I get really inspired from is architecture in all forms. There are so many details and structures that one can notice just walking around on the street. I'm currently living in London, and the patchwork of ever-evolving buildings is fascinating — even the construction sites, with special walls around them, are beautiful. The thing I like about pure architectural structures is that they are rarely only decorative; every detail has its function and clearly demonstrates its use. I recently discovered the series 'Miami Houses' by a French photographer called Léo Caillard (above top). Each one of these houses is different in form and color, but they all show their purpose in a way that's unmistakable. With their neutral backgrounds I could imagine them in many other places and in a lot of various scales. To me, everything is construction, from a piece of clothing to a painting. Nathalie du Pasquier manages to bring those bits and pieces into her paintings and installations in abstract ways. Her Construction series (above bottom) contains collages of different architectural elements, abstracting the pieces to create something completely new. I think these pieces are so inspiring to me because it's similar to the way I work."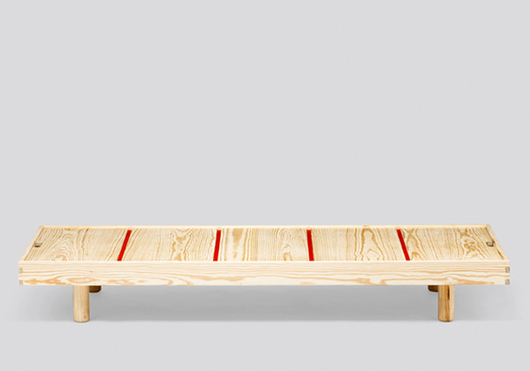 Name your favorite piece of design from the last 10 years, and tell us why you like it.
"It's always hard to choose favorites, but one recent design I really like is Jasper Morrison's Crate Series. I like the way he took a found object and evolved it to fit various needs. Especially with my Camp project, I was inspired by how Jasper took something we all know works well and enhanced its character, adapting its function and optimizing its quality. Its simplicity and pure use of material makes it one of these things I wish I would have made."