07.30.13
Ben Medansky Studio Visit on Los Angeles, I'm Yours
It's a quiet summer week here at Sight Unseen HQ. August is approaching, we're spending more and more weekends out of the city, and the time in between them is becoming increasingly shorter and less productive. But that doesn't mean we don't know from hard work — we've spent the last four years pouring inordinate amounts of time and effort into the stories on this site, and so we're all the more sympathetic when we see other blogs doing the same. Case in point: the ridiculously extensive, print mag–worthy interview with ceramicist Ben Medansky we spotted recently on the blog Los Angeles, I'm Yours, a city-centric cultural resource founded in 2011 by The Fox Is Black's Bobby Solomon with editor Kyle Fitzpatrick. We've excerpted part of it here, along with a selection of the accompanying studio photos; follow the link at the bottom of this page to see the rest of the piece and discover more amazing L.A. artists.
We don't often place contemporary art and contemporary craft outside of the context of current time; what we make now isn't viewed as the cultural and intellectual relics we will leave behind. These ways that we express ourselves are markers of history and forms that may outlive us for centuries. Ceramicist and artist Ben Medansky is very aware of this: His work — from slumping planters to arching bowls — is very aware of the baggage the past, present, and future have on them. They are made with an eye at history and a gaze toward what has yet to happen: Ben's creations are meant to represent his surrounding and point of view in a sophisticated, simple, and tactile way.
"Ceramics last forever," he says, sitting at a table in his studio. "I feel like if I am going to be in charge of the aesthetic history of our society that I might as well make things that are good and that I am proud of. They're not going to dig up the Internet, unfortunately."
Ben's studio is full of his work in various stages in their process. There are unfired pieces sitting near his kiln, a shelving unit of experiments and pieces that are awaiting completion, and a back wall lined with items ready for purchase. His style pulls from Southwest natural materials, which he juxtaposes with bright primary colors, making work that lies somewhere in between that of Ken Price and Peter Shire.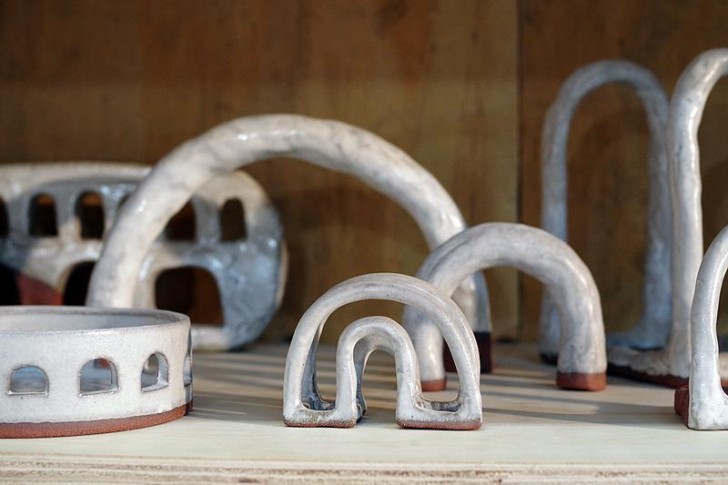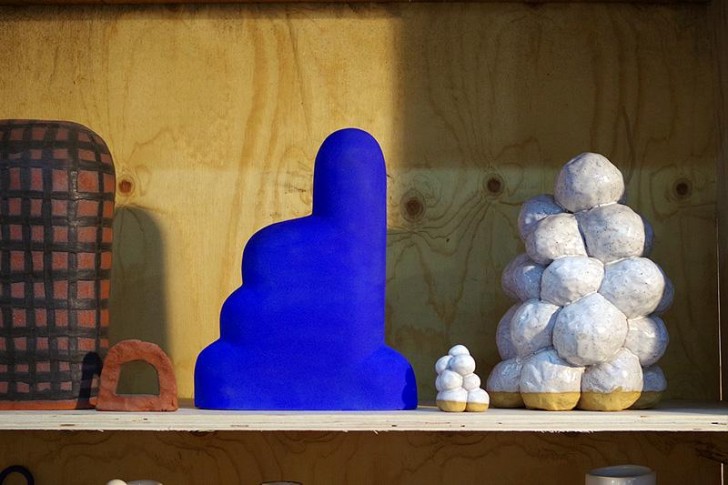 It must be noted that Ben is very, very young. He graduated from college in 2010 and in a very short period of time has been able to create a notable, highly buzzed about Los Angeles ceramics business. He grew up in Scottsdale, Arizona, an area that he describes as the "Valley of the Sun" and with an almost boring cleanliness. His introduction to his craft came in high school but was among many artistic pursuits. "I went to an arts high school In Tempe, kind of near ASU, and was really exposed to a lot of different processes like ceramics and woodworking and painting and sculpture, which I got really interested in. It was a little bit of everything! I even got into filmmaking and I wanted to be a filmmaker or a director for a really long time."
College brought Ben to Chicago to attend the School of Art Institute of Chicago. "It is the longest name for a school," he says with a laugh. "It's also not an AI school, which a lot of people confuse it with."
"I went there with a film and painting portfolio but I never actually took a film or painting class. I focused more on sculpture and furniture design, product design, and performance. I got interested in different ways of thinking creatively and using different materials to make things and to talk about things."
"Toward the end, I started going to this art colony they have in Saugatuck, Michigan called Ox-Bow, which is this amazing artists' retreat where you stay there for two to eight weeks and are immersed in whatever process you are doing. I took a ceramics class there and I wondered why I hadn't taken any ceramics classes at the Art Institute. From there I started taking classes and got really focused since the materials were free, disallowing any strains on ideas. I could focus."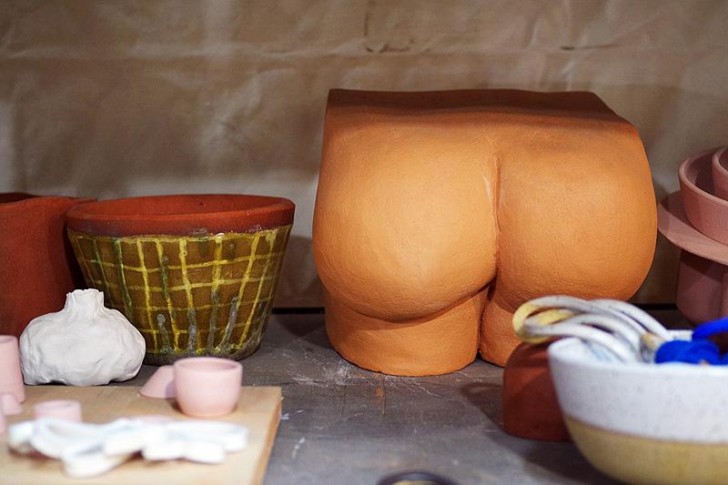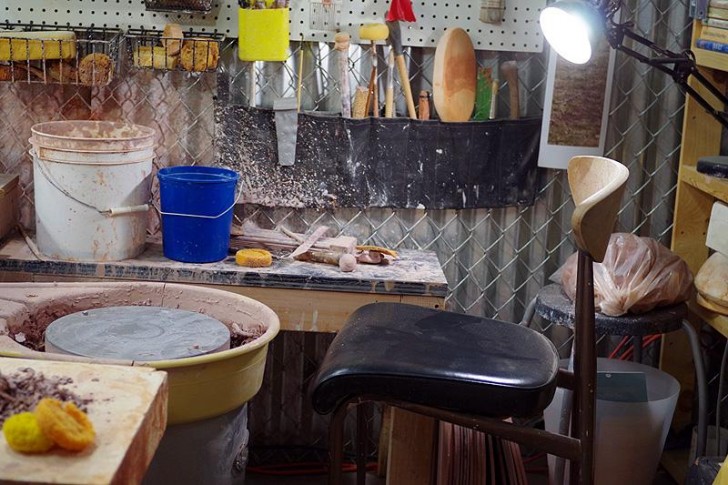 Upon graduating, Ben went on to work at a wholesale company selling goods all around the country. He was pretty unsatisfied with what he was doing since the merchandise was produced overseas. "I realized that I didn't like that, and that I don't think it's sustainable," he explains. " I don't feel like that is moving forward. I broke off and started working with a bunch of different artists in Los Angeles."
Ben only stuck with this job for a few months and, because it was based in Orange County, moving up to Los Angeles was an easy next step for him. He started working for various artists and meeting lots of local creatives. "I was working for this artist, Anthony Pearson in Culver City, working on his sculptures. He introduced me to some of his friends like Jonas Wood and his wife Shio Kusaka, who is a potter. I worked with Shio for a few months, helping her in her studio and in her house."
He went on to various jobs from making butterfly specimen displays for Natural Curiosities to working in the studio of Peter Shire and Kelly Lamb and the Haas brothers. All of this work was helpful to Ben, but he was really unsatisfied working for others: he had to do his own thing.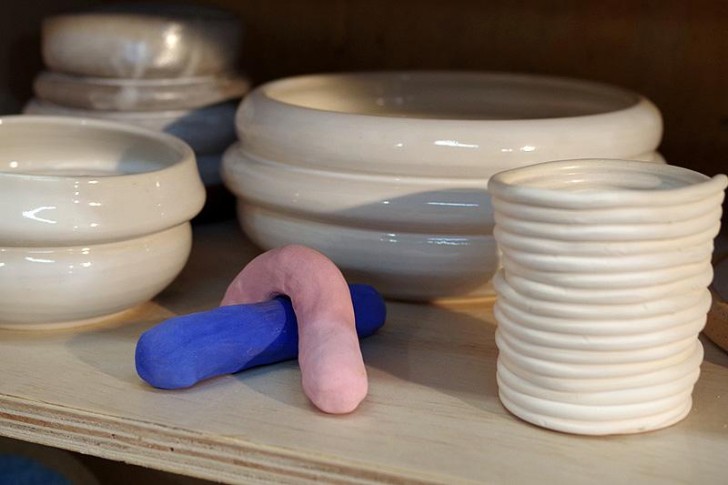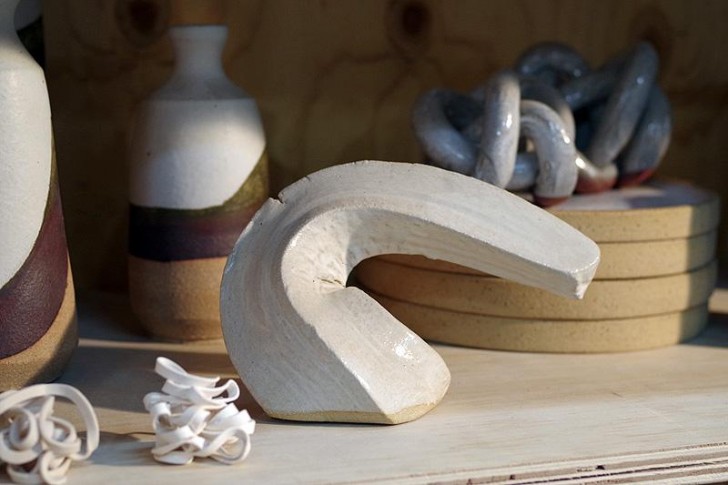 "I drove to Zion and Bryce Canyon in late 2012 and decided I was done working for somebody else, and that I just wanted to do my own ceramics. I wasn't going to worry about any art making fabrications. I started this company in May, which is when I got this studio space. I was working for other artists while having my own studio: I knew I needed to spend all the time in my own shop instead of at other people's studios. How can I focus if I'm constantly anxious about other people's projects?"
As you can tell, Ben only does what satisfies him. He cannot sit idle on a bed of bubbling ideas. "I'm really good at knowing what I don't like," he explains. "As soon as I know what I don't like, I stop doing it. As soon as something isn't making me happy, I stop doing it because that's what my parents and my family and the Disney Channel have always told me. I've been able to focus on what I love to do."
Since December 1st of last year, Ben has committed himself to doing what makes him happy: He has been in his studio creating every day, save for trips he has taken for inspiration, to give inspiration, and to get work. The secret to success isn't just his hardworking attitude but also his ability to connect with others which has been significantly aided by the Internet. "I used my Instagram," he says. "Two to three times a day or a few times a week, I'd share what I was doing. The Internet is so amazing: how you can get a little bit of recognition to meet the right people through the Internet is amazing–and everything else just falls into place."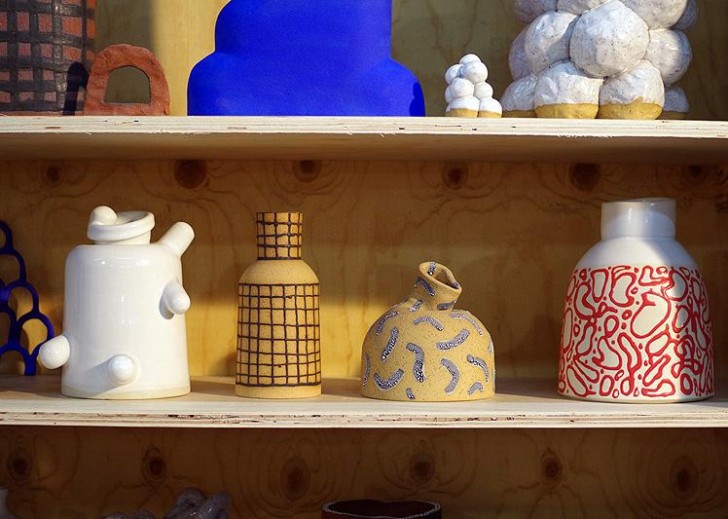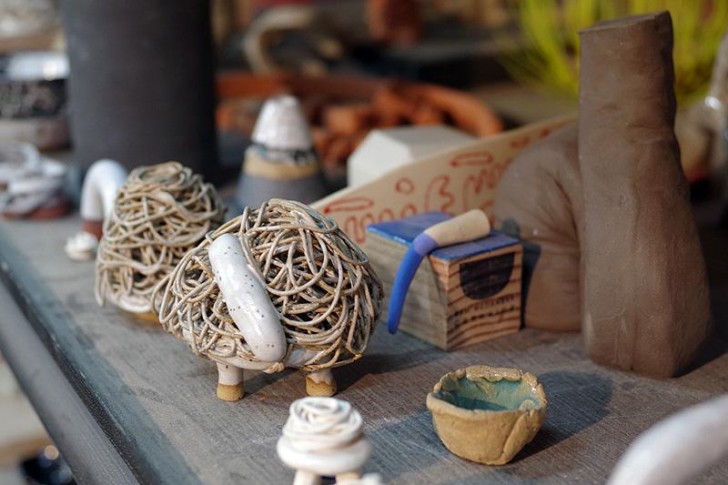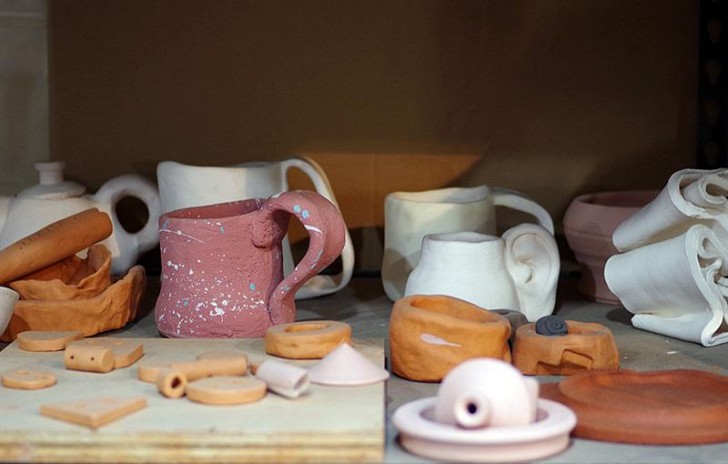 Connecting online sounds obvious but it's more than that: Ben is tapping into an aesthetic with his ceramics that is particularly special in the current climate of contemporary fine art and contemporary consumer art. He has nailed every trend by making his own, making logical, sellable items, and collaborating with the right people: his ceramics is marking present time.
"I've been doing ceramics for probably fifteen years. Before that, things like Silly Putty and polymer clays were really important for me: I've been honing in on making things for a very long time. I think within the last three months I've realized the detail in my work that I like. For example, I find myself obsessed with a beautiful curve or beautiful arch. Not that I've invented it (arches are some of the oldest forms), but I'm making ceramics that are obsessed with architecture."
The interview with Medansky — including more photos of his L.A. ceramics studio — continues at length. Follow this link to read the rest of it, and to check out more of Los Angeles, I'm Yours.