07.18.13
Leon Ransmeier on Herman Miller's Why Blog
PHOTOS BY GEORDIE WOOD
Most design fans know Leon Ransmeier's name — and the minimalist, hyper-functional work he's known for — and yet he flies relatively under the radar in the New York scene, with very selective participation in pop-up shops, exhibitions, and even industry parties (the ones that aren't thrown by yours truly, of course). It's a smart strategy, in a way, because whenever he does pop his head up, we take particular notice. Earlier this week, an as-told-to essay appeared on Herman Miller's newly relaunched Why blog, exploring his ideas about contemporary tables and table usage (Ransmeier recently debuted the AGL worktable for HM) — complete with photos of New York City tables both real and makeshift — and we couldn't resist reposting it here for your enjoyment. Check out our excerpt below, then follow the link at the bottom of the article to read more back at Herman Miller's site.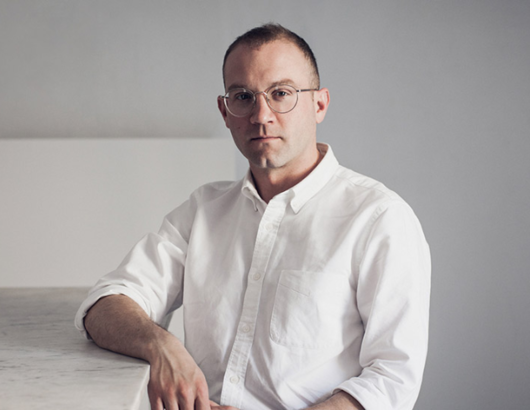 IN SITU
Ergonomics, as a science, came more or less out of goodwill for human beings to make things that were designed to accommodate bodies.  But sometimes more is needed. The only way you can actually create objects that are truly meaningful for people is by experience. We adapt our bodies and lives around the objects that we have, and that is an important thing to consider. Of course, when you are involved in the design process you ask a lot of questions. Why are objects shaped a certain way? Why are they used that way? How could they be more beautiful or comfortable? Learning how to look and being observant is one of the most important things about being a designer.
In the studio, we have an unofficial list of funny things everyone in the Western world has an opinion about—things like, sofas, French fries, and dogs. Tables are not on the list because they are so ingrained in our lives—sitting at a table is such a fundamental part of our Western posture. The reason people have an opinion about sofas is because sofas are about comfort, and everyone has an opinion about that. Tables are also about comfort, but that comfort is specific in relation to our body proportions and the size of the chairs that we sit in. For example, the standard height for a dining table or desk is derived from its relationship to the chair, which is derived from the distance of your knees to the floor when you are in a seated position. So you could say that the height of a table has evolved out of the length of people's shins.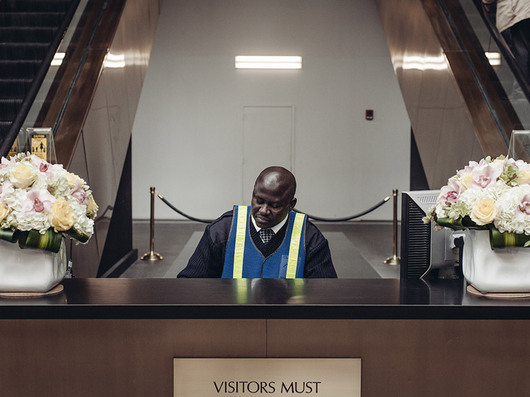 The front desk of AIG headquarters in Manhattan.


Improvised surfaces in Chinatown (left) and on the Staten Island Ferry (right).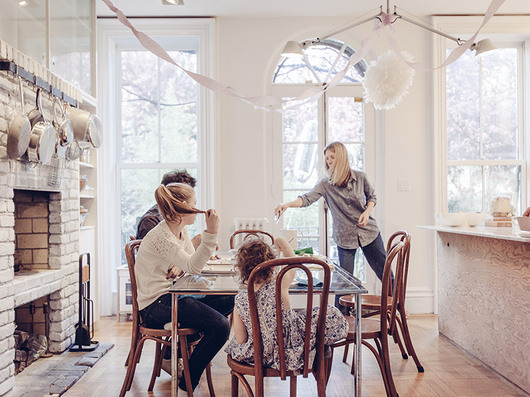 Elizabeth Beer and Brian Janusiak, owners of Project No. 8, at home with their family in Carroll Gardens, Brooklyn
Furniture is incredible in the sense that, when you walk into an empty new apartment, you almost don't know what to do with yourself.  It's not until you sort of walk around in a circle and sit down on the floor that you can relax. A lot of the world sits on the floor or on a carpet, and it works well for them. In many ways, we fabricate our needs. As Westerners, we've become so accustomed to chairs and tables that they become a necessity. Recently, I spoke to a designer who told me his firm had put lounge-type collaborative areas in some of the spaces they had designed for clients that ended up being removed because the clients couldn't get their work done without tables. People need that surface.  An architectural office without a huge table is unthinkable. You have to have somewhere to put the drawings!
ADAPTIVE SURFACES
The thing about furniture is: if it is not one thing, it is another. If a chair is not used to sit in, it becomes a table, and if the table is not used as a table, it becomes a seat. We took the Staten Island Ferry in search of tables but there are almost none. For that reason, we inadvertently found a reason to talk about tables, because every flat surface—even if it is tiny—ends up getting used as a table. It's just an example of how, in a public setting, if there is a flat surface, it is going to collect debris.


Early morning on the Staten Island Ferry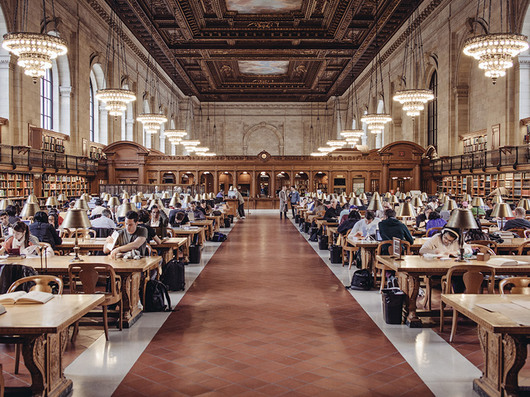 The Rose main reading room at the New York Public Library

Surface observations at the New York Public Library (left) and in Chinatown (right)
In New York City, there aren't many places where the public can gather and use tables and chairs. There are a lot of benches and picnic tables with built-in benches—but those are fixed and less flexible. A table with freestanding, lightweight chairs that can be moved around is a very different experience, and you don't often see it in public spaces. The New York Public Library is such an elegant, incredible piece of architecture with such well-made furniture, and it's one of the rare places where you can find a number of people just sitting and reading at tables. It is also home to one of the most beautiful tabletop power outlet covers I have ever seen—made from inlaid brass. But of course, it required them to cut a hole in the middle of the table! Many of the large powered tables on the market have holes cut in them, but once you cut a hole in the middle of a table, it will never be the same. It's much nicer to think about a table as an uninterrupted surface. It is more pleasant. [Tabletop power sources] also encourage a lot of visible wire mess, and the power supply to your computer has nothing to do with your experience of using it; it shouldn't necessarily even be in your peripheral vision — you touch it only to plug it in.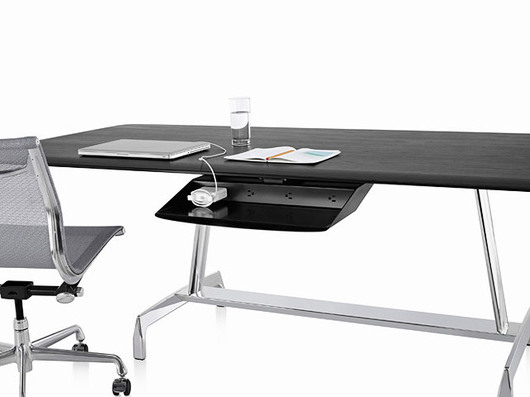 For AGL (above), the primary goal of bringing the outlet tray to the edge of the table is to create an access to power in the personal space of the user and to do it in a way that is intuitive, comfortable, and useful. If technological advancements to batteries and charging make plugging in obsolete, we can take off the trays and the table is still useful. After all, we are not going to stop needing tables any time soon.
Ransmeier's essay continues — click this link to read the rest of it (with many more photos by Geordie Wood) on the Herman Miller Why blog!