08.23.12
mono.kultur #32: Martino Gamper, All Channels Personal
It took me 16 issues (Miranda July) to discover the Berlin-based magazine mono.kultur, after seeing its pull-out poster on my friend's wall a few years back. "Dear life," it read, "do you want to hang out tonight? I should warn you that I will not be wearing any make-up and my hair is dirty. If you can handle that, call me. Yours, Miranda July." Five issues later (Tilda Swinton), I was obsessed: Here was a publication that, with each issue dedicated to a single long-form interview, was less about collecting personalities for front-cover bragging rights and more about truly, painstakingly, and intimately getting to know them. Which is all any of us dream about when it comes to our cultural idols, even those of us who, from time to time, have the honor of crossing their paths ourselves. So even though we've profiled Martino Gamper on Sight Unseen before — our lovely London contributor Claire Walsh having toured his home garden and secured us his favorite pasta recipe — we still jumped at the chance to excerpt mono.kultur's new sit-down with the Italian RCA grad, who talked to its editors about his latest public design projects, his feelings about Ikea, and the use of humor in his work. The interview runs to 10,000 words and — in print — comprises three booklets hand-assembled into one exhaustive artifact that stretches far beyond the small sample presented here. After reading it, scroll down to learn how to get your own copy before it — like most of the issues this cult favorite has produced — sells out forever.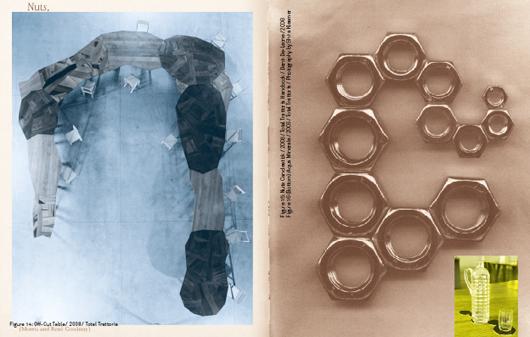 MARTINO GAMPER: ALL CHANNELS PERSONAL
"True ugliness can be a treat."
Interview by Emily King and Kai von Rabenau
Did you do anything for the furniture fair in Milan this year?
I made one chair for Nina Yashar at Nilufar Gallery. She is doing a project called Unlimited, where the production of objects won't be limited in any way. I like the idea of doing one-offs and then pieces with unlimited production, with nothing in between.
Do you feel you have to visit the fair these days?
Not so much, to be honest. It's still useful for meeting people from the industry, but it's not really a place for inspiration. People think it's important to see the newest things, but by the time they've caught on to something in Milan, it's already been done over and over.
Has the fair become slower to pick up on what's going on?
The fair has actually become much faster in picking up trends, but maybe more like the fashion world does, Milan being one of the big fashion cities, as well.
So where is a place to get inspiration, for you personally? And where would you go to see truly new design, if not Milan?
Milan is actually a place to see truly new design, and it's good to see what people are doing, but I think that inspiration in design doesn't necessarily have to come from design; there are so many more references in culture and other areas. Milan and its surroundings have a great history as the centre for design production and presentation. Milan is the show town, a museum where you can see the past, but the real stuff in Italy happens in what the Milanese call the hinterland, the zone industriali e artiginali up and down the country. They are pockets of small- to medium-sized businesses, mostly family run, and it was these entrepreneurs that shaped Italian post-war design as we know it now. Most of these companies are still running, some in their second or third generation. Some of them still have the same attitude of combining ideas with manufacturing, but others have lost that in the transition between generations.
In terms of inspirational places, it's the places that are on the fringe, like Belgrade and Istanbul, or New Zealand, that I'm interested in.
Is Unlimited a way for Nina Yashar to bridge the world of the design gallery and mass production?
Yes, I've never been really interested in the in-between. Most of my work is one or the other: either a very one-off, handcrafted object with its own narrative or a mass-produced product. I don't have a problem with mass production; it's not evil in and of itself. I think it depends on how you do it and who you are working with.
The chair you're sitting on now is mass-produced; we made it for Magis. Yesterday, we had our first royalty cheque for that chair. I guess it's the day every designer waits for. First, you wait for a product to be produced on an industrial level, then for seeing it exhibited, then in someone's home and finally at some point you want to see some kind of reward for all this work, as in: being paid.
How much was it in this case?
It was £1000.
Did you get an advance from the company for the design?
No. Basically, the cheque is paying for the last three years of work!
But Magis is a nice company to work for, isn't it? Do they pay attention to detail?
Yes, they keep talking about everything – the details, the colours. They are very independent as a company; they don't even have to talk to their sales department. When they have to take a decision, they decide on the spot, there and then – quite an Italian way of common intuition, which makes them good to work for. The owner, Eugenio Perazza – he's quite a character.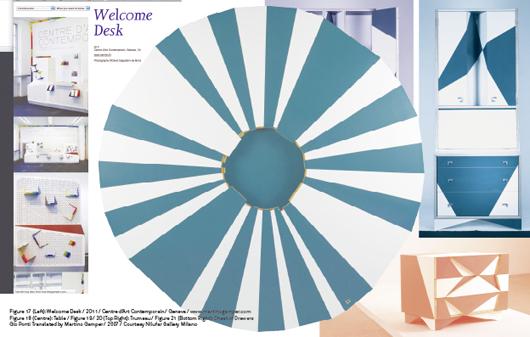 There is often a feeling in the design world that unless you have made a significant mass-produced object, you're not a 'real' designer. Do you ever sense that?
Not really, but I guess many young people hope to make a lot of money that way.
But very few designers manage that. Ronan and Erwan Bourroullec maybe, and Konstantin Grcic. And Jasper Morrison, of course.
Yes, if I had to live on what I made from manufactured products, I couldn't even pay my rent. Industry commissions are great, but you have to be realistic.
I always wonder how many of the products you see in Milan actually take off. The idea of the designer working for industry, putting out a steady stream of products, was probably a short-lived late 20th century model – with heroes such as Achille Castiglioni or Vico Magistretti. As a way of working, it probably didn't exist for very long.
Probably, yes. And most of those Italian designers were actually struggling architects who had to find other work. I never got such a kick out of seeing my work in multiple iterations. It's more rewarding to me to be able to see small pockets of my work in interesting homes or places.
Is that a way of saying that you are more interested in the concept or the idea than the actual product? Would it be enough for you to think through an interesting idea, without actually realising it?
I don't mind the product, but the reproduction and the fact that I can see my stuff in public is not something that I'm particular drawn to. But I like to realise objects; I like to develop them and to find my own way of doing it.
But doesn't it bother you that coverage in the design press might make your work seem a bit inaccessible?
Yes. I still haven't managed to completely get my head around this concept of 'design for everyone'. I mean, the Magis chair is out there and it costs £170. And my book's out there; it costs £13.50. That seems accessible to me.
But what are we calling accessible? There is a lot of industrially produced furniture that is still very expensive.
You have to work out what you are basing your assumptions on. Who is your audience and what do you imagine that they can or are willing to spend on furniture? Are we talking about people who go to Habitat – or whatever will replace Habitat – or people who don't think they can afford Habitat, and are probably not interested in this conversation at all?
Yes, I imagine whether or not they can afford a nice sofa is quite far down the list of concerns for many people.
Probably most people are more concerned with whether they can afford a flat-screen telly. Should you be basing your design decisions on being accessible to someone who really doesn't care? I might be completely wrong, but I believe anyone with a job – whatever 'a job' means nowadays – could afford in his lifetime to buy a chair that costs £250.
It is all about priorities, isn't it?
These people could buy themselves a well-made chair – a chair that their children could inherit. I once asked my aunt about a piece of furniture that she and my uncle had in their house, an old, traditional Alpine cupboard. It was very fine piece; you could see that straight away. She told me that the local carpenter had made it and that it was very expensive – it had cost my uncle more than a cow. That would have been the equivalent of, say, £2,000 today. My uncle had saved for it because he really wanted a nice piece of furniture in his house. Obviously, people have to make ends meet, but there is also the question of what's important to you.
Personally, what indulgence would you save up for?
A very nice and rare chair.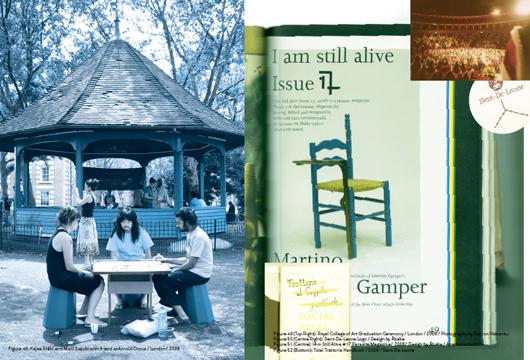 The chair is somewhat of the ultimate fetish for a product designer – every designer wants to do one at some point in their career. Was it a deliberate pun to do not just one but 100, and in such an 'unserious' way?
Fetish is the right word, yes. Chairs are the closest piece of furniture to the human body that a designer can design. They are the negative mould of ourselves, giving us support and comfort for reading, thinking and eating the way we are used to. So I would call it a challenge rather than a pun.
Do you still use that kind of collage technique?
Sometimes. There's this chair I started a few months ago that I am now putting together – it's a really crappy Philippe Starck copy combined with an Air Chair. I still like to use reclaimed materials. It's something I'm still interested in, but maybe in a different way. I am becoming pickier about the things I'm going to take apart and in what context.
What do you look for in used materials that makes you want to work with them?
I'm quite attracted by materials that have an interesting story behind them – it can be based on location or technique, on historical aspects, their original designer, their use or the context.
It can also be about the very material itself: For example, the wood I used for the tables of our Total Trattoria evenings was from school physics laboratory tabletops and from patent office shelves.
Perhaps your most radical use of existing material was when you took apart furniture by Gio Ponti for your project in Basel. Weren't some people very shocked by that?
The Ponti furniture was from the Hotel Parco dei Principi in Sorrento. When the hotel was renovated in 2005, the furniture was sold in two lots; nice collectible pieces that are still around in auctions and all the other bits – doors, cupboard doors, headrests, bedsteads. Stuff that no one wanted to buy. Nina had bought those leftovers, but didn't really know what to do with them – they were mainly in very poor condition. When I saw them, I loved the colours and the idea that something that was going to end up in warehouse storage could be made into something new. For me it wasn't about taking something apart. I was asked to do a performance at Basel and I thought it would be a good chance to make something new from the old.
Did you plan what you were going to make before you started?
No. I was actually really nervous, because I didn't have any idea what I was going to make.
But some people at the fair were quite outraged by what you were doing.
It was seen by some of the dealers as quite provocative, particularly before I had started making anything new, when I was just destroying. Even Nina was a little hesitant at the beginning. I was destroying the very pieces that the other galleries were selling, more or less. For me, it was also important to make a statement about the status of young designers in the fair. It is meant to be a contemporary show, but young designers don't really have a place. I understand that someone like Jean Prouvé designed beautiful furniture, but should half of the fair be Prouvé?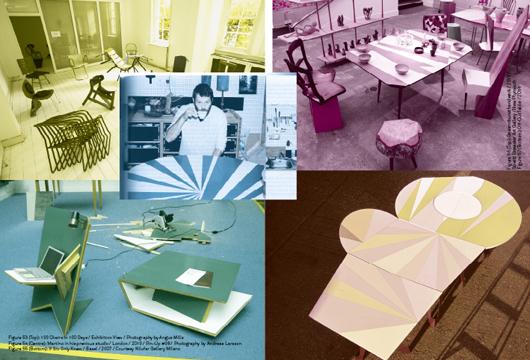 I am curious how you see your work in the context of the revival of minimalism – the influence of Dieter Rams on companies like Apple. Do you think you're bucking a minimalist trend?
Yes and no. I am realising more and more that I am very interested in thinking about Dieter Rams and Ulm – you know, the amazing art school that closed after 15 years where Dieter Rams taught with Otl Aicher, Inge Scholl and Max Bill. It was all about really hardcore industrial design, and it led to companies like Gardena – the garden tools company who made the Gardena hose and many other items. I like to slightly mess with complex systems like that, to play with them rather than just take them for what they are. In a way, I think 100 Chairs made up a system for me to play with. And that's why I like pegboard so much – it's a system that I can work on top of, a perfect example of Rams principle of 'form follows function'. You know the reception desk I made for the Centre d'Art Contemporain in Geneva? It's punched metal that we made with our own tool – basically it can be created in any configuration. So you take one very simple element, but you can also create something quite complex from it. It's like the shelving system that Dieter Rams made for Vitsoe – you could maybe create ten different variations of that.
On a purely formal level, is your work a reaction to minimalism?
No, I never tried to work against something or be provocative like that. Some of the 100 Chairs are actually very minimal – I like to embrace elements of minimalism. And I think the shelving system I made in Milan last year was almost minimal. It was very simple. What I dislike is when minimalism becomes a restriction. I like to mix things. That's why I liked your introduction to the 100 Chairs book and what you wrote about categorisation: the idea that you can categorise by style, or by material, or by where the chair has come from. For me, it's interesting to really mix and work with all these different elements, rather than limiting myself to one approach. I want to create a certain freedom for myself within the design world. I want to be able to go into different worlds and not get tied down to one particular style, or one set of rules.
You don't like it when minimalism becomes a restriction, and yet you often work with setting your own restrictions, in terms of time or materials or space. Is that different because it makes the outcome unpredictable?
I don't like restrictions that become a credo. In that sense, minimalism has become a sort of religion, whereby the people who actually started it just wanted to be pure in their work, while many others have followed and made it into an indoctrinated discipline.
What I like about restrictions is how they force you to be more creative. I usually have too many ideas, and restriction is a way of focusing.
Designers, or artists in general, often work on one subject or with one approach to go deeper, because that takes time and insistence. Is there a danger of just scratching the surface of things when you are going back and forth between different worlds and ideas?
For me, scratching the surface is also learning, and to be able to move between worlds makes me feel free and fortunate. It also enables me to understand different worlds better. I would say that in order to know your own world you should look at it through another world, or from another world, because it's only the context that makes you appreciate, learn and understand your work.
But don't get me wrong. I have a lot of respect for people who can reduce and take away, while still keeping the essence, similar to the chef that manages to subtract rather than add. But there is always a danger that you just end up with less is less, rather than less is more.
The interview with Gamper continues at great length inside issue #32 of mono.kultur magazine — we strongly encourage you to click here to purchase your very own copy, or even better, become a subscriber for only €20 per year.