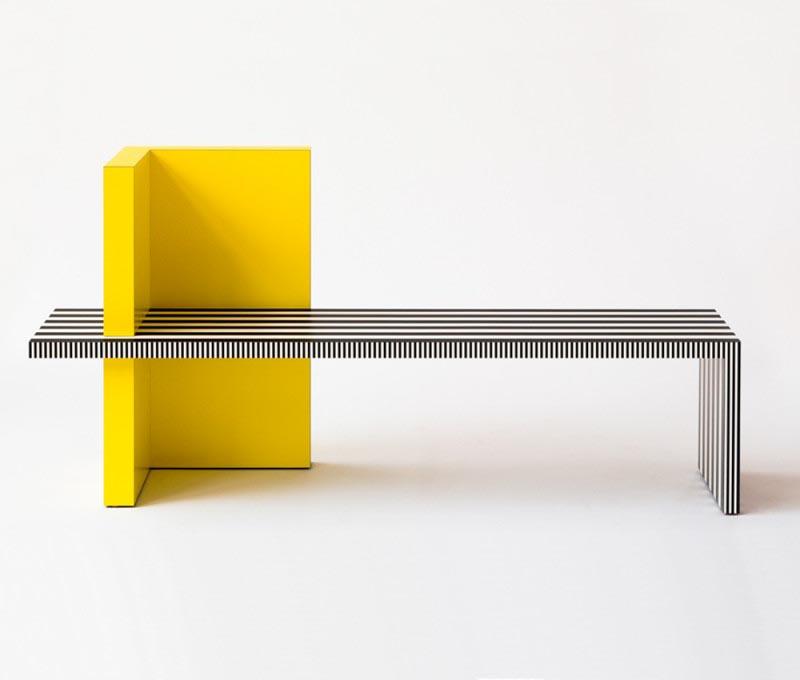 A weekly Saturday recap to share with you our favorite links, discoveries, exhibitions, and more from the past seven days. This week: a subscription-based travel guide with the loveliest photographs, a Memphis-inspired furniture collection by Kelly Behun (above), an Olympics-themed souvenir collection, and more.
Links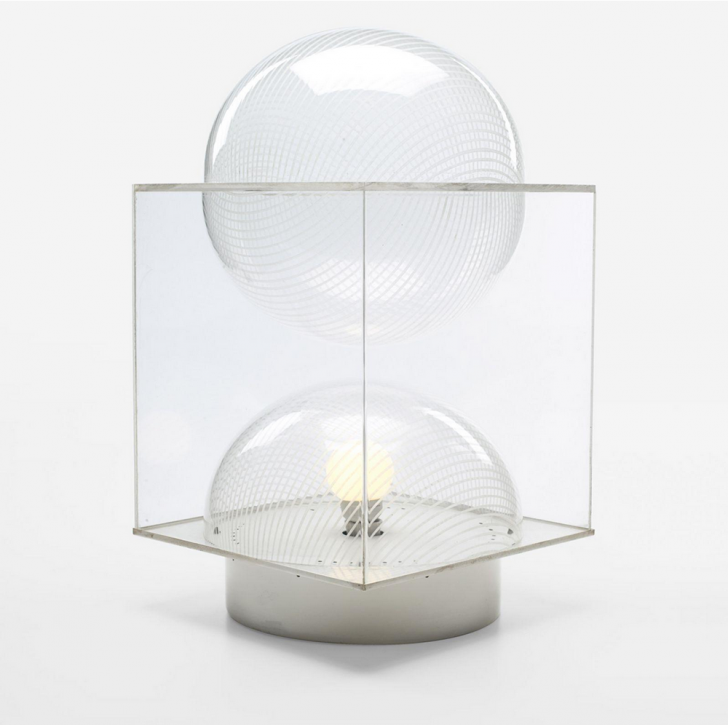 This week over on Core77, we got a design history lesson from Los Angeles designer Matthew Sullivan (he's the guy behind one of our favorite blogs, AQQ Index) on Ugo La Pietra, a somewhat forgotten, experimental, 1960s-era Italian radical who designed the globular methacrylate lamp above. A must-read for all you Memphis-lovers out there.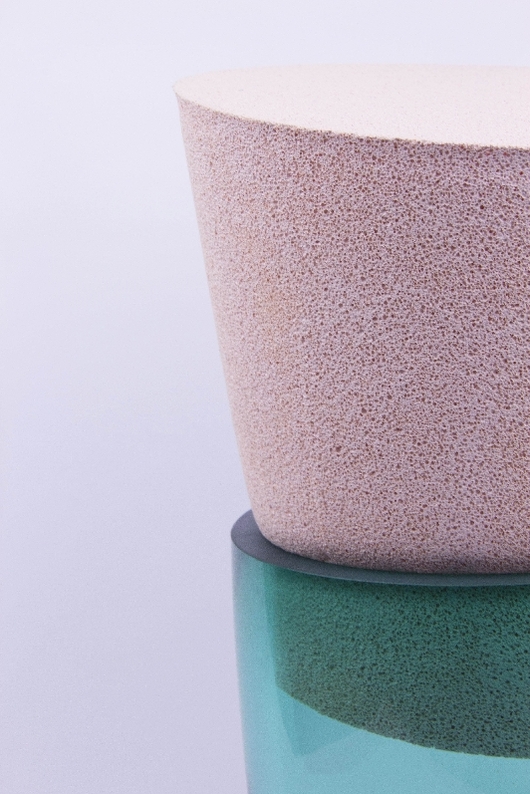 This Is Paper, one of our favorite new reads, introduced us to the work of Dutch designer Roos Gomperts, who created these beautiful juxtapositions of foam and glass for the annual Invertuals exhibit during Dutch Design Week. "Two materials that are each other's visual and physical opposites," writes the designer. "The one often used to protect the other. By treating glass and foam as equals, both materials enhance each other and gain new meaning."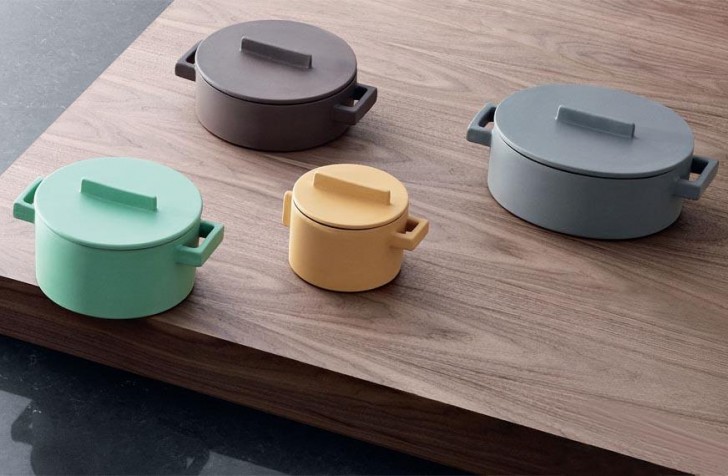 Wallpaper announced its annual design awards, and though the full list will be released in installments throughout the month, the judges' picks are up, including this cute suite of terracotta pots in bold colors by Sicilian designer Stefania Vasquez for Sambonet. "Vasquez hopes the pots will revive interest in terracotta cooking. The material allows for gradual heat diffusion which enhances flavours, and Vasquez has compiled a book of her grandmother's recipes to be included with each pot."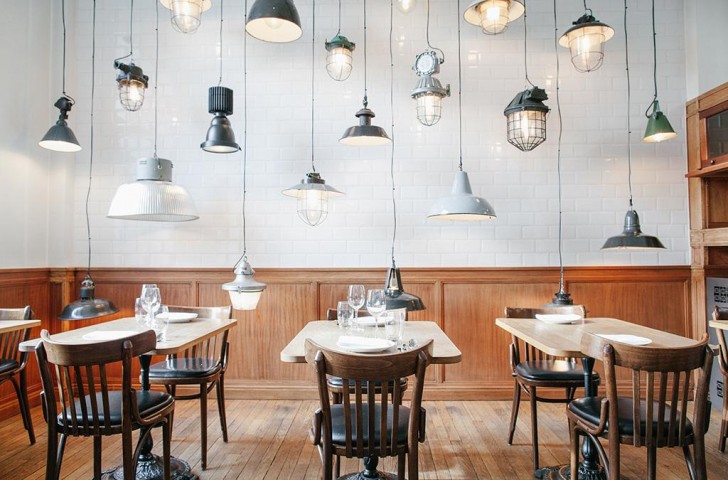 We discovered Cereal Magazine's new online travel guides through photographer Jennilee Marigomen, who photographed spots around town for the Vancouver edition. It's a subscription-based service, but you can see the quality of the picks and photos through their sample London guide, which features killer-designed spots like the Bethnal Green restaurant, Corner Room, above.
Discoveries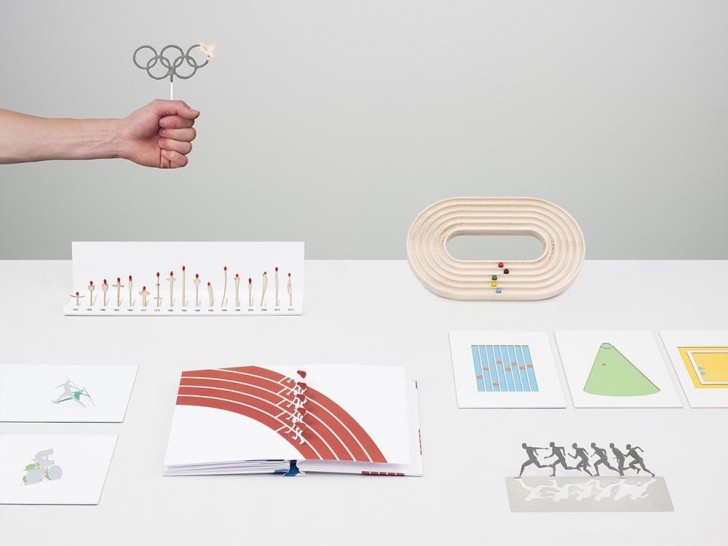 On the occasion of the reopening of the Olympic Museum in Lausanne, Switzerland, a bunch of ECAL industrial design students studying under Spanish designer Hector Serrano were asked to create souvenirs for the museum shop. Two of the proposals — a "Moo Box" containing different sounds (applause, shouts and cries of disappointment by spectators), and postcards with athletic figure cutouts — will soon be for sale in the shop.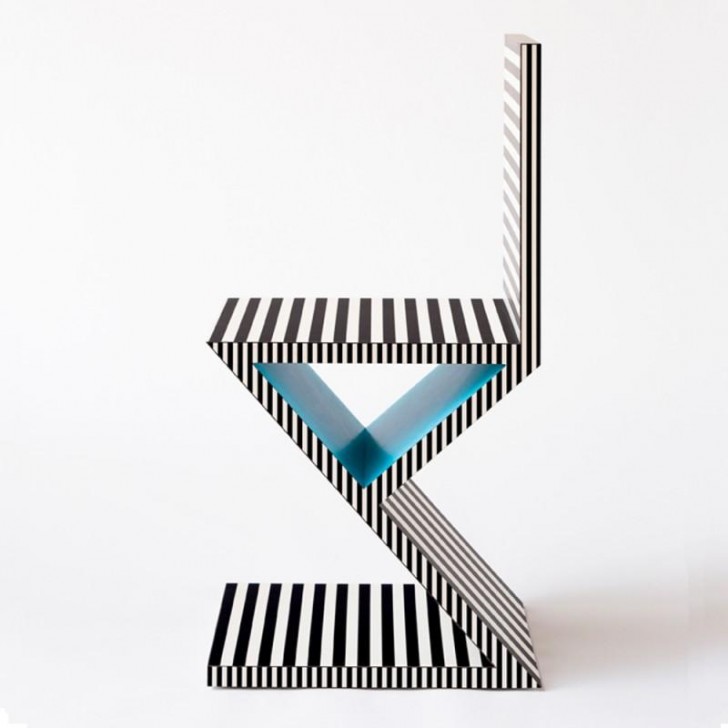 We're not quite sure how we missed this one, but a pin by our friend Cliff Kuang tipped us off to Neo Laminati, the Memphis-inspired furniture collection created by interior designer Kelly Behun for Suite NY late last year (that's her amazing yellow and striped bench at the top of this article, too.)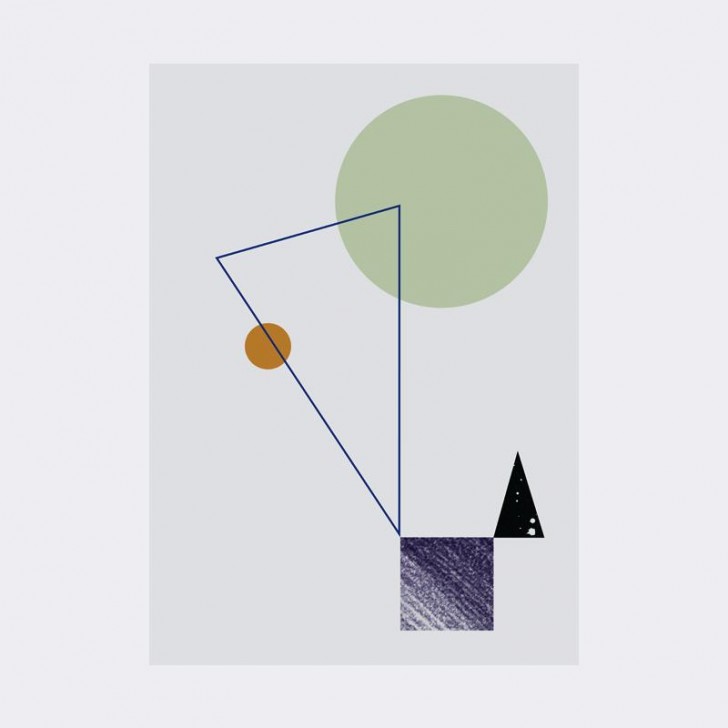 There's also a lot to love in the new SS14 collection by Copenhagen-based designers Ferm Living, who explore geometry in all forms: brass desktop accessories, throw pillow and cutting board decorations, and these great — and super cheap! — posters.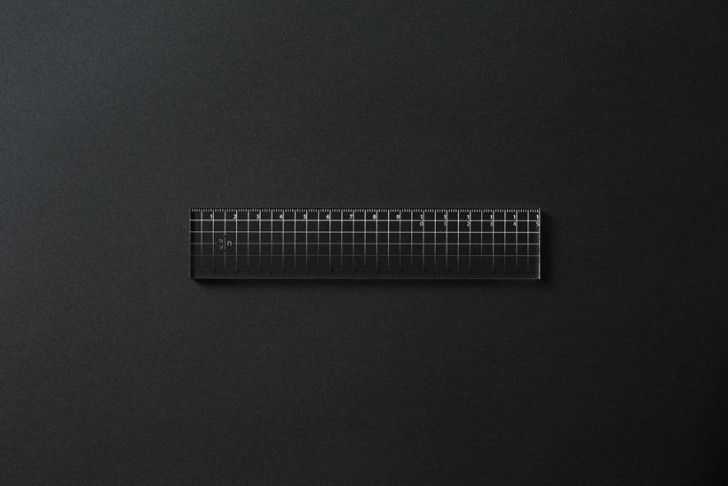 Japanese firm Nendo announced its own brand of stationery this week, which has some of the humor that defined their earlier work — a cubic rubber band, a pie chart–shaped set of Post-Its, and this cool acrylic ruler, whose markings fade from white to black, making the ruler easy to use on both dark and light surfaces.
Helsinki-based illustrator Annti Kalevi — who reminds us of a Scandinavian Antonio Ladrillo! — sent us his work this week. We especially love the pink and electric blue backpacks, his calendar for Spur Japan, and these geometric Hypercolor-inspired postcards, which are screen-printed with UV-active inks.
Exhibitions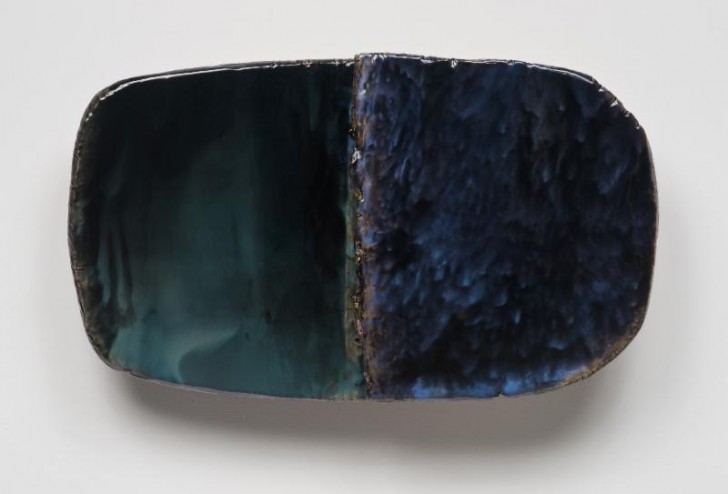 If you're in Los Angeles, check out Liz Larner's solo exhibition at Regen Projects, which features these beautiful chromatic ceramic slabs meant to evoke the colors of the earth's shifting crust.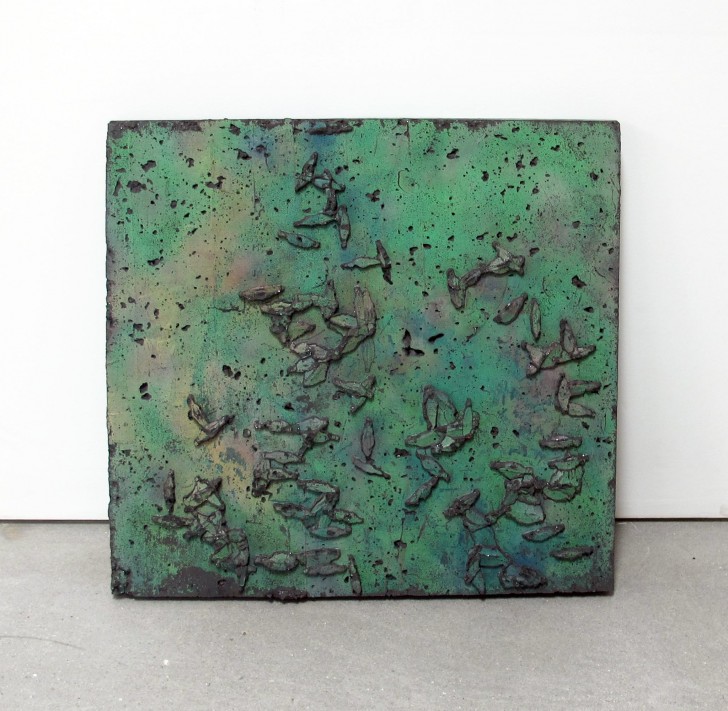 In New York, our must-see is Davina Semo at Marlborough Chelsea, where the work titles are as interesting as the jagged concrete, glass, and metal surfaces. This one's called "Would You Put On A Costume Tonight And Look Different."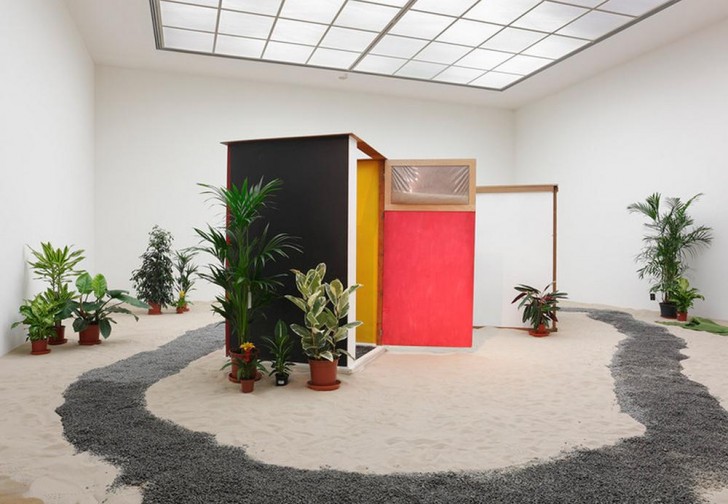 And in Frankfurt, check out the epic retrospective of Brazilian postwar artist Hélio Oiticica at MMK. Among other things, the show explores Oiticica's embrace of conceptual spaces that required participation, most notably his walk-in Tropicalia installation (above), which includes sand, plants, live parrots, and tent-like dwellings. If you can't get to Frankfurt, watch the great video on the exhibition page, which takes you through much of the exhibition with its curators.
Instagrams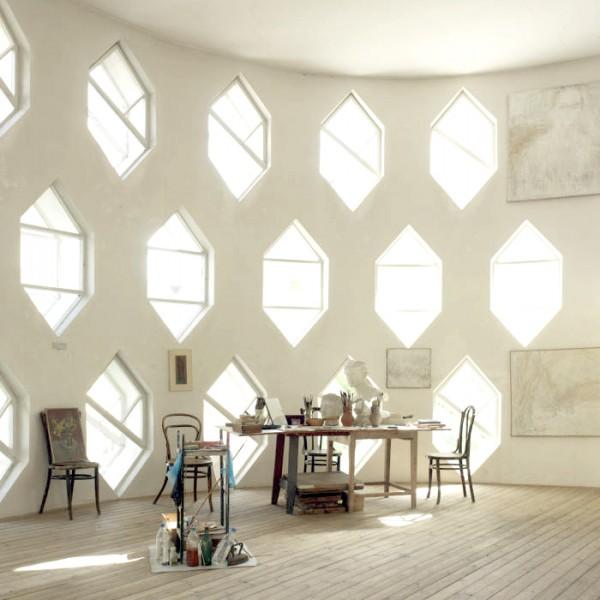 Over on the Instagram account of Natalie Herrera — the awesome graphic designer-turned-geometry-loving-ceramicist whose work will be featured here on Sight Unseen in the next few weeks — we spotted this interior, which belongs to the 1929 landmark Russian residence designed by Konstantin Melnikov.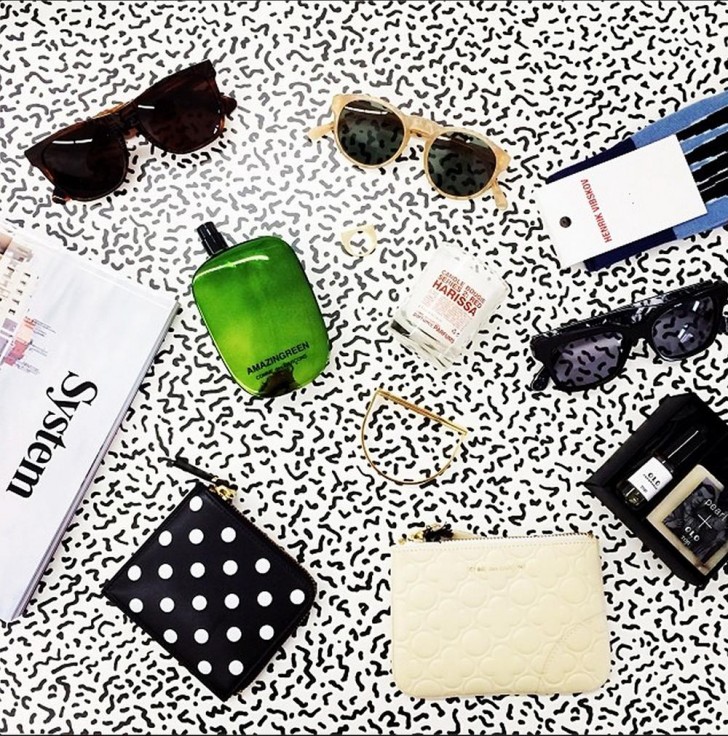 And speaking of laminate, our friends at the Portland shop Table of Contents unveiled their new display tables, which employ Ettore Sottsass and Alessandro Mendini's classic Bacterio pattern in laminate on wood.
Pins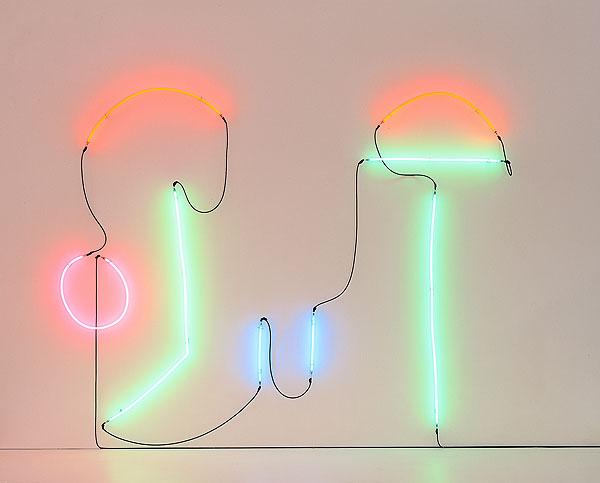 We were introduced to the work of artist Keith Sonnier by the Venetian collective Studio Fludd. Can you tell we're into neon?
RIP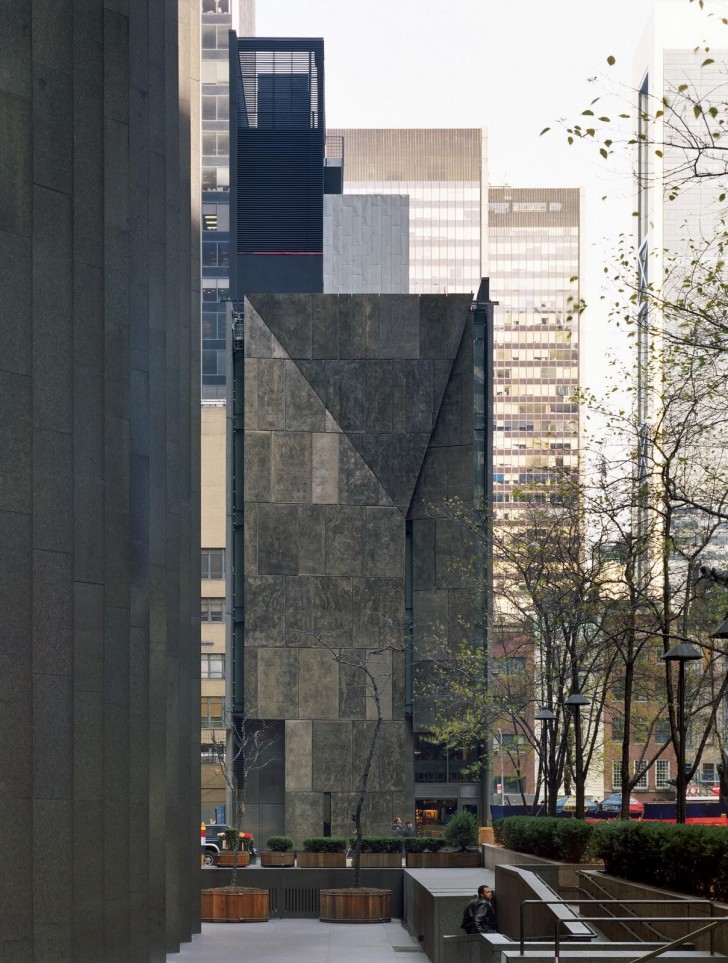 Last but not least, consider this our official farewell to one of our favorite buildings in Manhattan, the onetime home of the American Folk Art Museum, designed last decade by Billie Tsien and Tod Williams. It was officially announced this week that the building will be razed in order to make room for a new tower as part of MoMA's expansion. We've always loved the opaque bronze façade of the Tsien-Williams building; it looked like the world's biggest Brutalist sculpture, and it was risky in a way too few buildings are. We'll miss you!