09.18.14
The First 59 Minutes of Jill's Day
PHOTOS BY MARK HARTMAN
Two things happen when you run a site that features as many beautiful interiors and objects as Sight Unseen does: One, people begin to seriously hit you up for interior design advice (which we can oblige, though please don't ask us about the art on your walls!). Two, they start to wonder if they can sneak a peek inside your own space. So when we were recently asked to participate in IKEA's brand-new "Show Us Your IKEA: The First 59" campaign — which focuses on how IKEA pieces can help make the most out of the first hour of your day — we thought this was as good a time as any to invite our readers into one of my favorite spaces and to share a bit of my own morning routine.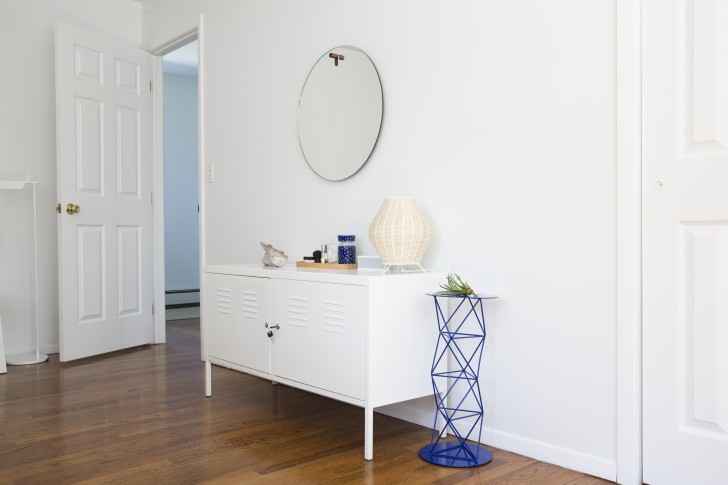 We shot these images at the beach house I bought with my husband last summer when full-time apartment living with a toddler became a bit too close for comfort. The best — and most daunting — part about buying a second home is that, decor-wise, you get to start totally from scratch. The first thing we bought for the house was this Eric Trine plant stand, which I snagged when the LA designer showed with us during last year's New York Design Week. Other than that, the house was a blank slate. I knew I wanted to create a semi-nautical, blue and white color scheme, and I also wanted furniture that was relatively low to the ground so that it wouldn't be an intimidating place for a three-year-old to set up camp.
(Above: IKEA PS Cabinet, IKEA HELG table lamp, Brose-Fogale Camerino tray, Eric Trine plant stand, Jen E Blue Dot Vase, Blu Dot Hang 1 Mirror)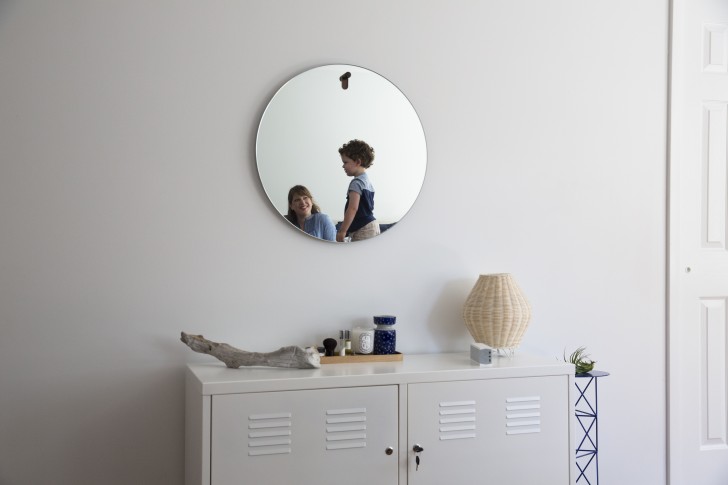 The second thing we bought (after mattresses!) was the classic PS locker from IKEA, which I'd loved for years but never had a place for in the city. The master bathroom in our house gets almost no natural light, so the IKEA locker turned out to be a perfect replacement vanity. It's also a lifesaver in the mornings: My son is young enough that he's still entertained by activities like flossing his teeth, or locking and unlocking the cabinet over and over while I get ready. And it's low enough to the ground that he can reach the Jambox and start an impromptu dance party whenever he feels like it — which is often the best part of our day.(Above: IKEA PS Cabinet, IKEA HELG table lamp, Brose-Fogale Camerino tray, Eric Trine plant stand, Jen E Blue Dot Vase, Blu Dot Hang 1 Mirror)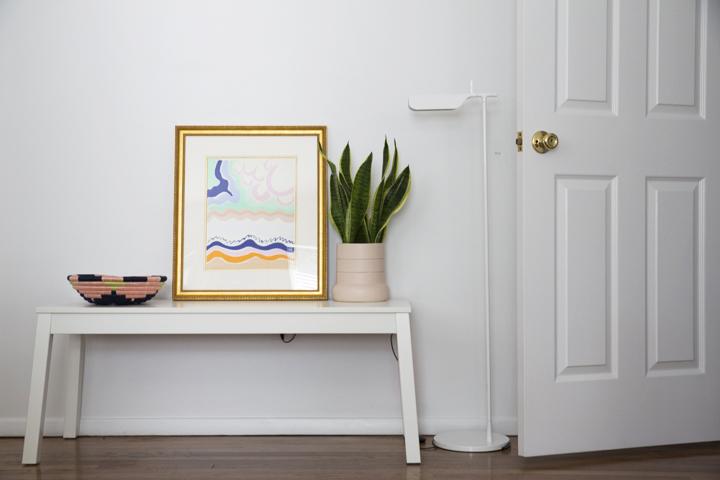 Creating the perfect interior is a lot like assembling a great outfit: You need the essential building blocks, the occasional vintage piece, and a bunch of high-low accent objects to style the whole thing out. We've got the designer object thing on lock — so many of my favorite pieces have been acquired from our own shop or from friends we've shown at Sight Unseen OFFSITE — and I definitely spent some quality time thrifting at Brimfield last summer. I also took more trips than I can count to the Brooklyn IKEA. I loved this bench so much that I used it in two different rooms. And in the mornings, it's the perfect place for my son to hang out and read a book while I'm making the bed.
(Above: IKEA SIGURD bench, Indego Africa basket, Kate Spade Saturday planter, Barber Osgerby Tab light, Sonia Delaunay print)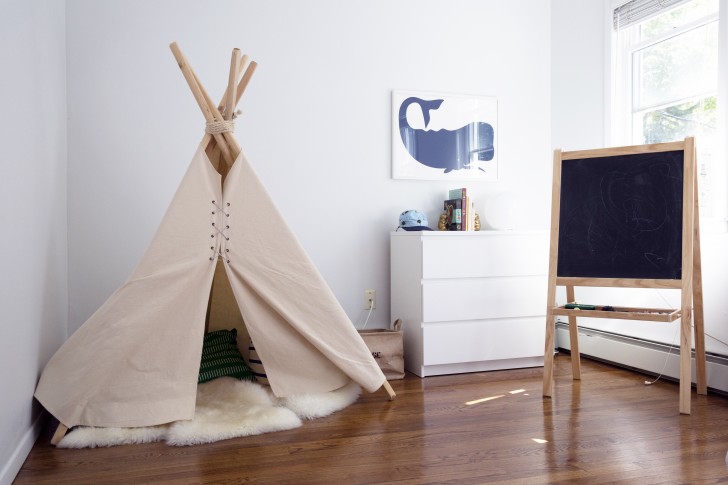 I applied the same philosophy to my son's room (so much so that I kind of secretly wish this was my own room). We got the teepee and vintage elephant bookends on Etsy and then ransacked the Brooklyn IKEA for almost everything else. We try not to hurry too much in the mornings, as it's one of our only times together, and one of our favorite things to do in the first hour of the day is snuggle on the sheepskins inside the teepee, telling stories and drinking milk.
(Above: House Inhabit 5-foot teepee, IKEA RENS sheepskin, IKEA MALM dresser, IKEA MALA easel, IKEA FADO lamp, vintage brass bookends, Banquet Atelier whale poster)

Because I spend the rest of my day on Sight Unseen — writing stories, planning our epic events, and wrangling our awesome stable of contributors — it's important that the first hour of the day feel really calm, even with a three-year-old. We get great light in both this house and our New York apartment, which helps. But it's also important for me to surround myself with pretty things and create a space for all of my little inspiration objects — even in the unlikeliest of places.  
(Top photo: IKEA FORSA lamp, Kari Fisher pillow, West Elm nightstand, bed, and bedding; bottom photo: IKEA SOCKERART vase, IKEA ANGENAM vase)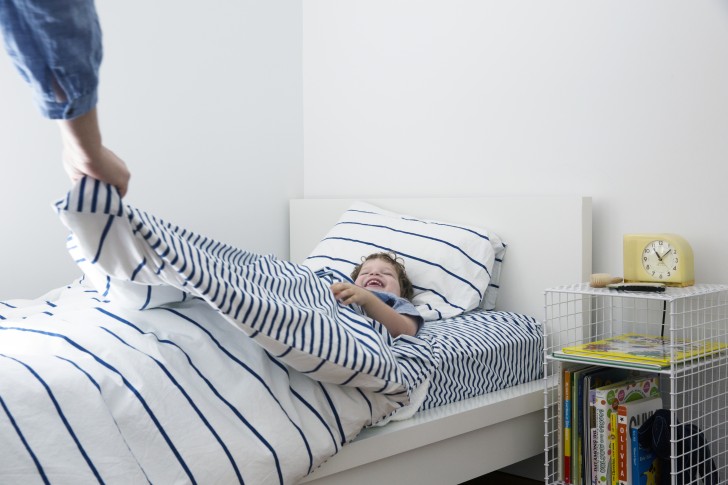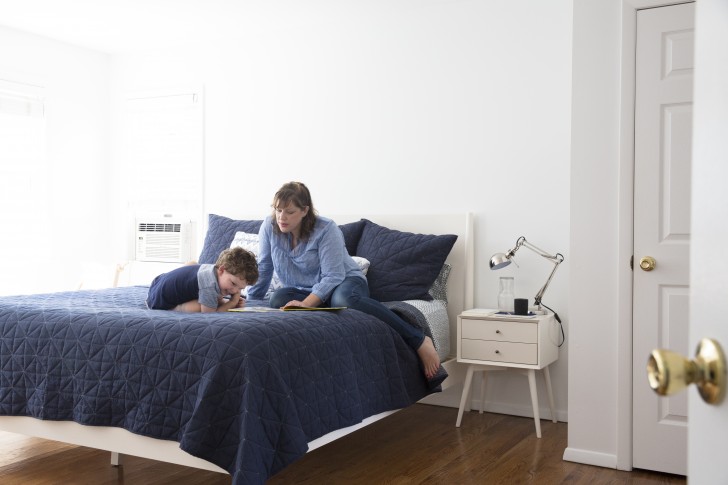 What's your morning routine like? You can check out IKEA's First 59 website for more tips, and show us how you incorporate IKEA into your own life on Instagram, using the hashtag #First59. (Be sure to follow us @_sightunseen_!)
(Top photo: IKEA MALM bed, Land of Nod nightstand, Unison Home bedding; bottom photo: West Elm bedding, bed frame and nightstand; IKEA FORSA lamp)
This post was sponsored by IKEA. Like everything at Sight Unseen, our partners are curated carefully to make sure they're of the utmost relevance to our readers.