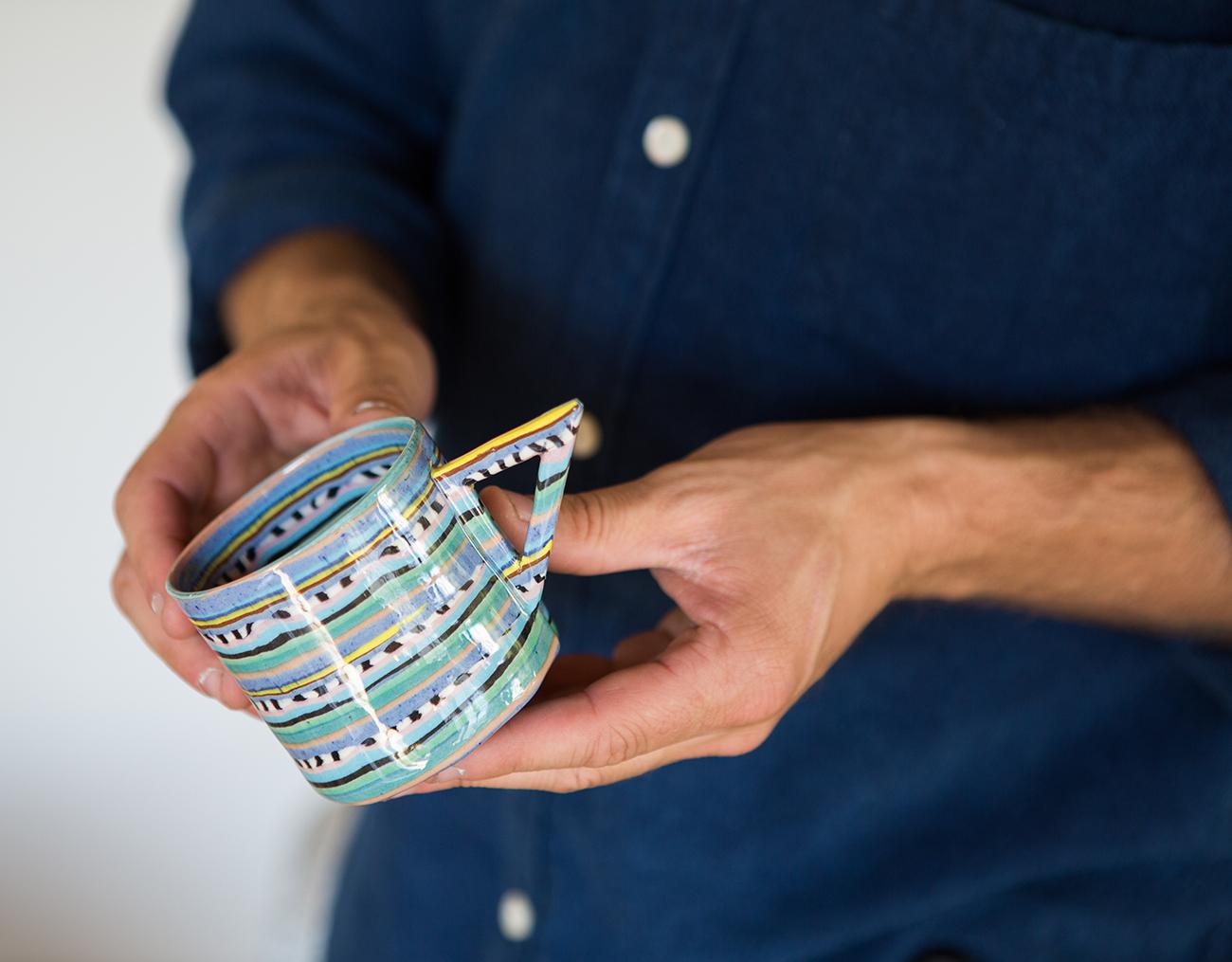 Founded last year by longtime friends Scott Barry, a Cal Arts–educated graphic designer, and Brooke Intrachat, a CCA grad who was disillusioned with textile work, Ouli originally existed as a showroom, gallery, and pop-up retail space in Echo Park, in a tiny sun-filled storefront studio that was inherited from a mutual friend. There, the two exhibited their own burgeoning furniture and accessories line alongside the little-known work of friends and like-minded artists, and in the beginning, the space existed as some sort of halfway house for brilliant pieces without a home. "I knew a bunch of artists making work that didn't fit into a gallery setting; it was more about the home," says Barry. "And we also ended up showing contemporary sculptors in LA who were working under pseudonyms; typically they were people who had signed with a gallery but who weren't making a ton of money. It was weird black-market stuff like that. An artist would drive up in his van and say, 'Hey I just made 5 of these. Do you want them?'" Ouli quickly gained a cultlike following among Angelenos looking for something a bit off the beaten path, but just as quickly as it began, the retail enterprise was over; the two lost their space in August.
But Ouli's good-vibes reputation stuck, and the two — who are known for their genius curation skills as well as their growing furniture collection, which offers a beautifully minimalist take on Postmodernism — remain hard at work, looking for a more permanent home, developing their line, and occasionally alerting friends to their offbeat finds (a few weeks ago, Barry tipped us off to the work of Garry Knox Bennett, who we've become slightly obsessed with.) We acquired these beautiful images of their old space, shot by our friend Laure Joliet, so we figured now was as good a time as any to introduce our readers to Ouli and their ethos, in the hopes that we'll soon be seeing much more of them.
Top image: "This mug is by Sydney de Jong. She's the grandma of one of our friends. She's in her mid-eighties, and she's been doing ceramics in her backyard for 40 years. She practices neriage, which you think of as this traditional Japanese technique. It's often used with a pared-down color palette, but she has the West Coast influence, and it ends up having an '80s, Memphis-y vibe. This mug is part of her archive collection; I think it's from 1987. She knew Ken Price at that time and knew all those sculptors of that generation, but she was always on her own trip."
PHOTOGRAPHY BY LAURE JOLIET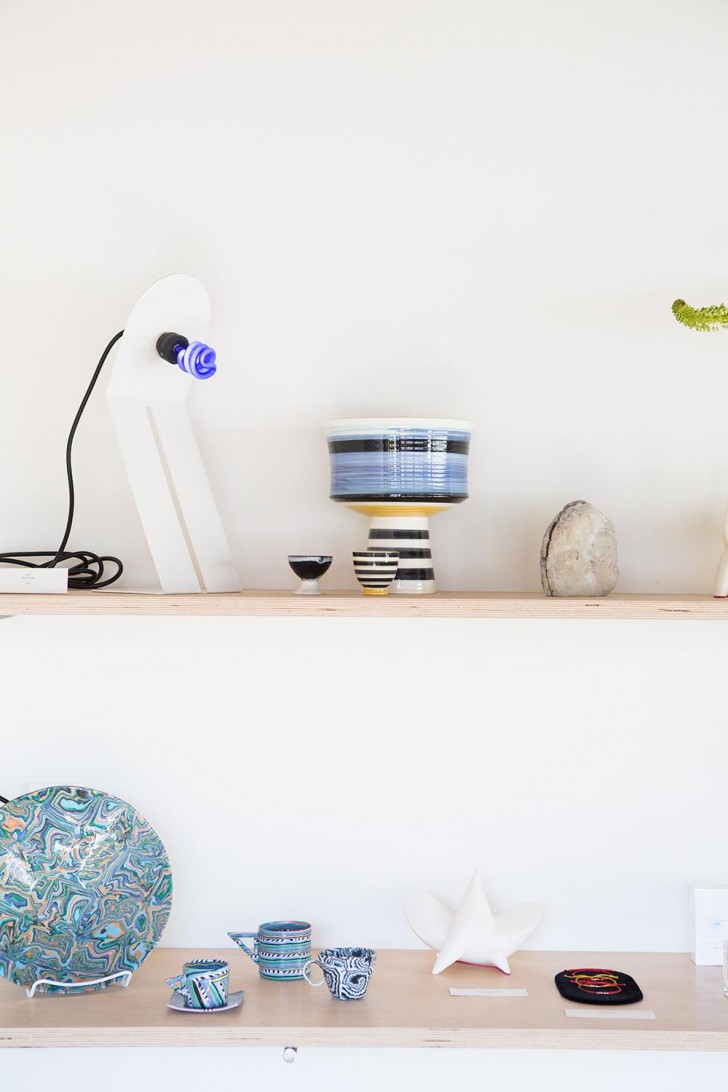 Scott: "On the top left is our Bugatto lamp, which is we did based on the work of two Italian architects from the '70s. We found some drawings of a series of lighting and desk furniture that was never put into production. We had been working with a guy who did CNC laser-cut steel, and we thought we could re-appropriate these forms and powdercoat them. That's something we're interested in. I grew up making hip-hop, and I like the idea that you can borrow and sample and make slight adjustments and something becomes its own thing." Brooke: "The larger piece to the right is an archive piece by Peter Shire, and the two smaller pieces are egg cups. On the bottom shelf next to Sydney's stuff is a piece by Paul Kraftenberg, who does these small clay and plaster sculptures that reference Picasso and Noguchi but with a more contemporary form."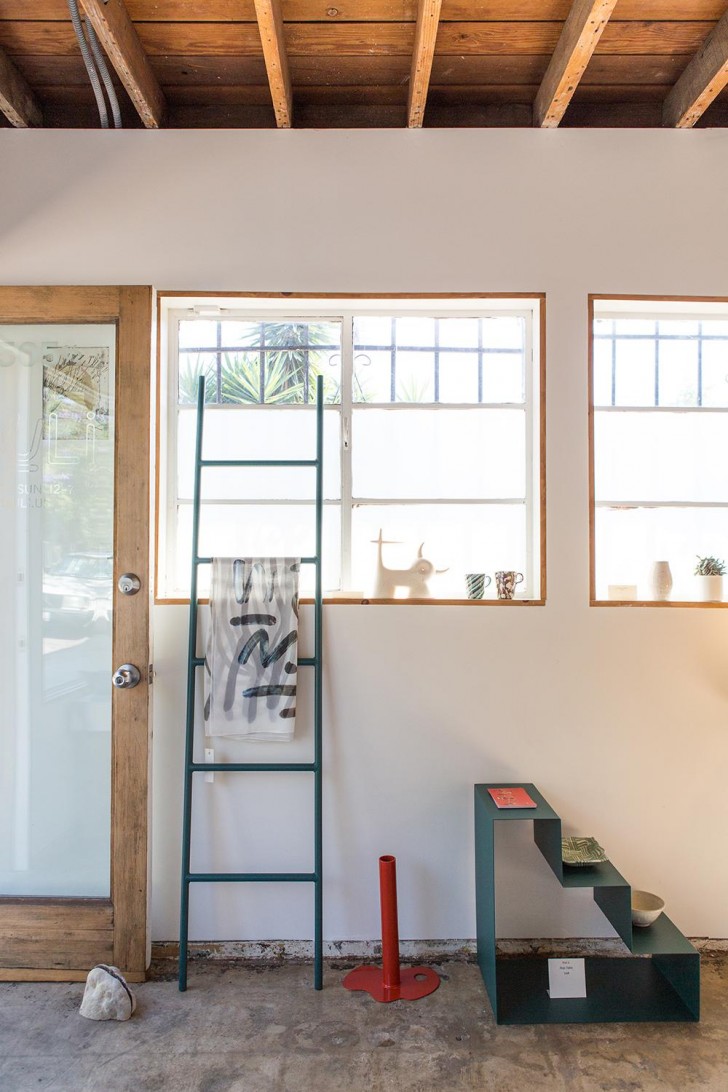 "The ladder, floor vase, and step table are all things we've made since we opened. Every time we do a round of steel, we make some ladders and tables. We might start plating them in copper. The idea of them is to be beautiful objects but also super functional. They're great for organization." On the windowsill are another Paul Kraftenberg sculpture and Sydney de Jong mugs.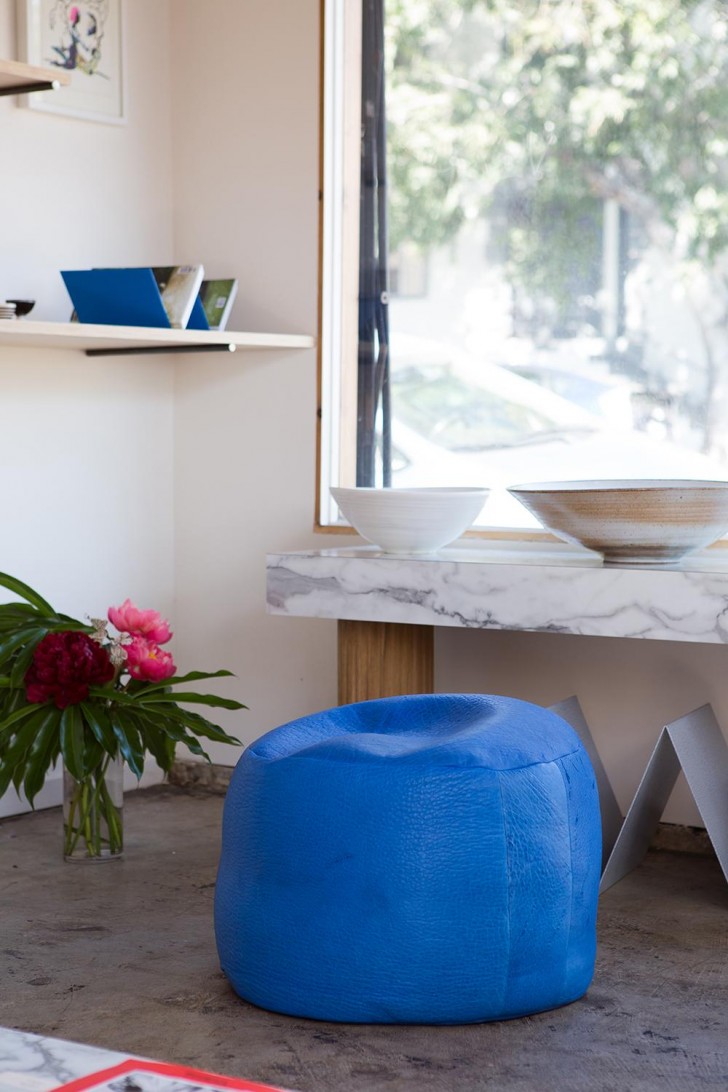 Brooke: "I'd wanted to make a nice beanbag for years, and so had Scott. It's funny how we both get into things at the same time without even talking about it. But I love the idea of these everyday objects that might be even kind of tacky, that you then reinvent with materials and details that make it a luxury object." Of the display tables, Scott says: "You see this Carrara marble everywhere now, which I love, but who can afford it. For last year's Made in LA exhibit at the Hammer, this artist we work with Fiona Connor had completely re-fabricated their stairway on the other side of the lobby using marble laminate because she couldn't afford the real thing. So we borrowed a couple of sheets."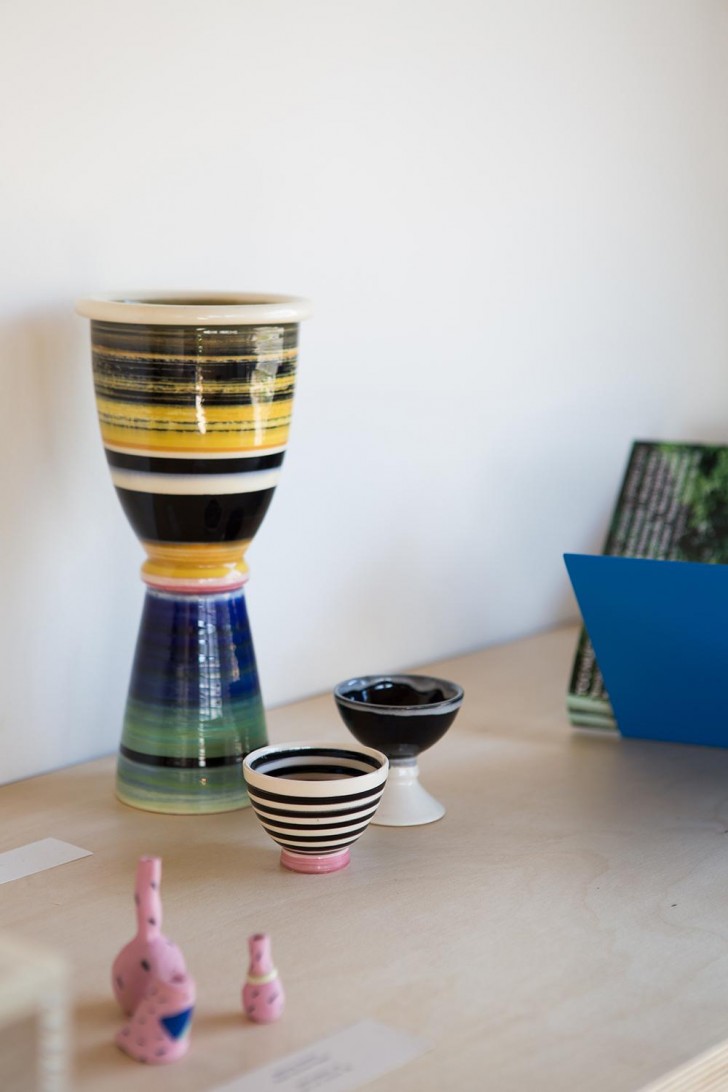 "The large Peter Shire is also an archive piece, from 1998. His studio is right down the street, and we've known him from the community for a couple of years. He's kind of the ambassador of Echo Park so we approached him about the idea for the shop, and then we asked if we dig through his studio. We wanted to find something of his that was unrecognizable, but we dug around for an entire day and found nothing that you couldn't identify as his. He's such a particular man; everything is so Peter Shire."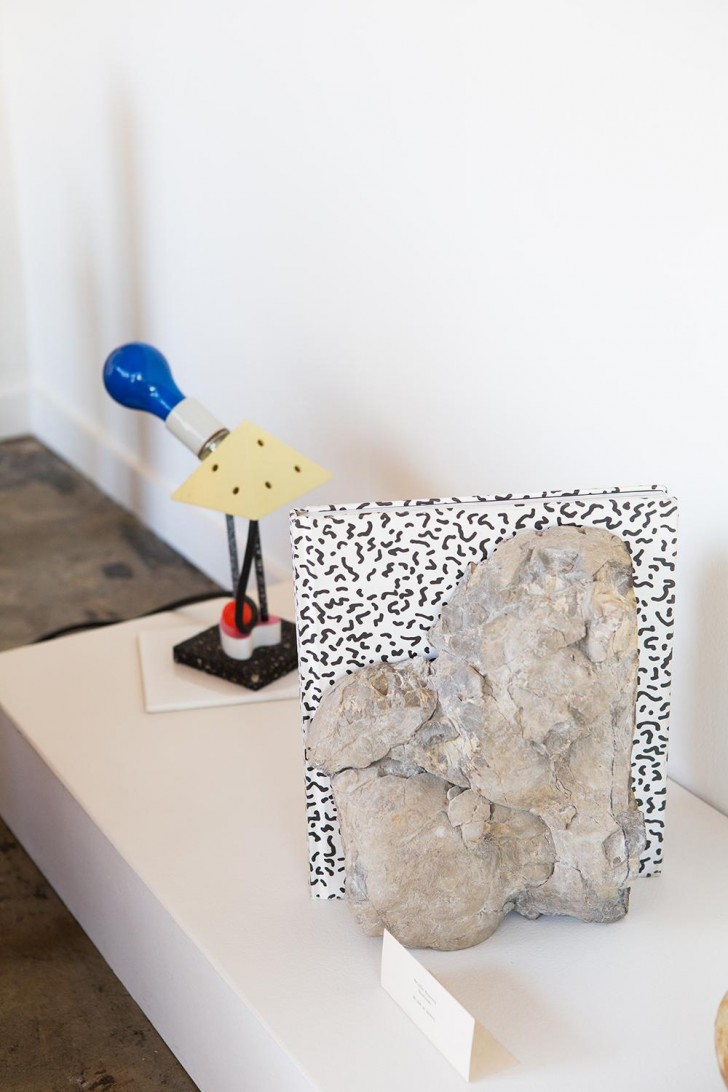 A Zolo lamp by Brendan Timmins, and a Split Geode by Melodie Mousset.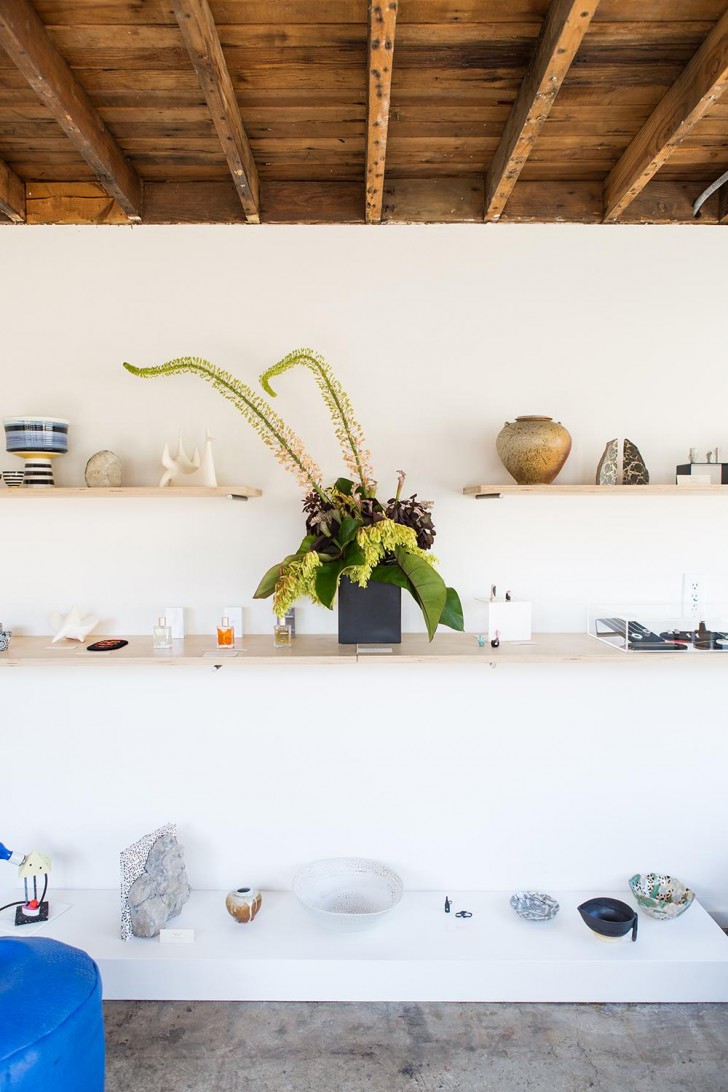 Flowers in the shop were used almost as pieces of sculpture; the store also sold jewelry and perfumes.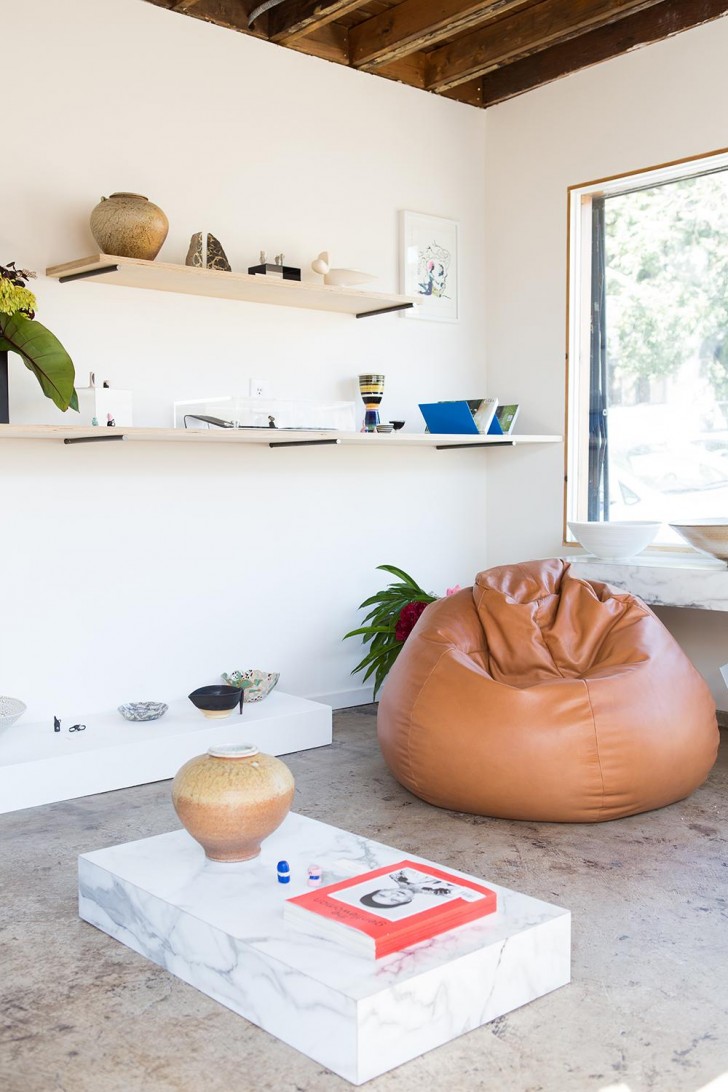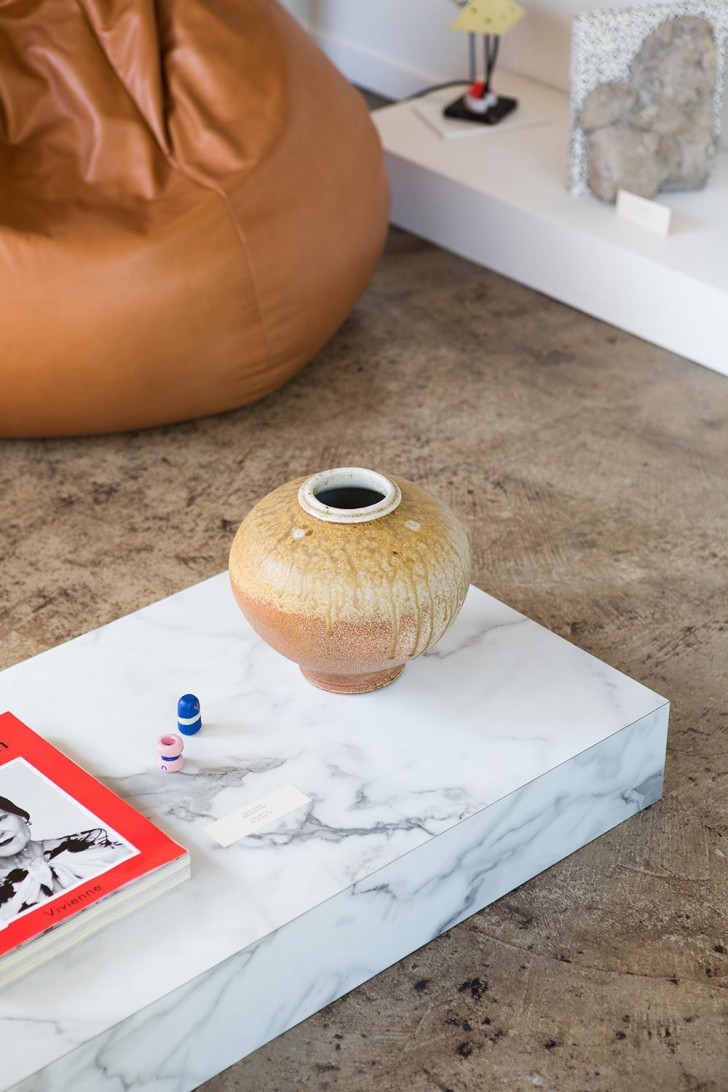 Scott: "The vase is by a ceramicist by Peter Sheldon; these were salt-fired in Utah in a wood kiln. The miniatures are by Aubrey Horner, an ornithologist who lives up in Portland. This was her first run of ceramics; they're all miniatures. She emailed us out of the blue. I thought they were full scale, and I was like holy shit." Brooke: "But they're kind of magical because they're so tiny."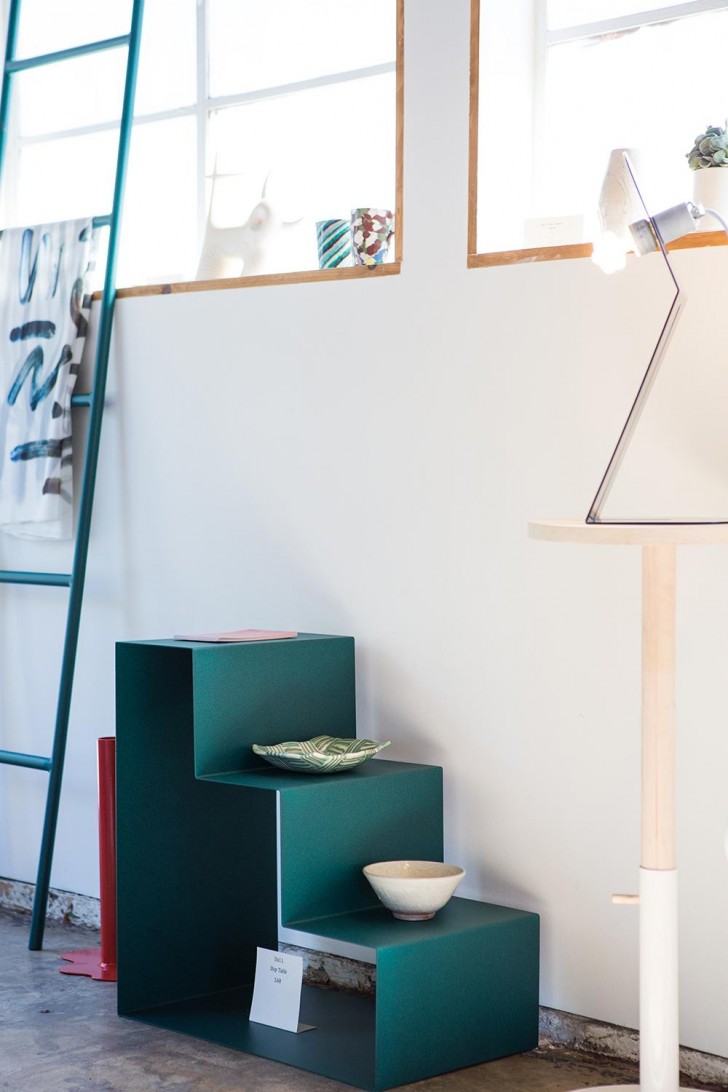 Scott: "That stool is the first edition we did; it can be table height or stool height if you move the pin. But we're redoing them." Brooke: "We're not good at planning these things. We're trying to work out ideas right now to see how they're received."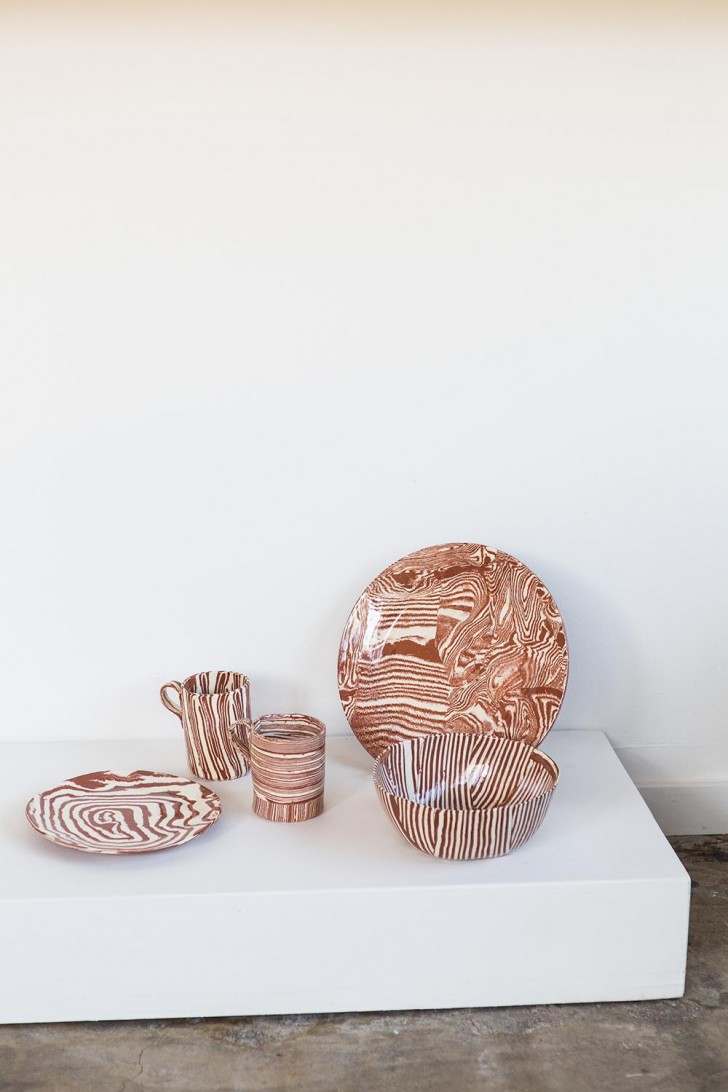 More work by Sydney de Jong.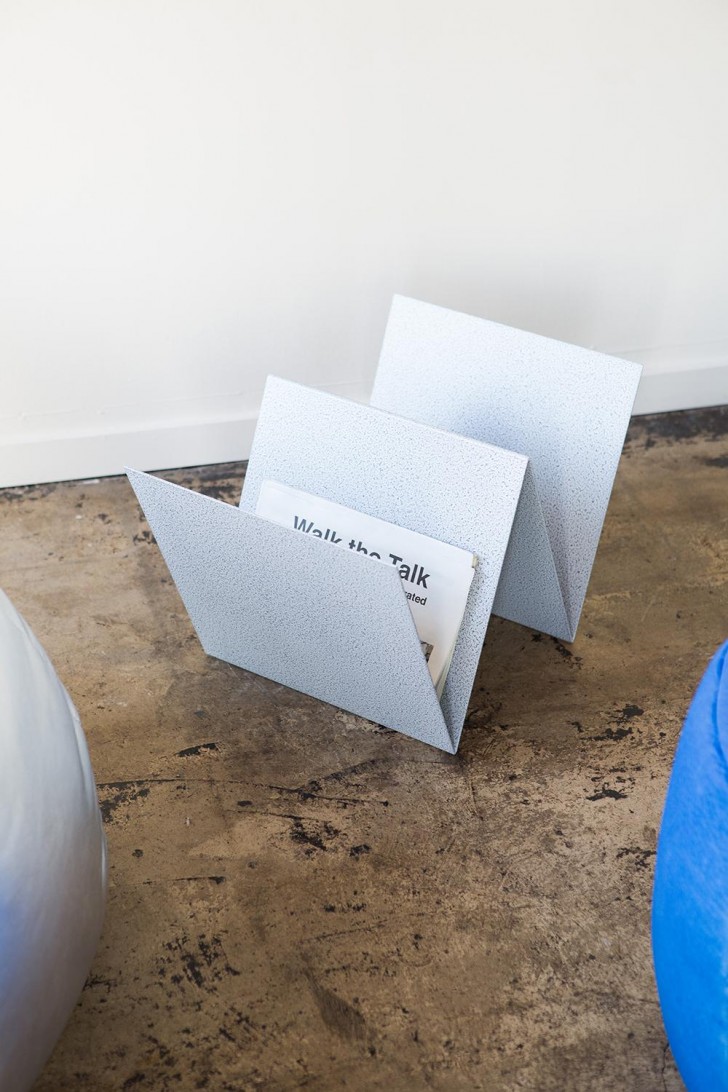 "The zigzags are ours; we call them Ws. They're meant to hold books, papers, or objects. The quick idea behind a lot of our stuff is that they're meant more as focused display units for the home but not really for storage. You could put a couple of books here, or one book. That might come from our appreciation of graphic design."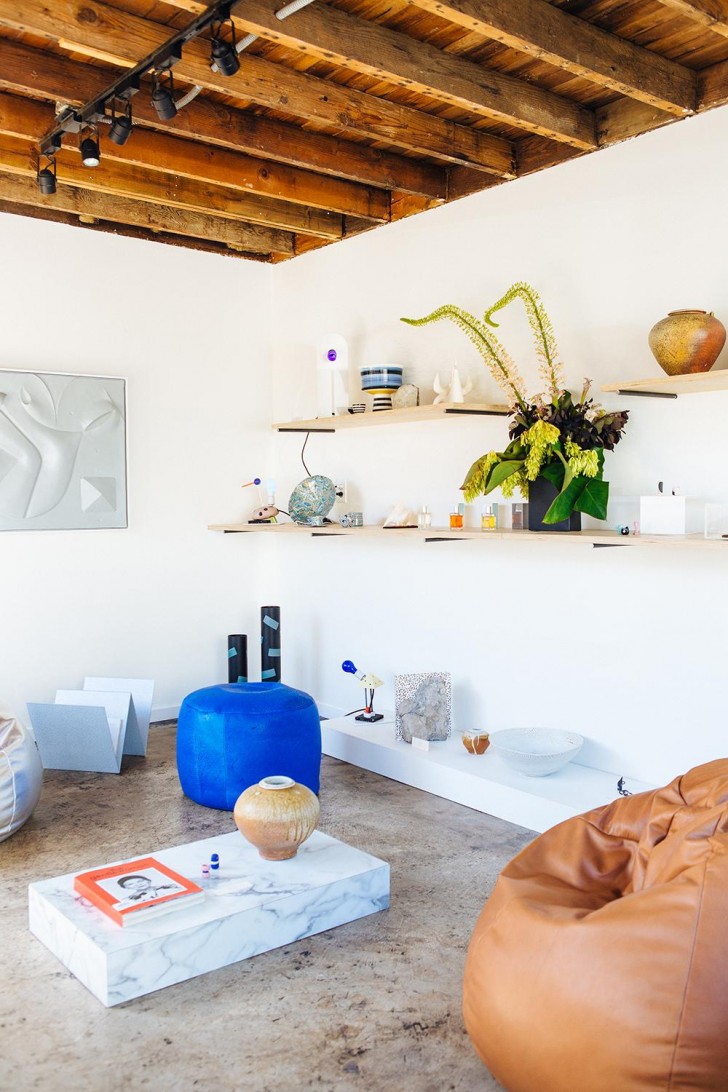 Where does the name Ouli come from? Brooke: "I've always loved the idea of this group Oulipo, founded by Georges Perec, whose premise was all about existing with restrictions in order to create productivity. The space had we was small and restrictive, and our lack of funding also created fertile ground for experimentation." Scott: "The shorter, way more fun version is that it's the name of one of the nilihists from The Big Lebowski."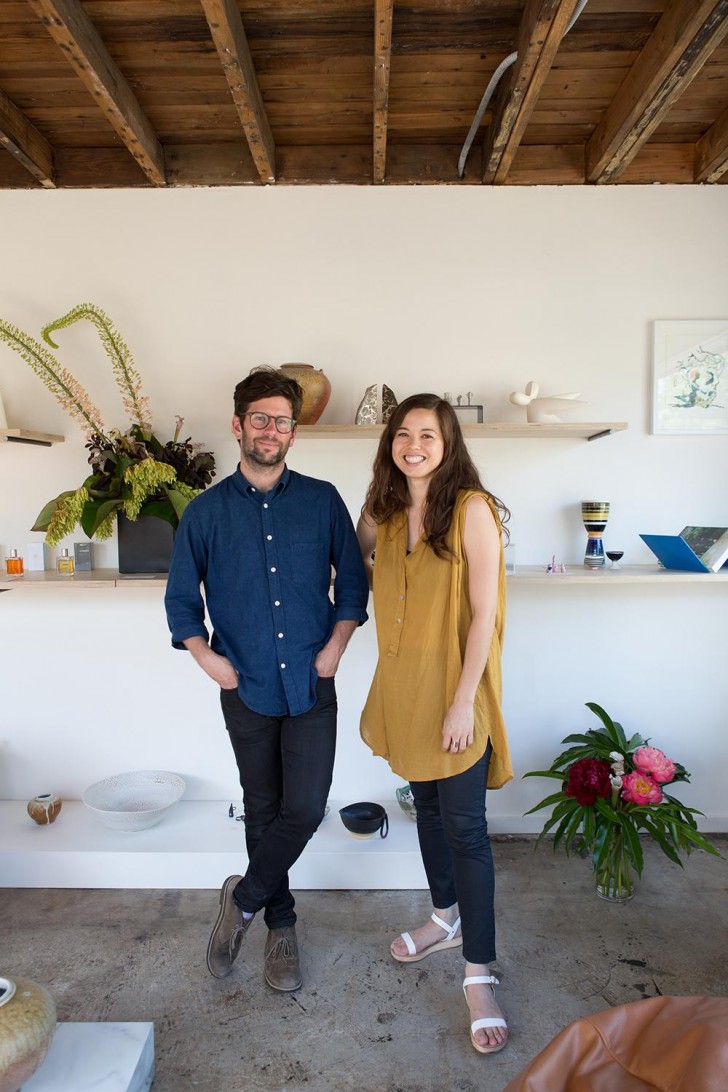 Ouli founders Brooke Intrachat and Scott Barry in their former retail home.