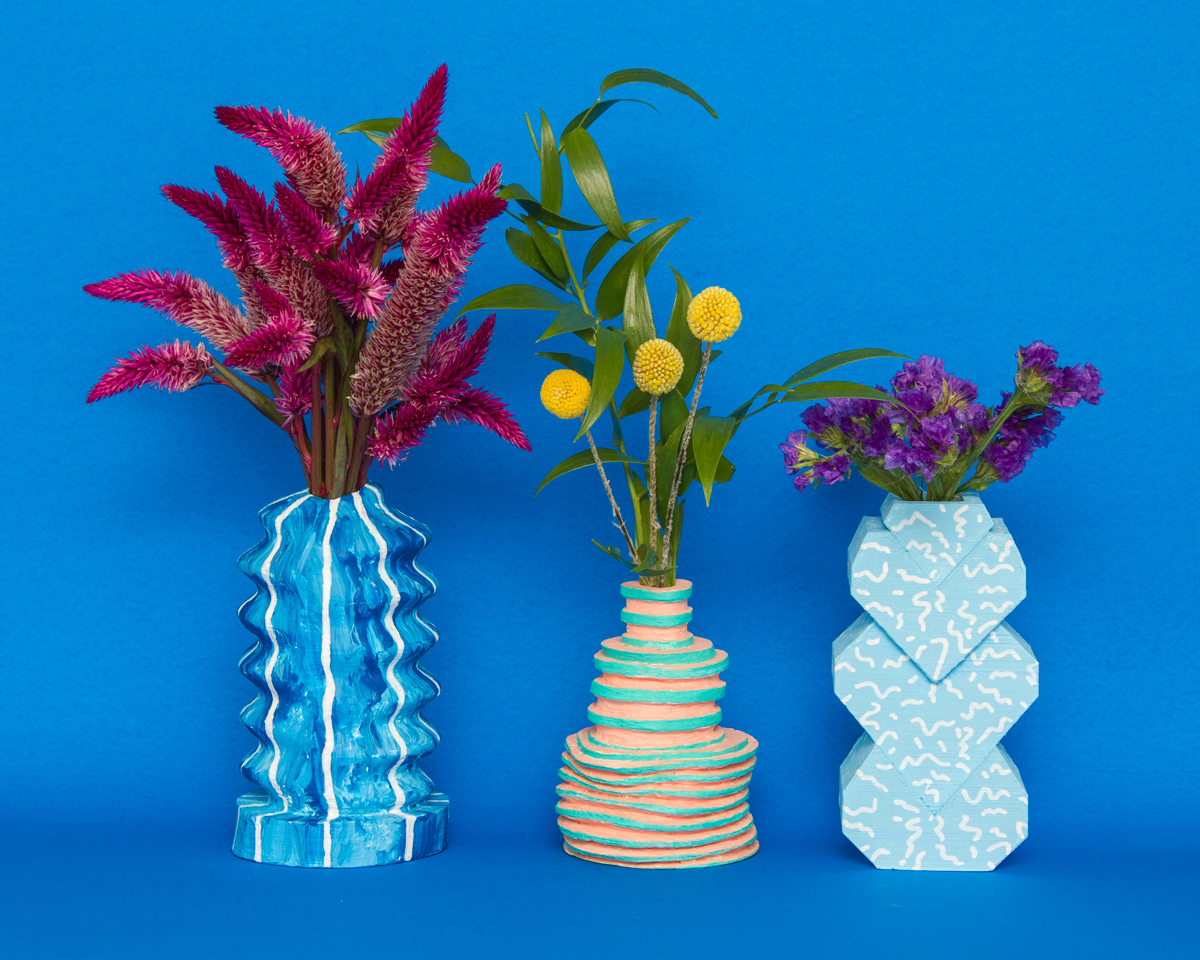 If we had a nickel for every time we heard a designer or artist express the desire to work across scales, disciplines, or dimensions, we could probably buy one of these. But earlier this week was the first time we'd heard this zeitgeisty little zinger: "It's exciting to be producing things we can share with people, as opposed to just clicking a 'share' button." While most graphic design studios dabble in physicality by way of books and other printed ephemera, the young New York duo Eyebodega — to whose co-principal Rob Chabebe said quote can be attributed — have been using 3-D printing to quite literally turn their Pinterest-ready digital illustrations into objects you can have and hold. Chabebe and his business partner of three years, Joe Perez, have done projects like music videos, event posters, and album covers (Chabebe also freelanced at the Whitney doing graphics for the museum's 2012 biennial), but last year, they begin printing, painting, and exhibiting colorful prototypes of flower vases they'd drawn; this week they launched the first saleable version, the ceramic Gloriosa vase. Chabebe walked us through the evolution of the project step by step.
1. Sketches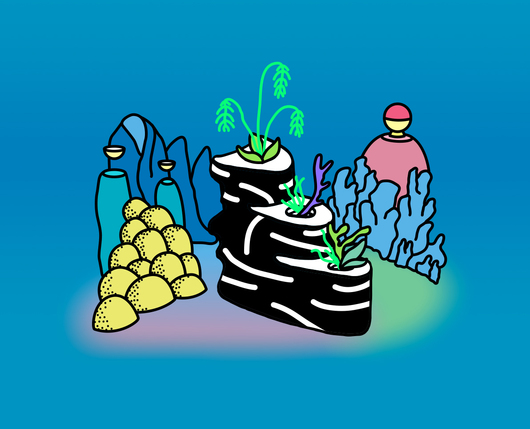 "First, we imagine an improbable or interesting form for the vase," says Chabebe. Most of those ideas begin in the form of digital sketches or vector drawings created in Illustrator — above was a drawing for a vase created for Eyebodega's piece "Vase Is The Place," part of Kimberly Klark Gallery's "Winter Collection" group show.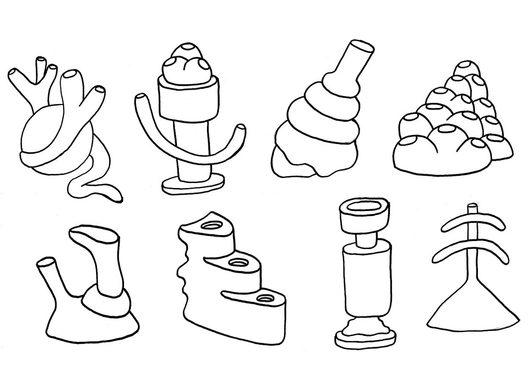 2. Renderings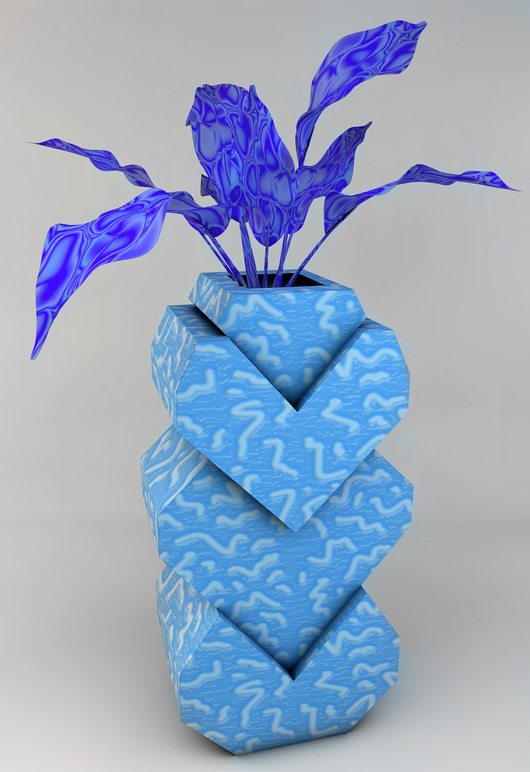 Next, the Illustrator files become renderings in Cinema 4D. "This (above) is the illustration for the first vase that we ever printed," says Chabebe. "We place these renderings in different digital environments, like in our music video commissions or on imaginary shelves, like in our recent zine 'Come Back As A Flower In a Vase' (below)."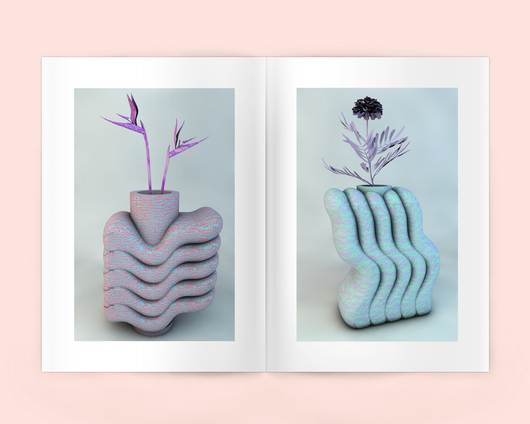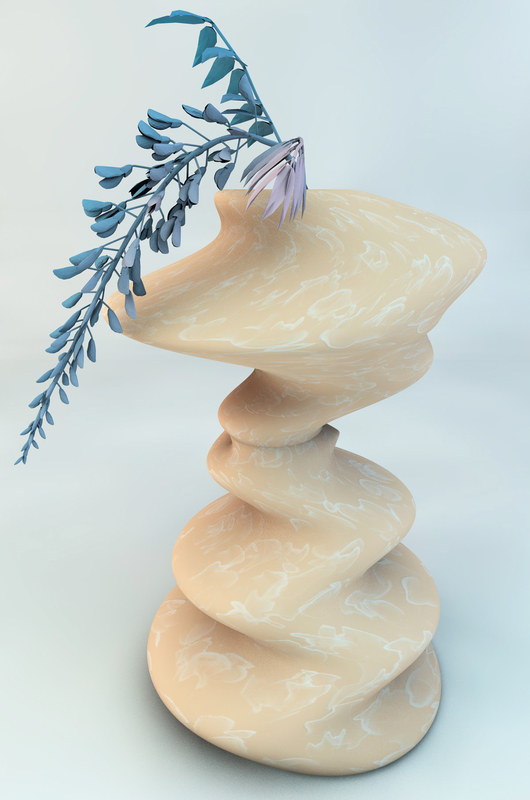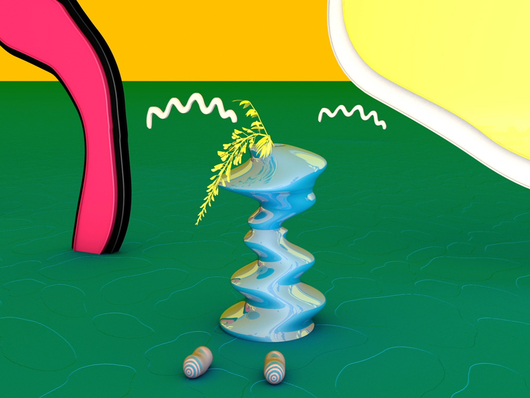 Pictured directly above is a still from the end of a music video Eyebodega made for the band Blanche Blanche Blanche. A writer once called the duo's work "post-apocalyptic Modernism," a phrase they particularly took to. "The idea of our work being linked to a thing that doesn't exist, like the apocalypse, is interesting since we're always trying to project into the future," says Chabebe. "It's also a bit humorous, which is another big part of what we do. I don't believe in apocalypse, but I like to think that things get progressively more interesting and improve as time goes on, and that's what I'm trying to do with all our work."
3. 3-D Printed Vases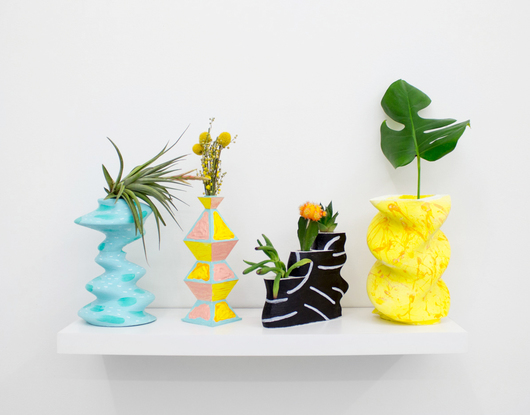 In that spirit, Chabebe and Perez decided to not stop at renderings, but to actually bring their vase designs to life, using 3-D printers. "We made our first few prints at a hacker space (Hack Manhattan) during their walk-in hours, and they were super helpful and supportive," says Chabebe. "But I recently bought an Ultimaker 2 3-D printer that someone was selling because his kids had gotten bored of it!" Printing each vase can take a few hours to a full day, depending on the quality and size.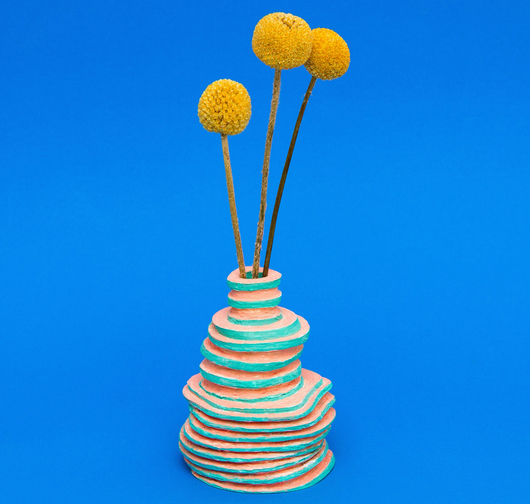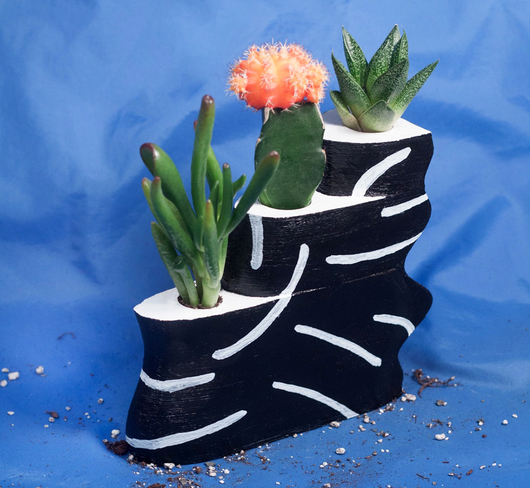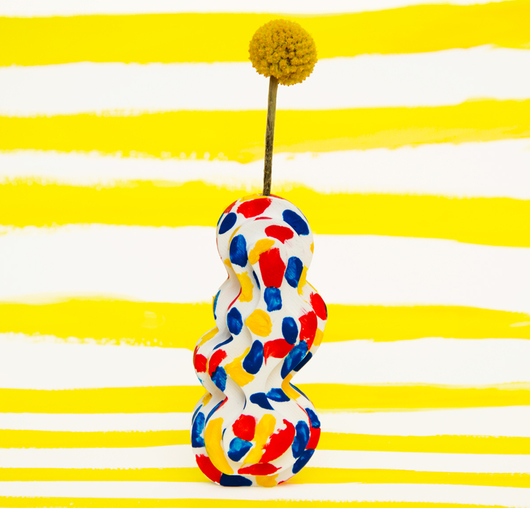 The PLA plastic vase forms are hand-finished and hand-decorated with acrylic paint and markers. The finished objects have been part of two exhibitions so far — where Chabebe and Perez kept them filled with fresh flowers and succulents at all times — and will be included in a new Eyebodega solo show at the Ace Hotel in New York this March. "3-D printing is fun because it allows us to create what we can imagine in a fairly quick manner, and it also allows us to have a high level of physical interaction and understanding with our work," says Chabebe.
4. Ceramic Vase
Eventually, though, fans started to clamor for the physical vases. But Chabebe and Perez didn't want to simply sell the existing printed prototypes, so they enlisted the help of ceramicist Cassandra Kellam, who casts the 3-D prints into molds to make ceramic versions, then hand-glazes them. The first model for sale in Eyebodega's brand-new online shop is the Gloriosa vase ($125), with a yellow and red pattern that mimics the petals of the gloriosa lily. Chabebe — who cites yesterday's SU subject Ron Nagle as an inspiration — says he and Perez aren't sure exactly what they'll add to the shop next, but that this is only the beginning. "We're still working on new designs, including objects that are not vases at all but fit in with the theme," he says.