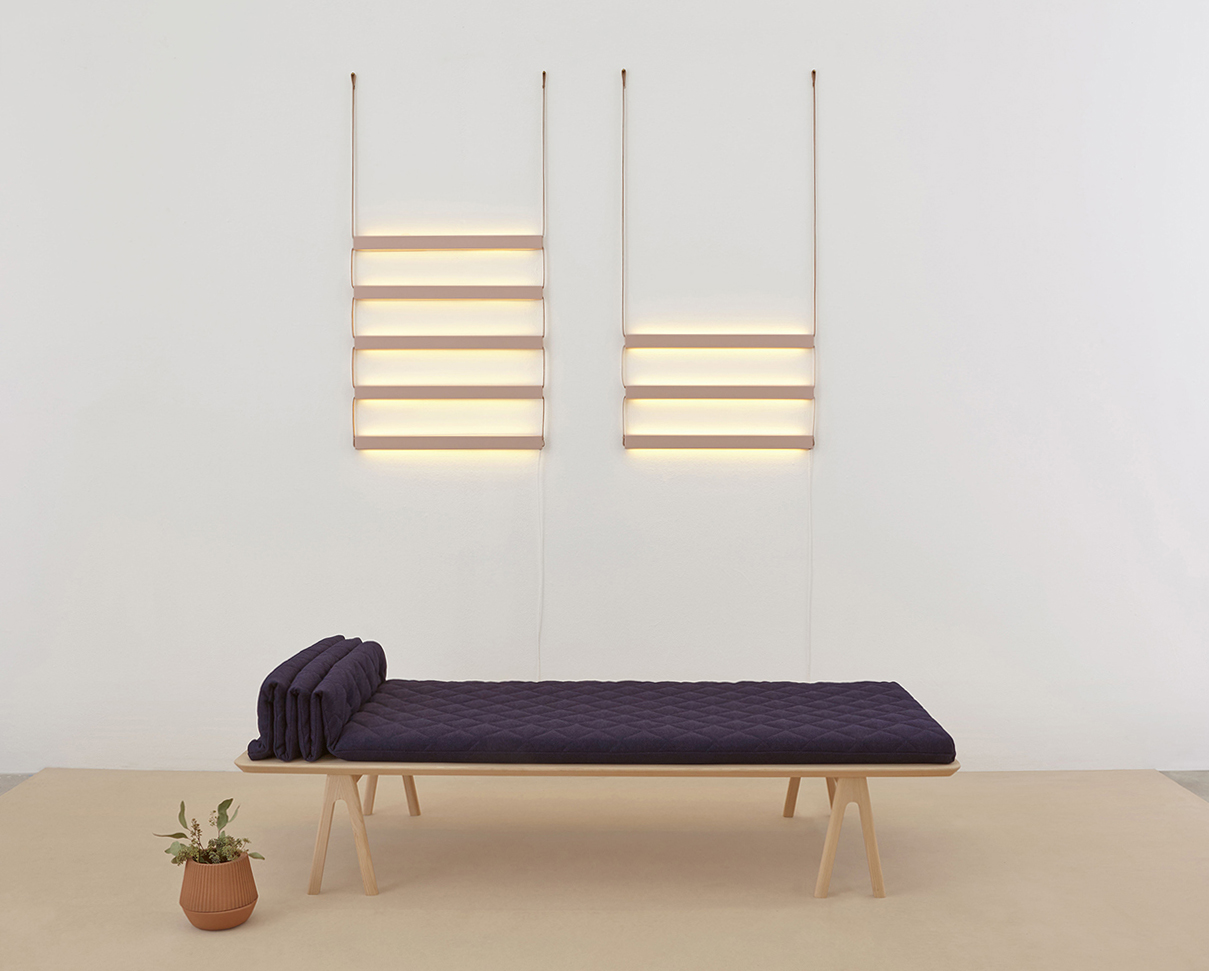 MSDS — the small, Toronto-based studio of Jonathan Sabine and Jessica Nakanishi, who have been working together since 2011 — is a perfect blend of its founders Scandinavian and Japanese sensibilities: aesthetics outlined by minimal, well-considered forms and explorations into tactile, human materials. The duo have been on our radar since spotting (and still very much coveting!) their Pleated Series of terracotta planters and vases, which they designed for the launch of Umbra Shift at ICFF last May. So nothing could've tamed our delight when we came across the duo's solo stand in and amongst the Nordic brands at the Stockholm Furniture Fair last month.
Their newest collection is elegantly simplified, graphic and pure in both form and materials — epitomized by the wooden A-Frame chair, whose distinctive, minimal shape follows an exploration into stacking. The Futon Daybed (above) recalls a Japanese one of similar ilk, with a thin, quilted mattress that folds into a headrest; whilst the soft pink aluminum panels hanging over the scaffolding-like wood frame of Half Cab slide along to hide or reveal the cabinet's contents in a shape-shifting manner. We recently talked to the duo about their most recent projects and what inspires them.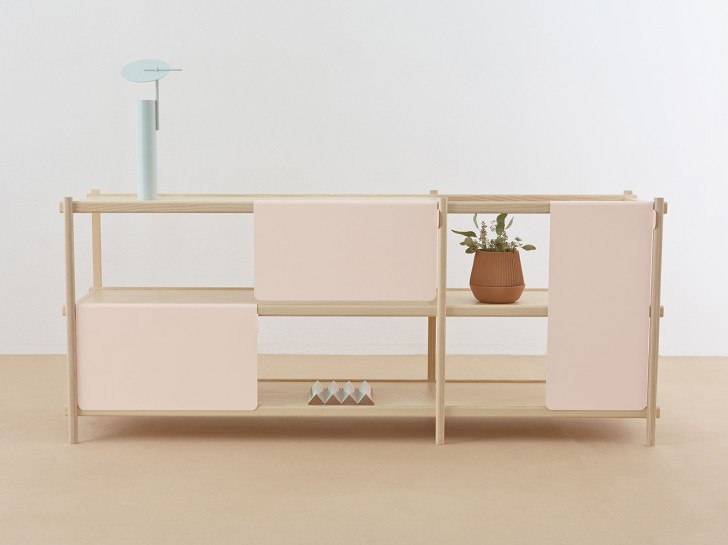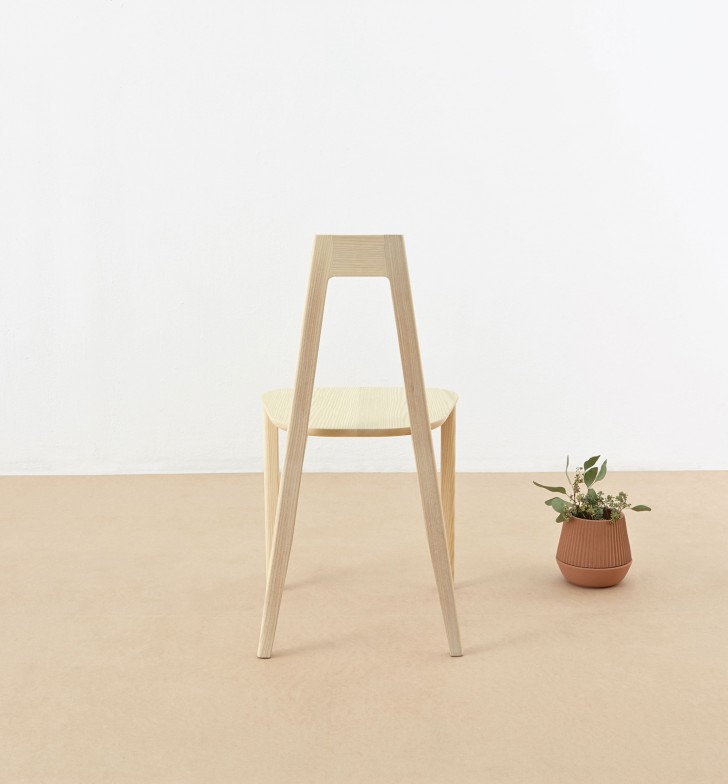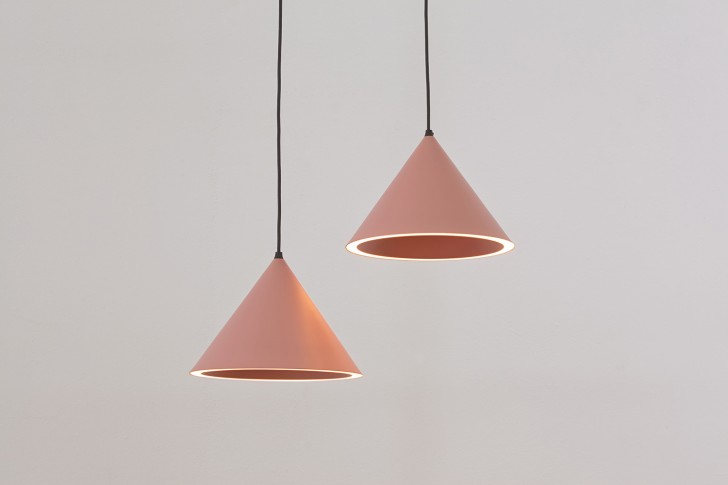 Describe your most recent project and how it was made.
We recently produced a collection of furniture and lighting for the Stockholm Furniture Fair. Everything in it was made either by us or by one of our local suppliers. Some items have their origin in one-person shops, while others are made in quasi-factories. Ontario is the manufacturing hub of Canada — lots of cars and industrial stuff — with highly skilled people who are nevertheless generally unaccustomed to doing consumer grade goods. Which sometimes means that we have to really convey to people the fit and finish that we need (of course, other times they just get it).
For the most part, we're using old production methods — spinning, fabricating, machining, and sand casting of metals or combining traditional woodworking and upholstery techniques. But the whole thing is facilitated and embellished by newer technology — the newest LED tech, laser-cut components and 3D-printed fittings make things possible for an outfit our size that otherwise might not be. Incorporating new technology is one of the best ways to ensure that you're treading new ground. Such LED technologies led to the almost hovering-in-appearance ring-shaped Annular pendant light, where the light is sandwiched between and softly diffused through two spun-metal shades.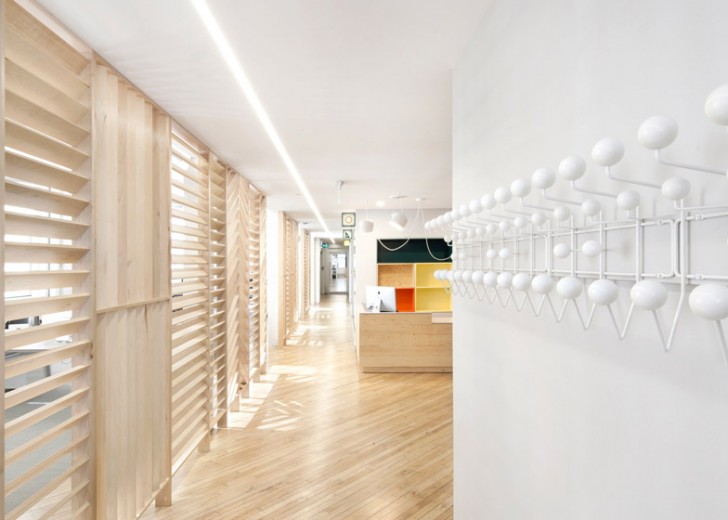 Describe your next project and how you're currently making it.
We're starting on the design of a new 2,000-sq.ft. Vancouver cafe for the (really good) West Coast coffee roaster Bows & Arrows. It will be a fairly minimal showcase for the nuanced coffee they produce — and that's all we really know at the moment. The process will be totally different than the Stockholm collection; there'll be a lot less hands-on work and a lot more AutoCAD with renderings, elevations and detail drawings. Because we work on everything from small accessories to large office interiors we have to shift work modes and scales pretty regularly. (Above: an image of the interior MSDS designed for the Canadian company Shopify.)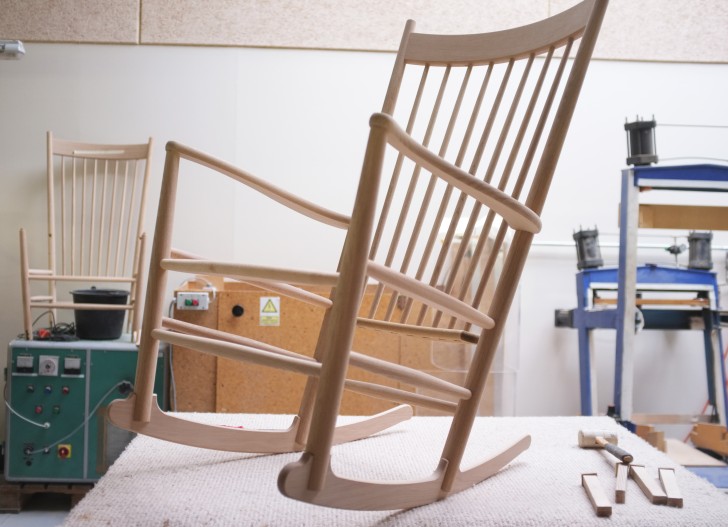 Tell us one thing that's been inspiring you lately and why.
Following the Stockholm Fair, we visited Denmark and went on a tour of a woodworking company that still makes a lot of Hans Wegner furniture. While there, we were allowed to look through a drawer of his original hand draftings. We're freaks for Wegner's work so that was a meaningful experience — knowing that our designs will be made in the same shop as some of his is very inspiring. As for our favorite Hans Wegner, it rotates all the time – there are so many to choose from – but at the moment we'd say the CH29 Sawbuck Chair.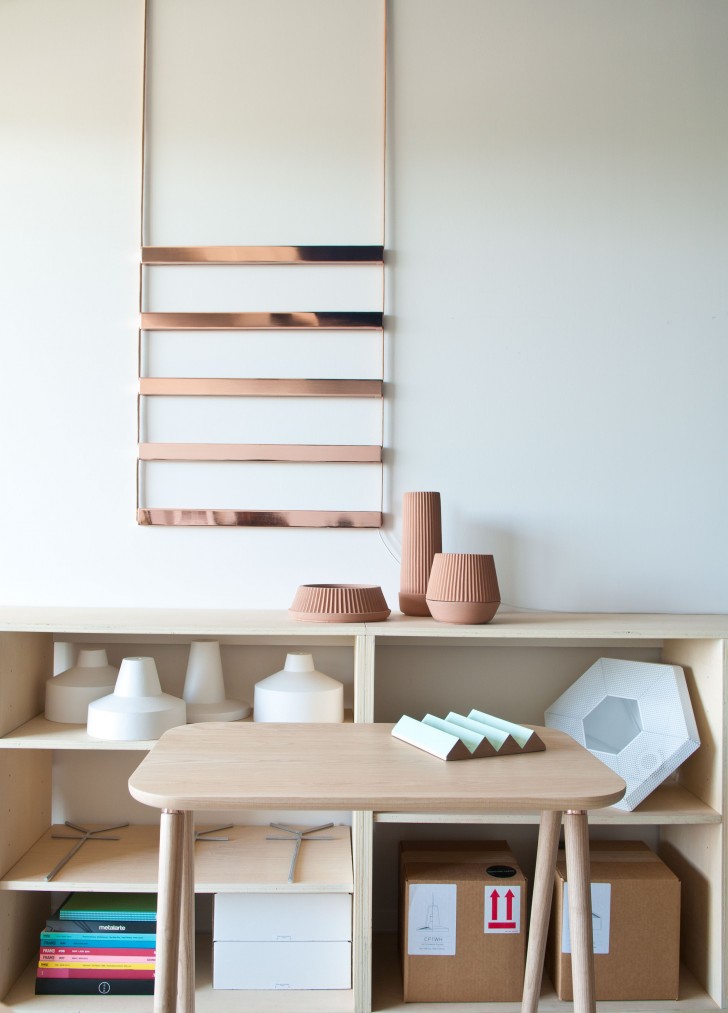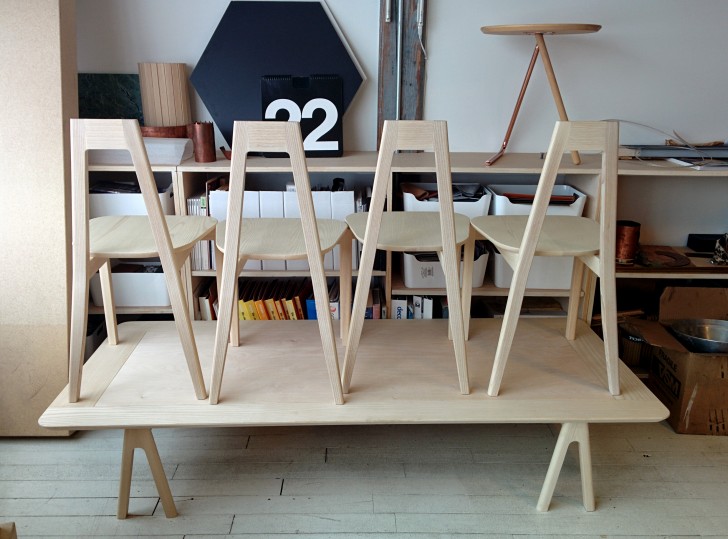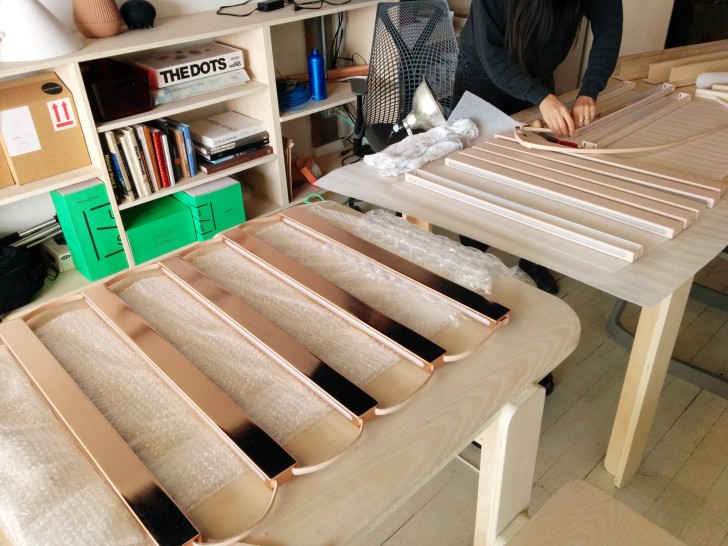 Show us your studio and tell us what you like about it.
Our studio has big west-facing windows, so the sunsets here are consistently beautiful. We also sublet a desk or two to different people who bring new ideas and potential for collaborations with them. Currently we're really happy with our studio mates, the very talented graphic design firm Made by Tung. We have overlap clients such as Mjölk, the Scandinavian/Japanese wares store in Toronto. Plus, we use quite a lot of graphics in our interior projects so there will be many opportunities to collaborate in the future.