06.24.15
Nina Cho, Furniture Designer
"One of the most important ideas in traditional Korean architecture and art is the aesthetic of emptiness — practicing the beauty of the void," Nina Cho explains to me over the phone from her studio in Detroit, where she recently set up camp after graduating from Cranbrook. "In painting, the unpainted portion is as important as the portion that was painted; it's about respecting the emptiness as much as the object." Cho should know; she was born in the States but grew up in Seoul, and as a child she would often visit traditional Korean architecture sites. But little did she know the impact those visits would have on her future career. "I studied painting when I was very little, but I realized I'm much more interested in three-dimensional structure and space. I started to think about how small my body is, and how I could create architectural pieces of furniture," incorporating those minimal artistic acts.
The resulting collection — which Cho showed this spring with us at Sight Unseen OFFSITE — follows those tenets that influenced her childhood to a T. In each piece, Cho uses folding or bending techniques in order to create meaningful negative space; in many of the works, she uses reflective metals that might further enhance the relationship between an object and its surroundings. If the work looks quite polished — no pun intended — for such a recent graduate, credit that to the Cranbrook program itself. "Cranbrook doesn't have 'professors' but rather artists in residence," Cho says. "It's all about studio sharing, and your professor is more like your colleague. It essentially makes you practice as an independent designer before going out into the real world." Now that she's there, we can't wait to see what's next.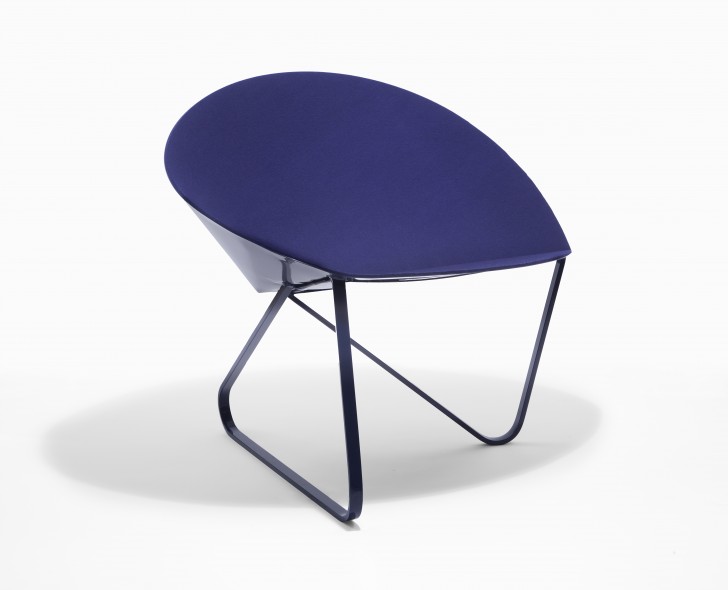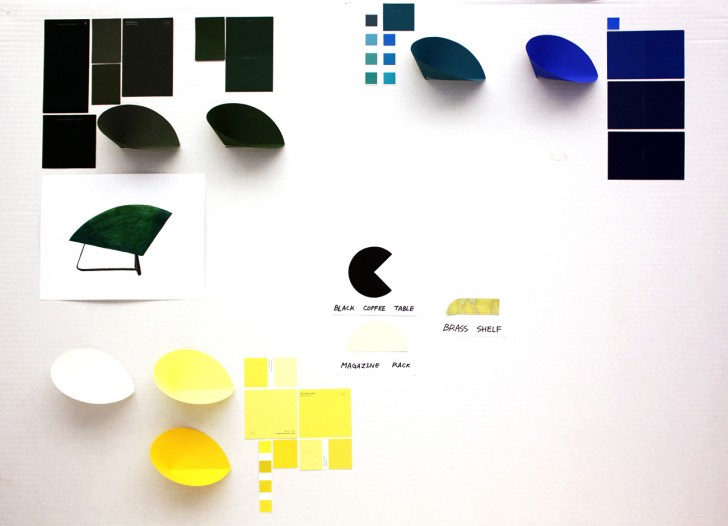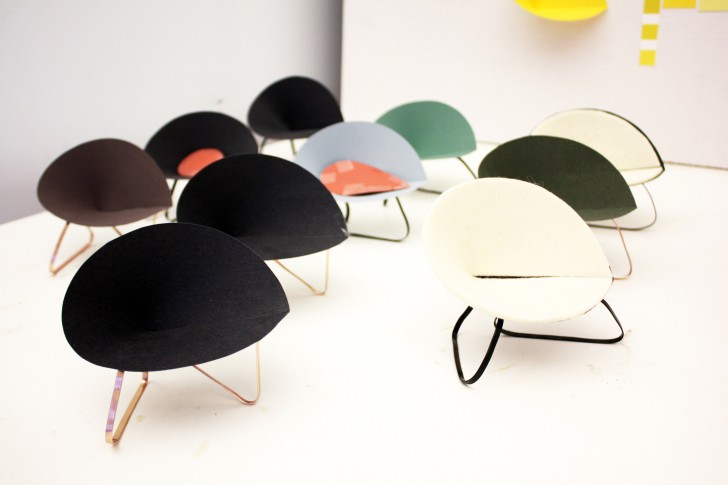 Describe your most recent project and how it was made.
My most recent project is the Curved Chair. As a continuation of my research into planar material, I created the shell of a chair through a single, broad bend. The immediacy of hands-on fabrication is integral to my design process; I believe that working with my hands at full scale is a more helpful way to understand my design in depth. The whole process of creating a model would have been much harder to execute with a computer.
I started out by making a bunch of small-scale models with paper. I was experimenting with different forms and colors to study their respective effects, and after carefully considering the various forms, I was inspired to apply the form to a chair design. I started to build the prototype of Curved Chair with my colleague, designer Hannah Vaughan, who helped me to fabricate the chair. First, we cut a pie-shaped piece away from a circular sheet of thin-gauge steel. We then formed a gentle curve in the metal using a slip roll. We quickly connected the edges with sturdy weld. This simple gesture creates the envelope of the chair shell. When we made the legs, we used a torch to heat up the steel bar and quickly bent it over a custom jig. We made several iterations of the legs to create a beautiful outline and a stable structure. The form of the legs echoes the sweeping curve of shell's perimeter. The wide seat invites users to have freedom with their posture. The long line of the outside curve also functions as an armrest.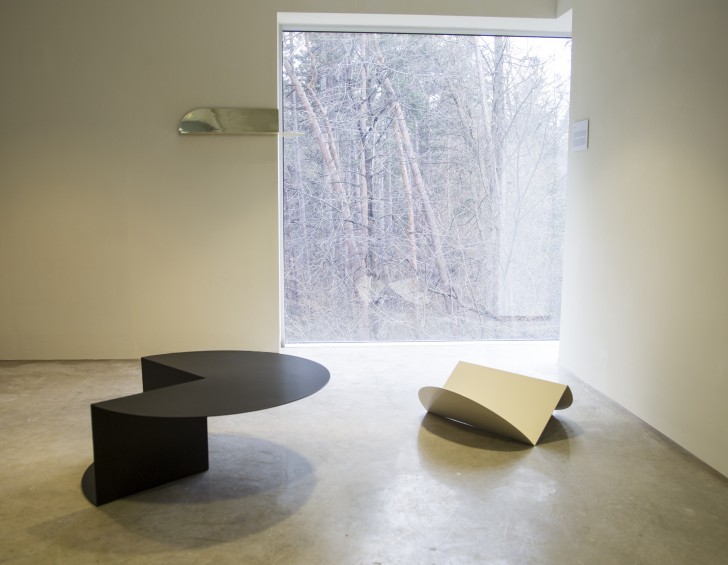 Describe your next project and how you're currently making it.
I am currently focusing on developing my most recent work for production. At the same time, I'm continuing my exploration of reductive form. The idea of discovering function through the study of form itself is core to my design process. I am especially fascinated by the idea of folding and bending because it is such an elemental way to create a three-dimensional form from a two-dimensional shape. Most of the work I showed at Sight Unseen OFFSITE was created using a bending process. I will keep exploring this collection of my works to locate it conceptually within the interstitial space between art, design and craft.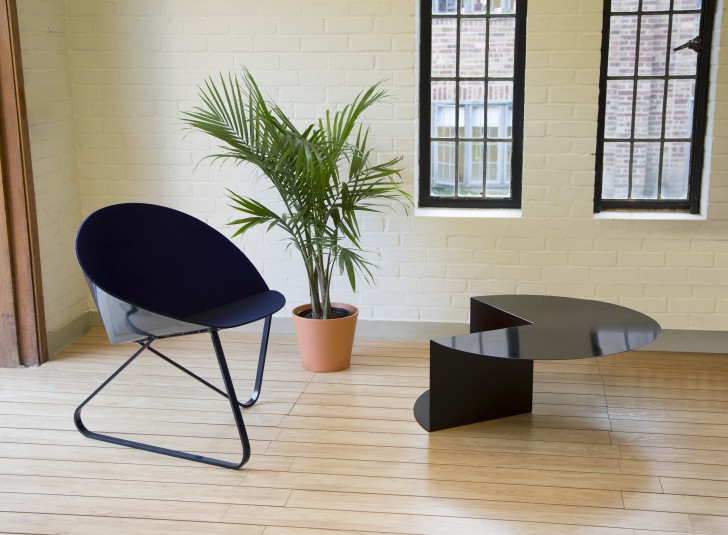 Tell us one thing that's been inspiring you lately and why.
The whole experience of moving to a new country to study at graduate school was a big inspiration (I was born in the U.S. but I grew up in South Korea). I used this experience to invigorate my own design thinking. I think that my designs speak to my identity. I like artists, designers, and architects who have cultivated their own unique voices in their creative practice and who have naturally integrated their origin story into the work. I want to think of my work, my life, my thinking, my appearance and my possessions as interconnected, a singular expression.
Show us your studio and tell us what you like about it.
My studio was at my school, Cranbrook Academy of Art. It was absolutely inspiring place where I was surrounded by historical architecture designed by Eliel Saarinen and set within a beautiful natural environment. I was so honored and excited to study and create in the same place the Saarinens, Ray and Charles Eames, and Florence Knoll, all of whom are architects and designers I've admired throughout my life.
Exposure to the 10 different departments at Cranbrook enriched my experience by broadening my attitude towards the relationship between art, craft, and design. It was also a great place to learn from my peers, many of whom have expertise in specific fabrication and material processes. My material practice has become broader and more experimental because of the skills my peers have shared. This amazing experience helped me to understand each material I chose to explore much better and helped to improve my overall design thinking.
I am currently in transition and living and working in the Detroit Metro area. I am very excited as I prepare to develop and launch my new studio over the summer.