07.02.15
Portuguese Designer Célia Esteves of GUR Rugs
While Portugal is probably best known these days for manufacturing clothing and shoes for big brands like COS, Zara, and Camper — or if you're a product designer, for supplying 50 percent of the world's cork — Porto-based designer and printmaker Célia Esteves homed in on its longtime flat-weave rug-making tradition when she founded GUR two years ago. After meeting a weaver in her hometown of Viana de Castelo, who for 15 years had been handcrafting the style of rug that she'd seen on "every Portuguese kitchen floor" since she was a child, Esteves decided to hire the weaver to use the same technique to produce colorful limited-edition designs commissioned from illustrators she knew and admired, like Atelier Bingo and Ferreol Babin. We recently interviewed Esteves about the project, which has collabs with Après Ski and Reality Studio on the way; scroll down to read more about how she transformed a local craft into a contemporary design brand.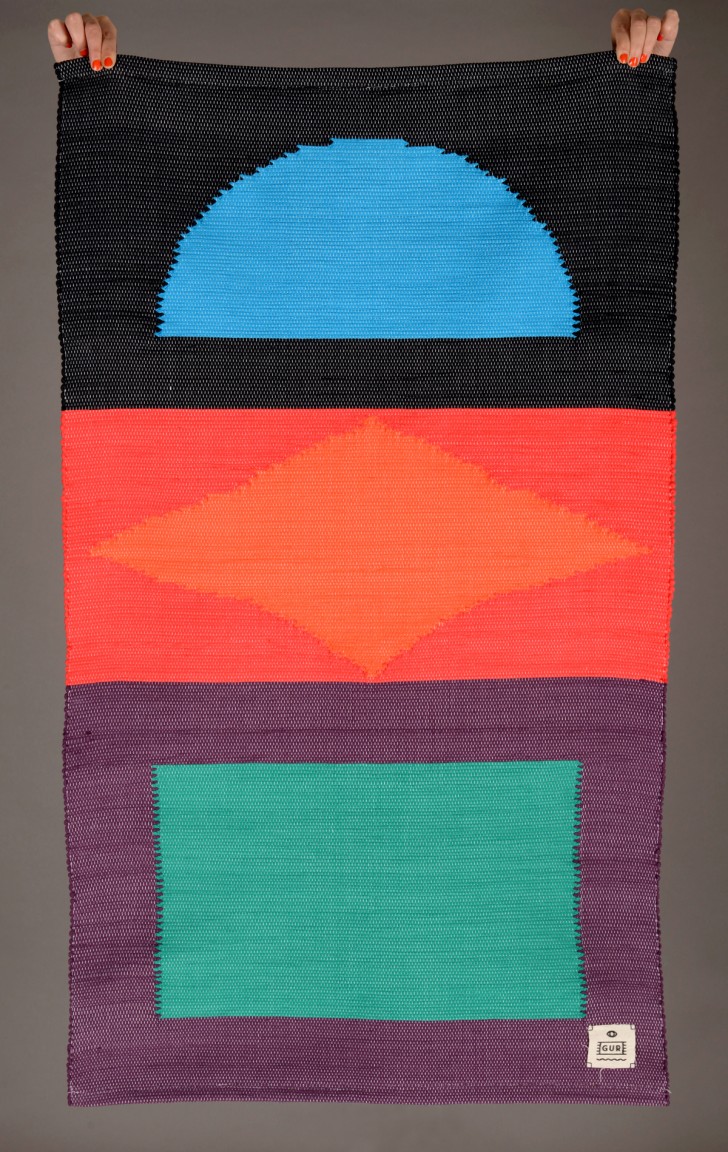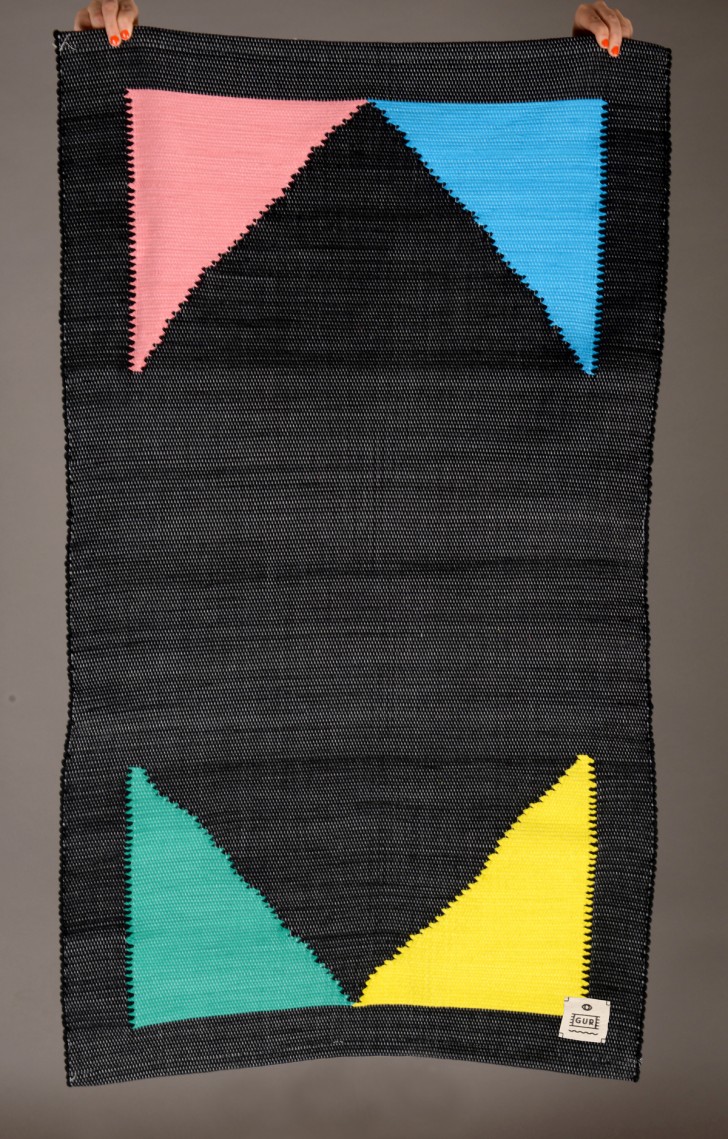 What led you to start GUR? How did you discover the Portuguese weaver you work with now?
GUR started while I was working at the Faculty of Fine Arts as a printer — after a year I left my job to dedicate myself totally to GUR and to my own print studio. (Aside from running GUR I'm currently putting together a screen-printing studio called LaikaPrint.) I came across this idea when a good friend invited me to participate in a exhibition in my hometown north of Portugal, where the concept was to make a bridge between traditional handcraft techniques and young designers. There I met my current weaver and made the first GUR on a traditional handloom. I found it so exciting and promising that immediately wanted to share it with some of my illustrator friends, allowing them to design one too. That's how GUR started.
Who is your weaver and what does she typically make? Do you have a personal connection to this style of weaving?
I work with one artisan weaver located in my home town, where I first met her. She works in her own studio where she has the handlooms and all the material to produce the rugs. She's been weaving since she was 15 years old — she's an expert, and I couldn't be happier with her technical experience. Lately she works less and less for herself, making typical Portuguese rugs with common patterns in high relief, and more for me. The traditional rugs are very nice though — I've always liked them. They're the same material as my rugs — raw cotton leftovers from Portuguese textile fabrics — and the designs can be random with every horizontal line a different color, taking advantage of all the leftovers. Those are the most common, and then you have some with one base color and a design similar to cross-stitch, in high relief. These traditional rugs are part of my visual memories from childhood; they're very typical and are found on every Portuguese kitchen floor.
My mother also had a handloom, and she used to make a lot of handmade things for me, my sister, and a small shop that we had when I was young, selling mostly clothes. We have some funny pictures where we're all wearing those tight wool sweaters. My hometown is a small town that is very rich in handcrafts; until I moved to Porto I was surrounded by this influence and it has been very present in my work. I love creating things with my hands, to feel the evolution and satisfaction that you can get from a handmade object.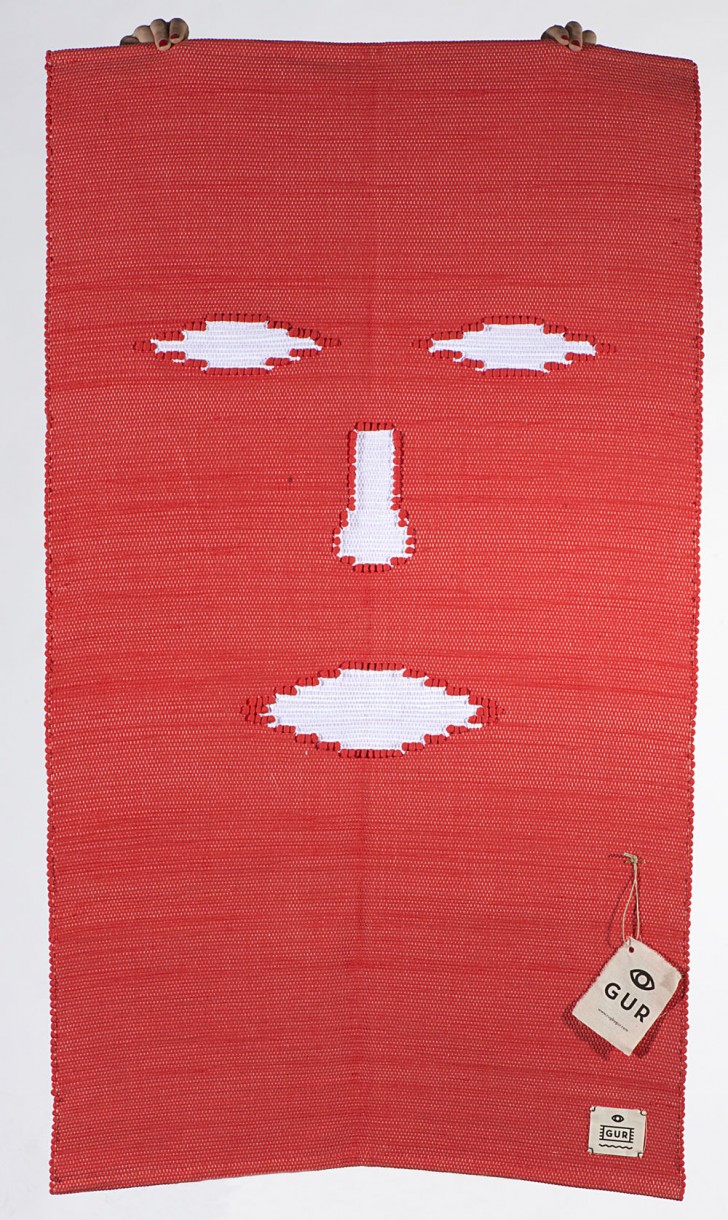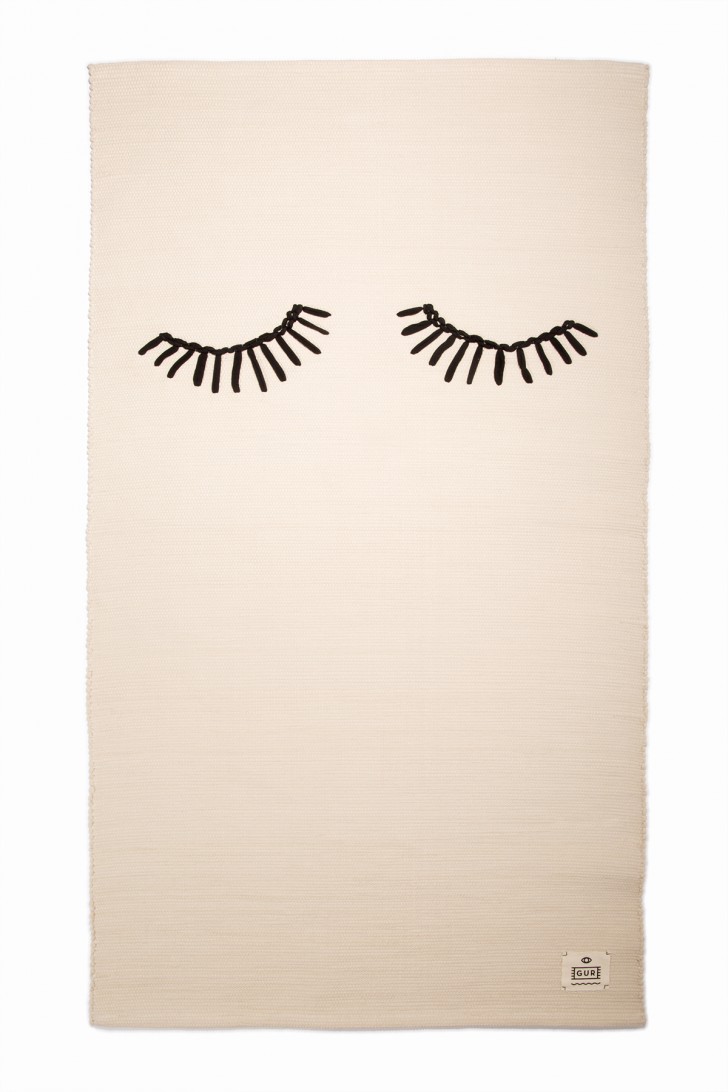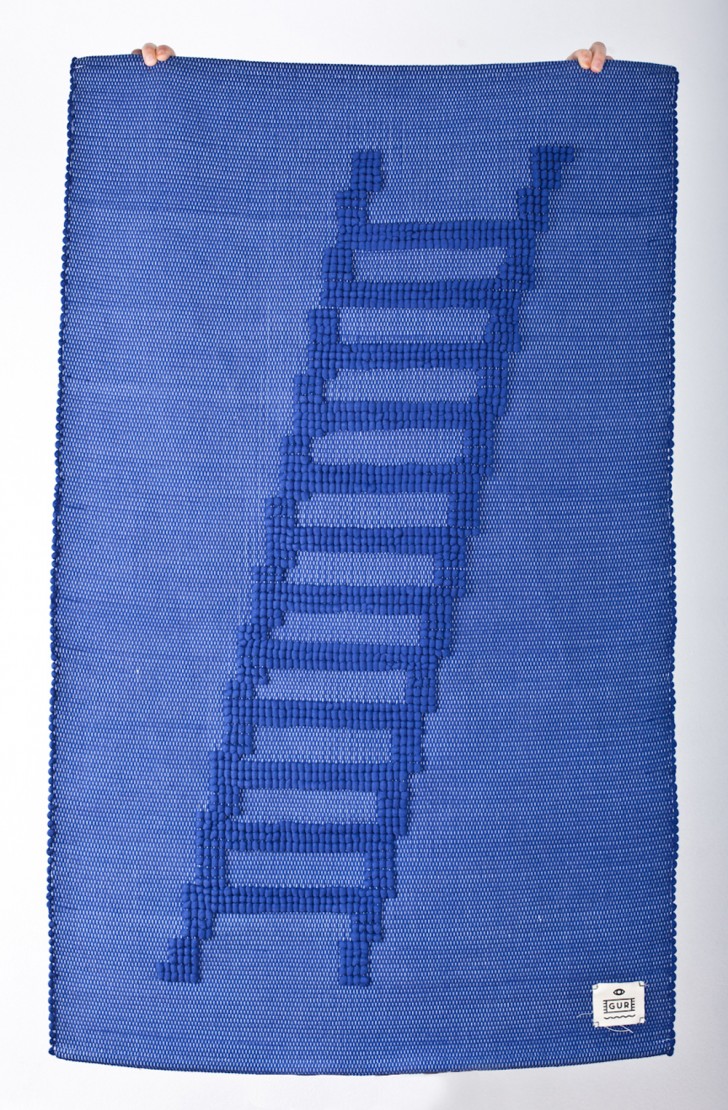 How did you decide what direction to take for GUR? And why did you decide on collaborations instead of designing everything on your own?
Well as I said before, I was so excited about my first experience that I wanted to share it with some of my friends. I'm lucky to be surrounded with a nice community of illustrators and designers. Two of my closest friends are the founders and curators of Dama Aflita Gallery in Porto, witch always has a very nice selection of exhibitions and where I actually met some of GUR's guest illustrators.
The concept of GUR for me is similar to a limited-edition print: While I was a printer at the Fine Arts Faculty I used to work with artists in limited editions, translating their drawings into prints. I guess I was already comfortable with the method and it always brought me joy, the process of finding solutions to bring a final piece to life, and the satisfaction of collaborating with someone. I still design some of GUR's collections, but doing things this way means GUR gets to have a lot of diversity.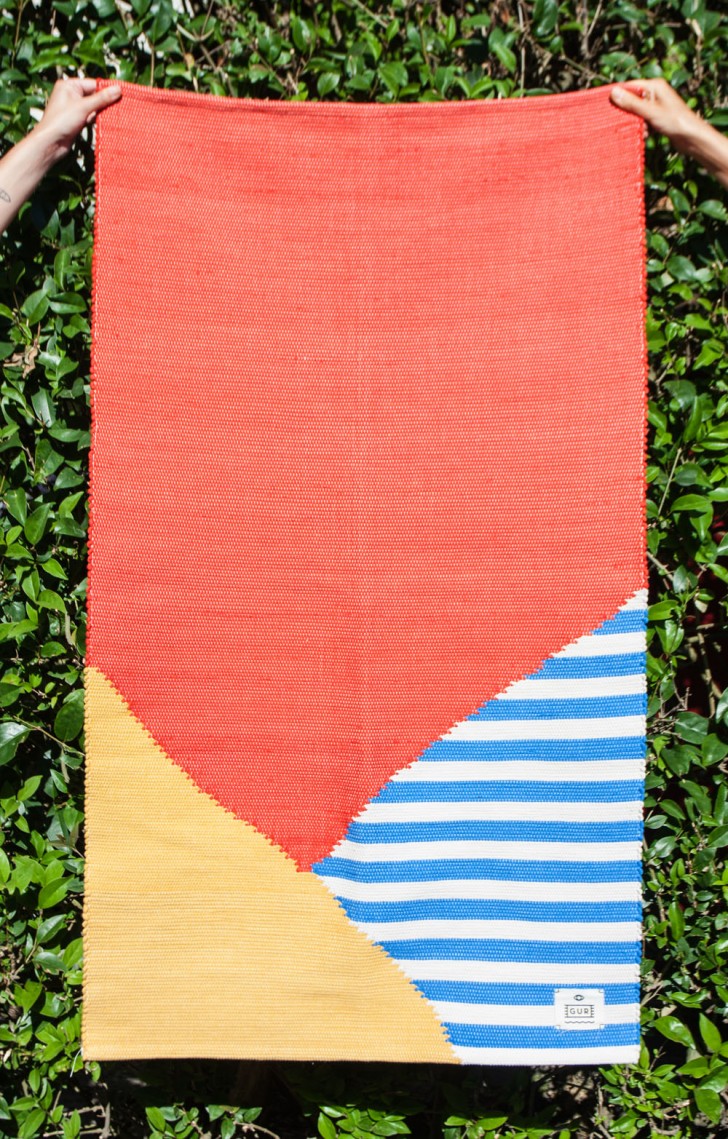 What's been your motivation behind working with the collaborators you've chosen so far?
When GUR started, to have some structure, I started inviting artists I had connections to that I thought could be a good fit for GUR. Ian Stevenson was one of them, and when he replied saying yes, he made my day. What happens often now is that artists and designers reach out to me to collaborate — Atelier Bingo was one of those, and they were perfect. Because of GUR's technical limitations, not all artistic styles are possible to produce, so sometimes I have to say no.
Are the limitations to your weaving process that dictate your aesthetic to some degree? 
The handloom has limitations and techniques that we have to consider. Depending on the handloom size, we have to define standard sizes for the rugs. And there are pattern limitations too — you can imagine the weave like a grid, but not so strict. Continuous diagonal or round lines are hard because of it; the structure is more like pixels, so realistic or figurative shapes are difficult. As time goes by, though, we've been improving by using other technical options to respond better to the artists' designs, like a sewing technique we use over the first layer, which allows them to make vertical lines that aren't so large and designs like the Ian Stevenson GUR. Also, our colors sometimes have to change depending on what recycled fabric is available, which depends in turn on fashion trends, so we have to adapt to what we have. But the future looks promising in this area and soon we will be able to choose the colors we want for the raw materials.
Inside all the possibilities that this technique offers I try with the artists to find the best way to combine their designs with the limitations. But sometimes we go crazy and make a special edition like the Malarky GUR that takes 3 days to be produced.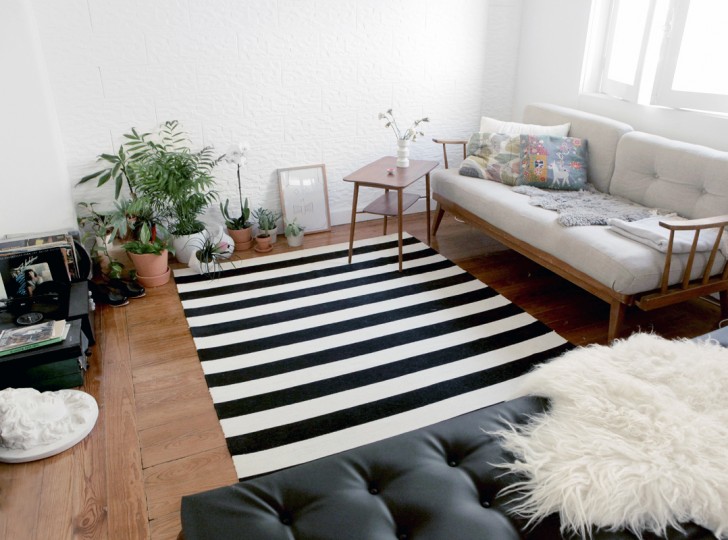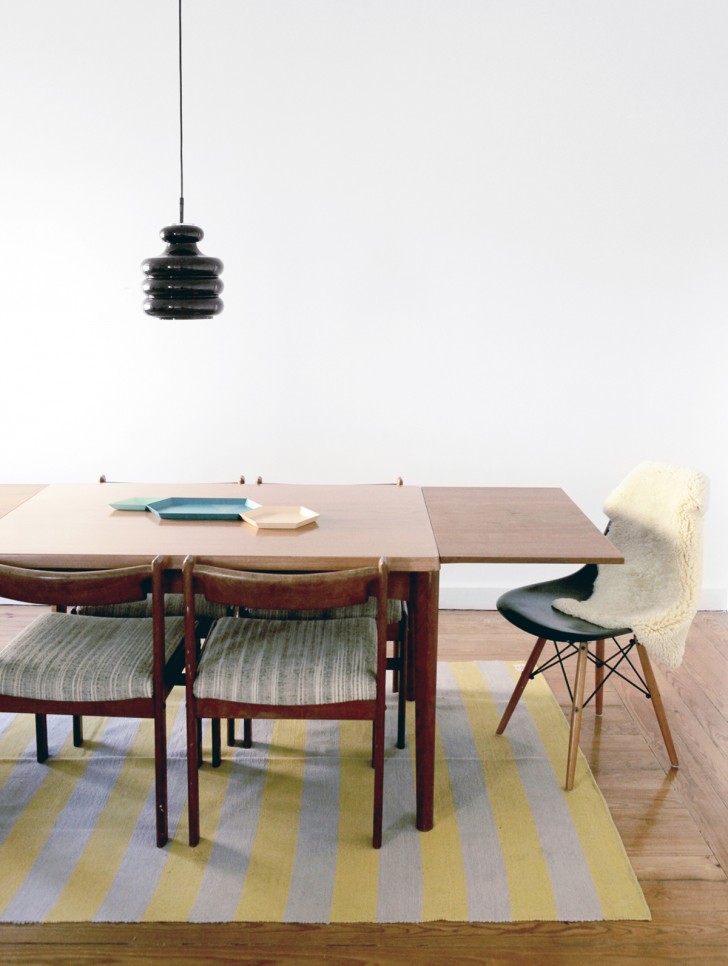 What are you working on next, and with whom?
I'm currently working in collaboration with RealityStudio on some variations of GUR; I can´t say much yet, but they'll be released soon. MOGOLLON studio, Luis Urculo, Après Ski, and Catarina Sobral are my next collaborators. I always try to have portuguese illustrators, is important for me to have this reference. GUR is a portuguese project and besides all the international acceptance this project is based in Portugal in its traditions and their people.
I designed two GURs for my new flat, and I'm so happy because it's the first place where I really feel at home. They're bigger then all the other GURs so far — all of them are made for floor use, whereas I've come to understand that most people use the GURs on the walls, like a print or a painting. I guess like something special that they don't want to damage.