10.15.15
Sight Unseen, in Williamsburg, Brooklyn
PHOTOS BY PAUL BARBERA
There are amazing designers and artists stationed all over New York City, but if there's any neighborhood in which we could kill an entire day ping-ponging around the studios and shops of creatives we love, it's Williamsburg. So last month, when the watch brand Mondaine asked for a peek into a day in the life of a Sight Unseen editor, that's exactly what I did: While test-driving my new Helvetica No 1 Light — which, not being a watch-wearer before now, I hilariously forgot to set to the proper time, hence the discrepancies in the images below — I dragged our trusty photographer Paul Barbera all around the Brooklyn enclave popping in on our friends and shooting future studio visits for the site. Paul got us some great sneak peeks at what folks like Workaday Handmade and Chiyome have been up to lately, while I got to know my impeccably minimalist watch, which pairs Swiss engineering with the ultimate iconic Swiss font: Helvetica.
Check out the full collection of Mondaine Helvetica watches here, then start getting psyched for the full versions of the studio visits below, which we'll be posting on Sight Unseen in the coming months.
10 A.M.: Workaday Handmade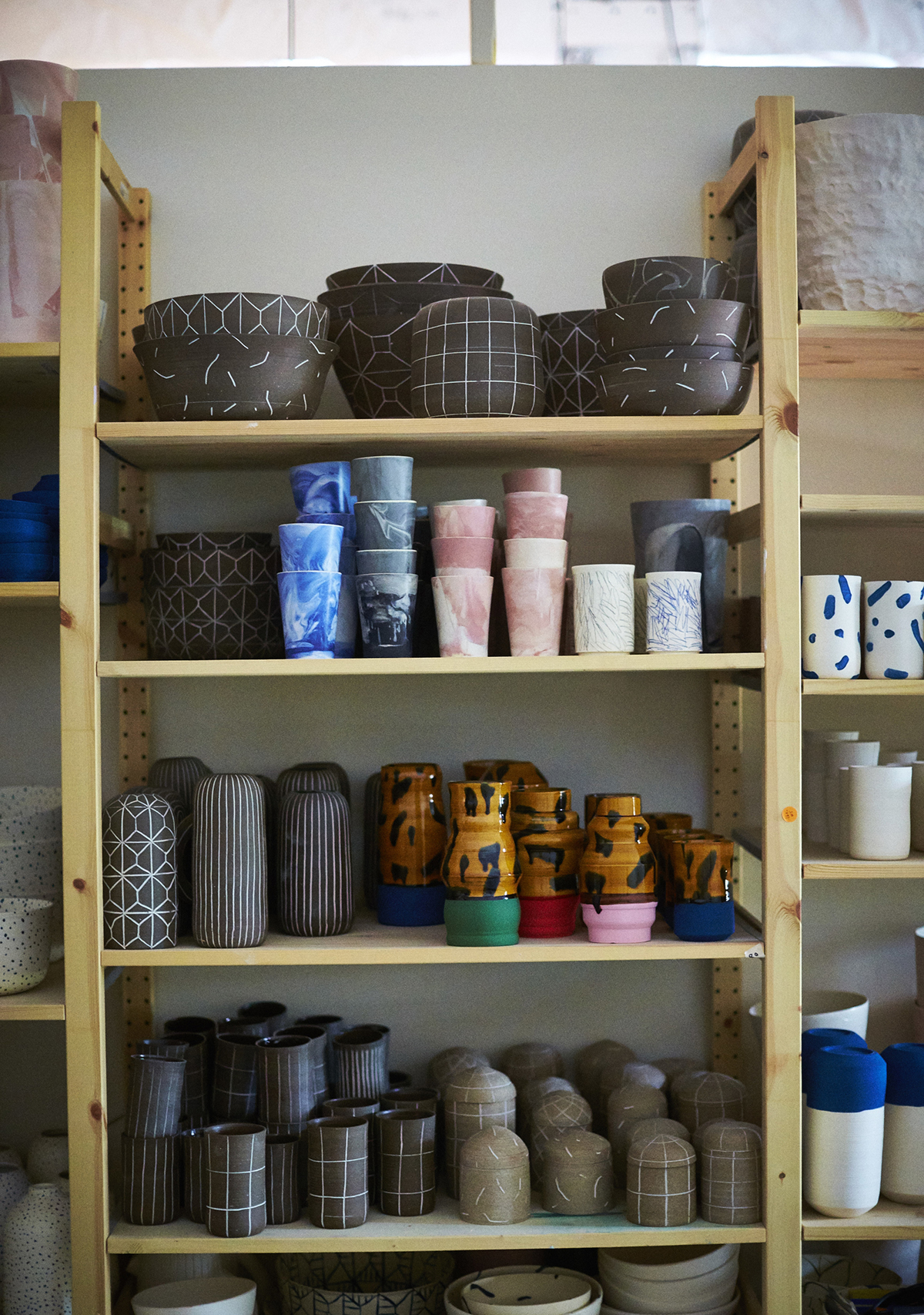 Our first stop was way out in very industrial East Williamsburg, where we visited the new studio of ceramicist Forrest Lewinger, a.k.a. Workaday Handmade. Lewinger has his own sunny corner of a larger space that's home to a handful of other ceramics talents — and their shared kilns. We did an Up and Coming story on Lewinger a year ago, shortly after he started his business, but now that he's fully established, figured it was worth documenting his workspace as well.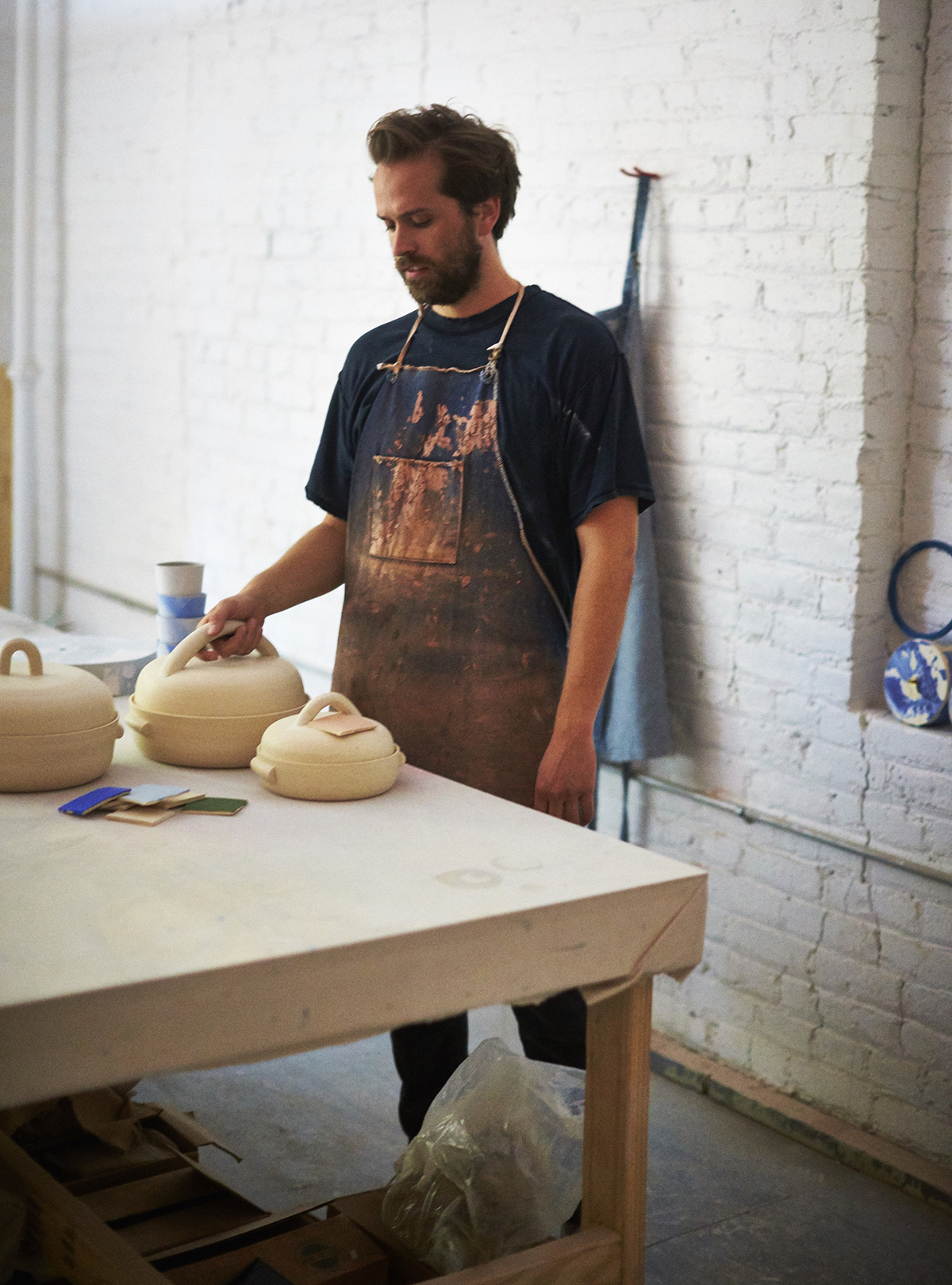 Lewinger showing us his newest series, which is still in the works — clay tureens.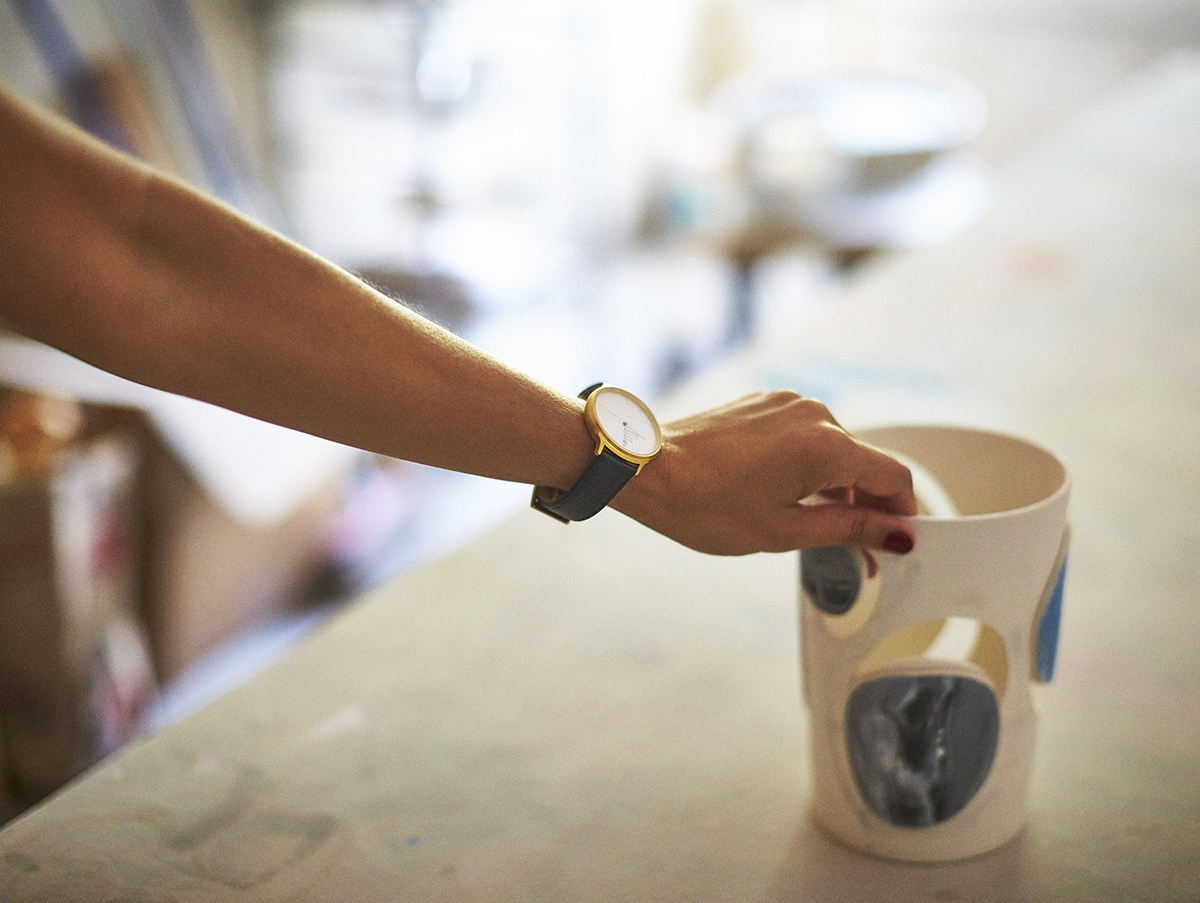 I couldn't resist the urge to shop, grabbing an endless stream of studio samples like this one off Lewinger's shelves before finally going home with a big speckled serving bowl.
11 A.M.: Nick Parker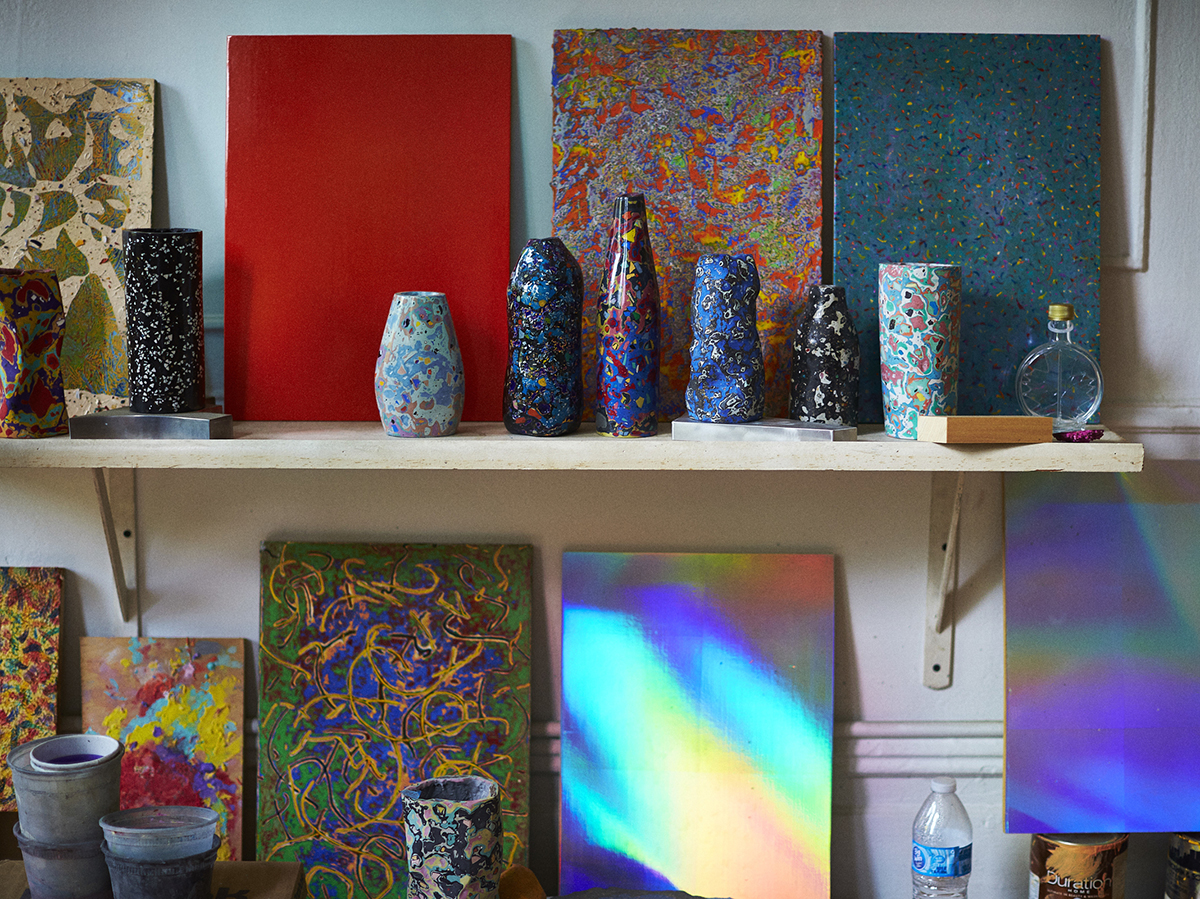 We discovered artist Nick Parker earlier this year through the Instagram of Josephine Heilpern of Recreation Center. We instantly fell in love with his vases, but were excited to visit him and see his full body of work all in one place, paintings, vases, and all. They all use similar techniques — suspending pigments and scraps of materials in cement or resin and then slicing or sanding it down to reveal the contents. Except, of course, those beautiful holographic panels, which Parker hadn't fully figured out what to do with yet.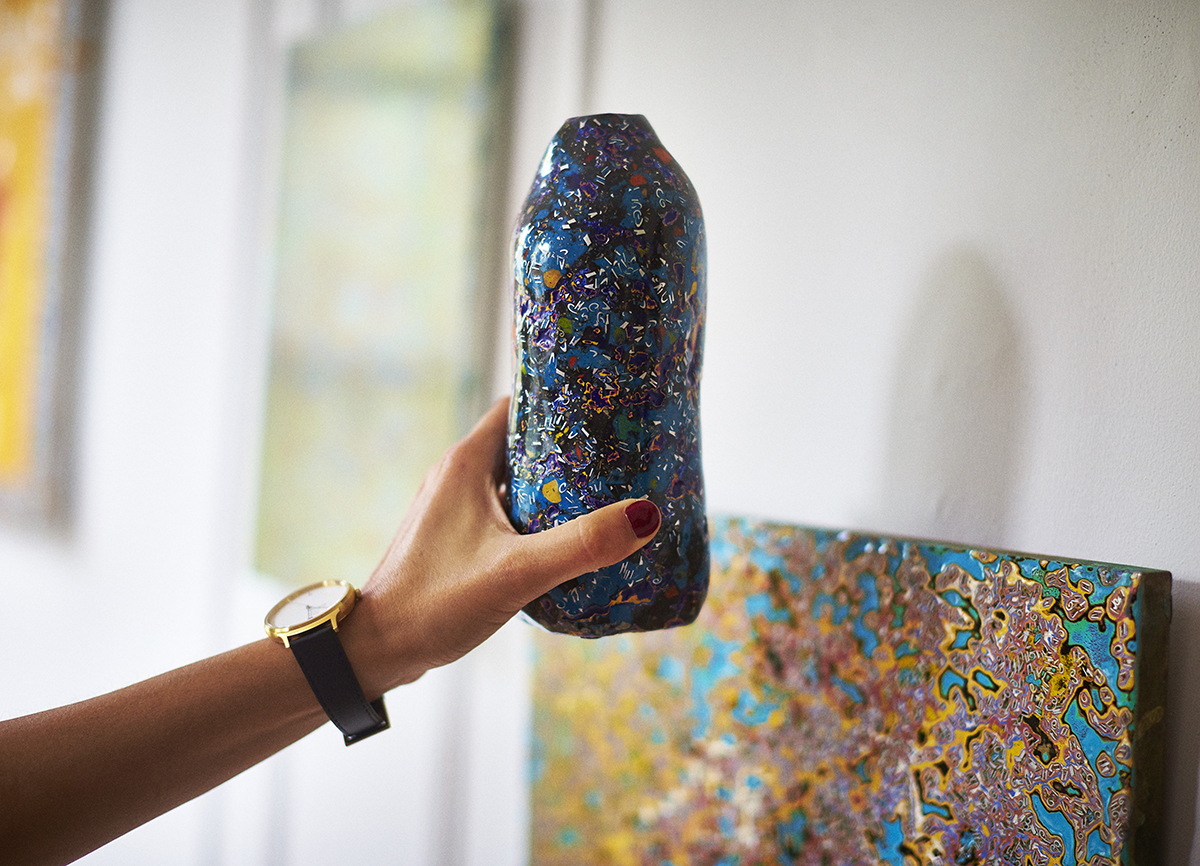 One of my favorites, which incorporated brass and aluminum shavings.
12 P.M.: Confettisystem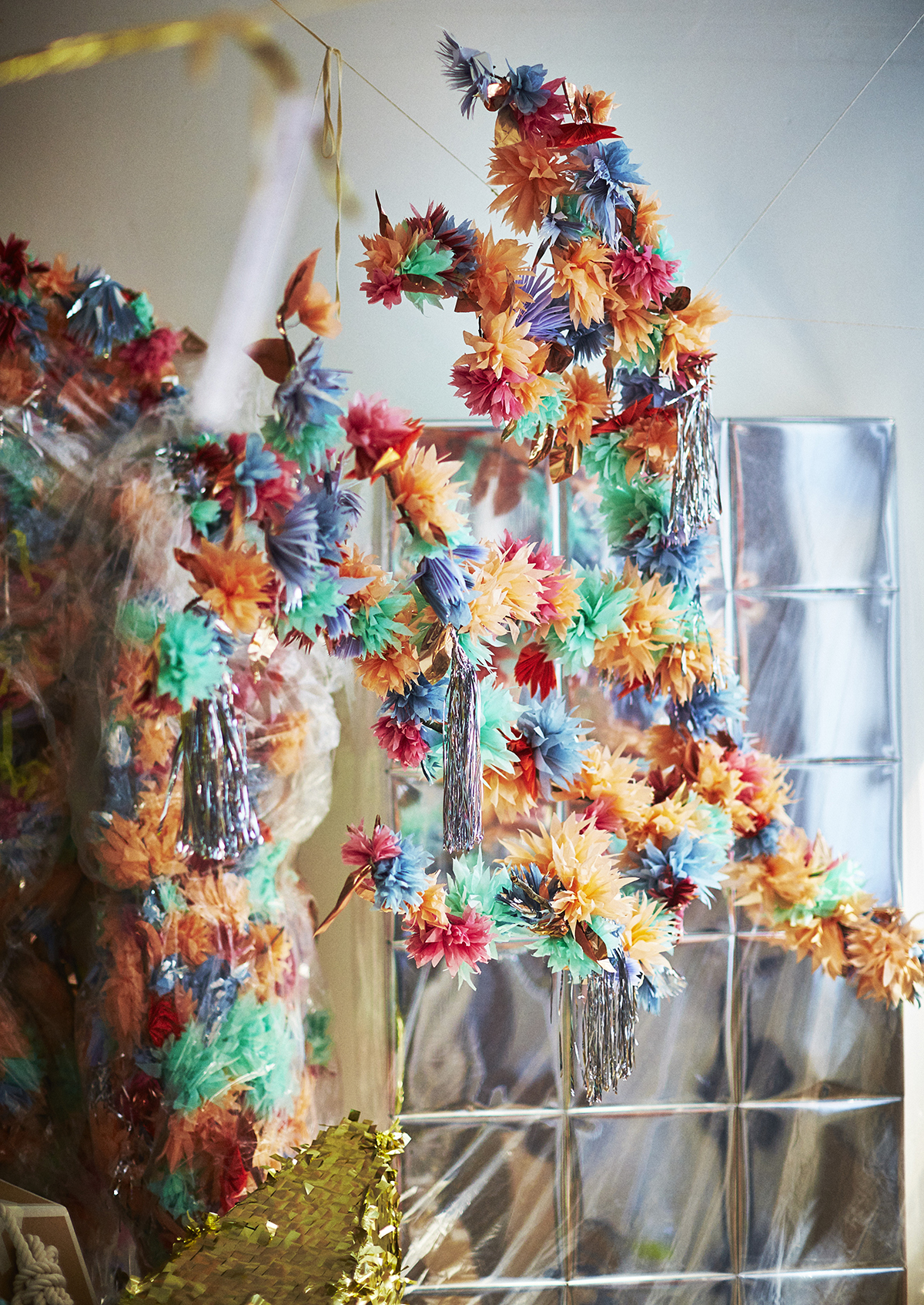 Having been one of the very first publications to visit the studio of Confettisystem back in 2010, I felt a major twinge of nostalgia the minute we stepped into their new space under the Williamsburg Bridge. So much was different, but so much looked the same, like the storage bins full of tinsels and tassels, or the party-ready pinatas wrapped in plastic.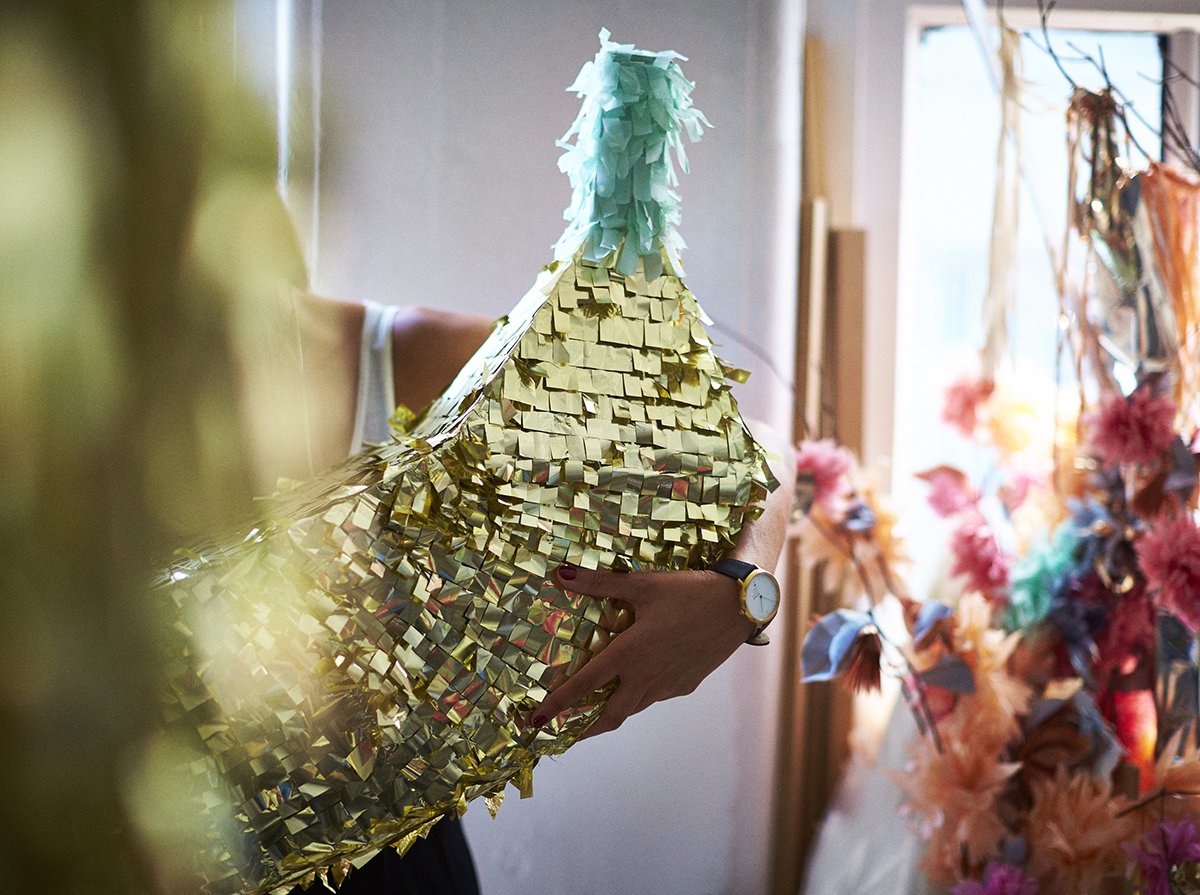 It made me think about how fast time flies — particularly when I looked down at my Helvetica watch in a panic about how behind schedule we were, only to realize it said 6:30 P.M. Oops.
1 P.M.: Fashion Designers Chiyome and Dusen Dusen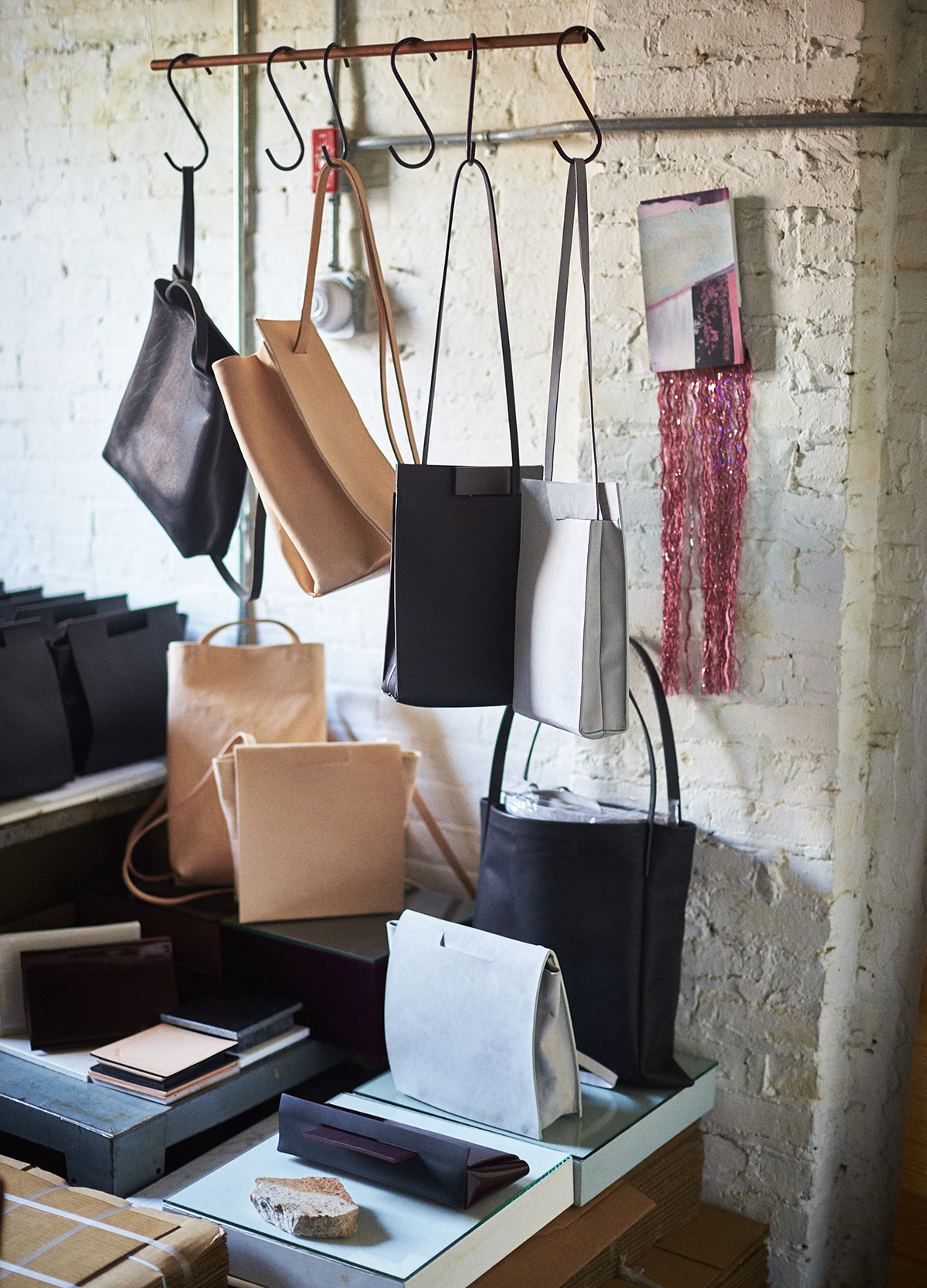 With my lovely timepiece back on track, I hurried us over to the shared workspace of Anna Lynett Moss, who helms the handbag brand Chiyome, and Ellen Van Dusen, who runs the clothing and accessories label Dusen Dusen. The pair make funny studio mates, since Chiyome and its half of the space is so minimal and understated while Dusen Dusen's is so wild and colorful, and yet the whole setup just works, maybe because they're both such independent, driven designers whose pieces appeal to similar demographics. Or just because they're both such cool people.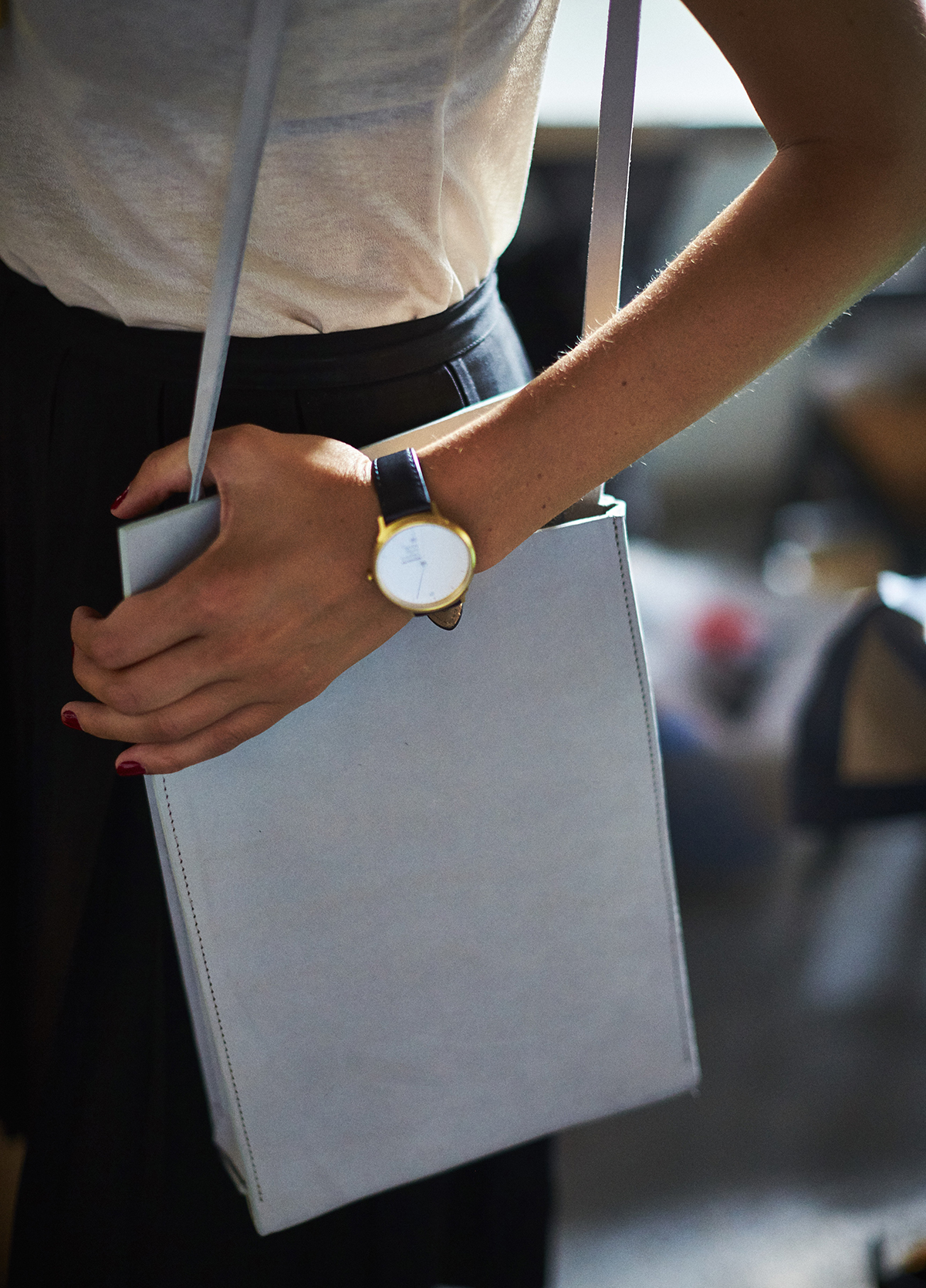 While test-driving my Helvetica, I also test-drove one of Chiyome's fall styles, a rectangular Rift Tab bag in the softest grey suede.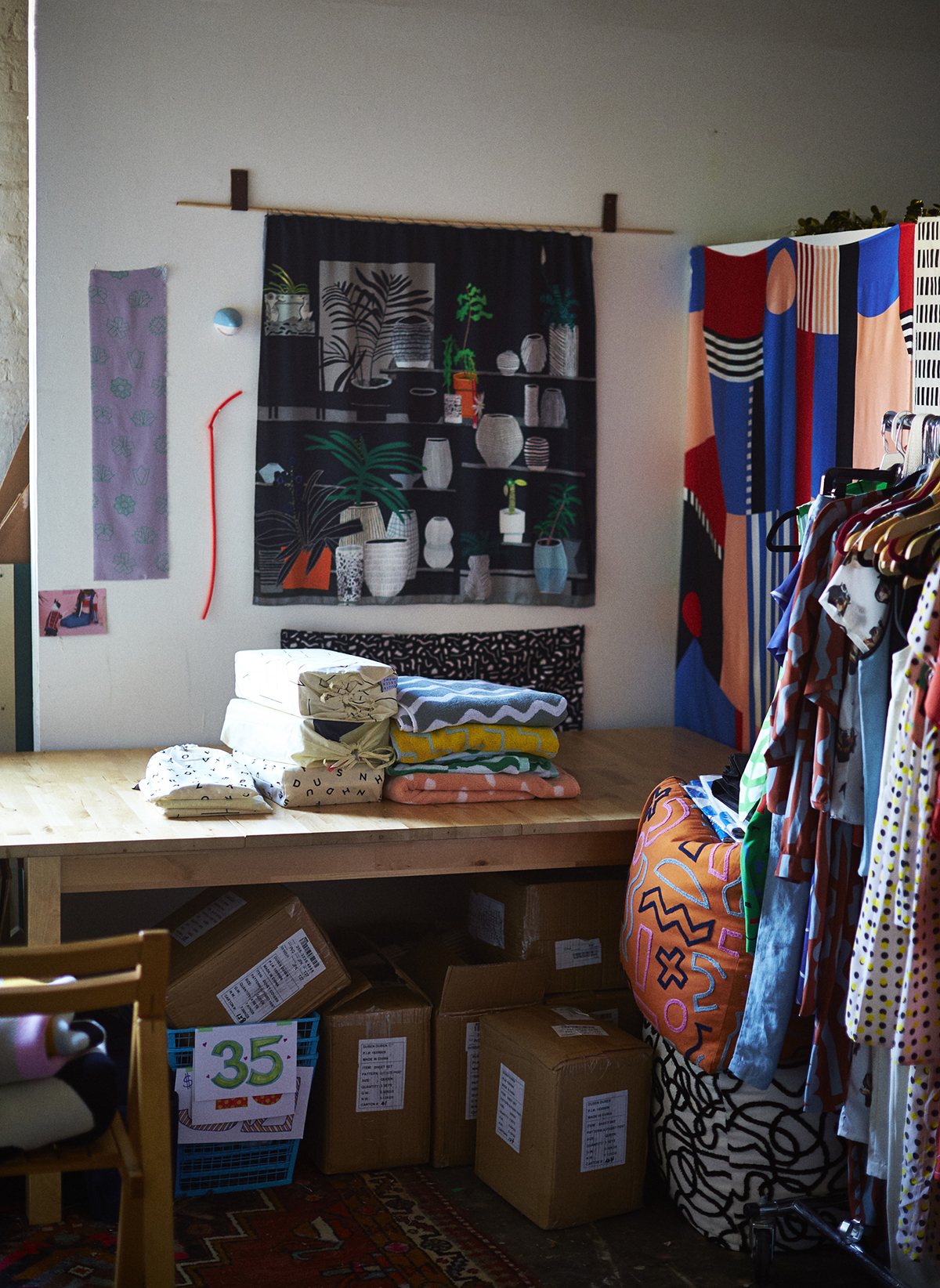 Van Dusen's side of the partition contained a rack bursting with recent and upcoming clothing samples, a stack of towels and sheets from her new-ish home line, and a very enviable Jonas Wood scarf/wall hanging.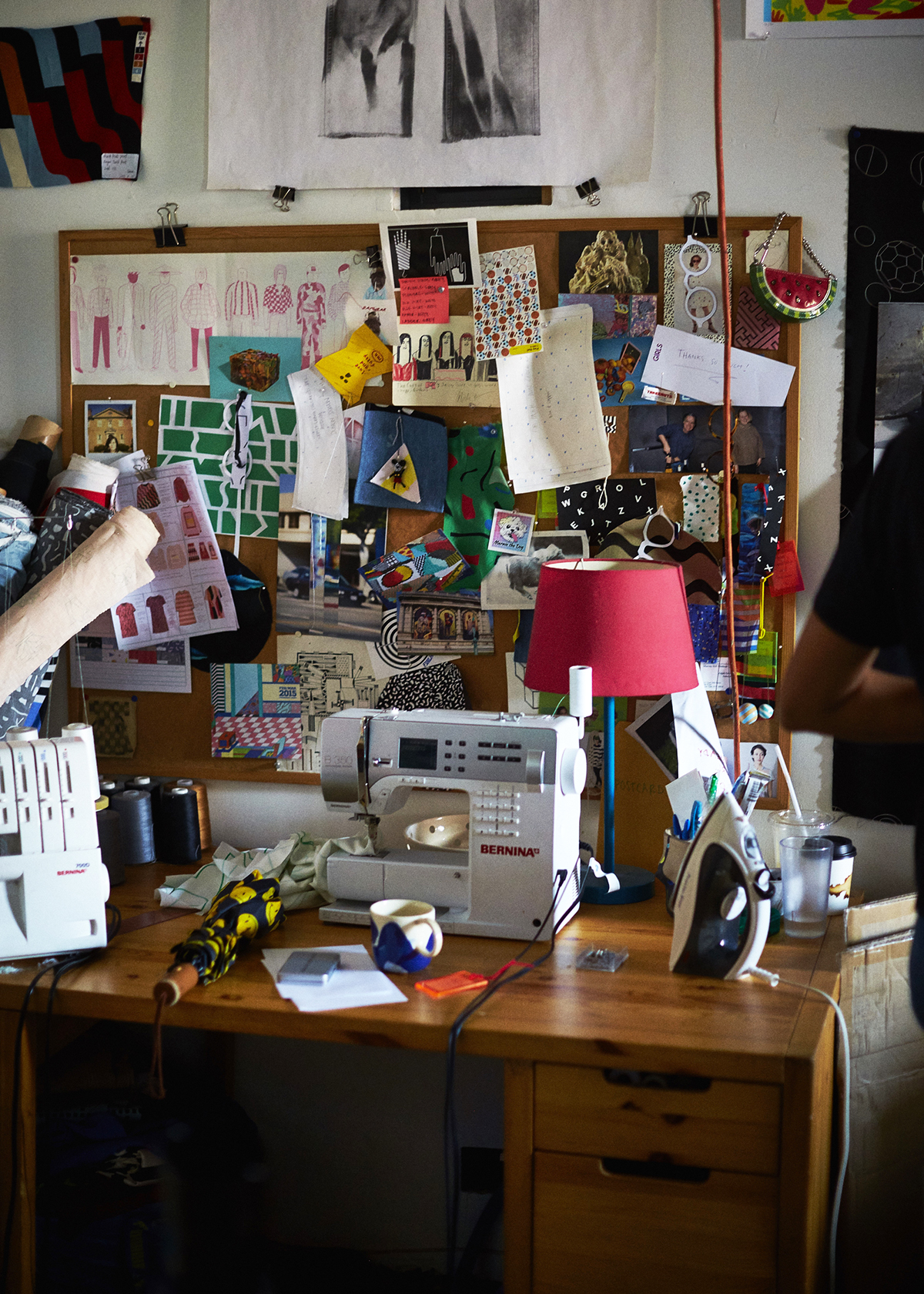 The official Dusen Dusen inspiration board (and sewing machine).
1:15 P.M.: Moiety Gallery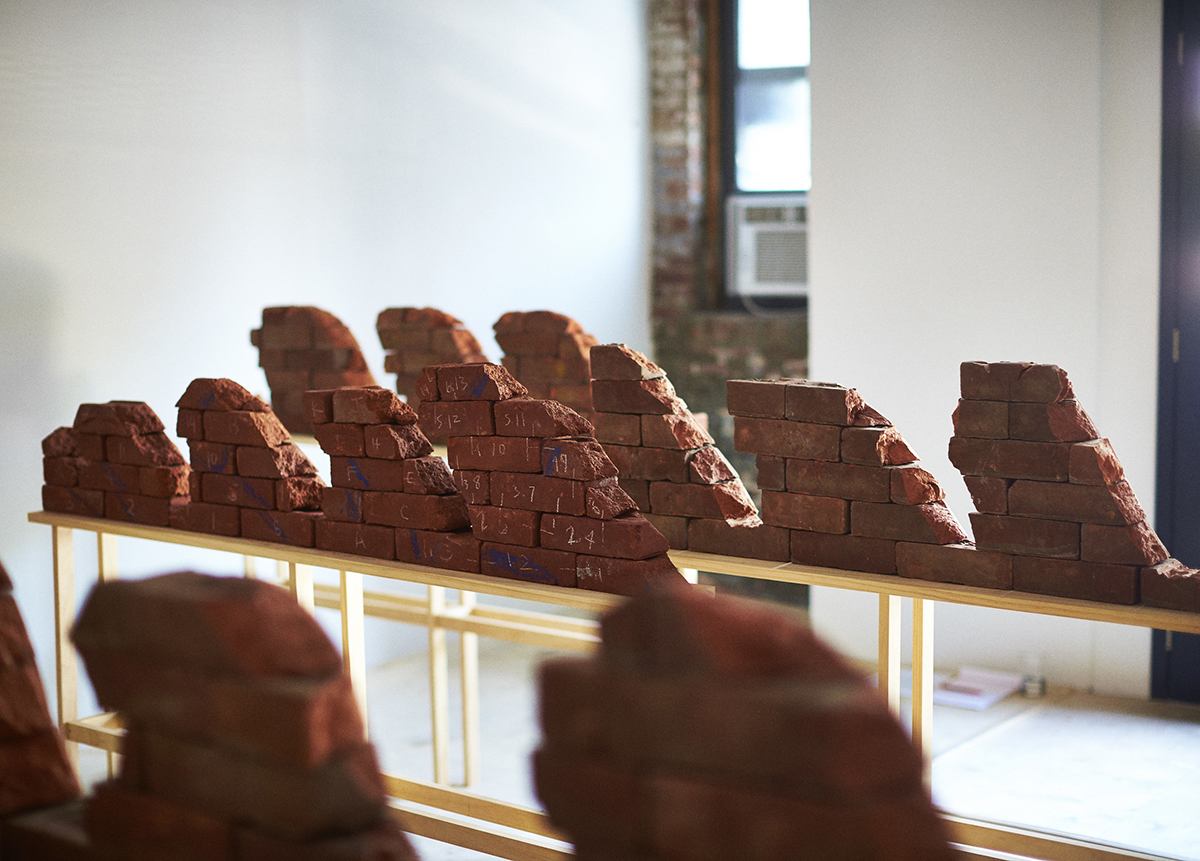 We first became familiar with Moiety Gallery when our former Sight Unseen OFFSITE exhibitors Field Experiments did a show there during design week this year. But during my visit last month, I wasn't familiar with the artists whose work was on view: Carey Denniston and Ander Mikelson.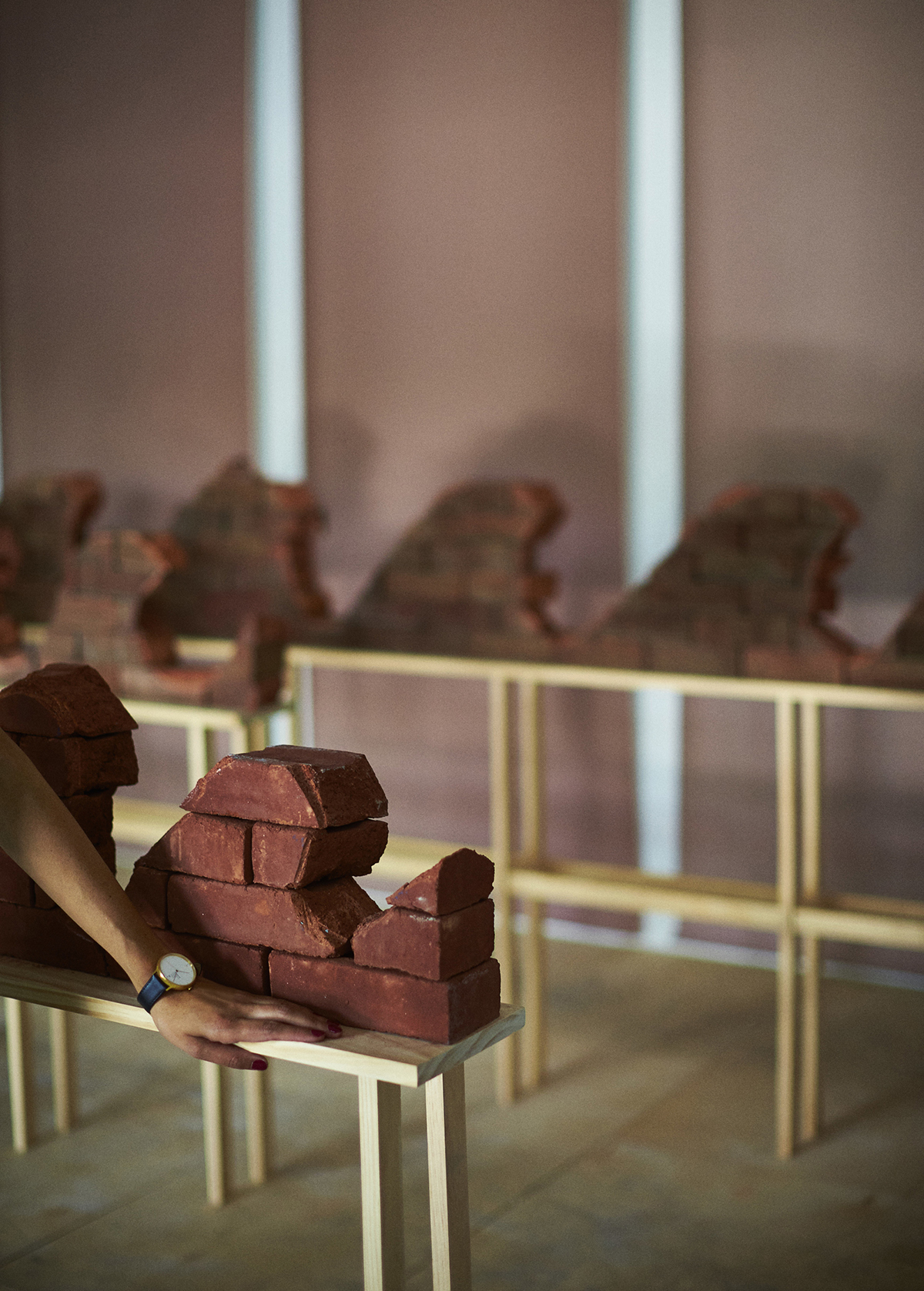 We can't seem to find much information about the exhibit online, but we do know there was an intense tap dance performance involved (see it here).
2:30 P.M.: Mociun White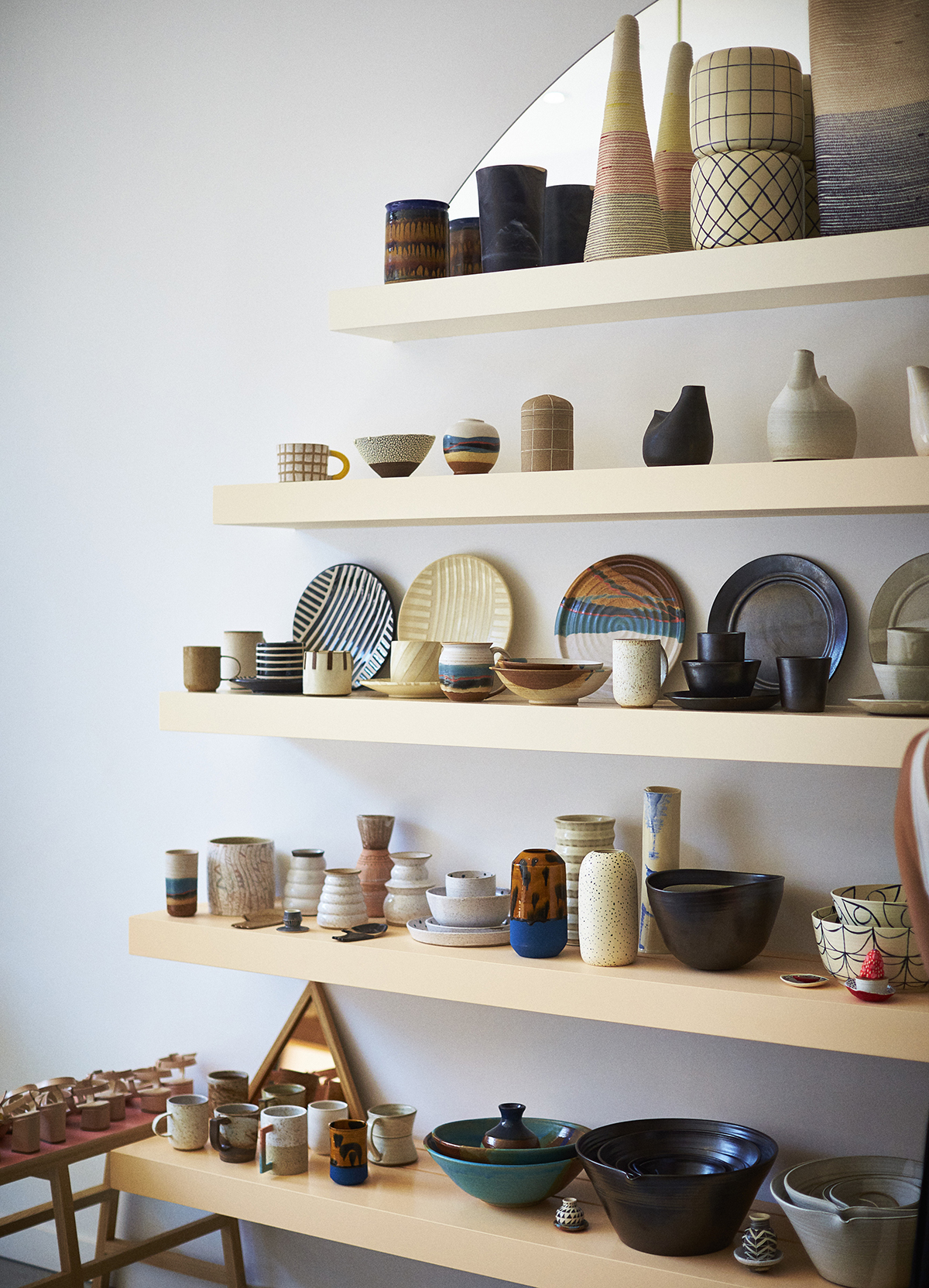 After a short break for lunch at a neighborhood favorite, Five Leaves, Barbera and I ended our whirlwind tour with a visit to Mociun White, which had been temporarily occupied by Mociun proper while the store on Wythe Ave was undergoing renovations. I didn't mind, as it gave me a chance to catch up on some new ceramics.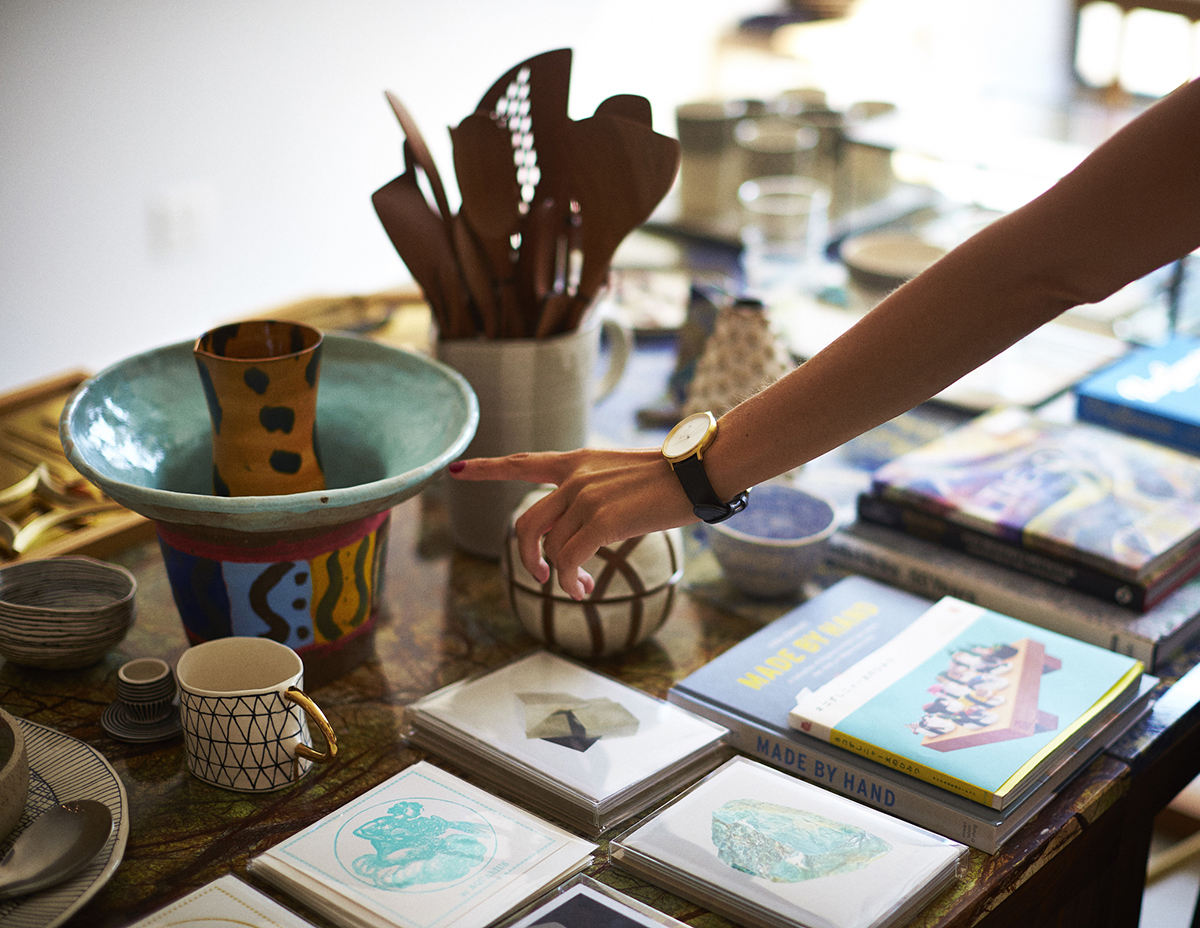 My favorite find was new work I hadn't seen before by Shino Takeda, including this giant tribal-looking vessel. I checked my (now punctual) Helvetica one last time — 3 P.M., time to head back to the office and back to the way Sight Unseen's editors actually spend the majority of our days: with our heads buried in our computers.
This post is sponsored by Mondaine. Like everything at Sight Unseen, our partner content is carefully curated to make sure it's of the utmost relevance to our readers.