01.27.16
Chiyome's Japanese-Inspired, Minimalist Handbags
PHOTOS BY PAUL BARBERA OF WHERE THEY CREATE
It's easy to look at the work of designer Anna Moss and draw associations with a familiar sort of functional Japanese minimalism: her line of handbags, CHIYOME, is named for her Japanese great-grandmother. Yet for Moss, the starting point is plainly straightforward: "I strive for simplicity and that can take many forms," she explains. What interests her is not minimalism for the sake of it, but rather a focus on the bag as vessel; it's a study less in stripping back and more in adding intentionality. How can shapes and details best serve their owners? It's this carefulness and artful observance that drives the small line, which she runs from a studio in Williamsburg, Brooklyn (shared with another Sight Unseen favorite, Ellen Van Dusen). We visited the designer at work to discuss her convention-breaking practice and consider how questioning existence can be part of the creative process.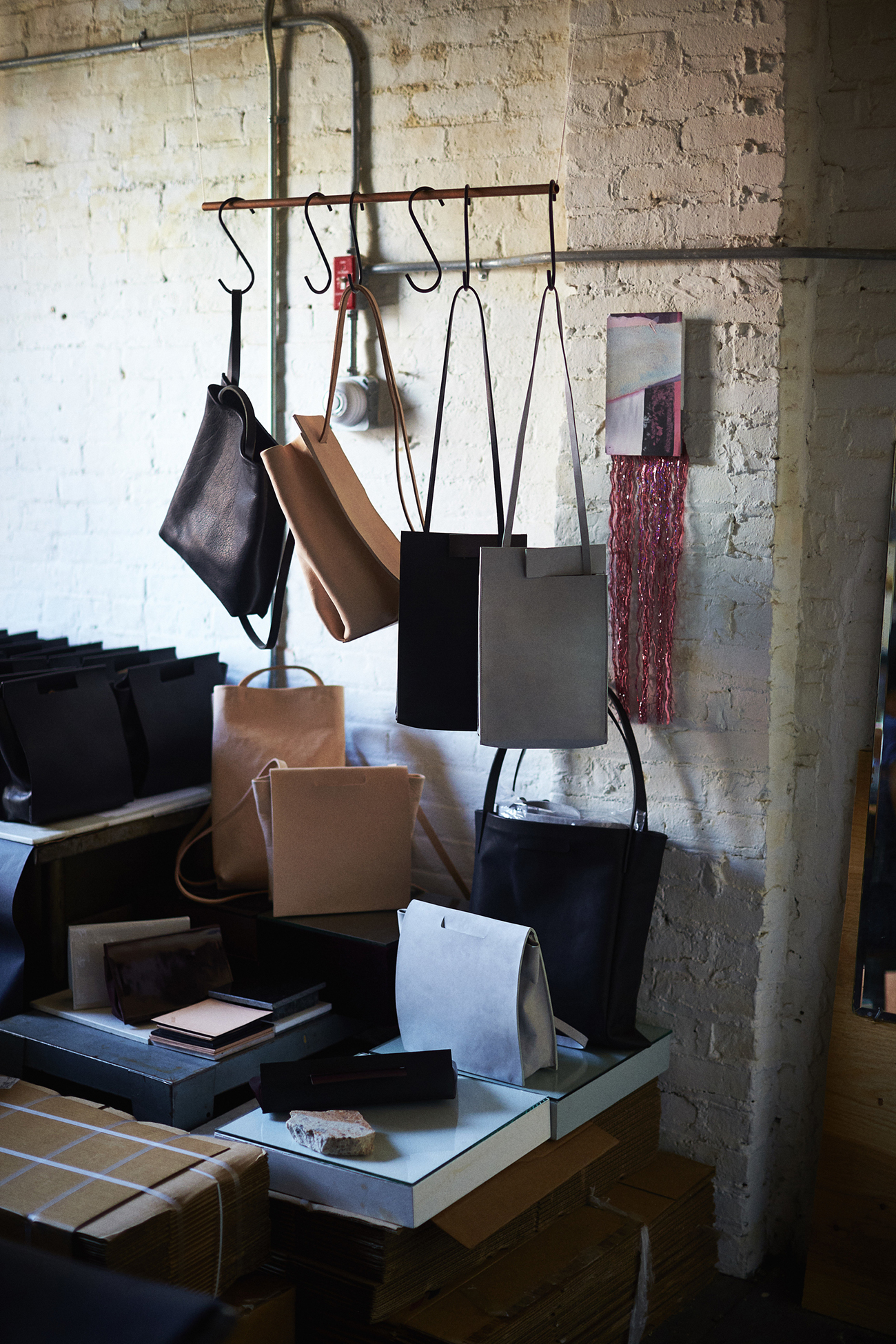 You share on your website a series of touchstones for your brand philosophy: Quietness, inquiry, balance, austerity, intuition. Can you speak more specifically about how these ideas manifest in your work?
For the most part these concepts guide the design process, but when I make decisions about branding, sales strategies, and partnerships they serve as a guiding force as well. I suppose when I come to a point where I need to make a decision these ideas inform the route. For example: the tone of a photoshoot, a font choice, website layout. A few solid reference points allow our message to be more cohesive.
What other specific cultural materials or concepts — books, architects, artists, ideas, songs, places, etc. — have been influential, both recently and long-term?
I look at furniture and contemporary art, specifically prints and drawings. Recently I've gained a lot from studying the work of Toba Khedoori and Eduardo Chillida. Something about the way they make space in two dimensions really interests me. It's evocative work and rewards connection from the viewer. I just saw a Diane Simpson show at the ICA in Boston that I can't stop thinking about. The works that interest me most exhibit great restraint and have luxurious details.
I often revisit Alain de Botton's idea that the art that attracts us holds a concentrated amount of our missing qualities. I'm into the concept that the art and objects that occupy our world rebalance us somehow. It's relevant to design because I need to understand how these bags serve their owners: what is the void they fill, what kind of person could they rebalance and how can they do that better? I'm also heavily influenced by the writing of bell hooks.
Can you share more about your Japanese background, and how this has played a part in your design sensibility?
That's a tough question to answer. I think a lot of people see a strong relationship between the bags and Japanese design but I strive for simplicity and that can take many forms. Utilitarian carrying vessels fascinate me but it's more about formal economy than cultural context. What I admire about the women in my family, including Chiyome on the Japanese side, is their pioneering spirit, willing to embrace the unknown.
Do you carry any unexpected thing(s) in your own handbag?
Usually something weird but useful, like a big pair of scissors.
Tell us more about the space where you work and the process of creating one of your bags. Can you break down the rough steps for us?
I love my space, where I've been for almost two years and it's been a dream. Most of the technical sewing steps aren't too exciting, but my point of departure for design is usually a closure or strap connection. I don't do a lot of drawing except to capture a visual thought I'd like to work out in full form later. I make many prototypes of closures and connections. We create samples and patterns in house before we present to our garment district factories. That's part of why they tend to look different than other bags: we don't let our factories fill in the gaps with their own construction methods (which are often borrowed from other brands or are the result of their particular machines or skills on hand).
Are there any design "problems" you are interested in exploring?
The most interesting challenge for me is analyzing and breaking apart existing hardware and form conventions. That process is about formal simplicity and production efficiency, too. It comes back to the question, "Why does this have to exist?" I'd like to explore more folded elements — economy is very exciting to me. Because I totally avoid the confusion of decorative elements, the focus is entirely about finding the perfect leather weight and density to support the structure, and balancing simplicity with statement.
Can you share more about how you regard the personal relationship between person and bag?
It's kind of complicated when you look at it closely. I think in our culture we tend to "use" bags a certain way: to signify the group we are in or want to be in, to show how much money or knowledge we have. They are unlike clothing or other accessories in that way. I've thought a lot about it over the years as I've tried to figure out why anyone wants these bags. The question is answered in all of the specific design elements but also in how the bag makes the wearer feel, and perhaps how she wants to be seen. Because successful design fulfills a need I'm curious about how that need is defined. I think people who are into CHIYOME have a strong visual sensibility and memory. They desire to have specialized objects in their world but don't have to make a big deal of it either. They tend to be relaxed but precise. We get a lot of architects who are customers and fans of the brand…I'm fortunate to serve discerning eyes.
What is next for you?
Small leather goods with hinge functionality!