04.25.16
Get Ready to Experience Leong Leong's Epic Infinite Sound Bath for Ford
Christopher and Dominic Leong, brothers and founding partners in the New York–based architectural office Leong Leong, have since 2009 developed a practice shaped by an understanding of architecture as a discipline in constant dialogue with other disciplines, such as art, film, and music. Their installation for this year's edition of Sight Unseen OFFSITE is no exception: TOPO is an immersive and experiential landscape — created in partnership with ARUP and inspired by the design thinking behind the Ford Edge — that turns a flowing field of more than a thousand foam rollers into a kind of musical instrument, using acoustic actuators to pick up ambient sounds and translate them into a sonic soundscape. With mirrors lining the installation, the overall effect distorts perceptions of distance, scale, and space. Watch our video about the project below, shot by Lauryn Siegel, then read our interview with Leong Leong exploring their project for OFFSITE and the ethos behind their larger body of work.
Tiffany Lambert: When you established your New York practice in 2009, did you go into it with a clear concept of your architectural philosophy? Has it evolved over time?
Leong Leong: We both had certain ideas or issues that we were interested in at the time we started our office, but I don't know if we had a philosophy of architecture. We both feel that practicing architecture or design is about a constant feedback loop between the history of ideas we've inherited, our own intuitions about what architecture can or should be, and what opportunities come along that might allow architecture to be a relevant cultural influence.
As brothers, you grew up in St. Helena, a small town in California, but have lived and predominantly worked in New York City for the last several years. How has a dense urban landscape influenced your project for Sight Unseen OFFSITE?
We are children of a generation that escaped the city in the 1970s and returned to the country. We were fortunate to grow up in a very idyllic and bucolic setting and the natural beauty of the landscape was formative. I think people want to escape the city now for different reasons than in the 70's. It's not so much a reaction to the urban plight anymore. In fact, it's almost the opposite; it's the psychological intensity of a hyper-social, hyper-commercialized city that people are looking for a retreat from. So our project, TOPO, was inspired by this arcadian longing and the expansiveness that can only be felt in a landscape with a horizon. The sound bath is a way to further dissolve the physical boundaries of the space.
You work on both cultural and commercial projects. Do these two sides balance your practice? When do you decide you're too far in any one direction?
The distinction between culture and commerce is so blurry these days that it doesn't really matter to us. Many cultural institutions rely on corporations and commercial collaborations to fund their initiatives so it's important for us to be conversant in both spheres, to find the most interesting circumstances to work in and to maximize their potential.
You experiment with ideas at many scales — small galleries and installations to homes and buildings. How does the scale of TOPO relate to or differ from a more personal experience of driving through a landscape?
I recently went on road trip in the desert with a few friends. We started off our trip visiting another friend who was photographing an Albert Frey House in Palm Springs and then we drove around the desert for a few days to check out the Super Bloom in Death Valley. Along the way we stopped at the Integratron, random motels, and eventually almost made it to Michael Heizer's City project in Nevada.
The desert is a very interesting place because you are often in a very small space like a car or house, but can just step out into the boundless landscape, which makes you feel like an ant in an existential vacuum. There is no in-between scale; you just move back and forth between these two radically different scales of space and states of mind. It is extreme environmentally, psychologically, and culturally. So TOPO was inspired by this experience of being in the intimate social space of a car like the Edge and the endless landscape at the same time.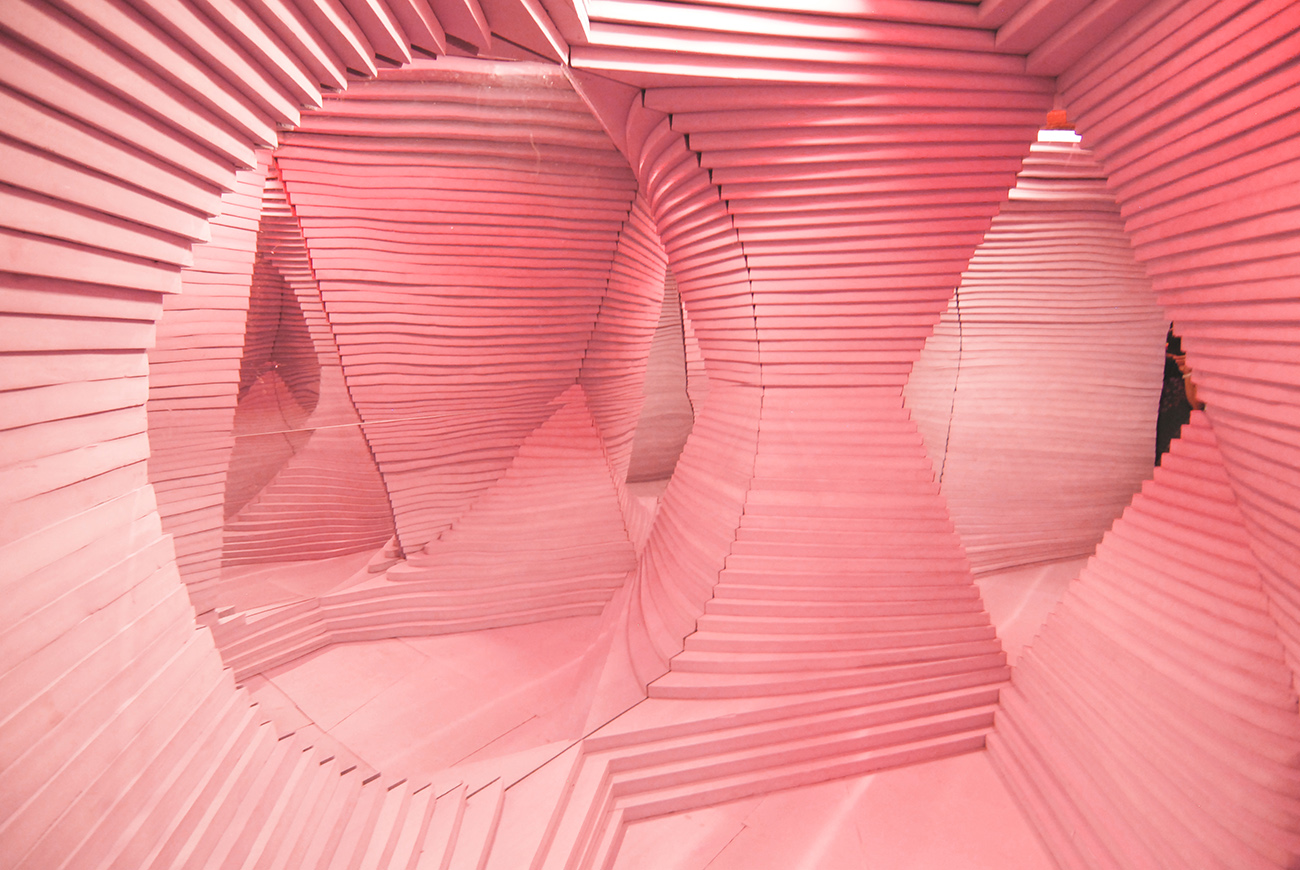 Turning Pink W/, 2010
There's also a long history of immersive, continuous environments, from Verner Panton to Ant Farm to Superstudio. Do you see a connection between the architectural ideologies of today and the past?
Yes, but the biggest difference is that no one believes that you can actually be outside of the market anymore and the grand narrative of a Utopian alternate world doesn't exist. We live in an age of ephemeral micro-utopias…these bubbles appear and then burst but are not continuous in time.
TOPO is embedded with sound. Can you describe that soundscape? Is it more transcendental? Are the ambient sounds transformed somehow or relayed directly?
We worked with ARUP to create a sonic interface between the inside and outside which makes the whole installation work like an instrument. The surrounding ambient sound is picked up with a mic and then translated into a dynamic soundscape inside the installation. It's difficult to describe, but the effect will be very spatial and will create the sensation of being in different acoustic spaces depending where you are in the space and on how the different frequencies amplify and cancel each other out.
Materiality and texture play a crucial role in your broader body of work. Can you talk about how you explore materials more generally?
Materiality is one aspect of our practice that we explore obsessively. We are always interested in materials that are a little weird or can be used in a weird way. So this might mean using spray-foam insulation as a wall finish or re-bonded foam as furniture. In general, we're interested in how architecture can subtly shift the experience or perception of the familiar everyday life to open up new ways of living and be more resourceful at the same time. Materiality is one means of creating new aesthetic experiences that take people out of their normal, habitual ways of perceiving or behaving in a space.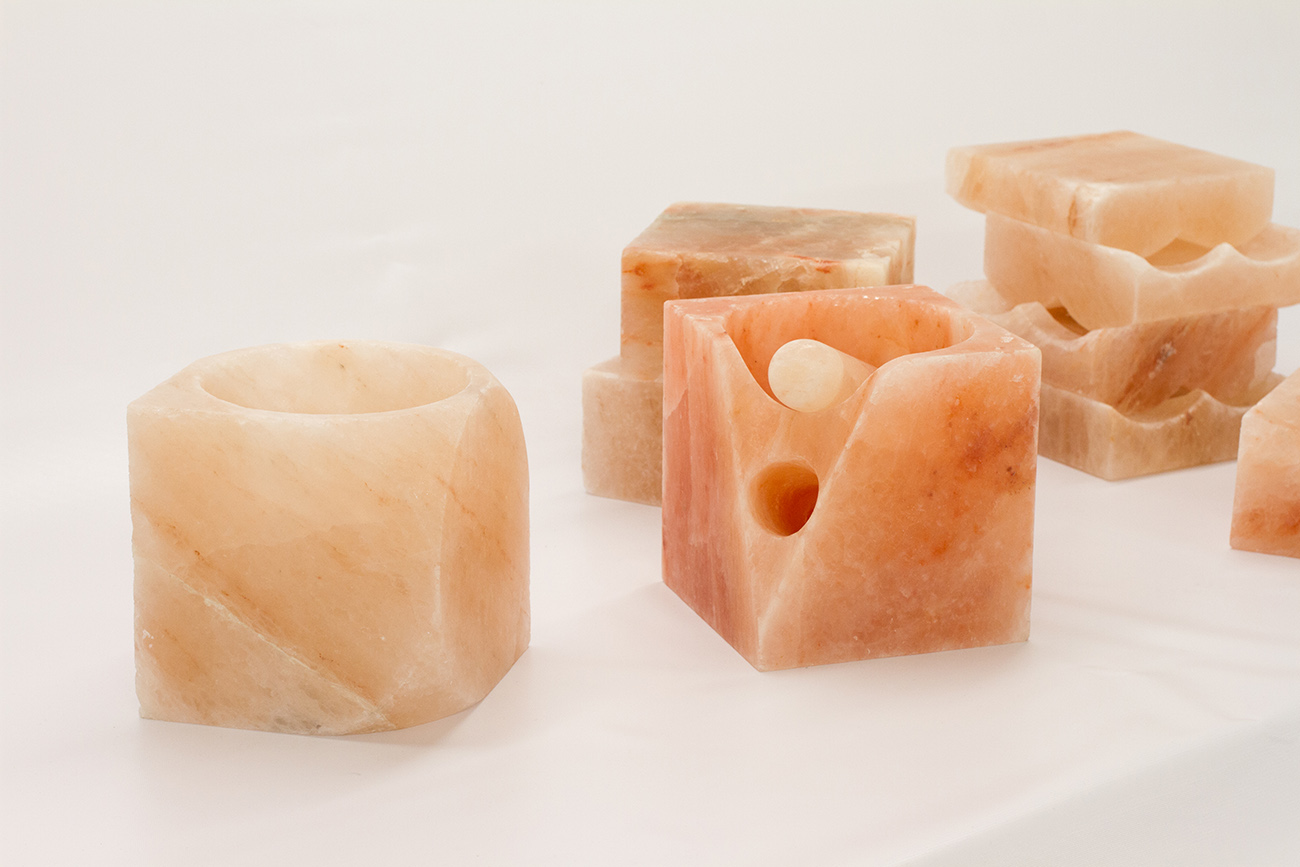 A Toolkit for a Newer Age, 2016
How did you arrive at the cylindrical foam rollers as a material choice for the OFFSITE installation?
We're interested in super basic forms of technology that relate to the body. We explored this in our "Toolkit for a Newer Age" that was exhibited at Chamber Gallery. So the foam rollers, typically found in gyms, are a kind of contemporary primitive tool for stretching and self-massage. We thought it would be interesting to create a slightly alien landscape out of a very familiar material, like the foam roller.
What do you hope people will come away from the experience with?
It's always more interesting to design for possibilities than to prescribe what people should experience, but the experience will definitely be out of the ordinary — a little strange but hopefully a relaxing moment of pause.
Some of your projects blur the individual and the collective experience, including TOPO. Do you think there is a greater sense of ownership the more architecture is participatory?
Sure, this is true of the process of design and how we experience architecture. At the same time, architecture can be the most engaging when it creates a bit of distance from everyday life. It can invite you in by showing you that there is another way of looking at the world or participating in it.
You create work that aims to be both inventive and conceptual but also tangible and rooted within real-world constraints. How do you manage to not let the real world concerns of a project overwhelm the design process?
We're totally interested and invested in "real world concerns" because they are conceptual and practical. Architecture gains the most relevance, when it can take an existing reality in all its complexity and banality then transform it into another reality. Rather then thinking of the "real world concerns" as a series of obstacles in the way of realizing a concept, we want to fold them into the concept itself. The design process is about mastering all the real-world constraints in order to seamlessly integrate them back into reality in another form.
You are currently working on the new Los Angeles LGBT Center. Can you talk about your mosaic concept for the building and what it's like to work on your largest project to date?
Our concept for the Anita May Rosenstein Campus for the Los Angeles LGBT Center is really about creating a multi-generational village providing housing and social services for the LGBT community. There's really no precedent for a project of this scale and mix of programs which includes senior housing, youth housing, a drop-in center, dormitories, social services, administration, cultural space, etc. Considering this complex program, the concept of the Mosaic is to allow for multiplicity and diversity to co-exist within a unified campus. Rather than a singular iconic identity, the campus has multiple identities, which relate to the different programs and users. It is also very private and public at the same time because it's a sanctuary for the community and an interface to the surrounding neighborhood and Los Angeles at large. So it will serve the local community but will also be a platform for more global initiatives as well.
What's next? Is there a dream project you would like to pursue?
We are not so much focused on specific project types but more interested in circumstances and clients who have the potential and interest to re-think pre-existing genres or types of architecture. We have a few interesting ongoing projects, including a hotel in San Francisco, that is really about re-formulating the relationships between hospitality, work, and community, which are vital issues in San Francisco. We're also working on a mixed-use project in Flushing, Queens, that we think will play an important role in the future of Queens and set the tone for progressive community-focused projects.
We'd really like to design another private residence, though.
US Pavilion at the XIV Venice Biennale, 2014
3.1 Phillip Lim, Seoul, 2009
TOPO by Leong Leong is Sight Unseen's second collaboration with Ford for Sight Unseen OFFSITE. The first, presented at the 2015 show, was the Dynamic Sanctuary by Brooklyn studio The Principals. Read all about that project here, as well as an interview with Ford's Moray Callum on the future of car design.