09.22.16
Bower On Becoming One of the Hottest Studios in American Design
In our business, we're not technically supposed to play favorites, but the truth is, if you're paying attention, it's easy to spot our natural inclination towards certain designers. At the top of that very long list is Bower, who we met three years ago at a gift fair in New York and who immediately became one of most clutch studios in our stable of designers. The reasons we love Bower are many: They are the kind of guys who, when you ask if they might be interested in creating a small collection of furniture for a pop-up, come back just a few hours later with a fully fleshed-out sketch for this. They are the kind of guys who, though they were just coming off showing their biggest, most high-end collection to date with us at Collective this spring, still found time to create one of the most Instagrammable booths at Sight Unseen OFFSITE. And they are the kind of guys who send thank-you notes, written in pink marker, that are so lovely you hang them on your fridge, like a proud mama.
But mostly we love Bower for the same reason so many others do: Their work always feels just right for the moment in which its made, somehow ahead of what's current but not so trendy that it might soon fall out of fashion. That these sophisticated harbingers are made from an enormous Brooklyn woodshop with no A/C seems about right when you meet them. Bower founders Danny Giannella and Tammer Hijazi (who were recently joined by a third official partner, Jeffrey Renz) met while working for the Brooklyn firm Uhuru and started out small and scrappy, creating mostly custom woodwork for clients like Kinfolk. But the two used the relentless design-fair calendar to their advantage, using shows like AD Home, Sight Unseen OFFSITE, Collective and more as a catalyst for invention, with each collection stronger and more sure-footed than the last.
We photographed and interviewed Bower for the site at their Greenpoint studio (which they share with woodworker and furniture designer Patrick Weder) longer ago than we care to admit — certainly before they had an inkling of the indoor fountains and infinity rugs in their future — but we couldn't let our chat go to that big unpublished stories archive in the sky. Read on for a closer look at one of the most exciting up-and-coming studios in American design.
PHOTOS BY MICHAEL A. MULLER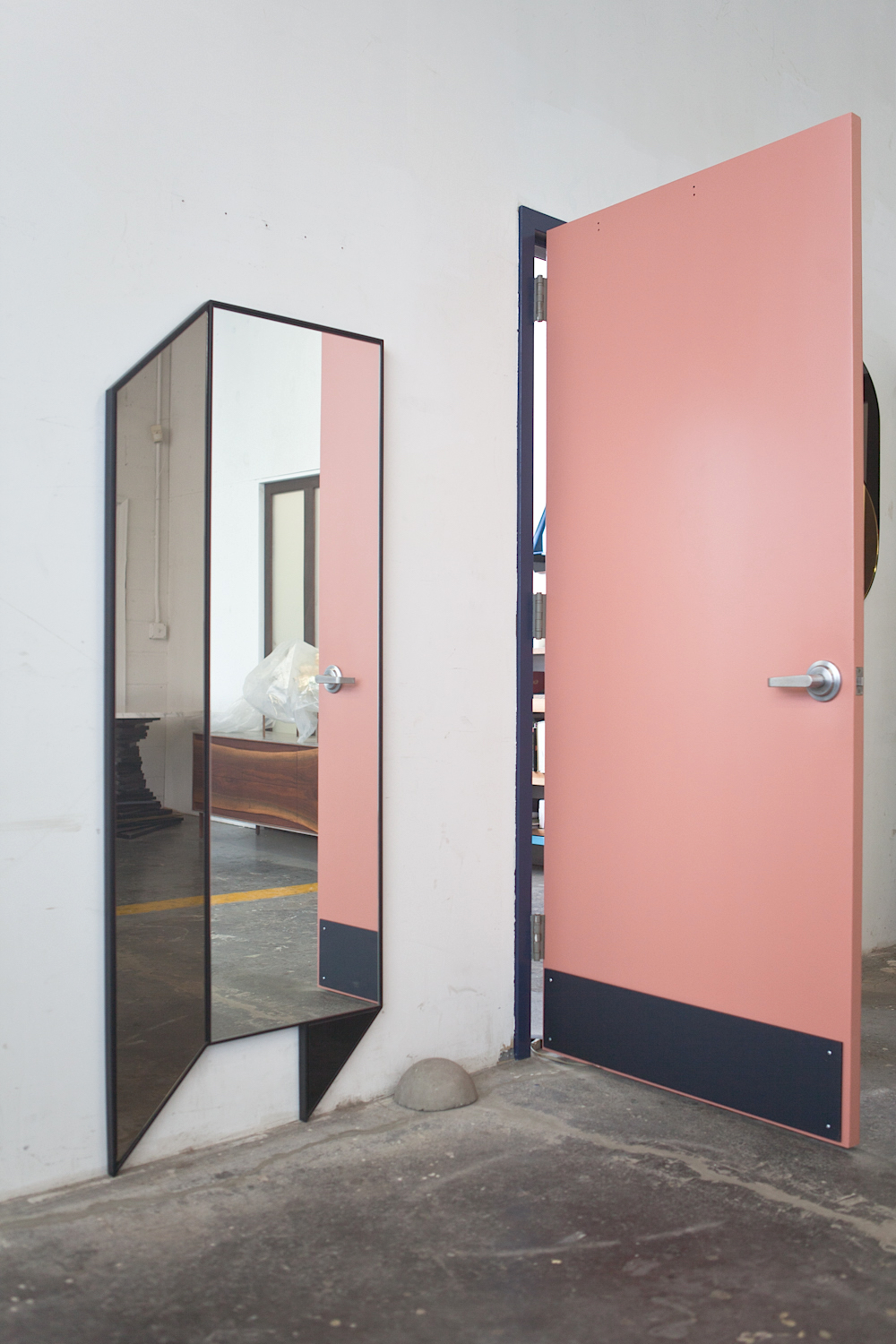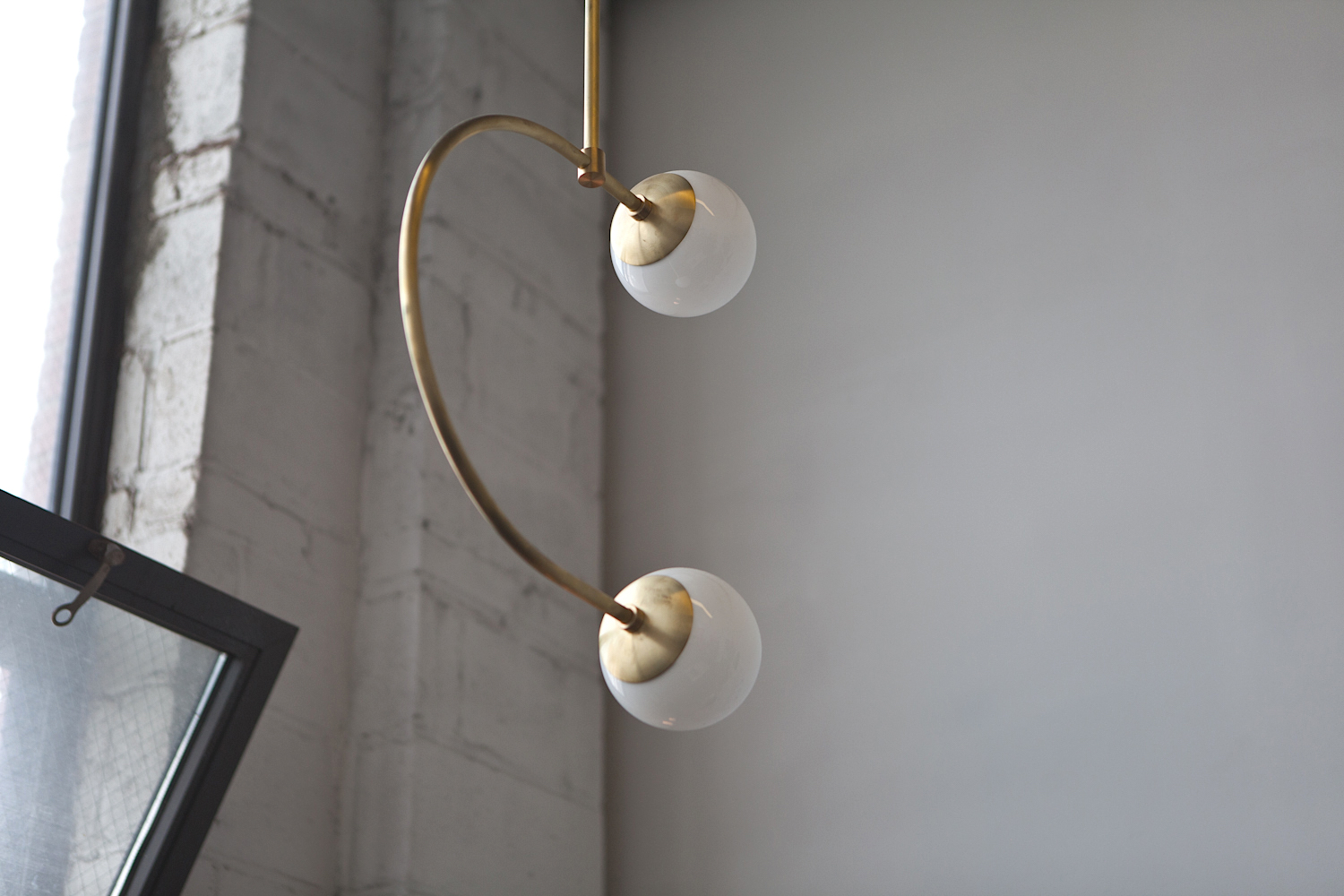 So how exactly did Bower come to be? I know you worked together at Uhuru but how did you make the transition?
Tammer: We started out just Danny and Tammer trying to pay for a $600 shop. We had just quit Uhuru. It was a very small amount of space, and we were taking on any odd job.
Danny: And we decided okay, we need to start doing our own stuff, because that's ultimately what we wanted to do. That's why we started our own company — but how do you sell stuff right off the bat? So we were feeding ourselves off of custom work, or word-of-mouth things like restaurants that wanted some shelves for something. We had no creative say in anything. But then, Brooklyn Designs came about, and somehow we signed up, got in, and then were ultimately forced to come up with a collection.
Tammer: I think we reached out to you around that time, too.
Whoops.
Tammer: But we were nobodies!
You had, like, no photos of your work.
Danny: I think had, like, a crayon sketch of a stool (laughs). So that was 2013. We worked out of a woodshop, and we had no network as far as any other type of material manufacturing. We had a metalworker, but we didn't consider marble or stone. Now we feel like there are no limitations; we've met enough people that we feel like anything's possible. But our first collection was mostly wood, and it was the Pick-Up Stool and the Polaris Light. They all had this cohesive language of dowels going through dowels and exposed joinery. And the Key Target was our first product; that was there, too. The point was to think of a very routine, mundane thing that everyone does, and to turn it into a fun game or action. We set it up on the outside of our booth, and it was such a hit. There were kids lining up. The parents loved it, because they were like, "Okay, you stay here for a little while."
Basically a safer version of darts.
Tammer: Laura Young was working at Areaware at the time; she saw the Key Target and that started our relationship with Areaware from that one show.
Danny: And we met a girl from Miami who curates these shows that we've been doing since then. So it was great, and since then we've been trying to do every possible show based off of that first experience of being forced to come up with this stuff. It's kind of for better or worse —
Tammer: Because it's expensive. When you start having these crazy ideas, you could spend thousands of dollars just trying to make that one piece happen. We're trying to be a smarter about our money. We're also trying to focus more on furniture these days. Pulling back a little from the product.
Danny: Now as we're designing, we're considering things like margins. We were only considering how much we liked the idea before.
Tammer: Sometimes we'd hardly make money, but we just wanted it out there.
Danny: Yeah. And we still kind of do that, but we don't invest as much. Like the Pick-Up Stool — since that one connection where the dowels meet was the detail that set it apart from most stools, we kind of ran with it and based a whole collection off of that connection.
Tammer: And the offcut pieces from that created the Stick-Up Sticks, those little hook magnets.
Danny: Something like the Shape Boards — that was a concept where one side was painted to look like an optical illusion, and the other side's just a blank board that you can cut on. So that was the first 3D optical illusion idea we had and then we took that and applied it to mirrors. Each collection usually starts with a spark of something original, and then we take that and run with it, or apply it to some different type of product or piece. That Shape Mirror, the cylinder? That inspired the whole Contour Collection. The aesthetic evolves through different scales and material.
Now that your aesthetic has evolved to encompass more materials, how much work do you fabricate in the shop versus sourcing out?
Tammer: A good amount. We definitely spill into Patrick's space. Like those are our tools to use as well. There's definitely a cap to how much we can make here, but we haven't reached it yet.
Danny: We choose to not make things here that don't make sense economically. It's not ever been a space issue so far. The only small product that we produce ourselves though are the Tipsys and Tipsy Writers, just because we've got it down, and it's a really streamlined process.
Tammer: The parts are made outside for us, but we assemble here. The brass is made in Queens at Liberty Brass.
Danny: But the newer products, we try to source out. We'll do prototypes and samples and quality control and all of that, but it just doesn't make sense to exert ourselves with those tiny products.
Who's that guy in the corner?
Danny: That's Margo. It's Tammer's ex-girlfriend, current intern.
Tammer: I got so used to her that it doesn't even phase me, but people walk in and they're like, "Ahhh!" But honestly, I think this dulls it, putting sunglasses on her. That makes it fun.
Danny: Because she used to just be creepy. She was $20, what a deal.
That's pretty expensive, for what you're getting.
Danny: A lifetime of companionship.
Tammer: I'm going to put the headphones on her. She doesn't need to hear this.
Do you guys have stuff that's in-process here?
Danny: We have a bottle opener that we've been trying to develop forever. But it's not cool yet.
Tammer: Or we want to make these glass coasters. We're just waiting to get the price down.
Is there any way to make the Shape Mirrors smaller and cheaper? I feel like that would be such a big win.
Danny: The thing is, smaller doesn't necessarily mean cheaper. The cost to make a smaller one isn't that far off from the custom and the larger ones. Though we can obviously charge more for the one that's larger. But we have ideas. There's a new mirror that I think will be cheaper, but we're going to try to license it to somebody. It does bother me; I wish it wasn't just the small products that were accessible. Right now I think the only way to do that is through licensing.
It's true, it would be so nice to have that Bower product that's still a bit expensive, but also an impulse buy.
Tammer: I feel like we'd have to make it in China.
Danny: Chinatown, maybe?
Tammer: We could do the mirrors out of acrylic maybe. But they're not going to last forever.
Do you want to show me the bottle opener you're working on?
Danny: The concept is taking a bottle opener and spinning it 360 degrees. You can open it from any angle. That was actually what the Tipsy was supposed to be.
Tammer: We were trying to make the Tipsy something else for so long, but everybody who came in the shop was like, "This thing is awesome." And we were like okay, let's take it to NY Now and see what happens.
Danny: The bottle opener is kind of like a chair. We don't need a new one, but it's a challenge. How do we put a new twist on it?
When you do something like the Shape Mirrors, which now come in nearly a dozen iterations, do you feel like you're done or do you have endless ideas?
Danny: I think we're done creating them for our collection but people ask for new ones custom all the time.
Tammer: We've been trying to promote tessellations, which would be very expensive.
Where do you see the studio going? Are you heading away from production and more towards gallery-style editions?
Danny: The ideas that excite us more and more are definitely more gallery-style.
Tammer: You know Nick Van Woert? He's downstairs. We've been talking to him about doing a collaboration, he went to school for architecture.
Danny: He does so many different types of experimentation.
Tammer: Every time we send an idea to him he comes back with something way crazier. And we're like we can't afford to make this.