11.23.16
Two Former Architects on Finding Common Ground (In the Middle of Manhattan)
Though they grew up on opposite sides of the world, it's not so far-fetched that Jean and Oliver Pelle would end up creating a life and a studio together here in New York. Jean was born in South Korea, and would often accompany her sculptor father to the studio where he built plaster prototypes for art and design companies, while Oliver was raised in Germany: "My father was a structural engineer, and I was fascinated by the thick sets of structural drawings and diagrams on the walls of his office," he explains. "Occasionally, he took me to construction sites. One of my favorite smells is fresh concrete." The two met at the Yale School of Architecture and went on to work separately — Jean at the offices of Billie Tsien and Tod Williams and Oliver at the studio of Robert A.M. Stern — before finally coming together as Pelle in 2011.
Some of their work belies their background in architecture — their Klemens mirror, for instance, stretches a thin mesh fabric over a structure that looks like scaffolding. More often than not, their work is organic and even whimsical, with their two best-known projects being a chandelier that daisy-chains bubble-like glass globes and their Soap Stones, for which they hand-carve dyed and fragranced glycerin soap into a gemlike shape. But all of their work speaks to that idea of finding common ground despite their differences. "Oliver is very purist, abstract, all about geometry," Jean has said. "He's very much an architect in that way, Cartesian grid. I love spheres and curves, softness, roundness and maybe you can speak about masculinity versus femininity in that too." We recently spoke to the duo — who, in keeping with a new trend, just moved from Brooklyn into a brand-new studio and showroom in the middle of Manhattan — to find out more.
Describe your most recent project or collection and how it was made.
The biggest project for us this year was the design and build-out of our new studio and showroom in Manhattan's Flatiron district. The space was completely raw except for the structural columns on a 6-bay grid. Fortunately, both of us have architectural backgrounds and we were able to produce construction drawings fairly quickly so we could spend most of the summer coordinating the construction efforts.
The existing structural grid helped us program the space: two bays for a dedicated showroom, one for the design and sales office and the remainder of the floor for a working studio, a tool room, a staff kitchen and dining area, and an R+D room. Here, we're free to get messy, create prototypes, sketch, and pin-up without intruding on the normal production areas.
We also released a small collection of furniture to go alongside the opening. The showroom is much larger than our previous one, so in response, we designed an expanded metal bar cabinet, a wood bench seating group, and a marble coffee table. Along with the new furniture, we went about updating some of our older furniture items such as the Klemens Mirror in a lighter, neutral fabric and the Egsu Table in a bleached maple with petite granite limestone legs.
We call the collection Lost & Found because we used discarded stone offcuts and construction-grade timber typically covered over by other finish materials. The stone and wood we chose are rough but potentially very fine at the same time — we love this kind of juxtaposition. The contrasting material qualities reminded us of Louise Bourgeois' 'Cell' sculptures in which she used expanded metal to create a series of strikingly beautiful metal enclosures. We embraced these works as a jumping off point for designing our expanded metal bar cabinet and we call it the Louise Cabinet.
Describe your next project and how you're making it. 
In late summer of 2017, we'll be teaming up again with Rhett Butler of E.R. Butler & Co to create a window installation for their location on Prince Street. We think this is a great platform to show some new, maybe more experimental ideas. We are gearing up for that project soon.
Thinking even larger, our dream project would be an opportunity to collaborate with a super interesting client, gallery, designer or manufacturer. It would be amazing to do a collection of unique pieces where we could explore new manufacturing techniques alongside an experienced, age-old or specialty manufacturer.  One project that comes to mind is the "Freeze" series by Paul Cocksedge.
Tell us one thing that's been inspiring you lately and why.
Lately, we've been watching a documentary series called 'Chef's Table' about acclaimed chefs around the world. The series is so amazing because these chefs are constantly pushing the creative vision of what they make on a daily basis. It's also a very revealing and intimate look into their professional lives.
In the first part of their career, they learn the trade; they cook for other famous chefs, learn from masters, maybe win a few awards and open their own restaurant in the style they have learned how to cook. So far, so good. Then comes a personal crisis and a breakthrough.
Through utter financial failure or deep unhappiness they've no choice but to get onto their true path of doing what is actually personal and meaningful to them. They start entering uncharted territory and eventually walk down a path that makes them unique and gives them their own voice.  With the uncertainty of taking the 'fork in the road', comes personal fulfillment. Doing something unique and a degree of uncertainty goes hand in hand.
There's a saying (and I am not sure who said it or how accurate it is here) that goes something like, "The freest man is the one who accepts the highest degree of uncertainty." As much as it is maybe one's desire to achieve some level of stability in one's life, design and pushing oneself might just not go along with stability. Watching these chefs doing what they do is a good reminder of what it takes to do something great.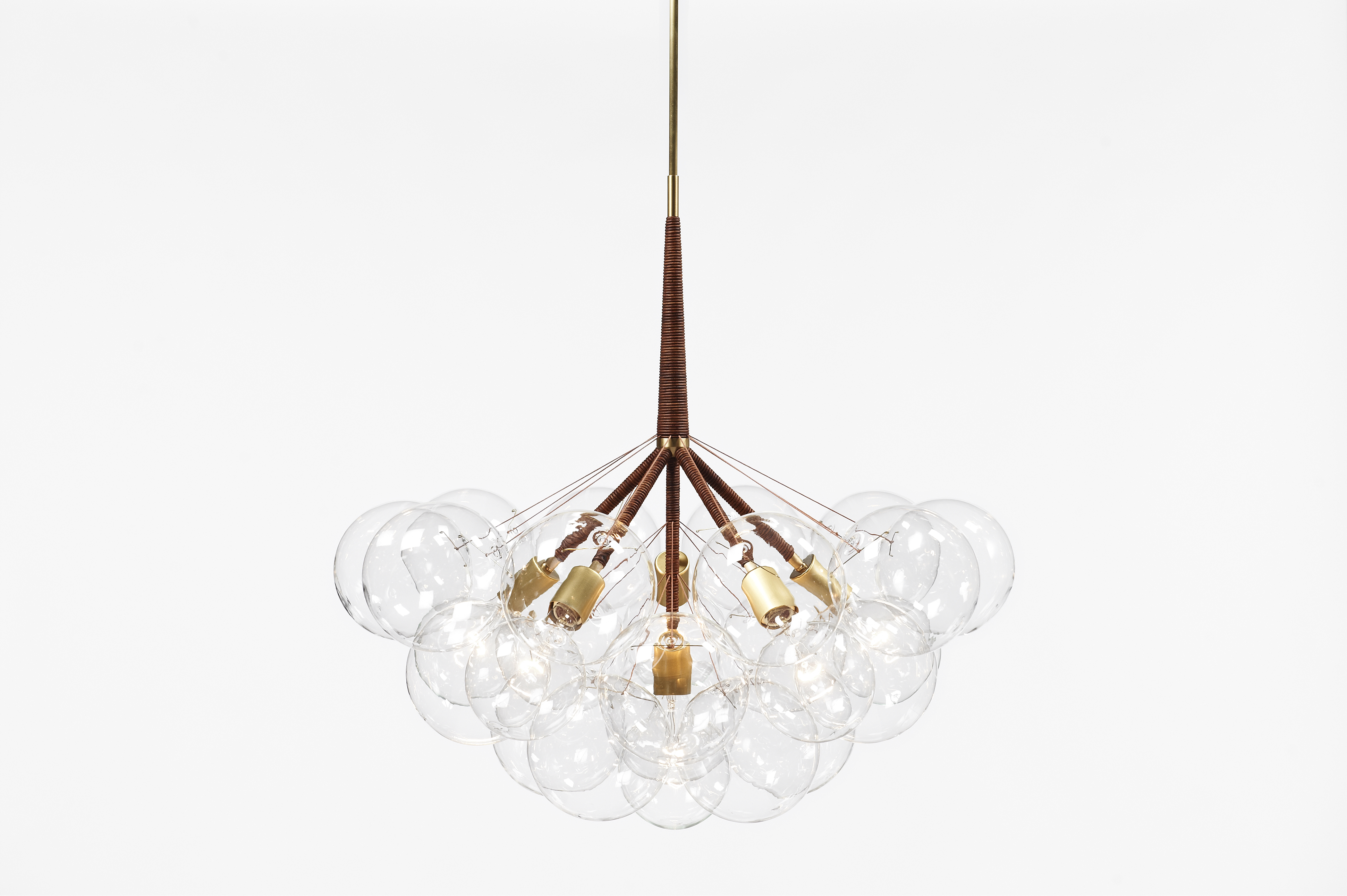 Who is your design or art hero?
Jean: I will always think of Droog in the nineties when they turned me onto a kind of design-art movement that I had never seen before. At the time, I was an undergrad and though I was majoring in architecture, I was sure that I wanted to do product design. I became familiar with American design consultancies like IDEO, but when the Dutch designers burst onto the scene, I was very excited by what I saw and I really wanted to participate.
Some other artists that really impressed me throughout the years are Louise Bourgeois, Martin Puryear, Tara Donavan and Louise Nevelson. They have a material and making sensibility that I'm personally very drawn to. Also, artists like Olafur Eliasson are awe-inspiring.
Architects I've admired for a long time are Frank Gehry for his unique range and sculptural take in the worlds of architecture and furniture; Coop Himmelblau for their early and inspiring experiential projects involving pneumatics, soap suds and architecture — they showed how to really think outside of the box; Herzog & De Meuron for their non-stylistic approach to design (and just for their sheer brilliance), as well as Tod Williams and Billie Tsien (former professors/employers) for demonstrating the meaning of having high standards in their profession in addition to running an awesome design office — something that Oliver and I aspire to in our own studio.
Oliver: One person whose work left a deep impression on me is Mies van der Rohe. I did my Bachelor of Architecture at the Illinois institute of Technology (IIT) in Chicago so I 'lived' in his architecture so to speak. Mies was Director of the Architecture Department starting in 1938. He created a campus masterplan and designed most of the campus buildings until 1958. One of his masterpieces is the architecture department's building, Crown Hall. He was a trailblazer in so many ways with a total conviction and belief in his own work. To me, his work embodies a sense of materiality and space in which there is an almost perfect visual, tactile and geometric harmony. One of the classes at IIT was Visual Training where we did very simple yet increasingly complex visual exercises. In the beginning you did not see anything really but over time one was able to determine very precise differences. I still carry this tinkering attitude in my work. During the design process I sometimes find myself moving elements around for hours by fractions of an inch.
Show us your studio and tell us what you like about it
We love the enormous amount of daylight coming into the space as there are window exposures on all four sides and on every bay — more than 20 windows. In the space-planning, we tried to keep the floor plan as open as possible and have only the very necessary architecture in here. In the last space, we grew somewhat organically and what resulted was a bit of a hodge-podge. Here in the new space, we wanted to take this opportunity to really create our ideal studio space.