07.27.17
Gradients and Bands of Gold: Jonny Niesche's Mesmerizing New Paintings
For the Sydney-based, Australian-born artist Jonny Niesche, one of the more transformative moments of his career occurred while studying abroad at the Academy of Fine Arts in Vienna. During a crit, a mentor likened Niesche's work to a Tumblr, meaning that he hadn't yet established enough parameters or guidelines for his practice — or, in other words, the things that might make his work stand out as his. "As long as you think about the principles of your work, then it can be your work no matter what material or form it comes in," he was told.
The often shiny planes and reflective surfaces make Niesche's current aesthetic quite distinctive. But what seems to interest him most is the conversation between painting and viewer within his glitter and mirror-based works. He often pushes this performative element with screens, reflections, and fabrics, exploring whether we look at works solely as "images to be shown as images" or as "images to be shown as experiences."
His work also pulls from his own memories and experiences with color, using a computer to generate samples and establish connections between moments in time. The palette for his recent show Picture This, for example — named after the Blondie song — was created entirely with color samples from images of Debbie Harry's hair and makeup during the 1970s. At the time, Jonny was exploring a more feminine relationship to color as compared to the more masculine swatches typically found at hardware stores. "I always found those colors so boring and disinteresting; my memory of color comes from being dragged around the cosmetic section of a department store with my mum." We recently checked in to find out more (and would be doing a disservice if we didn't point you to one of Niesche's more affordable works here!)
Top: Installation view of "Cosmos cosmetics" at Minerva Sydney, 2016. Photo © Jessica Maurer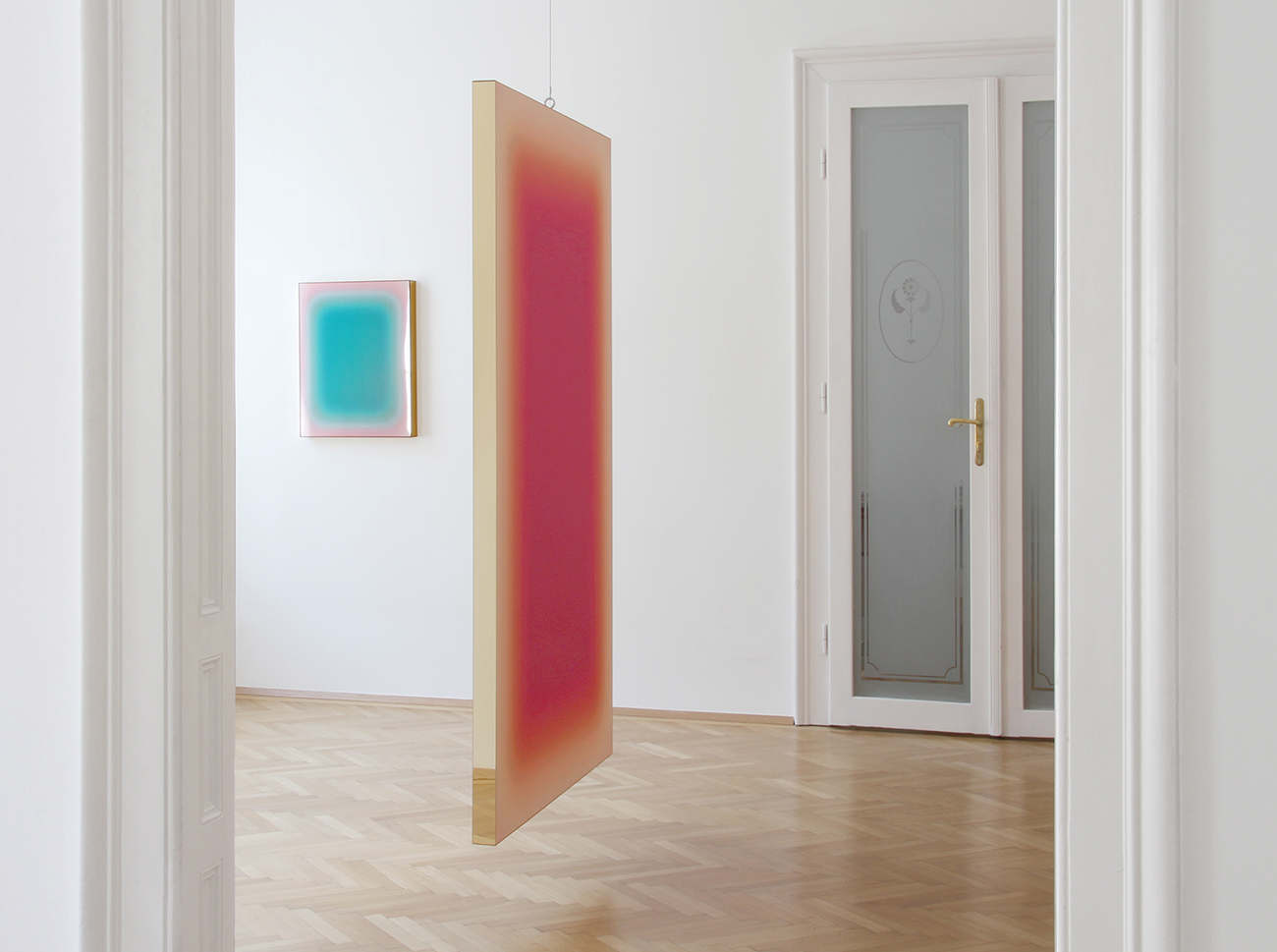 Installation view of "Splitting Image" at Zeller Van Almsick, Vienna, 2017. Photo © Julius Unterberger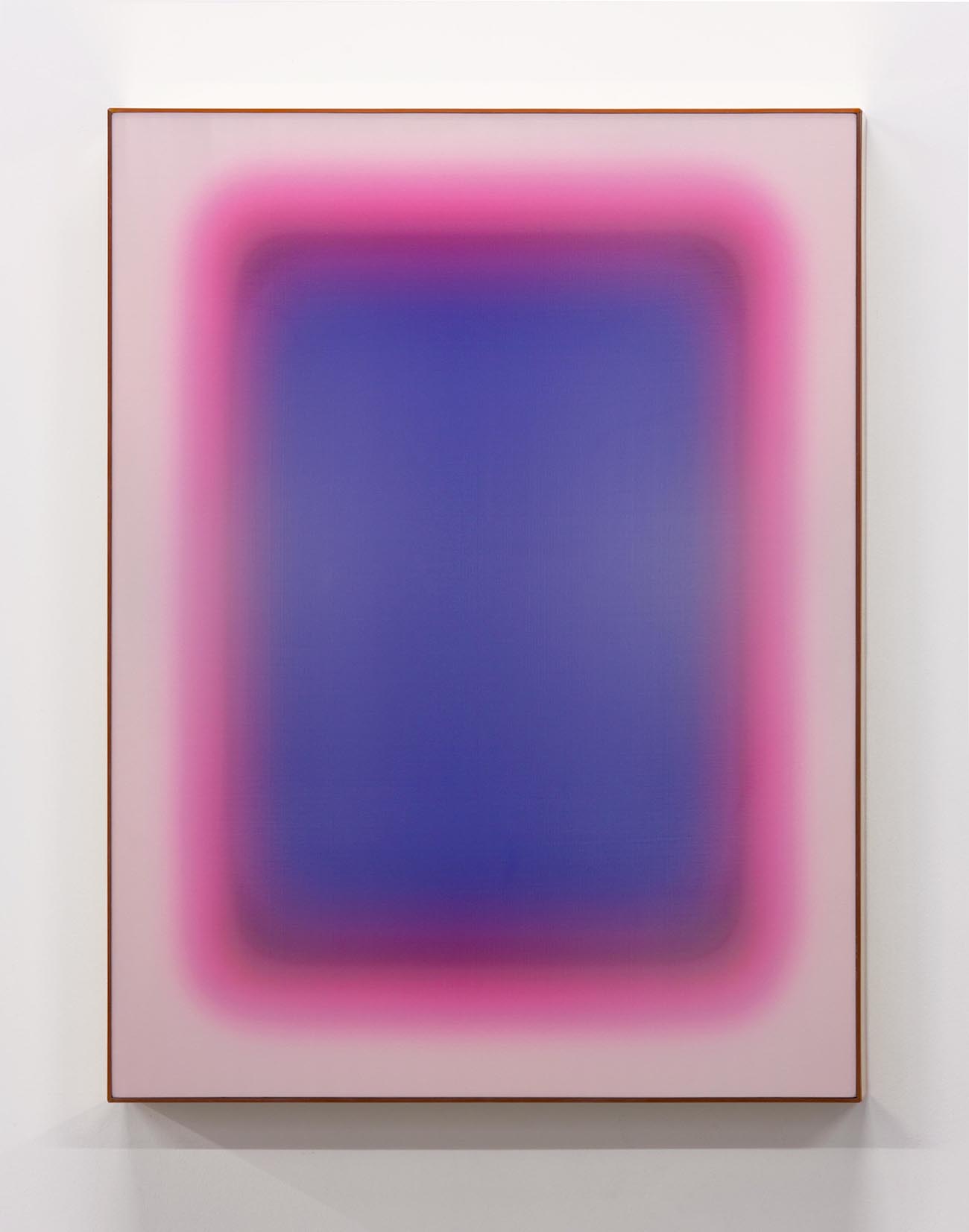 Describe your most recent project and how it was made
My most recent body of work was for a solo show at Zeller Van Almsick in Vienna. The work is based on my past experiences living in Vienna and the fabric of the city, its opulence and kitsch. I used to live near Stadt Park in the centre of Vienna. In the middle of this beautiful park was a statue of Strauss playing the violin. The entire figure and violin is lavishly covered in shiny gold paint and is presented within a stark white archway right in the middle of sprawling lush green gardens. I wanted to see how I could translate my experiences and memories of this opulent public figure into the gallery space in a way that reflected the city and also its people. I made a suspended spinning painting to playfully emulate a type of waltz or dance. The sides and back of the painting are gold mirror that shine and reflect the viewer, the gallery space and the city in an encompassing and performative way.
Alongside this central work, smaller wall works play on the idea of the Royal Vienna Porcelain plates. They are framed with a gold brim, filled with color and a portrait of someone significant in the center. I took digital samples of the colors in these plates to make the color field for the works. The surface beneath the color reflects the viewer and acts as a kind of portrait/selfie.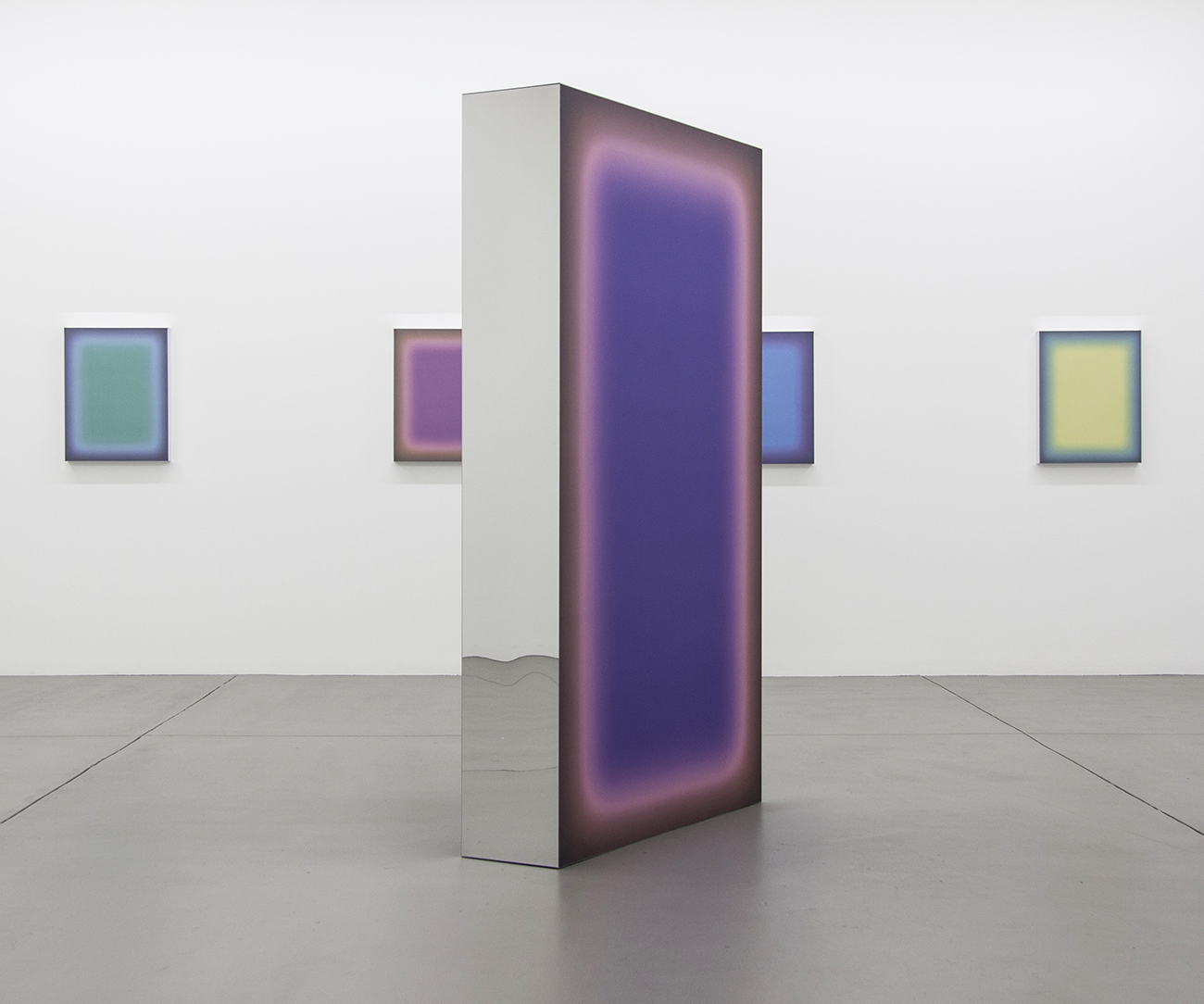 Installation view of 'Picture This' at Station Gallery Melbourne, 2016. Photo © Jack Willet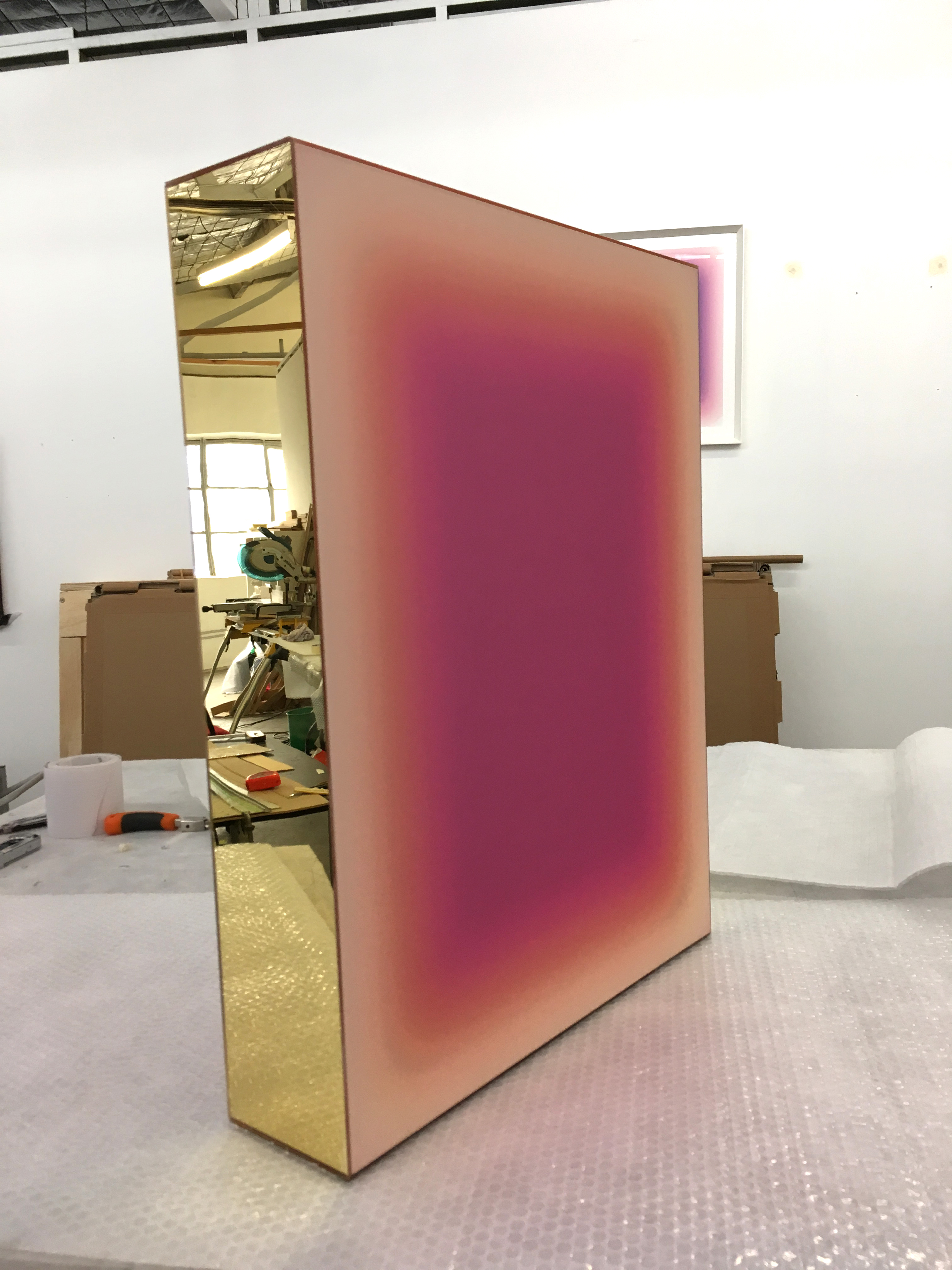 Describe your next project and how you're currently making it.
I've been working on a series of Miniliths (mini-monoliths), which will be presented on plinths within the gallery space. So far, I'm pleased with the first test (above). Like most things, I have a picture in my mind of what I want them to be and how they perform. But once you've created it the reality is often quite different. Or the experience of it is a little different. It is kind of like making something and seeing how it performs in space.
For a previous show I had at Station there were 14 paintings, but in the lead up I did more than 150 prints to make sure they were doing exactly what I wanted them to. Sometimes, I'll even take works home to live with them for a week or two. This way I can see what they do in different lights, different times of day and also how they affect mood. It gets the work out of the workspace. It's not that I want to make work for domestic consumption, it's more about the frame of mind when you experience something and how this changes the way you relate to it.
There are a lot of things that never make it out of the studio. They remain as test or experiments; it's fun,and if you stop exploring I think you kind of hit a dead end.
I've also been busy with a mirror brass sculpture and a suite of very small angular paintings for my upcoming solo show at Peter Von Kant in London.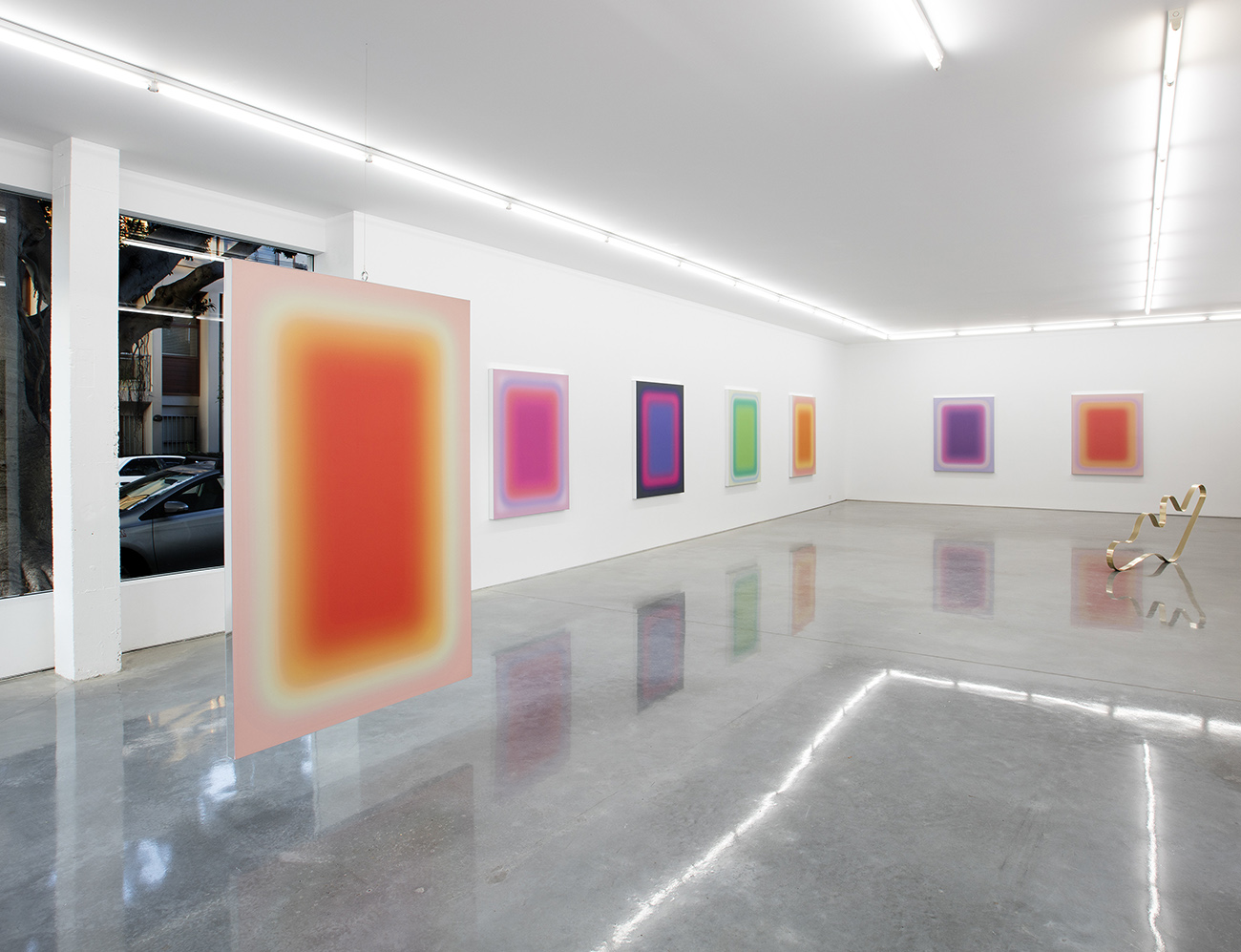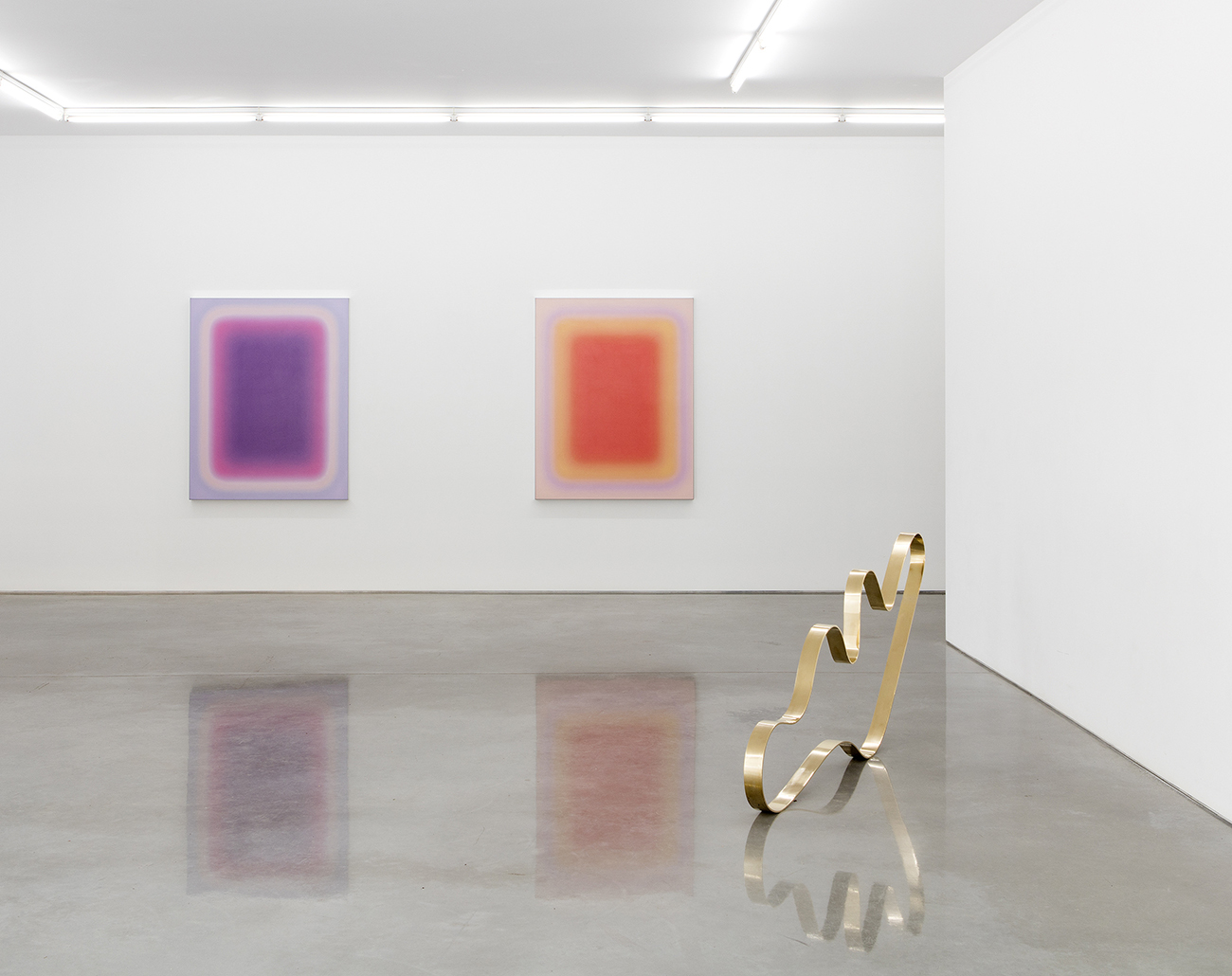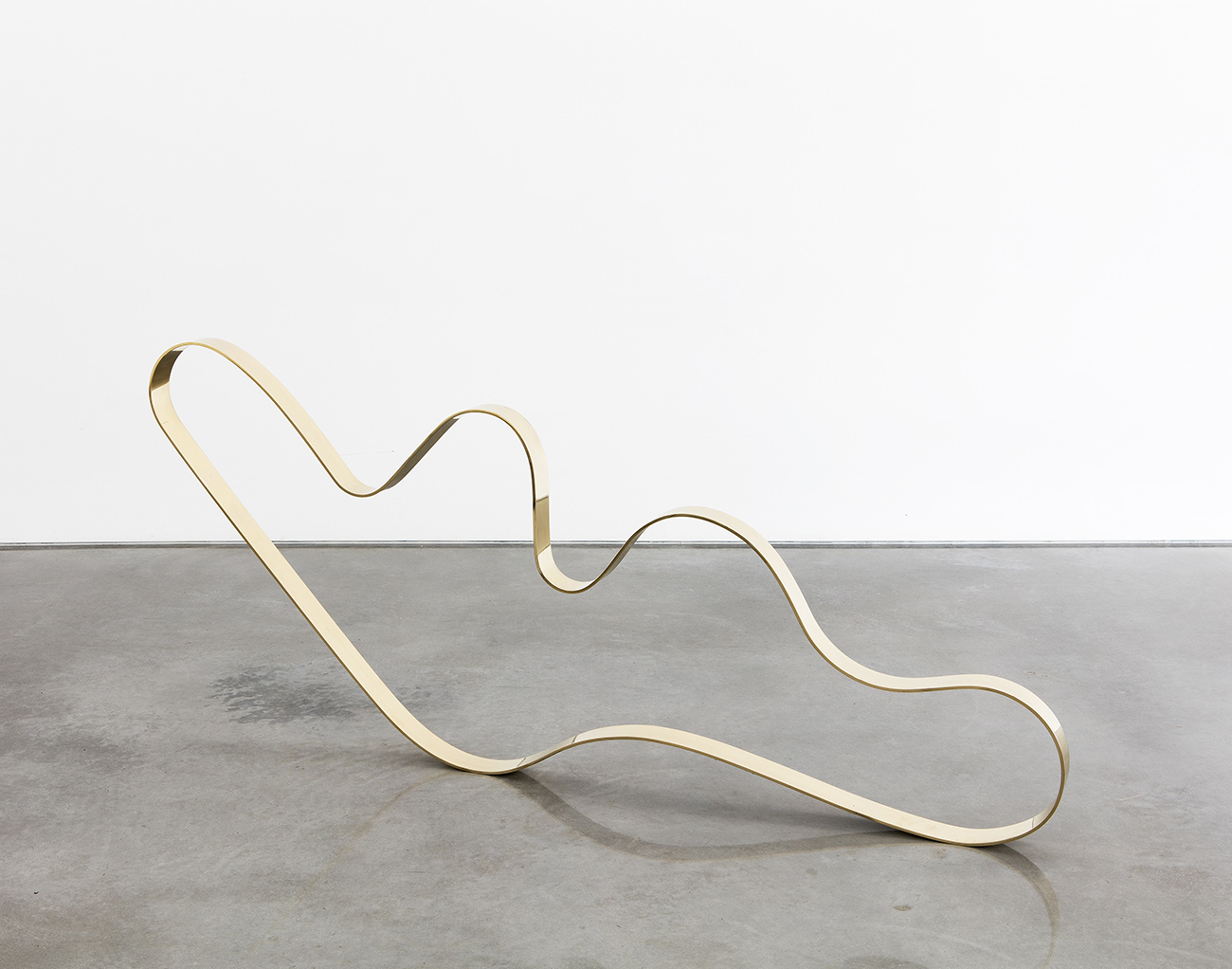 'Love-light' installation views at Sarah Cottier Gallery, Sydney, 2017. Photo © Ashley Barber
Tell us one thing that's been inspiring you lately and why.
At the moment I am really excited by furniture. In particular, a green garden chair by Jean Prouvé. Fucking amazing!!! Drooooool.
Furniture design comes from the same creative place as art — there is a very strong crossover between the two. Some people see art and design as very separate, but I see them as inextricably linked in many different ways. Even my metal objects, like Love Knuckle (above), are essentially freestanding furniture.
I really like looking back at artists like Le Corbusier and the lines and shapes in their work. It's the probably the closest thing I can think of that has a relationship to the body in scale and size. Furniture like Le Corbusier's explores the same relationship to the body as my works. My main difference is that I am changing the functionality of my objects, but in the pipeline I do want to explore furniture based works.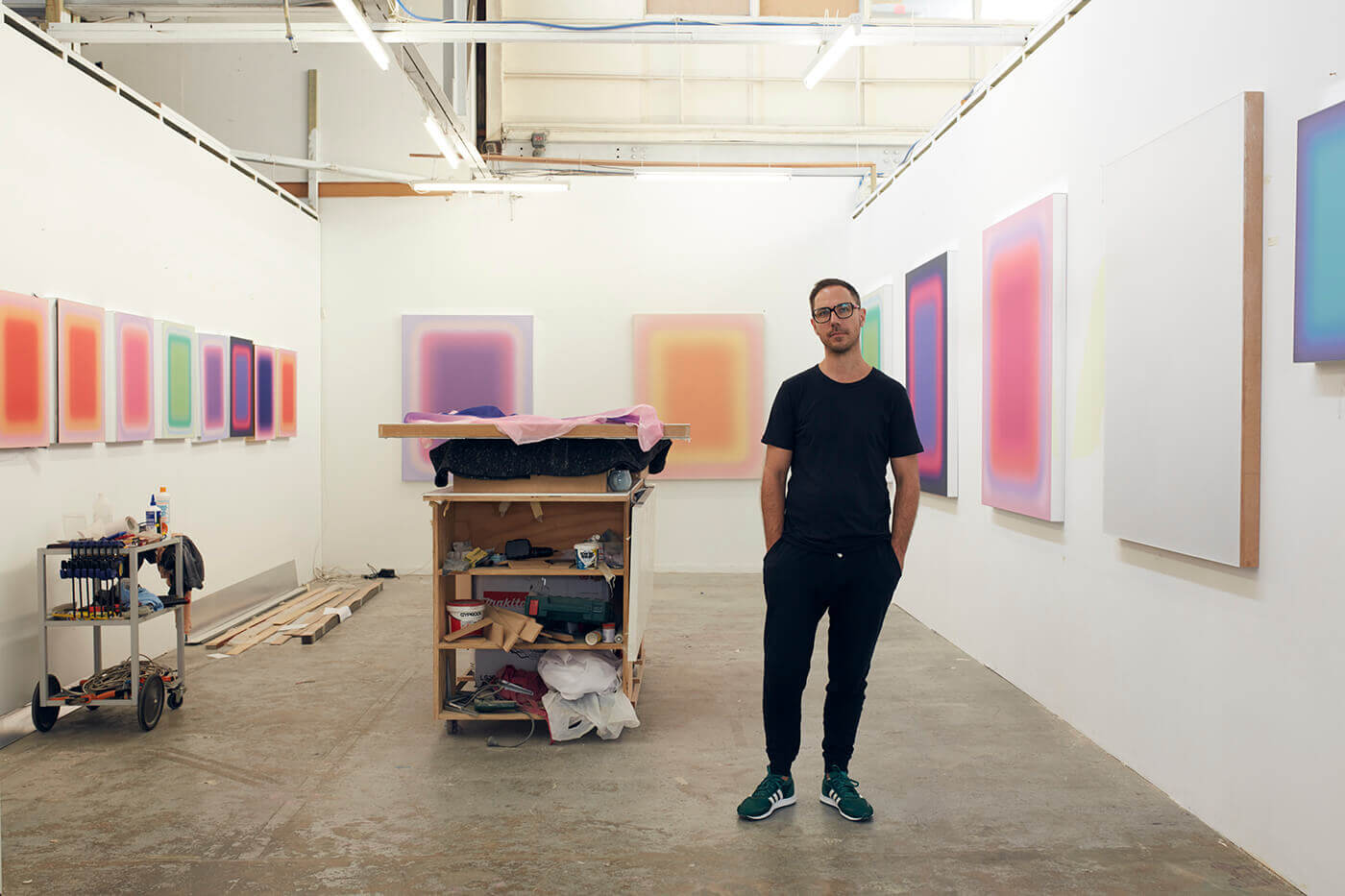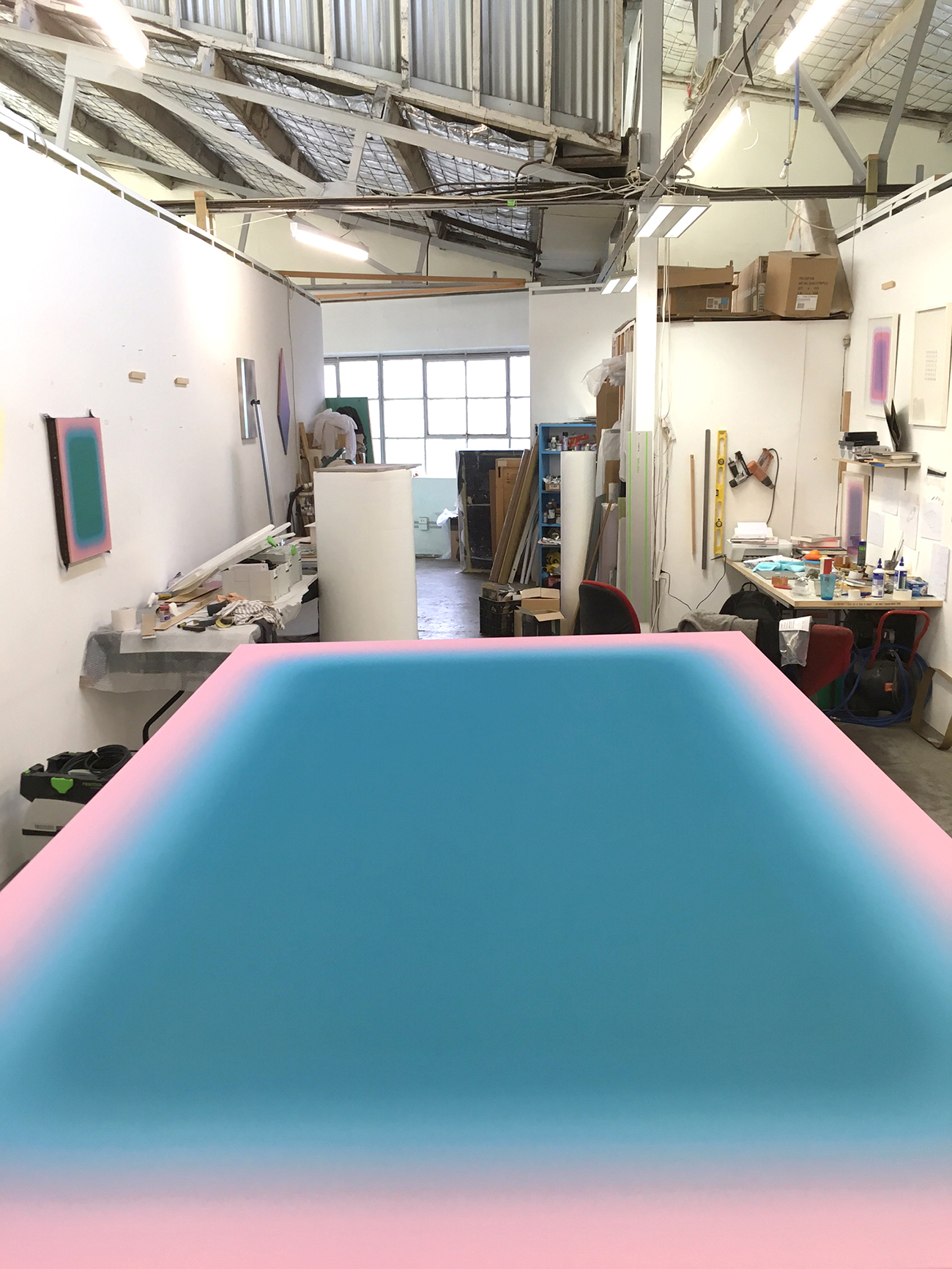 Show us your studio and tell us what you like about it.
My studio is part of a larger group of studios that I set up with Lara Merrett and Lucas Davidson a few years ago. We set out to create a dynamic that was based on friendship, helping each other, sharing tools and knowledge and offering honest open criticality. No doors or locks. As we are all quite good mates and understand each others' ways of working, we flow freely in and out of each others' spaces. It is a very happy and trusting environment for making and thinking. The space has amazing light, very high ceilings, lots of great tools and a really diverse communal library.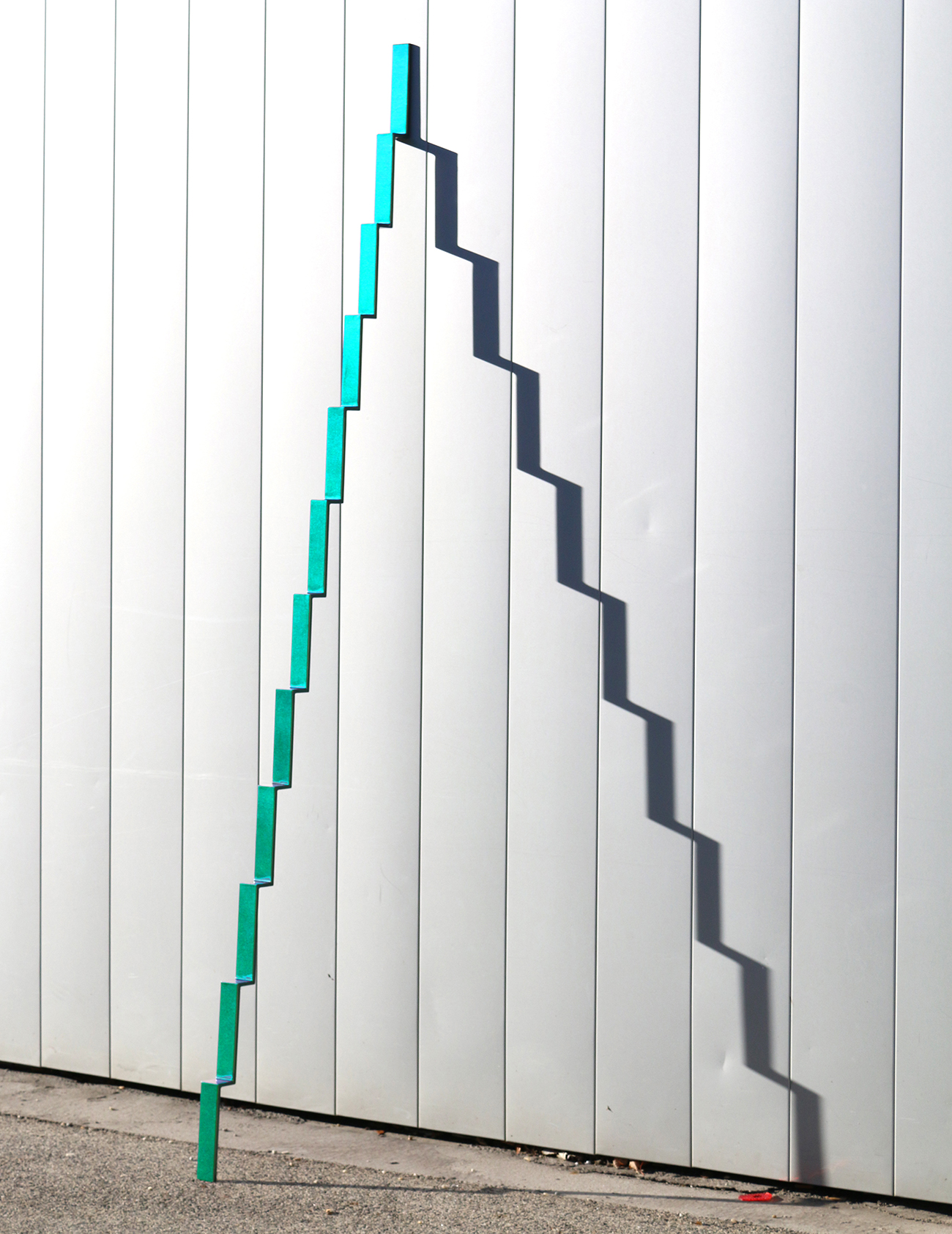 'Cadence loop #12', 2015, Harlequin flip flop paint and steel. 240cm x 4cm x.8cm. Photo Alexander Jackson Wyatt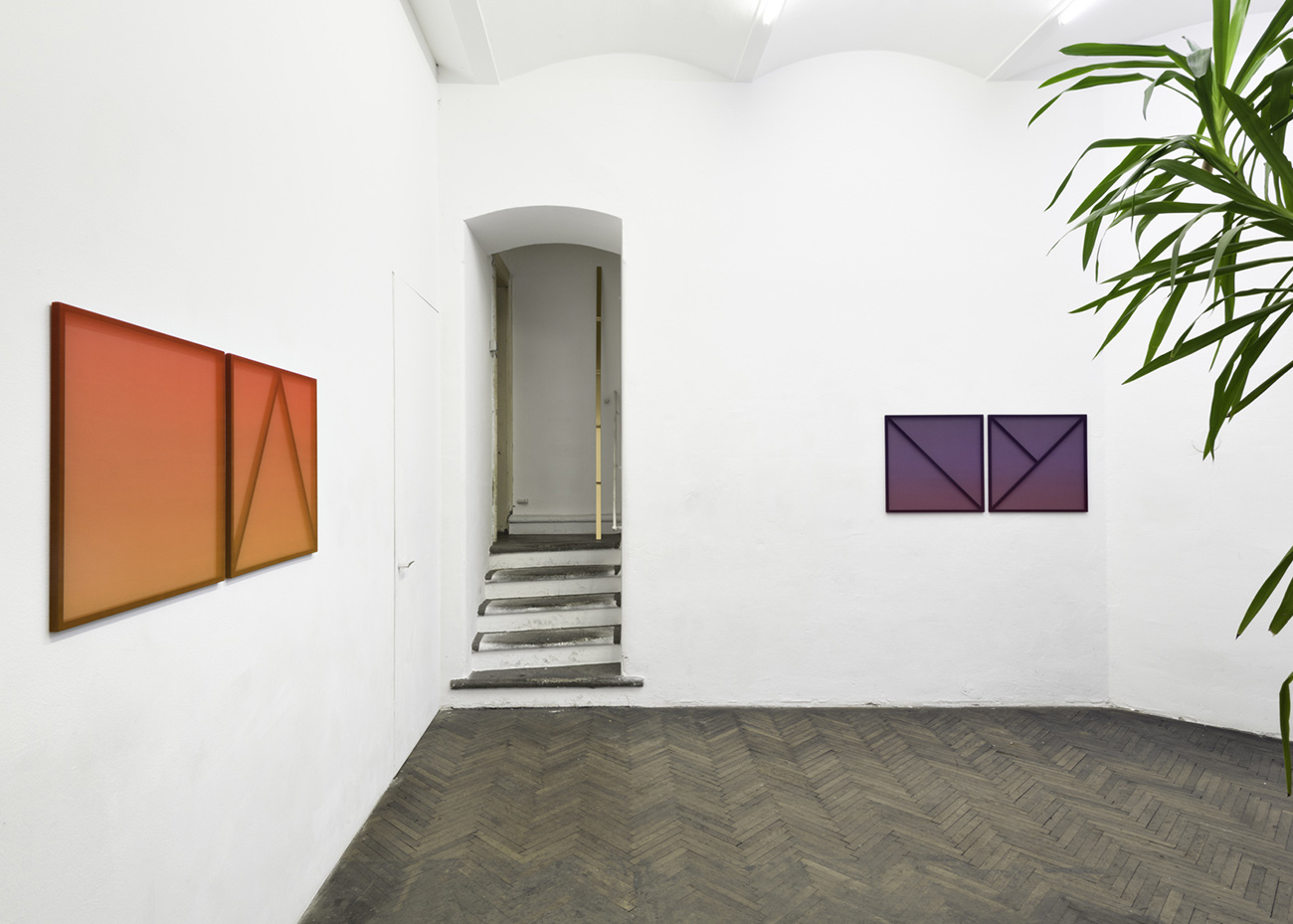 Installation view of 'New jörg, New jörg' at New Jörg Kunstverein, Vienna, 2016. Photo © Georg Petermichl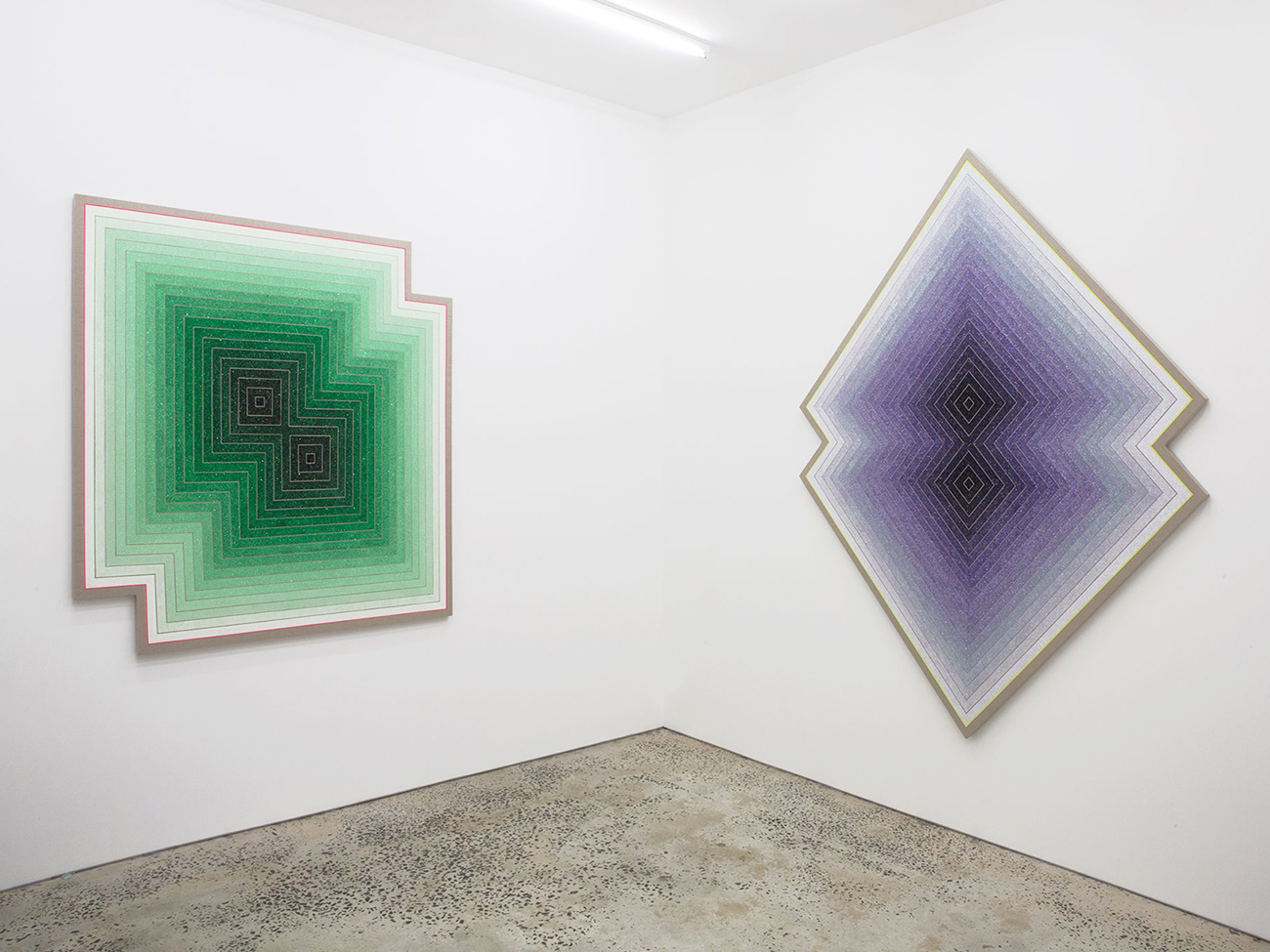 Installation view of 'Vegas Can Be' at Minerva Sydney, 2014. Photo © Jessica Maurer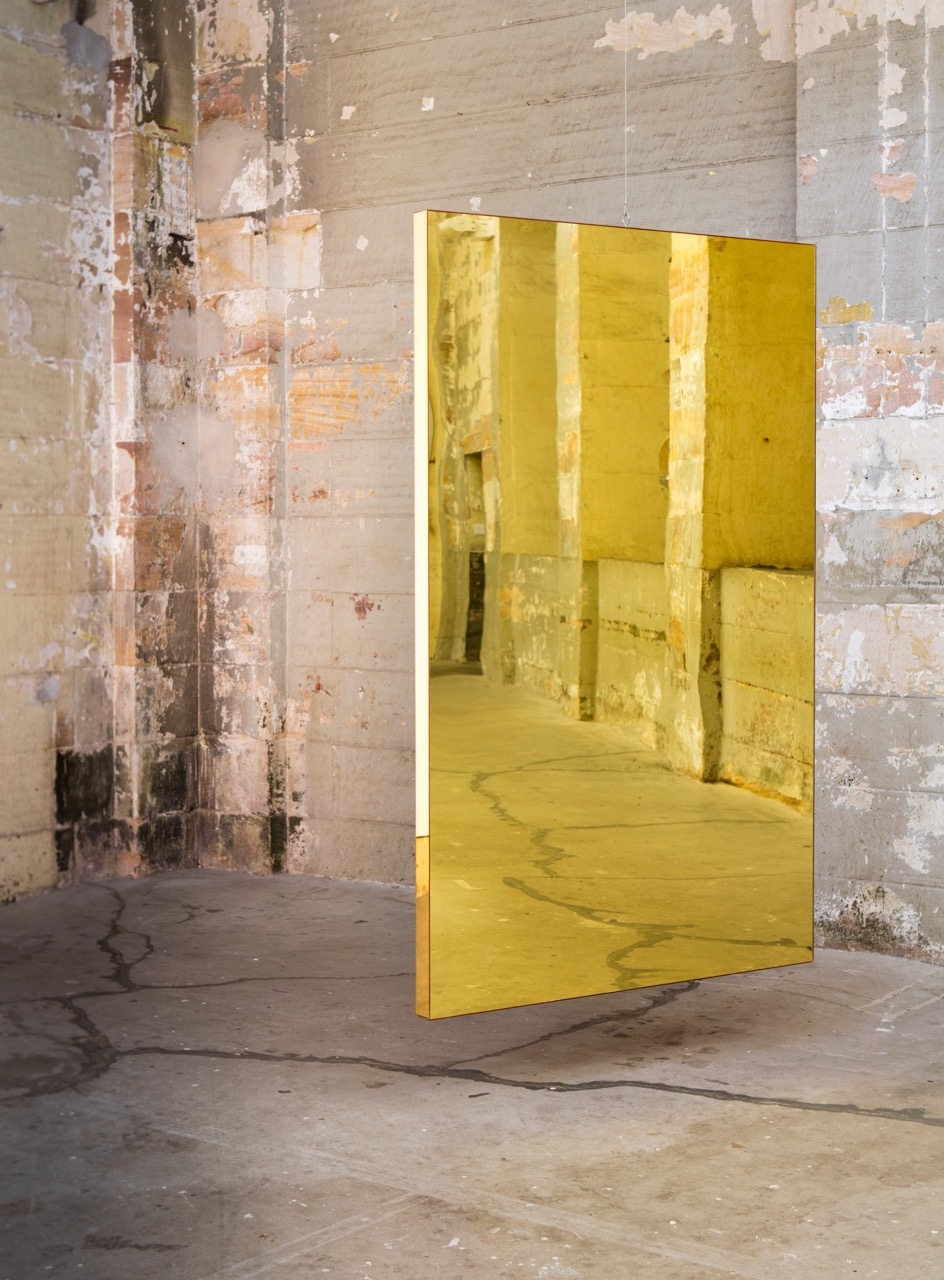 'Mutual Vibration' in 'Nice one Picasso' at Sydney College of the Arts, 2017. Photo © Ashley Barber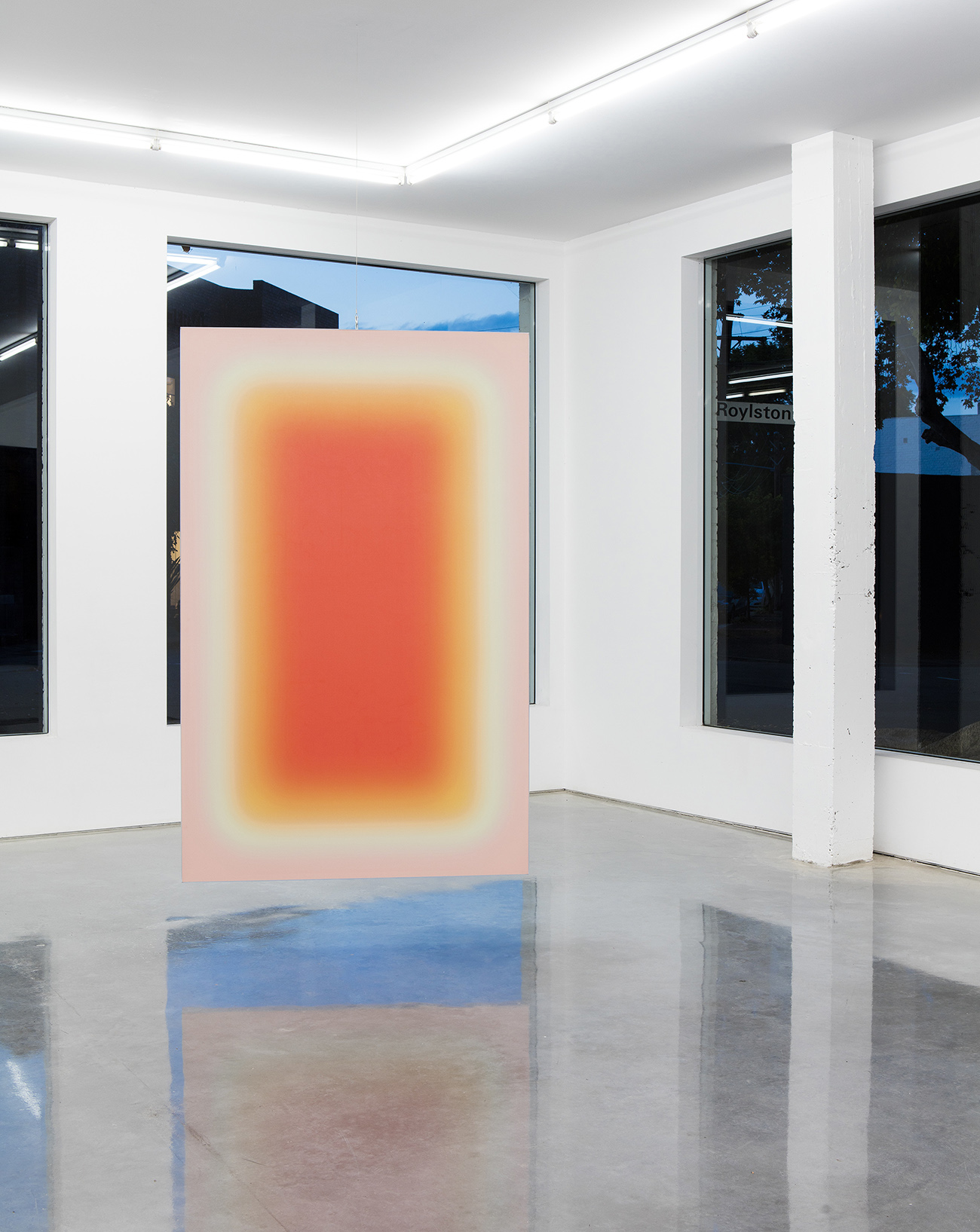 'Mutual vibration ( address the body whole)' at Sarah Cottier Gallery, Sydney, 2017. Photo © Ashley Barber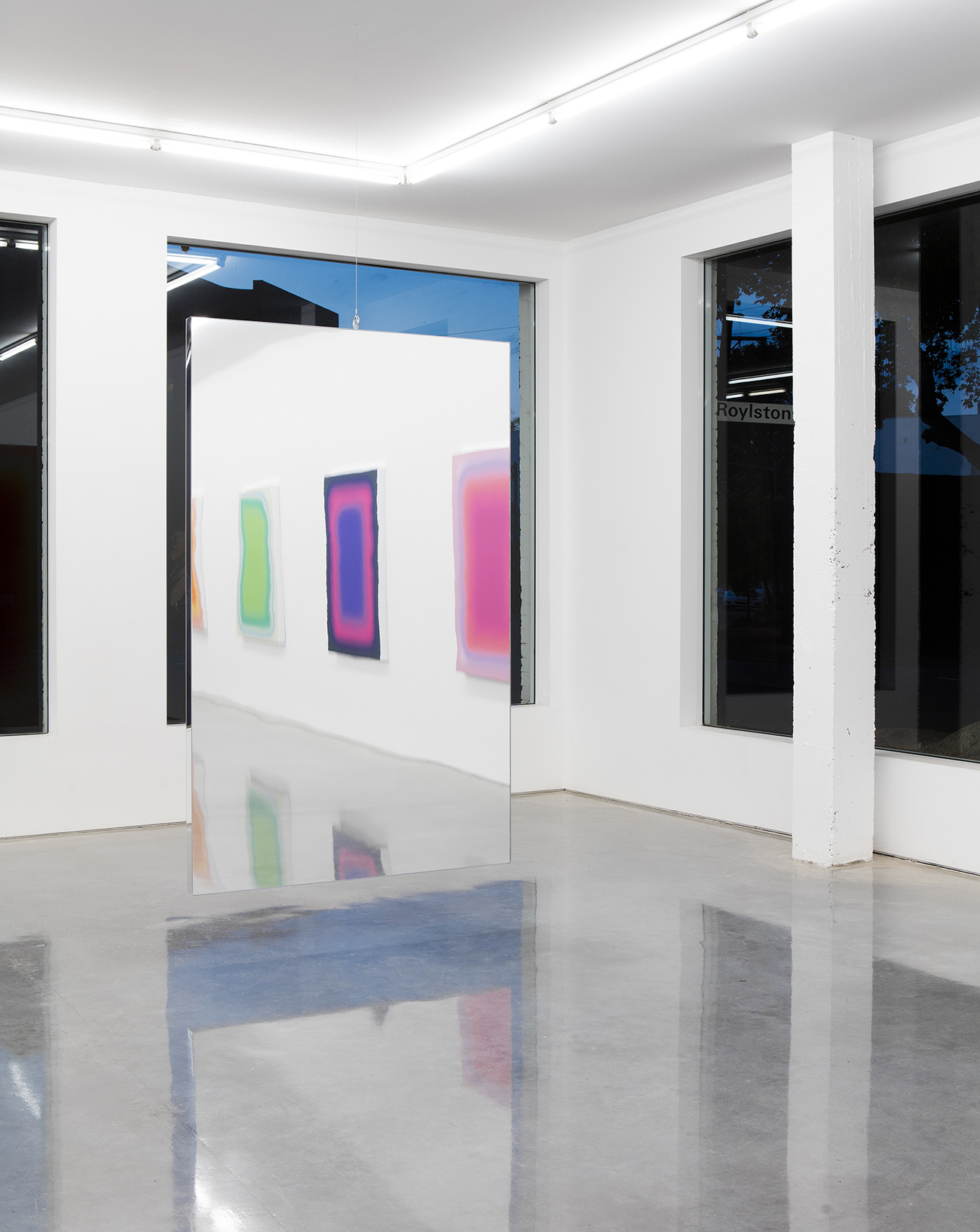 'Mutual vibration ( address the body whole)' at Sarah Cottier Gallery, Sydney, 2017. Photo © Ashley Barber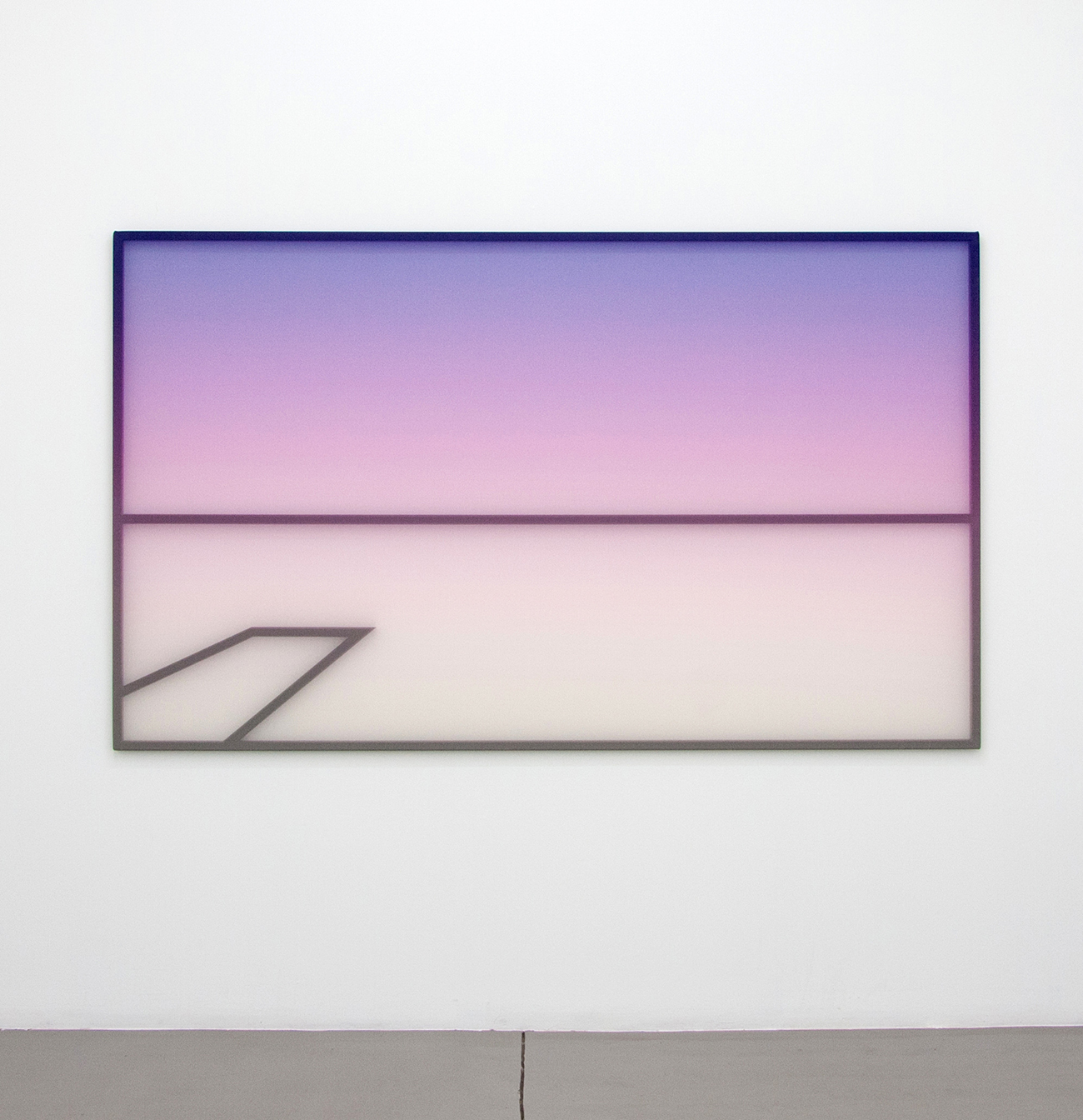 'Refrain' in Sundial at Station Gallery, 2015. Voile, acrylic and steel. 233x120x2xm. Photo © Jack Willet