01.10.17
Five New Ceramics Collections We're Feeling Right Now
Sometimes we get the feeling that we have altogether enough stuff. After all, we receive countless gifts from designers whose work we've shown, and we've yet to give in to Konmari mania. But then the period between Thanksgiving and New Year's Eve happens, and we realize that we somehow don't have all the requisite items for serving food, displaying flowers, or generally decking out our dinner table in a manner befitting a design editor for whenever our friends drop by. So this round-up, which focuses on five of our new favorite ceramics talents, couldn't have come at a better time — for us, and hopefully, for you as well. Meet five new designers, creating work that's sculptural but functional, minimal but avant-garde, and generally chic as hell.
Alex Reed
Alex Reed is a Cincinnati-born ceramicist who moved to Los Angeles a few years back to work first as an assistant to Adam Silverman and then as a studio manager at Heath Ceramics. Reed throws at Heath during the day but runs a studio out of his apartment as well, where he creates sculptural work for Iko Iko and the like. Says Reed: "The proliferation of images via the internet has led to a sense of flattened hierarchies, traditional notions of value, and time. I attempt to give form to this feeling by creating groups of objects that highlight disparate techniques, including throwing, casting, and hand-building, and by using clay and glaze types from across the ceramic spectrum. In a climate that pushes everyone to brand their creative projects, I'm inspired by peers who resist easy categorization and work fluidly between contexts, materials, and scales. However difficult, I aim to work free of a fixed sense of style. Currently I am working towards a group show at the LA Art Book Fair, called ​The Ends​, organized by ​Norma Studio​. The show will feature a number of designers creating bookends holding texts critical to their practice, with books and bookends alike available for purchase."
Harvey Bouterse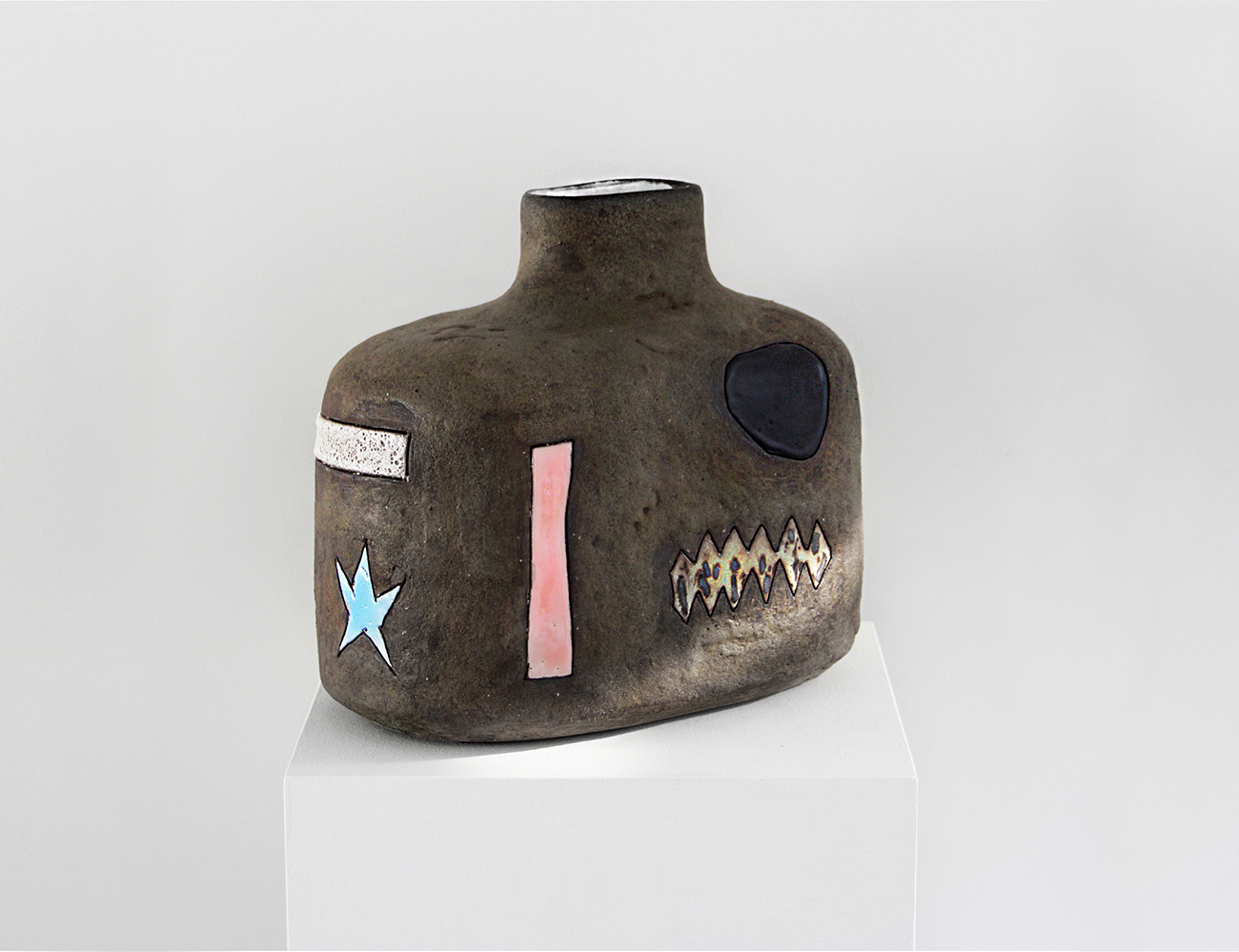 Our friend Alex Proba tipped us off on Instagram to the talented Harvey Bouterse, a Dutch-born, Antwerp-based fashion designer and ceramicist. Bouterse moved to Belgium at 18 and worked as a design assistant for Veronique Branquinho and Jean-Paul Gaulthier, among others. He launched his design label, HrVi, in order to work across disciplines, and began incorporating ceramics into his ready-to-wear fashion collections a few years back. Bouterse hand builds each vessel, mixing bright colors and natural glazes, inspired primarily by primitive shapes, Brutalist architecture, and his South American heritage.
Emily Mullin
We've written about Emily Mullin a few times before, but what can we say, we're just really into her concept. Mullin studied sculpture and painting at Goldsmiths College in London before becoming a prop stylist in New York, which could explain why she's so attuned to the importance of presentation. Each vessel or grouping of vessels (which range from slim vases with hooplike skirts to waffle-weave–like abstractions) is backed by a painted steel shelf, akin to a photographer's cyclorama. "Through a process of hand building and carving clay, Mullin makes each vessel with intentional irregularities, emphasizing its uniqueness and assertive presence. A patterned layer of wax resist is applied to the surface of each piece before it is dipped in white glaze. After the piece is fired, the wax resist burns away, revealing the color of the raw clay body beneath."
Jeremy Ayers
Jeremy Ayers has been making pottery in Waterbury, Vermont since 1996, but his patterning and glazing has recently moved in a more contemporary direction that we — and, it seems, the rest of the world — are really digging (Ayers offers a sneak peek of where his work is going on his Instagram.) Says Ayers: "I strive to make pottery that celebrates the joy of eating and drinking and creates a special relationship between the owner and the object. In the 21st Century, in a world of homogeneous, mass-produced products, a handmade piece of pottery in your hand is a choice that states that you want to slow down and enjoy the beauty of the moment. I make pottery to help accomplish that goal. My pottery becomes a witness and participant to the routines of your daily life." All of Ayers' work shown here is available at Mociun.
Malka Dina
We've been tracing the work of Elana Noy, the Brooklyn-based ceramicist behind the homeware line Malka Dina, for a while now, but her latest collection for Still House is a step forward in the eyes of those who love minimal chic. We're loving the tone-on-tone bubble glaze; "I tend to gravitate towards natural colors," says the Bronx-born designer. Consider it the perfect jumping-off accessory for your new all-beige interior.