02.07.18
See How Hawkins New York's Founders Transformed a 1750s Farmhouse Into a Colorful, Modern Home
To walk into the 18th-century Dutch farmhouse owned by Paul Denoly and Nick Blaine of Hawkins New York on twenty-five acres in Hudson, New York, is to immediately question all past decorating decisions. When I visited the couple at their home upstate late last summer, I immediately began wondering things like: How soon can I replace all of my percale sheets with linen? Why have I never painted an entire room — from baseboards to ceiling — in the perfect shade of pink? Should I get a Bernese mountain dog? (That last one's more of a life decision, but okay.)  In truth, I should have seen this crisis of interior confidence coming from a mile away, considering that the pieces Denoly and Blaine create for their five-year-old housewares line tend to have the same effect. Why would you buy just any cutting board, when you could have the perfect green marble one? And why wouldn't you wrap yourself in mustard-colored linen every night (besides the fact that a full set of bedding can cost as much as your mattress)?
Hawkins started out primarily producing work for other designers, including Workstead, Alyson Fox, MINNA, and Slowood Studio, but the brand now specializes in simple, elevated basics designed in-house — think enameled bowls, recycled glassware, insanely chic dustpans (it's a thing), and super-saturated waffle towels. But most of the pieces have evolved from a need in Denoly and Blaine's own home, which they bought in seriously dilapidated fashion almost five years ago and have been working on ever since. We recently spoke with Blaine to find out what makes a Hawkins product, how they turned a crumbling dairy farm into a elegant, modern home, and the best way to deploy antiques without looking like your grandma's house.
PHOTOS BY PIPPA DRUMMOND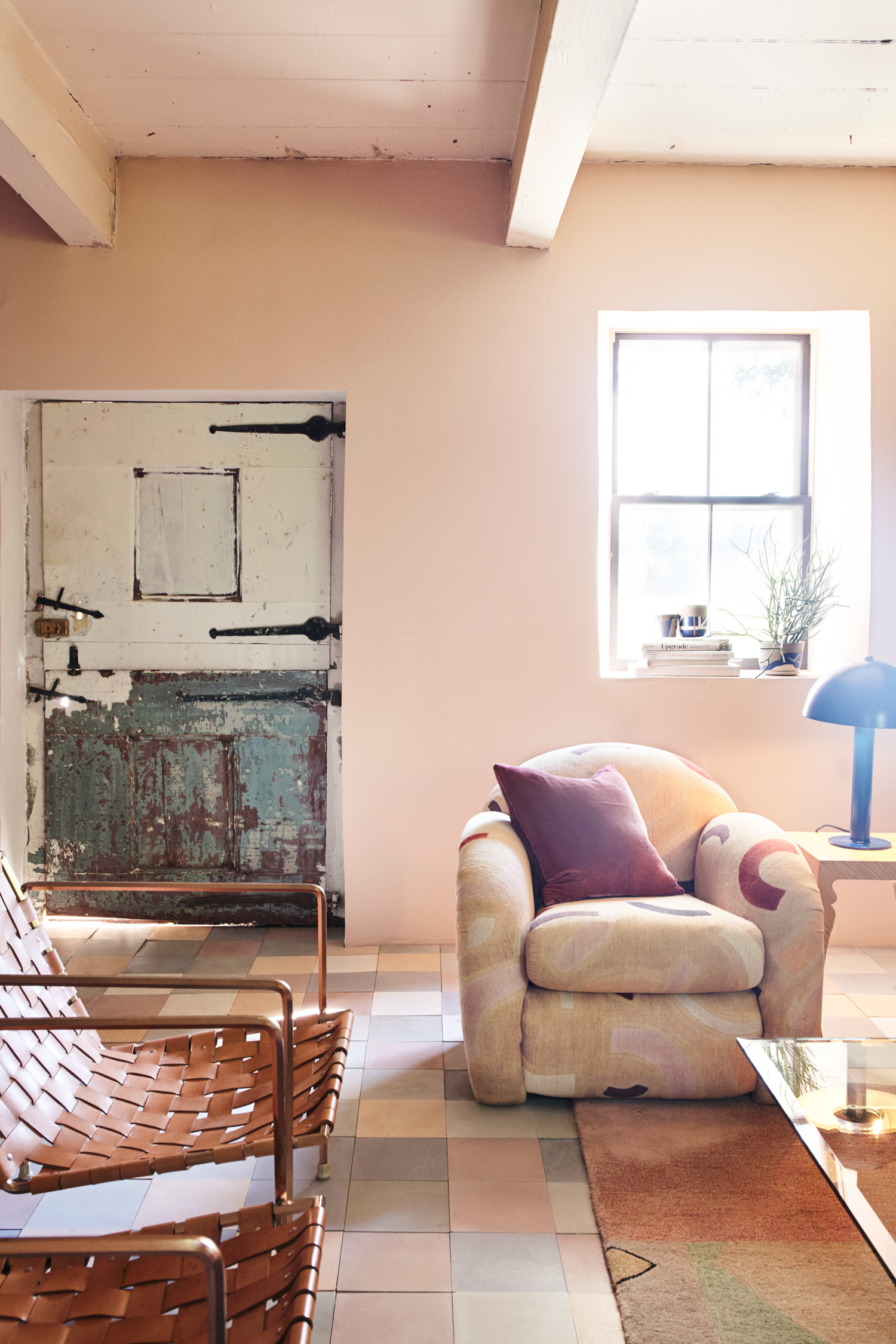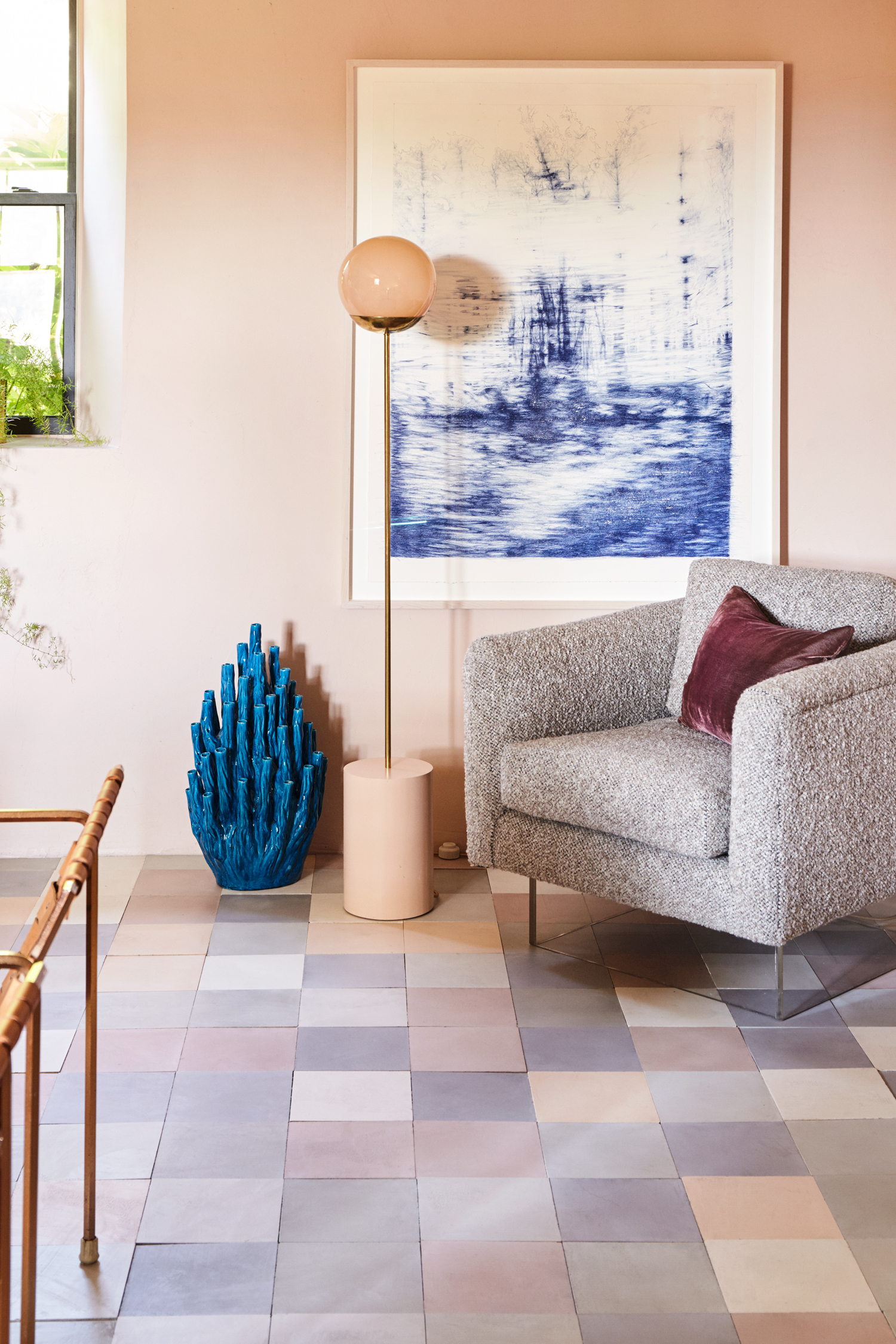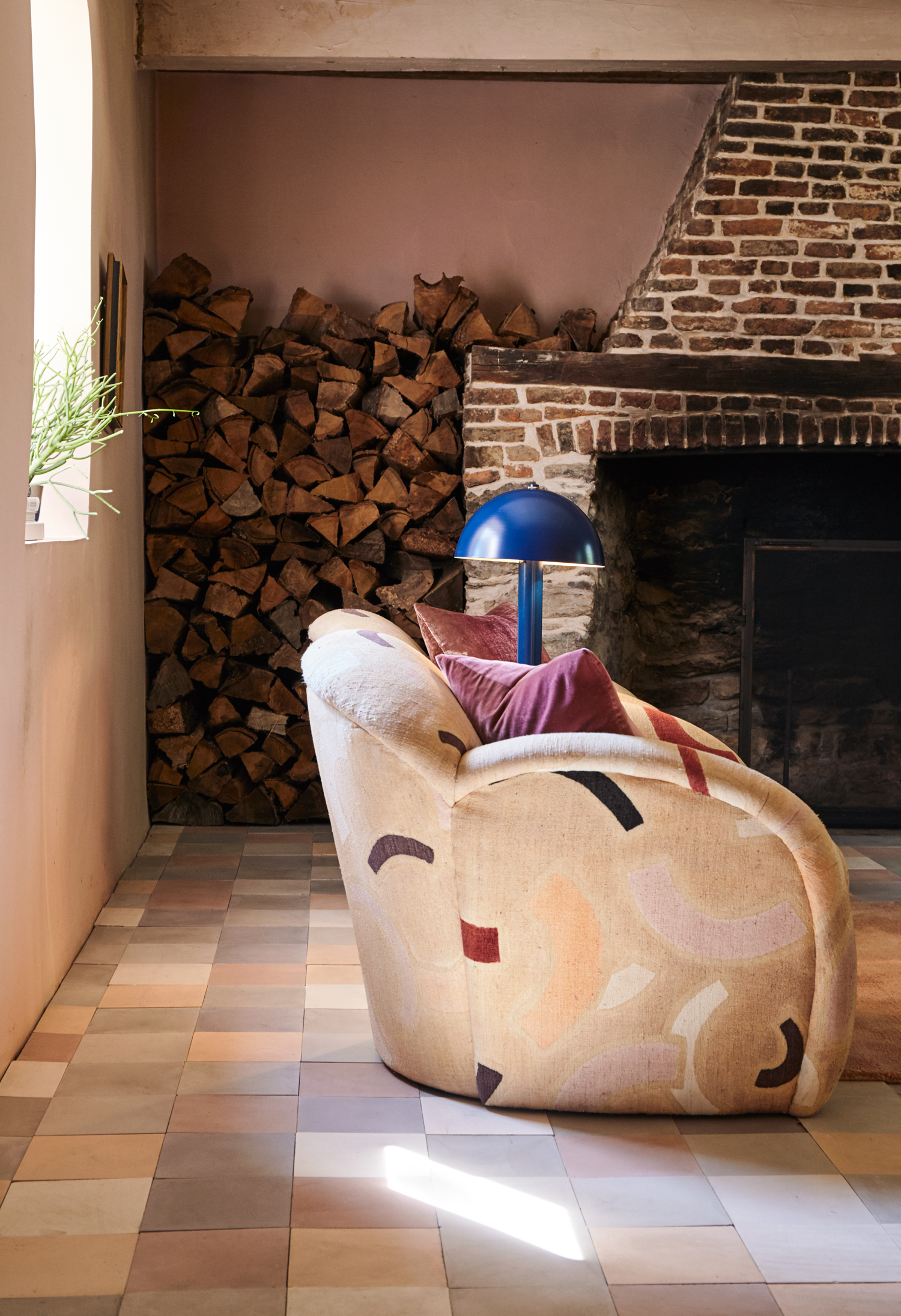 Hawkins is very much the product of you and Paul as a couple. Can you tell me about your background and how you two met?
We actually met when I was 17, and Paul was 19 or 20. He was in school, I was working retail, and he was a customer of mine. We dated for six months or so, but I was moving to New York for school, so we broke up. Eleven years later, I had been in LA and he had been in San Francisco and Philly, and when we found out we were both moving to New York, we got in touch. We went on three dates and then pretty much moved in with each other.
I studied fashion and design at Parsons and interior architecture at RISD, worked for architects and interior designers, and then did visual merchandising for American Apparel and Tory Burch, which were very different worlds. Paul's French, but he was born in Spain and grew up in Mexico, Canada, and the U.S. But his parents live in France again now. Paul was a poli-sci major, but his mother is super creative, and his father was in the cosmetics industry. So he's always been around a lot of art and culture, and he has a fantastic sense of color and design even though he's never really studied it.
He ended up being a buyer and product developer for Anthropologie, DWR, West Elm, and then he was at Juliska in Connecticut at the end. That was a little bit of retail, but mostly wholesale. He wanted to learn more about a wholesale company before we dove in.
And what brought you to Hudson?
We came up for Stefanie and Robert of Workstead's wedding; I went to school with them at RISD. There are a couple of real-estate shops on Warren Street, and just looking in the windows, we realized we could afford a house here. We had a townhouse in Crown Heights, which we loved, but we were looking to get a one-bedroom in the city and had been totally priced out. We realized buying a whole farmhouse up here was a quarter of the price of a one-bedroom in the city, or even less.
On a whim, we found this house, fell in love with it, and bought it. We were coming up on the weekends, and during that time, we started working with Workstead, producing some of their lighting. But we were still both working fulltime for other people. Then, one day, after waiting for like an hour in the 95-degree heat, I had a breakdown on the subway of just not understanding why I was commuting an hour every day into Union Square when I could be up here.
So, I ended up moving up here. Paul kept his job to pay the bills, and I started focusing on building up the brand. Then, we went looking for office space and ended up opening up the store instead on Warren Street. At that point, Paul moved here fulltime with me.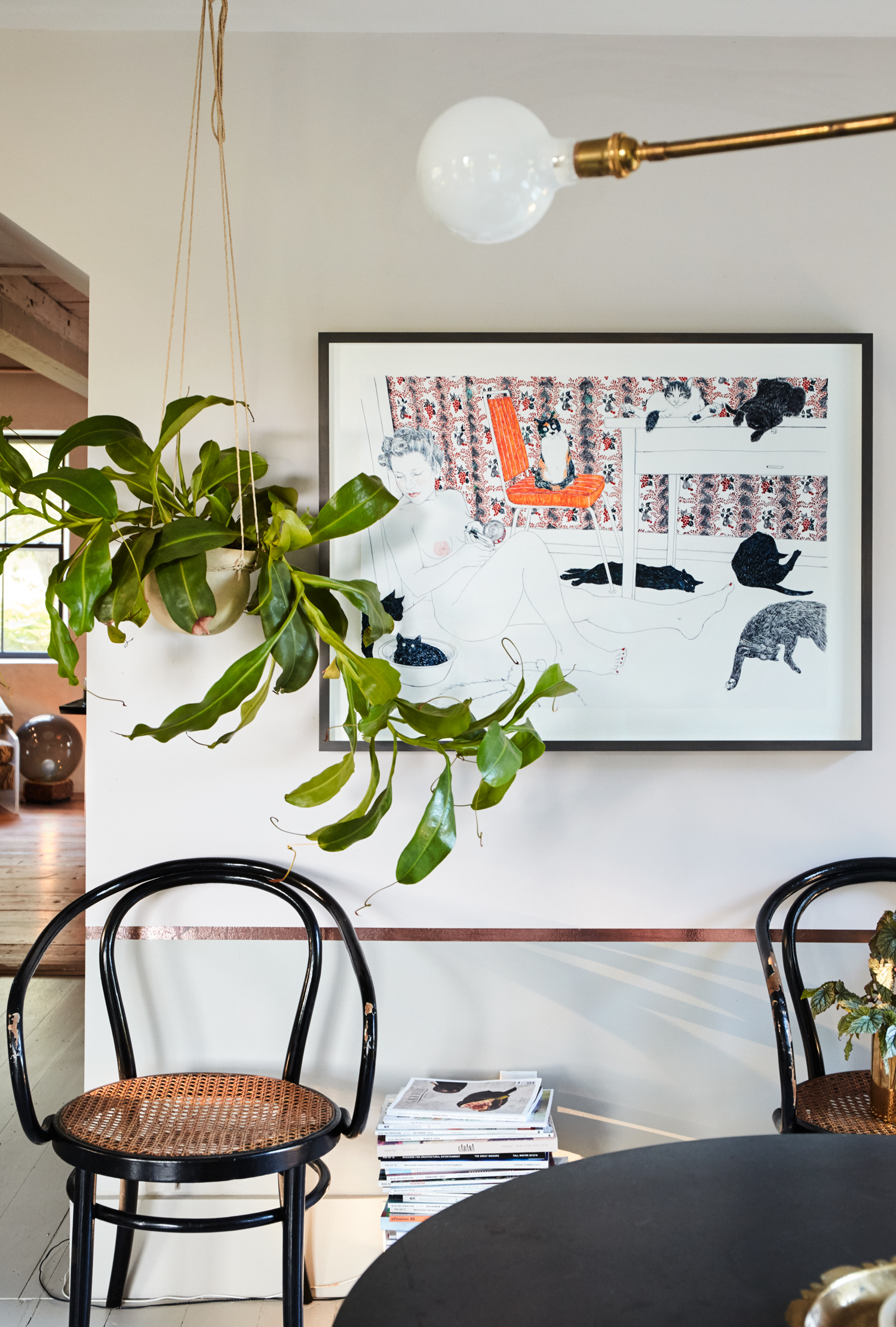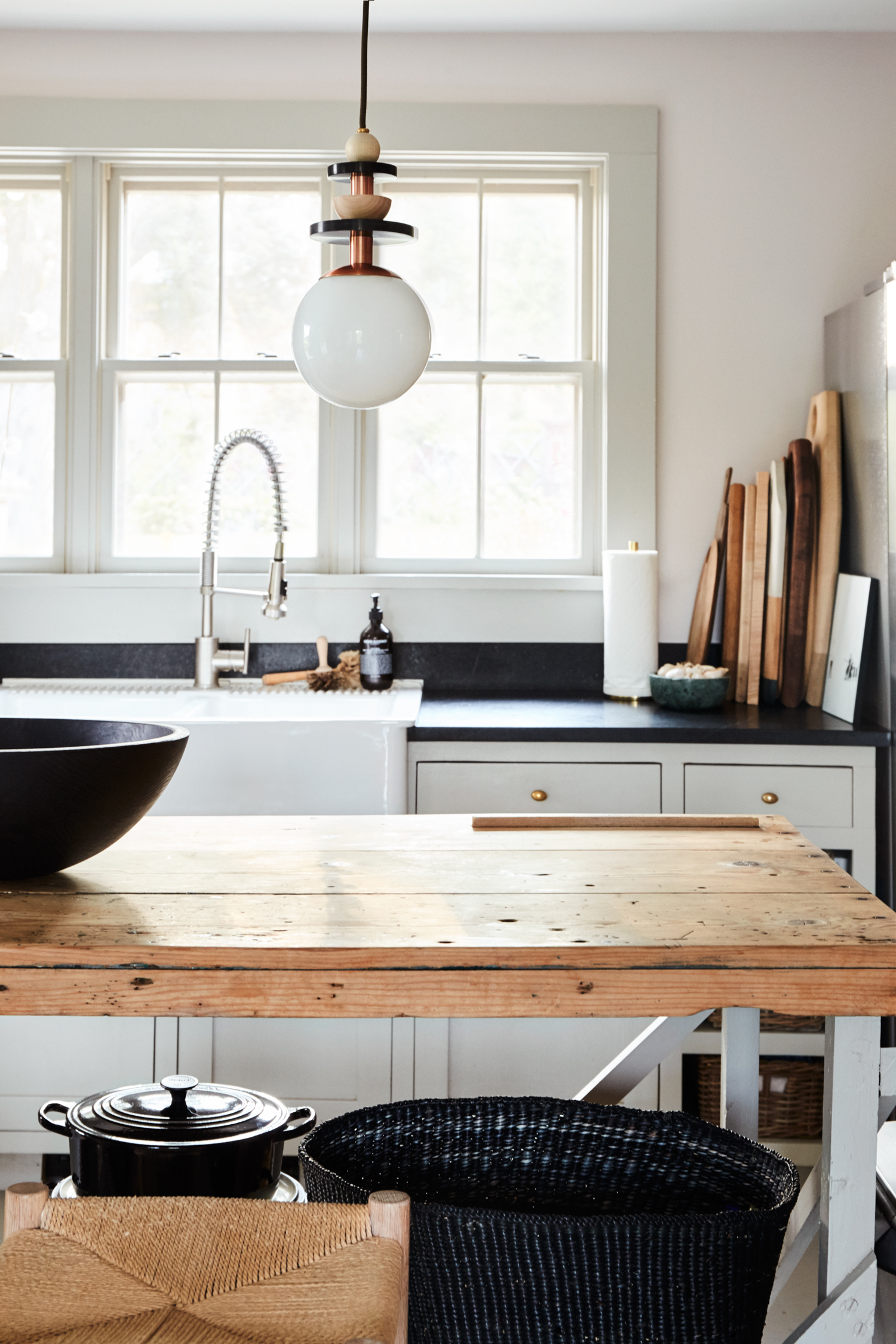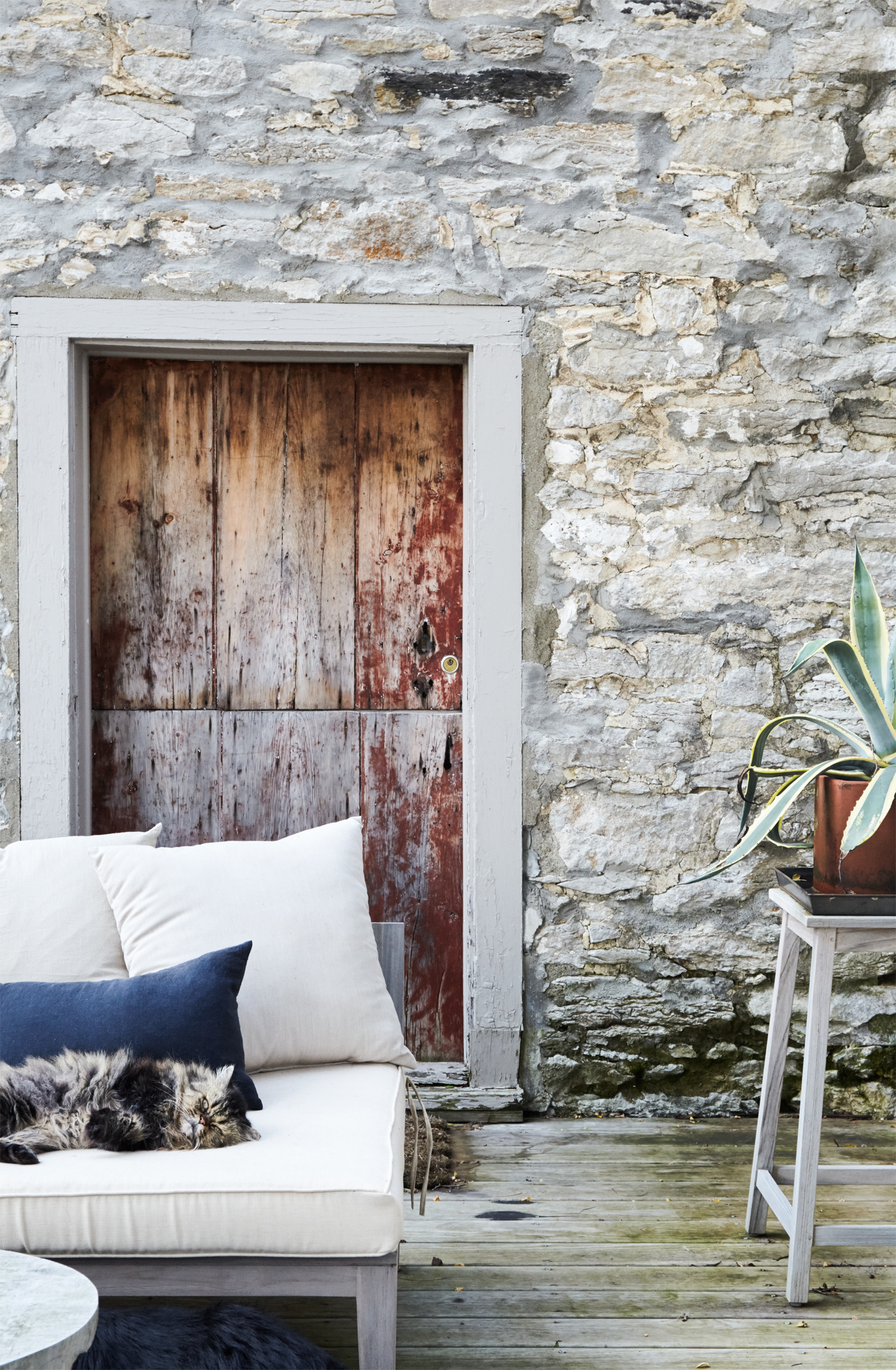 So now, you have the store in Hudson and the store in New York.
Yes. And we're opening a store in LA, in this new development called The Row. The icing on that cake is that I used to work for corporate at American Apparel, so it's in the building where I worked. It was an… interesting experience at American Apparel, so it's kind of funny to be back there and doing my own thing.
When you found this house, what was it like?
It was two units. It smelled like cigarettes and cat pee. On one side of the house, if you walked on the floors, your feet would fall through. It was really bad. But we just fell in love with it. To us, it looked kind of like an old Normandy farm. It was built in the 1750s, and there are so few places like that in the United States, with that much history.
It was an old, Dutch farmhouse, and then, it was a dairy barn until the '80s. We wanted something by water, with land, with barns. It's been a lot of work, but since it started as a weekend home, Paul and I always thought of it as a playground. We did a lot of the work ourselves in the beginning; everything was in such bad shape that whatever we did, we felt like we couldn't make it any worse. We had just finished the townhouse in Brooklyn, but we're addicted to change. We jumped in.
Did you literally take it down to the studs?
Pretty much. We had molding and sheetrock and rotting floors, and the house was overrun with mice and snakes.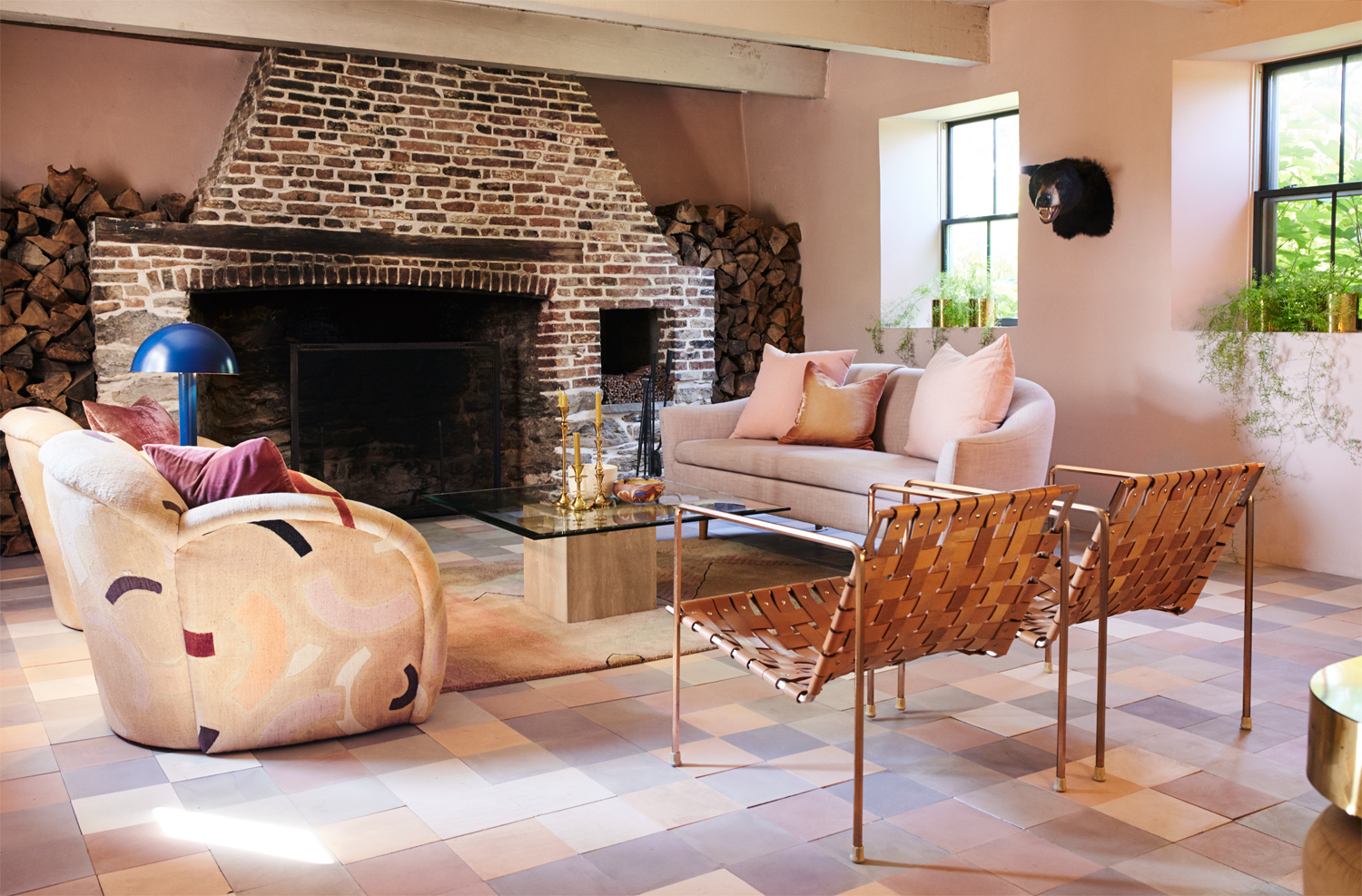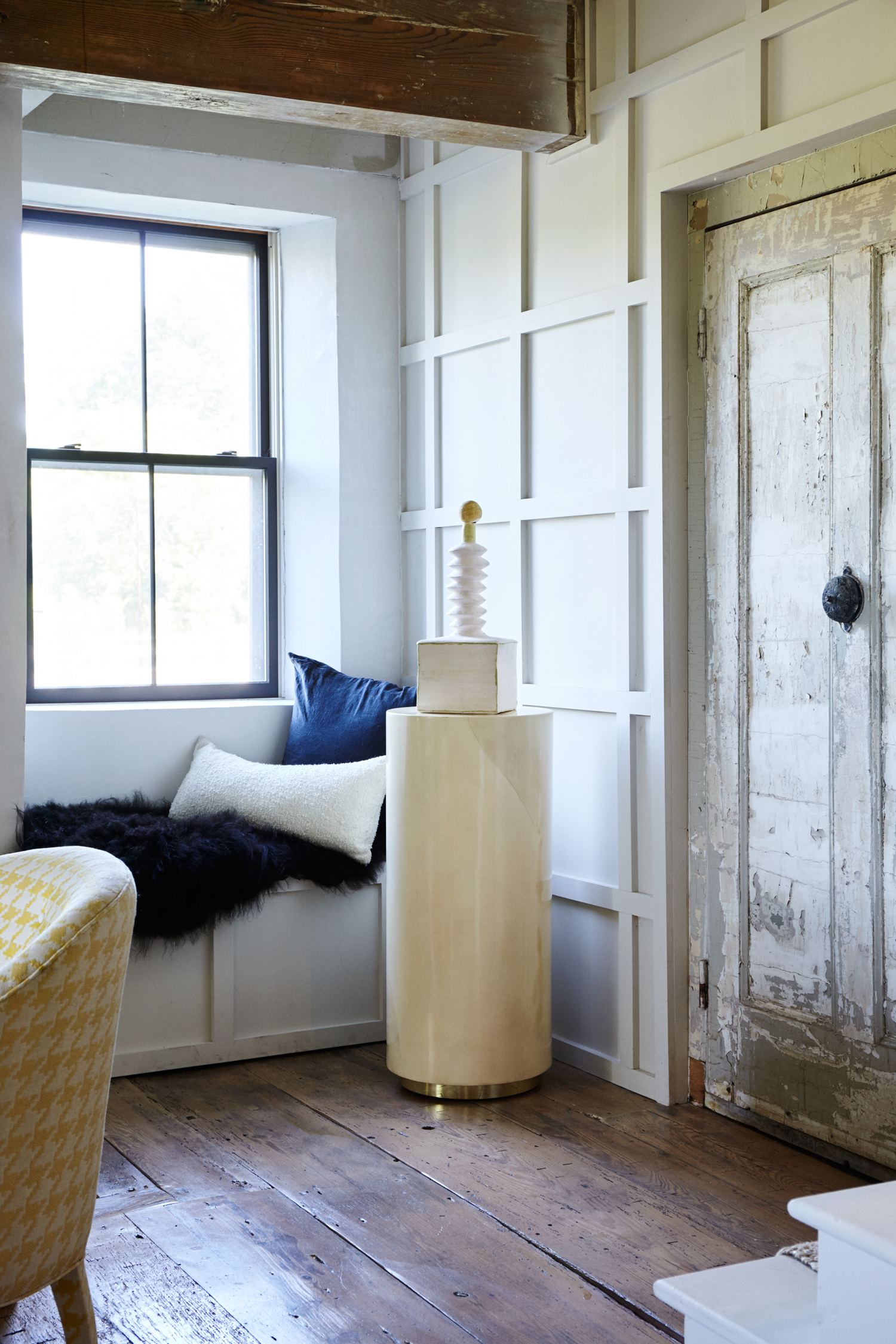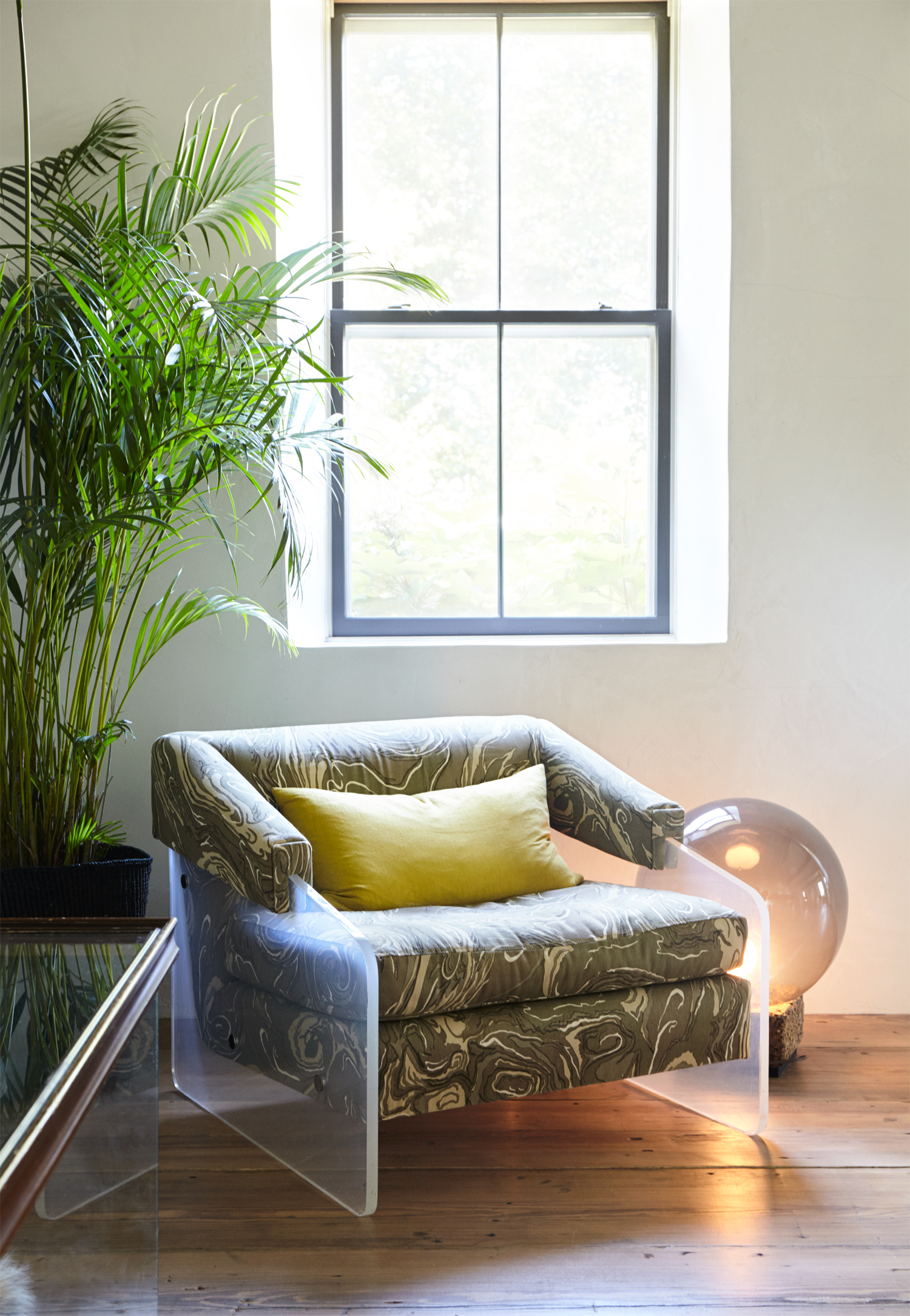 What was the aesthetic framework you were working under when you began renovating? The paneling on the walls is so specific.
We've always been obsessed with paneling of all kinds, old and new. In traditional American Dutch houses, once the English style movement came in, there was a lot of paneling, so it just felt right. But we did want to do something just simple and graphic. We didn't want to feel like we were living in a museum. There's a beautiful Dutch house down the road where they did paneling that was very to the period. It's beautiful, but it's not us. Anyway, it's a real bitch for hanging art, but outside of that, we're really happy with it.
When we first got the house, we actually bought a lot of antiques on Warren Street, and we were trying to get stuff more to the period of the house. The Brooklyn house was more modern and more about city living, so we wanted something here that was more country. But then we kind of looked around one day and said, "What the hell are we doing? How we live does not look like this."
Since then we've been actively trying to get more modern pieces in here. The building is so old that as soon as you put anything pre-20th Century in here, it starts to feel like your grandma's house. Hudson's been amazing in that regard; we pop into shops all the time and find weird stuff. These chairs in the dining room are like a bark camo crossed with Lucite, which, if you wrote that on paper, I would be like there's no way. Then, those silk chairs in the living room were originally purple, and they faded in the sun to this peach color. We actually prefer them like this.
Art is probably the thing Paul and I care about the most. I feel like the artwork has more of an emotional attachment for us than the furniture, because we move stuff in and out a lot. We're always buying new stuff or getting sick of something.
What do you do with it when it's done?
We have a couple of good relationships with people in town, so if they like it, they'll take it on consignment. If there's something we really love, and it's just not working right now, we'll put it in the barns.
Do you have a plan for the barns?
We might eventually rent out the two big ones. We get a lot of people leaving notes on our cars, asking if they can have a wedding here.
How much of the décor is actually from your own line?
A lot. We bring a lot of samples home, and we try to live with them a little bit before we launch them. We feel like that's the litmus test for Hawkins — if we can live with something and enjoy living with it, then it should be added to the line.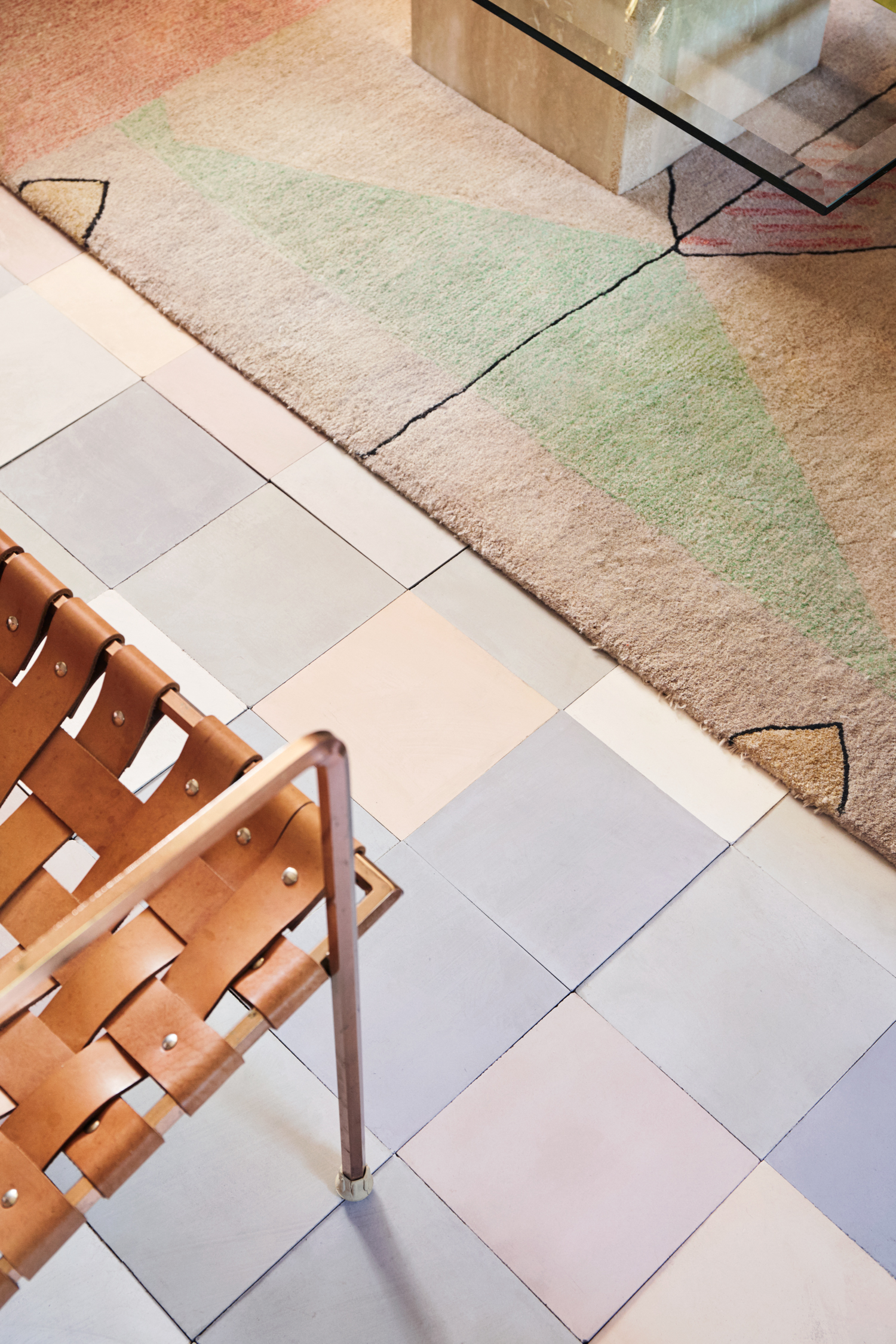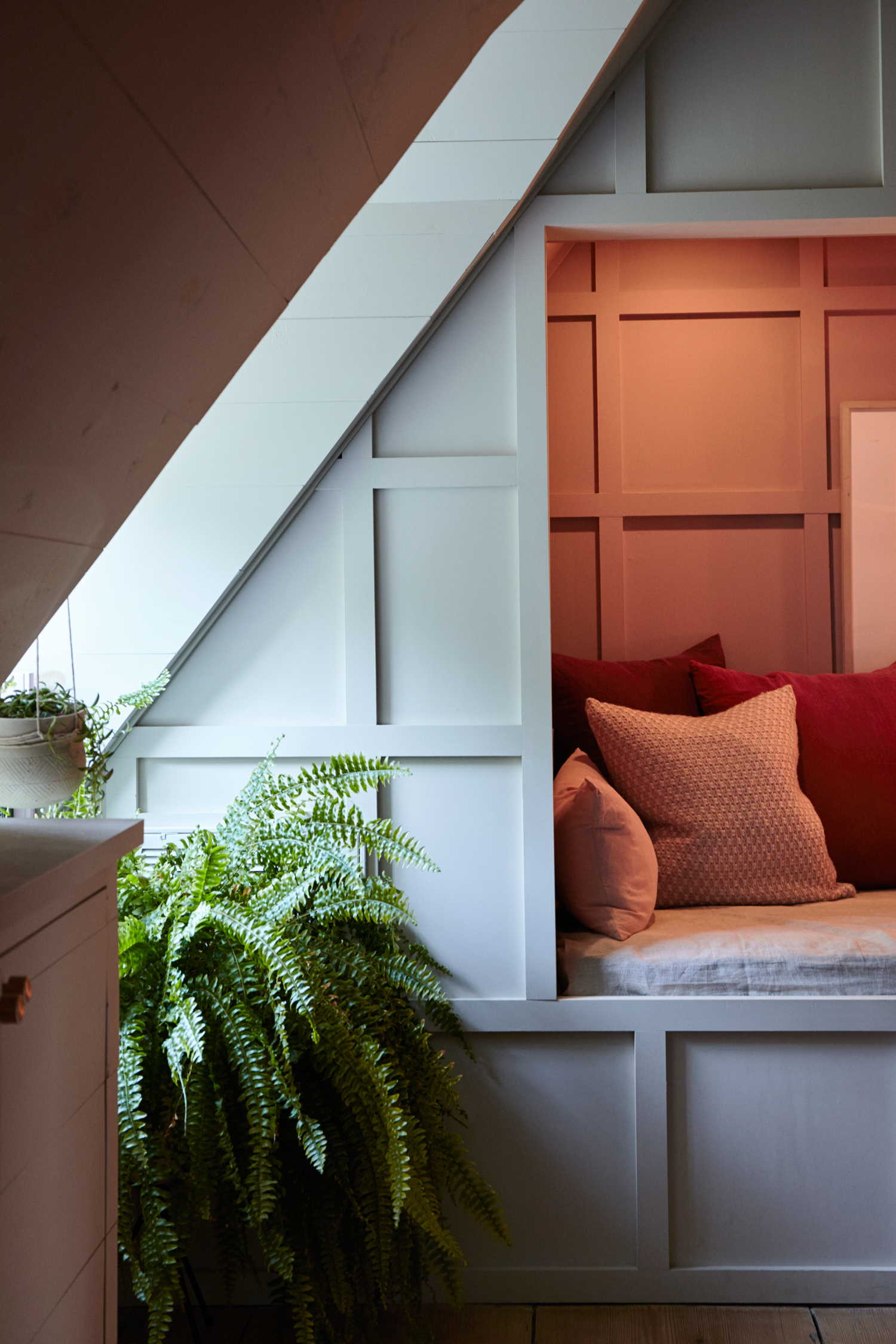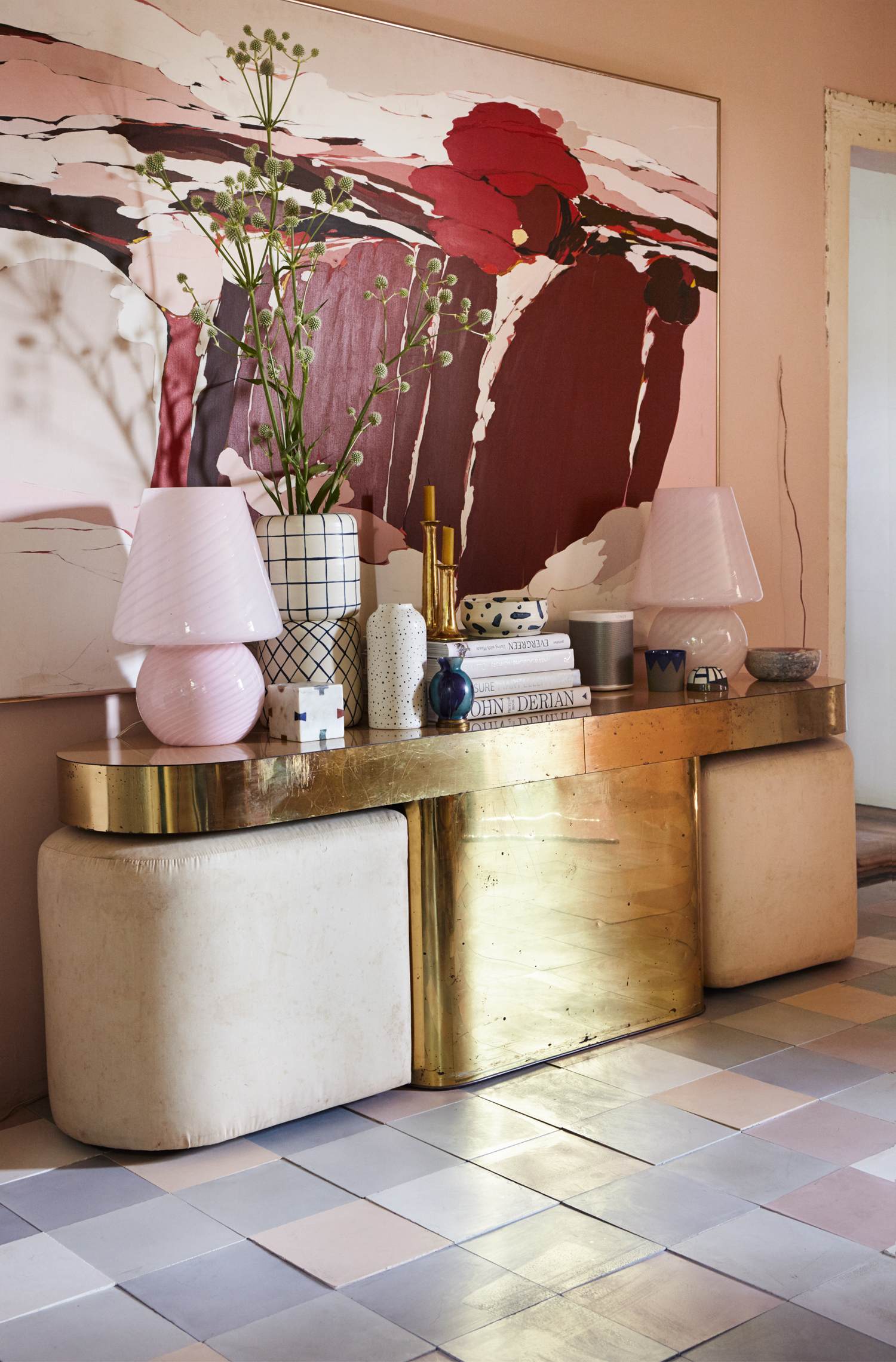 Do you have a favorite piece?
When we first came up here, there were a lot more traditional antiques stores. Now there are more and more shops selling '70s and '80s stuff, and we've been finding amazing stuff. Whenever we walk to get lunch together in town, we always end up popping into antiques stores. They know us, so they give us a discount.
I mean, my favorite find is the brass console. These little ottomans swivel out. It's just so good. I love how it reflects the tile.
Where are the tiles from?
These are from a company called Rustico out of Austin, Texas. I ordered like 20 color samples, and we picked this mix. A lot of the old houses in Amsterdam have tile floors, and we wanted no grout, we wanted it a little uneven, so that eventually these edges would crack. We want it to grow into the house. The floors are heated, so in the winter, walking around with socks with a cup of coffee is heaven. It's funny, when we bought the house, the fireplace over here was covered with like cheap, 1950s, bad orange pine paneling. The first thing we did was rip it off, and that's when we found this little staircase that Paul tried to walk up, and it all just collapsed. I mean, definitely sometimes we want a modern white box with big windows. I fantasize about it every now and then, but we both love this house. We don't know what it is.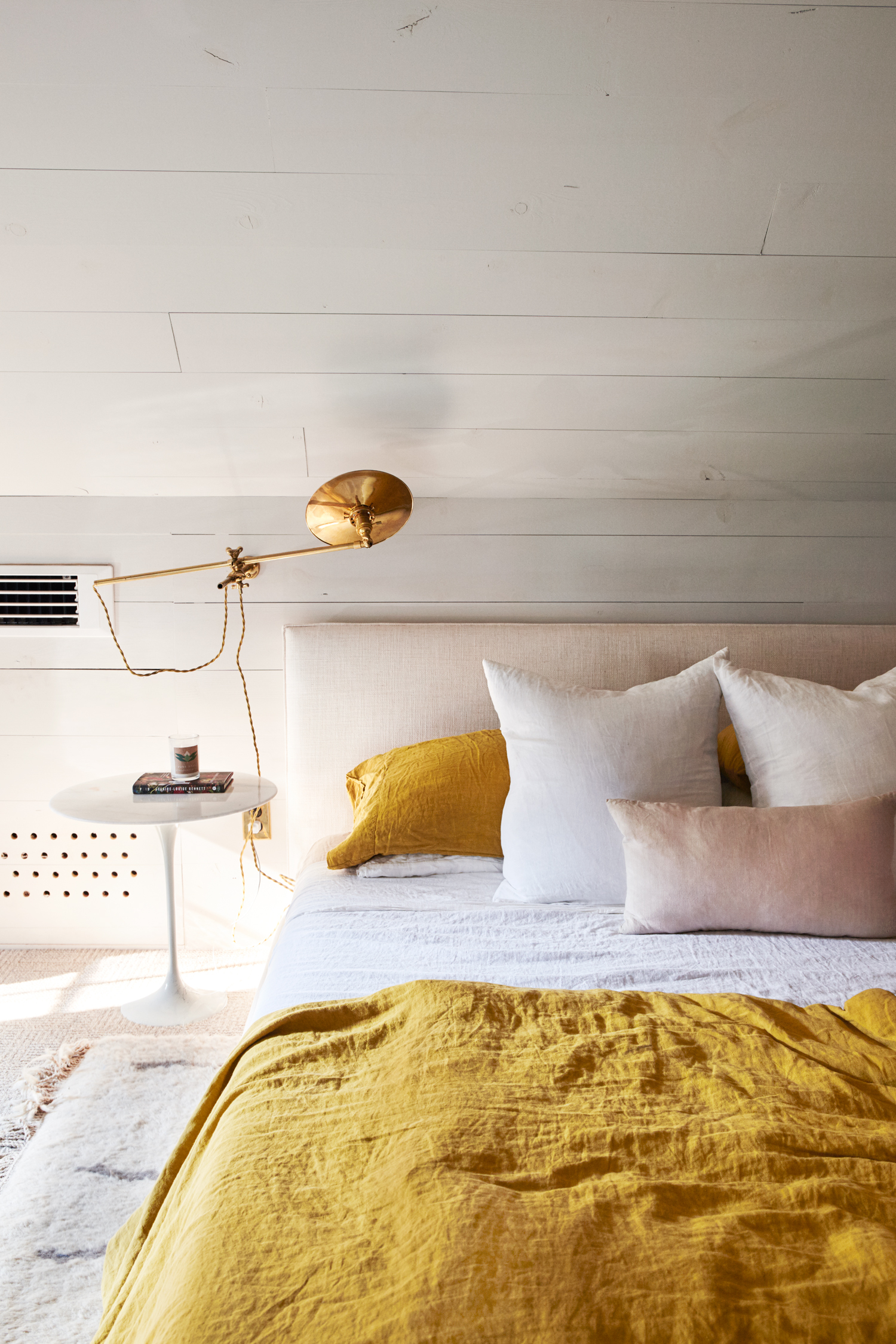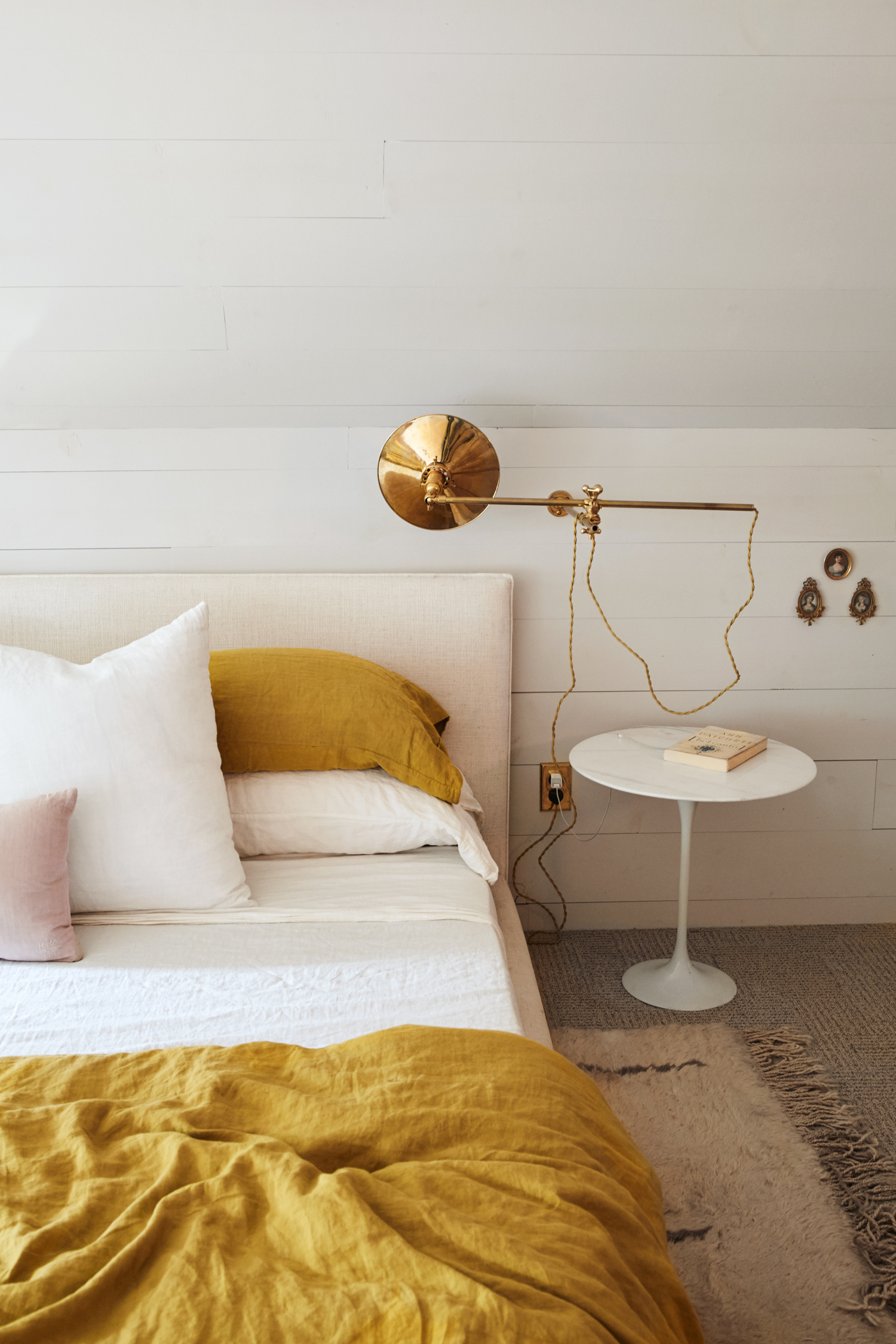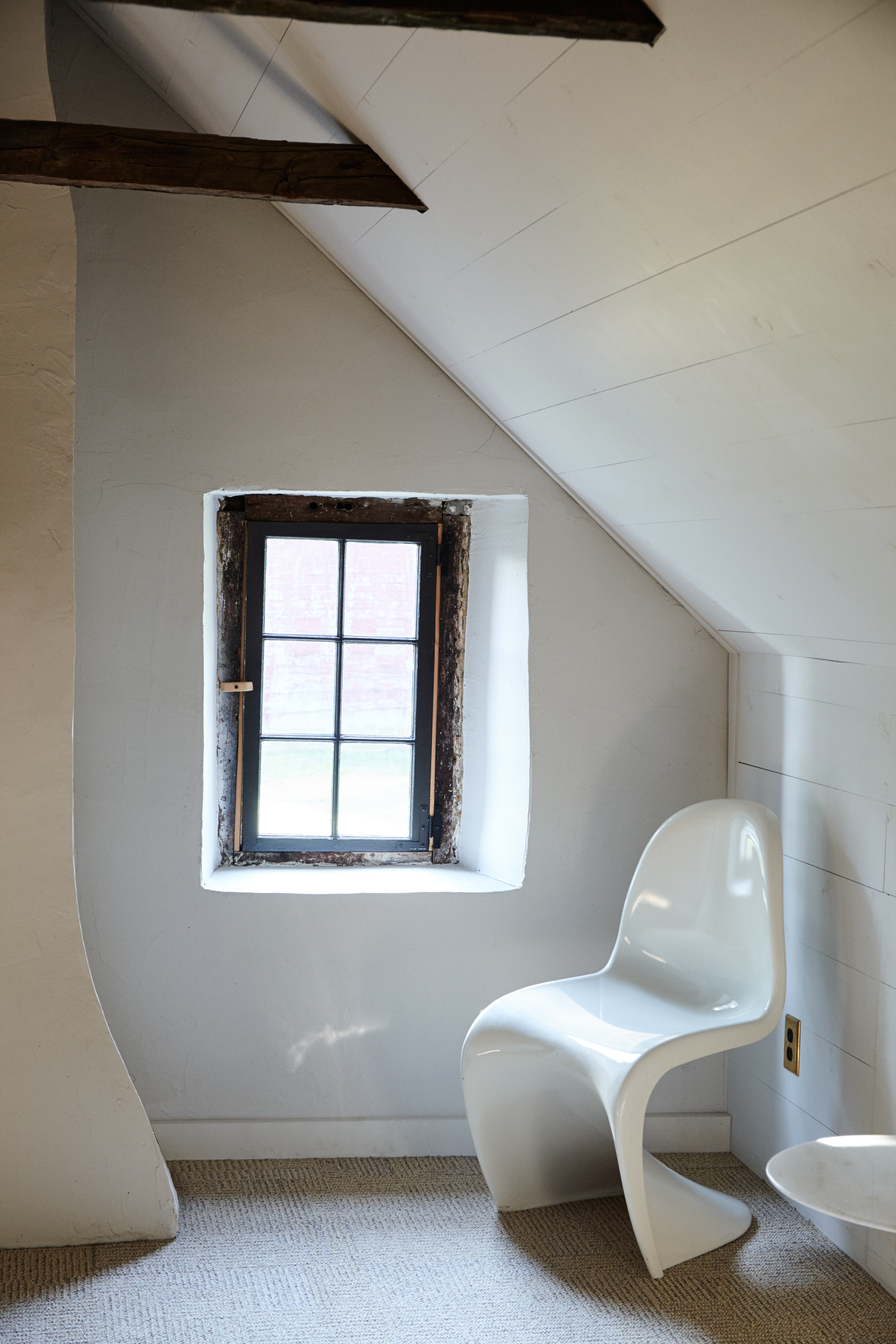 Let's talk about the business. How did Hawkins go from being a company that produced other people's designs to what it is right now?
When we first started, it was the beginning of this movement where big companies were hiring smaller designers to collaborate with them. From our experience, we felt like that was really a corporate-greed based thing, where the artist was getting notoriety, but not really any sort of sustenance or financial gain out of it. Our initial plan was to work with different artists, and to make sure that they were part of the success of their own product. We were working with Workstead, Meg Callahan, Alyson Fox, Minna, and Slowood Studios. Now, we're kind of cutting the line back to just focusing on Alyson Fox.
Outside of those collaborations, which we wanted to be more fun and whimsical and trend-based, we felt like we were having a hard time shopping for ourselves for home goods. Either stuff was so expensive that we could never afford it, or stuff had the right look, but it was horribly made. We realized we wanted to create this accessible price point and a line that really focused on design and craft. I would say the closest brand to us is maybe Canvas, but I don't always understand their aesthetic.
We're still defining who we are, but the thing we're focusing on is creating well-made, handcrafted home basics. And we're promoting this idea that modernity doesn't have to be cold. It can have a lot of warmth. It can have the hand of the maker in it. And it does seem that with politics and whatnot, people are yearning for that consideration when they pick stuff for their home. I mean I worked in fashion for so long, and it's so funny to me how "impulse buy" fashion items are compared to home.
Having the store, it's been amazing to see how couples shop together whether it's two guys, two girls, or male and female. There's a lot of consideration that goes into anything in the home, because it's viewed as shared. We're always joking that sometimes we feel like we're therapists, especially with rugs. I don't know why, but rugs really seem to spark couple fights.
The idea of "buy less, but buy better" is something that we think about a lot. That's why we're not hyper trend-based, and that's why we like our items to live longer than just a season. There's so much waste in the world that the idea that we would promote upgrading just for the sake of upgrading doesn't sit well with us.
That's interesting that you were in fashion, because Hawkins's colors seem really fashion-influenced. Like you guys were doing that mustard and blush palette, and then, suddenly, it was everywhere.
We really try to not look at any sort of trend forecasting, although it's a little hard with Pinterest and Instagram and all the forward thinkers in our life. And we travel a lot — we're in Europe at least two to six times a year, and I feel like they're always slightly ahead of it. But yeah, color is huge for us.
Was there something specific that influenced the palette?
Well, we recently launched an olive green, and that was from when I took Paul to Iceland as a surprise for his 40th birthday. We were totally blown away by the landscape there. Neither of us is particularly outdoorsy, and it was freezing cold. But all we wanted to do was be outside and explore that place. We were just obsessed with the moss and the greens and the silvery blue grays. For spring, we're also launching this beautiful super pale pink, and then a blue that's almost like a pool color but not as teal.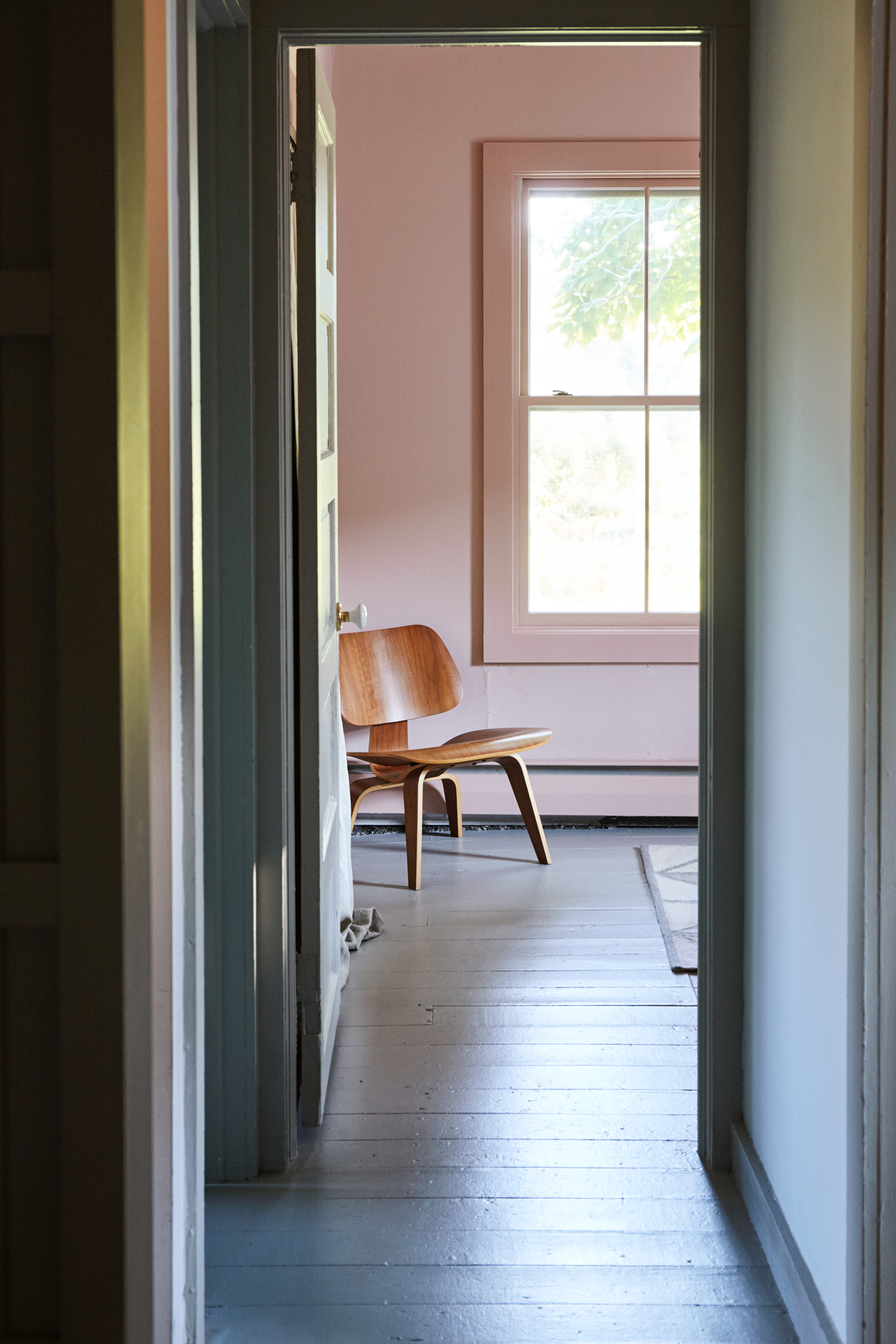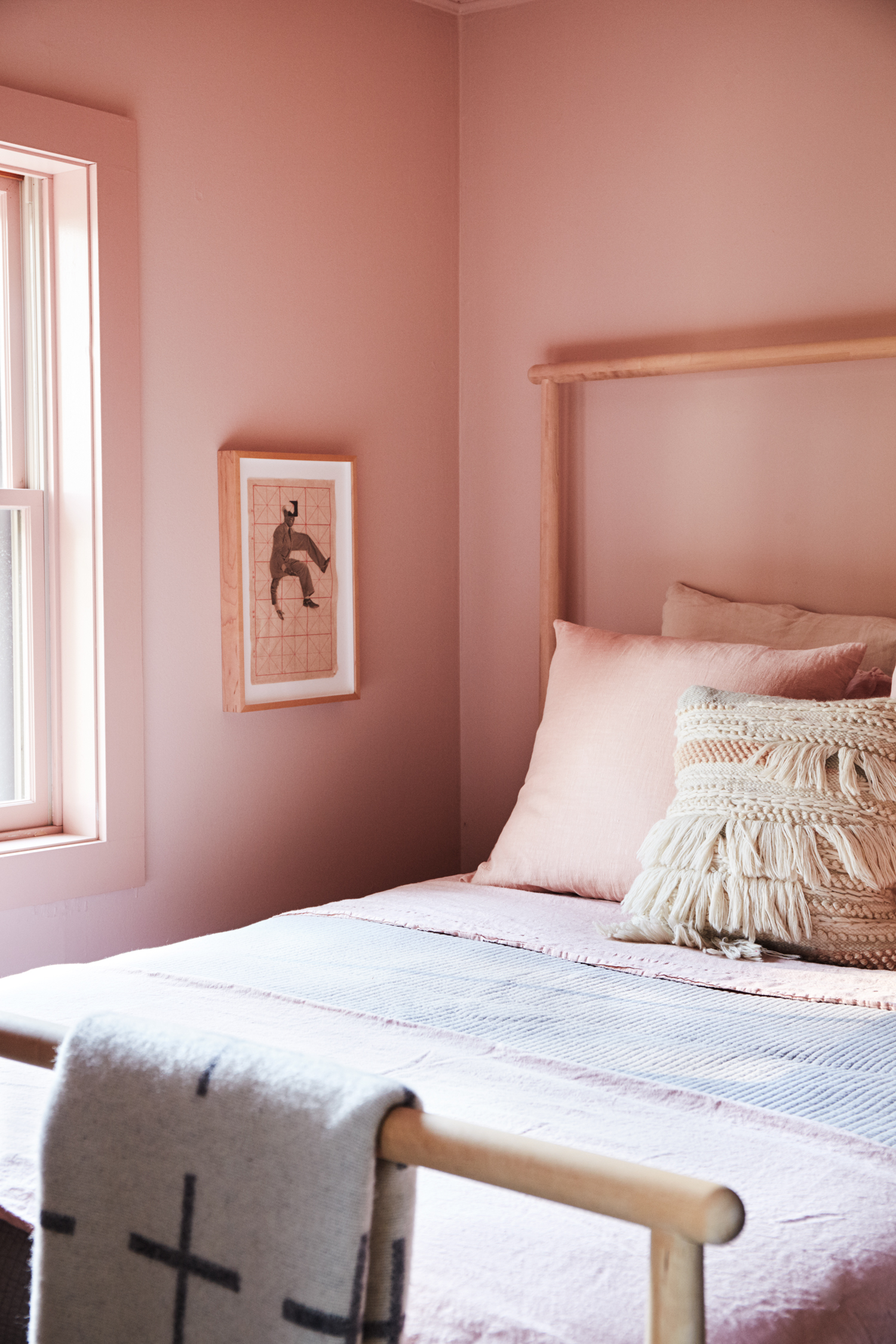 Where did the name Hawkins come from?
Hawkins is a middle name. We have a bunch of collections that are middle names. So, Louise is Paul's grandmother's middle name. Unfortunately, my mom's middle name is Jean, which just sounds terrible. The Jean Collection. You just think it's going to be a denim situation.
Do you think you'll start making furniture as well as housewares?
Yes. We have a lot of secret Pinterest boards. We just started carrying Hay and Muuto furniture in our store up here, so we want to feel out what the market's like, what people are responding to, and what kinds of timeframes and price points people seem comfortable with. We're kind of in a research phase. We have opportunities to do furniture overseas, but it doesn't make sense from a quality or an environmental perspective for us. So there are companies in North Carolina we're talking to right now. But we do really want to do it. Our bed linen people can do upholstered linen, so we could offer a couch in twelve colors almost instantaneously.
One thing we've had a hard time with is that Paul and I tend to prefer vintage over new. So it's about finding the right aesthetic where it feels a little vintage but not faux, but it also feels fresh and modern. We just want to do it right. We're still learning every season about what sells and how to run the business.
In terms of running the business, how do you and Paul divide the duties?
We used to try to do everything together, and then, we realized we weren't going to stay in a relationship if we did that. We share everything creatively, but he runs wholesale, and I run retail. Then, I do more of the graphic design and the technical stuff. I also oversee web, which is totally new for me, and again, I'm learning a lot. And every time I learn, sales go up. We duke it out sometimes over products that we're launching and color options. But we like that we don't always agree. It pushes both of us to have a solid reason why we should do something.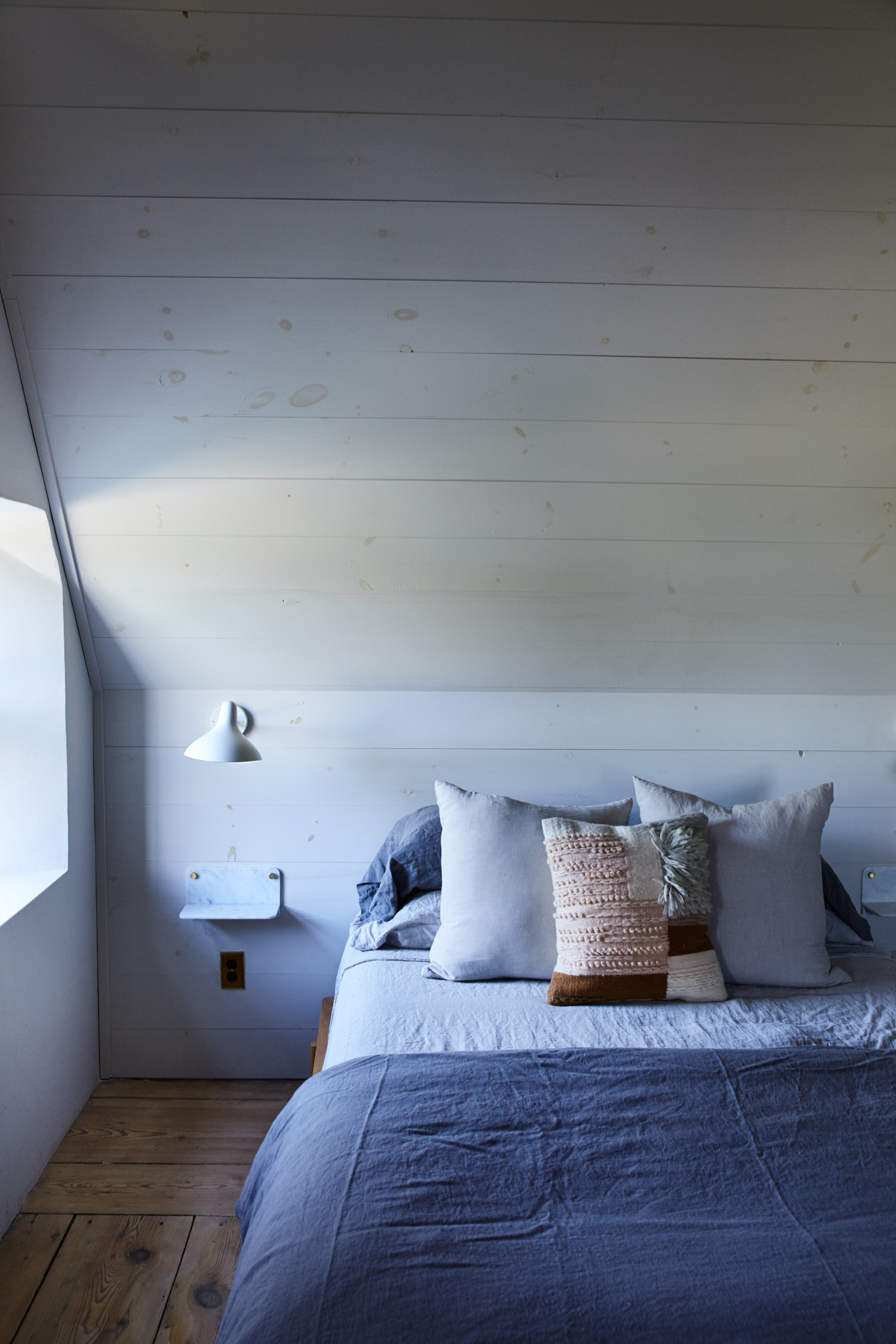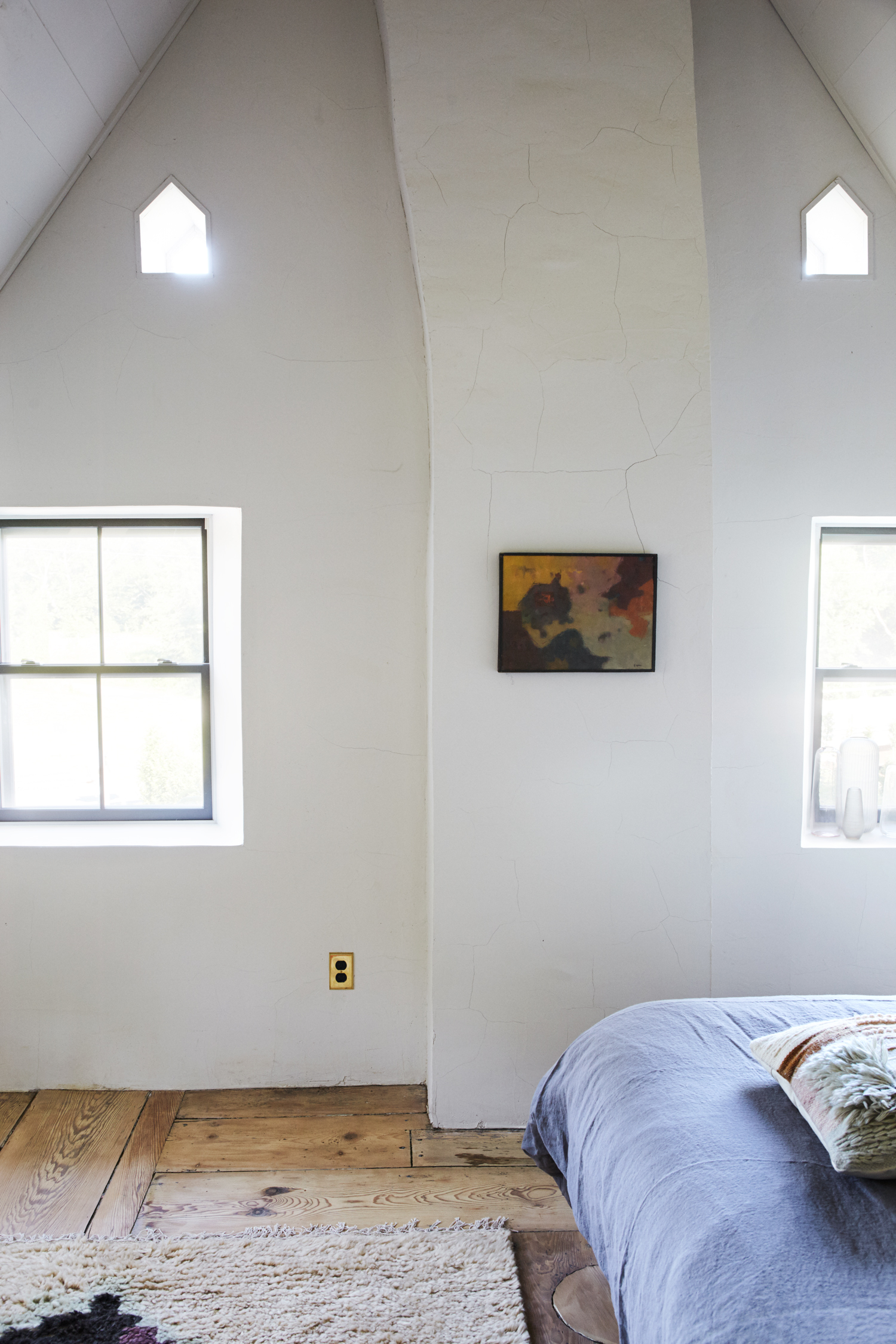 Are you excited about the store in LA?
I lived there ten years ago, and it was fun at times, but by the end of it, I was like oh, my God. I can't wait to get out of here, because I didn't really like the people. People always think I'm crazy when I say this, but I got really sick of the sunshine. I really missed New York and the pace and not feeling like an asshole if you were impatient about something. But we've gone back recently, and it's so different than it used to be. So many more New Yorkers are out there. The vibe's changing. I lived downtown, and it was scary as hell when I lived there, and now, like, Chanel's opening. It's just crazy. It seems much more livable, and less Hollywood-focused than it used to.
Do you think you'll buy a place there as well? Do you still have the house in Crown Heights?
We sold it this past spring. I think with LA, we're going to do a short-term rental and maybe eventually try to find a house up there. But that's another housing market that's fucking insane. People are getting 50 percent above asking in two days in terrible neighborhoods. So that's more of a fantasy. I don't mind winter up here so much. I actually hate summer. I'm not a summer guy.
You don't like the heat at all, do you?
No. I love fall, and I like a chilly spring. But, I'm a big gardener, and there's a lot of stuff I can't grow here that I could grow in California, so part of me just wants to be able to play around with that. Paul and I always like a big new crazy project anyway.