05.20.18
Candy-Colored Furniture Made From Recycled Glossier Packaging
Upon the launch of Kim Markel's first collection in 2016 — which recycled the plastic waste of old eyeglasses and lunch trays into translucent, popsicle-hued furniture — Curbed declared her a designer who had figured out "how to make new pieces and not feel guilty about it." But Markel's practice isn't so much about assuaging late capitalist guilt as it is about asserting the need for a new kind of industry, one that isn't defined by inputs and outputs so much as a continuous, self-sustaining cycle. Adios, obsolescence.
Based in Beacon, New York, Markel's previous life as a public policy wonk equipped her with an unexpectedly pliable set of skills: She excels at minimizing waste through smart resource management. A self-professed autodidact, Markel found her way into furniture design as a project manager at the legendary Polich Tallix foundry in the Hudson Valley (which fabricates work for Jeff Koons and Matthew Barney, among others). At the beginning she felt "in the dark" about most things, but clocked in early and stayed late to learn the basic techniques she would need to develop her own design practice. That first collection, Glow, saw her marrying her newfound strengths with those left over from her previous profession. She now thinks of her work, she says, "as an evolving conversation between ideas, technique, and materiality: an idea for an object, the development of a unique technique to make it, and then creating a material for it. All three pieces of the puzzle evolve as they inform one another."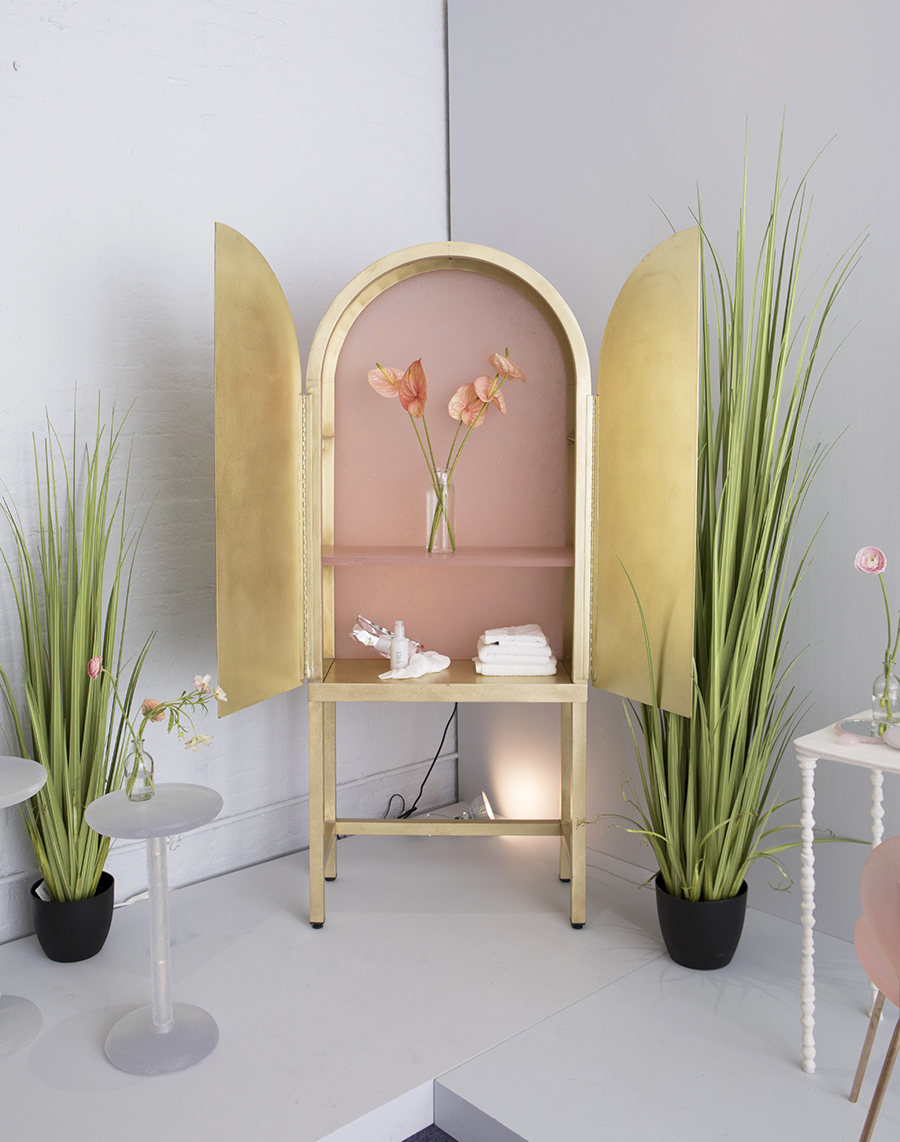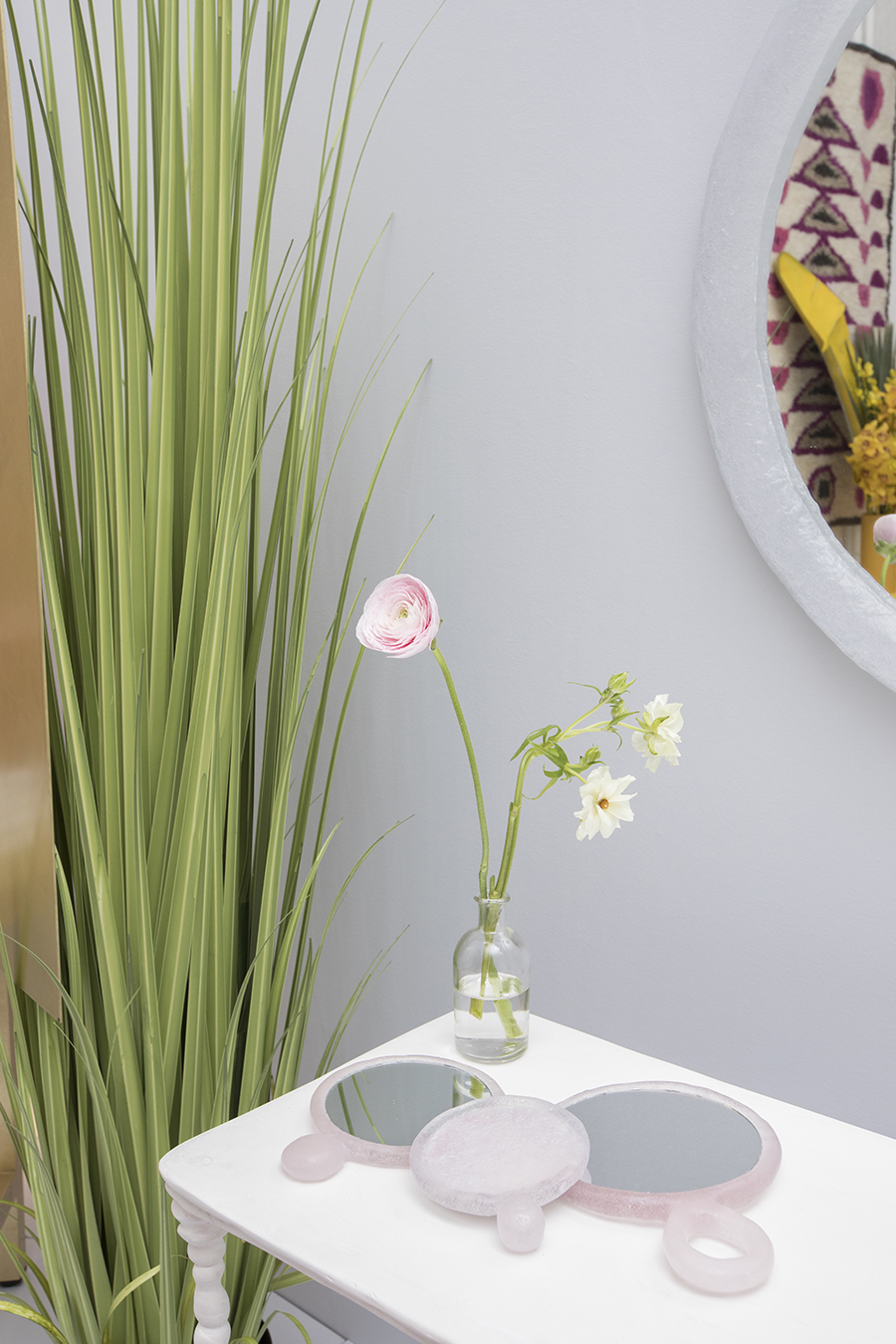 Markel's new partnership with beauty brand Glossier, which launched this weekend at Sight Unseen OFFSITE, is a perfect expression of that passion for marrying sustainability and style. The courtship started as any might these days, when Markel slid into the brand's direct messages on Instagram. That note led to a coffee date, which led to a new series of translucent colored furniture pieces in reclaimed plastic composed partly of Glossier's pink-hued packaging empties, which the brand asked its employees to collect for months. "The packaging is broken down and bonded with other plastics in large molds, then cured and sanded until an imperfect, slightly dissolved, candy-like effect is achieved," says Markel. "It takes over 50 jars to make a single chair."
The collection includes a cabinet, chairs, side tables, and mirrors, as well as a vanity table made from spun stone dust, a new material Markel developed using a by-product of the quarrying process. The material solidifies quickly, so the pieces are formed intuitively, on a lathe. Of the aesthetic that drove the pieces, Markel says, "I often reference things that harbored magic as a child — Jelly shoes, lollipops at the bank, the splay of Bambi's legs as he stands. This collection is made for an unapologetically gauzy Petra Collins world, where everything sort of has a permanent filter of childhood magic over it." A nostalgic way of thinking meets a modern way of working, paving the way to a brighter (or at least faintly glowing) future.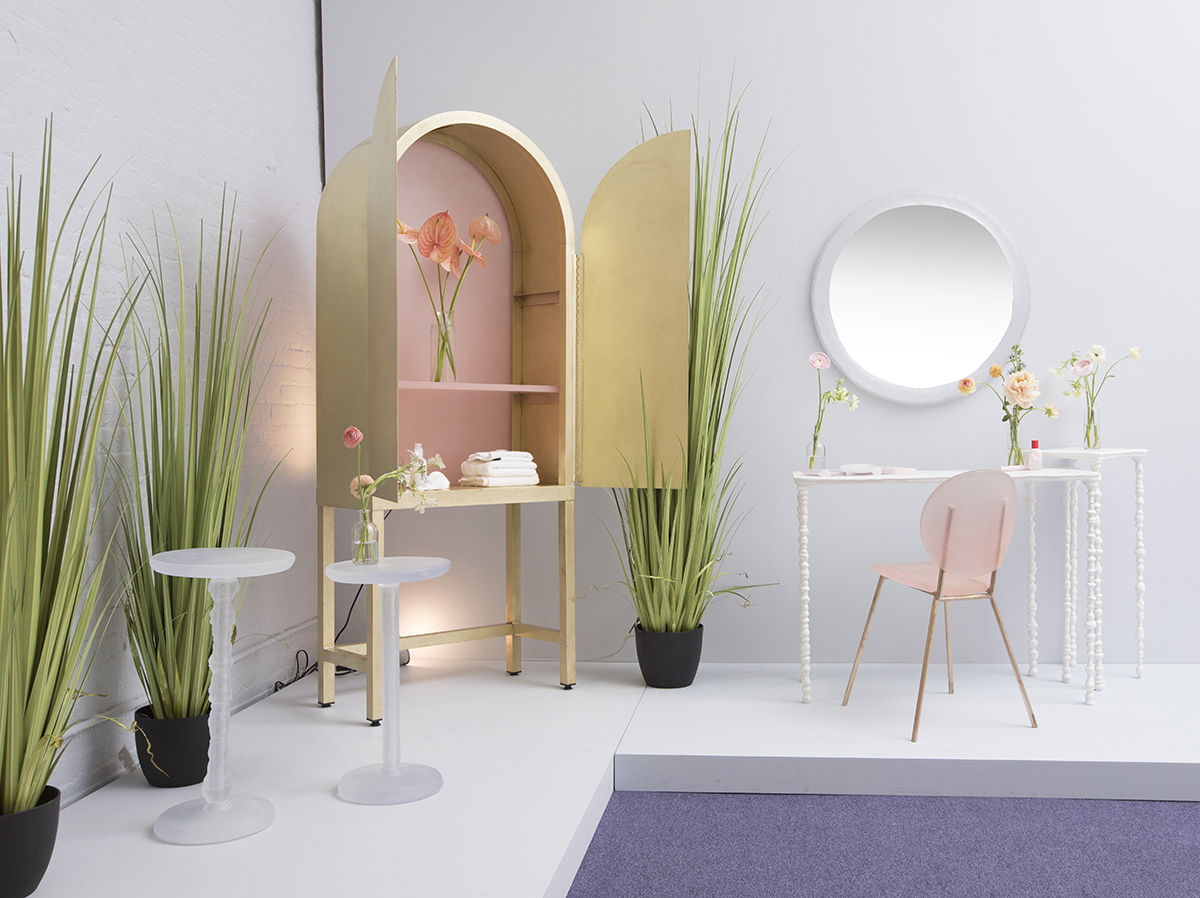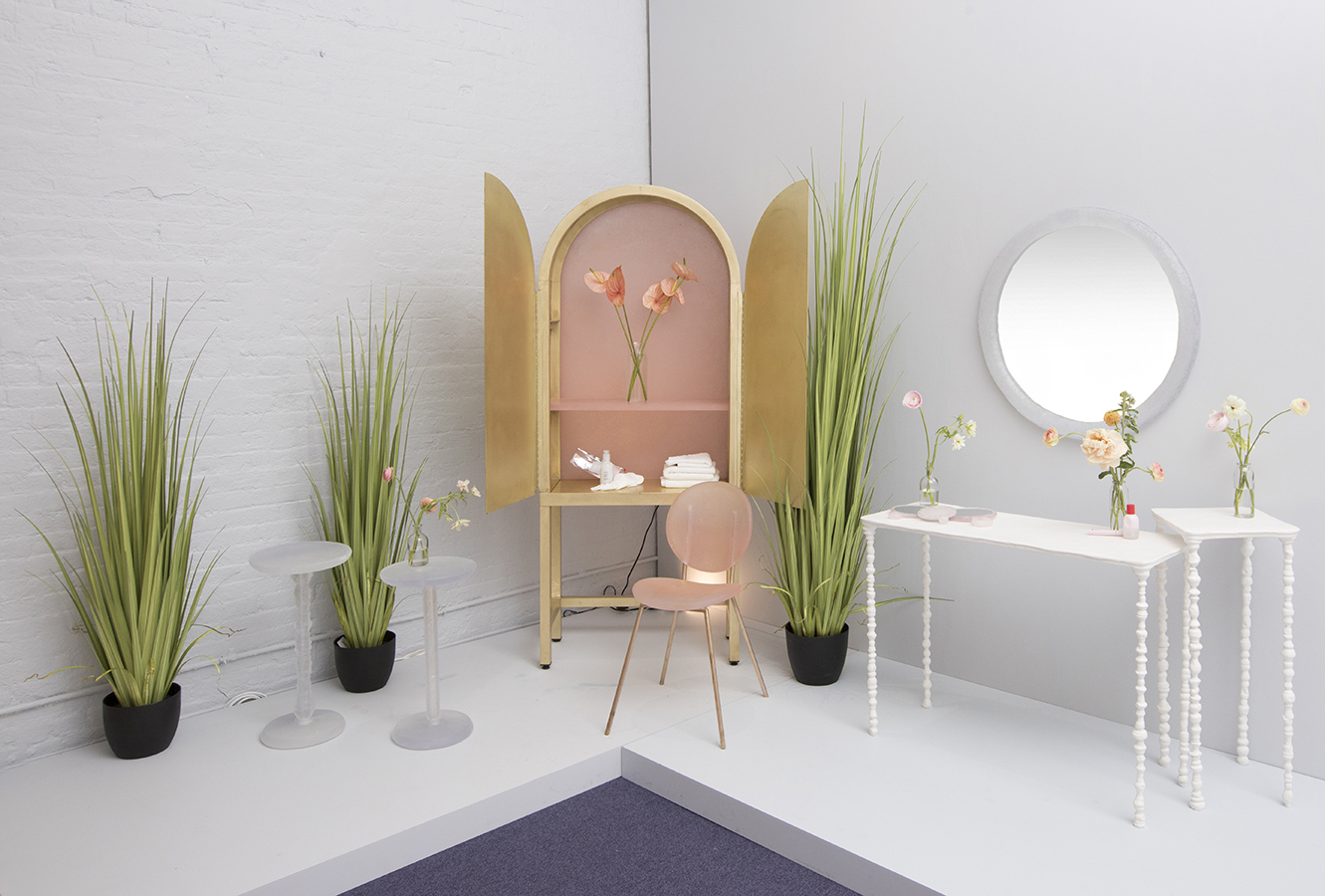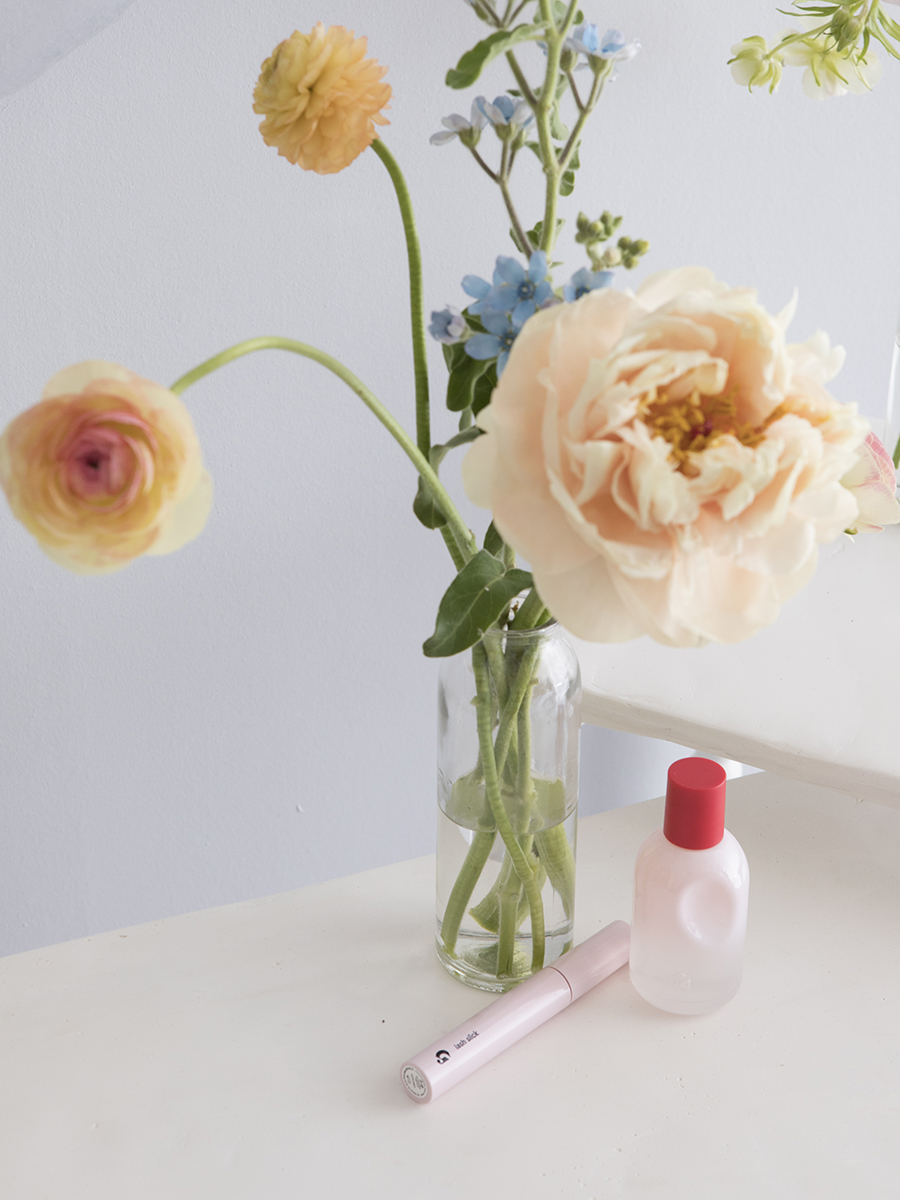 PHOTOGRAPHY BY CHARLIE SCHUCK
Today is the last day to view the Kim Markel + Glossier furniture IRL, on view at 201 Mulberry. Go here to learn more about Sight Unseen OFFSITE, and pre-register on Eventbrite for faster entry at our hub space.