10.05.18
The Belgian Designers Making Candy-Colored Furniture in Their Backyard
Though now partners in work and life, Jef De Brabander and Kathleen Opdenacker of the Antwerp-based Nortstudio arrived at where they are via two very different paths: He's an industrial engineer, she's a graphic designer. No wonder, then, that the work they've produced since joining forces in 2016 has exhibited such a symbiotic relationship between color and form. Alongside their more commercial work, Nortstudio recently developed three furniture collections that seem to crystallize that vision — an emerging signature style fusing primary forms and opaque colors into quirky assemblages.
In one series, hollow plywood cylinders are cut and combined to explore the interplay between positive and negative shapes; the final arrangement creates a curvaceous base for a series of powder-coated stools in complementary hues. In another, the gridlike industrial language of construction sites is used to inform the design of a modular bench. The forms they use have a digital precision, yet the work is made using artisanal methods and experimental materials in a workshop conveniently located below their live/work space. Using hand-built molds, bespoke metalwork, and individually mixed colors, they carefully tame materials and pigments to conform to their aesthetic. We recently caught up with the duo to find out more about their process and the inspiration that fuels their designs.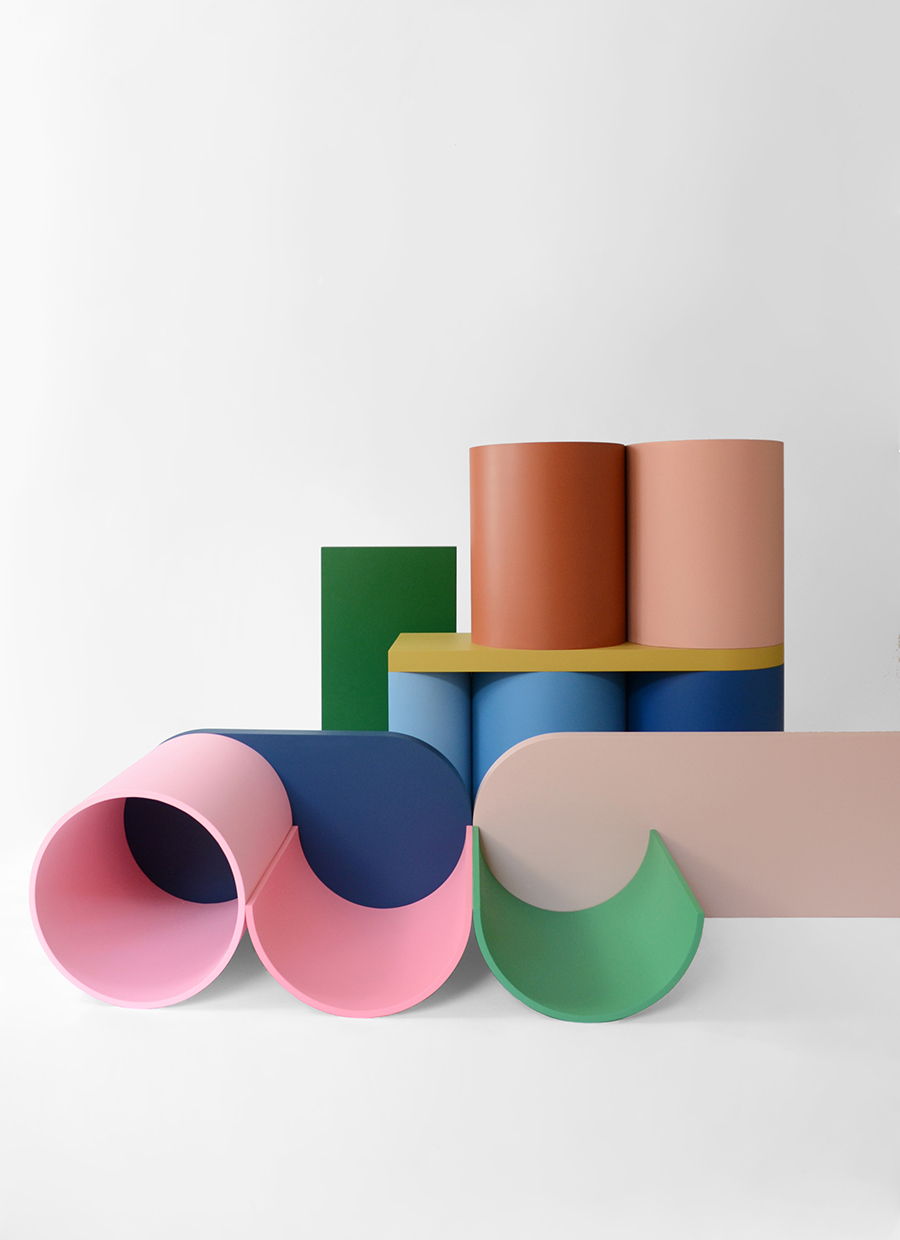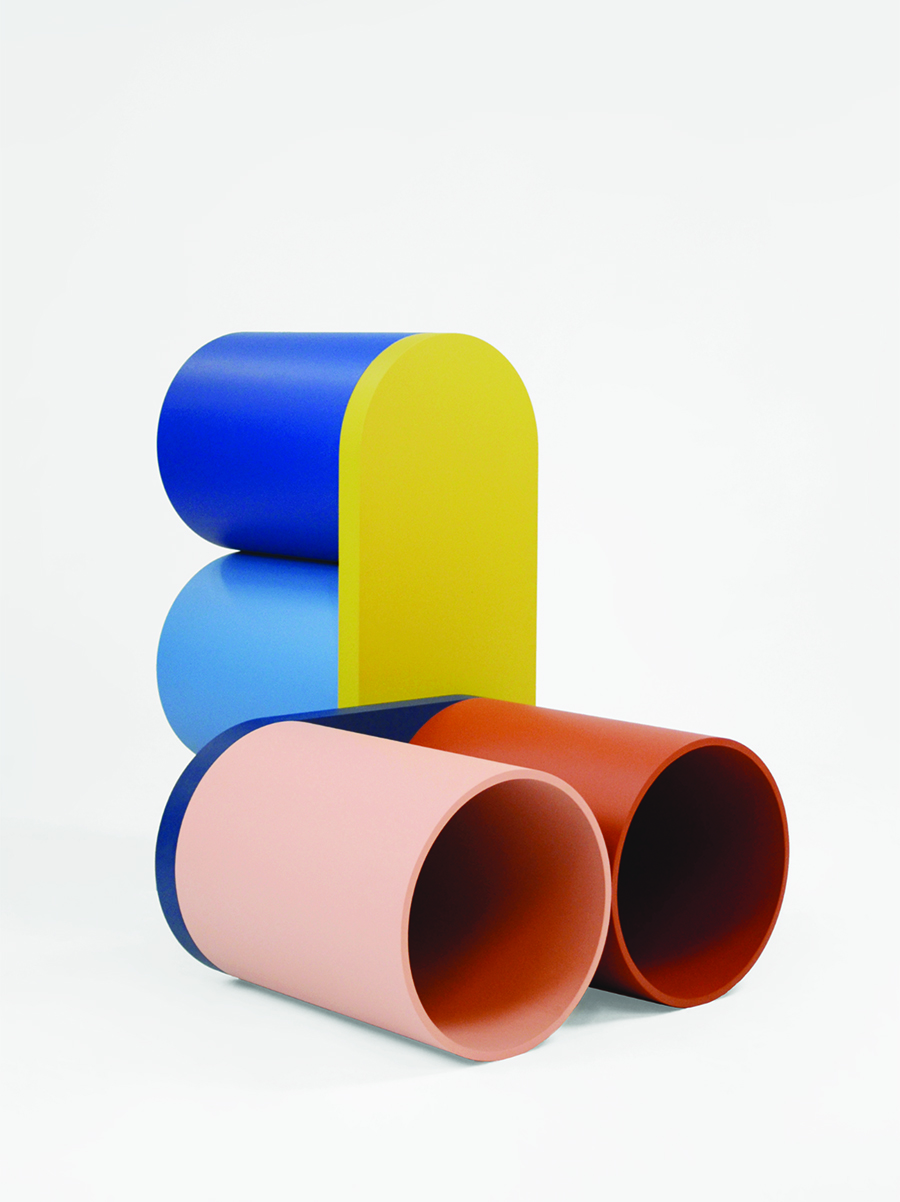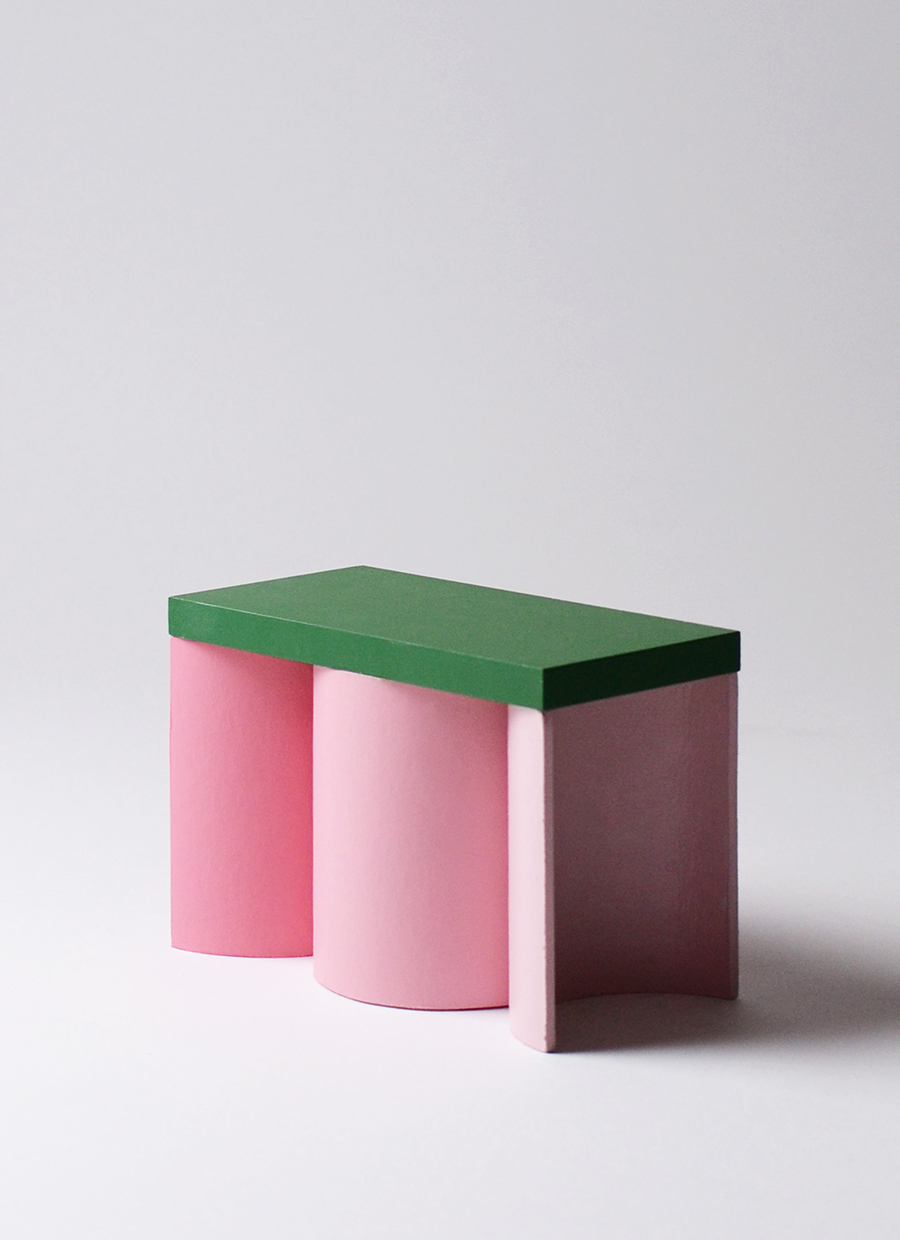 Can you tell us about your process?
Kathleen: We design and create together, but we bring our own vision and opinions. I'm a graphic designer, and I have an eye for detail and a broad interest in materials. Jef's approach is rooted in industrial engineering, a profound knowledge of techniques, and various craftsman's skills. He is able to translate a drawing into a three-dimensional object. However, the interaction that takes place between us plays an important role leading up to the outcome of a final product.
Where do you find inspiration for your work? Are there certain designers or movements you can point to as an influence?
Besides designing pieces for customers, we often design objects free of any context or client. These projects are important for us because when we're passionate about an idea, it's great to be able to work without any restrictions. Seeing a new material or technique — at building sites, in magazines, on social media, in foreign cities — can inspire curiosity. When we're developing a new object, we can't stop talking about it to each other. Should we change the form? What color will we use? Will this new technique work? Will it function properly? We're excited about the outcome and can't wait to see it finished.
We love Italian design for its use of color and combination of materials — designers like Studiopepe, Dimore Studio and Formafantasma. Dutch Design Week in Eindhoven is always very inspirational and surprising; it highlights materials, techniques and functionality that are innovative and often haven't been seen before. A British designer who inspires us for his experimental design is Max Lamb, and in the field of lighting we're always impressed by Michael Anastassiades.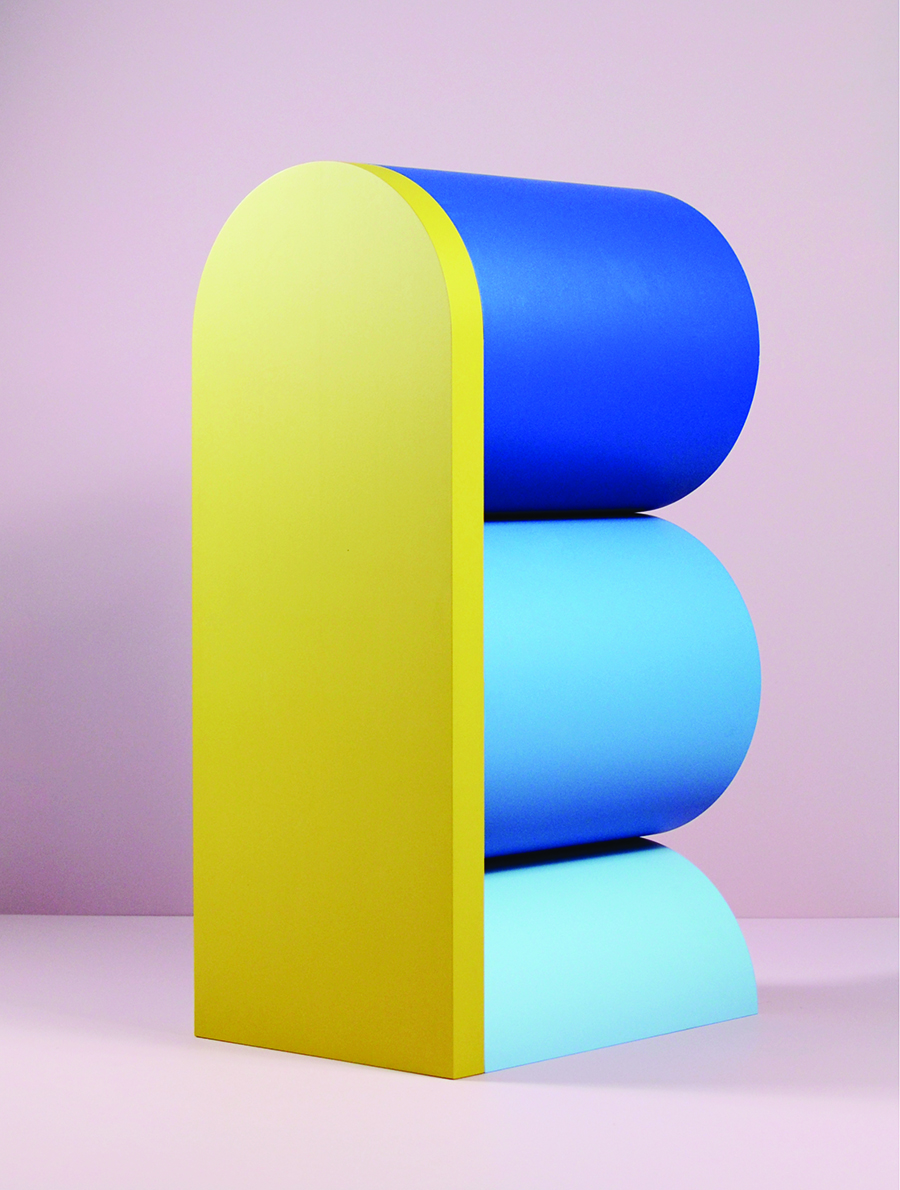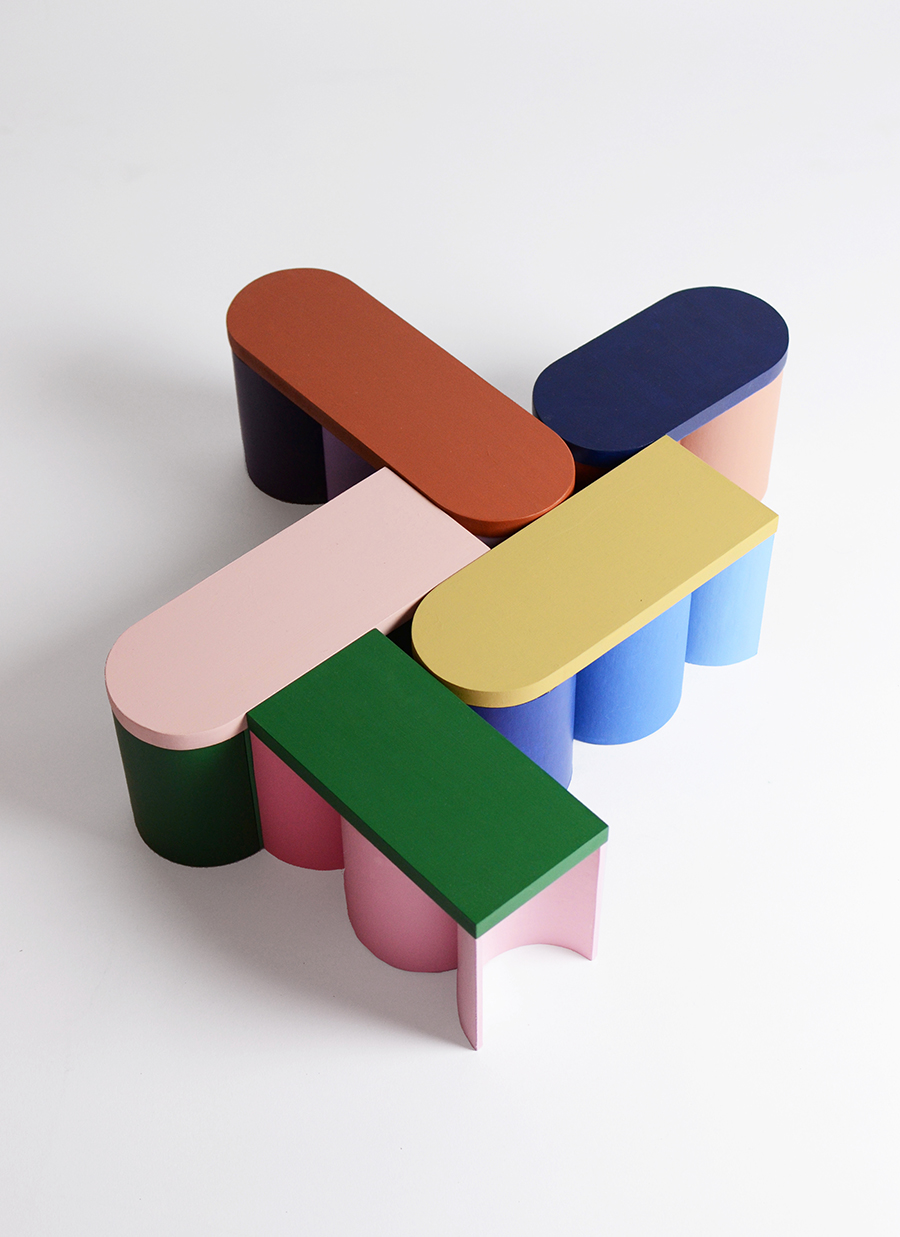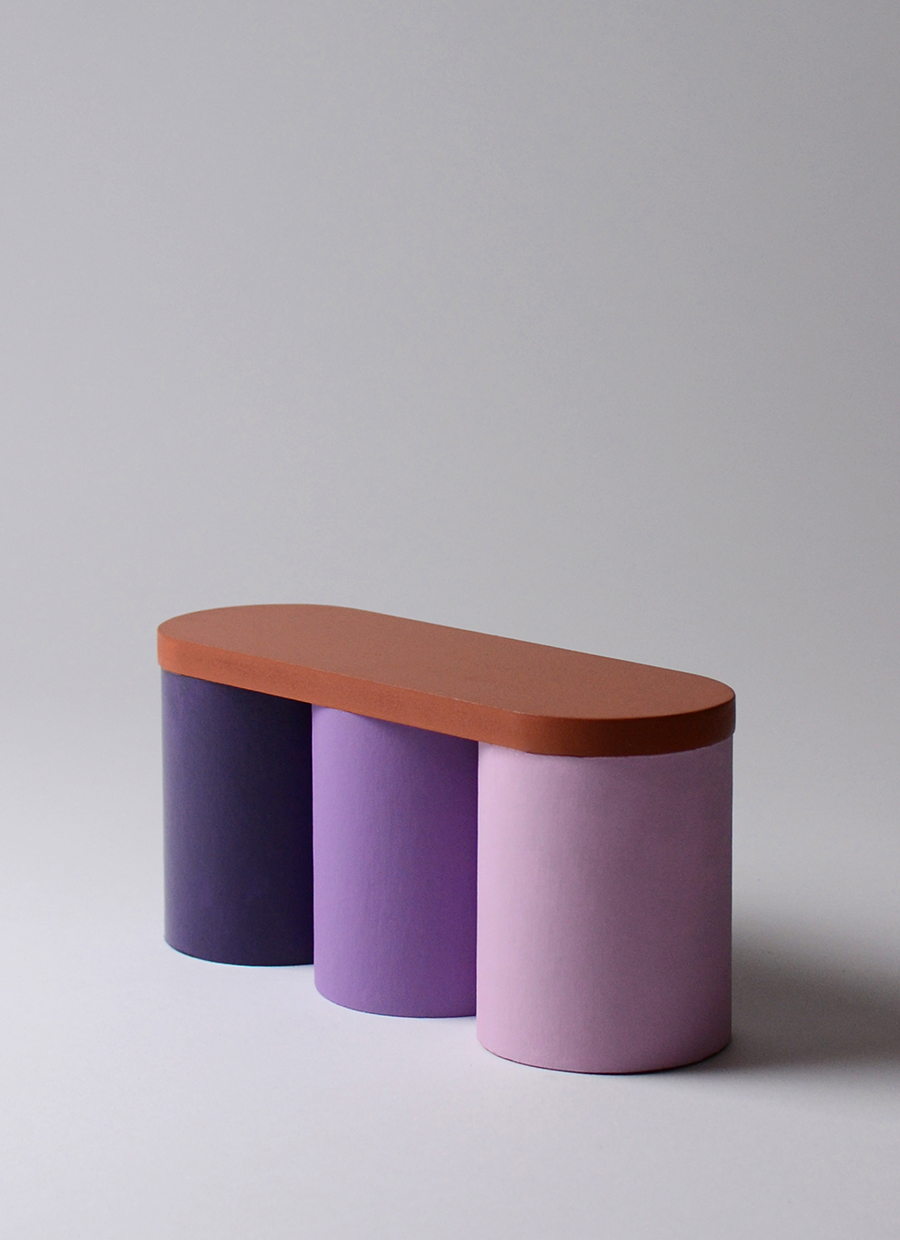 Color plays a huge role in your work. How do you go about choosing a palette? We particularly love this rust and lavender combo.
Our approach is very intuitive at first. The palette has to evoke a certain feeling we have about an object. Sometimes a color used in a painting or a photo in a fashion magazine is the first step in choosing a palette. Next, color samples are spread out on our table and we play with different combinations until we have the right feeling about it. It's only afterwards that we discover a "logical" approach or explanation.
How do you strike a balance between form, material, color, and finish?
We start with the form. Finding the right form often involves a process of elimination as we have a preference for pure and simple geometric forms. Sometimes the form is also determined by the properties of the material: Is it strong enough? Can we join it? Can we bend it? The color is always chosen afterwards, but that doesn't mean it is less important! We see color as an integral part of an object, which must be used to enhance the design. We are also very strict about the finish of the object. Each and every detail is important and we work in a very meticulous way to achieve that.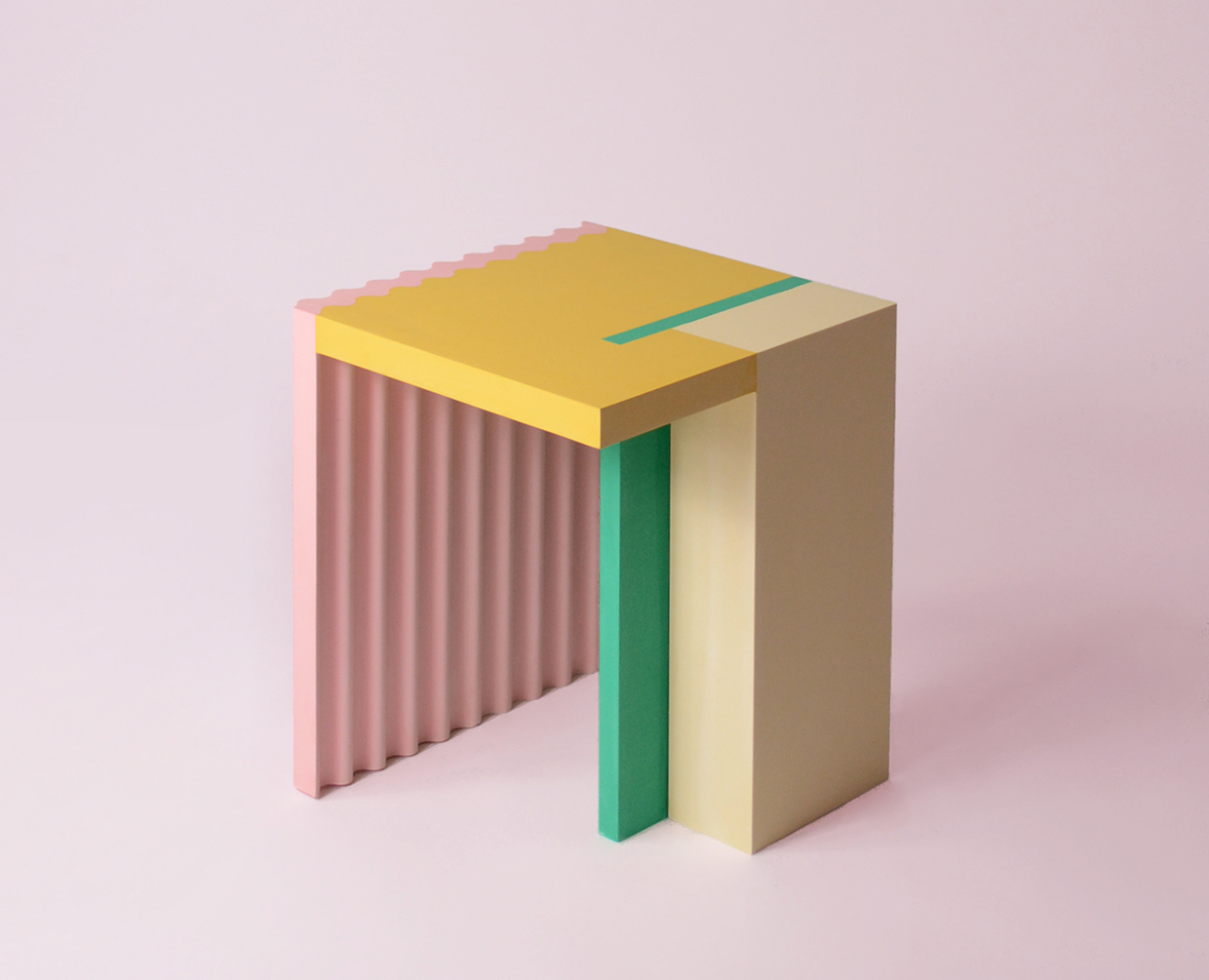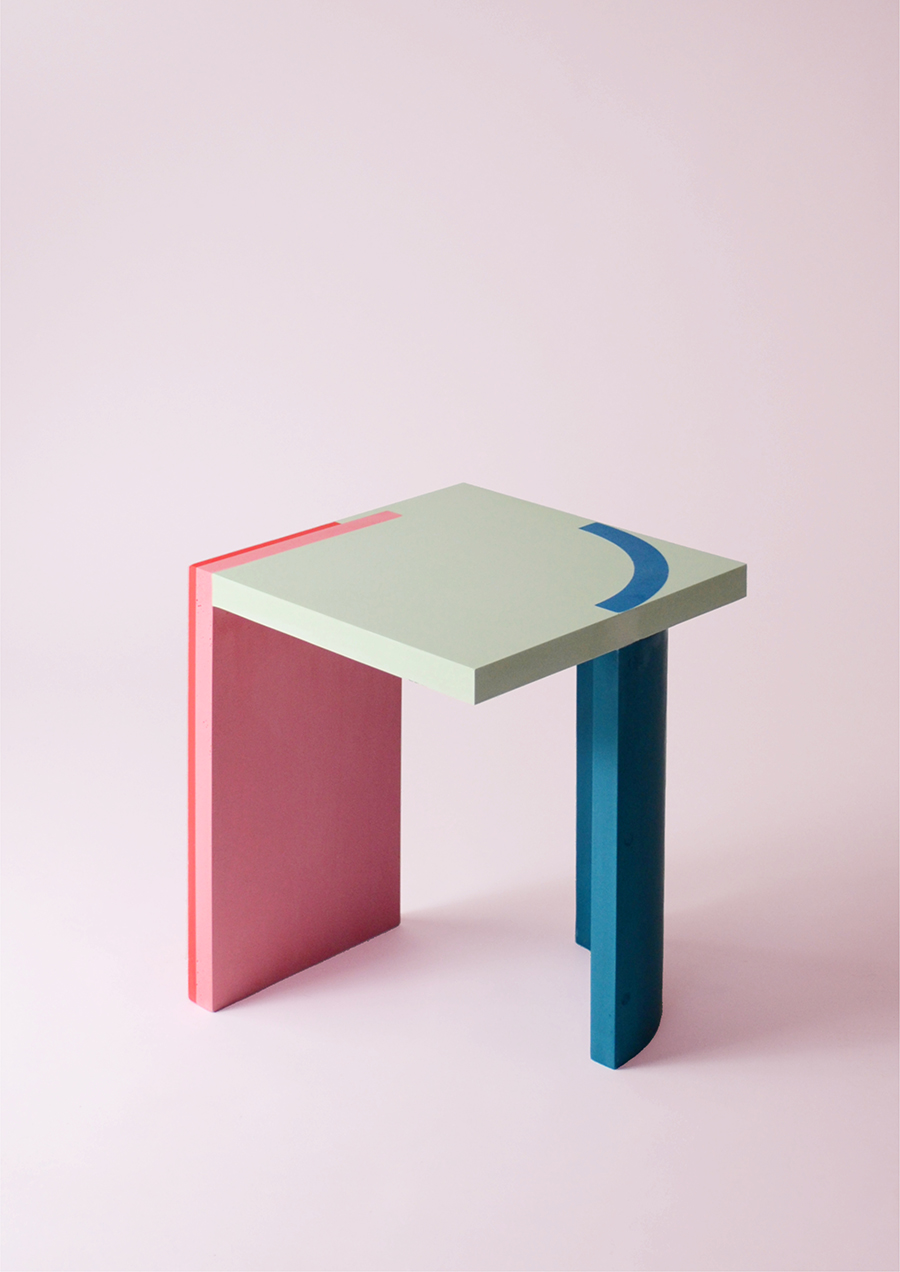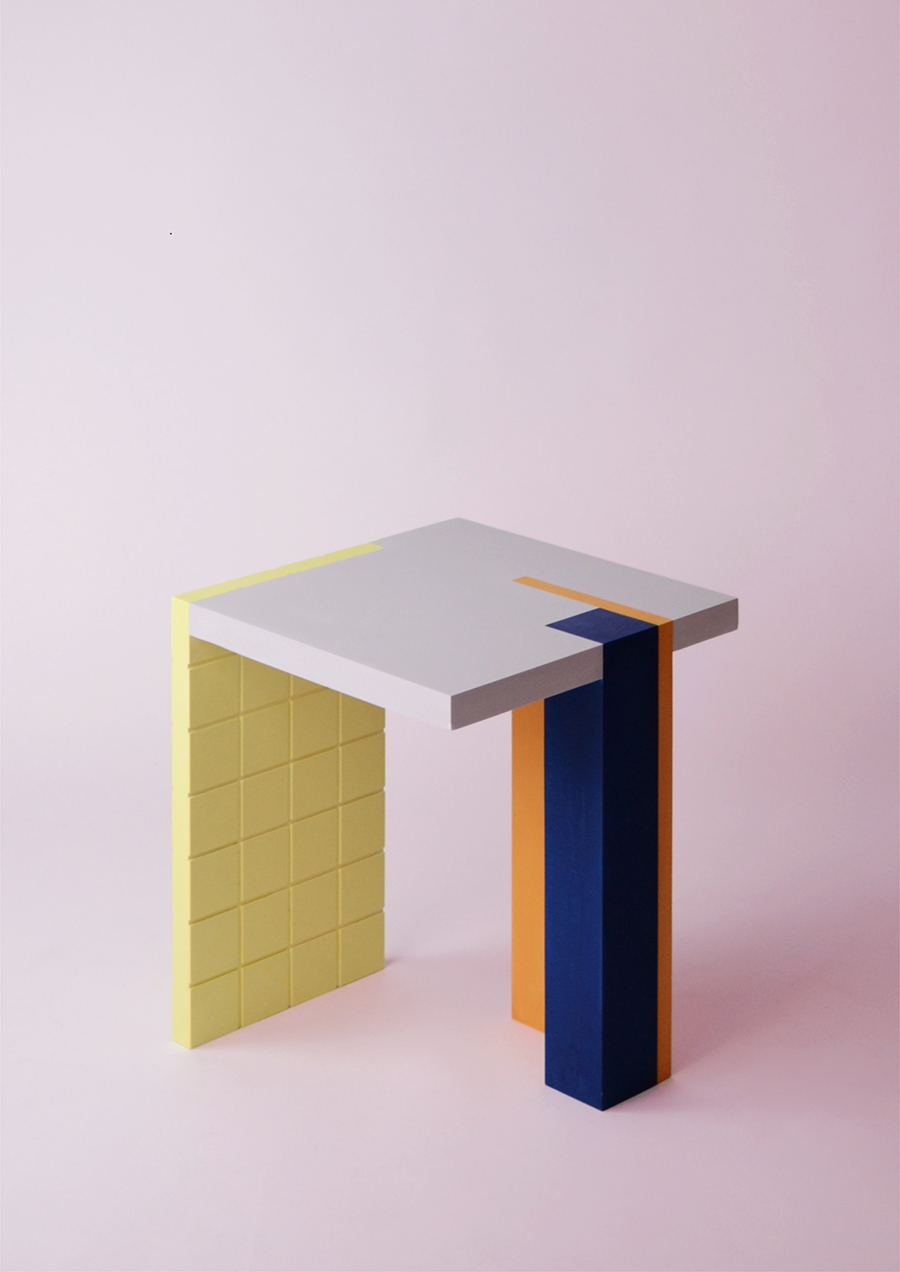 You work under the same roof as the home you share with your four children. What does your studio typically look like?
Our studio is located in an old storehouse in the back of our house. It has lots of shelves with lots of samples (wood, steel, marble, etc.), a white wall on which we hang drawings and ideas, two big windows with lots of plants and a large table in the middle. The studio is separated from our house, but connected by a terrace — that way we can work separately from our children, but we are still nearby. The children can roam freely into our studio. At the moment, they've turned our desk into a Ping-Pong table, which is not so practical. Beneath our studio is a large atelier where we make furniture and prototypes and where we carry out our material experiments. We never leave our studio without our sketchbook, a pencil, and gum.
What are you currently working on?
We are trying to find the time to dive into our atelier and start experimenting again! We're thinking about doing something with the waste produced in our atelier — in particular, the big bags of sawdust that always take up so much space. We'd like to reuse it again in a liquid material that allows us to work with molds. Watch this space!