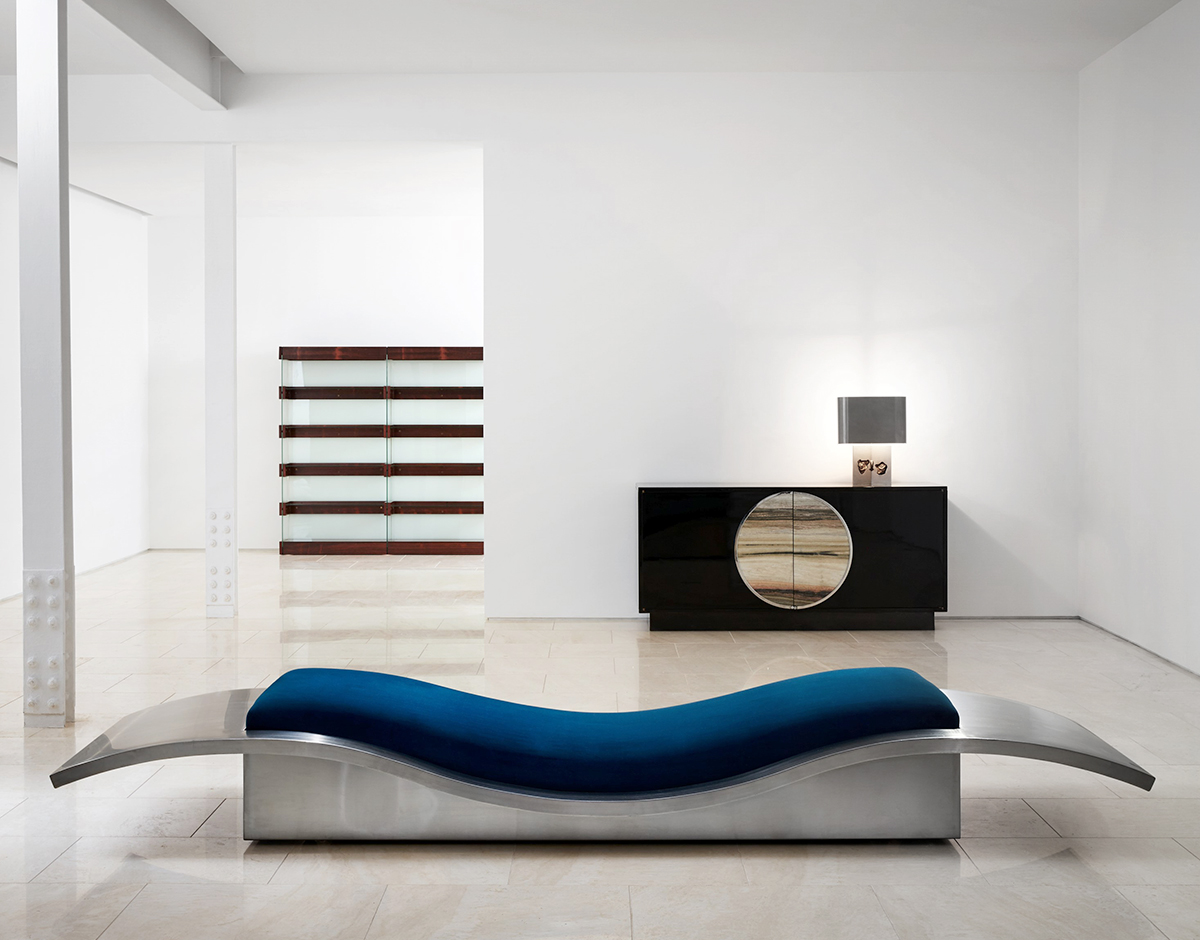 A weekly Saturday recap to share with you our favorite links, discoveries, exhibitions, and more from the past seven days. This week: a flurry of new drops from Scandinavian furniture brands, a survey of all the glass and ceramic objects currently in our shopping carts, and two solo shows by female art and design icons, one being Maria Pergay (above).
Interiors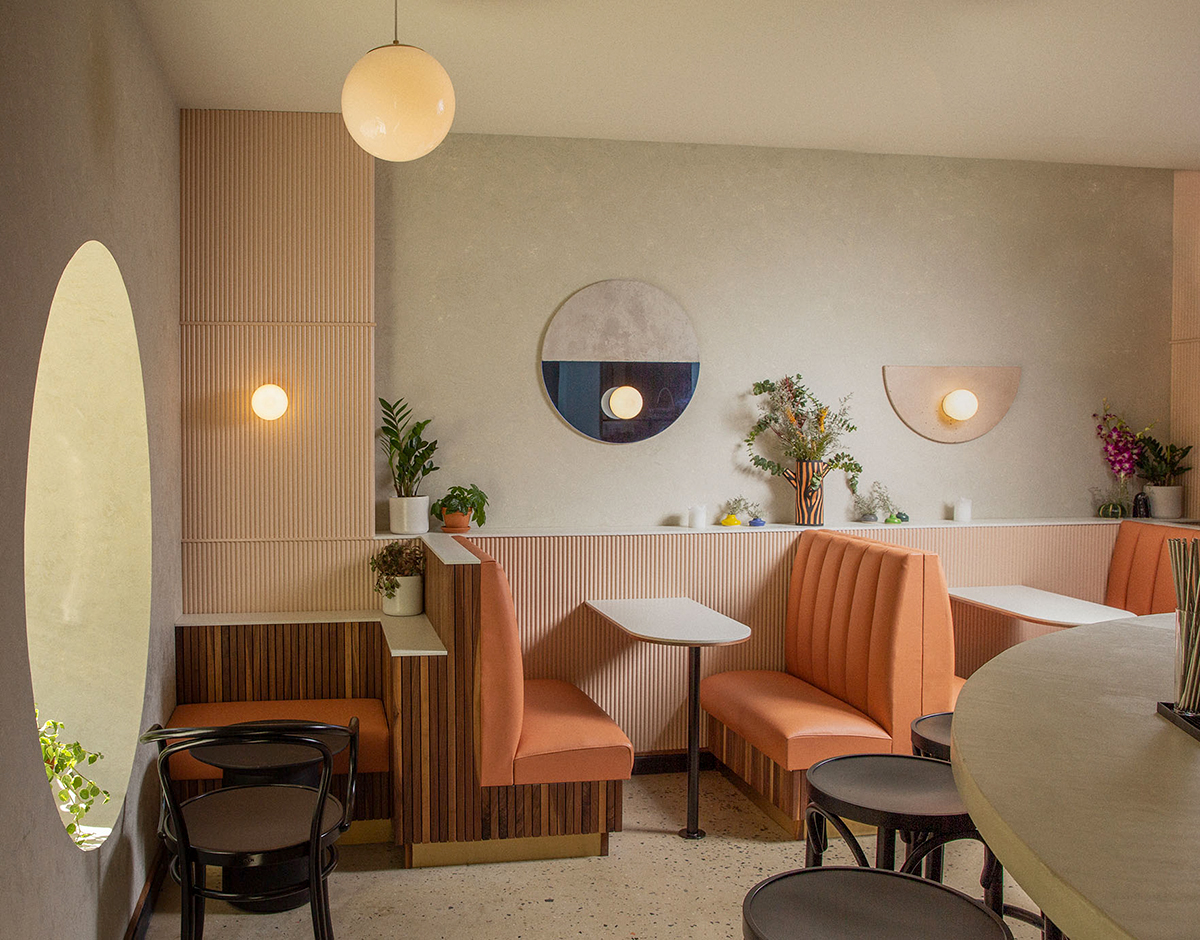 It's been awhile since we've seen a New York bar/restaurant interior we liked this much — Reception is a new "Korean cocktail and elixir" bar in the Lower East Side and even if you don't live in NYC, we recommend checking out the cocktail menu online because it's pretty fascinating. The interiors were a collaboration between Dadada Studio and the artist/builder Michal Skiba.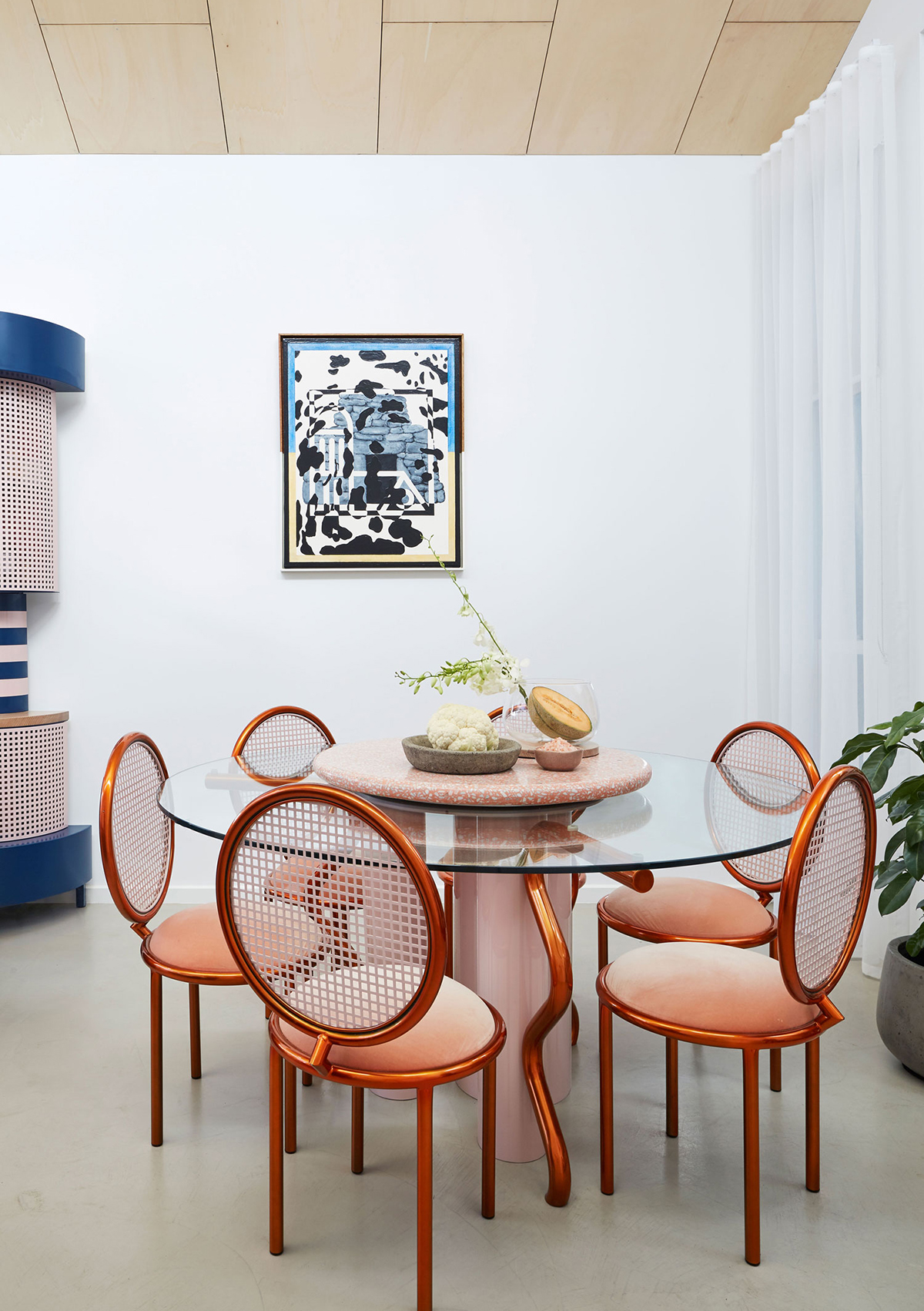 We're endlessly jealous of the amazing contemporary architecture scene in Melbourne. Yellowtrace recently published an interview with one of its biggest talents, Sibling Architecture. Read it here.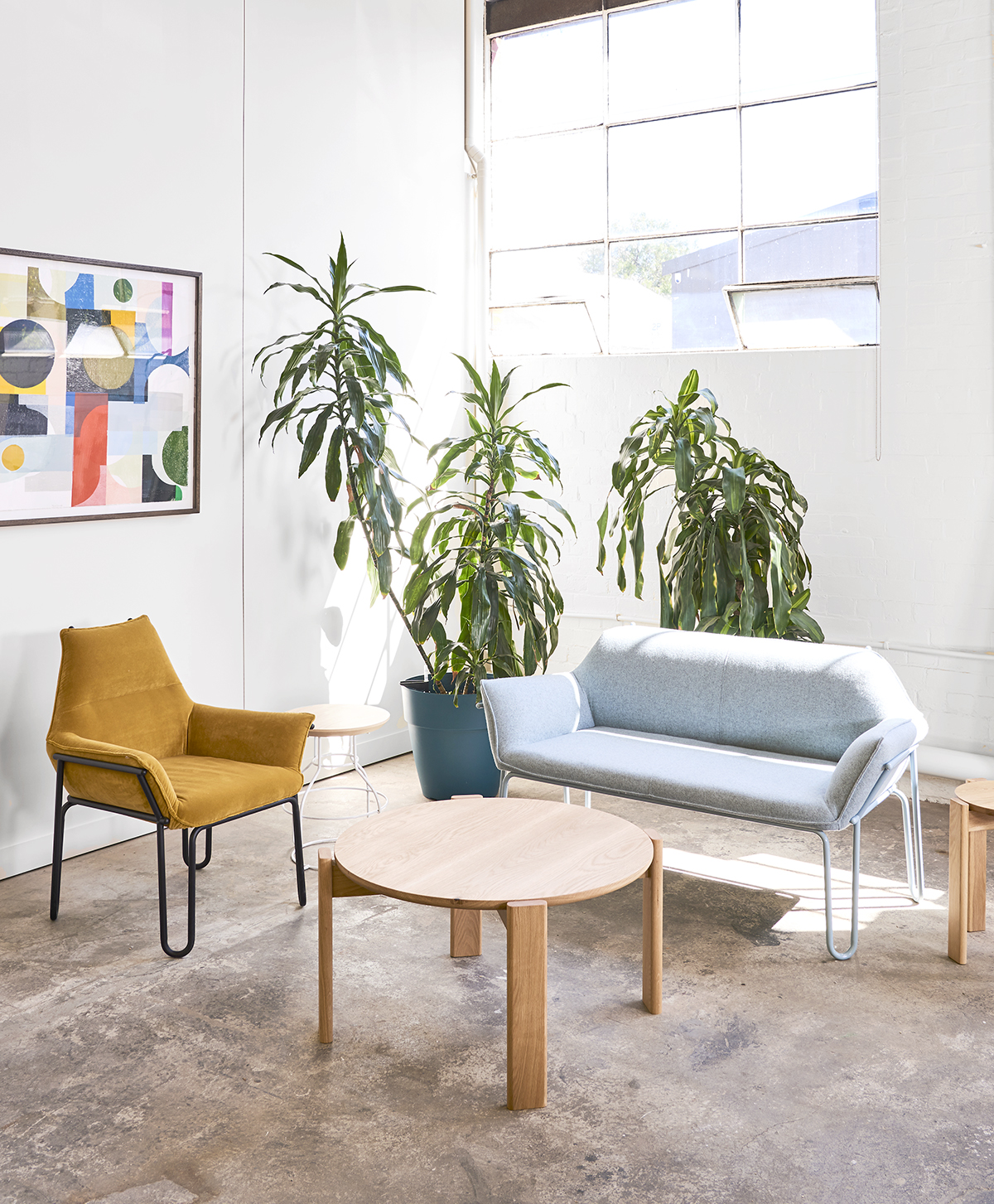 Speaking of Melbourne, the Australian furniture brand Dowel Jones just opened a showroom an hour southwest of that city in a place with the charming name of Geelong. The space is a former wool mill attached to a commercial art gallery, "so the idea is that people can view the gallery works, and then come and take a seat in our shop," says founder Dale Hardiman.
Discoveries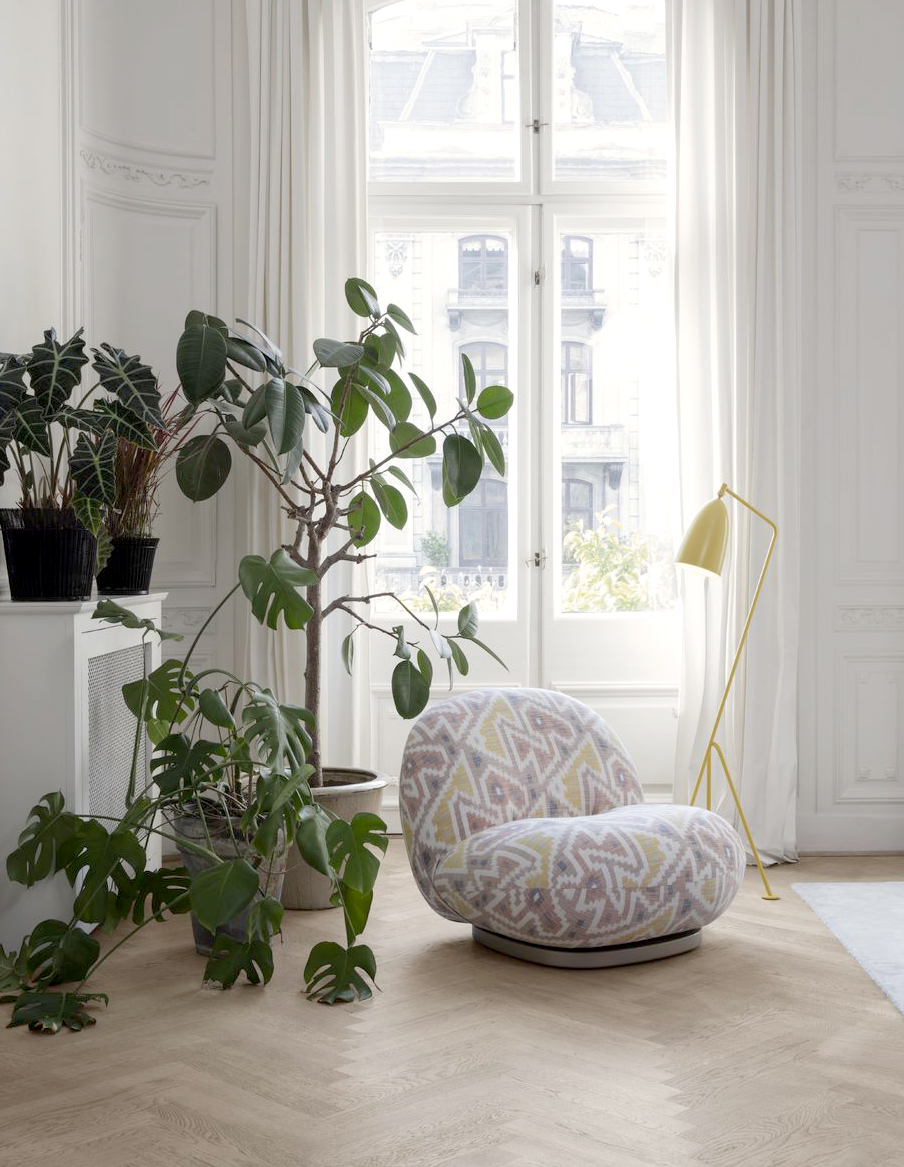 We would like to take a seat on this chair — the Pacha Lounge, a 1975 Pierre Paulin beauty newly reissued by Gubi. It also comes in less crazy upholstery of course.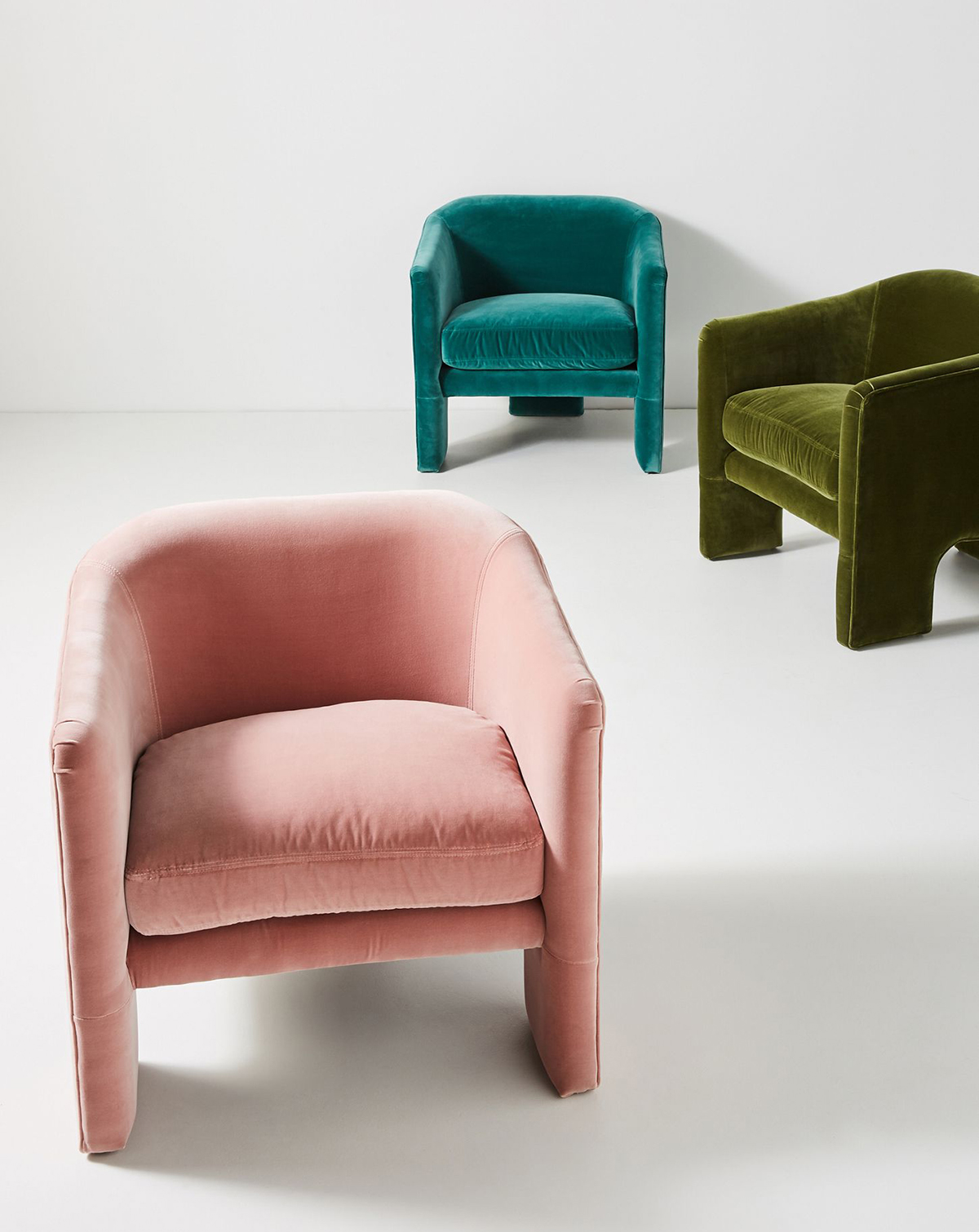 The jewel-toned velvet upholstery on Anthropologie's $700 Effie Tripod chair, though, is just right, and doubly so because there's also a version with an amazing black and white graphic pattern.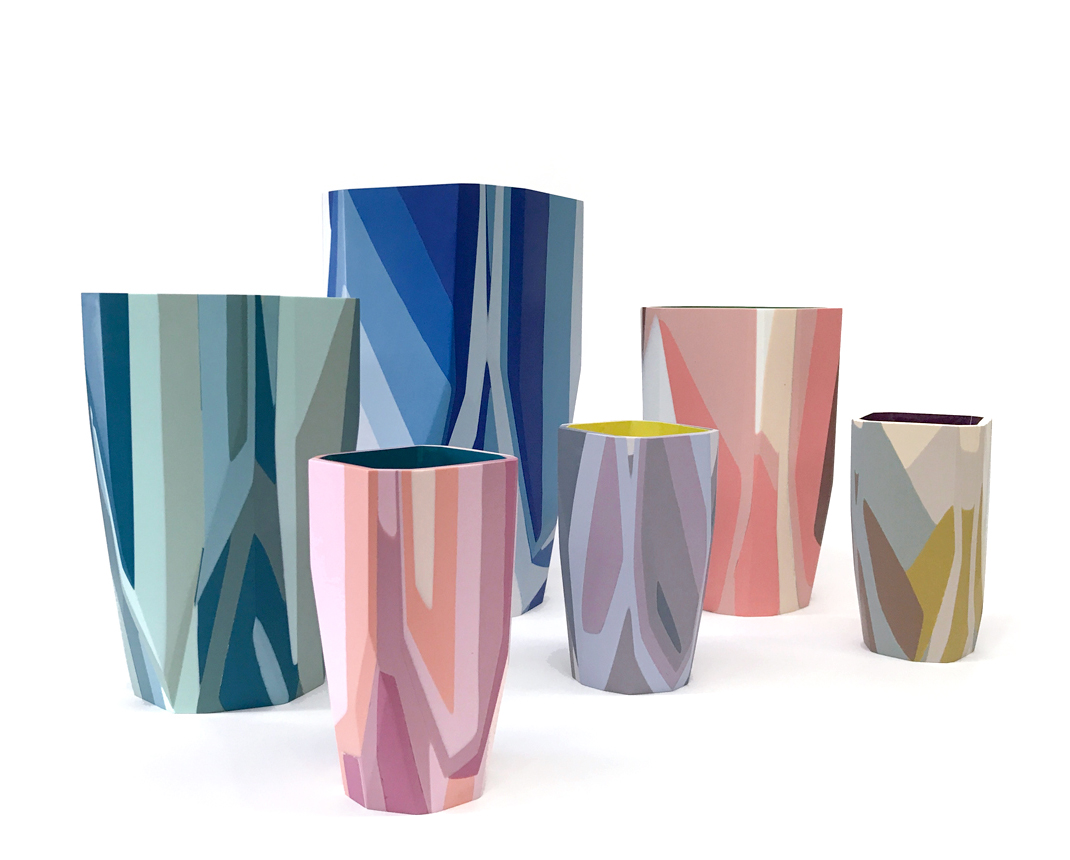 Los Angeles designer Elyse Graham just released a new series of her colorful resin vases with the San Francisco retailer Anyon Atelier, above, though we were torn about whether to publish it or another recent vase we saw on her site that we're dying over. So promise us you'll click this link so you can see both, kay?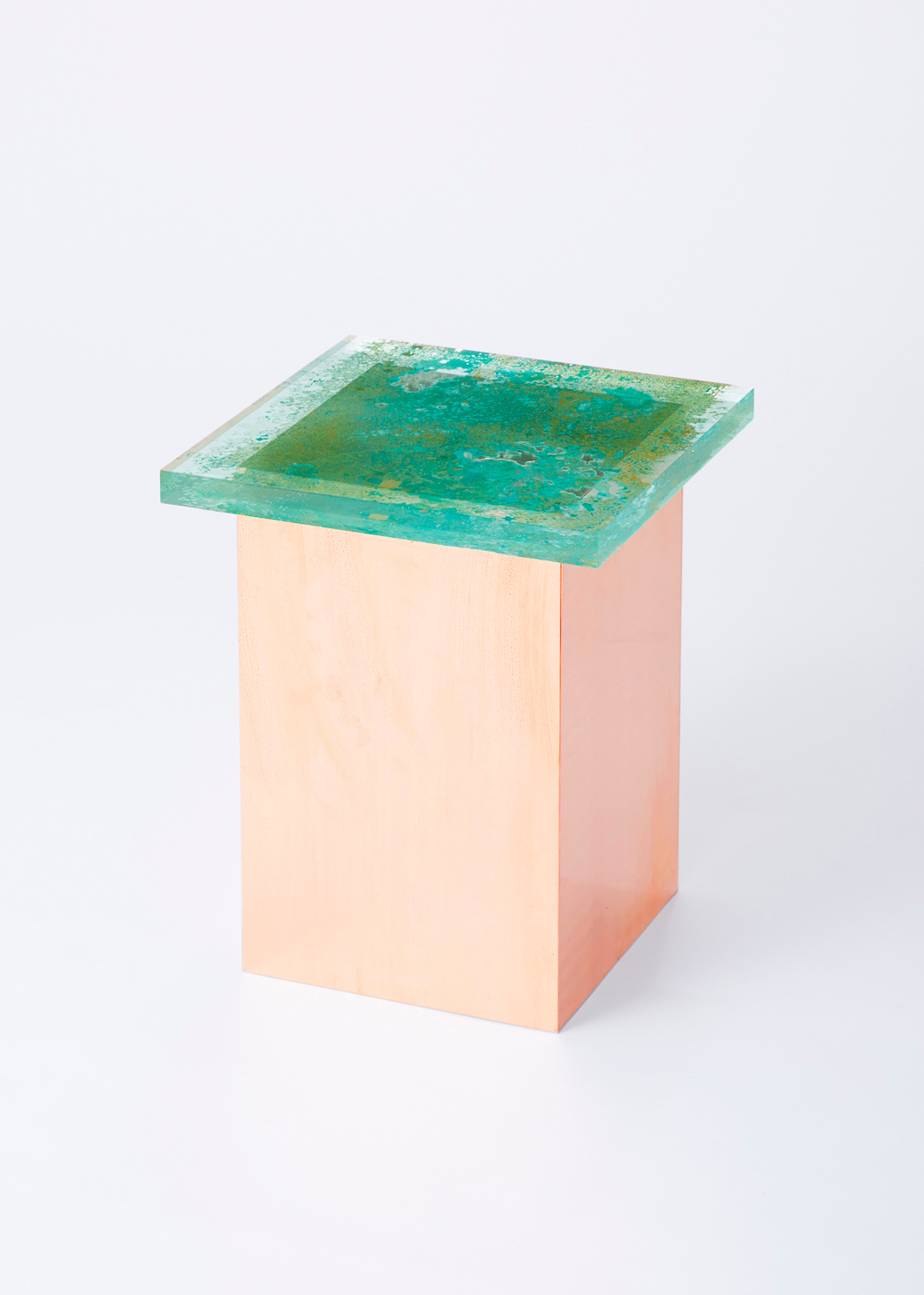 Hat tip to Ignant for introducing us to the Rust Harvest series by Japanese designer Yuma Kano, whose site has a nice video of him burying metal panels in the dirt all around his studio to achieve various types of patina. He then transfers the rust from the metal onto resin panels to create the tops of his tables and benches.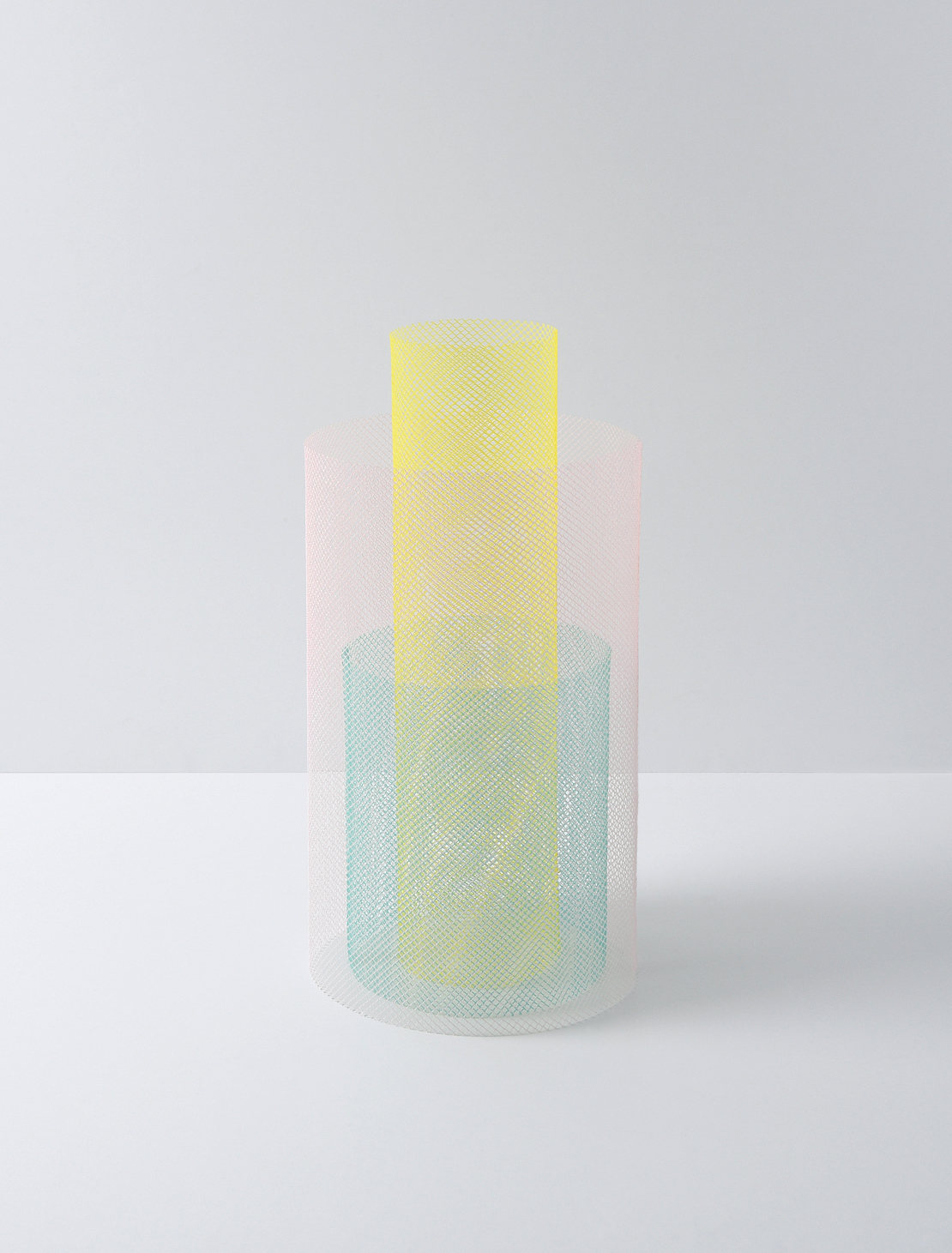 The process behind Mexico City designer Moises Hernandez's Tul Volumes is muuuuuch simpler — they're basically just sculptures made from coiled tulle — but the full series makes for a beautiful color study.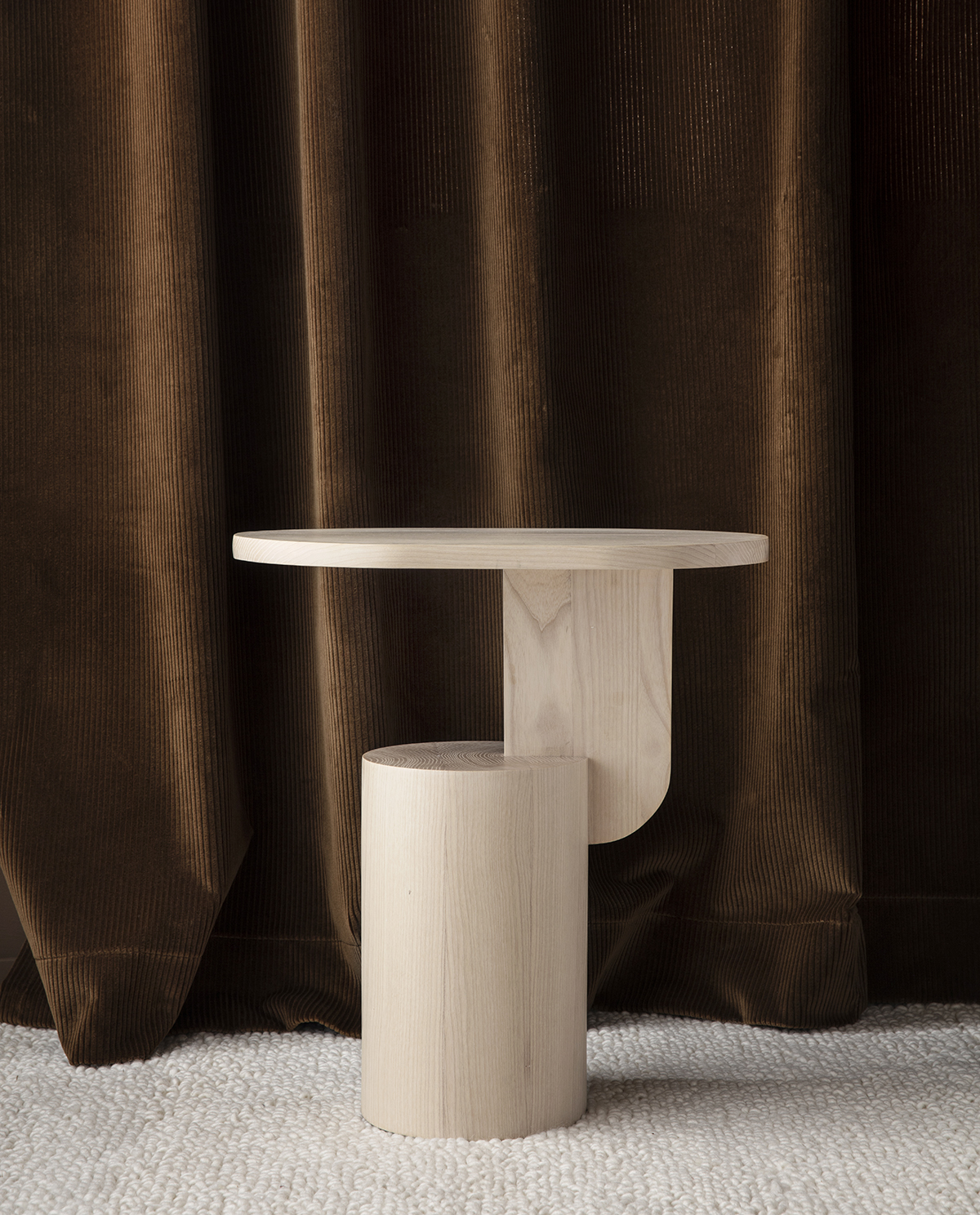 One of the latest new launches from Ferm Living is the Insert Table by Mario Tsai, which has a very pleasing sense of balance to it. It's also available in black.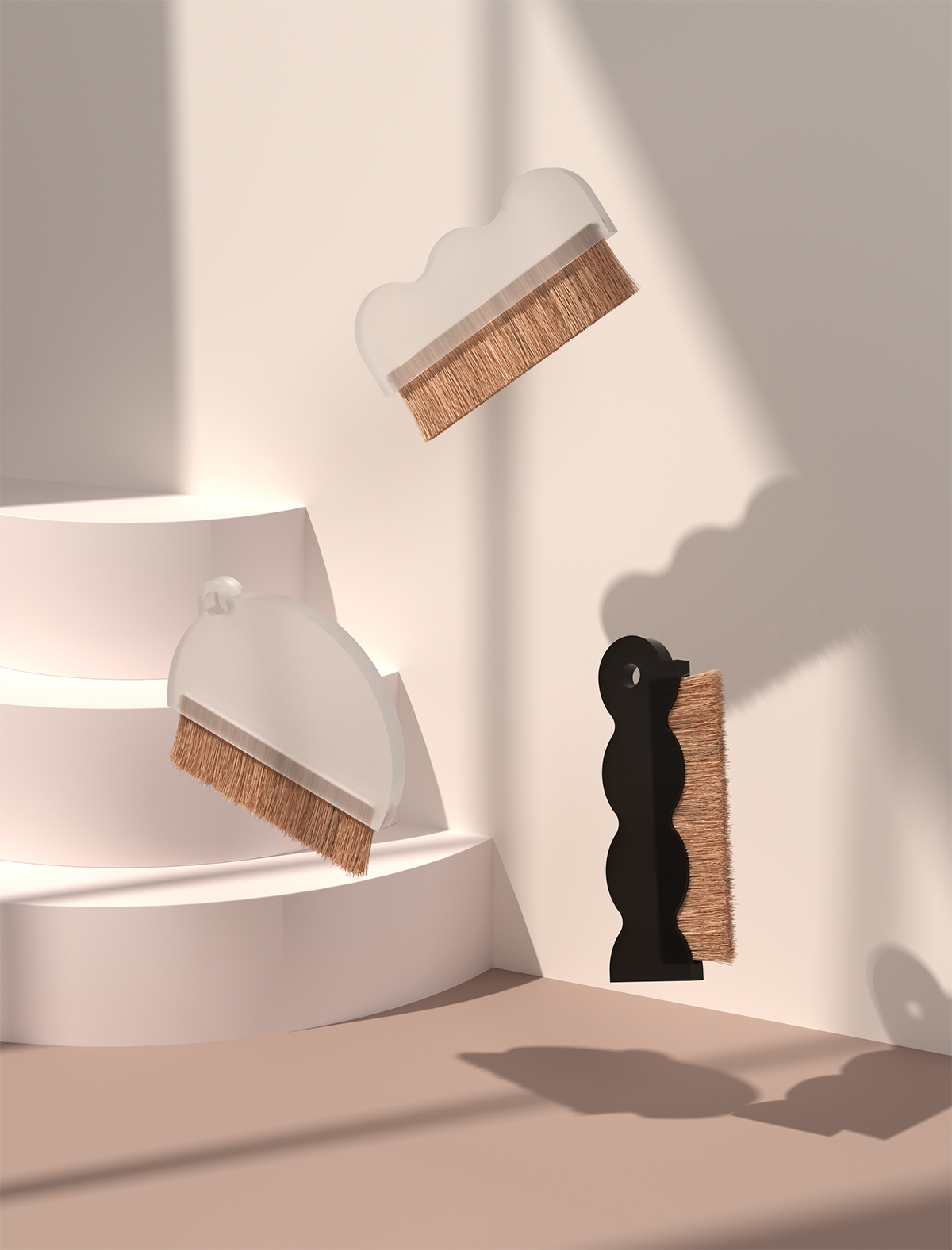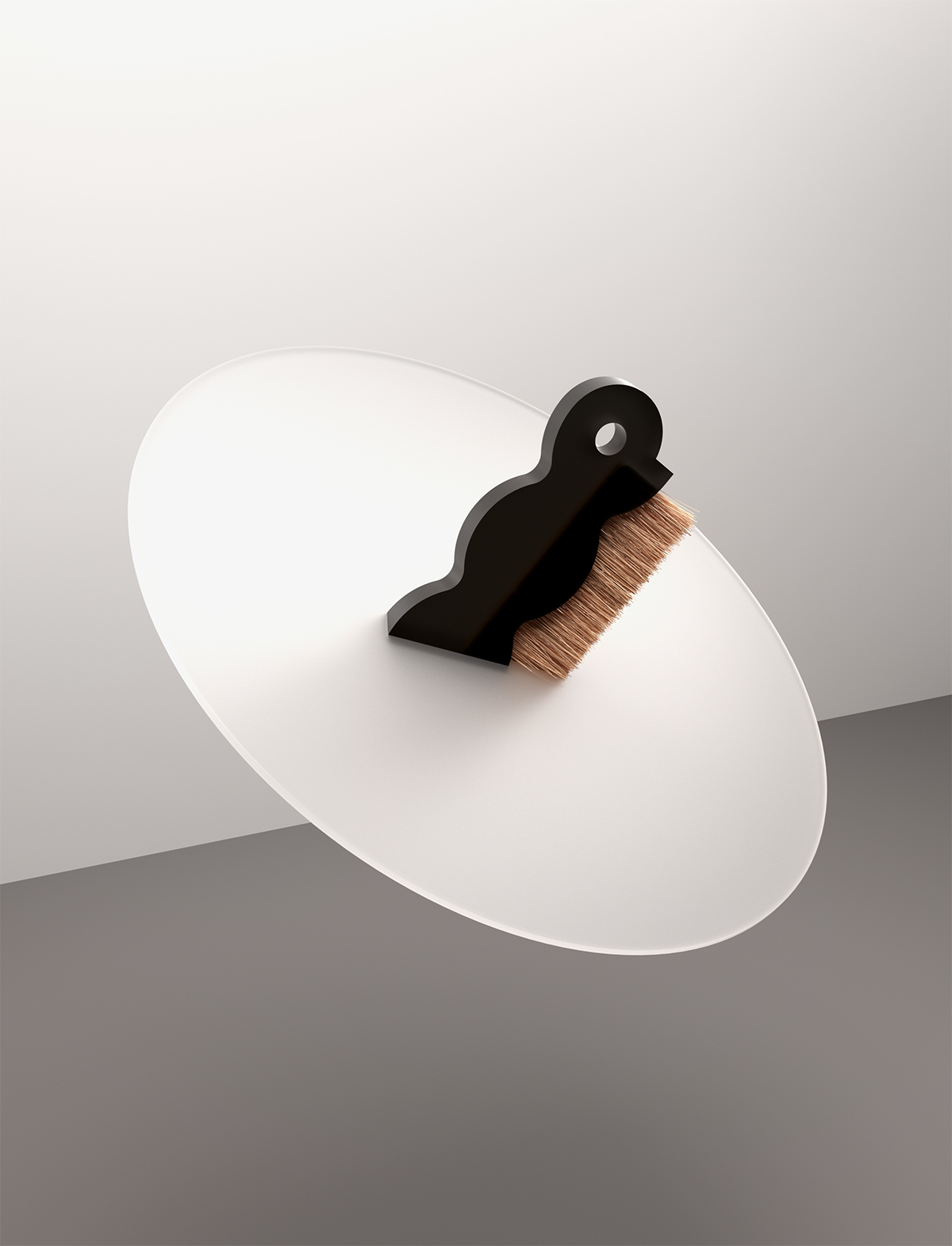 Los Objetos Decorativos, the Barcelona studio of Rosa Rubio — which blessed the world with the shell-shaped boxes and vases that went a little bit viral earlier this year — is back with a new series of wavy acrylic brushes, and she invited Andreas Reisinger to create a series of digitally rendered images of them for the launch. The actual objects are available for sale here.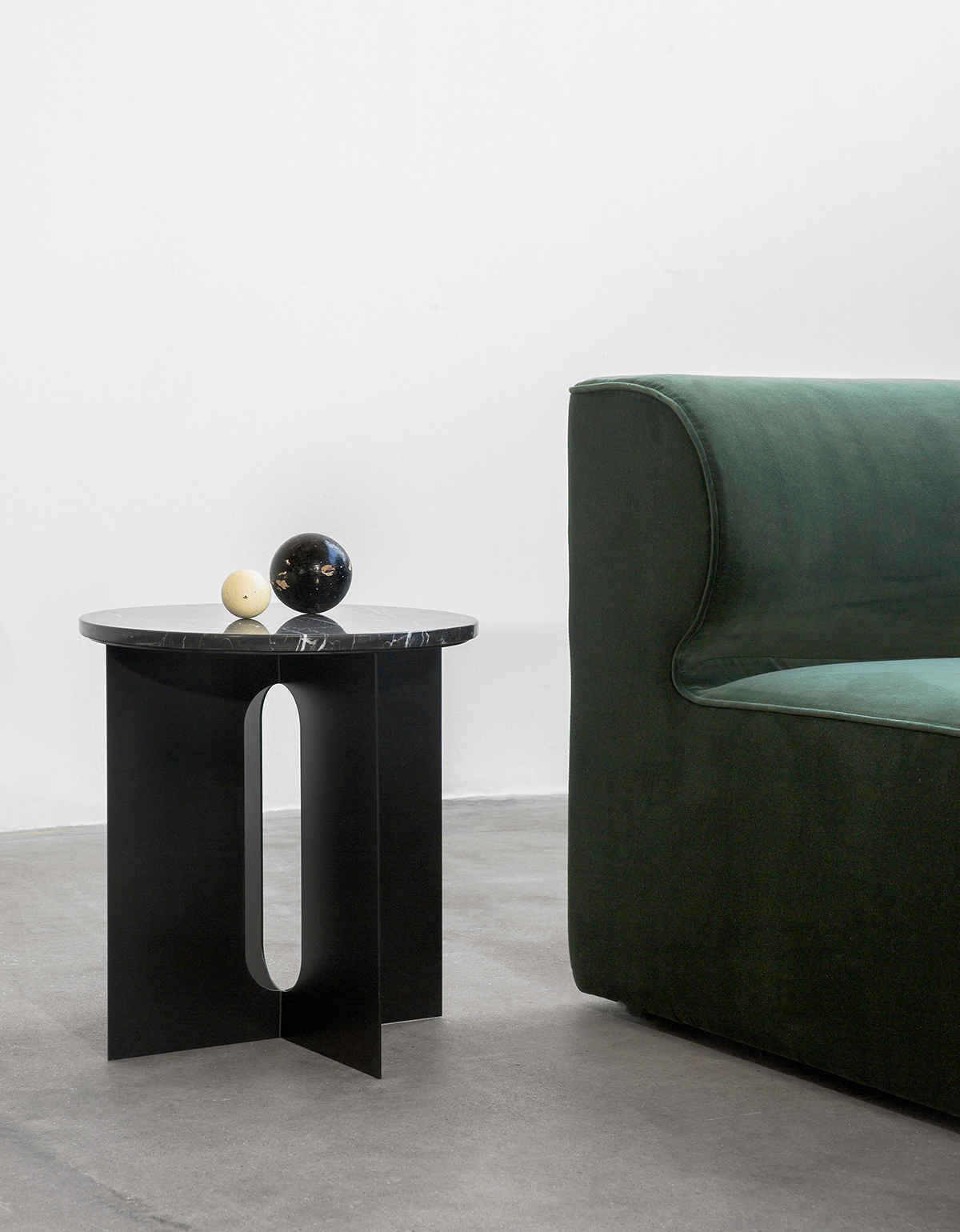 Yet another release by a Scandi furniture brand this month, the Androgyne Side Table by the Norwegian architect Danielle Siggerud is one of four new products from Menu that have just arrived in the US. Looks especially good next to that killer green Eave sofa by Norm Architects.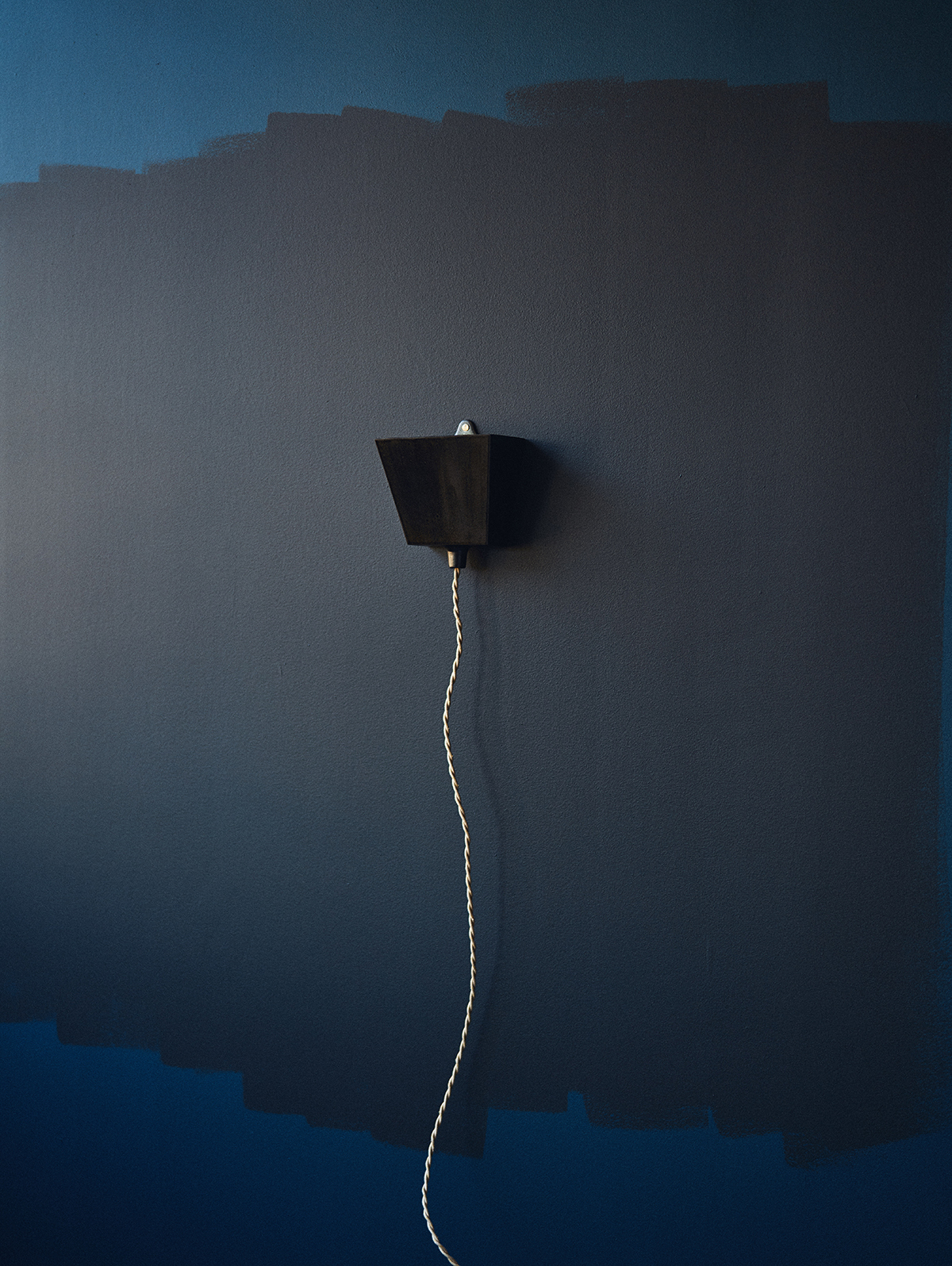 From November 16 to December 24, Lindsey Adelman is hosting a pop-up shop at 27 Orchard Street in the Lower East Side called PS I Miss You, whose name refers both to a store on the Upper East Side in the 80s called PS I Love You as well as the fact that Adelman — who runs a massively successful bicoastal lighting business — misses "the small-scale, spontaneous, 'make things and sell them' survival mode" of her earlier days as a young designer. "This small store is a chance to do just that," she says. The offerings include modest works by her, like the sconce above, as well as a few pieces made by her son, husband, and mother. Get the deets here.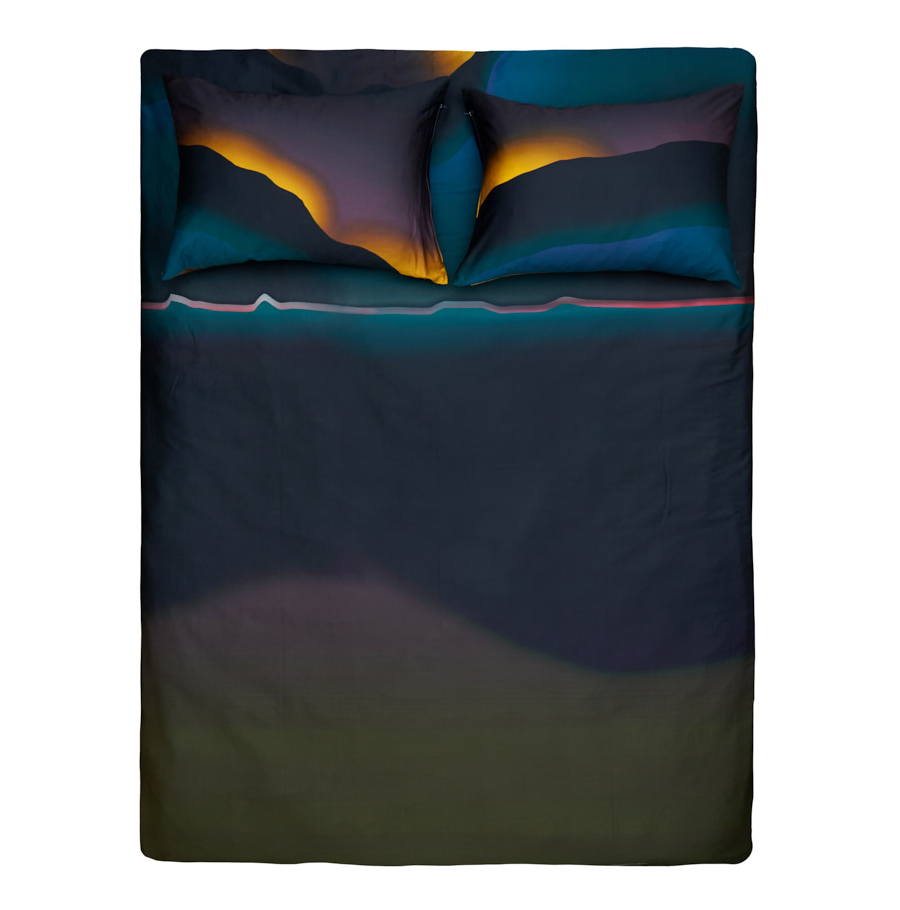 We love this bedding set by the artist and textile designer Julia Heuer — who's made prints for Christian Dior, Comme des Garcons, Calvin Klein and more — for ZigZagZurich's newest guest-designed bedding collection. (There's also a crazy one that reminds me of the 80s Memphis bedspread I slept under when I was 5.)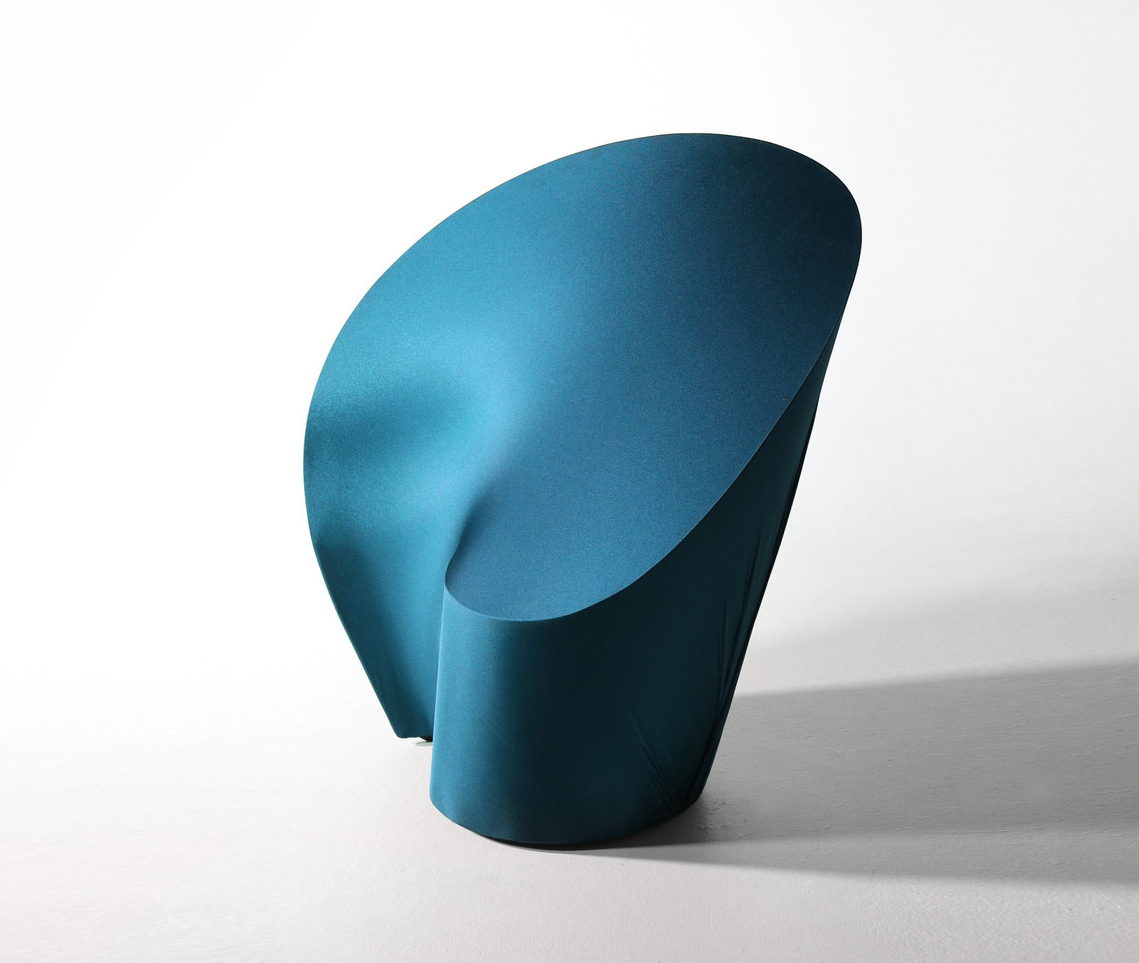 It looks like a metal sculpture but the Flying Yoga Hammock (lolz) is actually a chair — it's stretch fabric wrapped around a metal skeleton, by Cranbrook grad student Seonhee Kim.
Glass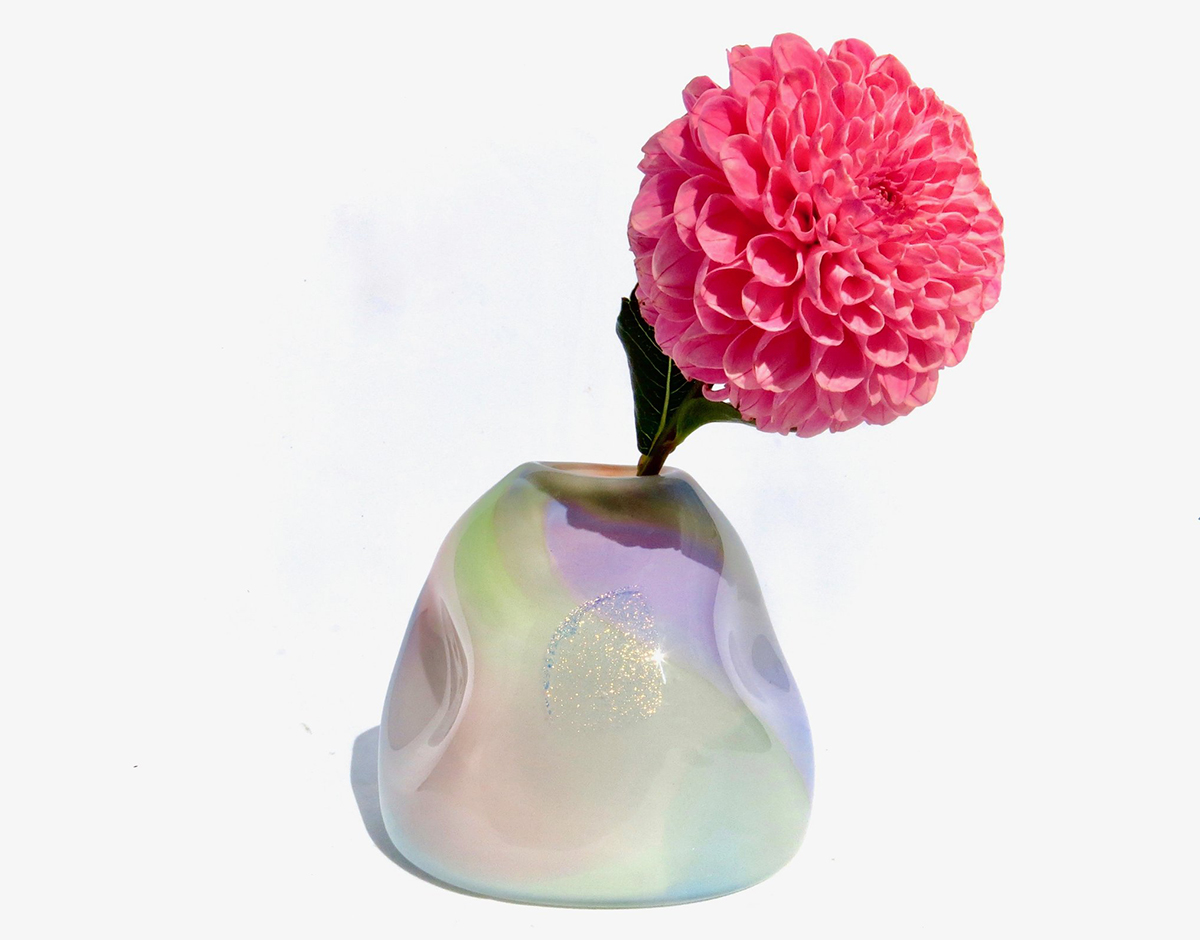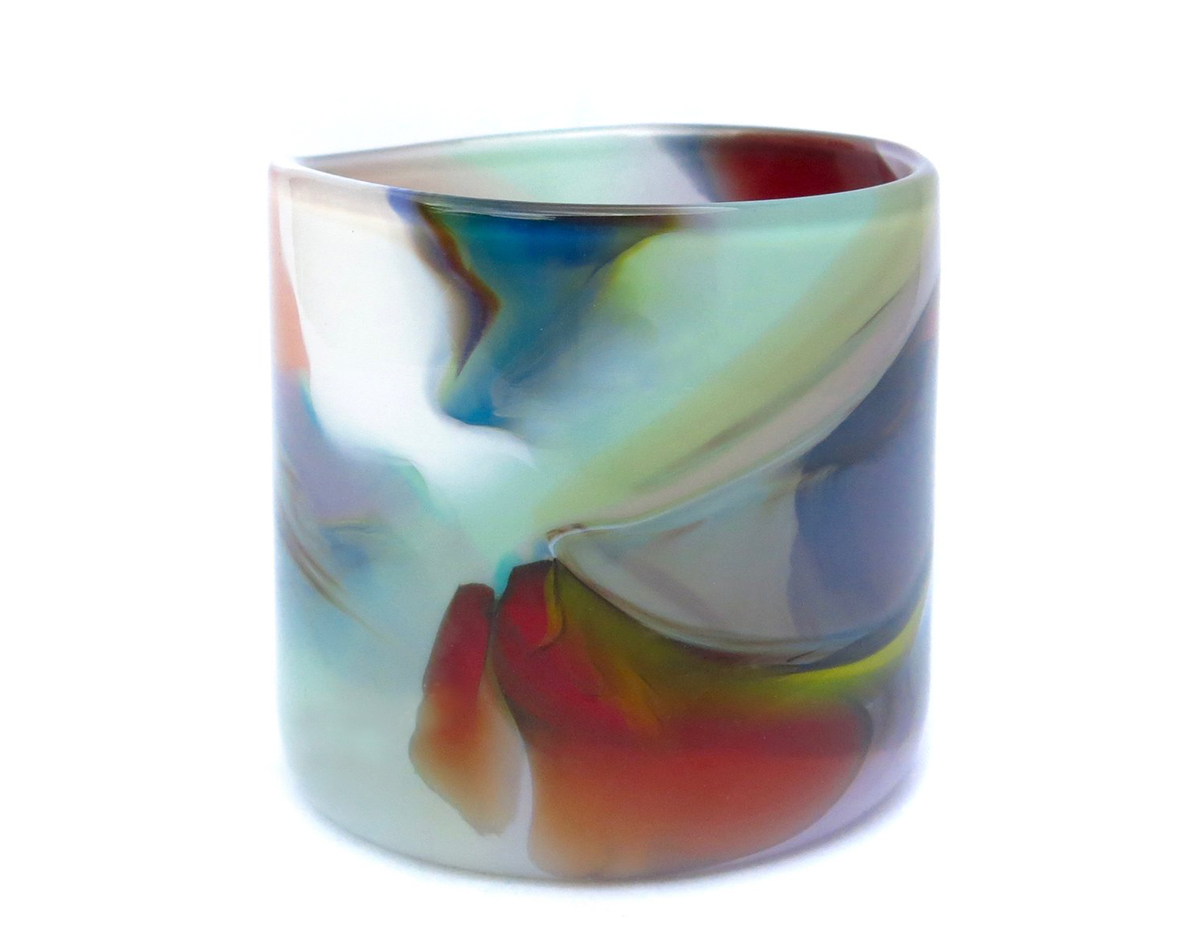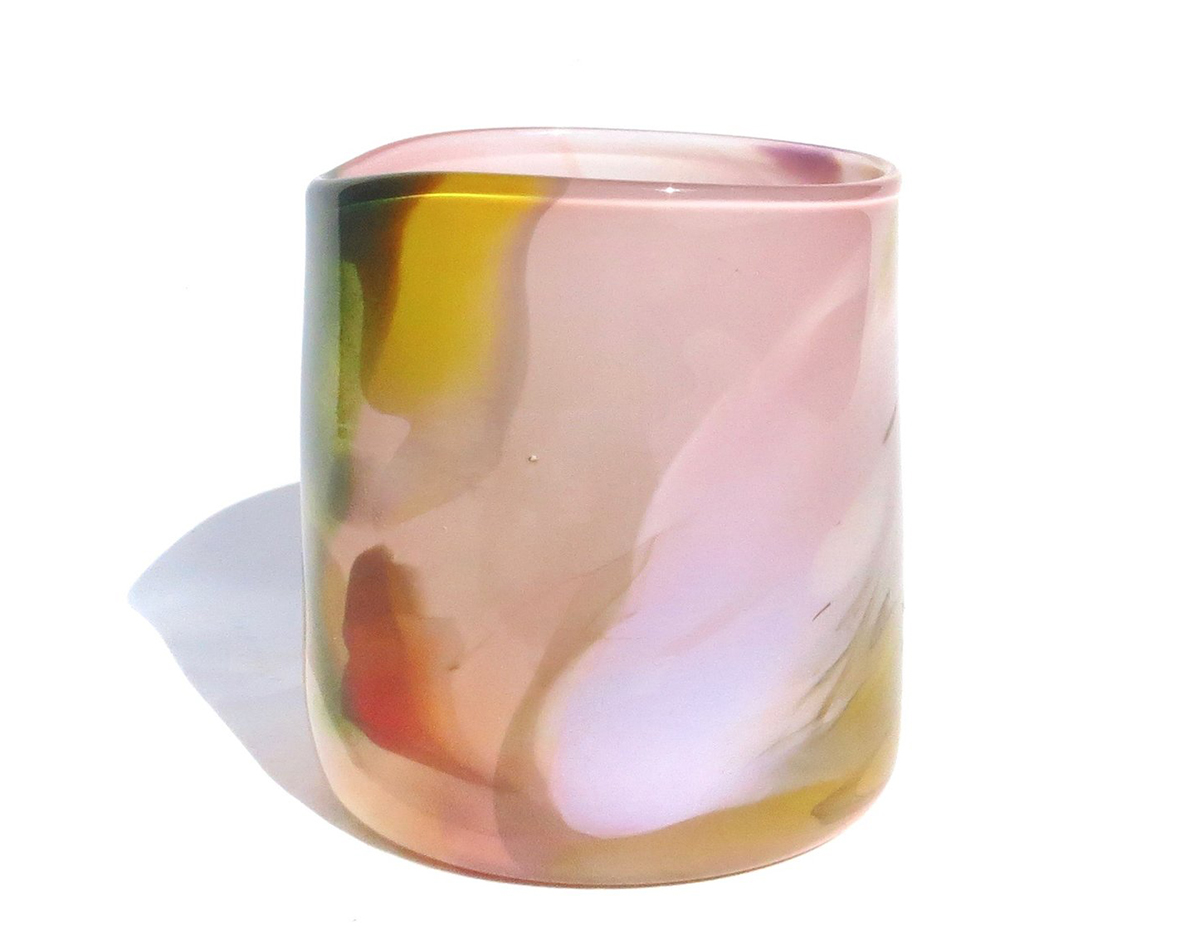 This week the Philly store Yowie introduced us to the work of Robbie Frankel — aka Balefire Glass — and we kind of lost our shit. I almost don't want to post links to his Epiphany Cups and Epiphany Vases because I want them ALL TO MYSELF.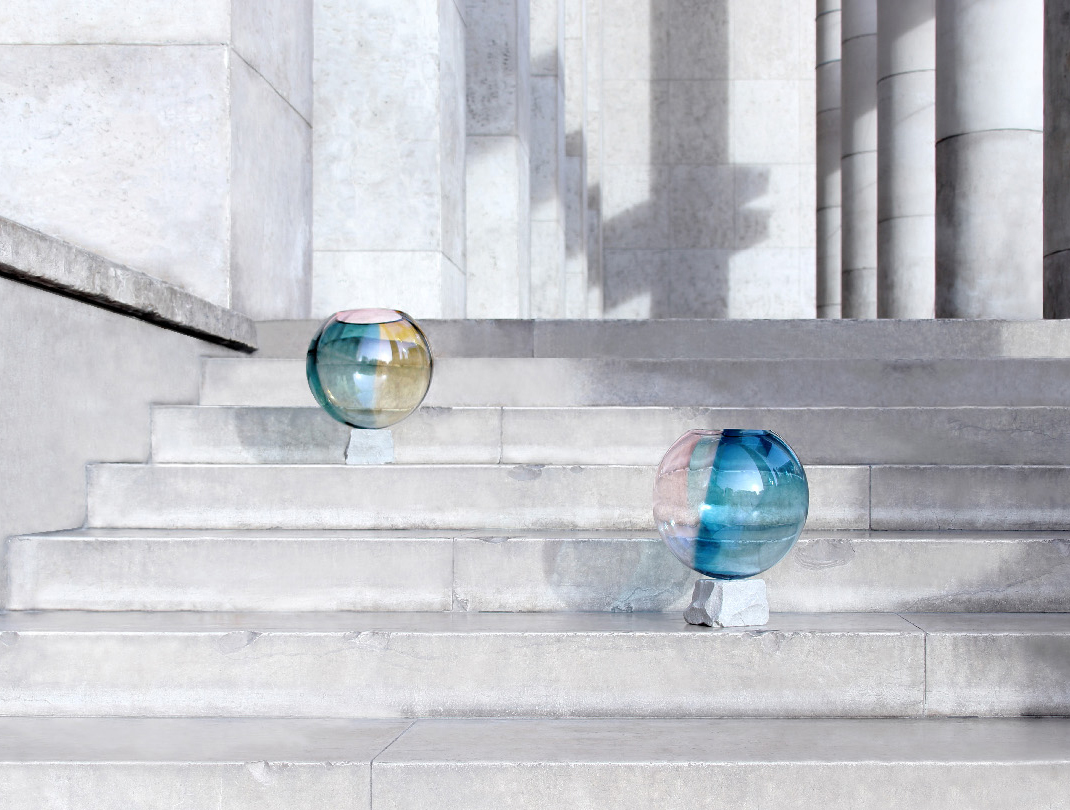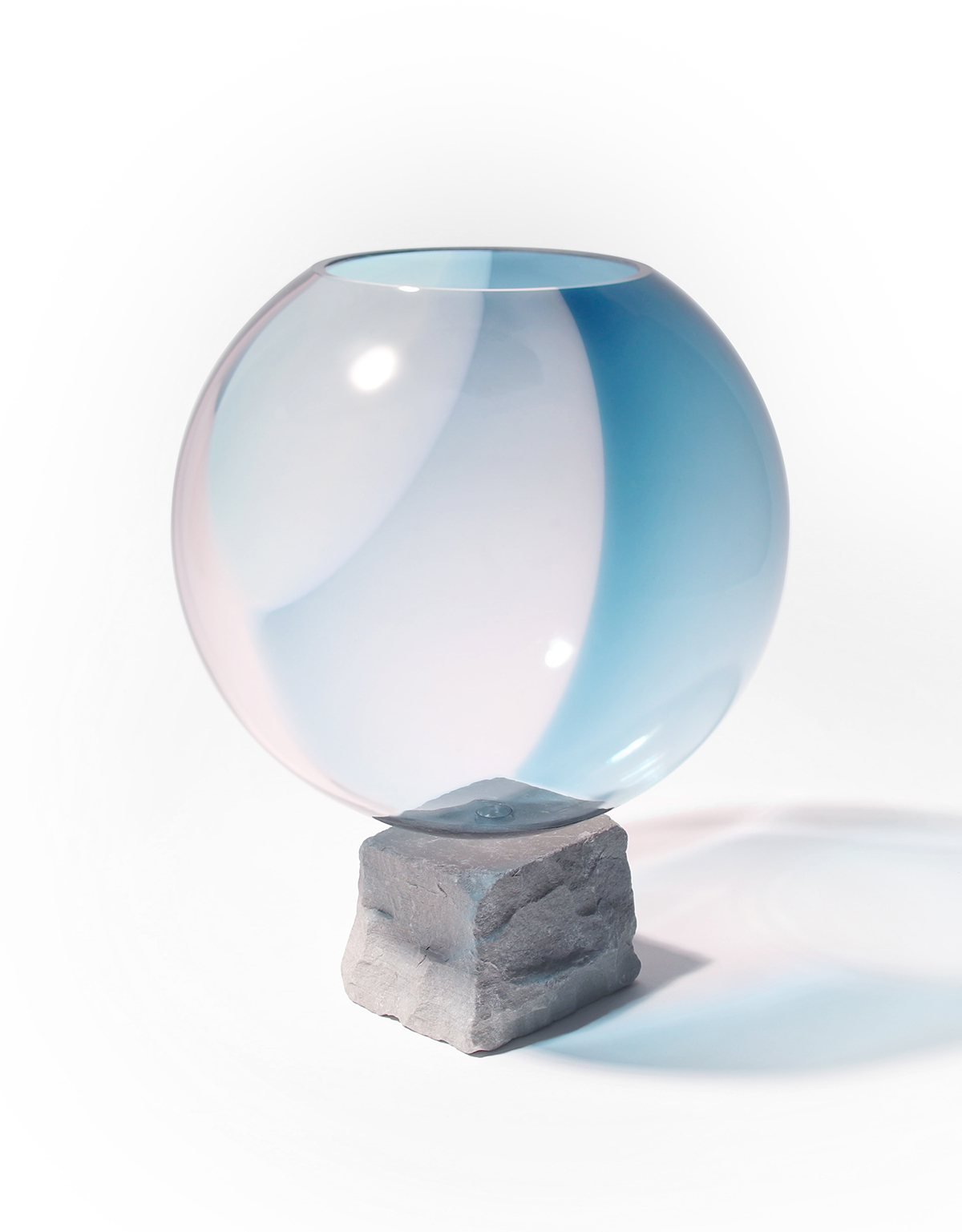 This week we found out that the French designer Charlotte Julliard has teamed up with the journalist Marie Farman on a new line called Hava.Paris, and its first release is a series of ethereal blown glass vases that sit on chunks of Indian stone.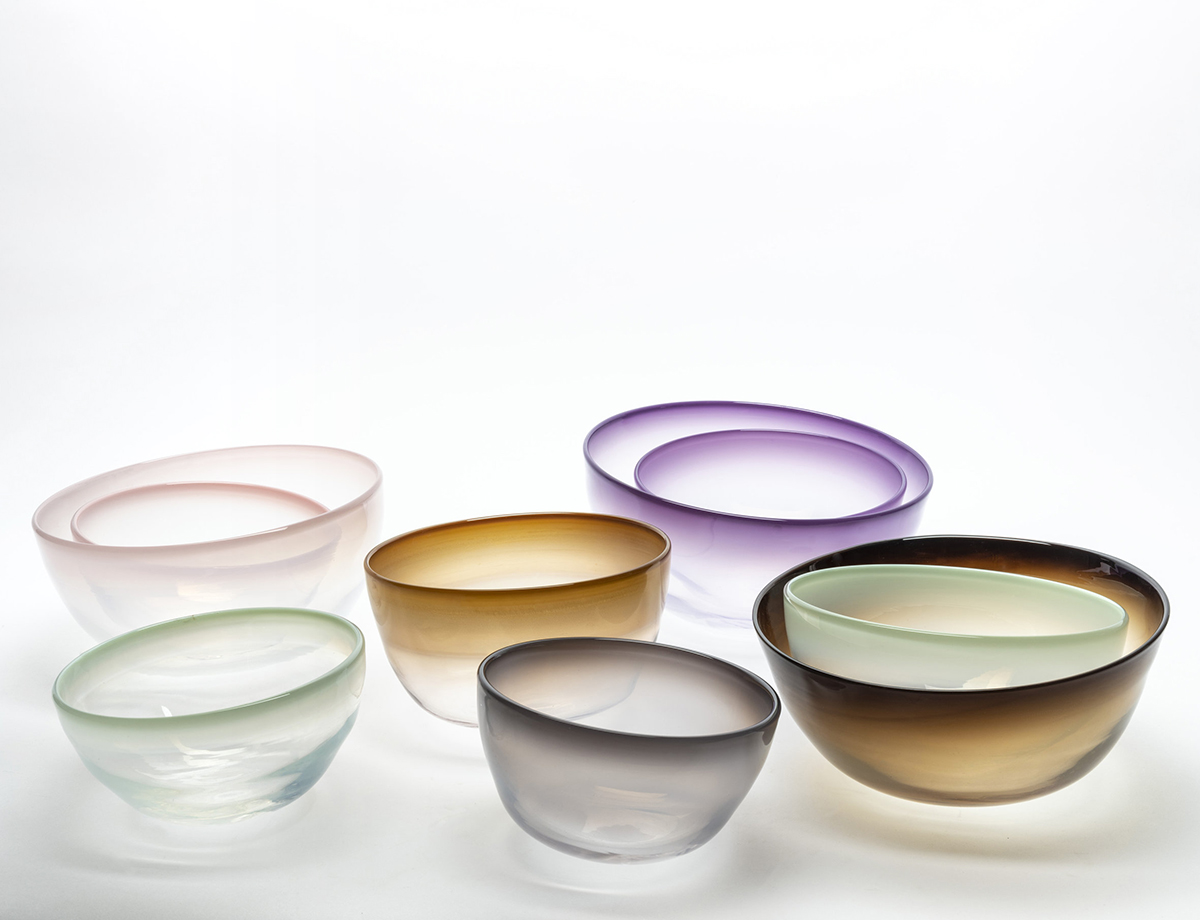 Portland's Esque Studio is a glass outfit that's been around for two decades, but one of their newest works — these color-fade stacking bowls in the prettiest colors — caught our eye this week.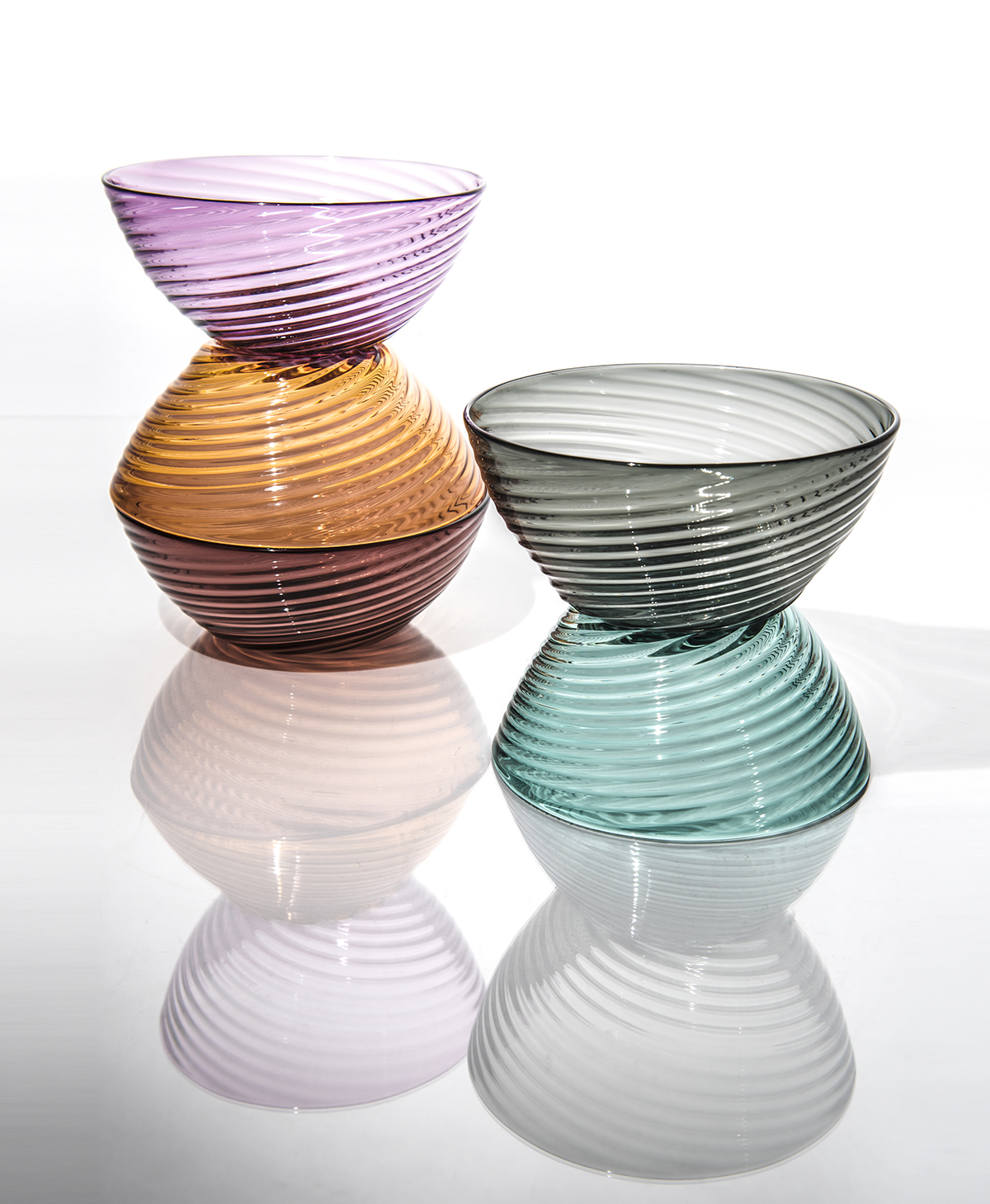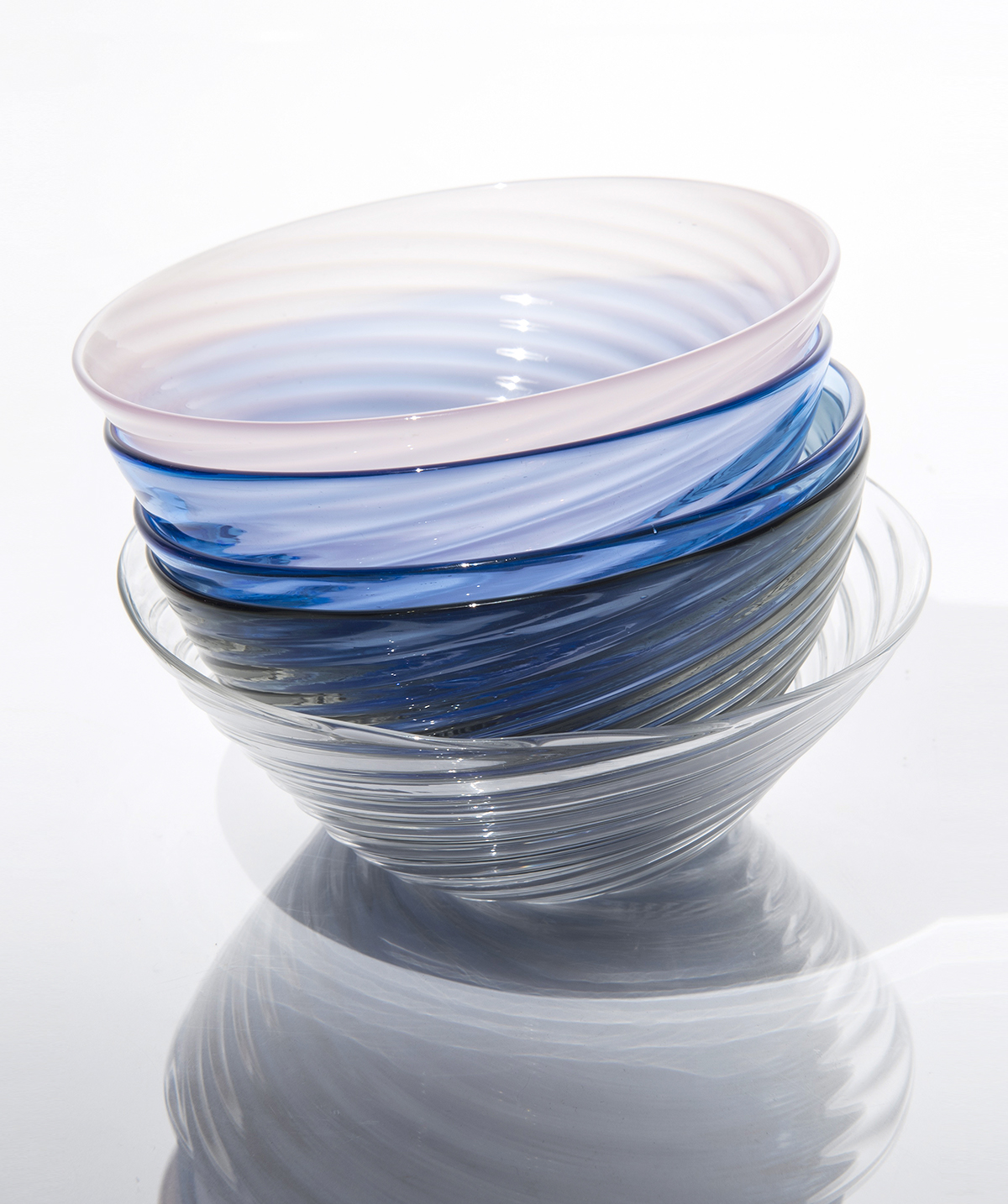 They'd go kinnnnd of perfectly with these glass bowls, also new this week, by Tracy Glover Studio, which are made of leftover glass from the brand's other projects. Note: They come in *twenty-four different colors* (!) so if you stock up, you can basically match your breakfast to whatever you happen to be wearing that day.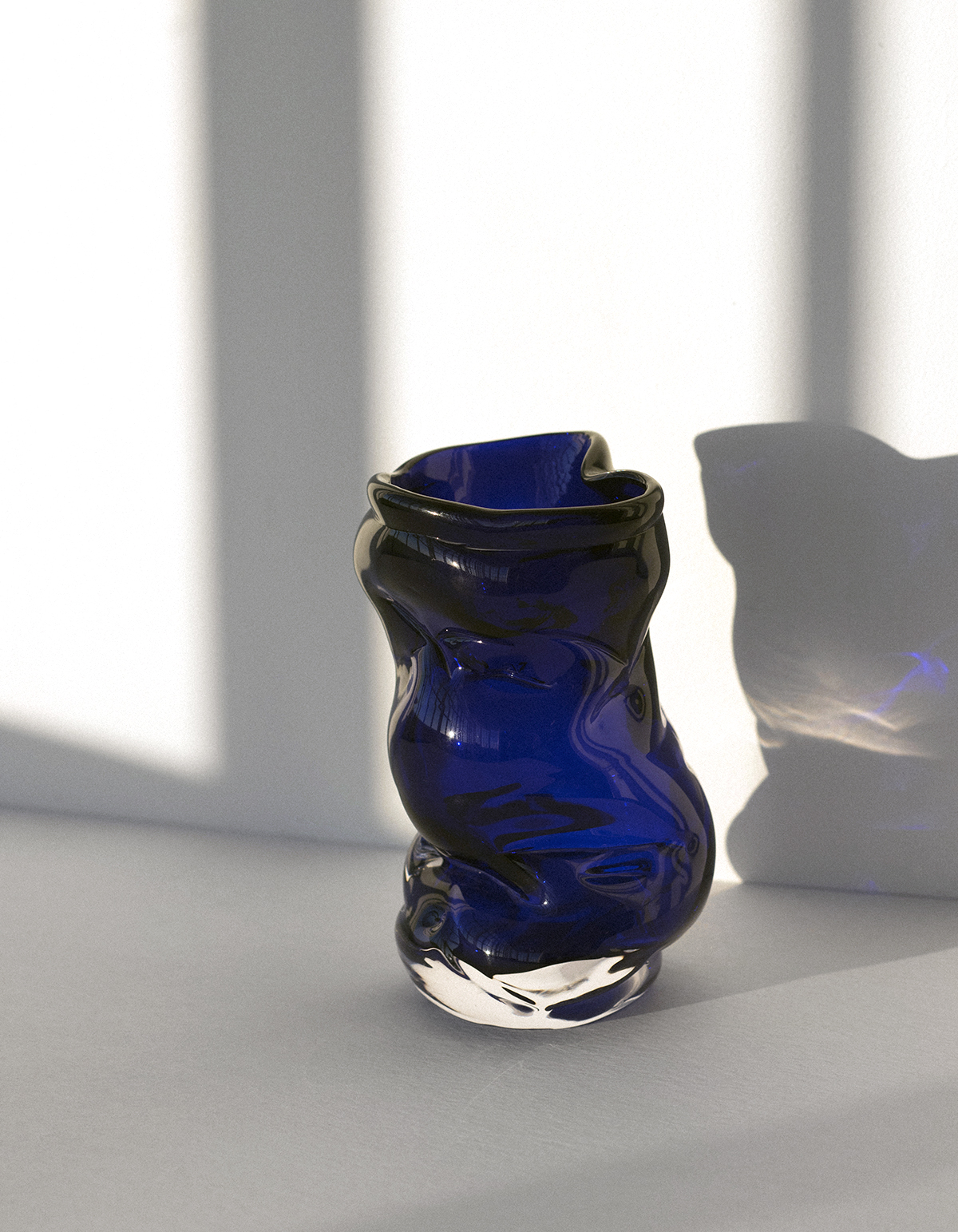 Earlier this year one of our fave jewelry brands, Agmes, teamed up with one of our fave glassblowers, Anthony Bianco, on a series of glass earrings and vases that merge the aesthetics of the two while satisfying a little obsession of the jewelry duo: "The idea for the glass jewelry came about when we came across some incredible antique mid-century glass sculptures that were given to a friend of ours as a gift from her mentor," they say. "Upon experimenting in this new medium, we became interested in working with glass beyond just the jewelry and offering pieces for the home."
Ceramics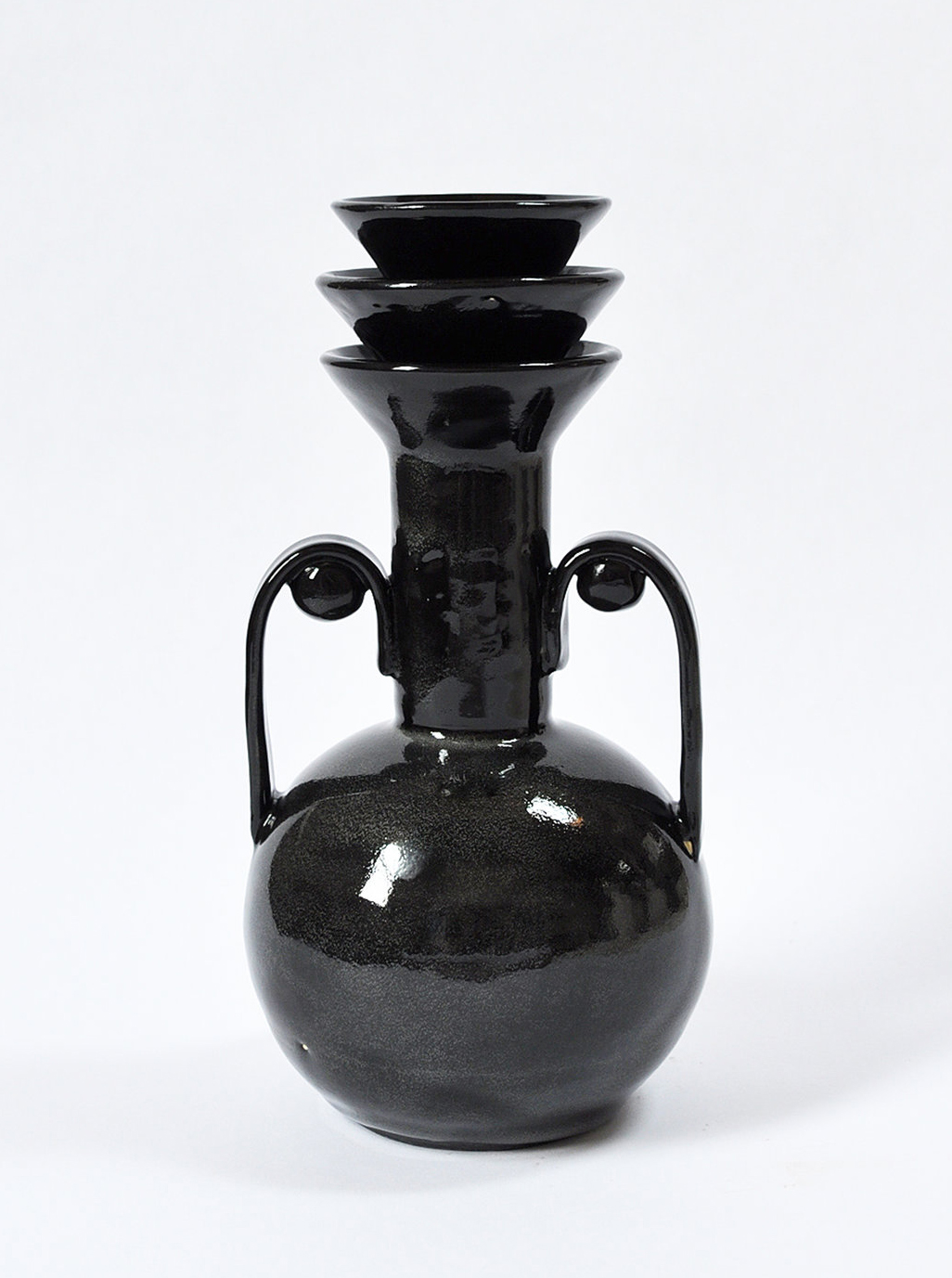 We happened to be browsing the site of Julianne Ahn of Object and Totem last week when we came across this piece, a vessel that's more ornate than most of Ahn's work, channeling ancient urns.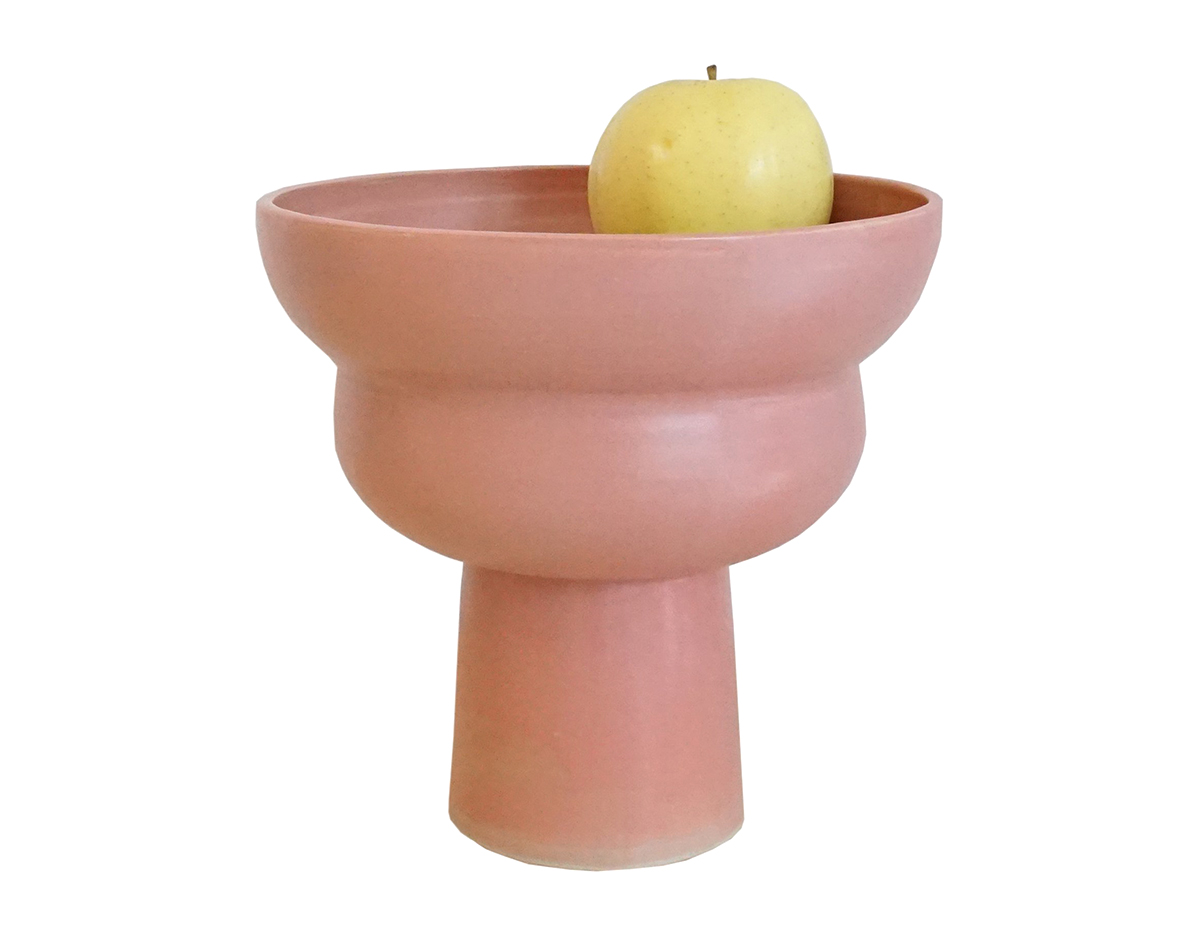 We also came across this Pink Puff Pedestal Bowl on Yowie's site after we finished hyperventilating over the Balefire Glass cup. It's by Mérida Anderson, aka YYY Ceramics, in Montreal.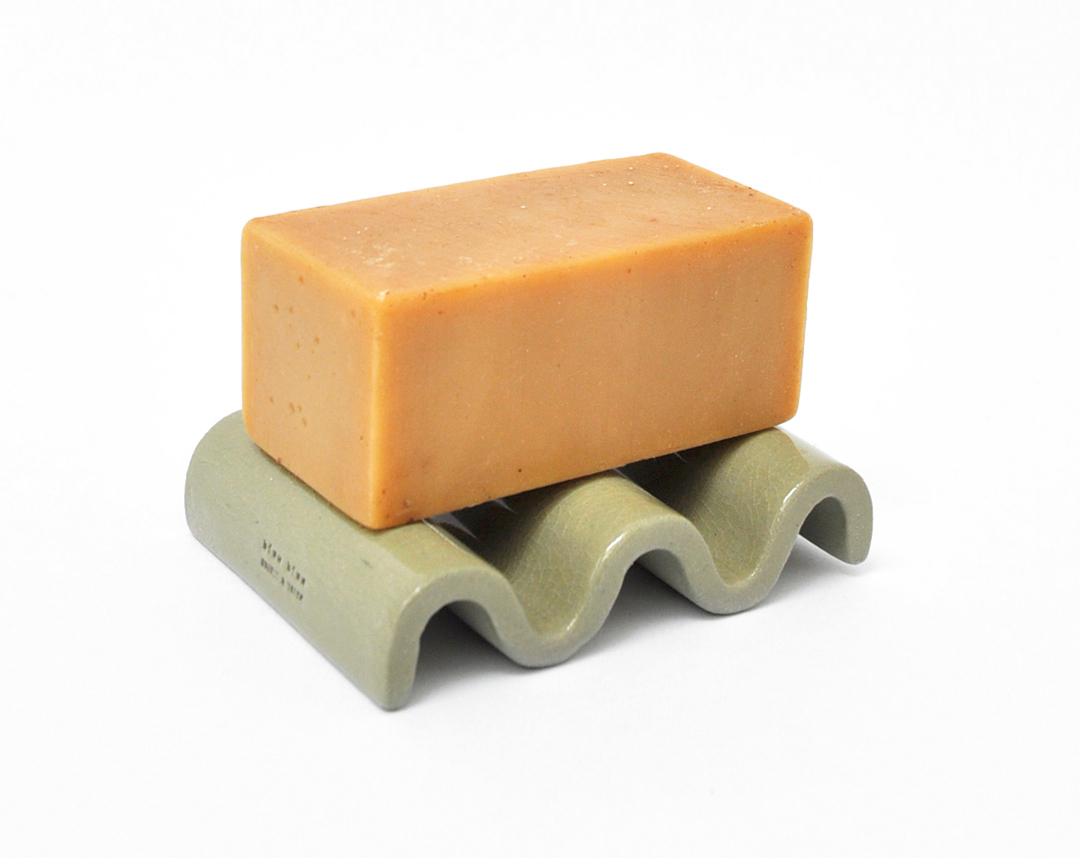 A lil more Object and Totem: Ahn recently teamed up with the current "it" soap maker Binu Binu to create a wavy green soap dish selling for $30 on her site. "Inspired by the craftsmanship of ancient Korean pottery during the Koryo Period, each soap dish is made from a custom celadon stoneware that is mid fired with a delicate crackle gloss glaze," she explains.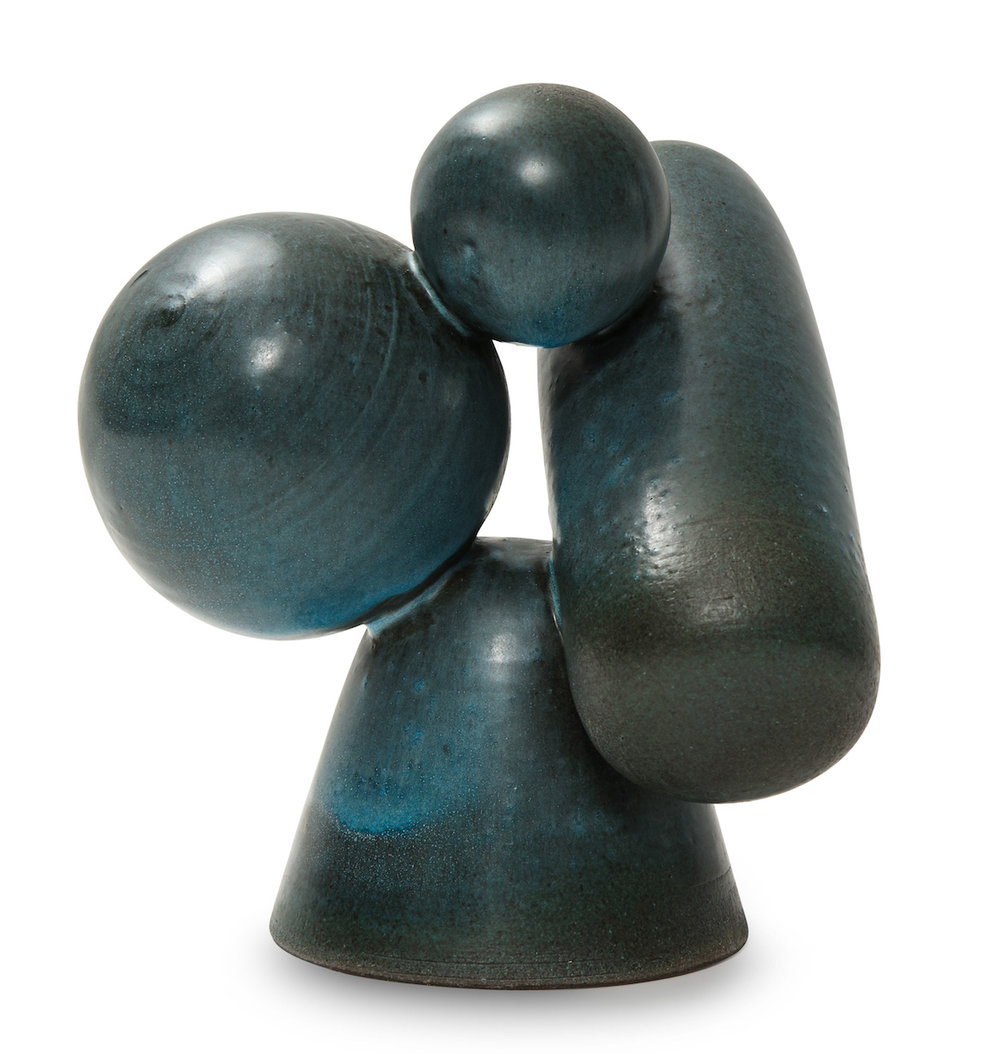 Love everything about New York ceramicist David Haskell's recent work for Donzella, a three-piece suite of table sculptures with a beautiful patina-looking finish.
Exhibitions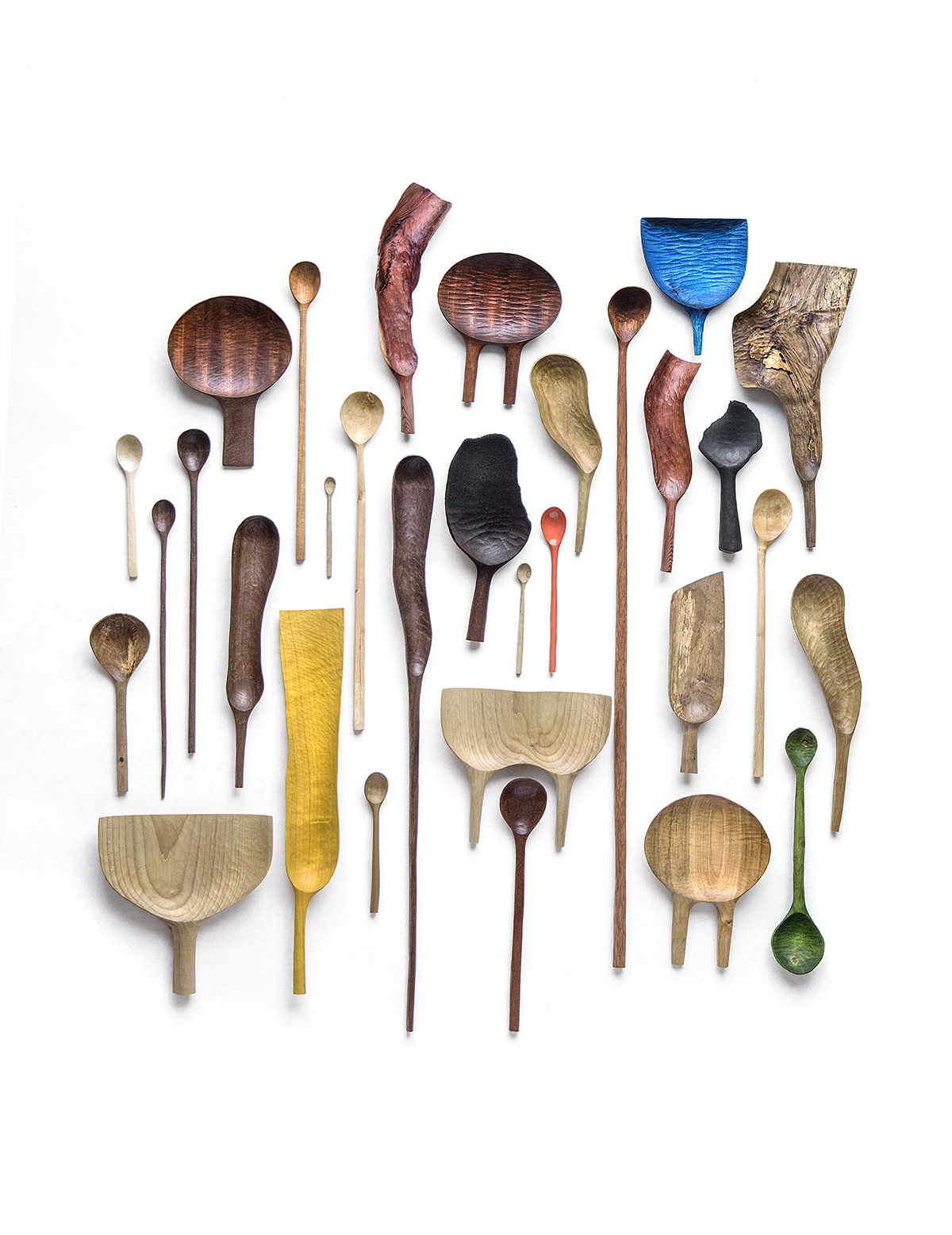 Ferréol Babin has been on a spoon-carving rampage lately — lewwwwwk at this teeny one that fits on his fingertip!!! — and from November 25 to December 16 a survey of his output will be on view at Atelier Lachaert Denis gallery in Belgium. "In early 2016, trying to disconnect from my work during the weekends, but still feeling the need to make things, I starting to carve small wooden objects, mainly spoons," says Babin in his artist's statement. "Carving spoons quickly became more than a passion, as people's curiosity, orders, and press articles suddenly started to get bigger, leading me to give now about a third or half of my working time to this practice."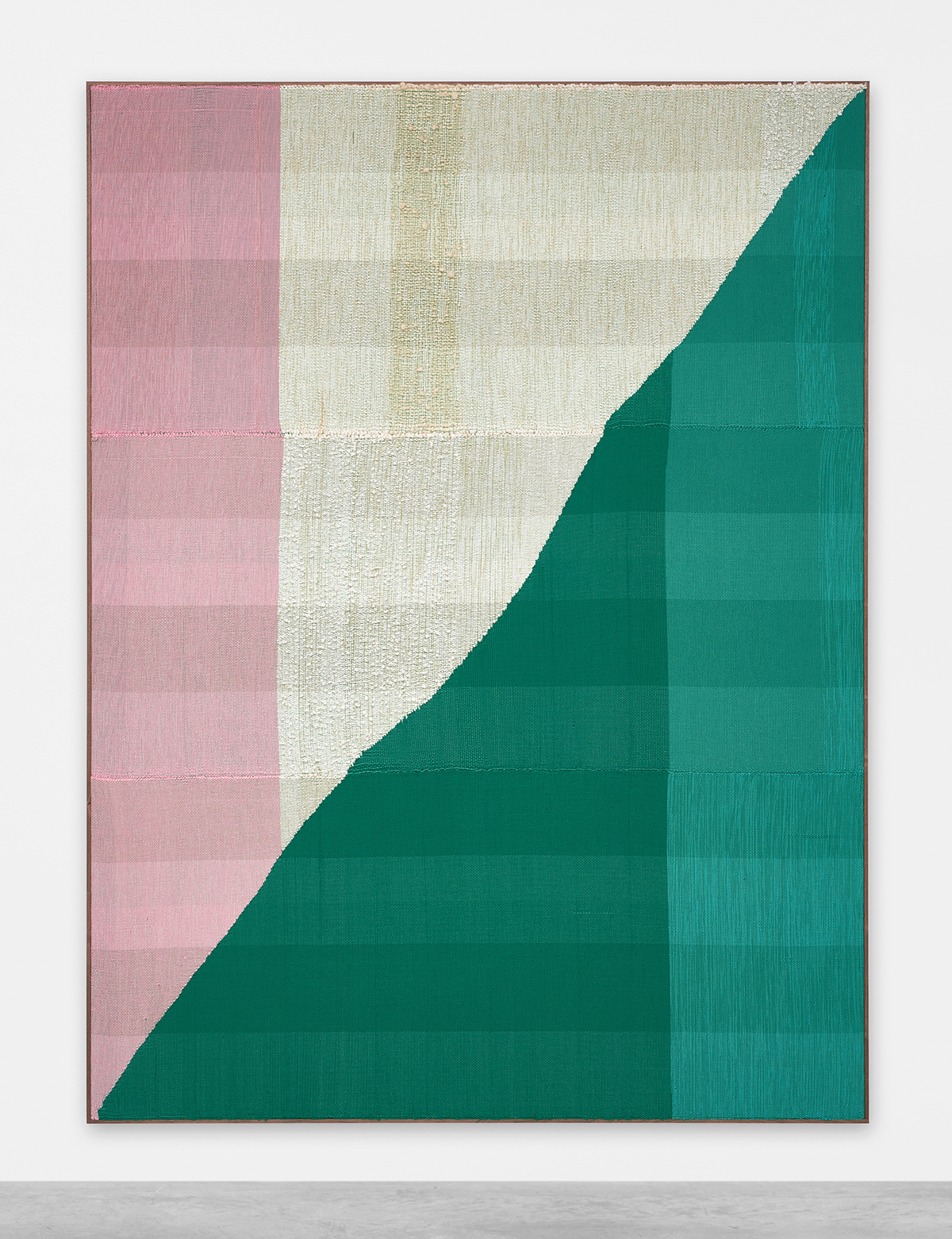 This Brent Wadden woven artwork is from 2017 but, it's on view this weekend in Shanghai in Peres Projects's booth at the West Bund Art & Design fair.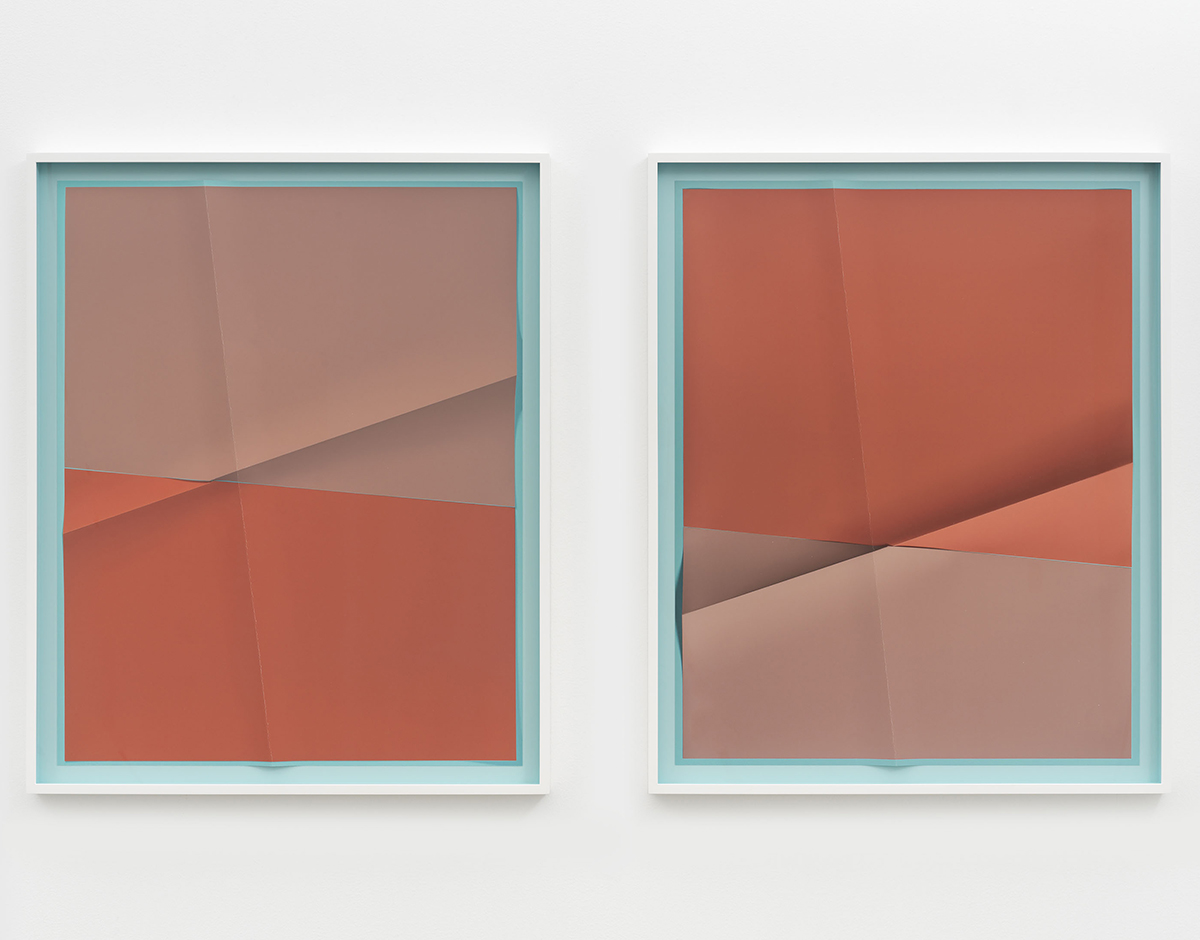 Included in a current solo show of Los Angeles artist John Houck at Marianne Boesky in New York are these two works, which are creased photographic prints that are meant to sort of resemble paintings, blurring the line between the two mediums.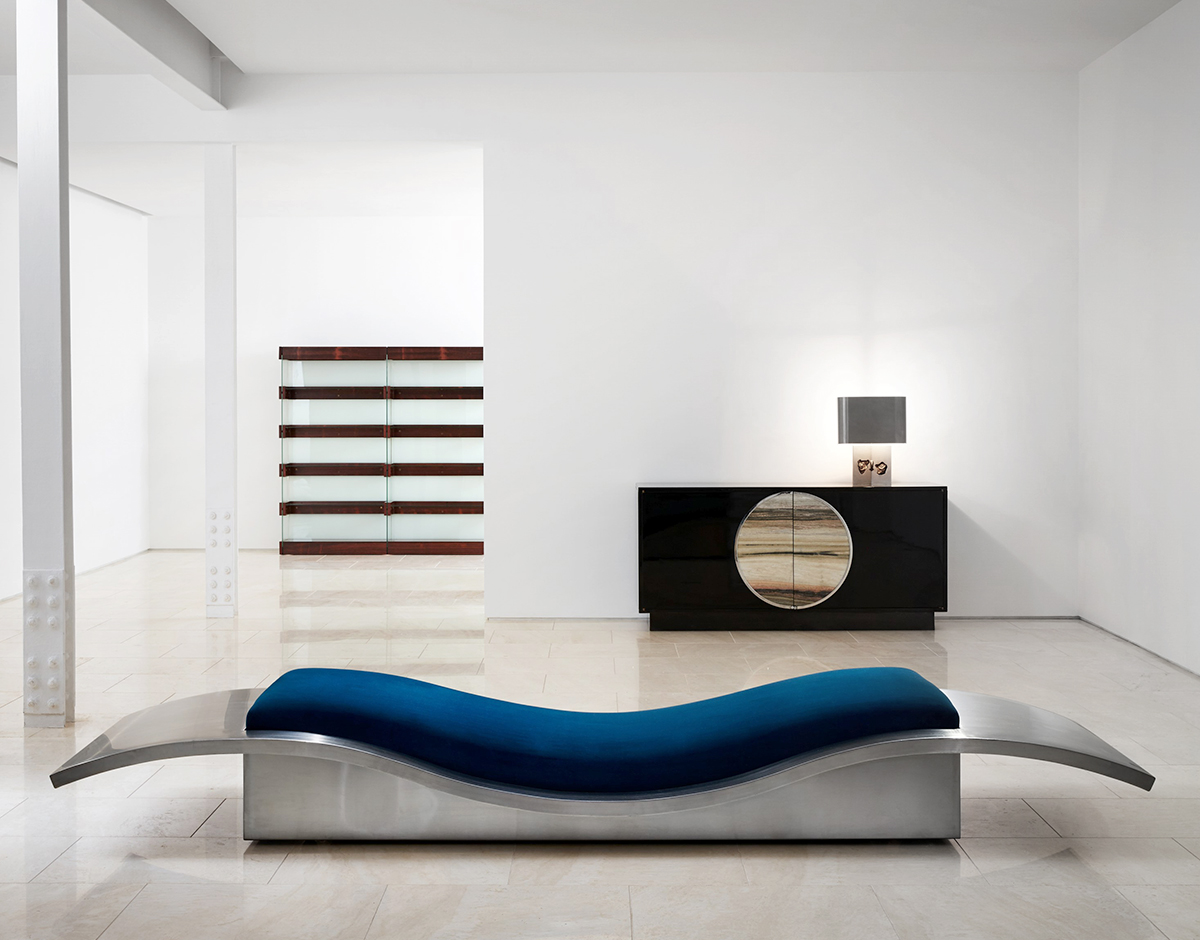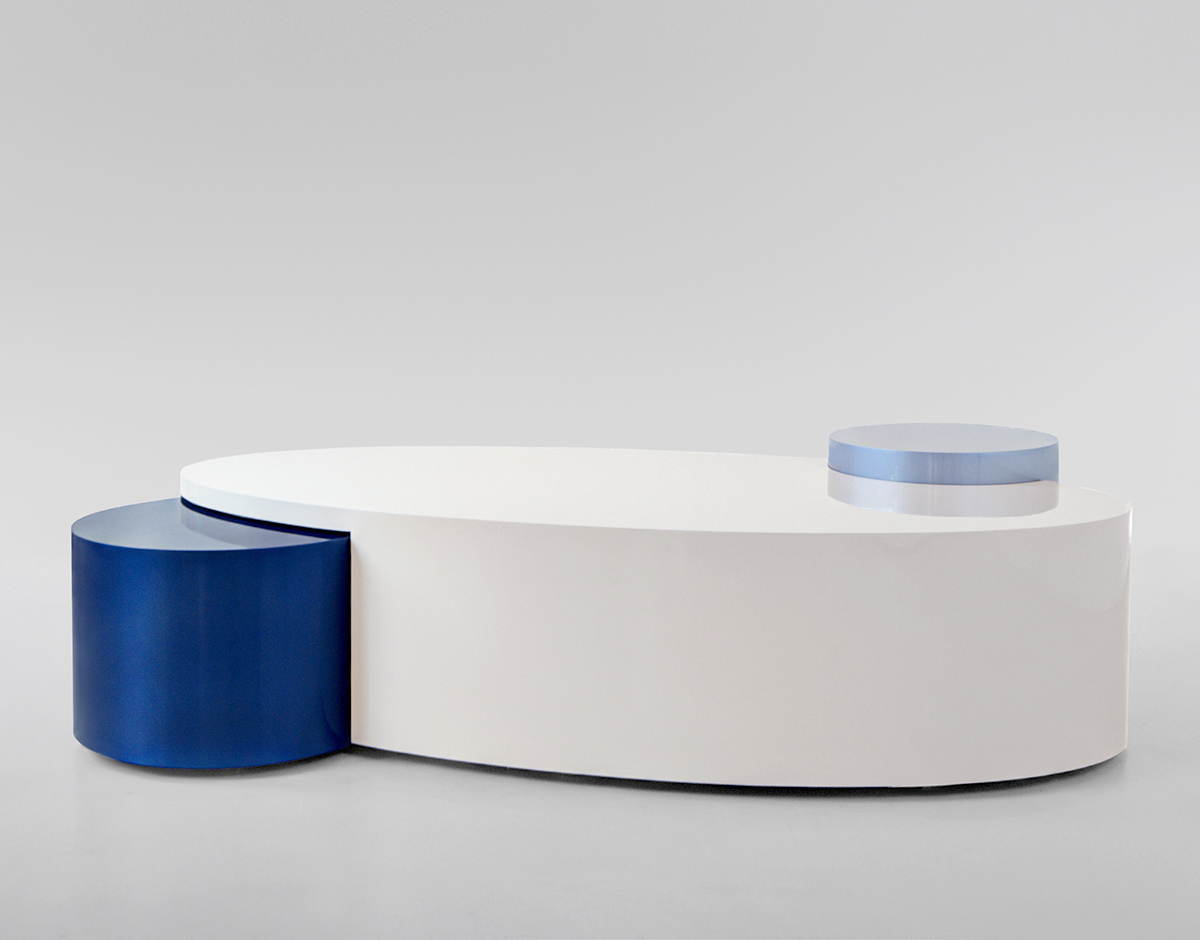 The 88-year-old design icon and stainless steel fanatic Maria Pergay will have a solo show at David Gill Gallery from November 21 to December 21, comprising her greatest hits from the '60s up through 2015. We've featured her famed 1969 Flying Carpet daybed (above top) before, but had never seen her 2012 Tambour Table (above bottom). (Our other fave of hers is this banquette, but it won't be featured in the show.)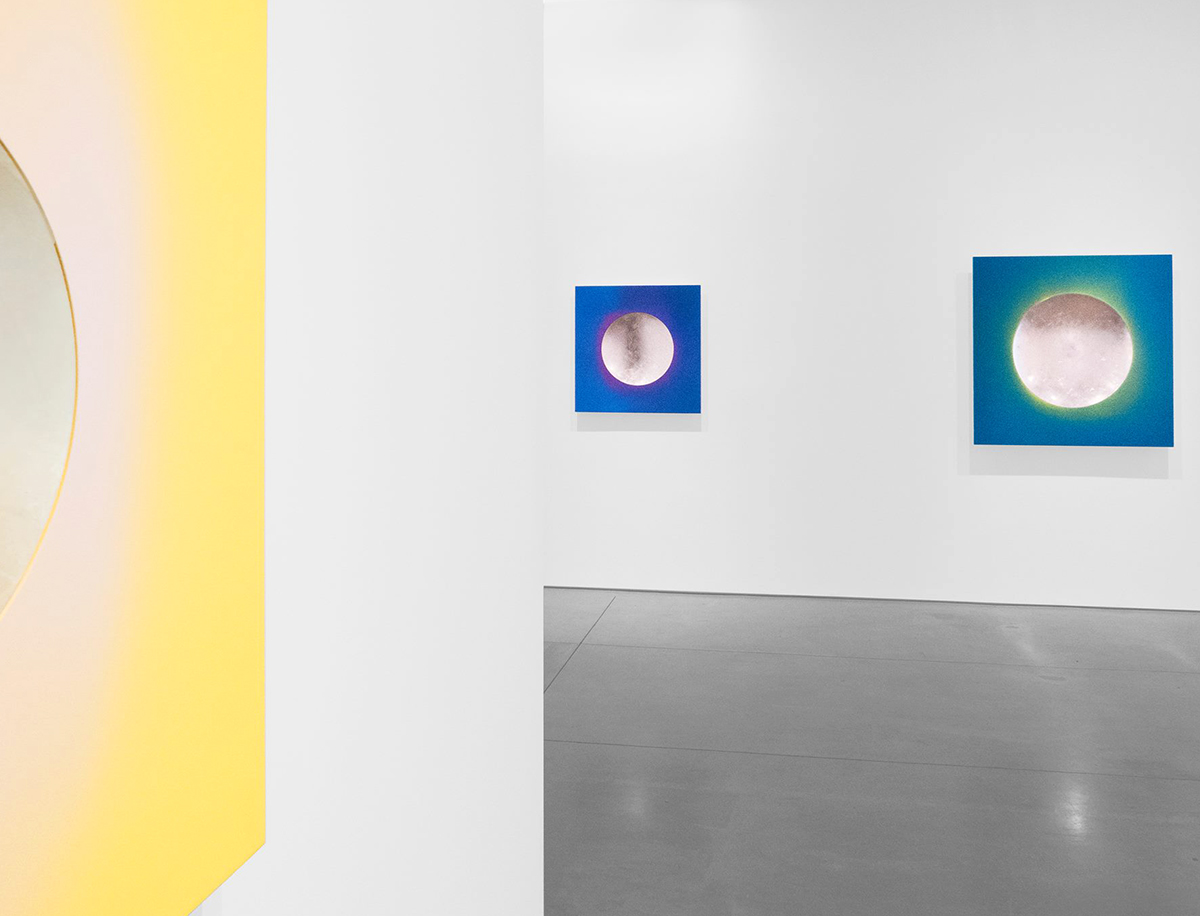 Another solo show by another female icon — 72-year-old Light and Space artist Lita Albuqurque, perhaps best known for putting bright blue spheres into various landscapes — just closed at Peter Blake Gallery, but you can see all the images here.