11.12.18
Meet Agnes, the Next Big Thing from Central America
Imagine taking a landscape and a civilization and devising an alternative evolutionary path for it — and then creating a collection of furniture based upon that surrogate world. In a nutshell, that's how Guatemala City–based studio Agnes created their newest collection. Designers Estefanía de Ros and Gustavo Quintana spent two years researching pre-Columbian craftsmanship to create the kind of aesthetic that might have emerged had Mayan culture evolved with a bit less Western interference. They used the skills of local artisans to form everything from a table made of wobbly carved stone to modern wicker screens with unexpected shapes to stepped ziggurat bookends —each piece echoing something ancient while remaining totally current. Here, de Ros and Quintana tell us about their 40-year-old collection of National Geographic magazines, the process by which they come up with their designs, and a hint as to the great things ahead.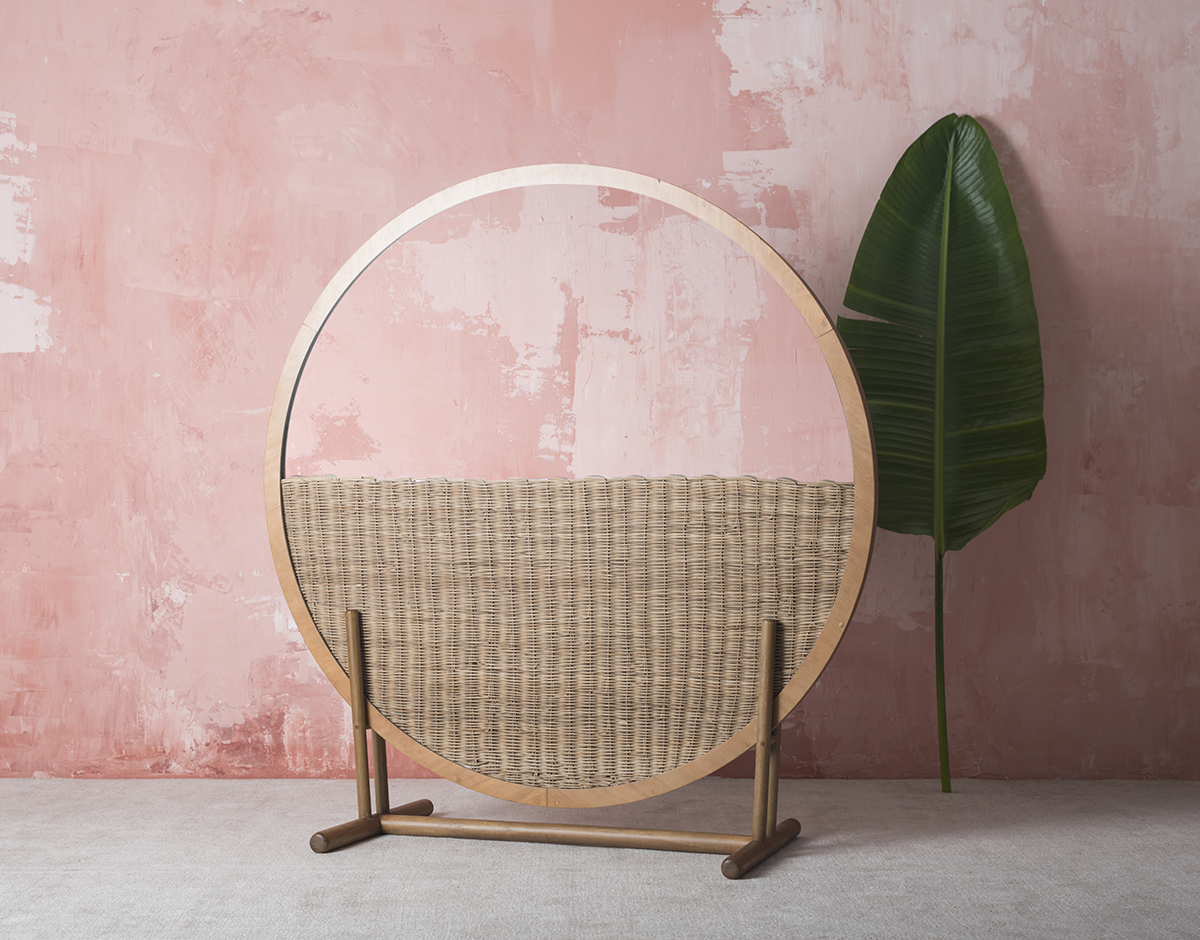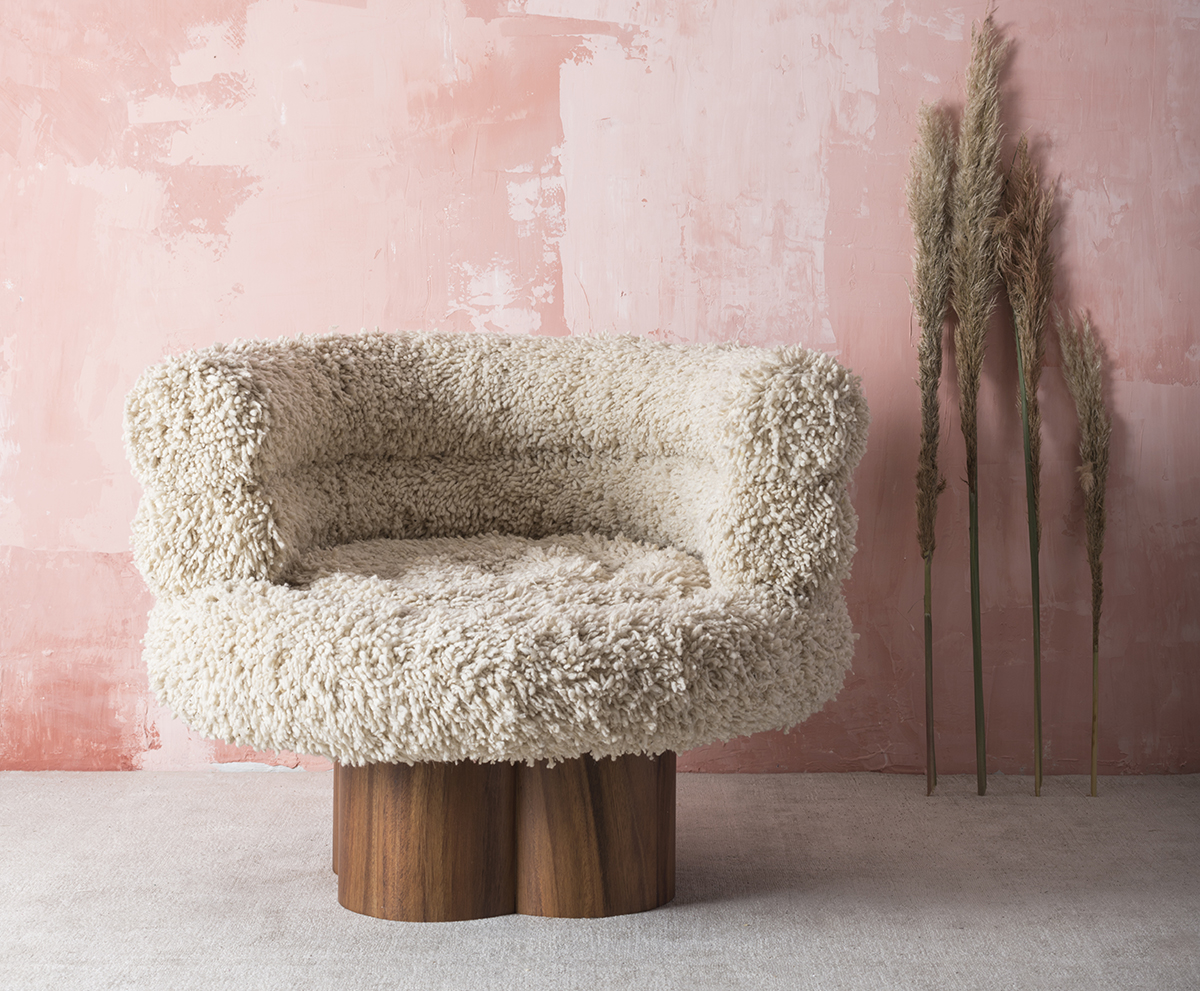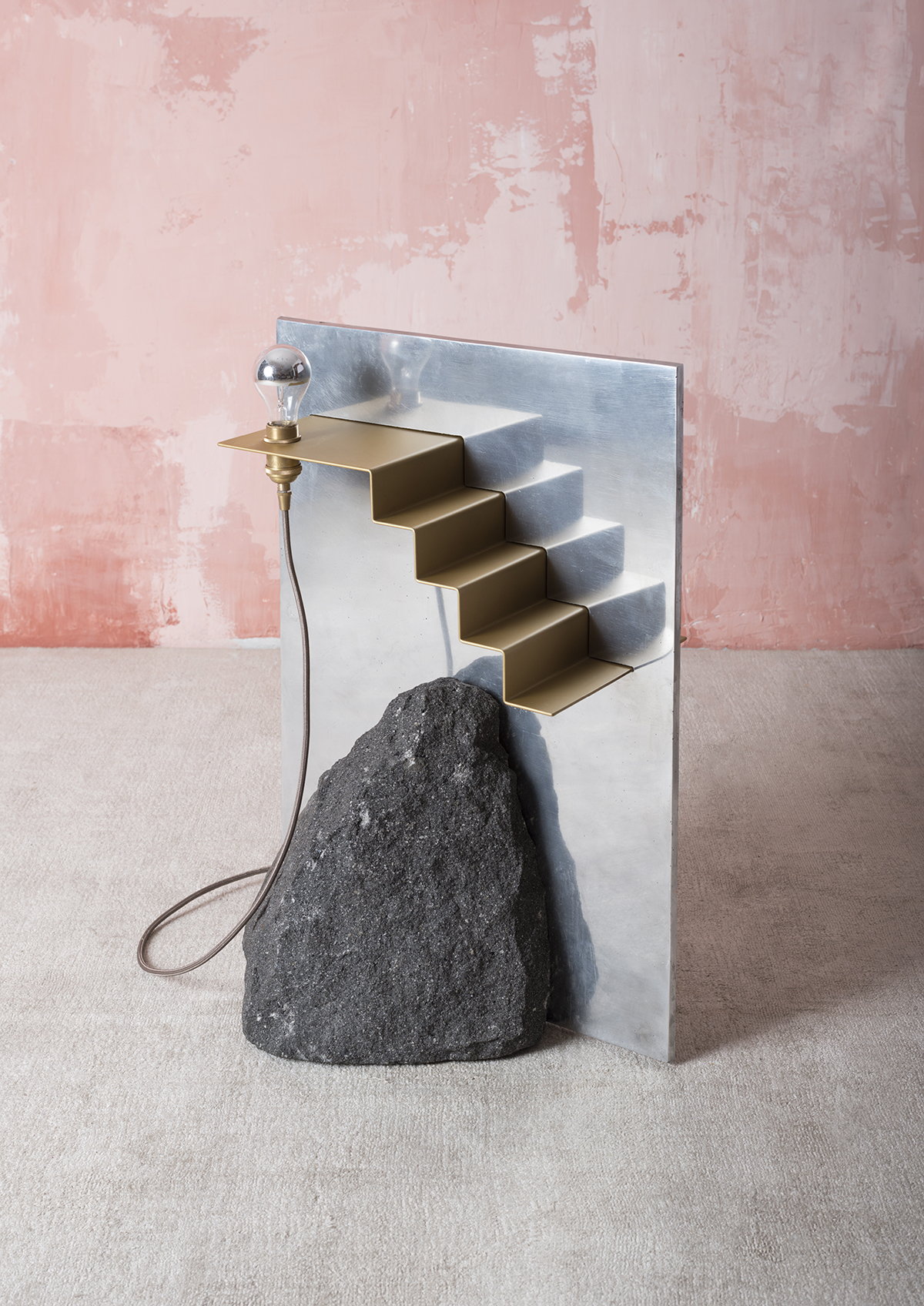 Tell us about how Agnes began. Did you know from the beginning that you wanted to work together? 
Estefanía de Ros: "We met back in 2010. At the time, I wanted to become a photographer, and Gustavo was organizing these speakeasy parties. He wanted pictures from the events that were a little more "art directed" so he found my work and commissioned me to take pictures. When we got together and talked about the art direction of the pictures, we ended talking about our areas of interest in art and design and life. Then I moved for a while to NYC so we didn't see each other again until a year later, when we reconnected at a party and started dating.
"It was very organic; I was still in university studying interior design and Gustavo was working on Interactive Design. A friend wanted to open a coffee shop — which was coincidentally like the first coffee shop ever in Guatemala — and he asked Gustavo if he could help him with the interior design. Since I was studying interiors, I helped a bit in the process and we were very happy with the results. A year later he called us because he wanted to open the second coffee shop and he wanted for us to do it, so we decided to do it as partners. At the time, Gustavo was feeling burned out and bored with Interactive Design, and was started to become more interested in shifting back into architecture and furniture. I found this furniture competition from Urban Outfitters to create a modular shelving unit for small spaces, and told Gustavo to submit. To Gustavo's surprise he won, and that was kind of the "a-ha moment."
"In 2014, Gustavo moved to New York to get his Master's in Design Founderism in an experimental program called "30 Weeks." It was very start-up oriented, where you had to incubate a project while you where learning, and while doing this Gustavo kept going back to furniture and art He created a platform that was the seed to what we do today, called Objeto, which aimed to connect designers with artisans all over the world to collaborate on design. The tech and the logistics failed as a project, but when the program was over and Gustavo moved back home, we started to work seriously on opening our own design studio with a big emphasis on the designer/artisan collaboration part. It took us a couple of years to find our focus but we eventually ended up creating Agnes in late 2016 or early 2017 as a multidisciplinary studio that has slowly evolved into what it is today — a passion project focused on designing and creating furniture, objects, and spaces that live in the gray area between art and design."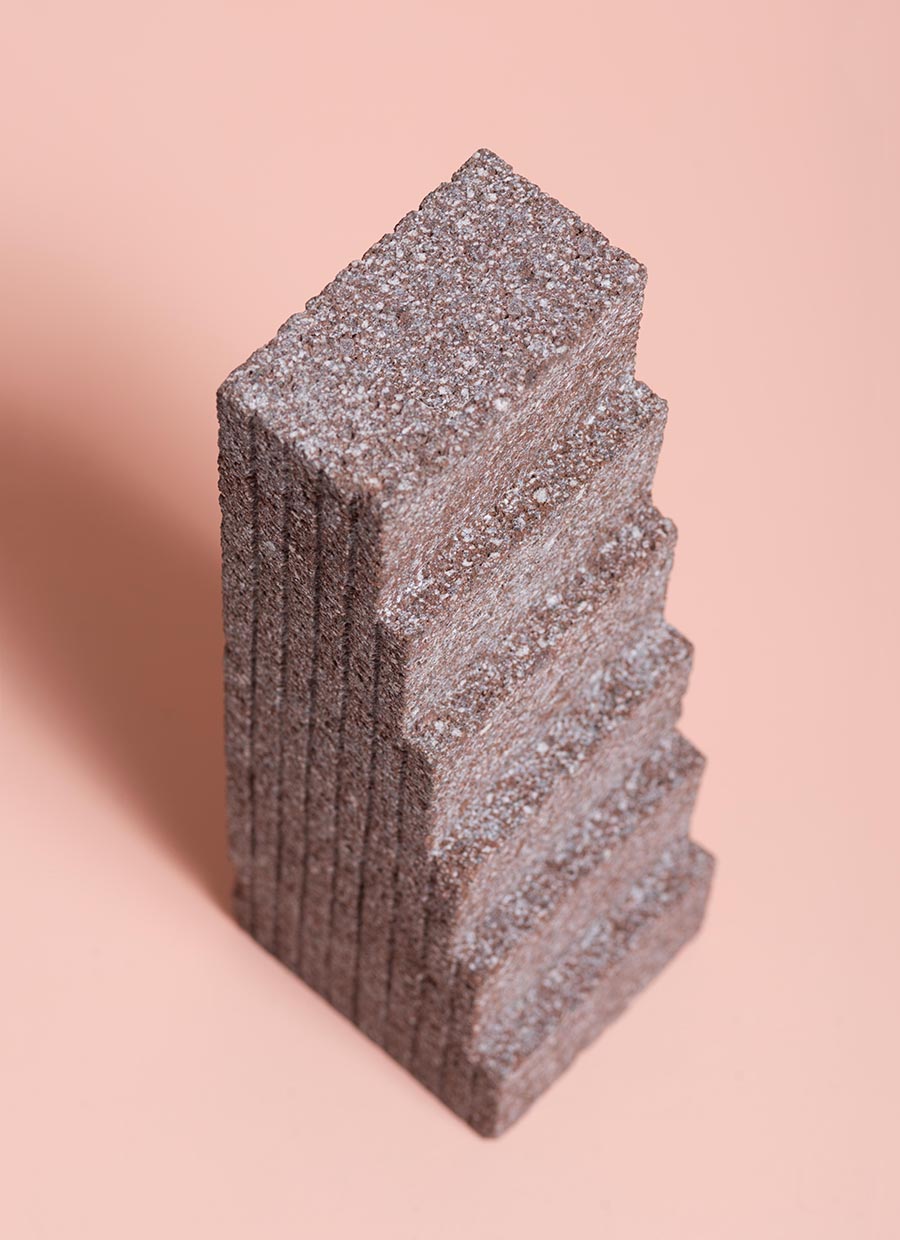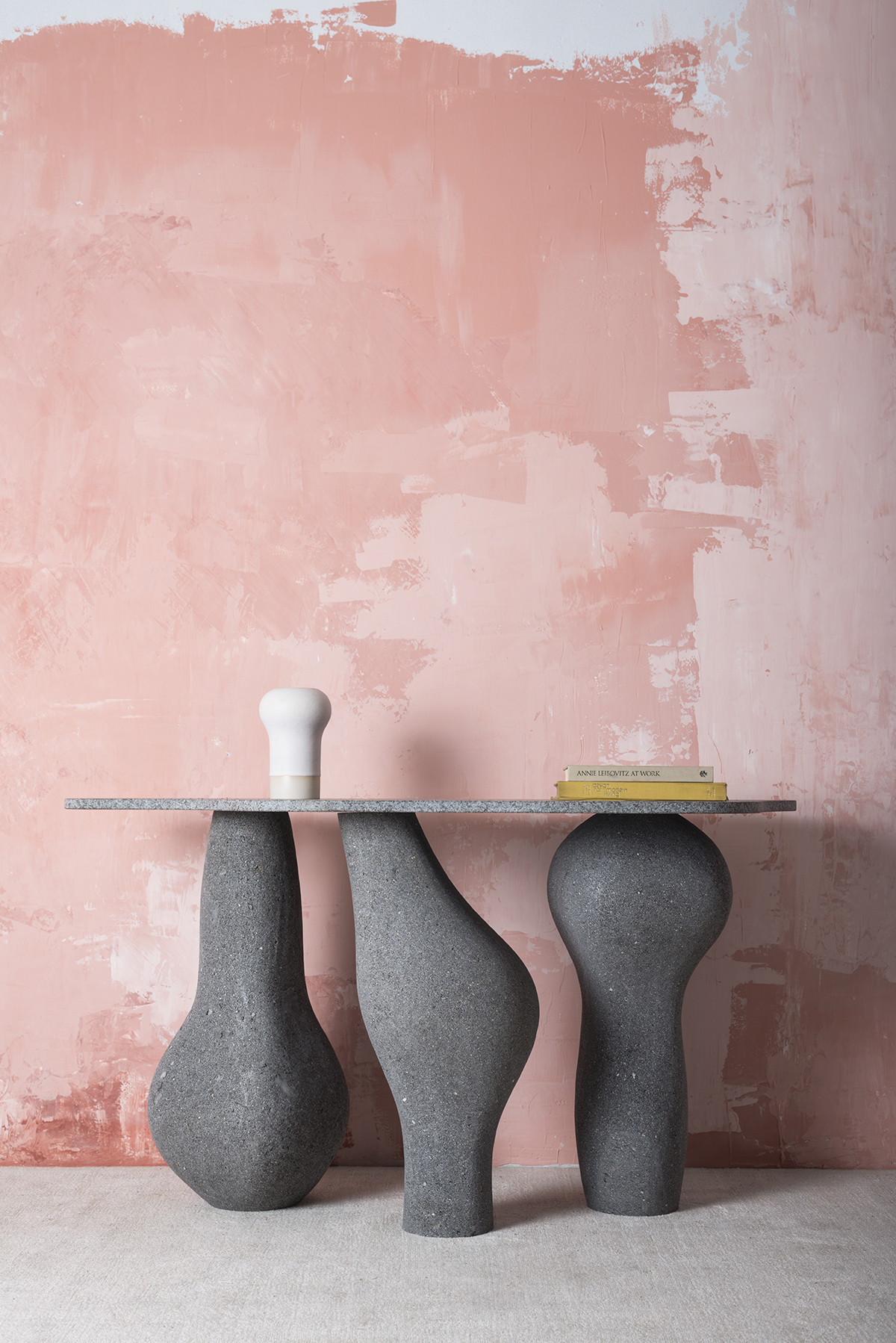 Growing up, was there art or design in your homes?
Estefanía: "Looking back, my biggest influence was my mom. She studied interior design in London, but when she came back to Guatemala, she started designing gardens and opened a greenhouse. In the 80's she had a clothing boutique where she designed and manufactured sweaters; she had a big collection of 1970-1990 British Vogues that I used to love looking at. Eventually she and my aunt worked together on designing and manufacturing Guatemalan textiles, from cushions to clothing. After school, I would go to the workshop to see how they sewed the pieces together and how they designed the fabrics.
"I moved from Guatemala to Illinois for a year and a half with my mother, at the age of 10, and that was very eye-opening for me to see another culture and to live in it. Her boyfriend was very supportive of me; he would find the most interesting and cultural enriching places to take me. They gave me my first camera that Christmas, and when I had the idea that I wanted to become a photographer, they were very encouraging. We traveled a lot during those years. I was very lucky."
Gustavo: "I had a very peculiar childhood. As far as I can remember, the thing I loved to do the most was to draw. I would draw all of my favorite cartoon characters, and even though my parents were not artistic, they appreciated art and always encouraged me to do it. When I was in preschool, I came into contact in with a very rudimentary design software where you would prompt a turtle on the screen and, giving it directions — front, right, left, back plus the number of pixels — it made the turtle draw what you wanted. That gave me a very early take on design principles from a very young age.
"My biggest influence growing up were my paternal grandparents. My grandmother had an amazing talent with crafts and sculpting little things from anything. Art always permeated from her family's side, either in the form of music or paint, and my grandfather — a very quiet, and wise but witty old man — had this huge library with some thousand books. I later found out when he was young he had secret talent for designing and crafting lamps. He told nobody about but his sister, who told me when he passed away, and I was able to appreciate the last surviving prototype she kept, a late 1920's wood totem/lamp that could have been a piece from the Wiener Werkstätte.
"The idea of becoming an architect was on my mind since I was a kid. One of my mom's best friends is an architect and at some point during my childhood, he was renovating this vacation home. I spent weekends playing in construction sites and climbing scaffoldings, and imagining and drawing these weird buildings one day I would create. Architecture school opened up other interests for me — some by curiosity some by necessity. I am left-handed, so I made a mess of all my drawings so I had to teach myself CAD software when everyone else was encouraged to draw plans by hand during the first couple of years. That early contact with CAD drawing and technology led me to become fascinated with 3D modeling, which led me to teach myself graphic design because I wanted to present my projects in a beautiful cohesive way and that led me into interactive design. By the time I finished architecture school I was running a successful business in Interactive Design, where I spent 10 years designing and developing animations and games, websites and apps. But I always had a special interest in the interior space and the objects that dwell in it and that's when I met Estefanía."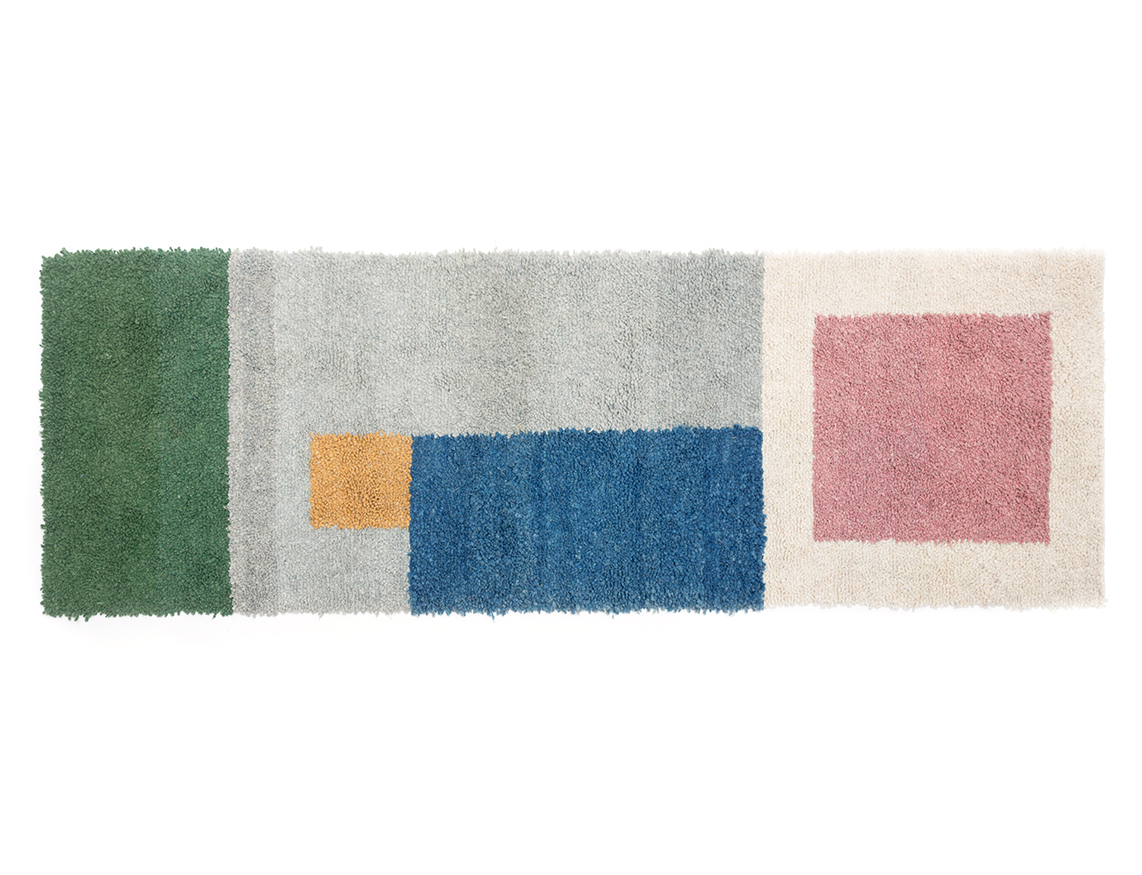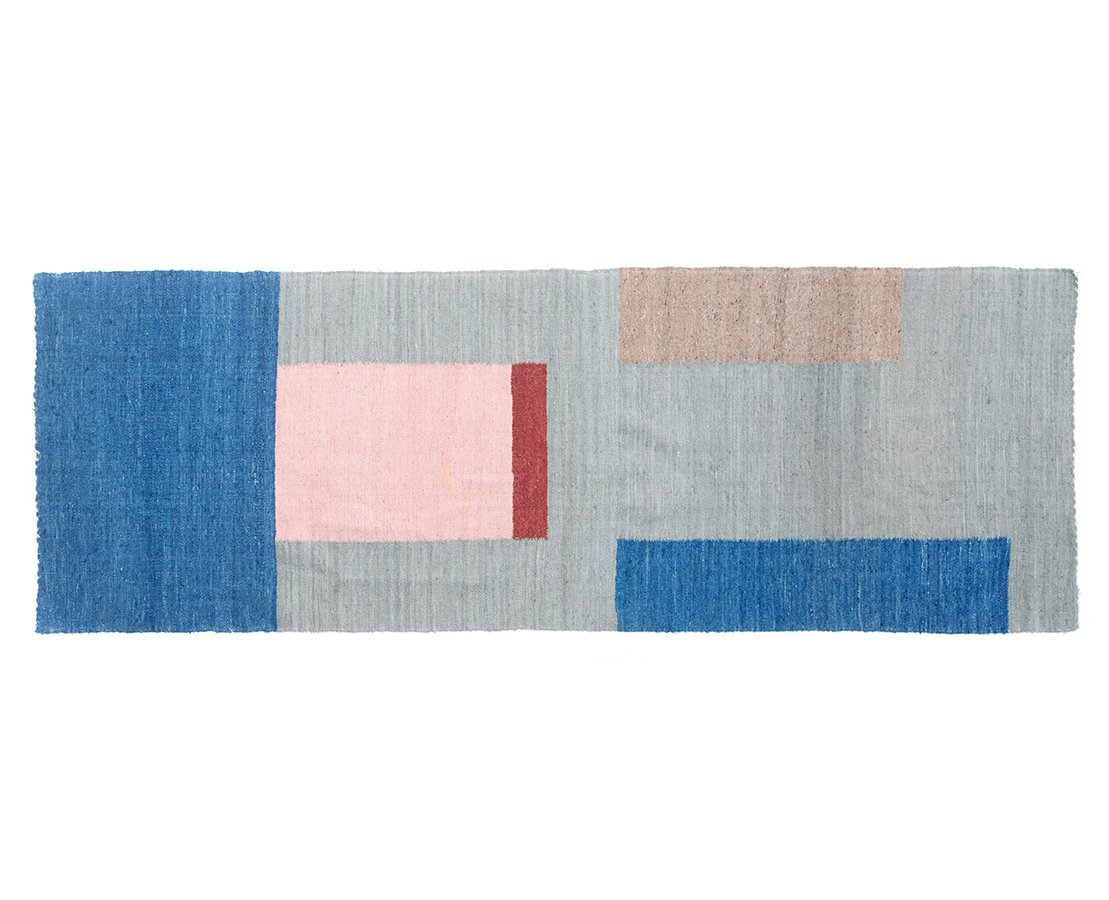 How do you collaborate? Are there ways that you work together or ways that you differ that propel the work?
Estefanía: "It depends on the project or specific piece, but our process is very organic and collaborative. It usually starts with an idea or concept derived from observation and research, sometimes with intention and sometimes spontaneous. One of us comes up with an idea, we discuss it, and the other one builds up over it, and we might agree completely or bump a little, but we usually work around it in a way that is very enriching both for our work and for us. This process goes back and forth from initial sketching to small scale prototypes, CAD drawings, and full-scale prototypes. This cycle is then repeated until we have a version of what we are trying to create that we are happy with, then we proceed to create a final version."
What drives the choices you make in your work — color, textures, shapes, symbols, patterns, mediums?
Gustavo: "We gravitate towards the vernacular idea of being influenced by your immediate context and materials. Although we believe that design, art, and culture have become globalized and universal — where the line between modernism and post-modernism and any design movement or style or influence has been blended into an amalgam that defines what contemporary design is now — we tend to prefer working with organic, natural, and handcrafted materials and techniques. Even though we sometimes might combine them with more avant-garde techniques or industrialized materials to reinterpret or create new versions of symbolism derived from our local and sometimes global culture that is embedded into our collective mind."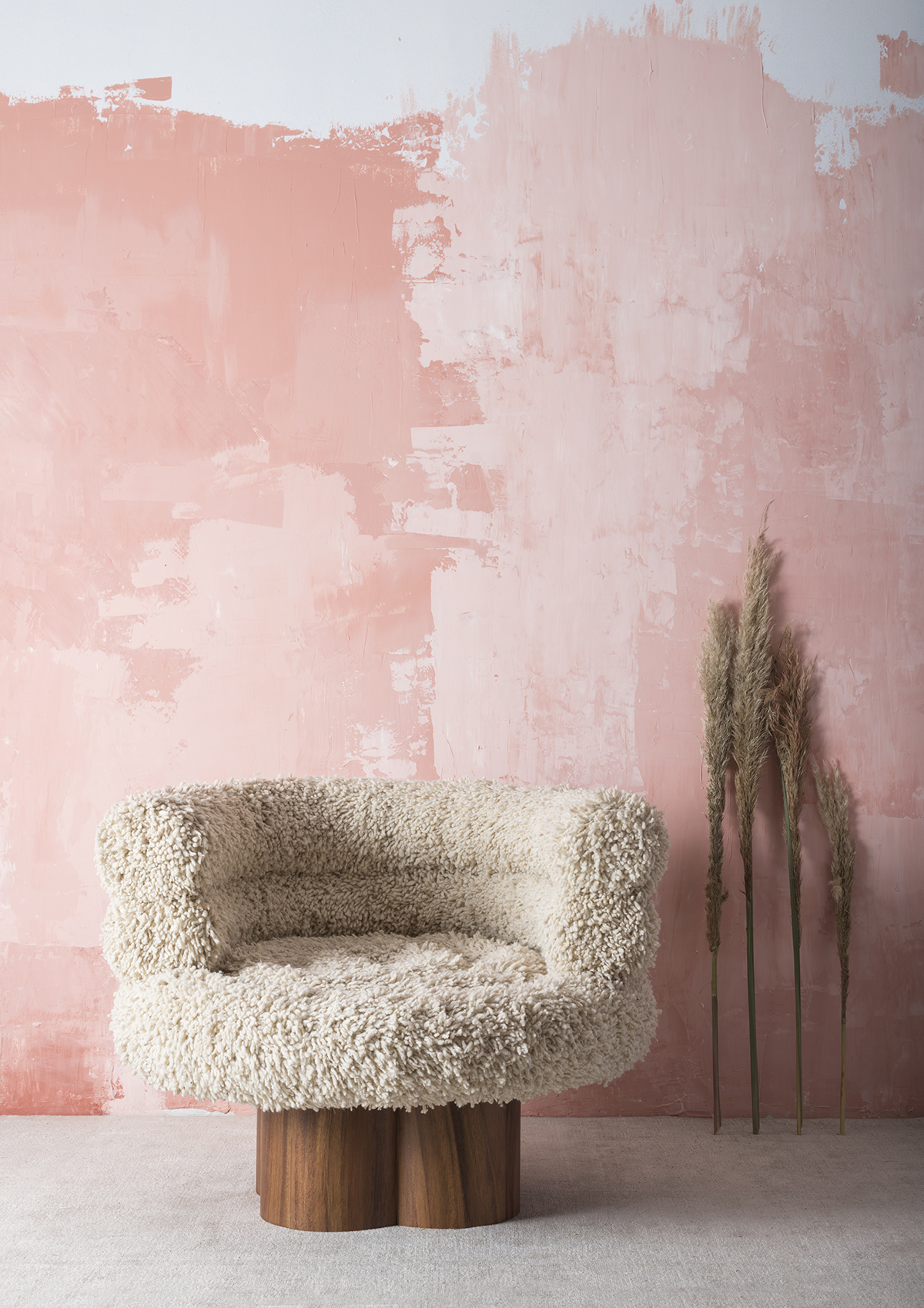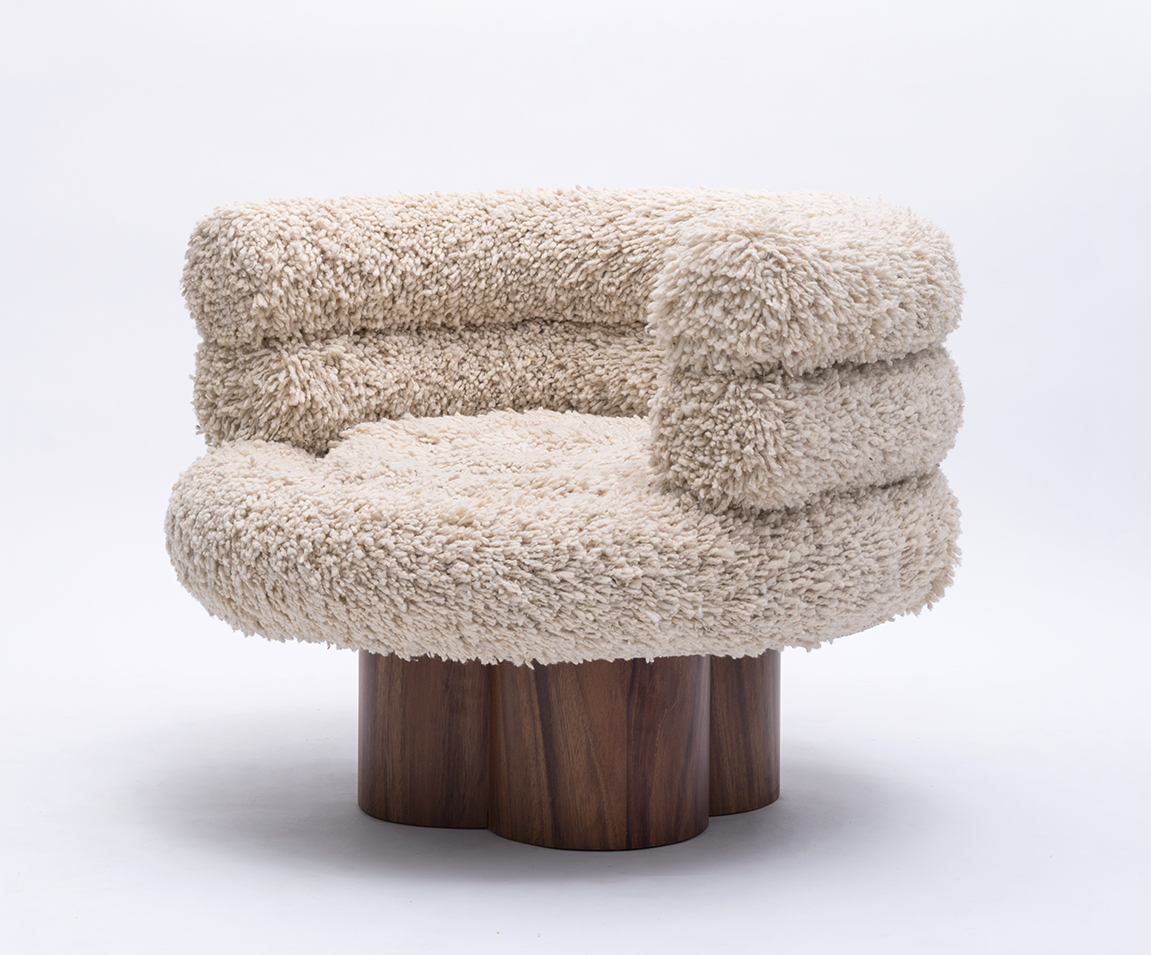 Is there one piece in your collection that resonates with you the most?
Estefanía: "We are currently shifting from working for clients to working on pieces made for us under our vision, so we have a special love for our latest collection as a whole, since it's the first collection we've actually made with complete freedom, only trying to meet our own expectations. But if we could choose a single piece, it would be the Lana chair. We still can't believe that it is something that we created, as it resonates deeply with our ambitions and curation as designers. A beautiful desirable object that invites you to lounge in it, it's simple but arouses curiosity, and it feels new yet familiar."
Do you keep anything around your studio or home for inspiration?
Estefanía: "We have a home/studio in a small beautiful modernist house built in the 50s that sits on 18,000 square feet of lush gardens. We use the house to experiment with materials and colors. We recently painted our dining room with a plaster stucco made by us because we couldn't find the look we wanted. Most of what we keep is part of our personal life, both new and old, like a 40-year-old collection of National Geographic magazines, or a set of amazing Danish mid-century furniture inherited from Gustavo's family. We like to keep and collect memories from our travels or special moments, design objects, and an ever-growing collection of books and magazines as well as prototypes or samples of our designs."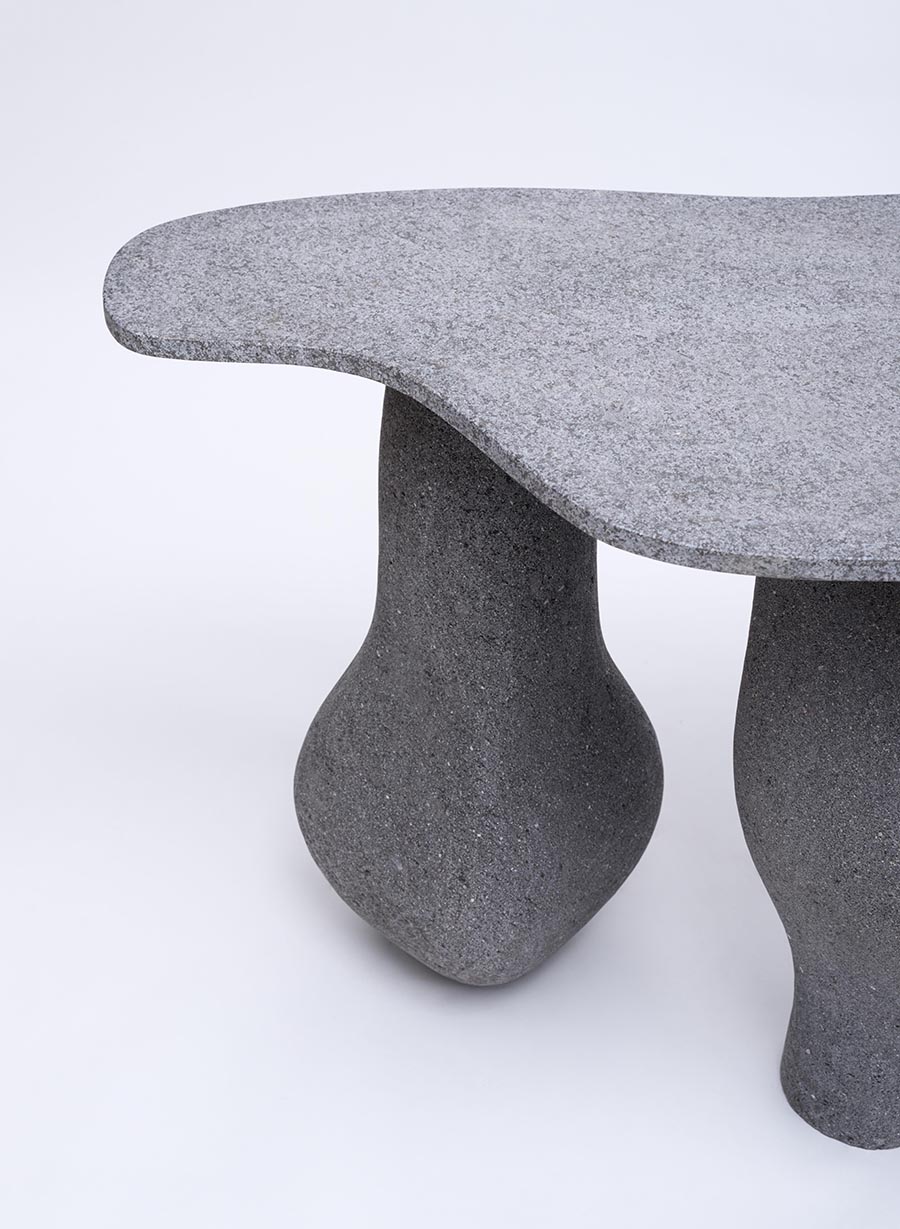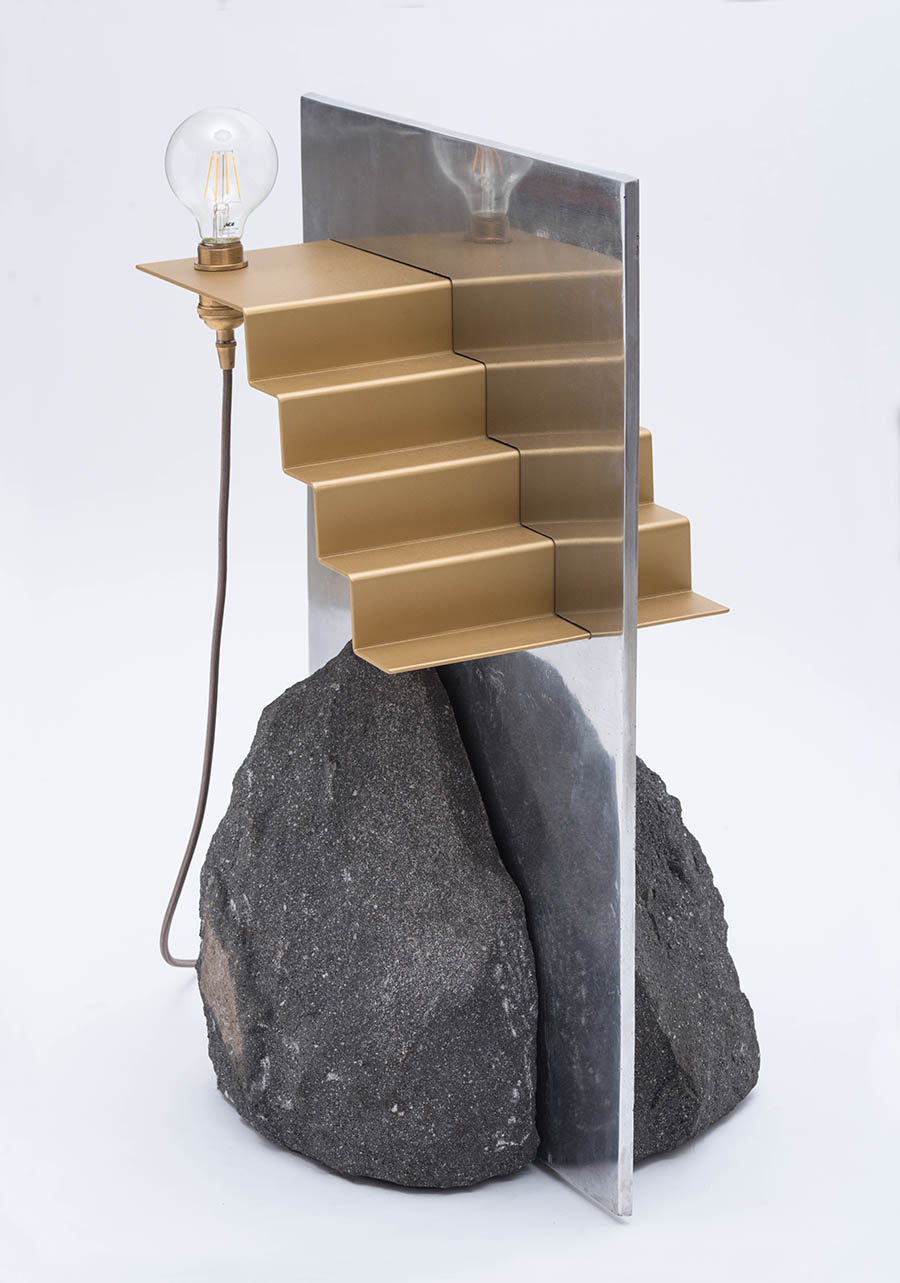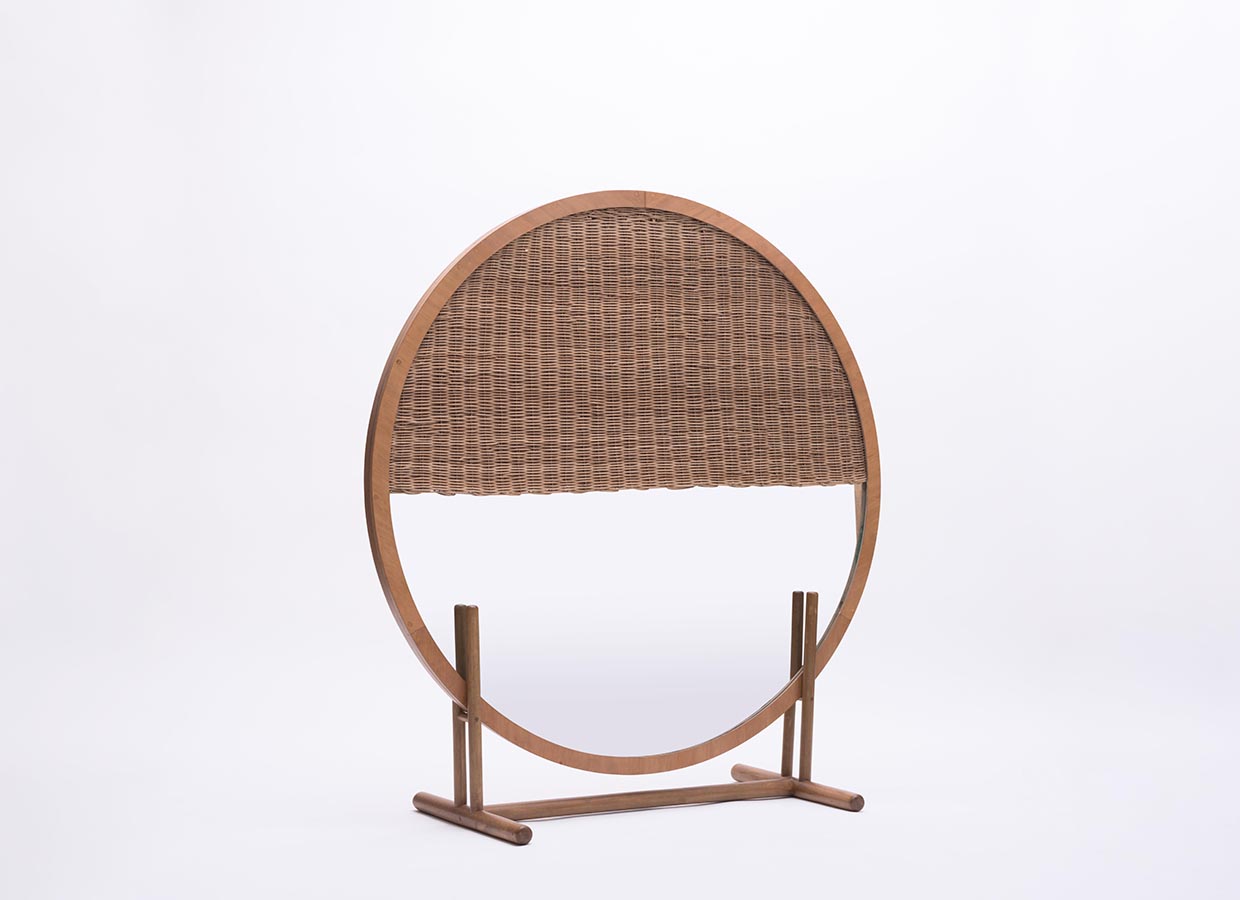 Is there anything specific that prompted this direction in your work, where you're creating furniture for an unrealized civilization?
Gustavo: "We played with this hypothetical idea of a parallel future in which Meso-American, pre-Columbian civilizations evolved in a different direction — where Western interference wasn't as destructive as it was in reality, and where some of its symbolism would drive a new version of design meanings and forms."
What are you currently working on and what is next for you?
Estefanía: "We're working on two retail spaces, and three residential interiors. We're participating in a design competition with the Lana Chair. Besides that, we're beginning to explore how to evolve and expand our current collection to include some other pieces that maintain the same principles of design symbolism, materials, and media. It's still in it's early phases but we are excited to see where this is going."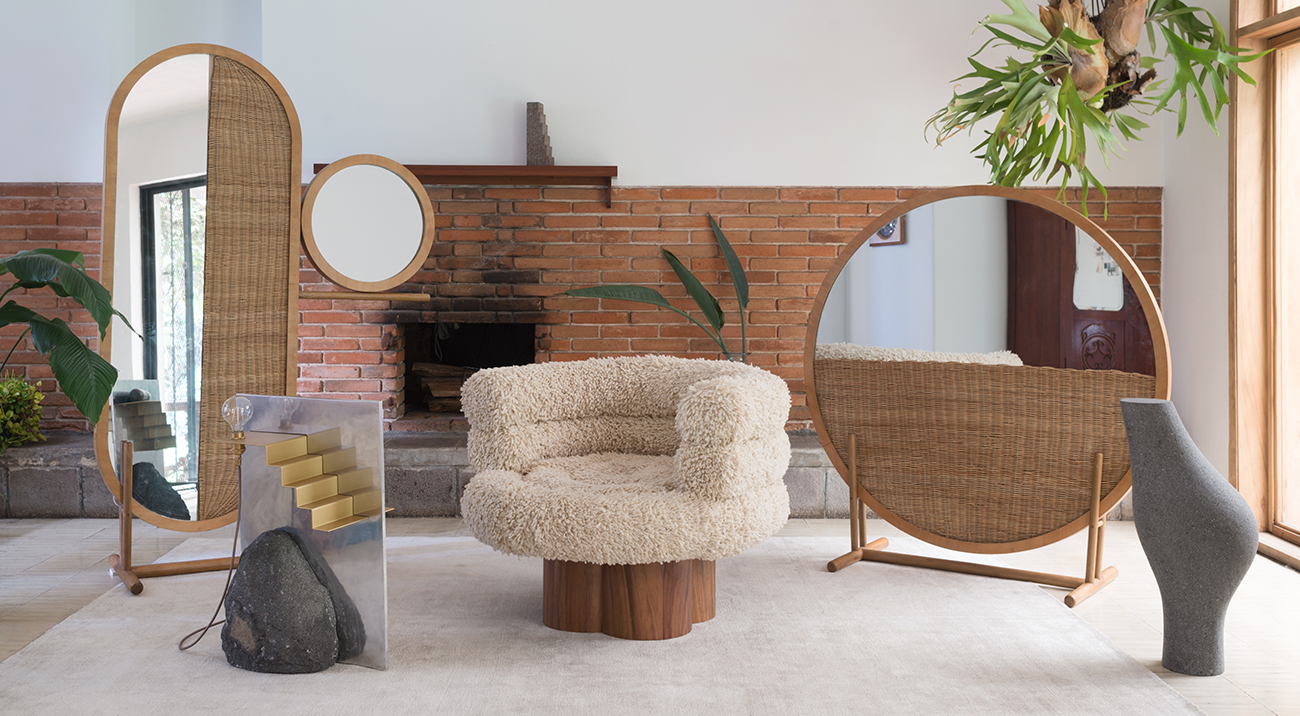 Interested in purchasing a piece from this story? Shop Agnes's work on Sight Unseen's 1stdibs storefront!