12.28.18
6 Insiders on the Best Design Moments of 2018
We come here every day to tell you about our favorite things, so for our last round-up of 2018, it seemed only fair that we spread the love. We asked six of our favorite designers, journalists, and more to reflect on their top design moments of the past year — an experience they had, an exhibition they saw, a discovery they made, an interior they fell in love with — as well as the one thing they're most looking forward to in the new year. Enjoy, and see you back here in 2019!
Charlotte Taylor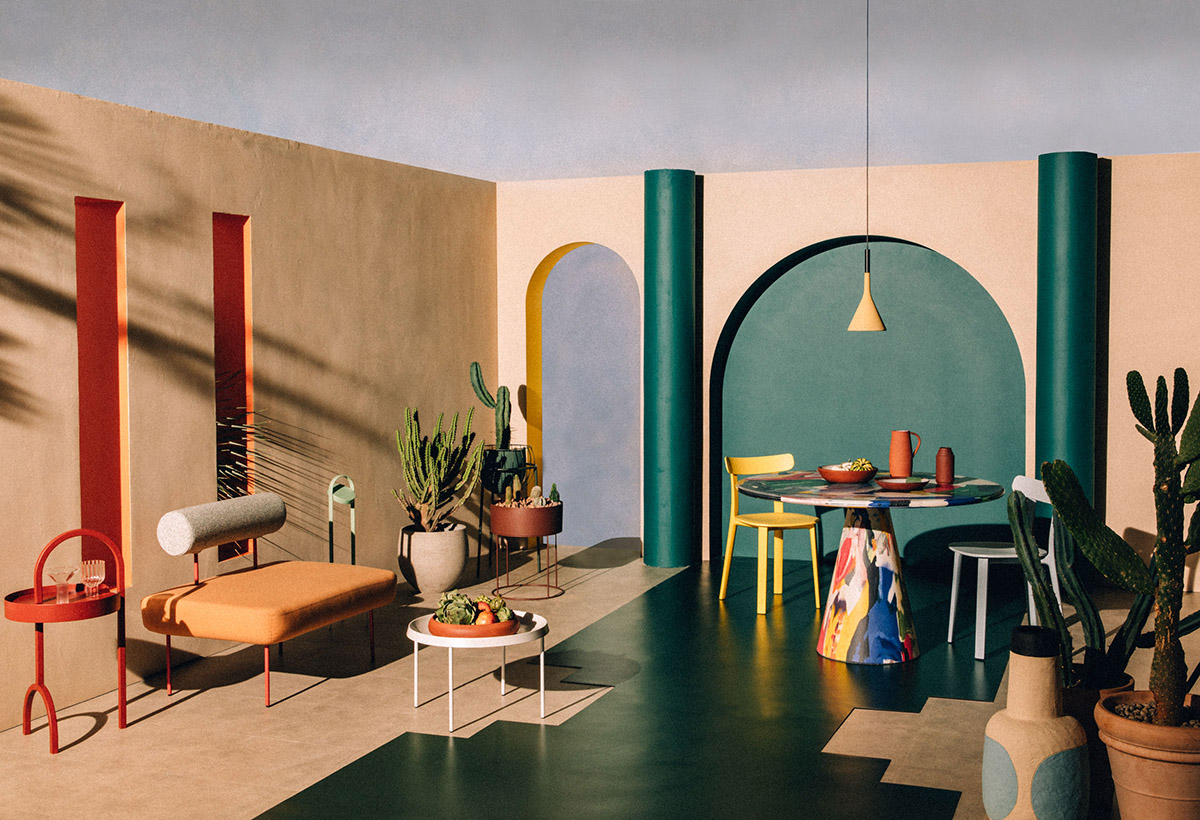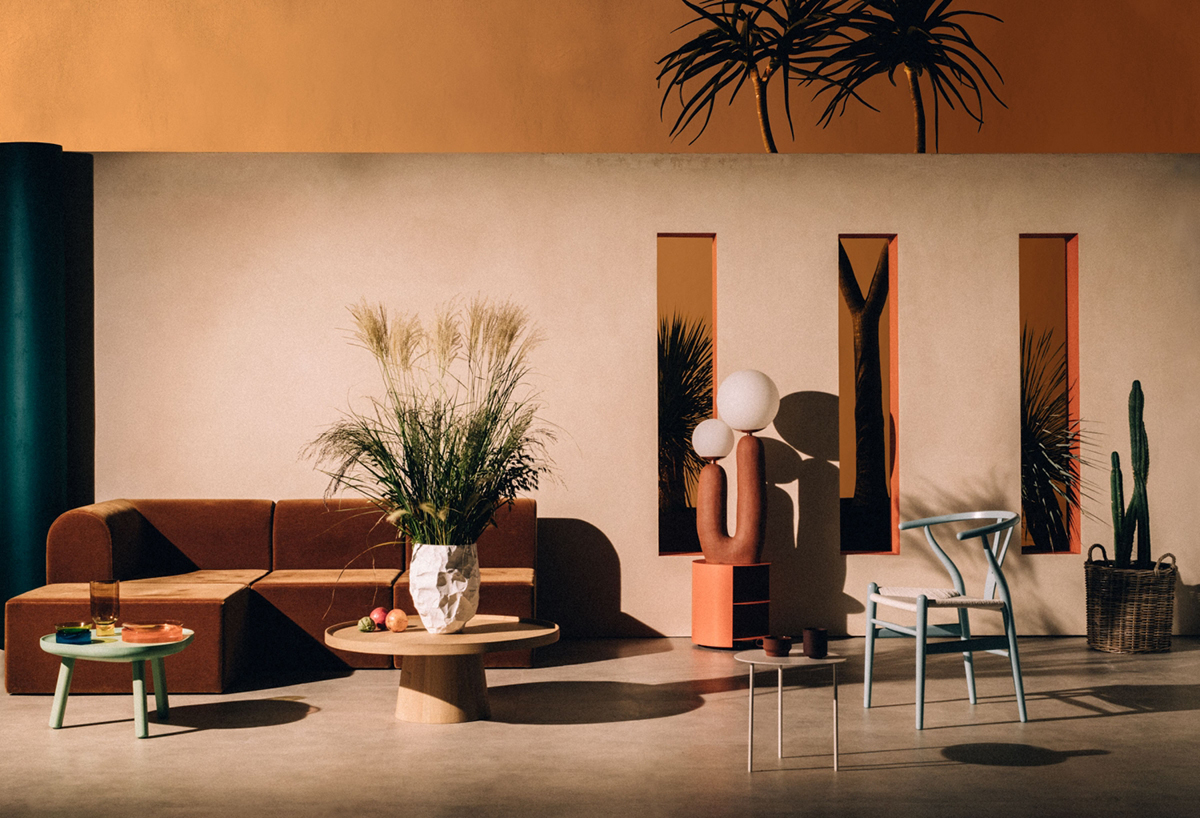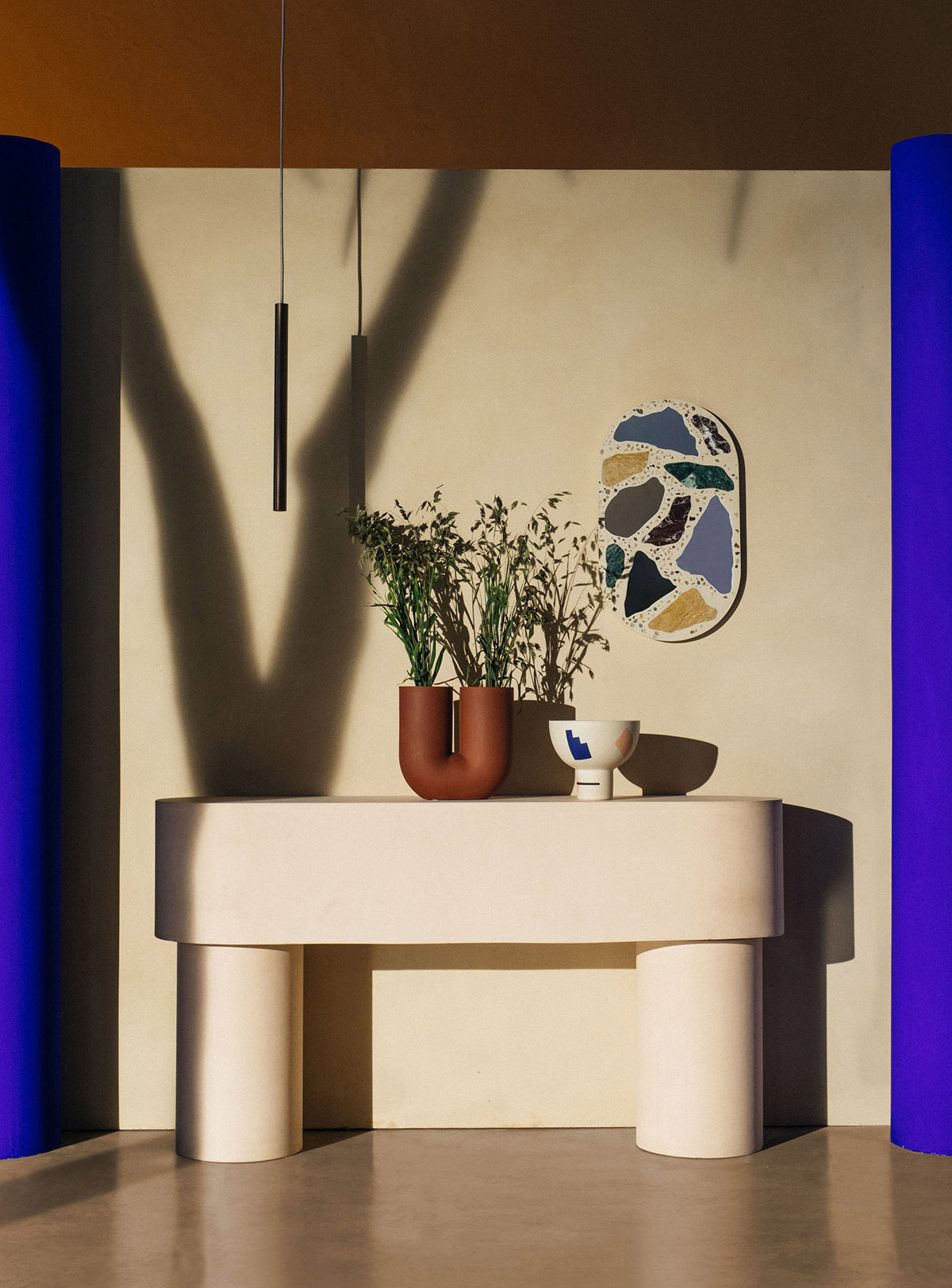 1. "Robert Storey's Rock The Casba set by for Wallpaper — photographed by Robbie Lawrence — inspired by Moroccan landscapes with furniture inhibiting simple architectural forms and a sculptural desert."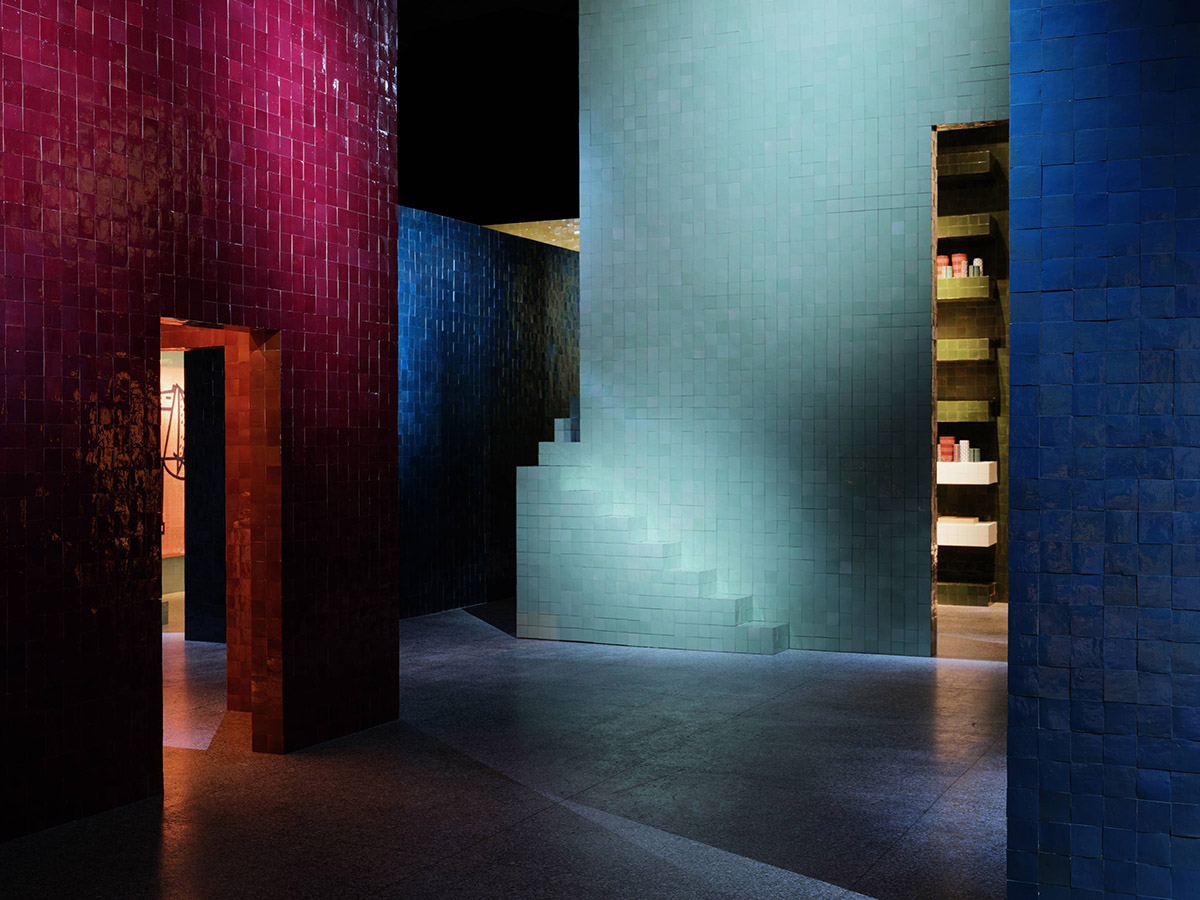 2. "The Hermès 'Species of Spaces' exhibition showcasing the Maison collection. After falling in love with the tile-clad houses created for Milan design week earlier this year, Hermès made yet another playful immersive space exploring the home through form and color, titled after a favorite text of mine by Georges Perec, 'Espèces d'espaces.'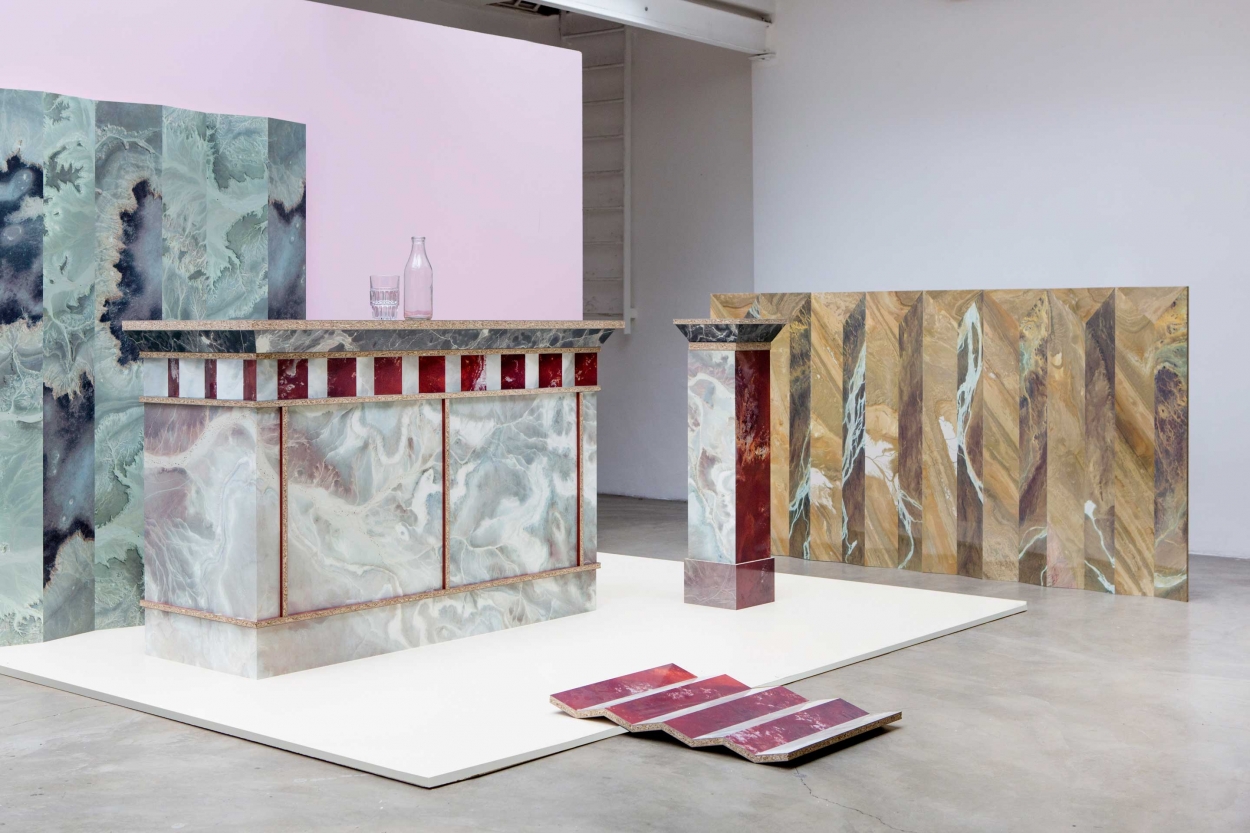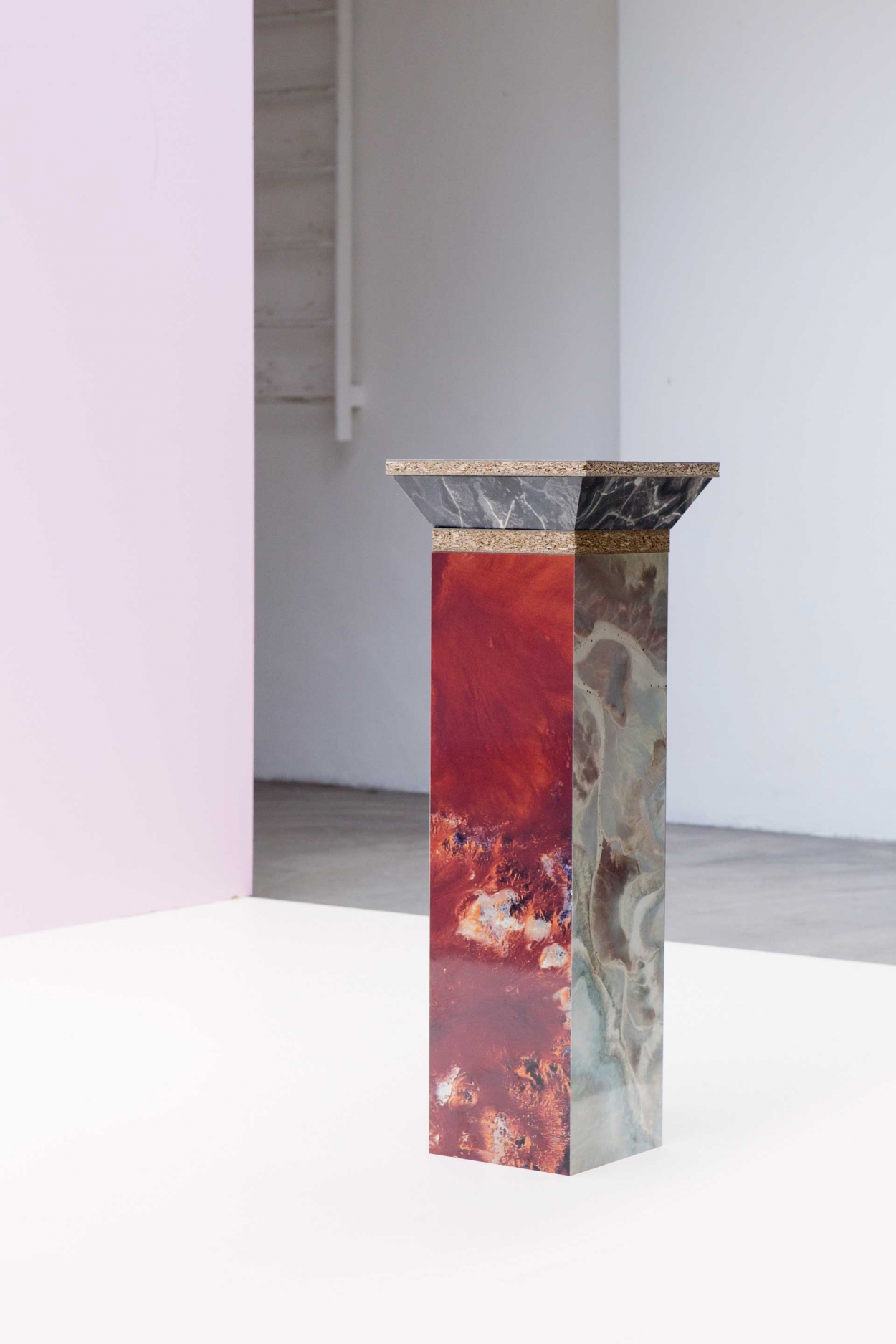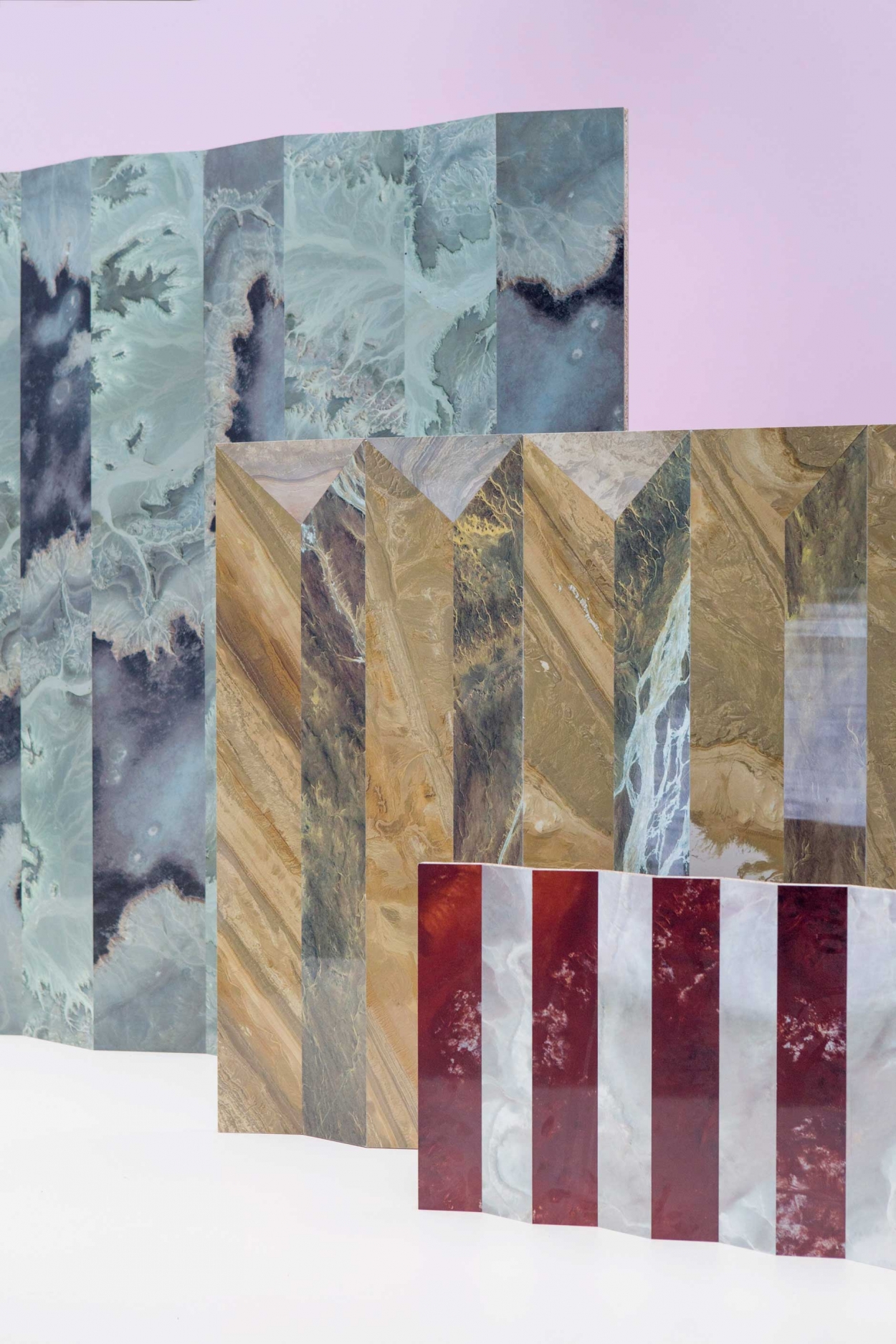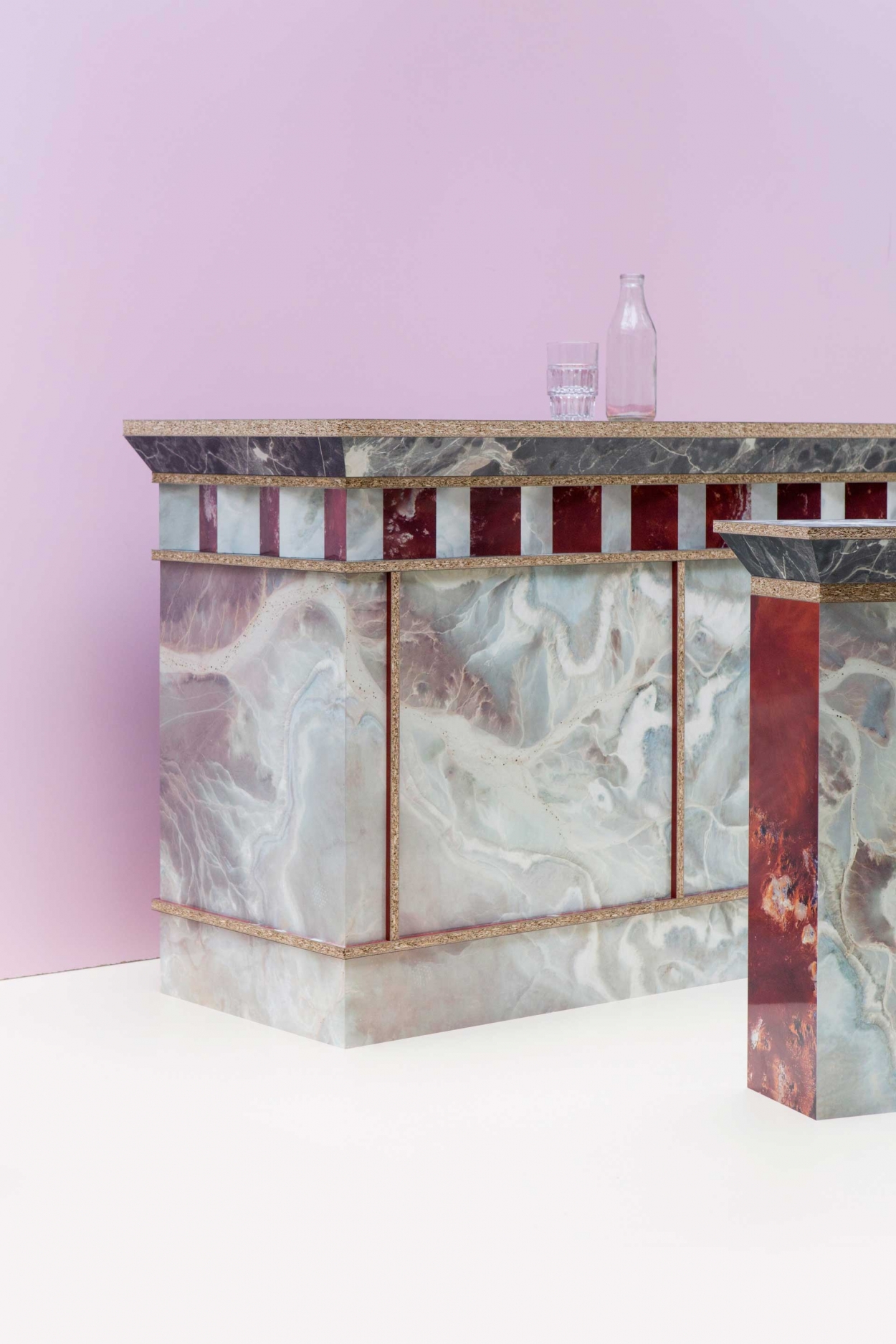 3. "Romancing The Stone by Bart Joachim van Uden shown at the London Design Fair."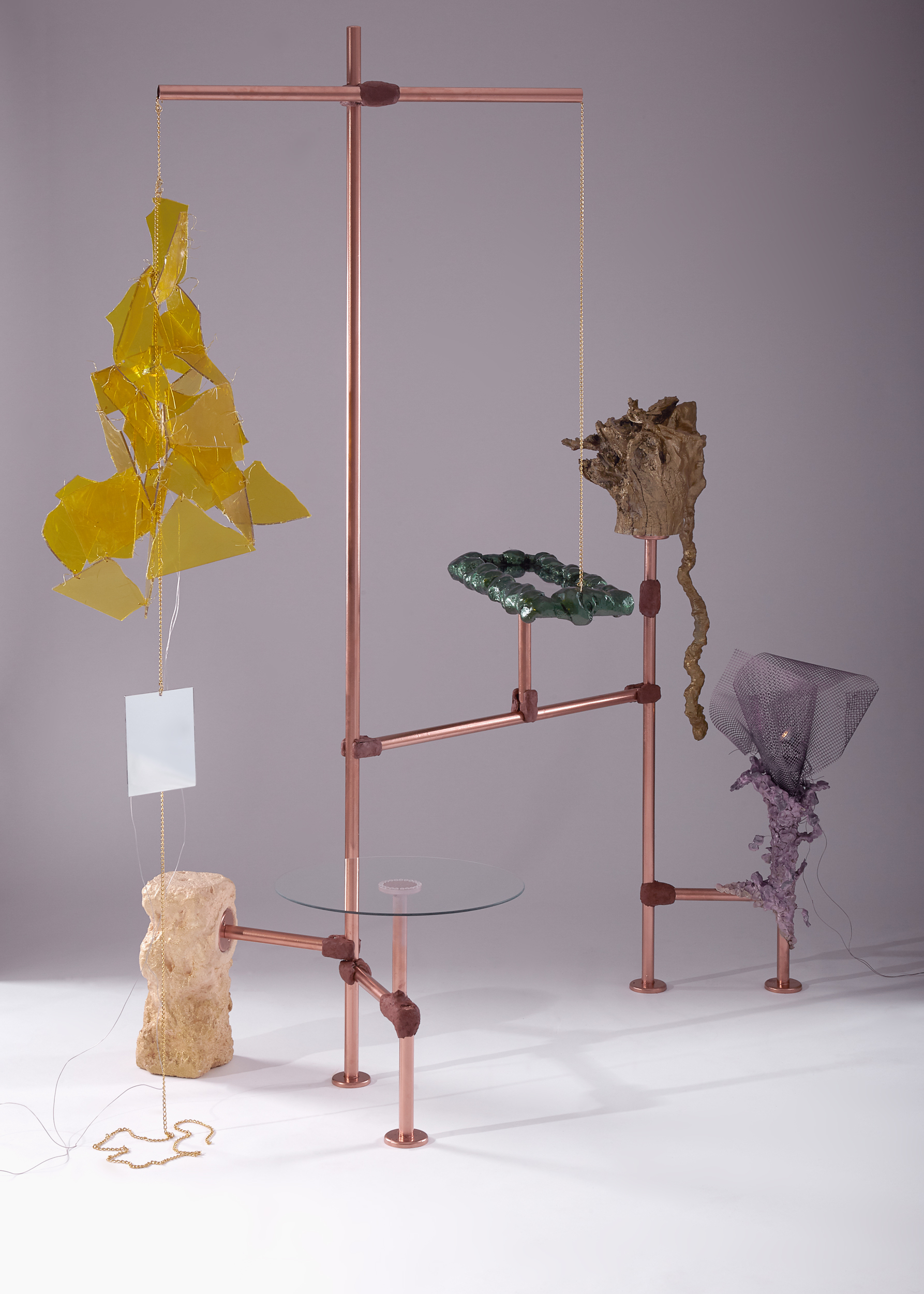 4. "Locus Amoenus by Marta Armengol for the collective exhibition Woman, Object."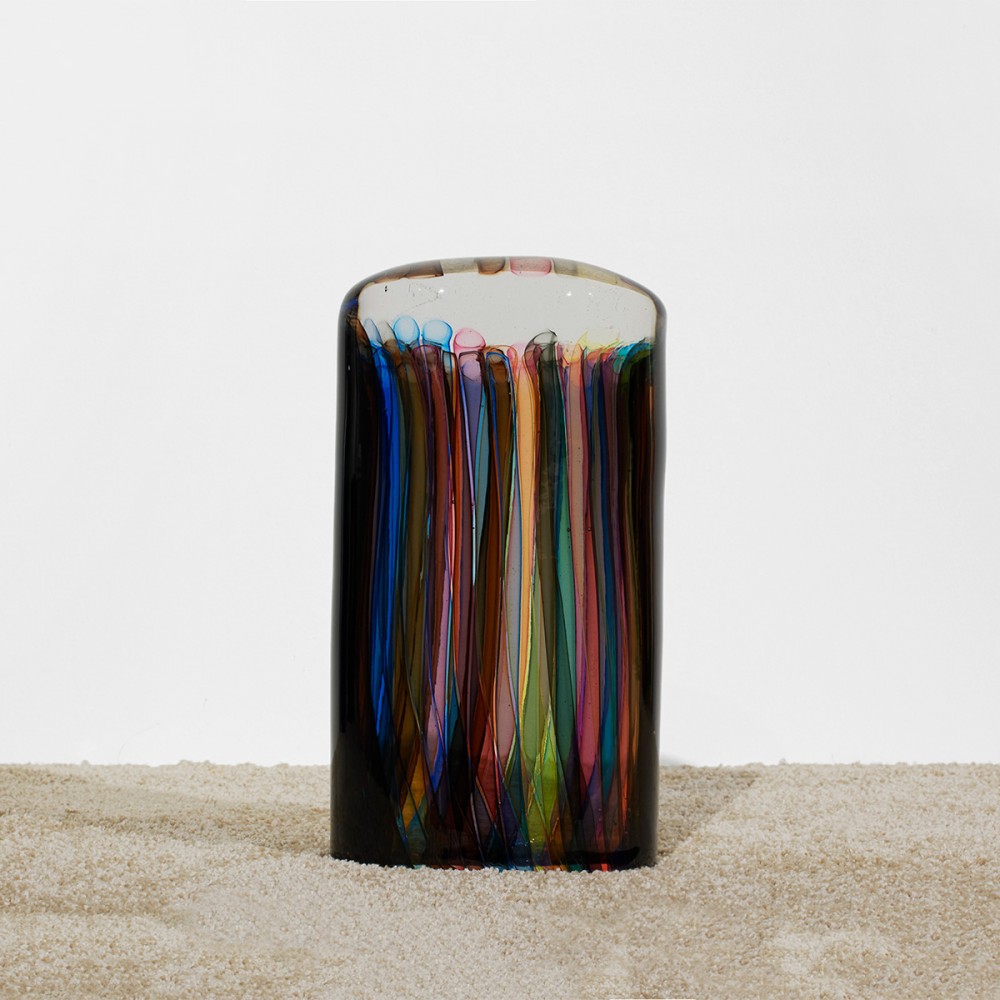 5. "The Future Perfect at Design Miami with designs by a few of my favorites, Chen Chen & Kai Williams, Eric Roinestad and Floris Wubben. Lex Pott's marble tables from his fragment collection being the highlight for me."
What I'm looking forward to in 2019: "The Olafur Eliasson exhibition coming to the Tate Modern the coming summer, and hopefully crossing of a few locations of my ever-increasing list of architecture to visit. Maison du Verre will be the first in January!"
Charlotte Taylor is a London-based designer and one half of Dello Studio.
Adam Štěch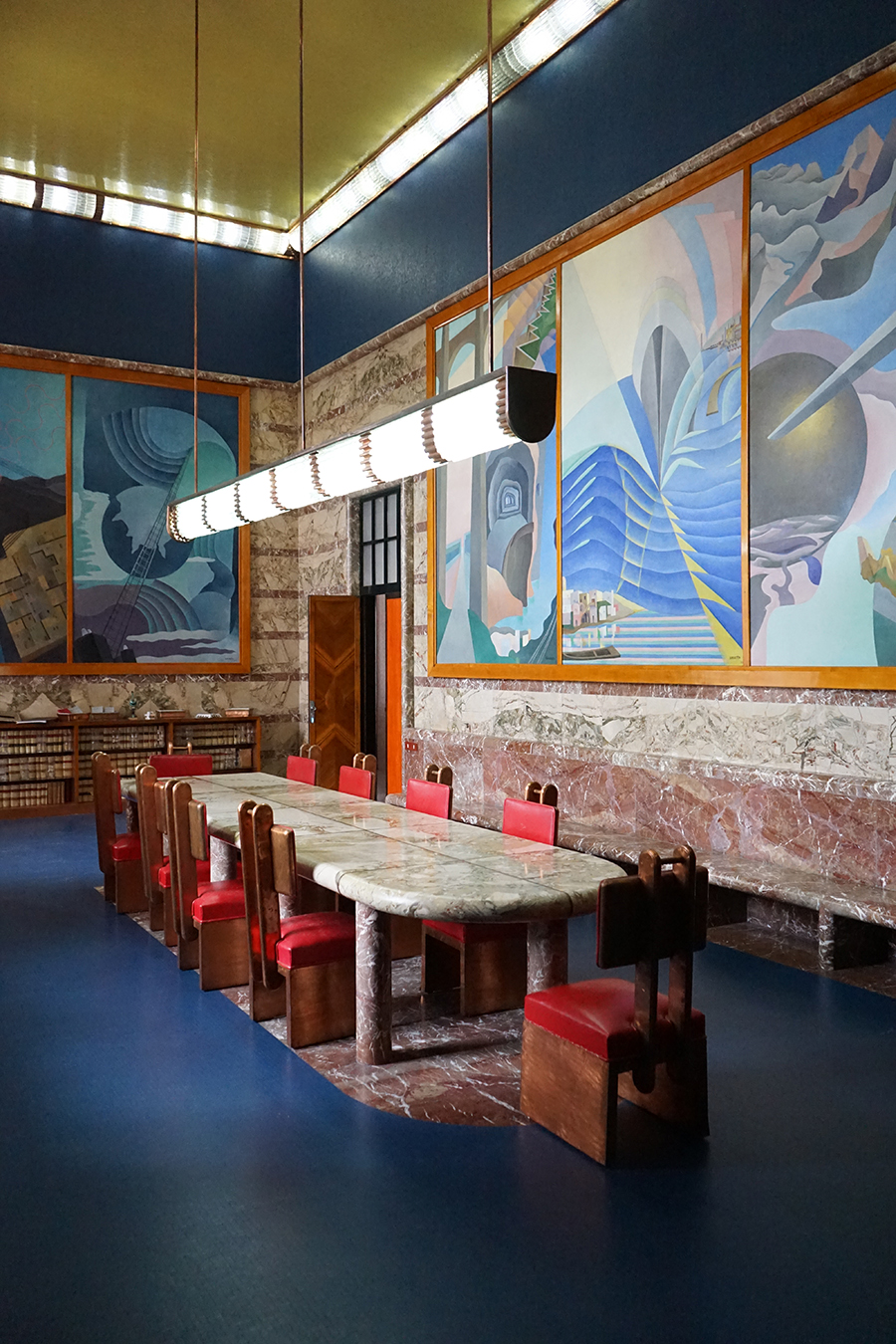 1. "Best interior I stepped in: The Palermo main post office, designed by Angiolo Mazzoni in the 1930s. The interior features amazing marble surfaces and monumental chairs, all designed in an exciting futurist style, as well as a conference room with paintings by Benedetta Cappa. We visited the interior with friends when we were in Palermo for the Manifesta exhibition. Actually, the interior was the best thing what we saw during our whole stay."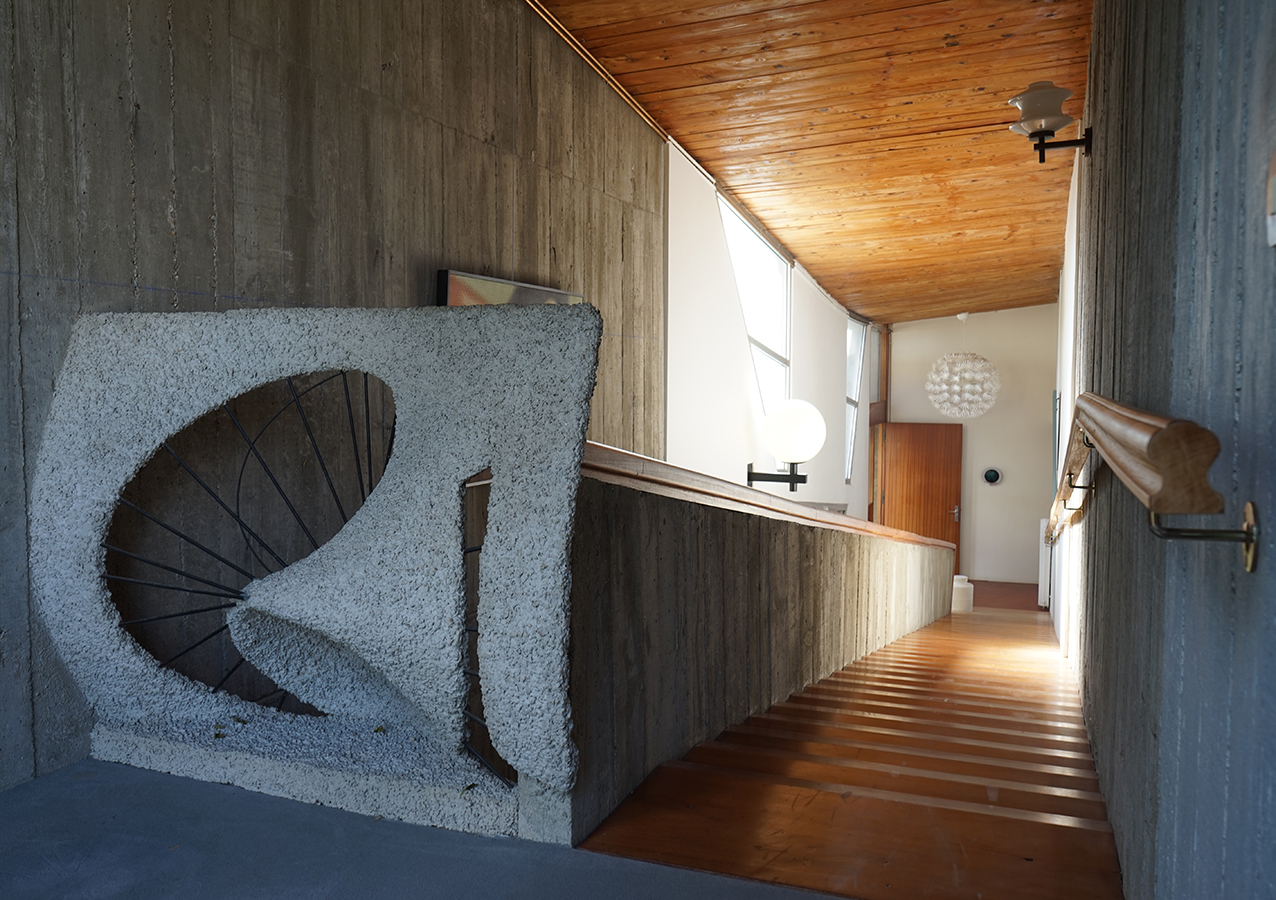 2. "Best house I visited: Maison Pradier by Pierre Debeaux close to Toulouse, designed during the late 1960s as a Brutalist fortress. The house is interesting as a spatial concept. It is designed as a spiral with the courtyard in the middle. Inside, original furniture and lighting fixtures are still intact. There's a rumor that the furniture was designed by Charlotte Perriand, but I am not sure. I visited the house during beautiful Sunday morning in early March. The owners, nice family, were so kind they even offered me to stay overnight. Unfortunately I couldn't."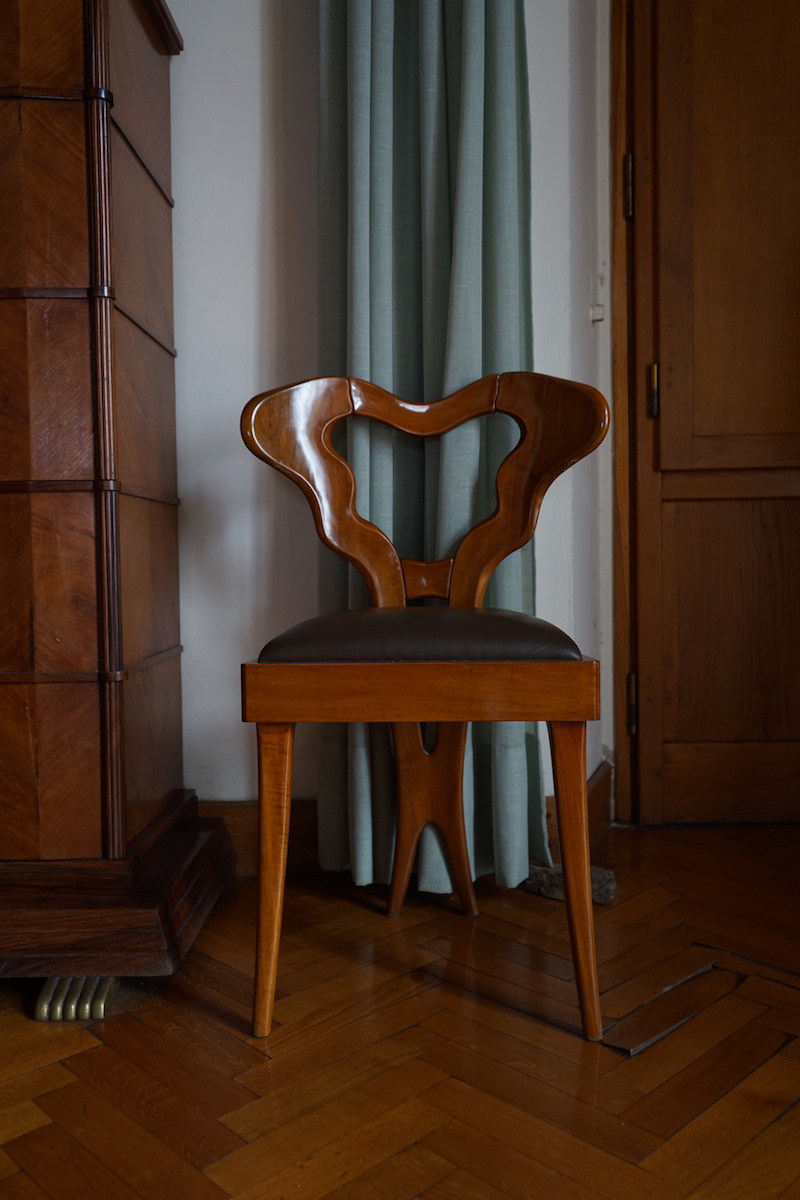 3. "The best piece of furniture I saw: A chair designed by Italian modernist architect Giovanni Michelucci in late 1940s. Seen at Fondazione Giovanni Michelucci in Florence. Michelucci was active in Florence for all his life, creating some of the most adorable buildings in the region. His was is very organic and sensual, as this unique chair."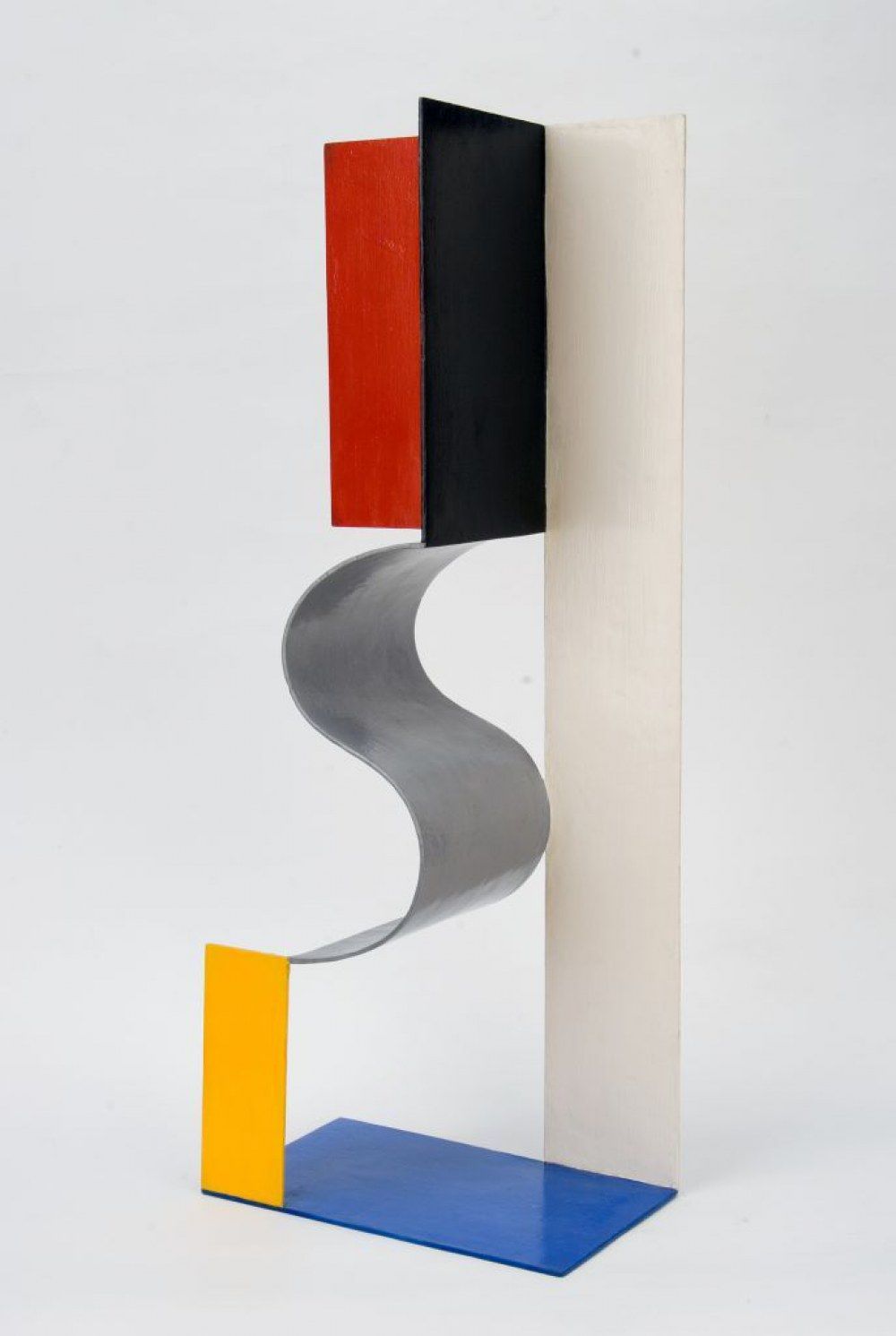 4. "The best exhibition I saw: The Polish Avant-Garde at Centre Pompidou in Paris. Great excursion for a lesser-known protagonist of European modernism in art. Katarzyna Kobro and Władysław Strzemiński created abstract paintings, sculptures and even designs for furniture and houses."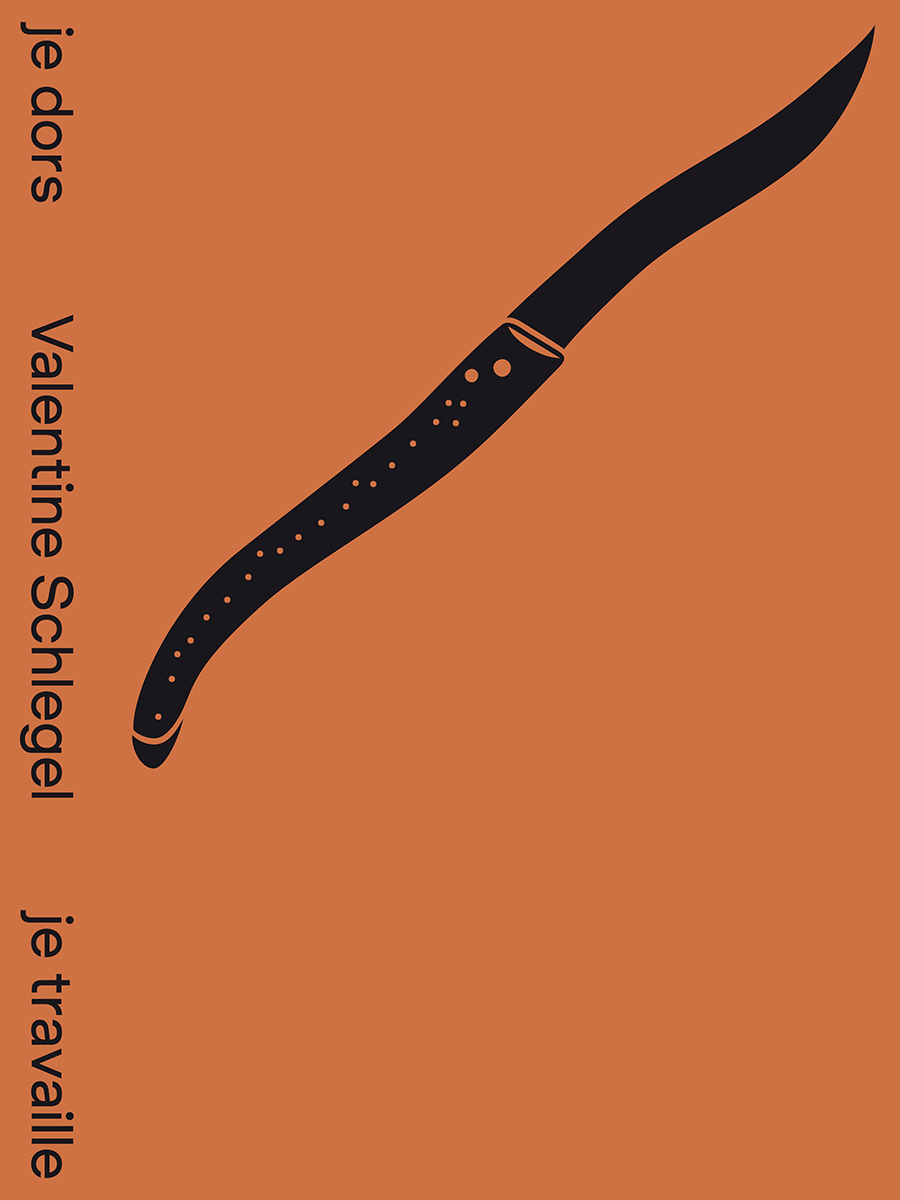 5. "The best book published: An amazing monograph on the forgotten work of French ceramicist Valentine Schlegel. She was active from the 1950s to 1990s. Her beautiful ceramic and amazing custom fireplaces have caught my eyes for many years. Finally, a beautiful book on her was published. And the graphic design of the book is also stunning."
What I'm looking forward to in 2019: "A retrospective exhibition of Enzo Mari at Triennale, curated by Hans Ulrich Obrist."
Adam Štěch is a journalist and curator based in Prague, and the world's foremost expert on #doorporn.
Egg Collective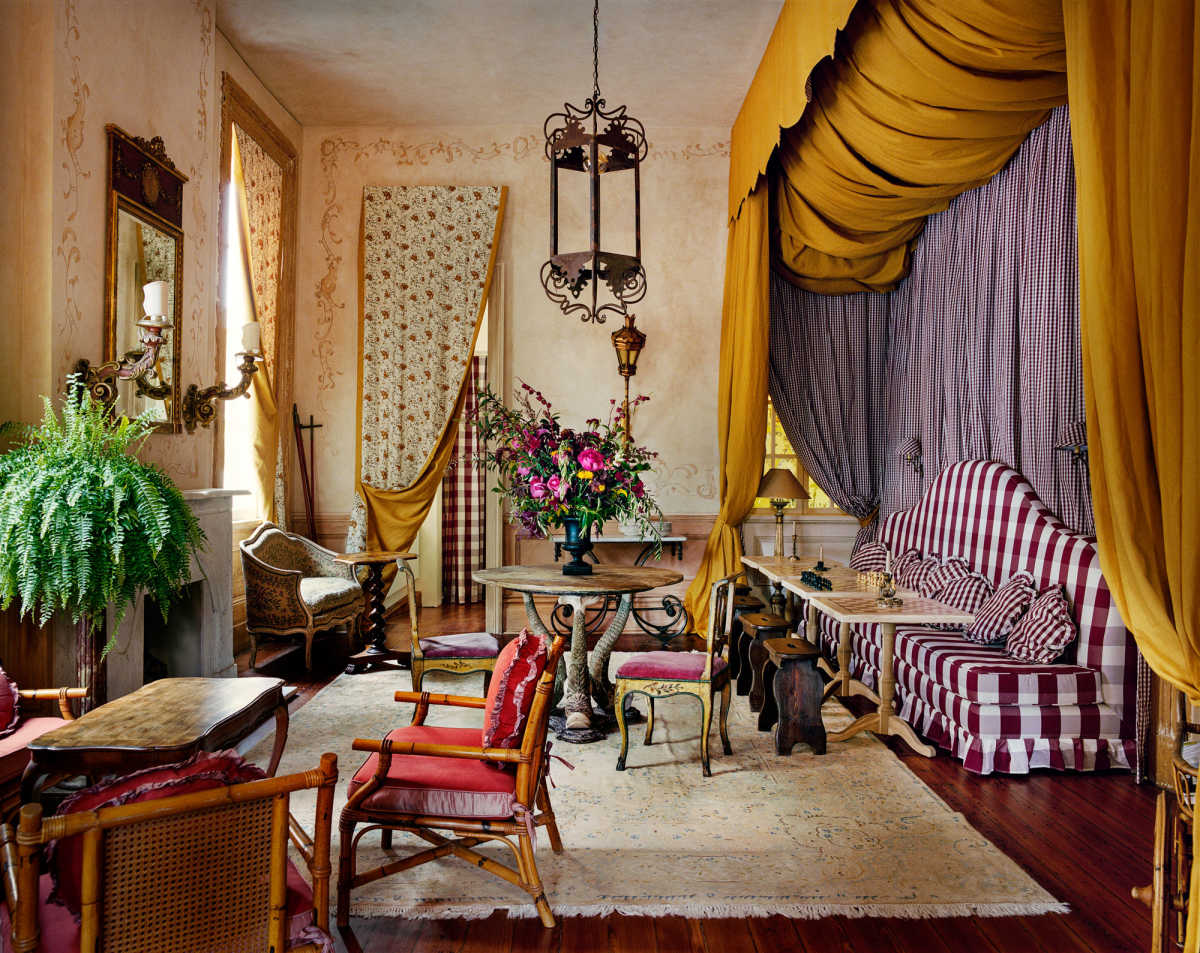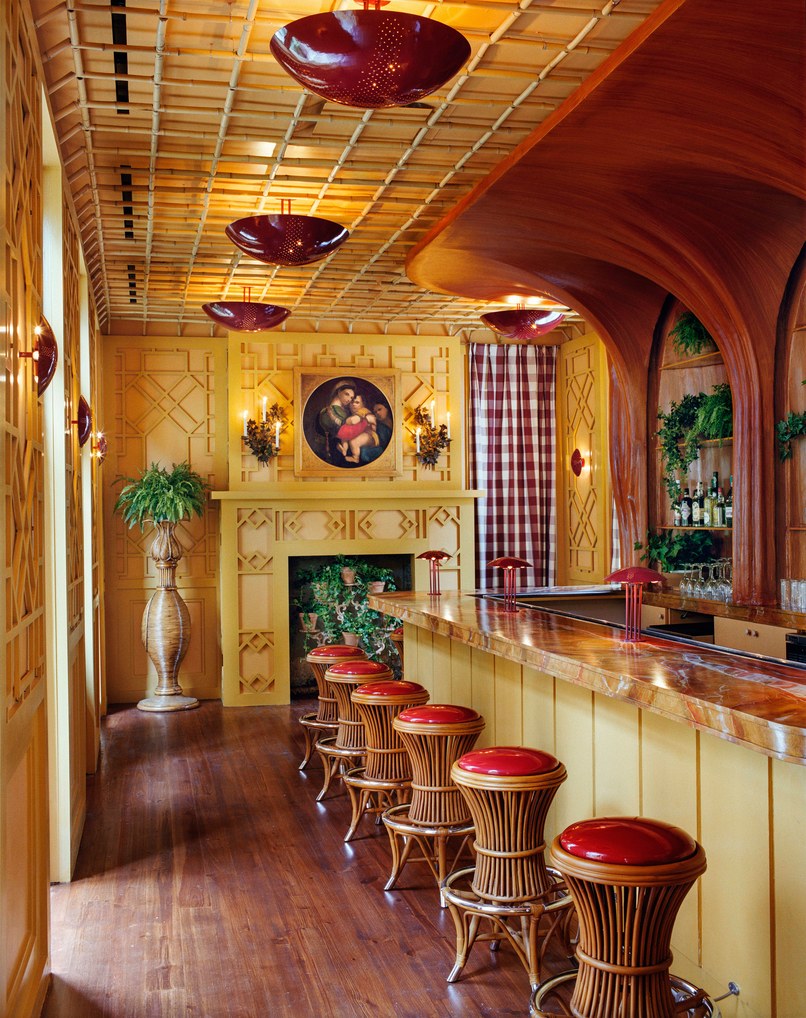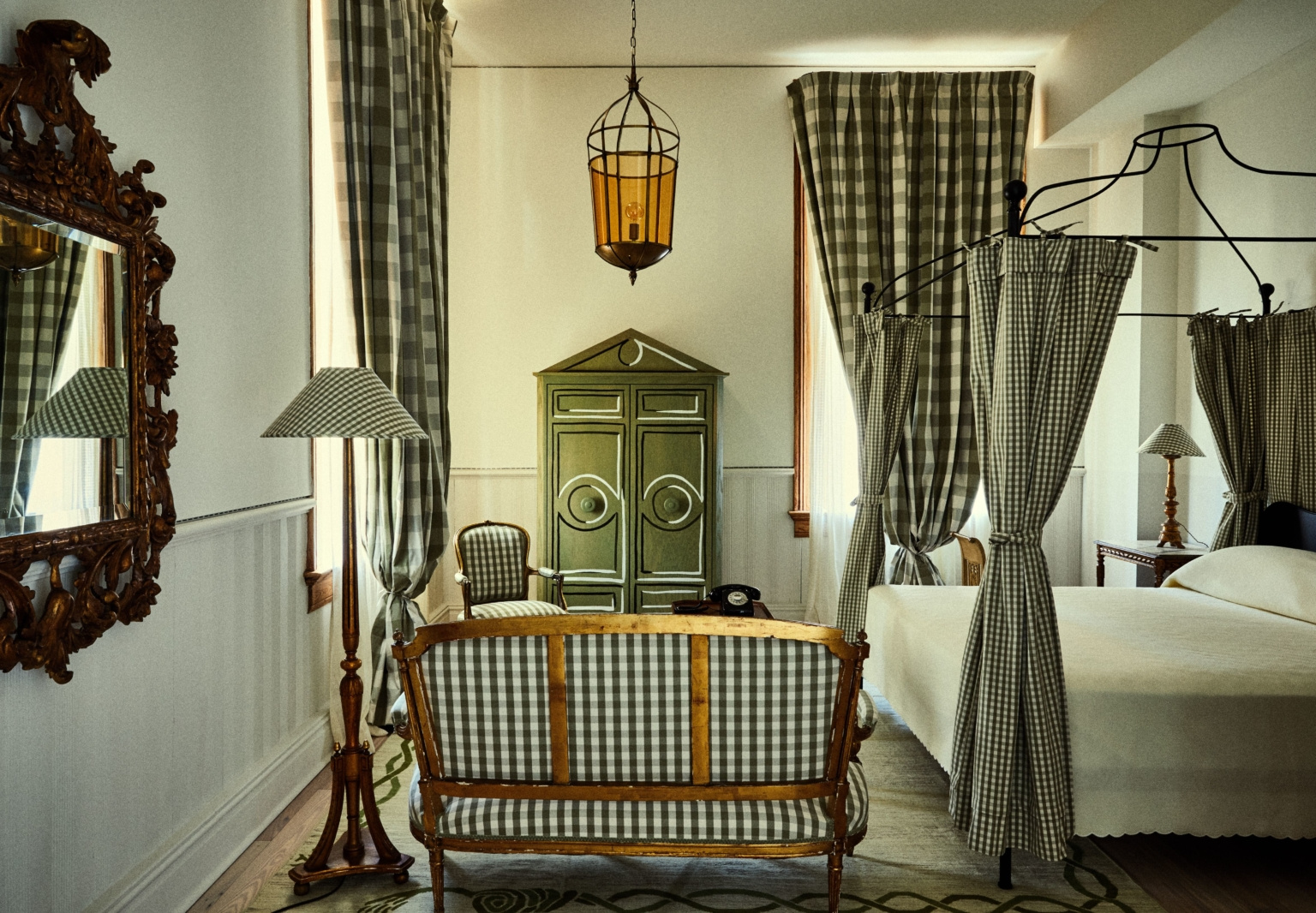 1. Hotel Peter and Paul by ASH NYC. "We already knew that we loved New Orleans, and interiors by ASH. But, until seeing this hotel in a former rectory and schoolhouse, we had no idea we could ever love gingham so much!"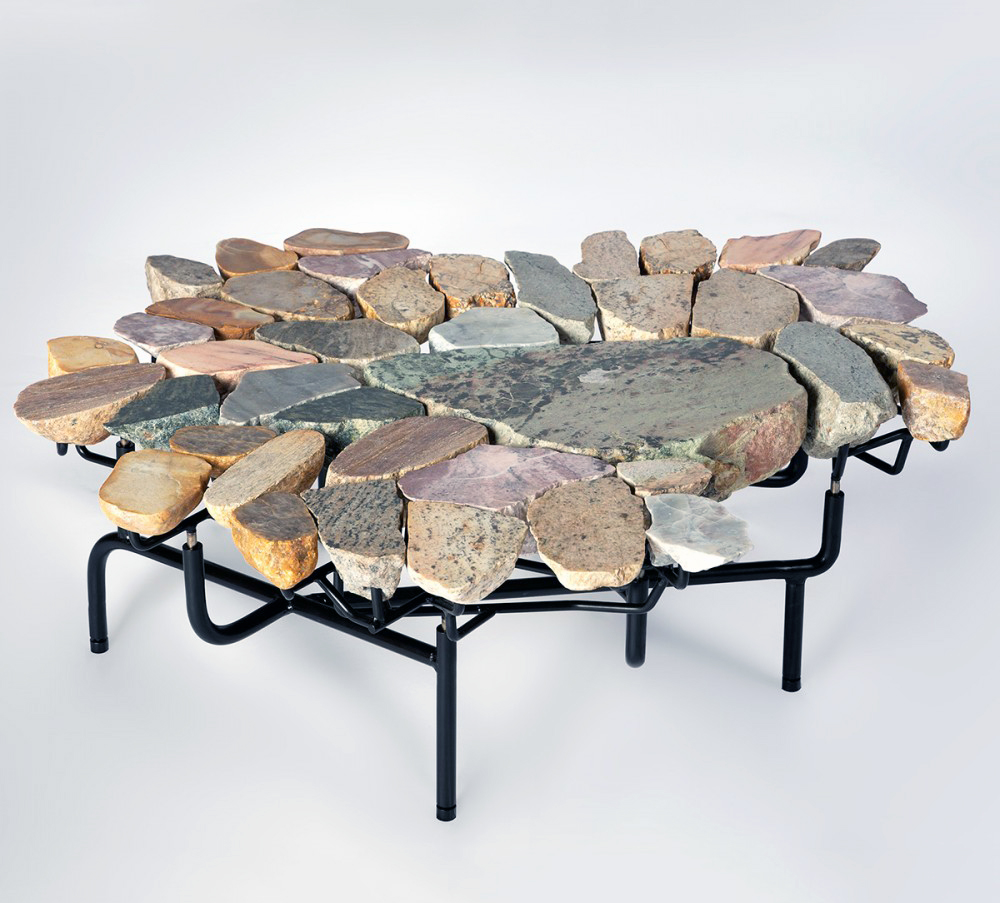 2.  The Geology Series by Chen and Kai. "We've always thought that rocks are magical. In fact, you'll find special ones strewn about each of our homes. So, seeing Chen and Kai's Geology Tables felt revelatory. Like huge awesome pieces of jewelry, the tables' surfaces are made up of split stones set like jewels into a custom metal armatures."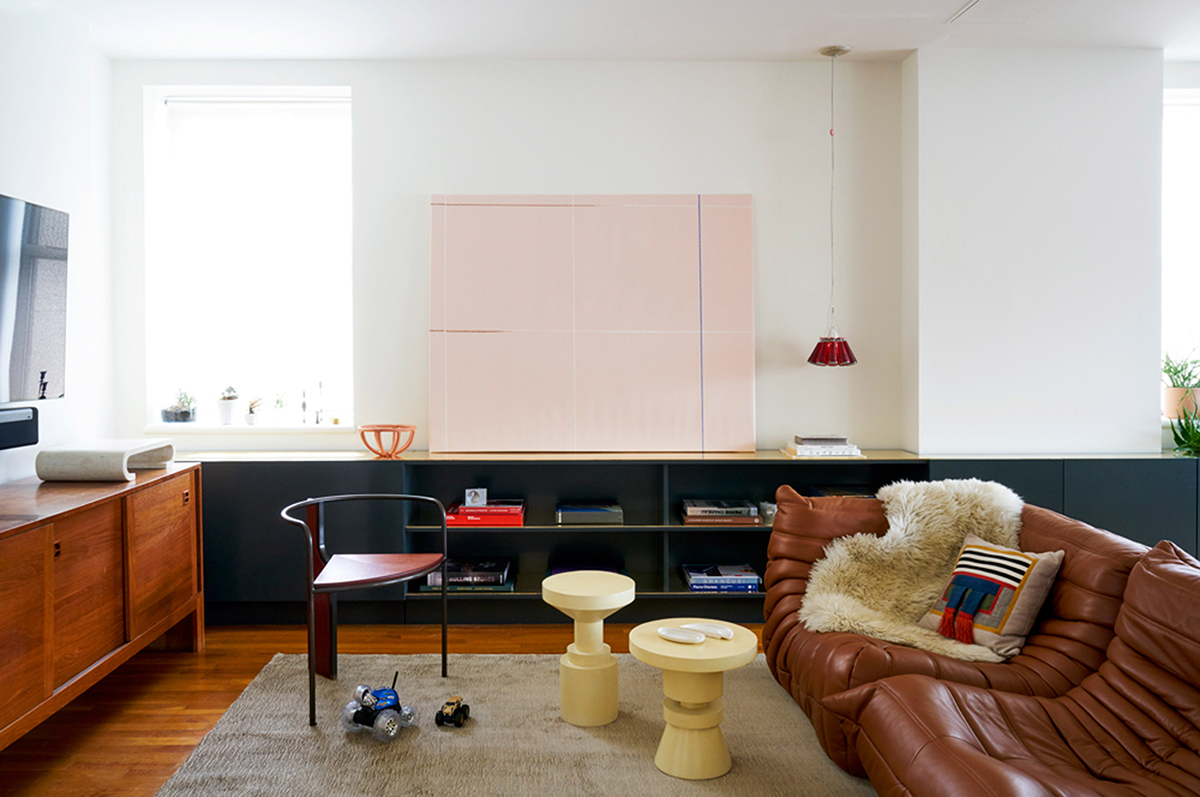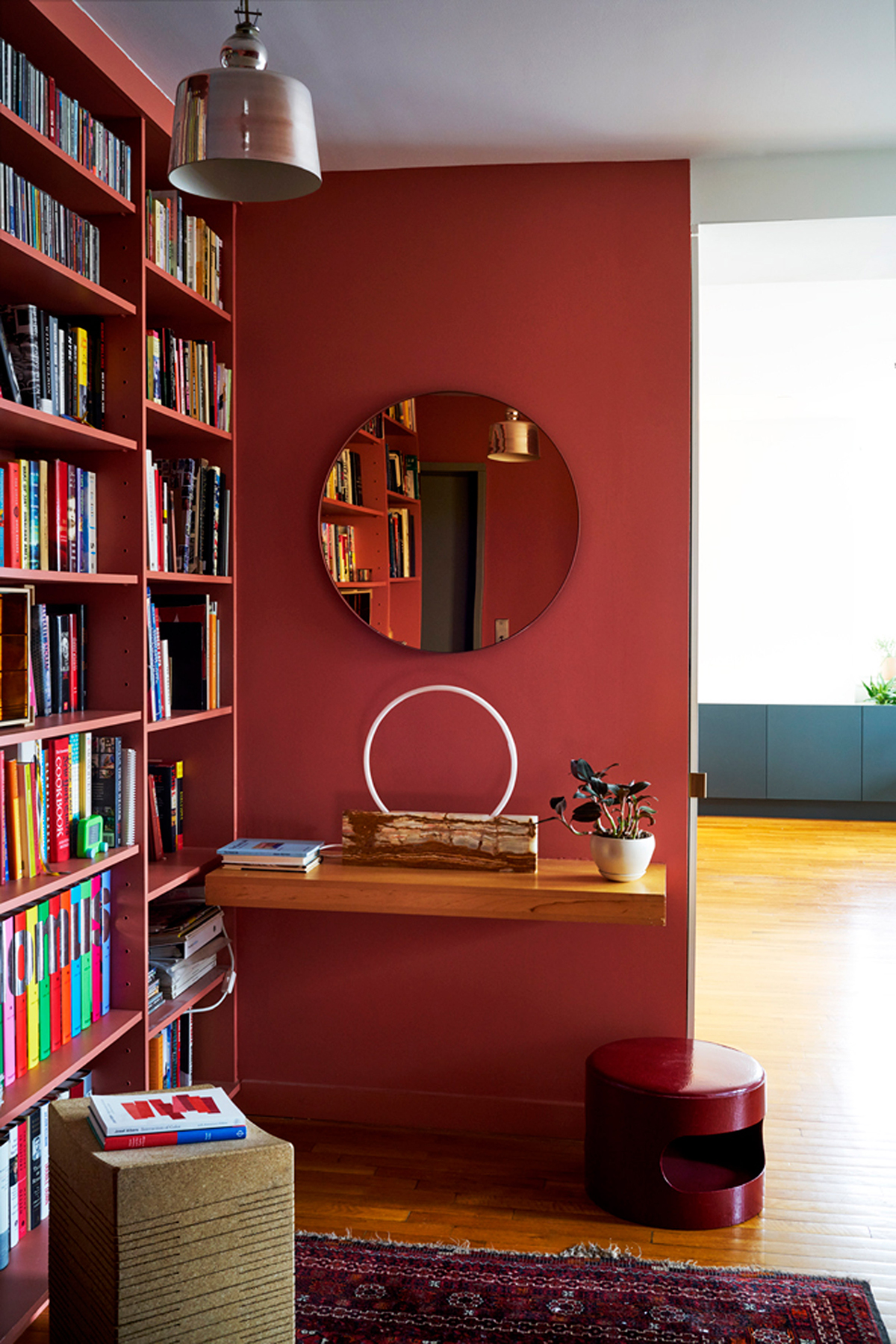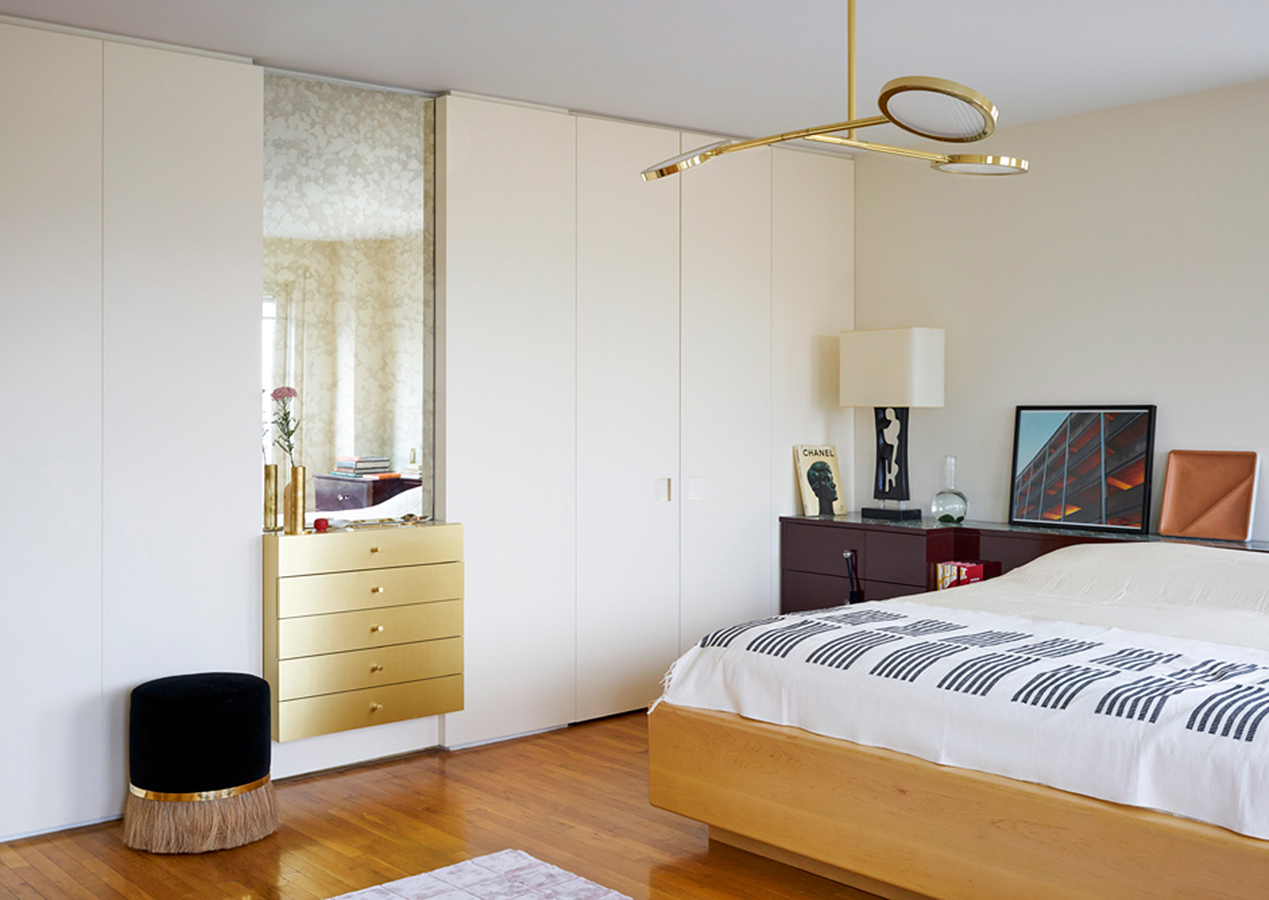 3. The Bergen Street Project by General Assembly. "We love the combination of contemporary, custom, and vintage design in this penthouse by General Assembly. They sourced and combined some of our favorite work from our friends and peers in the design industry including Pelle, Anna Karlin, Ana Kras x Calico, Matter, and Michael Anastassiades."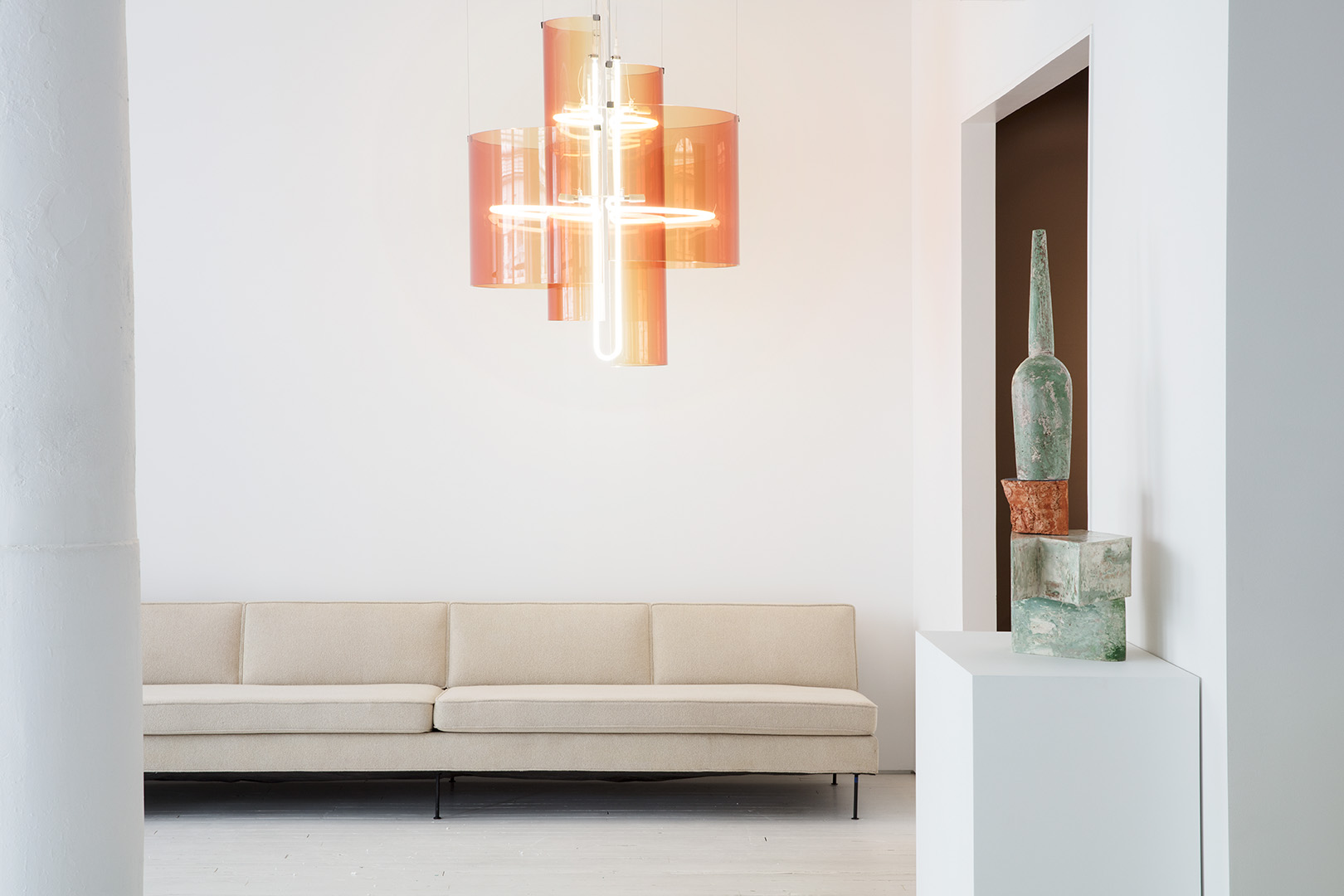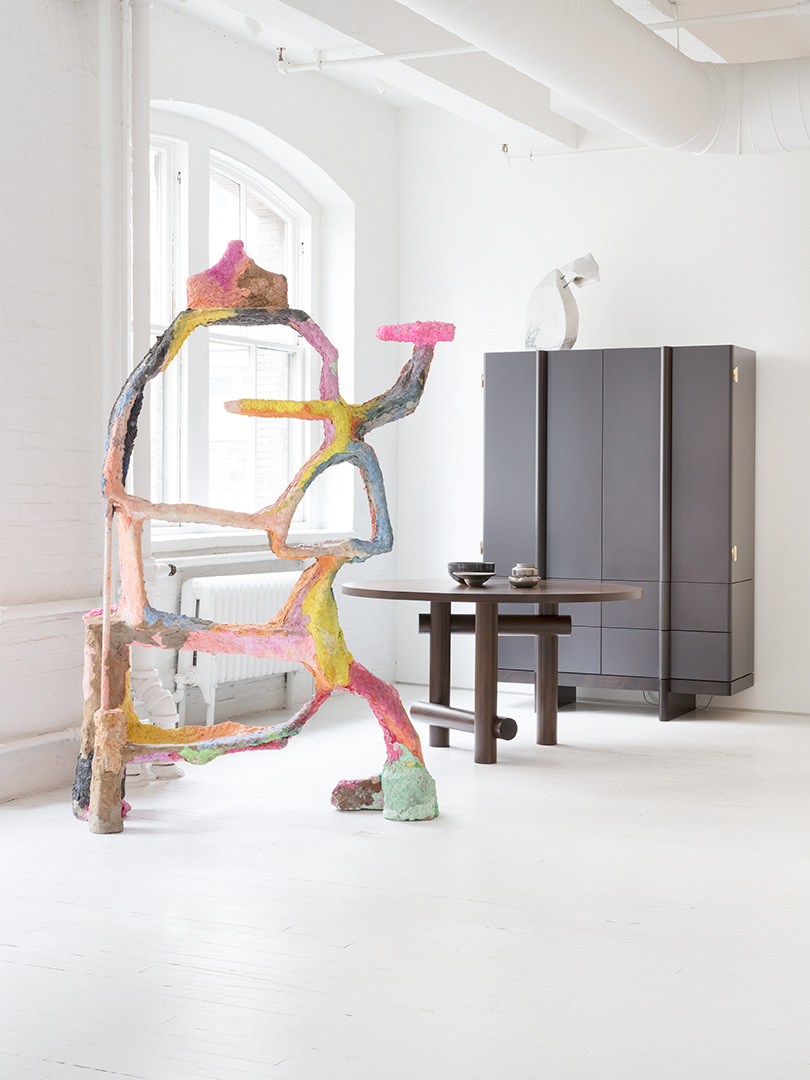 4. Designing Women II: Masters, Mavericks, Mavens by Egg Collective and co-curated by Lora Appleton. "In the Spring of 2018 we hosted, and co-curated with Lora Appleton, the second iteration of "Designing Women." Working with the designers and the gallerists for the show was a true highlight of the year. This years show was a conversation across both time and space, pulling together works of design by women, both past and present, that spanned the globe and spoke to the power and diversity of the female voice in design."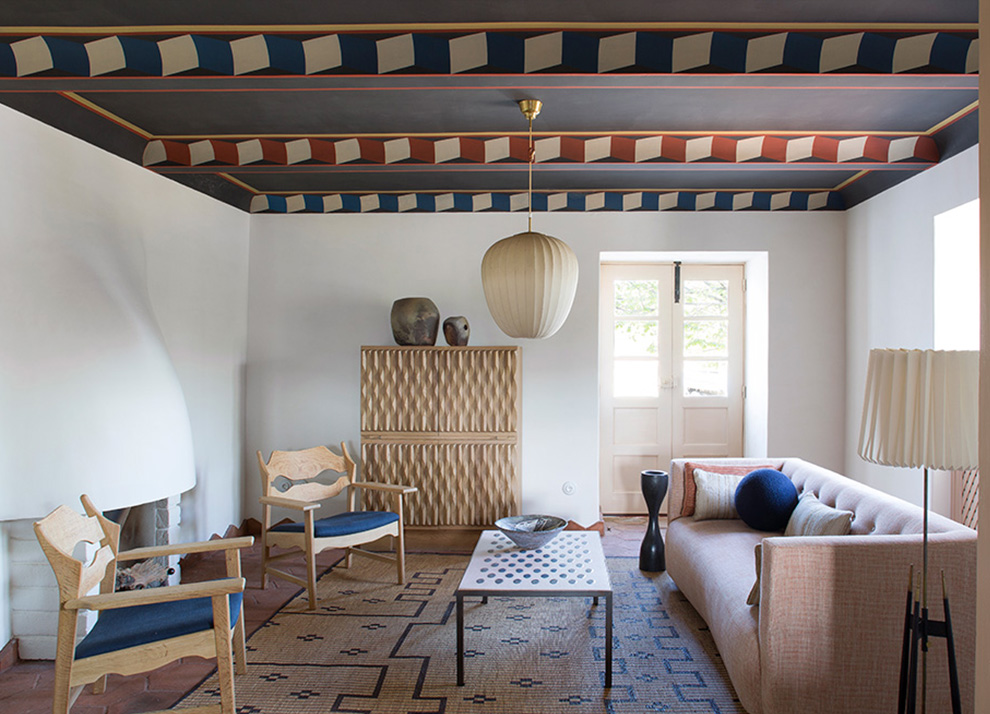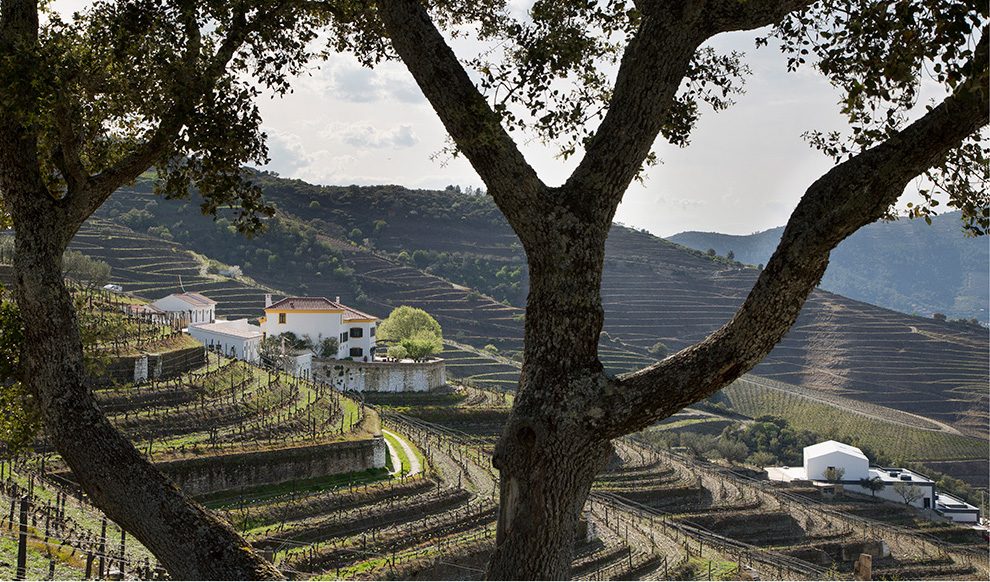 5. "What a dream — a winery designed by Pierre Yovanovitch. His work always strikes a beautiful balance, combining whimsical forms with pops of vivid earthy colors and sumptuous textures. PLUS who wouldn't want to sip one too many and then cozy up below that stunningly painted ceiling!"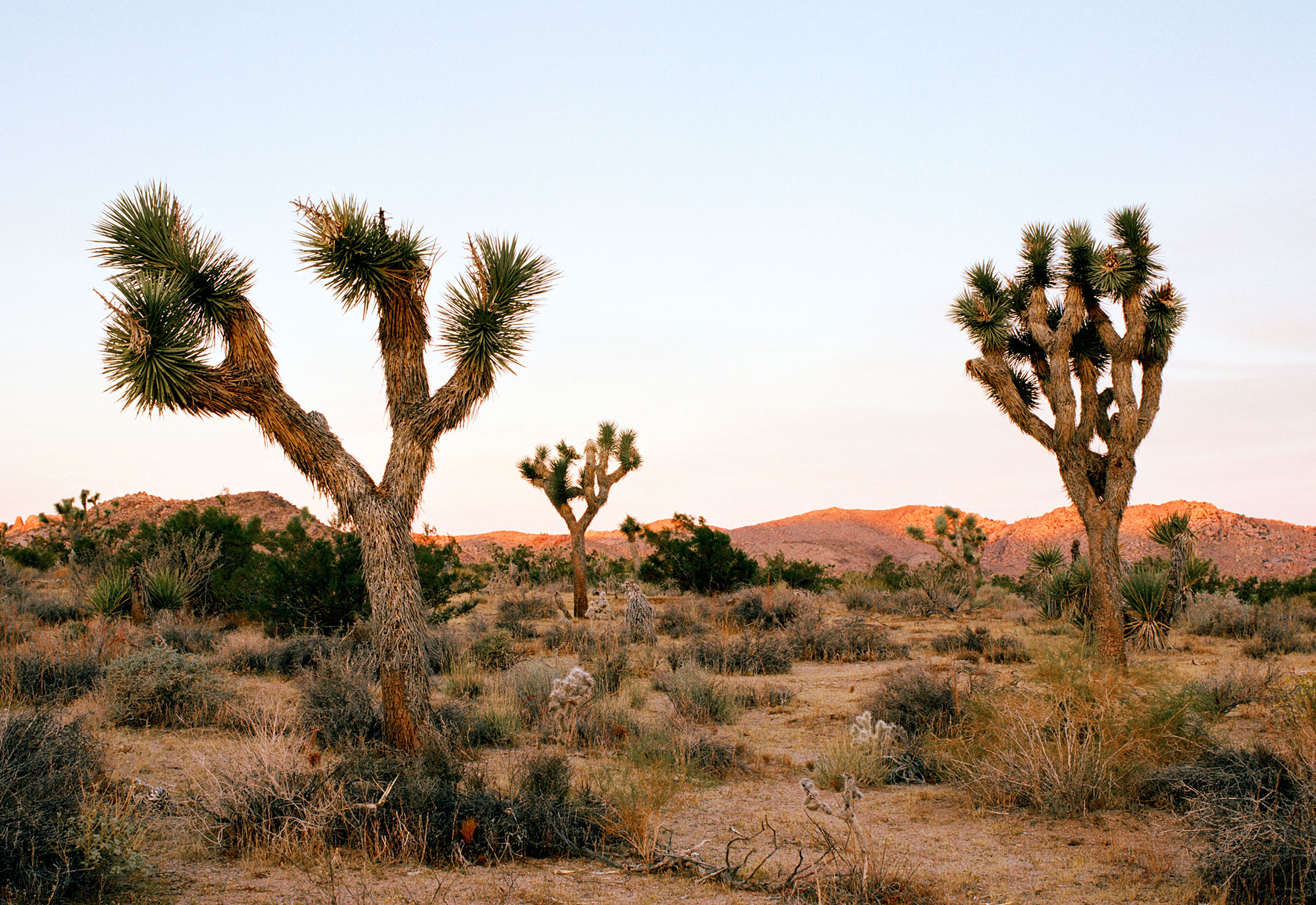 What we're looking forward to in 2018: "We try to take one trip together each year to re-connect and gain inspiration. This year we will be heading out West to be inspired by the architecture of Palm Springs and the landscape of Joshua Tree. We have some big things in the works for the Spring, and we imagine that a trip to the desert will provide us with the vitamin D we'll need to make it to the finish line."
Egg Collective is a New York–based design studio founded by Hilary Petrie, Crystal Ellis, and Stephanie Beamer.
Studiopepe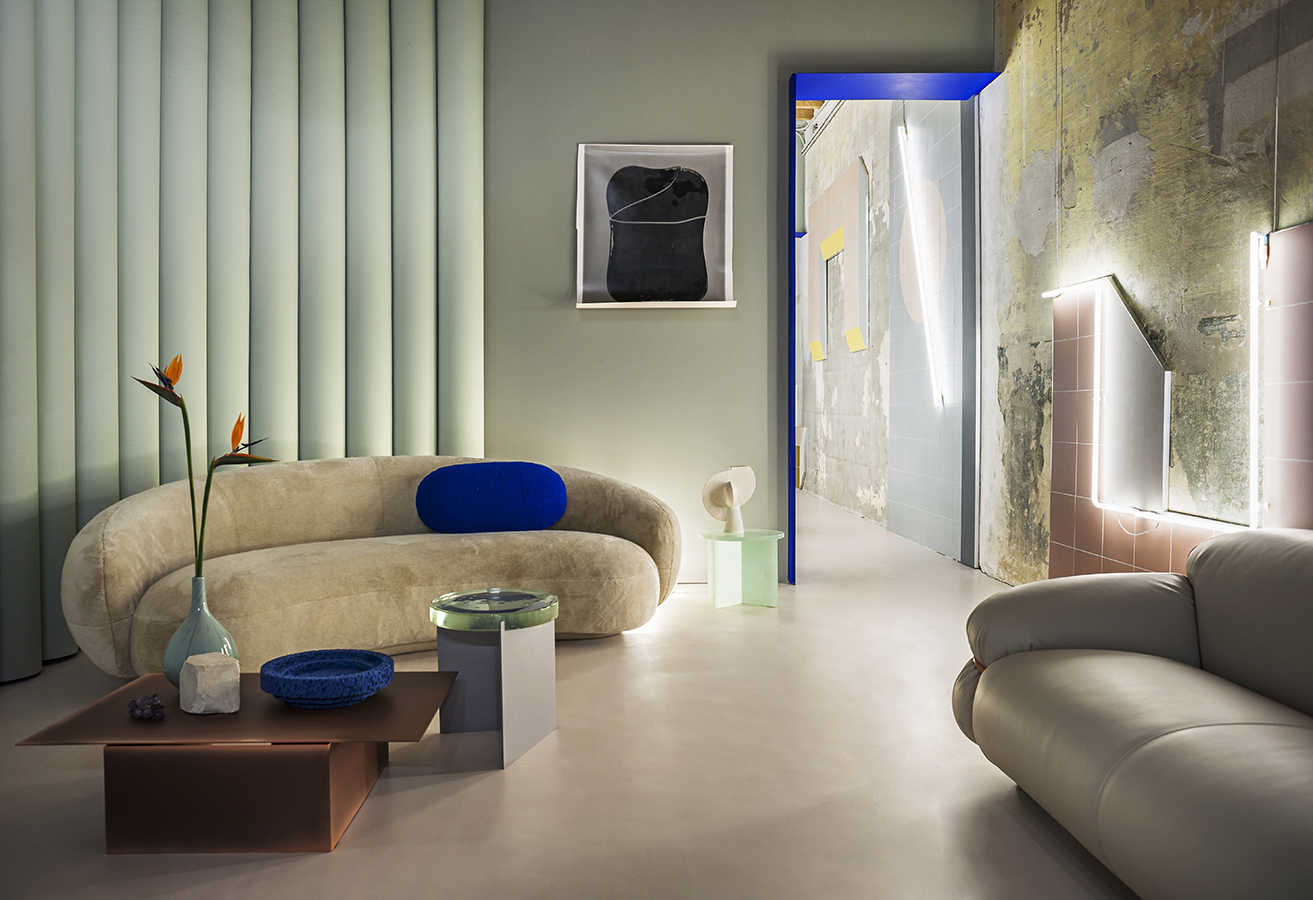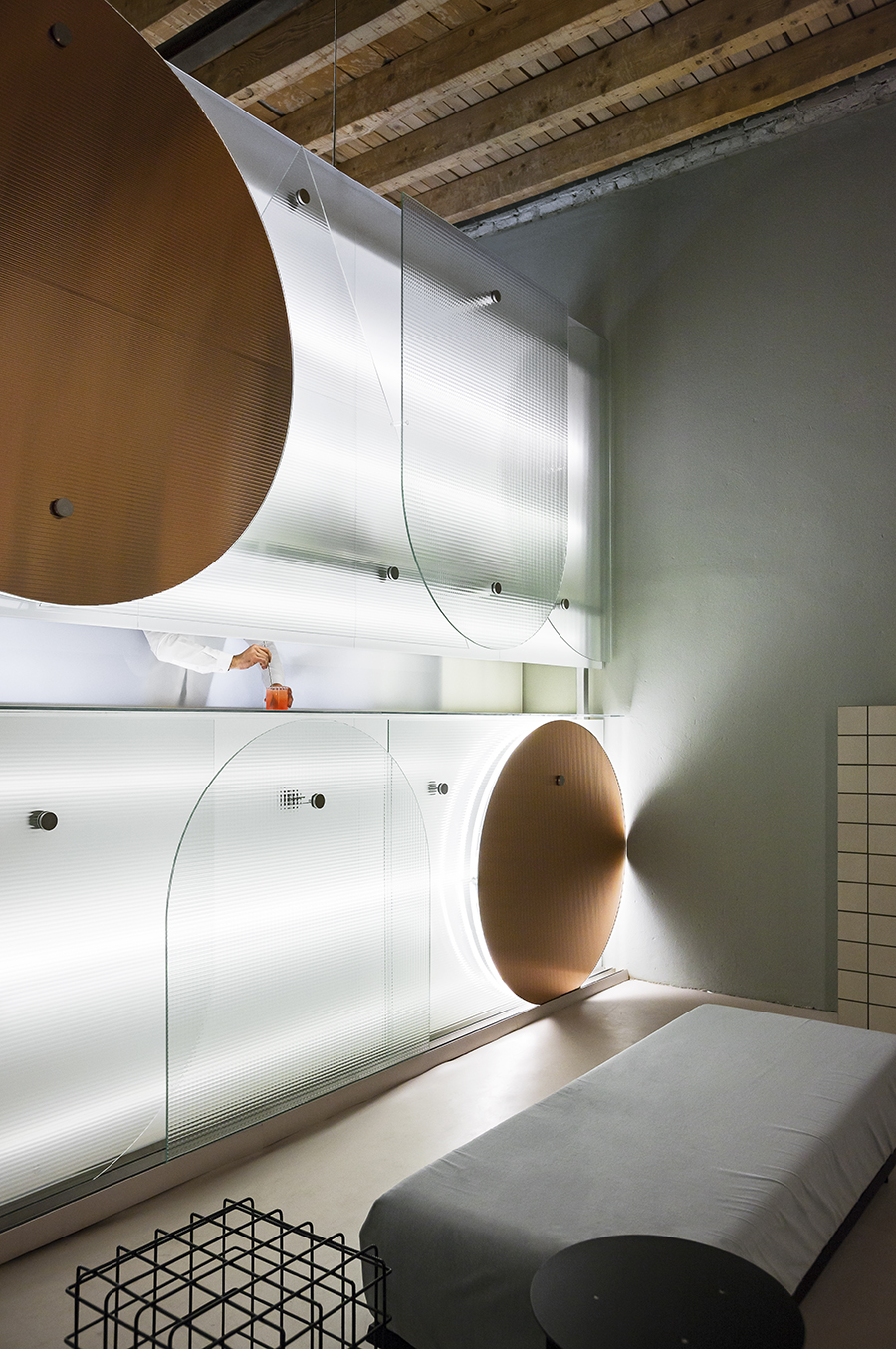 1. Club Unseen by Studiopepe: "Future, reloaded. Contemporary and memory, sartorial craftsmanship and augmented reality, public and private: Antithetical realities organically overlapped in Club Unseen, our project created for the 2018 Salone del Mobile."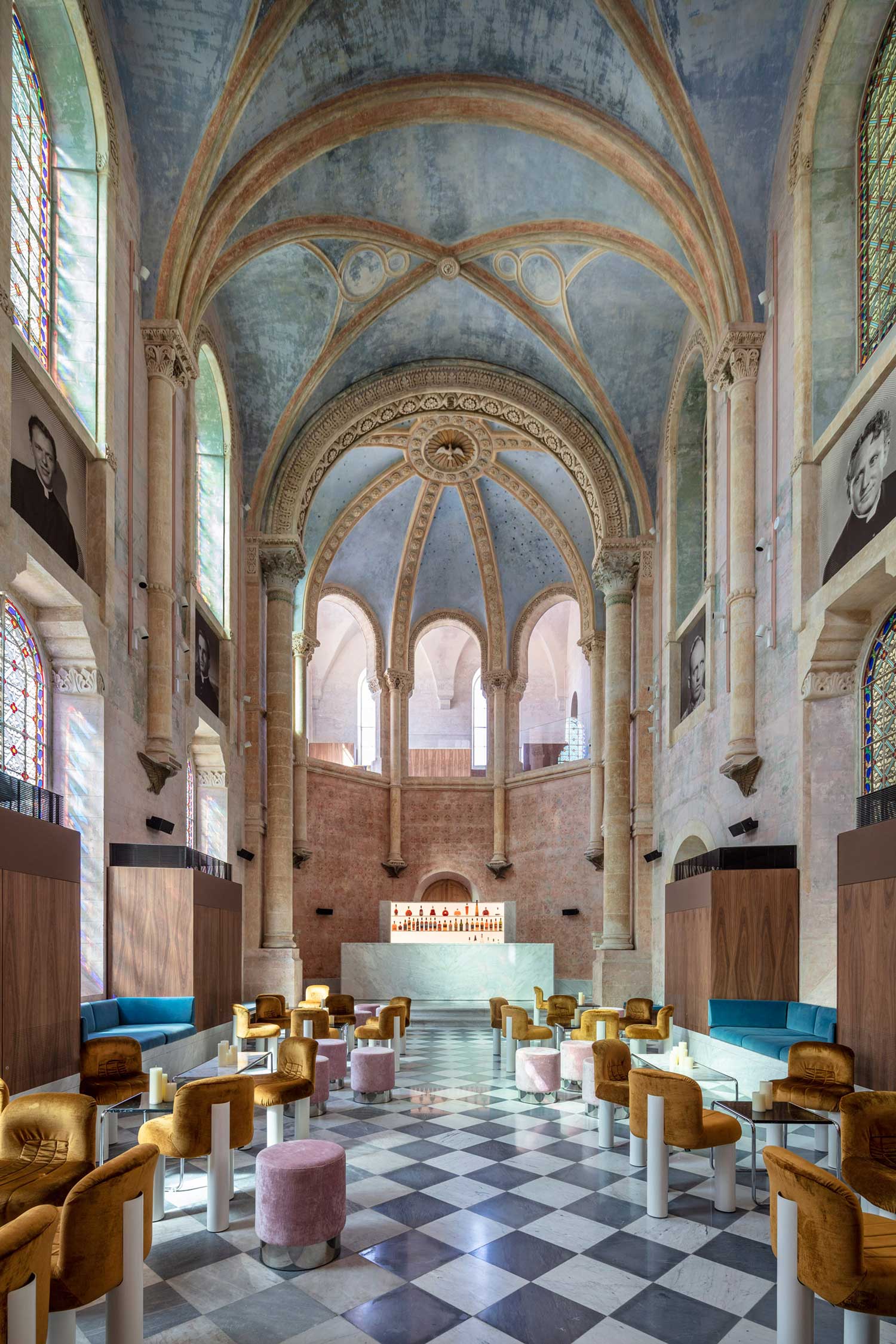 2. The Jaffa Hotel & Residences by John Pawson: "The contemporary embraces heritage in this new hotel designed by John Pawson in Tel Aviv. Colors, light, and contemporary pieces come together in a subtle harmony within the walls of a 19th-century complex that once housed Jaffa's French Hospital."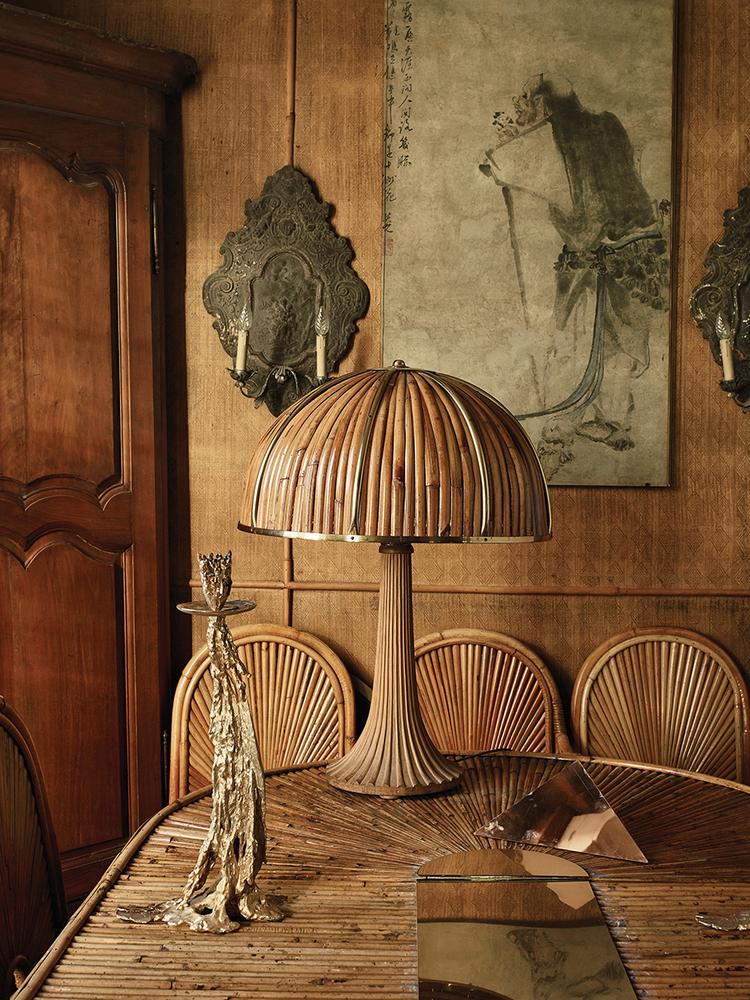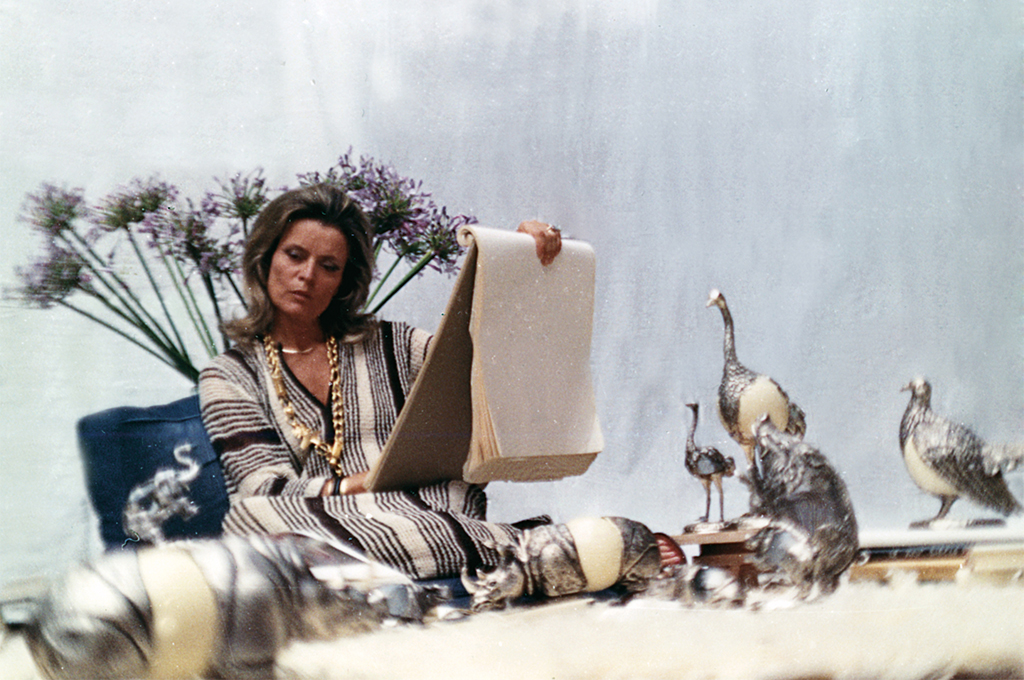 3. Gabriella Crespi: "During Milan Design Week we saw the one-day exhibition 'Invito A Casa: Abitare le emozioni' an intimate journey into the apartment of Gabriella Crespi. An inspiring designer for her unique vision, sophisticated and innovative."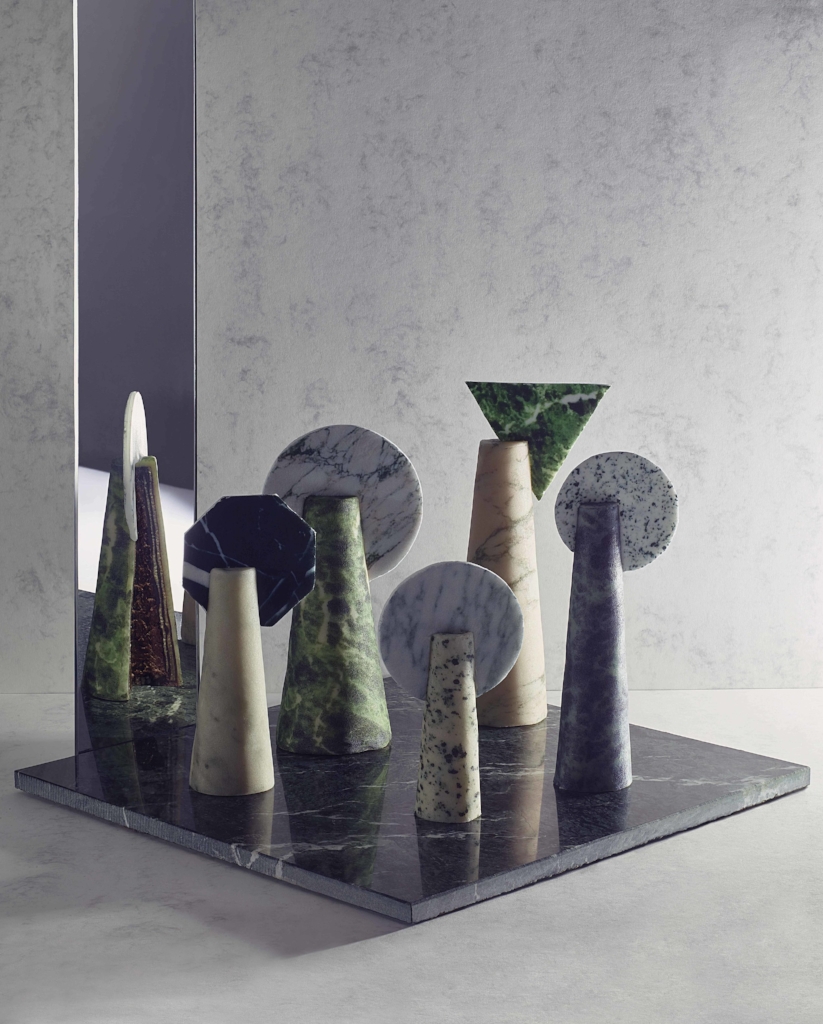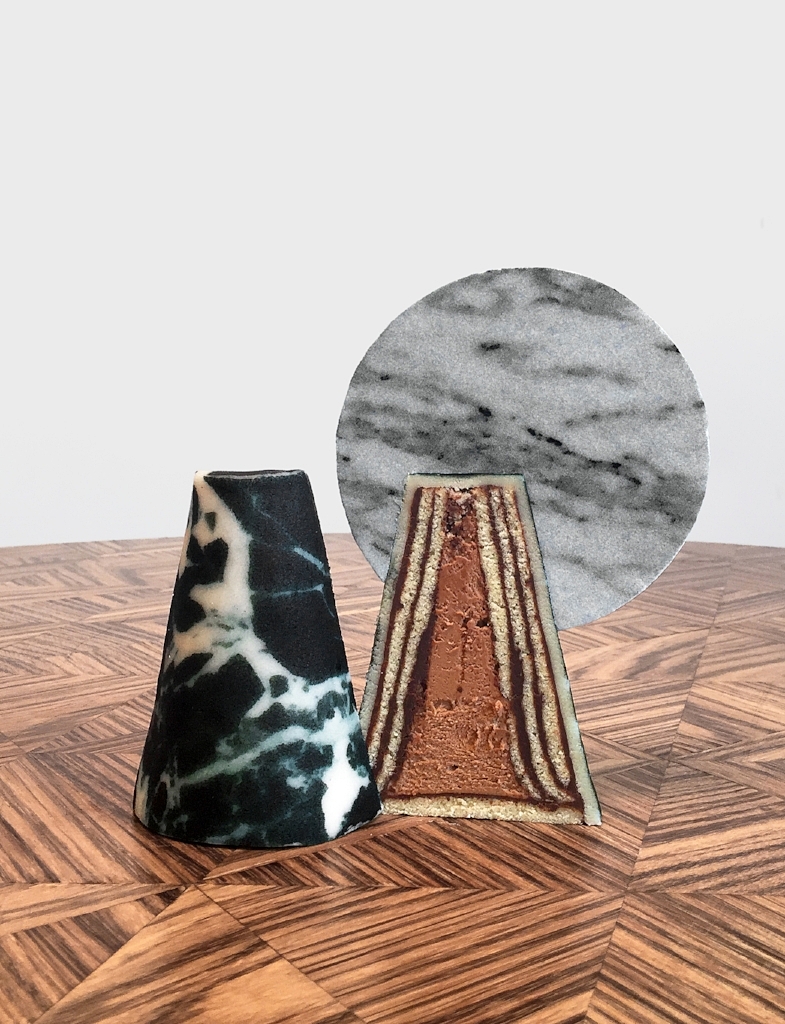 4. KUFcakes by KUFstudios: "Textures, patterns, and colors are one of our obsession. Precious materials, as marble, woods and patterns, inspired these sculptural cakes by designer Kia Utzon-Frank."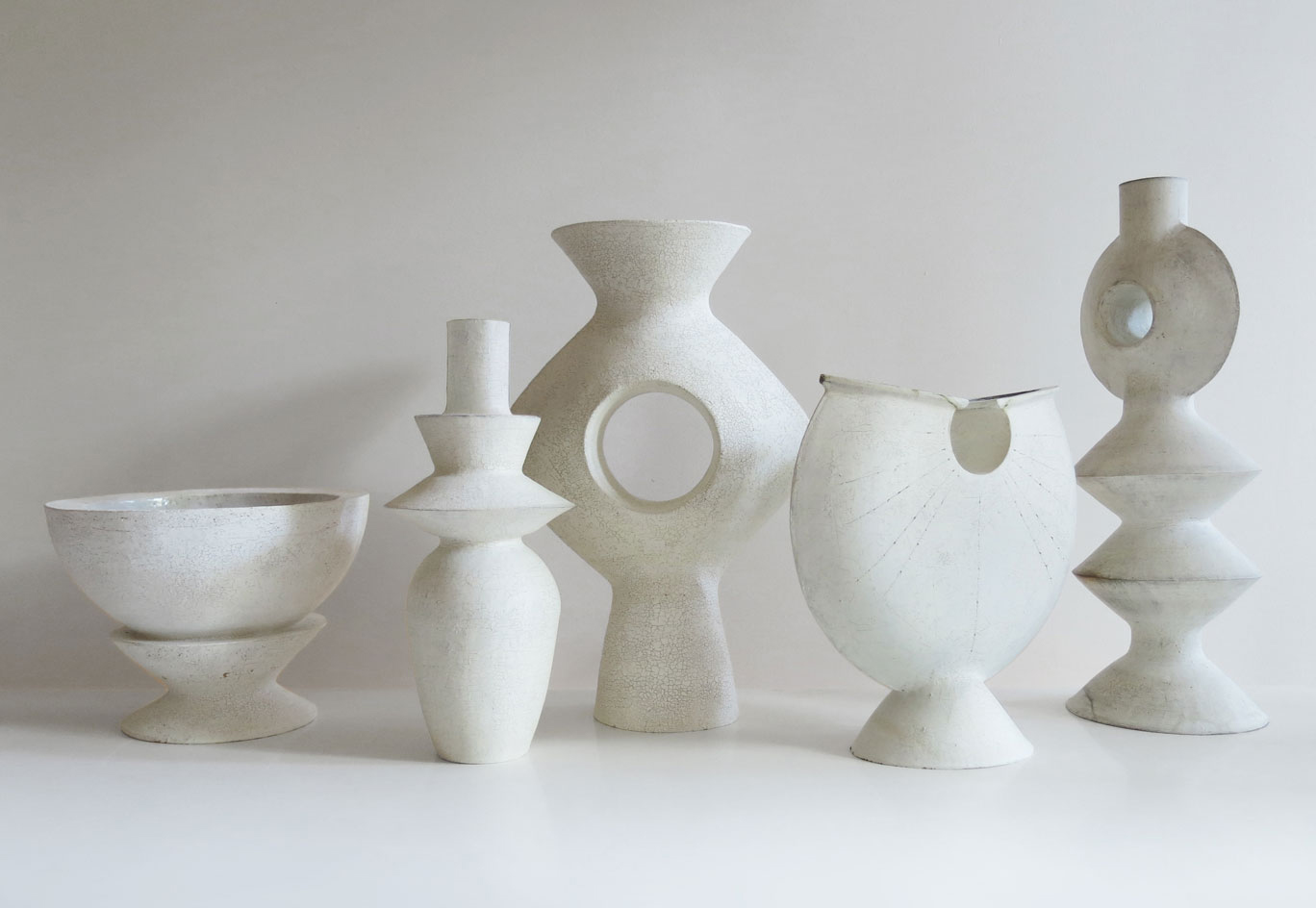 5. Humble Matter: "We look at shapes and forms a lot, from ancient Greece to modern masters. We are actually very much inspired by ceramics, such as the ones from Hans Coper, a German-born British potter who was a dominant figure in European pottery. This year, for our Club Unseen project, we displayed sculptural vases by the Brooklyn-based studio Humble Matter."
What we're looking forward to in 2019: "Since traveling is so important to us, we feel that it would be very interesting to work on hospitality, to investigate what makes you feel at home. And so, after so many years to design, retail and private interiors, we would be glad to work on a hotel that feels like home."
Studiopepe is a Milan-based design agency founded by Arianna Lelli Mami and Chiara Di Pinto.
Fernando Mastrangelo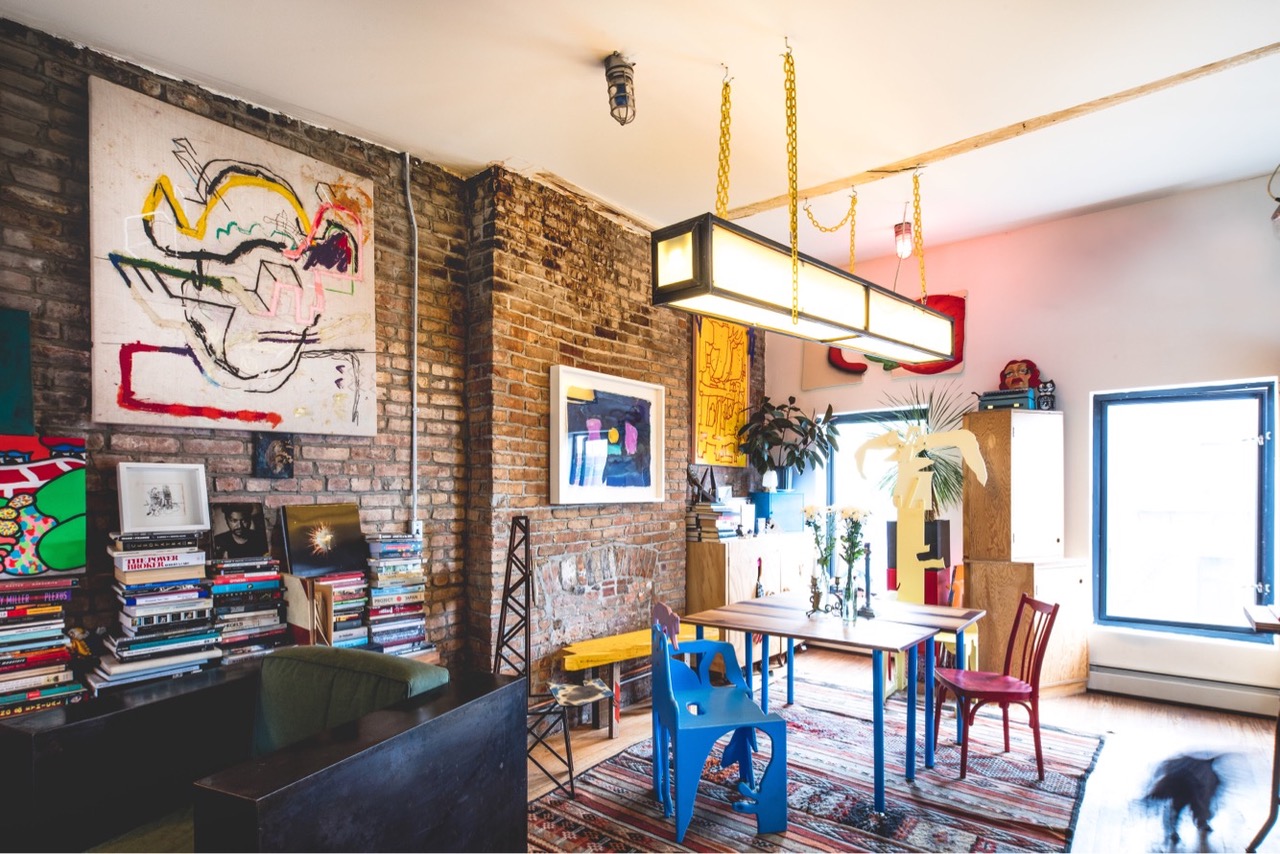 1. Favorite interior: "Serban Ionescu's apartment in Red Hook, Brooklyn"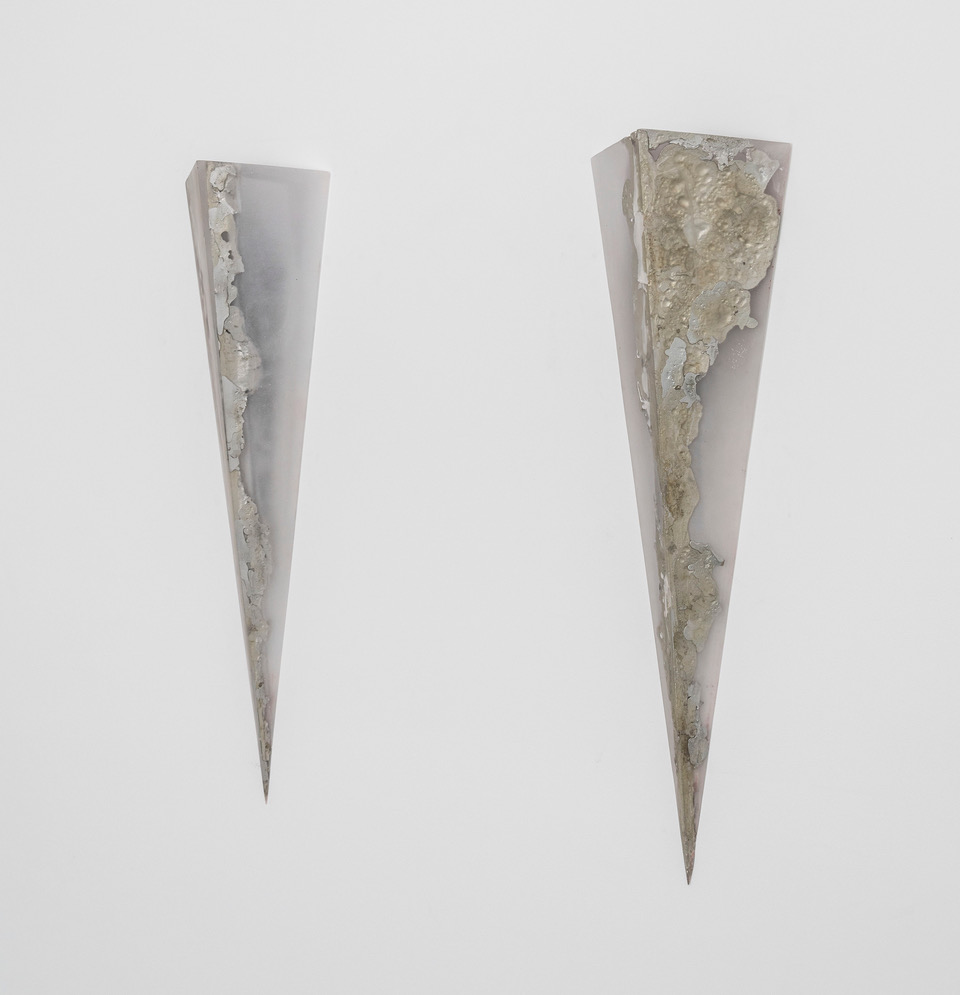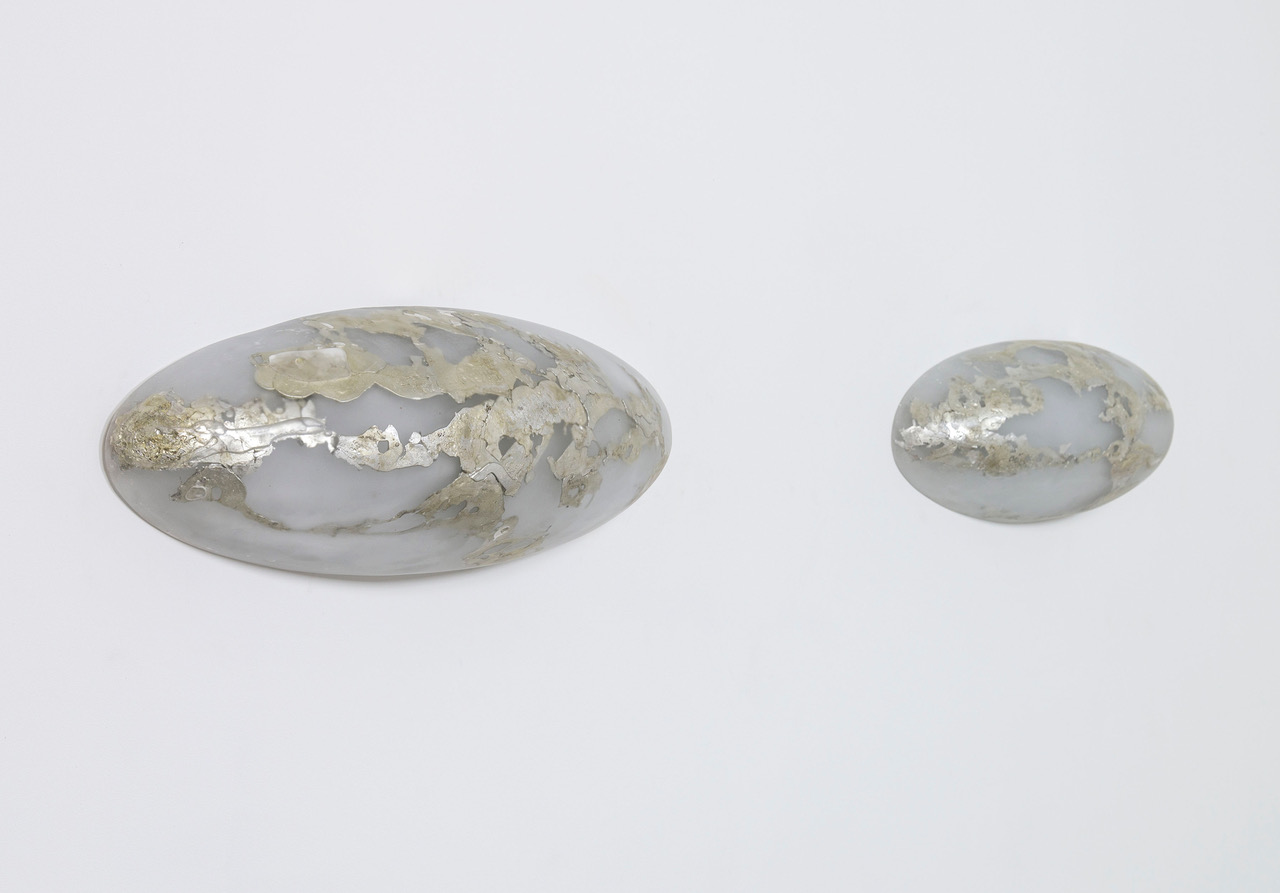 2. Favorite new talent: "Contemporary lighting designer Amanda Richards"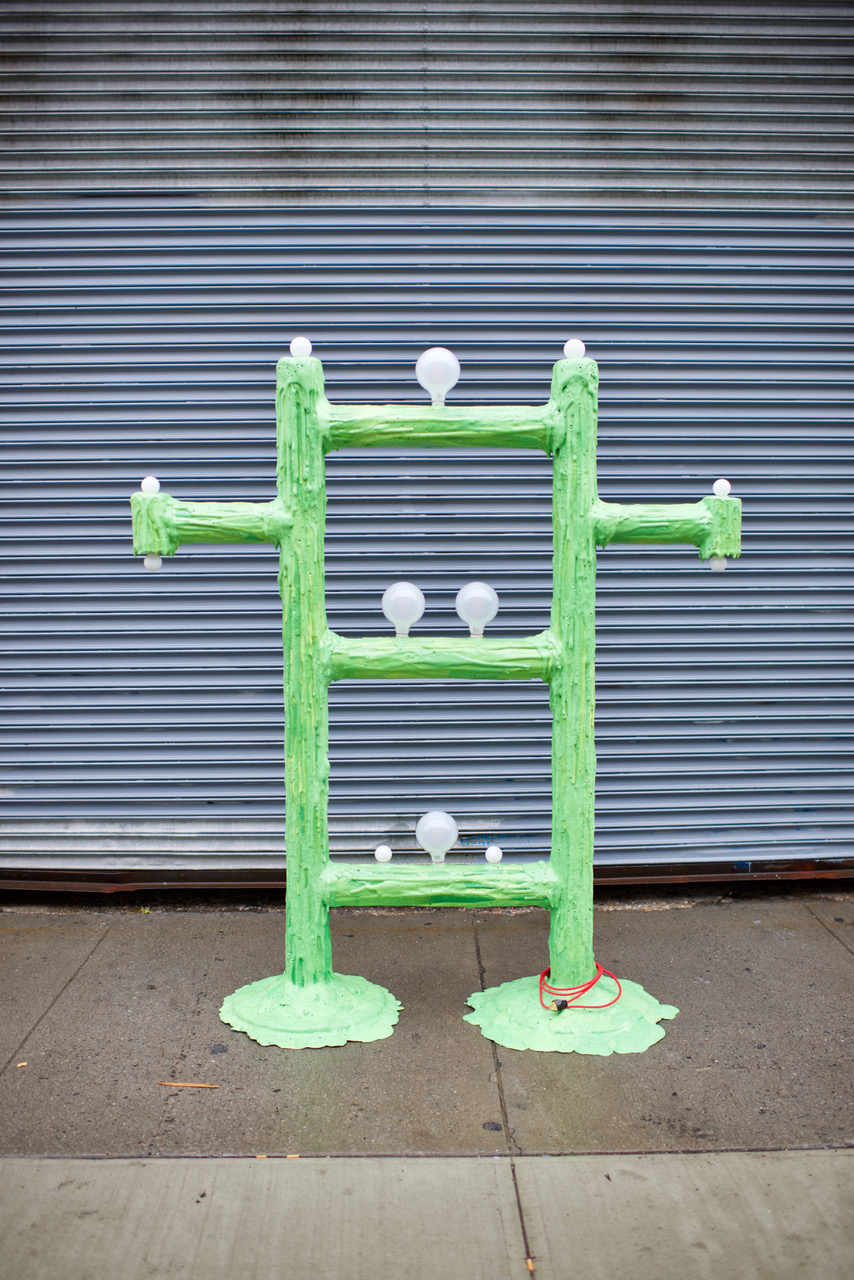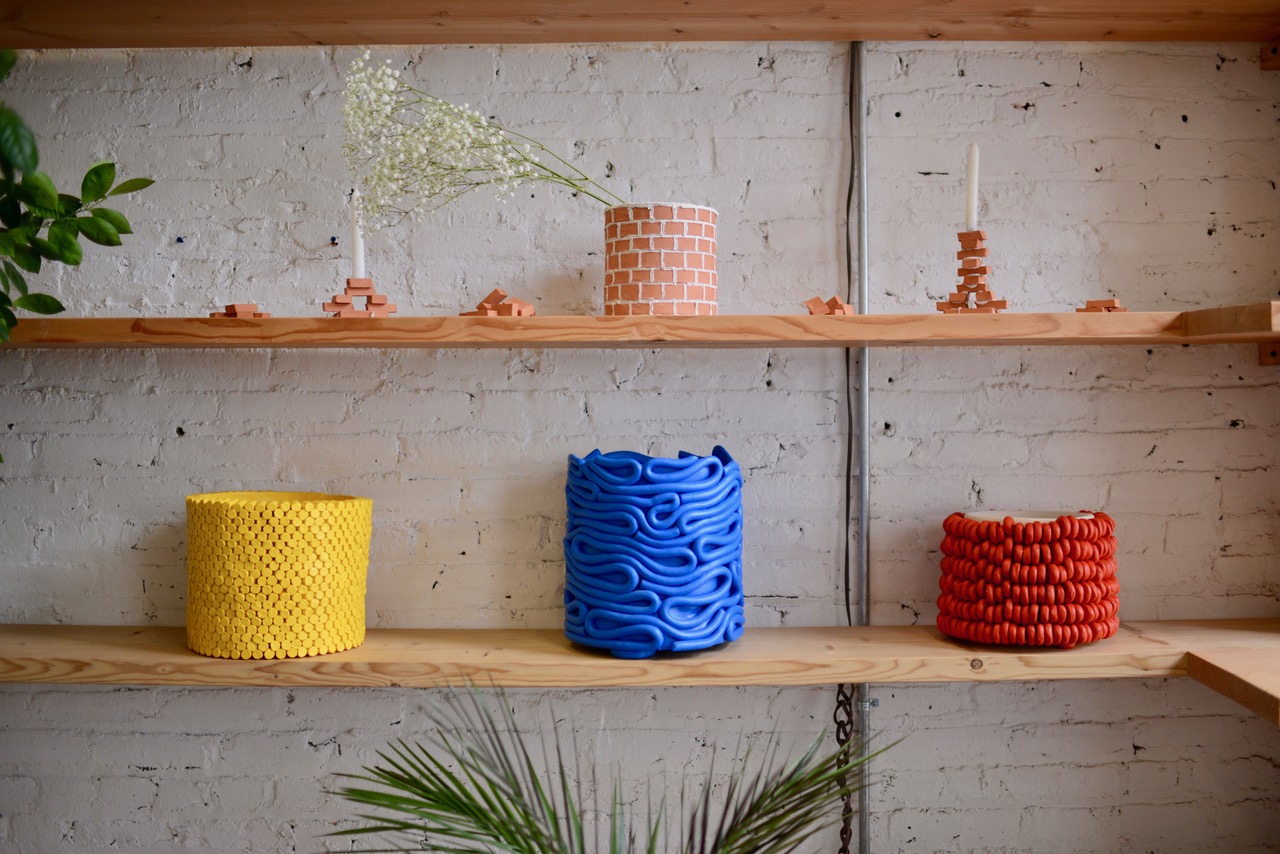 3. Favorite exhibition: "Joseph Algieri's solo show at Fredericks & Mae."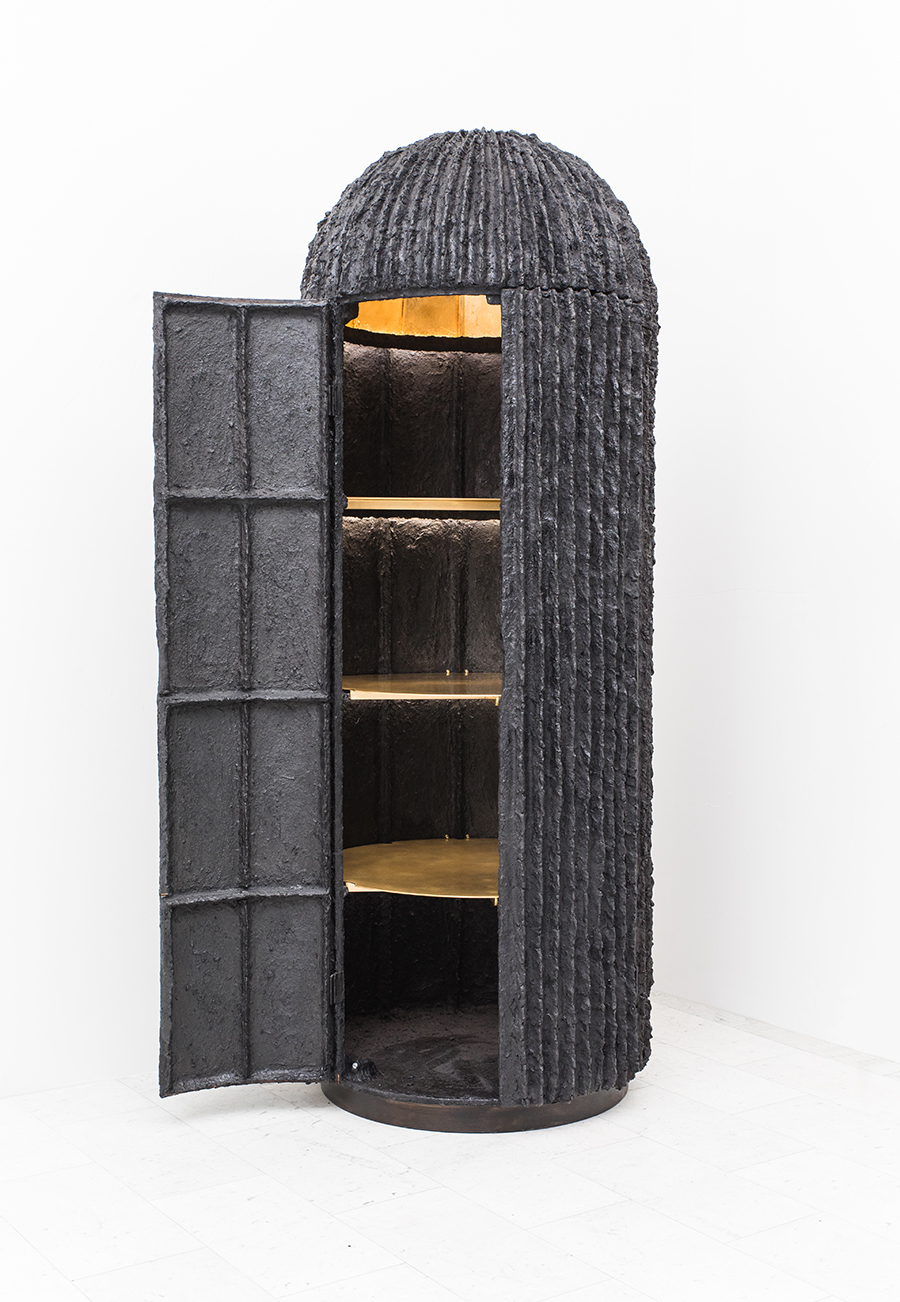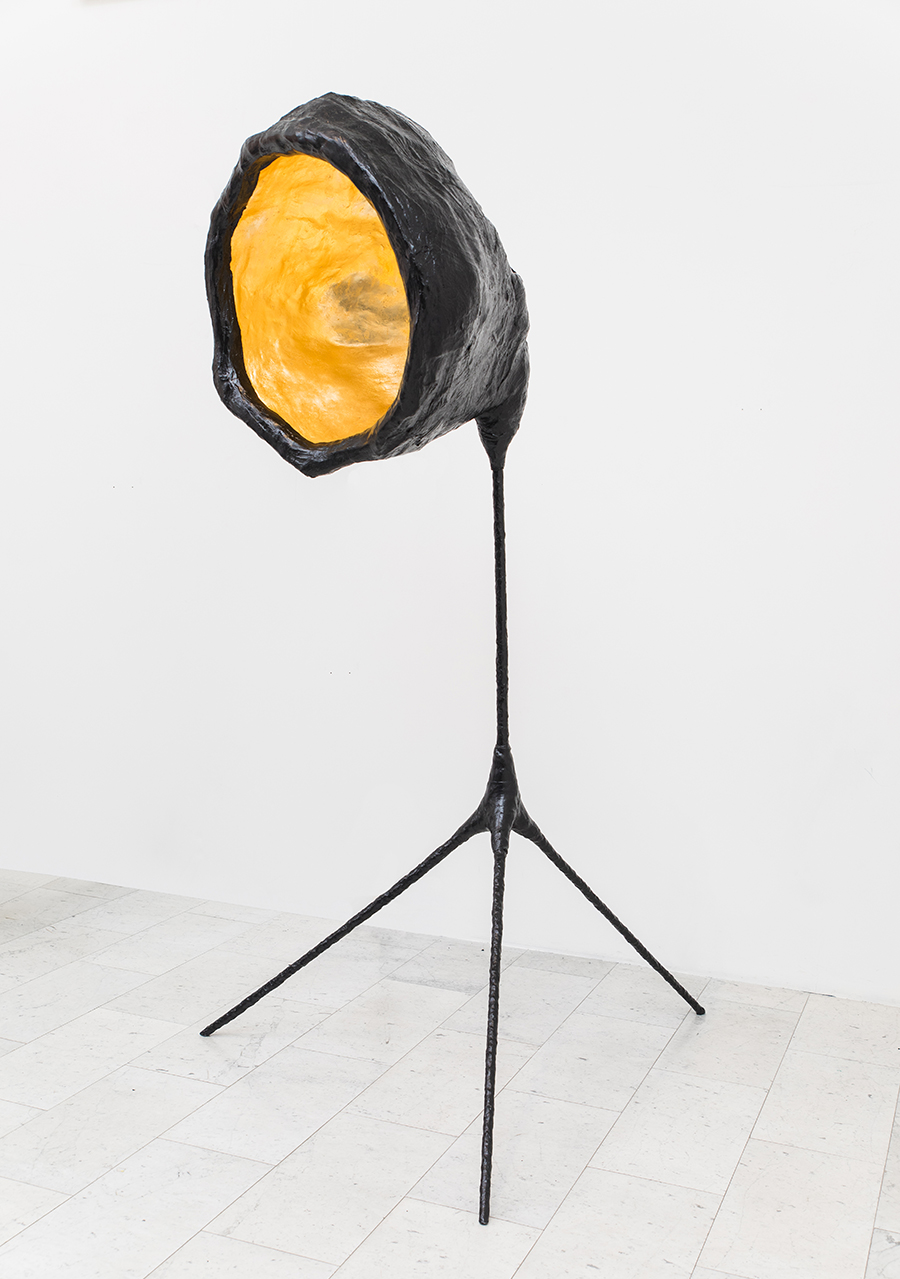 4. Favorite new collection: "Brecht Gander for Todd Merrill"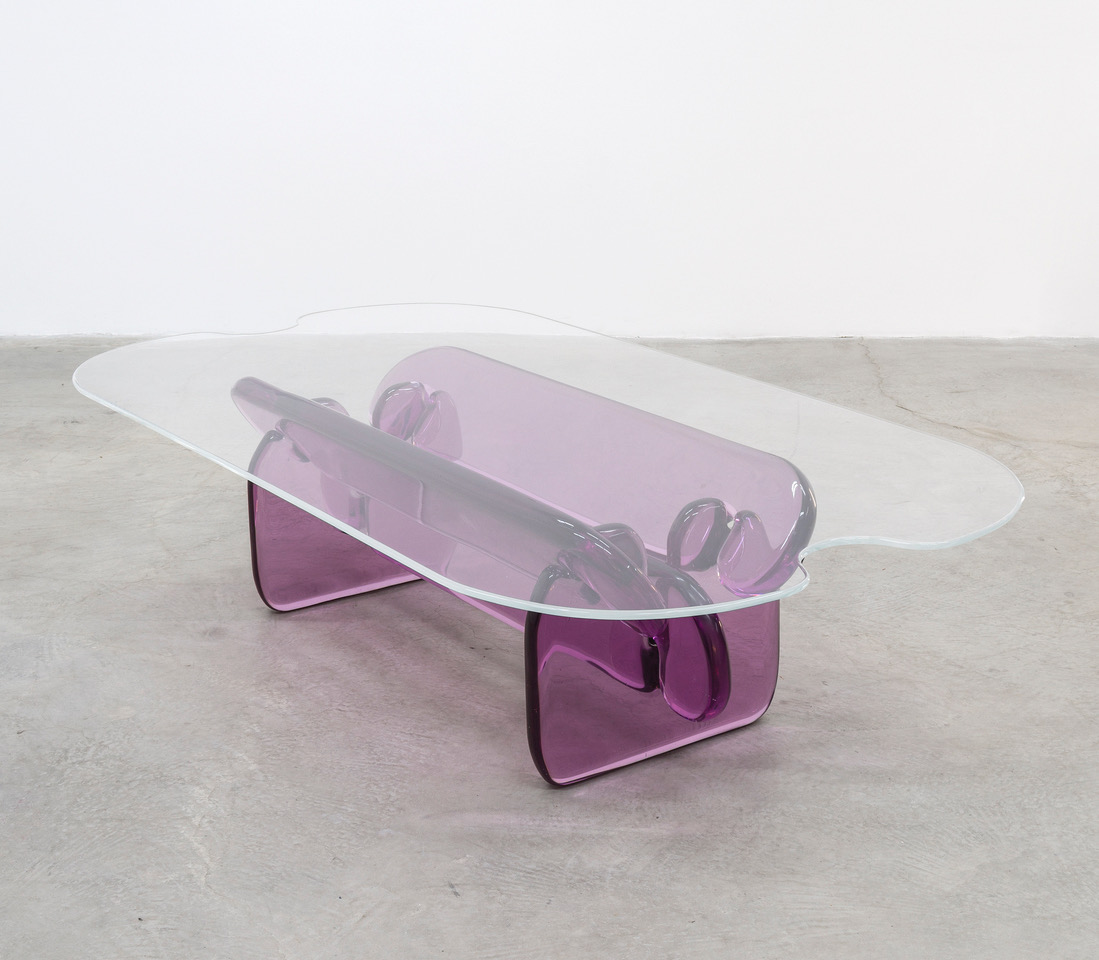 5. Favorite new piece of furniture: "The Plump table by Ian Cochran"
What we're looking forward to in 2019: "Obviously, we're most looking forward to In Good Company 2019, the show we curate each fall. We haven't announced it yet, but there is a major design celebrity curating the show this year!"
Fernando Mastrangelo is a Brooklyn-based design studio and the founder of In Good Company, a design exhibition and incubator. 
Connie Matisse/East Fork Pottery
East Fork 3D Printed Mug Handle from MsSmashTV on Vimeo.
1. 3D Printed Mug Handles: "East Fork had so many memorable design moments in 2018 and I'm really so excited about them all, but, fine, I'll pick one. 2018 is the year that we 3D printed a mug handle! Alex and John came up making pots in what we call the pre-industrial tradition — all by hand, glazes mixed with ash from the fireplace, fired in wood, tools no less rudimentary than a piece of fishing wire between two sticks, yada yada. The biggest challenge of scaling our business has been scaling our production methods; we needed to make a lot more mugs, but to do so meant buying, refurbishing and training ourselves on all new machinery, developing a new clay bod, and using processes we'd never thought we'd never imagined using. The quality of a mug really comes down to the way weight is distributed across your hand when you're holding the handle — and trying to translate the pulled handles we'd been making and selling for years into a press mold was not easy. We enlisted our friend Nick Moen, founder of The Bright Angle to make 3D printed prototypes of our handle to be used to make plaster molds. Watching our mug handle twirl around in a spindle of plastic in the 3D printer was so COOL. We're finally starting to produce our mug again, and it feels really good. They'll be available on our site March 2019.
2. Country Comfort Non-Design: "K, this is probably cheating the rules of this assignment and also might be a tremendously unpopular opinion on this platform but I'm gonna say it anyway. Several of my my most memorable moments of 2018 involved sipping crappy white wine in overstuffed, dirty-armed, Calico and gingham couches. There was a restaurant in the Hudson Valley with copper bundt pans on the walls. A goat cheese tasting room in Fairview, North Carolina with acrylic throws on every sofa, mismatched china and a big window overlooking the Blue Ridge Mountains. A bar downtown with truly terrible cocktails and clashing Rooms-to-Go furniture crammed in an attic space with perfect lighting. All of them were shabby-mother-fucking-chic. These three places were the containers of a small handful of moments in 2018 where time truly slowed down and I felt 100% present with my family, my body, and my surroundings. None of these places were designed 'well.' All of these places signaled 'no one here cares about your MNZ tortoise shell shoes. Please remove them and put them on this pouf.' Lately I'm all about spaces that draw you in rather than push you away, which leads me to…"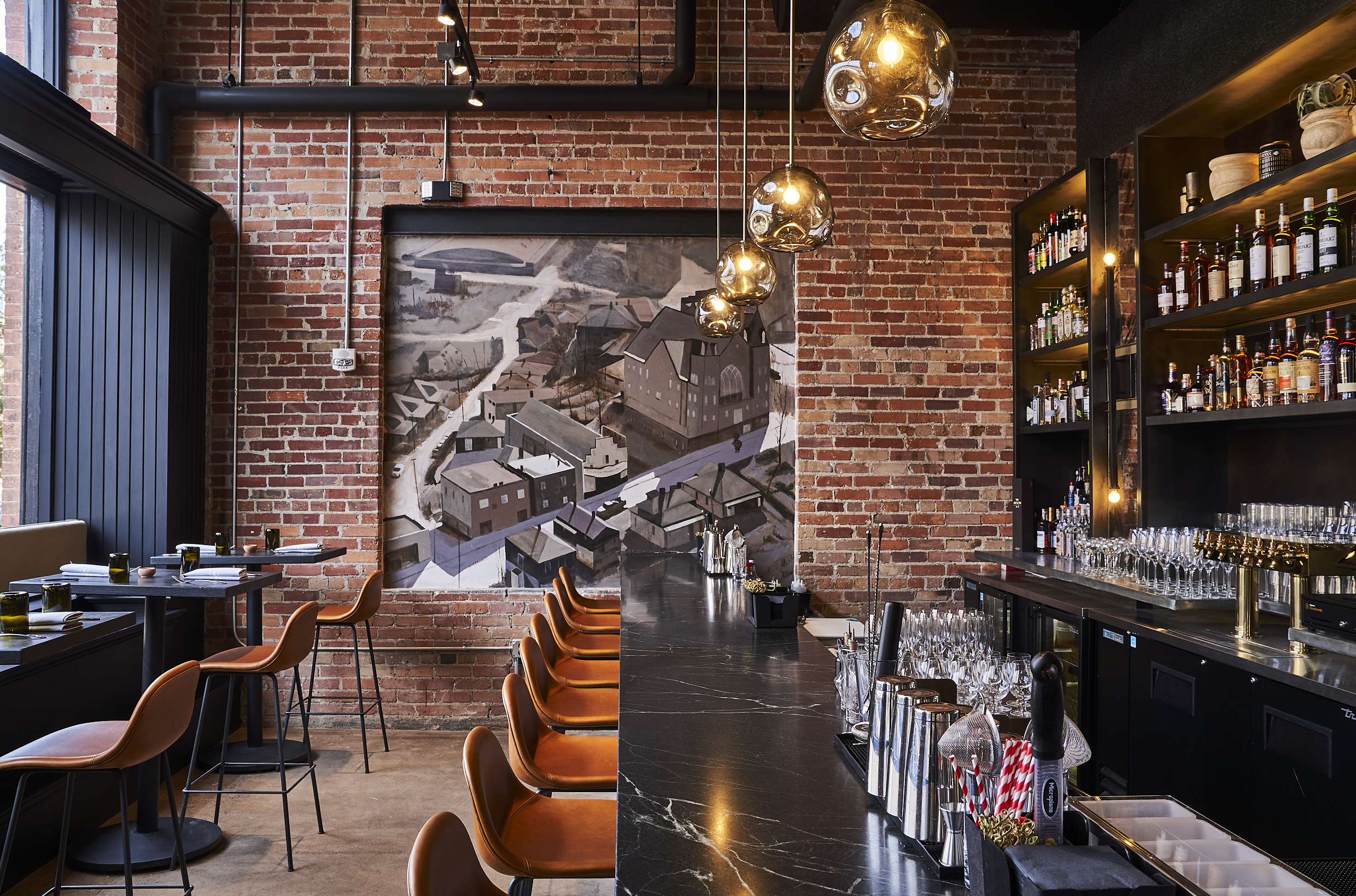 3. Benne on Eagle: "I'm not really in the Design World so I don't have my finger on the pulse of what conversations are happening around Design and intersectionality, but as an outsider I'd like to hear more about how design can contribute to making our communities more socially equitable and I think the Design World, like all of us, can be doing a lot more. I think about this a lot when I'm in public outdoor spaces, retail spaces, and restaurants. And I think a lot about this from the perspective of a business owner with a brick and mortar establishment that essentially screams 'A White Person Made This' before you even open the door. Asheville — where we live and have built our company — gets a lot of pats on the back for being progressive, but in truth it's an extremely segregated place with a lot of work to do. A lot of people call it "homogenous" but it's not true — there's a whole hidden city of people of color who — as in cities all over the country — experience only the downsides to an exponentially growing tourist economy. A month ago I went to a new restaurant called Benne on Eagle. The folks at the helm of the restaurant are on a mission to honor and advocate for Asheville's black community, whose neighborhoods and cultural centers have been decimated by gentrification. The tricky thing is the restaurant is contained within new development owned by a big hospitality management group — pretty much a case study on gentrification. I was nervous that the whole thing was going to feel contrived and tokenizing, but it wasn't that way at all. The night we went there were black people plating food in the kitchen, greeting diners from the hostess stand, having a cocktail alone at the bar and eating with family and friends in the comfortable booths. If you live on the coasts this may not seem remarkable, but in Asheville, where only white people go out to eat in restaurants downtown, this felt like a real moment. For you Asheville-dwellers—the menu, designed and executed by Chef Ashleigh Santi, is superb. Please go. It's not an accident that the black community in Asheville has felt welcomed to dine at Benne on Eagle — it was designed that way, and other businesses can be designed that way, too."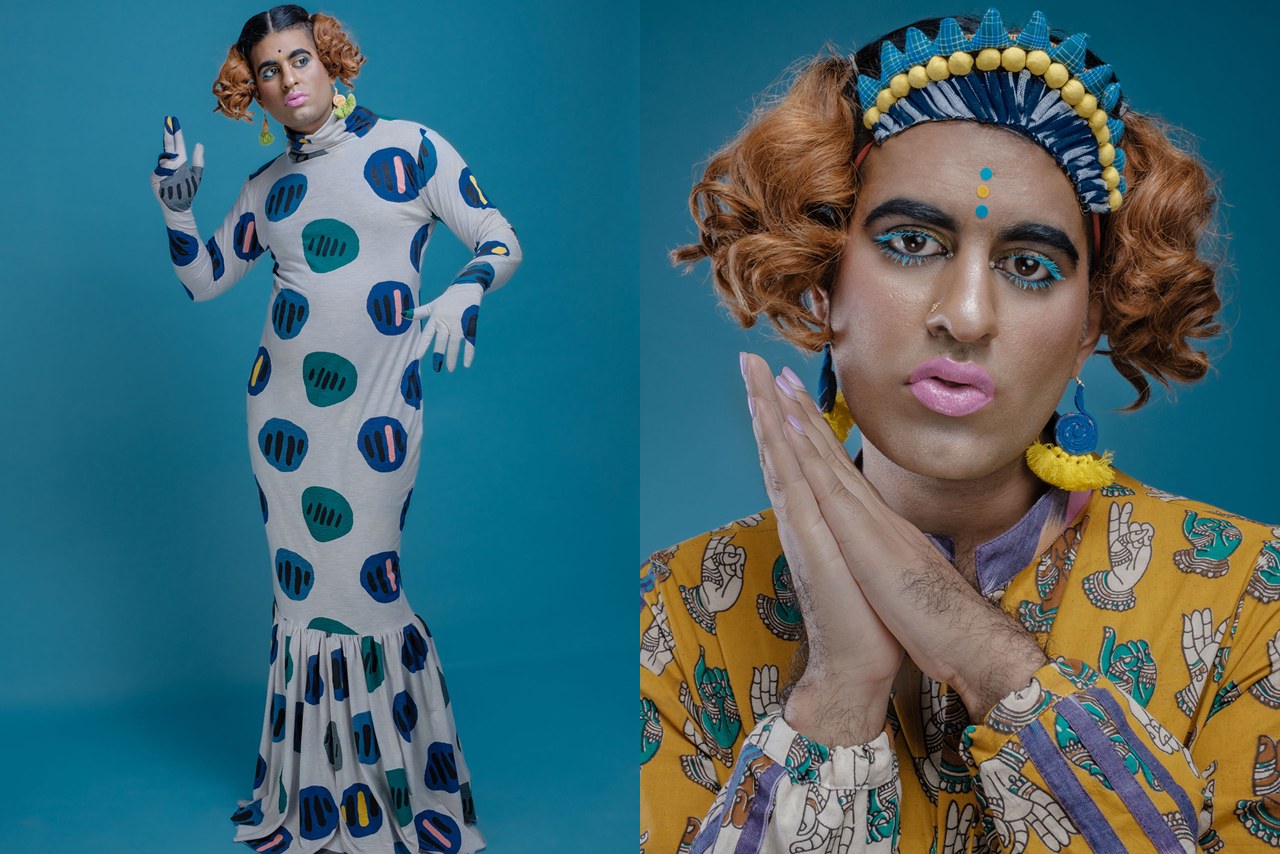 4. Alok's line of gender-neutral garments: "What do you think of when you think of 'gender-neutral'? Probably boxy cotton drawstring pants in a strict palette of taupe, dove gray, navy and nautical stripes? That's how I used the word until I saw Alok's second collection of garments they launched in April of this year. Alok is a gender non-conforming performance artist, public speaker, and fashion designer. Their approach to fashion design answers their own question: "What would I wear if I no longer had to be afraid?" The Design world — like most worlds — continues to be stymied by the trappings of the gender binary. Isn't it funny that we're all so married to using gendered language to talk about color, materials, shapes, textures, spaces, and concepts? Alok says they wanted their collection of garments to be a 'visual argument that our understandings of beauty and gender should not have to be mediated by cisgender norms and anxieties.' This year, Alok and other gender non-conforming activists and influencers has busted my brain wide open around how deeply the social construction of the gender binary affects how we relate to ourselves, our environment and others — and how it's used to uphold the systemic oppression of women and gender non-conforming people the world over. As a white woman aging out of my youthful glow and desperate to feel good in my skin, no one out there is leading the movement for full-spectrum body positivity and radical self-love like our community of trans and gender non-conforming creatives. I'm so grateful for it."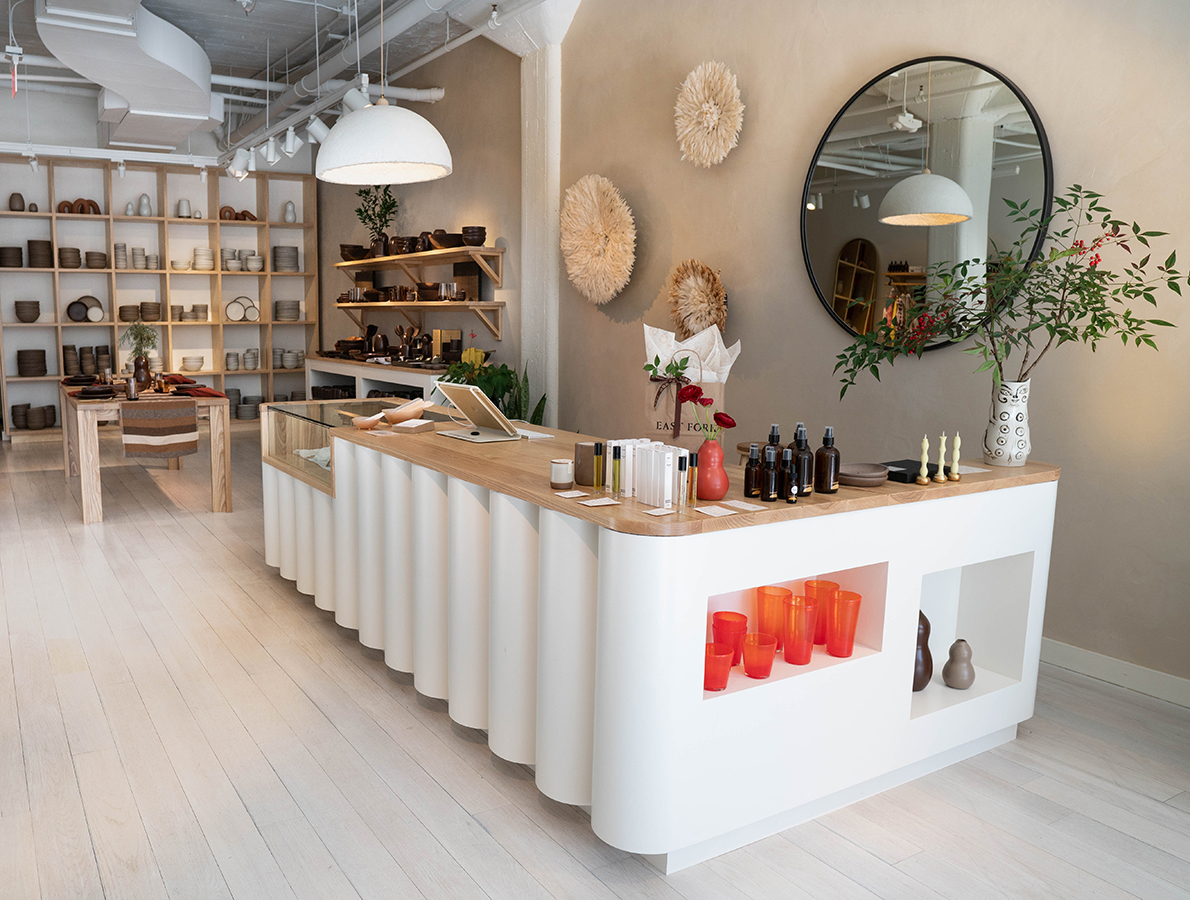 5. The Cash Wrap at East Fork Asheville, designed by Shelter Collective and made by Union Wood Works: "This one's only about East Fork only insomuch as it lives in our store, but we really had nothing to do with its divine creation. All the glory goes to Karie and Rob Reinertson, of Shelter Collective, and Chris Spoerer and Matt Bell at Union Woodworks. Isn't it so beautiful? (PS Atlanta, we're finally open. Come see us at Westside Provisions!)"
What I'm looking forward to in 2019: "I'm crossing my fingers and trusting that in 2019, the Capital B Brand Culture of D2C, millennials-only, consumer startups will unclench its grasp on the design world. I'm looking forward to designers and business leaders getting bored of peeking over everyone's proverbial shoulder (via social media) and doing a big turn inward. I think the result is going to be so fresh, funky and real. A lot less #authentic and a lot more honest."
Connie Matisse is the co-founder of East Fork Pottery.