07.10.19
A Self-Taught London Designer On How to Make Furniture That's Poetic But Not Pretentious
An object can also be a feeling. An object can be transcendent. A chair — a perspective-altering portal. A table — the threshold to an otherworldly dimension. 
Well, why not?
For East London-based designer and artist Elliot Barnes, aka EJR Barnes, this type of transformational materialism is made possible by way of an intentionally porous spectrum of influences and expressions — as well as an interest in the conceptual right alongside the practical.
The self-taught Barnes — who began making furniture only a few years ago — is interested in the ways furniture can become poetic or dreamlike when reframed with unexpected materials, forms, and juxtapositions. His creations engage a wide range of materials and techniques — birch plywood, gilded silver leaf, lacquered oak, powder-coated steel, pressed cane, cork, paper pulp slathered in wheat paste, even faux fur or scruffy suedes. Through all of this experimentation, Barnes seeks a quiet sort of subversion, one whose presence is felt, rather than heard, individually intuited rather than universally transcribed. At the end of the day, Barnes insists that his undeniably whimsical creations remain absolutely functional. Here, Barnes reflects on his approach, his practical philosophy, and more. (And click here to obsess over 10 of Barnes's favorite vintage furniture finds.)
PHOTOS BY RICHARD ROUND TURNER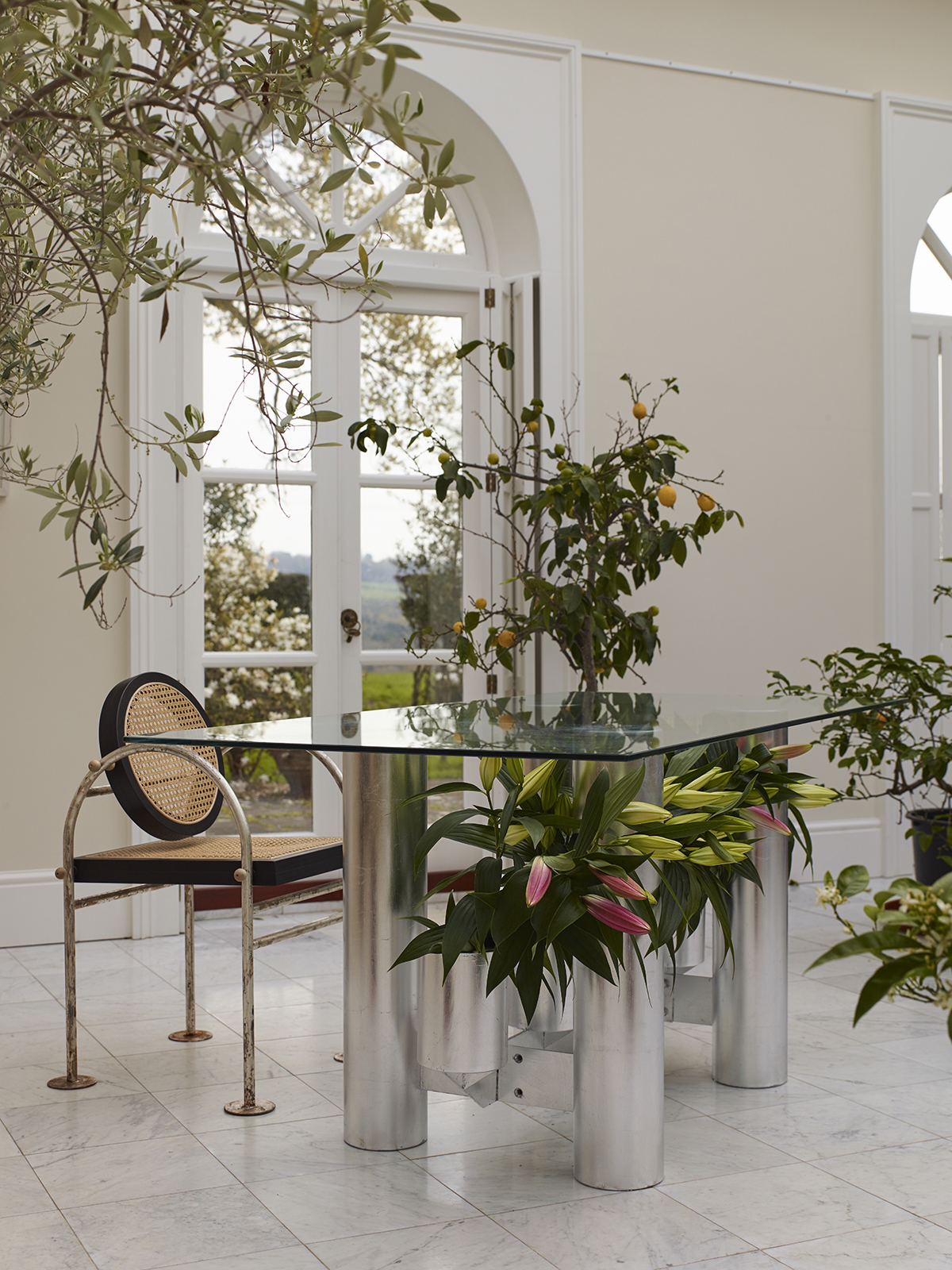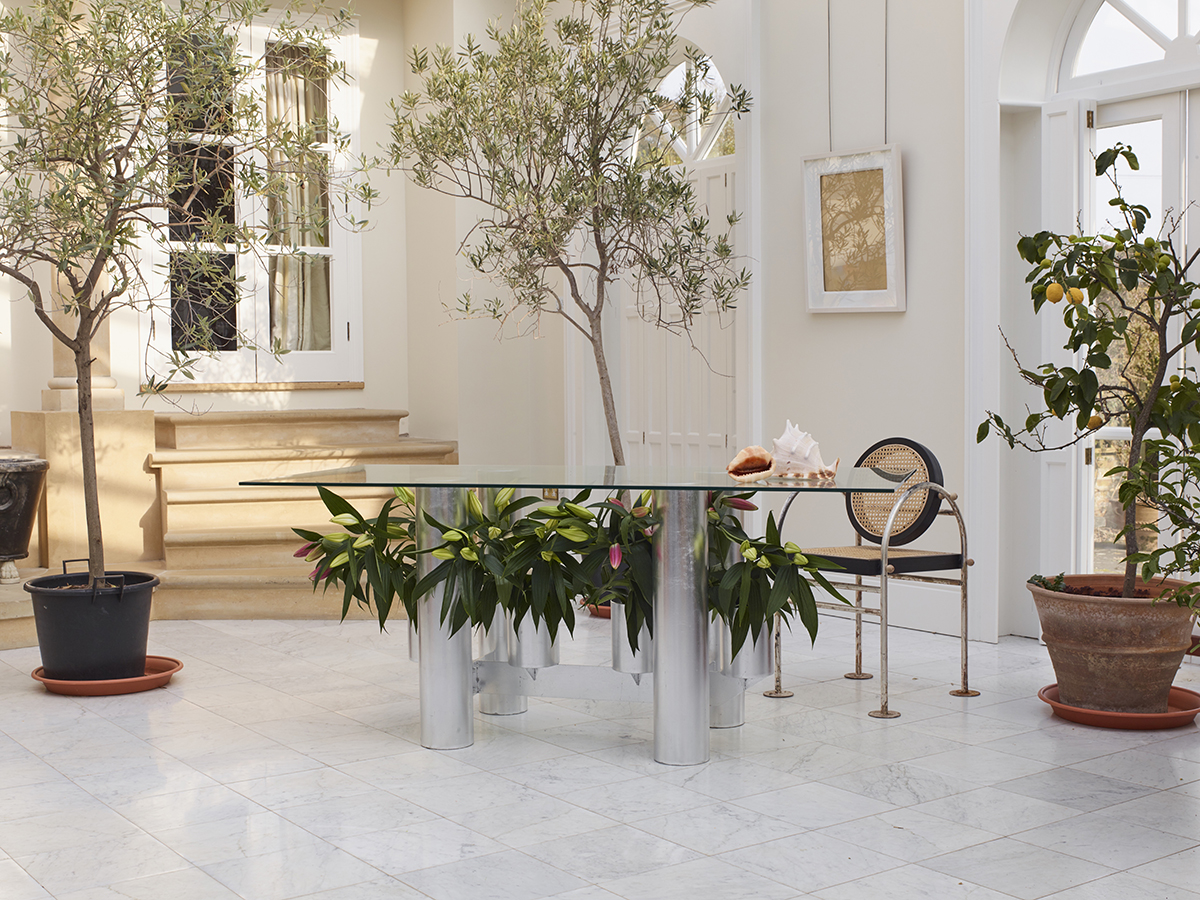 Where are you from? Can you speak to its impact or influence on your creativity or vision?
I was born in London but grew up in the English Midlands, which was a bit of a cultural wasteland as far as I was concerned at the time. I did a fine art foundation course in London and then dropped out of art school in the first year to work in the music industry, so I have come to my version of design in a very roundabout way.
Having no formal training has been a big influence, as I have developed everything through simply looking and following up on what I found interesting — not knowing why I liked it or what it 'meant' because no one had ever told me what to look at before. My interests are very much based in the aesthetics of an object before historical or practical aspects, and this is a big part of how I approach making things.
I read that you describe yourself as self taught, untrained and unqualified. 
When I was first making things, that was my one line bio/personal statement. A lot of what I do is applying my personal research of techniques and materials, like gilding or carving, to my work. A big part of my practice is being unafraid to experiment and to work out how to do things in my own way. Hopefully that path yields some interesting results.
What have you been making lately?
I have been attempting to make furniture that has a quiet tension in it — things that possess a slightly dream-like quality, but also have a bit of a sense of humor. 
It's hard to say what exactly I want the pieces to do, but I think that if there is enough subtle weirdness built into something, it has the ability to alter the way a person interacts with it, which is sort of like the object having agency. The only word I have been able to find for what I mean is 'poetic' which seems very glib and pretentious, but there we are.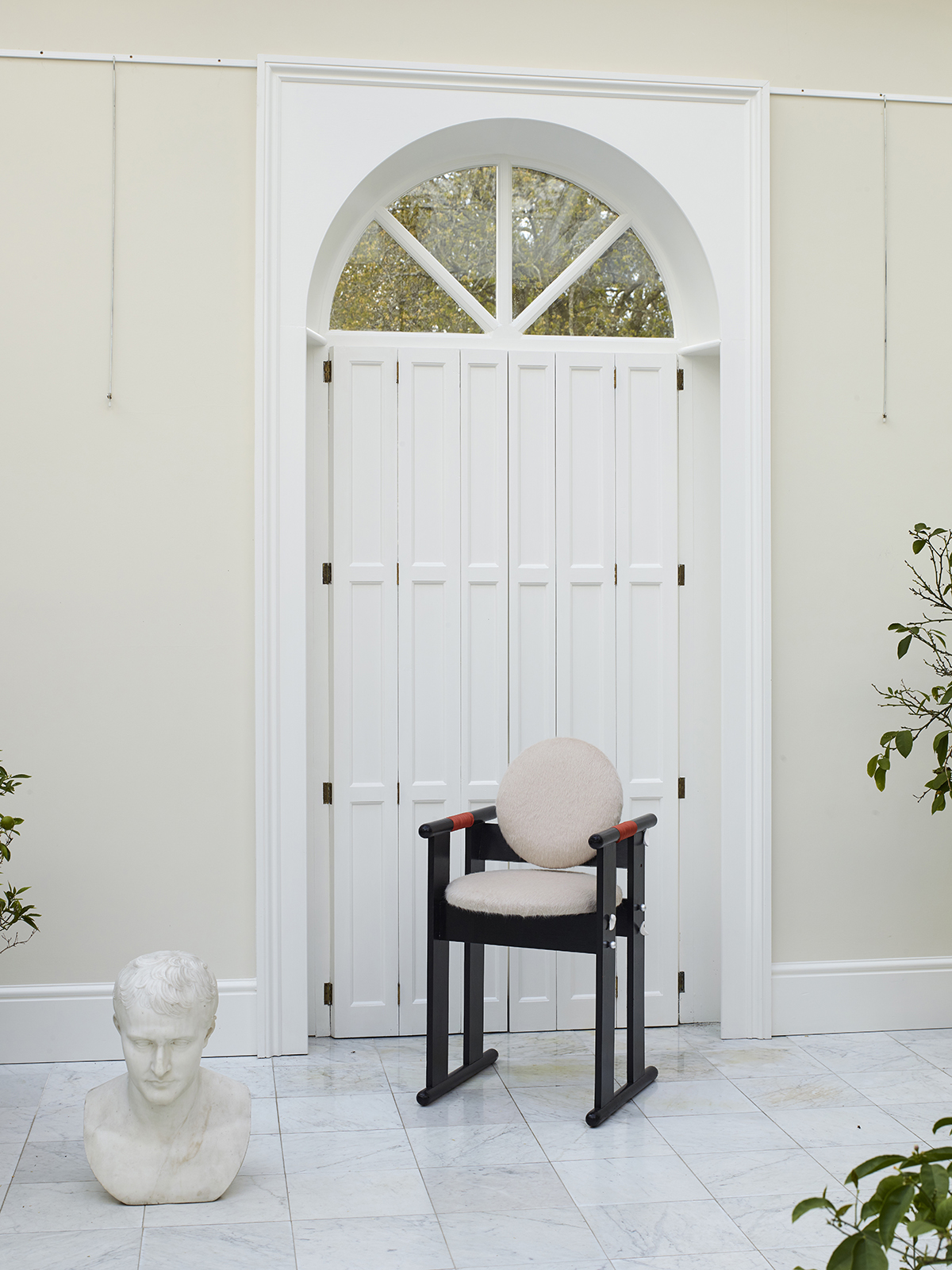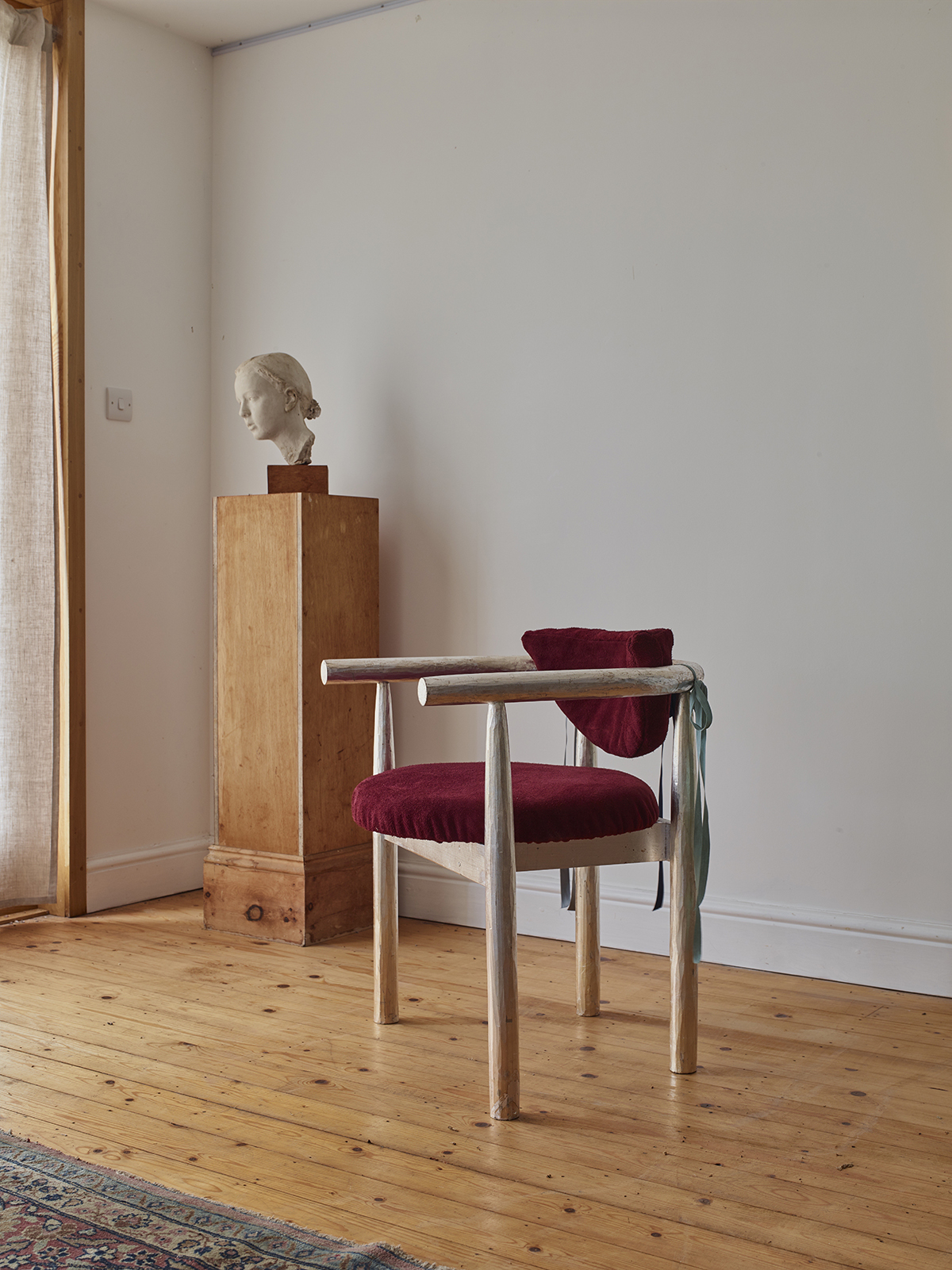 The Silverskin Buffalo Chair (above) — which is gilded with silver leaf and adorned with ribbons — seems like a good example of this. 
It's a good example of my untrained/unqualified thing. I had always wanted to make a chair in a simplified geometric play on a Wegner style, using traditional joinery, with no screws, etc. So, I researched it on the internet, bought the wood, and worked it all out as I went along. The whole structure is made from square profile tulipwood and then carved into a round section by hand.
Once it was finished I felt like it was a bit too craft-y, so I gilded it with silver leaf (which I also had to teach myself on the internet) to try and make it sort of invisible or less folky somehow. It ended up being simultaneously antique and weirdly trashy. Then I had to work out how to hand sew this curved cushion, which took forever, but was probably the most peaceful and meditative I have ever felt. 
It all comes together in this sort of bizarrely haphazard blend of luxurious materials, and felt like a relic that had had a bit of a hard time. Sort of like the images I had seen of these beautifully worn out Rene Herbst chairs, with patinated chrome frames and broken leather seats. 
Laboriously and inexpertly carving a wooden chair frame to then make it look like a knackered 1930s steel chair frame is probably a good example of my slightly amateurish and backwards process.
Laboriously and inexpertly carving a wooden chair frame to then make it look like a knackered 1930s steel chair frame is probably a good example of my slightly amateurish and backwards process.
You share a lot of amazing archival and inspiration imagery on your Instagram account. Can you talk a bit more about that impulse?
I think Instagram is terrifyingly addictive and problematic in a lot of ways, but I really like how it can be used in an academic manner if you find the right accounts. I have learned a lot from researching a name captioned on an amazing image; those names always lead to hundreds more. Sharing the results of my own research is like a daily challenge to keep the work going, unearthing more and more interesting people and things. It also places my own work in a framework where people who aren't as tediously nerdy as me can see what I'm thinking about when I make new pieces.
Any favorite deep-cut discoveries lately?
I buy lots of design books and sometimes you will find one that has a wealth of designers included that you can't find anything about online. Lots of Japanese designers who have produced one or two pieces or rooms, and then seem to have disappeared, probably when the Japanese bubble burst in the early 90's and there was no cash to make ridiculously avant-garde nightclubs and bars any more. 
Shiro Kuramata and Shigeru Uchida came out of that scene with a fair bit of recognition but there were loads of predecessors and contemporaries doing unbelievable work, like Takashi Sakaizawa, Ikuyo Mitsuhashi, Shinya Okayama… names that are related to one or two works in a couple of different books, and I can't find a trace of them anywhere else.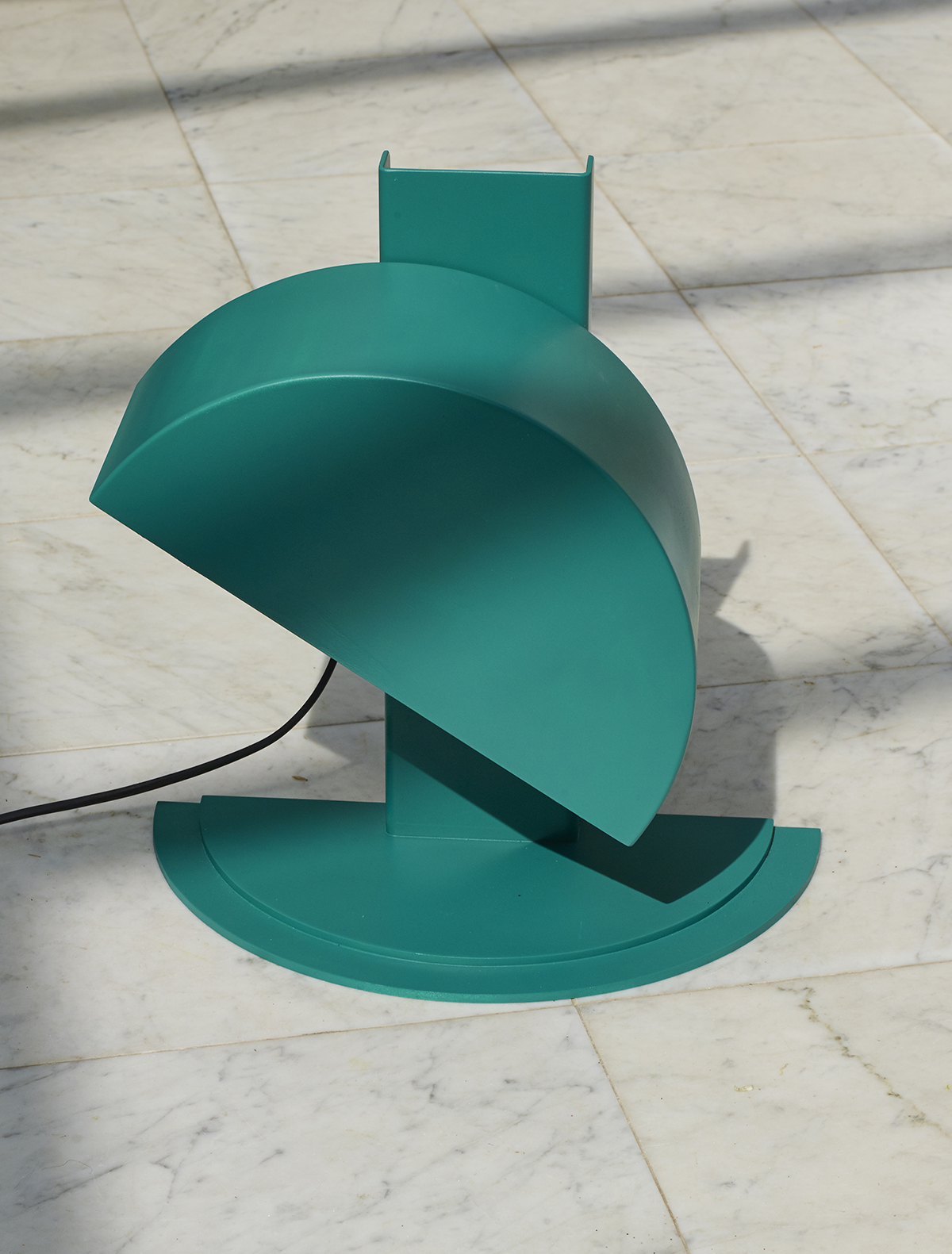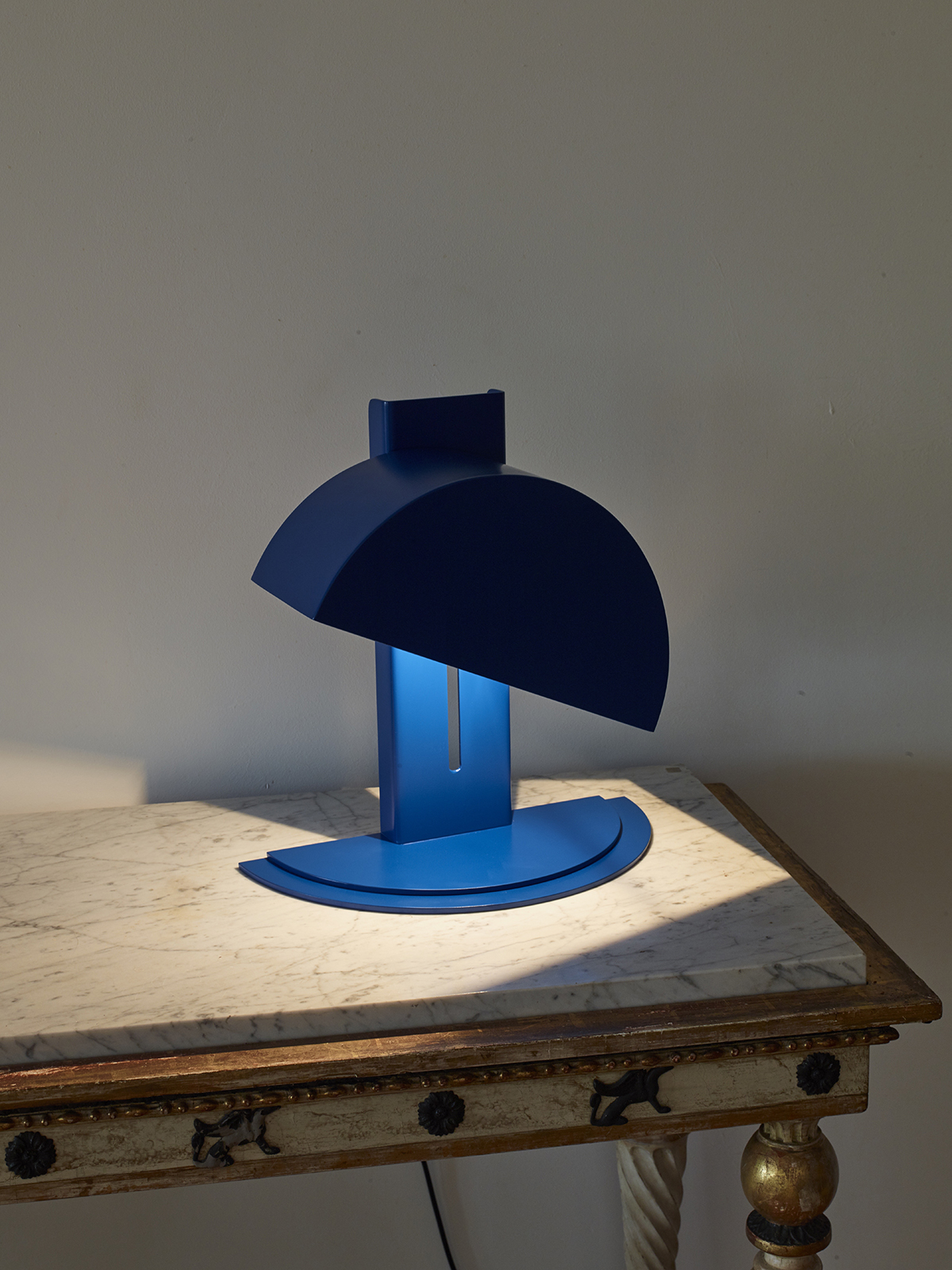 What is your process when designing? From research to design to fabrication…. Do you design with a particular goal in mind?
I always start with drawing by hand, working on a theme and rolling through variations, filling up pages of sketchbooks until I arrive at something that I think is worth working out in a more structured way. I sometimes make a 3-D model in SketchUp to ensure that the dimensions make sense without losing the quality that got me excited in the first place.
The only goal I have is to try and make a physical representation of a feeling or a notion that is hard to pin down. I am rarely successful. I think furniture is interesting in that it has so much narrative loaded on to it because we live amongst it all the time. When you start messing around with these narratives, [furniture] can be used as a language to 'say' something that is difficult to put into words—or even capture in a painting, a song, whatever the medium.
What informs your practice? Are you more inspired by form, material, function? 
It's always different. Normally, the idea comes from drawing, so you could say it is form, but that drawing comes from something that has happened unconsciously beforehand, so it may well have been inspired by a material or a room, or something completely unrelated. Sometimes, you can be mulling something over for days without being able to nail it down, and then weeks later something small just presents itself without any searching and completes it. To me, that right there reveals the issue with working solely behind a desk or with a computer. I think you need to be out in the world, inviting these little moments to happen.
I like playing with the functionality of things. It is sometimes assumed that my work is not really made to be used, but it is always solid and functional — even if in a simplified way. Turning the idea of function around can make something more interesting. For example, 'Desk with Four Vessels' came about very easily once I had started thinking of having a garden under a table.
You mention designing one-off works primarily — how they comprise the majority of your studio practice. Can you talk about your interest in conceptual works vs. more so-called commercial multiples?
I think that there is a lot to be said for avoiding your process becoming too lofty.  And while I do prefer working on more intensive pieces, simply because they are more ambitious and every piece is different, the multiples are important as an ongoing pursuit that fill the gaps between those larger, more conceptual projects. Also, not everyone has the space, budget, or interest to commission bigger, more concept-driven work.
Hopefully, the two different strands of my practice coincide successfully, and it makes sense to people that I have both going at the same time. I see it as a printed edition versus an oil painting.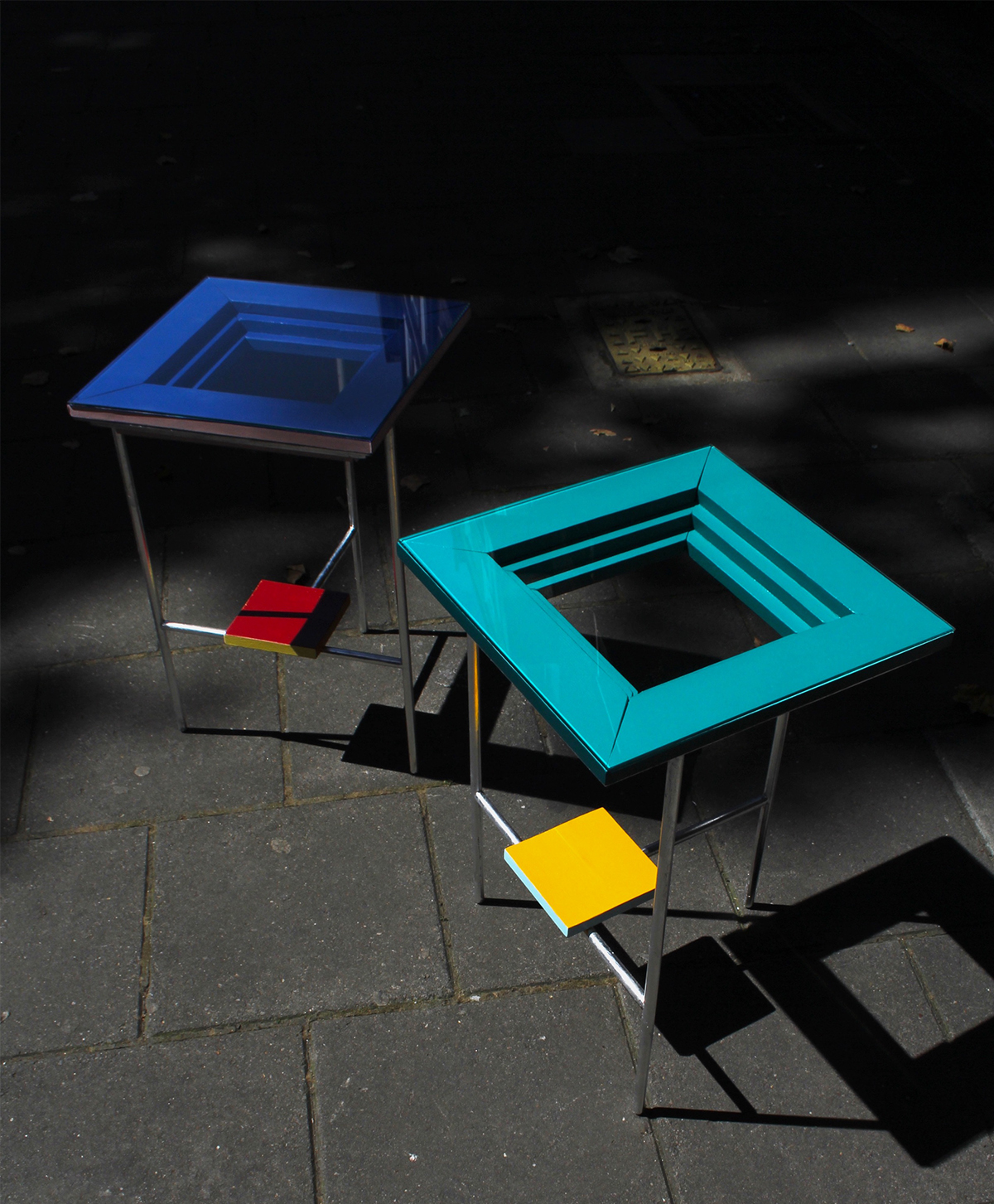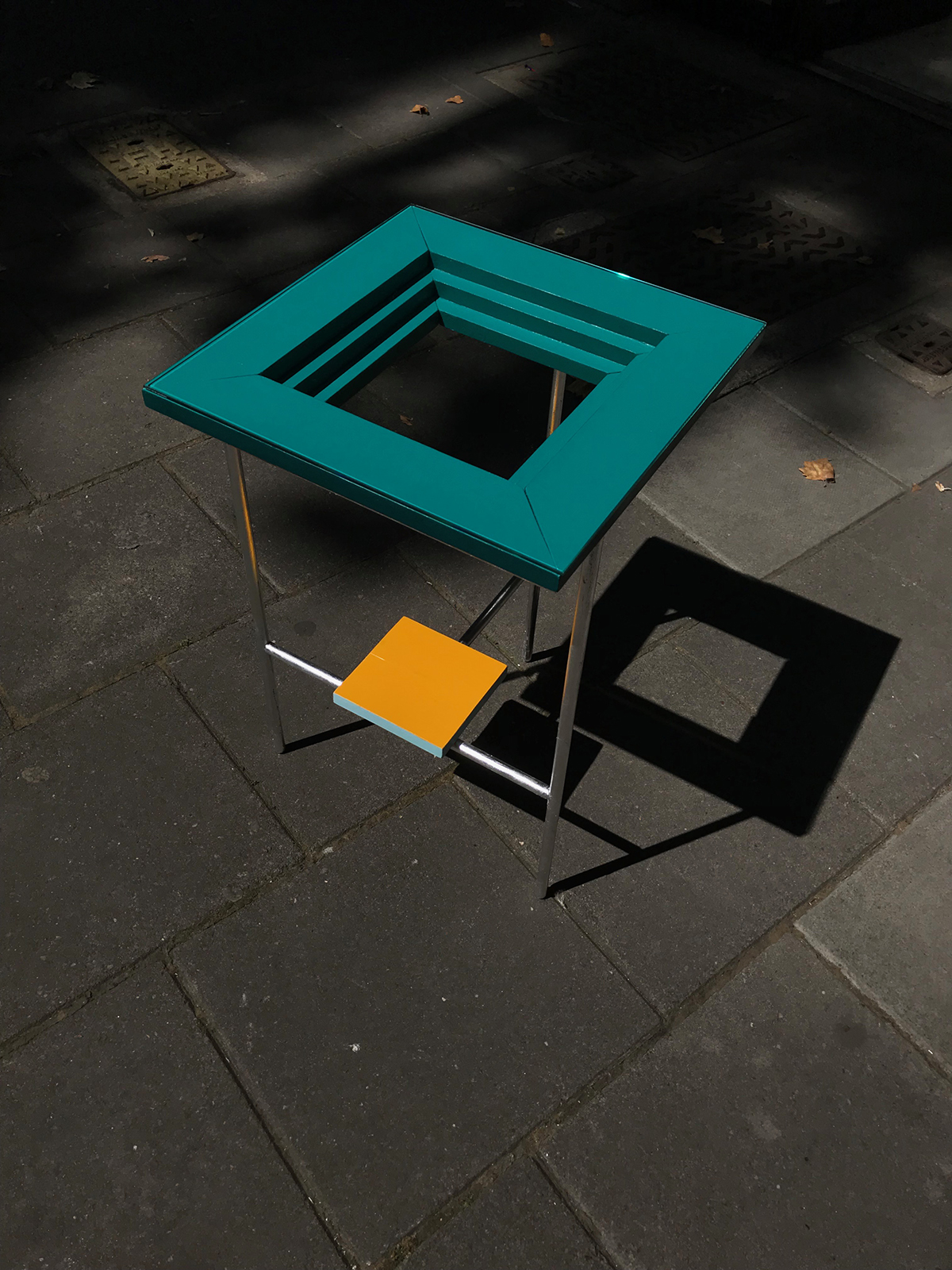 What is your relationship with color, in your design work as well as in life?  
I don't use much color, mostly because I'm quite scared of it. I have always placed a lot of emphasis on things being subtle or graceful; using a limited palette is a lazy way of protecting that. Color can be amazing if used intelligently — in the interiors of David Hicks, for example, where nothing should work together but somehow everything does. It's that unfamiliarity that gives the space an otherworldly air. 
My Side Stools are painted in different colors, most of which are named after food or something that the color reminds me of, and I recently did some side tables that had color interactions lifted from Albers and Hopper paintings, which was a step out of my comfort zone.
What are some of the side stools named after?
So far I have Apricot, Pistachio, Yolk, Mustard, Olive, Mineral, Bottle, Claret, Butter, Raspberry, Lemon, and Round Midnight, which is International Klein Blue. I've probably forgotten a couple in there.
Giving the stools these food or material names makes them feel like part of a lunch on a sunny terrace in Italy, which is the nonchalance I want them to have. Something small and quite relaxed, but also quite graceful. The proportions of the top are based on those wide sided pasta bowls, or espresso saucers, so maybe also that's why I make them in food colors and associate them with the sun.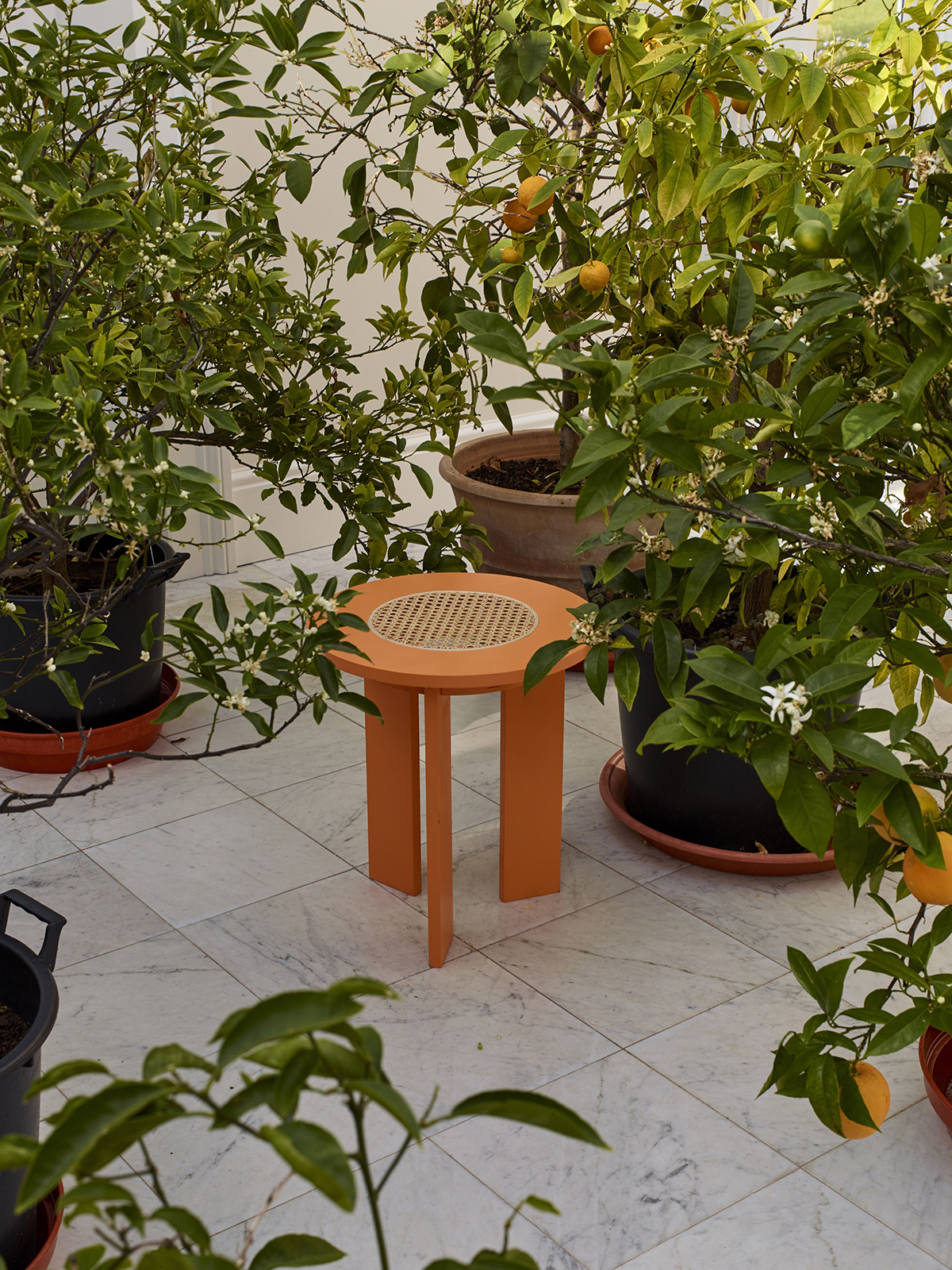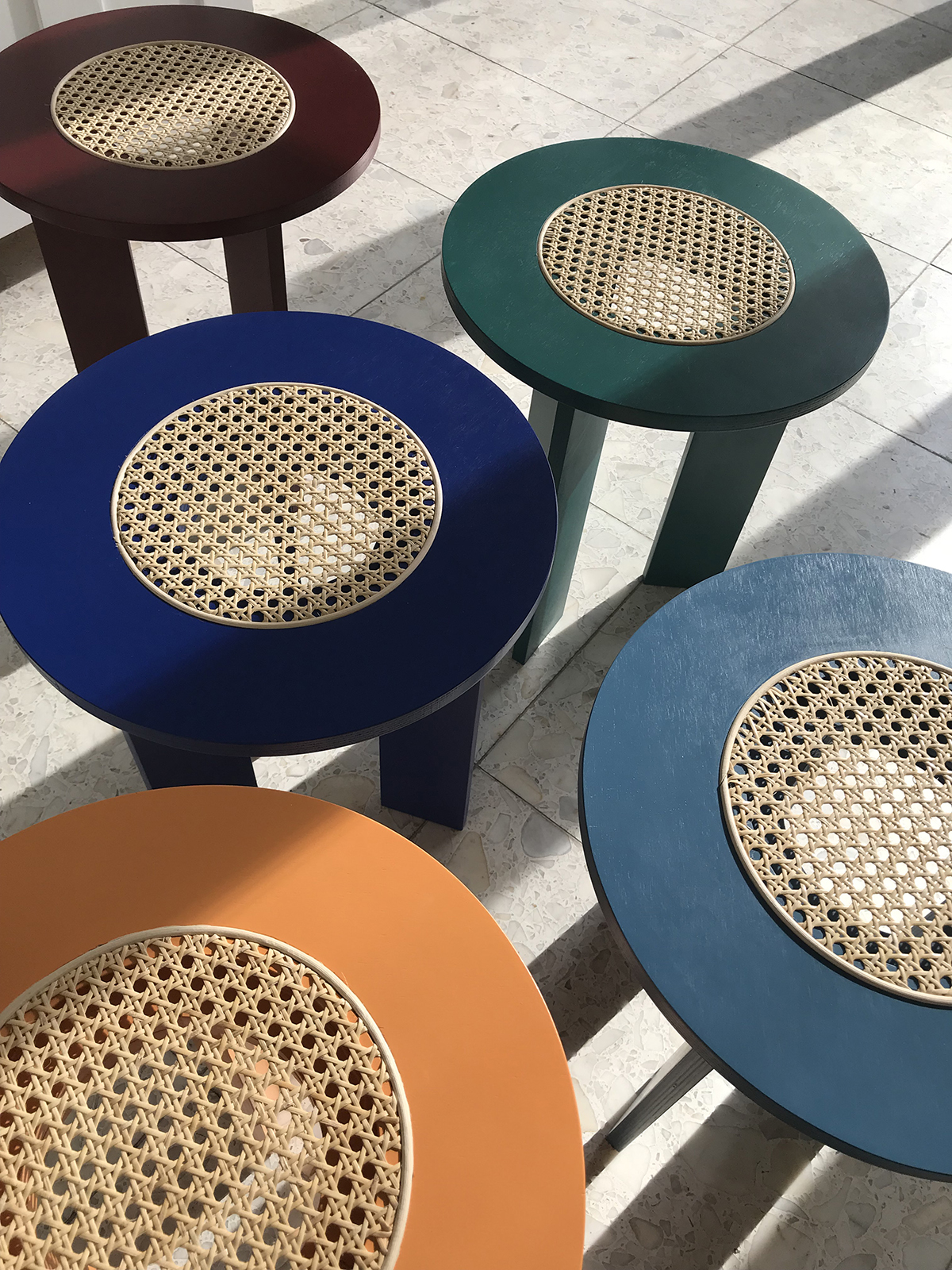 Who/where/what do you design and create for? If you could envision an ideal client or locale for your work, what might that look and feel like? 
Sam Stewart summed up my feeling when he talked about his Cryptid show as being the apartment of an unidentified non-human inhabitant. It struck me that I was sometimes making furniture for fictional clients, who lived in this slightly weird version of the world we inhabit.
Haruki Murakami's fiction is probably the closest I have come to experiencing the feeling that I would like to get across in my own work, so I would like to make something for a room in one of his stories. As an author, Murakami creates these very minimal yet evocative spaces in his writing. They have the strange background hum of things existing outside of normal time, and everything that happens in them is so subtly bizarre that you wonder if it's happening in your own life — but you cannot see it.
I think that this is the same feeling that you get when you have a moment with a favorite piece of sculpture, or a piece of music: How does this thing sum up that which I have been unable to put into words? Through what weird combination of circumstances did it come about? I don't see why you shouldn't have the same interaction with the furniture that you use every day. 
'Wild Sheep Chaise' was named after a trilogy of books by Murakami, where the central character's subconscious is accessed via an unsettling corporate hotel elevator. I was trying to place this club chair with blinds and fleece all over it into a context in which it could pass off as a banal, everyday part of the scenery.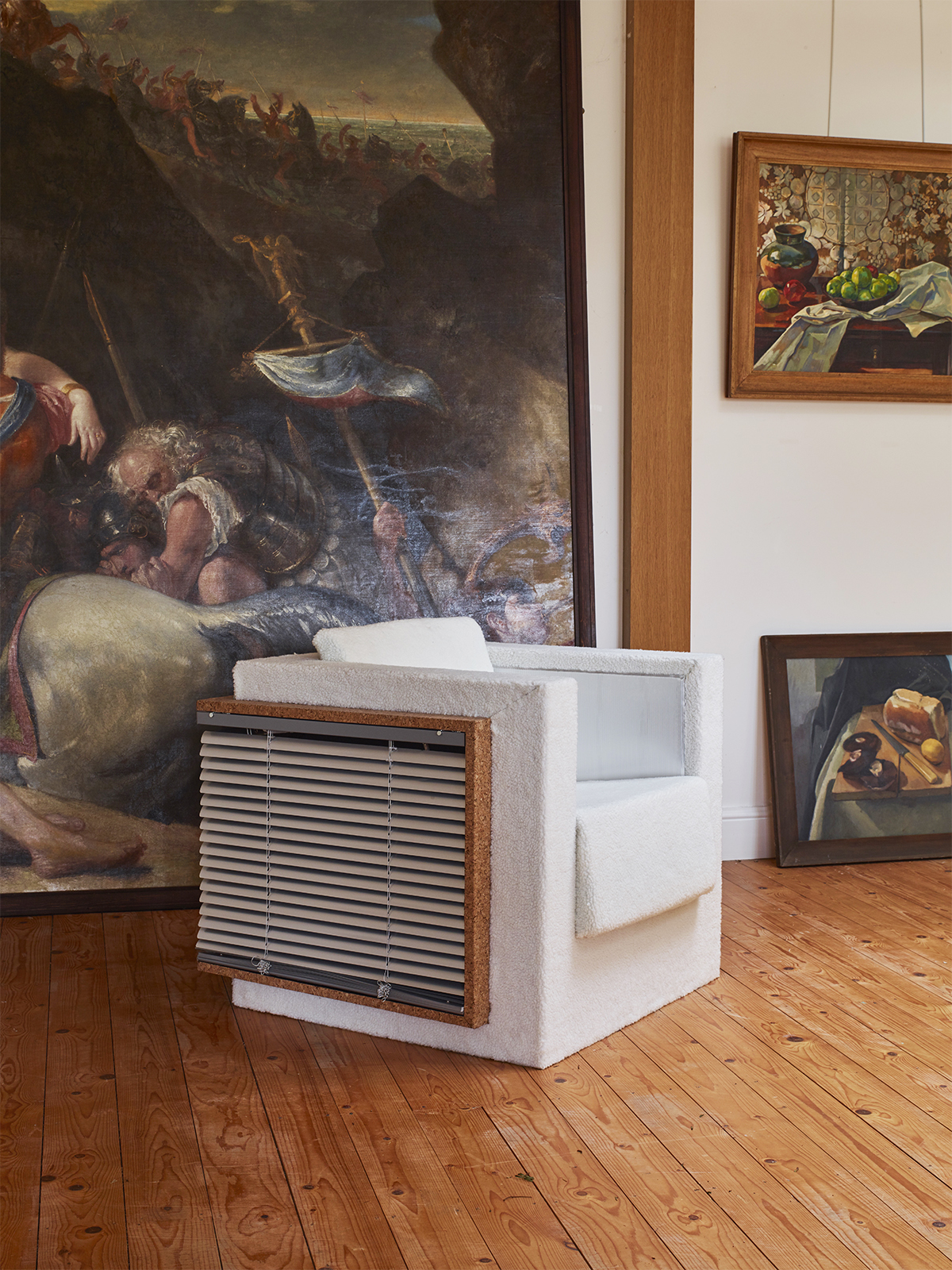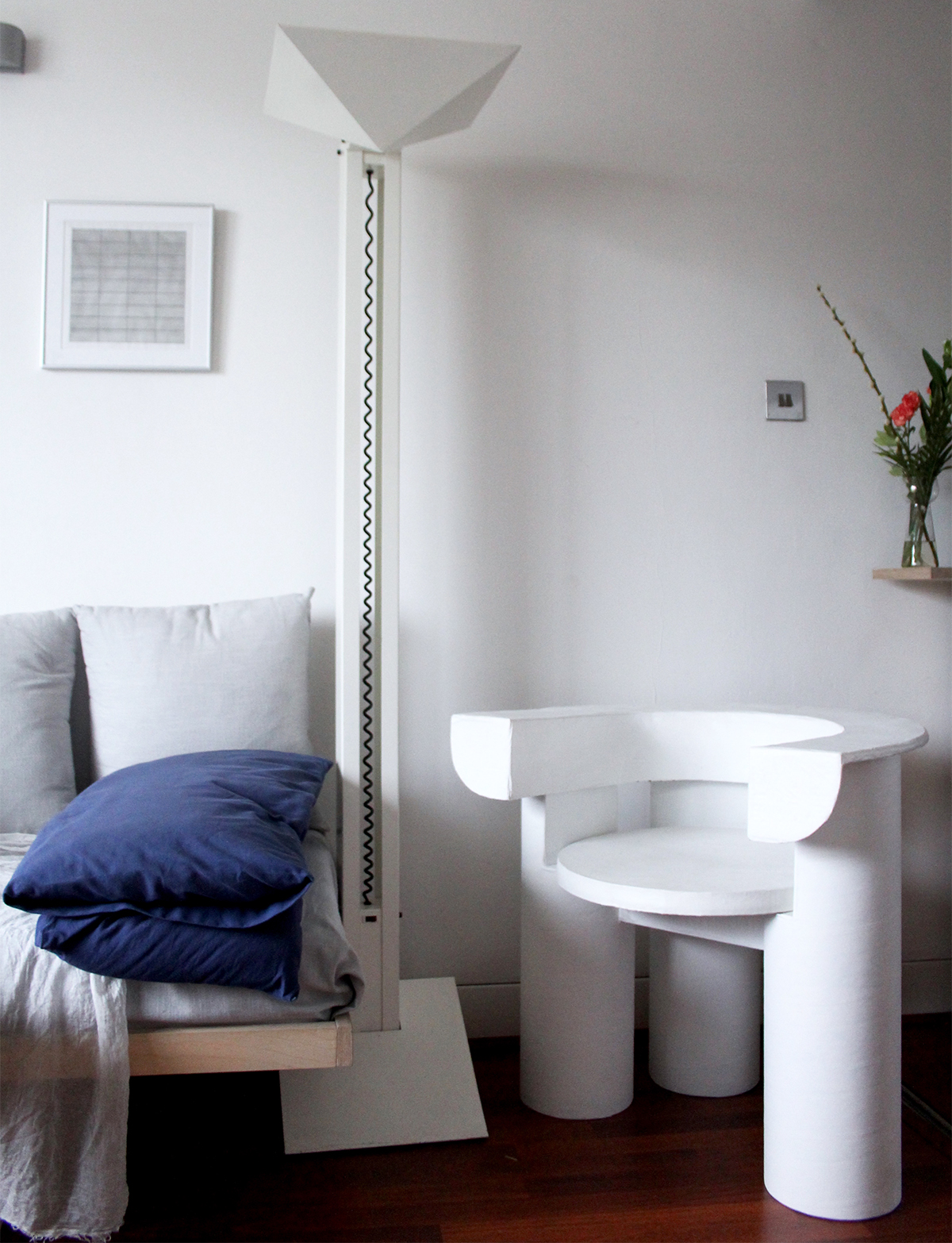 What about in the real world?
I am lucky to have had non-fictional clients who see what I am getting at. For example, the owner of the Desk with Four Vessels understood the slightly theatrical aspect of a desk full of flowers, and how it would make her time working there feel that little bit more special and otherworldly.
The location we used when we shot the collection of recent works for the website somehow exists in that fictional world I'm trying to get to. It's this very peaceful place in the countryside made up of a patchwork of spaces from different eras. In the center, there is this beautiful glass-roofed orangery full of lemon and olive trees. It was built in the 1990s, so it doesn't just feel like the glasshouse of a stately home. I liked the idea of the Desk with Four Vessels being someone's writing table, and that room was their office, in this sort of postmodern Virginia Woolf tradition. 
Do you have a personal design philosophy?  
I don't have any sort of philosophy beyond that mentioned above, which is proving hard to pin down. I like the idea of making slightly surreal pieces for people to live with, to introduce a bit of weirdness into what can be quite a flat medium. 
Lots of artists work with furniture as a media of sorts, but their work often pushes the language of furniture past a usable point. The statement being made is so present that it distorts the piece of furniture beyond itself, into the realm of sculpture or installation. 
It's important for me that my work remains quiet with its messaging, and in some ways that is because I have strong ideas about tastefulness, and how it shifts and changes. I don't want to just ignore it and make these intense, noisy things, as I don't think that the results would be particularly good to live with. I know, I'm probably very old fashioned in that line of thinking.