07.22.19
The Polish Designer Creating Furniture Out of Recycled Glass
Justyna Poplawska's Copenhagen studio is, she admits, in disarray. "I'm renting a basement in a building where people live, so I'm not really surrounded by many other creatives," she says. "But it's quiet and full of light. It's also very, very messy."
Somehow, from the chaos, Poplawska has managed to conjure something poetic — and, in her own words, painterly. The handcrafted side tables and room divider included in her Tinct collection highlight the Polish-born artist's innovative use of recycled glass, which she pulverizes into grains of varying sizes and colors, and mixes with sustainable epoxy resin and pigments. The resulting material is then cast in thin layers with a spatula, creating surfaces awash in ethereal color that, depending on the piece, bring to mind moonlit water, wet sand, or deep space. It's a process all Poplawska's own, and one that reflects the artist's ongoing interest in merging age-old methods with experimental ideas.
When we spoke, Poplawska was on vacation, spending much of her downtime sketching and mulling over new applications of the material used in her Tinct collection. When asked if she's ever tempted to stray from glass, she insists there's far more ahead to explore. "I'm very critical of myself, but even when I'm fed up looking at those tables, I can come back after a little bit of time and still find something very interesting in them. Those compositions are endless," she says. "I can never get bored."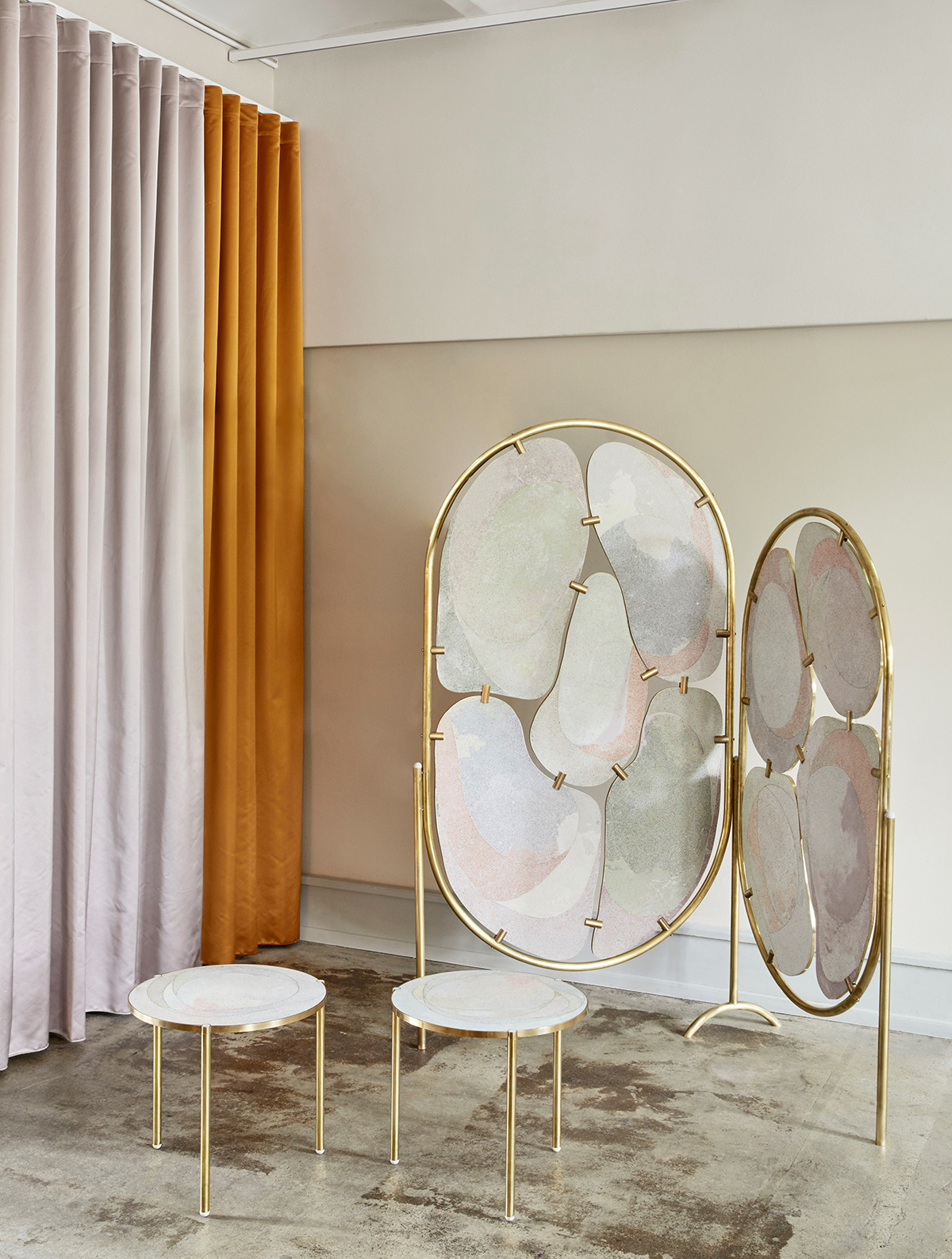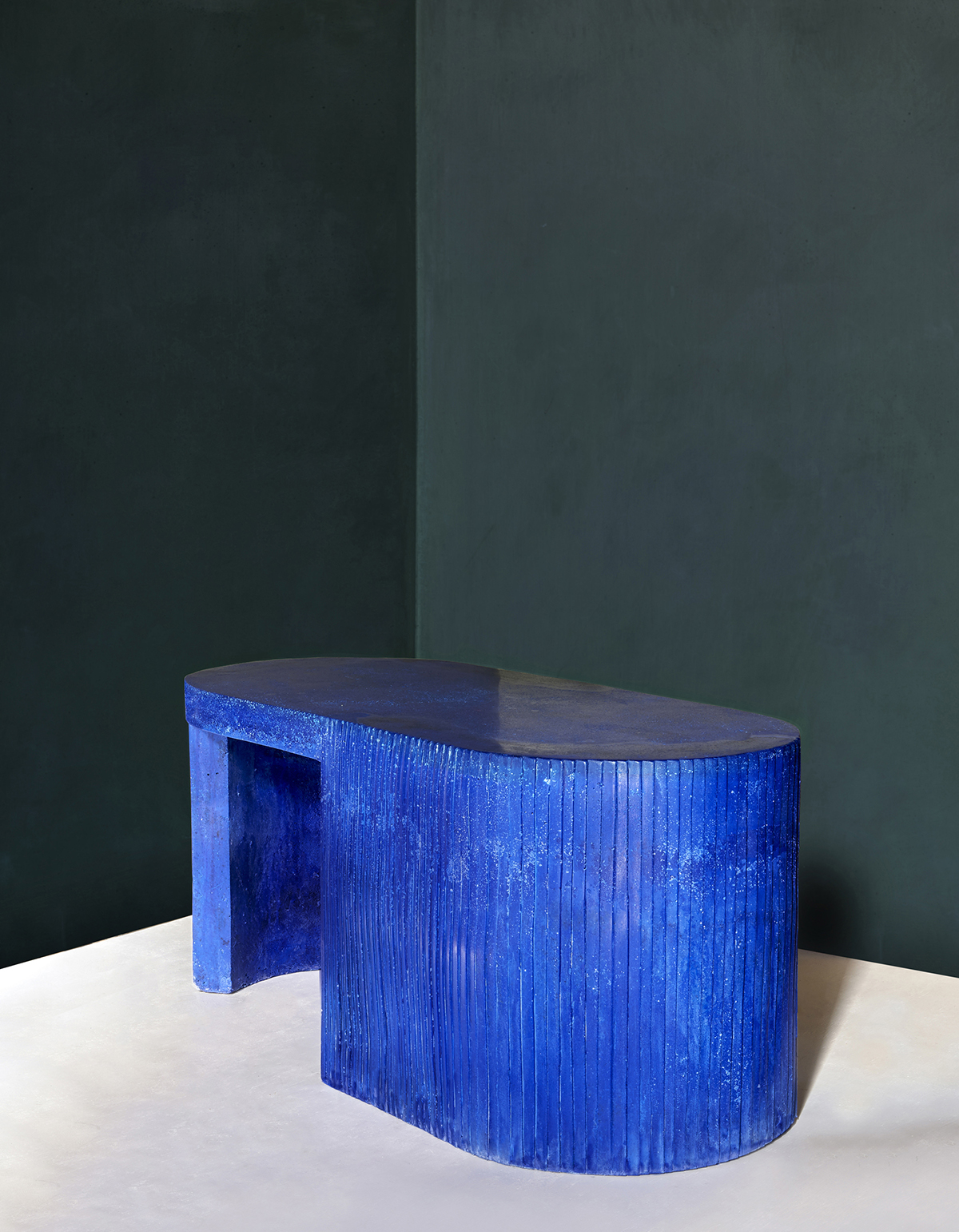 What is your earliest creative memory?
It goes back to the drawing desk of my mother, who is an architect. This was in the '80s and early '90s when there weren't computers in the studios, so all the weird tools she used were also my play toys.
Tell us about your path since then. What drew you to the work you're doing today—and to glass, specifically?
I was always interested in materials and doing things with my hands. In the city in Poland where I come from, Wroclaw, there's an Academy of Fine Arts that has the only glass and ceramics department in all of Poland. I learned all sorts of different glass techniques there. I was very fascinated by the material, but that school took more of a classical art approach. 
I really wanted to explore more, so I went to study glass design in Copenhagen after that, which is where I'm based now. That was where I also had the chance to experiment and to work with other students, because Danes are very collaborative in their creative processes. It was there that I came up with the idea of using recycled glass in my work. It was mostly because glass is an expensive raw material to start with, and there was a lot of glass waste from other productions lying around. I wanted to work with it because it was beautiful even though it was all cracked—and it was free.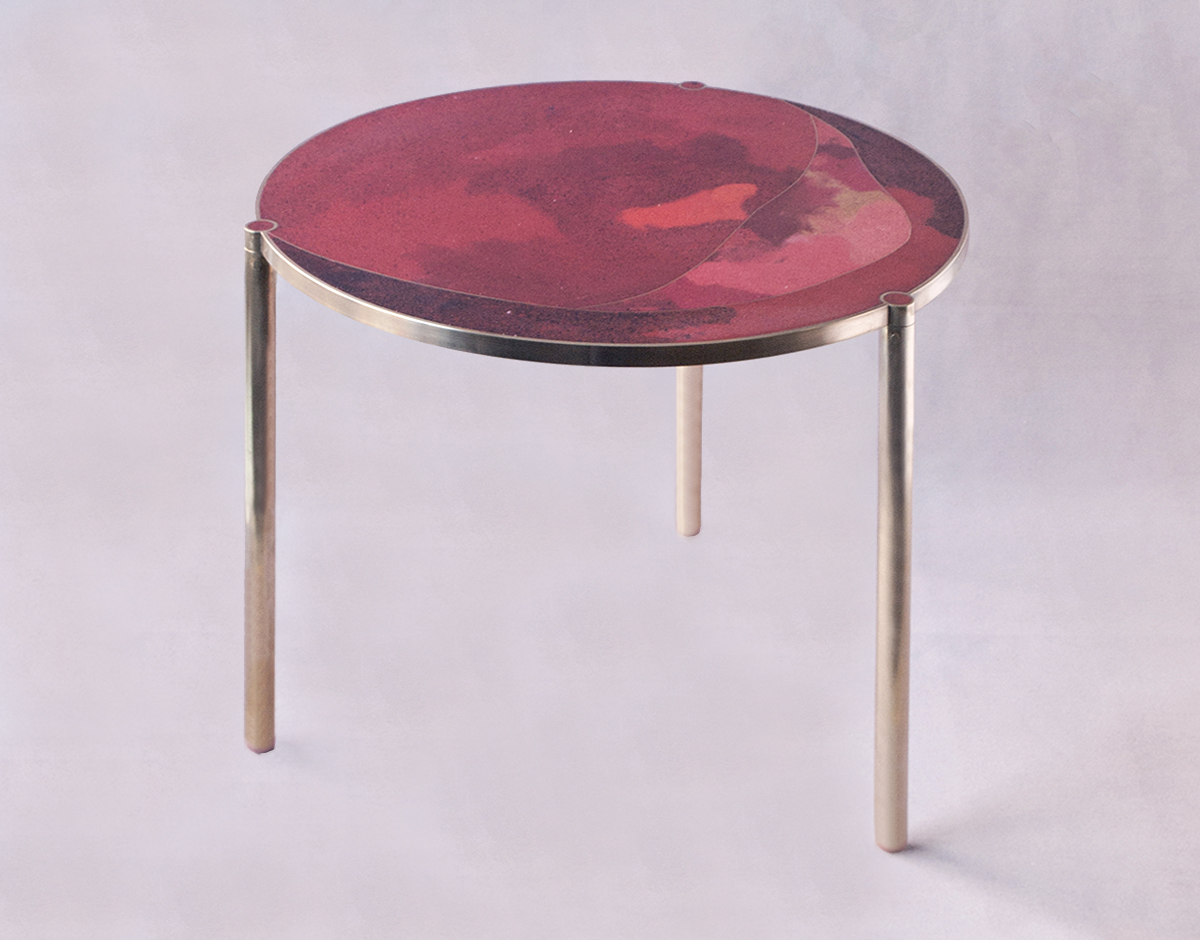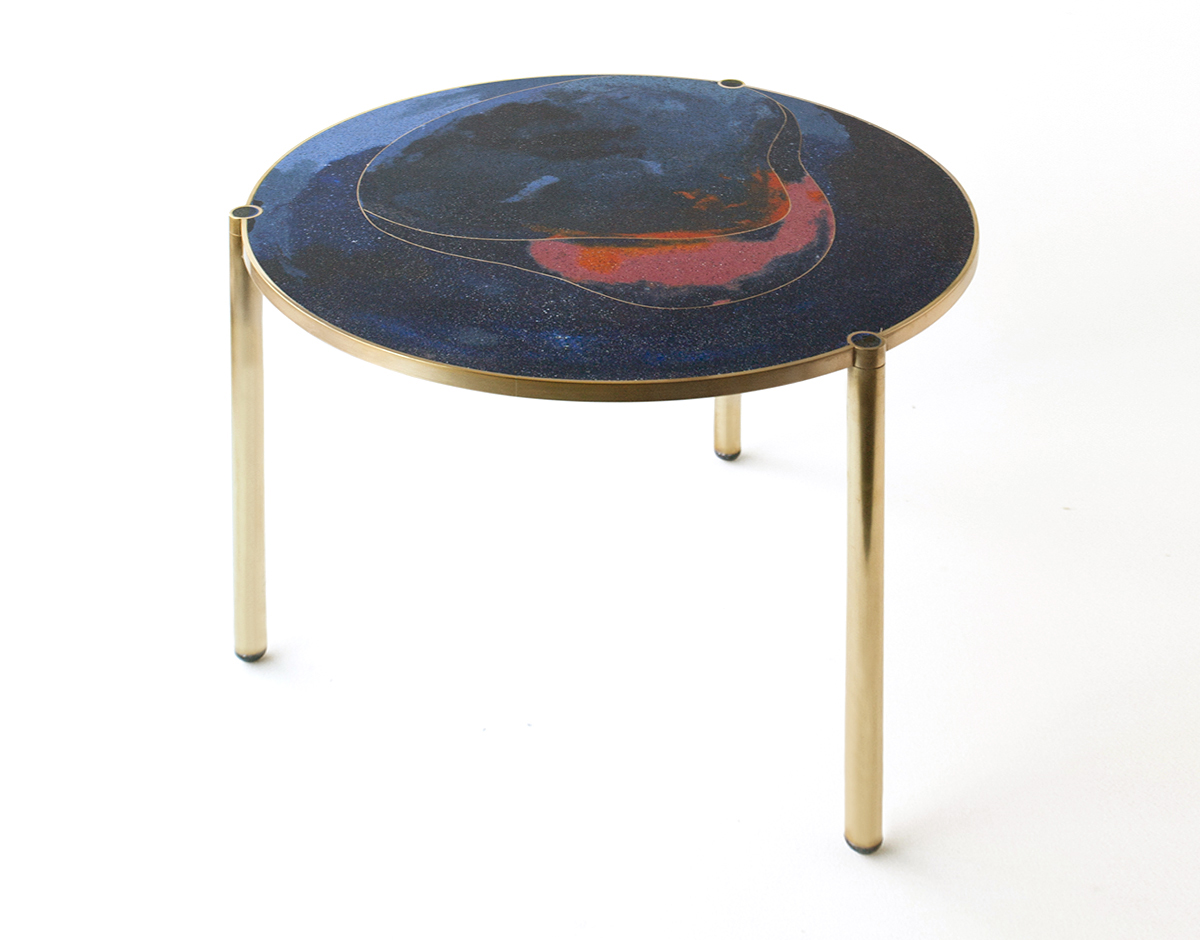 You've developed a composite material that plays a central role in your most recent pieces. How did that material, well, materialize?
At some point, I developed a machine with my dad, who's a mechanical engineer. It's a grinder that crushes glass into all sorts of different grain sizes, from powders to something that looks a bit like sugar. So I had all of this crushed colored glass, and since it is technically problematic to melt or fuse glass that comes from different sources, I ended up mixing it up with sustainable resins, which created something that resembles terrazzo.
You eventually applied this technique to a collection called Tinct, which features a series of handmade side tables and a room divider. Why did you decide to make furniture, in particular?
I had created this material, and I felt I needed to make work on a bigger scale before I worked with smaller objects, like lighting. I do lots of paintings and watercolors in the beginning of my process, and I liked the idea that the surface of a table could look something like a painting but be practical at the same time. The same thing goes for the room divider, which is more of a one-of-a-kind show piece. But it really conveys the story of a painting being captured in a three-dimensional, strong material.
It's interesting: The process starts very sensually, poetically. Like a painting. But the actual application—each color of glass, each pigment, the way the composition is arranged—is in fact very controlled.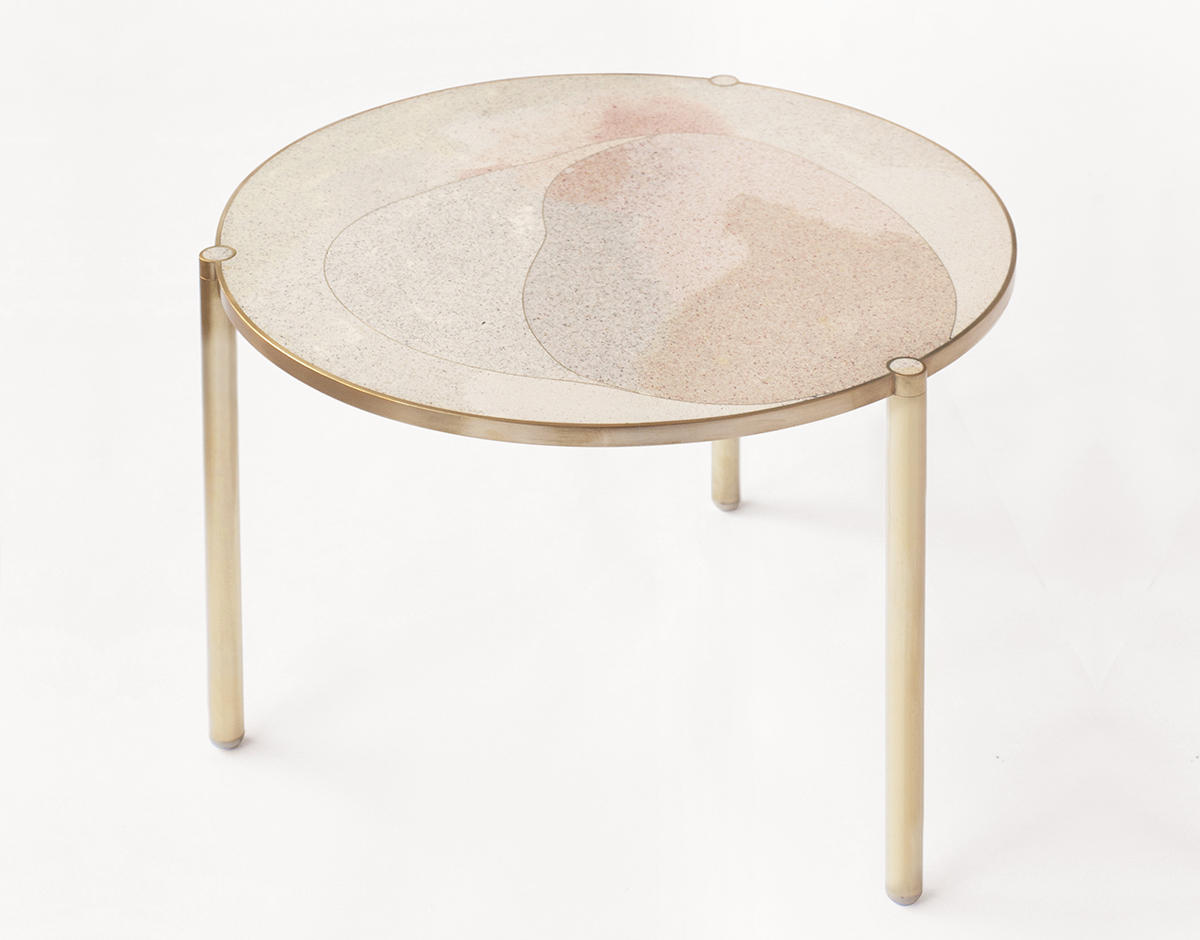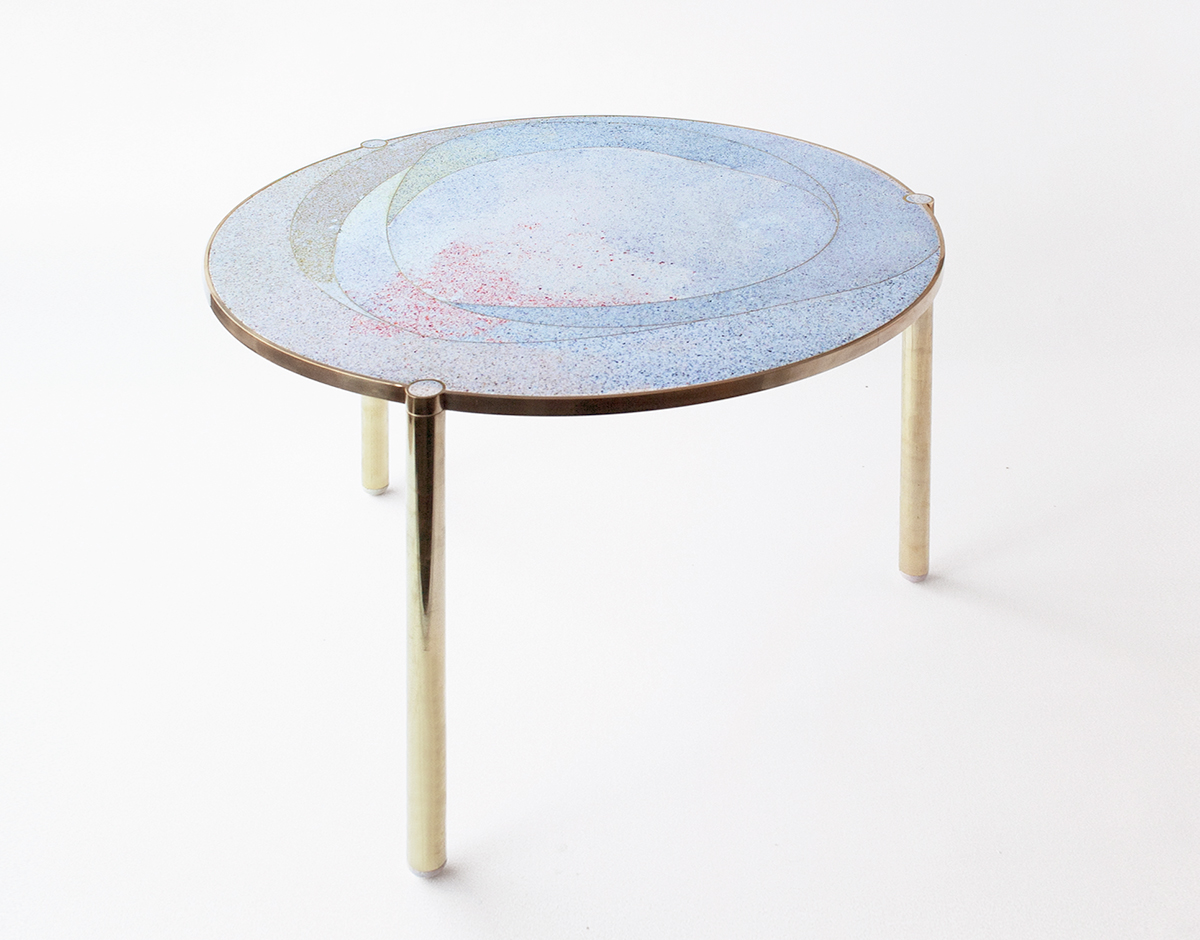 Speaking of color and composition, what informs the palette for each piece you make?
I use recycled glass, so the colors are mostly inspired by the materials I have. For the Tinct collection, I was drawn to lighter colors because it's easier to see the different shades of glass in them. But I'm very much a color person, so there will be a lot of different colors in my work in the future. I'm also starting to talk with architects and interior designers who see the potential of using this material on a bigger scale—for example, on restaurant bar tops. People are interested in whether I can create a color to fit certain aesthetics or site-specific projects. So it's cool that this is evolving into more of a collaborative process.
Are there other materials that you're excited to work with, besides glass?
I'm very much drawn to glass. But I would like to work with other glass techniques. Right now I'm working on a transparent version of the same material as the Tinct collection, which would be great for lighting. I'm thinking more about surfaces and applications, than other materials: Could this be used for floors? For tiles? 
What's inspiring you these days? Anything we'd find surprising?
A mix of things. Right now it's summer and I'm quite interested in the process of fading colors in nature. I'm collecting a lot of petals and leaves and just observing how their colors fade. When it comes to aesthetics, I'm inspired by my surroundings here in Denmark, and Danish artists like Axel Salto, the great ceramist, or Vilhelm Lundstrøm, the great colorist. You would think that Scandinavian art and design would be streamlined and colorless, but throughout its history there is a lot of beautiful color, and some very quirky stuff. Then, ideologically, there were some great exhibitions here in Copenhagen of Art Nouveau and Bauhaus that I was very into, but I'm more interested in their political statements and the clash between luxury and democracy. I've been thinking, how are these ideas relevant for current times?
I'm also interested in the Italian techniques used in the making of Florentine mosaics, or scagliola, a technique where plaster was manipulated to look like marble. It wasn't only about faking the marble, though. It was also about the art of creating illusion. That's something that really inspired me for this collection. That you can add new layers of perception for people, so that when they see your art, they don't really know what materials they are looking at. It opens up the senses beyond the visual. It's a more sensual, tactile thing. You really have to use your other ways of perceiving.