10.08.19
Kim Bartelt's Pastel Paper "Paintings" Are the Bedrock of Her Berlin Home
When Kim Bartelt was an art student at Parsons, and then a young set designer in New York, she would often collect the colored tissue paper that comes with clothing purchases from small boutiques, or wrapped around samples when calling in pieces for a photoshoot. The papers sat for years around her apartment in a giant Paul Smith bag — first in New York, then back home in Berlin — before eventually becoming the "painting" that would become the basis for a body of work she's been creating for more than half a decade. Using glue as a binding medium, Bartelt composes abstract shapes and forms; the canvases, which in some cases have travelled the world themselves before reaching Bartelt, add with their history a certain magic to every piece. By using a uniform light pastel palette, Bartelt creates art reminiscent of early modern, experimental painters such as Morandi and Hilma af Klint. It's also the palette she used to decorate her Berlin home, which she shares with her husband and two children, and her studio, where she's currently working on paper paintings as well as a series of furniture, built from Hempcrete and finished with lime and pigment. We recently caught up with the German artist to find out more.
PHOTOS BY MARINA DENISOVA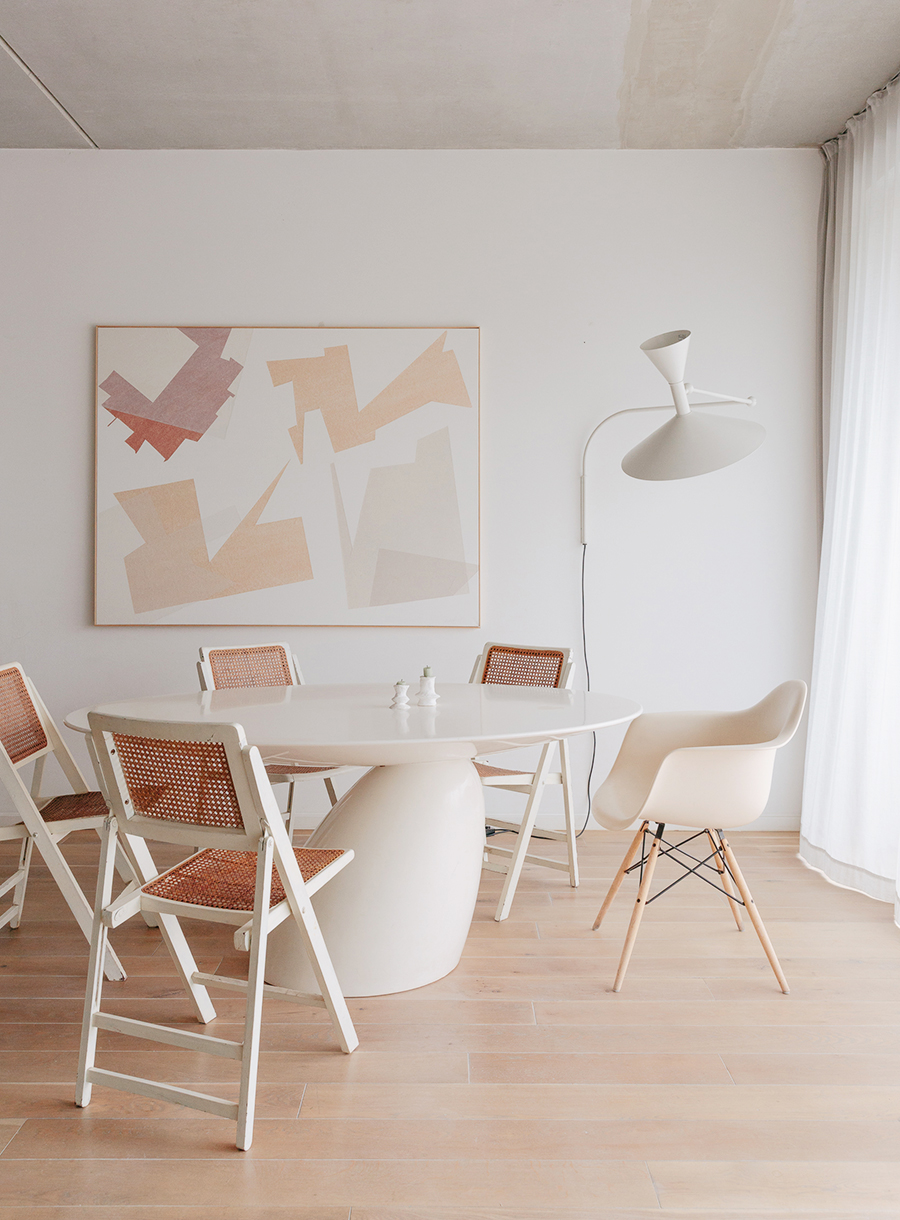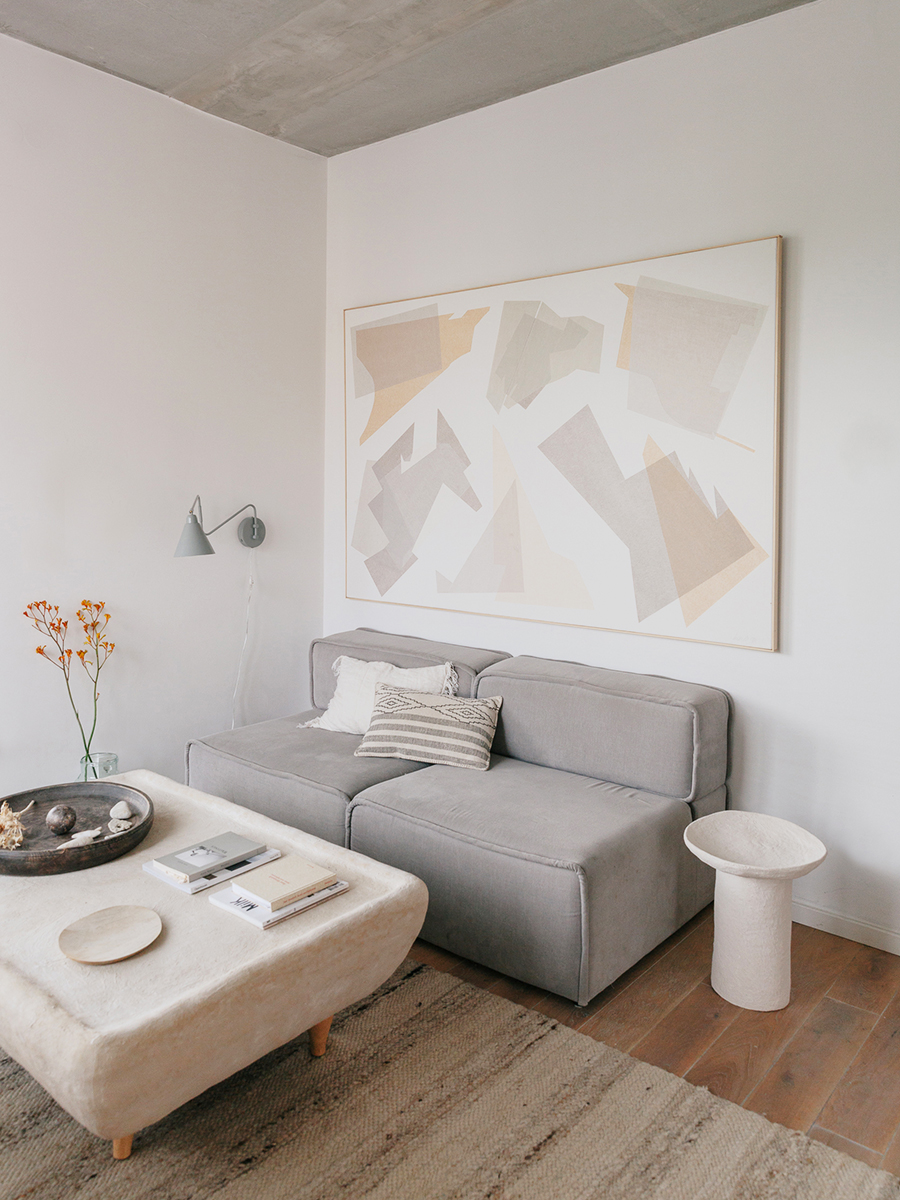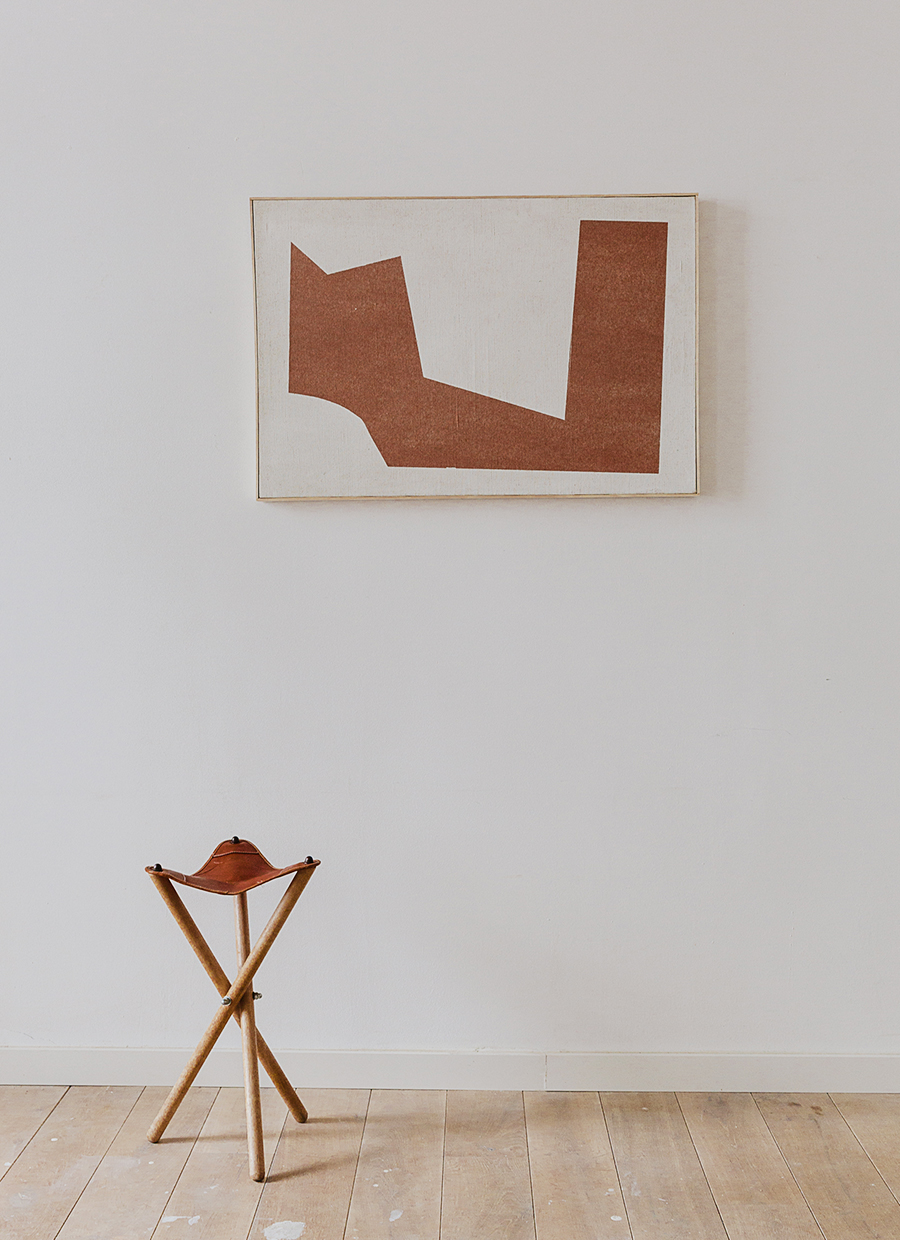 What inspired you to be an artist?
When I was younger, I was, I don't know, too shy to say I wanted to be an artist; my father being an architect, I was always interested in shapes and space, but I thought I would do architecture. But I actually didn't pass the entry test to architecture school because I was out late with friends! A friend called from Paris and said she was studying photography and next to her was a school where you could study art history and painting and wouldn't that be good? So I went to Paris. I didn't really speak French, but I loved it there. Once a week, we had to choose whether to go to a painting studio, a graphic design studio, or a photographer and I chose painting. The painter I met really pushed me into studying art; I ended up going to the Parsons School of Design location in Paris, did my foundation year there, and then everyone moved to New York. I didn't really want to, but my boyfriend at the time pushed me, he said, 'You have to go to the best school!" Then of course New York completely turned my mind. I left him, it was very dramatic, and I stayed in New York.
After that, I painted backdrops for photoshoots and worked in set design for publications like Vogue, Elle, and Harper's Bazaar, but I never really had enough time or space to paint. I took a bigger apartment but then had to work even more to pay the rent of this loft. At some point I decided I just wanted to paint and not work in the fashion industry, so I moved back to Berlin where the rents were less expensive.
How did you make the move from painting to your current canvases, which use paper as a primary material?
These latest works I do with the papers, that started in New York. For photoshoots, and in stores, they would wrap the clothes in tissue paper, as you call it in English. In German it's called "silk paper," which I think sounds a bit nicer. Every store had a specific color, and I started to collect them. For a long time, I didn't look at the papers, but then one day I thought I should do something with them. I glued them on a big canvas in a kind of an abstract composition and gave it to my sister to hang in her apartment. A year later she told me that everyone who came to visit loved it and wanted to buy it, so I took it back from her. I had it sitting in the studio and studied it and started working with these papers. I started to make more and needed more colors, so I found a wholesaler in the UK where I could order all the colors of these papers I liked. I was then able to mix the colors by layering them.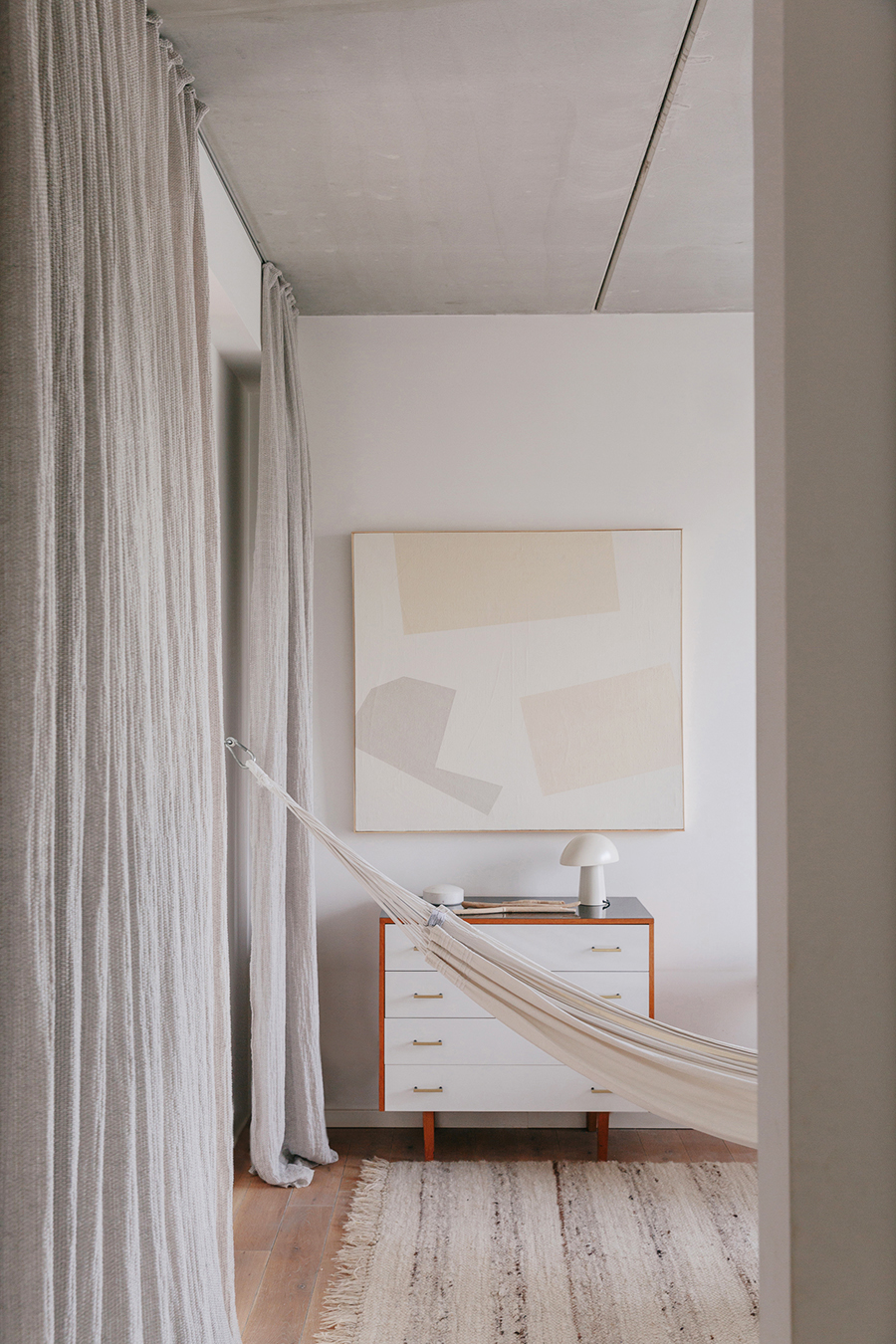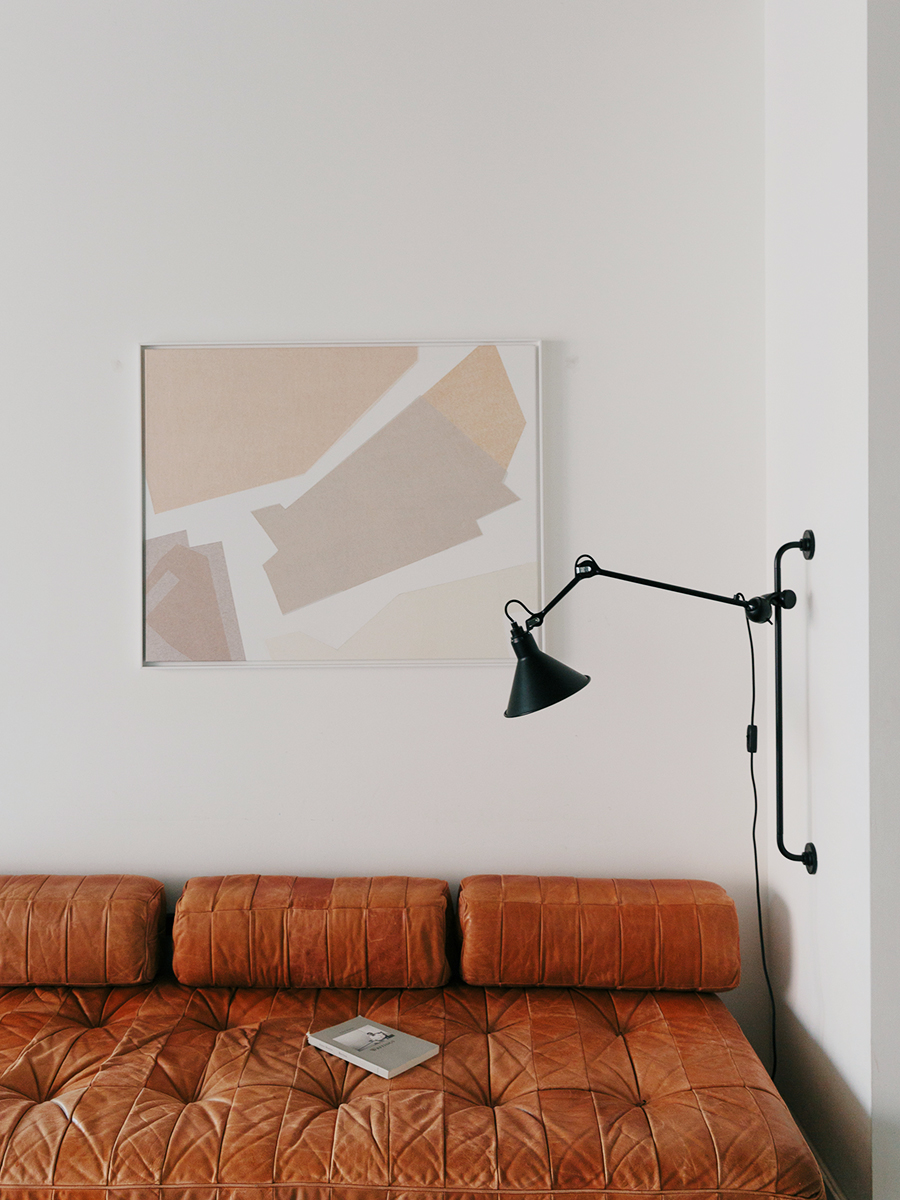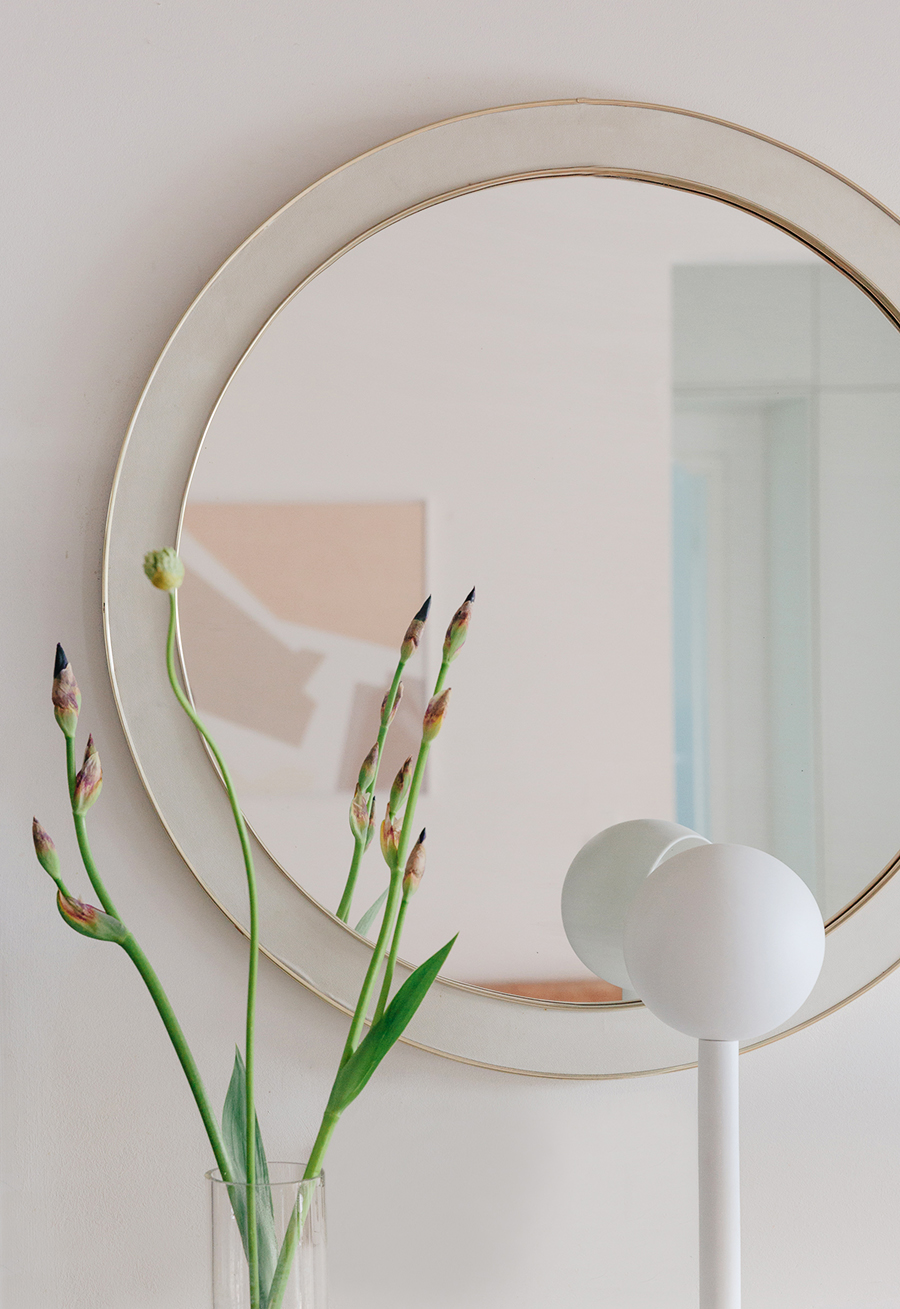 You've now been working with paper for five years. What is it you love about the material?
I like its fragility, the noise it makes when you touch it, the transparency. It always lets you see what's behind it, it never covers up completely like real paint does. It has a luminosity to it, and also a chalkiness, which I enjoy a lot. Apart from that I like the process. It is not a fast application as with a brush, it is very slow. Another aspect are the creases which can appear when bigger sheets of paper are being applied to the surface. These are the "wrinkles," and they work for me as a reference for the fragility of life.
Some of your artworks consists of recycled materials; canvases, fabrics, silk paper and so on. Do you think that the different histories behind every material give the finished work a certain essence?
I lean towards recycled materials more and more. It started with the found/collected papers, but later I began to save fabrics, old clothes, curtains etc. I definitely think that these materials, carrying a history of their own, add to an artwork. Sometimes they build the main part of the art work, and I only have to add a tiny bit of my visual language to make it complete. And even if not all the materials are recycled — for example when I use a regular new canvas — I use paper remains which I glue on to the surface. So that idea of the essence that transcends the material and makes the artwork a matter loaded with history is still valid when new and old are mixed.
I also see my work as a kind of archaeological work. Finding old pieces and putting order in them, sorting them. Gluing them on surfaces, archiving them in a way.
Whenever I create works with paper, I have leftovers from the cutout. These shapes are lying all over the studio, and I enjoy finding the right shape for the right spot on the canvas. It is a bit like a puzzle. One series of works is actually called 'Puzzles' as I move these shapes around until I find the right place and relation to the surface and the other shapes. Then the papers are glued on the surface.
If there is only one layer of paper it stays very luminous. If several layers are applied, it gets a chalky effect that almost reminds me of fresco paintings. And then there are the very minimal, most current works, called "Raw." I made them on a group of canvases which I found when buying a rug from a family in the diplomatic service. They had these canvases made in Shenzhen, then transported to Beijing, Ethiopia, Morocco, and finally to Berlin, where I bought them. I loved the idea of their travels; there are small dents and marks on the canvas and the frames, it's beautiful how life has left its marks.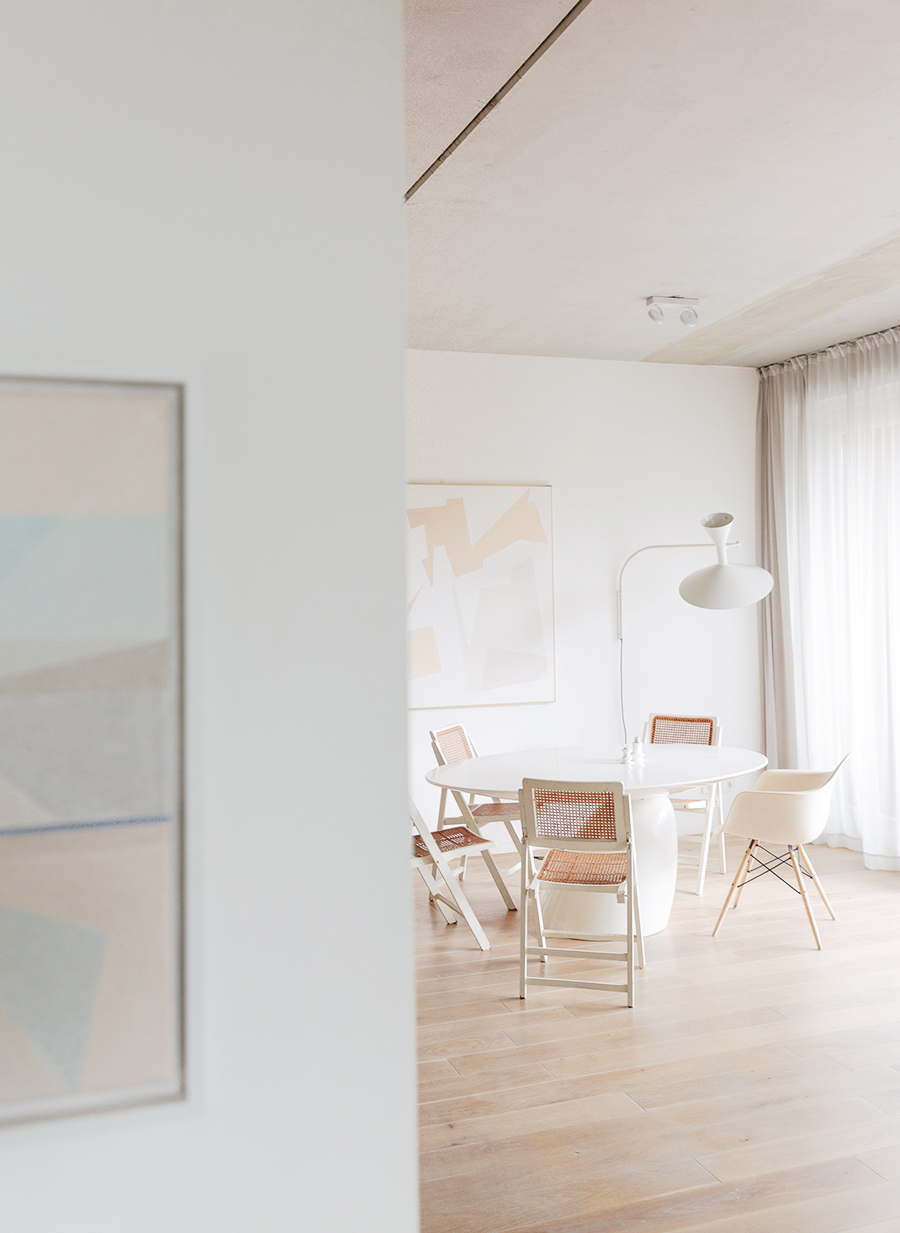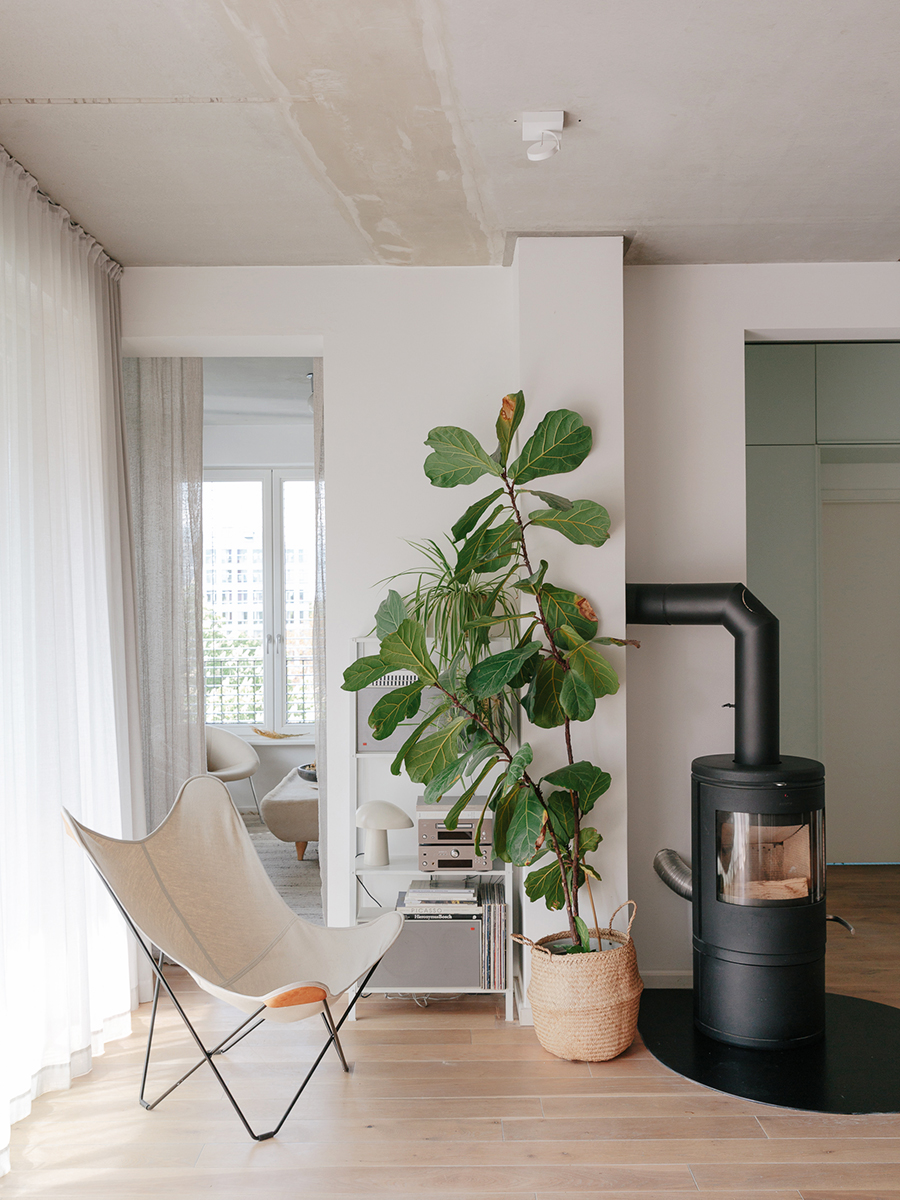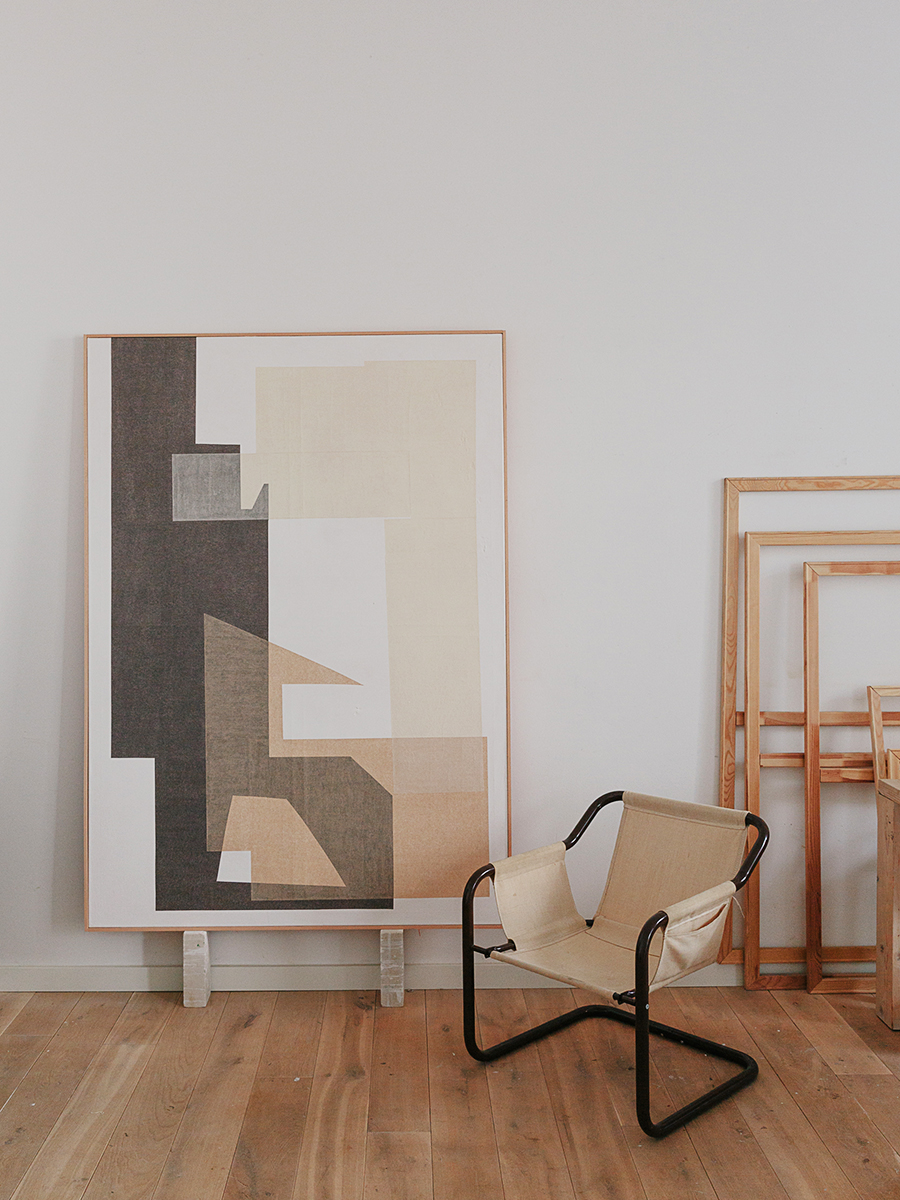 The style in your home seems to be an extension of your art, would you say that?
Yes, I like the neutral color palette. I find the outside world and the digital world so overwhelming at times that I need to come back to a quiet place, where no colors scream at me, where the eye can rest and also where the art on the walls can have its place.
Tell me more about your apartment. How did you find it?
We were looking to buy something here in Berlin, and things had just started to become more expensive. Suddenly we saw an ad in the newspaper where some other families were looking for families to build a house with an architect. The city had given away a piece of land where a house had been bombed during the war. They wanted to avoid real estate developers who would make everything more expensive; the city wanted to give the opportunity to families who already lived in Mitte. There were 19 other groups who applied, but we created a plan that included a community room that we use for cultural activities or readings or screenings; we have a garden with regional plants where once a week, farmers come and sell their fruits and vegetables. So we were able to build this here, really close to a park, with 10 other families. My studio is a few hundred meters from the house.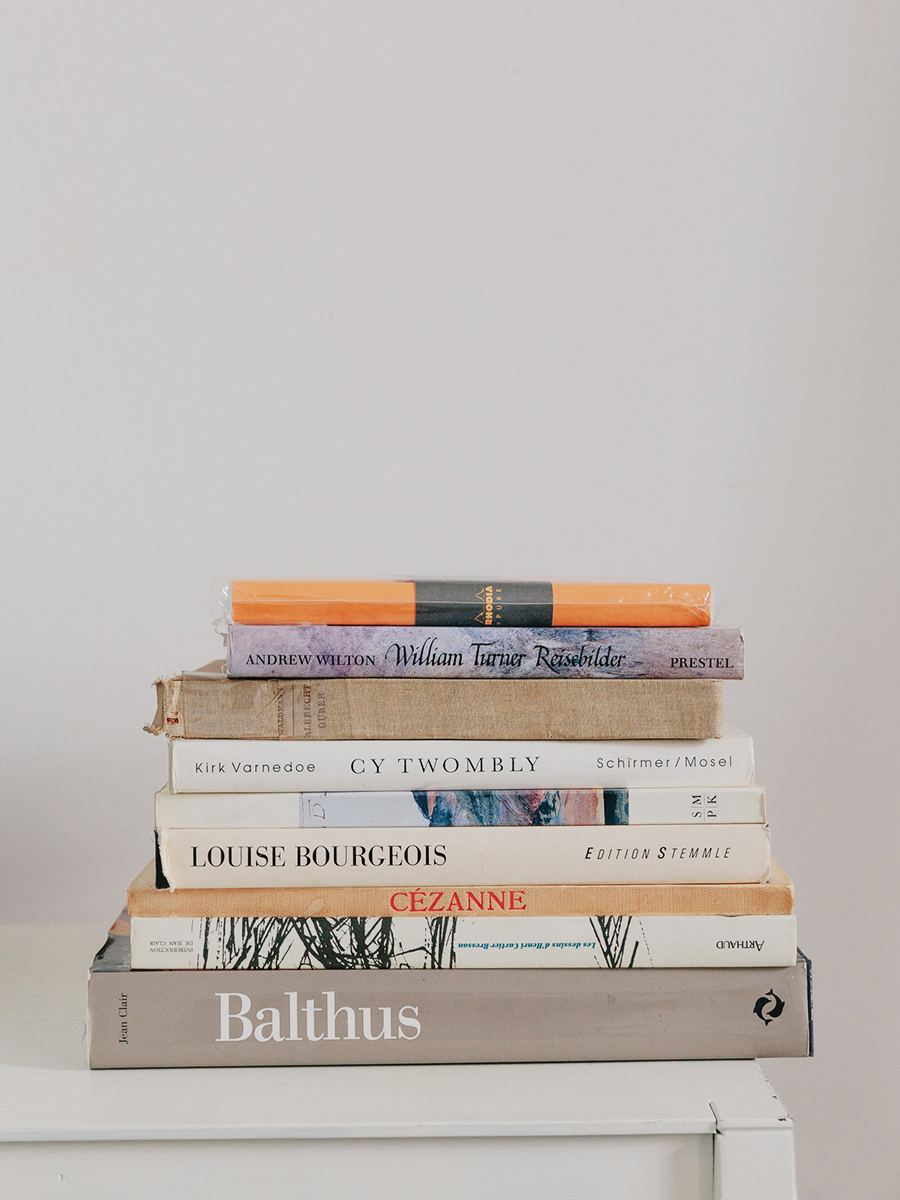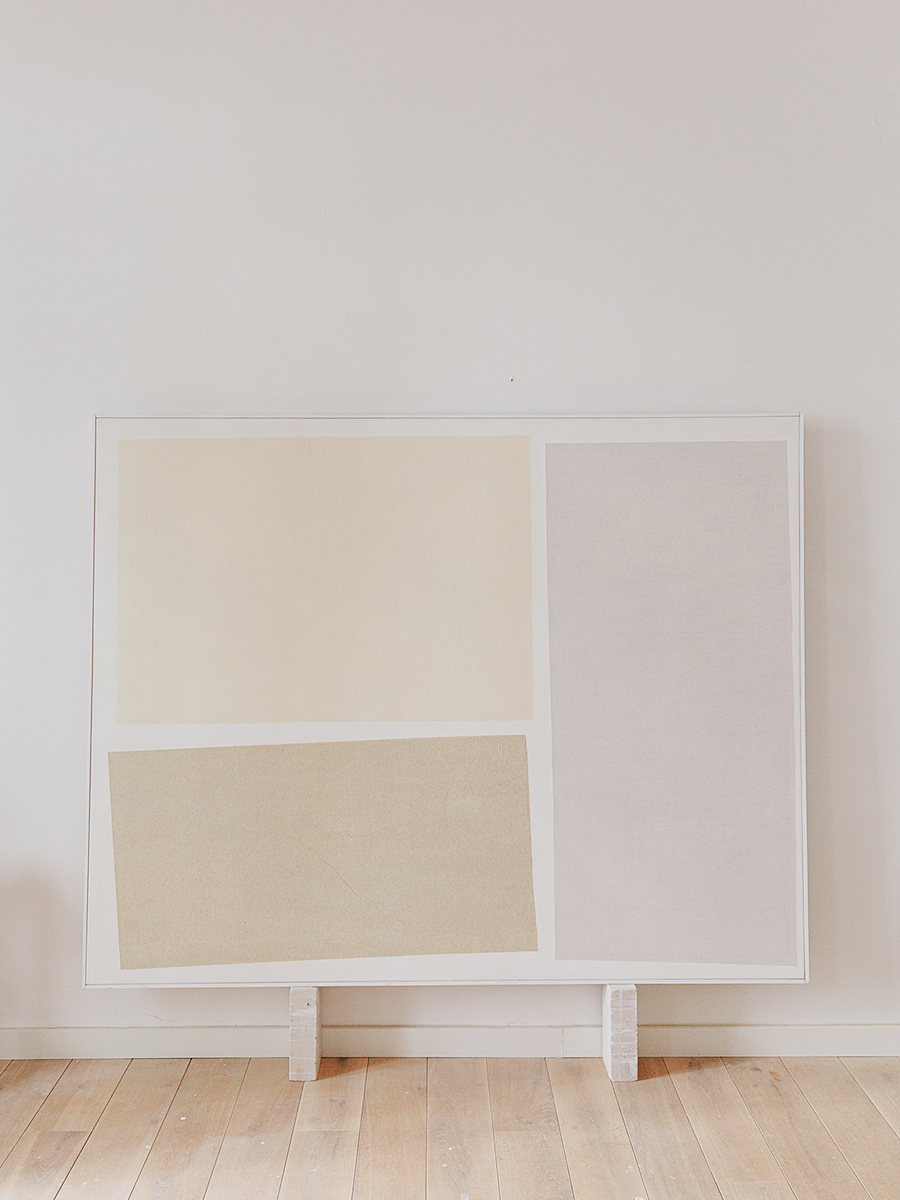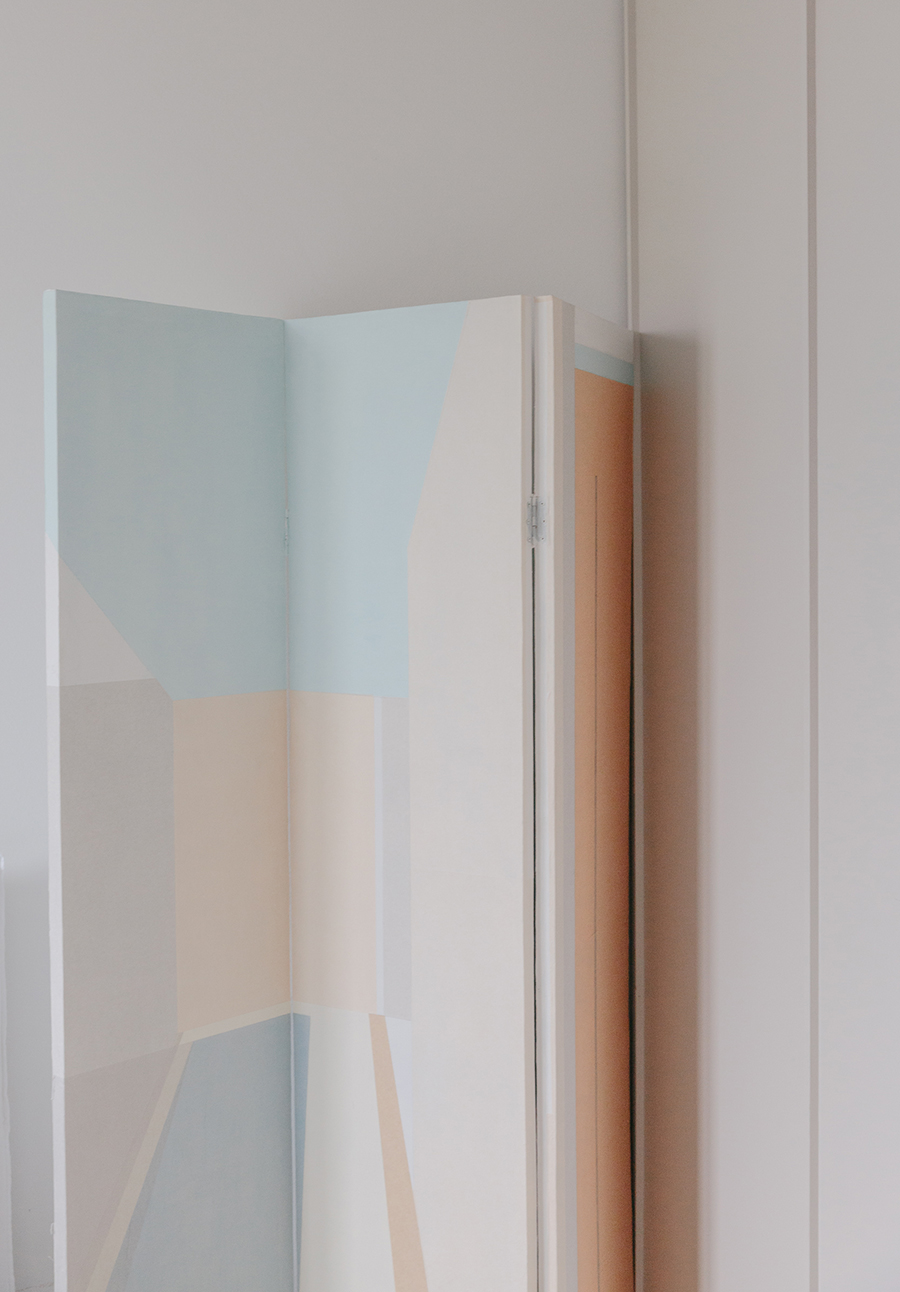 What are some of your favorite pieces that you've collected?
 Definitely the dining table, which I found in a store in Nice. I found it with a friend who worked at Café Gitane in New York; it was his brother's store. The sofa is from De Sede in Switzerland. I saw it in a store around the corner but it was sold already, so I found it on eBay and became friends with the woman who owned it. I traded her for a painting for the sofa.
The lamp above the dining table is a Corbusier re-edition. I grew up very close to the Corbusier house in Berlin (also next to the forest Grunewald), and always went to buy my sweets there. The Corbusier house was a huge influence on my aesthetic. The Walter Knoll cocktail chairs I purchased at a hotel sale. The folding chairs around the dining table I found at a flea market. I like to combine these found vintage pieces with new things like the DCW edition lamp, the Nils Holger Moormann bookshelf, our Gervasoni ghost bed, a DCW Plug &Work desk in the kids room, etc.
There's a painting of a lake in the bedroom that my grandma commissioned, as she liked that spot at the Havel (a lake/river in Berlin). Everyone thought it was really cheesy, but after she died I took it to my place and enjoy it a lot.
You've recently begun to move into three-dimensional objects, like the room divider in these photos. What inspired the move into furniture?
It feels like a natural development that these flat shapes become three dimensional again — to take up place in space. I had wanted to make bigger sculptures for a long time, and I had worked with clay during my studies, but I wanted them to be big and I couldn't find a kiln here in Berlin that was big enough to fire them. I discovered Yasmin Bawa on Instagram, and we started talking. She invited me by the studio and she taught me everything about Hempcrete, which can air dry so it doesn't need an oven. Right away I bought some bricks of Hempcrete and cut it with a saw, gluing it with mortar. For the screen, I always had a book of the Bloomsbury group in England, and there was one artist who made these beautiful screens. Sometimes paintings can get too big to move them, so I thought a screen would be great. It has a canvas texture, but I think wood would work nicely as well.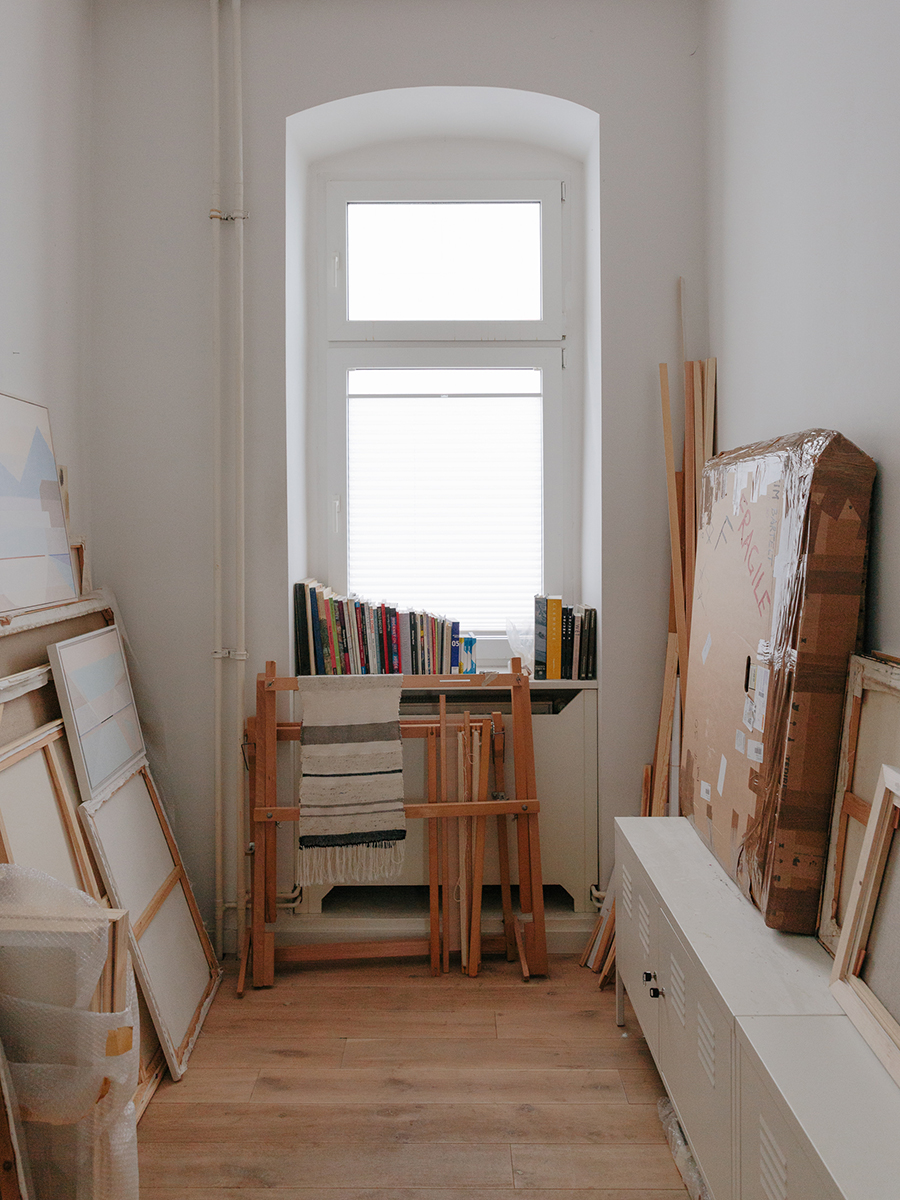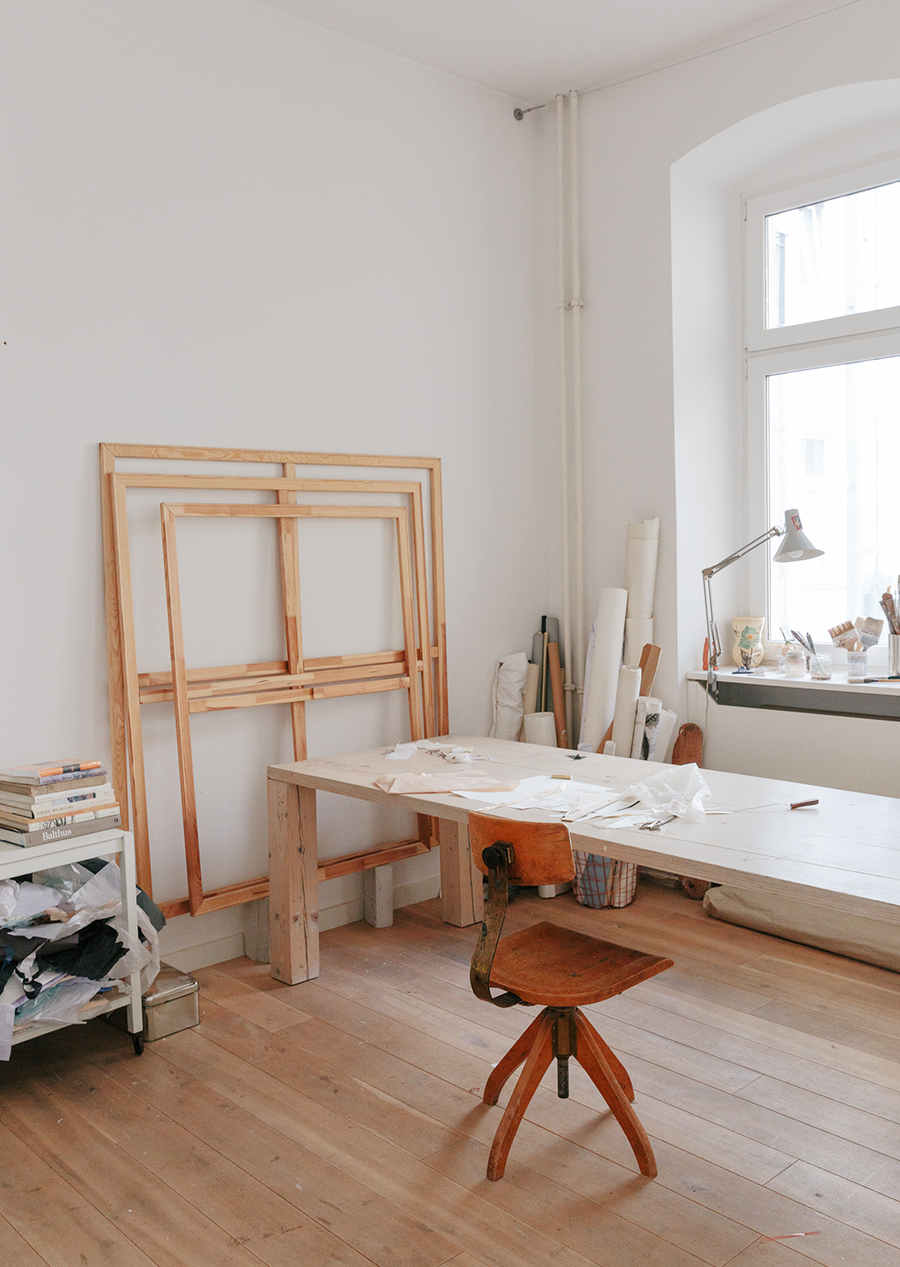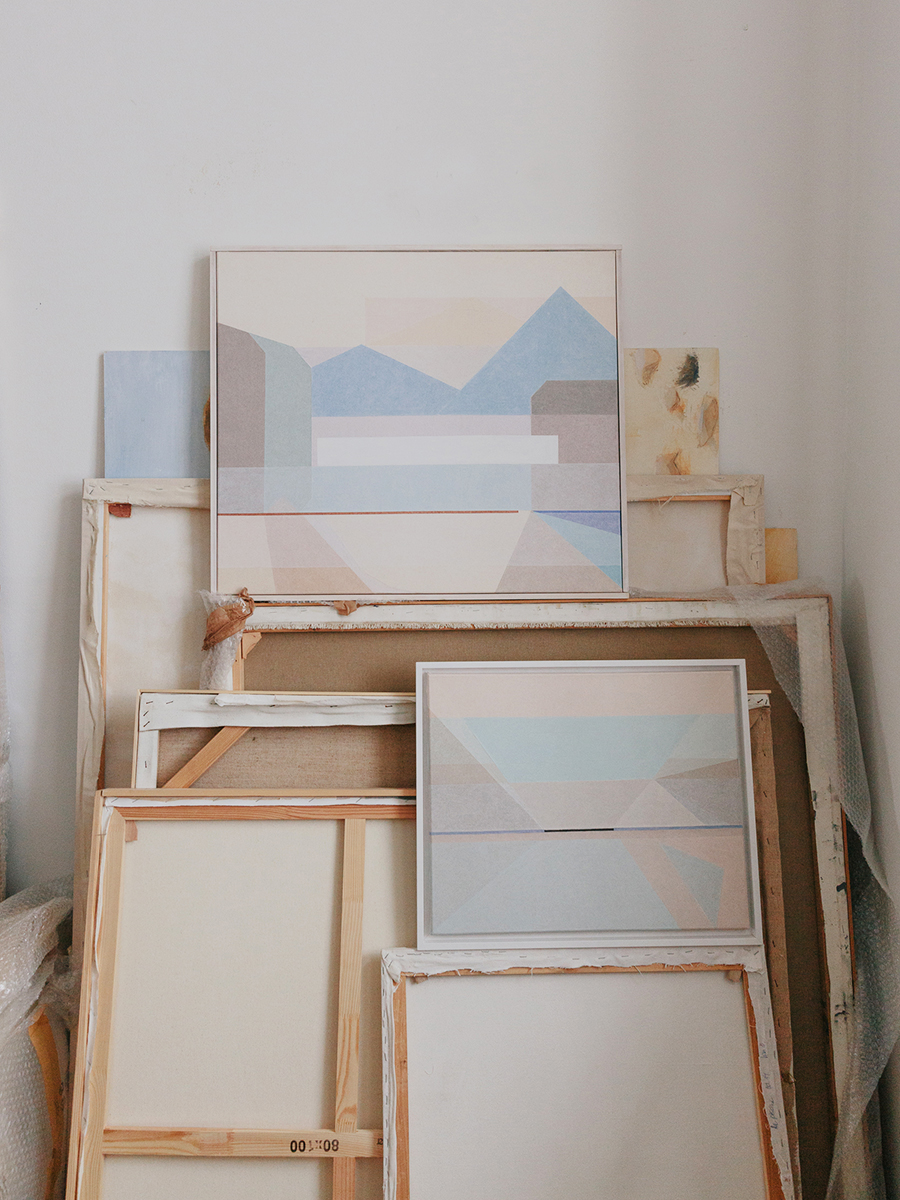 You completely stopped using liquid paint in your work. Do you ever miss it?
Yes, I do miss it. The gesture, the application, the mixing of colors is very special, and I do have an urge for it at times. But I also love the process of the paper cutting and gluing very much. It has a meditative quality to it, because it is so slow. Real painting is a much more energetic action. I don't say I will never paint again. Actually, I think about it quite often
Do you have any style icons from art or design history that you always turn back to?
I don't have only one style that I look at again and again, as I'm inspired by so many different sources, and they change over the years. For example, there are some artists that I really didn't like as a student, but only now start to understand and appreciate. I do like the Bauhaus aesthetics — their clear lines, the buildings, and also the weavings of Anni Albers. I can always look at frescoes with their subtle colors. I find much joy in looking at sculpture, and of course I am interested in the process of a Mark Rothko, and always reread the writings of Agnes Martin.
Do you collect any art yourself?
Yes, I do. Whenever I have some amount saved from sales of my art work, I like to buy art by other, mostly female artists, such as Zanele Muholi, Zangh Wanqing, Vivian Greven, Molly Green and Pauline Kraneis. It is unbelievable, what an artwork can do to you sometimes. You see it, and you are attracted to it on the spot. In all cases I didn't even know about the artist before. It was by chance that I discovered them. You go to see an exhibition, and there is this one work that hits you. You leave the gallery, and you cannot stop thinking of it. It's like falling in love, a tickling in the belly, you want to run back and look at it again, but even worse, you want to own it, have it in your home, to be able to look at it at all times. And these don't stop, until you know it is yours.