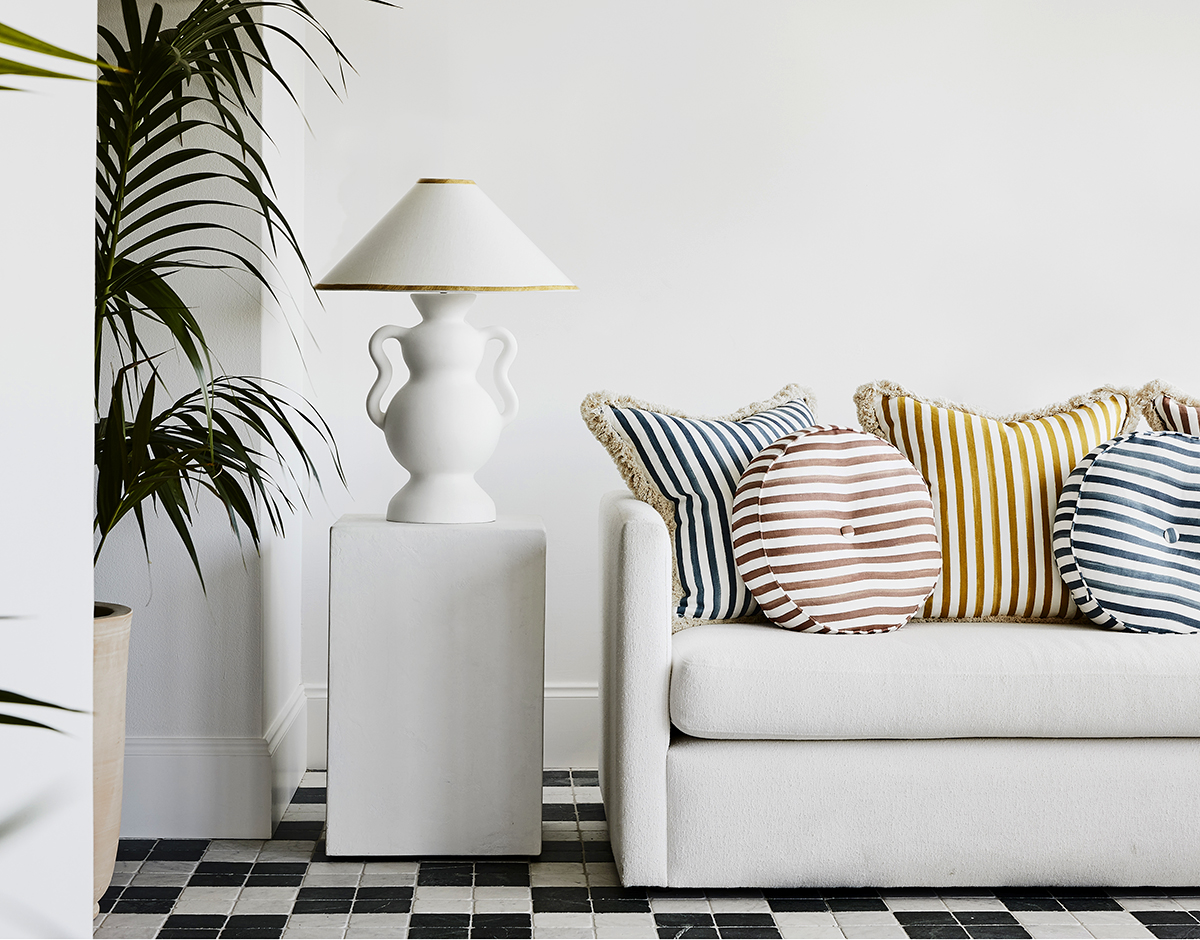 A weekly Saturday recap to share with you our favorite links, discoveries, exhibitions, and more from the past seven days. This week was all about organic curves, from a scallop-backed sofa reminiscent of Axel Einar Hjorth, to an artistic shelving unit by an Australian up-and-comer, to a new series of plaster tables, to a chic lamp with wavy handles (above), and more.
Interiors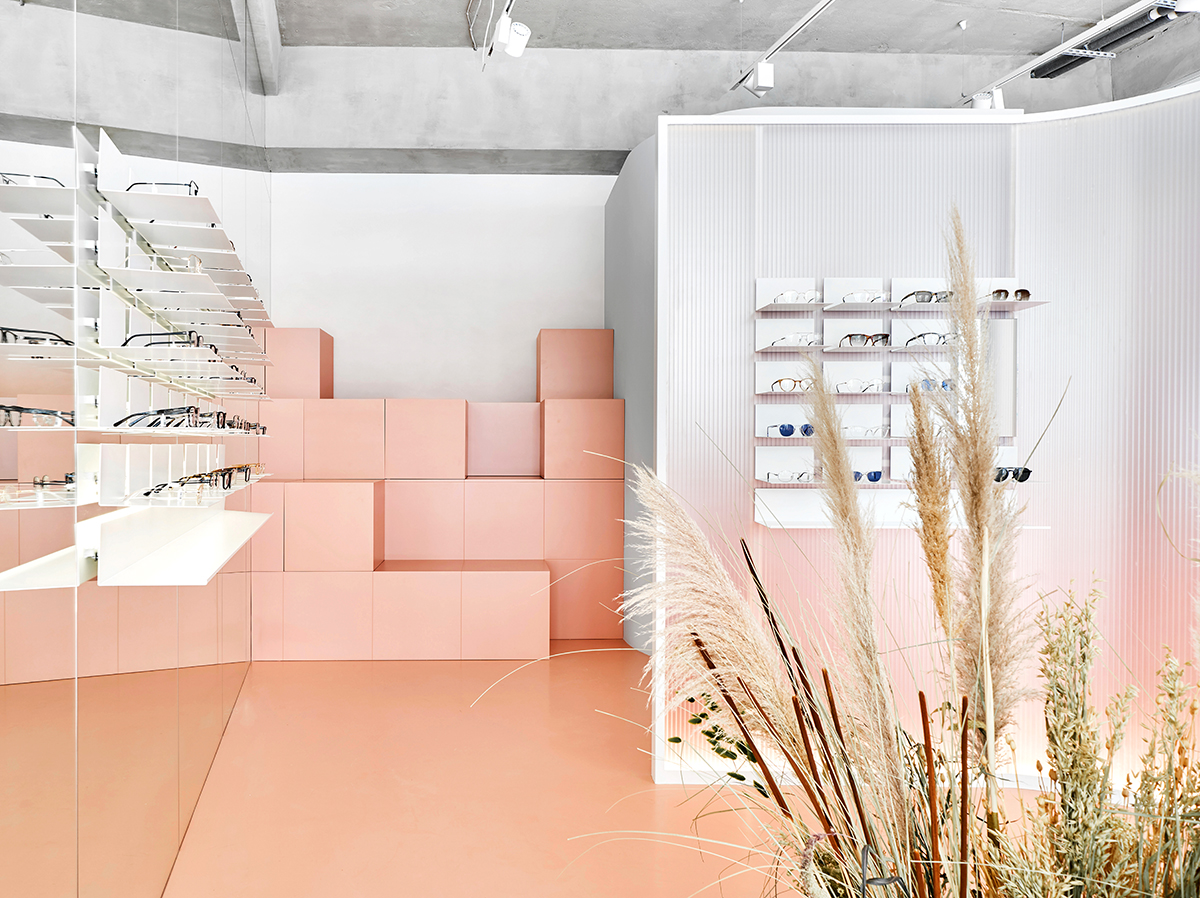 A curved, color-gradient polycarbonate screen is the centerpiece of this St. Petersburg eyewear store by DA Bureau, but we're more interested in the floral arrangement on the floor in the middle of the room, which reminds us a bit of the arrangements in this floral showroom we covered awhile back. It's like a little floating oasis and if it's a trend, it's one we can get behind. Photos by Sergey Melinikov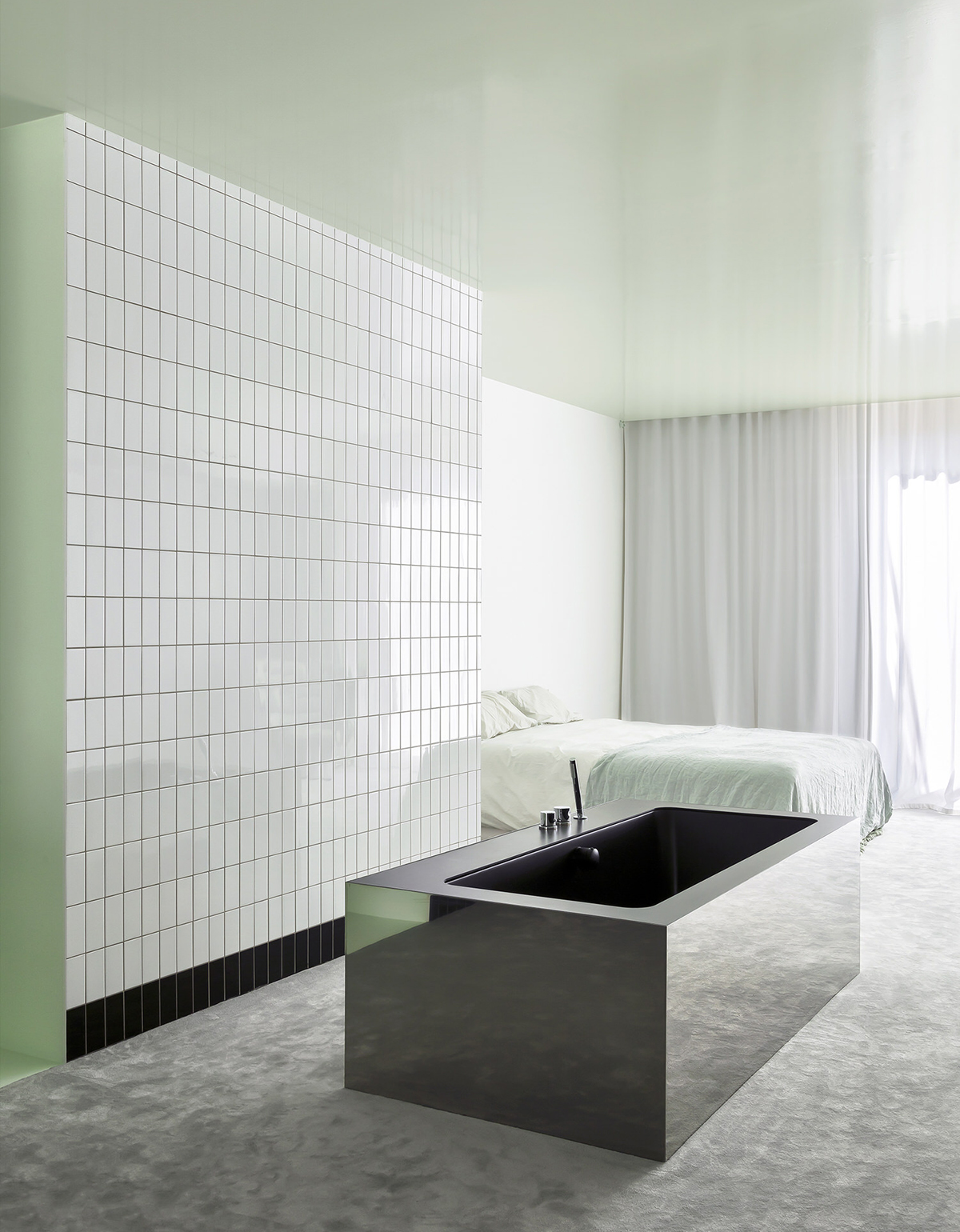 DYYYINGGGG over this glowy green bathroom that broadcasts color into the bedroom of an apartment project in Antwerp by Atelier Dialect, further reflected by an epic mirrored bath in the middle of the space. We wouldn't trust ourselves with that bathtub / pale carpet combination, but it sure is easy on the eyes.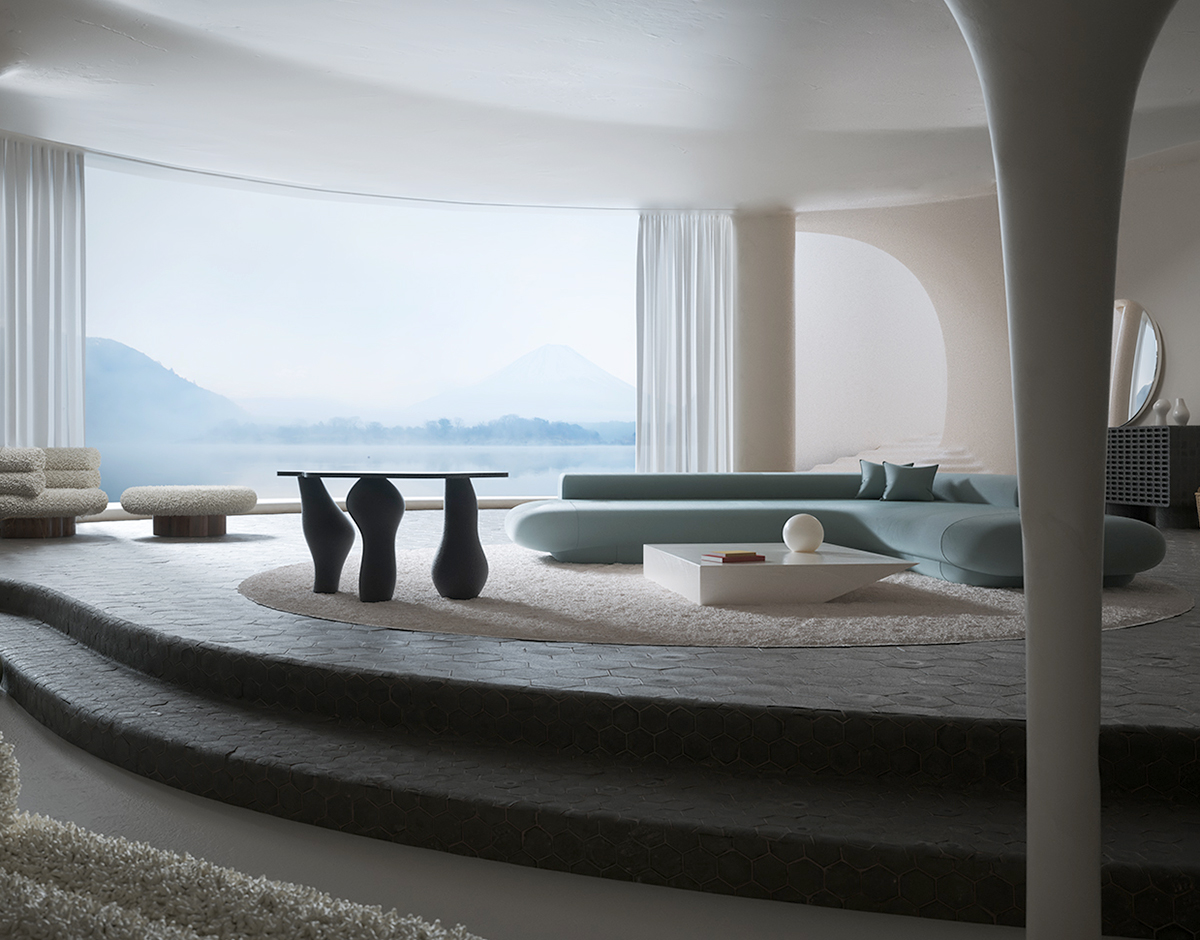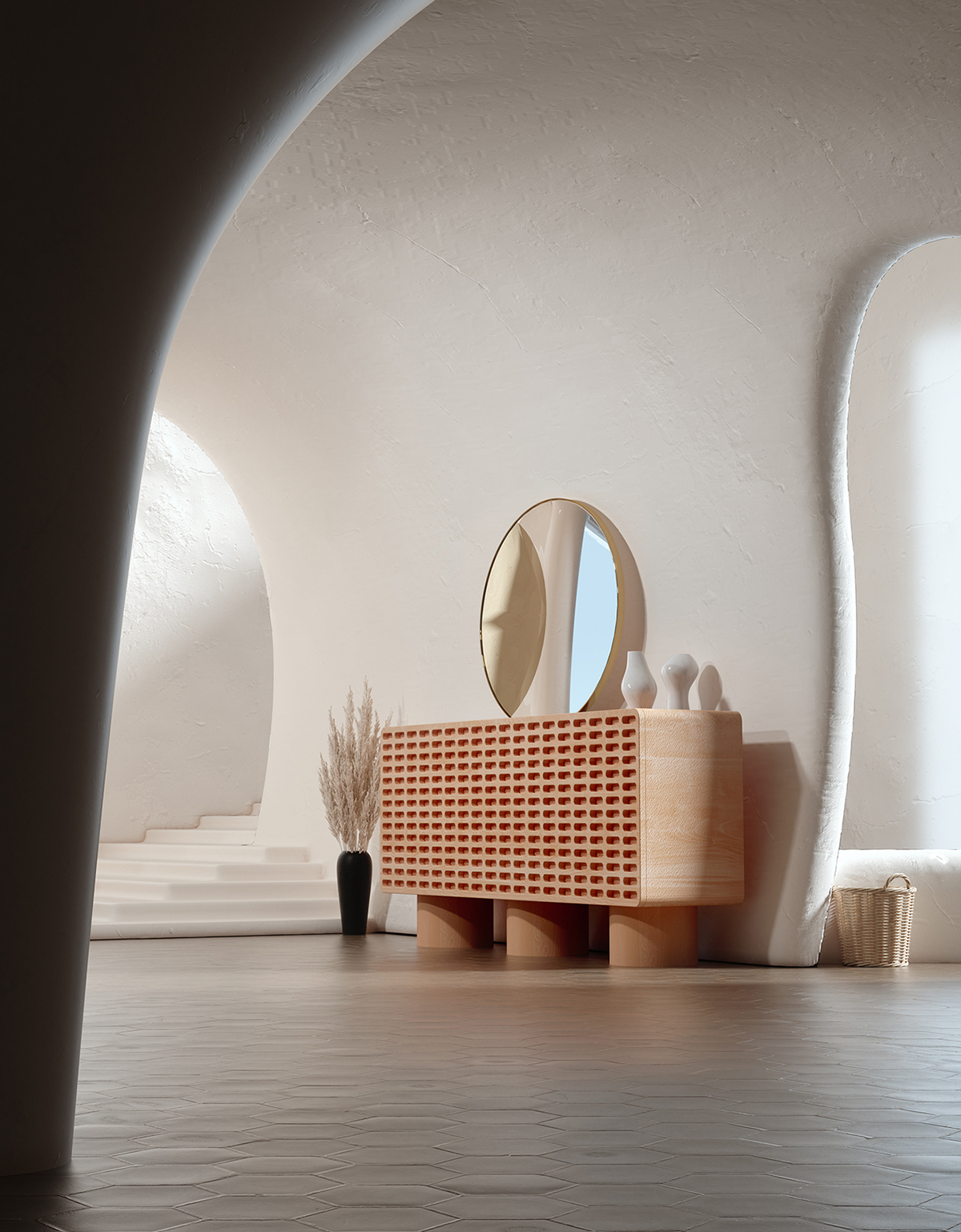 We gave artistically rendered interiors a prominent place in our recent Offsite Online show, but this is only the beginning of the rise of that genre, as more and more people awaken to the creative possibilities it offers. We've been pitched quite a few projects since, but few as nice as this collaboration between Guatemala designers Agnes Studio and the Barcelona digital agency Sixnfive. We know it's a cliché but, man it looks so real.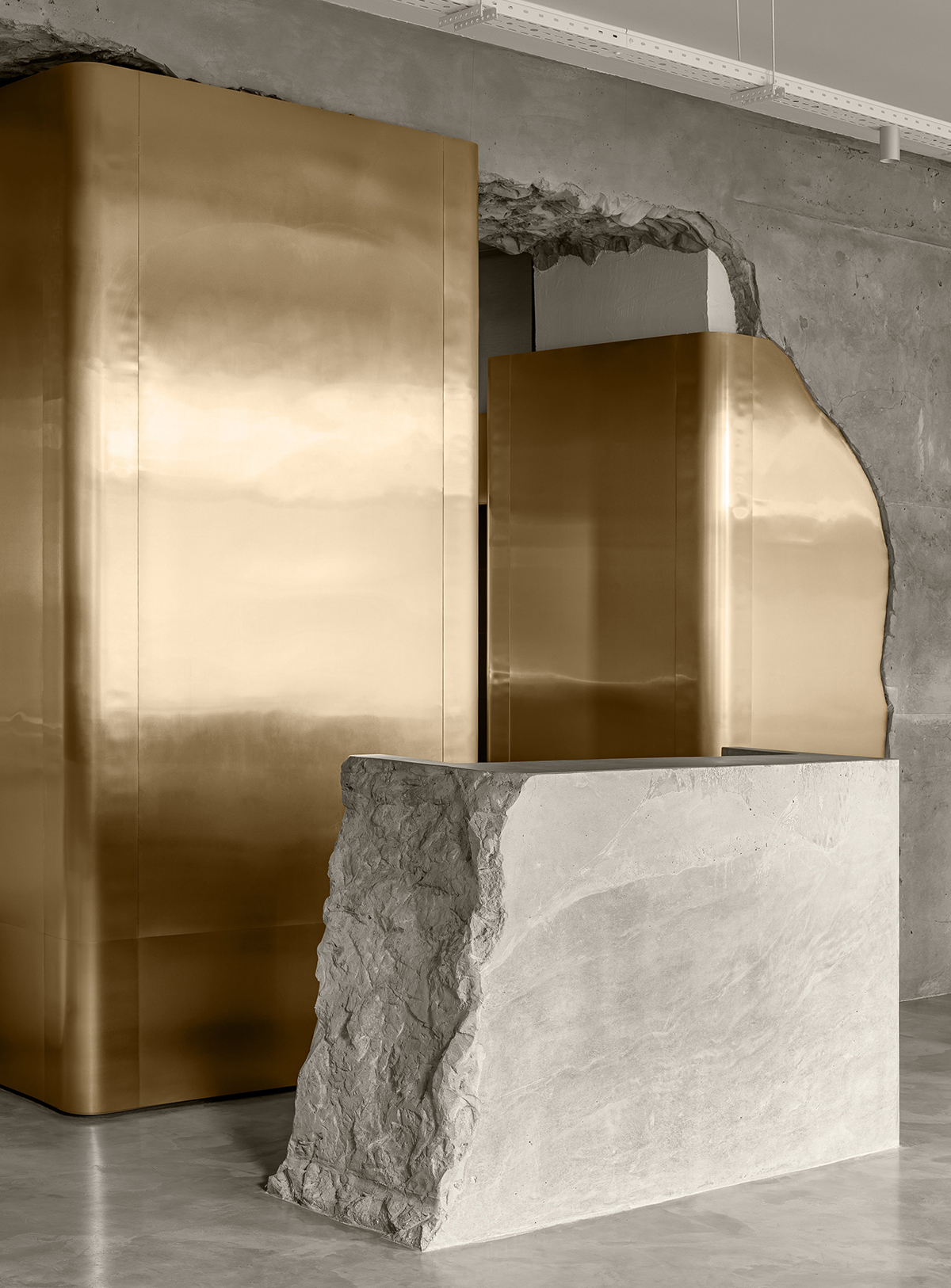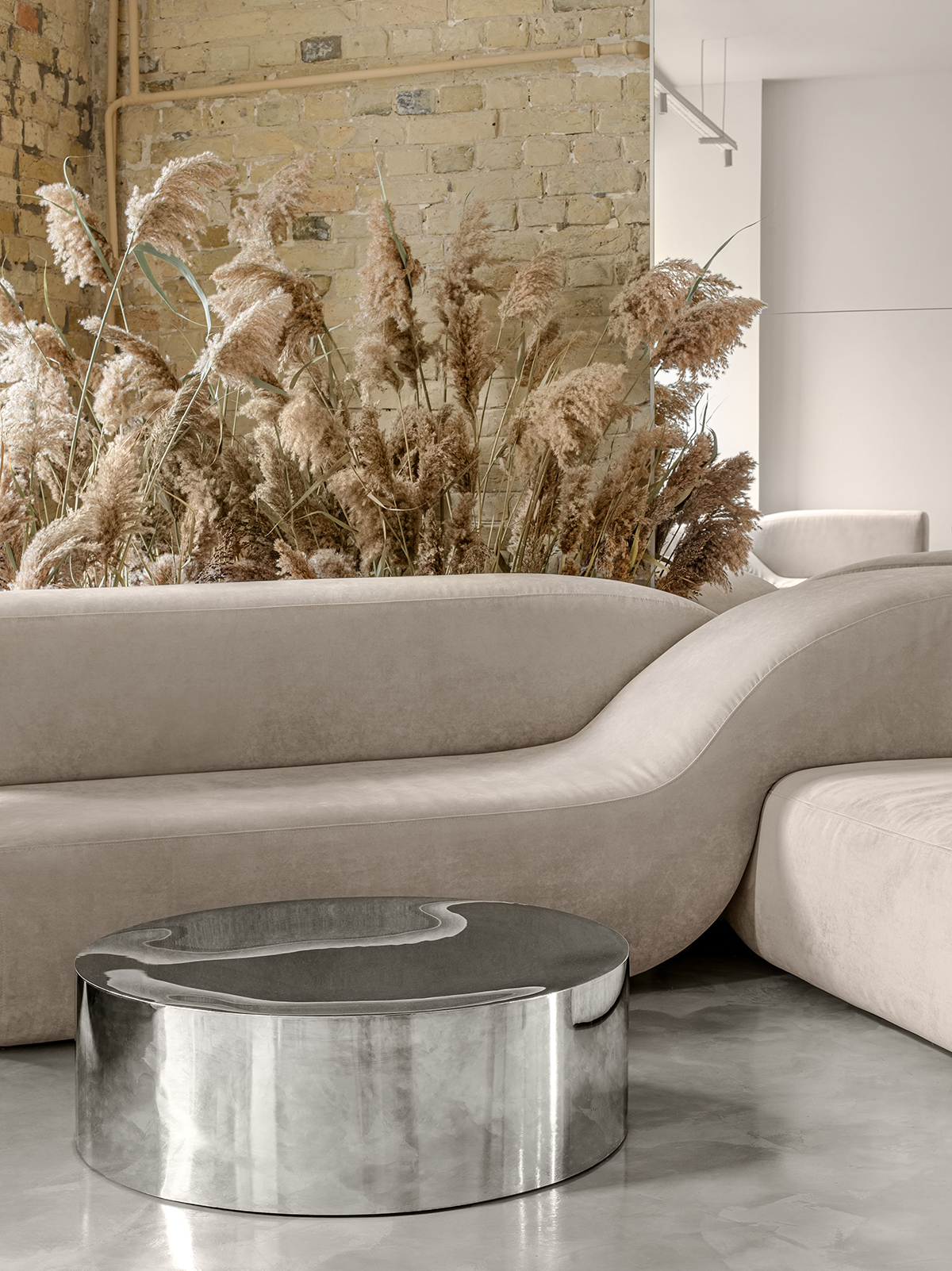 Asked to design a space for a beauty salon that was as gender-neutral as possible but still had a big personality, the Kiev-based interiors firm Balbek Bureau opted for bold volumes, understated colors, and contrasting textures, like a wall that's half rough-cut concrete and half sleek bronze.
Lighting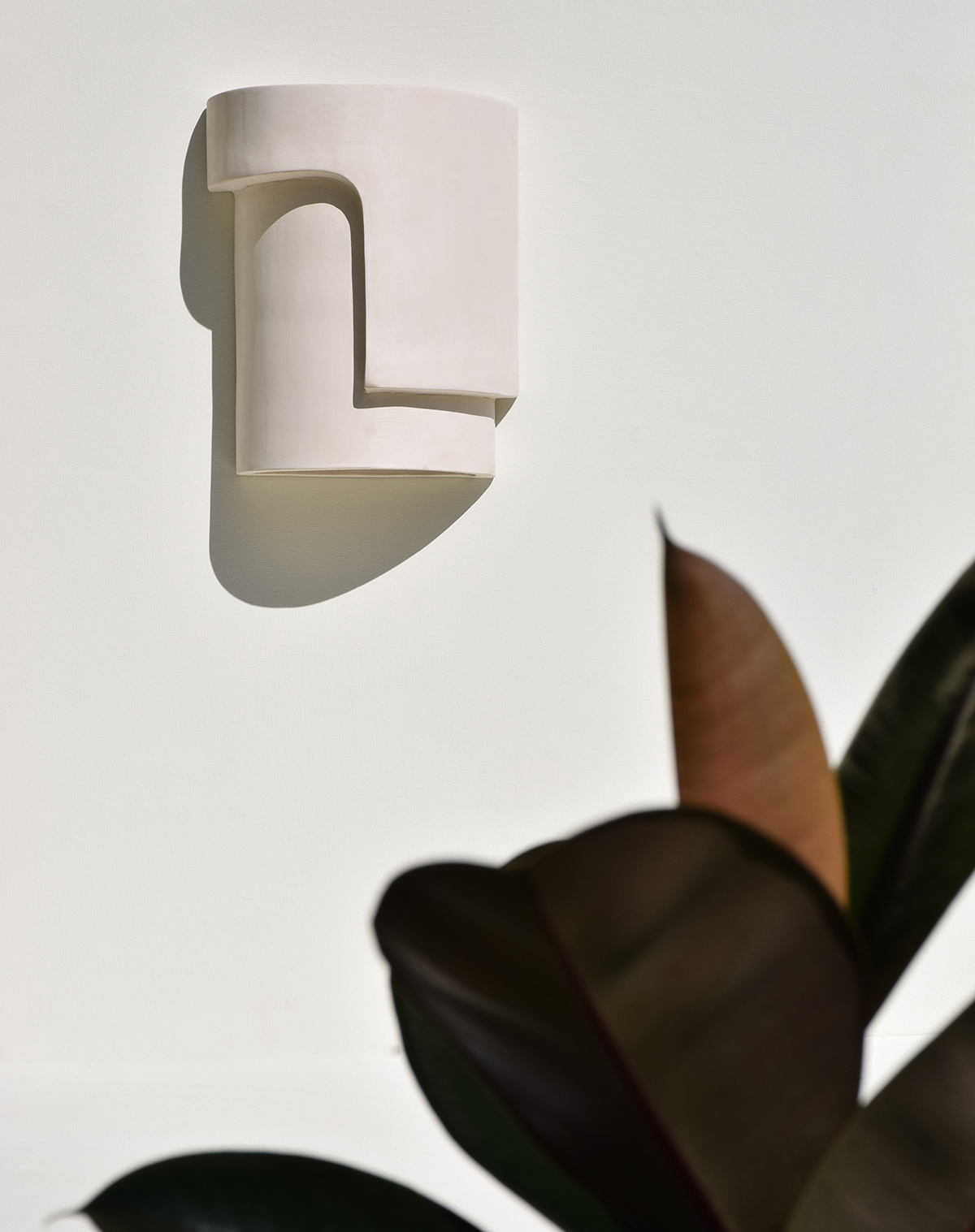 Our inbox this week was an extravaganza of new lighting, starting with this handsome ceramic sconce by French designer François Bazin, which he notes was "inspired by the work of famous artists like Brancusi, Jean Arp, Cocteau, and Matisse — or even the ancient statues."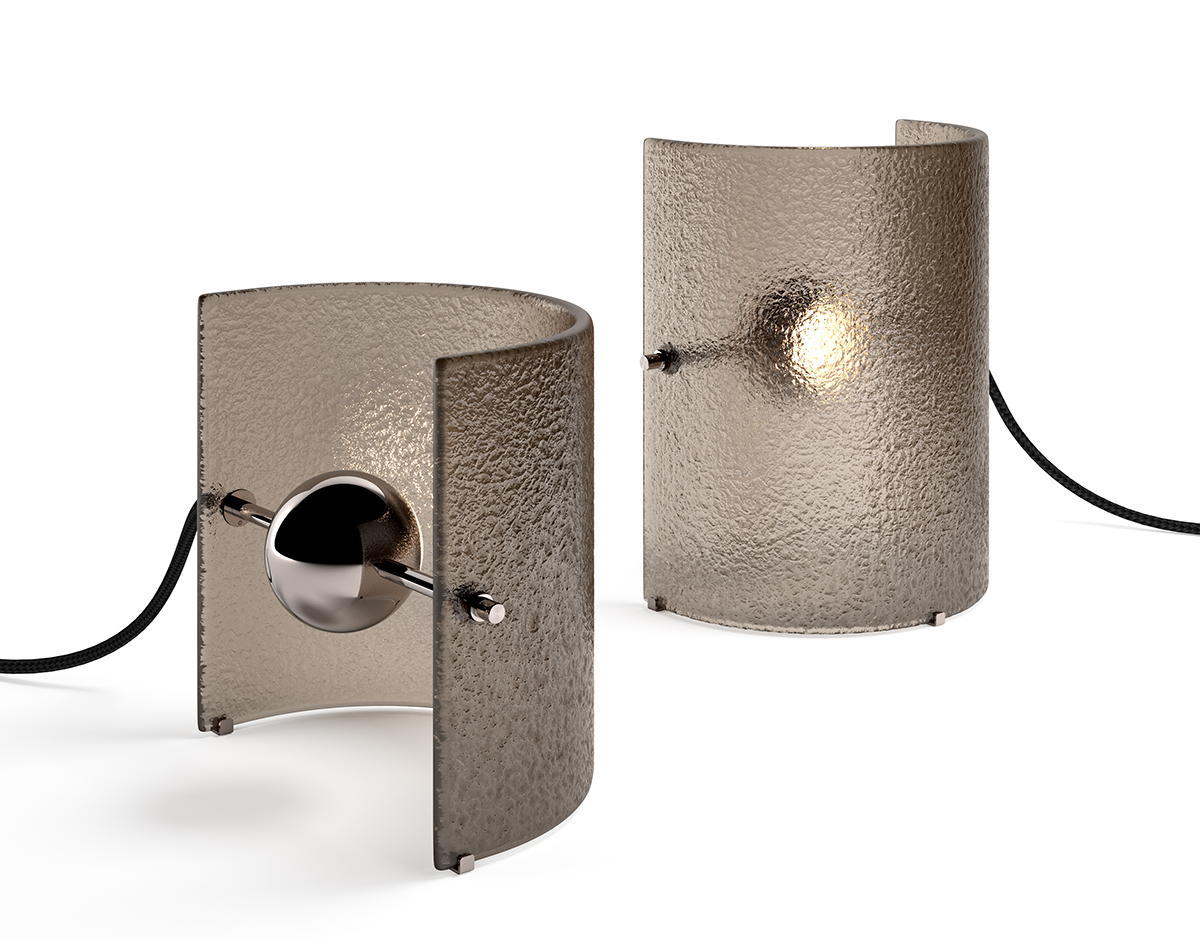 Italian brand Gallotti & Radice just released its 2020 collection — digitally, like everyone else this year — and for us the star is this little lamp designed by Studiopepe, whose weird combination of what looks like shower-door glass from the 50s with a chrome bulb housing reminiscent of the 60s and a muted bronze color from the 70s somehow hits the right note.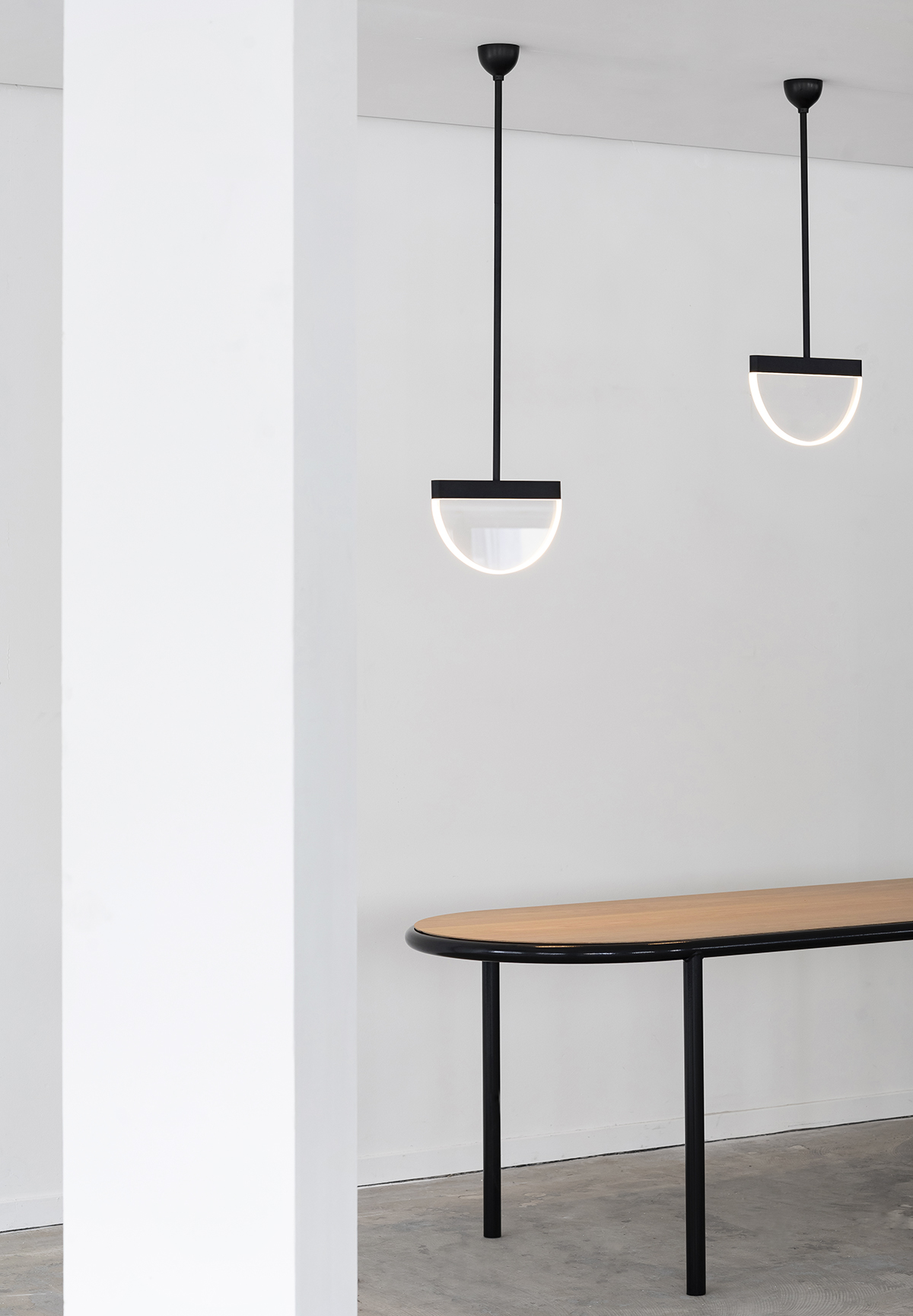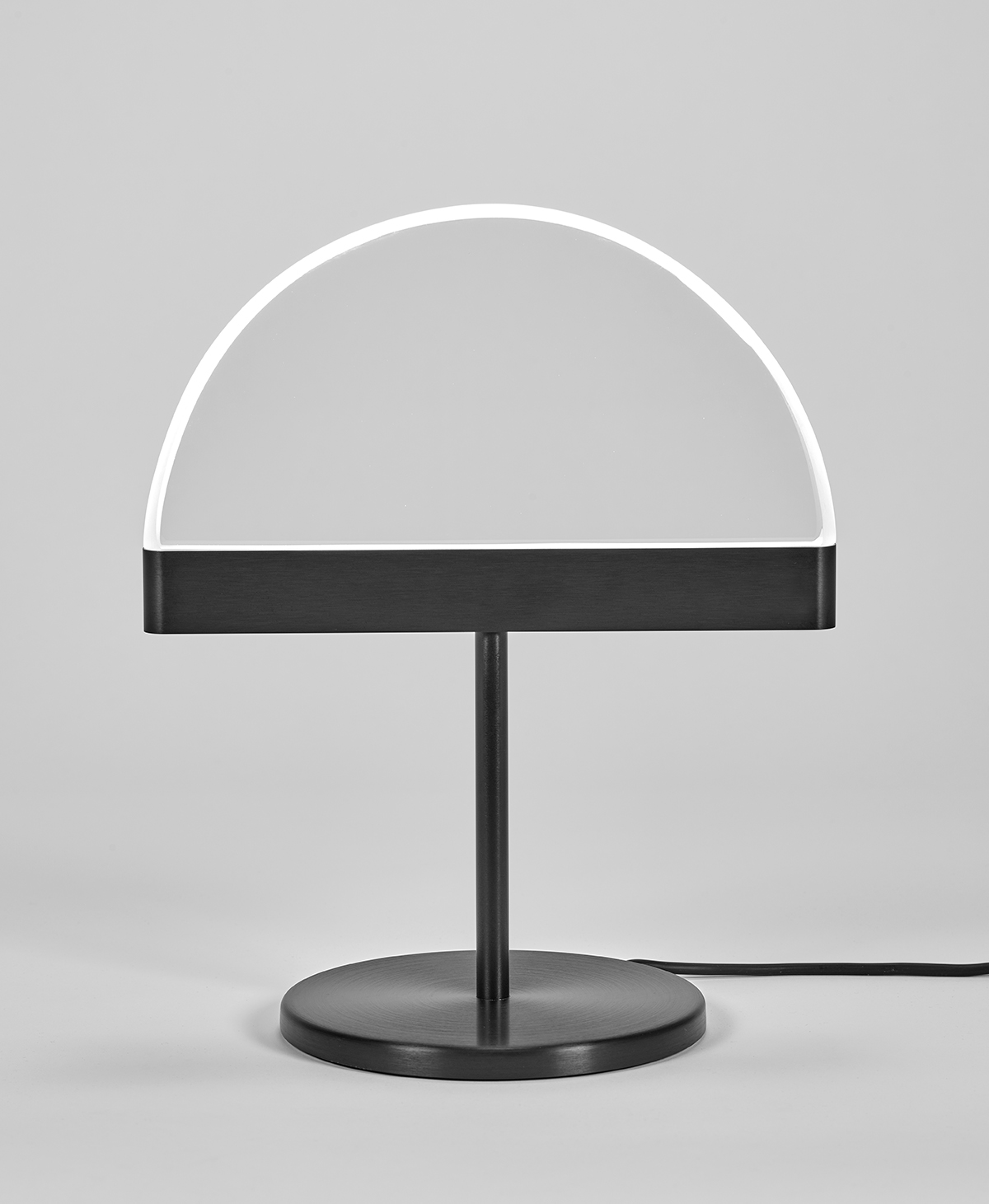 A bit hard to tell from photos, but these new Halo lamps by Maarten de Ceulaer for Valerie Objects feature a thick, semicircular slab of glass whose sandblasted edges are illuminated by the LEDs hidden inside their metal frames. "The name Halo refers to the light effect that appears when the sun or moon shines through a mist of ice crystals, and is also used to describe the ring of light around a holy figure," explains de Ceulaer. The lights come in floor, ceiling, table, and sconce versions, and in both black or gold finishes.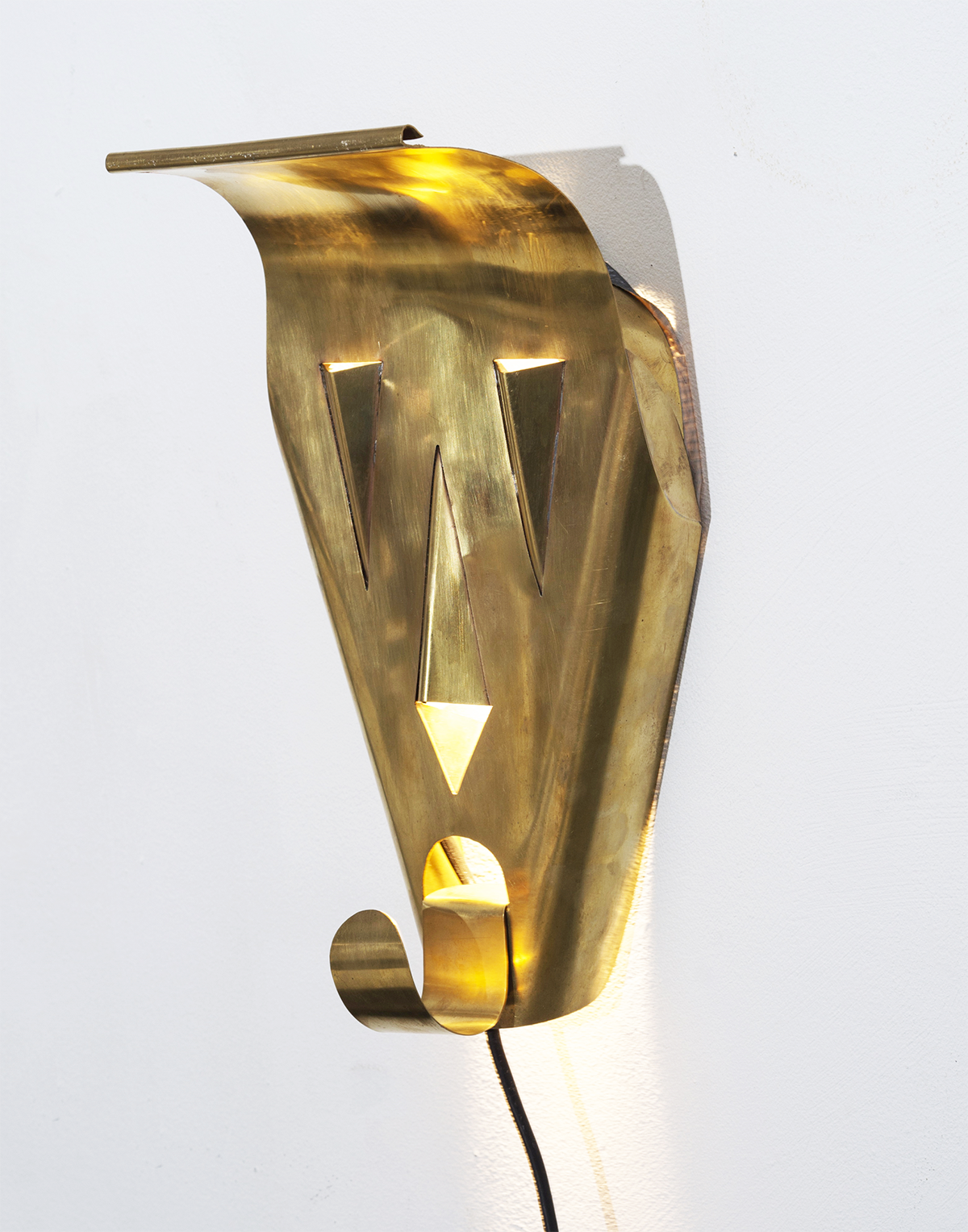 We spotted this Tongue Lamp by Danish artist FOS in the Design Miami Shop, and besides just being something that we wish we could own, it feels especially relevant with all the mask motifs happening in design in recent years. (Note, however, that this article in T Magazine was published a month before the pandemic hit in the US, proving that the trend has to do, we feel, with the erosion of the boundaries between private and public life rather than actual mask-wearing. Weird timing though.)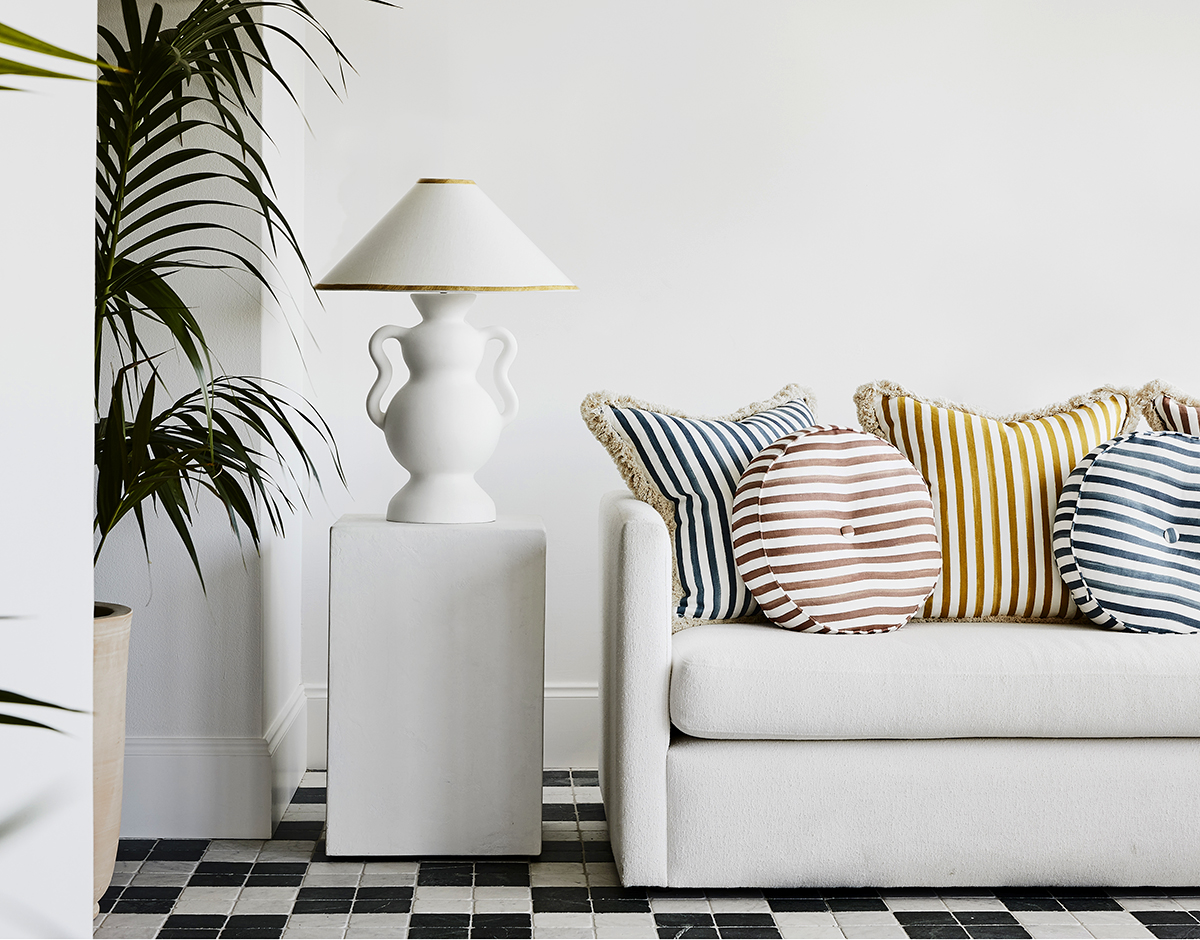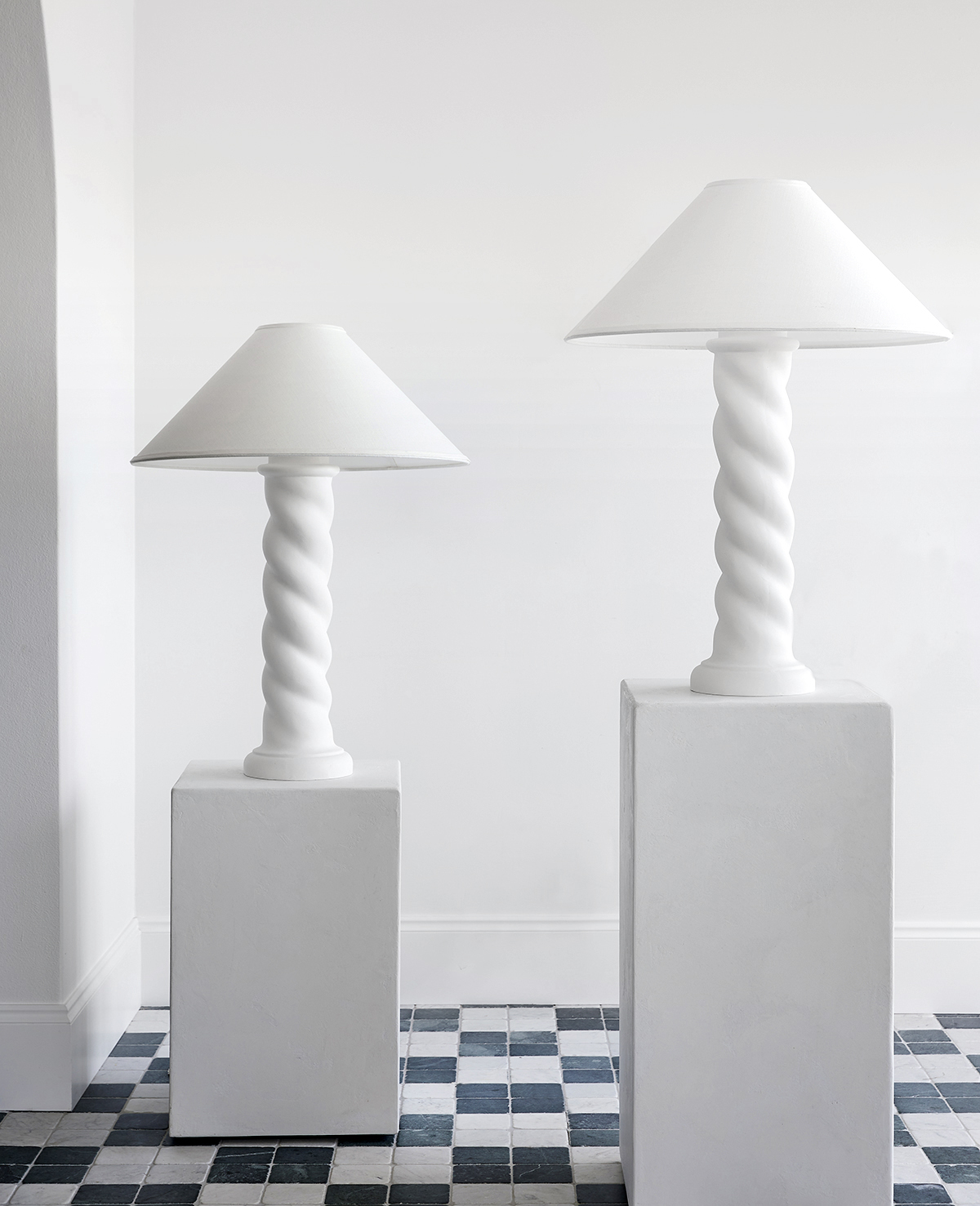 The Sydney stylist Lucy Montgomery recently came out with a collection of equally on-trend striped pillows and classically shaped plaster lamps, the top photo having caught our eye on Instagram. While the twisted version in the second photo references a motif popularized by interiors icon Michael Taylor in the '70s, one that has already resurged enough to be milked by Urban Outfitters, we still think Montgomery's version is quite nicely done. We'd rock it.
Discoveries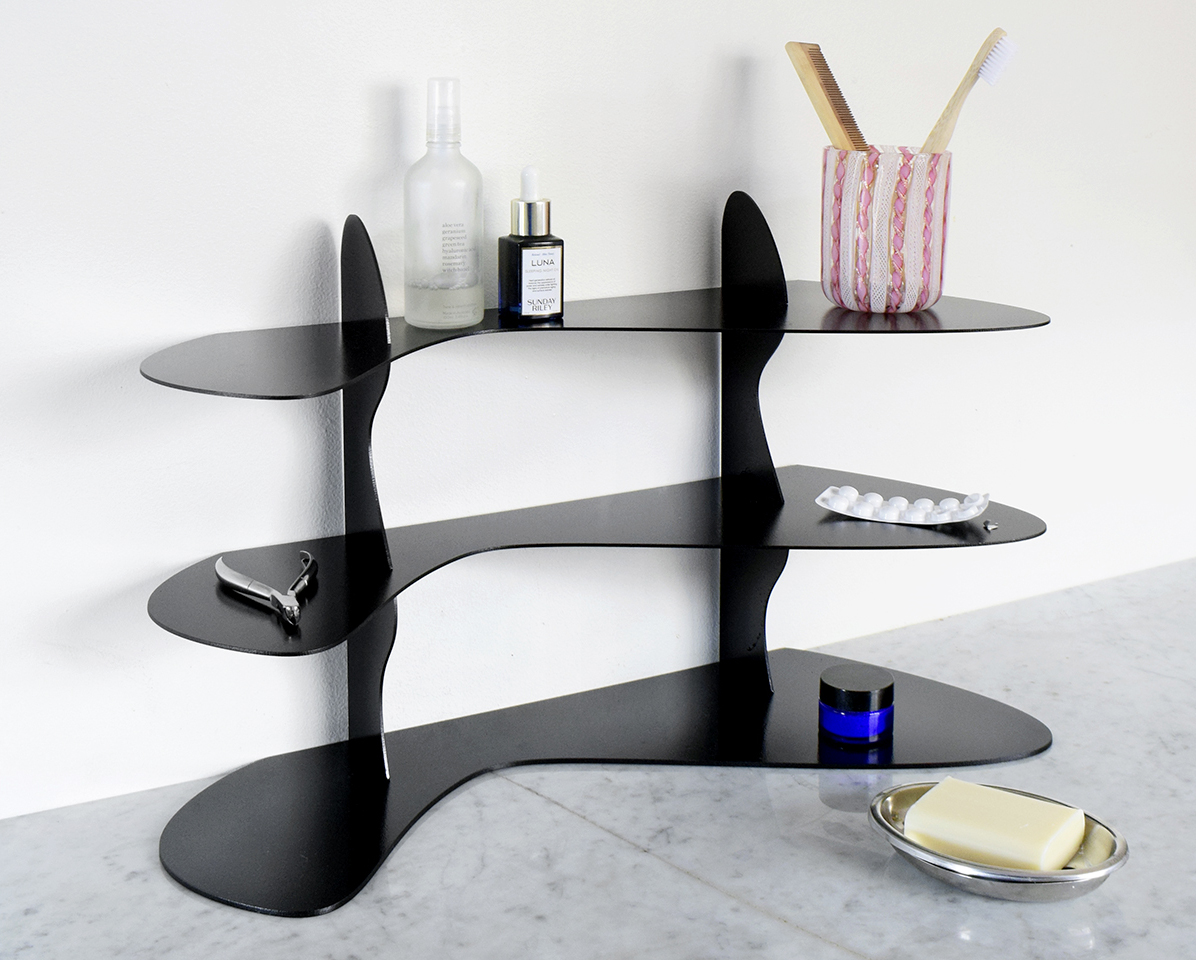 Currently coveting these organically shaped, pleasantly asymmetrical steel shelves by Melbourne designer Nicole Lawrence, who studied goldsmithing, intriguingly enough, before pivoting to industrial design. The shelves are part of a series that also includes a lamp and coffee table — plus the same shelf shape as this, but in an extra large bookshelf size. We just loved the idea of this little one for organizing smaller supplies or curios.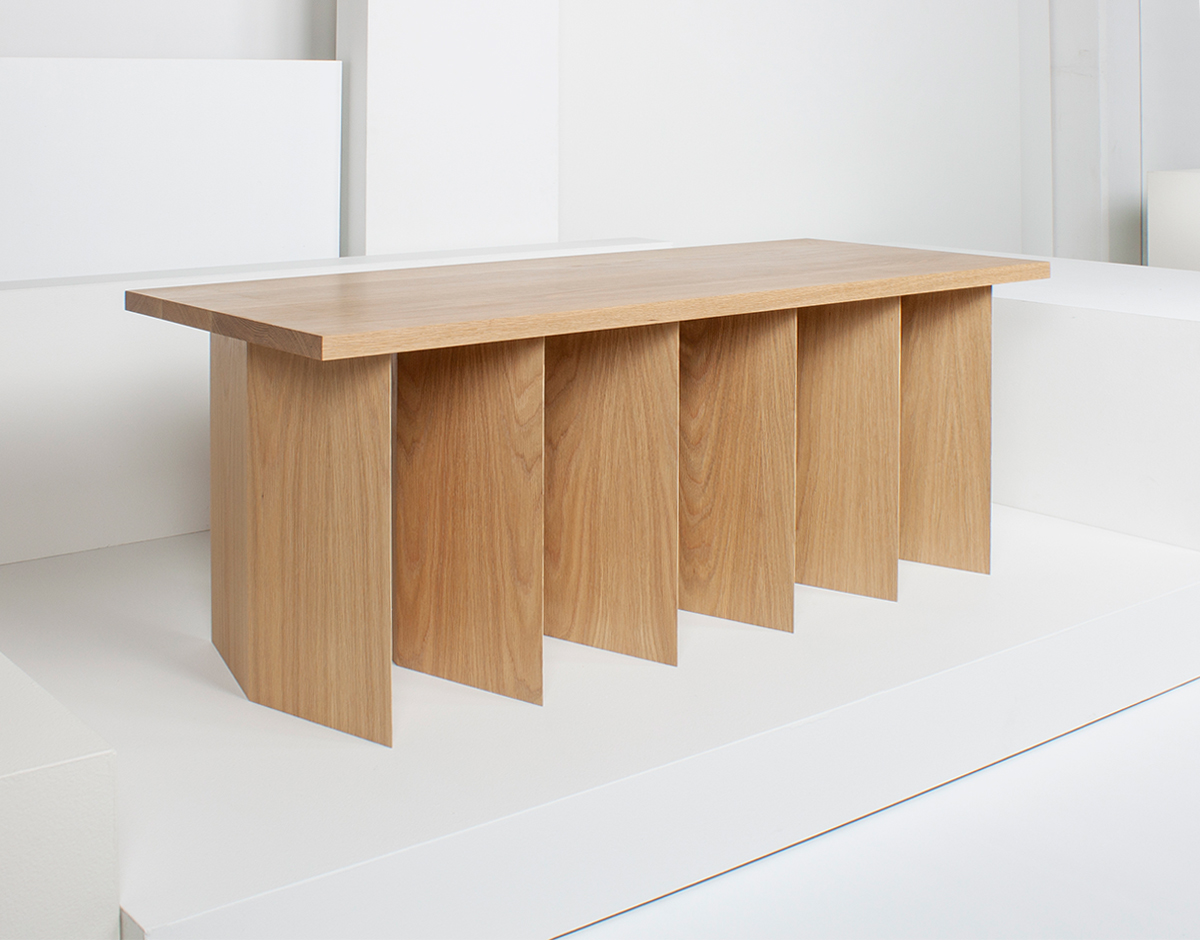 Just a simple, pretty oak bench by Australian Jordan Leeflang, which was recently part of a joint exhibition in Canberra with designer Calum Hurley. Hurley and Leeflang made furniture in response to photographs Hurley had taken on a trip to Japan, in which he documented city views "that would be typically ignored by local Japanese, but to Hurley's foreign eyes were full of unusual or unexpected design choices, styling, and visual expressions." Leeflang's bench reflected on how objects or buildings in the streetscape whose angles aren't parallel tend to capture and fool the eye.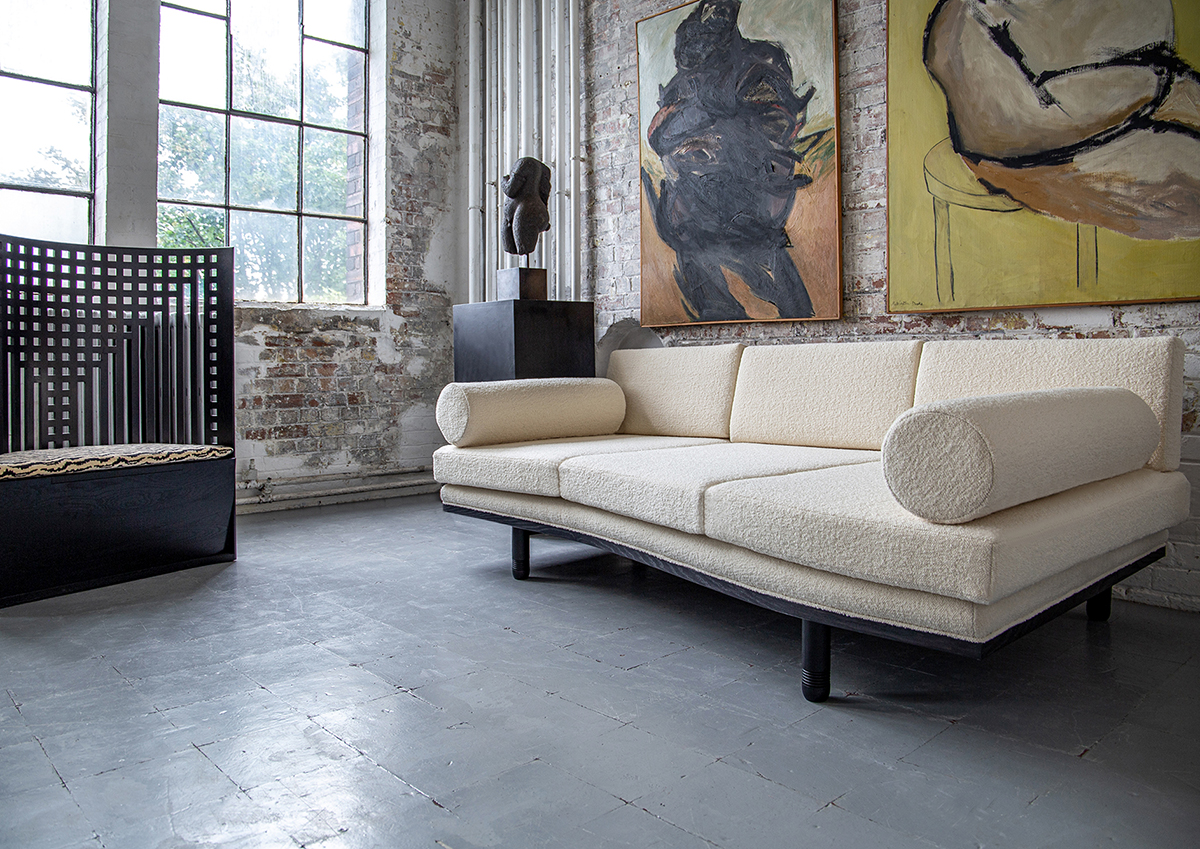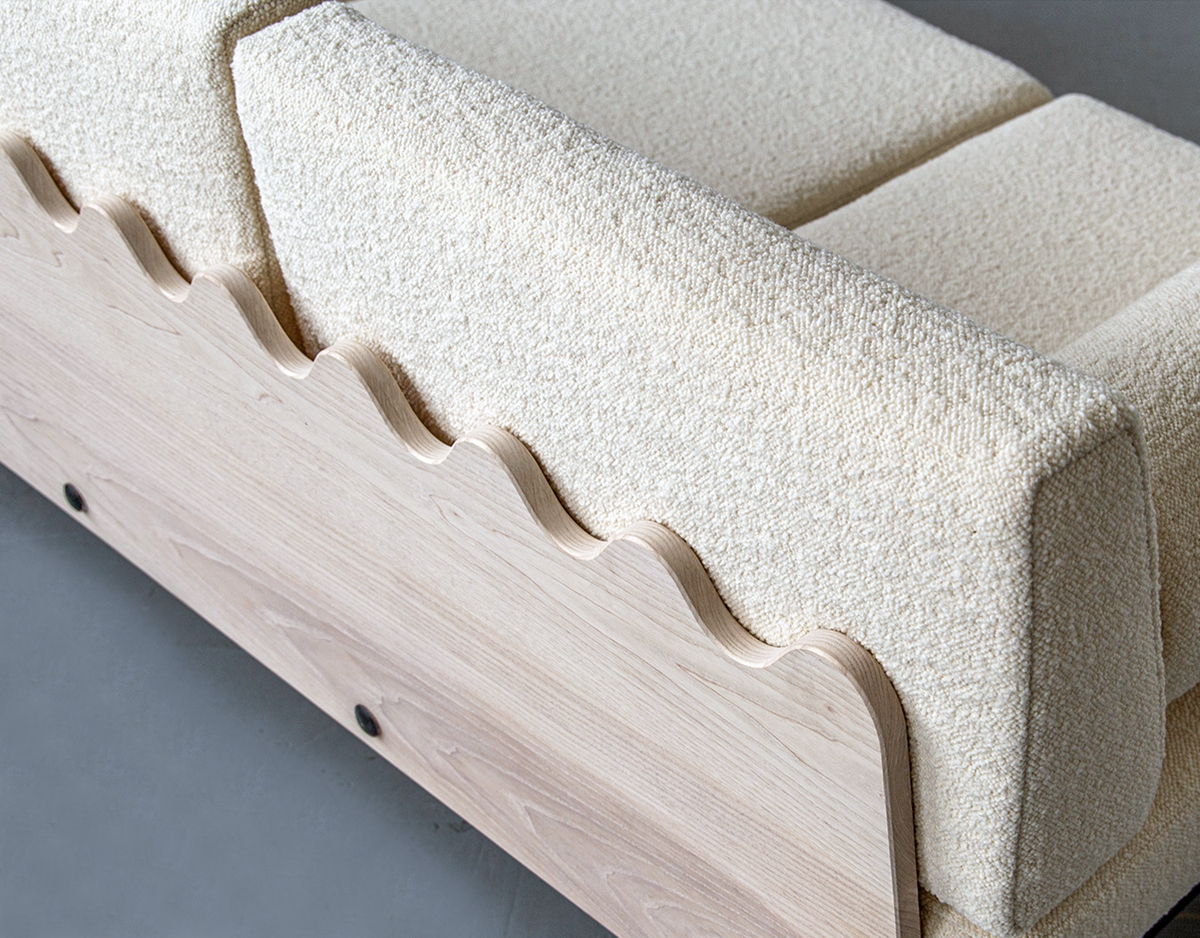 A year and a half ago we reported on the resurgence of Swedish designer Axel Einar Hjorth, and we're still seeing echoes of his influence everywhere, including this curvy new sofa from London's Toad Gallery, whose scalloped frame is similar to Hjorth's iconic 1930s beauty. We thought it was a '30s in the back, '50s in the front kind of situation until we read the press release, which notes that it's actually inspired by "the fallen architectural ruins of the ancient city of Baalbek, a levantine outpost on the Roman frontier." Either way, it's quite nice.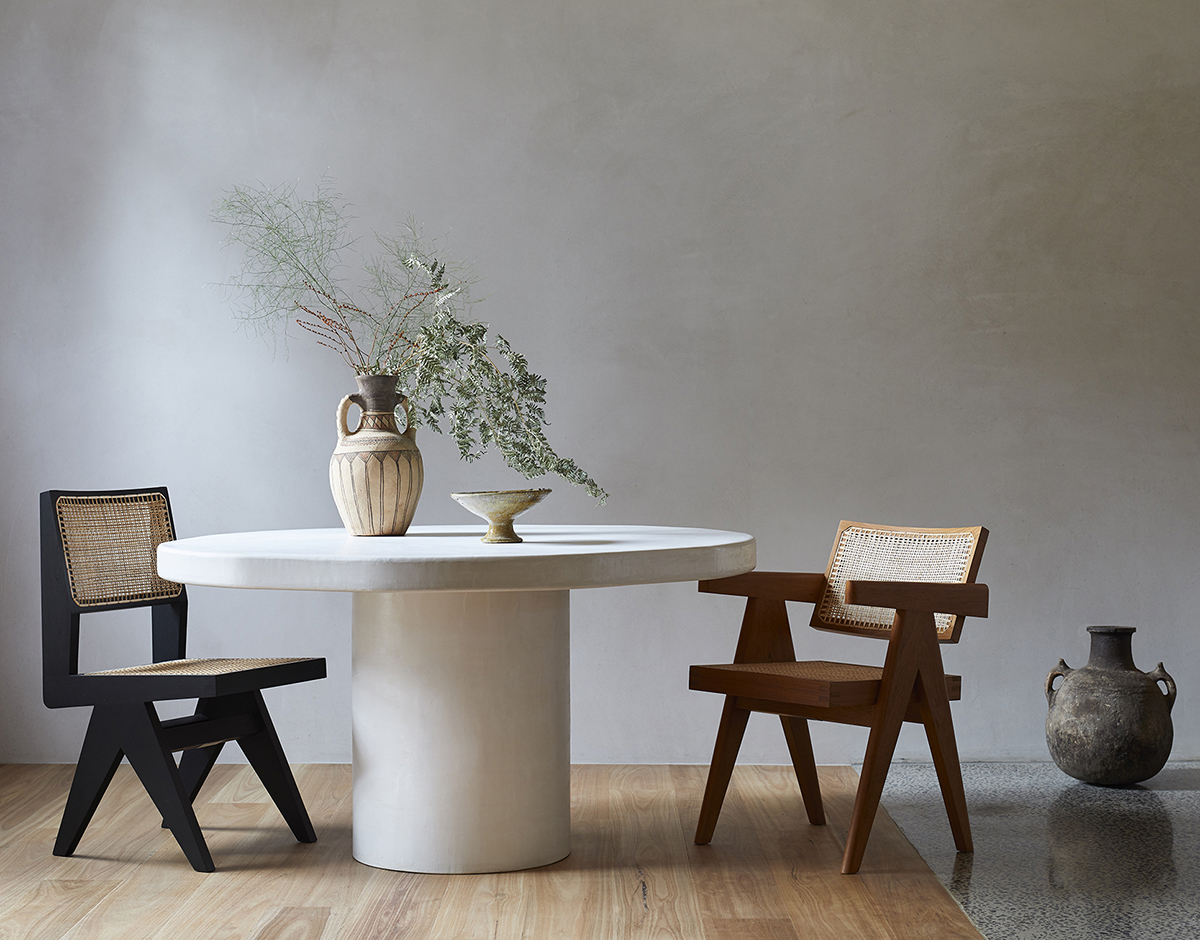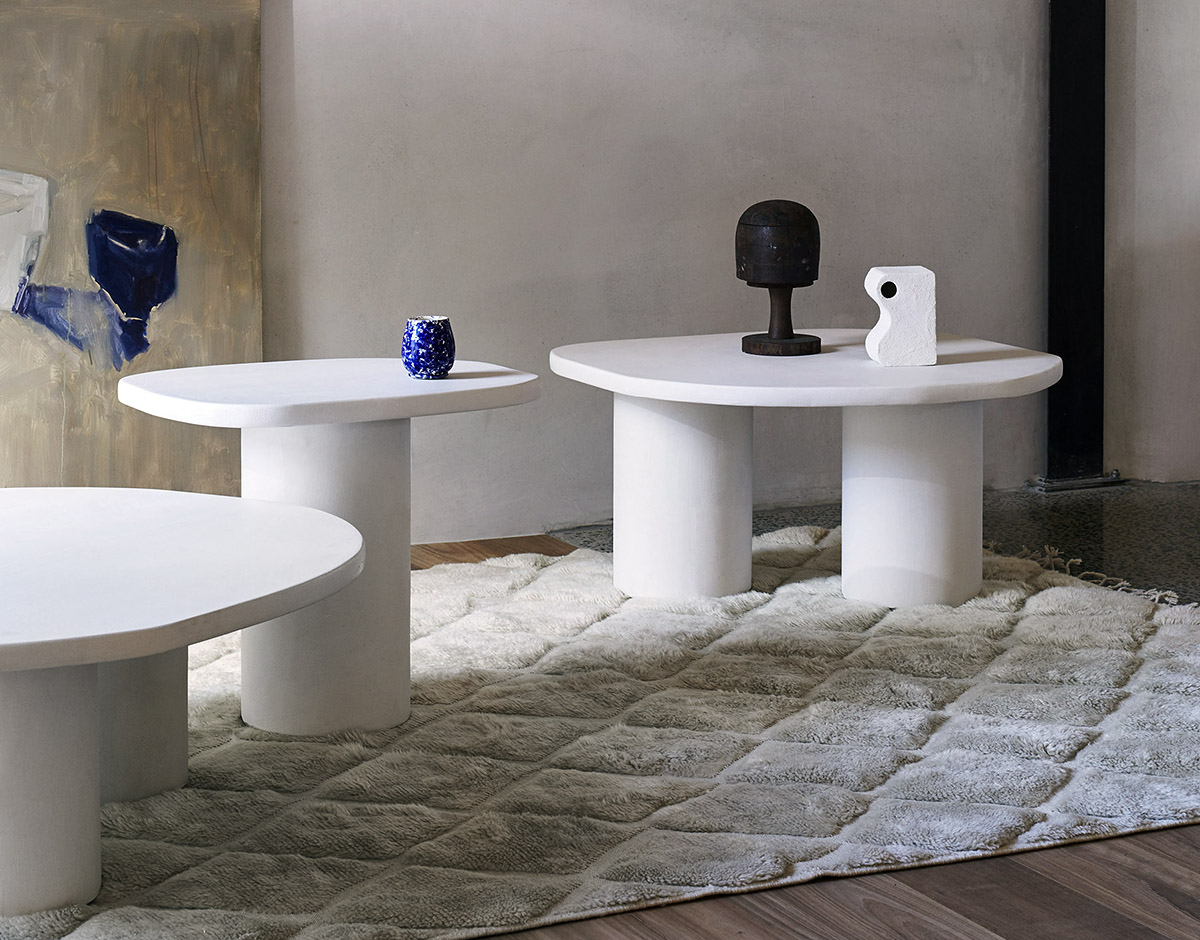 Lots of Australian design in this post! These tables are part of the first in-house collection from the Byron Bay store Tigmi Trading, made from wood frames coated in cement. Hard to tell in the first two shots, but all of the tabletop shapes are subtly wavy and uneven.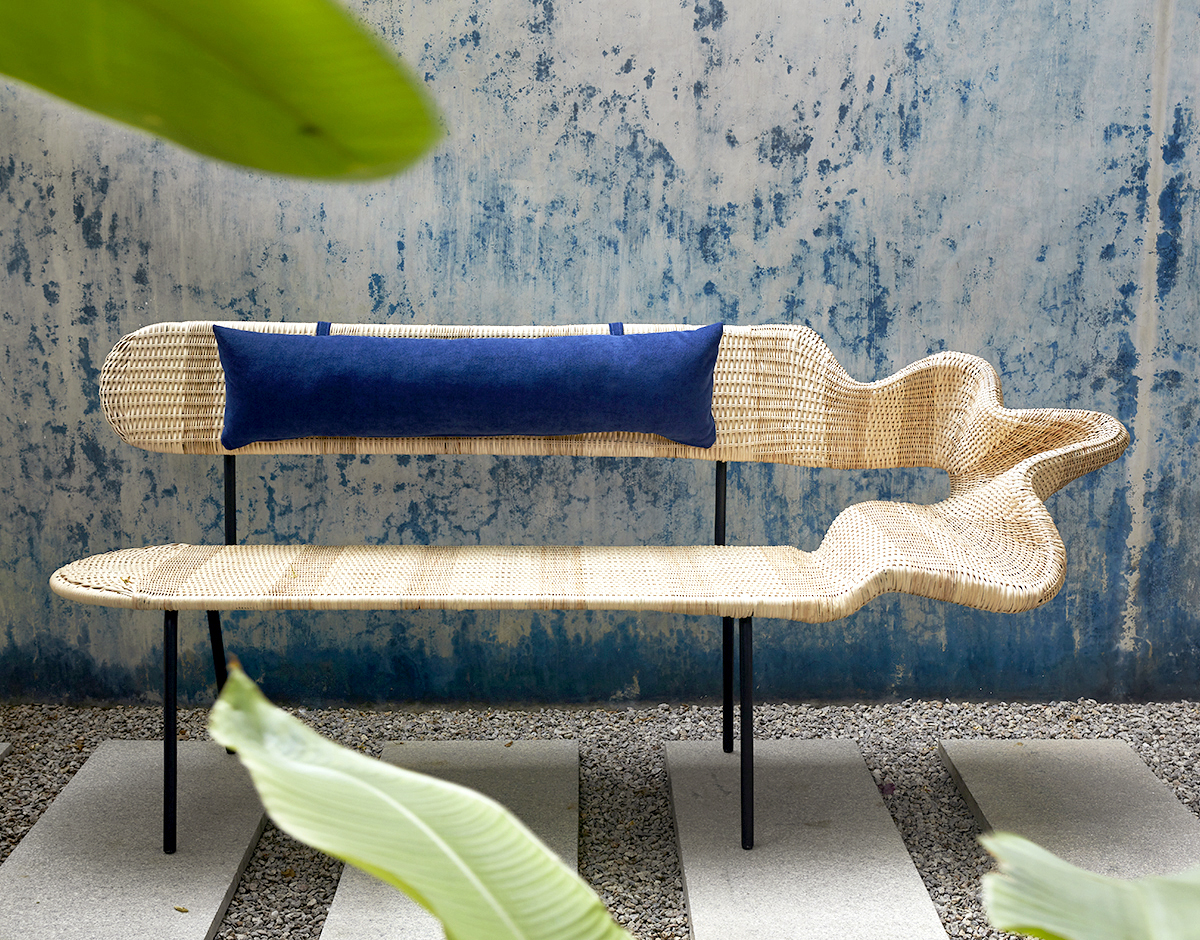 We were charmed this week by this eccentric rattan bench by the architecture studio Prelab, which is based in Hyderabad, India. The bench is part of Prelab's furniture line the Wicker Story, and rather than being just an aesthetic flourish, its curves are actually part of the line's experimental focus on pairing parametric design forms (metal frames) with traditional local craftsmanship (wicker woven around the metal frames).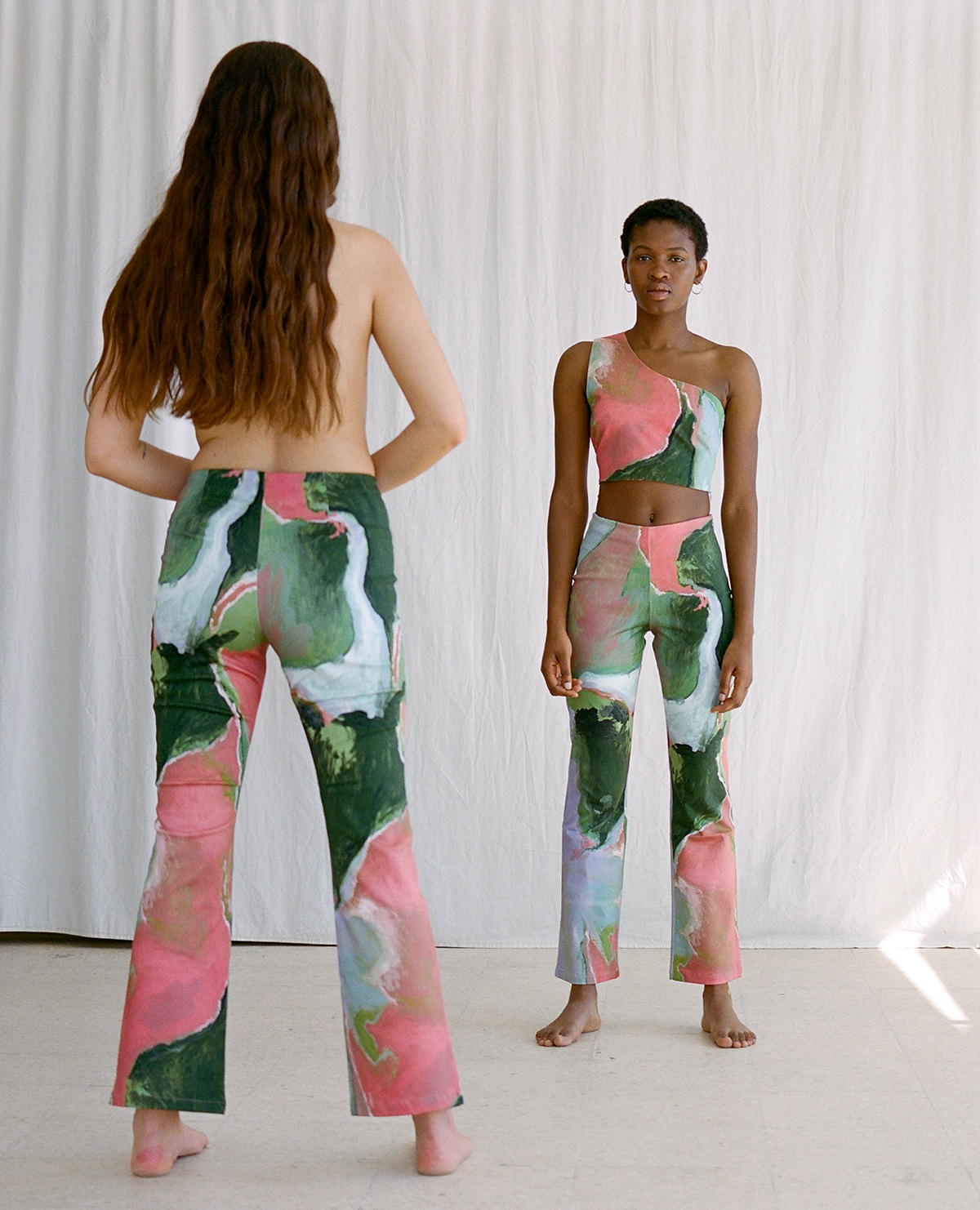 On the heels of its crazy-popular psychedelic-print collections last year, the cult Spanish fashion line Paloma Wool released an equally eye-catching series this summer in collaboration with Barcelona painter Irene Royo Casadó, whose abstract acrylic composition was printed directly onto pants, shirts, and scarves. Shop the full line here.
Exhibitions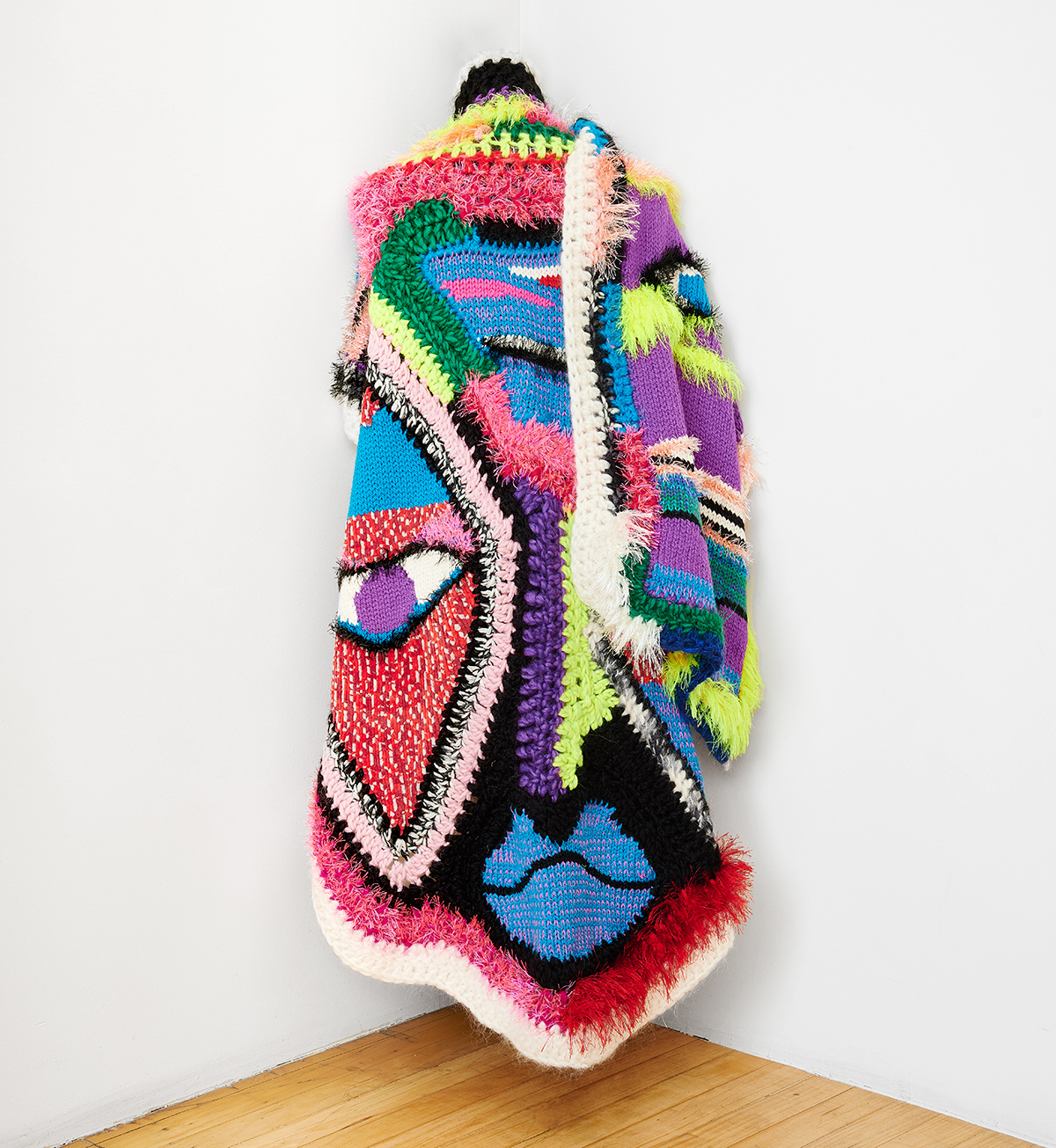 Even Paloma Wool's psychedelic prints look conservative compared with the textiles of Paris Essex, a London-based collaboration between RCA grads Carolyn Clewer and Tiphaine de Lussy. Gallerist Emma Scully has brought the duo's recent work over to be exhibited in her space in Los Angeles — currently open by appointment only, of course.