12.10.20
The 2020 American Design Hot List, Part IV
This week we announced our eighth annual American Design Hot List, Sight Unseen's editorial award for the names to know now in American design. We're devoting an entire week to interviews with this year's honorees — get to know the fourth group of Hot List designers here. (Including Soft Geometry, whose Elio lamp is shown above!)
Simone Bodmer Turner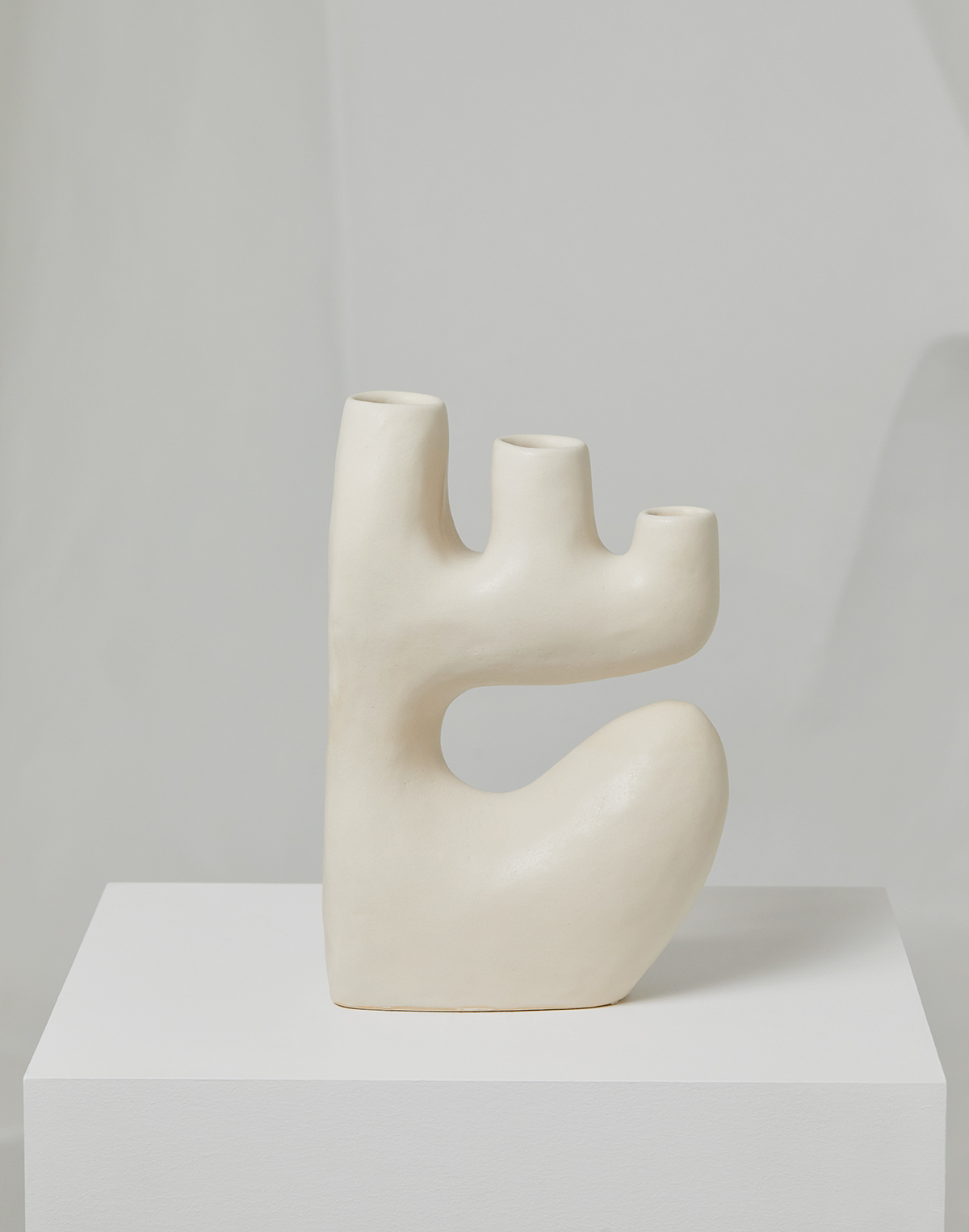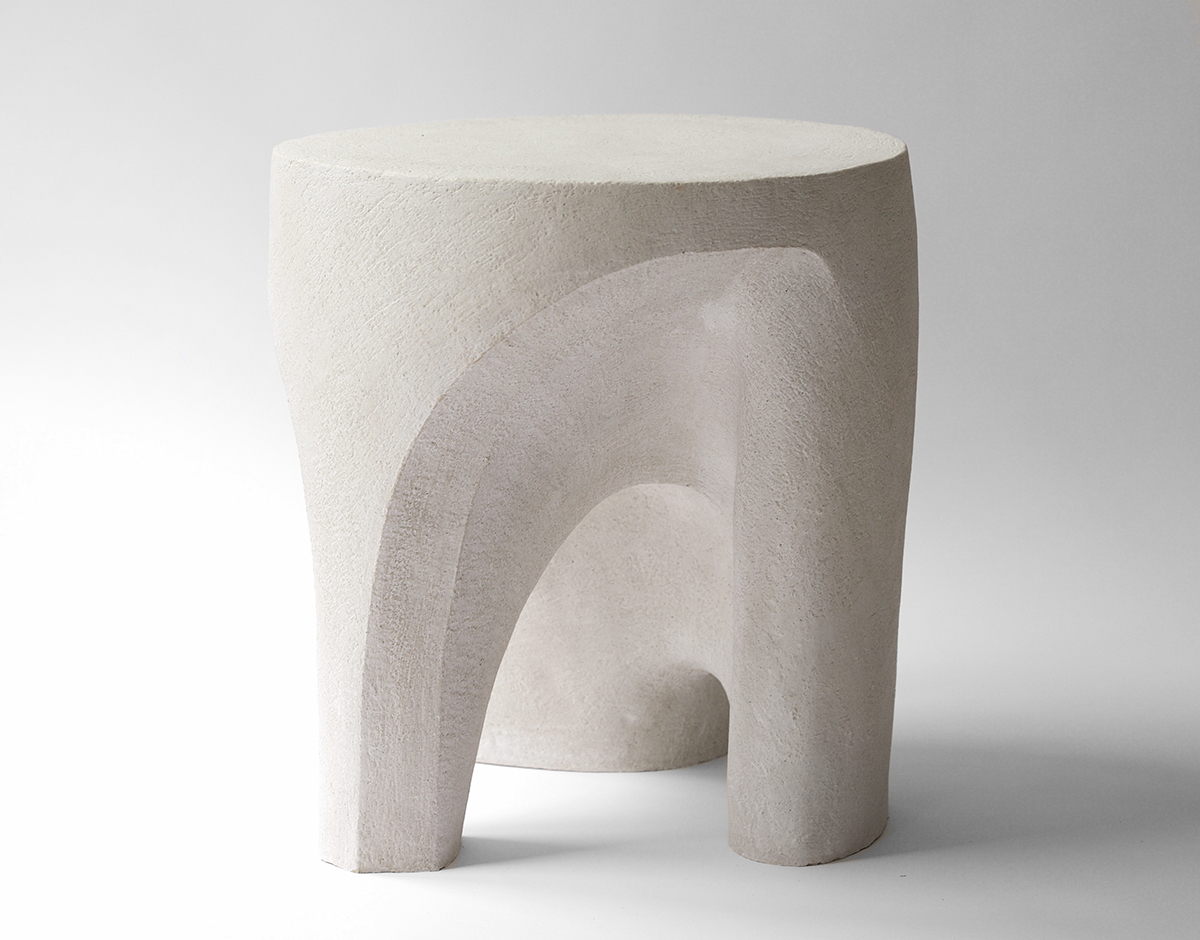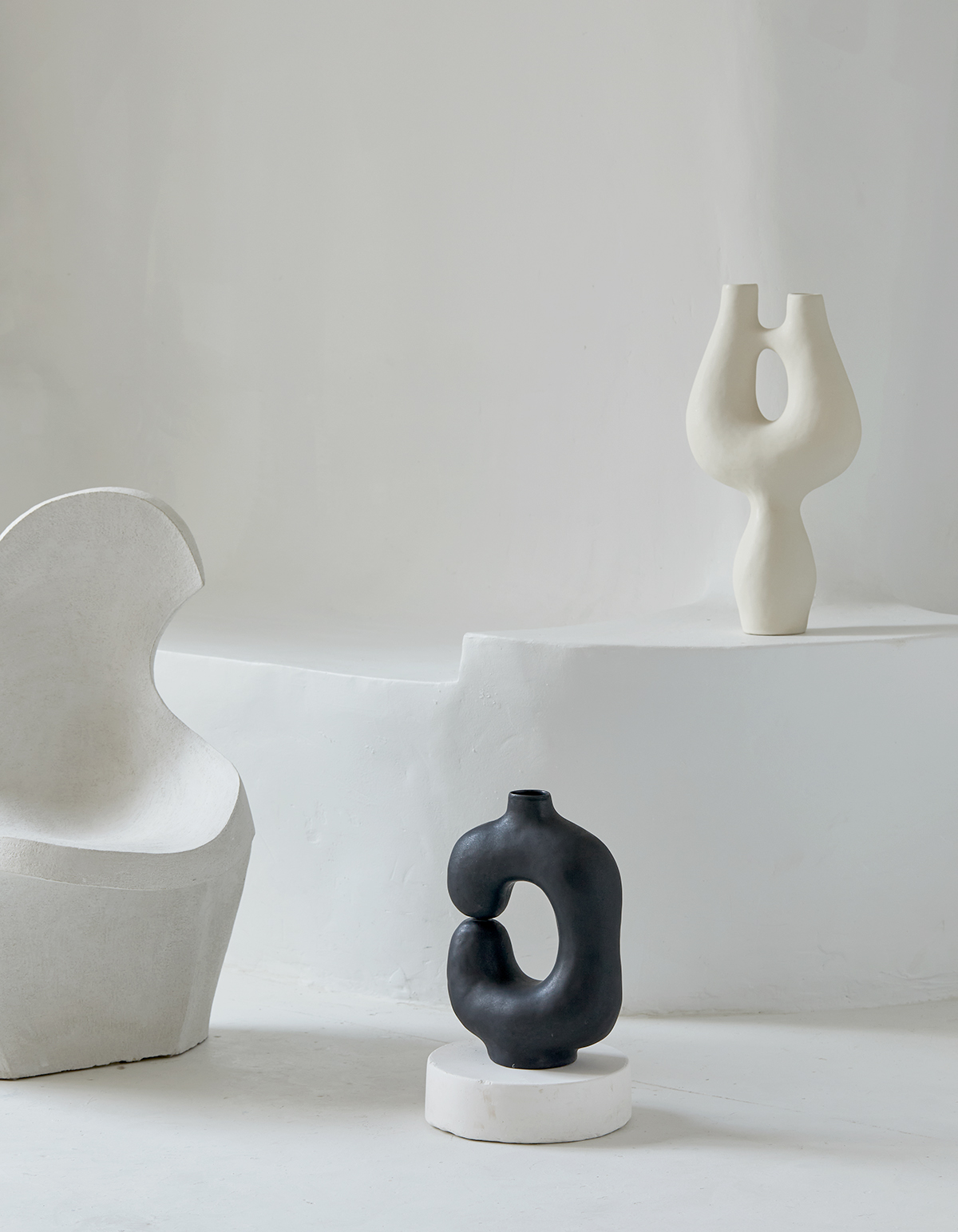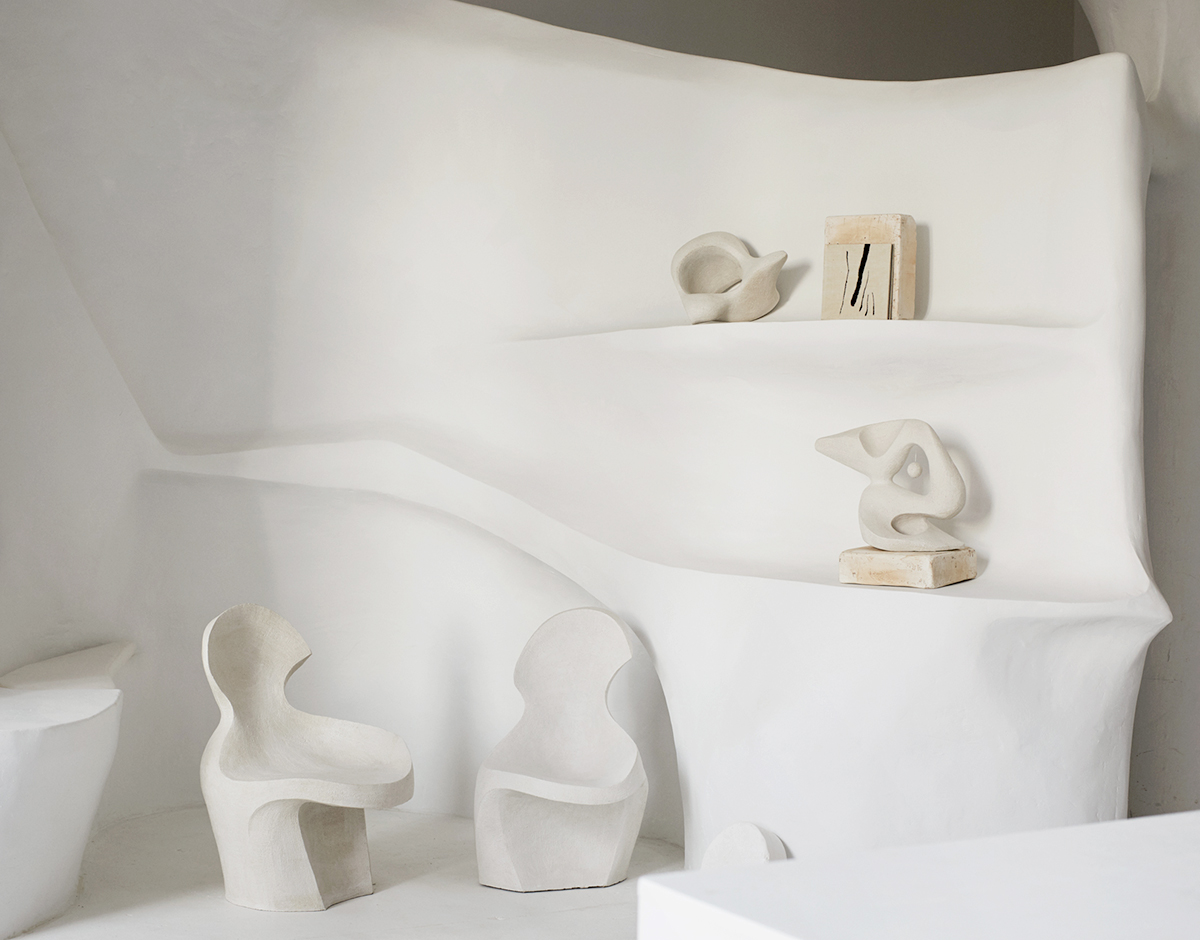 Brooklyn, simonebodmerturner.com
A lot of designers right now are creating organically shaped, monochromatic vessels from clay, but something about Simone Bodmer Turner's Valentine Schlegel–inspired pieces struck a nerve this year. Bodmer Turner isn't just designing, she's world-building. And in her Brooklyn studio, her aesthetic extends all the way from the curved plaster walls to the furniture — a precursor, perhaps, to the ceramic furniture collection she'll be launching next year.

What is American design to you and what excites you about it?
I'm really excited that there's been a resurgence of interest in craft as a crucial component and extension of design in the last few years. More and more clients want to know the process of creating their piece and the history of the medium. This gives me a lot of hope that we are really connecting to the objects we surround ourselves with, and that people are making personal choices that resonate with their own stories. I also love seeing more designers keeping production in-house, or working with a small unit of skilled craftspeople to create their collections. This also feels like a re-centering of the personal, and staying small. Lastly, I get really inspired by seeing the walls between craft/design/and capital A art break down a bit. I love seeing designers dabble across them, as they are boundaries I'm also interested in pushing and re-defining in my work.
What are your plans and highlights for the upcoming year?
A lot of exciting new projects that smatter all over the areas we work across. We are currently tackling a residential project, our ceramic furniture will be going to market for the first time, and we have a couple of multidisciplinary collaborations that I'm really excited about, as well as prototyping some pieces in materials other than clay. In my personal work, I'm intending to really focus on getting back to traditional firing methods, and pushing myself out of my comfort zone in my sculpture and really examining surface.
What inspires you or informs your work in general?
In terms of process: Traditional craft and the art of hand-making objects and utilitarian pieces from natural materials available locally to you. In terms of aesthetic: biomorphic, fluid, forms that emanate the cavernous flowing qualities produced by erosion over time. Rocks, bones, shells. The playfulness of kinetic forms, the surprise element of hidden elements worked into furniture pieces.
Soft Geometry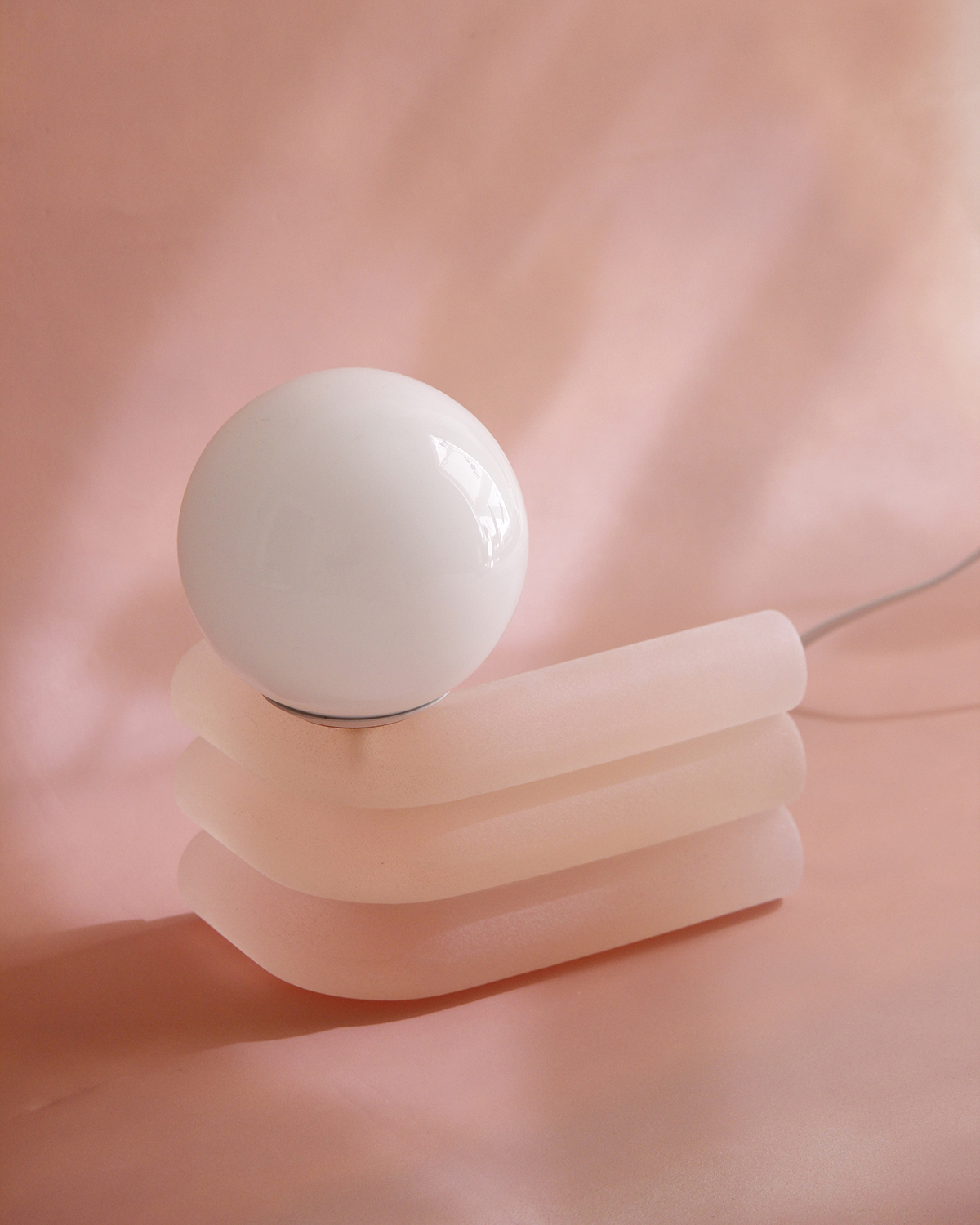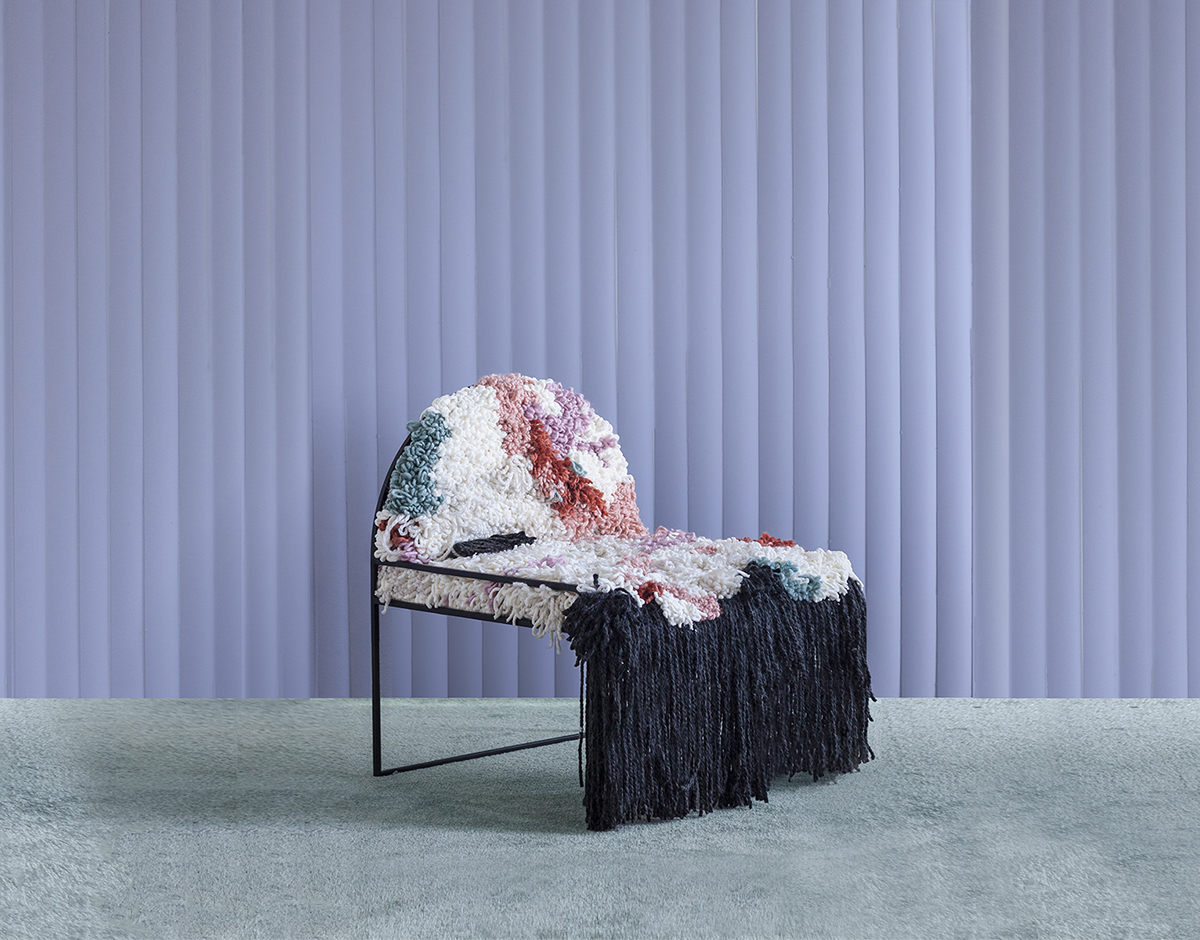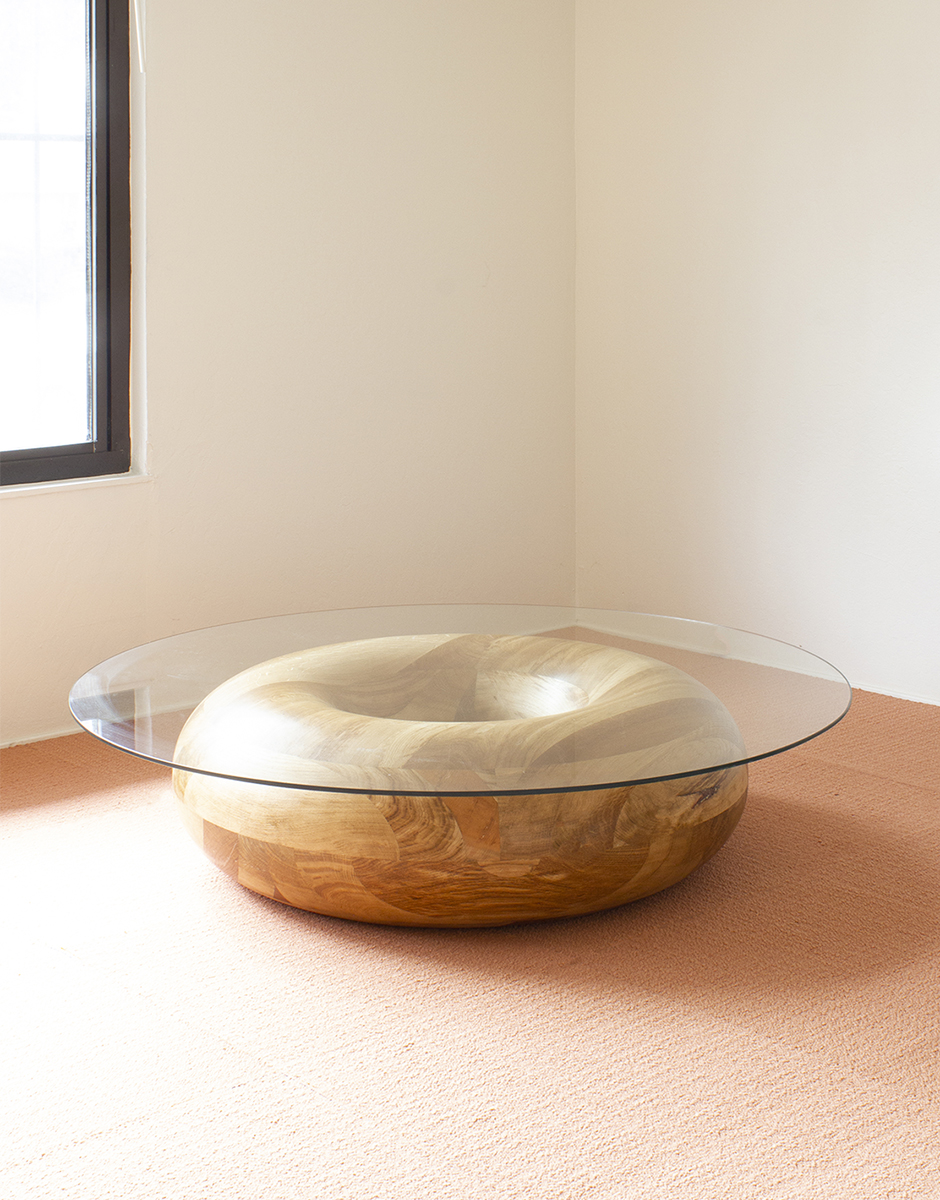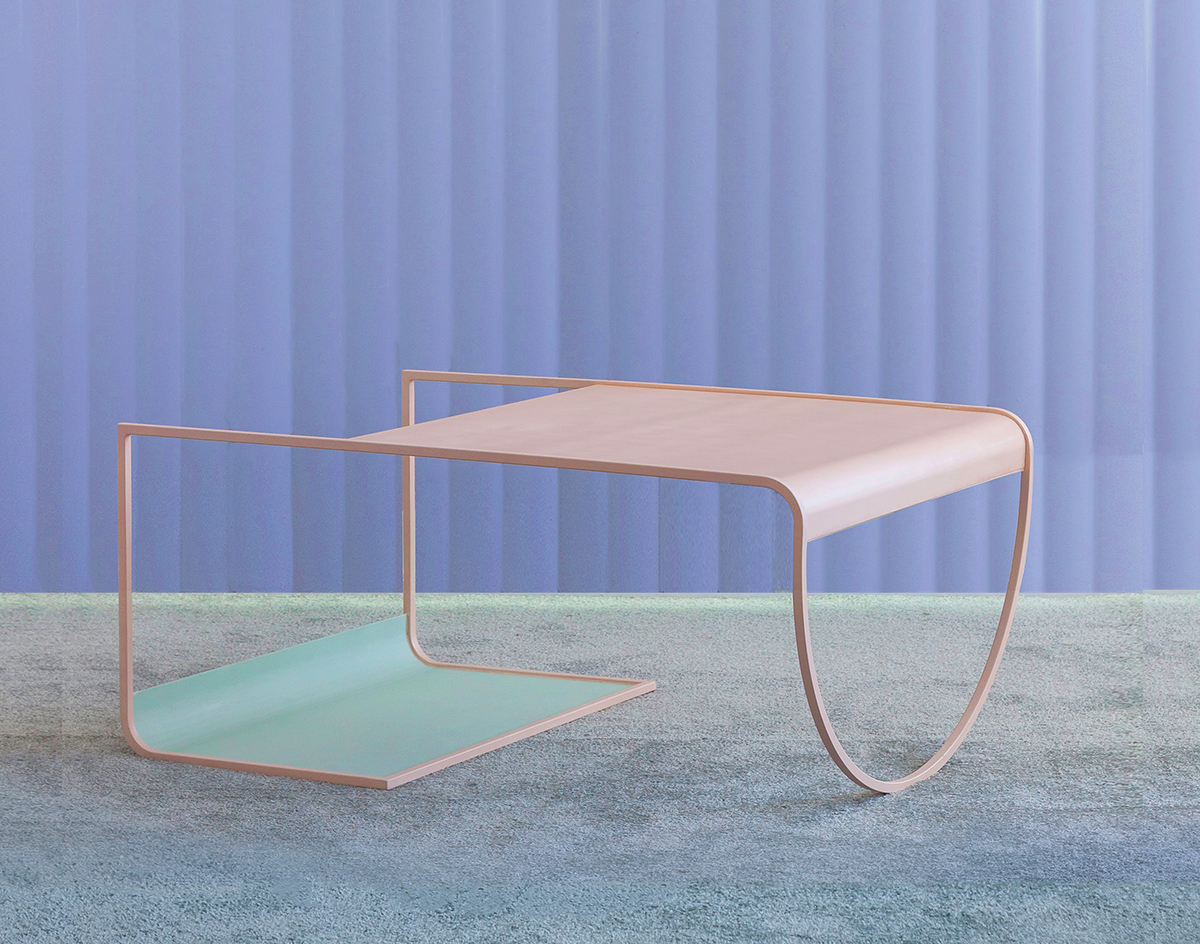 San Jose, CA; soft-geometry.com
Soft Geometry founders Utharaa Zacharias and Palaash Chaudhary both grew up in India but went to art school in the States, where they've built up a practice dedicated to pursuing ideas about softness — everything from materials to scents to sounds. Those ideas are most obvious in our two favorite pieces of theirs — a fluffy, yarn-covered chair and their gently curved translucent Elio light, a major hit from our Offsite Online show earlier this year.

What is American design to you, and what excites you about it?
As rather recent immigrants to America, hopping from Kochi–>New Delhi–>San Francisco and conducting all parts of our life and work from opposite ends of the world, we rarely fit into the umbrella "American," yet American design now feels strangely familiar. It has been our platform, the worlds' stage, where — as two twentysomething kids on visas — we could share our piece. It has meant the opportunity to come from a 4,000-year-old culture, draw, interpret, break the rules and retell its age-old crafts and traditions in our own deeply personal way and present it to an audience willing to see and listen, without the weight of that history.
There is the romantic ideal of America as the confluence of different stories, perspectives, cultures and people. What is most exciting is that every year, especially this year, there is dialogue, intention, and hope to broaden the types of stories and aesthetics celebrated in the American design landscape. This encourages bolder deviations from the norm and helps us get closer to that ideal.
What are your plans and highlights for the upcoming year?
Well, first off, 2020 turned out wildly different than what we had planned for! But despite the projects that were put on hold, the Elio series, launched at Sight Unseen's Offsite Online, was a breakthrough for us both in terms of stepping into lighting and arriving at an exciting texture and translucency with resin — which was a new material for us. We aren't quite done playing with it and look to expand the line next year into a collection of small home objects.
The other "plan" or hope is to get back to India. We have been studying the history and techniques of two old-time Indian craft traditions and had started workshops with an artisan cluster in 2019 to learn the process and build out some in-the-works furniture ideas with them. A lot still hangs in the balance of vaccines and lockdowns and whether the US embassy in India opens up, so we're kind of making things up as we go for now.
What inspires or informs your work in general?
We continue, obsessively, to understand 'softness'. Softness is a degree, almost anything can be plotted along a soft-hard axis. It is our perpetual design exercise to toss between each other ideas about what makes an object soft. Material and the tactile is a given — soft velvet, fur, felt, hair, wool and any other number of materials that are soft to touch. There are visual associations — pastel colors, billowy clouds, things that lack edges, the soft light of dawn or dusk. You can also plot sounds — soft whispers, soft melodies, the rustle of leaves — or scents: the smell of rain, wet ground or faint perfume. More interestingly still, you can think of it in the abstract — softness as malleability, a willingness to learn or change, fluidity, humility, empathy, slowness, childlike innocence or imperfection.
Increasingly we make connections between these ideas and the Indian object culture that we grew up in, our childhood homes filled with a mish-mash of objects, cane step stools, carved wood boxes, inlaid trays, block printed linens, hammered brass lottas — things that did not match or stack, weren't modular or multi-functional, belong to a style or palette, but shared that they were hand-made. Objects built by hand, woven by hand, considered and crafted by hand imparts softness.
Whether it is the soft light that shone through dusty panes that inspired the Elio lamps or the slow craft of caning that inspired the woven chairs and tables of the sw collection — softness and Indian culture inspires and informs our work and life everyday.
Sophie Lou Jacobsen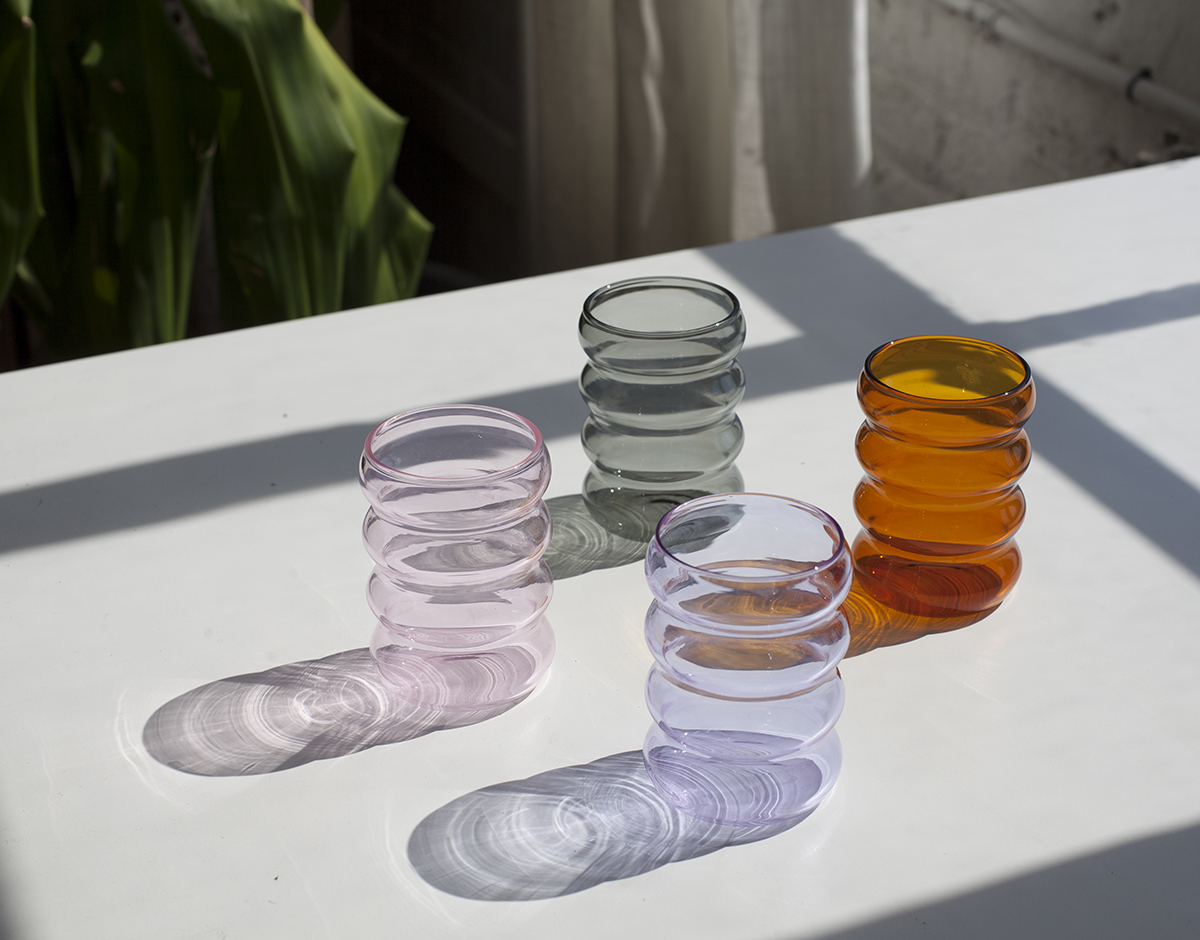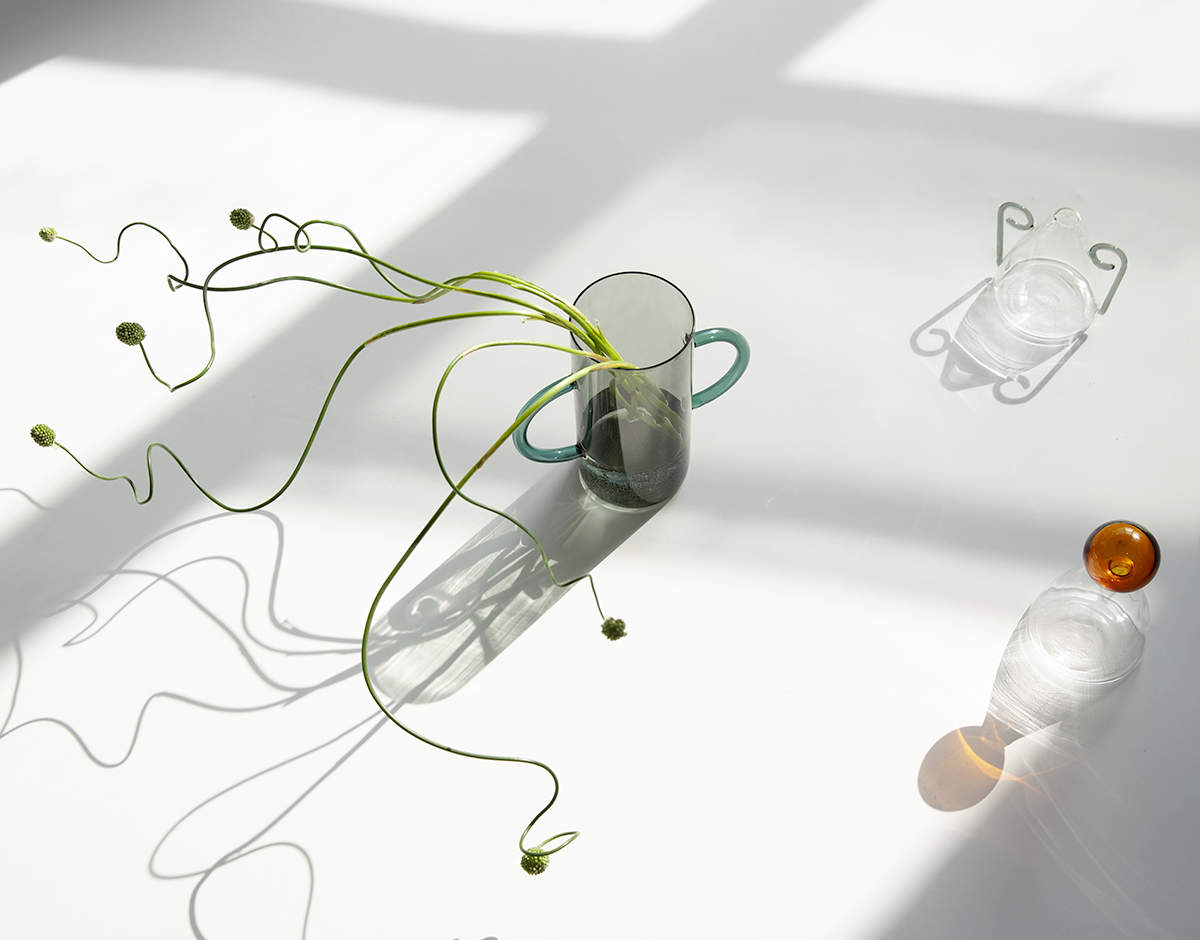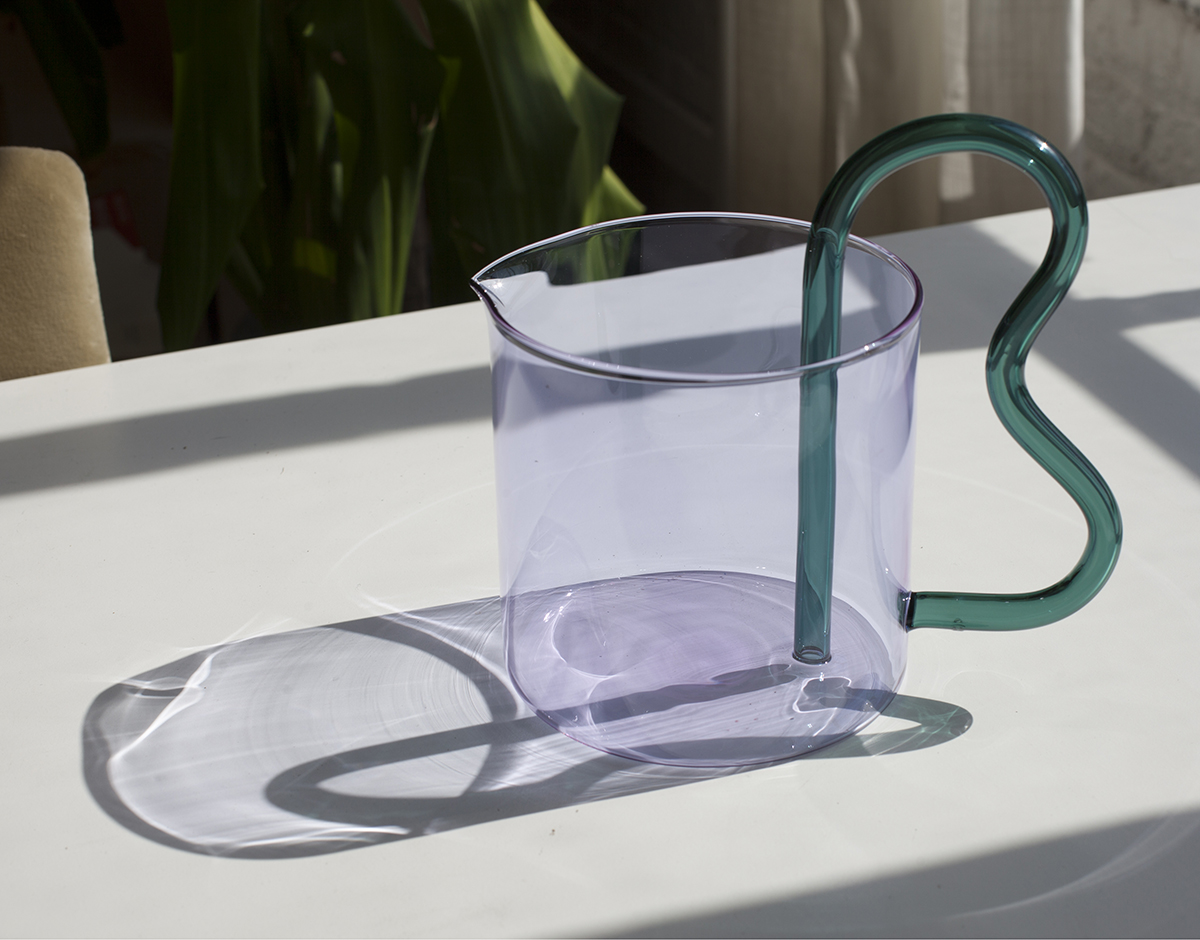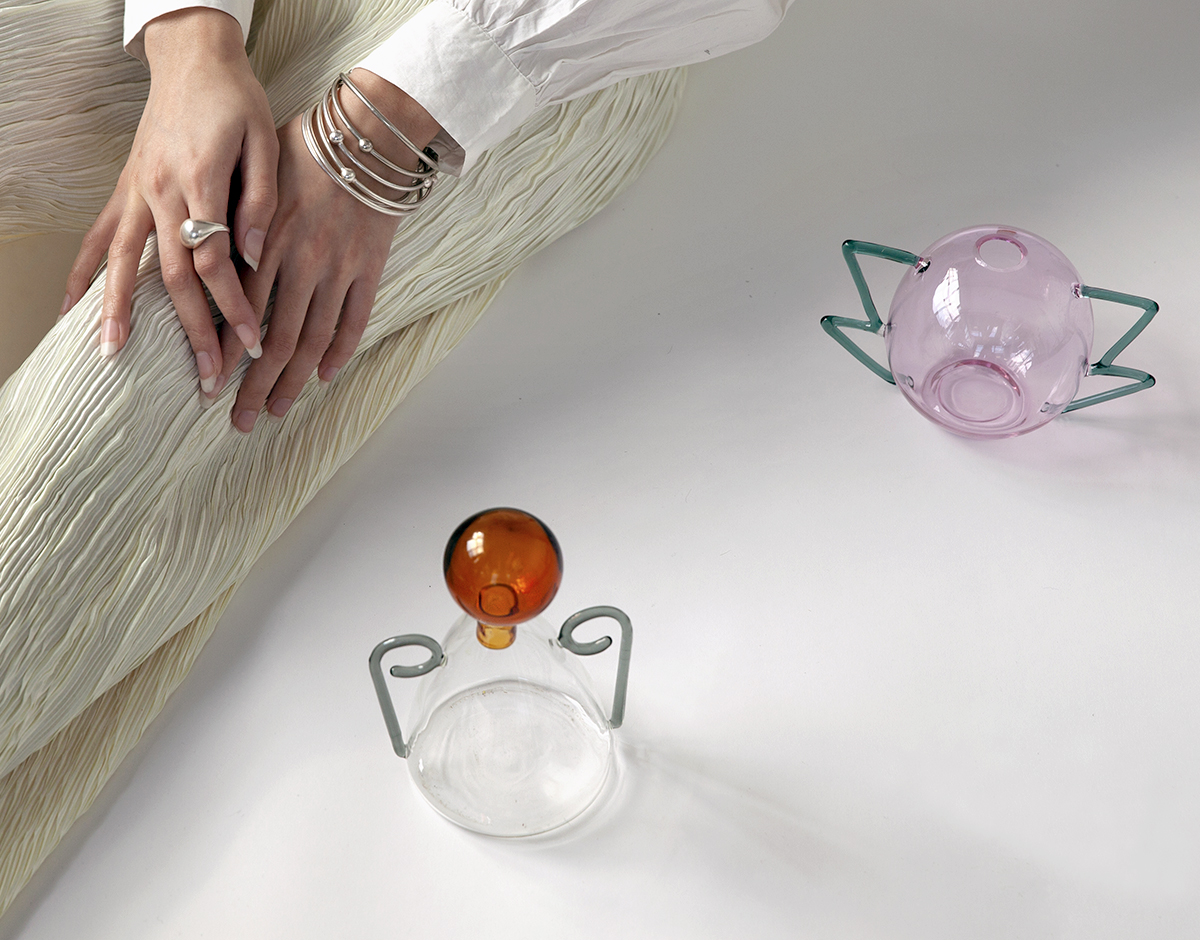 Brooklyn, sophieloujacobsen.com
Sophie Lou Jacobsen has made our Hot List once before, for her furniture partnership with Sarita Posada, Studio Sayso. But Jacobsen's solo career – which so far consists of wildly viral experiments in colored glass but will soon branch out into furniture – absolutely exploded this year. Does an Instagram shop even exist if it doesn't carry Jacobsen's Ripple Cups? 
What is American design to you, and what excites you about it?
To me, American design mirrors the eclectic nature of America as a whole. It's such a large, young country that is made up of so many different backgrounds; cultural rules and norms don't seem to apply here in a broader sense and I think that is reflected in design. You can see each individual designer's personality through their work, rather than a school, or a movement. That creates a lot of individual expression, originality and exploration. But I also find that American design is entrepreneurial. I think that if I had stayed in Europe, my design career would look very different right now. I probably would have tried to find some more traditional paths to "success" and I'm not sure that I would be running my own studio. The lack of a bigger production industry here creates a new sort of creativity, a hustle to make this career path work, that opens the field up to anyone who has the stamina to see it through to the end. I find that particularly exciting! 
What are your plans and highlights for the upcoming year? 
Before the pandemic shut everything down, I was planning to delve into more furniture and lighting. But then all the design fairs got cancelled and workshops closed, so all of those projects were put on hold. Instead, I was forced to spend more time focusing on what I already had going, this homeware collection that was gaining momentum and interest. And in the end, I'm really happy to have taken the time to do so. I feel like I'm setting up a more solid path that I can use to grow in different ways down the line, but that I may have spread myself too thin if I hadn't taken this time to build it up properly. So with that in mind, I plan to spend this year growing this collection into a brand, and adding more variety in terms of materials and product offering. I'm hoping to make new connections with artisans in different parts of the world, and create thoughtful, long lasting relationships with them.
Currently I am working with an incredible glassblower in Spain, as well as here in Brooklyn, and have a factory in Asia that has been so wonderful to work with. COVID lockdowns depending, I'm planning to do a residency in Oaxaca in the spring, with the intention of meeting with different craftspeople I can work with around there and designing objects around their skills. I'm also speaking with a Lebanese woman who was in the process of setting up a new design company at the moment of the explosion in Beirut in August. Obviously devastated by the situation, she realized she could use her work to bring jobs to fabricators and artisans there, and we've been speaking about a potential collaboration. I love the thought of using my objects to help stimulate local economies. This year has had so many catastrophes, and there are so many important organizations and causes to support, it can be hard to pinpoint how and where one can be most helpful. It's definitely something I've struggled with over the past year, but I hope to keep growing my brand and products in a thoughtful, intentional way, and that I can use it all as a platform for social engagement at the same time. 
What inspires or informs your work in general? 
To be completely honest, I've experienced quite a bit of a creative block since March. The situation with pandemic, police brutality, political mayhem, and general fear for my family members, friends, and the world really clouded over my mind and I haven't felt much inspiration at all. What keeps me going is the idea that the objects I create can give a small moment of joy in a person's day. My inspirations are definitely rooted in Modernism; I am drawn to rationality, simplicity and function, simple geometries and pared-back production processes. But that said I don't think you can design in this world without a Postmodern lens. The frivolity of the material world needs to cast a critical eye upon itself at all times, and for me that's manifested in a certain degree of humor and light-heartedness. Objects are important, necessary, useful and emotional, but I also believe they shouldn't take themselves too seriously!