06.10.21
Dirk van der Kooij On Creating a Truly Circular Design Process — And On Using Your Old Nirvana CDs to Make Furniture
Of each table, chair, object, and light that Dirk van der Kooij's Netherlands-based studio creates from recycled plastic and other discarded materials, he asks: Is this a permanent, worthy application of the resources used? It's a question he's been pondering since he founded his studio in 2009 in the basement of the Design Academy Eindhoven, where he set out to test whether plastic could be a durable, honest material. Using six pizza ovens welded together, he created the Elephant Skin series by baking plastic that wrinkled and contracted as it cooled outside a mold to an incredibly sophisticated, tactile finish.
When we talk about sustainability as it pertains to design and consumer products, Van der Kooij can be viewed as both innovator and authority — a good example of what it means to be truly sustainable in one's practice in the spirit of leaving the world better than you found it through a completely circular process. That means not simply using five percent recycled plastic or incorporating upcycled materials. Those ideas are a start, but they're also merely lip service in the effort to actually combat waste, reduce emissions, and build furniture and objects not only geared for recyclability but heirloom-level longevity. What's more, true circularity ensures every step of the design and manufacturing process — including the behind-the-scenes prototyping — is as sustainable as the finished product.
To that end, Van der Kooij and his team of carpenters, welders, colorists, and finishers make use of proprietary technology including house-developed presses, robots, and extruders to transform waste materials such as discarded CDs, leather sofas, kitchen appliances, chocolate molds, and diseased wood into singular pieces made to stand the test of time and trends. From playful (3D-printed Chubby and RvR chairs) to elegant (Bloown light, Endless chair, and Changing Vase) to artful eye candy (Menhir Bench, Discography, and Melting Pot tables) Van der Kooij's innovative practice is a true celebration of a visual language with endless possibilities that envelops function, tactility, and the beauty in oddity.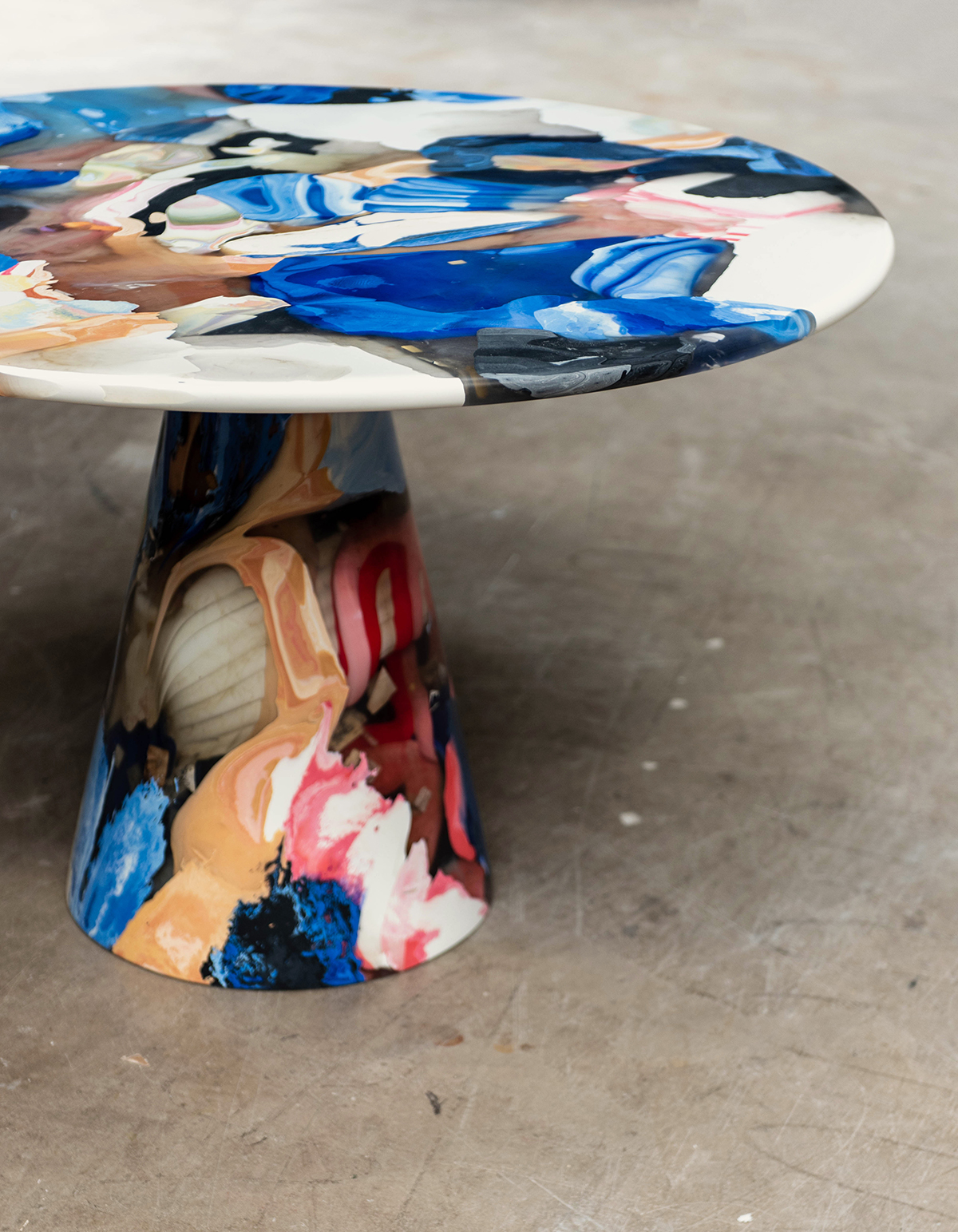 Melting Pot table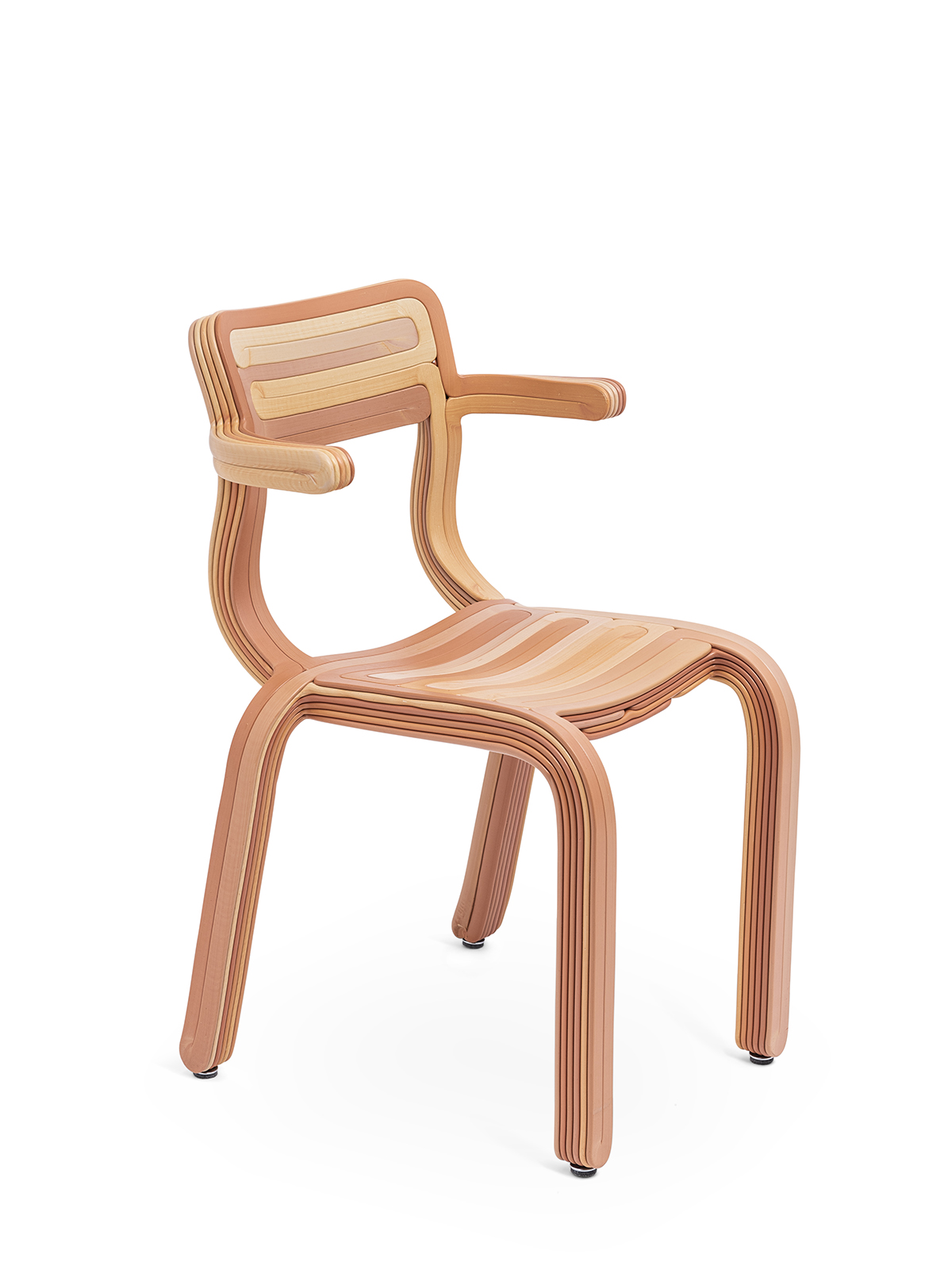 RvR chair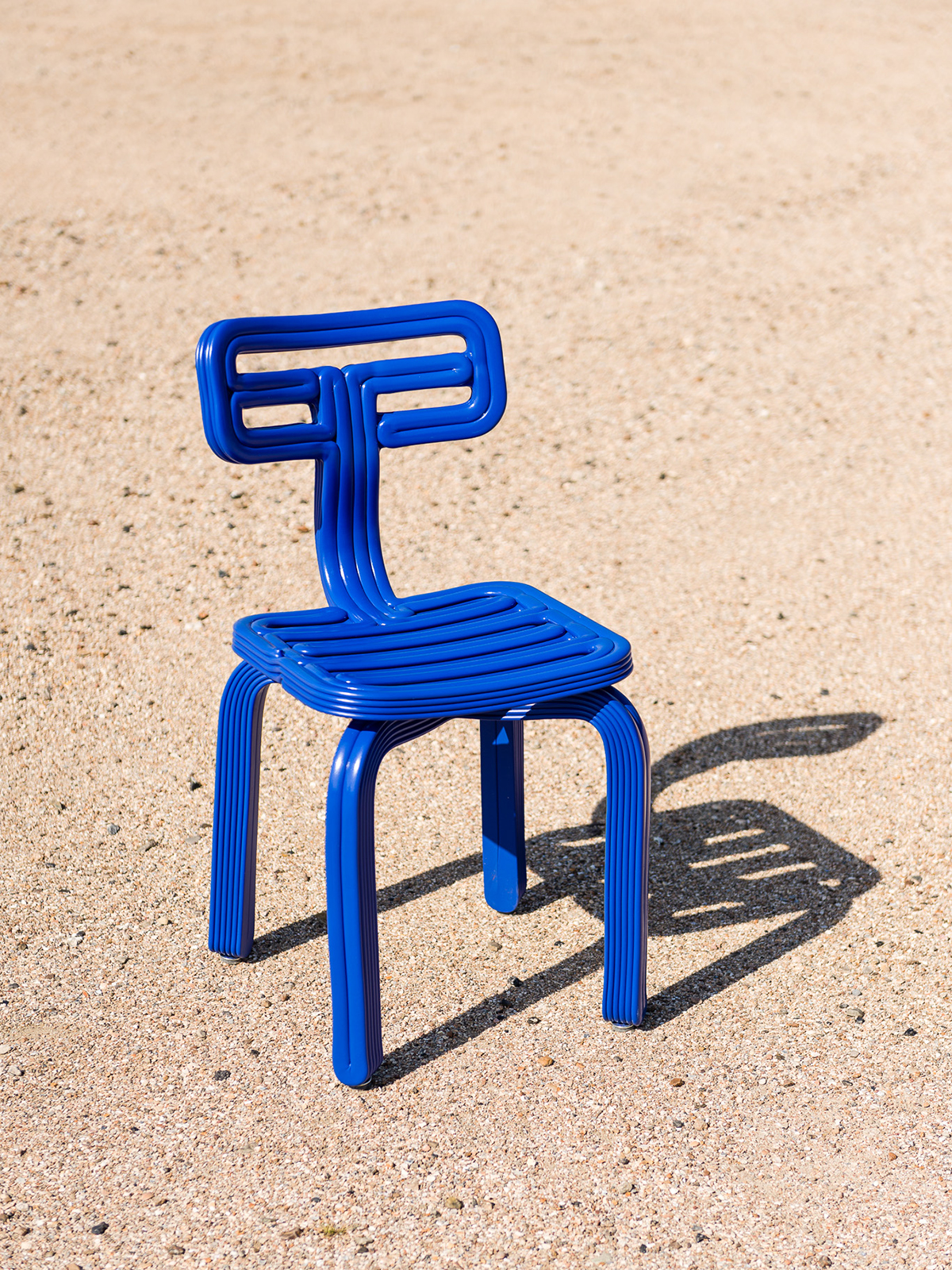 Chubby chair
Hello Dirk! Can you tell me a little about how you got into designing and making furniture and objects?
I'm very lucky to have found my passion at a young age. I remember sitting in church at age 10 or 11 and being really focused on the pews and the alter! My dad was quick to nurture my practical side. At 14, he arranged for me to intern with a local woodworker who was a very patient teacher indeed.
So, you were aesthetically minded as a child. Did you grow up in an environment that inspired you?
We grew up on farmland without a TV, so it was up to the kids to make their own fun. I'm the youngest of three brothers, so I wasn't quite big enough to be part of their gang. Instead, I had a lot of time to myself spent drawing and inventing.
You attended the renowned Design Academy in Eindhoven. What was that experience like and how did it shape your design practice?
I loved it. The school offered an amazing freedom, countered by heavy critique to ensure that we were really growing. I was also a member of a fraternity, which turned out to be the best possible balance. These guys had a pretty low threshold for conceptual fluff — it was a taste of what it's like defending your work to the public. I learned a lot from existing between these two worlds, which is a theme that seems to keep repeating in my life. My work is now somewhere between a designer and an inventor, an artist and a businessman.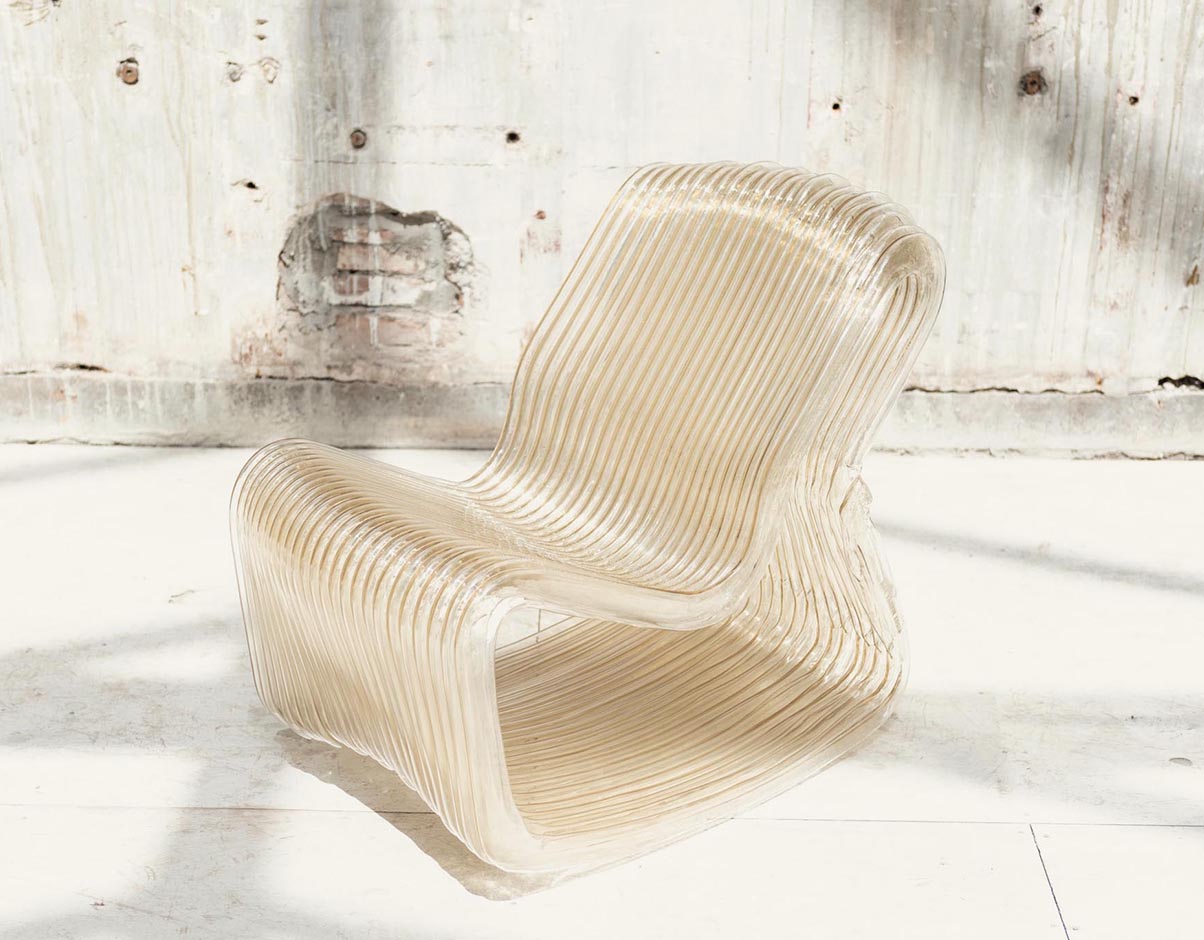 NOH Chair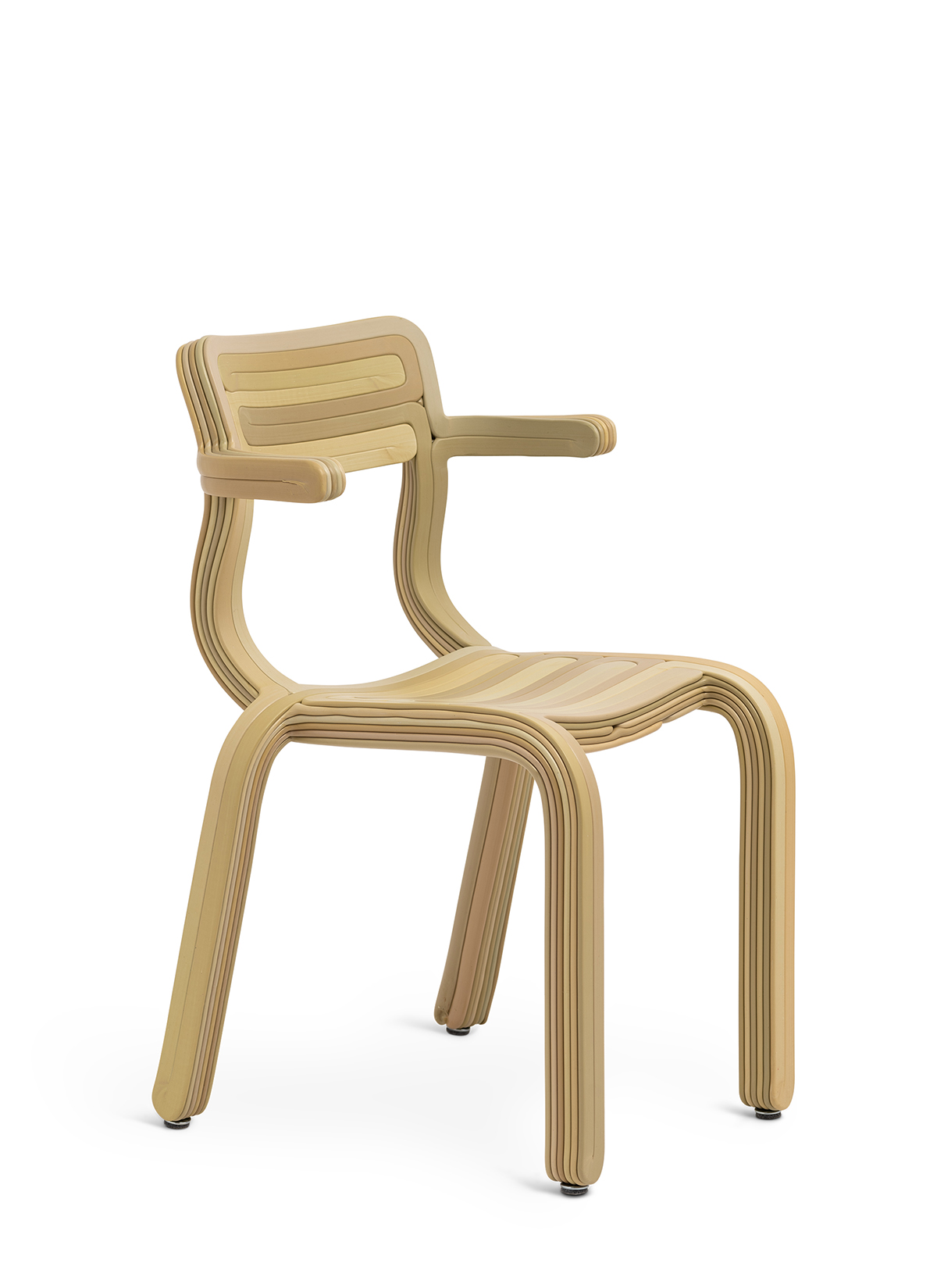 RvR chair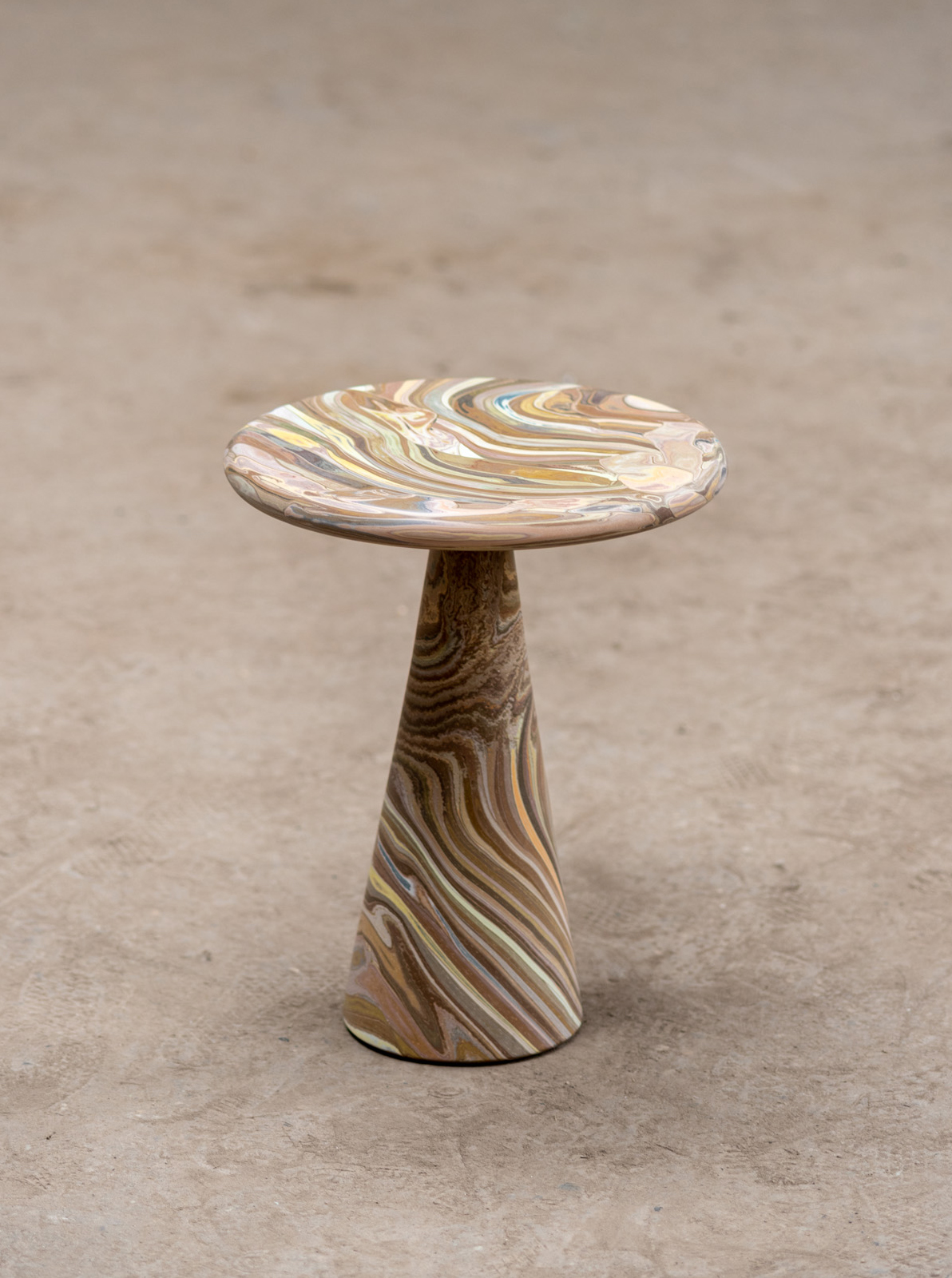 Boulder table
What was the moment that you discovered working with recycled plastics?
I had done a woodworking course prior to starting Design Academy, so I was coming at their program with perhaps a more traditional idea of the relationship between quality and materials. I was disheartened by the commercial realities of veneer and chipboard as a part of woodworking, so I began to search for something more versatile. I came across these crappy, solid recycled plastic boards, and thought, Wow! There's something here! Could this rough, ugly material be nurtured and transformed like wood? The first work I made with plastic involved baking it to impart an organic, tactile surface texture. The material was completely transformed. I named the process "Elephant Skin."
Is your use of recycled plastics informed primarily by the importance of sustainability in your practice?
It's certainly informed by sustainability — I couldn't imagine working with virgin materials. But this material is also solid, durable, gorgeous, and imbued with a narrative of its own. In many ways, I do consider recycled plastic to be an "ubermaterial." The tables we make, for example, are essentially a monoblock, meaning they can be endlessly re-sanded and polished. We don't use any lacquer or surface treatment. It's very important that all the work is made from just one material, so that it can be easily recycled in the future if need be.
Where and how do you source your plastics?
All our plastic is coming from the Netherlands, Germany, and France — from both post-industrial and post-consumer waste streams. Some of the plastic we use, such as that taken from recycled rooftop windows, is just a great, clean material, and in very high demand. There are others, such as second-hand CDs and CD cases, that require an artist's hand to tame. We're really happy to be able to give a home to some of these more challenging plastic streams.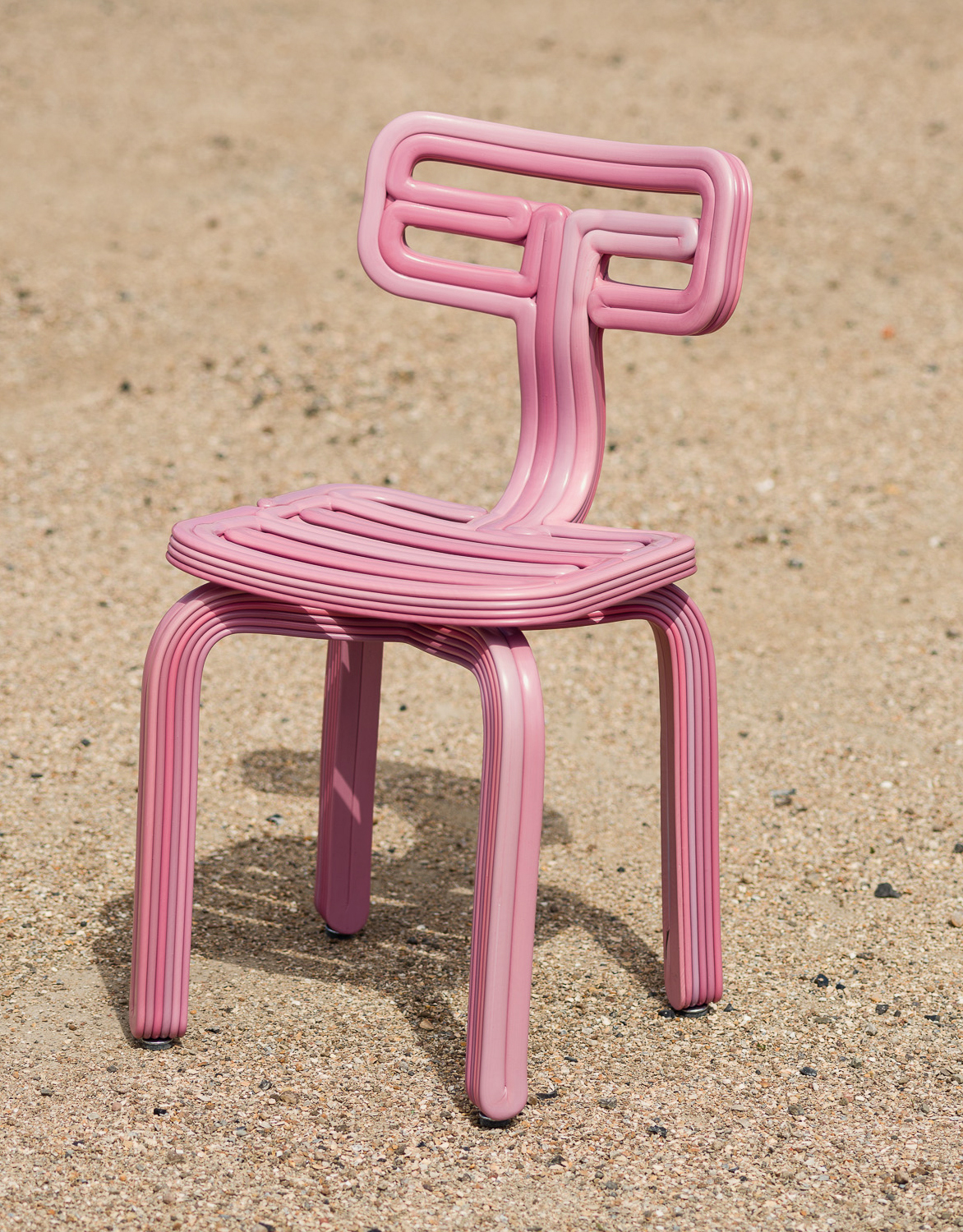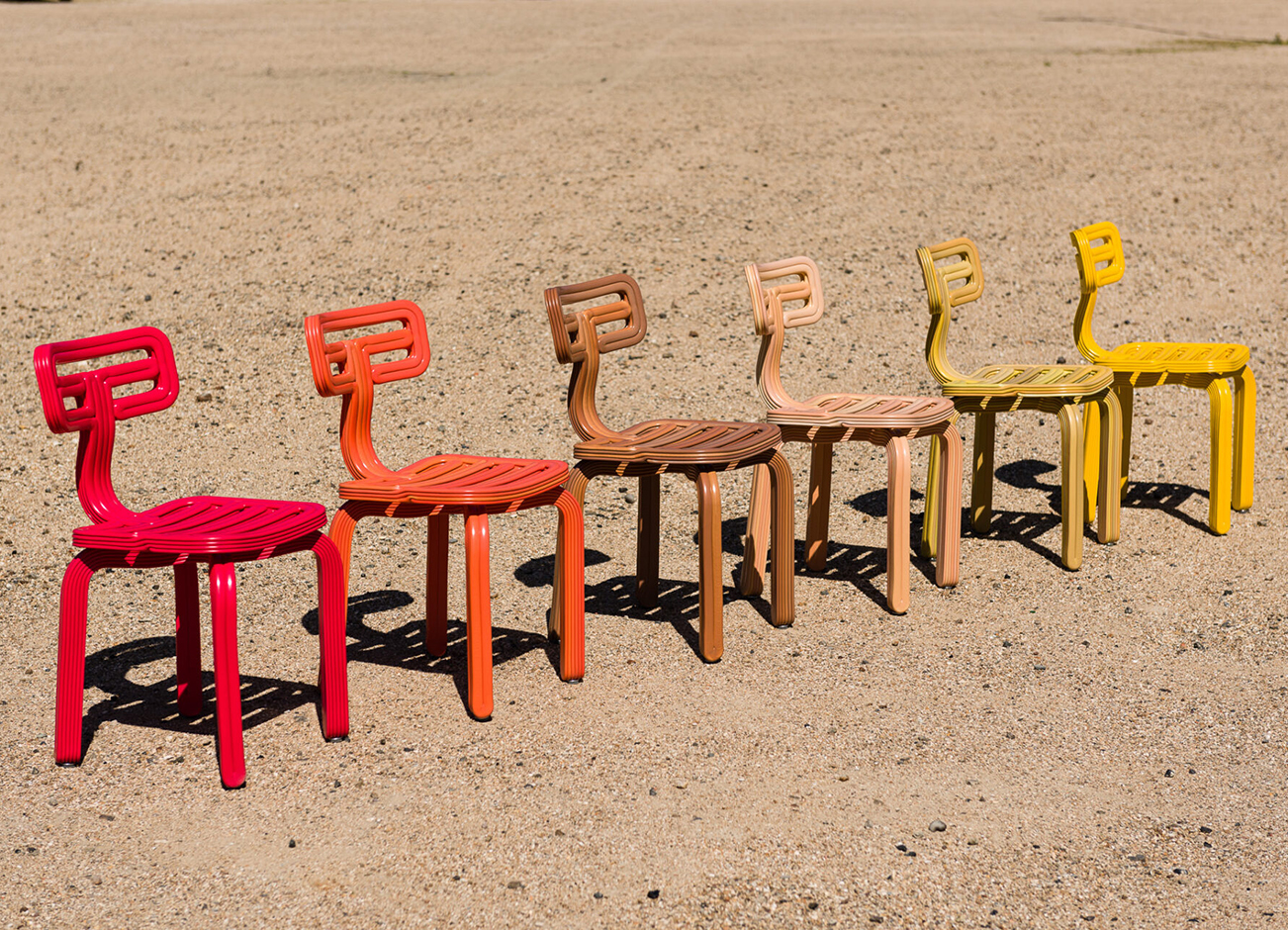 Chubby chair
Menhir bench
Do you have a design philosophy?
[Laughs] Not sure! Everything should be durable, logical, and beautiful. My preference is for work that's adorned through the process of making, such as the rippled lines of 3D printing. I hate veneer, which is a bit of an extension of my personality [laughs]. I'm transparent to a fault, and I like my materials to be equally honest and forthcoming.
The core of your work is tables, chairs, and lighting. Why did you gravitate toward these and how do you approach each?
As much as the work that we do is experimental, it's also important to me that people are able to live with it. These recycled works belong in a home much more than in a gallery. With this approach we're able to scale the production to reach a place that re-deposits significant amounts of waste material, and it satisfies a bit of a selfish wish…my hope is that every product finds a home where it will never be thrown away. I like that furniture is quite literally human scale—it's a really natural genre to interact with.
How do you approach ergonomics?
Given that we can reclaim all our prototypes, I'm not shy about making 50 variants of an object before finding the right one. That said, there's a limit to how comfortable a 3D printed chair is going to be, and I'm mostly looking to celebrate processes, materials, and ideas.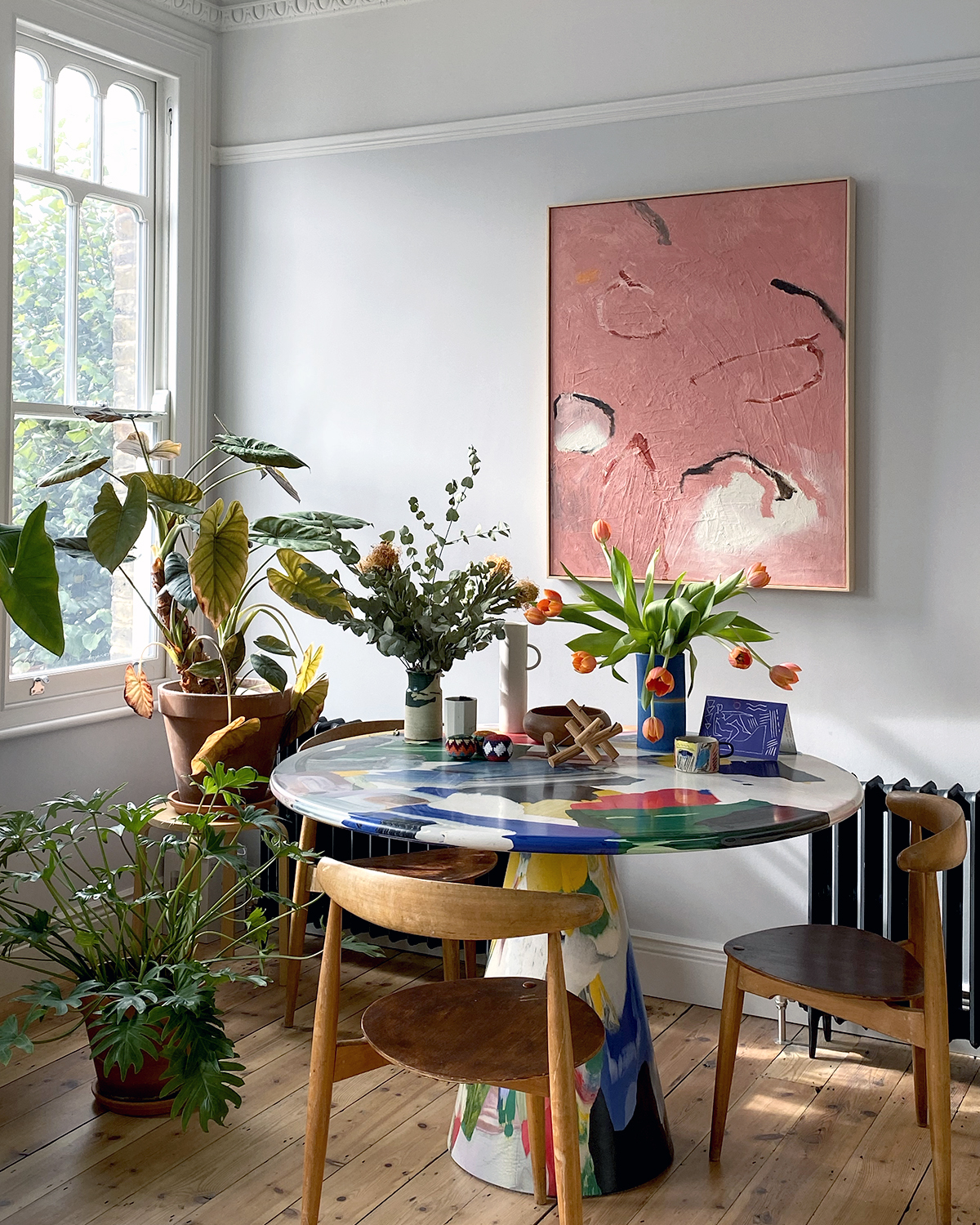 A Melting Pot table in the London home of Robert Storey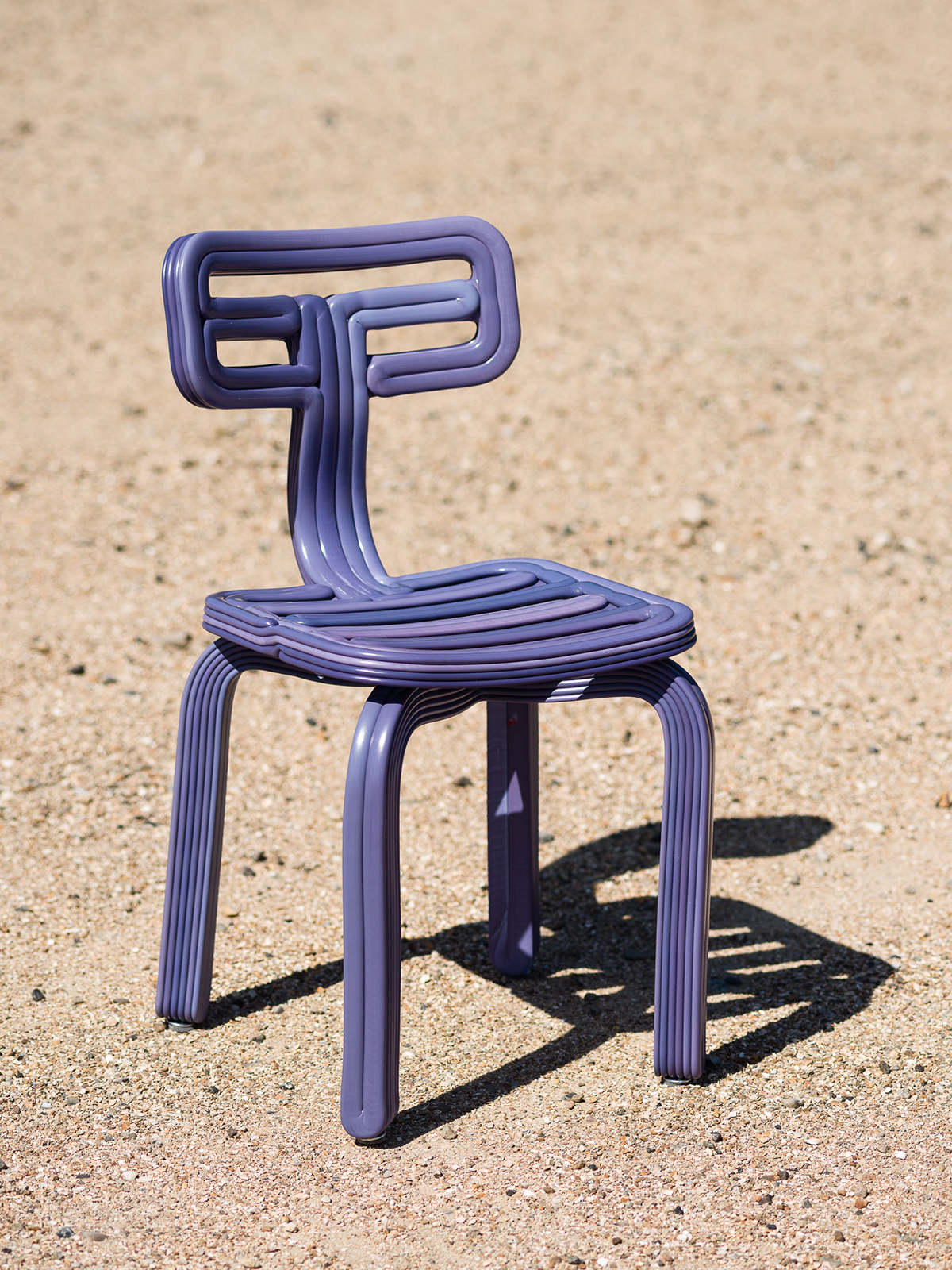 Chubby chair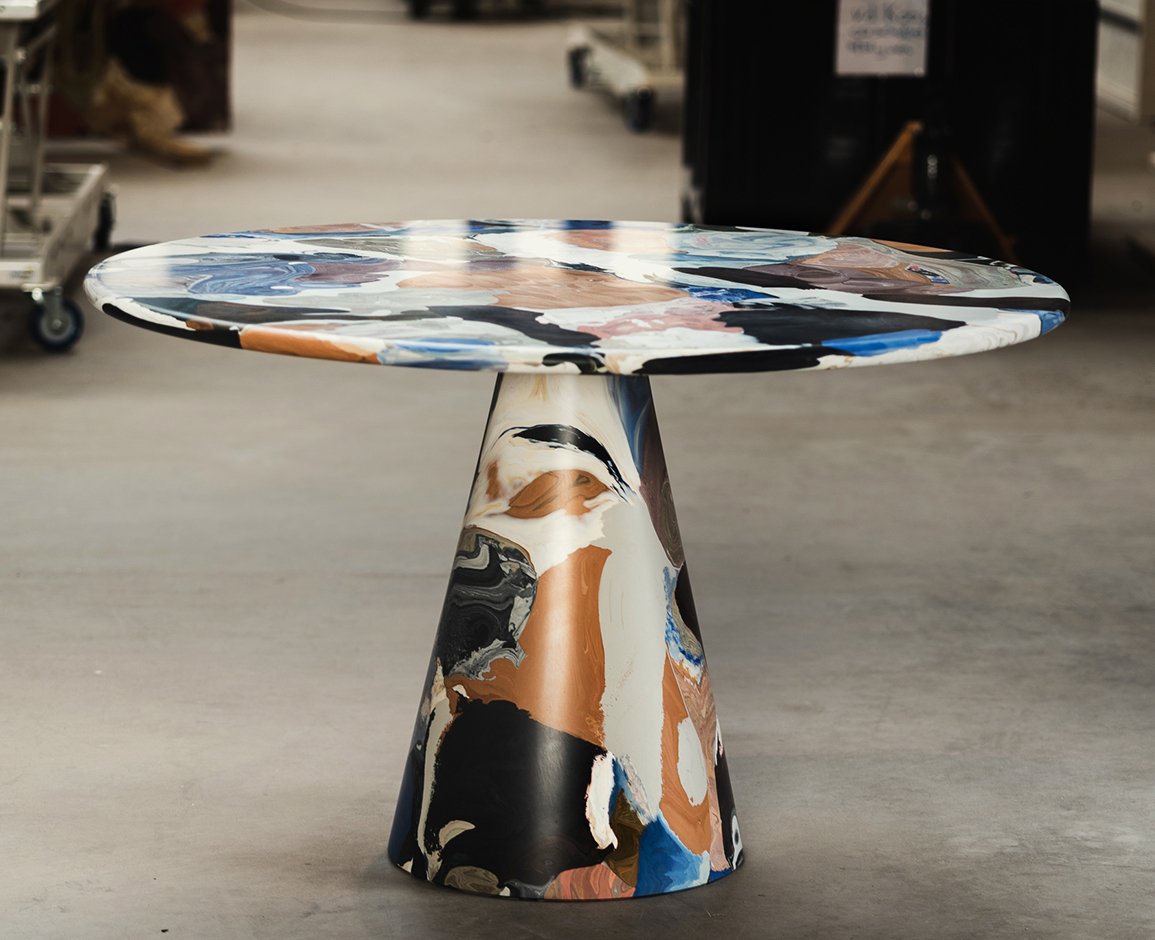 Melting Pot table
The idea of longevity is clearly important to you. What's your take on the current state of the design industry? What would you like to see more and less of?
I've always been a material purist, seeking ways to just use one material per object, which I've found is often a good way of guaranteeing it a second life. I'm skeptical of composites, such as waste bonded with epoxy, because there's no backup plan with something like that. If something goes wrong with production (and for us, it often does) there are few options to recycle again. In the fever growing around recycled plastic, I think it's important to remember that what we do will never be as good for the environment as restored antiques. On a broader scale, it drives me absolutely insane that we don't have just one kind of plastic that's used in food packaging. If we weren't so obsessed with having little windows into a block of cheese, most of that could be recycled. Right now, most plastic food packaging is burned because it's impossible to sort.
A design and manufacturing practice like yours has become known as "circular." What does it truly mean to be circular as a designer?
I think it's mostly about taking responsibility for the worst-case scenario. We make mistakes every day and we need to be able to reclaim those mistakes without any material degradation or waste. That's why recycled plastic has worked for us, and it also helps to quell any temptation to mix materials. We're also careful to keep the collection quite small. The idea is that, if you buy a Chubby Chair today, you'll (hopefully) still be able to buy a Chubby in 30 years. I would much prefer to have a smaller collection of tried-and-true standards.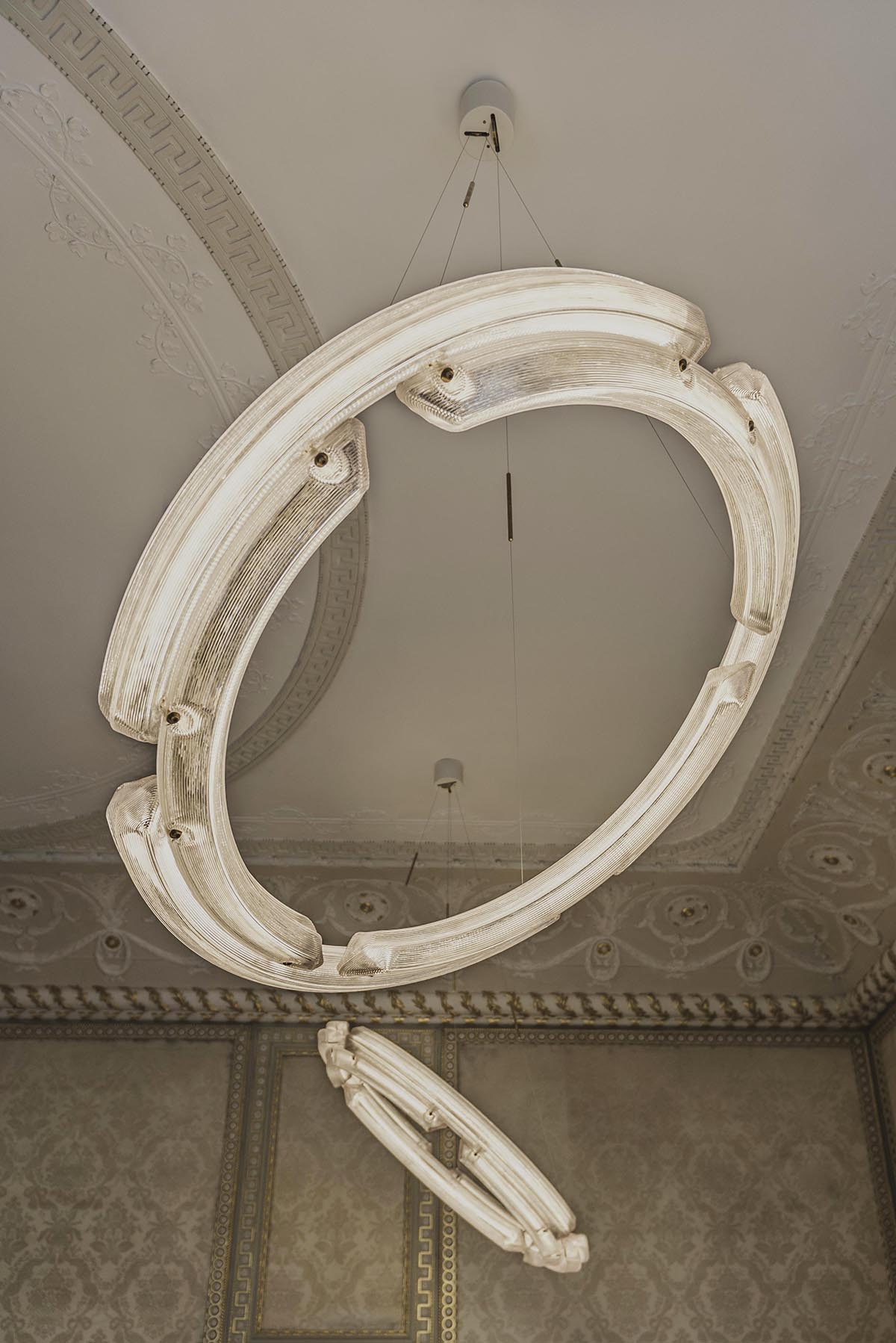 Buitenhuis chandelier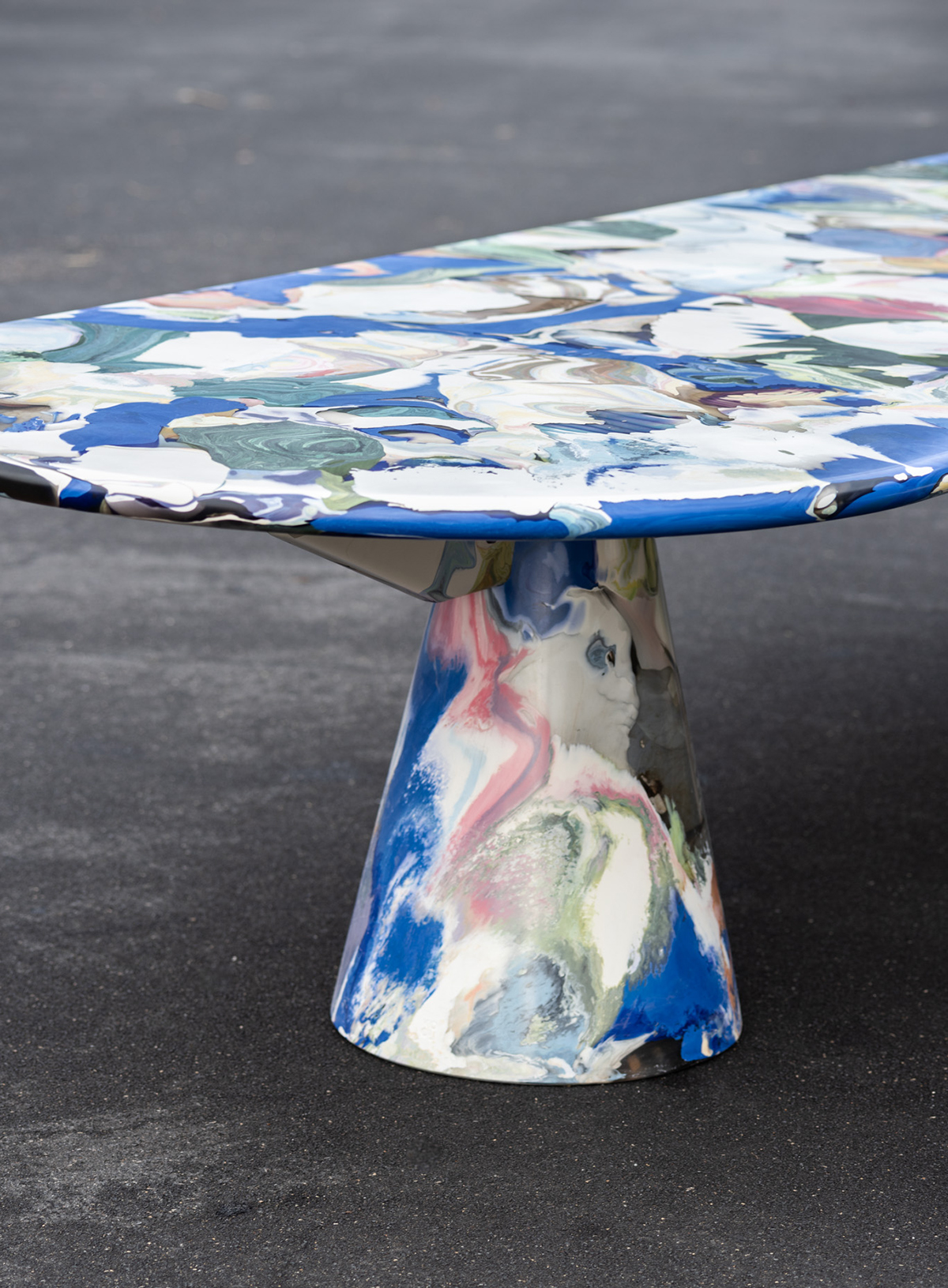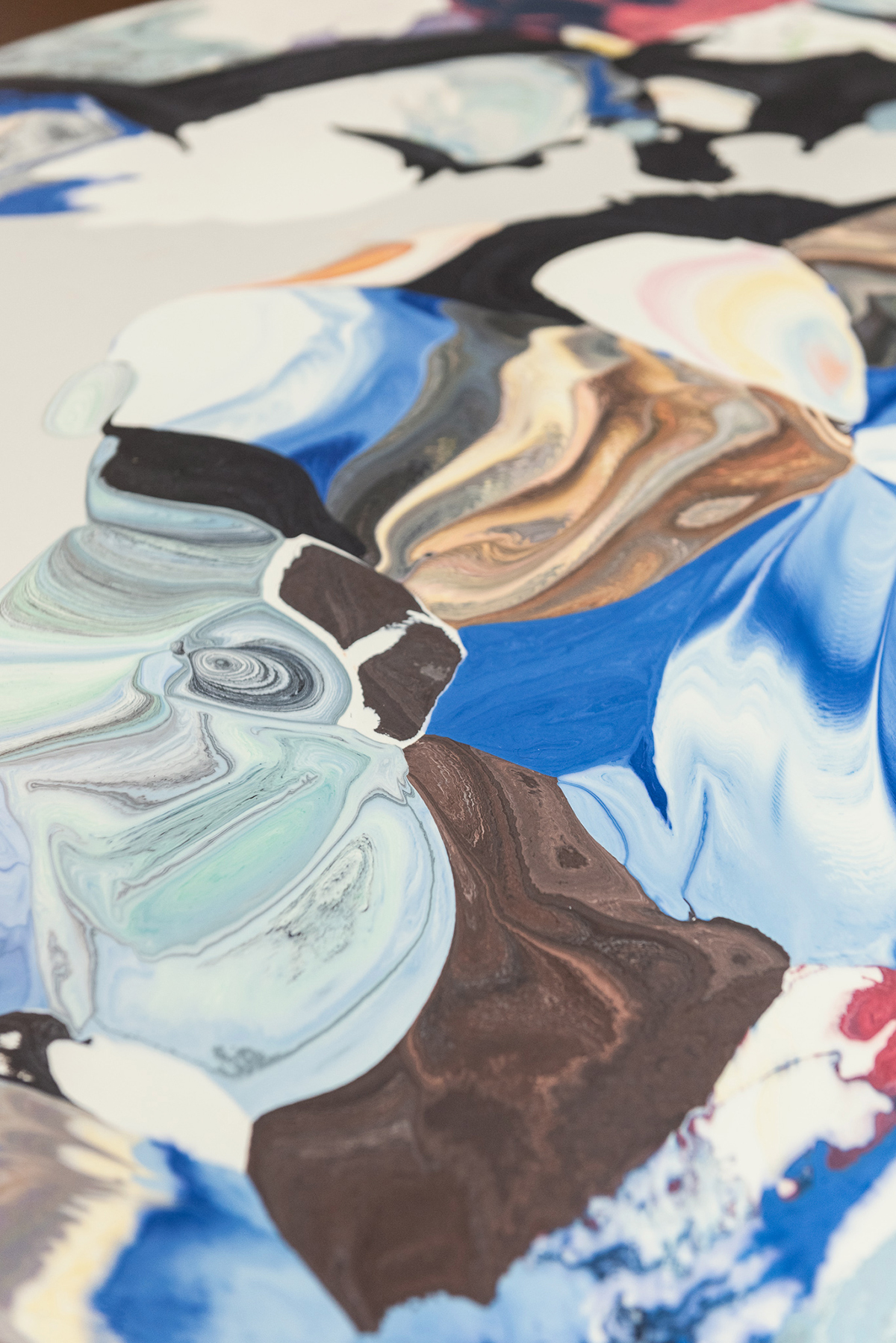 Melting Pot tables
Tell me about the special technology and equipment you've developed in your practice. Is much of it exclusive to you?
Most of it, actually! I tend to design the process first and then the product. I find this to be much less stressful and more collaborative. I'm not interested in making a machine do what I want it to do, I would rather listen to that machine and design something that accommodates its limitations. The end result is always more interesting.
I started by designing a plastic extruding robotic arm using lots of borrowed and loaned parts. Once the system was more or less functional, I bought two arms from a closed-down car factory, and those are still responsible for extruding all our lights and chairs. In the beginning, there was so much to learn, and mountains of failed prototypes. From there, I developed a large-scale press to re-melt these failures into solid tables.
What have been the high points or breakthroughs of your career thus far?
Within a year of launching the Endless Chair, I won the Dutch Design Award and was curated into a show at MoMA. To be honest, it doesn't get much better than that! I'm really proud that we still make everything in-house, in a building that we own. It just gives a certain comfort that, whatever problems may arise, the solution is in our hands.
What is your studio practice like?
We have a team of 18 people, so I'm in amongst the group from 9am to 5pm. The studio is my baby, so I'm often the one slipping into the most neglected corners of the business and fixing it up. I'm not really a designer until after business hours when the lights are mostly off and I can turn up talk radio really loud. It doesn't feel like work. I don't know what else I would rather be doing with my time.
Where and to whom do you turn to spark your creativity?
My team! We're such a weird and diverse bunch at the studio — there's always criticism around the corner when I need it. Working with a larger team has also been a lesson in the universality of beauty… when something really sings, the whole team gets behind it. Carpenters, welders, sanders, salespeople — sometimes beauty is just universal. The workshop and our machines are still full of surprises; I'm never done with finding new things to make with what we have. I find limitations to be really essential, and then the design process becomes more about a discussion between myself and the possibilities.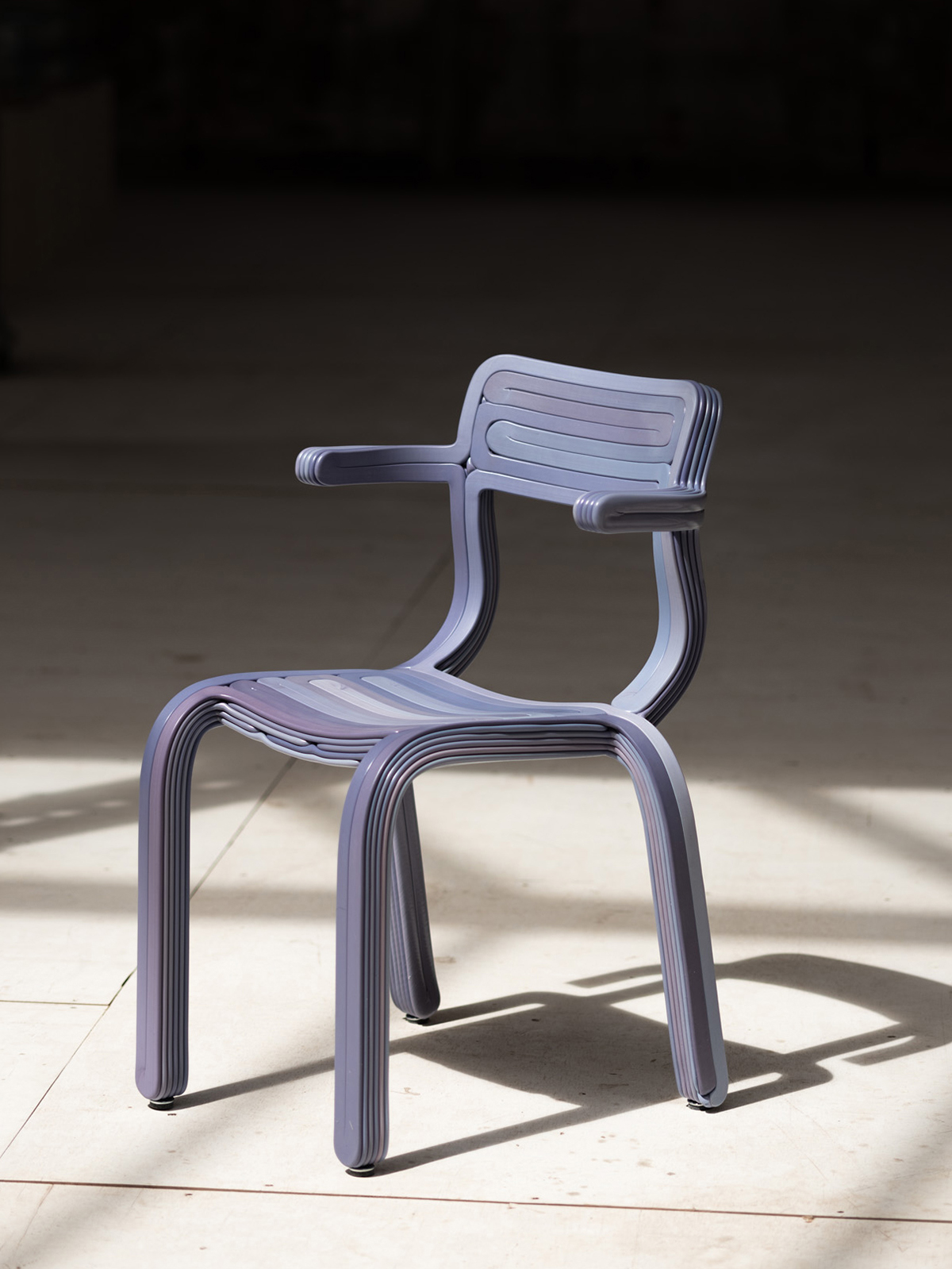 RvR chair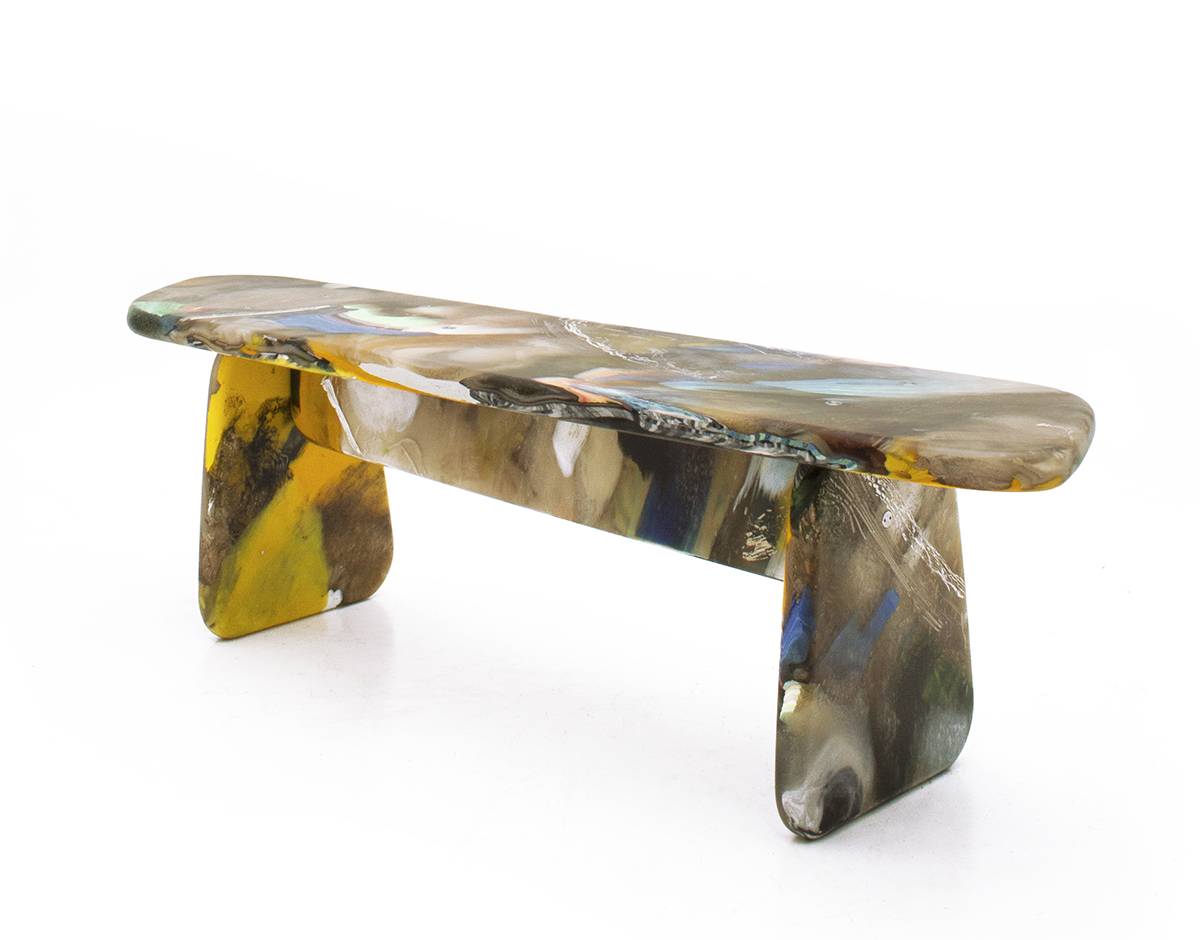 Menhir bench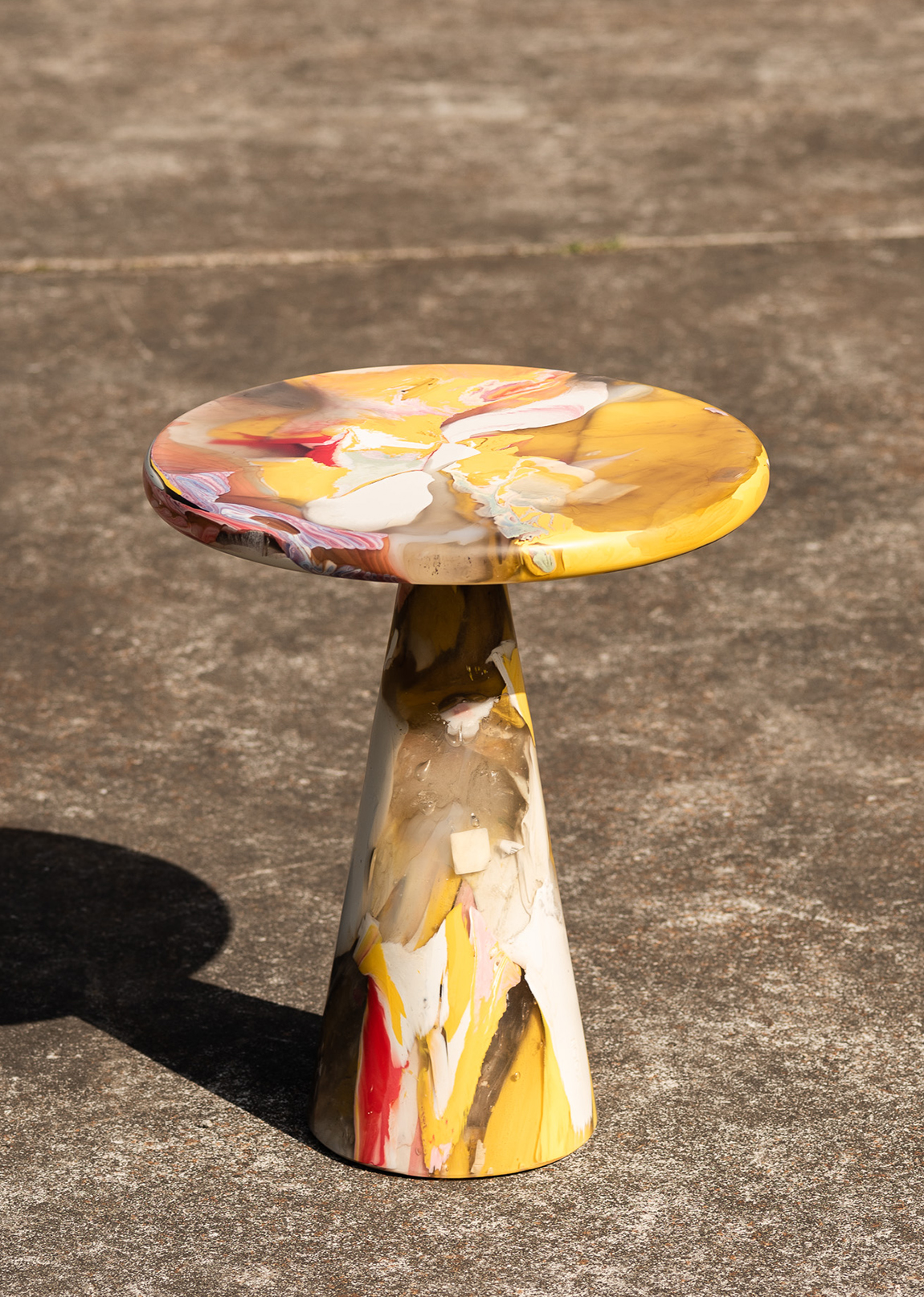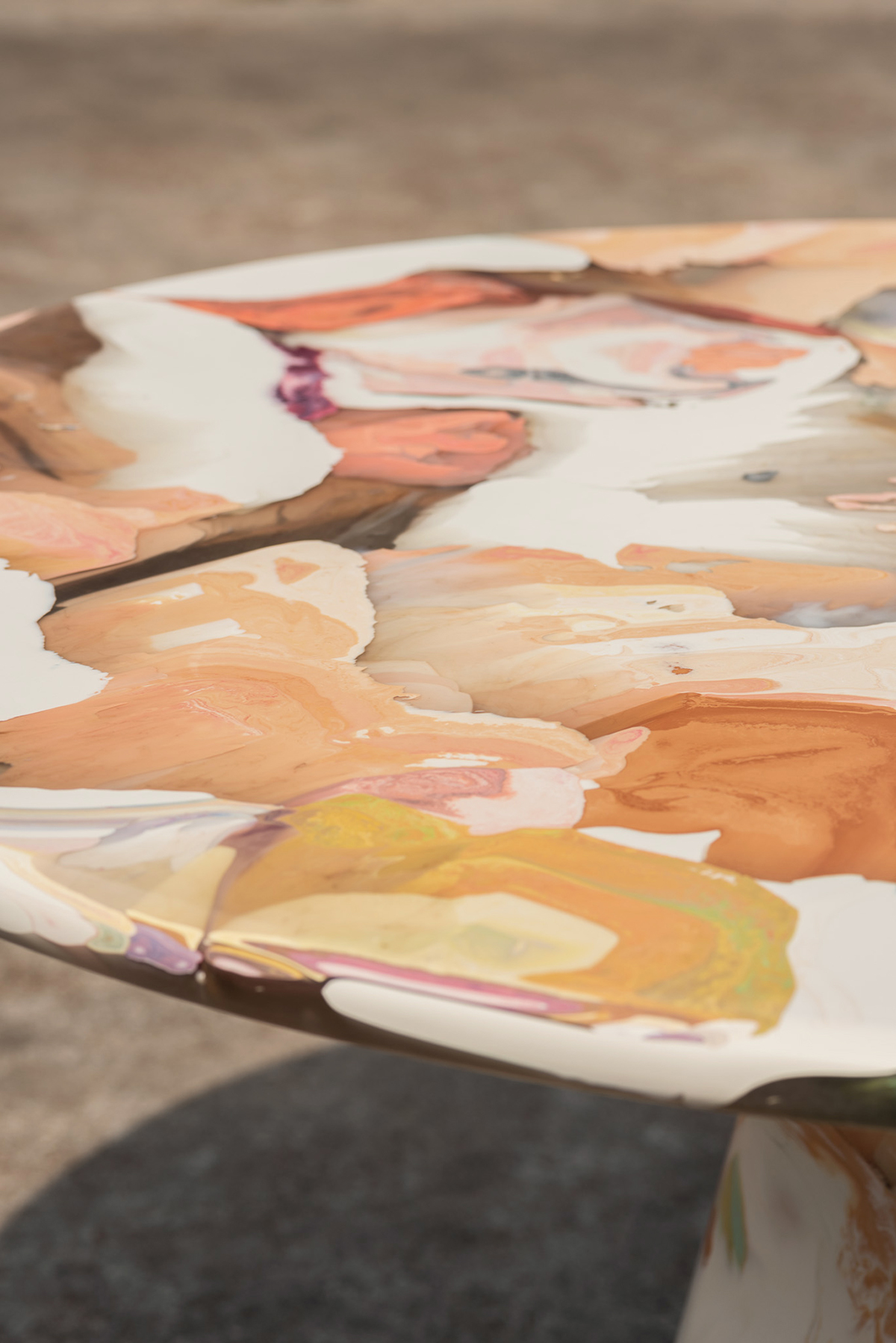 Melting Pot table