07.29.21
This Exhibition Shows How Cranbrook Helped Pioneer the Cross-Disciplinary, Craft-Based, Experimental Design and Art of Today
Most people in the design and art world know the highlights of the Cranbrook Academy of Art's storied 90-year history: Its Detroit campus was masterminded by Eliel Saarinen, it was a breeding ground for the stars of mid-century modernism, and unlike the Bauhaus or Black Mountain College, it's still churning out top talents today. But in June, the school launched the results of a four-year deep-dive into its own history — in the form of a sprawling exhibition and a 600-page book, both called With Eyes Opened — that offer a much more nuanced view of Cranbrook's game-changing influence. "Back then, art school was about learning from history, and maybe if you're good enough, you create innovation," says Andrew Blauvelt, Cranbrook's museum director, who curated the show and wrote the book. "It was never about striking out with your own crazy ideas." When Cranbrook was founded in 1932, it threw this notion out the window, and fostered a learning environment based on boundary-breaking and forward-thinking experimentation.
Among the first teachers at the school — all of whom were practicing artists and designers, another Cranbrook signature — were women who taught crafts like fiber art and ceramics, and who helped pioneer the American studio craft movement. And because the program was completely open-ended, even those who came to the school to study industrial design or architecture under the likes of Florence Knoll or Eero Saarinen got to dabble in craft, and vice versa, setting the stage for the cross-disciplinary nature of today's contemporary art and design. "Eliel Saarinen, who served as the first president of the art school, would make architecture students weave or make pots, to broaden their exposure to materials," explains Blauvelt. "He wanted everyone to be a maker. Some art schools can be very conceptual, and outsource the making to other people, but that's always been unheard of here."
The exhibition expresses this by mixing up the more than 275 works made by more than 220 artists throughout the last century, and showing how they worked across architecture, ceramics, design, fiber, metals, painting, photography, printmaking, and sculpture. In one vignette, a 2018 Alufoil piece by Chris Schanck, who studied design and sculpture, is juxtaposed with a 1960s credenza by Paul Evans, who studied metalsmithing, and a wild 1970s chair-table-rug combo by Urban Jupena, who studied fiber. "Furniture was one of these areas where different disciplines could converge," says Blauvelt. "That's something that ties the past and the present together in a big way."
Furniture is of course Sight Unseen's specialty, but rather than simply sharing our favorite functional pieces from the show, we decided to celebrate its focus on diversity by asking Blauvelt to tell us about 6 artworks and objects by varied practitioners from the school's history that — apart from Maija Grotell — we didn't know much about, but all of whom add to the narrative of an institution that was groundbreaking in so many ways. Read Blauvelt's words below, then go see the exhibition in person if you find yourself in Detroit between now and September 19.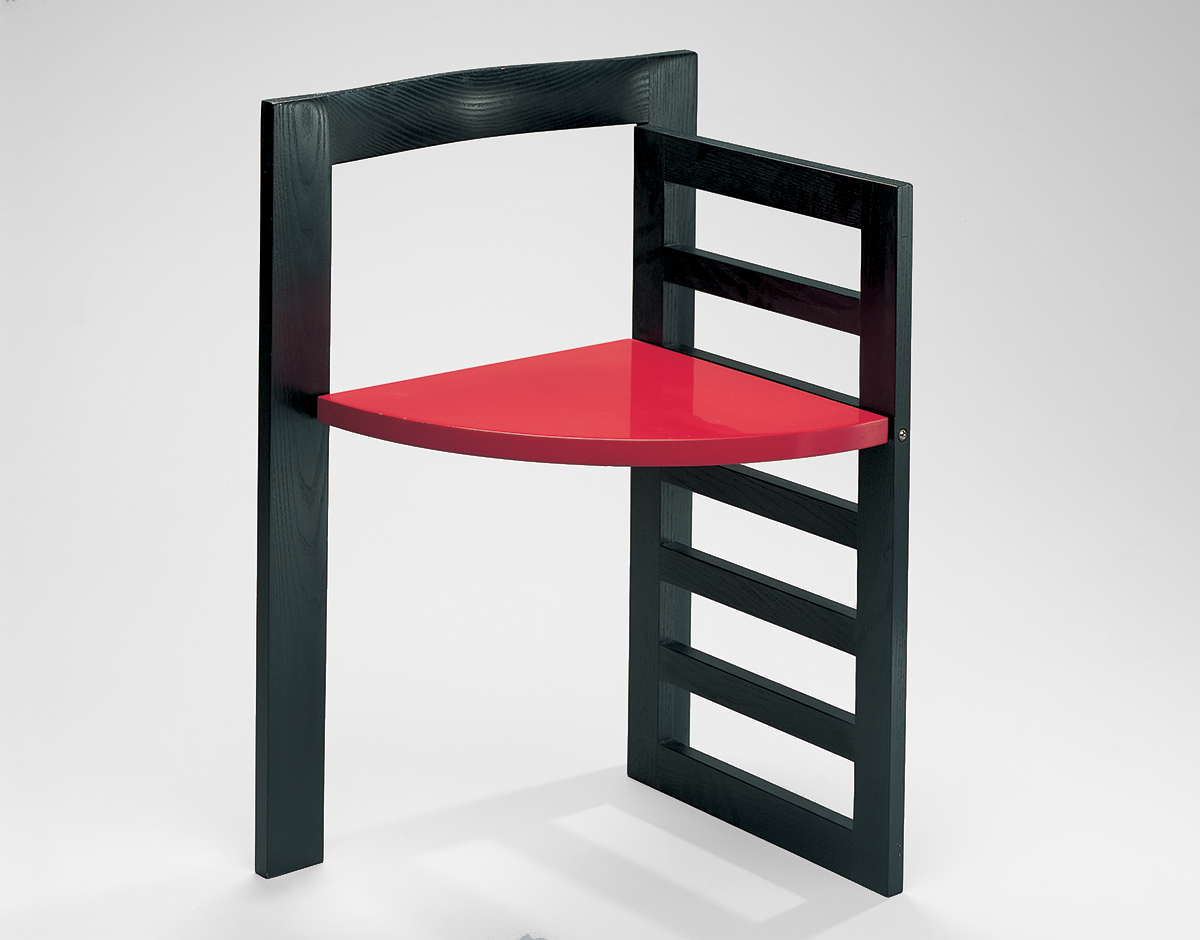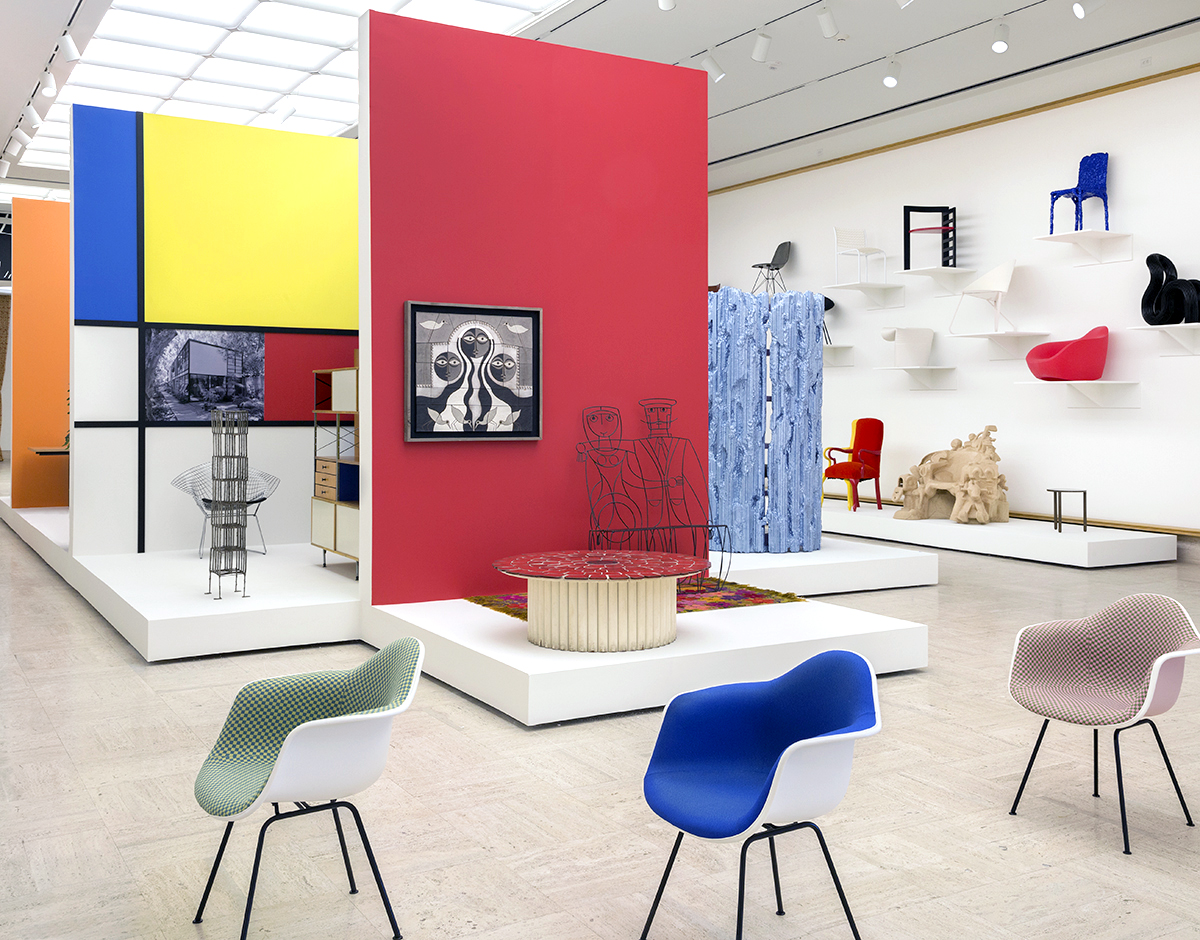 Michael McCoy
"McCoy and his wife Catherine were the heads of our design department from 1971 to 1995, serving as co-designers-in-residence. This piece is called the Door Chair. Designed in the 1980s, it was about the transposition of scale — the architectonics of architecture, but reduced to the scale of furniture. The chair is hinged, and its seat folds down, so it can collapse into a single plane. McCoy designed commerical furniture as well, like the Bulldog chair for Knoll and an '80s task chair, but he was important because he introduced the concept of what we used to call 'art furniture.' He and Catherine used to show at places like Art and Industry in New York. Contemporary furniture designers owe a debt to them because they were the first to move from commercial furniture to limited-edition work that sold through galleries and wasn't mass produced."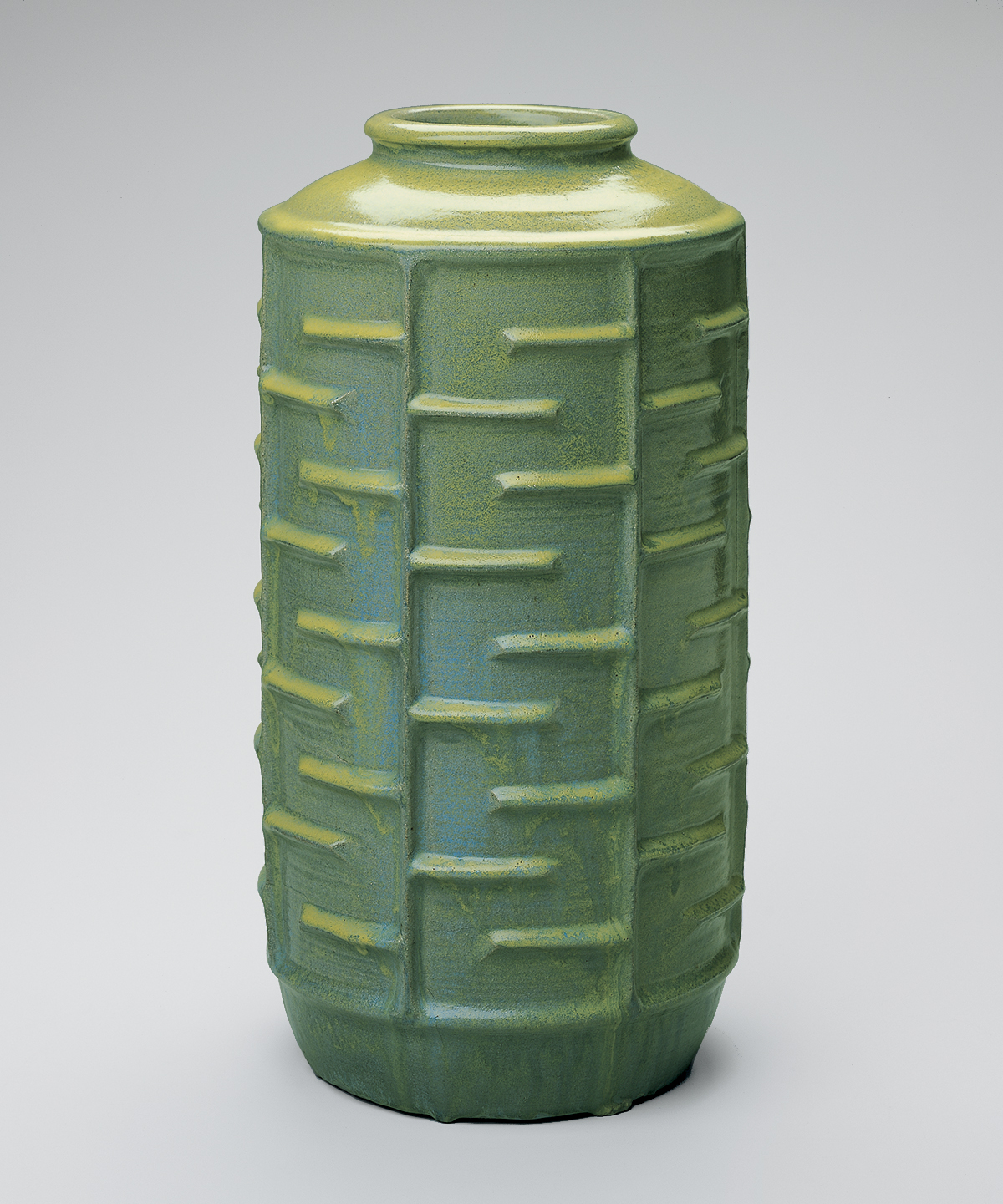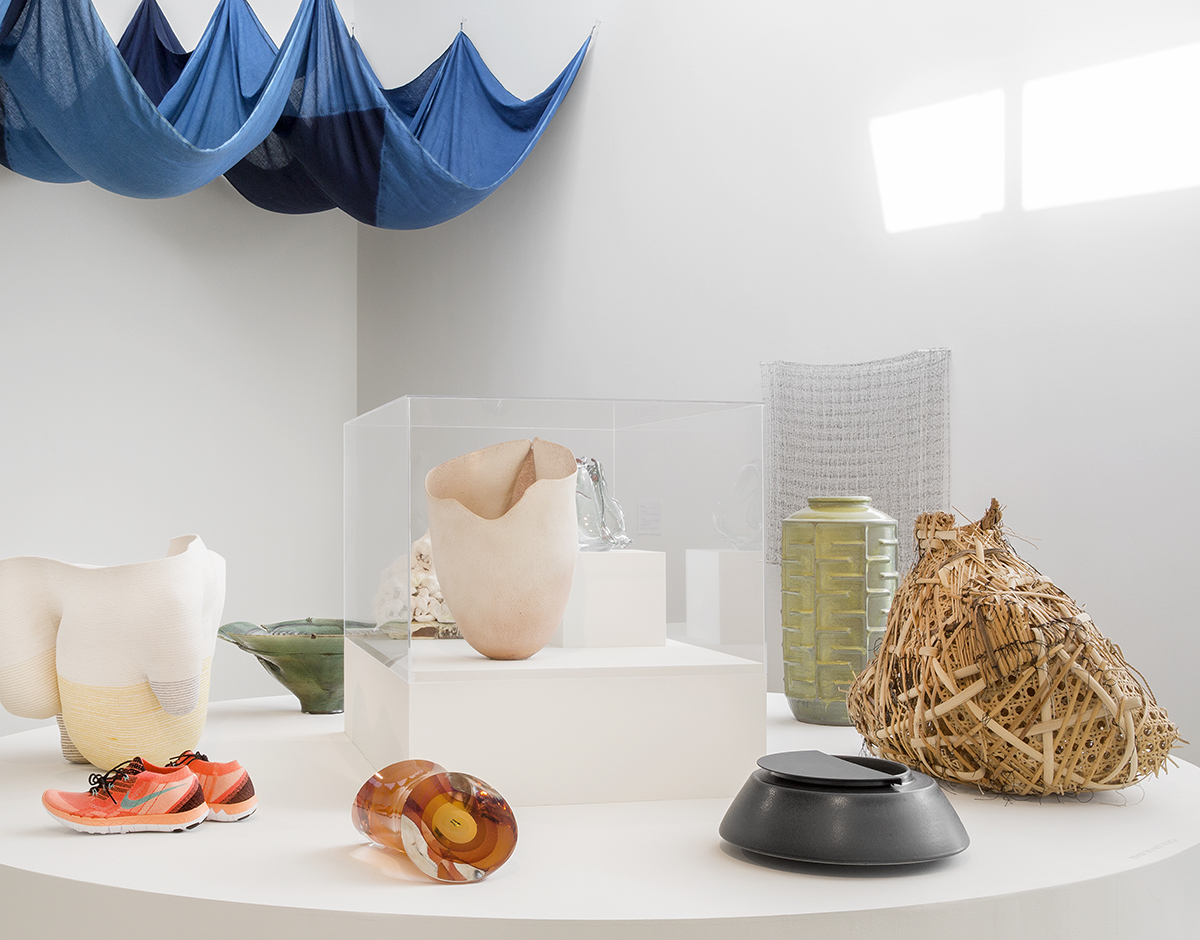 Maija Grotell
"A lot of people have heard of Cranbrook in the sense of the Eameses and Florence Knoll and Bertoia, all those guys and gals here in the late '30s who were doing the experimental work that formed the basis of mid-century modernism. But at the same time, there were two women here — Maija Grotell and Marianne Strengell — who were innovating craft disciplines since the beginning. Grotell was head of the ceramics department, and Strengell was head of textiles. Grotell was a major innovator and was considered the mother of the American ceramics movement. She trained in functional pottery, but was very much interested in exploring ceramics as a material discipline, focusing on kiln design, glazing formulas, even working on a wheel.
"She's part of the story of these two women who led the craft revolution. She and Strengell and their students were major feeders into the American studio-craft movement, looking at the artistic potential of things like fiber and clay. This green vase is interesting because its pattern is an echo of the cast-bronze doors to the museum and to the library, which were by Eliel Saarinen, who designed most of Cranbrook's campus."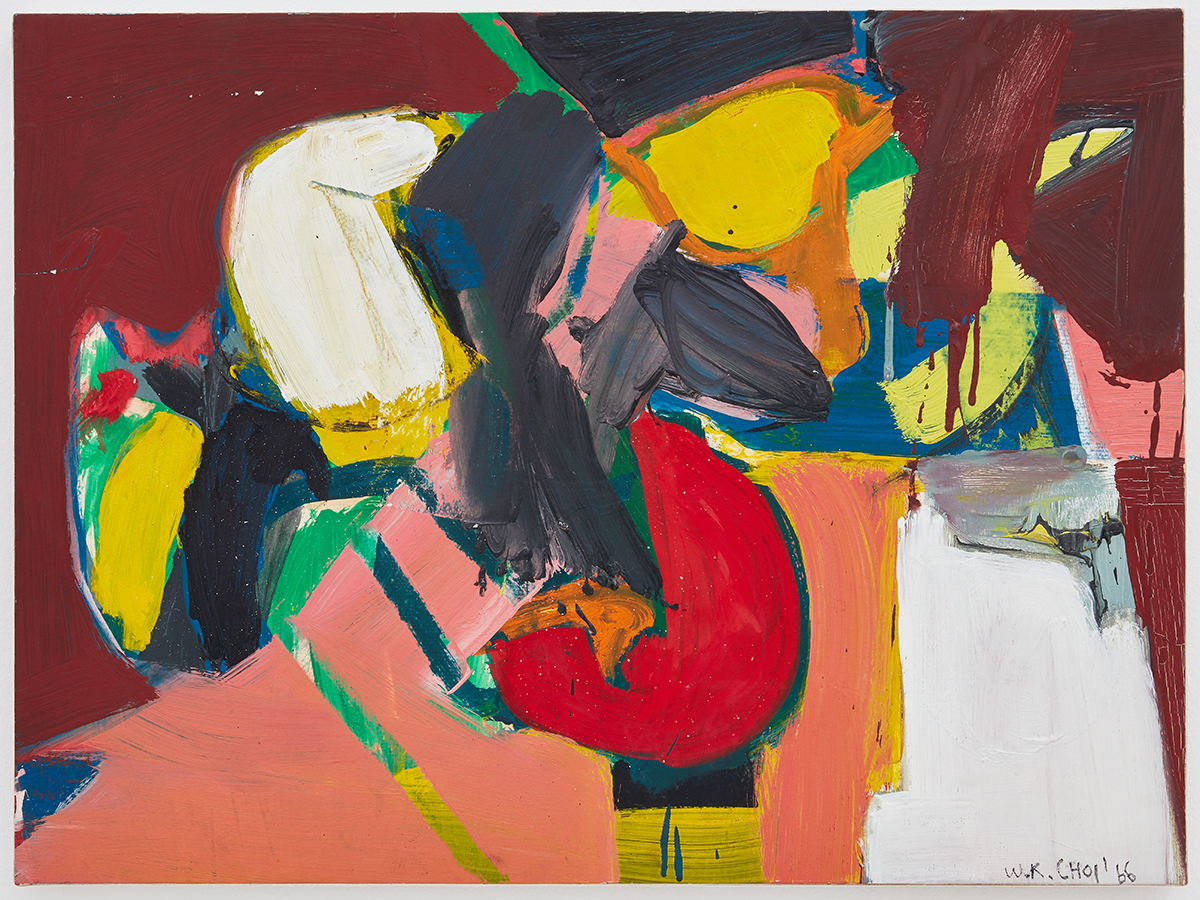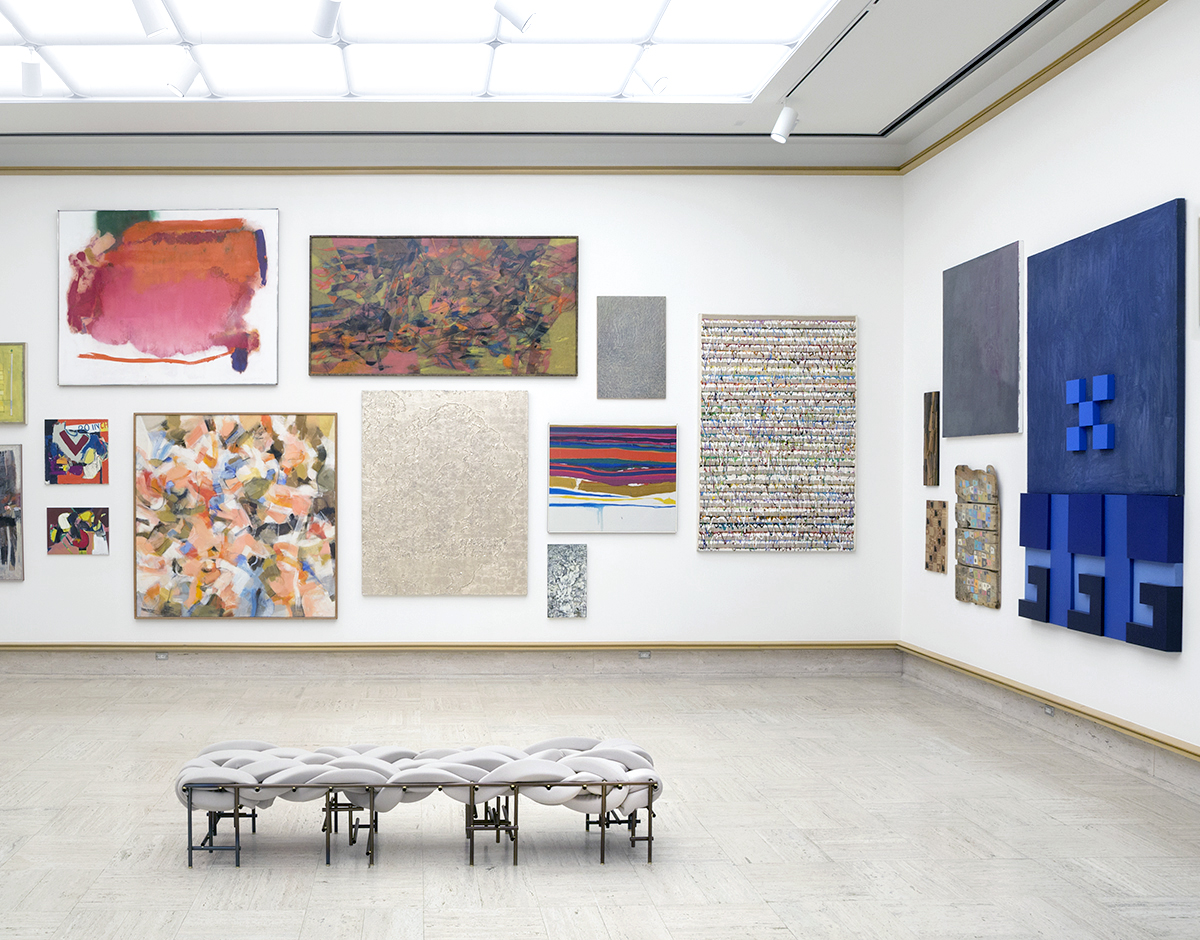 Wook-kyung Choi
"The academy was, almost from the beginning, an international art school. Mostly because the reputation of Eliel Saarinen, who was Finnish and one of the top architects at the time, attracted a lot of attention. So there was some domestic diversity, but it was mostly diverse in terms of international students. Choi was part of that legacy. She came to Cranbrook from Korea and received her MFA in 1965. Cranbrook painting doesn't have a house style — it's always been about both abstraction and figuration — yet it was heavily skewed toward abstraction when Choi arrived. She was a bridge between abstract expressionism and pop art. She incorporated pieces of language into some of her paintings, her abstraction having more of a calligraphic basis to it, referencing Korean culture and writing.
"She tried to make a go of it in the US, but she ultimately went back to Korea to teach and practice art there. Now she's one of those people that historians and curators are digging around for. She's one of the missing links in art history. Pop art has been a big trend in recent years, but why do we think that's American? It was international in scope. So a lot of research lately has gone into expanding the canon in that way. Into finding voices that were lost to history because of racism and sexism in the US."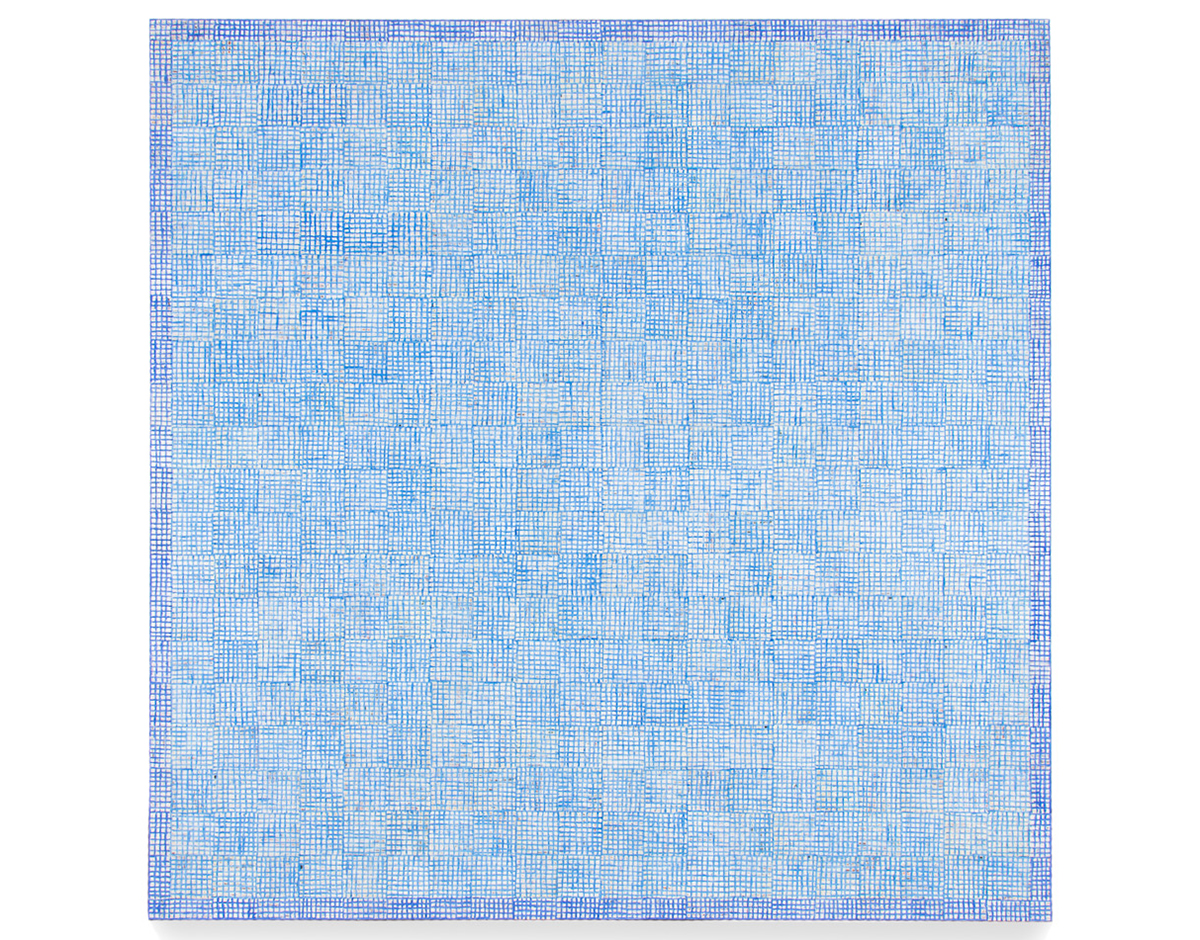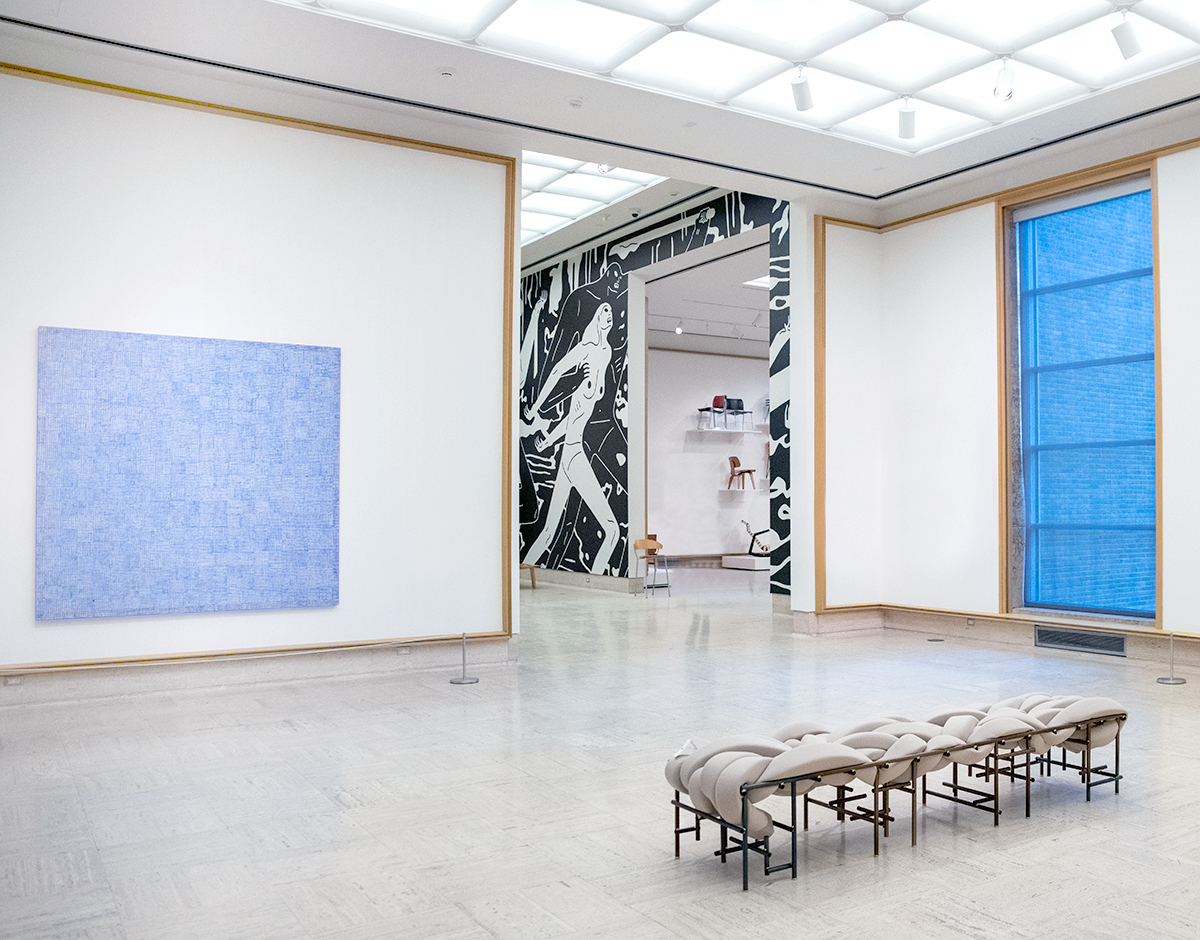 McArthur Binion
"McArthur Binion studied painting with George Ortman (below) and graduated in 1973. He's a constructionist and is the hot commodity now. He first moved to New York and was in the New York scene, but eventually moved to Chicago, and since the 2000s his career has taken off. He's interesting because he's working in an abstract mode, but he often incorporates biographical elements and materials into his canvases, like his image from his passport and driver's license, or more famously pages from his little black book (your address book, before smartphones). He's incorporating this very personal, referential element, so it's not purely abstract. He works in gridded modules, on board or paper, and he uses oil paint sticks instead of paint. This piece is from his more recent DNA series, in which he's used pages from his contacts book in these gridded structures."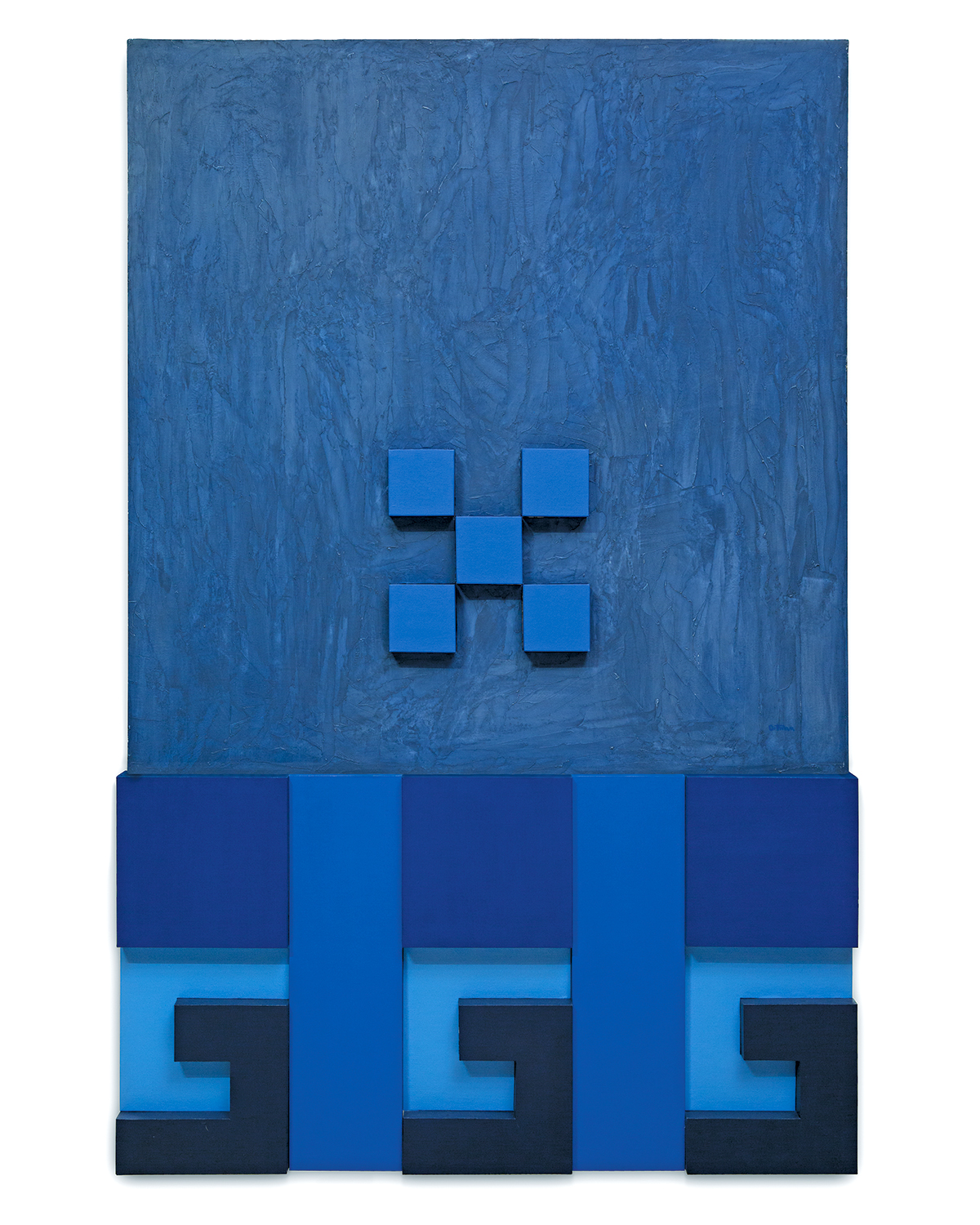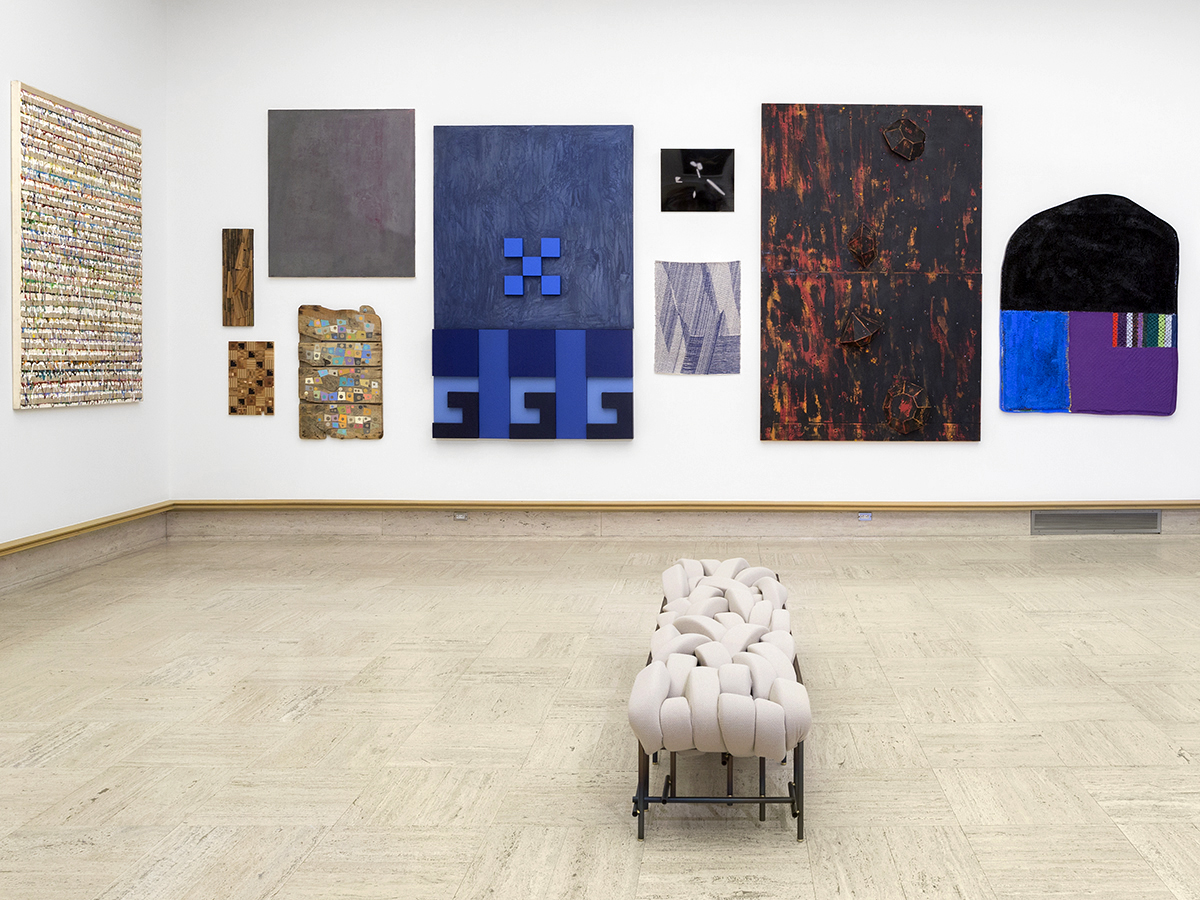 George Ortman
"George Ortman was head of painting from 1970-1992. He'd already had a very prolific career before coming to Cranbrook and was kind of a hot commodity — he'd been in New York City and studied with Hans Hoffmann, and was famous for being one of the innovators looking at the idea of the shaped canvas. Of moving painting from a flat plane into this realm of sculpture, or having a sculptural quality. This 1977 painting is quite intricate in terms of its construction, and is in our collection because it's an homage to Eliel and Loja Saarinen. The elements at the bottom that look like Cs, that line work is a reference to some of the architectonics of Saarinen's building designs. Ortman was in that space between painting and sculpture, and he also had a prolific number of students who studied with him."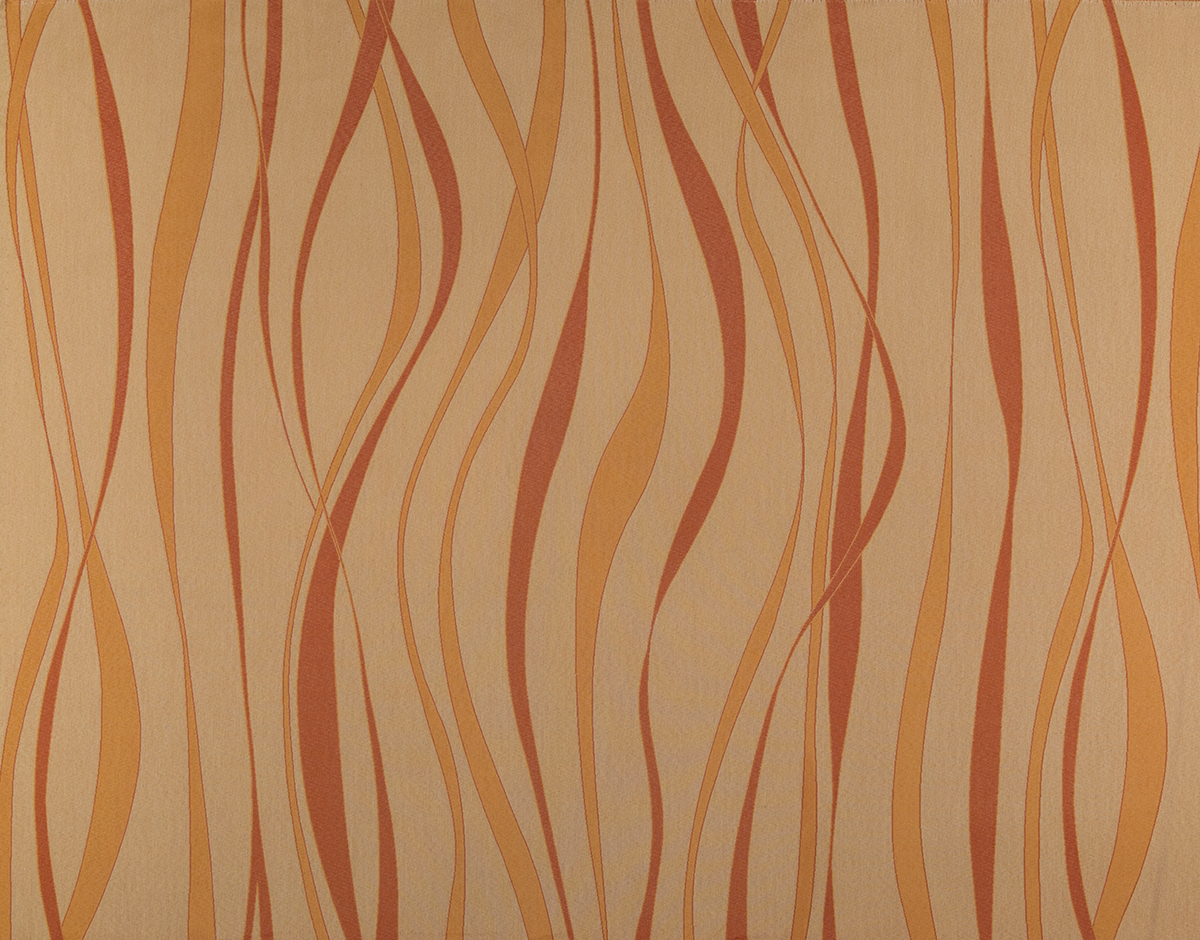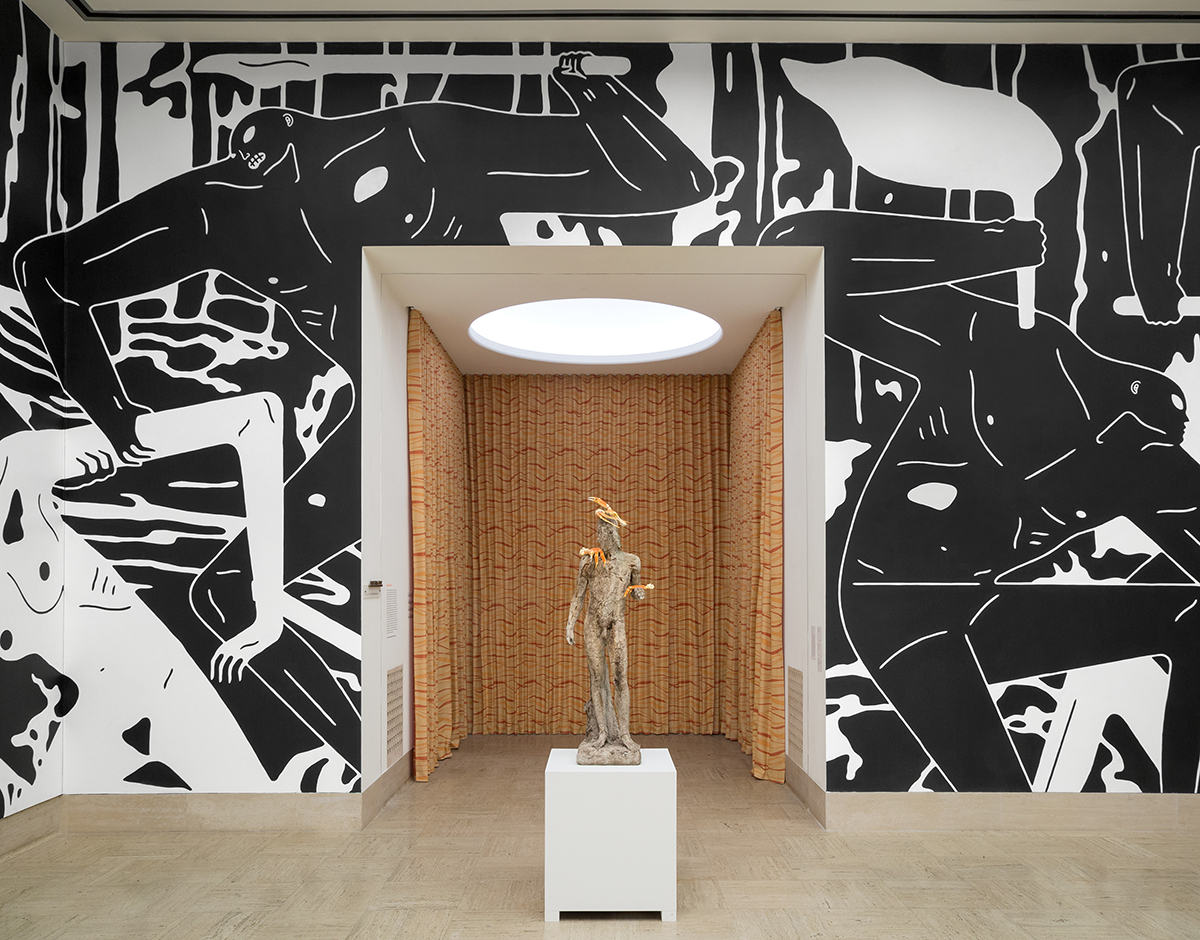 Ruth Adler Schnee
"Ruth Adler Schnee — who got her MFA at Cranbrook in 1946 — originally wanted to be an architect, but because of the sexism in the industry, it wasn't going to happen. But she did study design, and worked with a lot of architects. Her thesis project at Cranbrook was a model of a typically modern house with a lot of glass walls, and she wanted curtains for it, but there were no decent modern curtains she could find, so she made some. The project won a competition in Chicago and images of her model got published; an auto dealer, who needed curtains in his dealership because the sunlight would fade the car paint, contacted her asking for them. That started her on the path of becoming a textile designer.
"This pattern from 1947 is called Strata, and it was her first commercial pattern, used primarily for hospital privacy curtains. It was originally screen printed in a horizontal orientation, but in 2010 she was contacted by Knoll Textiles to rethink it as a woven fabric, and they flipped the pattern to a vertical, so it almost looked like flames. When we installed it in the museum, we oriented it horizontally again. Adler Schnee was also interesting because her family fled Nazi Germany in 1939, and ended up moving to Detroit. Her mother studied at the Bauhaus, and her family friend was Paul Klee, so she had a whole history steeped in avant-garde modernism."