10.26.21
Nick Pourfard, the Guitar-Maker Turned Furniture Designer On the Rise
It's not too much of a stretch to say that skateboarding gave Nick Pourfard his foundation in design. Building ramps and obstacles for his friends provided an early education in how to put materials together effectively, and old skateboard decks are what he's used to construct the body of the guitars he's been producing since 2014, under the name Prisma Guitars. Recently, this San Diego–based luthier (maker of stringed instruments) moved into furnishings, bringing his meticulous skills and try-it-and-see approach with him.
Pourfard is completely self-taught in woodworking and machining, though he double-majored in industrial design and business marketing at San Francisco State University. He's been building furniture and lighting for himself but only started promoting it this past year. "I just love the freedom in designing furnishings and lighting. Guitars have to play well, look good, sound good, and feel good. There are just so many factors that make you feel a little more boxed in when it comes to being creative, by comparison."
Furniture design has its parameters, of course, but it's allowed Pourfard to contrast the precision of measurement and the patterns of math with something more loose — organic shapes offset by angularity, like his Bloop lighting, where plump handblown glass blobs glow and rest on a base of geometric steel. There's something companionable, a kind of friendly quality, to his pieces, whether it's the warmth of his ceramic Mushroom lamps or his Box chairs, which despite the rigor of their form, still invite you to sit.
And while his furnishings take him in a different direction than guitars do, a common thread of engagement runs through all of his work. "I don't believe I draw too much influence from music in my design, however I do believe no matter what I make, most things I build usually have some element of human interaction. This is where I am very drawn typically — physically moving the lampshades to direct light, chairs that move with you, or getting lost in a song."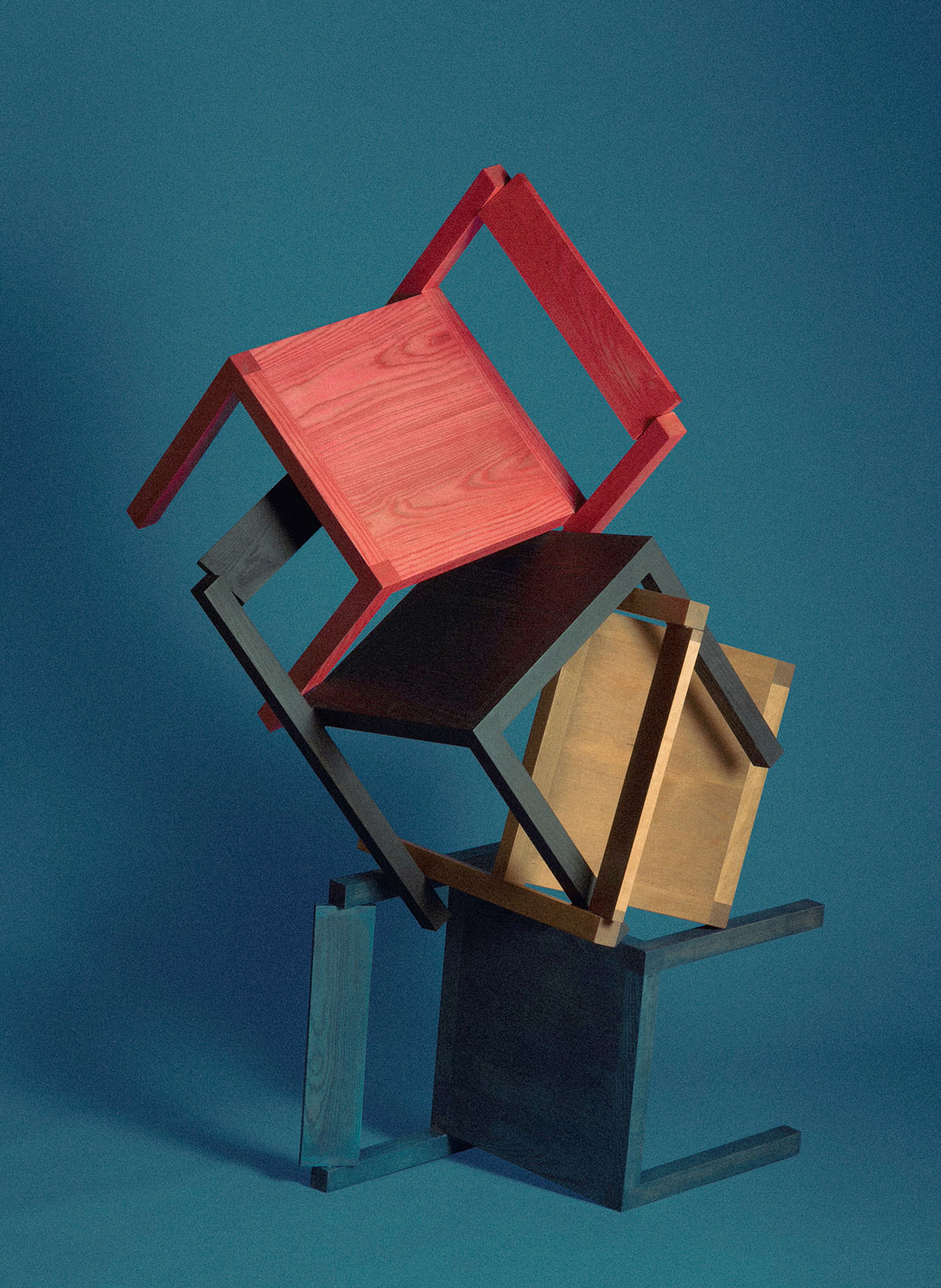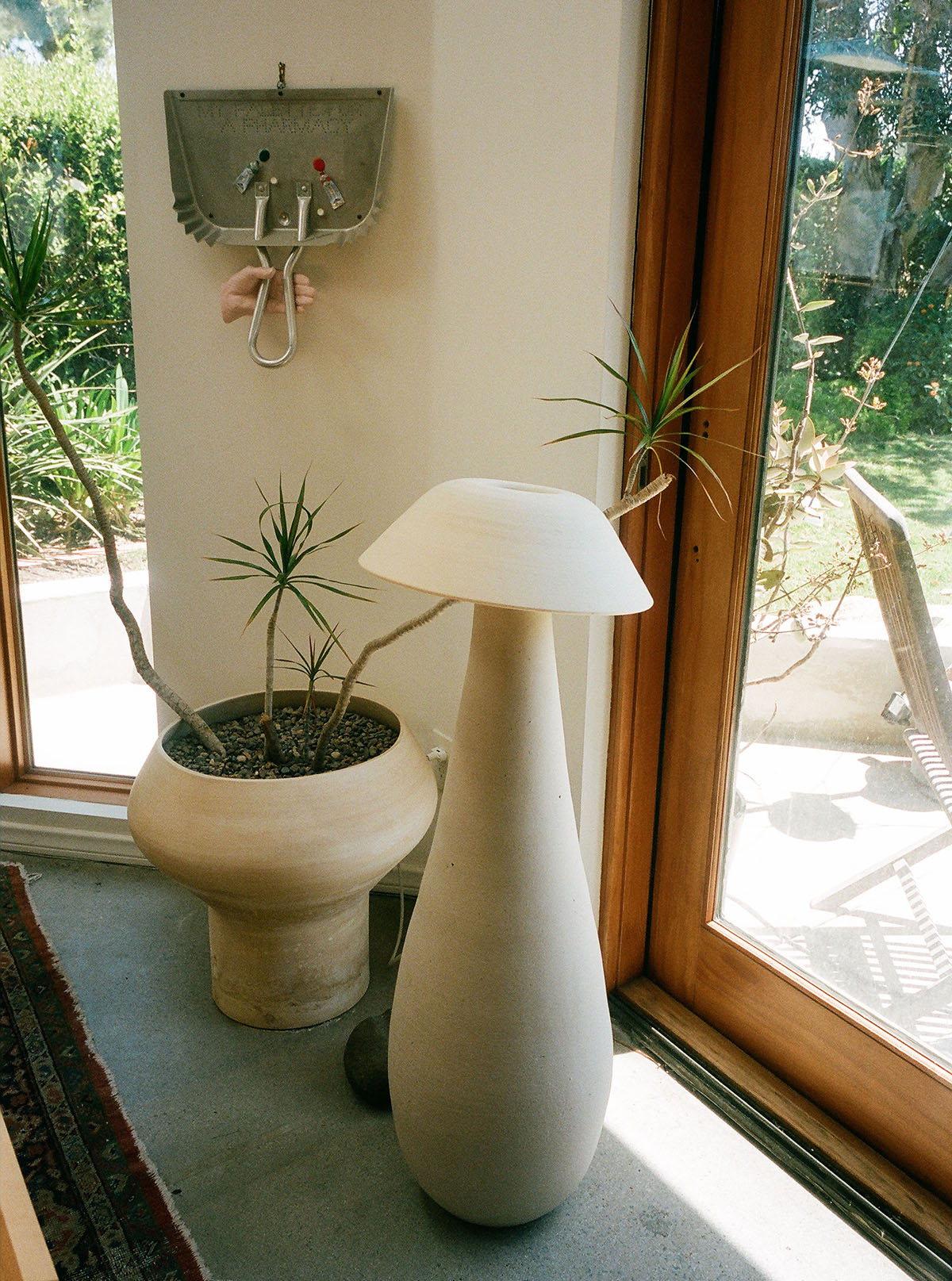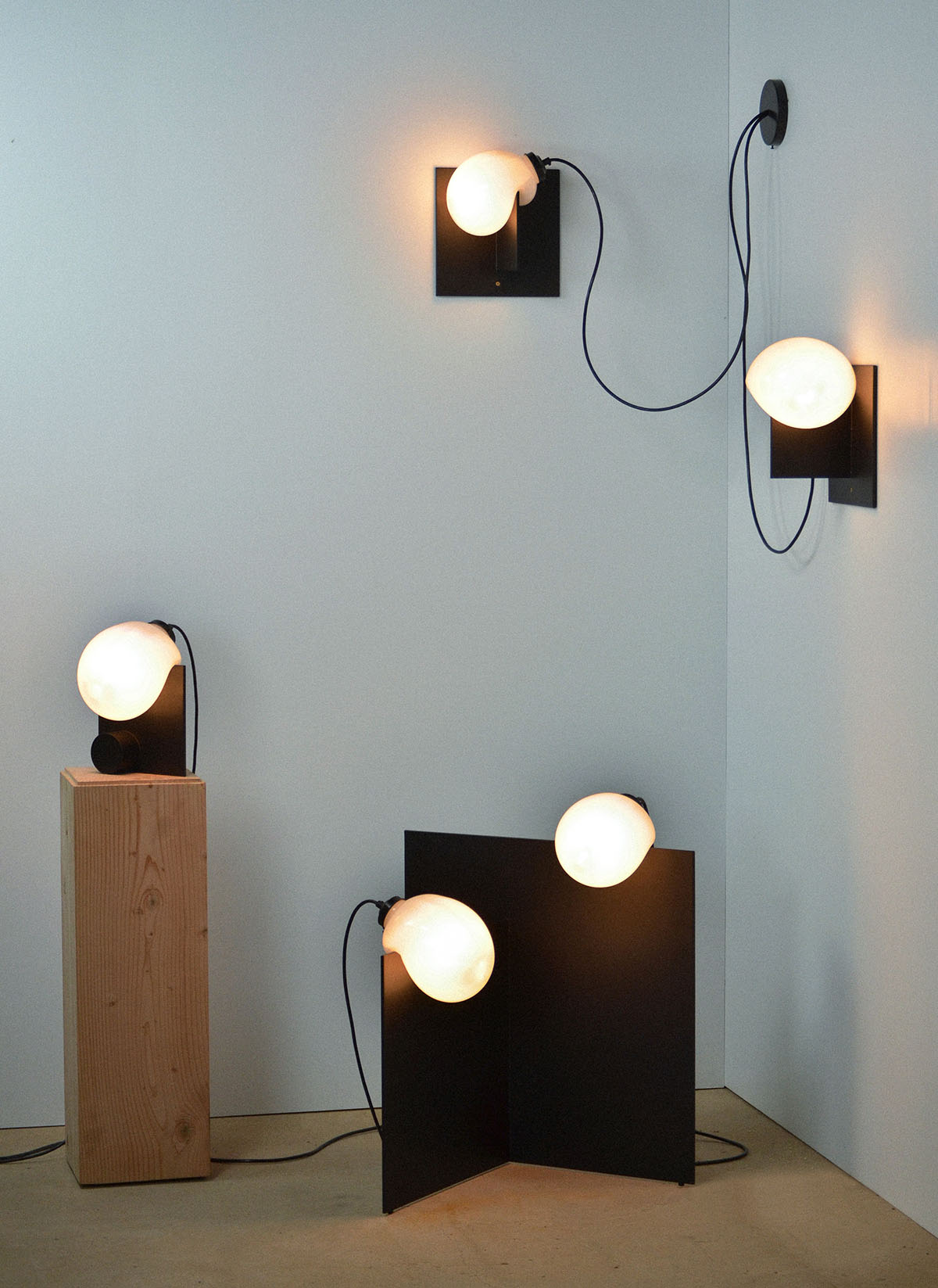 How did you get started, essentially, as a maker? 
I spent my entire childhood making skateboard ramps for myself and my friends. At some point it became less about making a singular obstacle for people to use, and more about making a whole cohesive system of obstacles. Thinking of lines, speeds, and where the next logical place the skater would go all came to my mind. By using, watching, and listening I was slowly becoming a designer.
I built my first guitar when I was 18 using my old skateboards. Once I photographed it, I was shocked to hear how many people wanted one, and I started my company. We have built hundreds of custom boutique guitars all over the world. Bands like Iron Maiden, The Mattson 2, Toro y Moi, Earthless, and Kings Kaleidoscope all have one.
What prompted you to build that first guitar?
I was making a bunch of wooden spoons and little things at the time and figured there would be no harm in trying to make one. Best scenario would be that it worked, and it did! I've been playing since I was 11 (mostly just with friends). I did not have any formal training in luthiery, but I was able to learn through watching others, watching videos, and trial and error.  
The Prisma guitars are made from recycled skateboards. What's the motivation behind that? 
Every skateboarder likely has dozens of skateboards in their closet. All of which will never be used again. Yet throwing them out feels wrong because each one represents some memory of a place, a trick, or certain friends you were with at that time. This is the perfect way of solidifying those memories into a new thing you can use.
I wanted to make something truly unique and using the old boards was a great practice of sustainability and creating my own material process. I didn't know that I was going to start a company. I keep doing it because it started purely as a way to tie my world of music and skating together.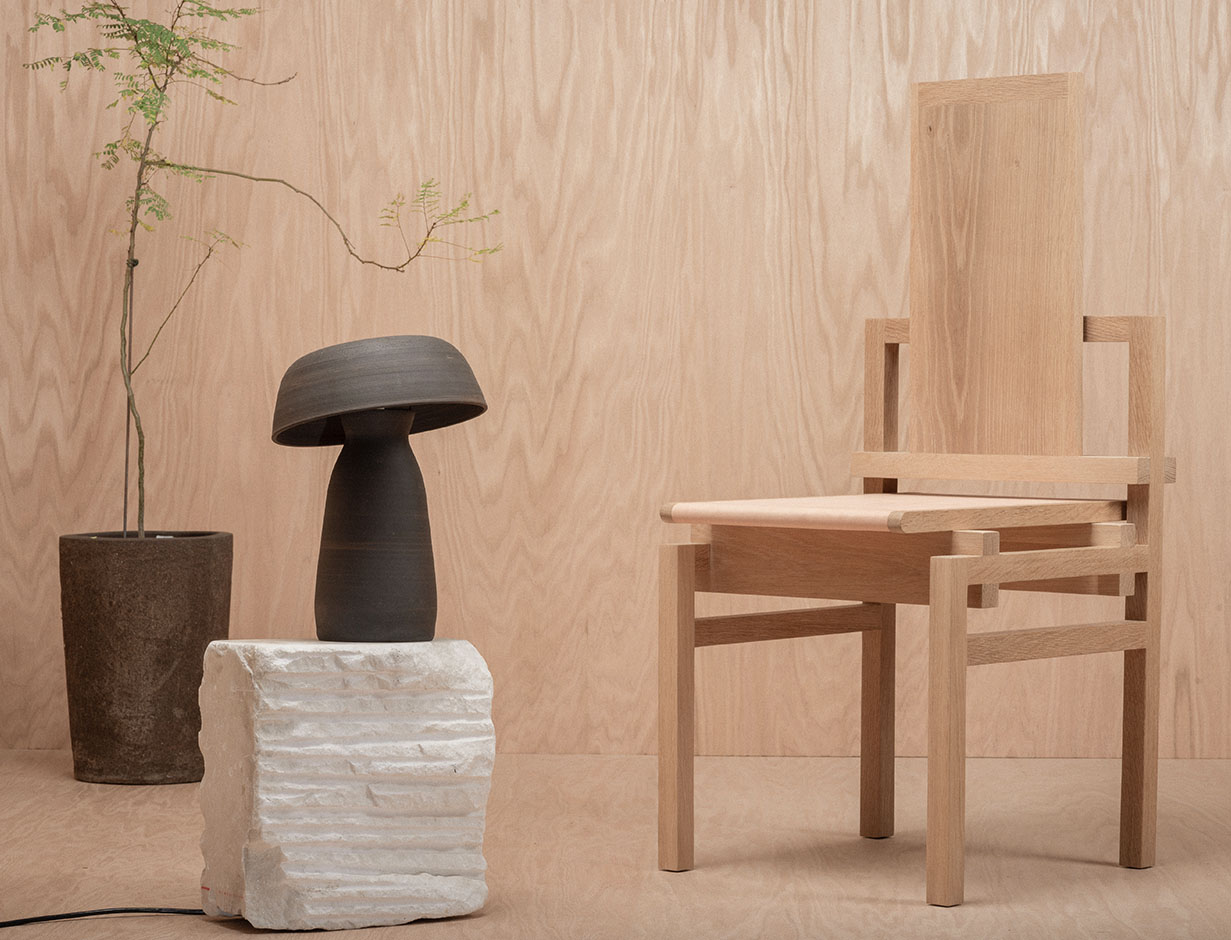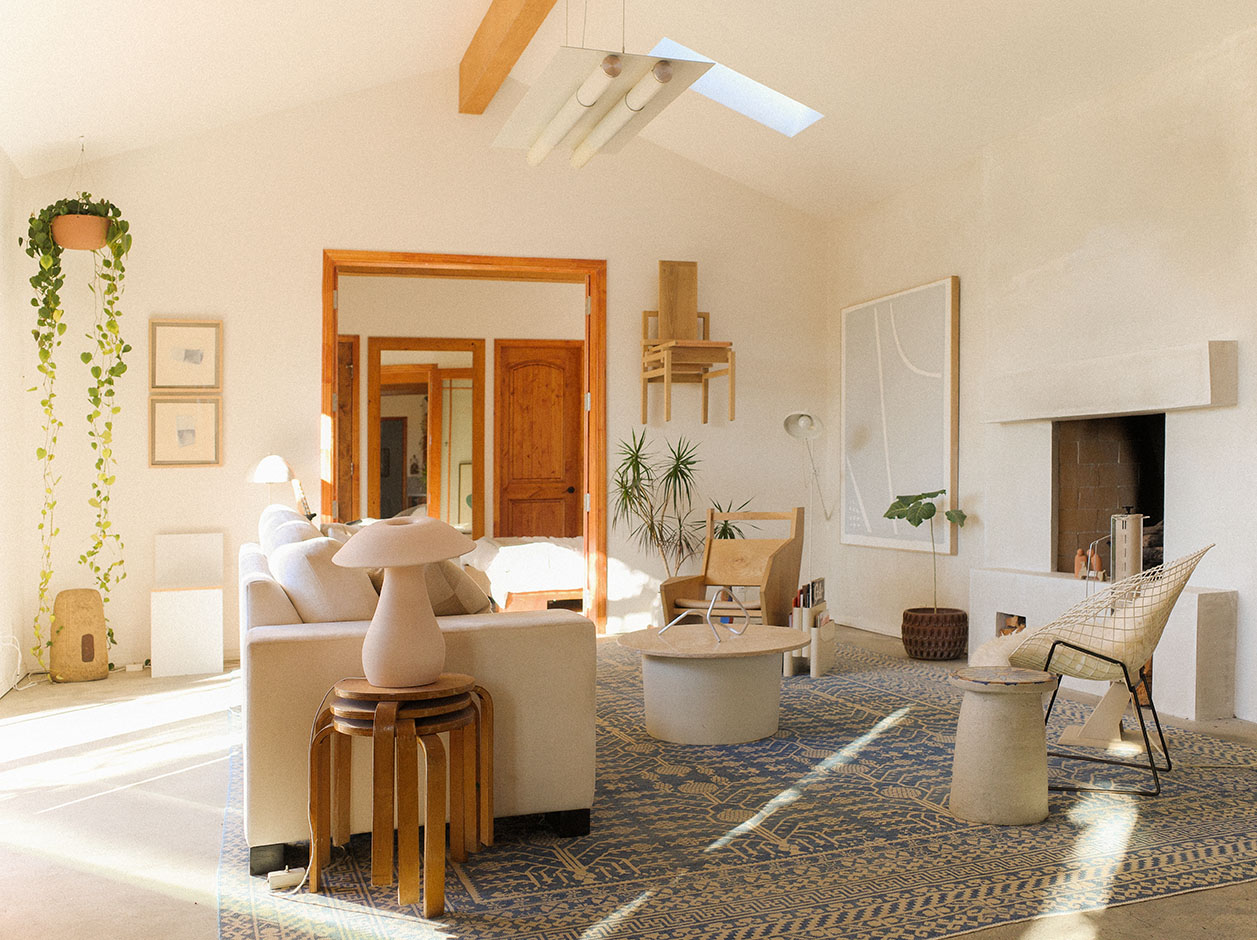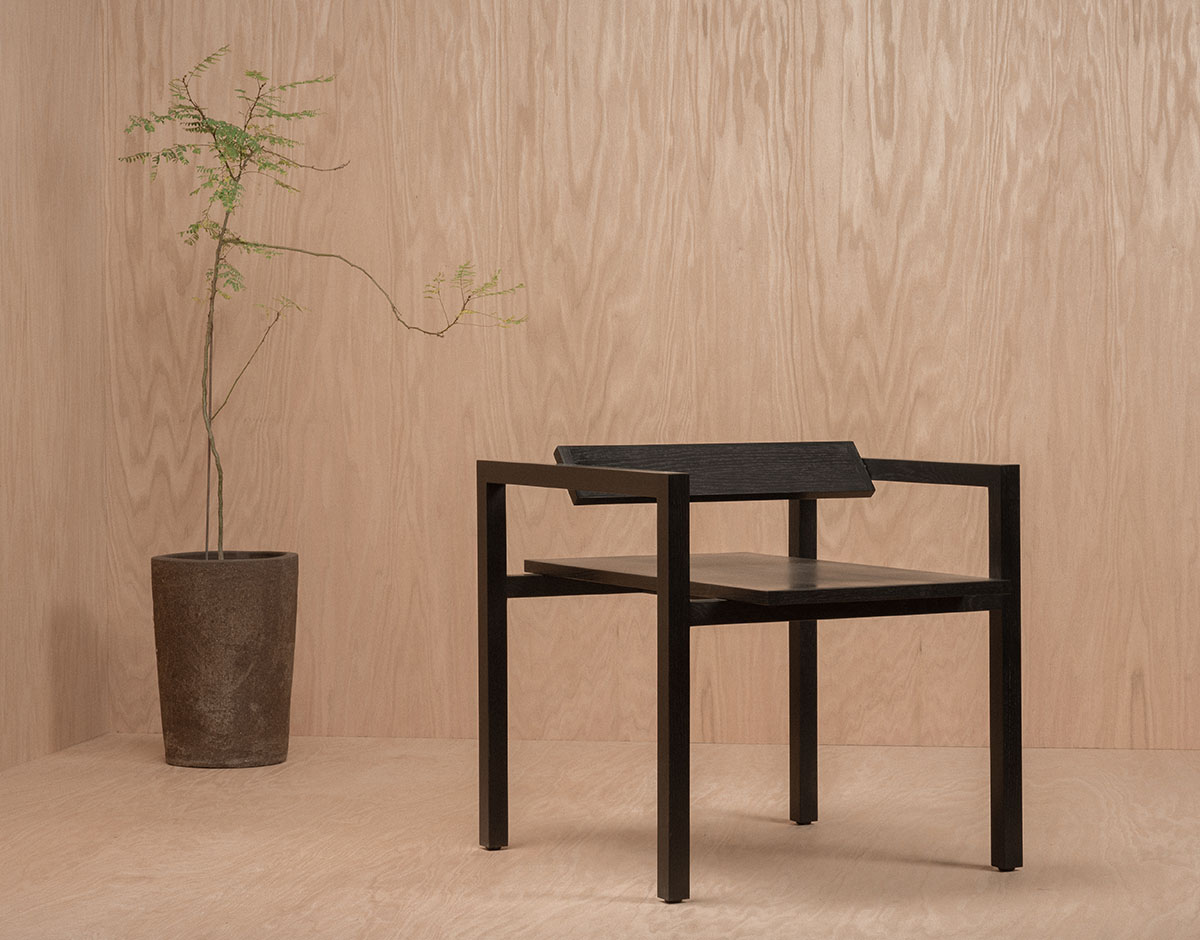 In terms of materials, your current design pieces feature ceramics (Mushroom lamp), glass and steel (Bloop lighting), and wood (BOX chairs). What determines which materials you use? 
I feel very structured sometimes so adding the glass or ceramics helps blend in some organicism the work needs. I love how there is so much uncertainty with those additive processes.
Also, I have been exploring earth casting recently as an escape from structure and help in the ideation of forms. I would love to learn more material processes and I try to take classes as often as I can. 
Earth casting – like Thomas Sayre's work?
Yes, just like Sayre's sculptures! Although, I wish I was making something so monumental. I make smaller sculptures right now in the dirt at my house. It's just an exercise in the hopes of stumbling upon a shape I otherwise would have never thought of. It could be interesting to make some facades or something based within architecture. I know that many things in Arcosanti [an experimental, micro-city in the Arizona desert based on the architect Paolo Soleri's design concept of arcology, which blends architecture and ecology] were built this way.
Now that you've taken a deeper dive into the design world, are there other designers or eras that inspire you?
I am curious about the works of people like Max Lamb or Gaetano Pesce — they are so calculated and expressive, but I still feel a great deal of improvisation from them.
But I'd say I'm drawing more inspiration in my own works from people like Gerrit Rietveld or Eileen Gray. It's about the shapes and the way parts are connected. I love that some things feel over-engineered visually, but there is certainly a reason that these sections must exist for the strength of the piece. And I love Constructivism because of its feeling of quickness. Interlocking parts or things resting on each other all make me happy.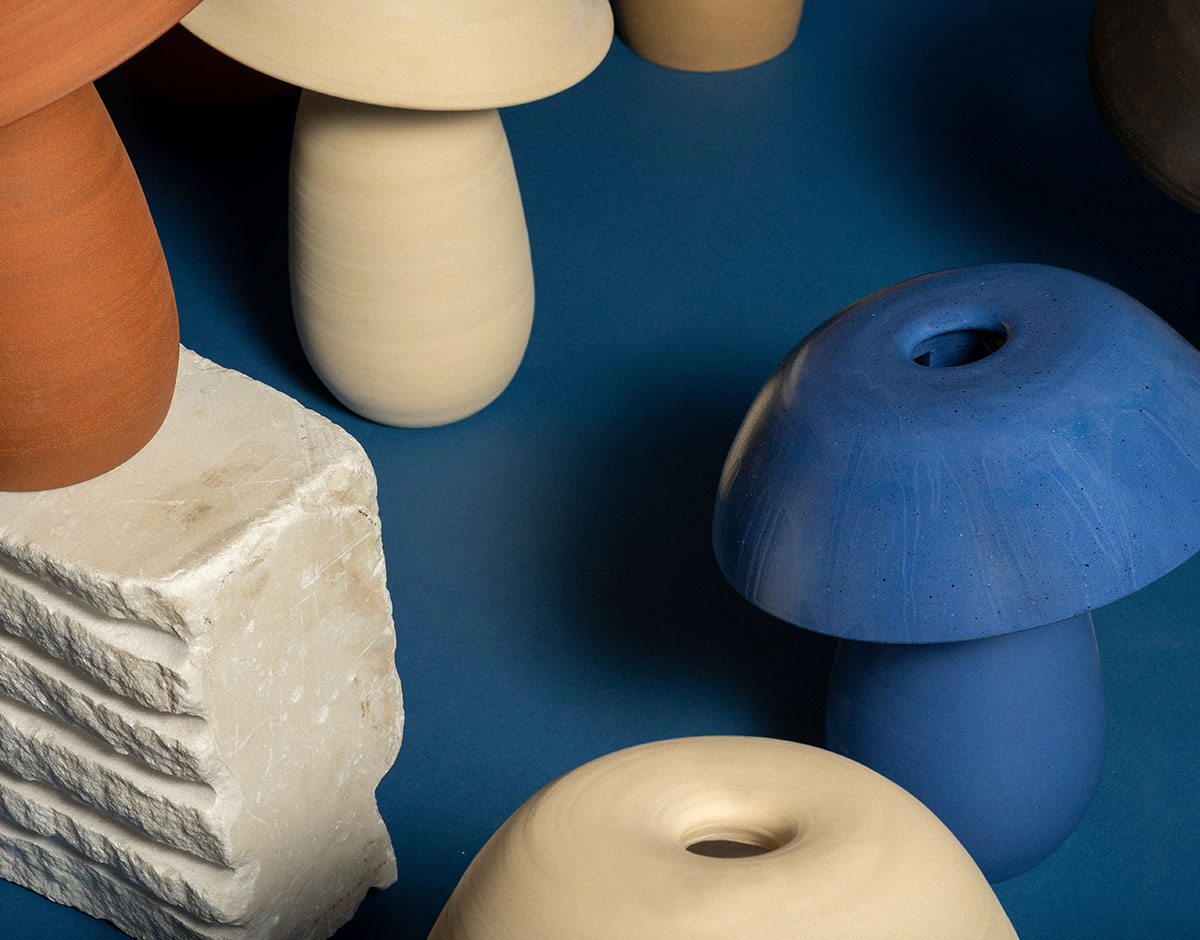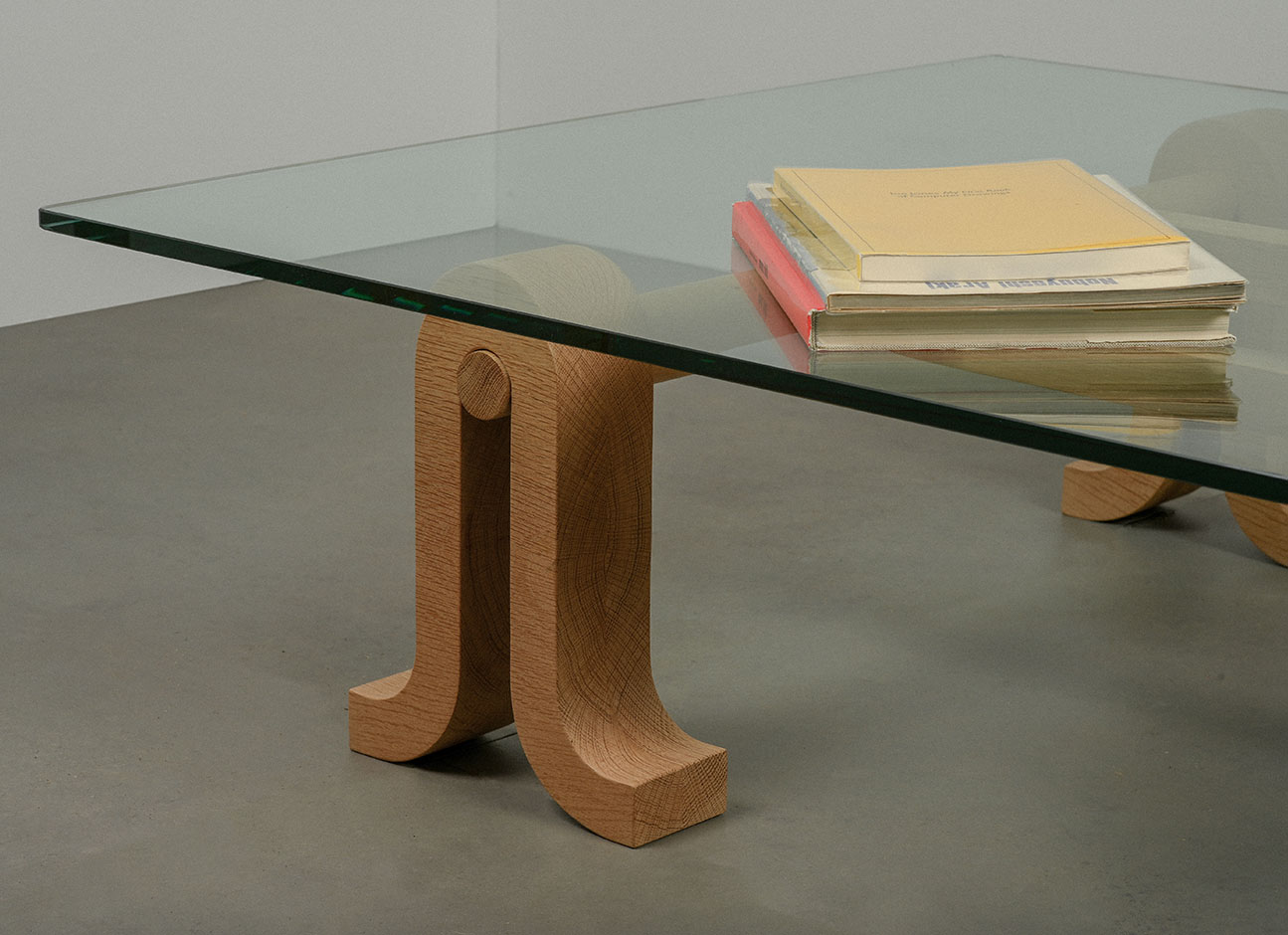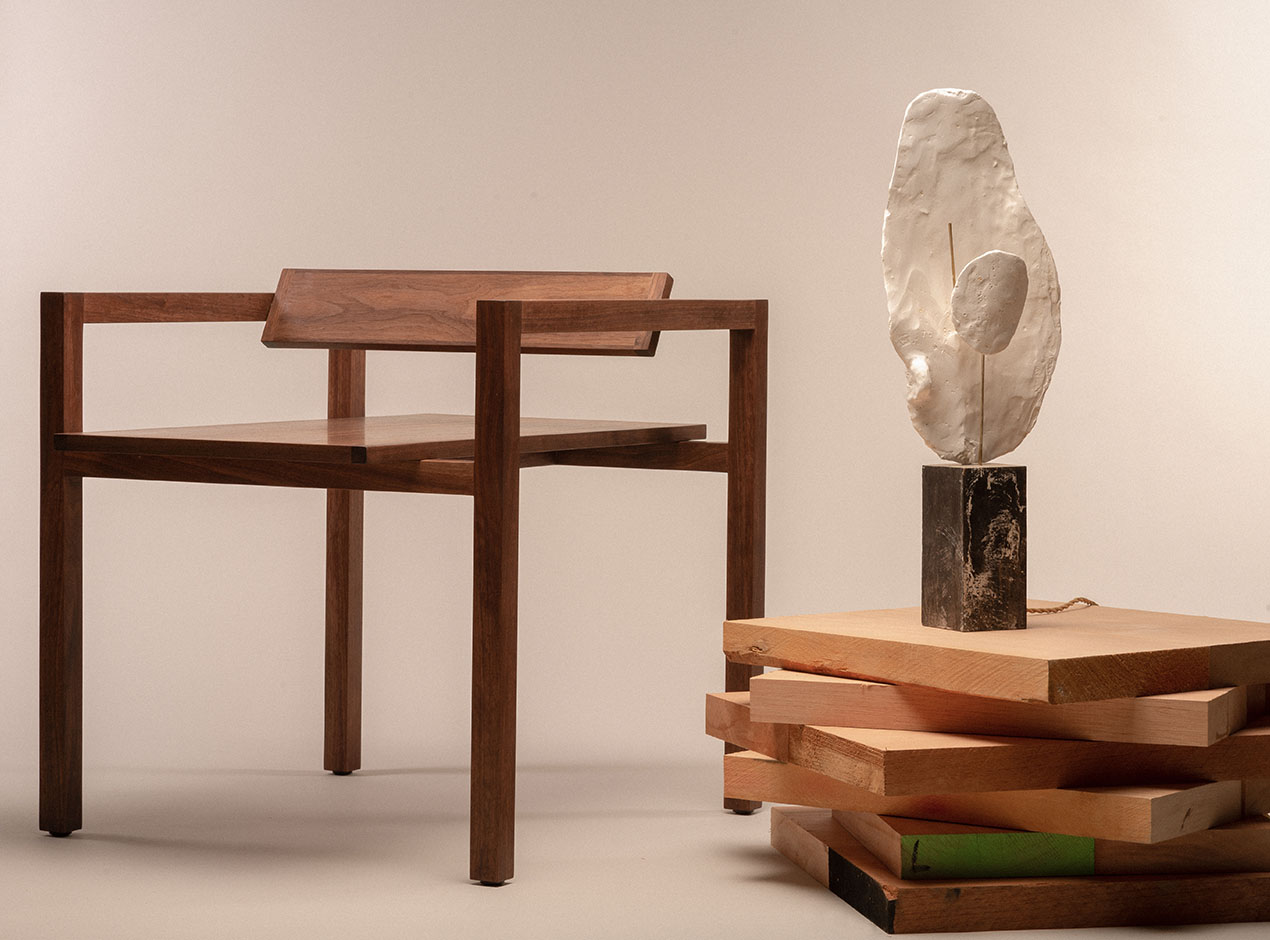 What else has been inspiring you lately?
I've been seeing a lot of new things being made with mycelium, kelp, and other sustainable materials. This stuff is really exciting to me. Even though it isn't directly reflected in my work, I love researching it.
I have seen furniture, shoes, "leathers," and packaging made with mycelium. Because you are helping facilitate the growth of the fungi within a mold, it feels particularly important because there are no material size/shape constraints.
I recently took a kelp workshop with Tijuana-based Casa Tamarindo and learned how to make paints/leathers/plastics with locally-harvested kelp. The kelp grows something like two feet a day, so it is possible to have underwater sustainable forests/help facilitate new ecosystems.
I hope that I can be as sustainable as possible with all my work. I have tried my best to practice working with local-harvested timber and resources that are closer to me. The guitars are almost completely recycled (even the fingerboards are reclaimed lumber from the Coney Island Boardwalk). There are a lot of materials out there that can hopefully be utilized in my future works with a little R&D.
What kinds of physical objects do you keep around your studio or home for inspiration?
I am Persian and I have a really old book on Iranian architecture of mosques and homes I found on eBay. It focuses more on very old buildings and goes into great detail on the math of the arches, materials, symbols, etc. I open this book often and I think there are a lot of inspiring things that can be built on that pays homage to the culture.
What's next for you? Any upcoming projects you'd like to mention? New designs on the way?
I have some new illuminated mirrors that I have been working on for over a year. The new works are larger and more sculptural than my older stuff. I hope I can share them with you soon! ◆