02.24.22
Olivia Cognet's Very Provence–Meets–Palm Springs Ceramic Murals
Formerly an accessories designer for fashion brands including Isabel Marant, Lanvin, and Sonia Rykiel, the French-born, Los Angeles–based designer and ceramicist Olivia Cognet made the transition from couture to clay rather organically. "In my mind, those two disciplines are quite similar," Cognet says. "I use the same creative process whether I'm working on a new piece, or, say, a pair of shoes: first is the idea, then sketch, then prototype. Shoes and bags have a sculptural quality to them, and, just like ceramics, one needs to always keep in mind the technicalities that will come into play."
With a color palette drawn largely from nature, Cognet's aesthetic of geometric lines and sculptural excrescences is heightened by elegant crackle glazes and tactile textures. Exploring a dialogue between Brutalist influences and feminine discourse, architecture and art, Cognet's often large-scale works — from lamps to monumental bas-reliefs — embrace the irregular, inspired by her design idols, Roger Capron and Jean Derval. "I've grown to adore their ceramic murals, although they were much flatter than the vision I had for my own," she explains. "When I set about creating one, I was quite worried about the amount of time and work I would have to spend on such a huge project — as well as who in the world would be crazy enough to showcase them in their gallery!"
Luckily, Cognet has found plenty of fans, from Jessica Barouch of Galerie JAG in Paris, who organized a show based simply on Cognet's first mural drafts, to Jay-Z, whose Roc Nation offices are home to her Tryptic vases. This week, she's debuting her first collaboration with The Future Perfect, for their The Momentary Pause exhibition at Casa Perfect, as part of Frieze LA. "I am thrilled about this partnership, as we really understand each other, and I feed from their amazing vision, which I believe is going to lead me into new and uncharted territories."
We recently spoke with Cognet about her practice and her passion for experimental creations.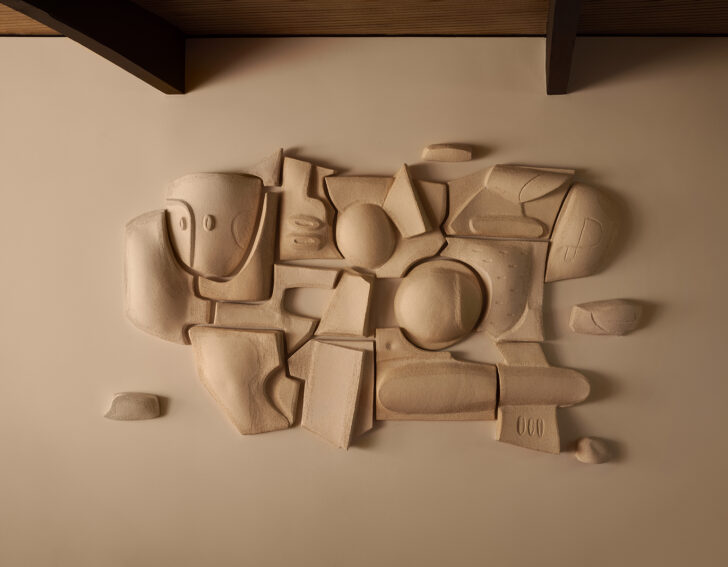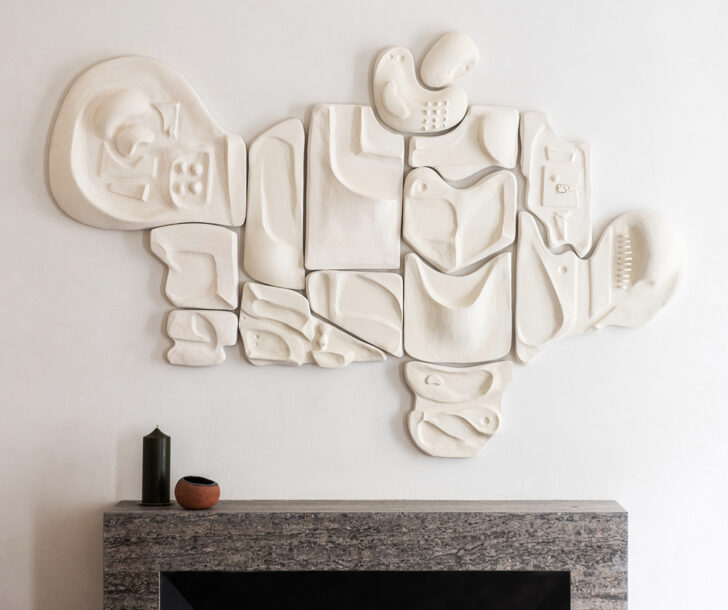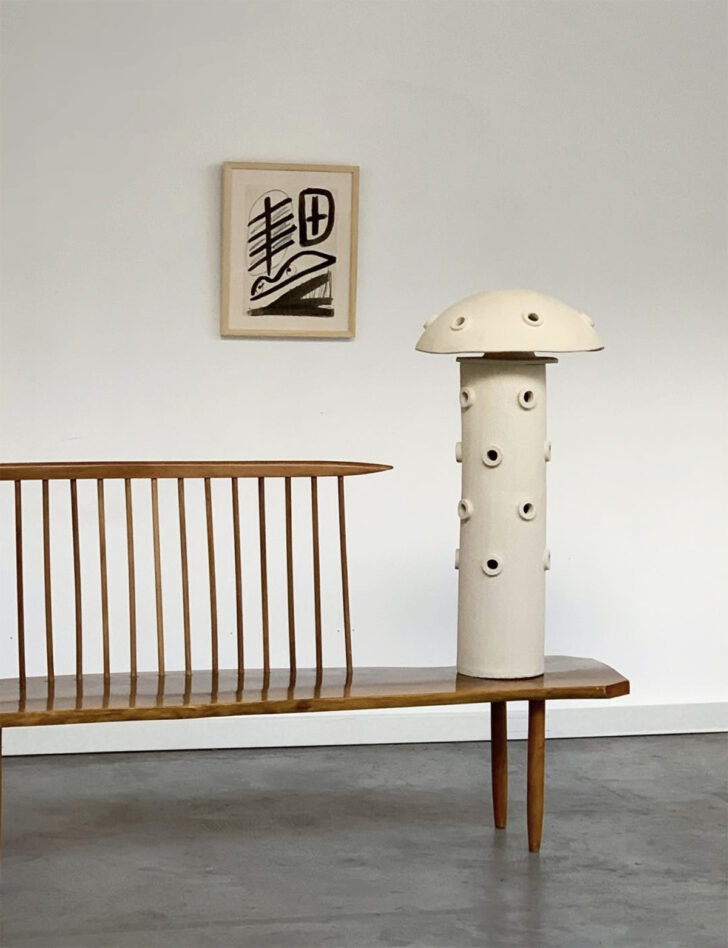 You're from Nice, and the south of France has such a rich cultural history, serving heavily as a motif in the work of so many artists, including Picasso, who discovered the town of Vallauris and fell in love with the art of ceramics. How has that history influenced your own creative vision?
I consider myself extremely spoiled having grown up in this creative pocket of the world. As a child, I was surrounded by the creations of many artists; the supermarkets were covered in hand-fired ceramic tiles made by local artisans, and my parents would take my sister and I to art galleries like the Maeght Foundation, and places such as La Colombe d'Or, or buildings designed by Le Corbusier or Eileen Grey.
The influence of art is tied to everything I have done and seen in my life, so I didn't really have any other choice but to grow up as a fan of Modernism and Impressionism. It's my comfort food as an adult.
My main influences are Costantino Nivola, Roger Capron and Jean Derval, to name only a few ceramicists, as well as a handful of male architects. But even though I'm inspired by them, I am very compelled to bring my own feminine energy and endless joy into my pieces.
You merge a mix of modern Brutalism and feminist application in your work. Can you explain your process, do you start from a sketch on paper or start building with clay?
First and foremost I will always consider myself a sketch artist, and everything else falls into place from there. Once I'm satisfied with the way a piece looks on paper, I'll think about the engineering that will come with the creation of the piece, and compose a little "mini tech pack" of sorts for myself, and my assistant. Once we have figured out every single step of the way I'll start and work the clay. I need that discipline in my work.  Clay is such an exciting medium, with so much to offer, and can evolve into something unexpected, so I would be lost if I didn't have a specific goal in mind. 
I don't care about productivity so much as I care for every single one of my pieces to be unique. The method I'm using is pretty ancient and follows the rules of traditional ceramic making — my creations are born from flat slabs of dry clay, that I sculpt into 3-dimensional shapes, and its dryness helps keep the structure and brings out the dramatic side to my works.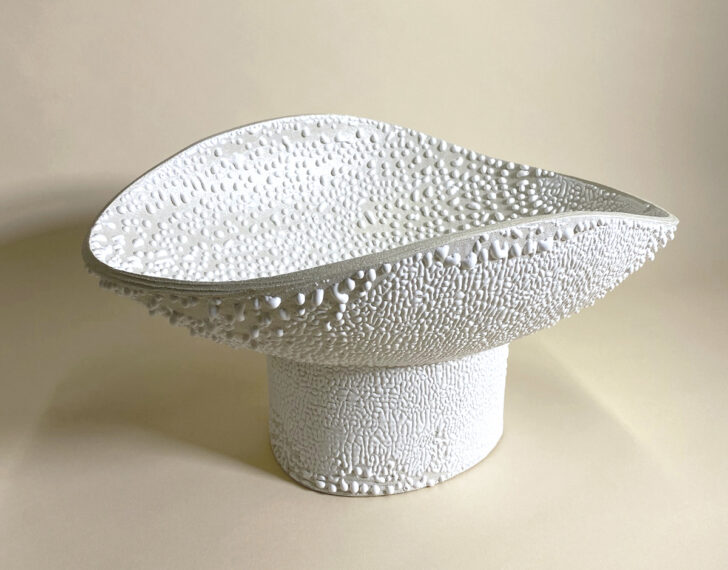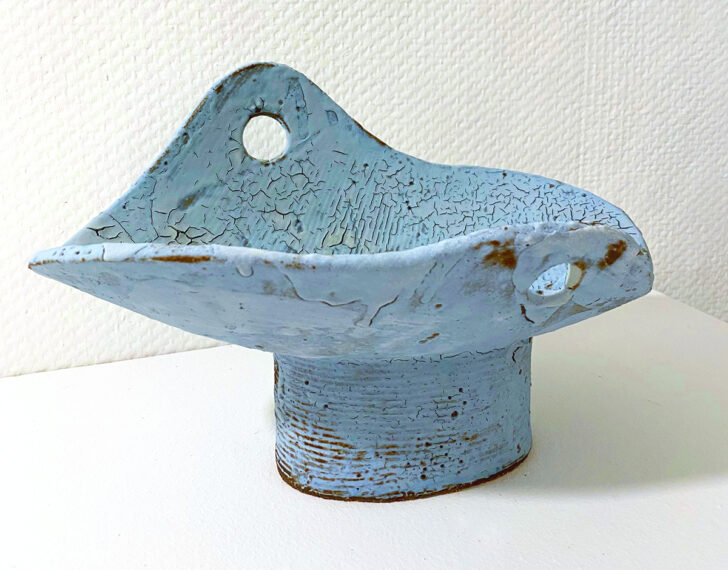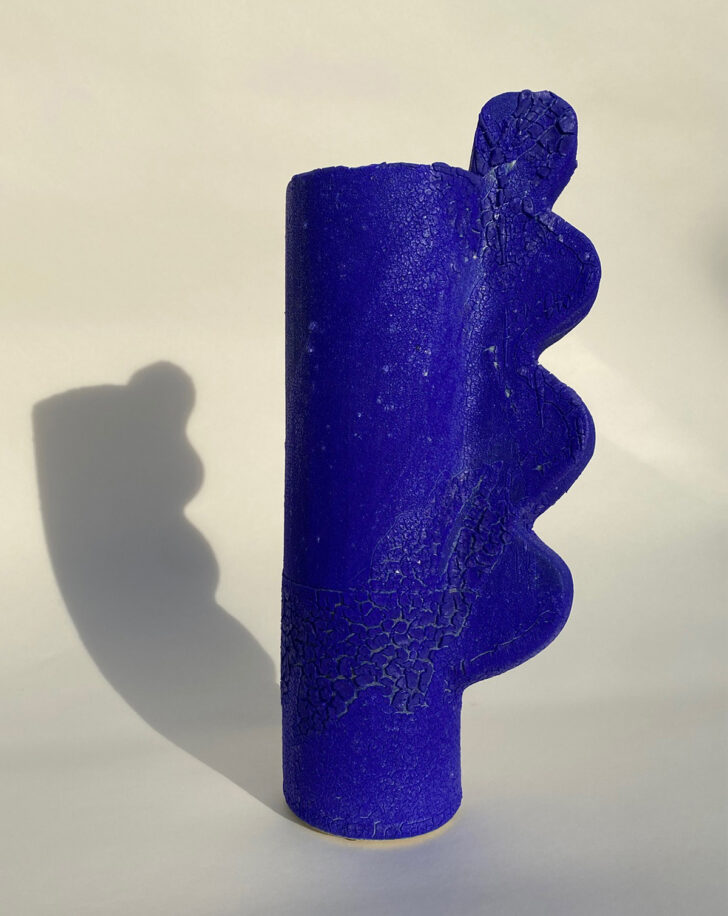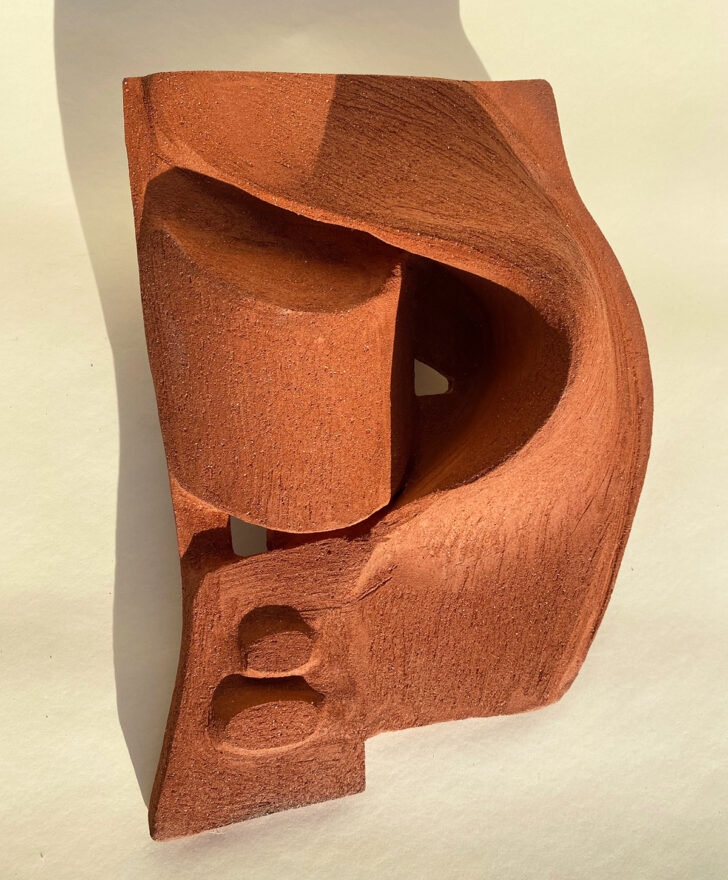 You're self-taught. What have been your biggest challenges, and what new techniques, or skills have you learned along the way?
It all started with some evening ceramic classes I took when my son was a baby. I wanted to challenge myself with something else other than my day-job changing diapers.
My teacher was fantastic and helped me master the art of the wheel, as that technique was extremely challenging to me. But once I tamed that beast, and became quite good at it, I realized hand-building was the technique best serving my vision to create the pieces that were manifesting themselves in my head, so I deserted the wheel and have been hand-building ever since.
My biggest challenge was the firing process at first, because of the size of my pieces, and how to develop my own glaze, which panicked me because I thought I would never have the chemistry skills to reach that goal.
You favor a neutral palette. When you do decide to work with color — such as in your Totem collection, made with red clay, or the turquoise blue seen in your Tempo and Vessel collections — how do you decide how to color and glaze your pieces?
I would say it's a work habit to favor the shape first, and then work on the rest after, just like I do when I design accessories. White volumes and designs are also easier to read, and can match any interior. But I do play with colors too, when the pieces can hold it, and especially with my mini-murals which are, for me, the perfect spots of color to add in to any interior.
I have a lot of fun being bold with those pieces, because they're the perfect support for me to experiment with new glazes, without worrying about reproducing the perfect mix again, as they are their own stand-alone 3D paints.
I grew up seeing the 1960s and 1970s lava glaze on every single piece of dishware my family and friends owned, so it's a texture I'm very familiar with. The whole point of my very first artist residency was to try and figure out the secret of this glaze. My goal was to create an all-white version. And it was way much more challenging than what I thought it would be. Ceramics and glazing are a work of love and patience, and I'm lacking the latter. But when you finally master the perfect chemical formula, and you're pulling your piece out from the kiln, it almost feels magical to me. You have so little control over what happens, every piece is almost like a miracle on its own, and that's what makes me constantly excited over the technique.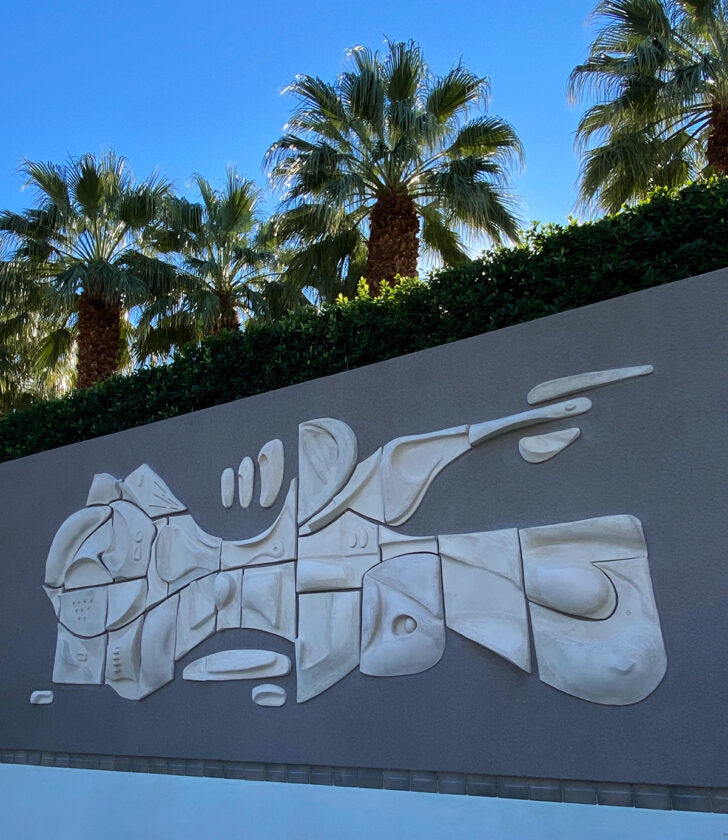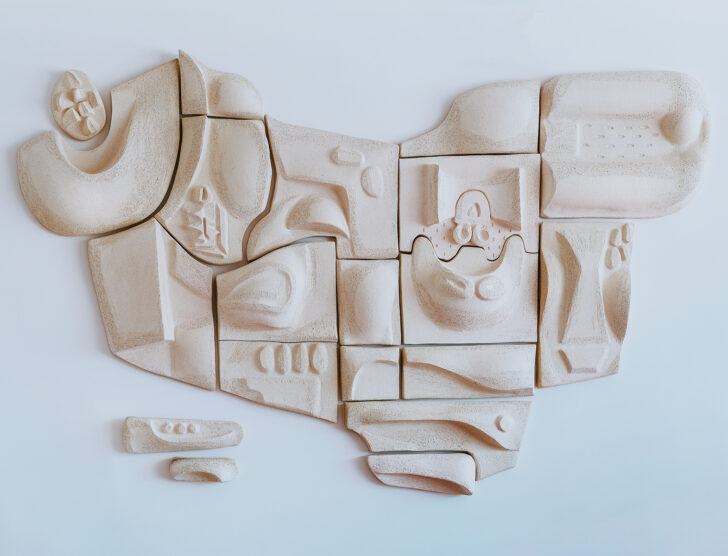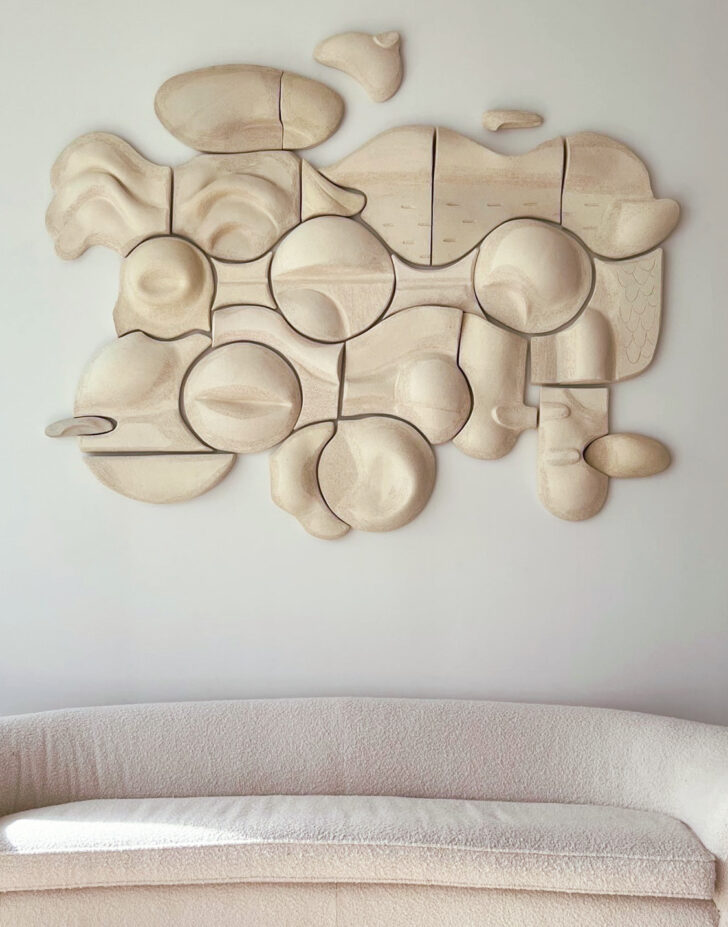 Your monumental bas-reliefs are some of my favorite pieces. How long does it take to construct such a large-scale piece?
The process is quite simple, and always the same: sketch, print the sketch in scale one, create the pieces using this scale one draft as a guide, then dry, fire, and create the supportive structure that will hold each piece with the help of a carpenter. Once they are all done, I then number every piece and create a template for its installation using the Paint by Numbers method. It's quite a long process to make them, with many twists and turns.
When I see them hung in the installations, it's always an emotional moment for me, after three to four months of constantly touching them, looking at them, thinking about them, and then having them come alive on someone's wall. It's a proud moment.
Your studio is based in Los Angeles. Does the Californian landscape and its Modernist and mid-century architecture shape the mood of your work in any way?
California and the South of France have a lot of similarities — as a matter of fact, the area I grew-up around was called Little California! But the main difference between the two is monumentality. Everything here is large, generous, and vast, and it gave me the opportunity to imagine spaces without thinking of sizing down. This feeling I first felt when I moved here and started to visit houses designed by architects such as Frank Lloyd Wright, John Lautner, Eames, etc… and visiting Palm Springs for the first time, I cannot deny there's a taste of the little oasis in the desert in almost all of my pieces.
I am moving my studio to the South of France, where I just bought Roger Capron's old ceramic studio. The plan is to build a studio at least three times the size of the one I have here in LA, and work on monumental pieces to ship all across the world. I will be back and forth to LA though, as I still have a lot of work, and a life I adore in California, but I can now call myself officially bi-coastal!