02.01.22
A New York Fashion Designer Reinvents Himself With Clay
You may know Shane Gabier as the designer behind the fashion label Creatures of the Wind, where, since 2008, he has been churning out sharply tailored avant-garde collections for New York Fashion Week and earning accolades like an LVMH prize shortlist. But if you've kept up with his work more recently, you would know that fashion isn't Gabier's only talent — he's also a budding ceramicist. "I've been collecting and researching ceramics for years, and about three years ago I enrolled in a studio course to learn the wheel," he says of his introduction to the medium. Though it's a far cry from fashion, object design is not totally outside of his wheelhouse. Prior to switching to the fashion program at The School of the Art Institute of Chicago, Gabier was enrolled in Interior Architecture, though, he says, he preferred the immediacy of clothing design at the time.
Of all things, it was the pandemic's global pause that allowed Gabier to really hone his skills in clay, forcing him to apply his training in fashion to his newly adopted practice. "I was just starting to make progress when the city shut down at the beginning of the pandemic," he continues. "I didn't have a wheel at home, so I started hand-building with sculpture clay. It was immediately clear to me that my training in pattern making and drafting could be applied to the process, so I felt like I had a bit of a foundation already. I started with a few shapes that had been in my head for some time, and that got the ball rolling."
The resulting pieces are simple and eye-catching, with a focus on surface patterns: super fun checkerboard print vessels, or bold, cut-out shapes that fit together like puzzle pieces. More recently, he's been experimenting with new glazes — drippy, multi-color lamps and vases — and textures, in the form of rough-edged platters that look as delicate as paper plates, which bring an entirely new dimension to the work.
We spoke with Gabier about his practice, how he develops his signature color palettes and what's next for the fashion designer turned ceramic artist.
PHOTOS © SHANE GABIER AND SPARTAN SHOP except where noted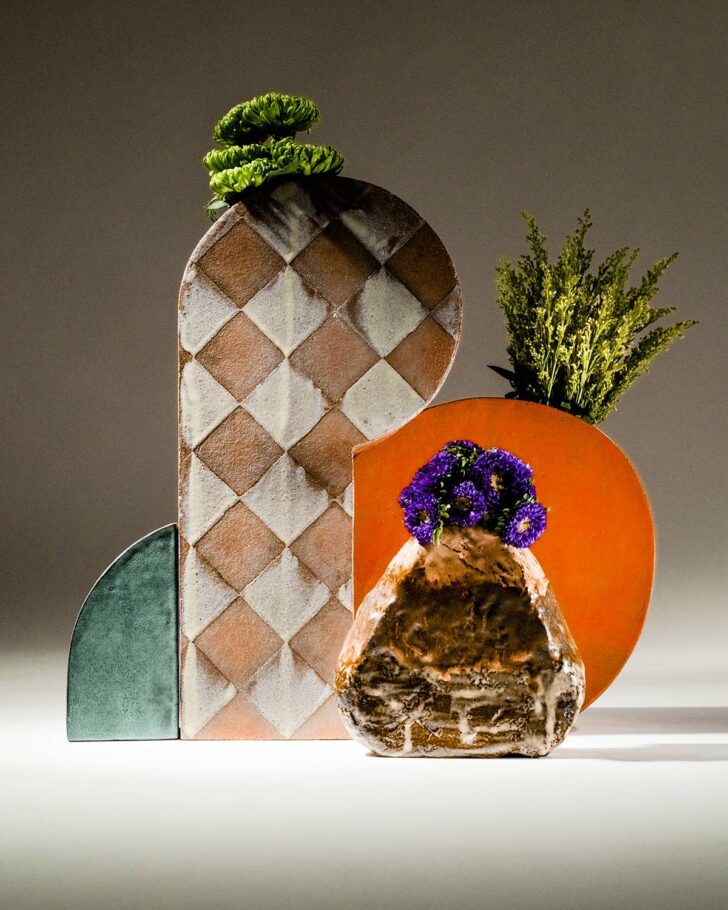 © Cruz Valdez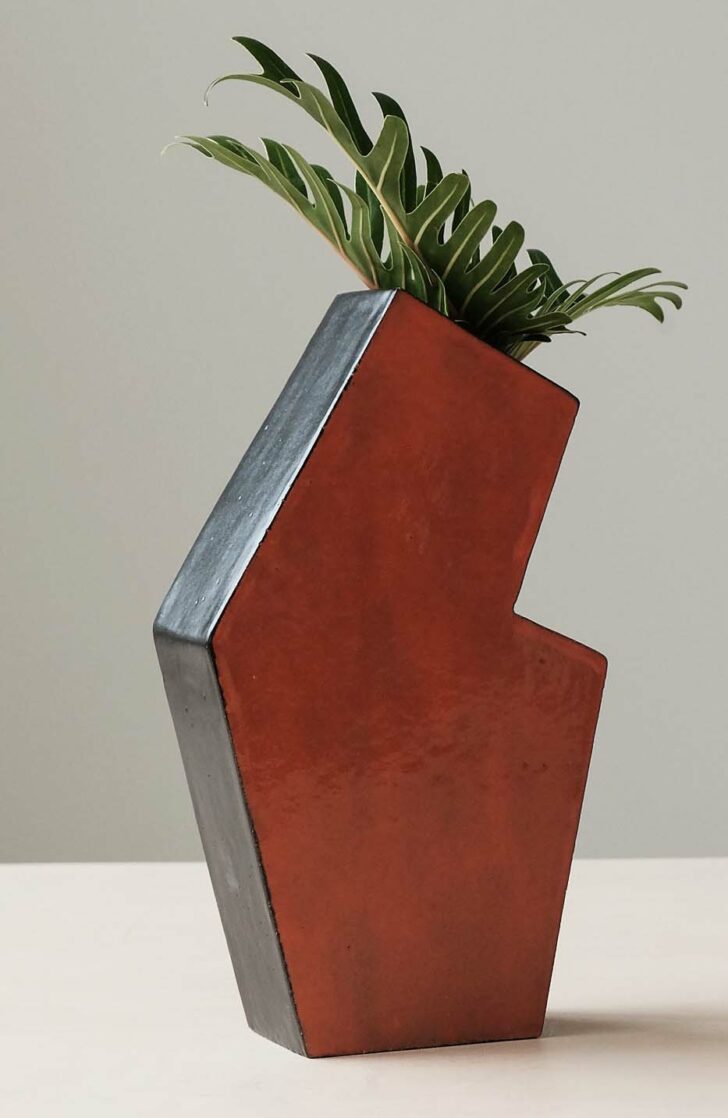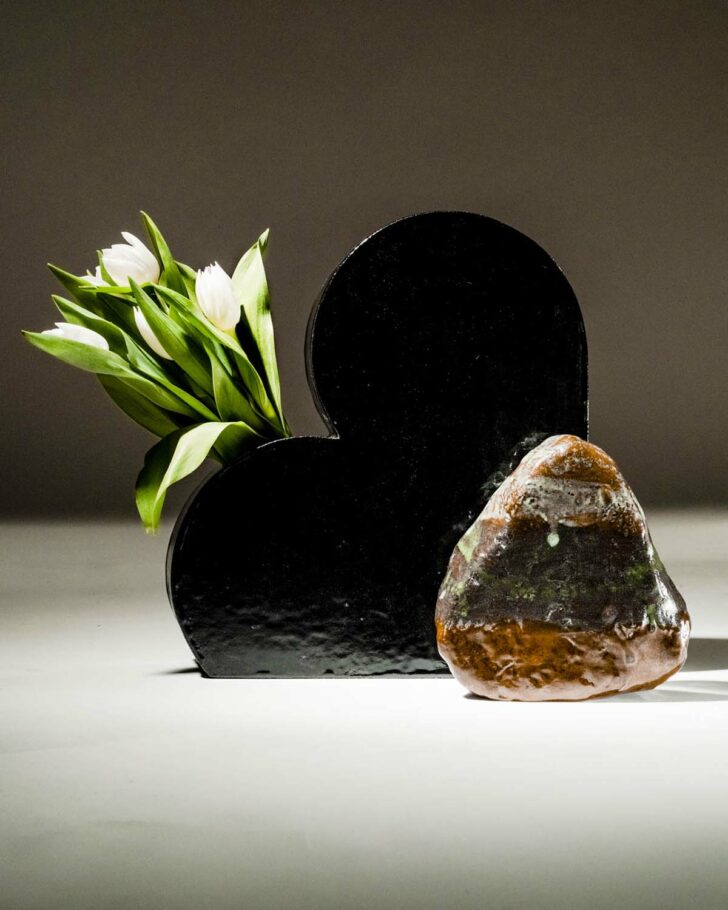 © Cruz Valdez
Can you take us through your process from idea to development? Do you start from a sketch or just begin building with clay?
I always start with a sketch, and from there I draft patterns. I try to leave space for spontaneous moments within the process, but generally speaking, I know more or less what the piece will be in the end. In the glazing process, there are a lot more unknown variables and surprises. Color has always been a super important part of everything I make, so the infinite options for glazes and finishes hold a lot of appeal for me. 
Walk us through your construction process. How do you build up the pieces in the studio?
Without getting too specific, I can say that it's a combination of various processes: traditional slab-building and coiling in tandem with paper pattern making.
What about palette? How do you decide how to color and glaze your pieces?
Color, glaze, and pattern are just as important to me as shape. I like to experiment with adjacencies of color and examine relationships between them. The same shape can take on such a different vibe by just changing how heavily the glaze is applied, whether it's a matte or a gloss, or by what other colors it sits next to. At any given time there are normally two or three colors that I'm especially excited about, so often it's about seeing what these colors can do and what else they will work well next to.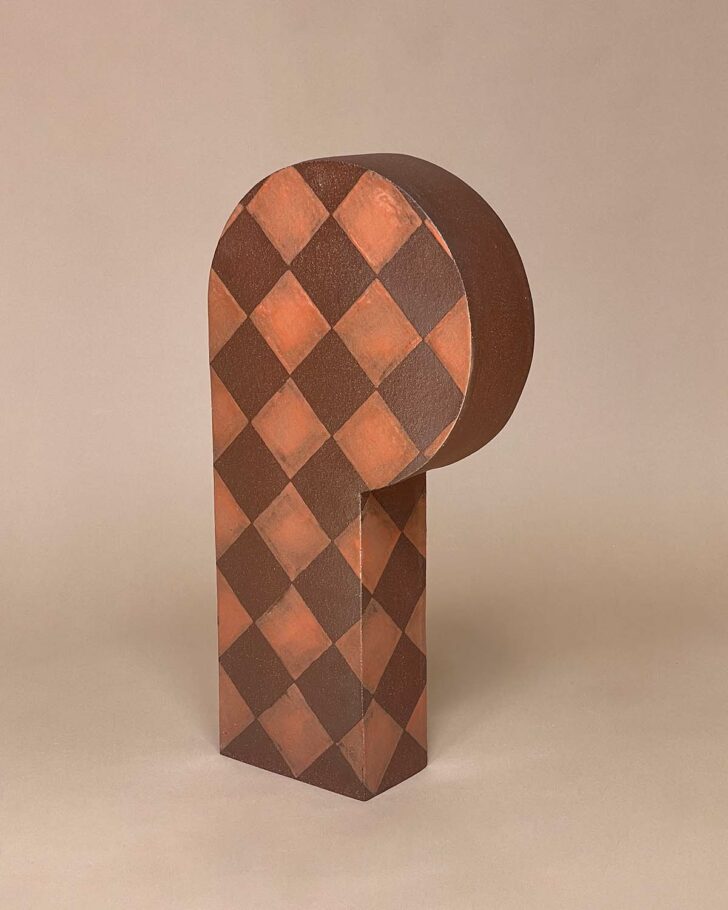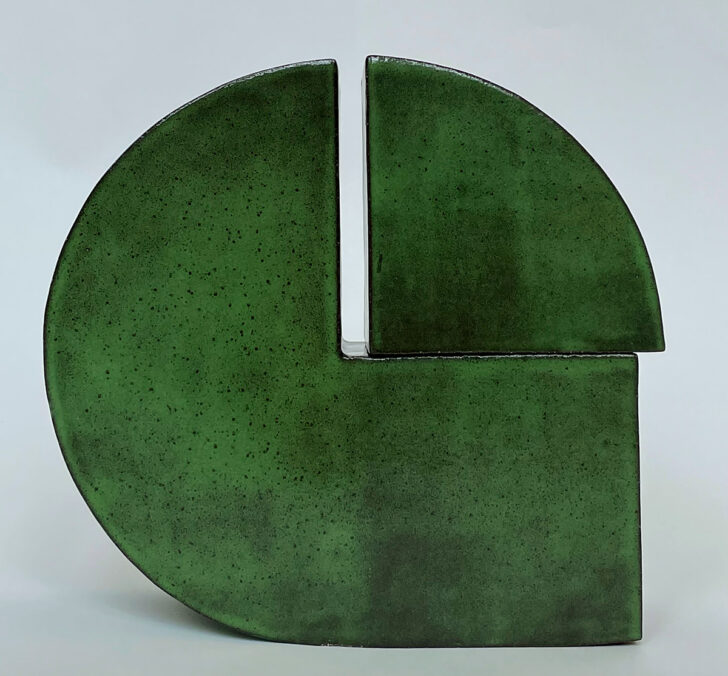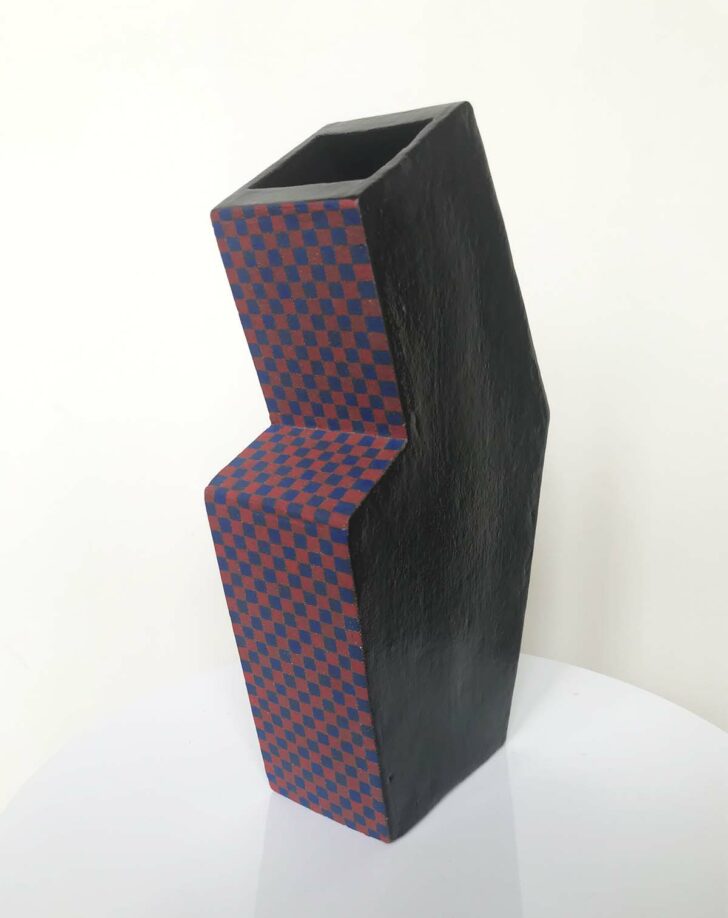 The pieces feel quite graphic in a way, like elements of a Marimekko pattern from the 1970s. What sort of references are you thinking about when coming up with the designs?
Just like with color, there are always a couple of ideas in my head that feel like the most important at that moment. But the constants that have always been inspiring to me: Brutalist architecture, Japanese graphic design from the mid-80s, Modernist furniture, spaces, & architecture, Memphis design, representations of psychedelia, 60s/70s land art.
One of my favourite pieces of yours are the soap dishes, which resemble collages of offcut pieces jumbled together on a plate. How did those particular pieces come about?
They are exactly that: tiny collages of offcut pieces. Once in a while, I like to take a short break from the precision of the constructed pieces and mess around with these smaller pieces. They're always a good place to try out some new color combos or to experiment with layering some glazes to see what happens.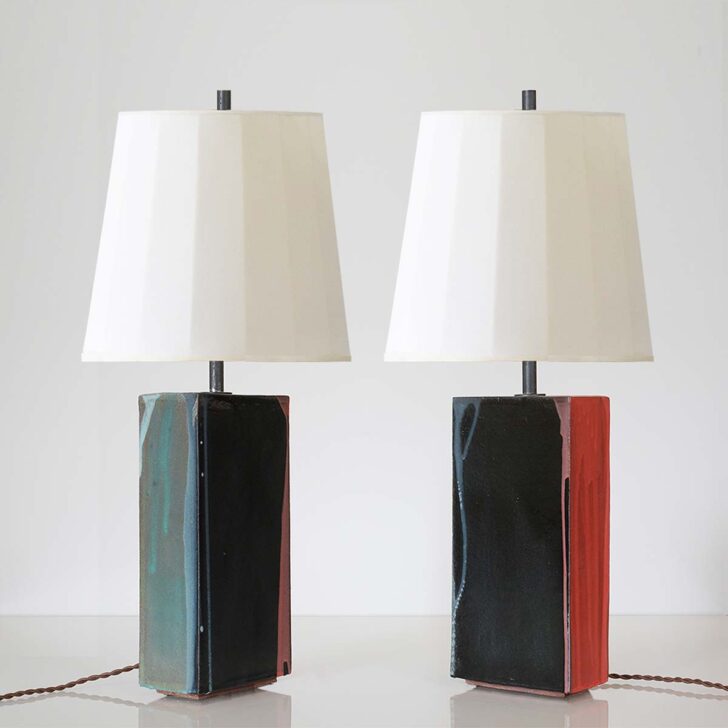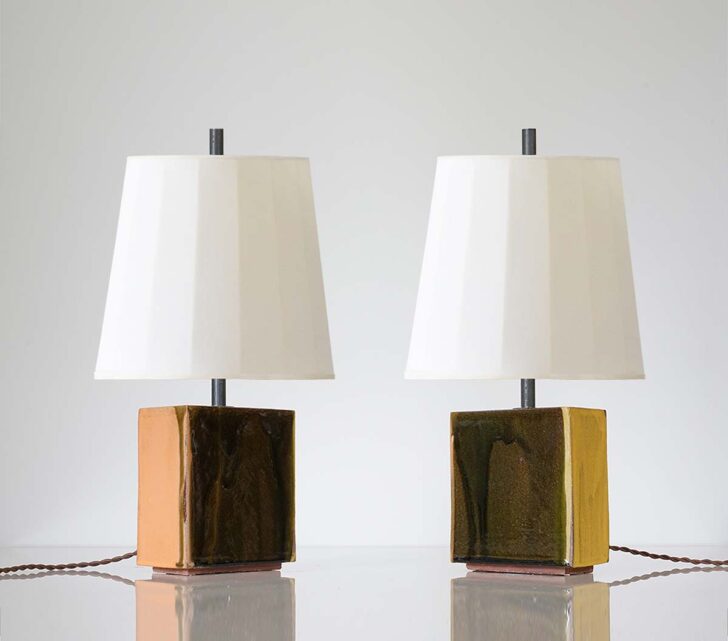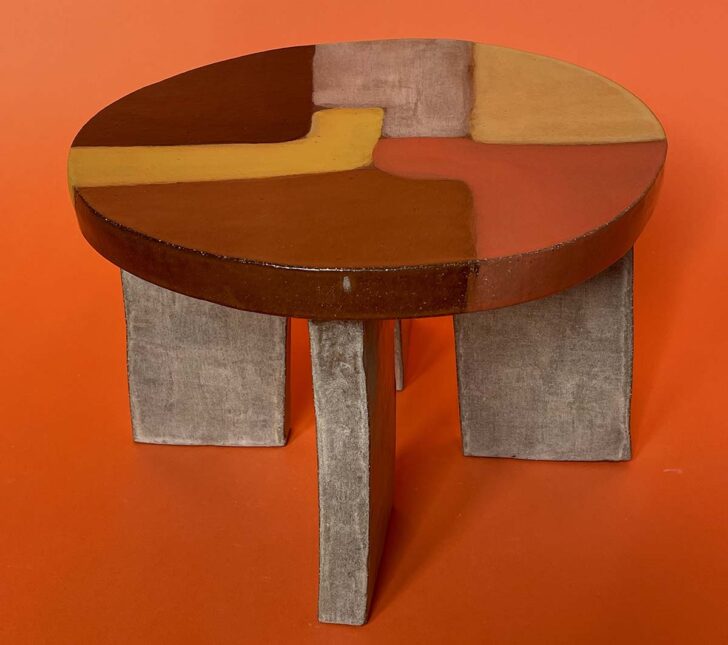 You've recently released some new pieces that play with multiple glazes, like the drippy pieces and lamp with multiple color fields, as well as pieces with almost kaleidoscope seeming patterns. How do you produce those and what was that learning process like?
Since there's really no way to anticipate exactly what will happen when mixing layers and glazes, it's a leap of faith. I spend some time with test tiles thinking about colors together, but the actual glazing has a pretty steep learning curve and the first version of any process is always a bit of a surprise. It either totally works or totally doesn't. It's important to let it be. It's not the sort of thing that  I need to have control over.
I'm curious about the black and white polka-dotted vase, it looks like multiple types of clay affixed together but I can't really tell how. What's the story behind that piece?
Ah yes! This piece… The process is a really old technique used all over the world. Essentially starts with a block of clay that is formed roughly into the desired shape first. Then the clay is taken out of the center to form the vessel. The particular clay used for this one is naturally very dark and smooth, and I used a special porcelain slip instead of glaze to create the matte, cracked surface. There's a really nice tension between the two.
What's next for you?
Probably my favorite thing about ceramics as a medium is that the possibilities are endless. I'm going to keep scaling the pieces up. I've made a couple of larger pieces, plant stands and stools, and am really excited about these, so there will be lots more coming. I've also been making lamps, and there is so much to do here as well, it's almost overwhelming deciding what to focus on next, it can really go anywhere.