05.13.22
A New Lighting Brand, With Deep Roots in New Orleans and France, Putting a Modern Spin on Traditional Techniques
During the summers when Valerie Legras was a teenager growing up in Epernay, a small town in the Champagne region of France, she would wake up each morning, get on the train to Paris promptly at 7AM, and spend her mornings learning art history at the École du Louvre. In May, I spent two days in New Orleans with Legras, learning about Swadoh, the lighting company she founded there in 2020, and I was struck by how much that anecdote captures what makes Swadoh tick: the idea that by creating and adhering to a relatively strict set of parameters, it allows you the freedom to follow your more intangible whims and desires. For Swadoh, an anagram of shadow that Legras devised after reading the Japanese writer Junichiro Tanizaki's "In Praise of Shadows", Legras works exclusively with small artisans who do intricate and often time-consuming hand work at their workshops in France. That — and the idea that each artist should be working in a wonderfully unique way with their chosen material — is the strict guiding principle behind Swadoh. Legras's artist collaborators aren't forced to mold their practice to market-driven schedules, nor are they pushed to create new product for the sake of new product; they are allowed simply to create, with Legras's gently guiding hand pushing their work to become more expansive and better resolved.
Legras got the inspiration for Swadoh when she was working as an interior designer. Wanting to source a light by the Parisian artist Céline Wright for one of her clients, she found Wright had no representation in the United States. The two began working together, with Wright carefully constructing her featherlight, translucent Washi paper cocoons at her atelier in France and Legras putting on the finishing touches in New Orleans. Swadoh works in a similar way with Emilie Grière, a Paris-based artist who developed a new material called Soft Stone, for which she mixes oxygen with silica to create a paste that can be imprinted with patterns or shot through with natural pigments. The soft, drapey pieces are sent to New Orleans, where Legras pairs them with a handmade ceramic socket she had made by a New Orleans designer. Connecting the people and traditions of her native and adopted homes is what Legras excels at, to the point where Swadoh recently turned its Arts District showroom into a shoppable, rentable-for-a-stay residence that deftly combines both Swadoh's offerings, Legras's interior skills, and sculptures, artworks, and works on paper by New Orleans artists.
Swadoh will be debuting at ICFF next week, showing a selection of lights including Marie, a collaboration between Wright and French-Japanese artist Tiffany Bouelle, whose cobalt blue–painted Washi domes were inspired by Marie Laveau, New Orleans's most famous witch. We recently spoke to Legras about New Orleans vs. France, mixing the old and the new, and the satisfaction that comes from nurturing artists who make one-of-a-kind work.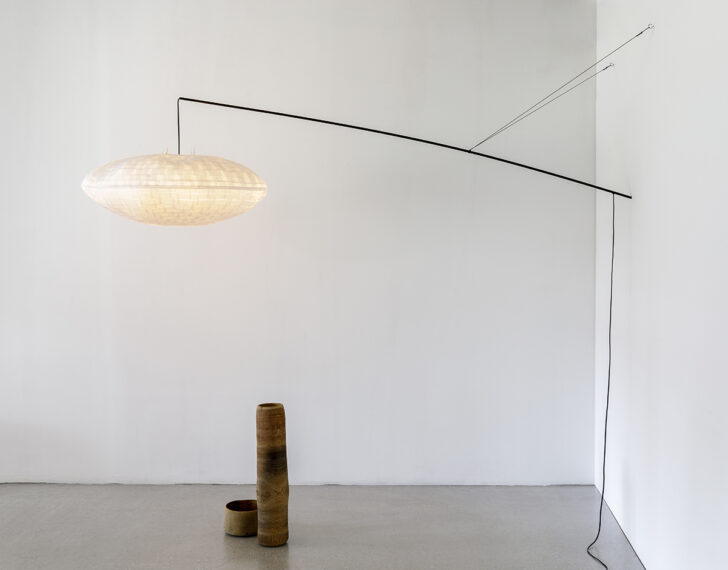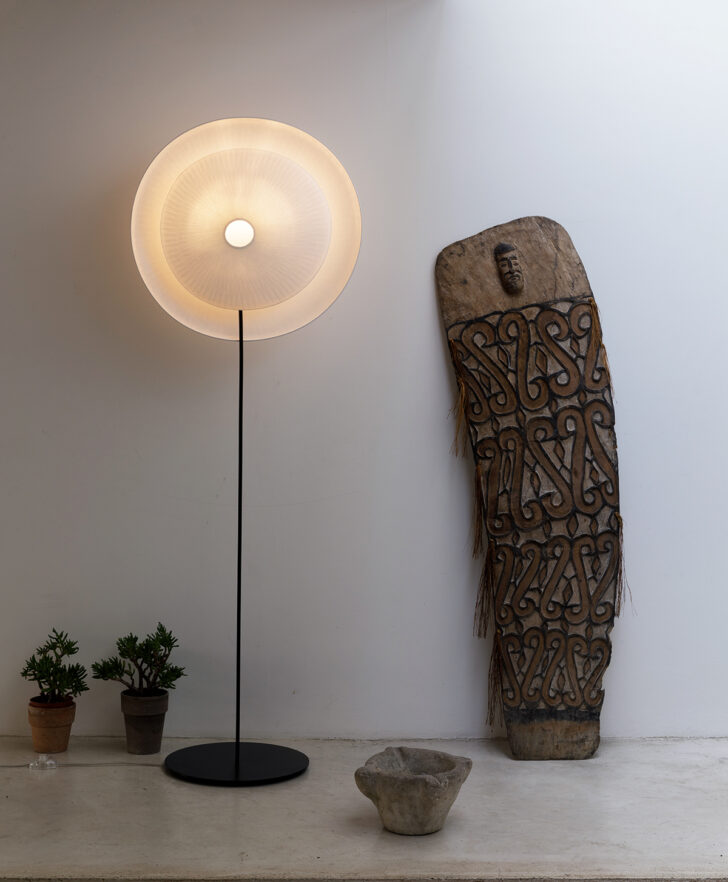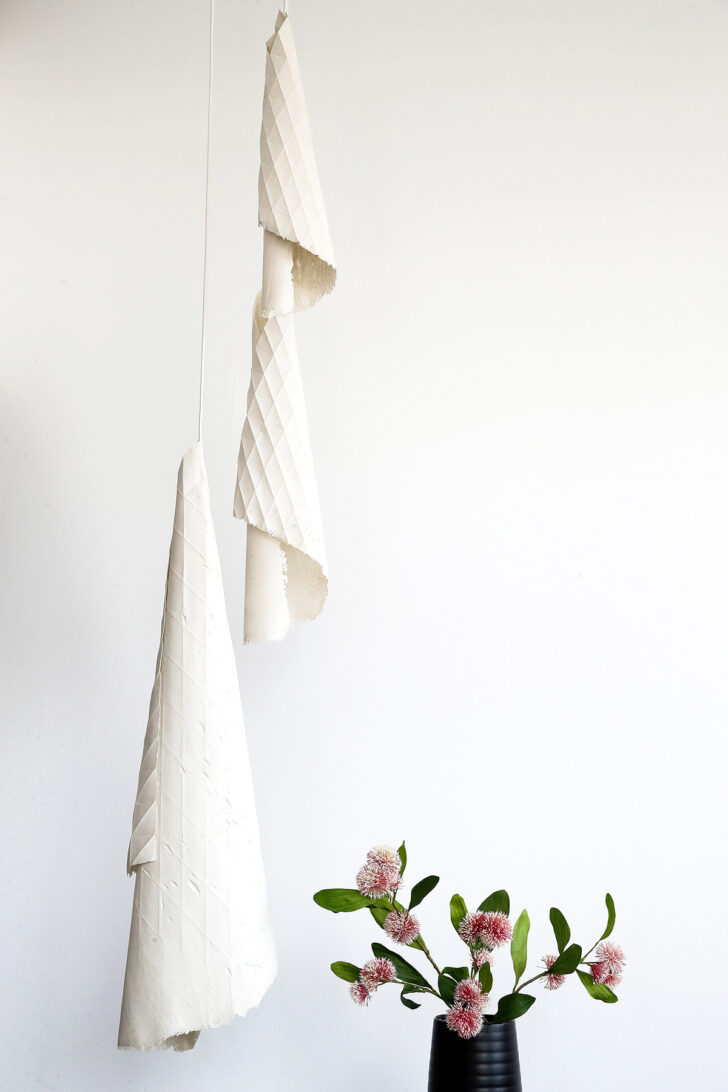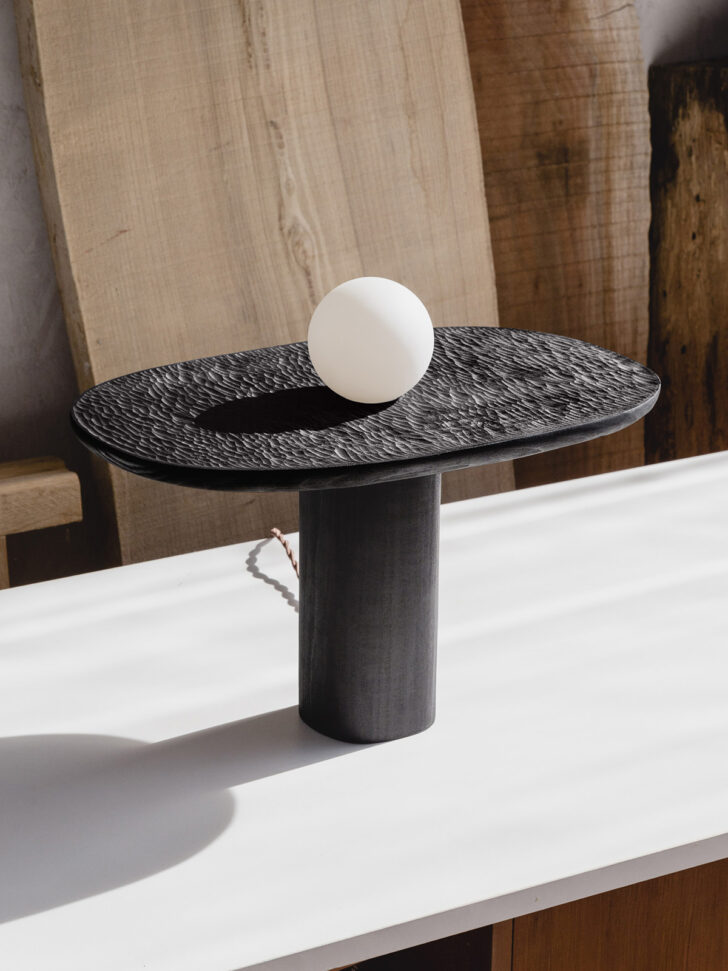 From top: works by Céline Wright, Emilie Grière, and Baptiste Lanne
I'd love to hear about what brought you to design in the first place. And, specifically, what brought you to New Orleans?
As a child, I was attracted to everything but school. School was kind of painful for me because everything had to go into a little box. And everything that took me out of the box was much more interesting and challenging. I started to discover art just going to museums with my parents. We were living quite close to Paris — an hour and 15 minutes by train — so it was very easy. I think I trained my eye like that.
Then, for three summers, I took art history classes at École du Louvre. Art history tells you the story of a country, it tells you a story of a vase — it's so much more fun than going to school. I thought I wanted to become a curator, but I realized that I really love to be creative, and to play with my hands, and to go deep into a material. So, I went to École Camondo, which is a five-year program where for the two first years you do nothing related to design. All you do is push your creativity. Then, of course, you start to do interior and product design. But that's how I started, and I did a lot of internships, and I also worked. And then I took a break because I had four children.
Family life brought me to New Orleans, two years after Hurricane Katrina. The city was extremely damaged. I couldn't really work because of my visa, but I was living in a nice neighborhood and cooking — which is something that I really love — and being a stay-at-home mother. When I was able to work, I started to invest in houses that were still abandoned after Katrina, and I renovated them. It was good for me to learn about how things work here because the American way of building is very, very different than in Europe. I decided to push into interior design because I find it a little boring to just do a simple renovation. I had an article written about me in the local paper and some young restaurant group reached out to me to say, hey, we're opening up a big restaurant. We want you to be our interior designer. And that's how I just started. And it was kind of awkward, because I felt like an imposter! It took time after my children, you know? But finally, I just said, "You can do it."
I was doing all of these projects locally, but I still really wanted to serve my community in France, and to use a product in my projects that I was emotionally attached to. And that's how I started Swadoh.
Besides wanting to have a product that you felt a connection to, was there also something missing in your interiors business?
Well, it's funny, my family's business was building trailers. I was raised in an industrial environment, and it was not very glamorous. But you know, when you build trailers you have welding, you have the smell of the steel, you have the laser cutting. It becomes like a sculpture.
And so, what I love to do is work with tradespeople — working with an upholsterer, working with a metalworker, working with a sculptor, working with ceramic artists. With Swadoh, I wanted to work with artisans, because they have great knowledge and you learn so much from them.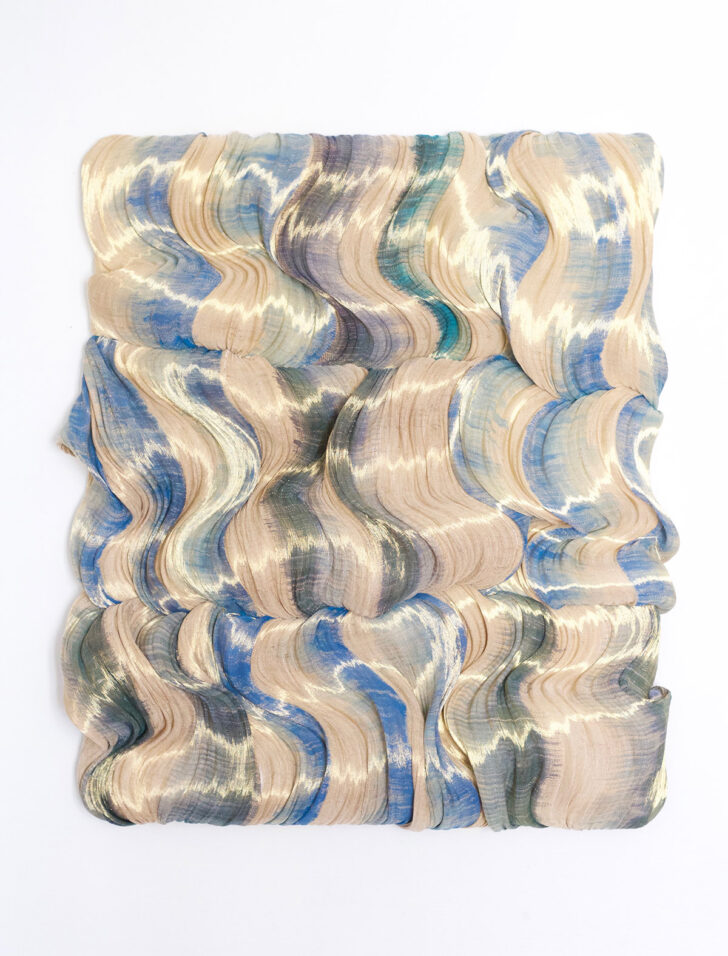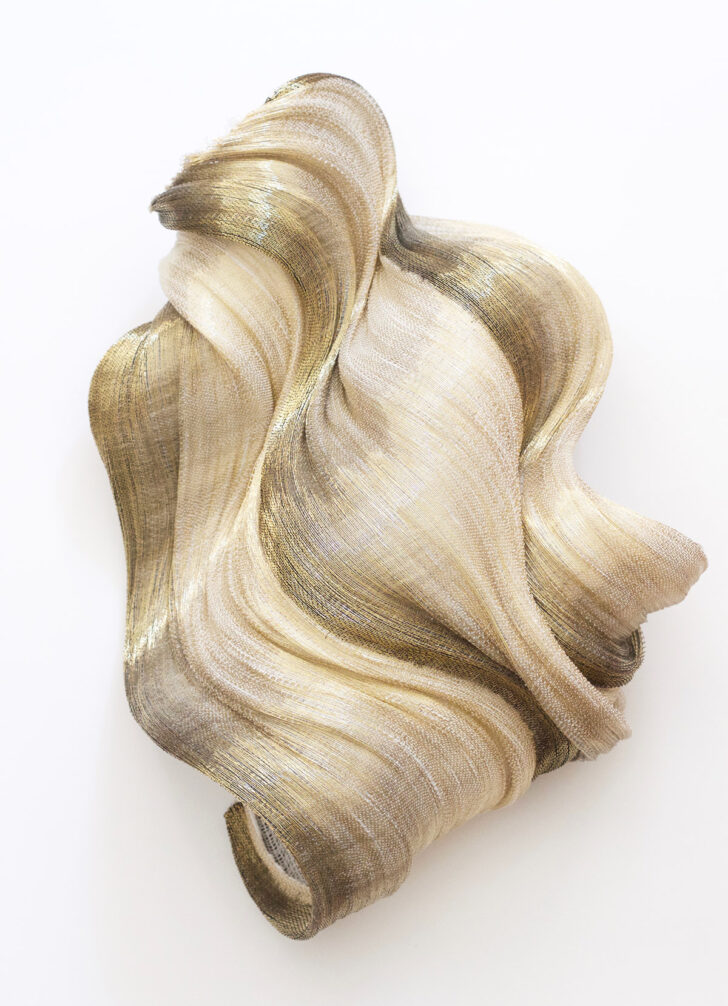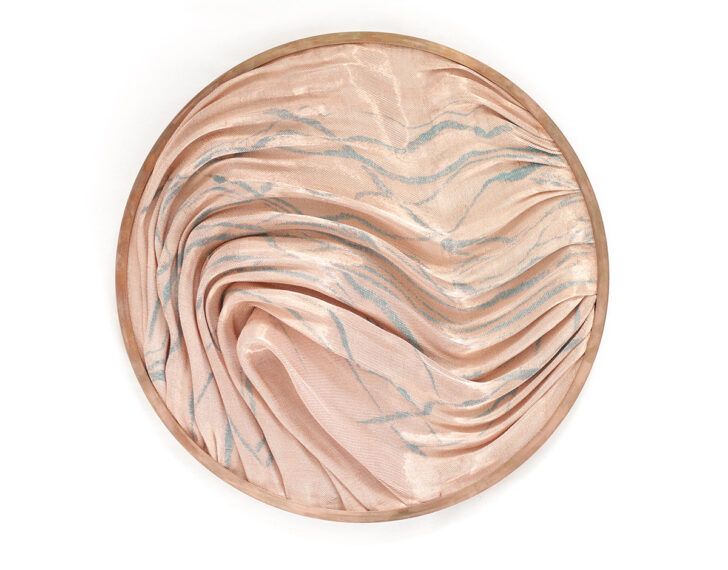 Morgane Baroghel-Crucq
How does Swadoh work with these artisans?
I started Swadoh working with Céline Wright, and with her, the product was already finished; she was just looking for an American distributor. But with most of the artisans we work with, I'm helping them to push their voice. This is their material. This is their creativity. But I'm pushing them to finalize it. For instance, we work with Emilie Grière of MU in Paris. I found her when I went to a shop in Paris that represents a lot of small artisans who don't have access to big distribution. Emilie already had her Albatros light, which is crafted from a composite of natural silica and oxygen called Soft Stone. But I helped her to elevate it, and I helped her with the details. It's like, "Hey guys, you have a beautiful product. You cannot put a Made in China socket in it." So, I introduced a beautiful specific socket cover that we had handmade locally in New Orleans by a ceramic artist.
We work with a textile artist named Morgane Baroghel-Crucq [above], and with Morgane, it's a bit more of a collaboration. She was making textile pieces and we are helping her turn them into light fixtures. She works with metallic threads, and depending on the type of metal she's using, the thickness of the metal she's going to use, if she's hand painting, not hand painting — in order to create a specific light fixture, you have to take the material, twist it, pull it. You have to say, "What does it tell me? How is the material is speaking to me?" Morgane's work is luminous by itself because it has a lot of moiré and reflection, but in one of Morgane's lights we took a piece of material and the light is shining through, in another, it's shining on the threads, and the other there's a source of light surrounding it. And again, I'm using people from our local New Orleans community to do all of the metal work.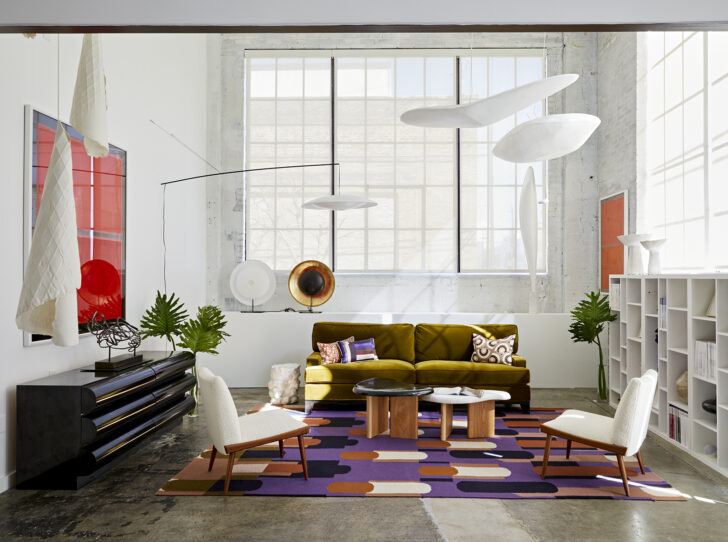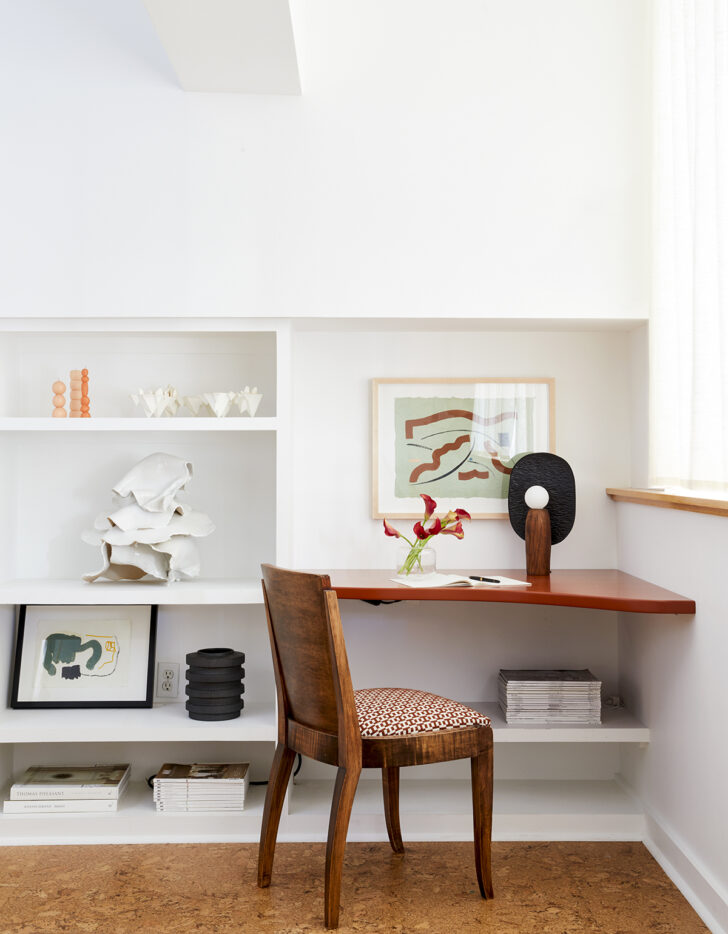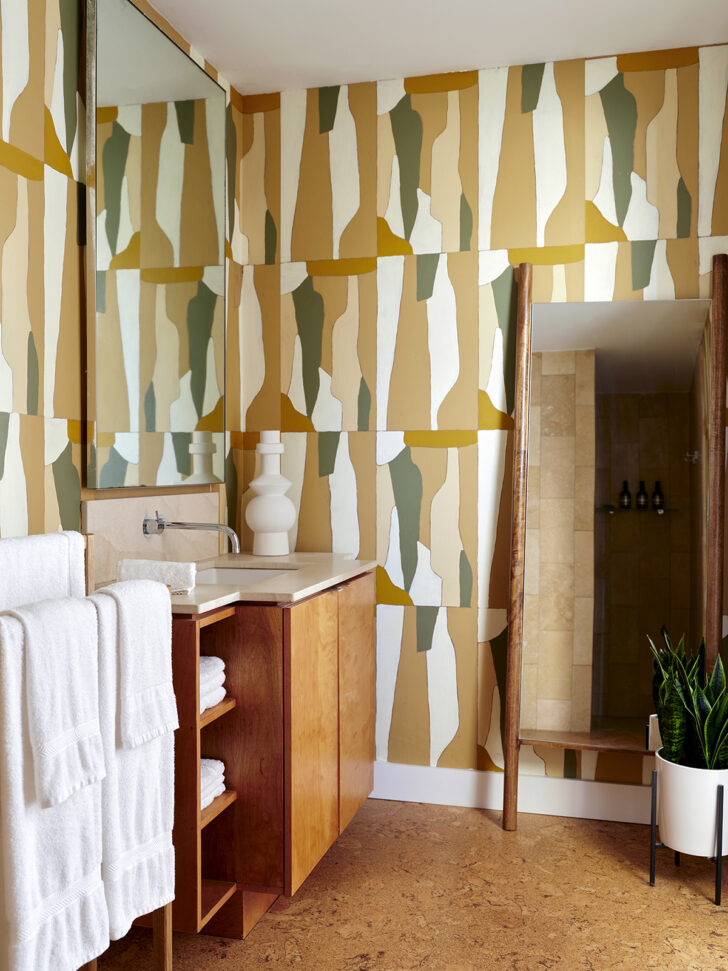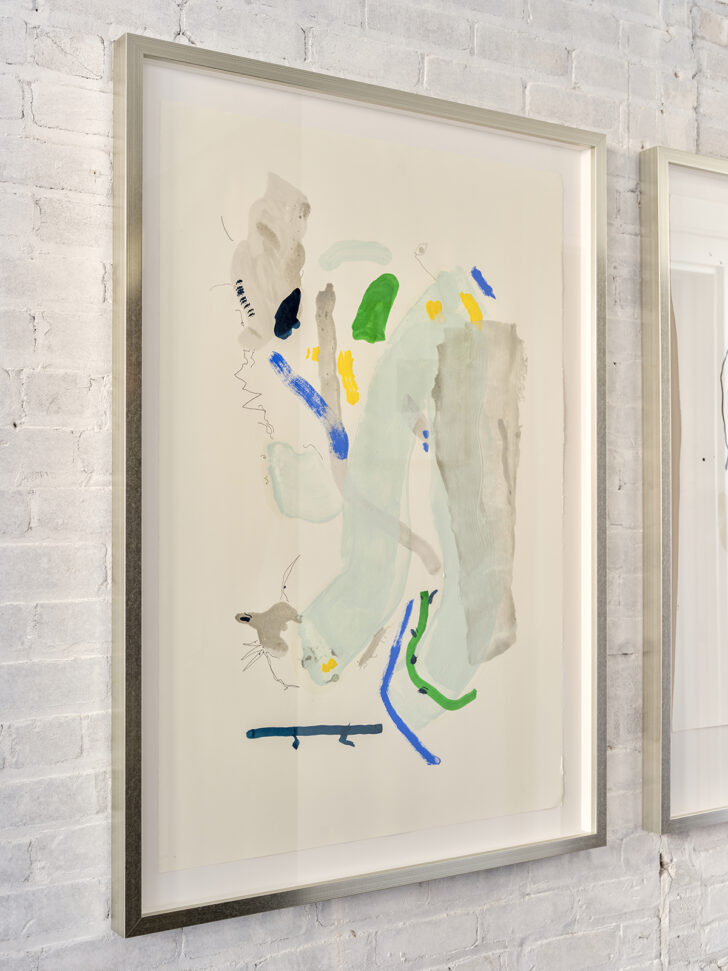 Maison S
Speaking of the local community, tell me how Maison S, your Airbnb showroom space, came to be. Because it doesn't just showcase Swadoh products, it also highlights so many talented artists from New Orleans.
I had the idea for Maison S some time ago. Just like everyone, COVID has been challenging but also life-changing for me. We had this beautiful showroom, but we discovered that working remotely was something that was possible, and I was like, you know, we have this beautiful place. What if I open it up to local sculptors and artists, make a selection of people we want to represent, and rent it like an Airbnb? Why do I want to keep this beautiful space for a handful of clients who are going to come while we do everything remotely? Why don't people come experience the New Orleans life and also how it feels to be an art collector? If people want to buy, you can start with a very affordable sculpture or painting, or you can go much higher, but there is a budget for everyone if you want to start your own collection. And then if you want to meet the designer or the painter, we can schedule a studio visit.
I'm a visual person. I like to touch things. We have seen that a lot of galleries had a great experience during COVID on websites such as 1stDibs, but where is the connection to the art? How about touching it? I mean, technically you're not supposed to touch it (laughs), but you know, touch with your eye! How about meeting the artists? Yes, we can do everything online, but if we create an experience, I think it's beneficial for everyone. Each Swadoh piece is made by hand, it's one of a kind, and it comes with a certificate of authenticity, so, those are art as well, and they're sold at Maison S.
If people can come and immerse themselves in this environment, then we feel like it's going to better serve everyone in the artistic community, particularly in New Orleans, that really took two hits in a row, with Ida. We're creators. We don't work on computers, right? So, when we have our studios damaged or when we have to evacuate and we don't know if we're going to lose materials or things like that… it's important that we team up as creators. It's how we feed each other.
You're a connector.
Yeah. And I think because I'm an outsider, I'm not from New Orleans, I was like you know what? If I want to meet people I need to push doors, like, "Hey, would you mind meeting with me? Can I see what you're doing?" And people love that.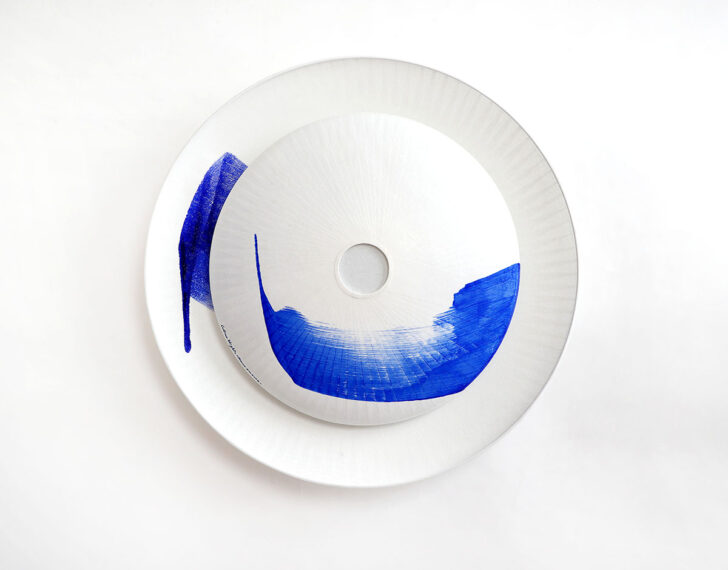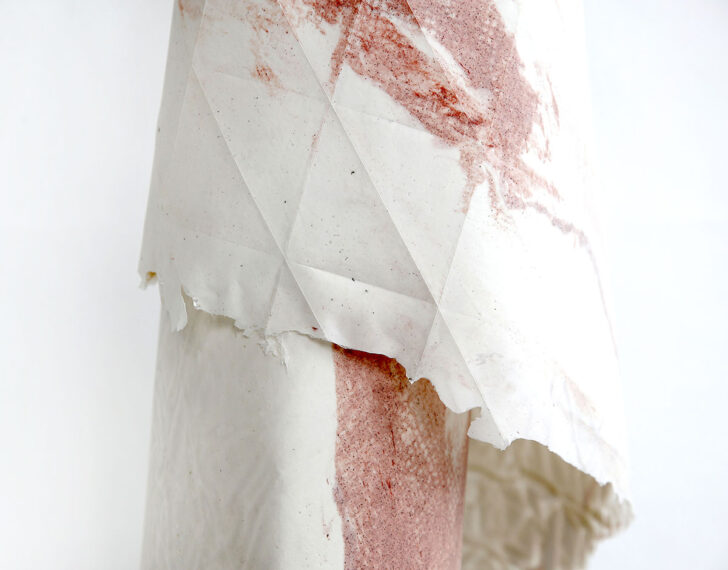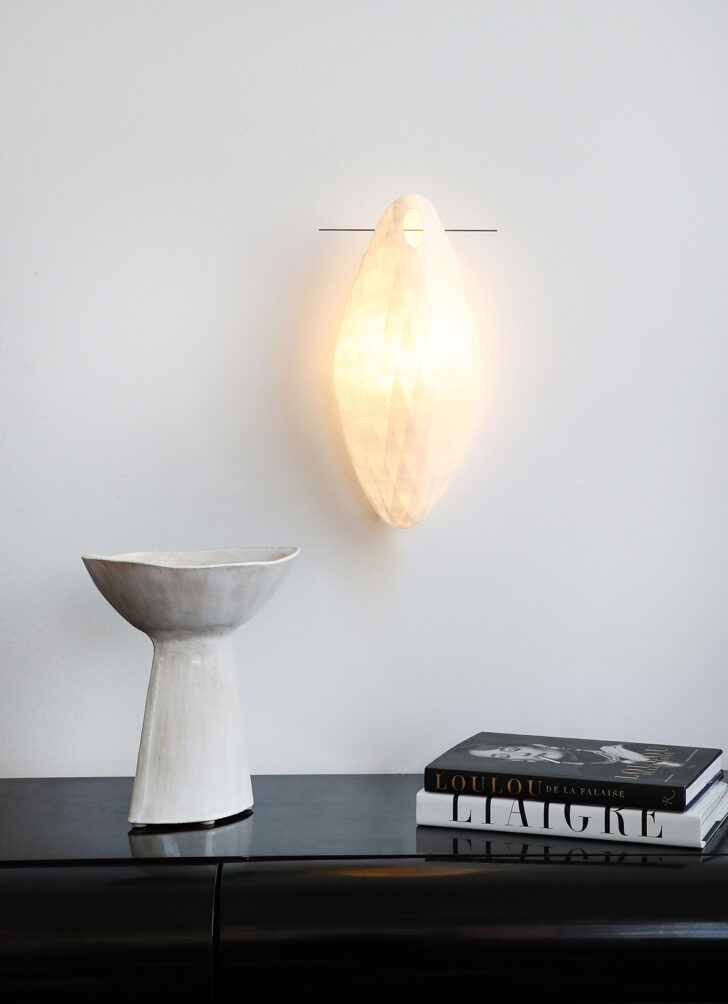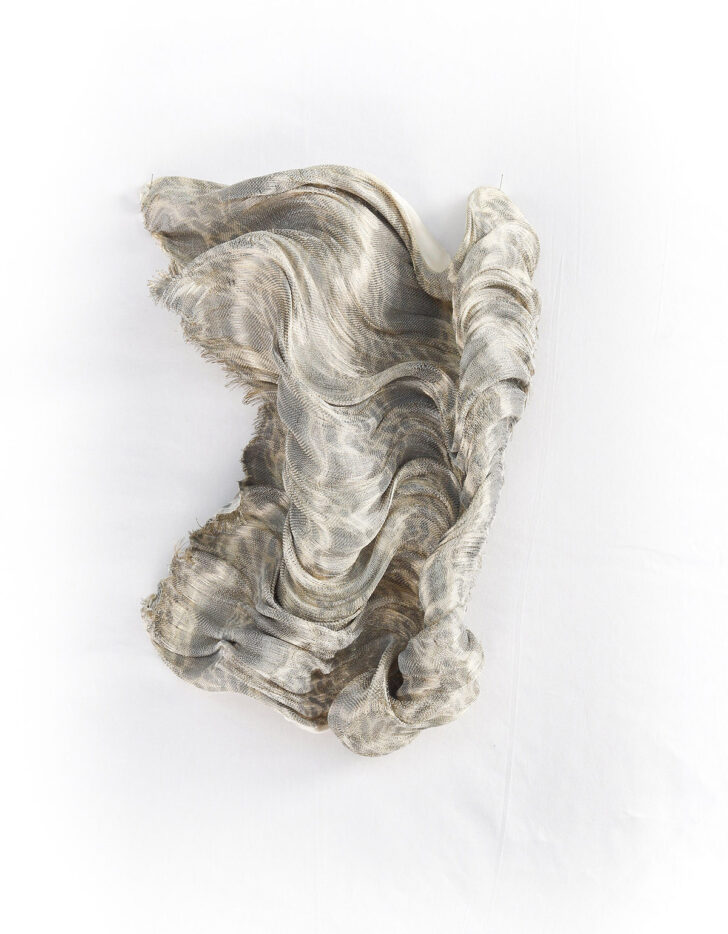 Do you feel like there's an aesthetic thread connecting all of the artists you work with?
Besides Emilie, who is using a new material that she invented, everyone is using traditional materials that are revisited in a more contemporary way, although I don't like the word contemporary. They're all also quite minimalist, organic, and natural.
It also feels like with a lot of Swadoh pieces, their materiality is sort of cunning — you expect it to be one way and then you realize that it's something else. Like Céline's lights, which are made from washi paper — you expect them to be pliable, like a Noguchi, but they're quite rigid. Emilie's same thing. It looks like a ceramic cone, but it's almost got the texture of a more delicate exercise mat.
Yeah, you're right. That's why I think if you are in front of a blank page and you say "I need to design a light fixture," you're not going to do something that's very innovative. Because you're conditioned, you have already an idea of what a light fixture should be or should look like. Whereas if you are start with the material, it becomes almost like an accident. You just play. ◆