05.12.22
Cool Chromes and Candy-Colored Resin: Introducing the First Sight Unseen Furniture Collection, Created in Collaboration With Bestcase
As an editorial platform and sometimes-IRL design show, Sight Unseen has been showcasing furniture and accessories by talented designers for almost thirteen years. But it wasn't until nearly a decade in, when an old friend went to co-found a metal manufacturing facility, that we began to wonder — wait, shouldn't we also be making furniture ourselves? That old friend was Charles Constantine, formerly of The Principals — who long-time Sight Unseen fans might remember from an immersive installation at our 2015 Offsite, in which the lights faded in and out to match the beat of a visitor's pulse — and the company he co-founded was Bestcase, a Long Island factory specializing in sheet metal production. We began working together to figure out the possibilities and constraints of designing with metal, then created a '70s-inspired mood board with references to how we wanted the collection to feel — at once icy and warm, vintage-inspired, yet of the moment — and reached out to a handful of designers we thought could absolutely nail this look. The resulting six-piece collection — which has a kind of louche appeal, what with its curvaceous mirror-polished screen, its high-key industrial bar cart, and its teddy-bear soft magistrarial seat — launches today, both on Sight Unseen's 1stDibs storefront and through Bestcase's distributor network.
In the end, we commissioned four international designers to channel the vibe we were after: Constantine himself designed a mirror-polished aluminum room divider and a throne-like stool with an upholstered cushion. Oliver Haslegrave of Home Studios created a petite floor mirror that rests between two rounded slabs of metal, its mirror appearing to float in its frame. The Nova Scotia–based Evan Jerry of Studio Anansi created a more modern take on a bar cart, with no wheels and a deliciously glowing resin handle. And the Swiss creative duo Thévoz-Choquet created an endlessly customizable suite of glass-topped tables, desks, and consoles, whose thin, colorful, powder-coated bases were inspired by the artist Fred Sandback's volume studies. With their metal profiles softened by curvaceous geometries, contrasting materials, and playful colors, all five pieces will feel at home in any living room or hotel suite. We hope you enjoy!
PHOTOS BY SEAN DAVIDSON
THANKS TO NORDIC KNOTS FOR PROVIDING THE BEAUTIFUL RUGS SEEN IN THIS SHOOT!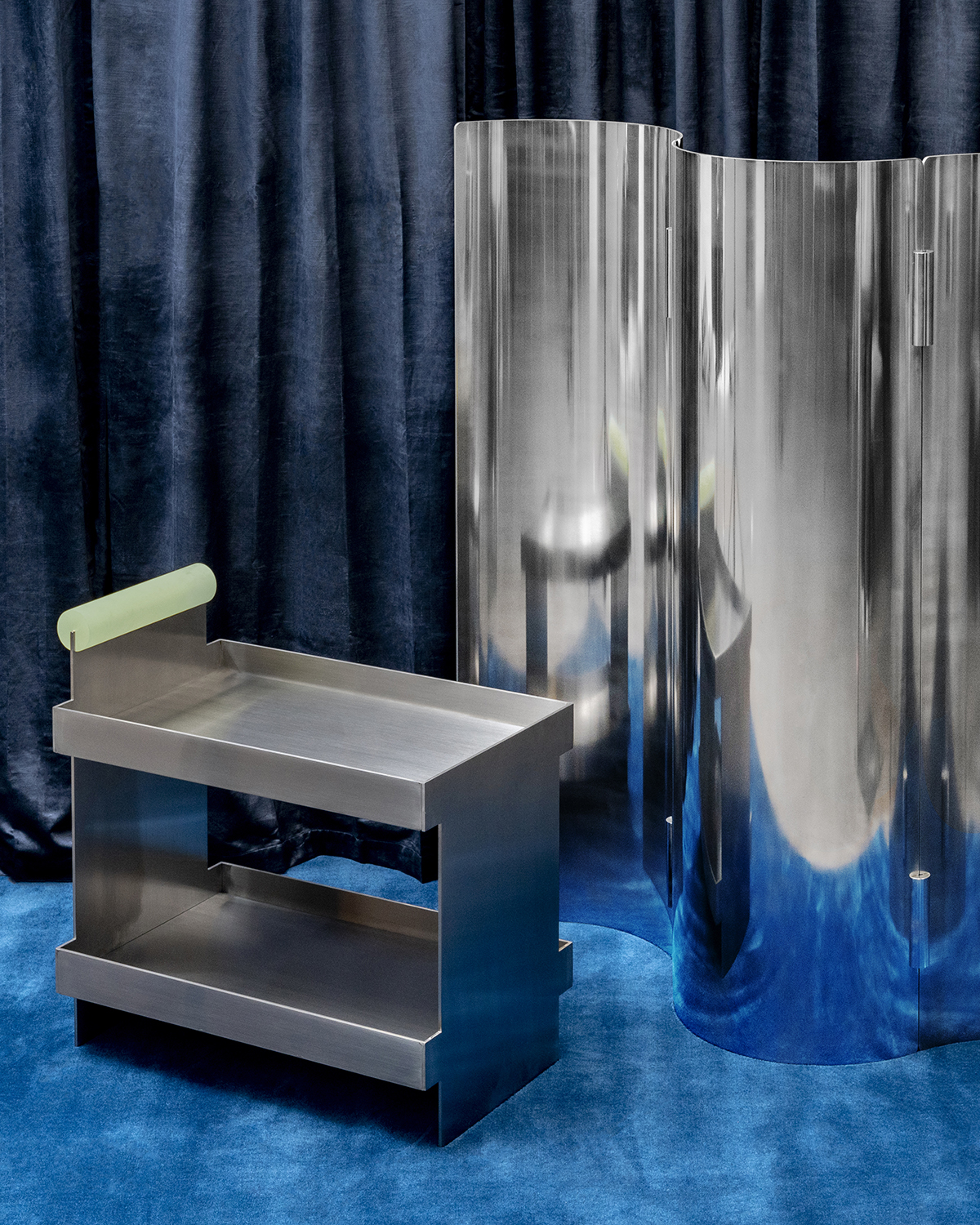 Thevoz-Choquet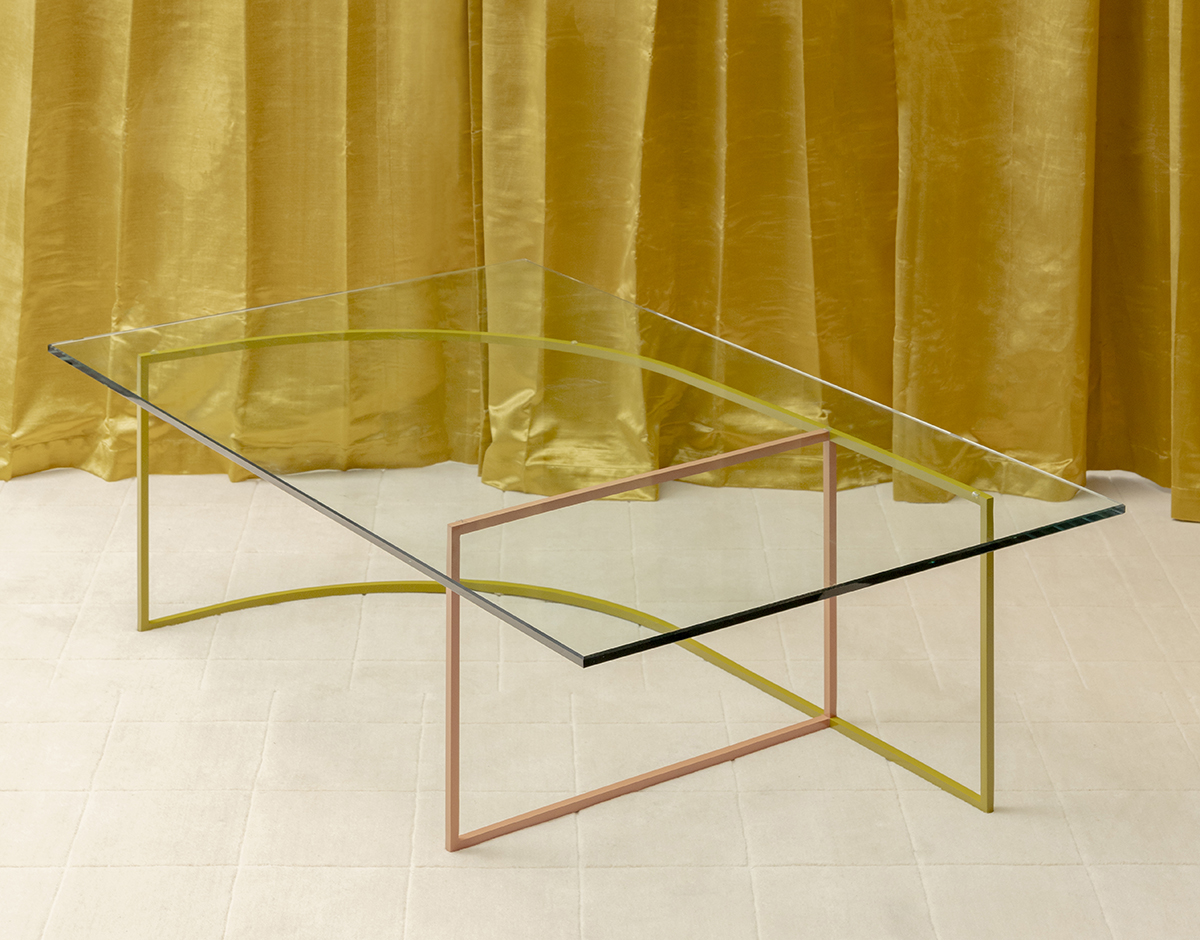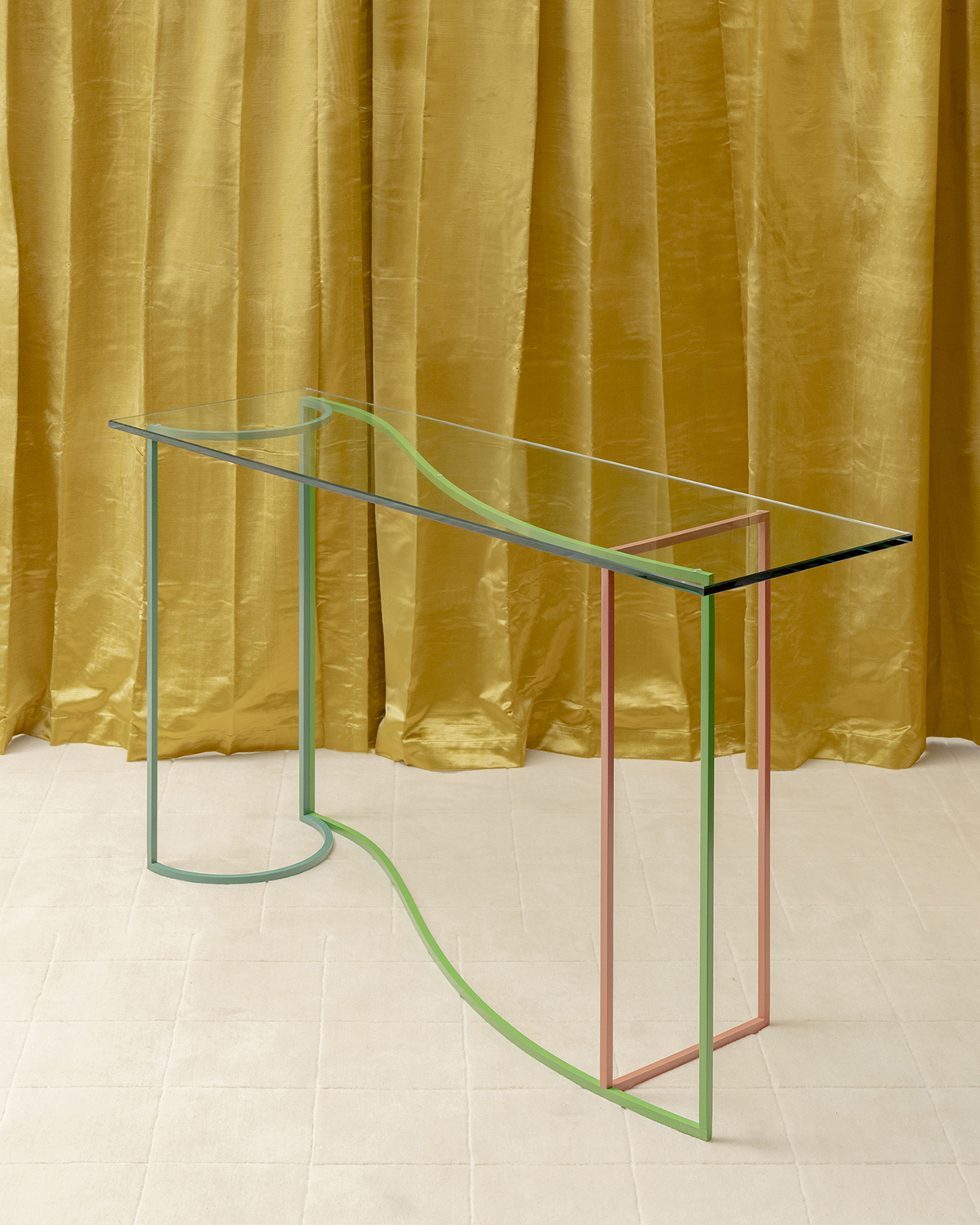 Frame Tables by Thevoz-Choquet, Console $3,658 and Coffee $4,602
Made from powder-coated steel and glass, and available as coffee tables or consoles, the Frame tables were designed by Swiss duo Thevoz-Choquet around a series of intersecting geometries. Inspired by Fred Sandback's volume studies and the perception of negative space, colorful steel frames generate volumes in deliberately minimal compositions. The colors in each base can be customized on demand.
Studio Anansi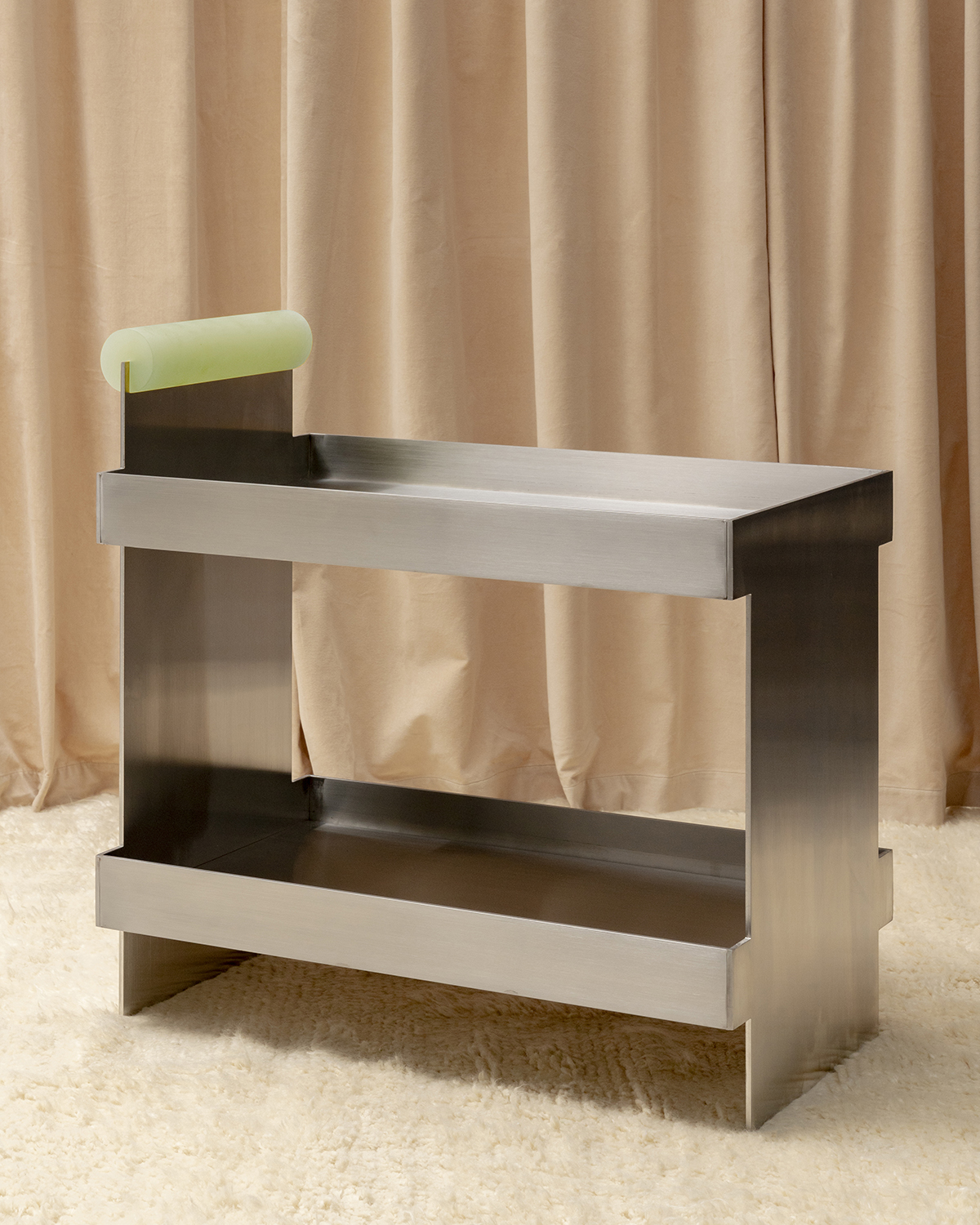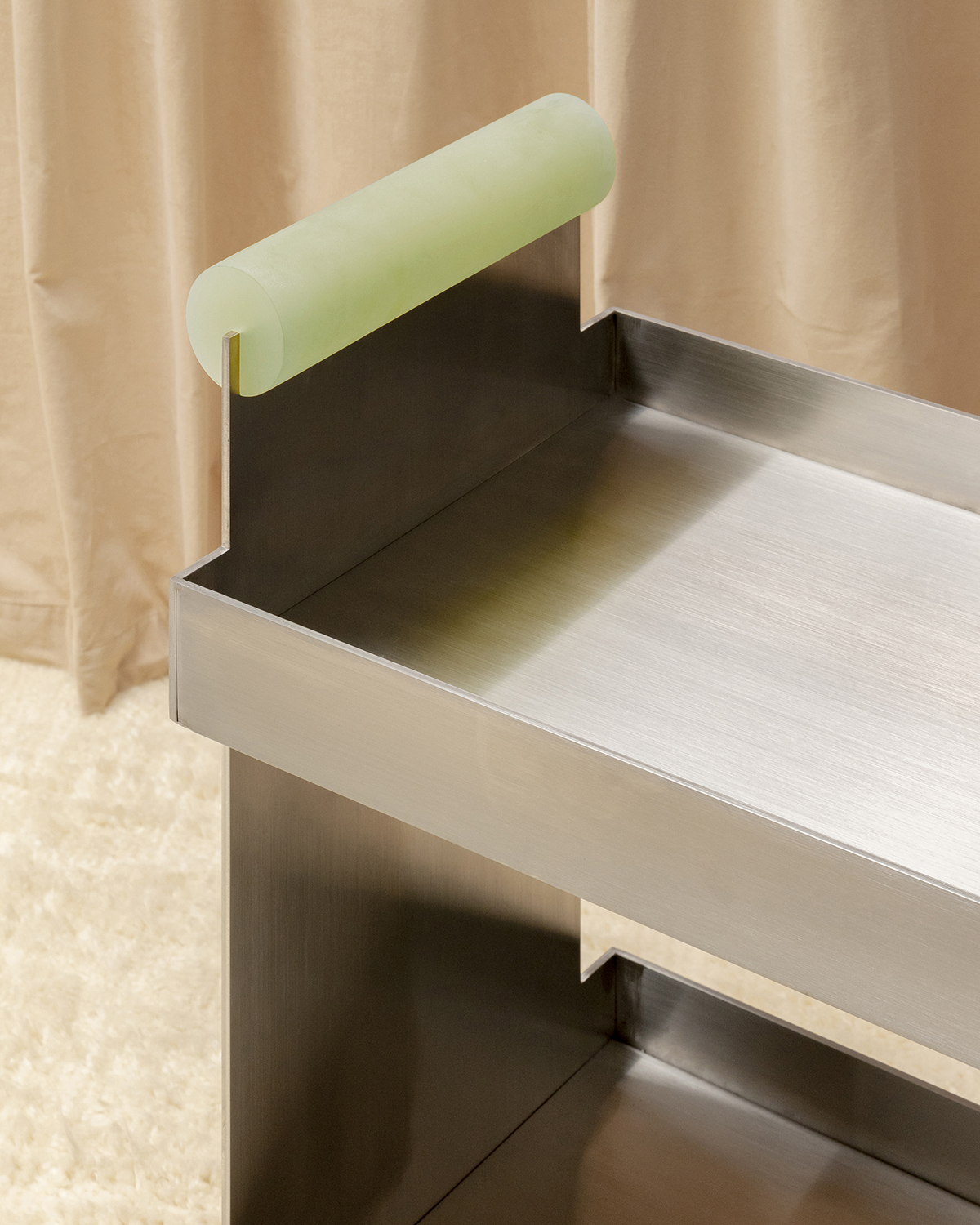 Brut Bar Cart by Studio Anansi, $6,844
Art industrial in its aesthetic and sculptural in its presence, with references to Brutalist architecture, Studio Anansi's bar cart poetically marries the hard rawness of brushed stainless steel with a semi-translucent resin. Traditional wheels are here replaced with a metal base, giving the cart a structural permanency.
Home Studios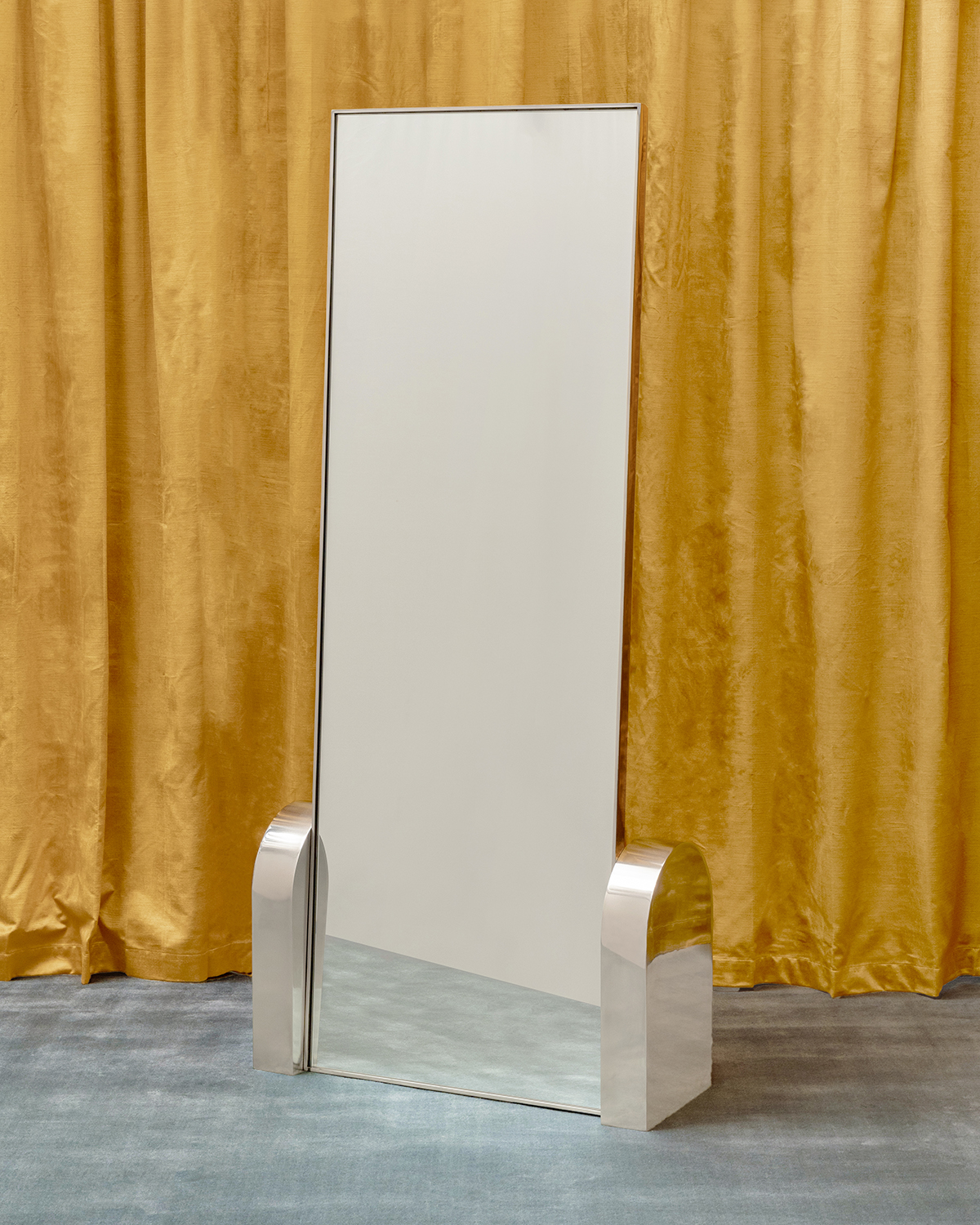 Slab Mirror by Home Studios, $5,664
With the Slab mirror, Home Studios continues an exploration of design ideas that began with its inaugural furniture and lighting collection, Homework, which debuted at Sight Unseen Offsite in 2017. From the balance of curved and rectilinear shapes to an overall emphasis on materiality, including the prominent use of polished metal, each detail has been considered and finely crafted, allowing only what's essential to remain.
Charles Constantine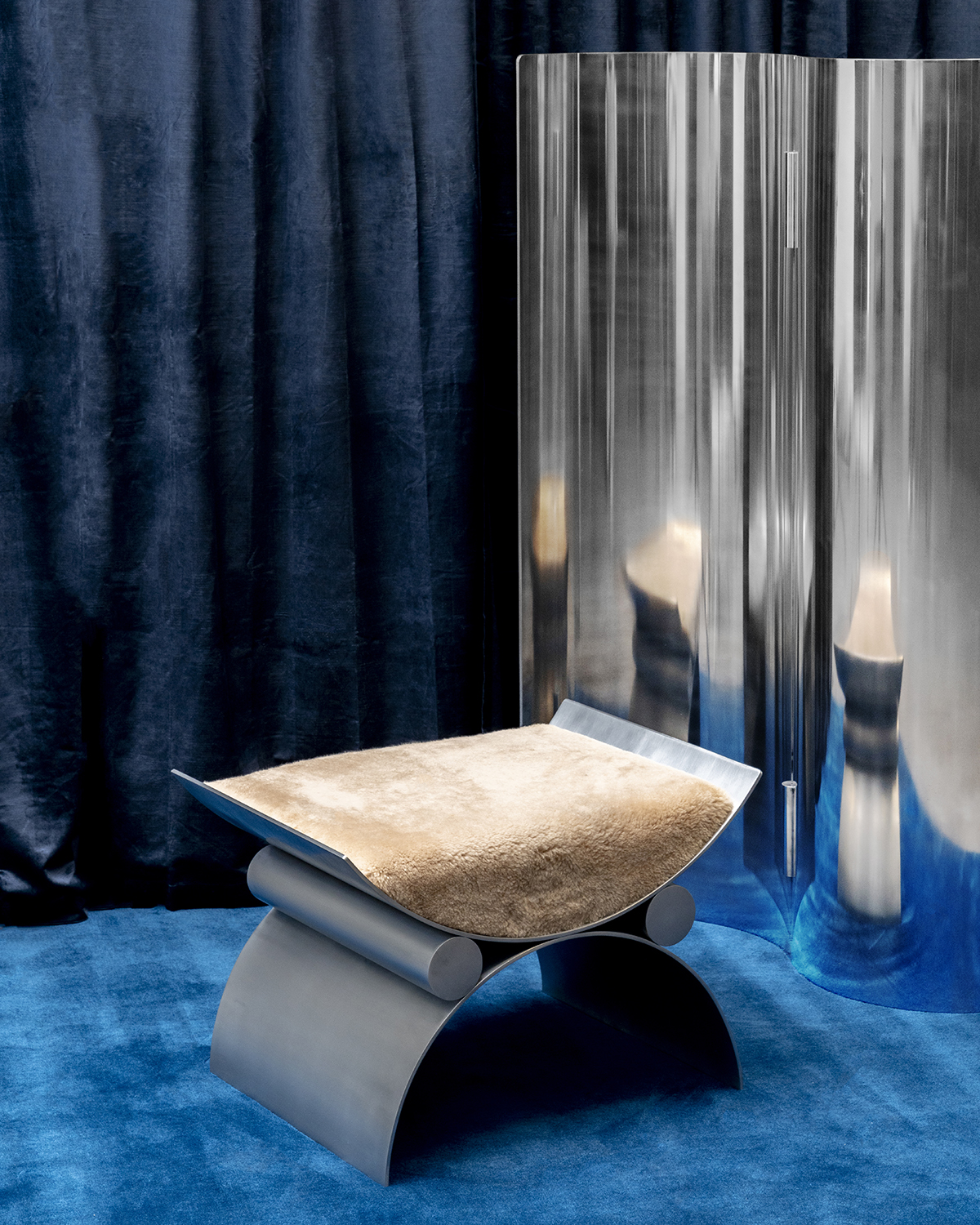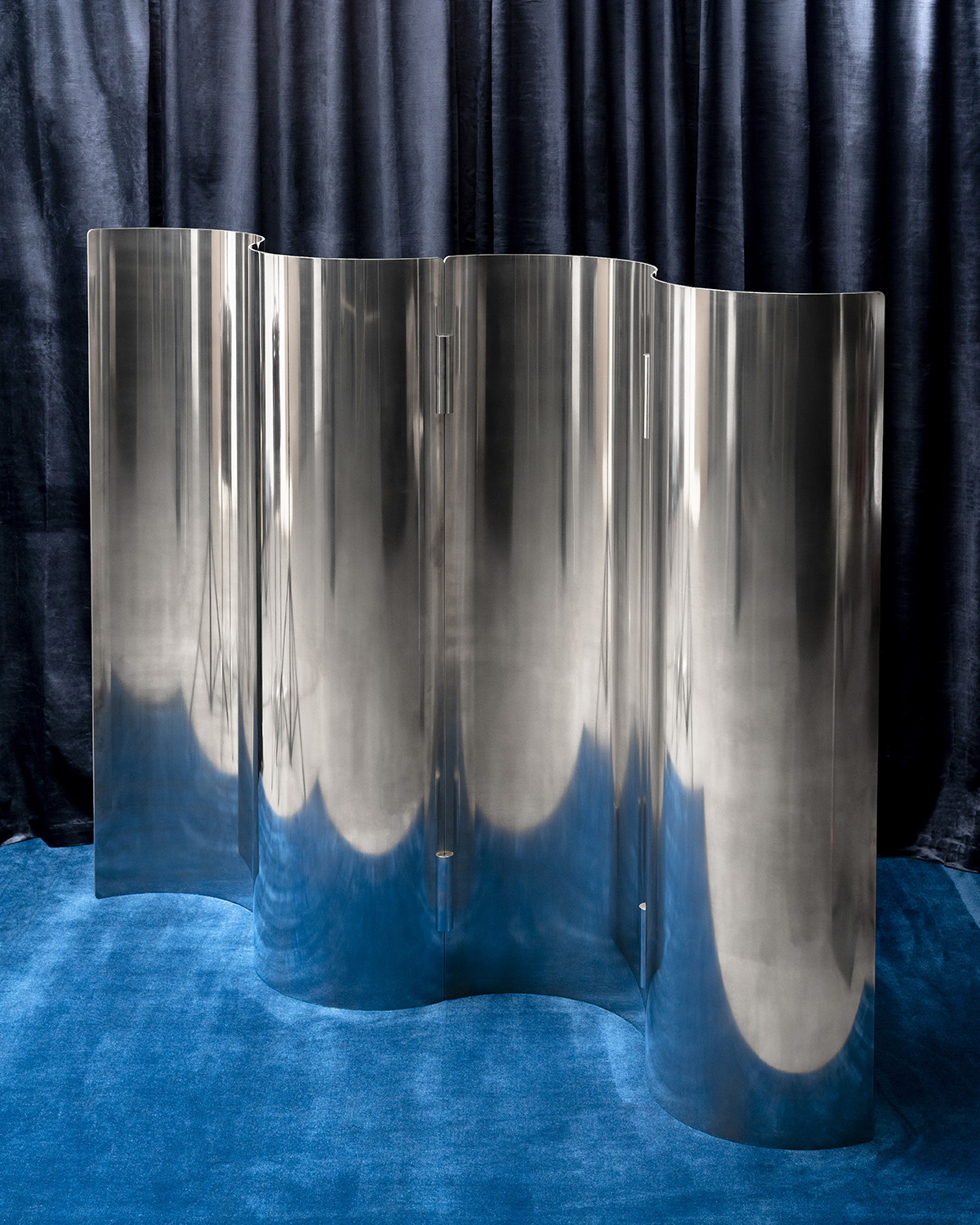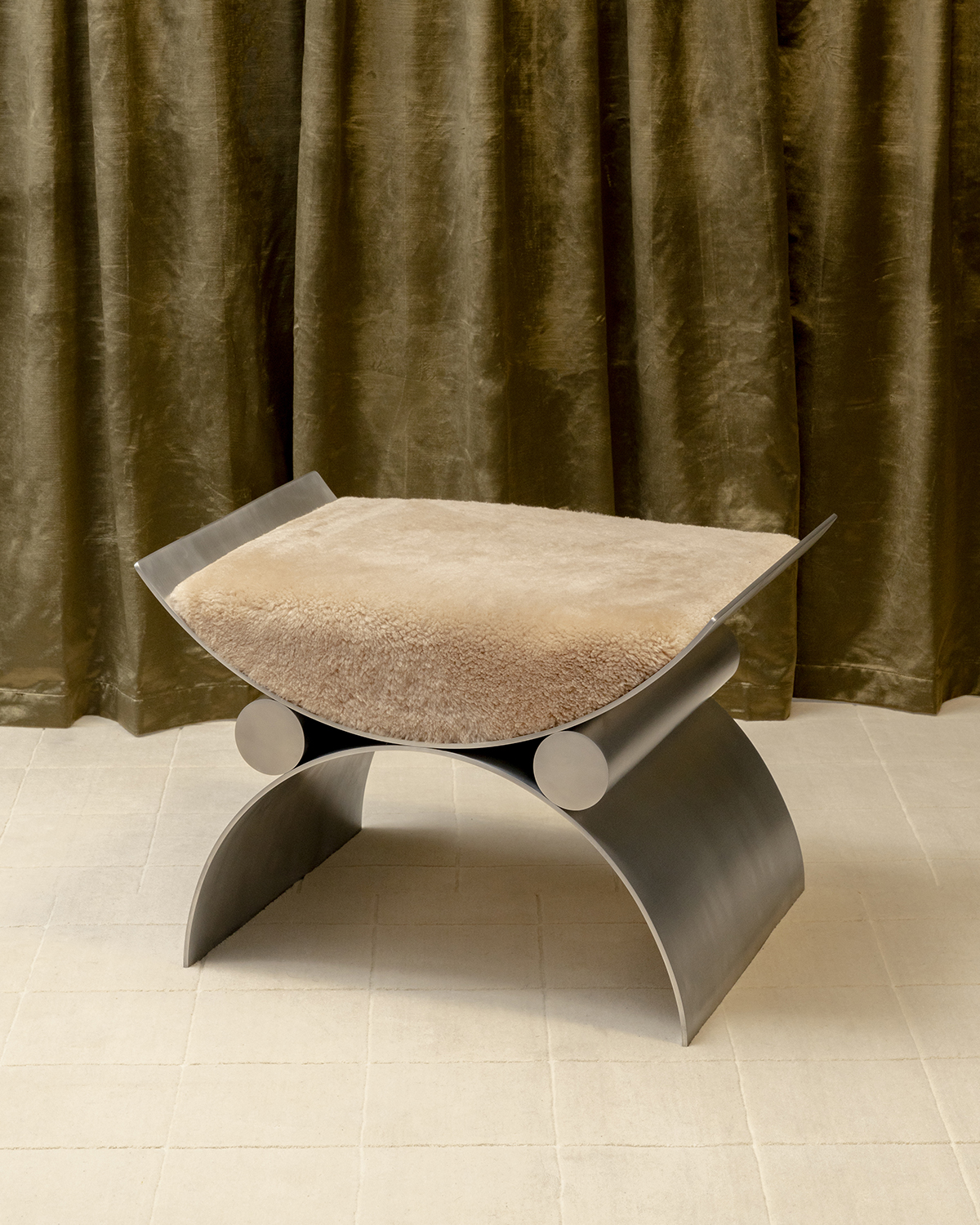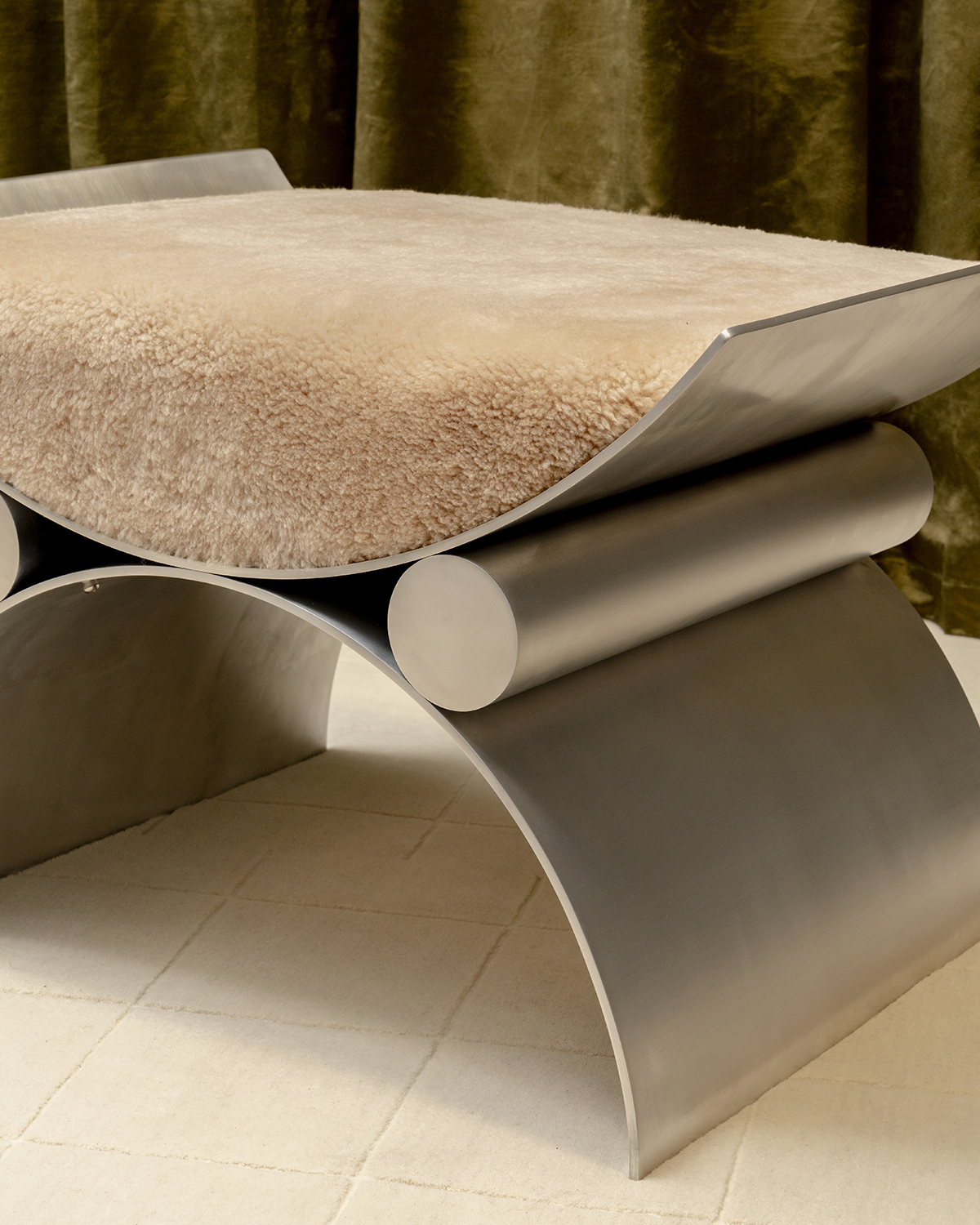 Song Screen by Charles Constantine, $16,500 fully polished, $7,080 powder coated
Magna Chair by Charles Constantine, $4,484
Made from rolled satin aluminum and sheepskin, the Magna chair takes its inspiration from the ancient Roman curule, an ornate, cross-framed seat typically reserved for magistrates and nobility. Here, the chair's stripped-down, regal air is warmed by a plush, shaggy cushion for maximum coziness. The Song screen is a more striking, modern take on the Eames's iconic 1946 FSW screen. Made from mirror-polished aluminum, it also subverts the idea of traditional folding screens, once adorned with mythological depictions or historical narratives, by mirroring the present rather than reflecting on the past.