11.02.22
At Phillips's New Los Angeles Outpost, Our Curated Selection of California Designers is On View — And Available for Purchase
When we first began selling furniture online via our 1stDibs storefront back in 2018 — beautiful, hand-crafted, designer-made, expensive furniture — we wondered if there was a market for buying things, well, sight unseen, as it were. Turns out there most definitely was, but after nearly five years, we still longed for a physical space in which our clients could actually see and feel and sit on the pieces in question. So when Phillips approached us earlier this year, asking if we might be interested in curating a rotating selection of contemporary California-based designers at the auction house's newly opened Los Angeles gallery space, we couldn't say yes fast enough.
For the inaugural installation, on view now at Phillips in West Hollywood, we selected 10 designers who we felt really exemplified California's continuing pioneering design spirit, inviting them to show alongside the auction house's consigned works of 20th century and contemporary art, design, jewelry, and watches. In vignettes throughout the space, we highlight the spare metalwork of Atelier de Troupe in a slender matte-black floor lamp; the hand-carved majesty of Casey McCafferty's Pericles chair; a settee with cartoonish, knob-like backrests by Ryan Belli, custom upholstered in Ria by Kvadrat/Raf Simons; a sleek metallic planter by BZIPPY; a Bauhausian duo of black wood chairs by Nicholas Bijan Pourfard; a plush wavy bench by Objects for Objects; a powder-blue sofa and wavy table by Michael Felix; a stacked, jellylike Elio lamp by Soft Geometry; and a Christopher Norman stool, hand-carved from a veneer-grade, Mexican-era, 200+ year-old walnut tree from Northern California. In the covered back patio area is a site-specific installation by Molly Purnell and Rachel Bullock of LAUN, who expanded their indoor-outdoor powder-coated aluminum Ribbon series to include a circular bench and curved sofas. All of the pieces are available for purchase through Sight Unseen, either directly or via 1stDibs, and all of them are shown in the galleries atop our favorite rugs from the Scandi brand Nordic Knots.
Says Meaghan Roddy, Phillips' Head of Design, West Coast (and our personal fairy godmother): "Phillips has long recognized California's rich history and significance in the context of architecture and design, with our new outpost underscoring our commitment to the creative culture and ecosystem in the region. We are delighted to have the opportunity to work with Sight Unseen in championing this group of endlessly talented local designers and bringing their work to our community of collectors, both here in Los Angeles and beyond." Stop by if you're in the area, and stay tuned for a showcase of even more designers in the coming months!
PHOTOS BY YE RIN MOK
Clockwise from left: Tempo Floor Lamp by Atelier de Troupe; settee by Ryan Belli, upholstered in Kvadrat's Ria fabric; Raised Castle Planter in Palladium by BZIPPY; Pericles Chair by Casey McCafferty; green dining chair by Ryan Belli; Jute Border Rug by Nordic Knots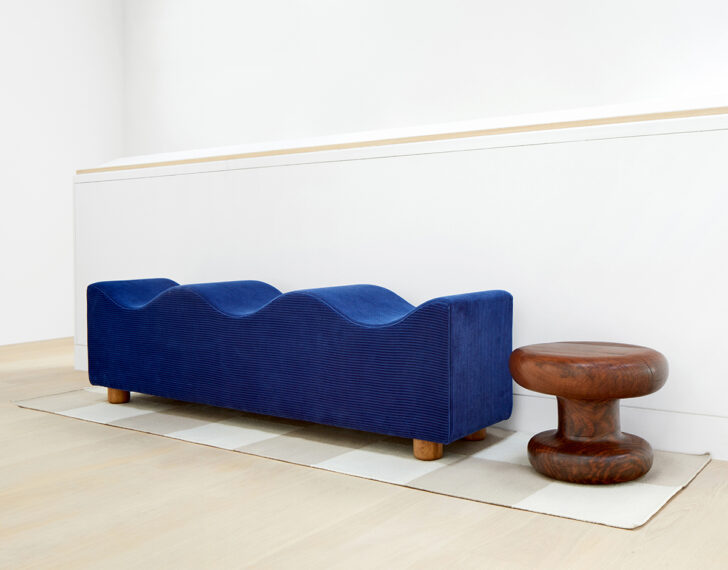 Wave Bench by Objects for Objects; Untitled (Squeeze) Table by Christopher Norman; Square Sand Runner by Nordic Knots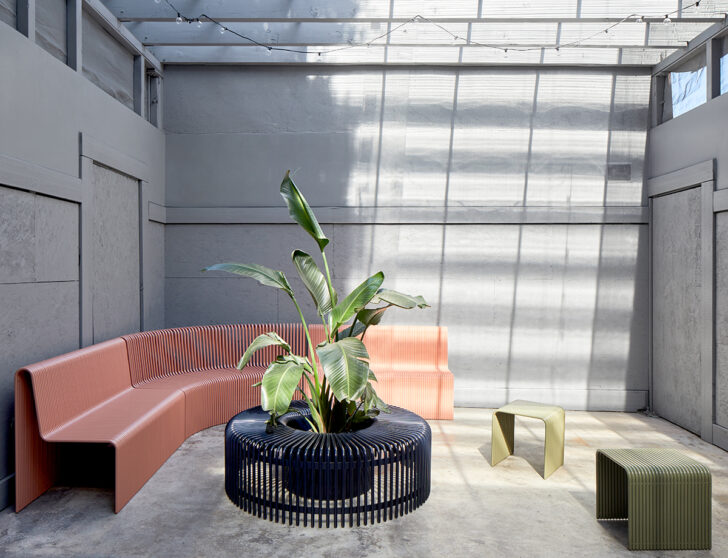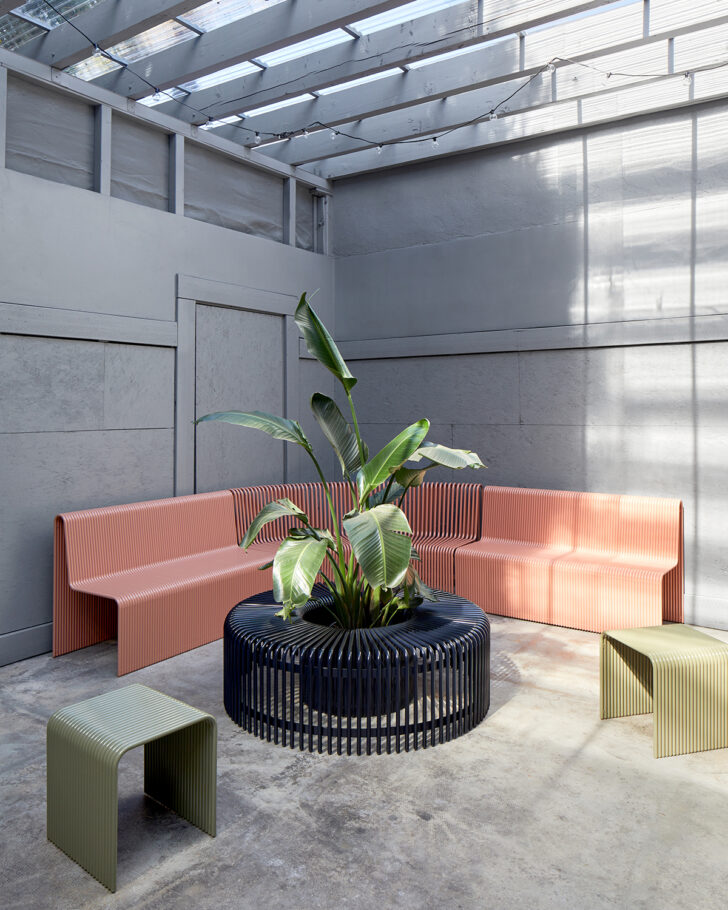 Custom Ribbon Series components by Laun: Ribbon Sofa, Curved Sofa, Circular Bench, and Ribbon Stools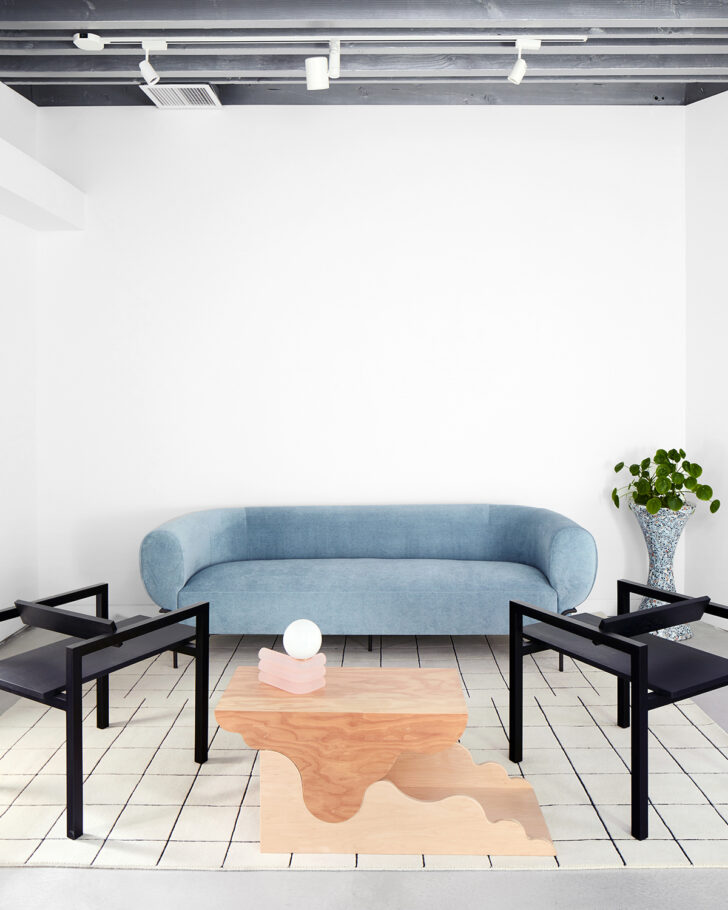 Madda Sofa and plywood Gaspar Table by Michael Felix; Box Chairs by Nicholas Pourfard; Elio Lamp in Lychee by soft-geometry; Confetti Planter by Laun; Grid Rug by Nordic Knots