01.26.23
The 2022 American Design Hot List, Part IV
This week we announced our 10th annual American Design Hot List, Sight Unseen's editorial award for the names to know now in American design. We're devoting an entire week to interviews with this year's honorees — get to know the fourth group of Hot List designers here (including Luam Melake, whose Listening Chair, debuting at R & Company next week, is shown above.
LA Door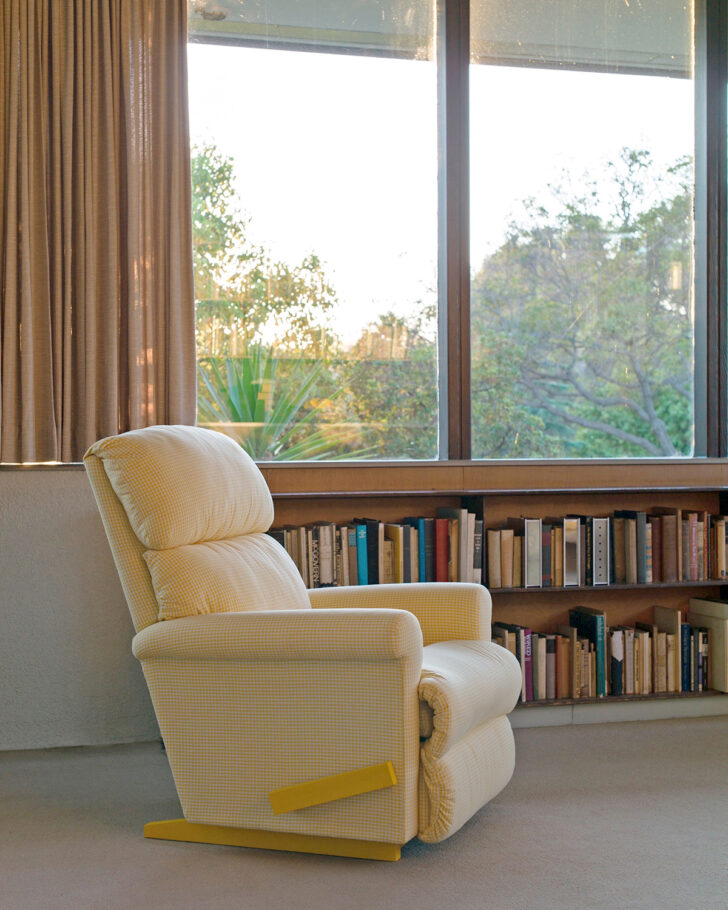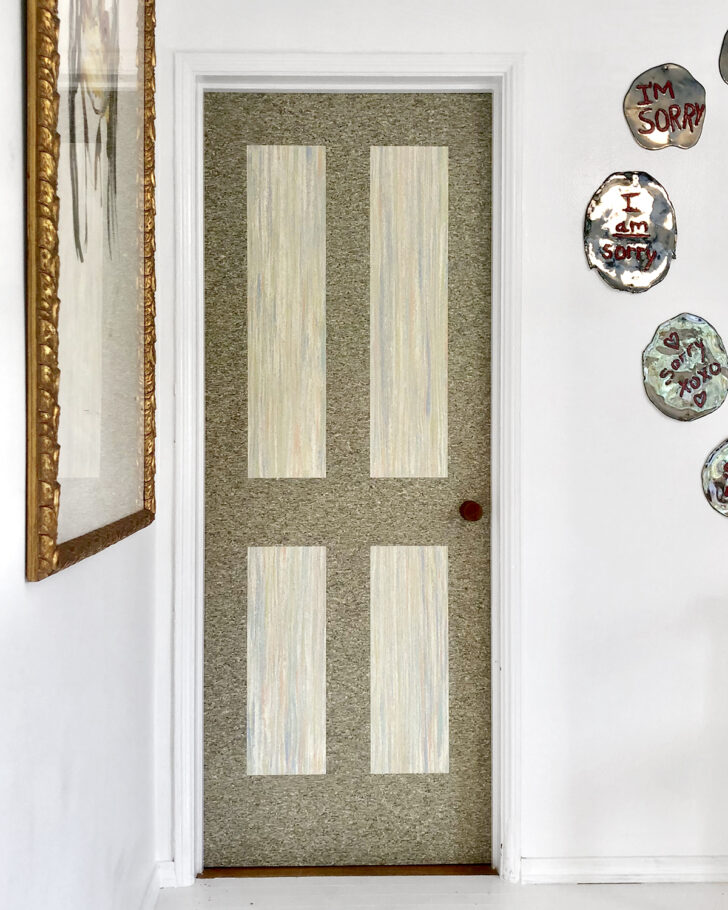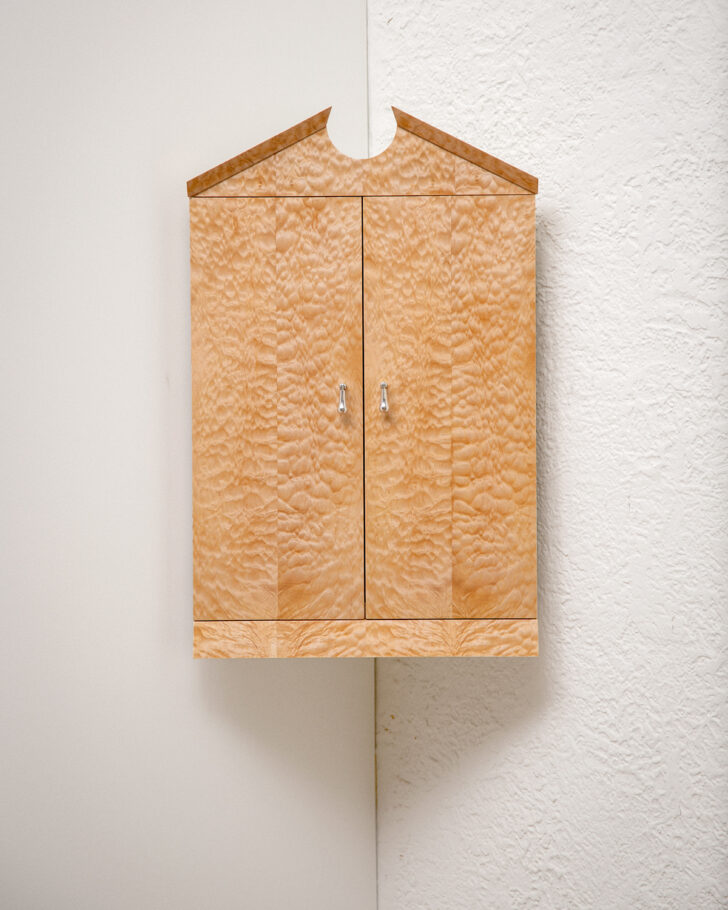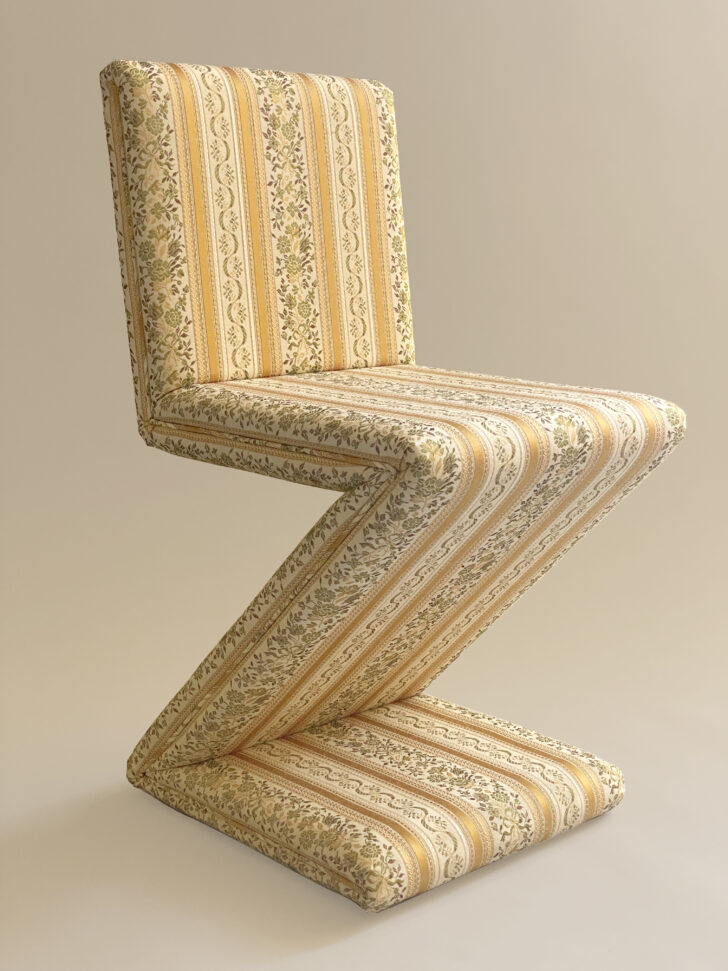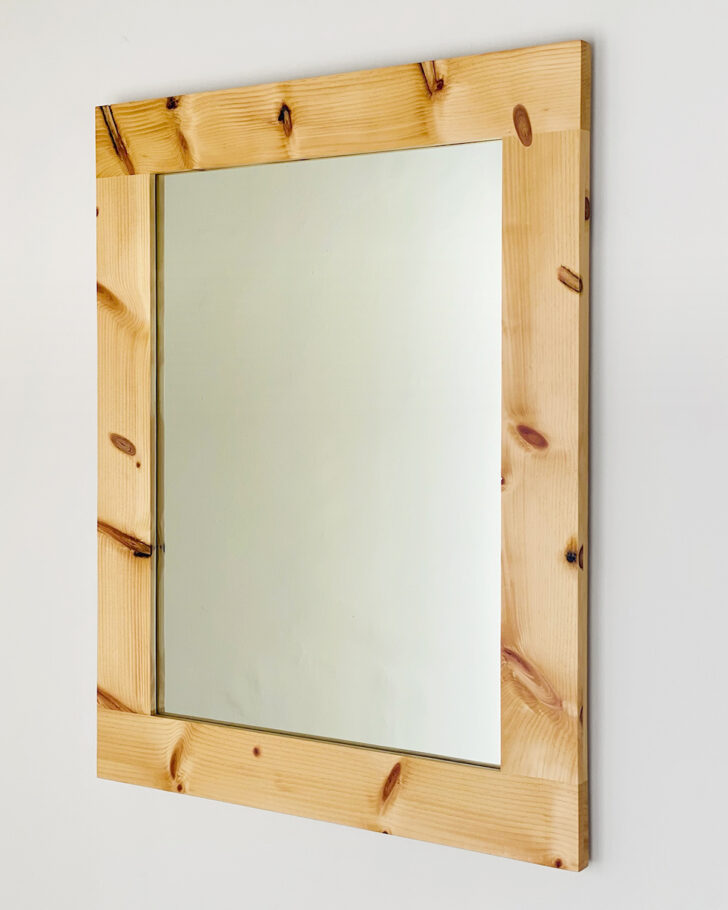 Los Angeles, ladoor.com
The experimental furniture lab of Katie Payne and Doug McCollough, L.A. Door started in 2019 as a studio making actual doors: laminate and plywood versions with custom wood or resin handles and a vaguely postmodern vibe. The duo's next release, a hilariously hip take on a La-Z-Boy recliner, got people paying attention, but the project's longevity, and its continued release of weirdly beautiful send-ups — like a trompe l'oeil pinewood mirror and a sanctioned redux of Gary Knox Bennett's Great Granny Rietveld chair — have given it real impact in the L.A. design scene.
What is American design to you, and what excites you about it?
Every American designer has their own 'America' — often more than one — to draw from. We've come to appreciate how values regarding design often reflect class and geography in the US. La-Z-Boy recliners inspired our L.A. Lazy lounge chair and are a perfect example. Over the last 96 years, La-Z-Boy recliners have become ubiquitous in America because they're comfortable and durable. Last year, La-Z-Boy, a Flint, Michigan-based company, achieved $2.4B in sales. Bob Villa recently rated La-Z-Boy as the #1 choice in his Top 11 American-Made Furniture Brands of 2023. So a very large number, perhaps even a majority of Americans, value La-Z-Boy furniture as an important home fixture — a tool of rest and recovery for everyday life.
However, within more elite design circles, the La-Z-Boy is ignored or dismissed. The brand (and its competitors) have brought in individuals like Todd Oldham to attempt redesigns in order to appeal to so-called elevated tastes, but they always fail. The design and its values seem to be inherently inelegant and unsophisticated, at least superficially. Instead of resisting its corpulent form, our L.A. Lazy recliner celebrates it without irony. With it, we're taking a midwestern mass-produced product (not to mention a fraught icon) and making it bespoke in Los Angeles — not in order to elevate it, but to appreciate it and open a discussion about American life.
What are your plans and highlights for the upcoming year?
Making money, paying our taxes, and driving our work van in Los Angeles traffic; continuing to design and make in the way that we do; and exploring more faux bois techniques with our collaborator and friend, the painter Daniel Payavis. We're also working towards an upcoming 2024 show with Marta Gallery.
We're looking forward to returning to Brown Bag Lady's Stones Throw summer camp for foster youth. Last year, we taught a woodworking project to forty children, ages five to fourteen. Every child was given the supplies, tools, and wood pieces necessary to construct a small step stool. Drills, drivers, clamping, and sanding techniques were all included in the project. Helping a five-year old use a power tool again is at the top of our plan and highlight list.
What inspires or informs your work in general?
We'll always draw inspiration from thrift stores, especially when visiting new places. Katie has a nice little book collection on 18th- and 19th-century American furniture and decorative art. We think about Garry Knox-Bennett a lot. And of course our friends and family.
Lesser Miracle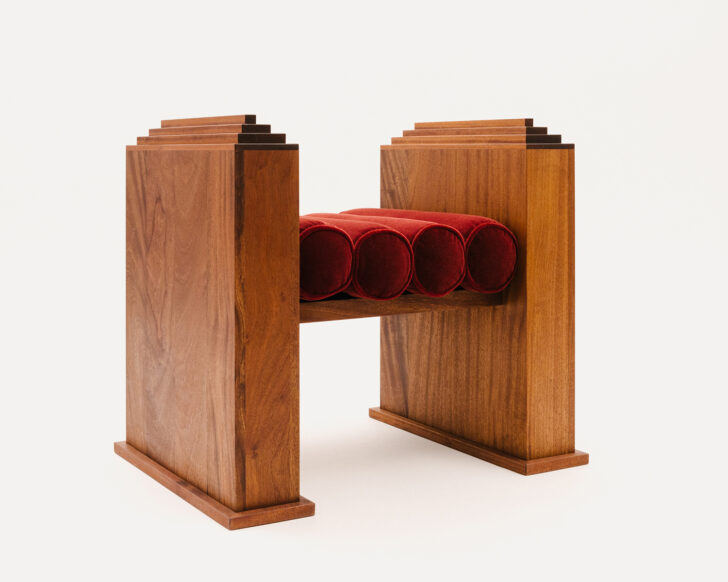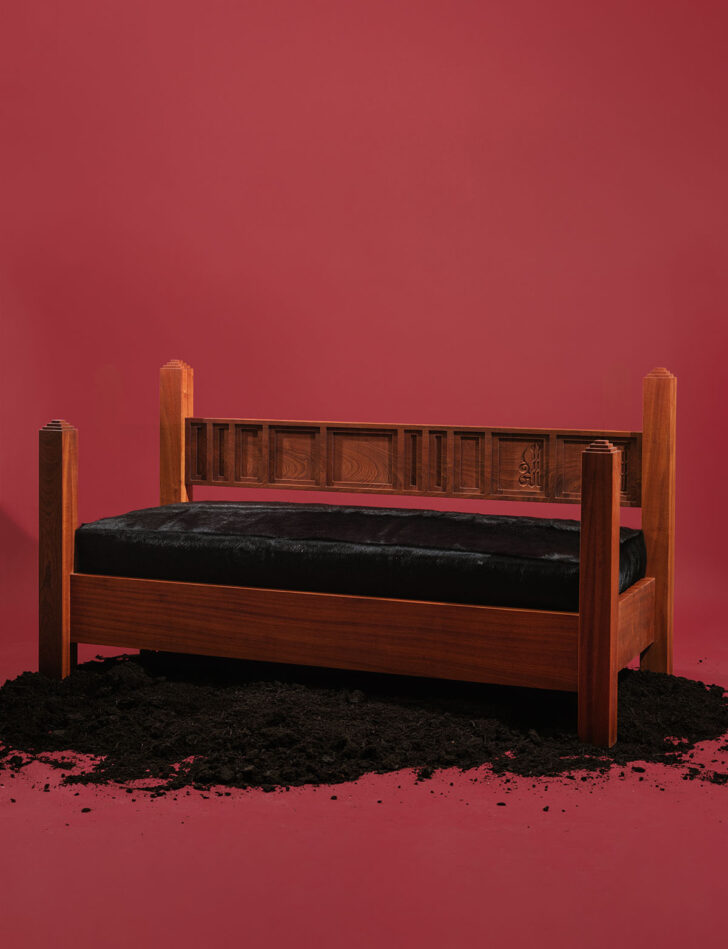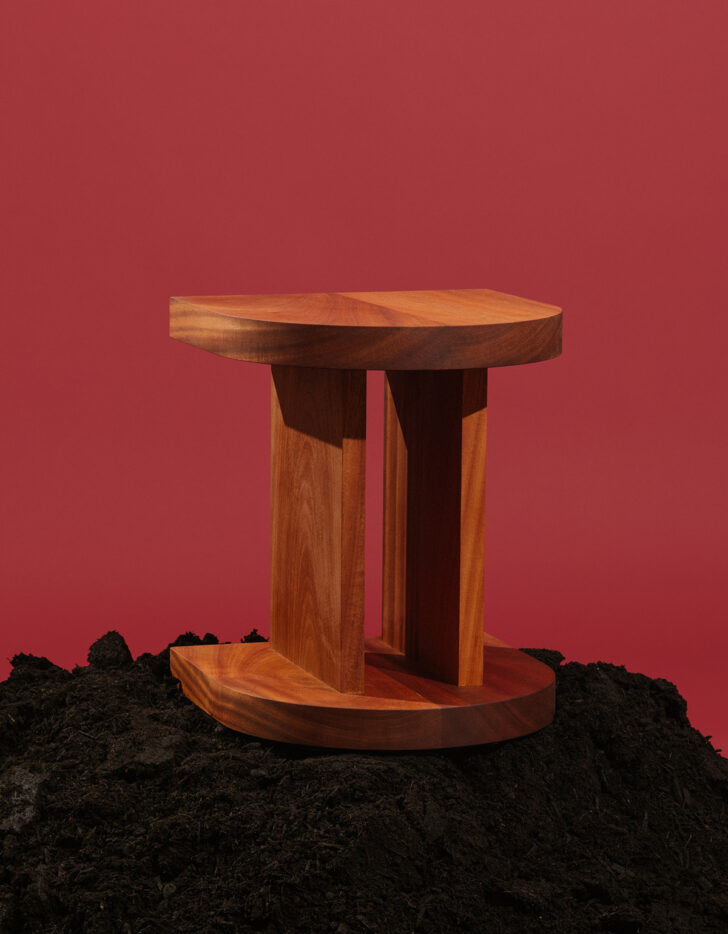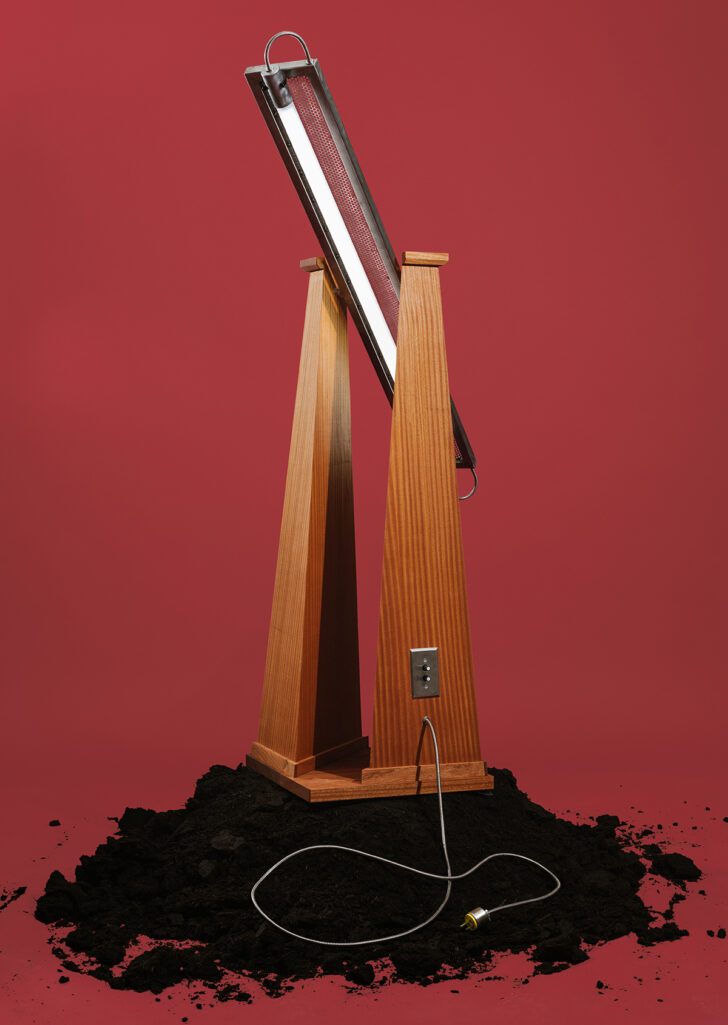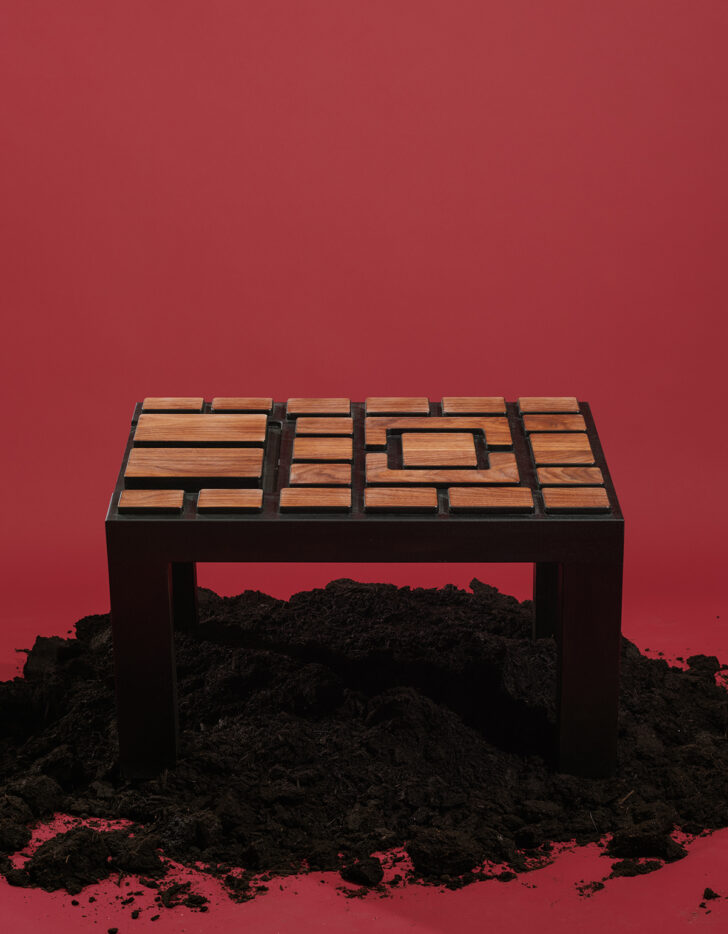 New York, lessermiracle.com
For Vince Patti and Mischa Langley of Lesser Miracle, designing is not simply about making furniture — it's about world-building. This makes sense, considering their name derives from a spell cast in Dungeons & Dragons, and that their first collection developed after the gallerist David Lewis asked the duo to create a show of fantasy furniture. That debut included a throne-like stool and a daybed whose calligraphic pattern recalls the Alhambra in Spain; as Patti put it when we interviewed the pair last summer, "Creating your own world that doesn't feel like a thing that you saw in a design magazine, that you were prescribed to like or be into or told was cool or was the thing of the moment, has always been very attractive to me. So for us, this collection was about really digging deep into a world of our own creation."
What is American design to you, and what excites you about it?
We would say Mu: unask the question. We don'tt believe a unifying trait of American design exists for us to identify. At least we aren't thinking about it if there is one. This practice is primarily about constructing a fantasy world, and the construction of a fantasy world as a withdrawal from reality. It is in many ways definitionally motivated by an intentional unawareness of its material setting.
When I (Mischa) imagined I was fighting orcs on the parapets of Gondor at seven years old, I didn't wonder if the stick I was using as a sword had the right ratio of pommel to hilt. When we design a daybed for a sorcerer prince, it's not in dialogue with a world that has Loewe candles.
What are your plans and highlights for the upcoming year? 
The continuing project of Lesser Miracle is to expand beyond furniture, design, and art into a much more all encompassing program of world-building. Taking a set of values, expressed in aesthetic principles and applying them to music, performance, architecture, community, and infrastructure to create a world wholly new. This year we're excited to bring this vision into new forms with the help of a wider group of collaborators.
What inspires or informs your work in general? 
Mayan architecture, Brutalism, revenge, classic fantasy, rave culture, American folk art, evangelical Christianity, grief, our beautiful and talented friends, applied math, "fiddling while Rome burns." Those are the big ones right now.
Luam Melake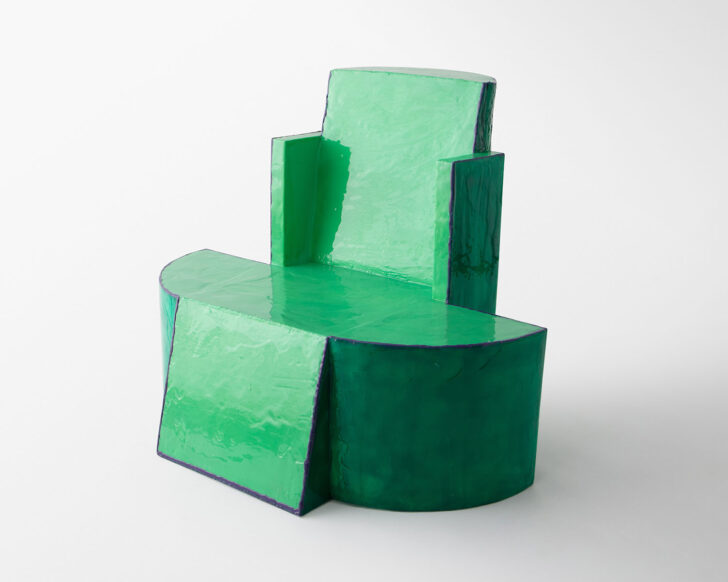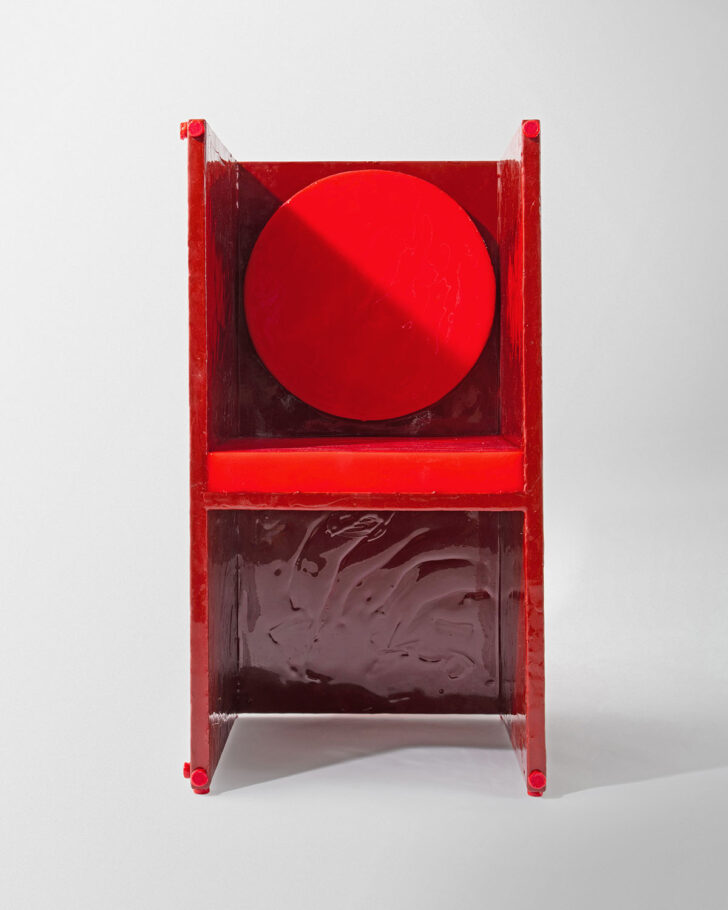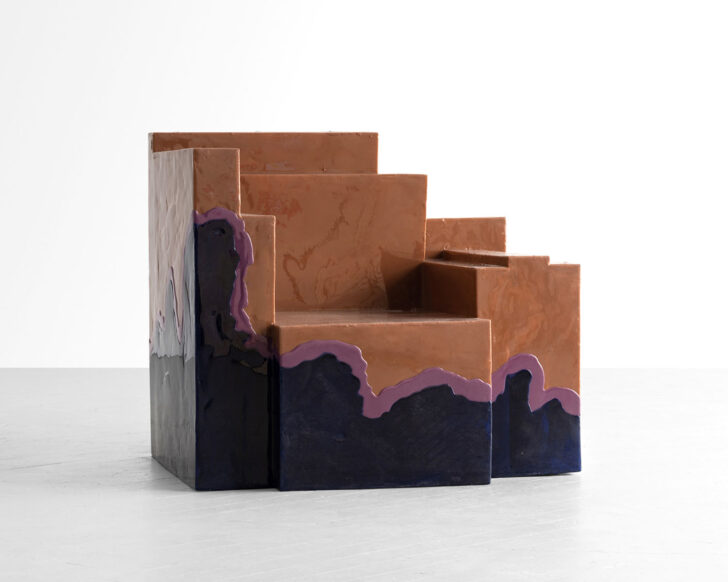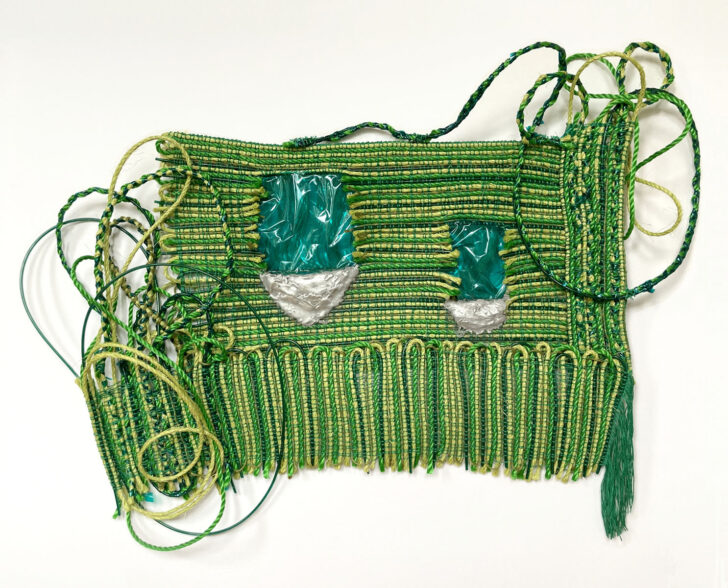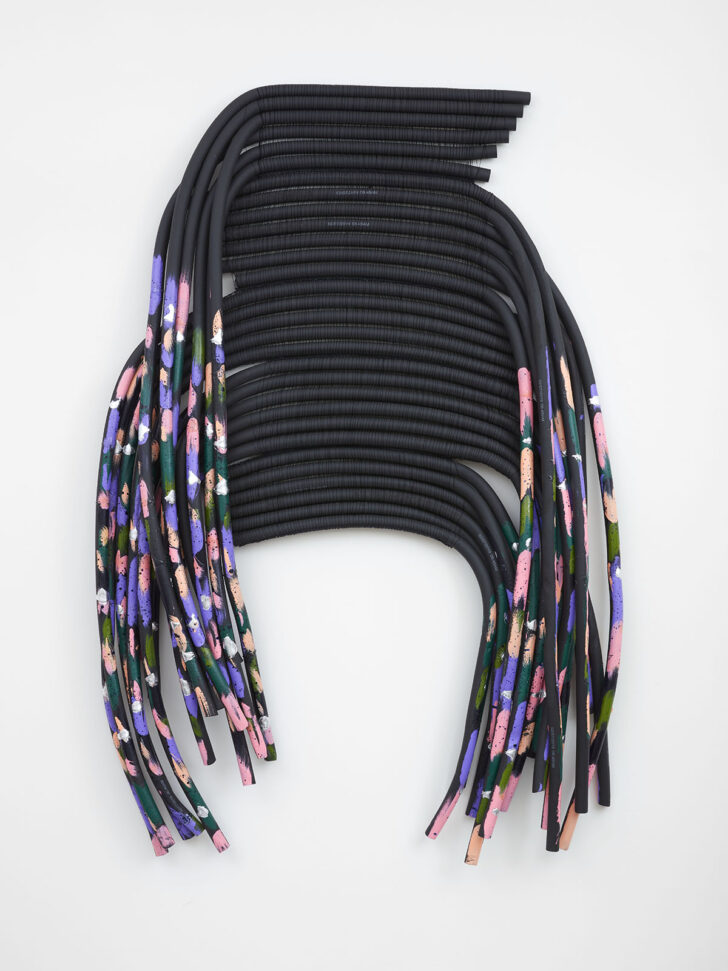 New York, luammelake.com
When we first covered Luam Melake's wall hangings back in 2021 — which often incorporate unconventional materials such as metal, cement, asphalt, plastics, rubber, and personal mementoes — we had no idea the extent to which we would fall for her burgeoning furniture practice. Zesty Meyers and Evan Snyderman of R & Company were paying better attention than us, it seems, and would soon bring the artist and designer into shows like their Objects USA revival, and, next week, a solo exhibition devoted to Melake's experimental, brightly colored, humanist chairs. The chairs, for which Melake shapes upholstery foam into geometric shapes and then coats them with layers of pigmented urethane, are psychological in nature. As she says, they "organize bodies in ways that make room for intimacy, eye contact and direct acknowledgment of others — furniture that encourages social and emotional engagement." 
What is American design to you, and what excites you about it?
The American values of individualism, innovation, and freedom of expression feel like the most apparent elements in contemporary American design right now. Innovation is happening at a smaller production scale than ever, which makes becoming a designer a more accessible proposition than ever before. Anyone with a strong point of view who knows how to make things could potentially produce and sell design objects — free of the enormous constraints imposed by large-scale production. This has steered design closer to art since individual expression and technique are so highly valued now. The proliferation of individual craftsmen and artists creating functional objects has made space for such a diversity of perspectives and approaches to making. This is extremely exciting and makes this a fascinating and rich era in American design.
On the other hand, I also find myself nostalgic for post-war American design, when good design was innovative and individualistic while also being affordable, highly functional, and lasting. It would be great to also see mass-produced design in America proliferate using the abundant talent in this country to bring this experimental moment in design to the masses in a sustainable way.
What are your plans and highlights for the upcoming year?
I am super excited about my first solo show with R & Company which is opening on Feb 3rd! The show is titled "Furnishing Feelings" and will feature new, highly functional furniture works that offer the user multiple bodily positions designed to improve social interaction and psychological health. The show is full of ideas for how design can improve lives and will be accompanied by engaging supplementary information. I think it will be very visually stimulating as well since all the pieces are very different from each other and there are a plethora of shapes and colors to look at.
Shortly after the show opens I will be in California installing a large-scale textile installation commissioned for the lobby of a new hotel. It will be my first time working at such a large scale and my first installation work.
What inspires or informs your work in general?
I draw a lot of inspiration from studies in psychology and anthropology. I am primarily interested in exploring the impacts that objects and materials have on human psychology. The central thesis of my weaving work hinges on the notion that the materials that make up our built environment and consumer goods are so essential to our lives that we subconsciously attach metaphorical meanings to those materials. My weaving work exploits the psychological associations embedded in materials to craft narrative or explore emotional themes, by using the materials themselves as metaphorical content.
My recent furniture work draws from research on the relationship between the body, space, and behavior. A furniture designer is uniquely in control of how the bodies of their users are positioned in space. The positioning of the body is an essential element in shaping social interaction and psychological well-being. I refer to anthropological and psychological research to create designs that organize bodies in ways that make room for intimacy, eye contact, stress relief and physical interaction. Multiple options for use allows furniture to adapt to or facilitate social interactions.
America has an alienation problem from which many other societal ills spring. I believe that counteracting the isolation of the digital age and encouraging direct physical social interactions is the way back and forward, to a more positive collective consciousness. This work refers to European design of the 1960s when designers were proposing new ways of living that aligned social concerns with innovation. I am always mining the history of design for inspiration!
Muhly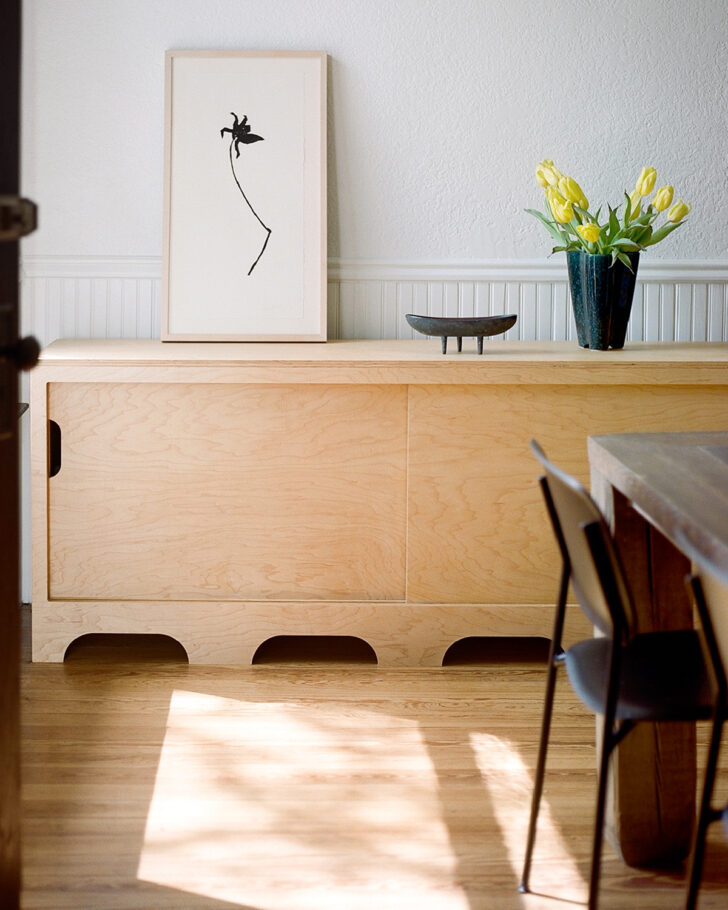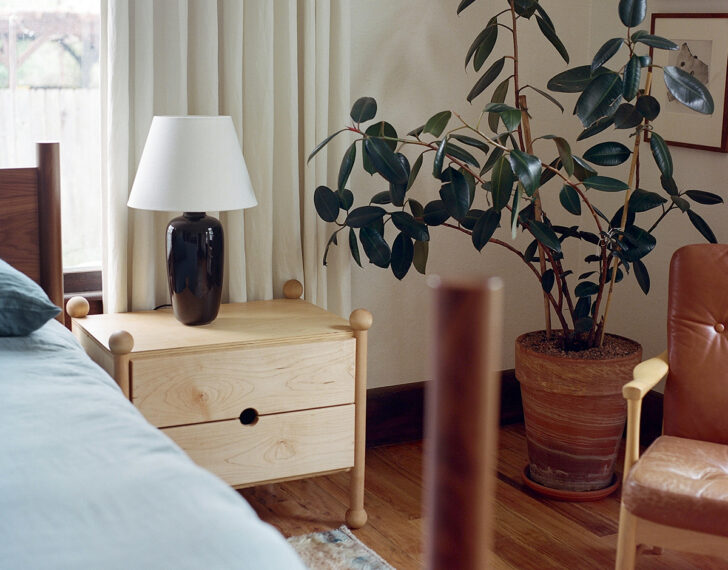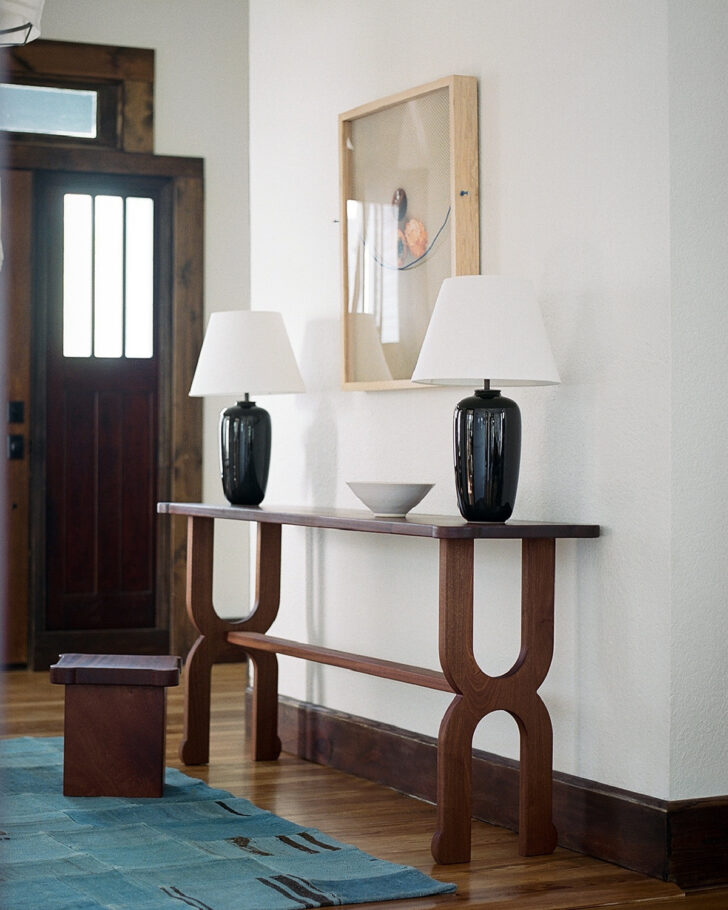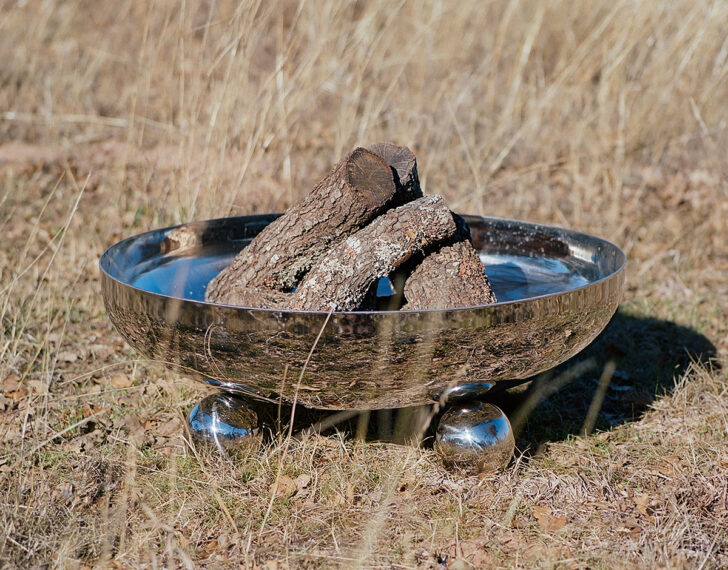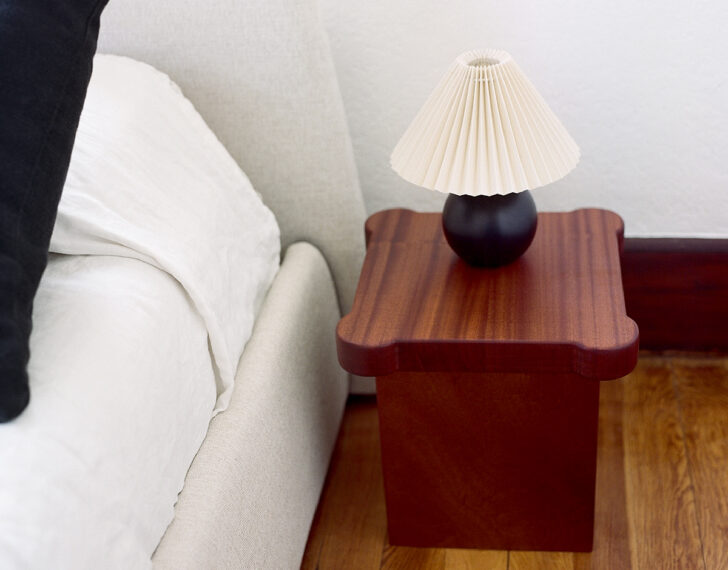 Austin, muhly.studio
The designs we cover on Sight Unseen can get pretty wild and colorful from time to time, but that doesn't mean we love simple works any less — especially when they're designed by two women (like us) who are #tinyballs enthusiasts (like us). Muhly is the collaborative studio of Ann Edgerton and Megan Carney, who from their Austin, Texas, workshop make nightstands, tables, benches, and firepits out of single materials like wood, plywood, or steel, with little adornment other than a curve here or a ball or cutout there. The results are eminently liveable, and just interesting enough to be covetable.
What is American design to you, and what excites you about it?

American design feels both vast and personal. It's innovative, it tries to solve problems, and it makes life more beautiful. There's freedom in the fact that American design is a relatively young practice. We're energized by the newness of the conversation and by the evolving interpretations of experiences and ideas. As two women, we believe the field is strengthened by the continued expansion of perspectives represented in the work. 
What are your plans and highlights for the upcoming year? 

While moving beyond our first collection, we worked to incorporate our core motifs into new contexts and materials, including metals and colors. We found that expanding our material library also expanded the types of pieces we want to design. Our goal has always been to make furniture and objects that make life more interesting, and we're enjoying the process of designing pieces with a more singular function. In addition to tables and stools, we'll be releasing lighting, a fire pit, andirons, a box to place your phone in, and other objects that we hope will fill gaps in the designed life. There's so much in the world designed to distract us from the present moment, and we're interested in doing the opposite. 
What inspires or informs your work in general? 

We met almost 20 years ago at a summer camp in the Texas hill country. Much of the inspiration for MUHLY comes from revisiting the aesthetics and heirlooms of our childhood. We formally started collaborating in 2020, but we've always had an ongoing dialogue about regional design. We're both drawn to the humorous, absurd, and kitsch elements that are so pervasive in the attempt to be nostalgic. We grew up with a lot of leather, nailheads, and punched tin, and we're leaning into those motifs with our upcoming work. MUHLY simplifies these nostalgic ideas into graphic silhouettes that feel almost two-dimensional. We draw on forms that feel familiar and fun, and combine them with materials that allow us to be decorative yet restrained.
Ohla Studio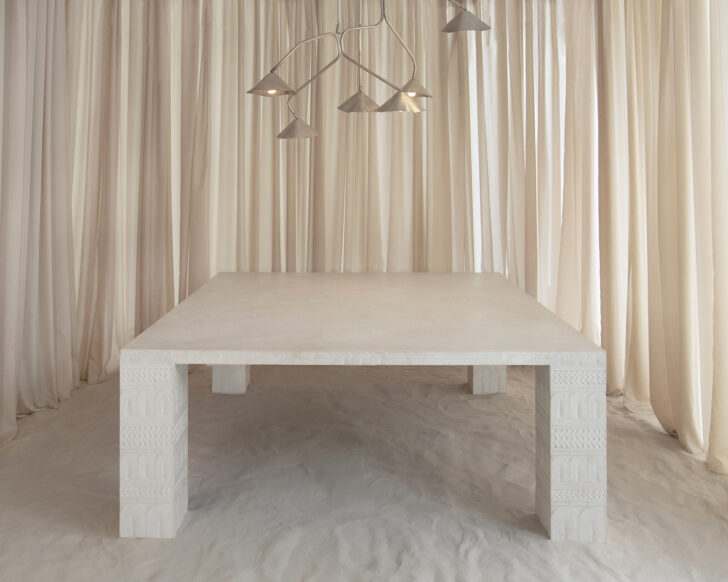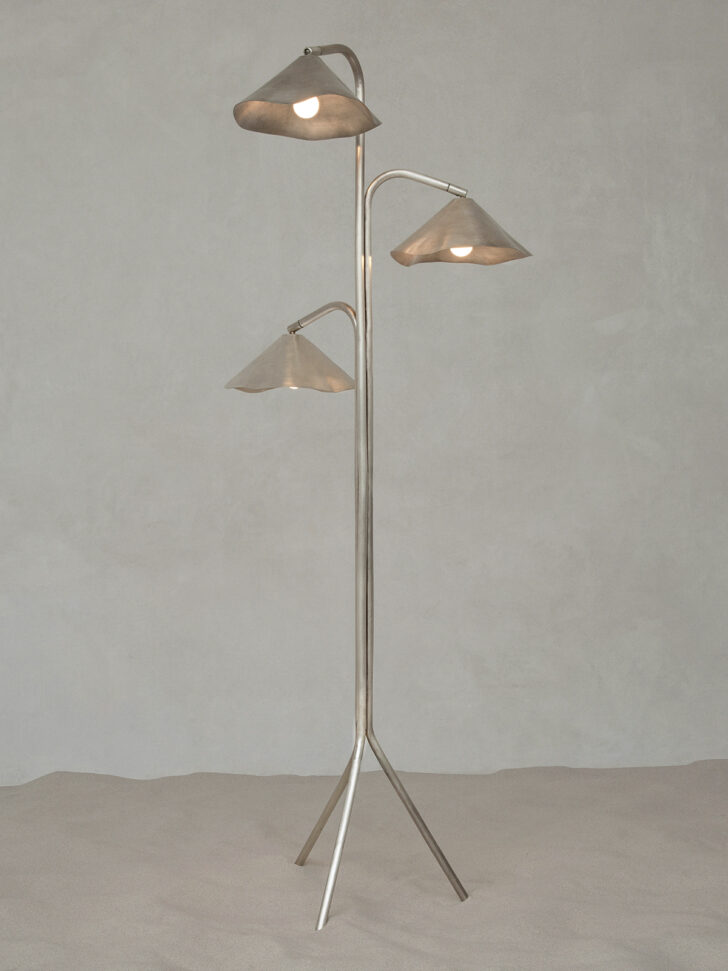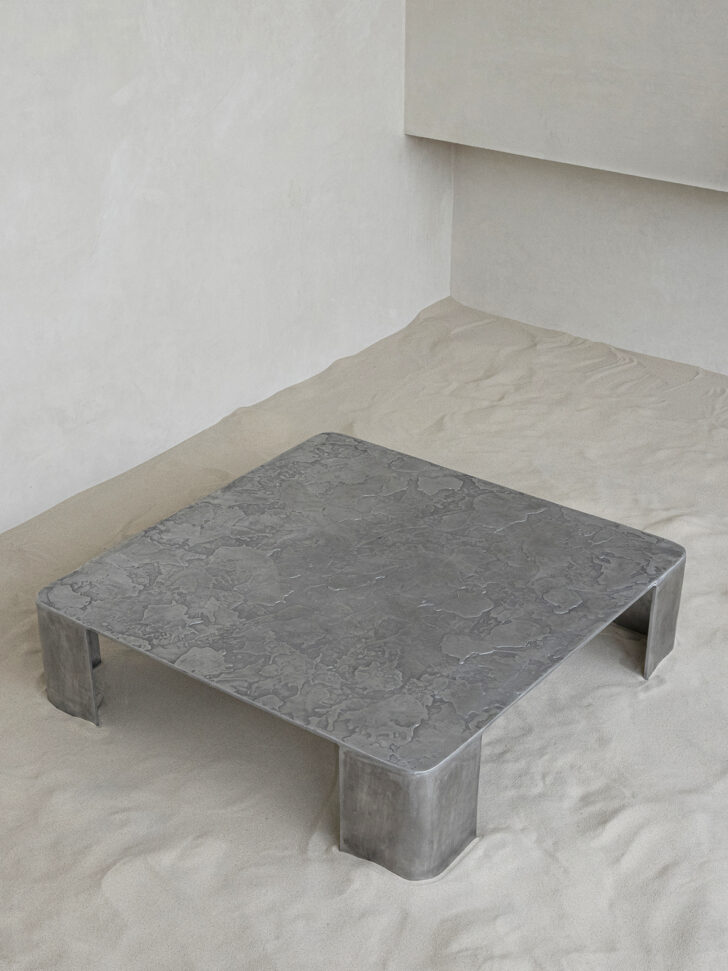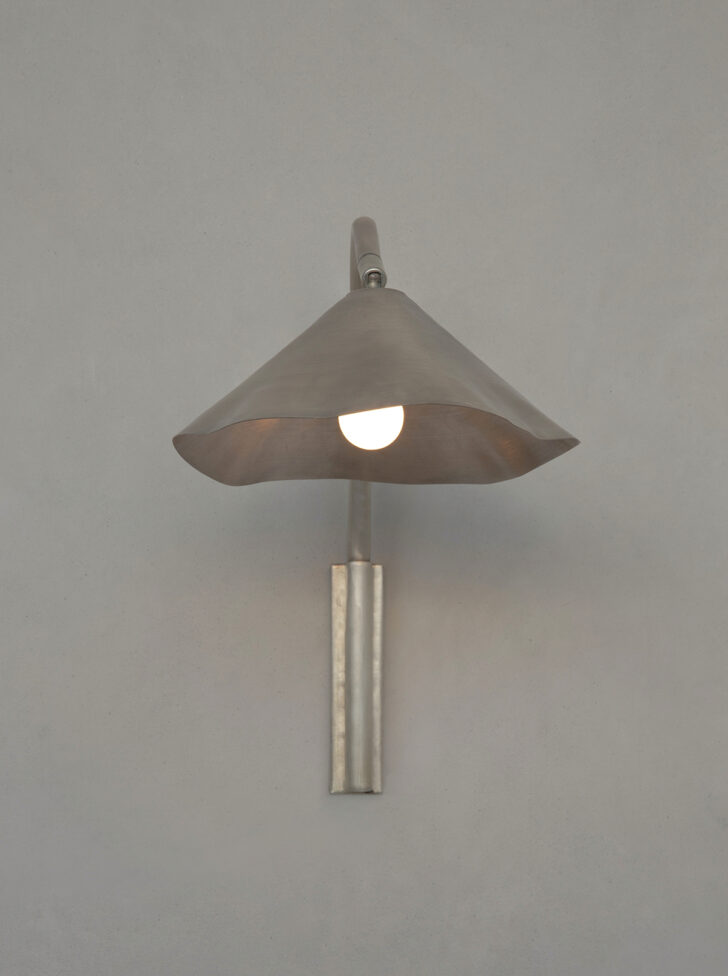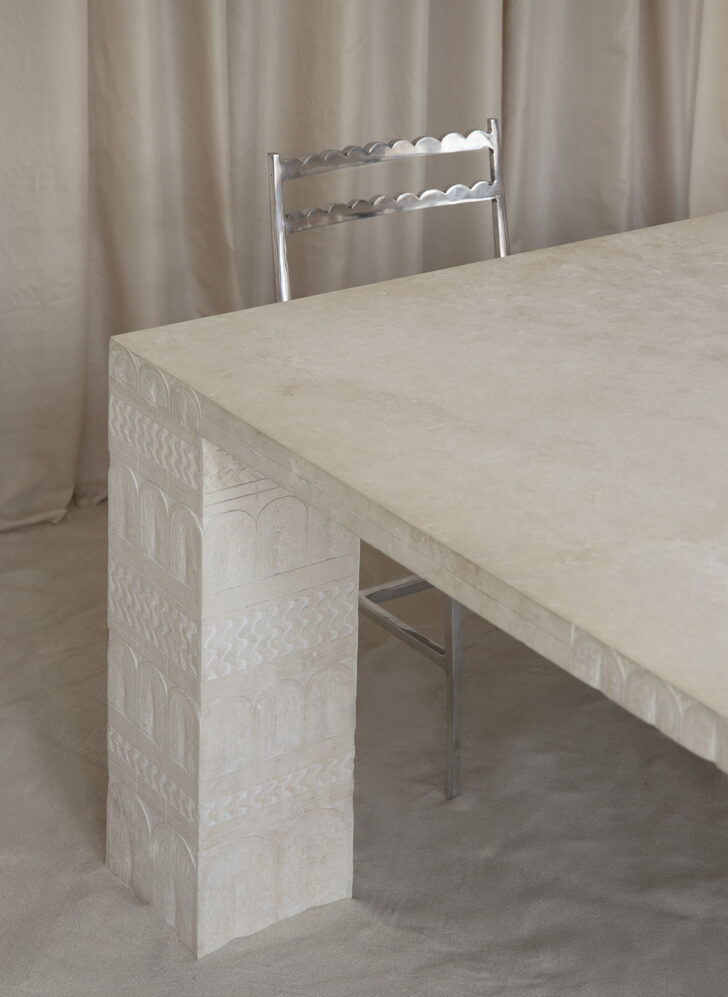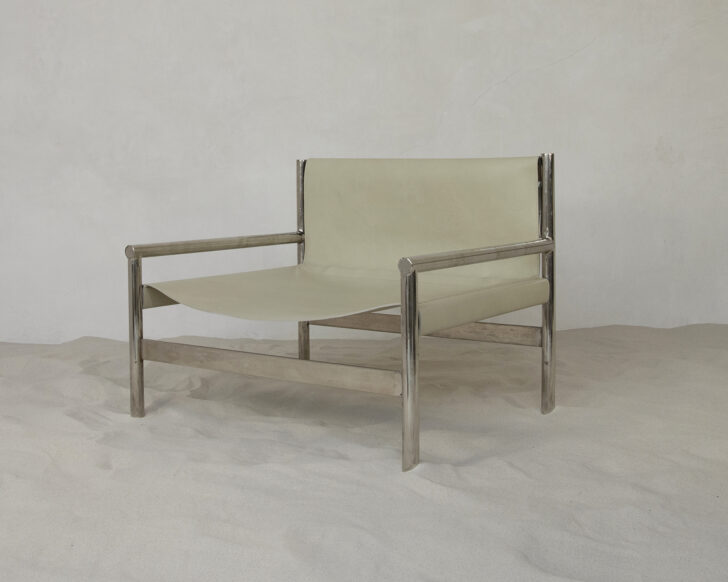 Los Angeles and San Miguel de Allende, Mexico, ohlastudio.com
Giulia Zink and Mat Trumbull of Ohla have one foot in Los Angeles and the other in Mexico, but it's the latter that informed their first foray into furniture design, which debuted last year. In the city center of San Miguel de Allende, they created Sin Nombre, a residence and gallery, and filled it with their Alocer collection: slab-like travertine tables that reference early stone carvings, scalloped cast-aluminum chairs, copper lights, and more. Their gingko-esque lights and cast-aluminum coffee tables, with their etched patterns resembling the moon's surface, are standout pieces in a collection full of knockouts.
What is American design to you, and what excites you about it?
American landscape paintings of the Hudson River School painters caused a stir of excitement in Europe in the mid-19th century. At the time there was a European perception about the Americas: lacking in culture, tradition, taste, etc. However, these paintings were expressing what the Americas did have: opportunity, adventure, discovery, vast rugged spaces framing the sublime. 
And we can relate to that. I think our metaphor is very similar. We are fortunate to use formal tools and training to interpret and mimic these vast rugged idea-scapes — trying our very best to transmit something poetic and frame something sublime.
An example is our upcoming exhibit. While driving through central Mexico we stumbled upon a lonely desert truck stop in a hilly landscape studded with gigantic candelabra organ cactus. The proprietor is this jack-of-all-trades outsider artist, and he had crafted all of the restaurants' furnishings by re-purposing the trash that had been discarded by passing truck drivers. And they were these rugged, extraordinary, and beautifully proportioned pieces — stools, chairs, and tables. Fast forward: We've been invited to participate at a gallery show at UNAM during Zona Maco (Mexico's most notable university and Mexicos most notable art-fair). Ohla Studio is re-producing the truckstop "stool" design, working with three Mexican artisans in three distinct Mexican materials. We're just connecting the dots, trying to accentuate and amplify the purity of the design and the narrative. Trying to call attention to what is otherwise overlooked, forgotten. Our goal is to celebrate the design, the designer, the maker, the material, the university, the event, the desert truck stop, the city…. The Americas…
What are your plans and highlights for the upcoming year? 
This is an exciting time for us, and we are looking forward to the New Year. We have several things coming up. We are releasing a specialty design in collaboration with UNNO gallery for Zona Maco. We have a boutique hotel project in Merida, where we are leading the architecture, interior design and custom furniture design. We are renovating another property in Merida, and inside it we'll launch a new capsule collection. We also have some new retail design projects in Europe and the US and there will be some exciting work travel. Stay tuned.
What inspires or informs your work in general?
We curate experiences which guide us to research. Although, we spend most of our time filtering thoughts, intentionally discarding 10,000 things and seeing potential emerge in few: Faberge egg jewelry, Mayan carved stone relics, Italian travertine quarries and palm tree farms in southern Florida. We see Tuscan wood fired ceramic kilns, we see anodized titanium.