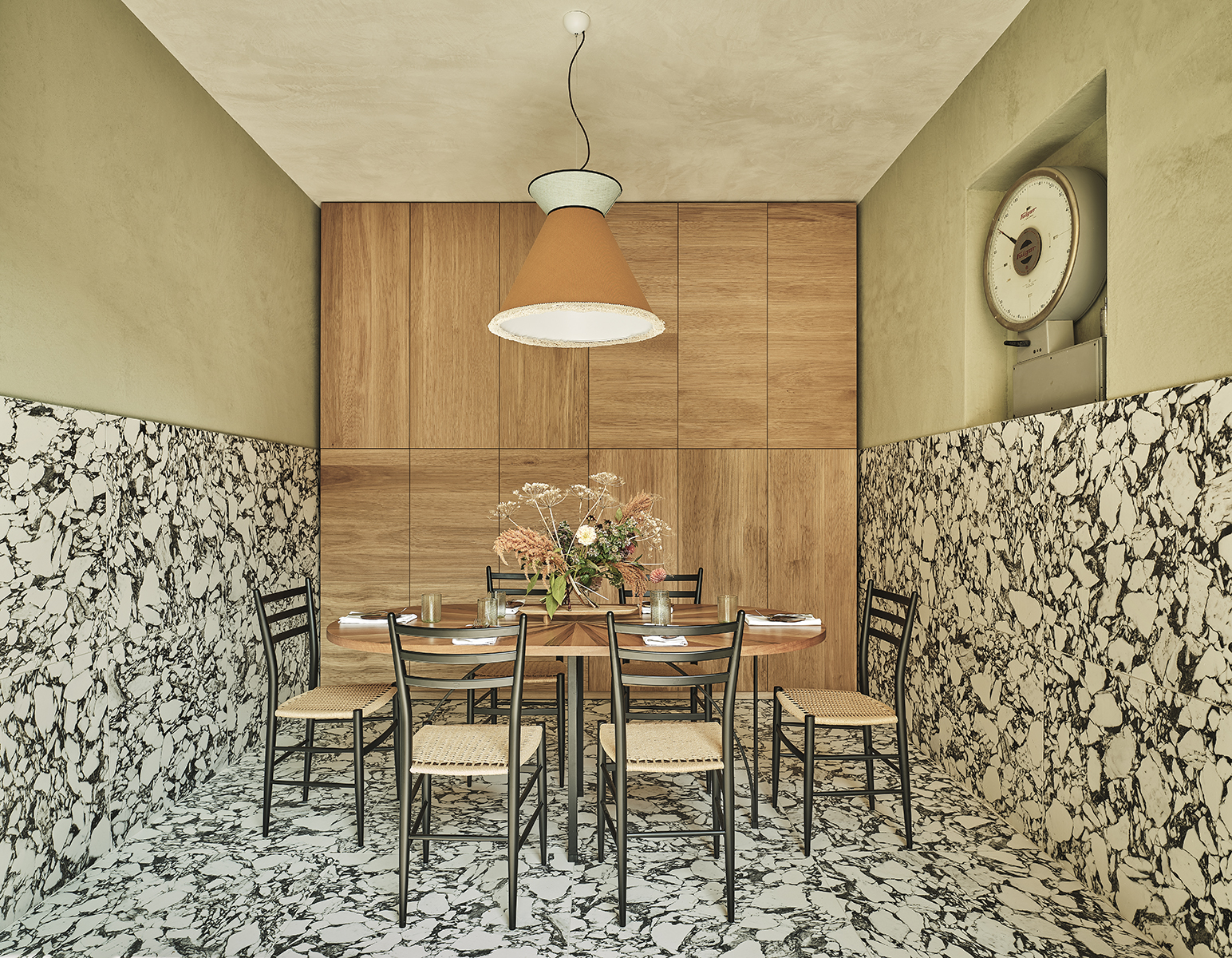 A weekly Saturday recap to share with you our favorite links, discoveries, exhibitions, and more from the past seven days. This week, sculptures themed around the magic and mystery of the forest, a set of Matisse-inspired desk accessories, and a book full of hundreds of weird and wonderful chairs that we can't stop thinking about.
Interiors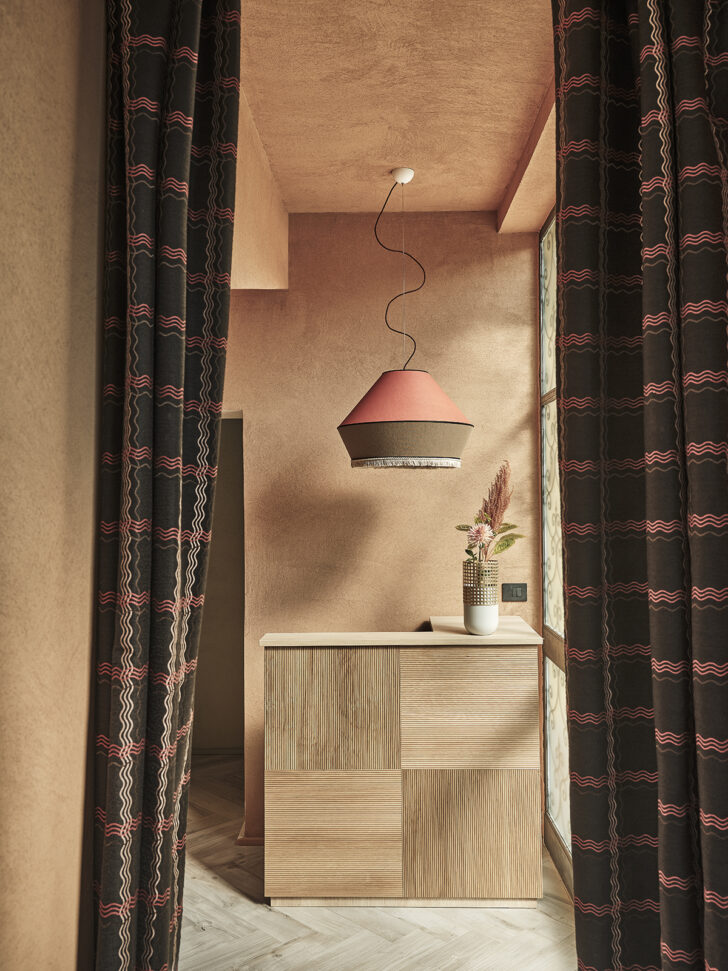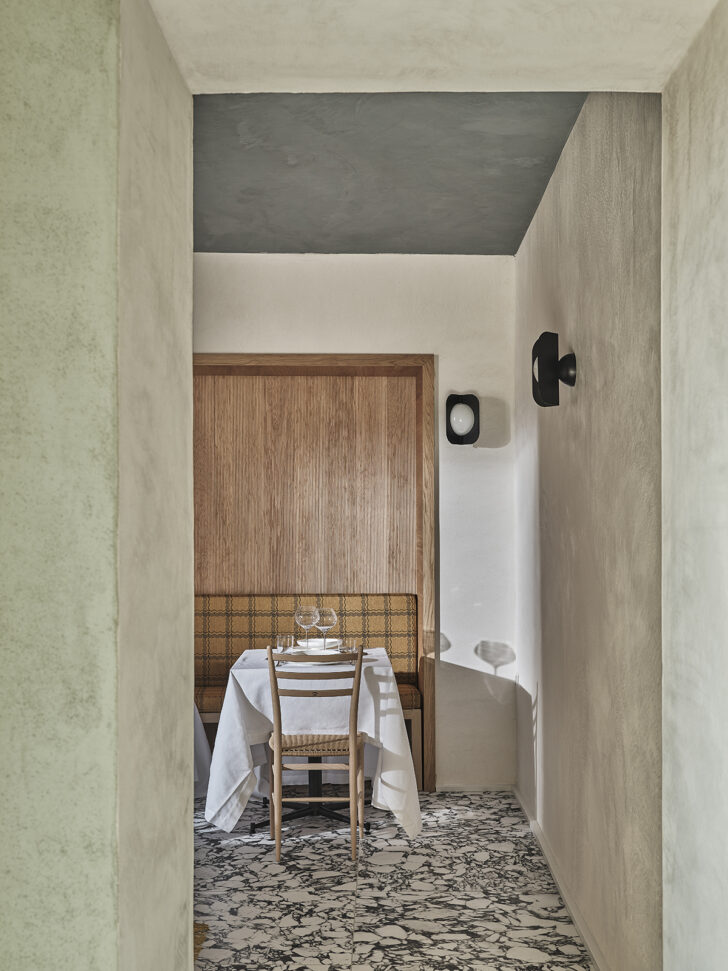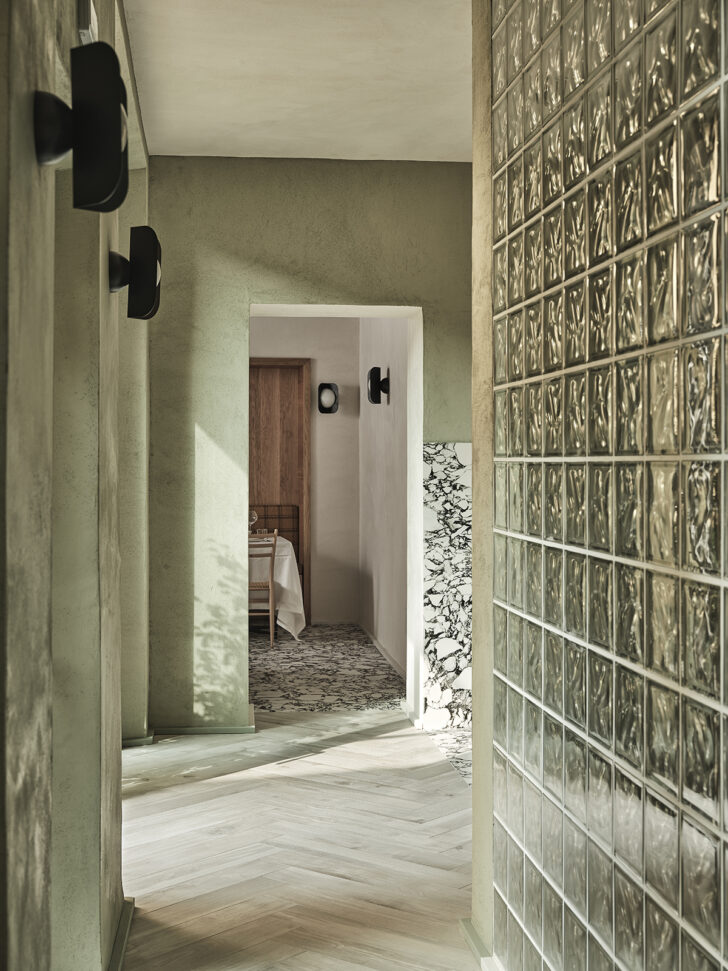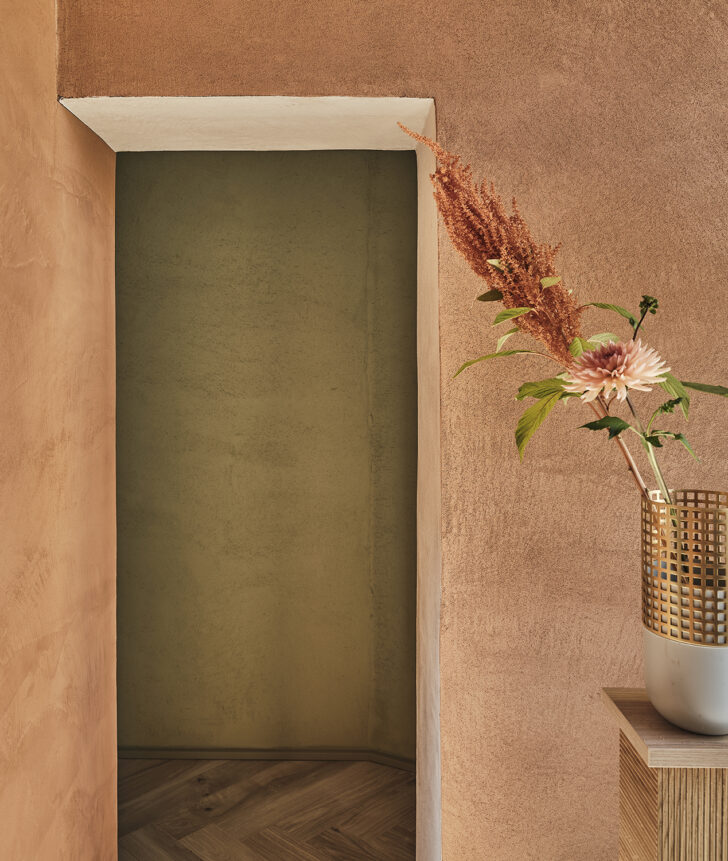 Designer Serena Confalonieri has completed her first restaurant interior, and yes, it's just as delightfully colorful and pattern-forward as her home products, graphics, and installations. Just outside of Milan, 13.10 Ristorante is a boutique spot (only 25 covers) designed to feel like dining in someone's home. Warm and natural tones, like soft orange and pear green plasterwork, complement geometric lampshades and curtains with wavy prints. Subtle details carry through the different spaces; square wood panels that front the host stand are repeated across a full wall in a private dining area. Less subtle is the richly patterned black and white stone covering the floor and lower half of the walls. Reserving my table now!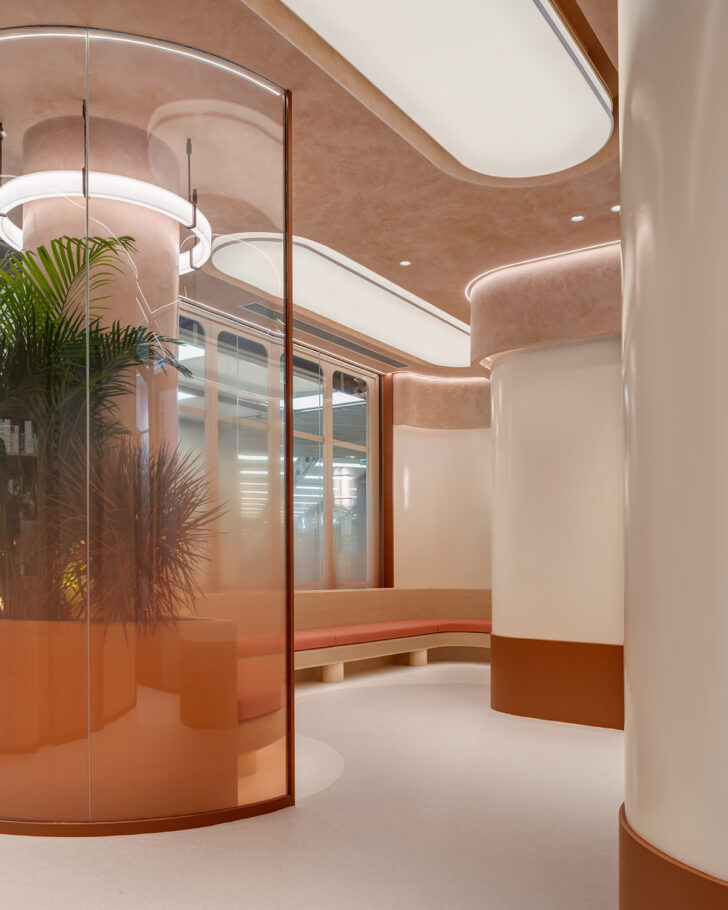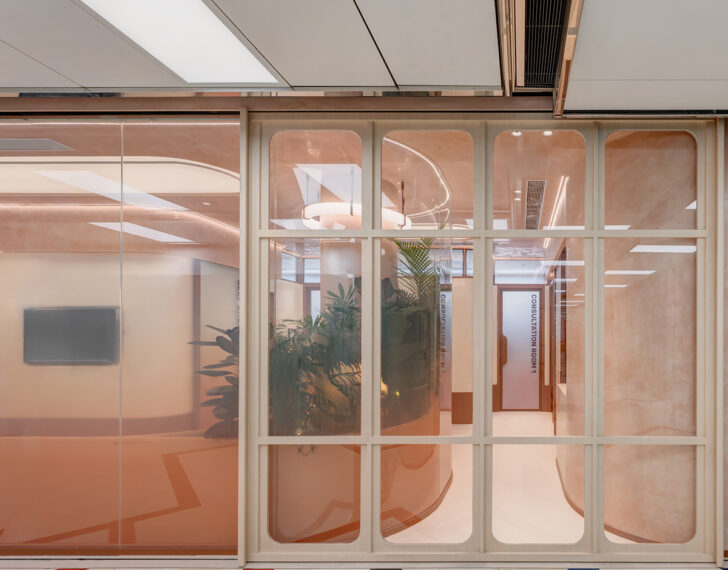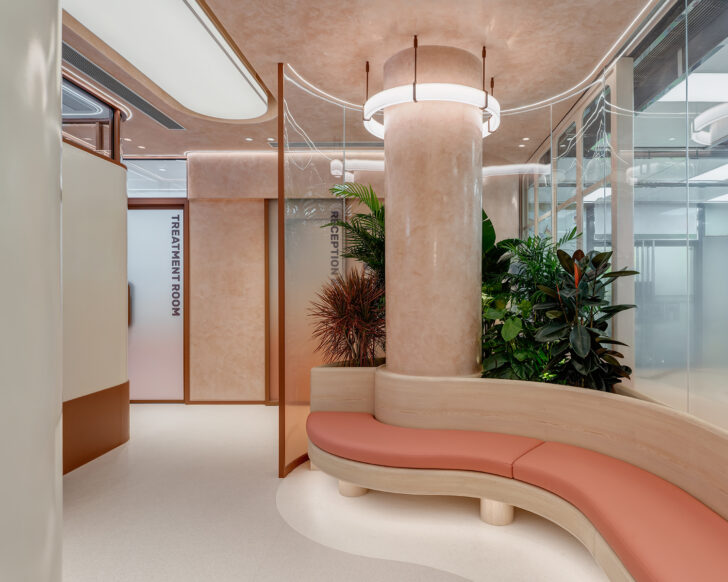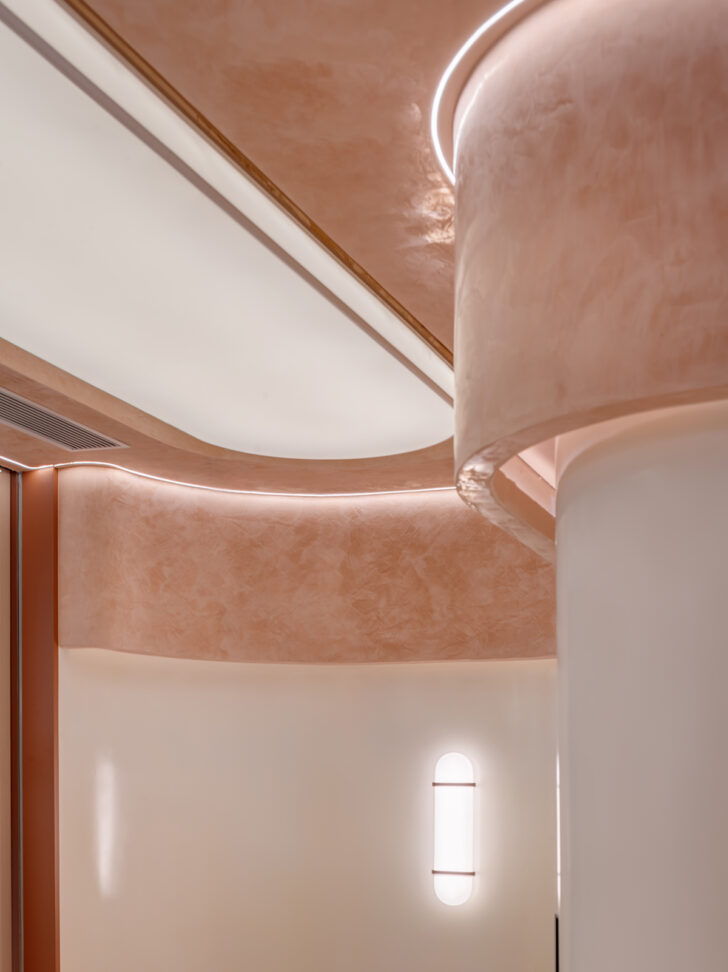 I'm ready to fake a minor injury just to be treated at Laguna City Medical Centre in Hong Kong, which has done away with harsh fluorescent lighting and "hospital blue" in favor of curved glass walls, wavy benches and textured paintwork. Designed by JJ Acuna / Bespoke Studio, the warm-toned surfaces and flow between spaces are intended to have a positive influence on joy and wellbeing and even help to aid healing, while specialist lighting follows the natural daylight outside to harmonize better with patients' circadian rhythms. 
Discoveries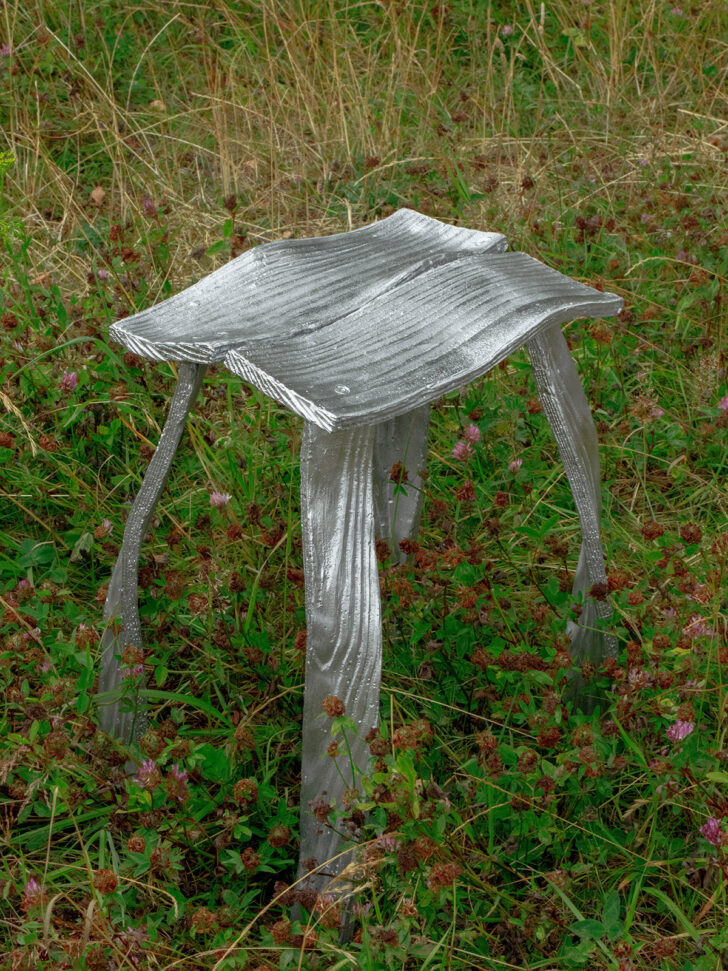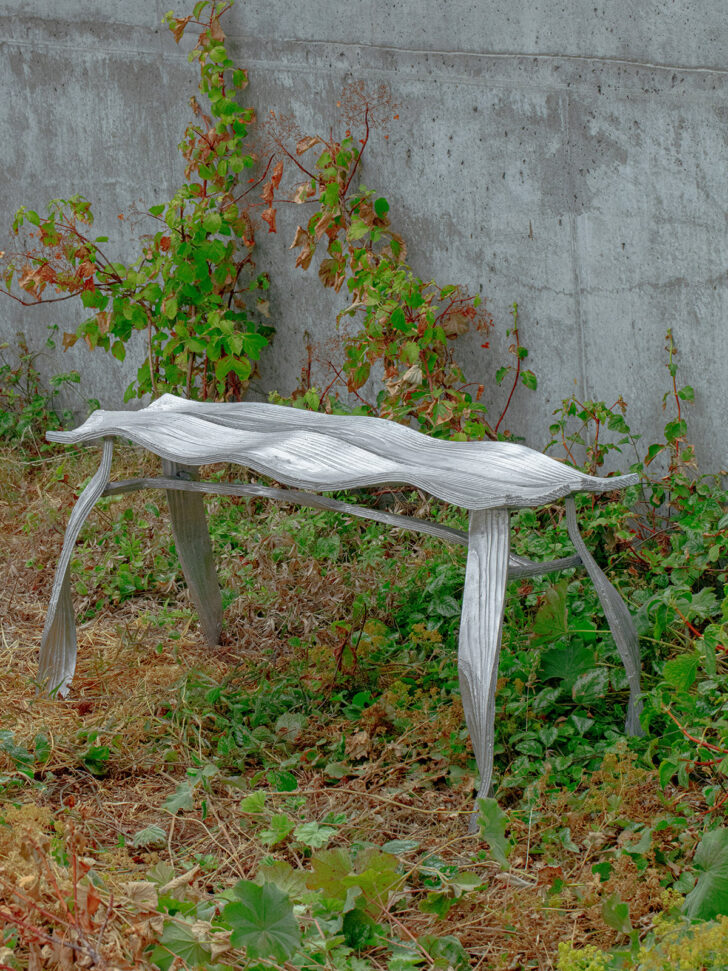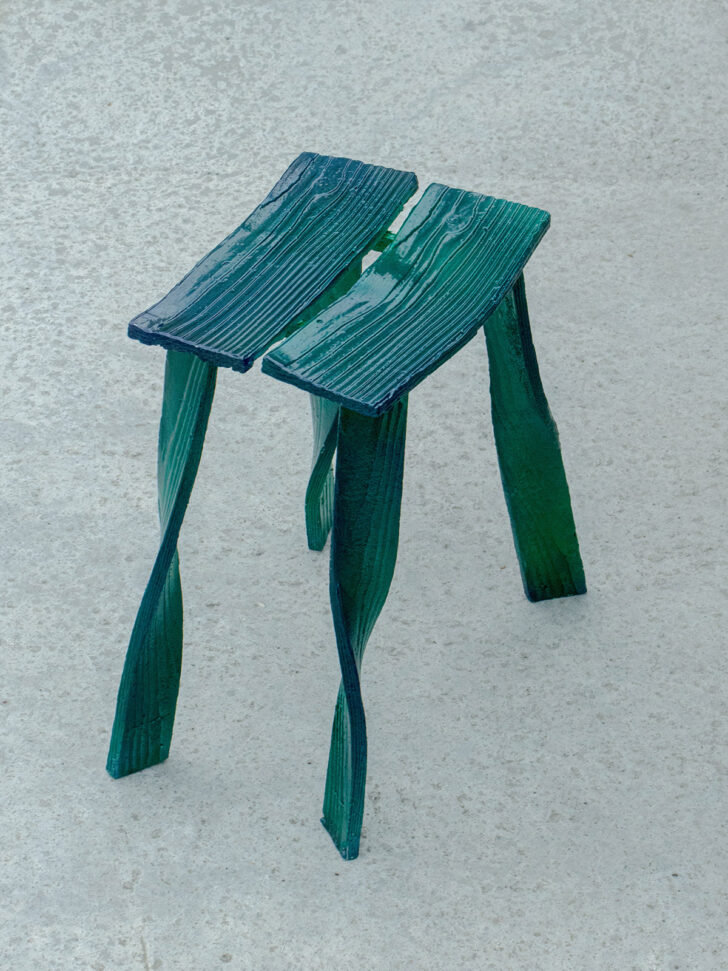 Not content with using one rare craft technique to inform their work, furniture designer Josephine Andredottir and sculpture artist Emilie Bobek combined ideas from two traditional production methods to create the seven stools and bench in their Illusion series. First, the duo built simple seats from leftover pieces of wood, and created wax versions of them using silicone molds. The wax planks were then deformed into wavy shapes, before being cast in aluminum using the ancient cire perdue (lost wax) method. The surfaces still carry the original wood grain patterns, and look as if they've been steam bent (another old production technique). Andredottir and Bobek compare the appearance of the warped metallic shapes to staring at stone after looking at a waterfall and seeing its textures move. Trippy.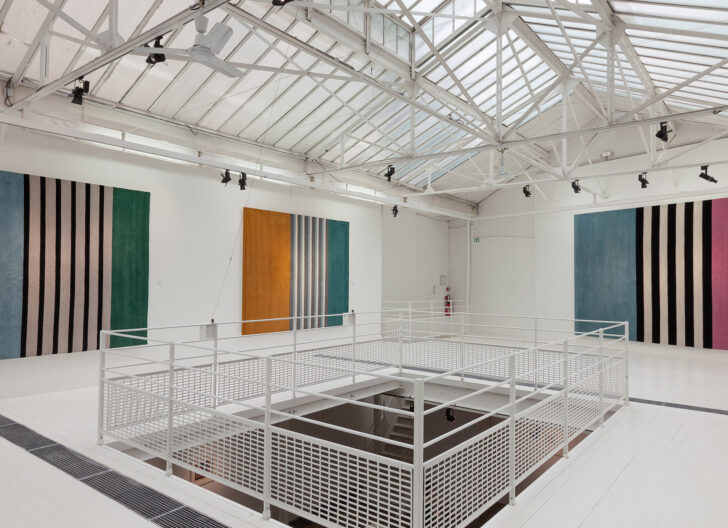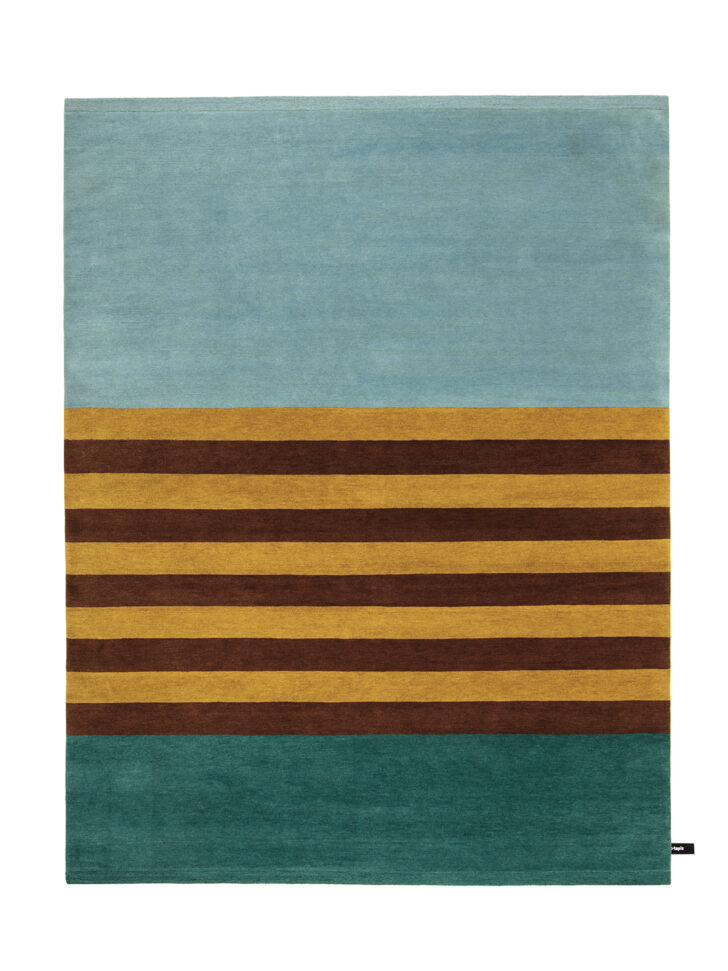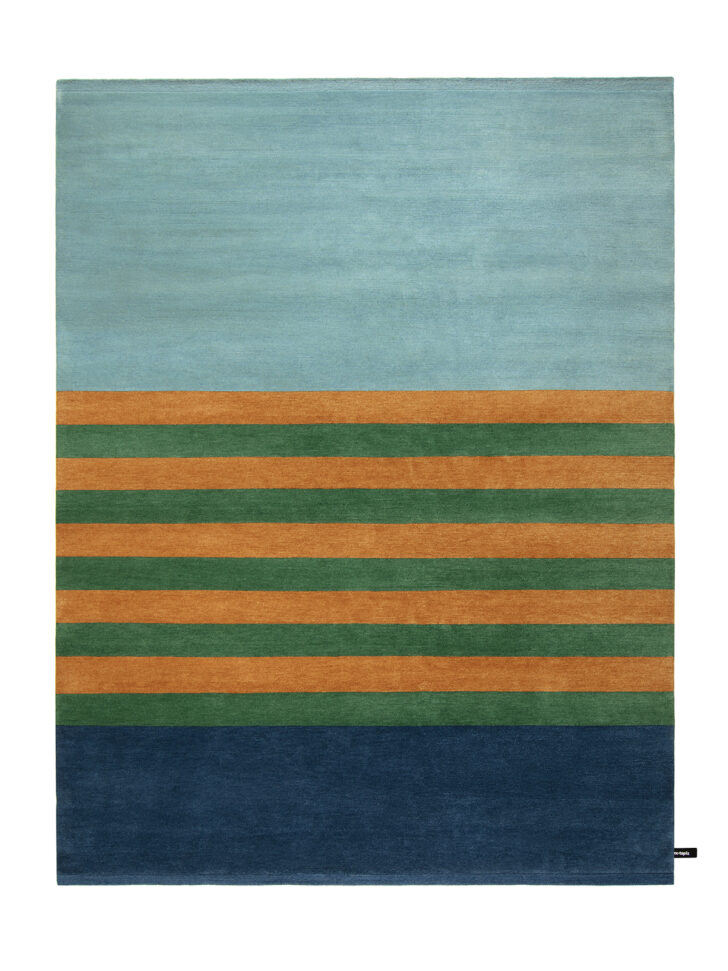 Six stripy color studies by the mother of modernism, Charlotte Perriand, have found their way out of the archives and into a series of hand-knotted carpets by CC-Tapis. Originally created in 1972 for textiles to decorate buildings in the French ski resort of Les Arcs 1600, one of Perriand's most ambitious projects, the patterns draw from a palette of 12 colors that are now woven in Himalayan wool. The Les Arcs Collection, which features three sizes for each design, is on view along with examples of Perriand's technical drawings at Galerie Les Filles du Calvaire from January 17-22, during Paris Design Week.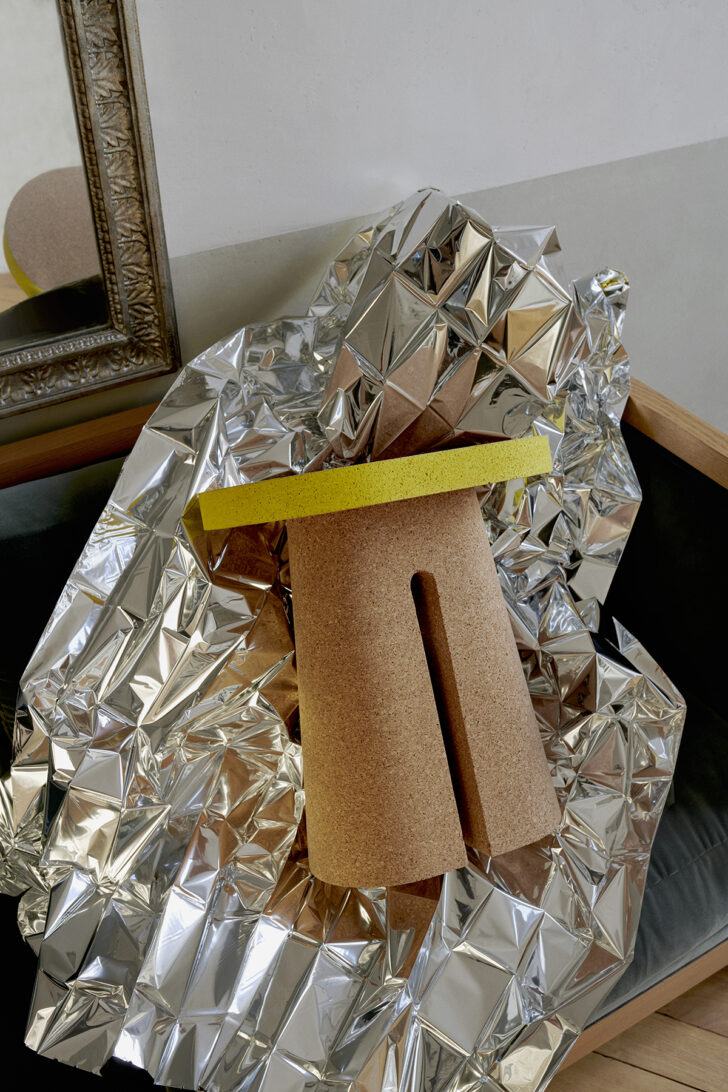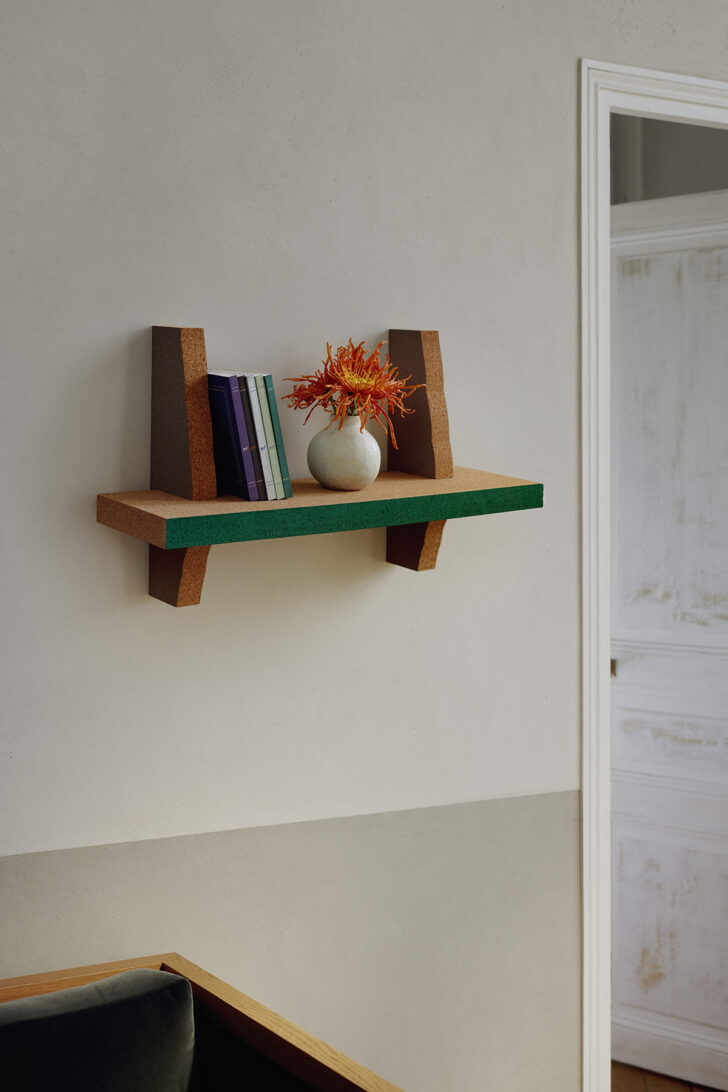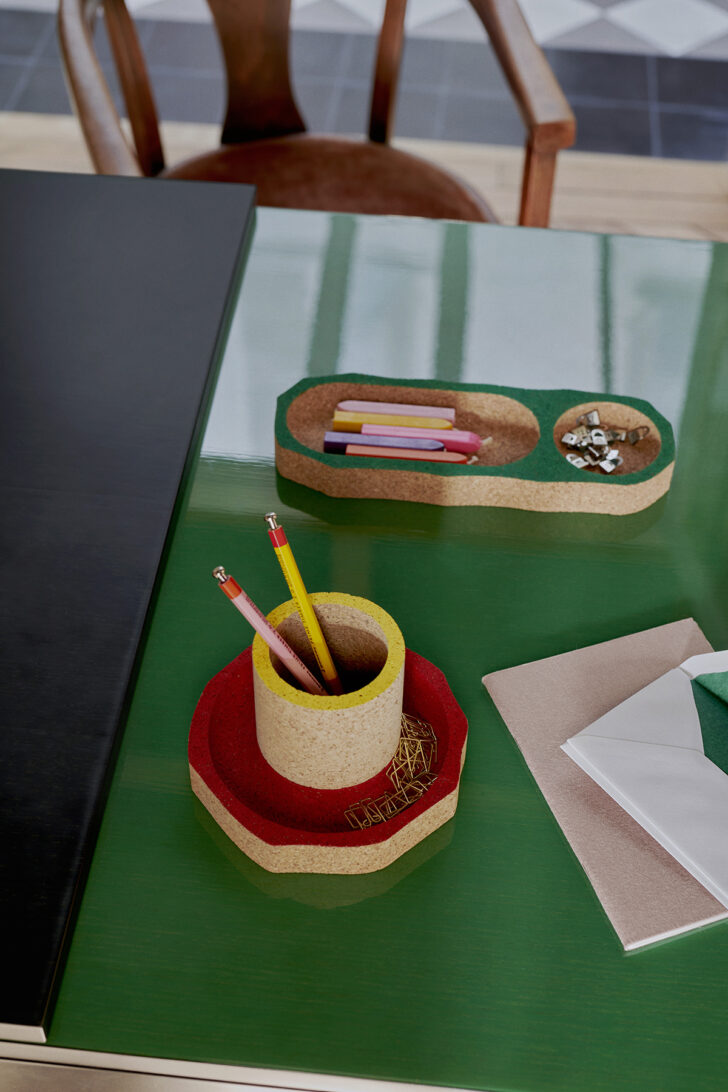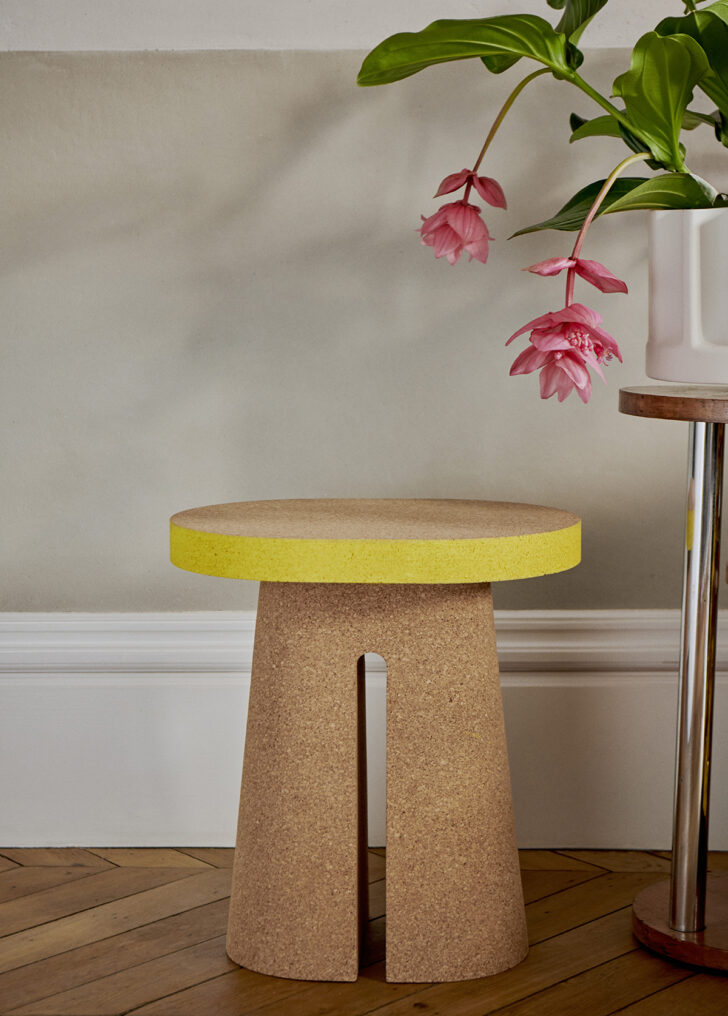 Is your office looking a little drab? Perhaps an injection of color from these Matisse-inspired desk accessories will help brighten things up. The famed modernist artist's 1950 painting Les Mille et Une Nuits was the muse for the workspace items by French designer Guillaume Delvigne, which are all made from cork. The artwork's bold primary hues are applied around the edges of stool seats and shelves, and the rims of pencil holders and organizing trays, while components of the painting informed their shapes. They're produced by Maison Matisse, founded by one of the artist's great grandsons to celebrate his legacy through objects, and also debuted at Paris Design Week.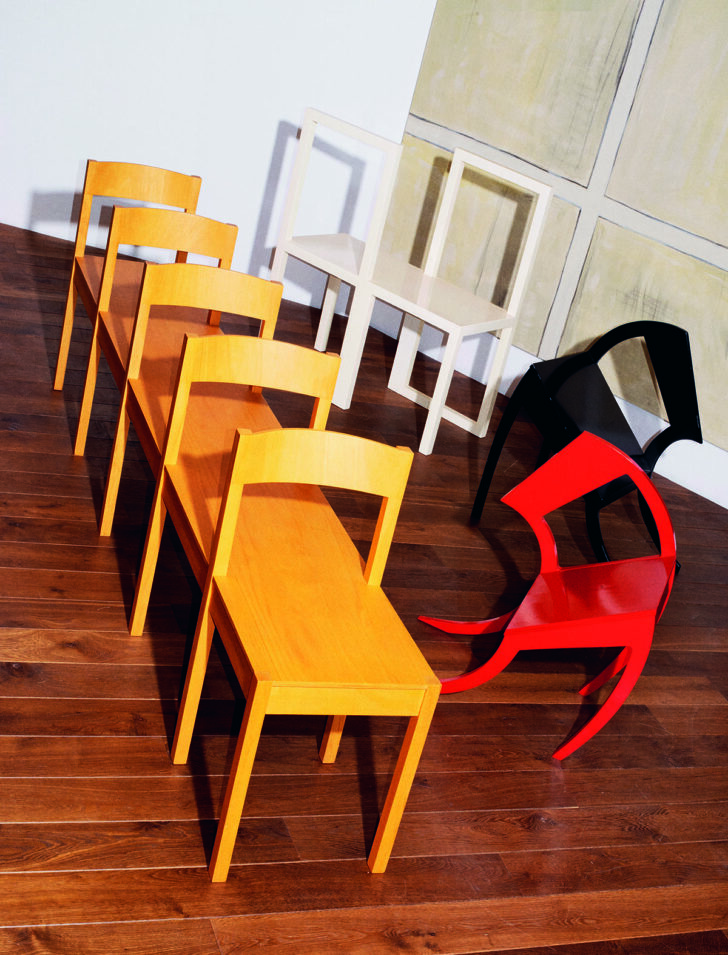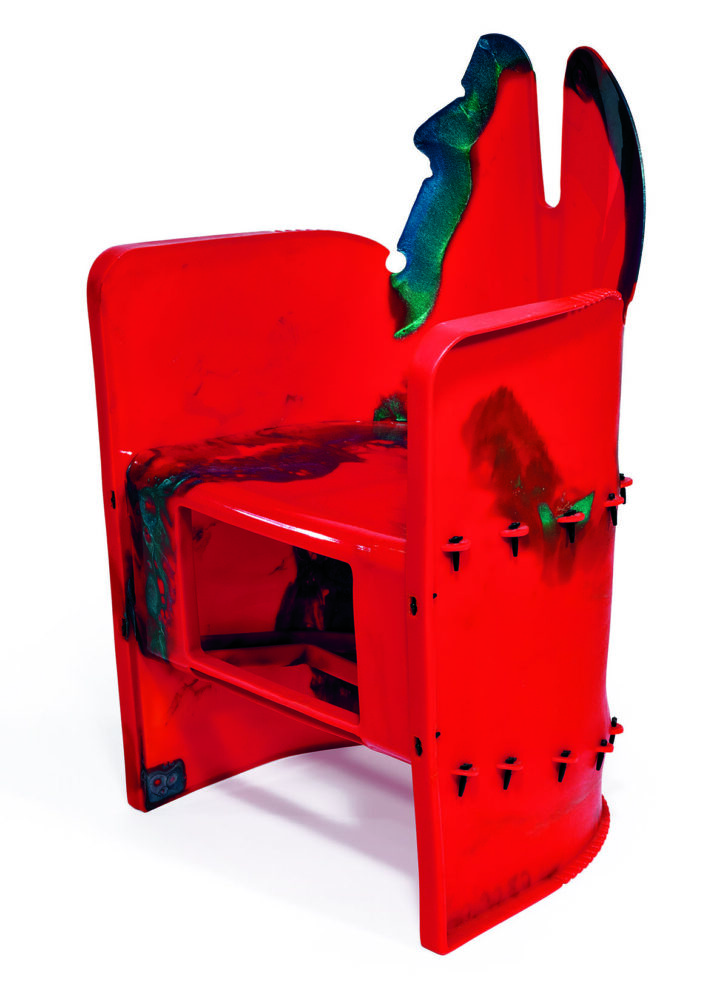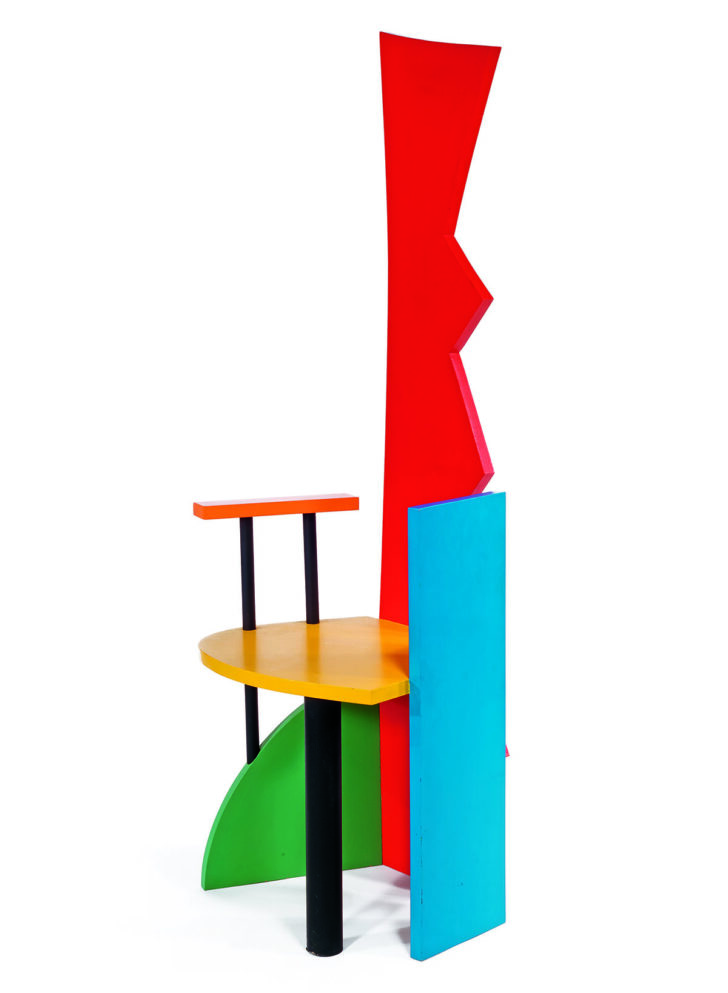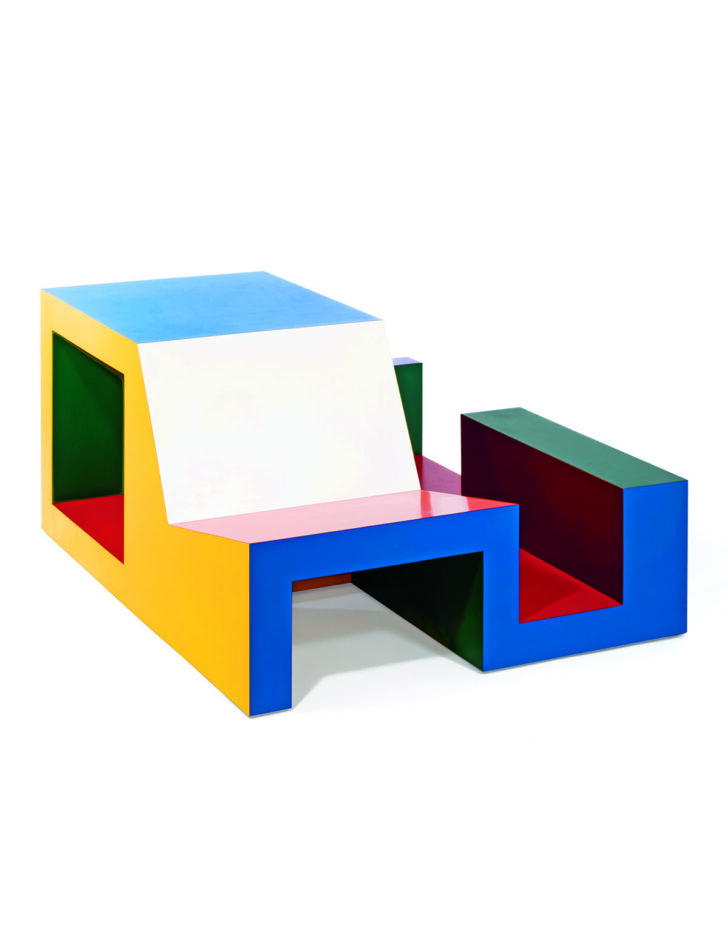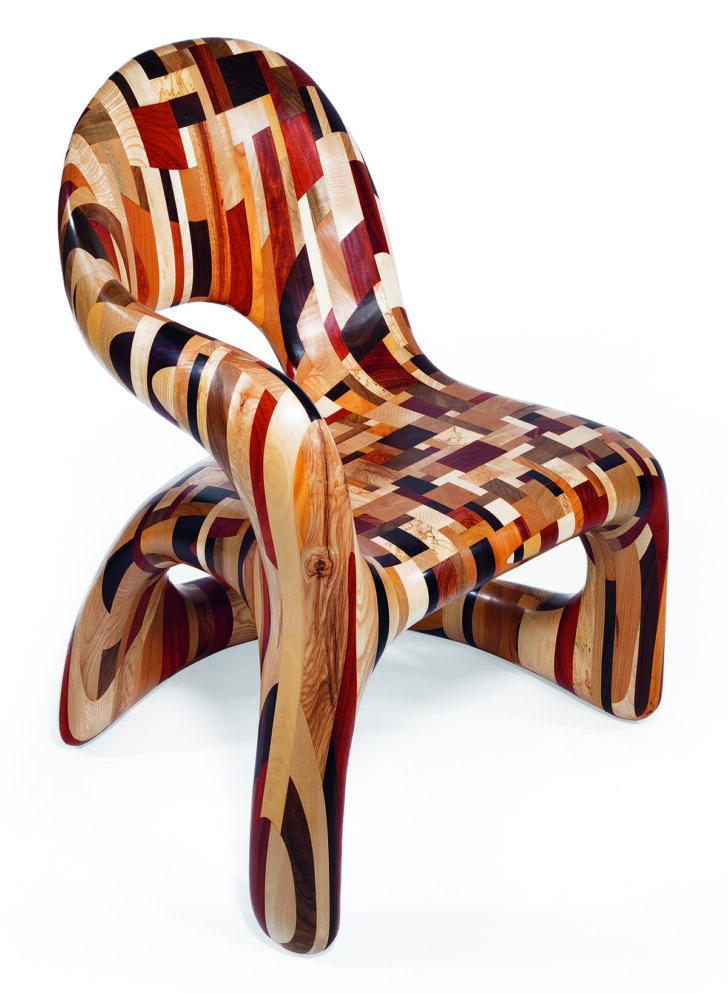 A book filled with hundreds of weird and wonderful chairs? Say less! This publication catalogs the multifarious seating designs amassed over several decades by collector Thierry Barbier-Mueller, who clearly has a knack for finding the most interesting and unusual pieces. From the minimal, to the abstract and the outrageous, the wide variety presented across the pages of The Spirit of Chairs includes famous designs by Ron Arad, Marcel Wanders, Tom Dixon, Gaetano Pesce, and many more. But there's also some very rare and obscure ones that I'm now obsessing over, and need to track down immediately.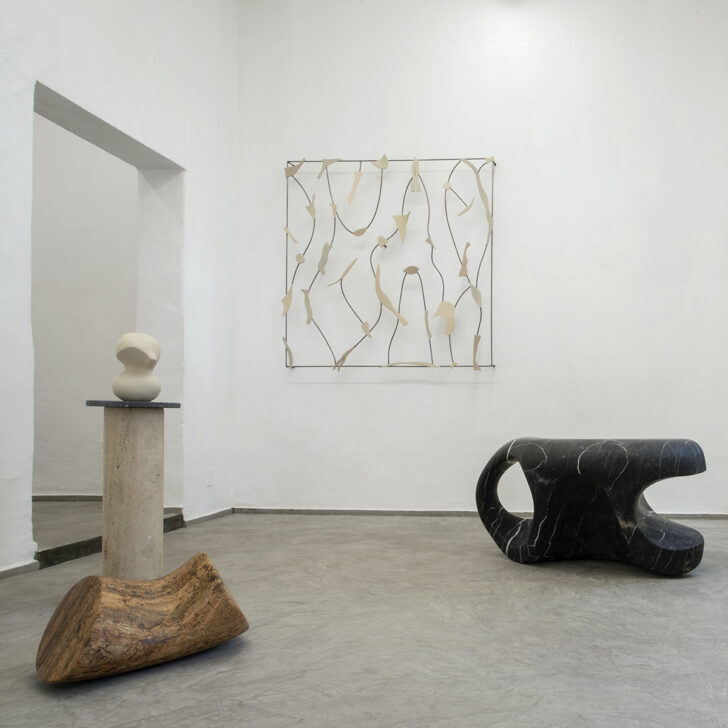 These wall sculptures by Mexican artist Pablo Arellano are composed of ceramic shapes suspended on polished steel frames, a couple of inches away from the surface behind. As natural light moves throughout the day, a "dance" of shadows is created across the wall, revealing a hidden aspect of the artwork. The difference between the rigid forms and the intangible interplay of light is referred to in their name, Umbral, which translates from Spanish as "threshold."
Exhibitions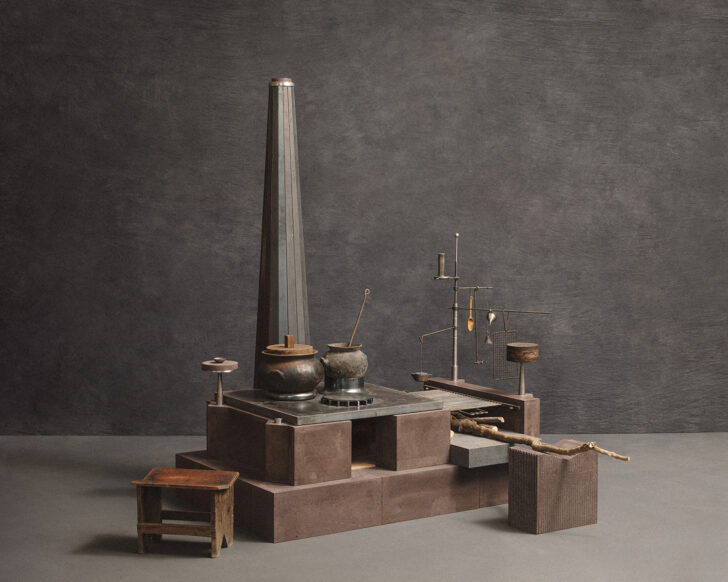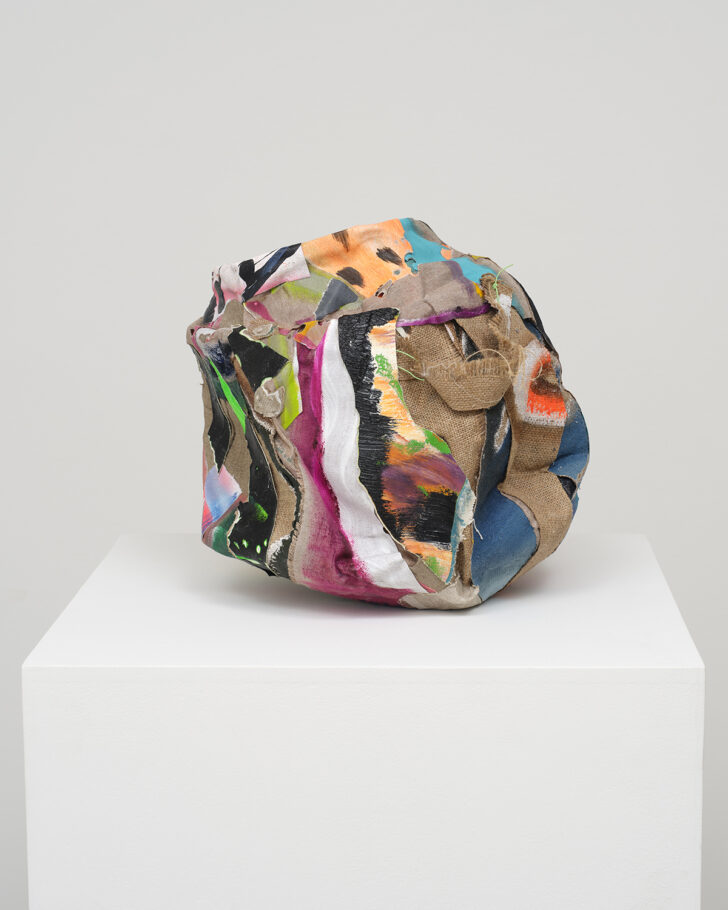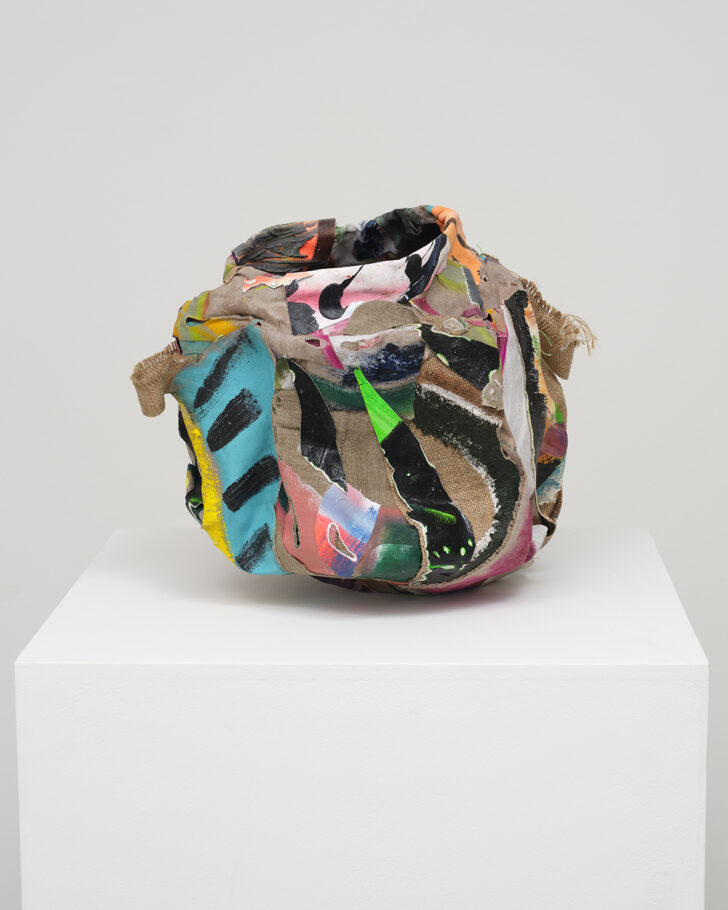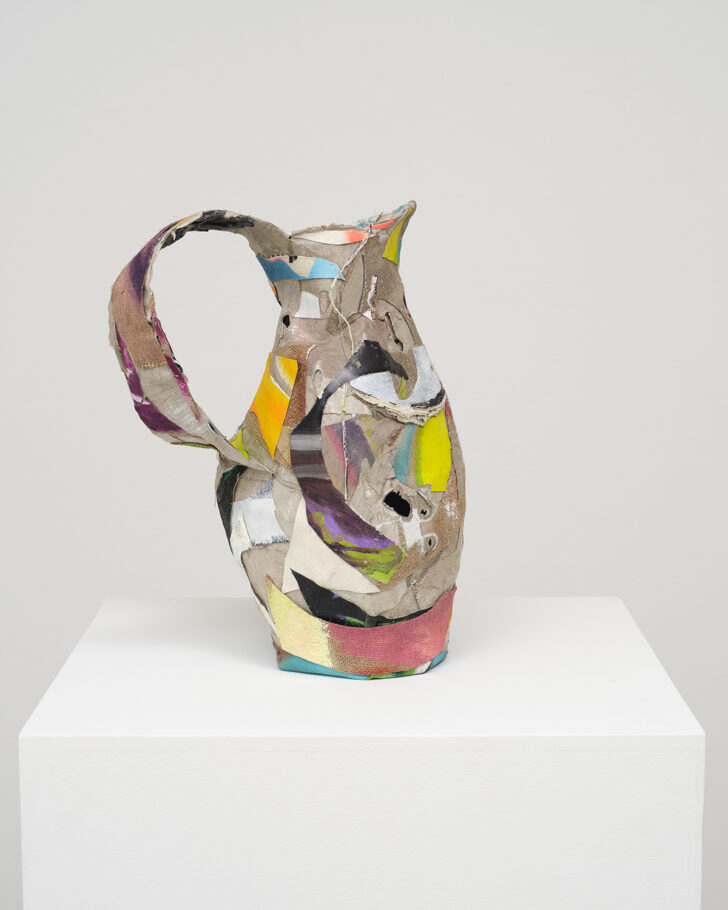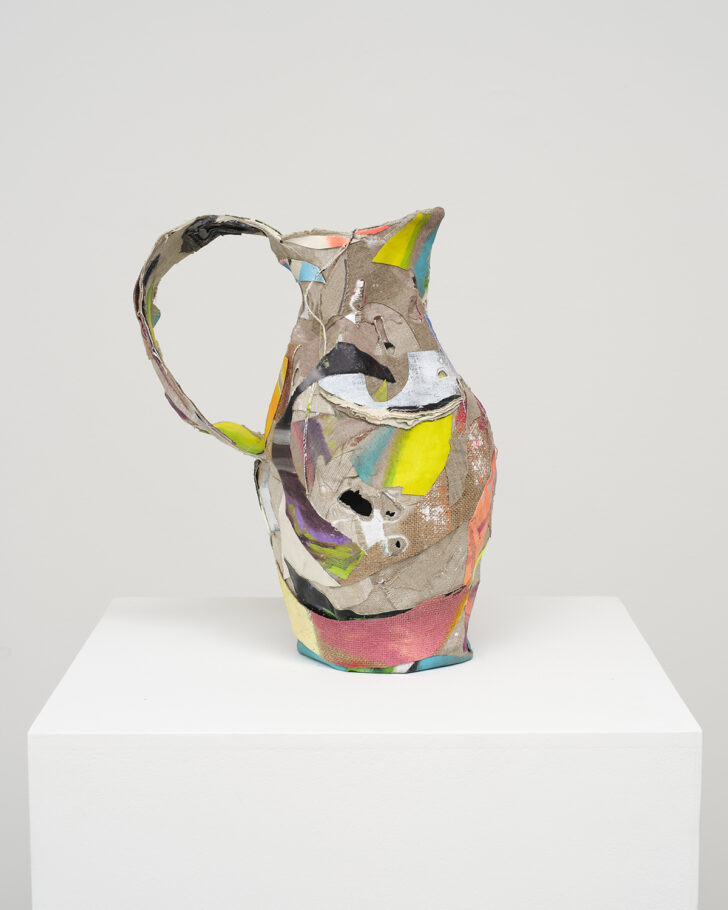 "Everything Here Is Volcanic," noted Swiss architect Hannes Meyer during his decade spent in Mexico, observing both the country's geological and socio-political landscapes in the 1940s. His statement now titles an exhibition of contemporary Mexican design curated by Mario Ballesteros at Friedman Benda in New York. Some of the works on show are literally volcanic, like art studio Tezontle's take on a Vernacular Kitchen that incorporates elements of extrusive rock, and Pedro Reyes' Volcan Table that's made entirely from the material. Meanwhile others are more figuratively explosive, such as Allan Villavicencio's vessels collaged from pieces of brightly painted cloth, and Fernando Laposse's red cactus lamp. Together they provide a snapshot of Mexico's boundary-pushing art and design scene, which continues to erupt. Until February 18.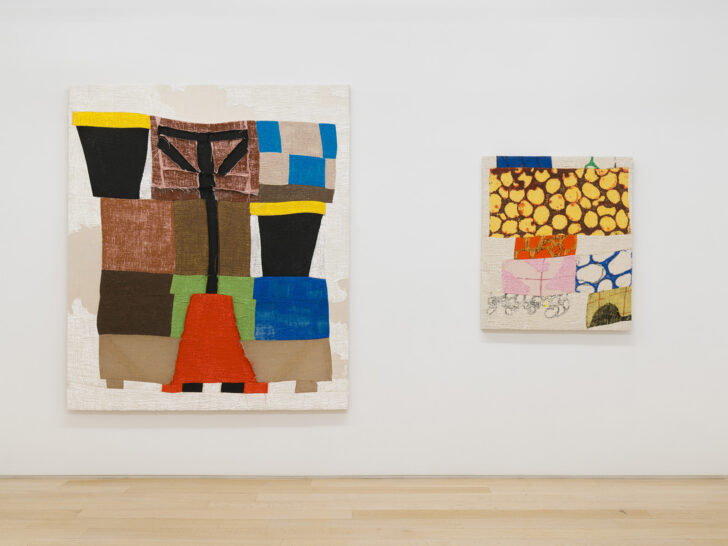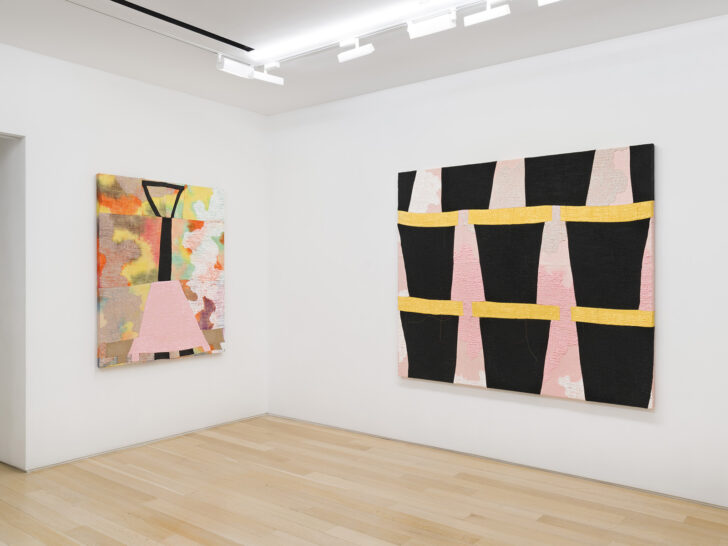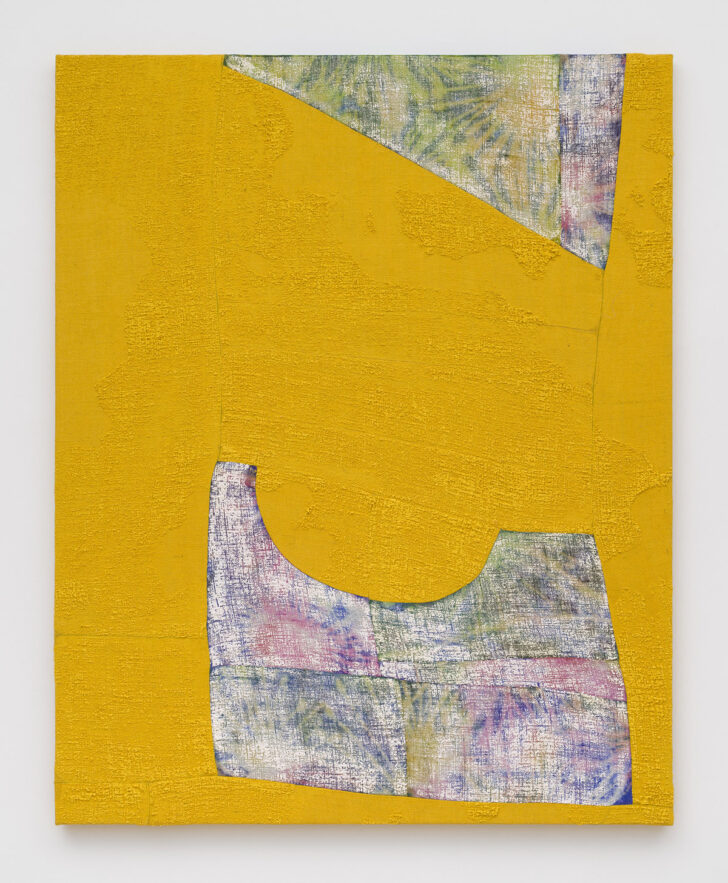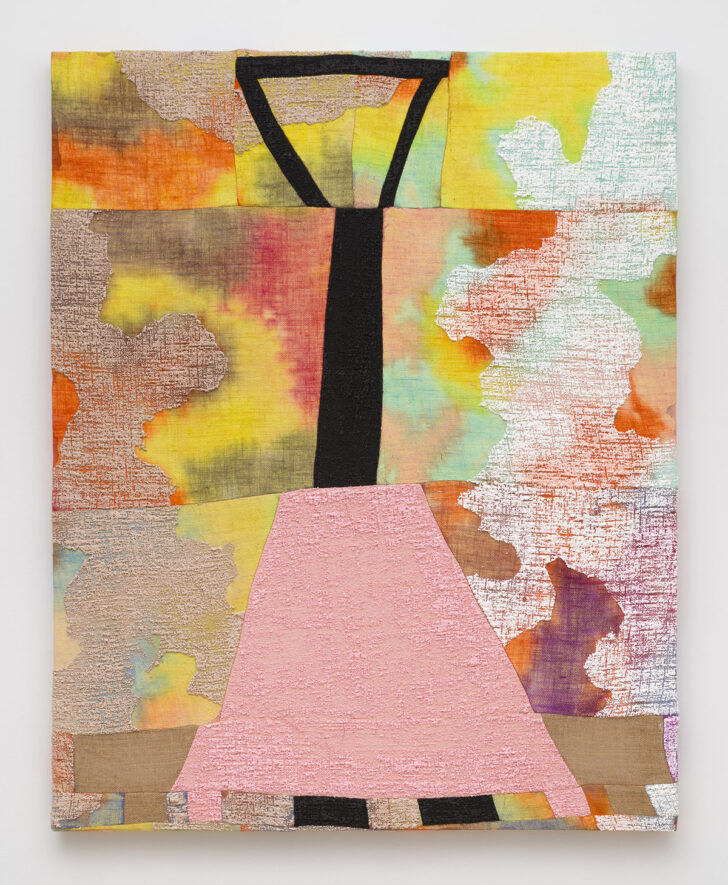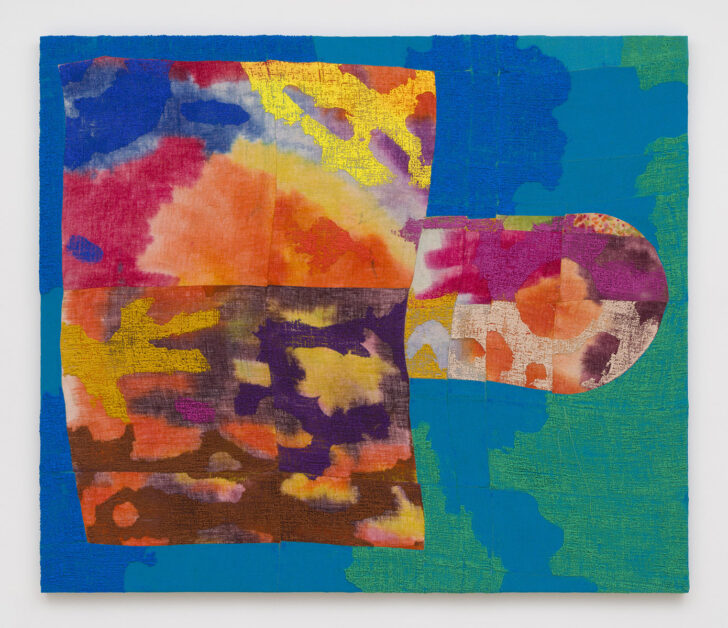 It sounds like Evan Nesbit had a lot of fun making these paintings. Questioning the process of painting itself, the Nevada City-based artist squeegeed hand-mixed acrylic paint through dyed burlap, which was drawn on with Indian ink, then pulled, cut up, and resewn together in irregular grids. The finished pieces in his Porosity series are fun to look at too. They're on view as part of a solo exhibition titled Marbled and Bewildered at Van Doren Waxter on the Upper East Side, until February 11.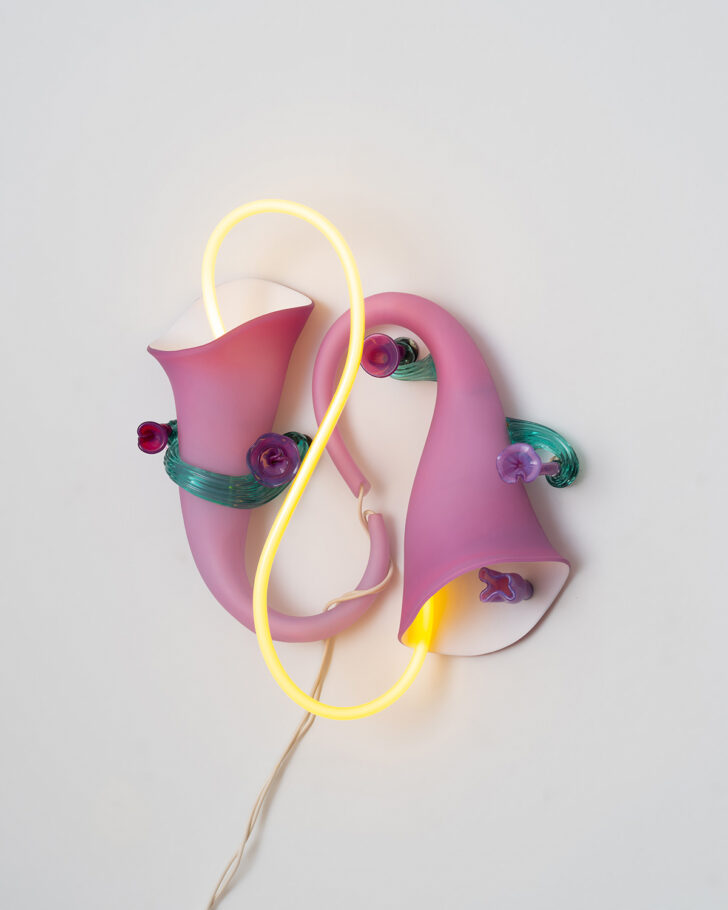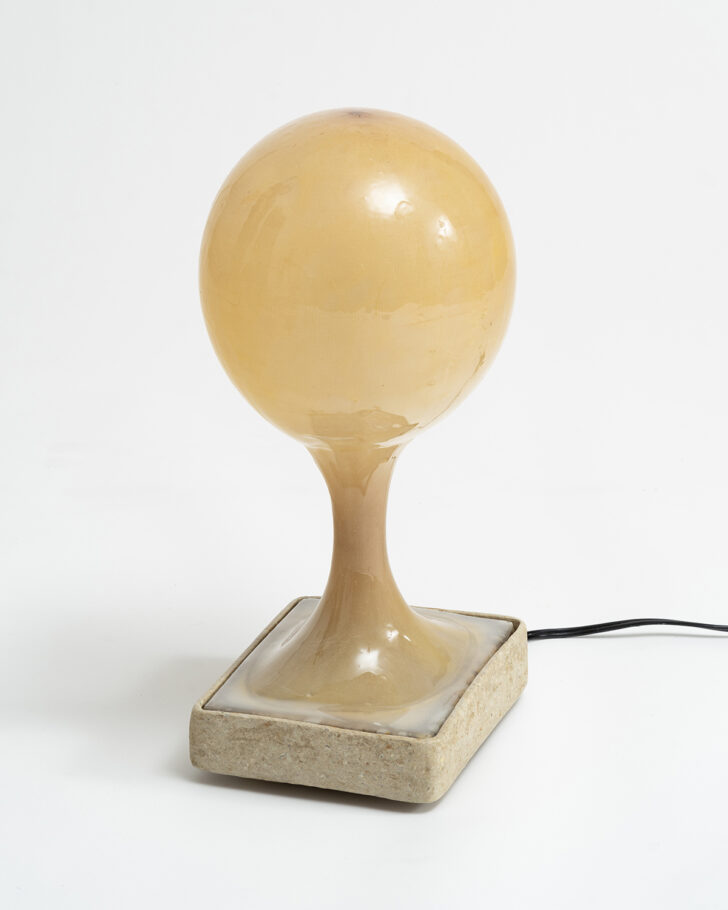 The wildness of the forest is the overarching theme explored through the current exhibition at Emma Scully Gallery in New York. Titled Green World, a phrase coined by literary critic Northrop Frye, the showcase of sculptures explores the imagination sparked by this magical and mysterious landscape, which has close ties to folklore and often represents freedom. James Cherry's bulbous glass Echo lamp, Kaja Upelj's iridescent mirror, and Pam Sabroso's Luminous Flowers light are among included pieces, which are on display until March 18.