01.19.23
10 Things We're Looking Forward To at This Year's Stockholm Furniture Fair
People often assume that our lives are more glamorous than they are — that we're constantly globe-hopping, from design week to design week, scouting new products and forging relationships with new talents. But the truth is, besides Milan, I've only been to a handful of furniture fairs — I've never been to Dutch Design Week, never managed to manifest my dream vacation in the south of France for Design Parade, and my lone visit to Maison & Objet was many moons ago. However, in a few weeks, I'll be attending the Stockholm Furniture Fair for the third time. What is it about this fair — that takes place in the dead of winter and where the average sunset time is 3:30PM — that keeps us coming back? Well, for starters, this year I'll be among the featured guests, giving a talk on Friday at the fairgrounds with Elle Décoration journalist Katarina Matsson about our new book, How to Live With Objects. But beyond that, I think Stockholm functions in many ways like a mini-Milan. It comes, in part, from being a city with an incredibly high baseline of appreciation for design: There's a predictably excellent emerging design showcase at the fair; there are exhibitions around town in the most wonderful and surprising locations (see this year's new experimental showcase at Älvsjö Gard, a never-before-used 16th-century manor on the fairgrounds); there are exciting launches from local talents, such as Fredrik Paulsen and Note Design Studio; and there is, if you can squeeze it in, an abundance of studio visits and sightseeing field trips you can take to round out your design education while you're there. (Let this be the year I finally make it to the Ragnar Östberg–designed City Hall!) Here are 10 of the things we're most looking forward to at Stockholm Design Week, which this year runs from February 7-12.
1. The emerging designer to watch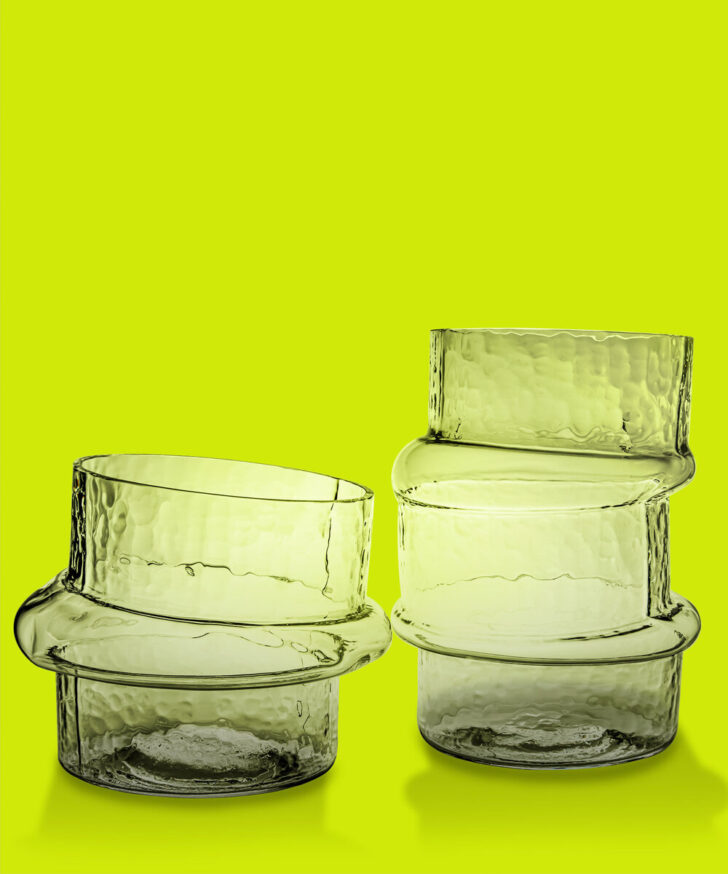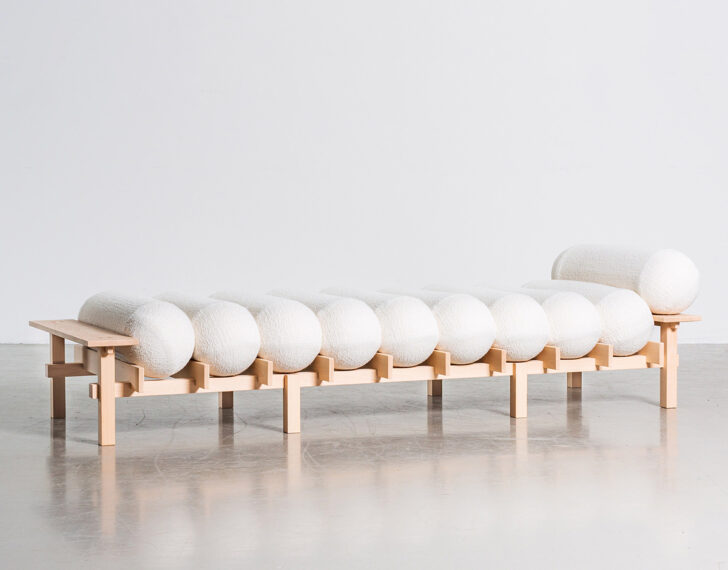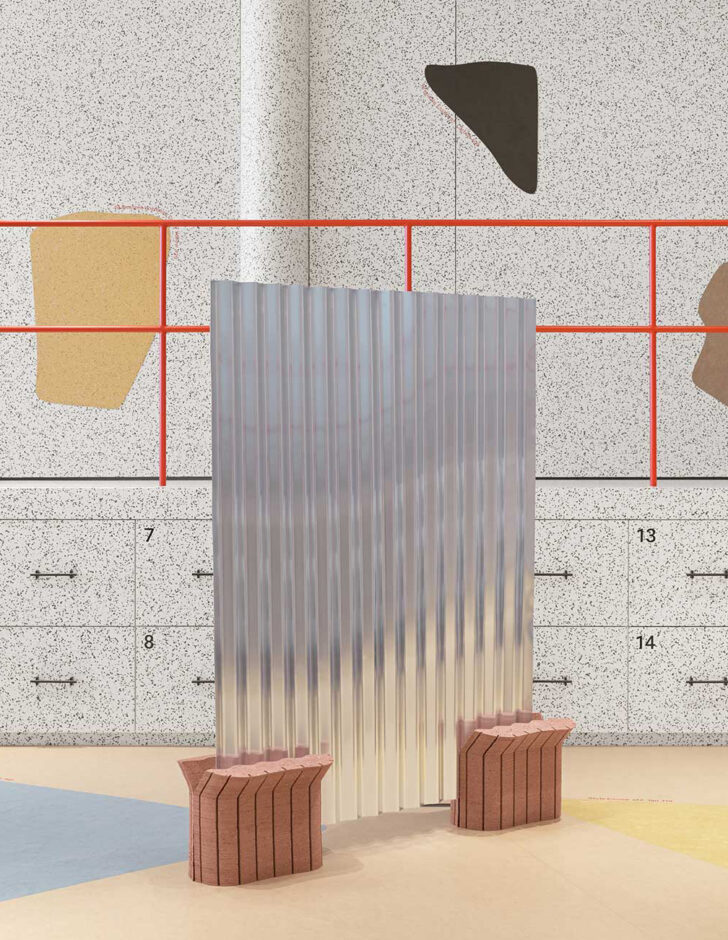 Between Greenhouse, the annual emerging talent section at the Stockholm Furniture Fair, and the fair's newly formed Scandinavian Design Award, there will be plenty of opportunities for scouting the next "it" designer. Last time we were in Stockholm, our big discovery was Jonatan Nilsson, whose glass vase I brought home and eventually photographed for our book. This year, our money might be on recent Beckmans grad Gustav Winsth, who is shortlisted for the Scandinavian Design Award's Rising Star of the Year and who will show new work at Greenhouse, including a project he's been working on with Lammhults, reinterpreting one of the Swedish company's iconic 1960s designs.
2. Älvsjö Gard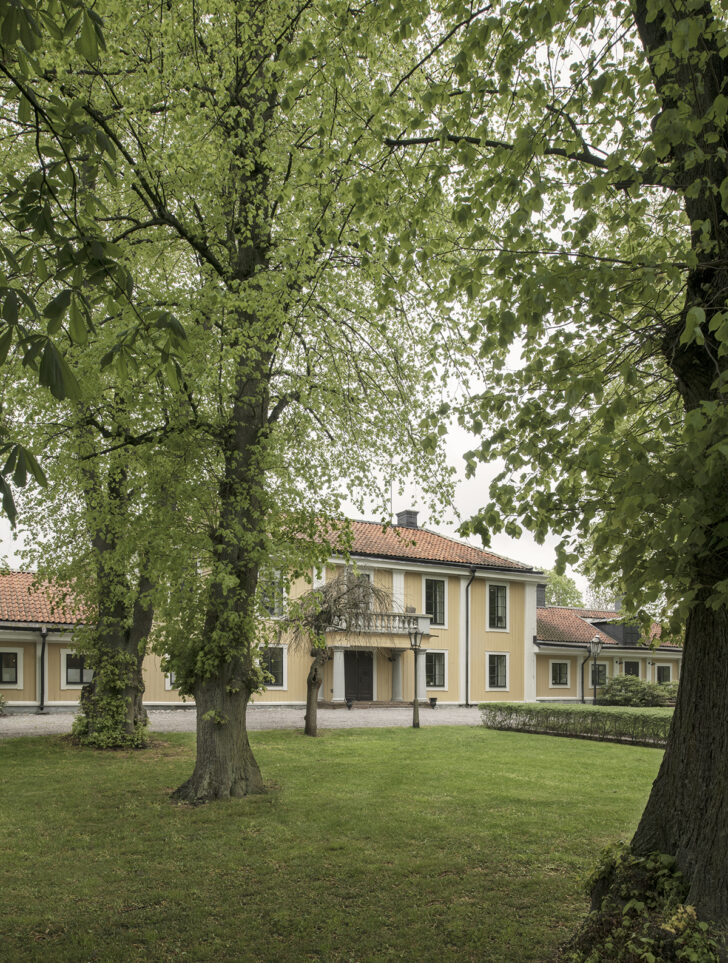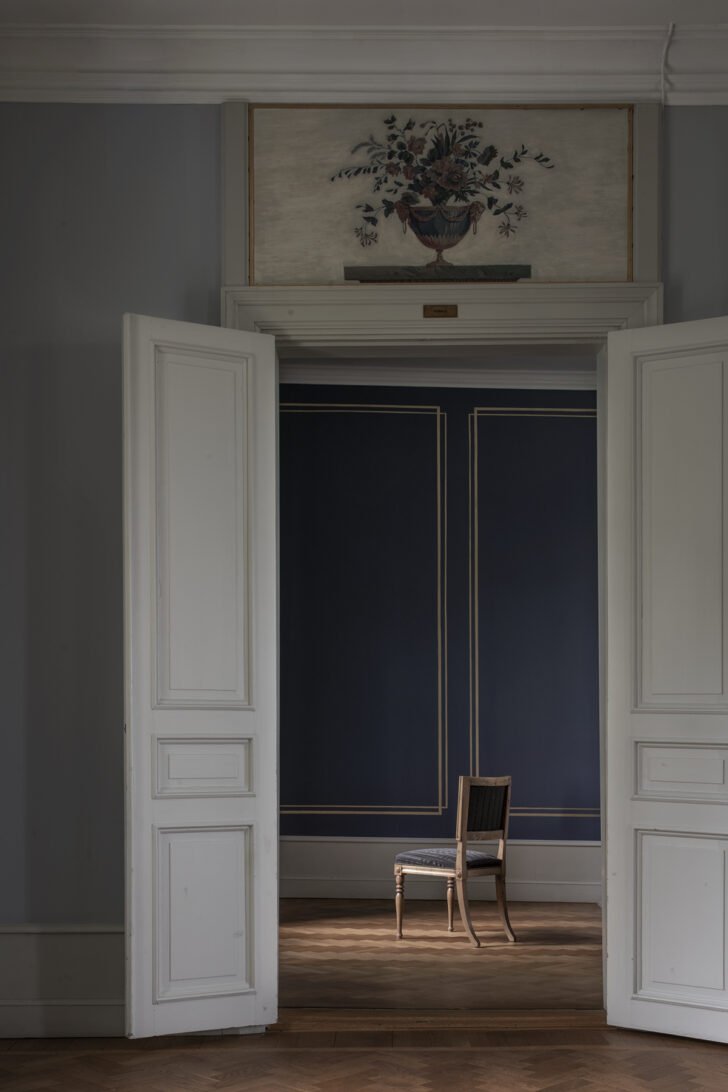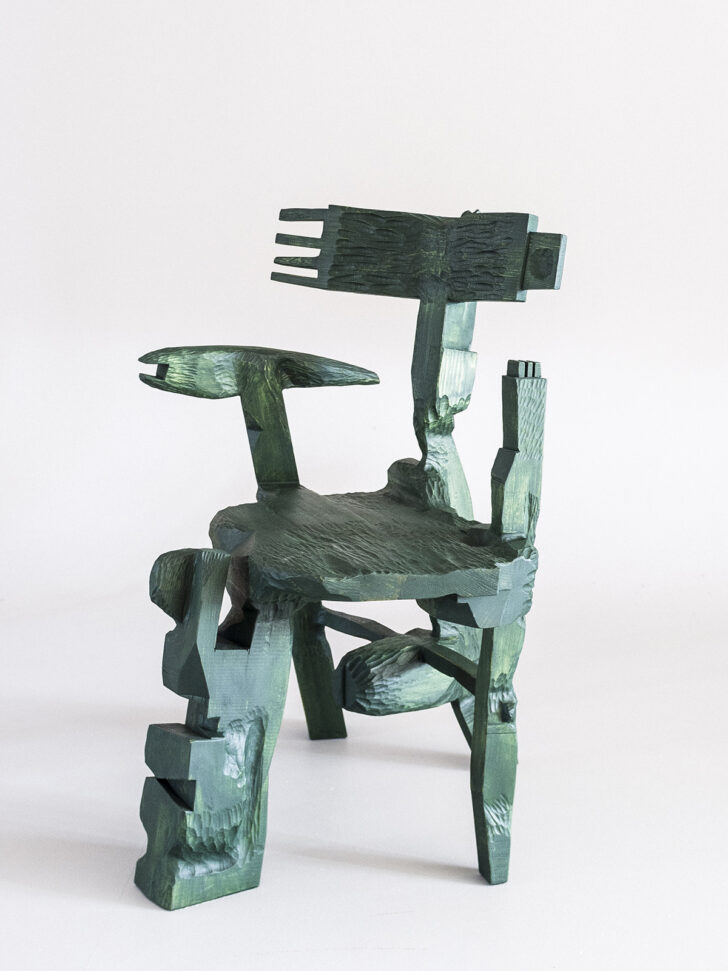 Set in a 16th-century manor near the SFF fairgrounds is Älvsjö Gård, a new platform for experimental and collectible design that's meant to mirror what's happening in the design world — where designers traverse back and forth between the worlds of mass-produced design, gallery commissions, and small-scale production. Over 13 rooms, design galleries and independent makers will exhibit their work, including Tableau from Copenhagen, the Norwegian collective Pyton, and Coulisse Gallery from Sweden. Hanna Nova Beatrice, project manager for the fair and Stockholm Design Week, will curate New Narratives, an exhibition of work by Swedish designers including Axel Wannberg, David Taylor, Emanuele Stamuli, Fredrik Paulsen, Folkform, Lab La Bla, Mattias Sellden (whose chair is shown above), and Magniberg.
3. A new fine dining restaurant–turned–gallery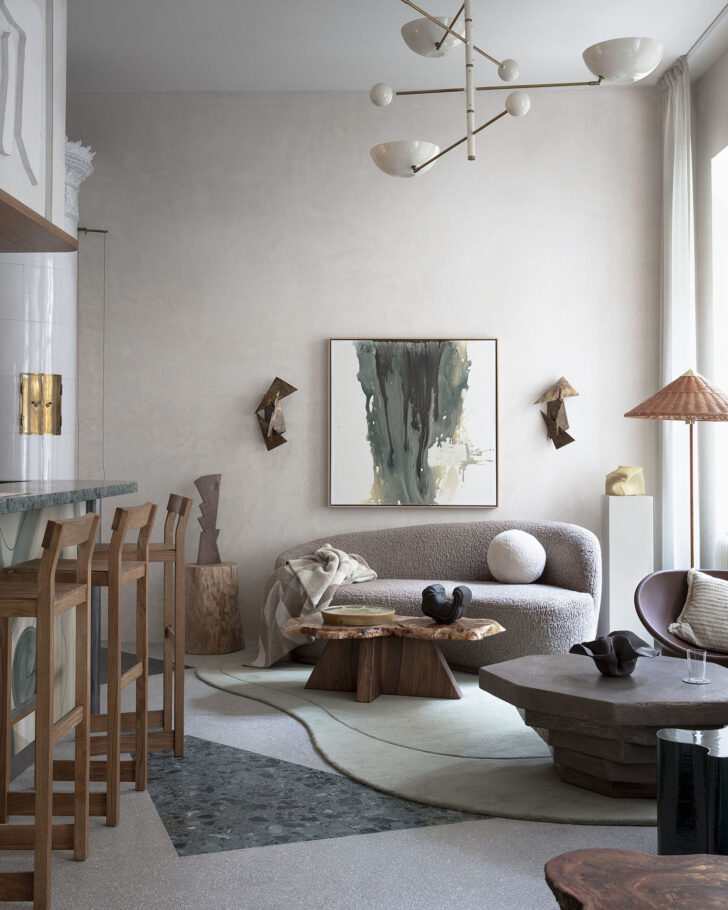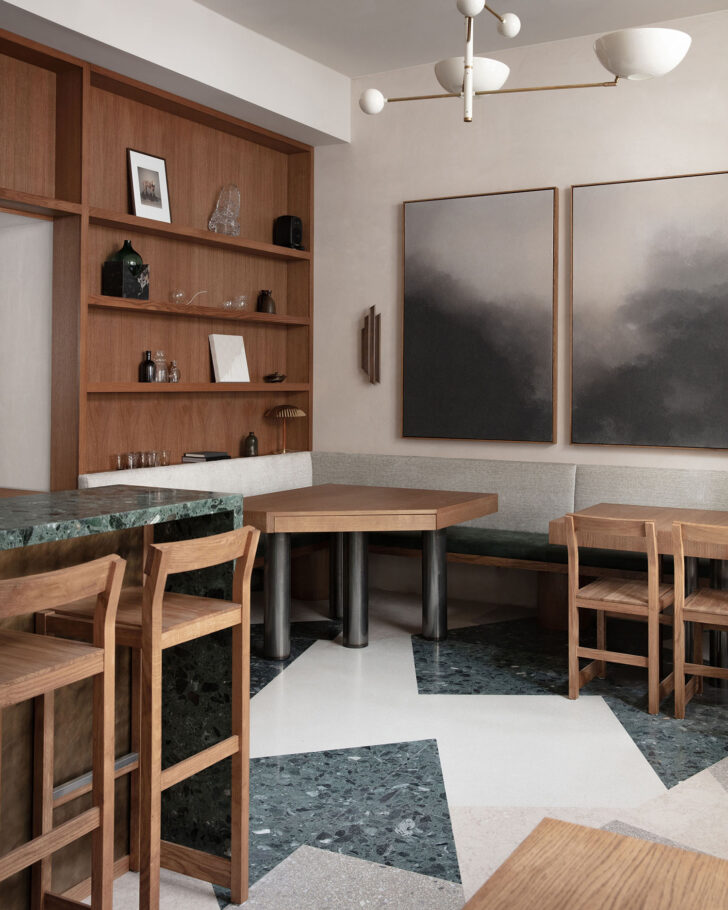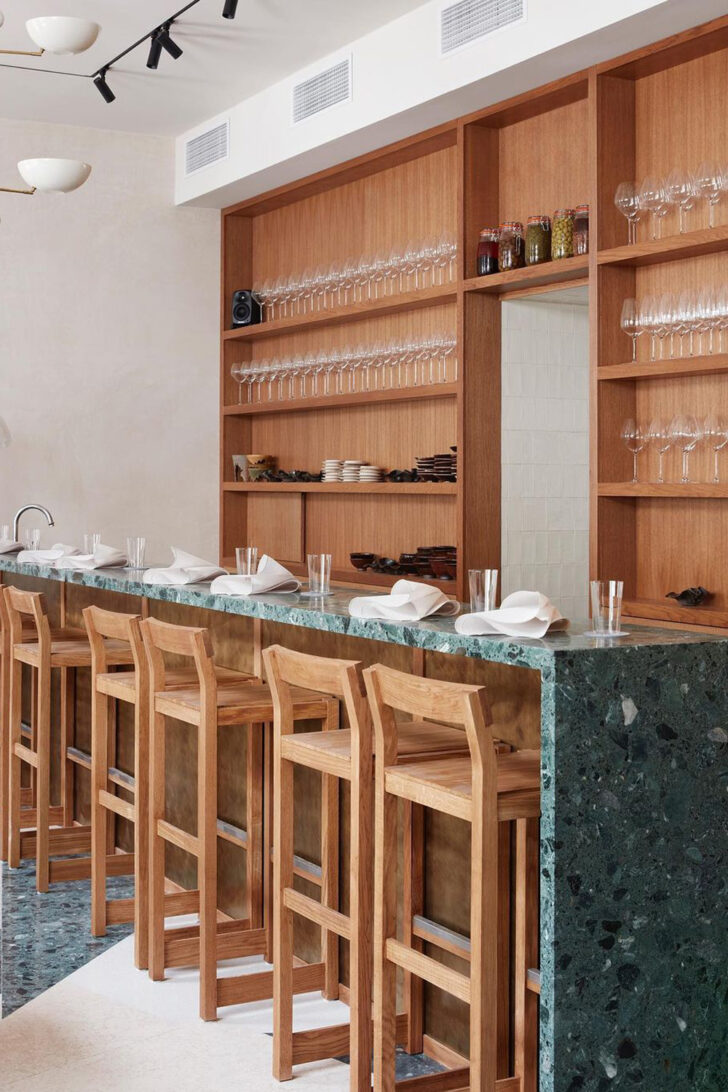 Persona, a fine dining restaurant in Östermalm, opened late last year, and the space is reason enough to visit. Designed by Erik Bratsberg, it features a gorgeous marble bar and flooring, Mallorcan ceramics, iconic objects like Paavo Tynell and Gae Aulenti lamps, and pieces designed by Bratsberg himself. During the fair, the space will function as a gallery as well, with works by Josefin Zachrisson, Edie Chambers of Ateme Ceramics, Sofia Tufvasson, and Anna Christina Elisabeth.
4. TAF x Bukowski's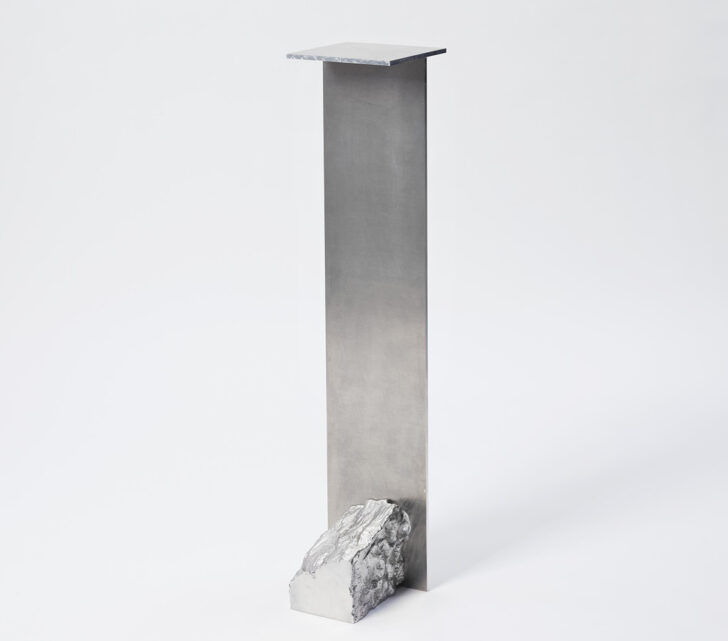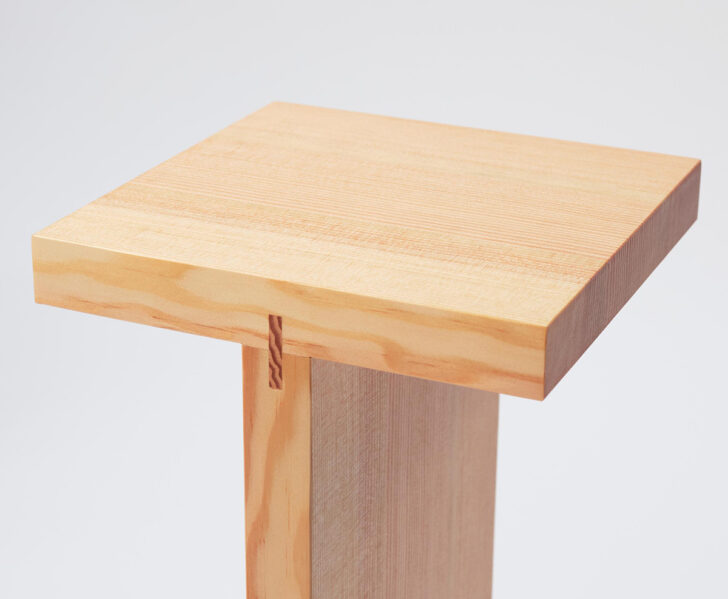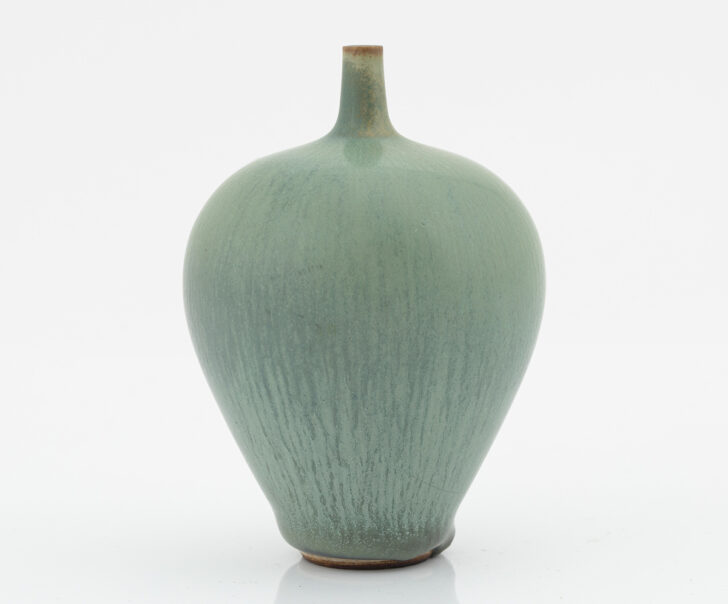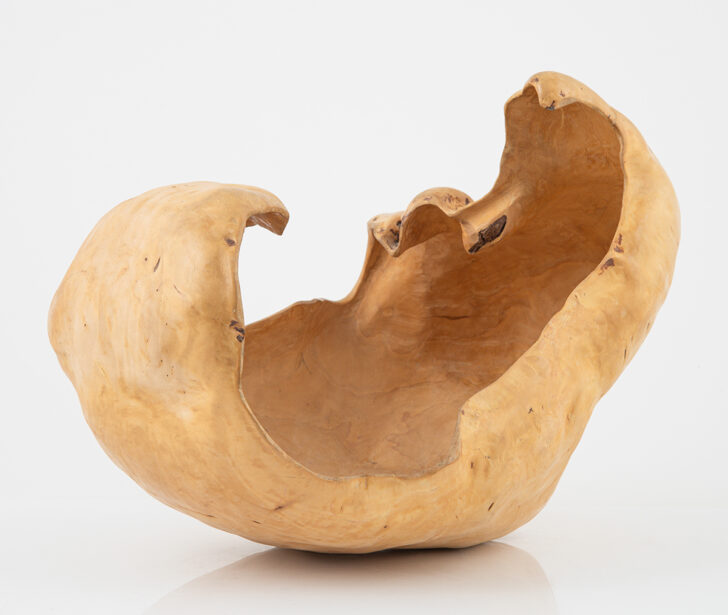 Last time I was in Stockholm, one of my favorite exhibitions was the PIN-UP–produced Magniberg showcase inside Bukowski's auction house near Berzelli Park. This year, Bukowski's will host Fundament, an exhibition created by TAF to showcase both a series of pedestals designed by the studio and a collection of small vintage objects, curated by TAF, that will be auctioned online. For the exhibition, TAF constructed three different pedestals. For one edition, founders Mattias Stahlbom and Gabriella Lenke 3-D scanned a hunk of limestone from Gotland and cast it in solid aluminum; the "stone" works as a ballast for the aluminum sheets that make up the base and tabletop. Another edition of nine, originally created for an exhibition about flags at the Nordic Museum, is produced in beech wood and painted in high-gloss lacquer. A third edition is made from Oregon pine in a form that references columns and I-beams, strengthened by what the two refer to as a "visible tongue."
5. Sven-Harrys x Massproductions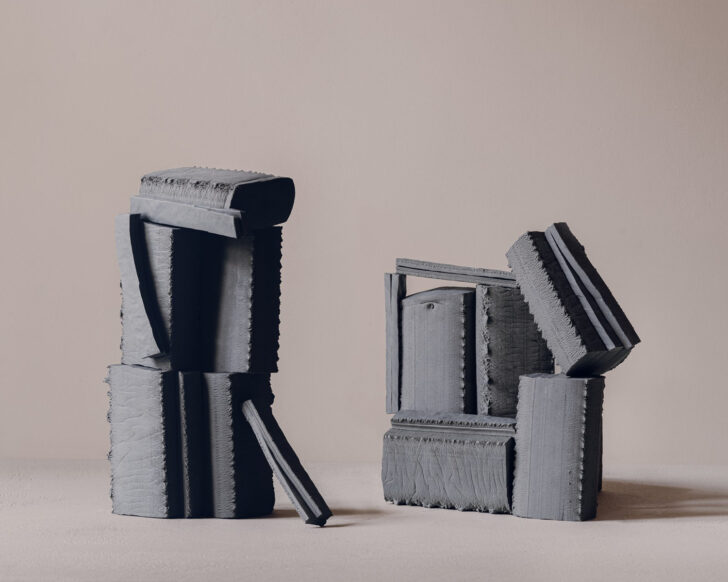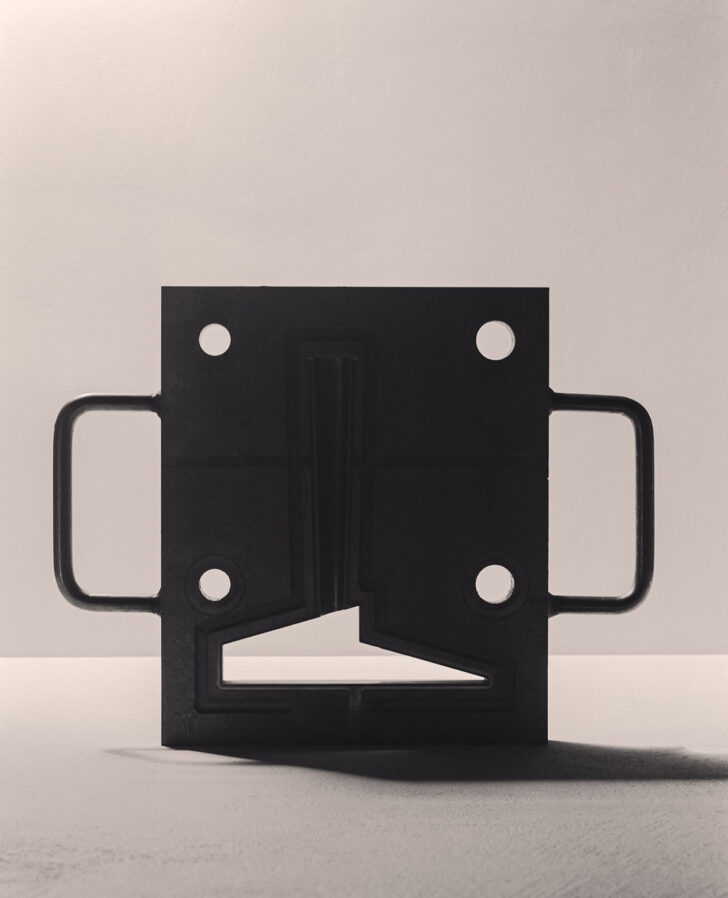 Another one of my favorite outings from my 2019 Stockholm trip was a tour of the private home of art collector Sven-Harry Karlsson, which is recreated at the top of the art museum that bears his name. In the ground-floor gallery space of the building this year will be a process-based exhibition by designers Magnus Elebäck and Chris Martin, founders of the Stockholm-based furniture company Massproductions, which explores the link between industry and art and asks questions like: Where does the art start? What makes good design great? What happens when industrial manufacturing tools and processes move from the factory floor to an art gallery? Be sure to tour upstairs as well!
6. Front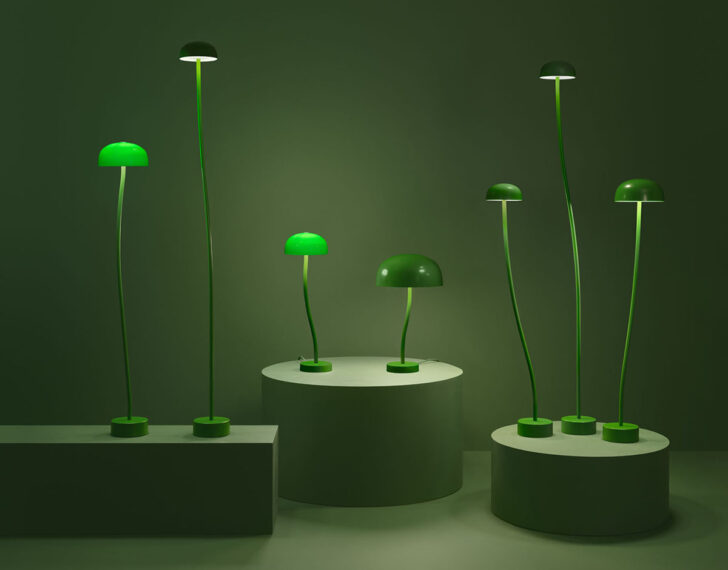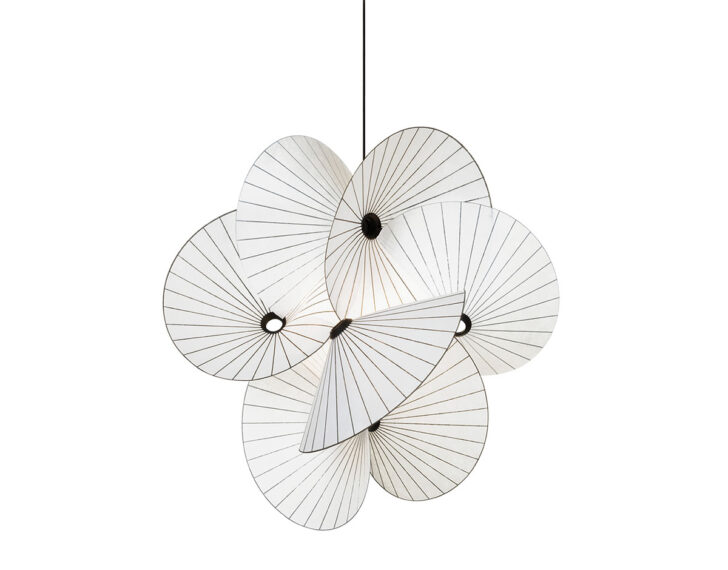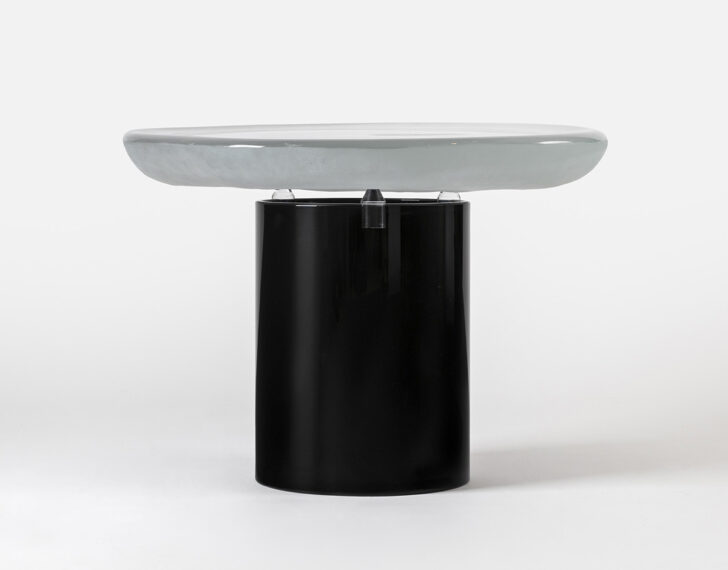 With the advent of 3 Days of Design in Copenhagen, there's inevitably more of a focus on Swedish design in Stockholm these days, which the fair is intending to highlight this year. The bar at the fair, typically designed by a local, will be constructed by Swedish interior architect Jonas Bohlin and the Guest of Honor installation will for the first time go to a Swedish studio: Front, the female-led collective that rose to fame in the early 2000s with its iconic Soft Wood furniture for Moroso and horse-shaped lamp for Moooi. Shown here are some of our favorite, more recent, projects including a wavy library lamp the studio created for Zero, their paper Serpentine lamp for Moooi, and their Water Reflection table for Galerie Kreo. Very interested to see the new work!
7. Actually sustainable initiatives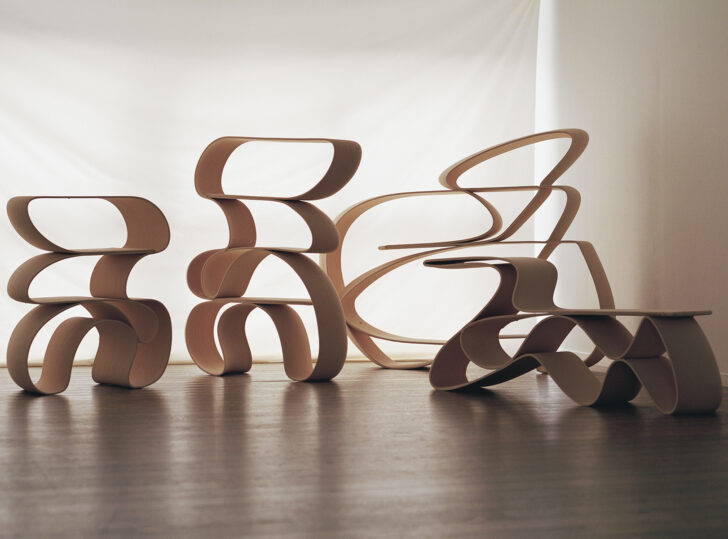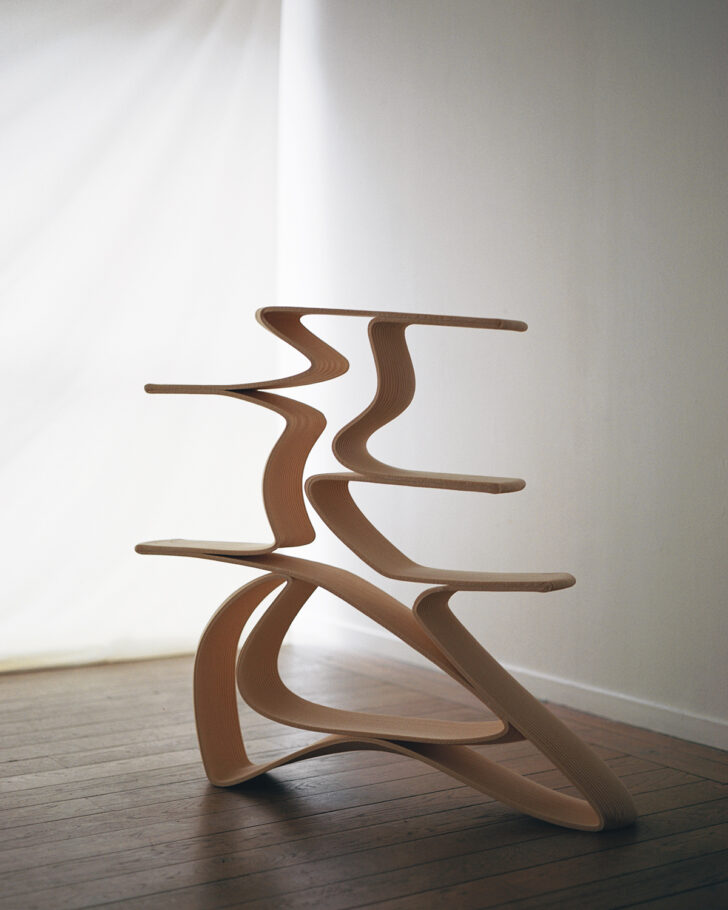 Originally developed as a degree project at Beckmans, Granland is a furniture series by designer Simon Mattisson, who created a wood composite he could 3-D print from the barks of spruce trees damaged by Spruce Bark Beetles. The beetles' hatched larvae feed on healthy trees, creating tunnels and weakening the trunks; Mattisson's forms are inspired by the patterns the beetles leave under the surface. He will show new pieces from the collection at Nordiska Galleriet, and sustainability and circularity will be highlighted in several other exhibitions, including "Now or Never—1kg CO2e" by Emma Olbers and Dobermann Sally, which shows how different materials affect our surroundings, and The Nude Edition, a section of the fair — featuring brands like Herman Miller and Reform Design Lab — whose stands are built entirely from recycled material and will be recycled post-fair as well.
8. One historic building, two great collections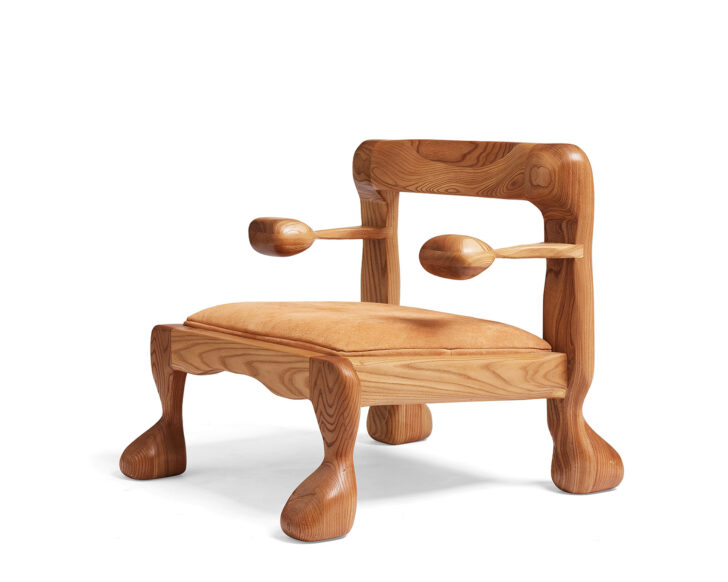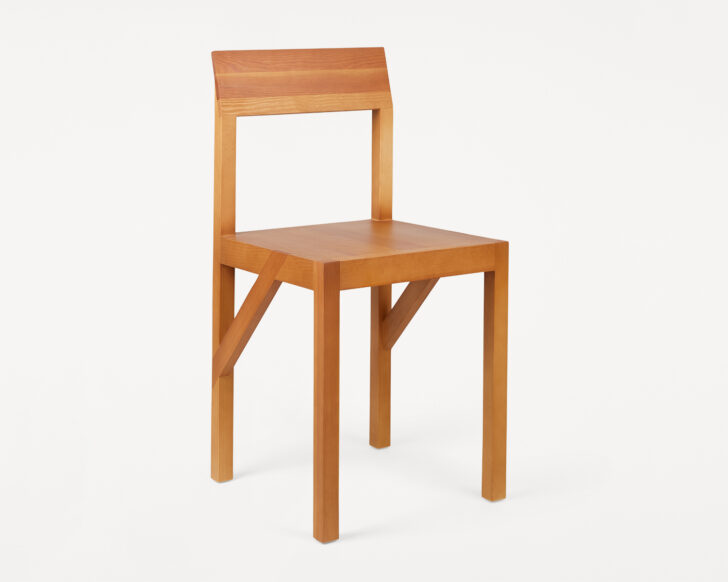 In the center of town, at the Konstnärshuset, visitors will find two exhibitions. In the art gallery, Dusty Deco will present an art curation by Public Service and new furniture and objects by the likes of Atelier Alba, Sigfrid Billgren, and Niklas Runesson, whose 2019 lounge chair is shown above, top. In the ground-floor 1930s-era bar, Konstnärsbaren (or KB), Copenhagen-based Frama (makers of my favorite soaps in existence) will show its new Bracket collection (above, bottom), designed in collaboration with Danish duo Frederik Gustav and fabricated in solid oiled pine. The collection, inspired by traditional carpentry, turns a structural component into a perfectly simple aesthetic feature.
9. The Gallery Edition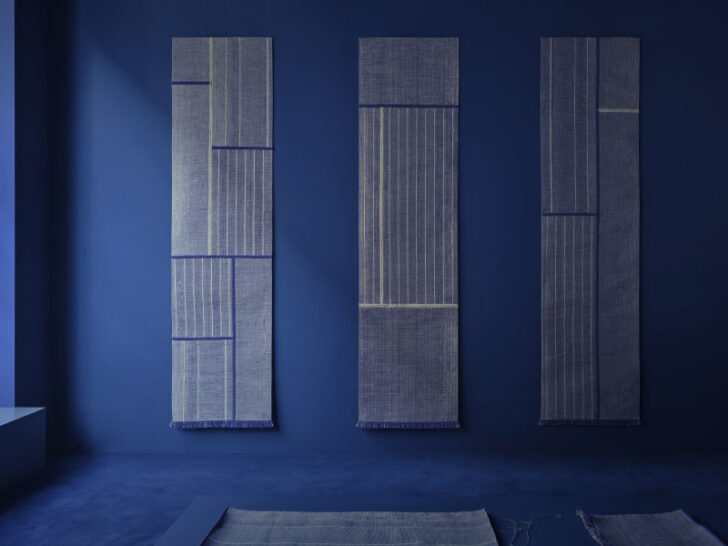 This is kind of a granular thing to look forward to, but coming from someone who has both attended fairs as an editor and produced fairs as a curator, I think the idea for The Gallery Edition — a new exhibition space at Stockholm Furniture Fair with set design by Sophia Bratt, showcasing selected products from brands also exhibiting in the city — is kind of brilliant? There's so much to see at a design week, and this concept ensures that nothing falls through the cracks. I'll be looking forward to finally seeing projects in person — like Folkform's Blue Tapestries, which debuted at the September edition of the fair, and our friend Katrin Greiling's Safar daybed — as well as a bunch of new products!
10. SFF Talks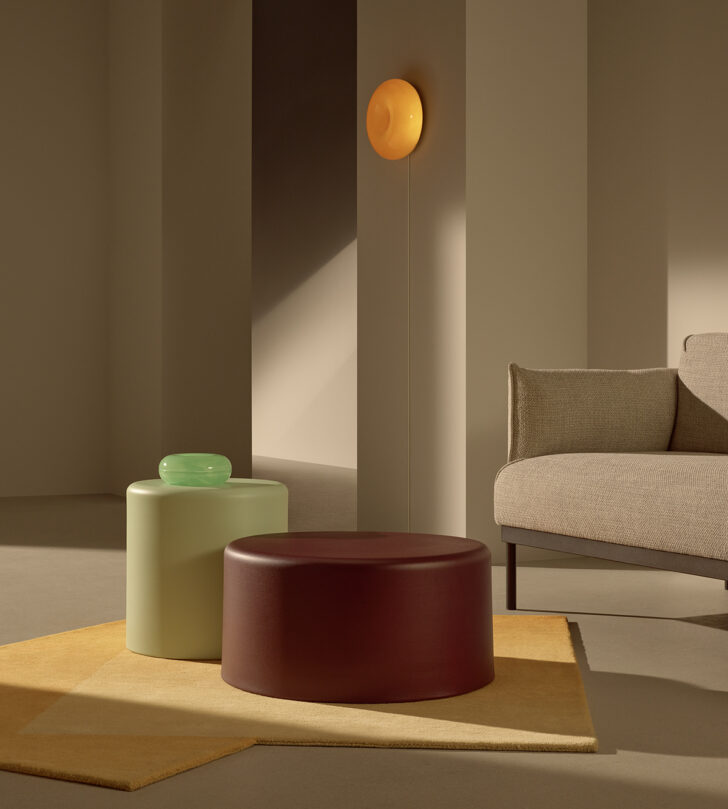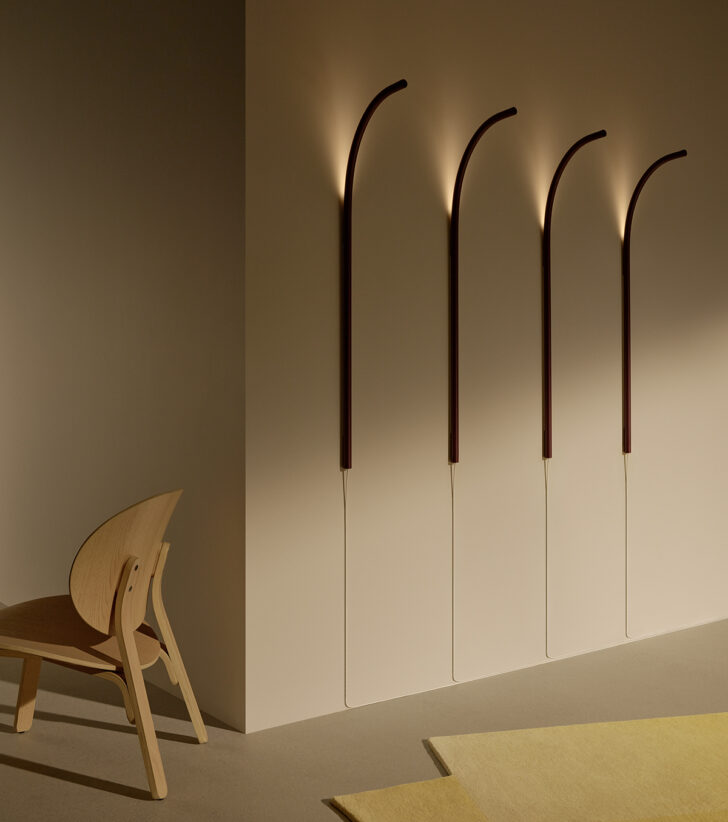 The fair has a particularly good line-up of speakers this year, loosely based around the theme, "How do we build for a better tomorrow?" They include SU friends Philippe Malouin (who will also debut an outdoor furniture collection with Hem), Raw-Edges, Nicolas Bellevance-Lecompte of Carwan Gallery, and Sabine Marcelis (whose recently released Ikea collection is shown above). Ukrainian architect Slava Balbek will speak about his experiences with volunteer projects and RE: Ukraine, a modular urban system to accommodate displaced persons, and Anders Lendager of Lendager group will share his knowledge of working with reuse and upcycling. And then of course there is me, talking about How to Live With Objects with Elle Decoration's Katarina Matsson, asking questions like: What makes a meaningful interior? How do the objects we acquire impact our lives? And how can brands and designers imbue their products with both a soul and a narrative? Hope to see you there!