02.18.23
Week of February 13, 2023
A weekly Saturday recap to share with you our favorite links, discoveries, exhibitions, and more from the past seven days. This week: the hits from Zona Maco, an exhibition that's meant to recall an imaginary speakeasy by the sea, and our favorite new candy-like glass goblets, by the Franco-Russian designer Alissa Volchkova.
Discoveries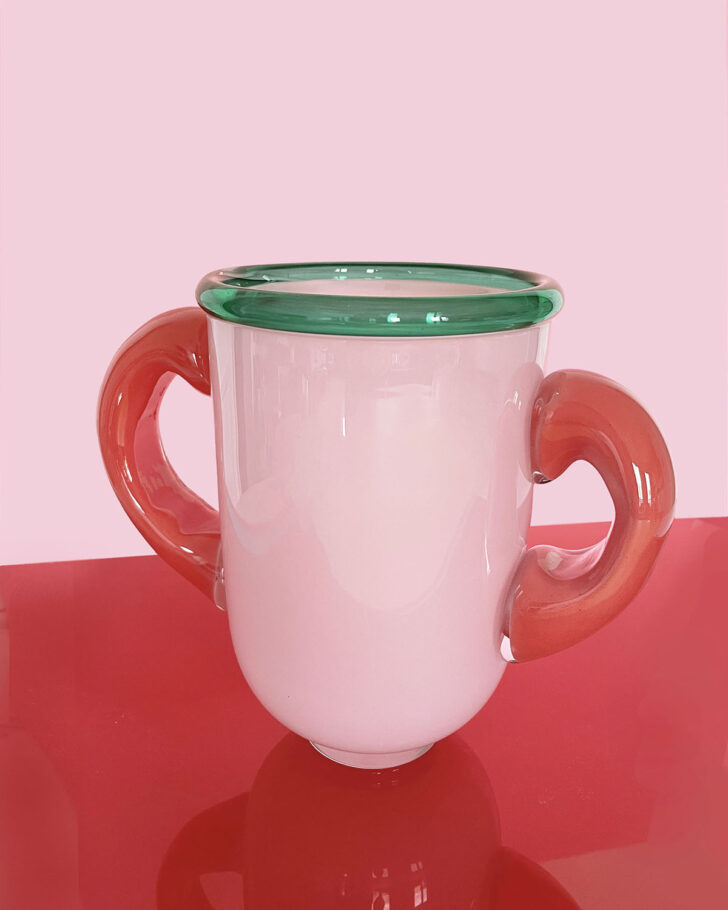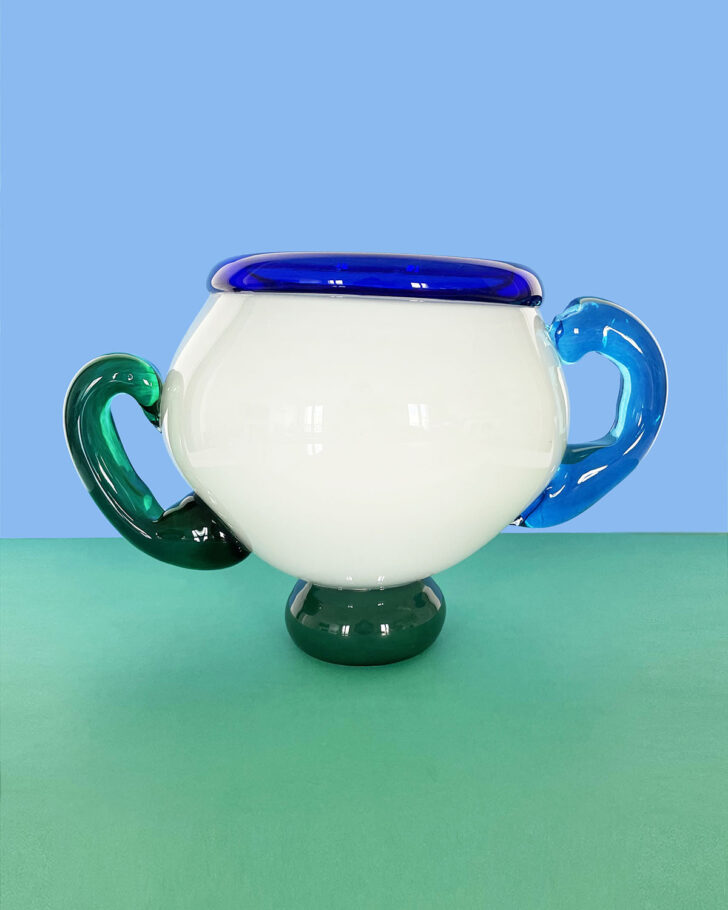 It's not all that surprising to learn that Franco-Russian designer Alissa Volchkova comes from an architectural background. Though she now works on a smaller scale, structure and space figure largely into the objects she creates. Her latest collection of colorful glass pots is called Potelé ("chubby" in English), on view at Collect London in early March. With emphasized and exaggerated handles, these vessels are "super big, super heavy, super fun," in Volchkova's words. She let the glass react while hot to achieve an effect that's as irregular as it is irresistible.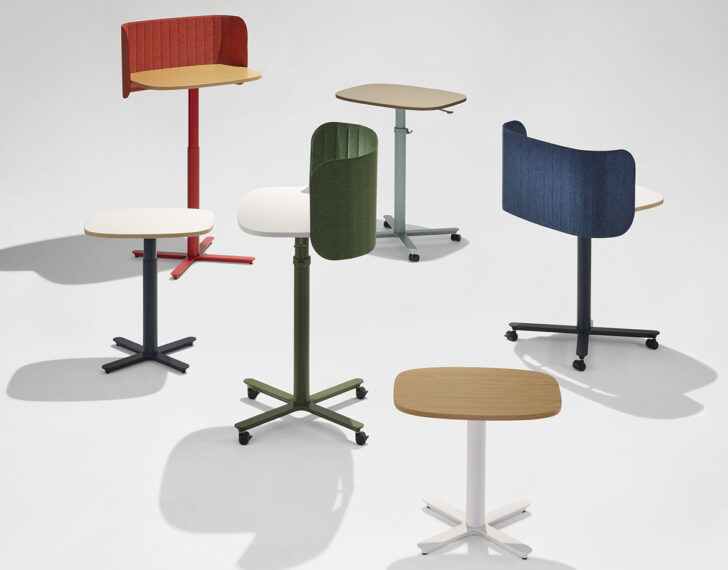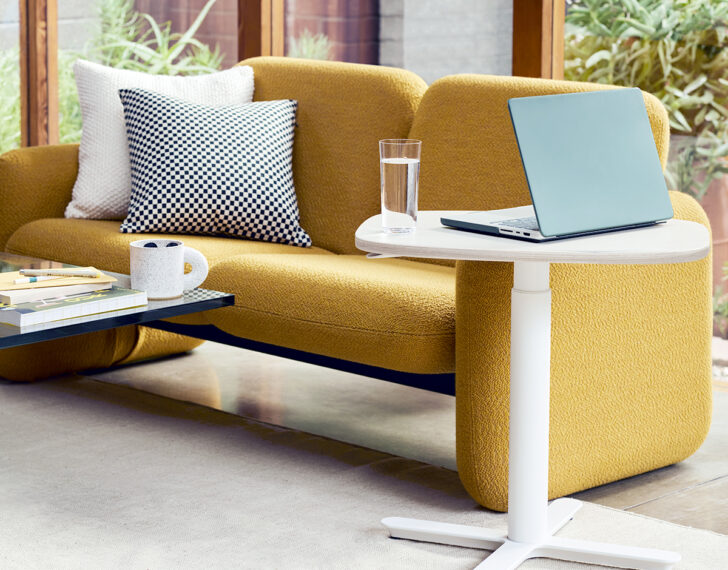 As workspaces have become more fluid — maybe your couch is now your "desk" — the need for versatility has only increased. Rising to the occasion (pun intended, as always) is a new height-adjustable pneumatic table from Herman Miller, the Passport. It's a companionable piece with a small footprint but big functionality: it's easily moved around, with or without casters; comes in two sizes (22 x 16'' and 27 x 20") and a variety of finishes and colors; and if you want to be a bit shielded, you can even add an optional privacy screen.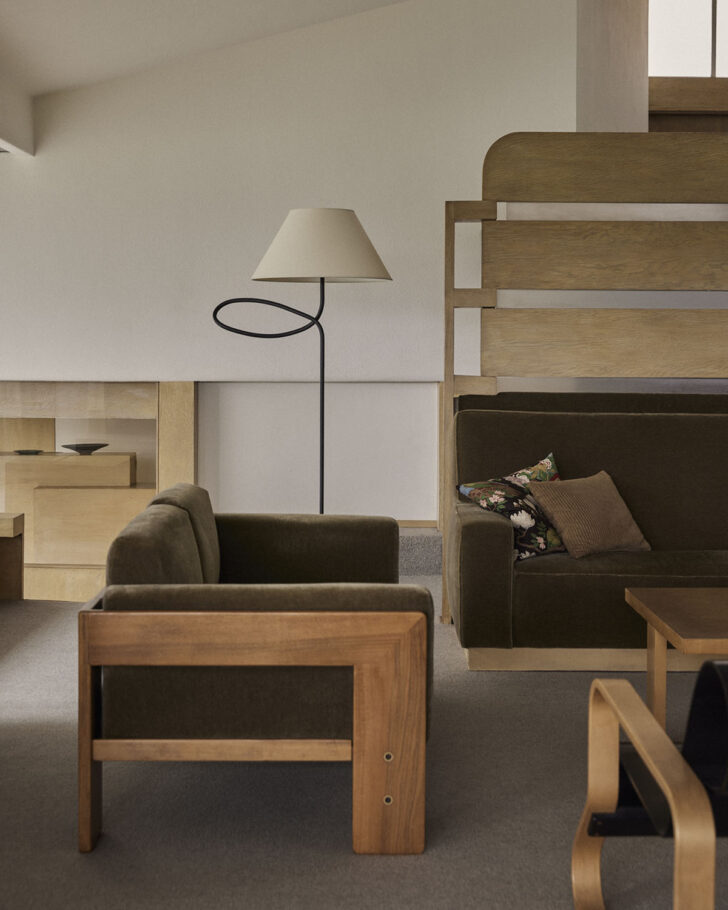 In his debut for Troy Lighting, creative director and interiors stylist Colin King has created 16 collections – 27 pieces in all – that are soothing and meditative but never snoozy. King brings the attentiveness of a sculptor to the angles and curves here: the Alameda lamps feature bodies of cursive-like, looping forged iron and paper shades while the Arden is a take on traditional lantern pendants.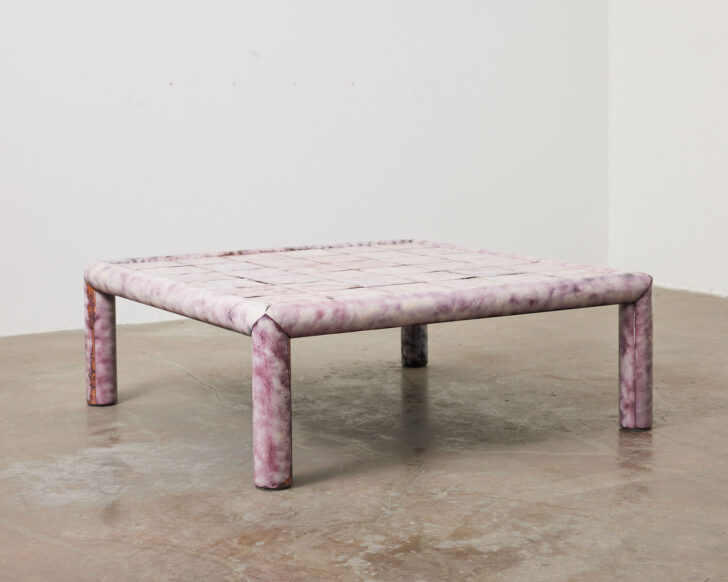 Vancouver's New Format, founded by Henry Norris, is part design studio, part laboratory – not simply producing metal furniture and objects but exploring "processes that transmute one thing into another." In the case of the glass enameled copper Froe table, New Format used a torch-firing method – which comes with a certain level of unpredictability ­– to fuse glass and copper and meld them into one material. The unique color results from copper oxidation beneath glass, mixed with white enamel on top. While the color varies, it does so within a fixed range – similar to the way wood oxidizes in weather; in a nod to that materiality, the table is named Froe after the L-shaped tool used to spilt wood along the grain.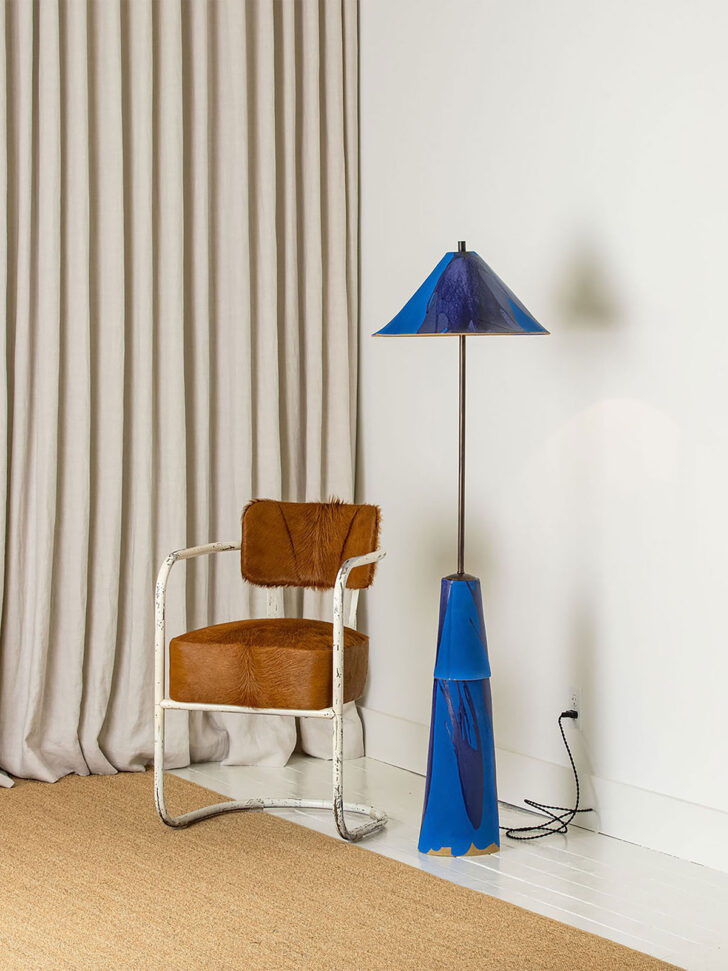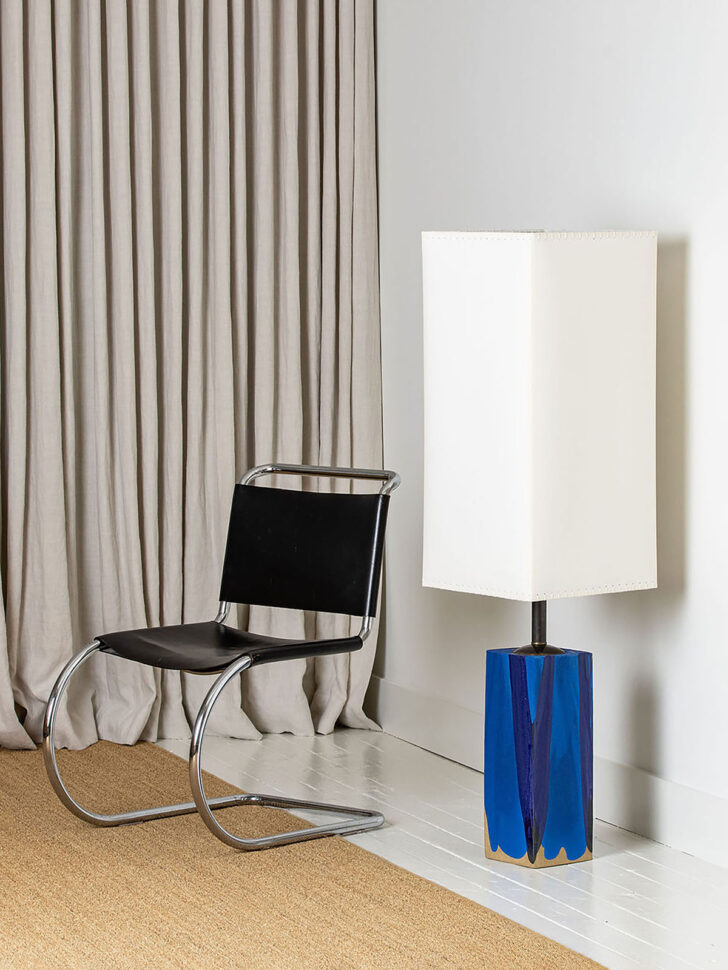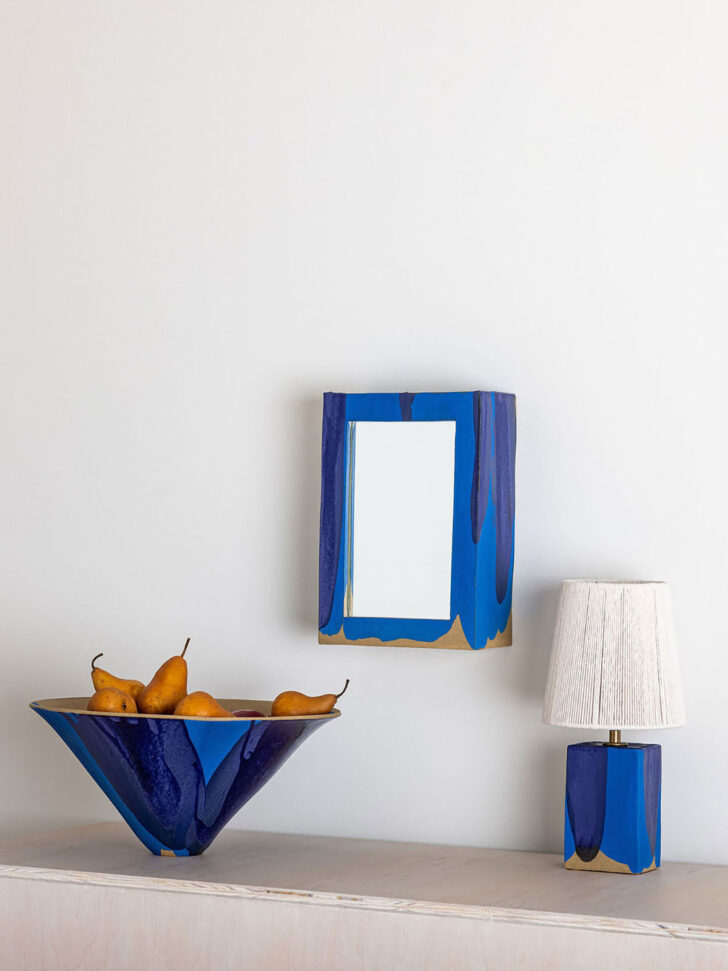 Dumais Made, of Litchfield, Connecticut, is going deep and bold with their latest works, the Ultramarine collection. Inspired by the classic, electric Yves Klein blue, the ceramics studio has paired sumptuous cobalt tones with table and floor lamps (with parchment shades) and a wall mirror. For the stoneware bases and frames, ultramarine, the main ingredient in Klein's supersaturated pigment, serves as the matte base, followed by a glossy pour of navy-blue glaze.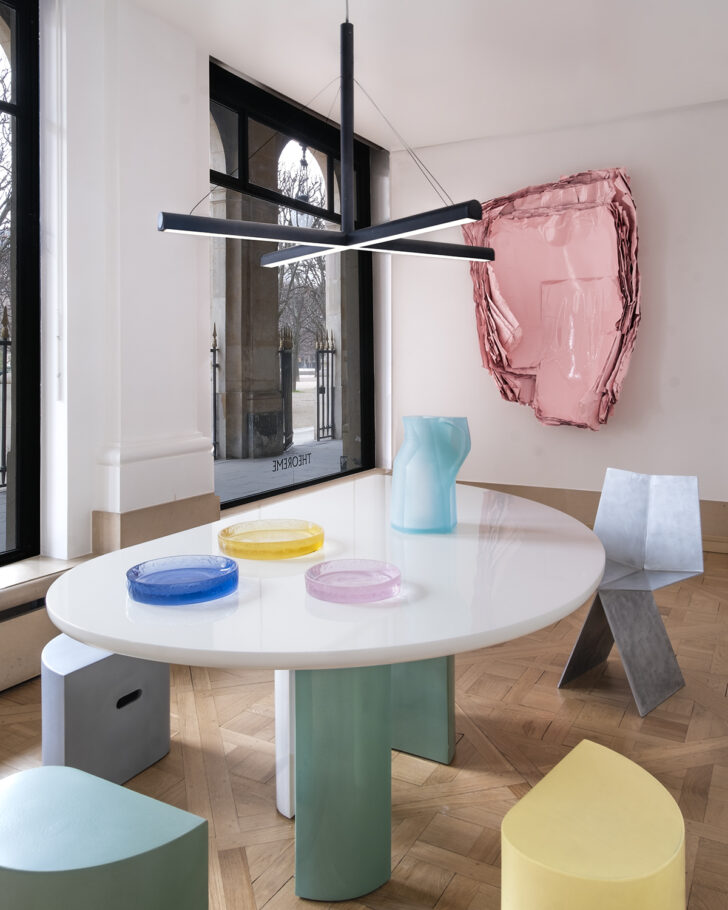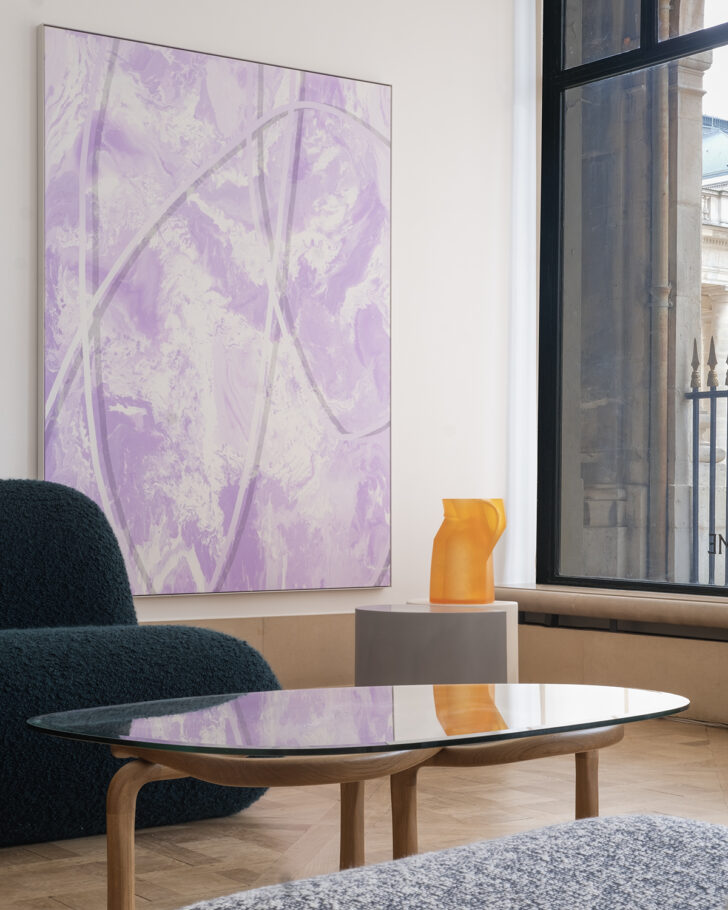 This month also saw Parisian brand Théorème Editions open a dedicated space for their collections in the gardens of the Palais Royal. The light-filled spot showcases Emmanuelle Simon's jellyfish lamps, Pool's sculpted foam Achille armless armchair, Garnier & Linker's shimmering lost-wax casted crystal pieces, Services Generaux's Contenu vases, cast in a solid block of resin, Hall Haus's Udo Udo wood and glass coffee table and a folded aluminum chair by Exercice, among other standouts.
Exhibitions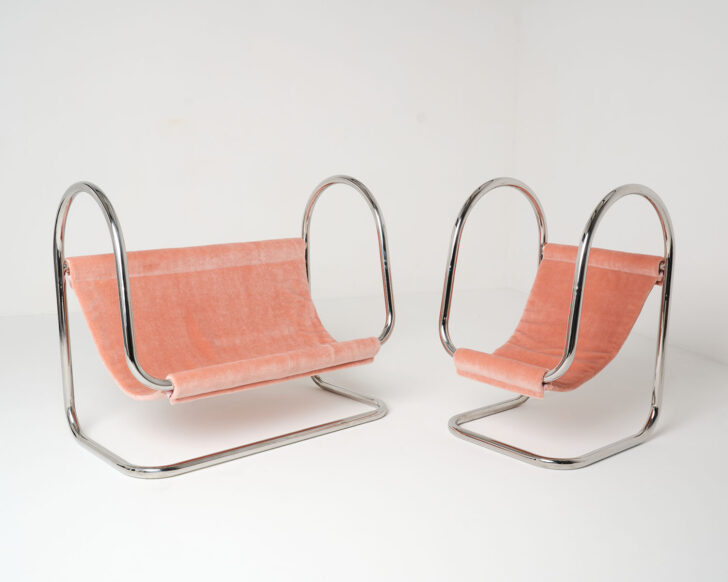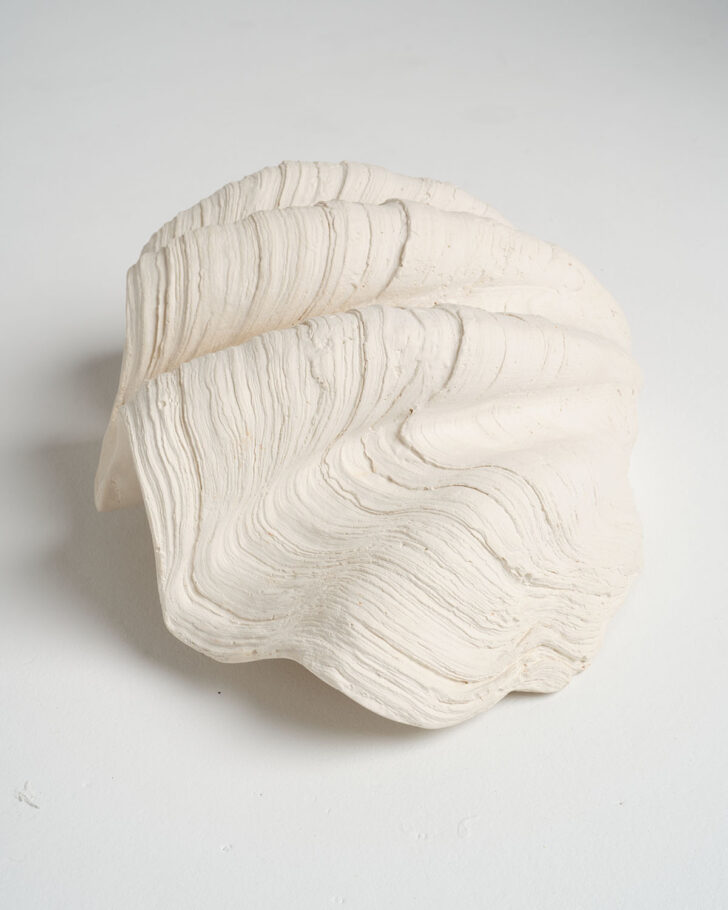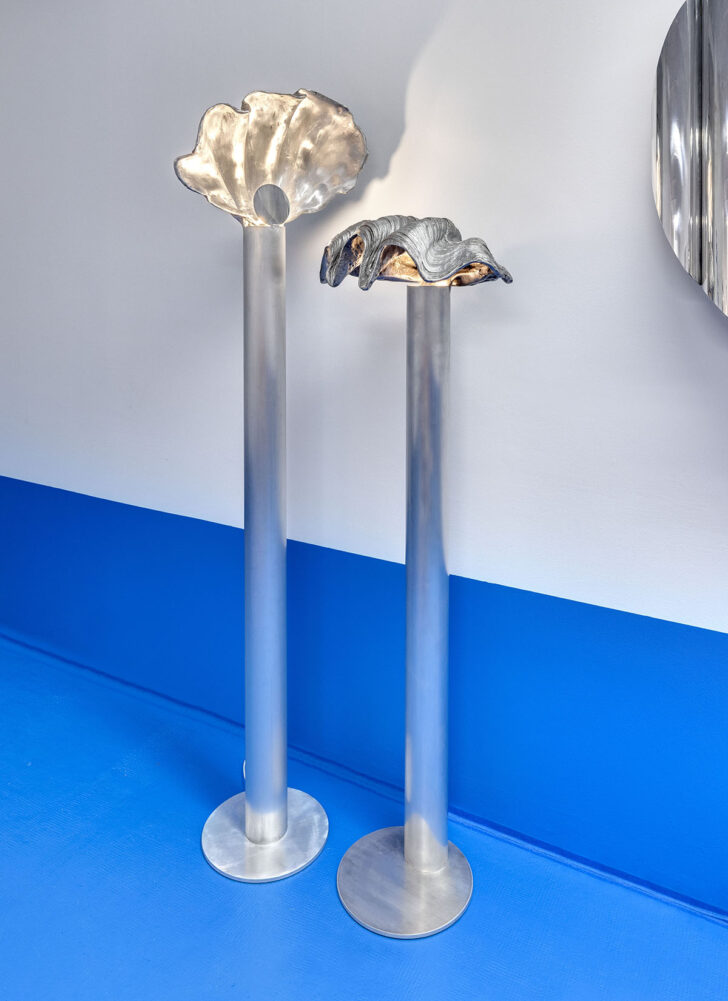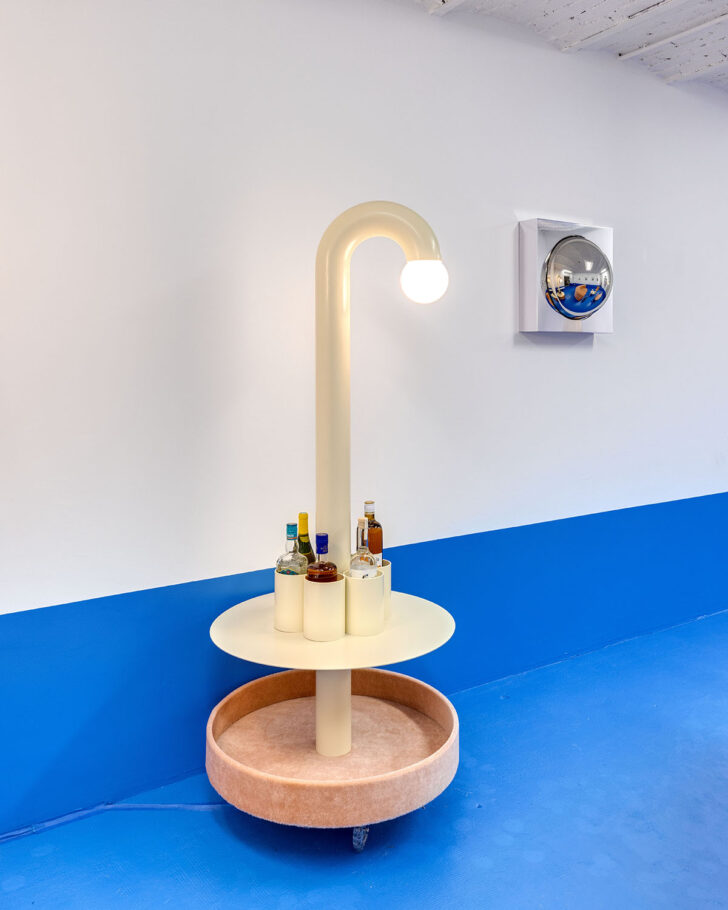 We'd love to know the secret code for Neptune, an imaginary speakeasy-on-the-sea, by Marseilles-based Axel Chay and currently on view at Chapelle XIV in Paris. It's Chay's dream of an ideal bar space, inspired by Stefano Benni's 1987 story collection Il Bar Sotto il Mare (The Bar Under the Sea). Teeming with nautical references and touches – giant clamshell lighting, porthole wall sculptures, coral mohair sling chairs and a modular sofa, a side table/bar/lamp combo that calls to mind a submarine periscope – it's just the right amount of lounge-y and louche.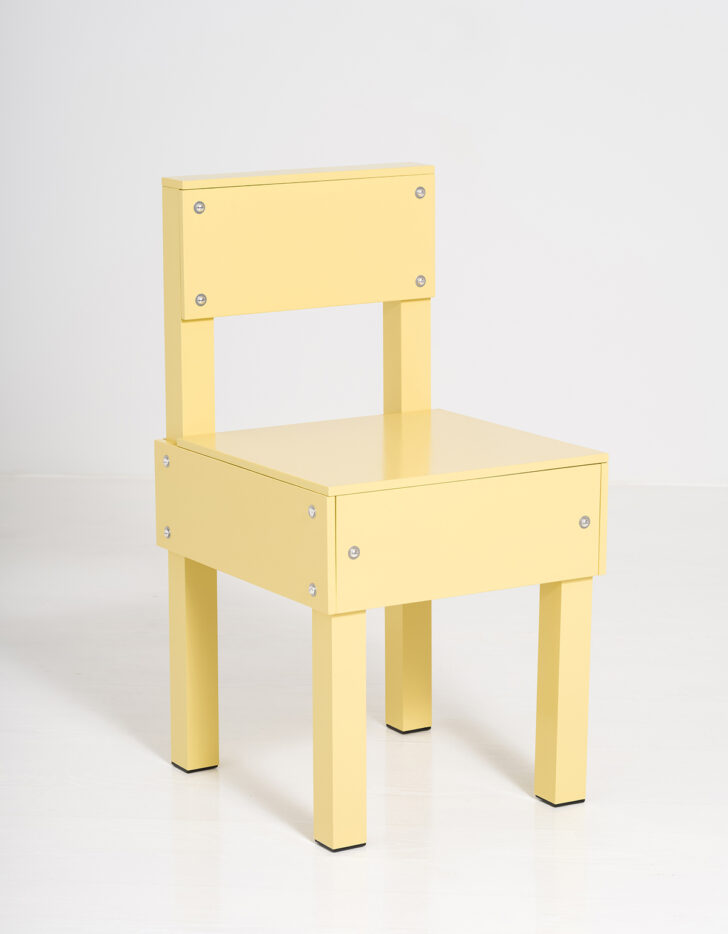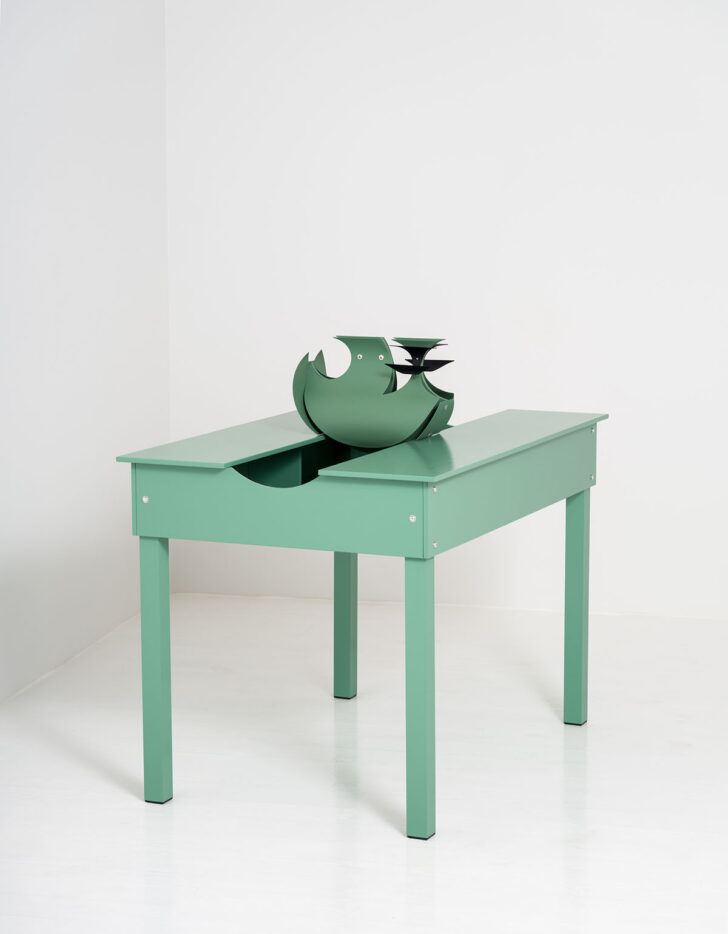 Los Angeles-based artist Matt Paweski somehow makes painted aluminum resemble delicate forms of paper cutouts, and yet there's also something hefty and machine-like to these works. Which is to say, they shapeshift a bit. They may look familiar, though you're not sure why: "The viewer can find many personal touchpoints but not fixed references," Paweski has said. Matrix 191, his first solo museum exhibition of tabletop and wall-mounted sculptures, light fixtures, and chairs is now up at the Wadsworth Atheneum Museum of Art in Hartford, Connecticut, through May 7.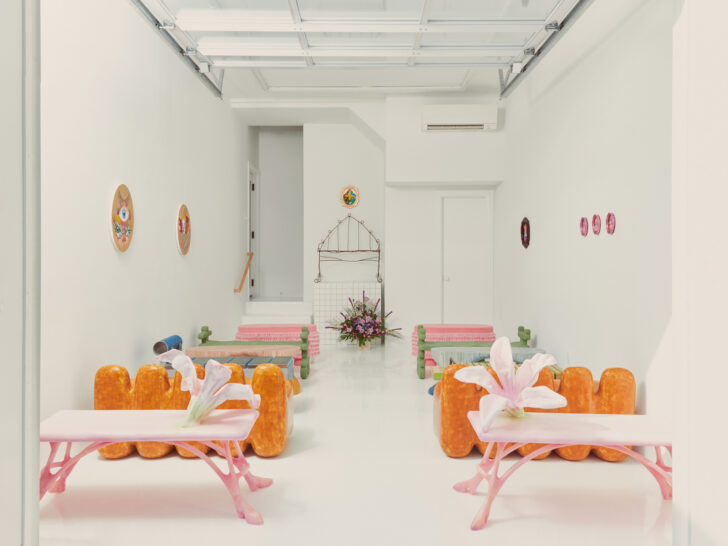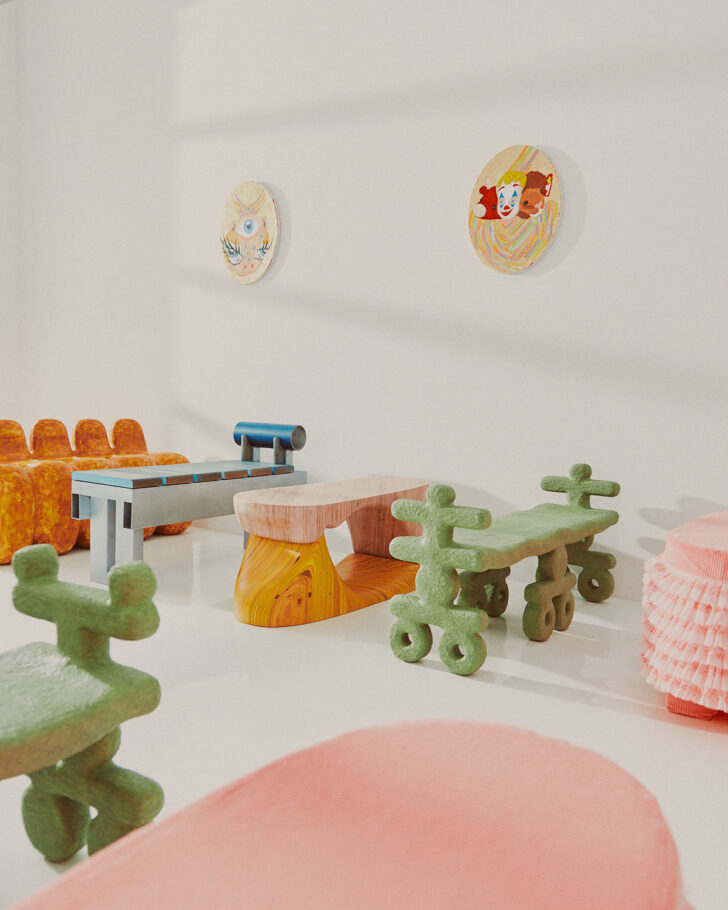 Making the most of its chapel-like building, Friends Artspace in Arlington, Virginia has gathered seven artists under its steepled-roof for a new exhibition called Benediction. The group show features benches by Anna Aagaard Jensen, Carl Durkow, Duyi Han, Lane Walkup, Malcolm Majer, Polina Miliou, and Trey Jones – arranged across a center aisle like pews yet generating an atmosphere that is anything but austere and solemn. This work invites you sit wherever you like, facing any which way, while Bailey Scieszka's paintings put a campy, pop spin on religious iconography. Open by appointment through March 25.
Zona Maco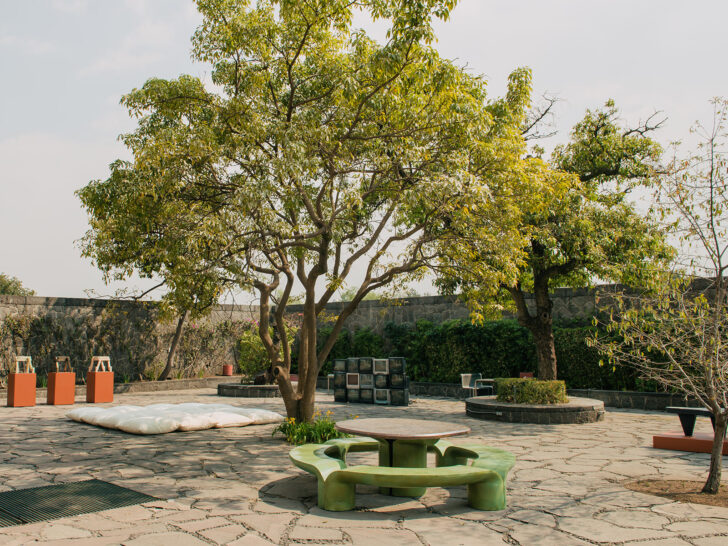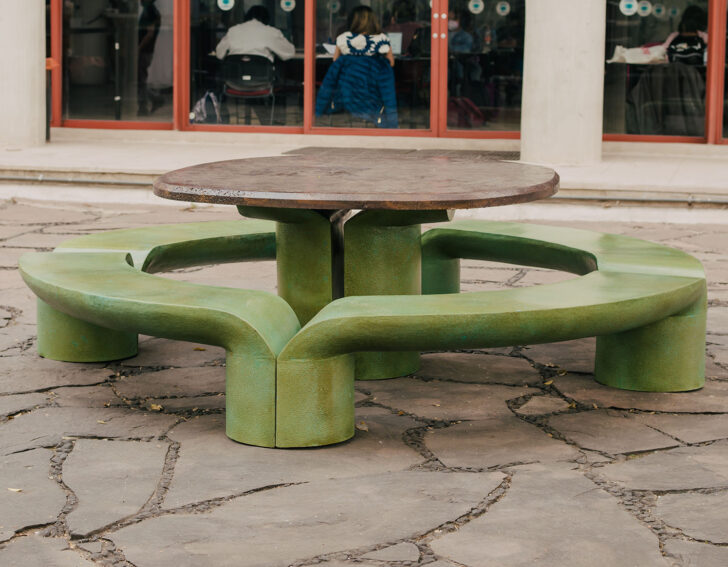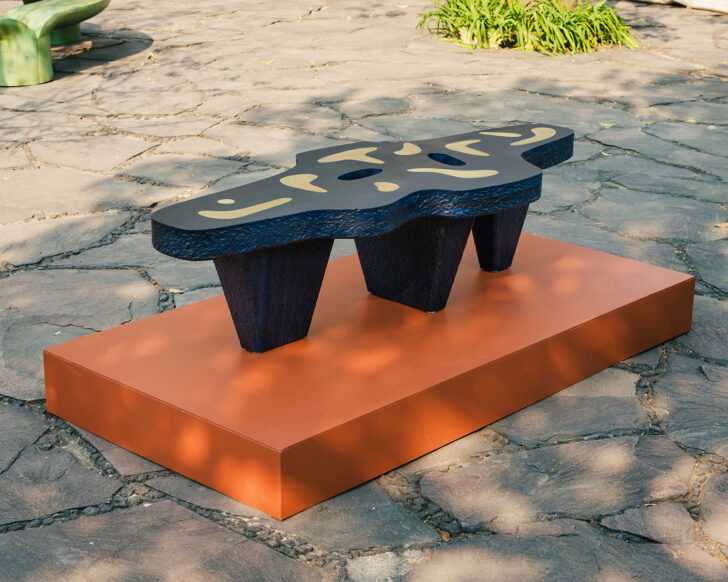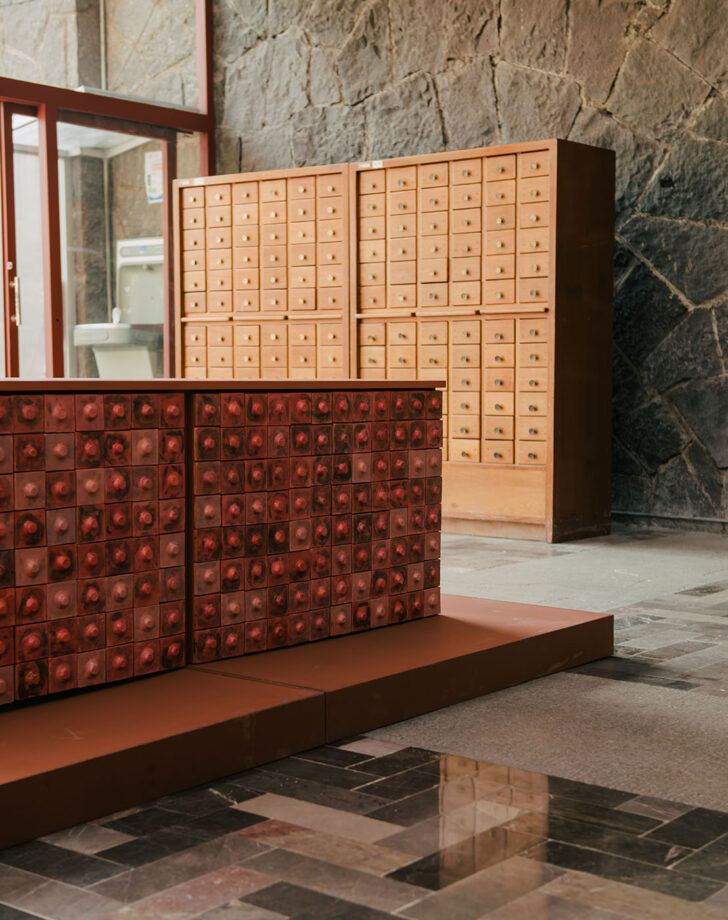 Unno Gallery, a digital gallery of Latin American design, took up some physical space with their Poesía en Piedra (Poetry in Stone) exhibition at the Central Library of the Universidad Nacional Autónoma de México (UNAM). Channeling the arte popular ethos of UNAM and the architecture built to reflect revolutionary politics and culture, pieces include a sculptural stool by Ohla Studio, along with a massive outdoor table from Ian Felton, of copper and lava glazed stone. Work by C.S. Nuñez references the stone mural created by Juan O'Gorman, one of the Central Library's designers, as does a cabinet by ceramicist Ruth Sofia. O'Gorman's architecture and design also provides the inspiration for Abel Carca's bench and Rodrigo Pinto's lighting collection using pigmented glass on iron.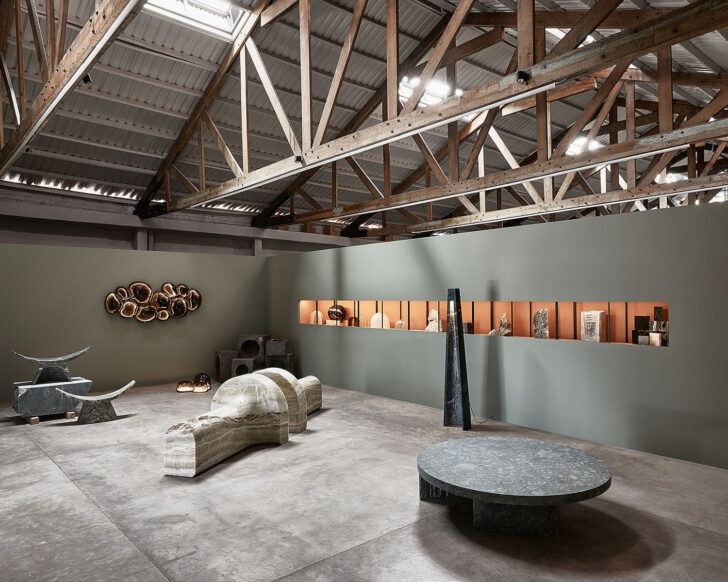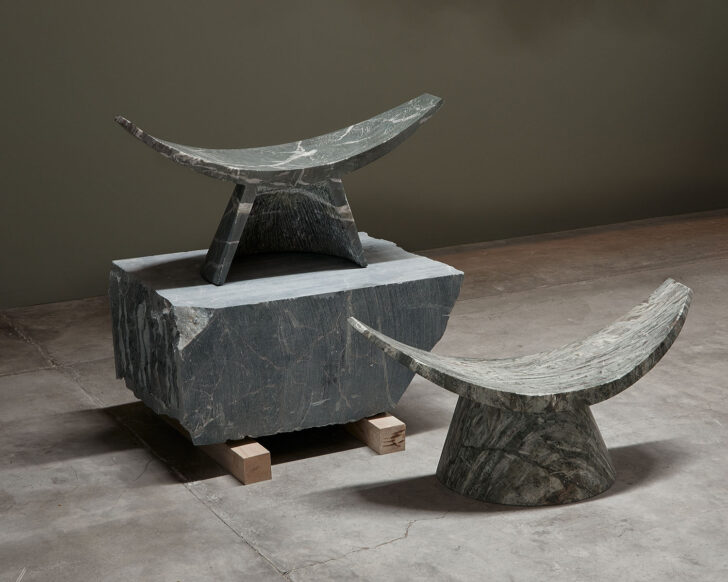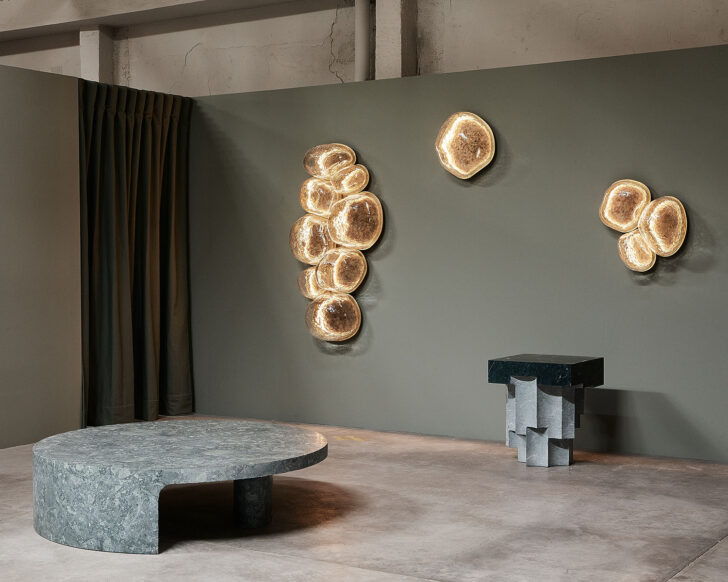 Green-colored stones like serpentinite, jadeite, malachite, quartz, and marbles were highly prized by Mesoamerican civilizations before the arrival of Europeans, used for ritual as well as decorative purposes. Exhuma, an exhibition from EWE design studio in Mexico City, aims to unearth this history. These geologic works – the curving, cupped Partera stools and monumental Simbolo bench and Altar table, stone vessels, and volcanic "Magma" sculptural lights – paradoxically seem to be both extracted directly from the ground and exquisitely crafted.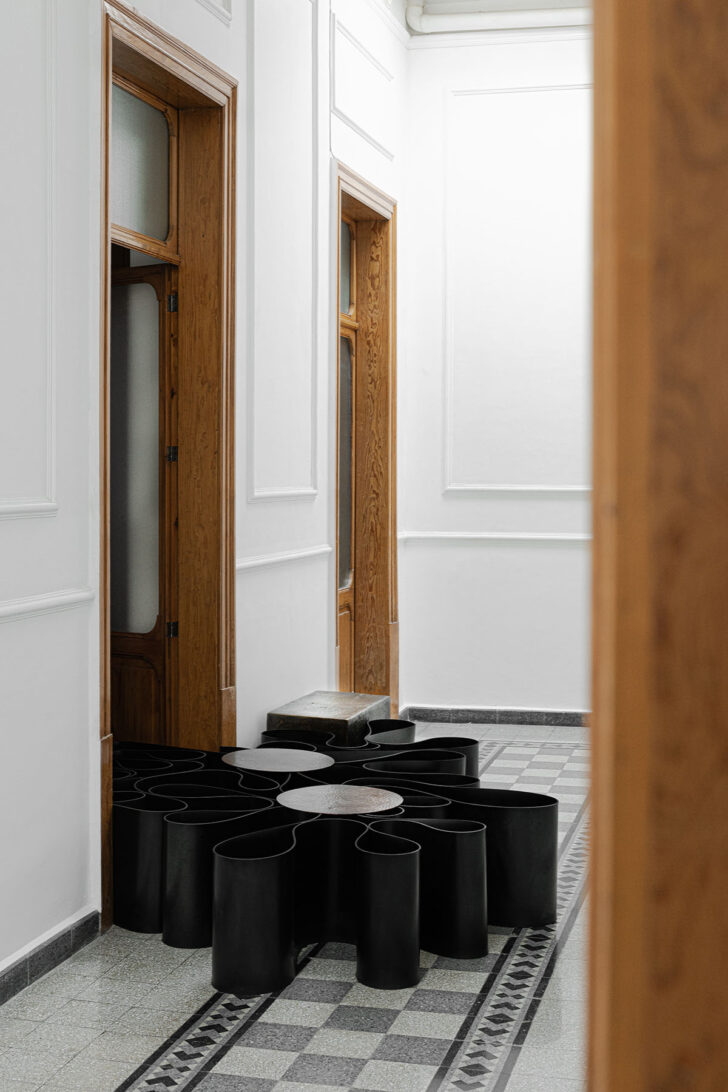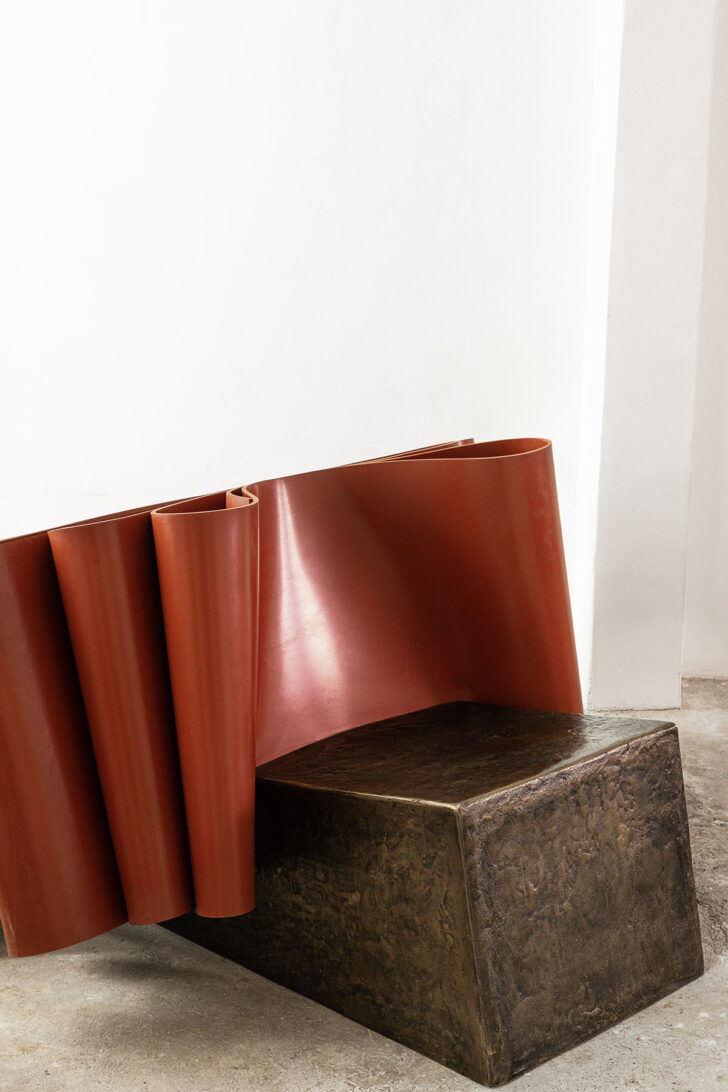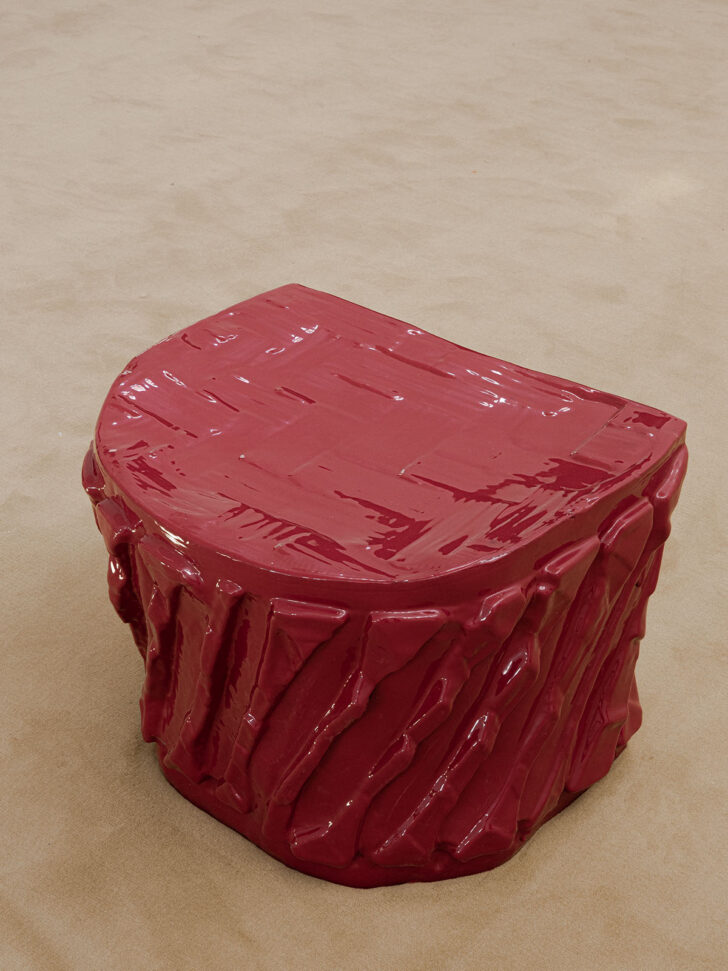 To mark the once-nomadic gallery's fifth anniversary, Masa opened their first permanent space in a historic building in Mexico City. (Age Salajõe and Héctor Esrawe of EWE are among Masa's co-founders). To kick things off, they're currently showing two solo exhibitions: Mario García Torres' The Space Under My Chair & The Music I Was Listening To and Brian Thoreen's Non-Zero-Sum. Thoreen manipulates materials in stunning ways, creating a giant rubber-sculpted candle of cast beeswax or seating made of folded layers of neoprene. Conceptual artist García Torres' coated aluminum stool, cast from his desk chair, references Bruce Nauman's 1960s concrete sculpture "A Cast of The Space Under My Chair" – rendering negative space visible. On view through April 8.