07.14.22
Axel Chay Channels Man Ray Through His Erotic Bent Metal Designs
"Not a bit phallic, a lot phallic!" laughs French designer Axel Chay when I suggest his lamp slightly resembles a penis. Based on a 1920s sculpture by Surrealist artist Man Ray, the playful pink design — which I later found out is actually called Phallus — and a sconce shaped like a nipple are the most blatantly erotic and humorous of Chay's designs. Others more subtly exude sensuality through their curves or elements entangled with one another, but are finished in bright greens, yellows, and blues so could also be interpreted in a completely different way. 
Chay began his design career a decade ago as one half of Nova Obiecta — whose Parad chair we featured in 2018 — but amicably separated from his business partner and has since gone it alone and developed his own style. Chay's experience welding in the workshop of his father's metal construction company created a natural progression into working with aluminum, which he typically forms into tubes that become functional items like stools, tables, or lamps. Each is colored in a single bright or pastel hue, or left with a matte or polished metallic finish. 
Many of Chay's designs have ended up on display in his own home: an old oceanfront property in Marseille that he and his wife gutted, painted white, and now use to display the colorful furniture alongside their joint collection of vintage finds and antiques. His studio is also currently in the garage, but the space is no longer able to keep up with his output.
In between looking for a new studio, and ahead of exhibiting at Design Parade Hyères which kicked off on June 24, Chay spoke to us about how he was "born into steel," why he uses tiny balls in his designs, and when we can expect to see some of his lamps in wood.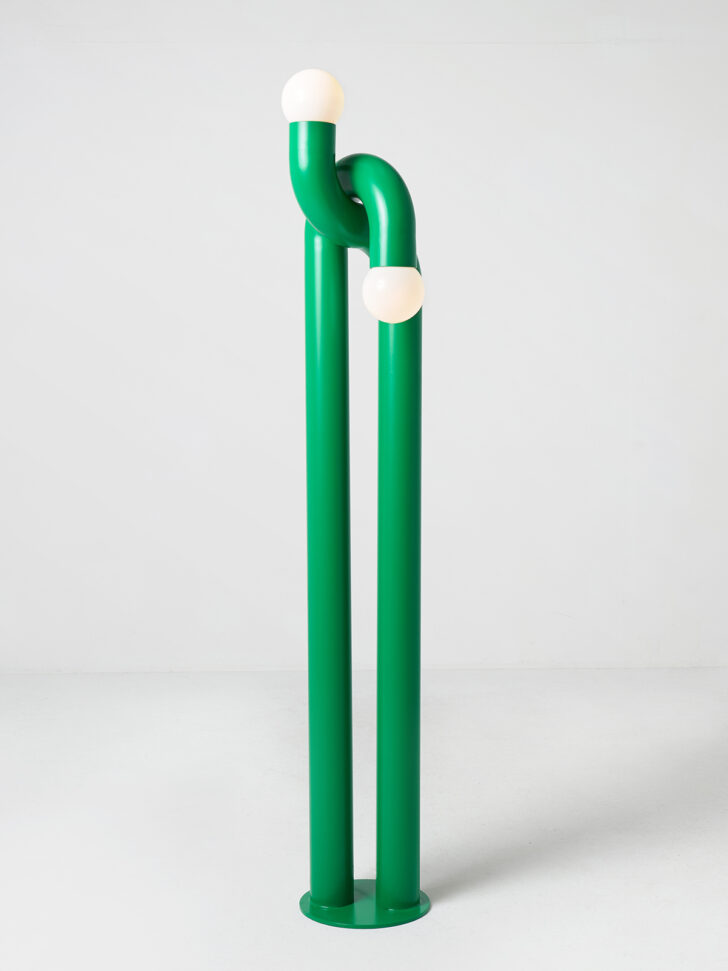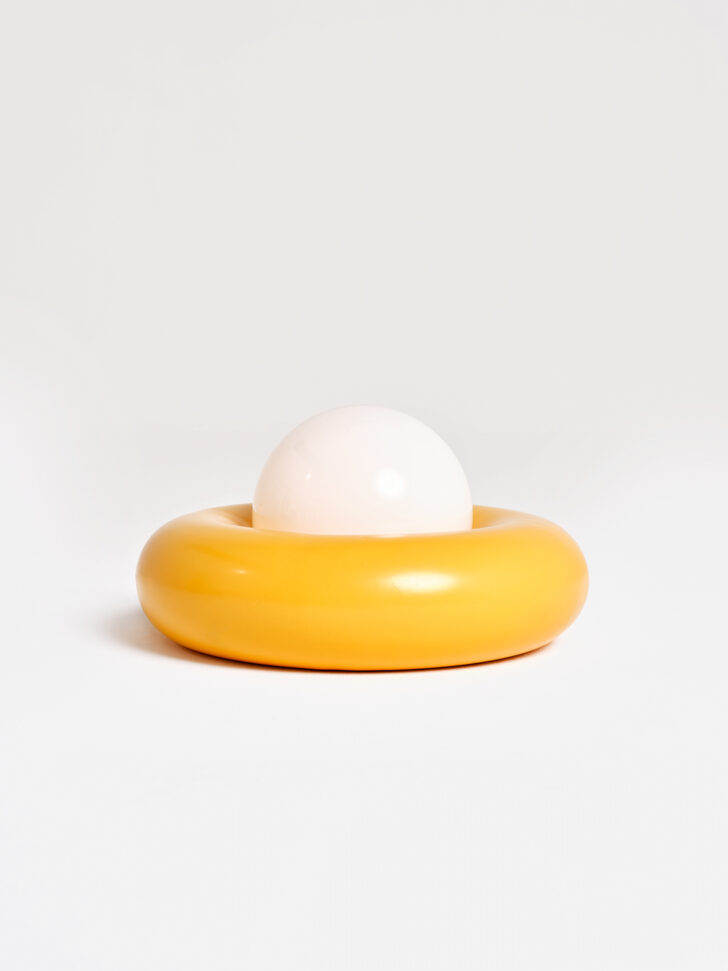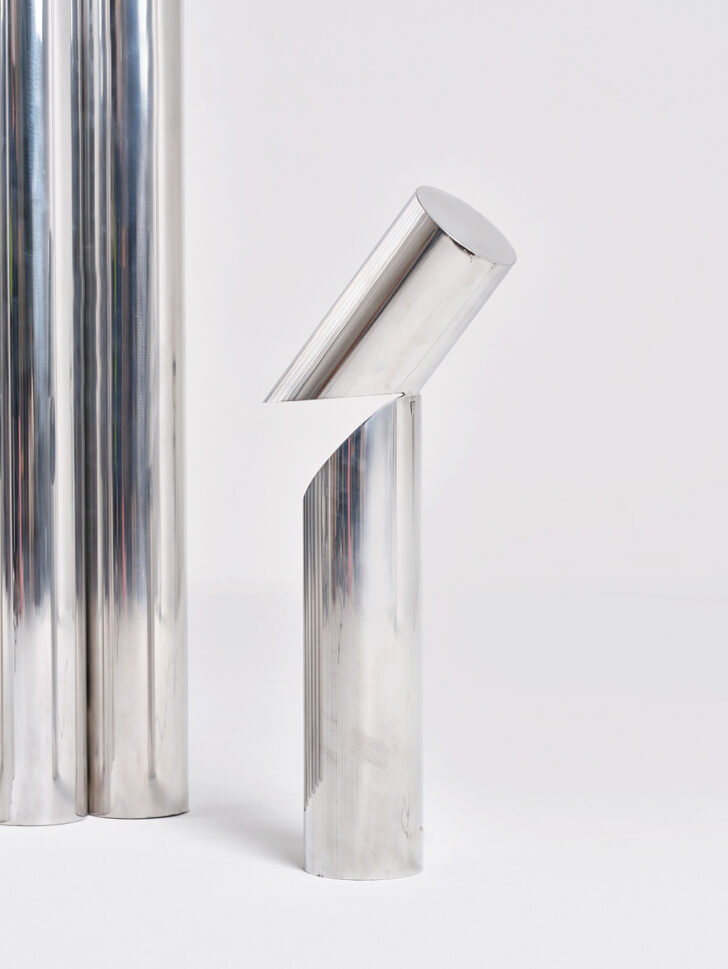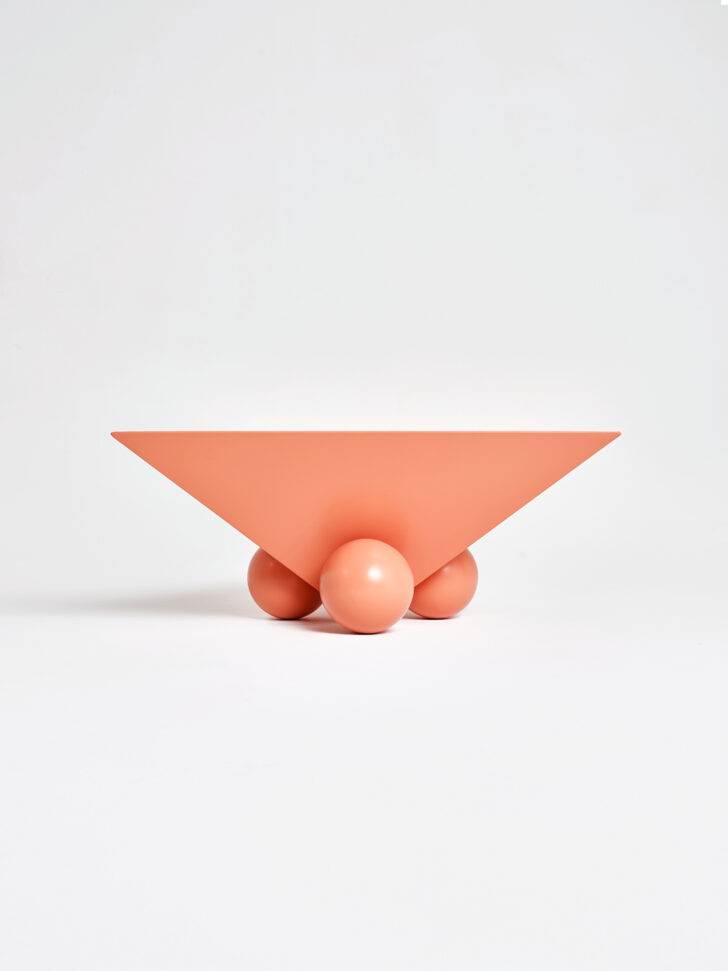 Tell me about yourself and how you got into design?
I started 10 years ago. At the beginning I had a studio with a friend, who is still a friend, called Nova Obiecta. We did furniture but it was more geometric — not the same kind I do now. I kept one piece of furniture that we made in my collection — a big armchair called Parad, because I designed it when we were partners, and only I wanted to keep it. I had actually just finished business school when my ex-associate and I created our studio.
We worked together until around two or three years ago. At the beginning, it was okay. We had money, but sometimes not enough. Then we started to have wives and families, and we needed more. So he started another job, and I started another job with my father, but I was still designing and creating objects. The first object I created alone was a pink stool, Septem. At the beginning, I didn't know if I wanted to do it with Nova Obiecta, but more and more I was creating objects and he said, "No, you're doing this alone. It's much clearer to do it under your name." 
What do you find are some of the themes that run through your work? 
I have a very simple design approach. I don't start with a very precise concept. I will spend two or three days designing, or forcing myself to design. Sometimes I see something and say "Oh, okay, that could be very cool." So I go to the workshop and I say "Let's weld this like this, or let's create an elbow like…" Or I do a very simple 3D design on the computer. 
My father, who unfortunately passed away last year, had a metal construction company. So I was born into steel. My brother and I used to weld and work in the workshop, so I have steel under my feet. Now I understand that the colorful tubes are like my personality. It's not like I forced myself to do it because it was the trend or something. I want to do things that are different because there's a huge furniture market, and I don't want to do just what everybody else does.
Yeah, you use a lot of cylinders and tubes. What is it that interests you about these shapes particularly?
The smoothness of the forms. Because before I used only aluminum sheets, so I don't want things that are too rigid or too modern. I like the poetry that comes from the elbows of these shapes. There's also a little bit of femininity in it. There's a contrast between the steel and the smoothness of the forms, and the colors support this impression. If I just used black or white, it's completely different. The single color supports the impression of smoothness, of eroticness. For example, just because I used the pink color for the stool, it looks erotic. Even my green wall lamp, sometimes people think it's kind of erotic, even though I did not design it that way. But I like the fact that everybody can see whatever they want in the designs, which is why I like the elbows and the shapes of my objects. If you want to see a jungle, you can easily imagine a jungle. If I say to you "this one is very erotic," you can be the one to decide.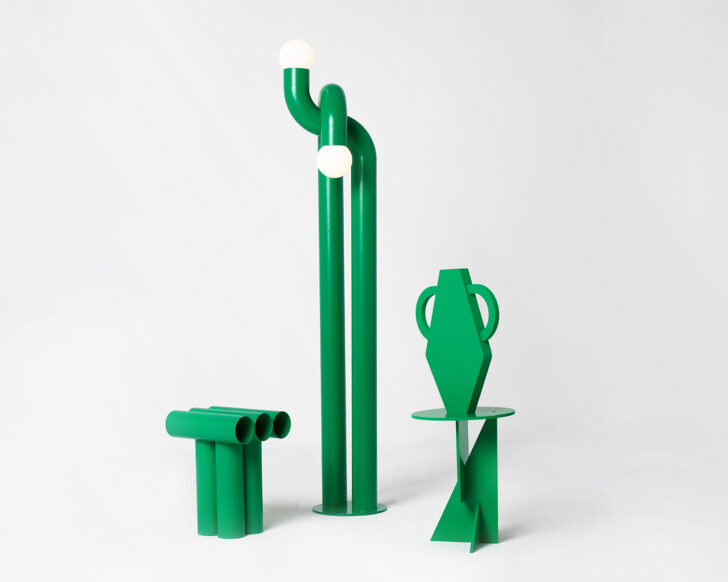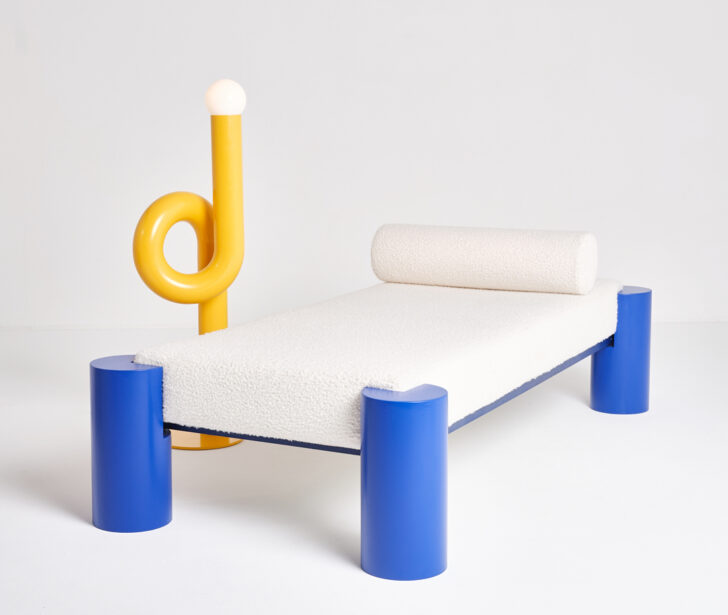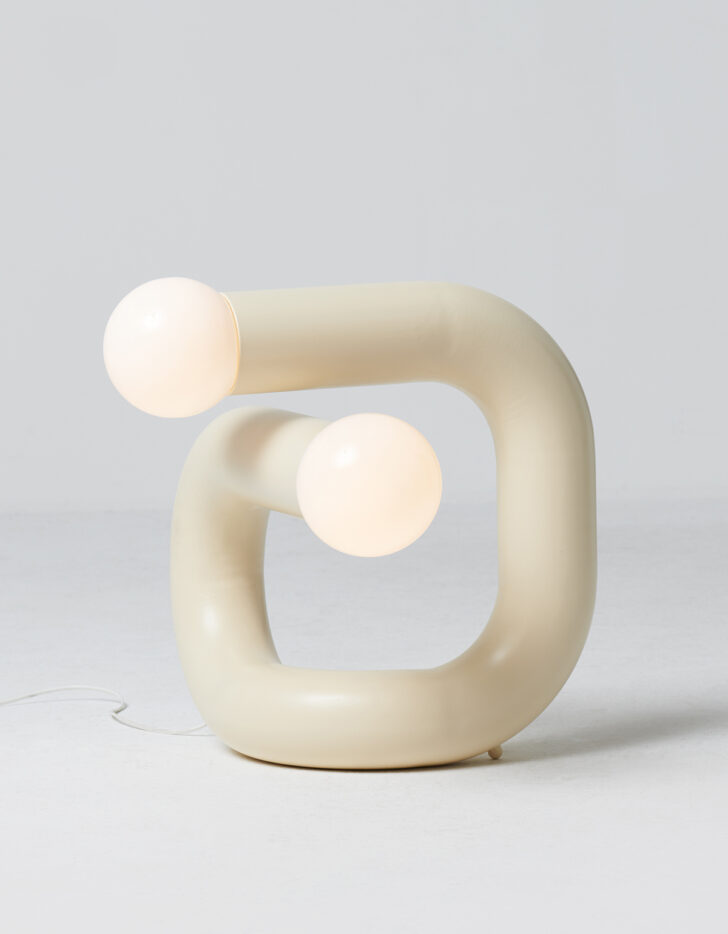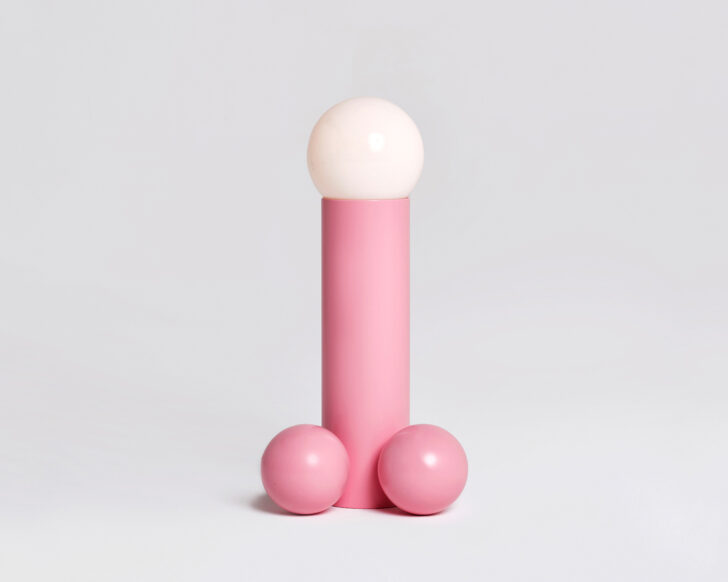 Speaking of erotic, you've designed a lamp that looks a little bit phallic in shape…
Not a bit phallic, a lot phallic! I knew of course about the French artist Man Ray; I completely admit that this is an expression of his work. But I said, "Why not do a dick as a lamp?" It was just a joke, but I proposed it to a customer and he said, "Yes it's great! I want to have it on my shelf." So I started doing it. First, I did it in white, because I think it was quite sober in white. Because the shapes can be very evocative and very troubling for some people. But the fact that it was in white, very sober, was interesting. Now I've done it in pink, to joke a little bit more. And it's of course an homage to Man Ray, I was completely inspired by his Priape sculpture. But his is not a lamp, just a paperweight or an item to display on a shelf.

That piece and a few others of yours incorporate tiny balls, which we've been seeing a lot of lately. What's the appeal of them for you?
I love the kinetic arts. So a lot of my pieces are inspired by kinetic arts and transformation of color. And the fact that I use a lot of balls is because five years ago, I bought a little lamp in an antique shop. I had always wanted to do a lamp, but I never did because in my head it was too complicated. But the lamp I found had a very '70s way to incorporate a bulb with a metallic pin. There's a way to insert the bulb, and cover it with a glass globe that just looks like the bulb. So just because I found this idea, I started using spherical-like bulbs because I thought it was great. And it was really '70s looking, to have the bulb covered with the globe. It's very simple.
When it comes to color, how do you choose the specific hues, and decide which items to apply them to?
With everything, I'm not very thoughtful. I just design something and say, "Okay, let's do this in blue." It's just what I feel like, and that's all. The first time I did this, it was like five years ago, and I said, "Okay, let's do it pink, that would be fun." And now most of them I sell in pink. If at the beginning I had done pieces in blue, things would be completely different. Maybe people would like it less. I think green was the best color to fit with the shapes of the lamp, but it's just a feeling for me. Now I produce them in white, in black. But for me, when I use color it's more adaptive.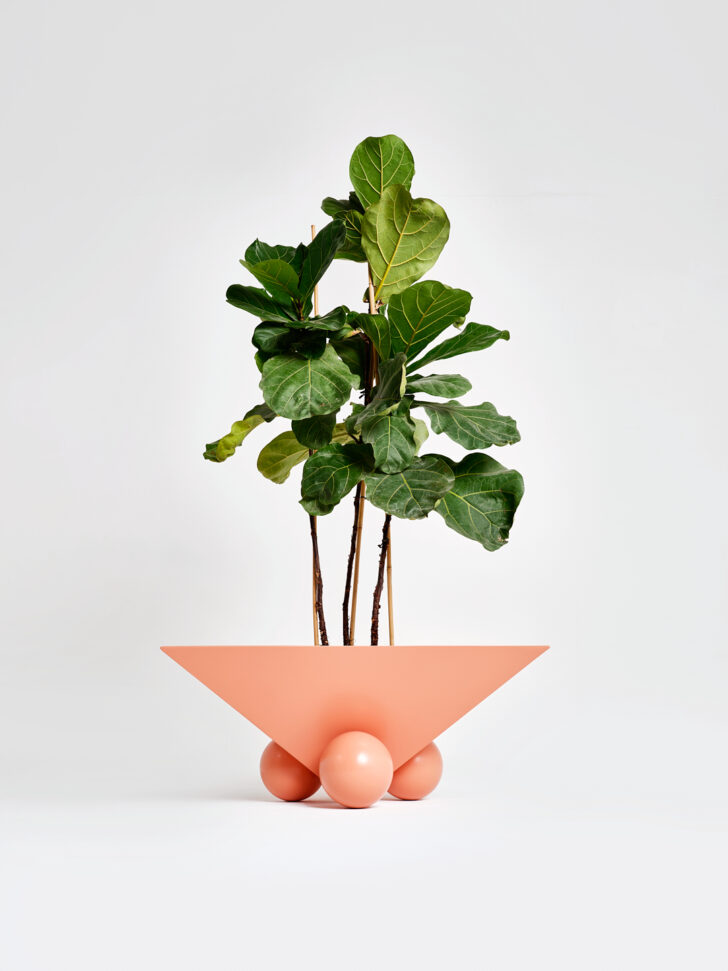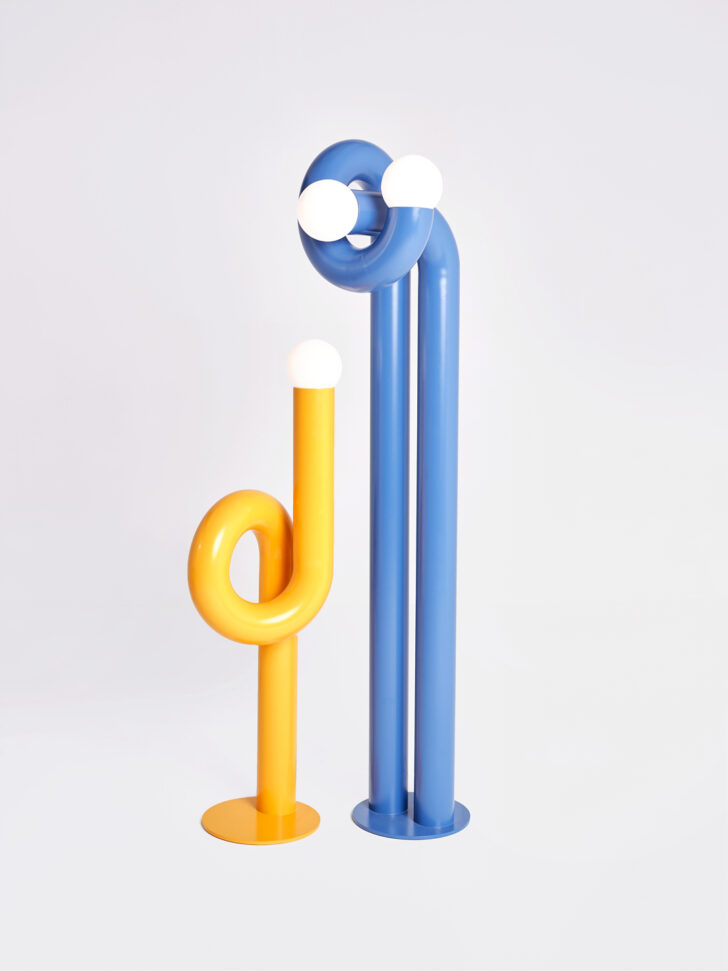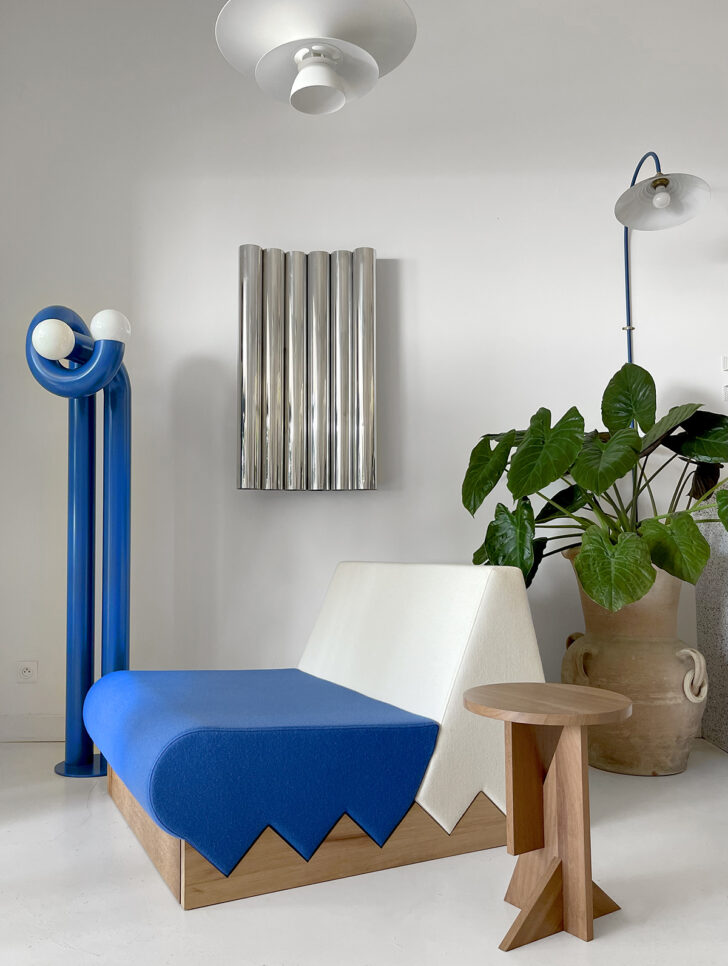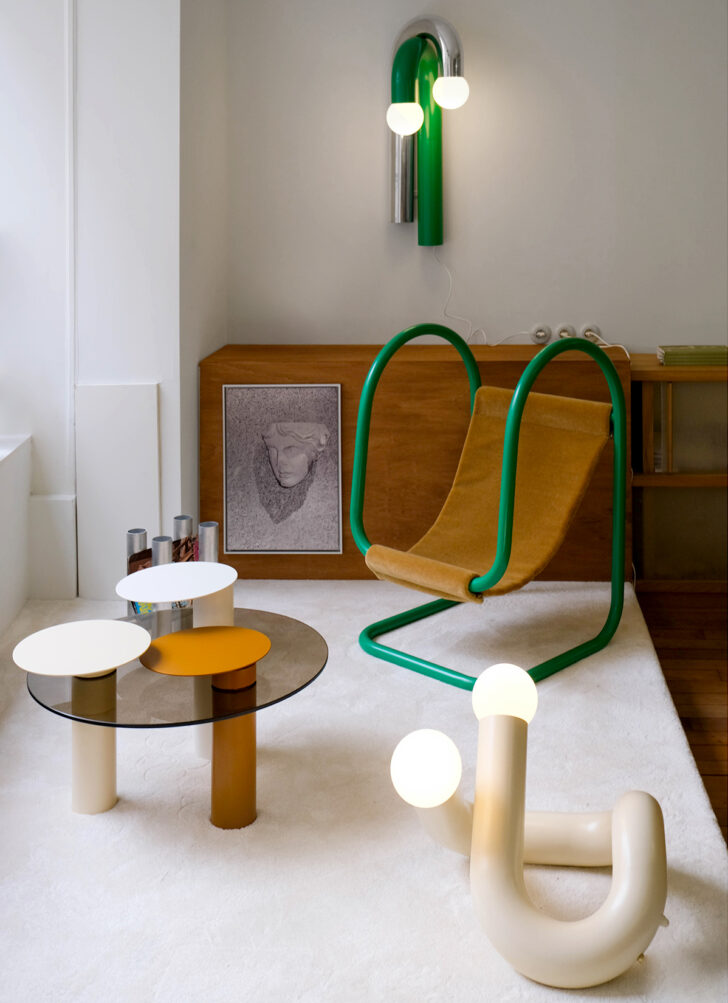 You also recently designed your own home. How did you approach that?
This is my first home with my wife. Before, we were renting in Marseille, so we decided to buy a home. It was built in 1890, it's a very old home in a very poor area of Marseille, not in the city center. But it has a great sea view, which is what I wanted, but I couldn't afford it in the city center because that would cost millions. So we found this nice old house with a fucking great view. Every time we open the doors we can see the water and become part of the scenery, also upstairs.
And how did we design it? It's a very old house and it had a lot of small rooms. We didn't want that, we wanted space and to see the sea view as soon as you open the front door. So we had to destroy everything. We have differences in the floor level and even the walls, so we used white everywhere to keep it very simple. But I knew that we had a lot of color furniture, so the white was perfect as the backdrop for that.
We just wanted a very clear and humble space, to let the furniture pieces speak for themselves and to offer the opportunity to move them quite often, because I change them all the time. For example, I design a sofa, and then I send my prototype, then I can do another one. There's a lot that I do not show on my website or even on Instagram, which I sell and then I change what's in the house. If you see the pictures of my house, it's totally different right now. It's about experimentation. I can see what looks cool with what, and what goes nice with this to create the right atmosphere. 
It looks like you also have some vintage pieces and old artifacts blended together with the contemporary designs.
I love the fact that we can mix it. At the beginning it was my wife who introduced me to vintage, because I was only focused on contemporary and I only wanted the things that I do, but now I love to have vintage items. More and more we buy things, and we mix them with my pieces, or other pieces. I don't buy a lot of contemporary furniture, just vintage. We love it, and the fact that it works very well with my furniture.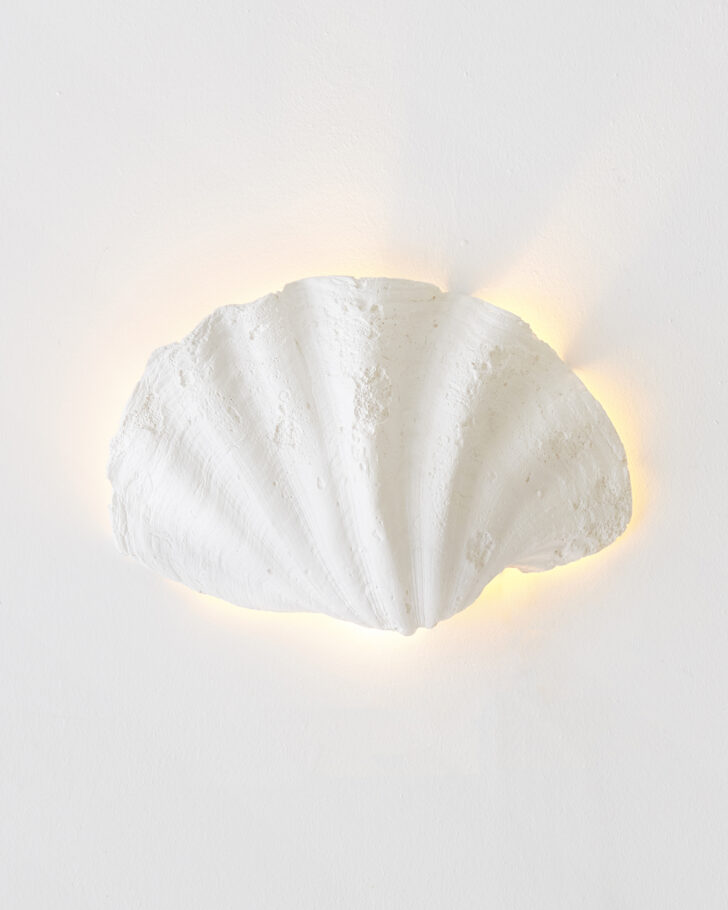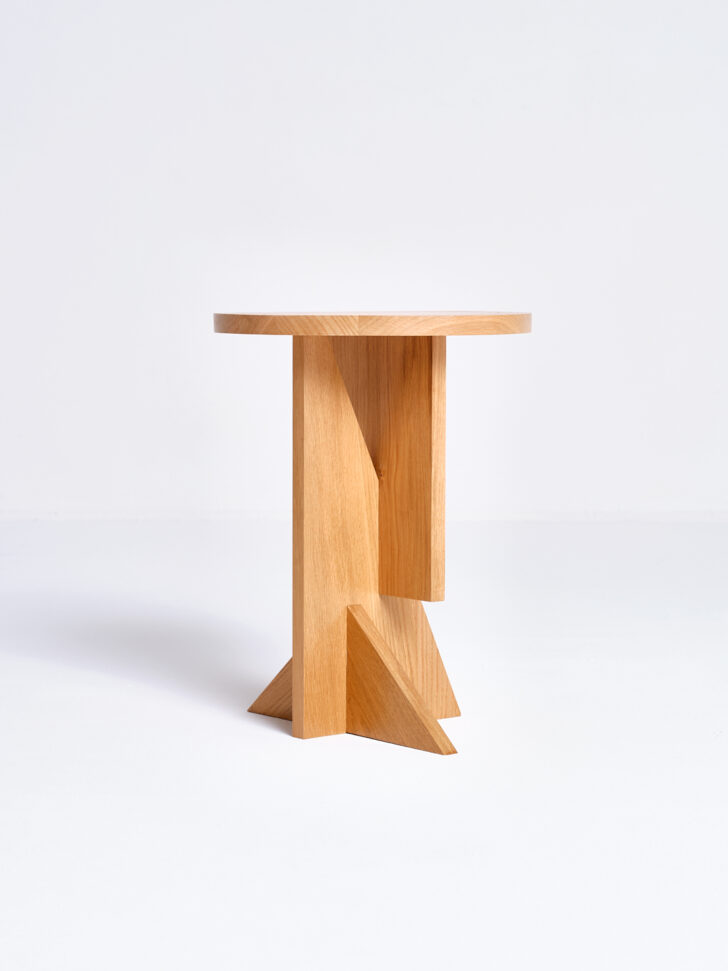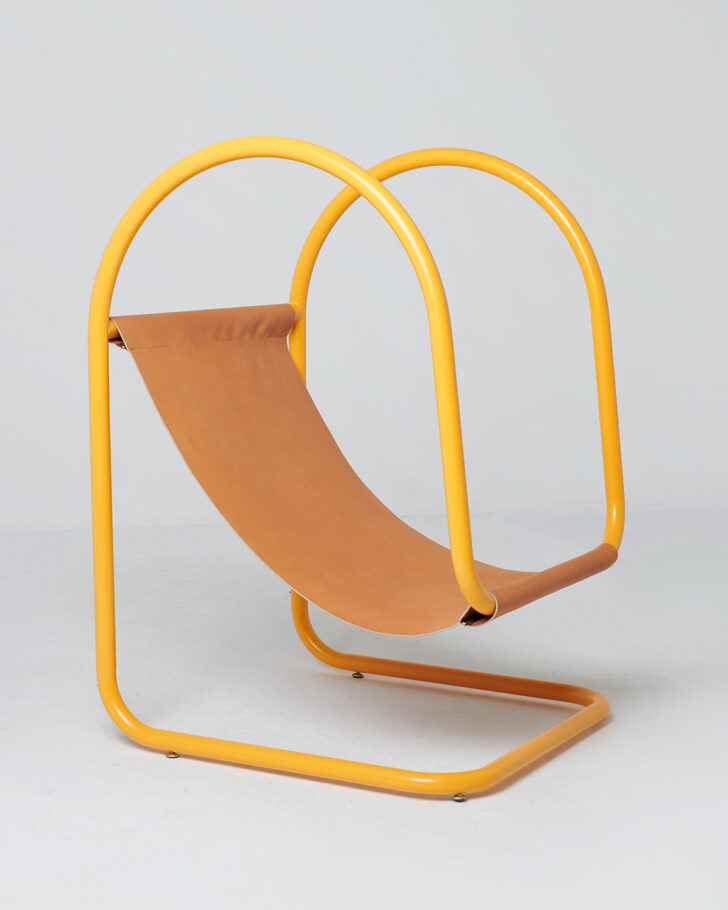 Do you have anything exciting coming up that you'd like to talk about?
Next week, I'm going to Design Parade in Hyères in the south of France, to do an exhibition with my friends 13Desserts. I'm going to show a very big floor shelf. Also, I'm working on a big sofa and creating new pieces for design week in Paris this fall. To tell you the truth, I'm creating every day. And every time I create, it's getting harder and harder, because when you create it, you have to sell it, you have to shoot it… I'm also doing the four or five big lamps that I have in wood. I have a gallery in Dubai — at the beginning, she was just a customer, but she told me that she was going to set up a gallery, and she wanted to have all my lamps in solid wood. So I said "Okay, I will be very happy to see them in wood." I think it's for September/October and I'm very excited about this.
Just a little project that I'm doing, my white wall lamp Lolo will be available in pink and flesh color so that they will look like big nipples. We will change the color of the glass so it's also pink. It's for a bar in Marseille that a friend is opening, so next week I'm going to paint them by hand. It's not my work, it's my life. I'm always making notes, taking photos. It's a pleasure.